There are so many things to do in Rio de Janeiro, an urban landscape famed around the world for so much! It's a city like no other on Earth. Loud, captivating and overwhelming – yet we wouldn't have it any other way.
In a city this, well, marvelous, it's hard to get past the superlatives and decide exactly what to do — so to help, we have put together a list of the top things to do in Rio de Janeiro Brazil!
Of course one could convincingly argue that Rio is best experienced from its seductive beaches — a mainstay in Cariocas (residents of Rio) life — and we wouldn't disagree. Still, there is more to this city than just impossibly tanned bodies parading around on golden white sand. Although this is a large part of the appeal…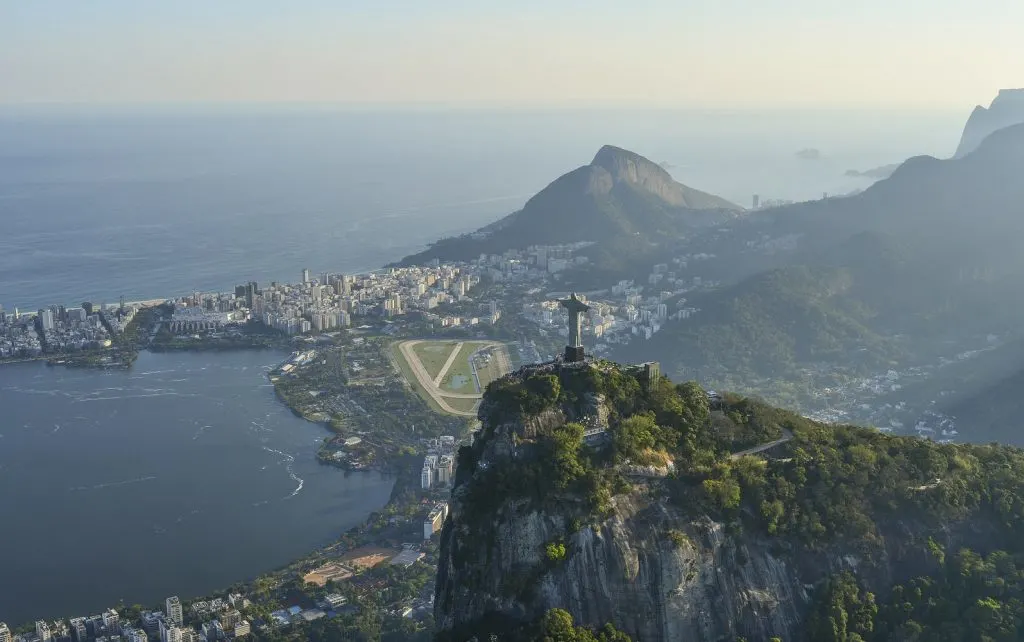 The rhythm of Rio extends away from the boardwalks, through its streets and up into its vast tropical landscape. It has that old-world grandeur and Portuguese flair of Lagos and Lisbon, the modern beach-centric vibe we loved in Sydney and Miami and an enviable natural setting like Hong Kong and Auckland.
If you are the type of person who prefers to get to know a city through film before you go, we recommend the colorful cartoon Rio or Academy-award winning City of God (Portuguese: Cidade de Deus). The documentary Wasteland is also incredibly insightful.
Your spirit here is re-invigorated with street music, great food, outdoor pursuits, and the sounds of nature. Then there is the burgeoning design scene, innovative architecture, and a string of world-class museums. Rio is broadly divided into four different zones: Zona Oeste, Zona Sul, Zona Norte, and Centro – however, Zona Sul and Zona Centro are where most of our favorite activities were found.
Explore as much of this tantalizing city as you can on your own, but be sure not to miss these top things to do in Rio de Janeiro Brazil!
Haven't booked your perfect accommodation yet? Compare great deals for hotels and hostels in Rio de Janeiro with the best rate guarantee, so you can splash out on all these other awesome things! And if you want to travel without the hassle, view schedules, reviews, amenities, and additional useful information before booking and have a 24/7 support team, we recommend checking BookAway for getting the bus, ferry, train, or cars – here, or all over the world.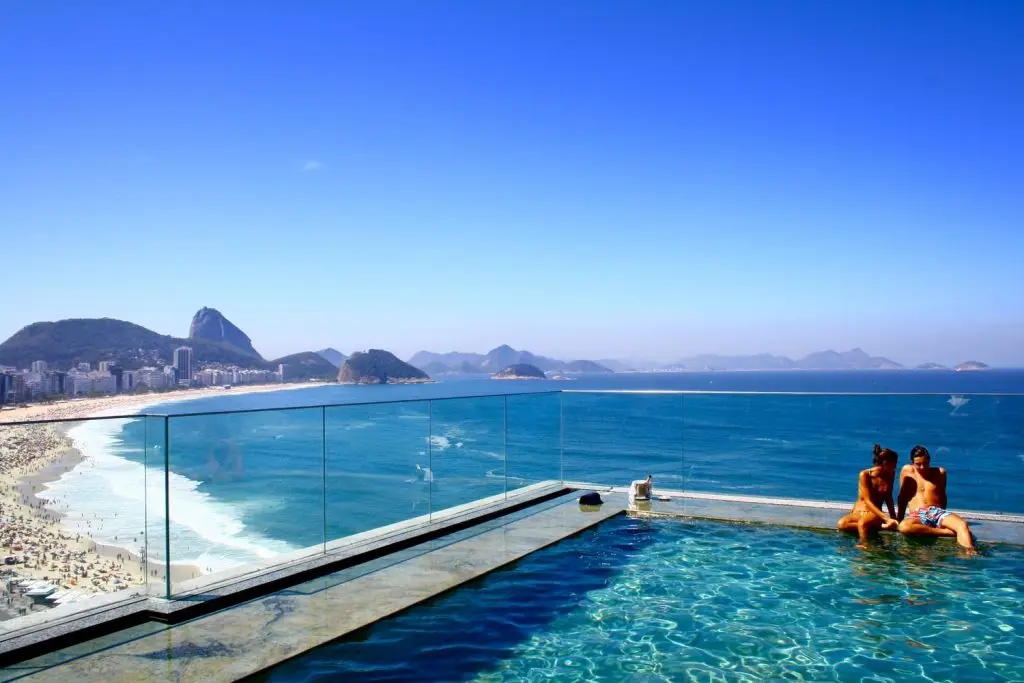 Azumi
Azumi is a local foodie hotspot in Copacabana that has a solid reputation for serving seafood fresh from the ocean. Grab a seat at the tightly-packed counter and watch as the expert sushi chefs create traditional Japanese cuisine right in front of your eyes.
The minimalist décor and simple menu allow Azumi to focus on doing what it does well: creating mouth-watering classic creations with skill. There is a simple and more affordable lunch menu offer daily, though many of the sushi and sashimi options are rather pricey. Much like we found in Kyoto and Osaka, however, you pay for quality — and you will not be dissatisfied.
Frequented by many in the Brazillian-Japanese community (fun fact: Brazil is home to the largest Japanese population outside Japan), it's like a tiny piece of Japan inside Rio de Janeiro.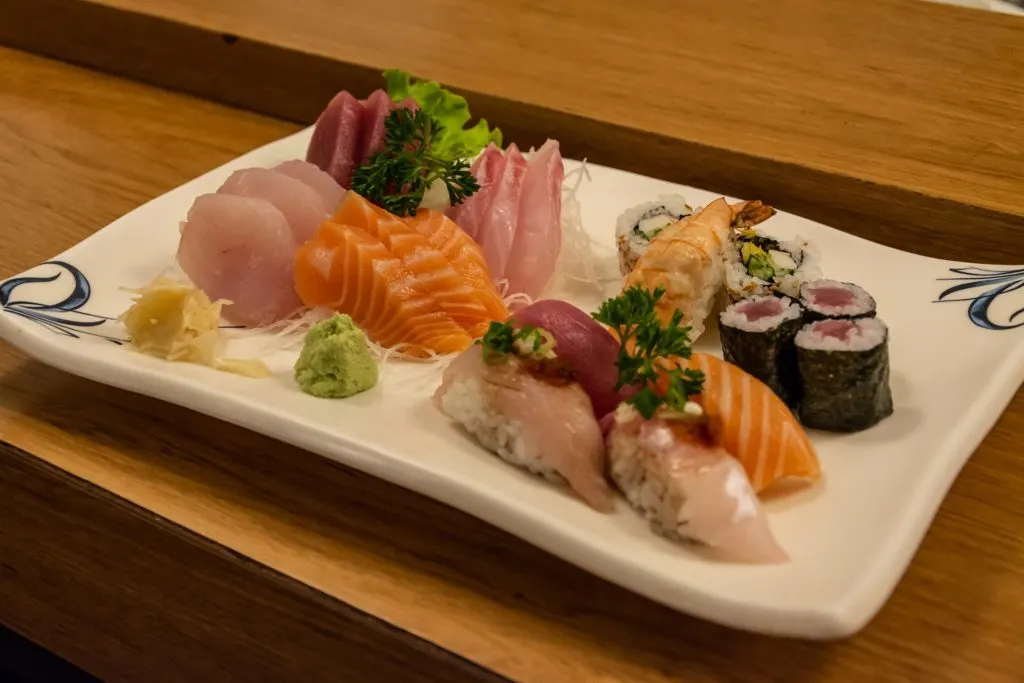 Belmond Copacabana Palace
An art deco treasure, the Belmond Copacabana Palace, is the crown jewel on the world's most iconic beach — and a top highlight of Rio, whether you stay or stop in for a drink. Opened in 1923, this is one of the great beach hotels of the nineteenth and early twentieth centuries yet is still voted amongst the best hotels in South America — and known throughout Brazil for the international celebrities who stay here.
A cosmopolitan way of life matches old-world glamour in these storied walls with an iconic piano bar frequented by the cities elite, and a pan-Asian Michelin-starred restaurant. Then there is airy Italian eatery, luxe outdoor pool, tennis courts, a deluxe spa, and gym.
With a stay here, the best of Rio can be found on your literal doorstep — you just have to stroll the mosaicked Portuguese pavement to stretch out and relax on the golden sands of the beach. A memorable building filled with opulence, history, and copious amounts of Carrara marble and Bohemia crystals — the Copacabana Palace is the epitome of old-world Rio luxury. And one of the world's most famous hotels…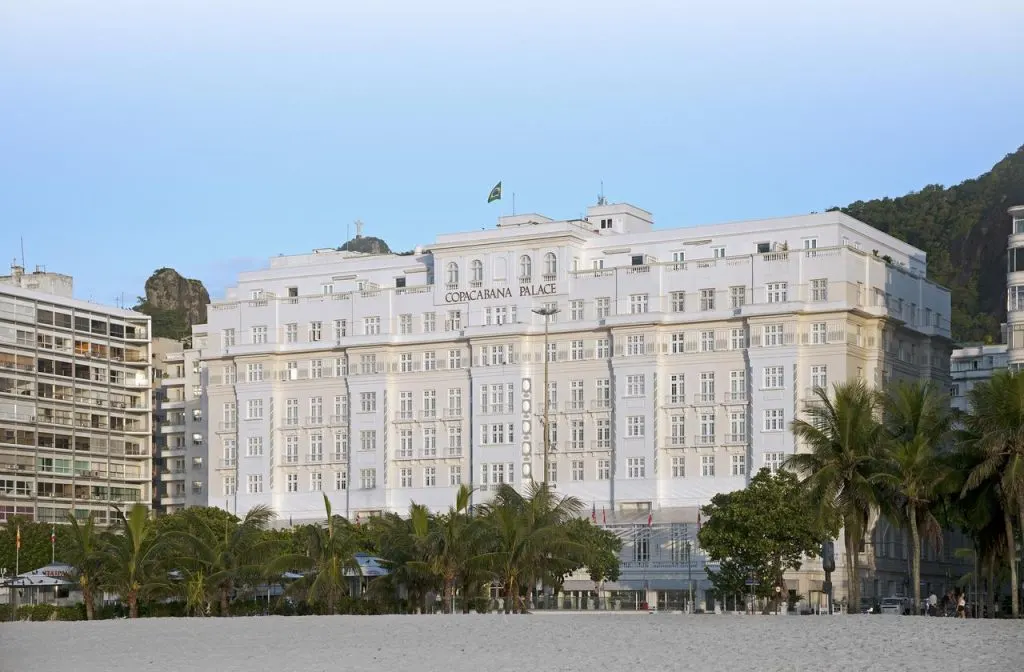 Bairro Peixoto
Bairro Peixoto is a peaceful, leafy enclave hidden in amongst the hustle and bustle of Copacabana. It is technically not an official district ("Bairro") but is well-known by this name and encompasses a 13-street area and two-plazas. The secluded Praça Edmundo Bittencourt is at its core. A small-village type place to people-watch, spot strangers playing dominoes, or look for monkey-like marmosets jumping around in the trees.
An open-air market takes place in the central plaza every Wednesday and Saturday, where you will find the best fruit juice in the city. Try the exotic jabuticaba and graviola / soursop, or for the less adventurous – go for something your recognize.
Bar Da Laje
Located in the hip favela Vidigal and roosted atop 'Dois Irmãos,' the chic Bar Da Laje embraces residents and festive travelers with excellent drinks and panoramic sea views.
In an attempt to leave its troubled past behind, Vidigal, positioned between two ultra-chic areas, Leblon and São Conrado, has been transitioning itself to through art and cultural development to 'favela chic' for ten years now. You'll find a range of small art galleries and lounge bars to explore, but our favorite was the oh-so-cool Bar da Laje. Settled at the top of the hill, this spot is a favorite meeting place for sambas, Brazilian dishes, and strong drinks.
The bar's specialization is seafood, but it also has a decent feijoada, a local pork-based dish with black beans. We recommend going for their cocktails, which are best enjoyed sitting on the terrace, listening to live music and taking in the views. Popular with locals and tourists, Bar Da Laje is one of the best views in Rio de Janeiro!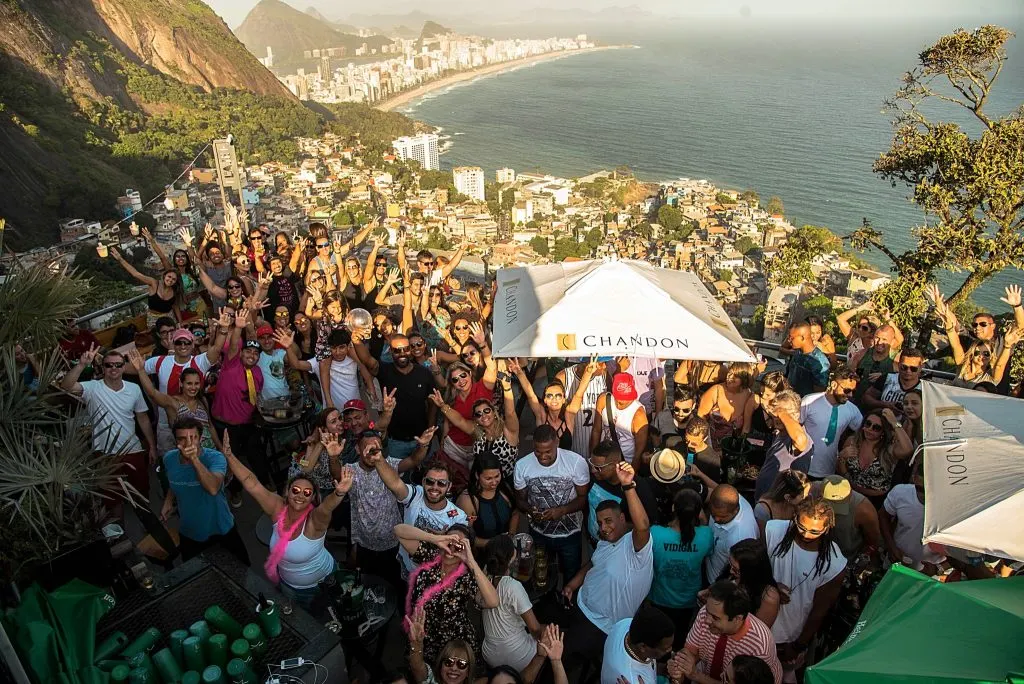 Botafogo
Check out Botafogo, Rio's up-and-coming 'inbetweener' neighborhood. Missing the glitz of Ipanema or the decadent past of Copacabana, Botafogo is forging ahead in the creation of its own identity. Its plentiful bistros, hot new clubs, and cultural centers provide a much-welcomed alternative to its post-card perfect older brothers. With a quiet (but still stunning) beach and flanking the Rio city center, Botafogo is tipped to be Rio's next big thing.
Prices are lower here at the moment, and the area still has a slightly grungy feel — but we don't expect it to stay like this forever! Explore it now, while it is still cool… then take a trip up to the adjacent summit of Morro Dona Marta for picturesque views.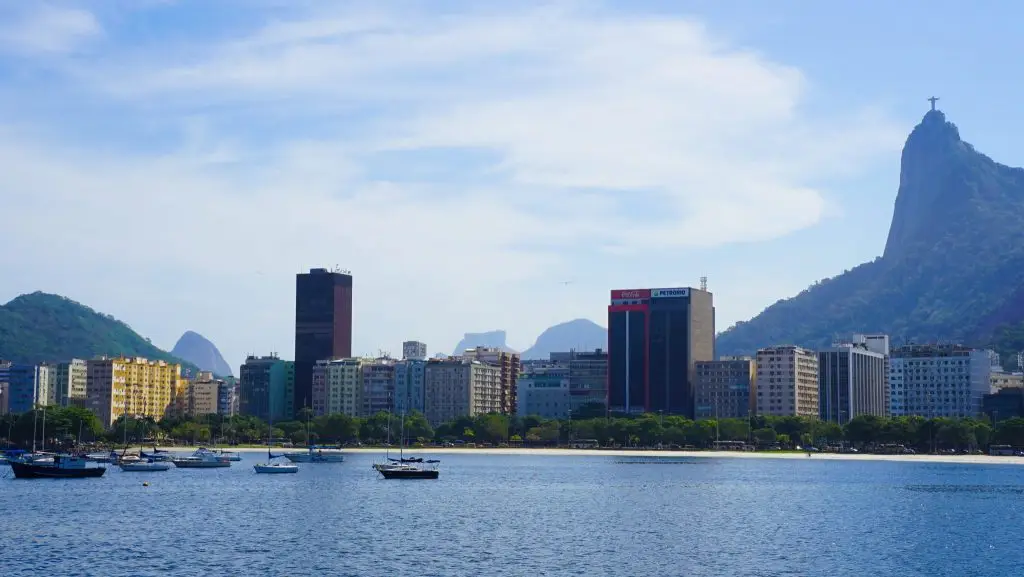 Brazilian Cooking Class
Submerge yourself in Rio's culinary commotion with an enlightening Brazilian cooking class evening at a small studio. Study the flavors, ingredients, and cooking techniques distinct to Brazilian food from a local instructor who knows what they are doing. Then cook five delicious dishes like black bean Feijoada, Fried halal cheese with spicy guava jam, and Bahian seafood Moqueca, using your new-found knowledge.
Then settle in to savor the fruits of your labor along with some drinks. The class is restricted to just seven participants to guarantee a unique experience and personalized care – which we were grateful for! And even better, you can take the recipes home (along with your new-found skills) and repeat them for friends and family!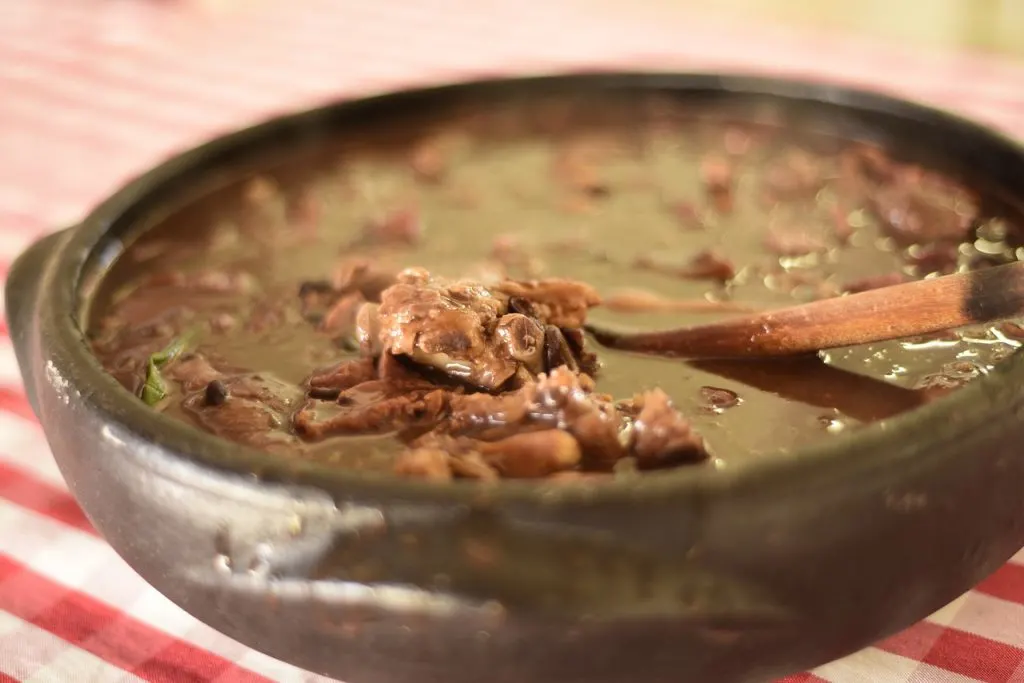 Carioca Landscapes Between The Mountain And The Sea
We are a little bit obsessed with exploring UNESCO World Heritage Sites worldwide, from Australia to the USA and everywhere in between. And Rio has not one but two UNESCO World Heritage Sites!
The first is termed the 'Carioca Landscapes Between the Mountain, and the Sea' recognizes Rio's exceptional natural setting alongside its built urban heritage, making it rather unique. Inscribed in 2012, the site recognizes the fundamental natural elements that have molded and spurred the evolution of Rio de Janeiro: from the peaks of the Tijuca National Park to its golden-sand shoreline.
Other remarkable features include the Botanical Gardens, Corcovado Mountain with its renowned statue of Christ, and the slopes around Guanabara Bay, including Copacabana Bay, which have given to the city an outdoor living culture unrivaled on Earth. This UNESCO listing proves just how special Rio de Janeiro is. It speaks to how its landscape has influenced the city and provided the artistic stimulus for musicians, landscapers, and urbanists around the word.
In 2017, Rio also received its second UNESCO Site, the Valongo Wharf Archaeological Site. It is found in the former harbor area of Rio and protects what remains of an old stone wharf over which an estimated 900,000 enslaved Africans enter the South American continent from 1811 onwards. The Wharf was only rediscovered during 2011 as excavations were undertaken to revitalize the Rio de Janeiro port area.
The local government's preservation and care of this historic site could be improved, but it still deserves a visit to appreciate this dark period in Brazil's, and human, history.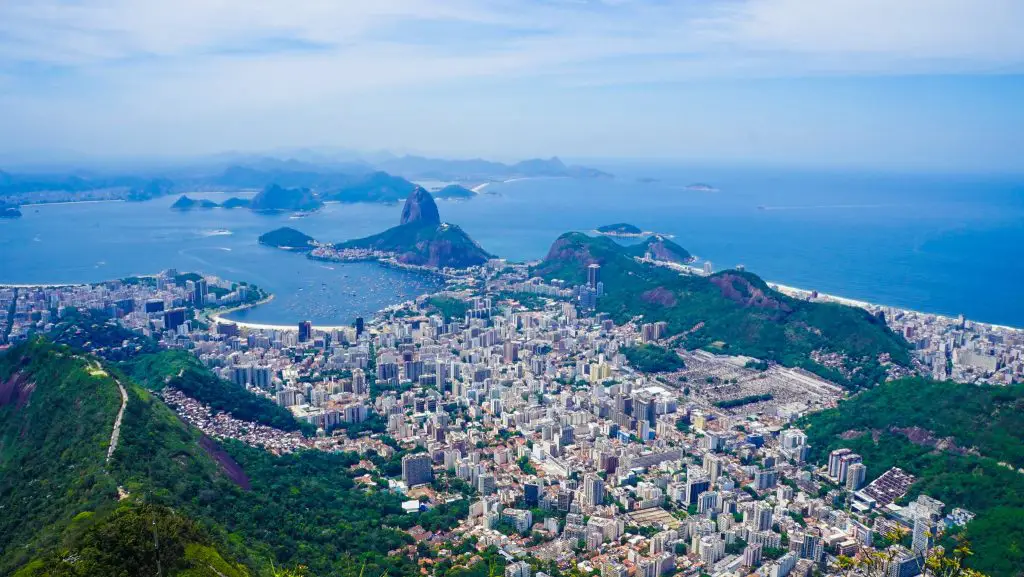 Carnival
One of the world's most famous celebrations, no list of things to do in Rio de Janeiro could be complete without mention of the illustrious Carnival!
The Carnival in Rio de Janeiro is a celebration held every year before Lent (around late February) since 1723 and is thought to be the largest Carnival in the world. Over two million people per day filled the streets for parades, parties, and open-air performances on the streets in what is known as the "The biggest show on Earth." It is nothing short of mind-blowing. Chaotic, crazy, cultural, and oh-so-fun, Carnival in Rio de Janeiro is an experience like no other — and one you will want to plan for fast in advance if you're intent on attending.
There are so many things to do in Rio de Janeiro during Carnival, but one we particularly recommend is exploring the Carnival Factory for a glimpse behind the scenes of Rio's Carnival. On an excellent cultural tour, you can discover how the parade's grand floats and costumes are designed. You'll learn about the story of samba and Carnival, then stop by the dressing rooms to try on some colorful outfits for yourself. Afterward, wind up with some delicious cocktails and a beginner's samba class to get you ready for the exuberant carnival experience.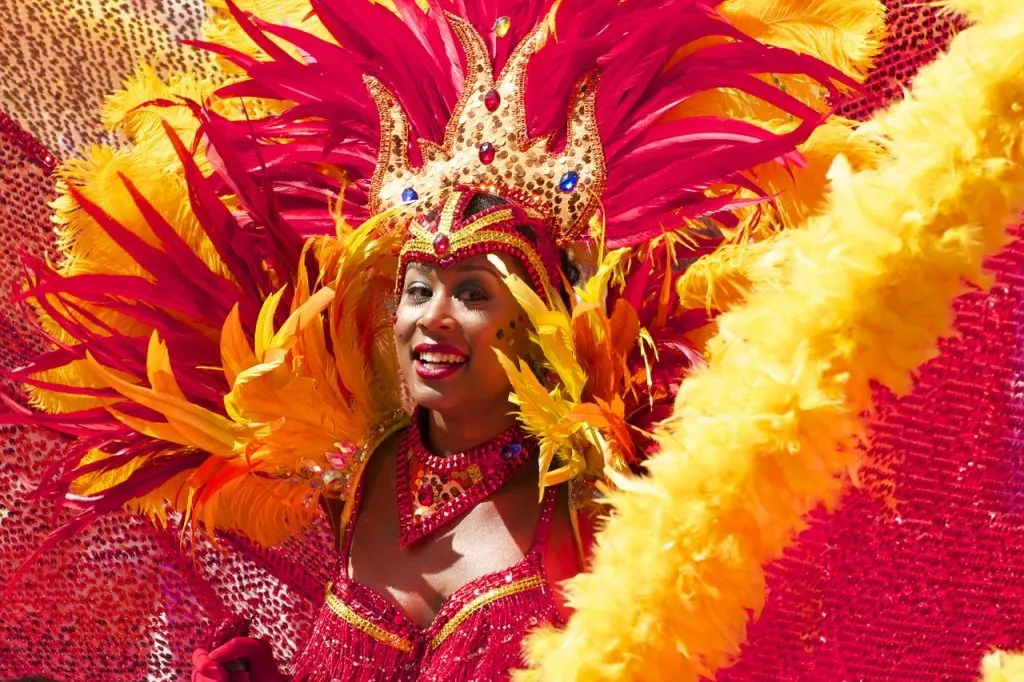 Casa Momus Lapa
Located in Lapa's cultural corridor, the artsy gastropub Momus is the fulfillment of the wish to offer Rio de Janeiro both a relaxed and refined space where everyone is welcome. Customers can truly feel at ease with a surprisingly charming encounter, filled with delicious food and drinks artfully prepared from quality ingredients and culinary know-how.
Originally bringing Lapa a Mediterranean twist, Momus has recently adopted its own Brazilian "naturalization" without jeopardizing its core values. They still serve some of the best cocktails in Rio — do try the Momus mule!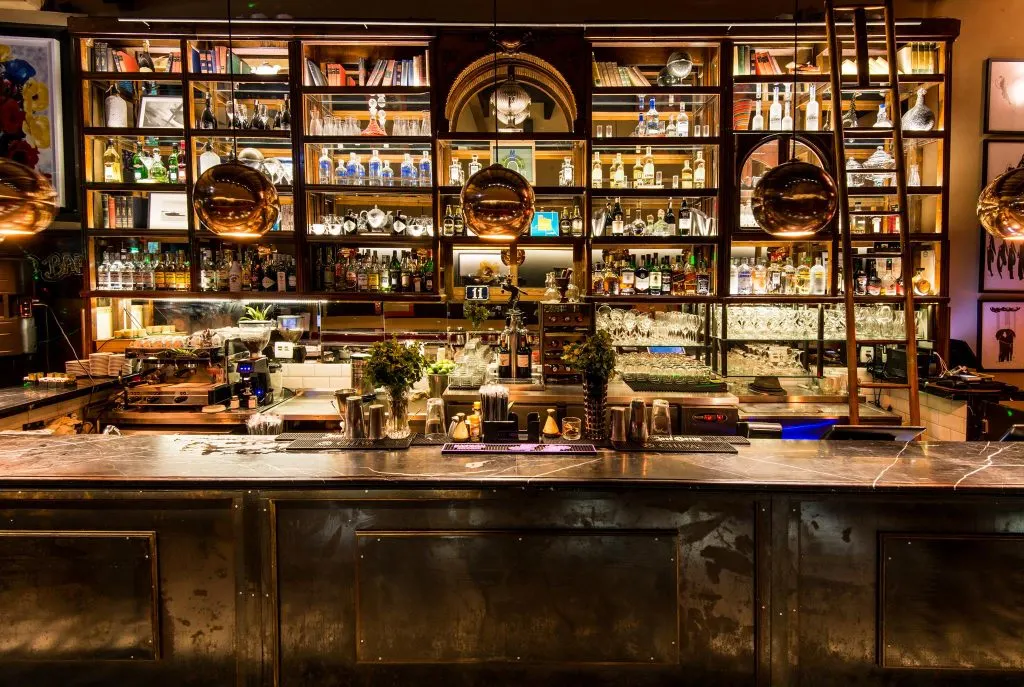 Christ the Redeemer
No visit to Rio would be complete without saying Hello to the Big Dude upstairs with a visit to Christ the Redeemer. From this omnipresent art deco masterpiece, dedicated in 1931, you can gain panoramic views across the entire city.
There really is nothing quite like standing beneath a colossus, 130-foot tall statue of Jesus with his arms gracefully outstretched to remind you of where you are. A symbol of Christianity across the world, the figure is a cultural icon of both Rio and Brazil and was listed as one of the New 7 Wonders of the World in 2007. So it is no wonder a visit here is one of the top things to do in Rio de Janerio.
You can either catch a train or hike up if you feel particularly energetic, but be sure to do it either in the early morning or late evening to avoid the relentless tour bus hoards.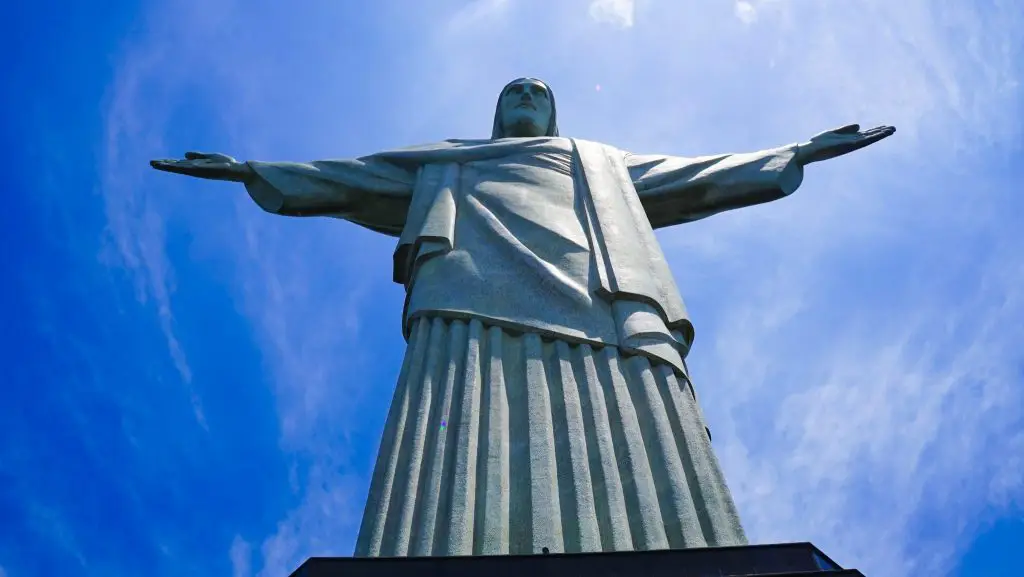 Circo Vaodor
Circo Vaodor is a stylish outdoor venue for live music and various cultural events in Lapa, complete with iconic views of the Carioca Aqueduct. Open most weeknights, and every weekend, this legendary place is a must-do in Rio fro the musically-inclined. The high-energy concert space has almost 40 years of history to back up its impressive credentials.
Today, this vast space remained one of Brazil's most loved and respected houses. A former mayor of Rio de Janeiro tried to shut it down in 1996 – and he succeeded until 2002. Since then, Circo Voador has made an incredible comeback and is again home to some of the best concerts in town. From samba to rock and everything in between, along with a far-reaching program of festivals, cultural events, and social projects focusing on education.
Just look for the chaotic line that often cuts across the partying throngs of Lapa…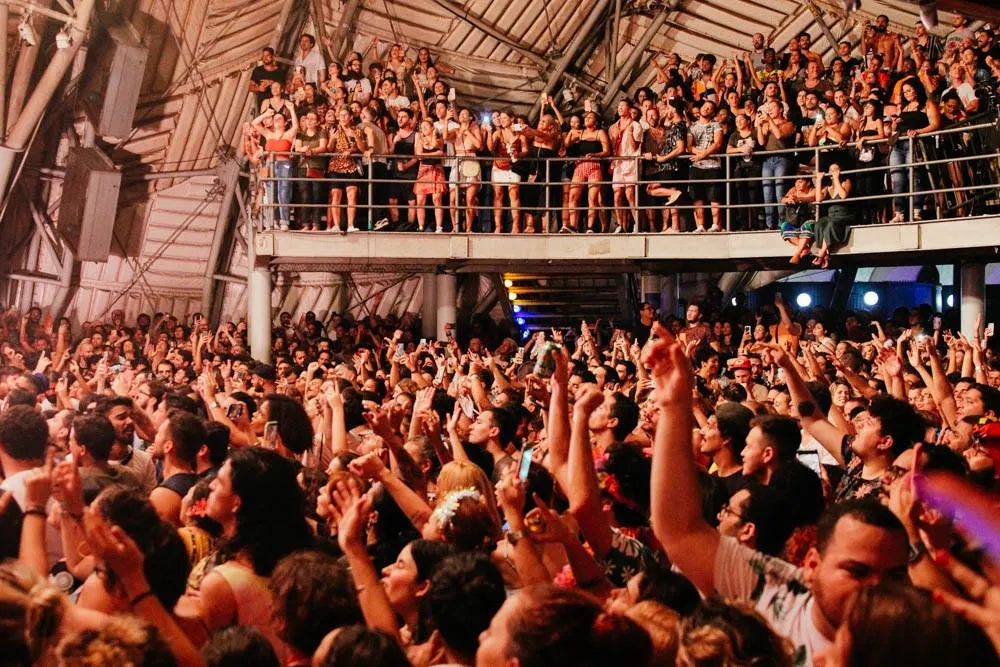 Comuna
An innovative, creative space in up-and-coming Botafogo, Comuna is a restaurant, event space, art gallery, and independent bookshop. Starting in 2011 by four friends, there is always something fascinating and alternative going on in this off-the-beaten-path spot.
Music gigs, workshops, fashion shows, and poetry slams are all possibilities here — though Comuna is also worth a visit for the milkshakes, award-winning burgers, and local microbrewed beers. Incredibly hip and the kind of concealed modern developments we came to love in Eindhoven and Providence.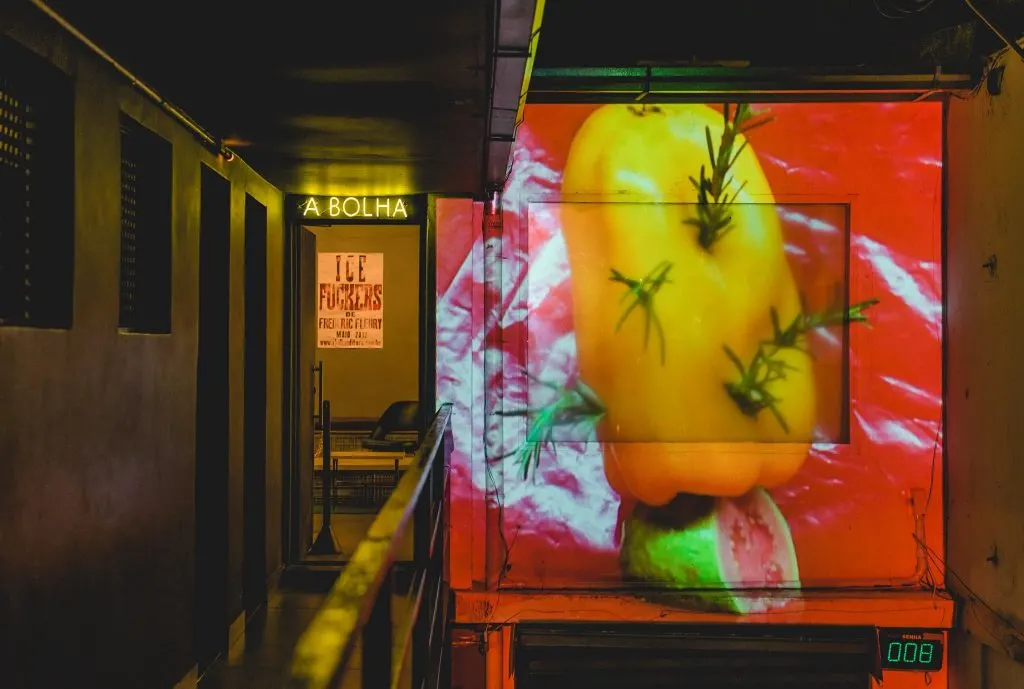 Dois Irmãos
Morro Dois Irmãos, otherwise known as Dois Irmãos, is that quintessentially Rio rock formation that towers about the western end of the Ipanema/Leblon beaches. If you have seen a photo of Rio without a giant Jesus, chances are you have seen Dois Irmãos. It is that famous. So naturally, climbing this iconic rock is going to be a must-do in Rio. At 1,749 ft (533 m), it's in the middle of Rio's two other famous mountain walks; Pão de Açúcar (1,296 ft / 395 m) and Corcovado (2,310 ft / 704 m).
Although it may not look it from below, you can reach the Dois Irmãossummit without ropes or any climbing experience. The hike up from the ocean takes around 40 minutes to one hour. You'll be climbing through the humid jungle with occasional viewpoints to stop at — and the last section of the walk goes through the chic Vidigal favela. However, the views at the top make all the effort worth it with Ipanema's magnificent coastline to the left and the vast Atlantic ocean stretching out to the right.
On the way back down, stop at Bar Da Laje (see earlier in this list) for a drink with not-quite-as-incredible-but-still-amazing views. You deserve it!
Fabrica Bhering
An abandoned former chocolate factory that has been repurposed as a new alternative art venue where the Rio creative economy can thrive.
Located in the artsy Porto Maravilha area, over 70 artists now call Fabrica Bhering where they create and showcase their work in small studio spaces. Much like the chocolates' boxes that were previously produced here, you never know what you are going to get. Inside, you'll find plenty of independent sculpture, literature, photography, video, restoration, performance, and multimedia galleries — and the chance to pick up emerging talents works for a fraction of what it would cost it at other spaces.
It is a rare opportunity to see contemporary Brazilian artists during the work process and pick up pieces before the paint even dries.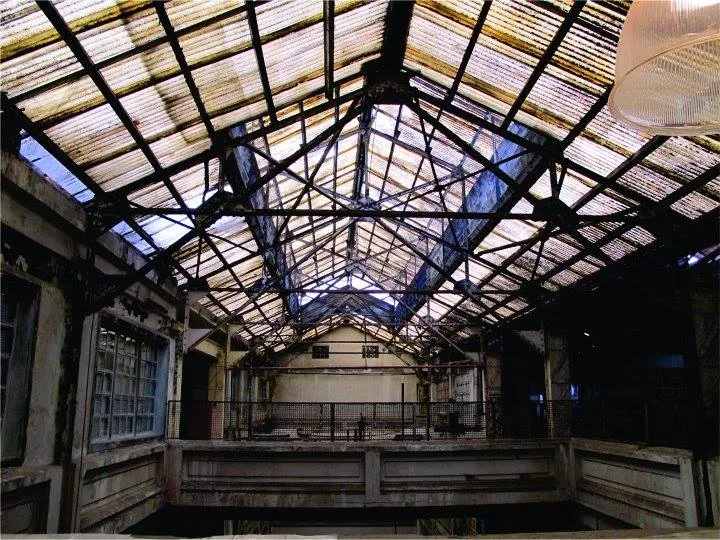 Farm
Farm isn't just a hippy fashion store; it's a label and lifestyle brand that everyone is talking about in Rio. Everything from the architectural conception for this flagship Ipanema store to their distinctive prints is flawless and instantly recognizable as Farm.
You can explore their offerings online or in around 50 outlets across Brazil, but for the full experience, you need to head to their three-story store in Ipanema. Here you can browse their dresses, shirts, bags, shoes, and more — all iconic and casual — in beautiful and very Insta-worthy surroundings.
The embodiment of Rio's iconic lifestyle, Farm has big expansion plans and has recently had some hugely successful collaborations with more prominent brands, including Havaianas and Adidas.
Feira de Sao Cristavao
Feira Nordestina São Cristóvão is the place to explore life in the northeast of Brazil, without leaving Rio. This is Rio's largest market fair, taking place in an enormous space covering almost 32,000 square meters. Inside around 600 booths and stalls offer goodies from Bahia along with music, drinks, and food from the surrounding region.
Around 300,000 people flock here each month to take in the range of handicrafts, shoes, clothing, toys, meats, DVDs, jewelry, artistic presentations, and much, much more. Feira Nordestina São Cristóvão is a genuinely Brazilian experience for both locals and tourists – and the party keeps going until 5 am most days with karaoke and live music. In fact, this vibrant, must-visit fair doesn't close on the weekends.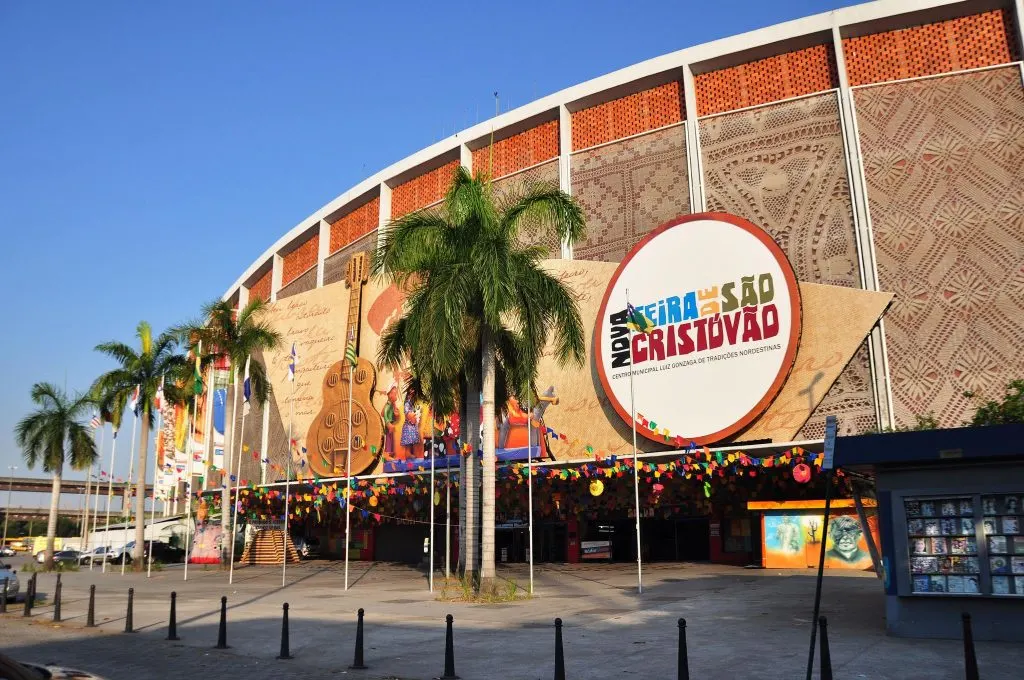 Ginga Tropical Show
Plan a visit to the fabulously flamboyant Ginga Tropical Show, a dance and music extravaganza where you can learn about Brazil's energetic culture through its traditional music and dance.
Throughout this show, see skilled performers dance the lambada, samba, and bossa nova — all dressed in fantastic Carnival costumes. You'll also hear folklore from different areas around this diverse country, be treated to live drumming performances and witness the Brazilian martial art, capoeira, firsthand. Included in your entrance ticket to Ginga Tropical Show is pickup and drop-off from most Rio de Janeiro hotels, and — if you want — a Brazilian BBQ dinner before the show.
Sure, its touristy and kitschy, but that doesn't mean it isn't fun. And it's a little taste of Carnival for those who cannot plan their visit to Rio de Janerio in late February.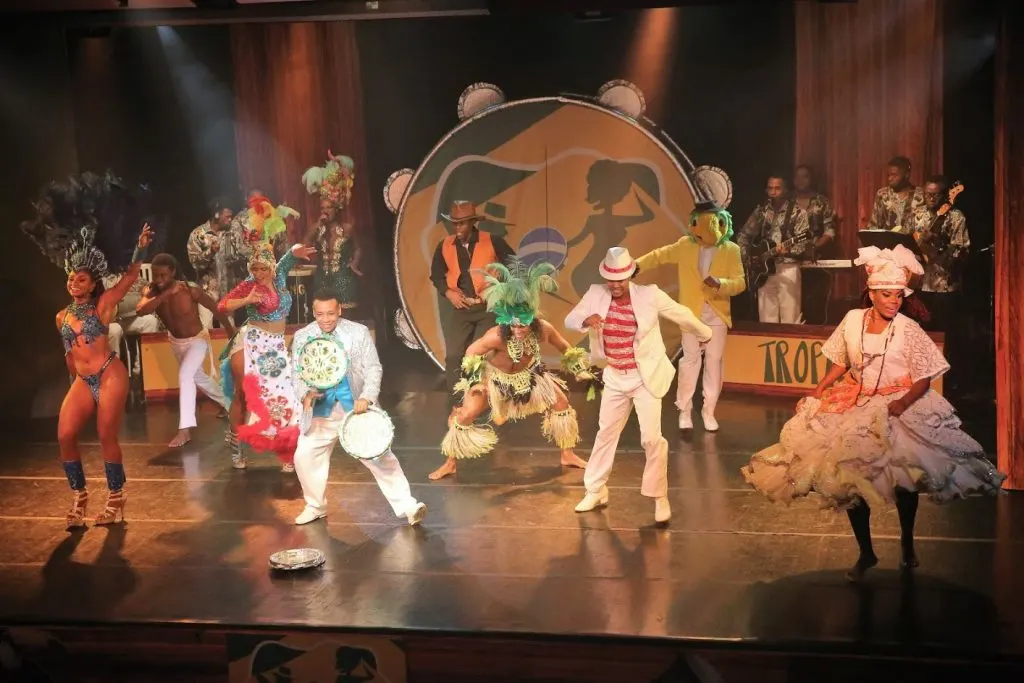 Granado
Granado, Brazil's oldest pharmacy, first opened its doors in 1870 in Rio de Janeiro. The apothecary owner, the Portuguese José Antonio Coxito Granado, provided remedies, cosmetics, and other products made from plants, herbs, and native flowers of Teresópolis, a mountainous region near Rio de Janeiro, where he had a small farm.
Committed to cultivating and identifying local natural solutions to ailments, the business also compiled the first official register of Brazilian medicinal plants and herbs. The high quality, the efficacy of the company's products combined with the dedication of the owner to innovation and discovery of new and unique remedies in an unfamiliar country resulted in Granado soon receiving the title of the Official Pharmacy of the Brazilian Imperial Family.
The pharmacy grew quickly, acquiring and building factories, and the first Granado store opened in 1917 in the heart of Rio de Janeiro, in front of the Imperial Palace, where it is still in operation even today. Granada is no longer owned by its namesake family but continues to make soap and skincare products from Brazillian ingredients. Their products can be found in Rio's luxe hotels and upscale department stores in Tokyo, London, and Paris.
The Granado Concept Store Project was opened in 2005 – at the pharmacy's original Centro address and is the best place to explore the brands offering further. A visit to the store is an experience in-and-of-itself with displays of original mortars, scales, packaging, and advertisements — long with exposed brick walls — which gave the store a sense of history.
Hang Gliding Adventure
Be brave, fly through the tropical air, and take part in a unique hang gliding experience that is one of the most famous attractions of Rio de Janeiro. The takeoff is on the Ramp of Pedra Bonita (inside the National Park of Tijuca). On this guided tour, you will benefit from the services of safe and experienced instructors aboard the hang gliders.
There is nothing quite like it in the world as you run straight off the 525-meter (1,700-foot) Pedra Bonita mountain platform and then hear the sound of tropical birds as you fly over the treetops below. You'll glide between the mountains and the Atlantic Ocean and land safely on the beach of Sao Conrado below. Unforgettable.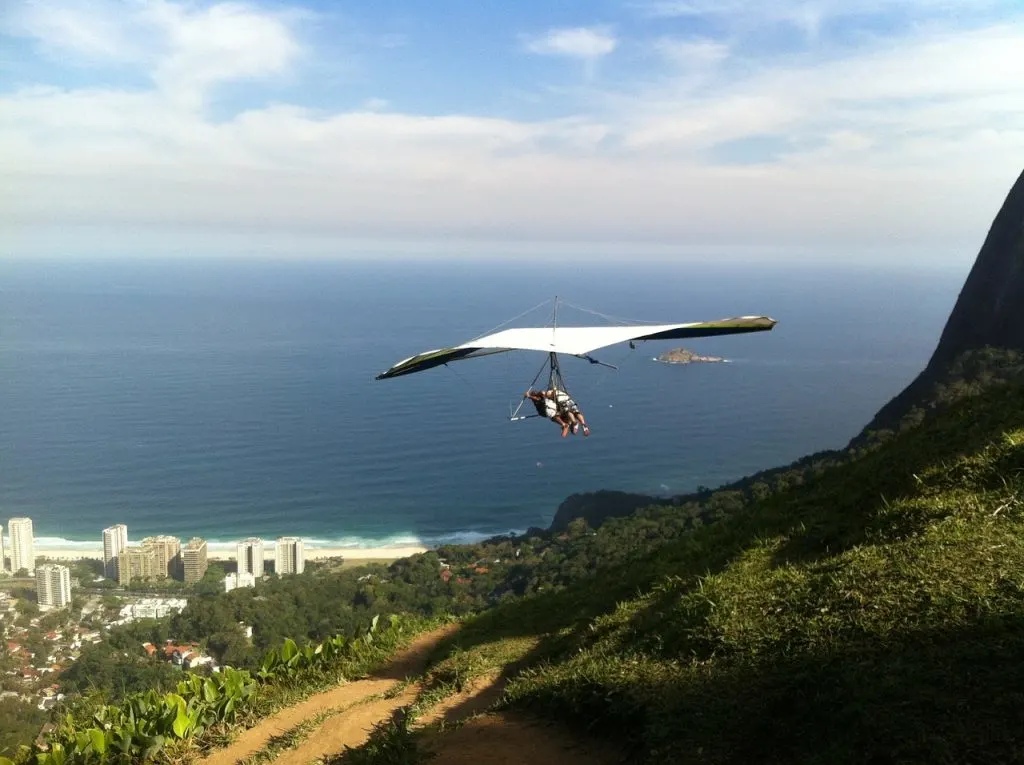 Havaianas
Another brand so intertwined with this marvelous city's casual outdoor lifestyle it could not be excluded from our list. Havaianas. Havaianas in Rio is like speedos in Sydney.
Havaianas were created in Brazil in 1962 and inspired by the Japanese Zori sandal, a sandal with cloth straps and woven rice straw soles. Havaianas replaced the straw with premium Brazilian rubber and updated the design to look fashionable. The thongs were christened with the name Havaianas (which means "Hawaiians" in Portuguese) in honor of the glamourous holiday destination with endless summer vibes. By 1964 practically every worker in Brazil wore a pair of Havaianas.
Traveling salespeople would sell Havaianas directly from their vintage Volkswagen Combi vans throughout Brazil, and the rest, as they say, is history. Now a globally recognized brand, getting a pair of Havaianas in Rio de Janeiro is one of the must-do experiences in the city — and they are surprisingly cheap here. They are almost everywhere you look; in supermarkets, in pharmacies, in fashion stores, and on street corners, but the best place is to go to an official Havaianas store. Here you will find the latest styles, colors, designs, and more.
There are several large stores in Ipanema, Copacabana, and Leblon — head to your nearest!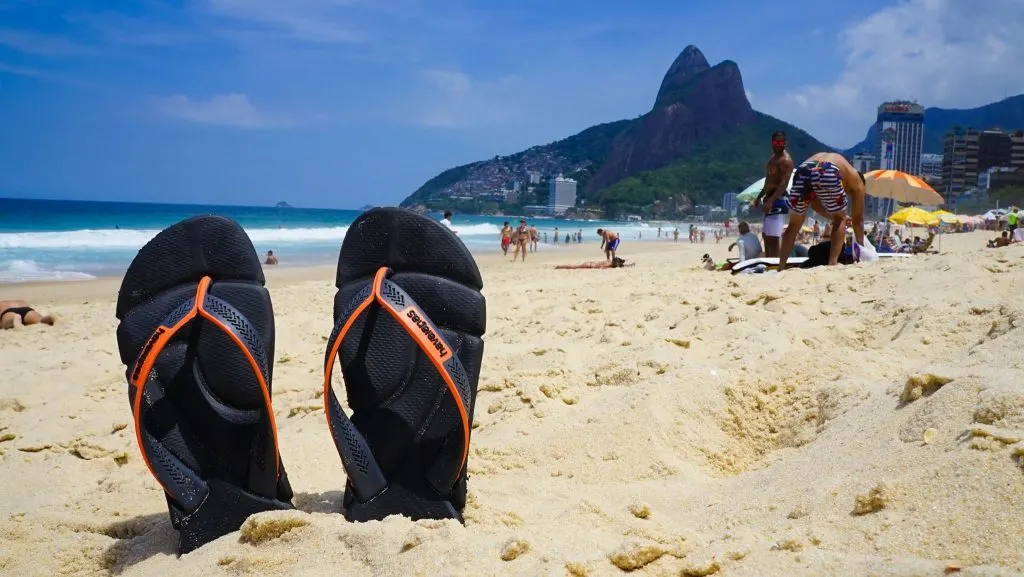 Helicopter Flight Over Rio
For those who aren't on a budget, want to see the main wonders of Rio, or have a dream of flying in a helicopter!
Head out on this short, fast, and memorable panoramic flight with a company specialized in showing passengers the landscape of the Wonderful City from above. Most of the impressive attractions of Rio are included in their efficient itineraries, such as Copacabana and Ipanema Beaches, Maracanã, the Sugar Loaf and Christ the Redeemer — with a few surprises thrown in for good measure.
A wondrous adventure that you will never forget, with excellent communication and friendly staff.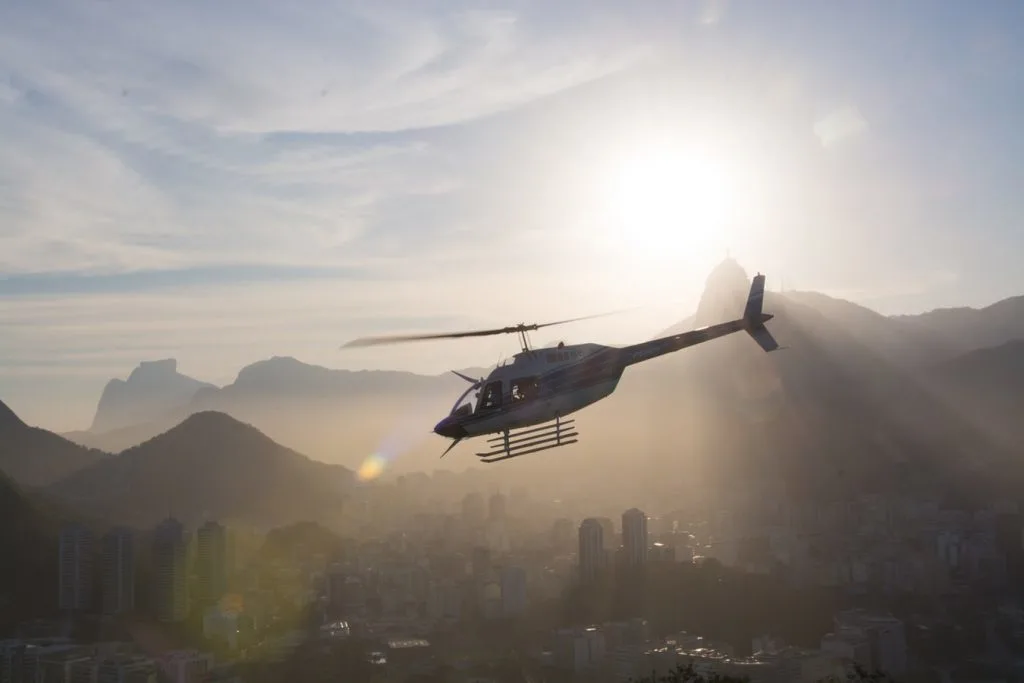 Ilha Grande
Do you dream of cocktails at sunset? White sand under your toes and the sound of waves crashing on the beach? A stress-free location away from chaos where no cars are allowed and your biggest worry will be 'Açaí or Coconut for lunch?'
Well then, boy, do we have the island for you!
While not technically in the city, Ilha Grande is still in the RJ state and is a fantastic tropical getaway not to be missed.
It's a natural paradise with 99% of the island being covered in natural Atlantic Rainforest and only one small town and a series of paths crisscrossing the dense vegetation leading to deserted beaches. Deserted beaches, protected virgin forest, clear blue water, and coconuts on tap — what's not to love!? Plan to spend longer than you expected with this one.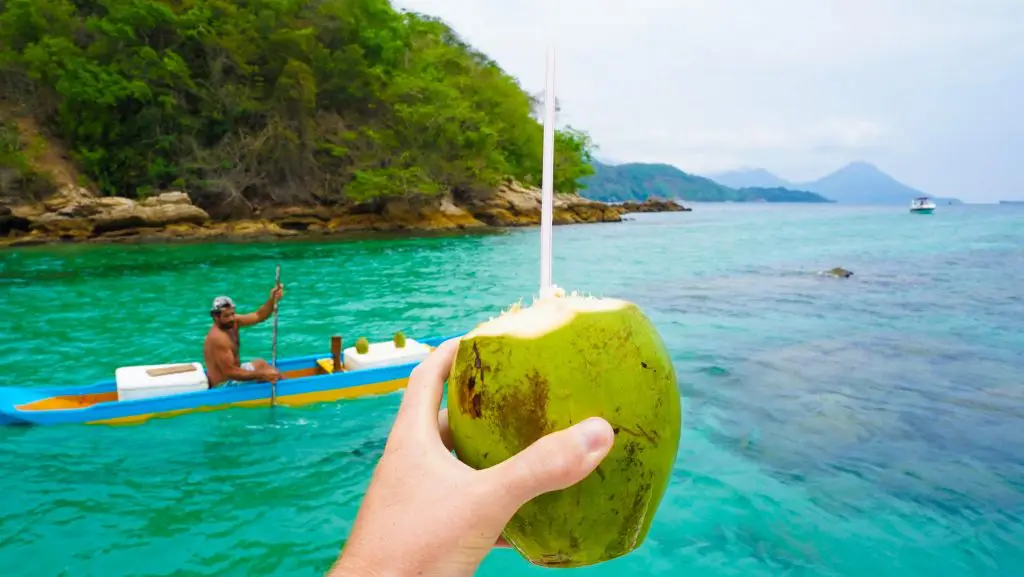 IMS Rio
The Instituto Moreira Salles (IMS) is a single institution within broad influence across the Brazilian cultural scene. It has three centers in Rio de Janeiro, São Paulo, and Poços de Caldas (in the state of Minas Gerais).
It holds significant assets in four areas: photography (the bulk of the material), as well as music, literature, and iconography. It is also celebrated for its exhibitions, especially visual arts with a local Brazilain focus. IMS Rio de Janeiro is located in a landmark 1950s modern architecture building high up in the Gávea neighborhood and surrounded by the lush forests of Tijuca.
It was initially the house where INS founder and philanthropist Walther Moreira Salles and his family lived. Today IMS Rio offers exhibitions, film screenings most days, concerts and cultural events. There is also a small cafe.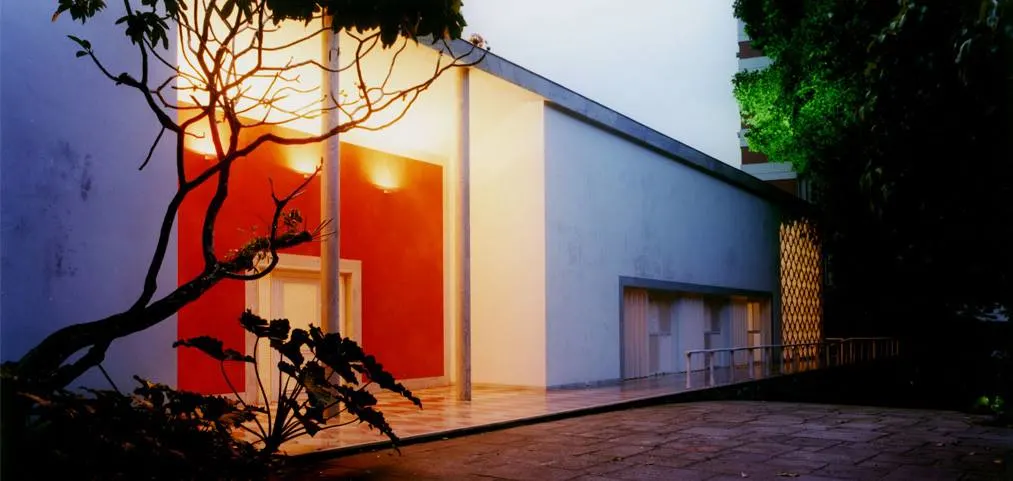 Ipanema Beach
While Copacabana may have all the hotels and tourists, all the locals know Ipanema Beach is now where all the action is. The beach is Rio's backyard, and here you can see it all on show. The people-watching here is world-class, and it seems like people from every cross-section of Rio society are out here enjoying the iconic beaches endless opportunities.
Work out, play volleyball, take a dip, or relax on the sand as beverage and snack sellers cater to your every whim. You'll want to put aside a few afternoons for this alone as its insanely it's addictive! Just a note, however, that the enormous crowds mean that a lot of petty crime goes unnoticed, so keep a watchful eye on your belongings.
Travel insurance providers won't cover you for unattended items. After dark, the beaches of Rio are best avoided entirely as wandering travelers a target for robberies.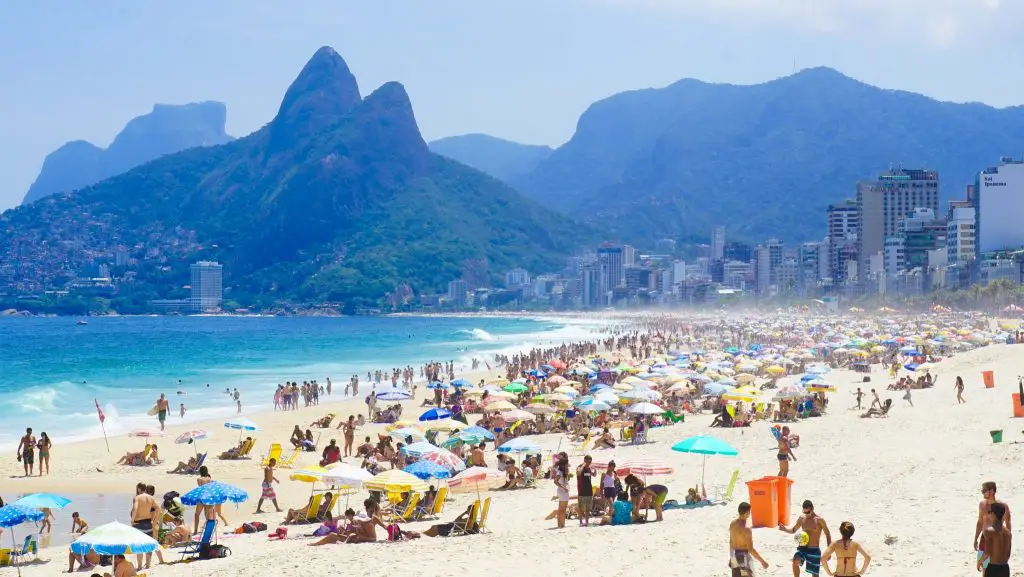 Ipanema Farmer's Market
Rio de Janeiro's most delectable food market, the Ipanema Farmer's Market, takes place every Friday morning from 6 am to 2 pm. It is one of the best ways to discover for yourself the exotic flavors of Brazilan tropical fruit and vegetables — all with a fun, colorful, and festive atmosphere. The helpful stall-keepers are happy to help you find what you are looking for, or recommend flavors based on what you like.
For the freshest produce, head here in the morning — though prices decrease during the day so bargains can be had in the afternoon. For a little adventure why not try your luck, grab a few strange things and take them for a tasting on the beach nearby.
Jardim Botanico do Rio
The Rio de Janeiro Botanical Garden / Jardim Botânico is the place to go for those wanting to explore an unbelievable display of both Brazilian and foreign flora.
Inside this lush 54 hectare park, there are around 7,500 plant species in numerous themed gardens and greenhouses. There are over 900 varieties of palm trees alone, along with standout collections of bromeliads, orchids, carnivorous plants, and cacti. It truly is one of the world's most magical botanical gardens, up there with the equally impressive Singapore Botanic Gardens.
Founded in 1808 by royal decree in an attempt to acclimatize spices like nutmeg, pepper, and cinnamon shipped from the West Indies, the Jardim Botânico was opened to the public in 1882 and has remained a source of pride and joy for Cariocas ever since. The wider park also includes a section of the Atlantic Forest rising up the slopes of Corcovado to meet Christ the Redeemer — meaning you can visit both at the same time.
For the perfect day trip, you could also combine with breakfast at the wonderful bakery, bistro, and deli Empório Jardim.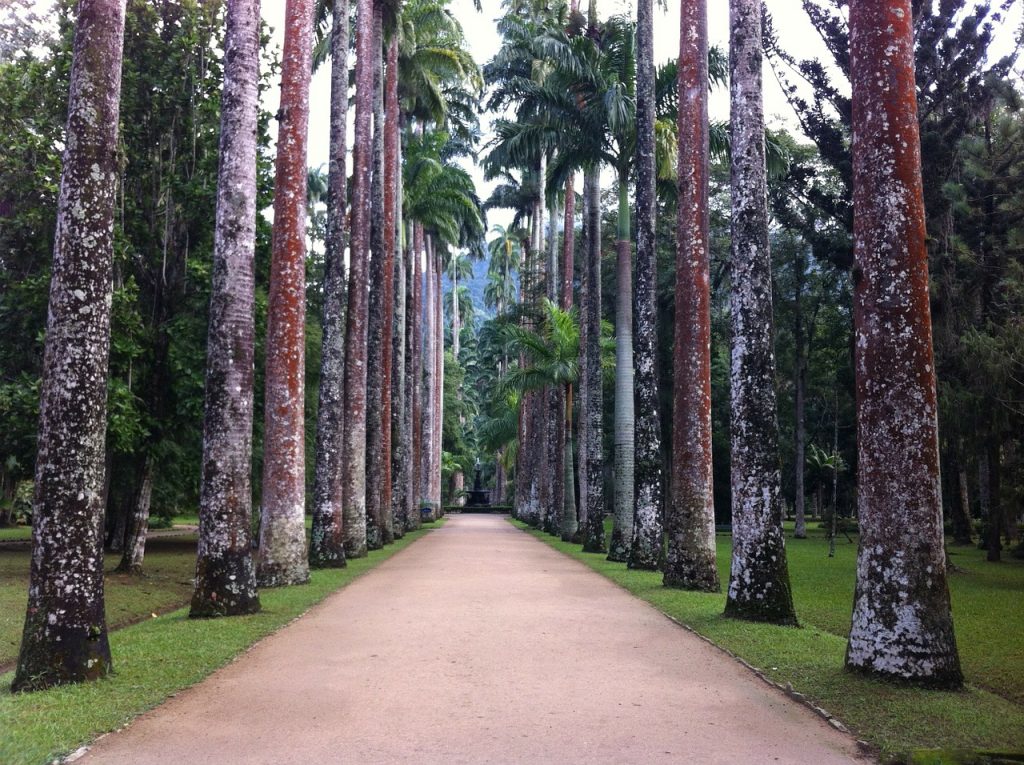 Jockey Club Brasileiro
For something a bit different, why not take a trip to Brazil's most spectacular racetracks, if only to take in the majestic mountain views.
Built back in 1926, the grand colonial track at Jockey Club Brasileiro has around 3,000 seats and an overall capacity of 80,000 – making for an exciting day out. Located on the edge of Lagoa Rodrigo de Freitas, opposite Praça Santos Dumont, this is a place to get in amongst the local Rio life. Much like the Hong Kong horse races, the local fans, the bars, and the party atmosphere is a significant part of the fun here. There are also food trucks from renowned restaurants, live music, and plenty of alcohol.
Entrance is free, and tourists are always welcome to the races on Saturday and Sunday at 2 pm and Mondays and Tuesdays at 6 pm. Other notable events held here annually include the Rio Open and the Brazilian Grand Prix.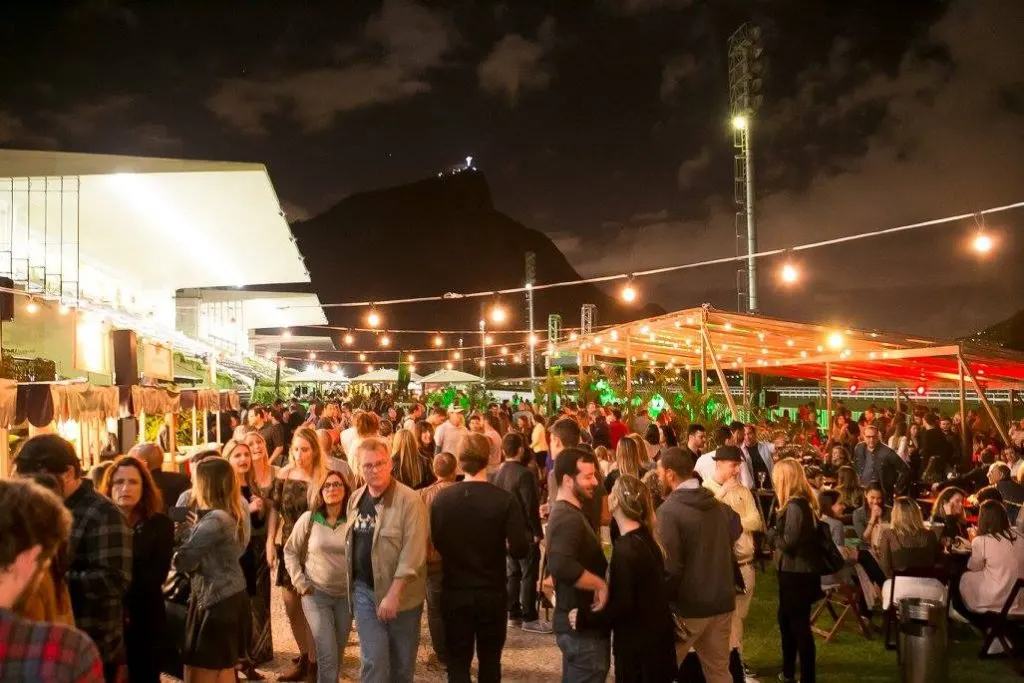 Lapa District
Rio de Janeiro's hedonistic nightlife is like nothing else. So why not let loose, explore the rhythm of Rio and dance the night away in the infamous Lapa District.
With its famous white Arcos de Lapa aqueduct and frenzied crowds, this neighborhood is the lifeblood of Rio's nightlife and the cities main party district. Here you will find plenty of live-music venues, cafes, bars, and restaurants — but remember samba is the soul of Lapa, and it is infectious!
Rua do Lavradio is the heart of this caipirinha-fueled excess, and plenty of spontaneous street parties break out here — on both weekdays and weeknights. Start here, and see where the night leads.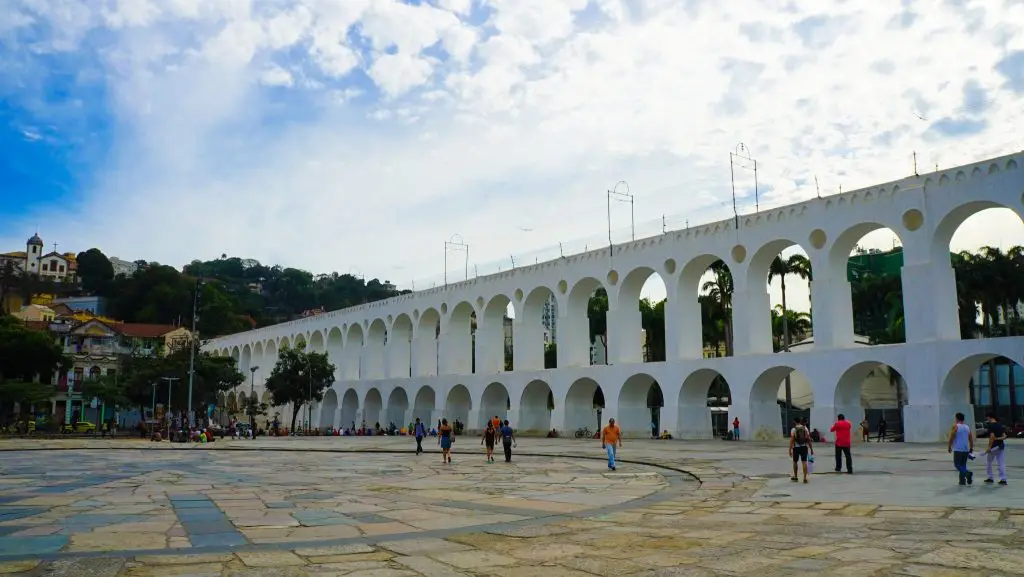 Maracanã Stadium
The Maracanã, formally named the Estádio Jornalista Mário Filho, is the largest stadium in Brazil and the second-largest in South America. In a country that is devoted to football as Brazil, Maracanã can be seen as their cathedral.
It certainly feels like it if you attend a game here. Built in 1948 to host the World Cup, it was not completed on time and saw close to 200,000 fans filling unfinished stands. It has seen crowds in excess of 100,000 284 times during its history but was redeveloped for the 2014 World Cup, and now has a capacity for only 77,000. It was almost abandoned after the 2016 Summer Olympics because of an ongoing legal dispute but is now back in usage again.
If you can time your visit correctly, one of the best things in Rio de Janeiro to do is attend a football game here at one of the world's most famous stadiums. You'll experience football spirit at its finest, and you cheer along for whichever team you wish and take in the humbling vibes. Otherwise, there is always a behind-the-scenes tour to access Maracanã when games are not on.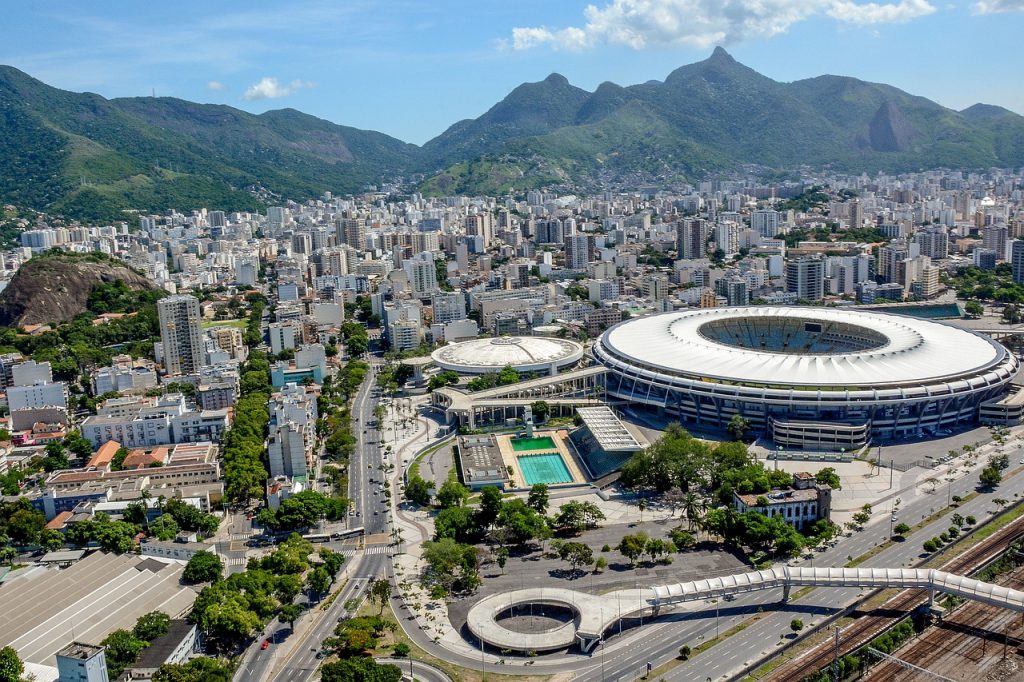 Metropolitan Cathedral of Saint Sebastian
Explore the grungy grandeur of the Metropolitan Cathedral of Saint Sebastian, better known as Rio's Cathedral. Finished in 1979 in the modern style based on Mayan pyramids like those of Tikal, its construction took 15 years to complete. As you might imagine, its form divided the city — but love it or hate it, it leaves a lasting impression.
This is one church you have to see, if not only for the unique feeling of darkness that overwhelms you when you enter. Not exactly what most holy spaces try to achieve. But this is not your typical church, that's for sure; and one of the weirdest things we saw while backpacking Brazil.
The cathedral's four rectilinear stained glass windows, which soar 64 meters (210 ft) from floor to ceiling, are also a glorious sight to behold, and one you shouldn't miss as entrance is free (though donations are recommended).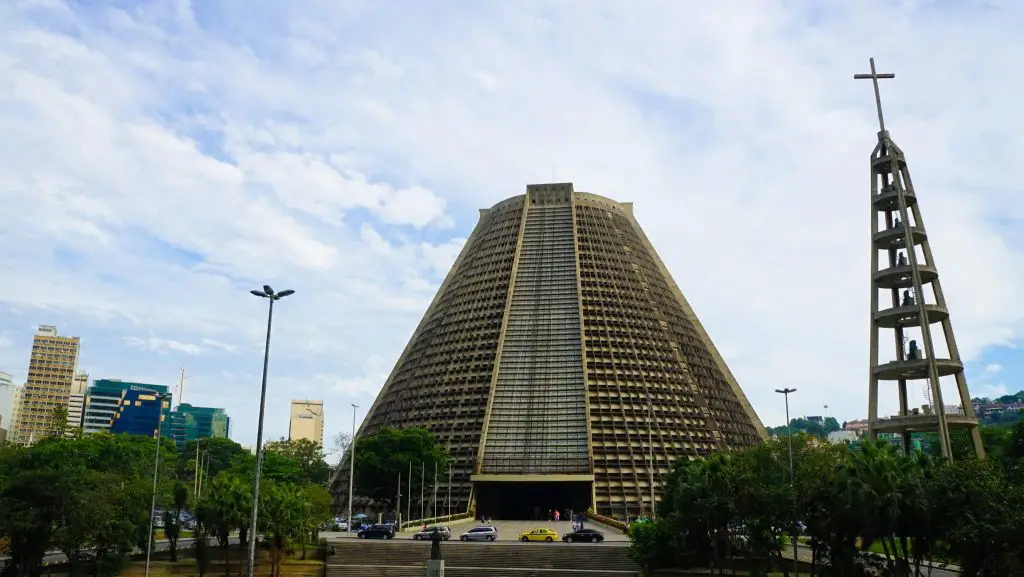 Momo Gelato
"Italy is delicious, but Rio is much more delicious." This is how a group of friends from Rio convinced the most delicious Italian gelato to come to Brazil. And how the story of Momo, a story of the love of flavor, started.
Launched in 2014, Momo is now the toast of the town. A visit to their store on the popular food street Rua Dias Ferreira in Leblon on a hot day is an absolute must. We loved all the small details that Momo considered in designing their store. From the menu to the chairs, to the handmade cone made instore and the cups' design, everything here is perfect, wonderfully boutique and gourmet.
Try their simple but tasty artisanal gelato flavors, homemade waffles, and unique toppings — our personal favorites are Pistachio, Brigadeiro, and Momocookie.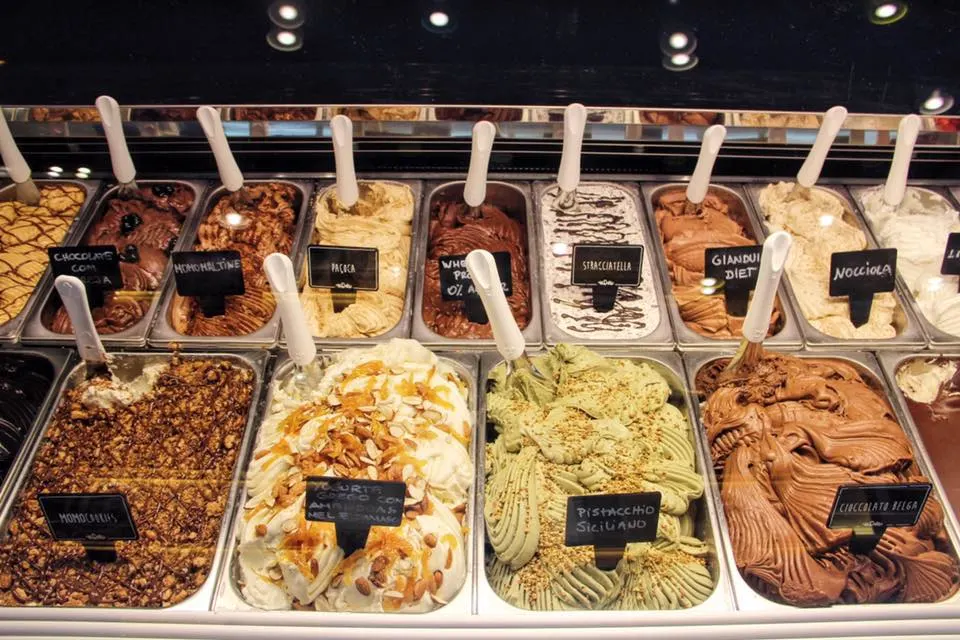 Museu de Arte do Rio
Relaunched in 2013 as part of a redevelopment of the Rio port area, the Museu de Arte do Rio (MAR) promotes art that speaks to the city's history, social fabric, characteristic life, conflicts, contradictions, challenges, and social expectations. The diverse art exhibitions here blend historical and contemporary dimensions but all related to Rio or Brazilian culture.
The museum is housed across three buildings; an old police building, the eclectic Dom João VI Mansion, and a glorious modernist construct held up by pillars (that was originally a bus station). All are connected by a remarkable undulating roof inspired by a wave recently dreamed up to link the distinct styles.
A masterpiece of urban planning, there is also an exceptional rooftop restaurant with sensational views.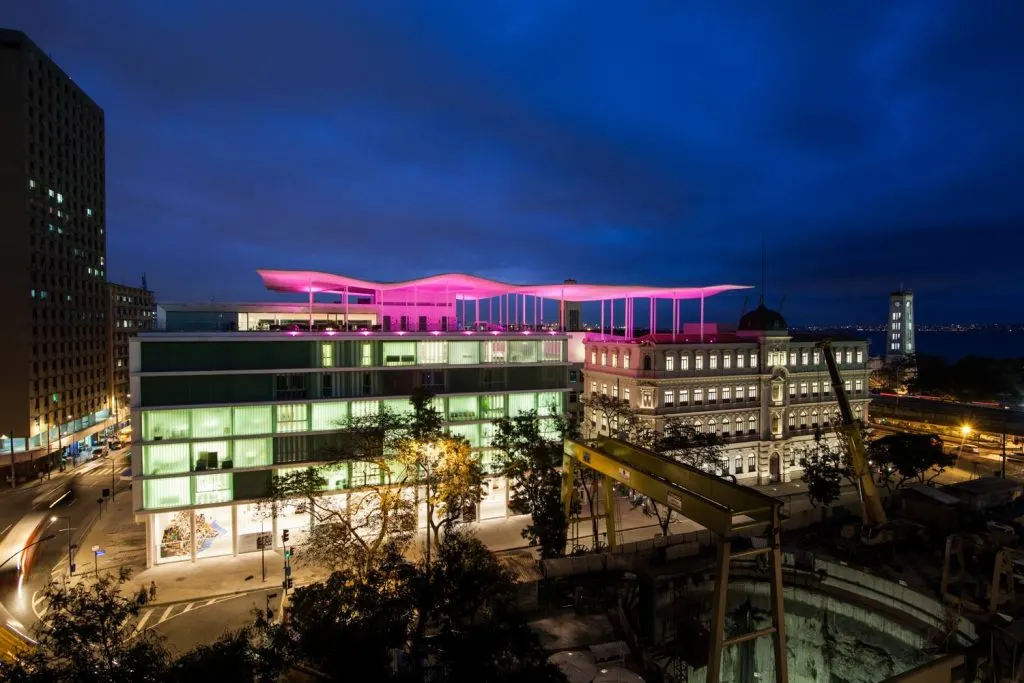 Museu do Amanhã
The Museu do Amanhã/ The Museum of Tomorrow is a grand science museum opened in 2015 on the Centro waterfront as part of the Port revitalization for the summer Olympics.
Produced by Spanish neo-futuristic architect Santiago Calatrava, it is perhaps one of the most outlandish architectural pieces we have ever seen. It is considered by many to be an (almost literal) white elephant as while its construction progressed, the funding for traditional museums in Rio continued to be cut by the government — most famously culminating in the entire National Museum burning down in 2018 as the building had become unsafe electrically.
But it is here now, so you might as well enjoy a visit to the Museu do Amanhã where the ideas for the future of the world are presented, and possibilities for a more sustainable and ecological world are imagined. One of the top new things to do in Rio, the leading exhibition covers five time periods: Cosmos, Earth, Anthropocene, Tomorrow, and Us with numerous experiments and activities.
The buildings' eco-credentials are just as impressive and make it a captivating place for children and adults alike to explore the issues of climate change, global integration, diversity, and more.
Museum de Art Moderna
The Museum of Modern Art in Rio de Janeiro (MAM) is an impressive museum located inside Rio's Flamengo Park, in the Centro district. The building itself is a landmark of modernist architecture in Brazil, along with its gardens, produced by famed landscape architect Roberto Burle Marx and Affonso Eduardo Reidy.
The museum was conceived in 1948 at a time when the postwar Brazilian avant-garde was largely being ignored. As a result, today, MAM Rio has some of the most important modern and contemporary art in Latin America. The collections are made up of works belonging to thee different places. The first is the museum's own collection — remade through donations and acquisitions after an extensive fire in 1978. The second is the loaned Gilberto Chateaubriand collection, which includes Brazilian art from the emergence of modernism in the country to contemporary production, and the third, the Joaquim Paiva collection, devoted exclusively to the photography of names of different generations and nationalities.
There are more than 15 thousand artworks in total here, along with numerous temporary exhibitions which are still amongst the best in the continent.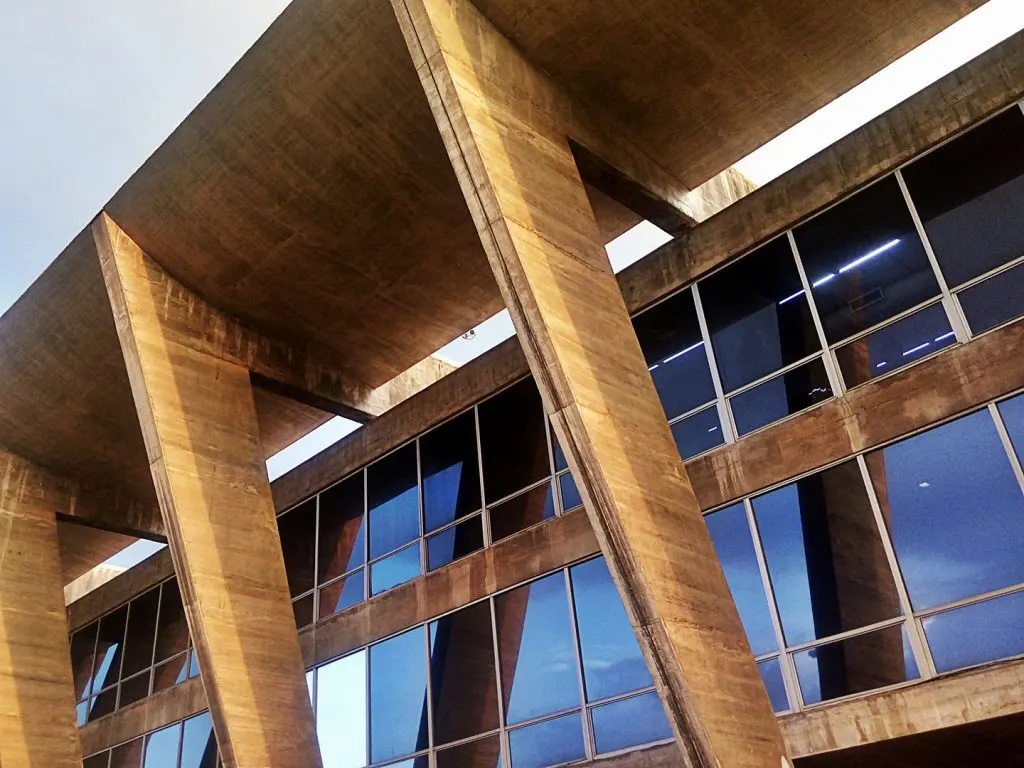 Niterói Contemporary Art Museum
Head across Guanabara Bay to Niterói, Rio's jealous little sister who has become something of a backwater since the capital was moved to Brasília.
However, one shining light has since returned in the Niterói Contemporary Art Museum, designed in 1996 by Oscar Niemeyer – Brazil's most revered architect. This cliff-side UFO modernist construction is a landmark of Niterói and Brazil and is home to multiple galleries and event spaces, along with an upscale restaurant.
The museum has a collection of over 1,200 works assembled since the 1950s, making it the second-largest accumulation of contemporary art in Brazil. However, the art installations inside can be somewhat hit and miss, depending on your tastes.
This is very much of a case of come for the architecture — though the incredible views back across the harbor to Sugar Loaf and Rio never fails to make the heart skip a beat. You can either take a ferry across the bar or the 14-km long bridge to Niterói. There isn't much else in the area of interest, but after the museum, you can explore Itacoatiara Beach just a few kilometers away.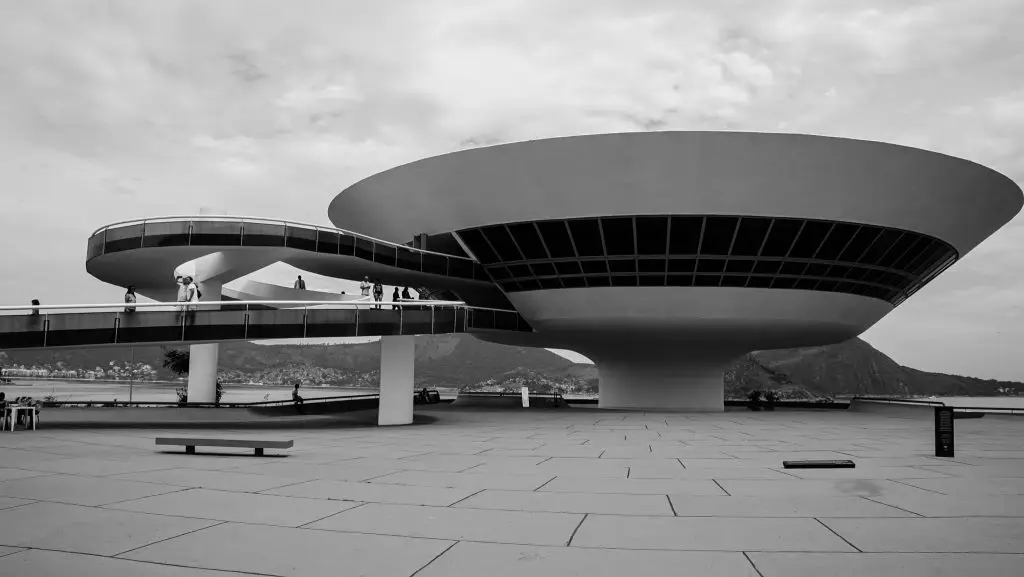 Oskeln
The Osklen brand is known as typifying the classic contemporary 'carioca style.' If you want to dress like a (posh) local, this is the store with you. Osklen is known for the high-end yet casual designs and has over 60 locations throughout Brazil, and now includes stores around the world from Hong Kong to Miami.
Their two labels, Osklen Praia and Oskeln Collection have flagship locations within a few hundred meters of each other in Ipanema — and a must for a fashionista. The tops, shorts, swimwear, and sneakers will take you from the beach to the pool to the party at night, as we said, 'carioca style.'
Paco Imperial
Built back in 1743, this Portuguese Colonial construct was once used as the Viceroys' house of Brazil when the seat of the colonial government of Brazil was transferred from Salvador to Rio de Janeiro.
After the Republic of Brazil was proclaimed in 1889, the Paço Imperial was used as the central post offices — although its lavish interior decorations were lost and its façades modified. In 1938, it was protected as National Historical and Artistic Heritage, and in 1980, it underwent a significant restoration to return it to its original form. Since then, the Paço Imperial has provided a cultural center for the states' Institute of Historical and Artistic Heritage, hosting temporary art exhibitions of painting, sculpture, cinema, music, and more.
The exhibitions here are always free and add to the magnificence of the building. Inside the Paço Imperial is also the Paulo Santos Library, which hosts books related to art, architecture, and engineering, along with numerous rare books from the 16th to the 18th centuries.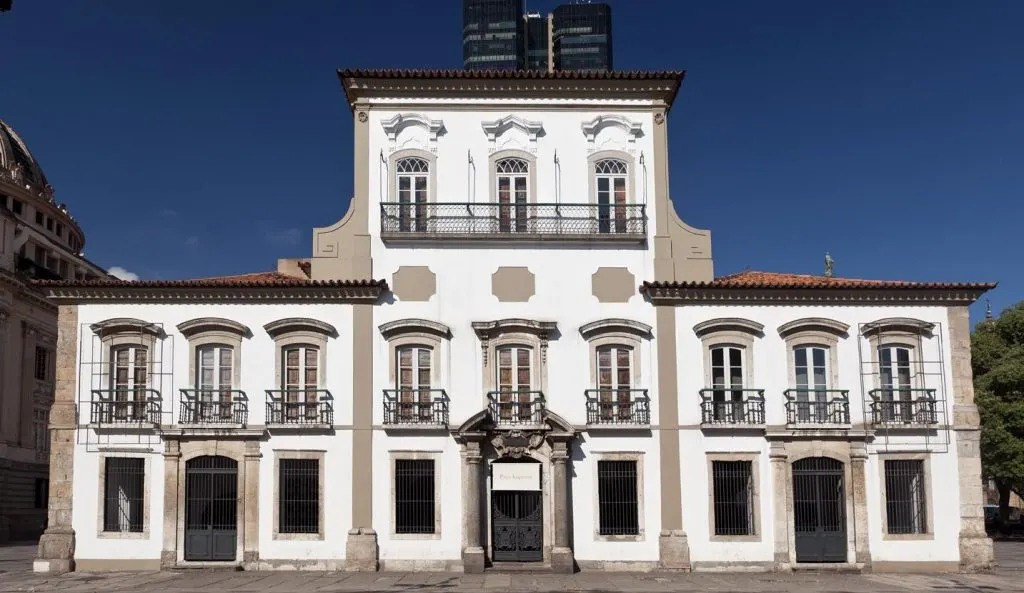 Parque Lage
A wonderful public park that is relatively off the beaten path in Rio de Janeiro — meaning you can escape the tourists for a few hours.
Hidden at the foot of the Corcovado within the Jardim Botanico community, Parque Lage's charm has been featured in music videos by Snoop Dogg and the Black Eyed Peas — which makes it even more surprising tourists have not yet made their way here in droves. Their loss is your gain, however, as this exceptional fusion of history and nature is eerily quiet most days.
The grand palatial estate and the villa were formerly the residences of a local industrialist, but in the 1960s it became a public park. A visual arts school and lovely cafe now occupy the former mansion. You are free to explore the tranquil subtropical forest, ornate mansion, flamboyant courtyard, stables, obscure cave, a castle-like tower, and aquarium.
At the back end of the park, you can even begin a hiking trail that heads to Corcovado's top, just below Christ the Redeemer, if you are feeling particularly energetic.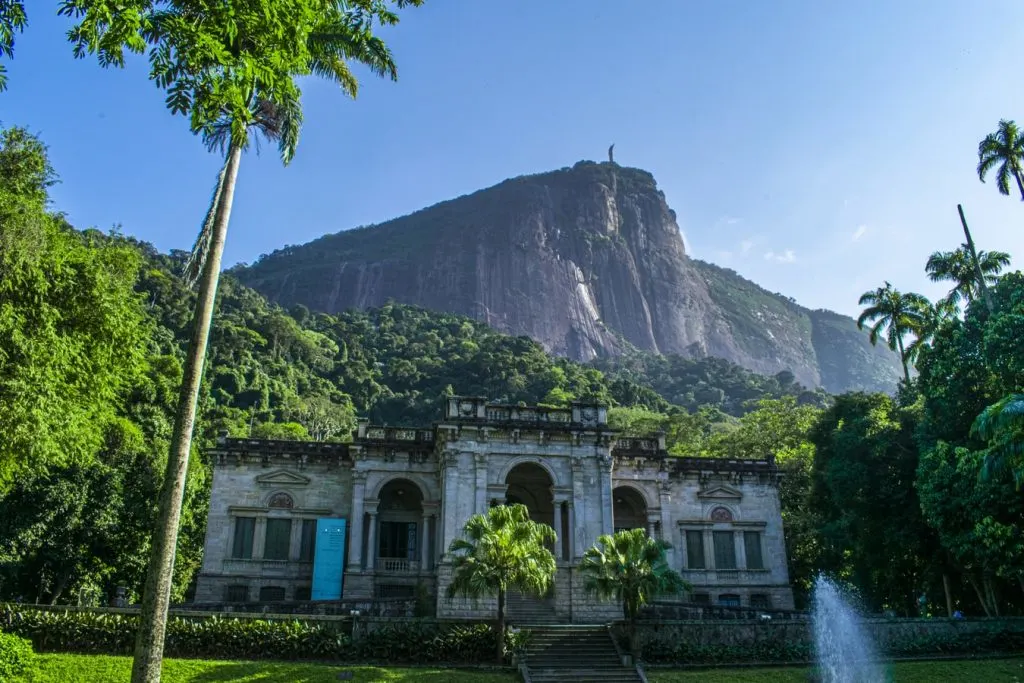 Pedra Bonita
Another of Rio's magnificent hikes, the Pedra Bonita (translated as "Beautiful Rock") trail traversing this granite monolith to a summit with incredible views. However, the main reason to chose this trail is that it is close to the city's paraglider/hang glider ramp so you can watch thrill-seekers launch themselves into oblivion. Or you could always try it out yourself.
The Pedra Bonita is an excellent hike if you have a tight itinerary as it is only around 30 minutes up and less down. It is also not too steep and takes you through the Tijuca forest. The top gives superb views of many of Rio de Janeiro's other top attractions, including Gávea stone, Barra beaches, Leblon, Ipanema, and areas to the South.
Pedra do Telégrafo Hike
A highlight of the lush Pedra Branca State Park, Pedra do Telégrafo (at an elevation of 350 meters), is the pinnacle of Guaratiba Hill. You can take a guided tour or head out solo along Guaratiba Beach to the beginning point of the trail.
The ascension begins here. It takes around an hour to reach the summit, depending on your fitness. There are numerous aspects along the way for photos and stops, with the most famous being the sharp rock of Pedra da Bigorna. You might have seen it on Instagram — its the place where everyone takes a shot that looks like they are falling off.
From the crowning pinnacle, wonder at the glorious scenes of the Restinga da Marambaia sandbank and the wild beaches to the south. After you head back down, take your time to relax on the golden sand of Grumari Beach or nearby Prainha. You deserve it!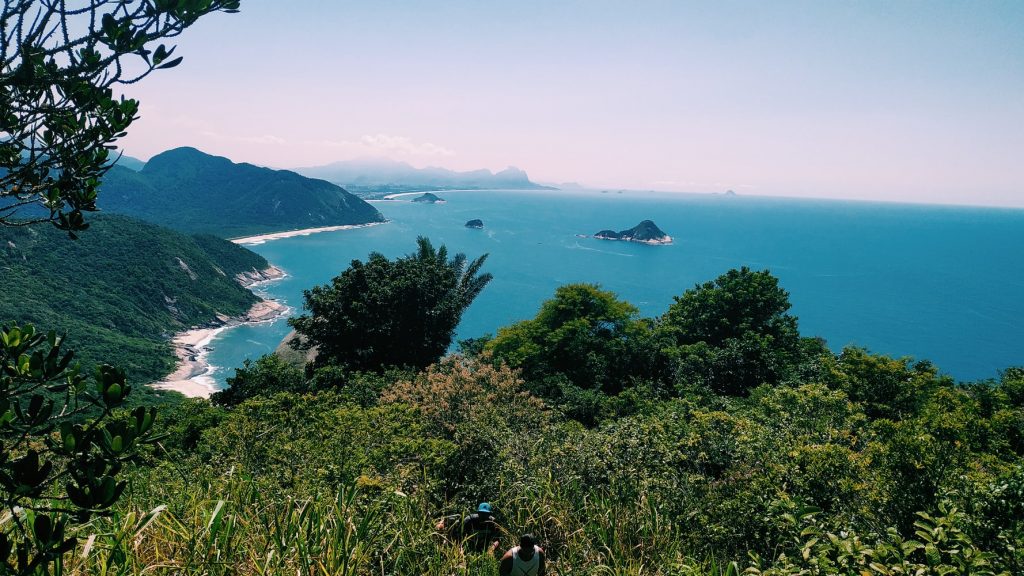 Real Gabinete Portuese de Leritura
The Royal Portuguese Cabinet of Reading is a grand limestone heritage-listed building hidden in Rio's center. Inside is one of the most beautiful libraries in the world — and the most extensive collection of Portuguese literature outside Portugal.
It was founded in 1837 by a group of Portuguese immigrants and political refugees to promote the Portuguese community's culture in the then capital of the Empire of Brazil. The UNESCO-listed Jerónimos Monastery was inspired by the grand façade in Lisbon. Somehow, the interiors are even more opulent; however with colonial Portuguese late Gothic wooden bookcases, a magnificent chandelier, and skylight in iron structure.
A little gem and one of the best things to do in Rio, the collection has grown over 180 years to include today over 350,000 items. A visit only takes around 20 minutes as it is just a huge room full of books – but what a gorgeous room it is! The entrance is free, and you only need to sign in at the front desk.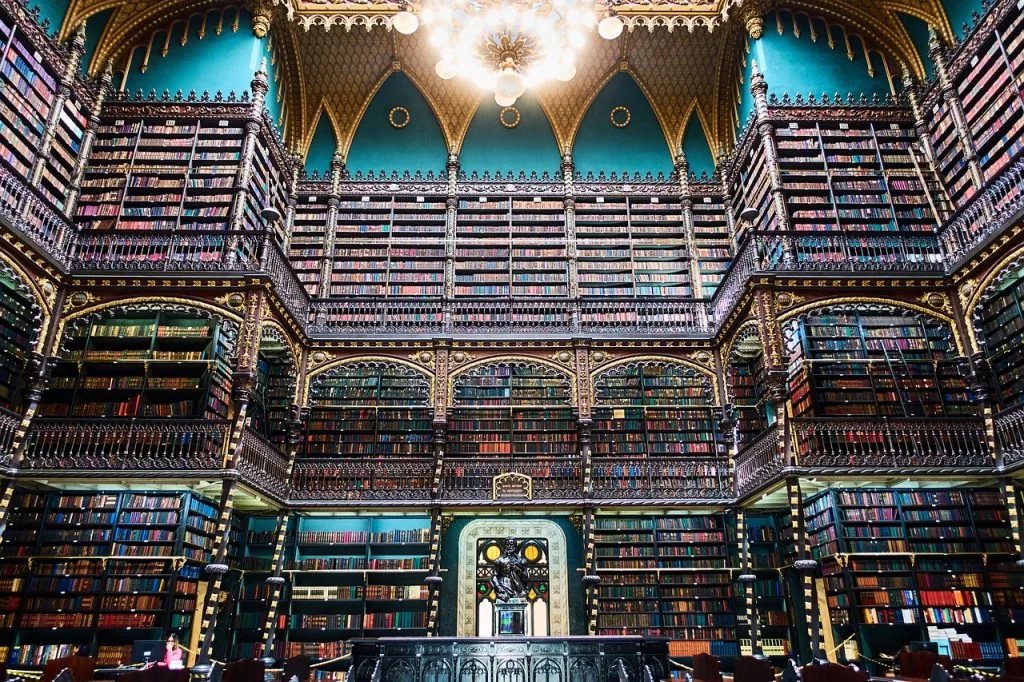 Rocinha Favela Walking Tour
Take an escorted tour to Rocinha, Brazil's largest favela. Meet your local guide, who is a favela resident, and then set off through this interesting and complex community on foot.
Learn from your guide about what daily life is like in the favela and the difficulties that residents face who live here. Listen and understand the history of the favela and how these communities contribute to the unique culture of Rio. The tour is intended for educational reasons alone and to allow a better understanding of local life, though there are issues and concerns besetting favela tours.
Just like our ethical Lima tour, we found the option to interact with these communities invaluable to our understanding of local issues, but understand this kind of tour might not be for everyone. If you take this Rocinha favela tour, a monetary contribution is made to the community.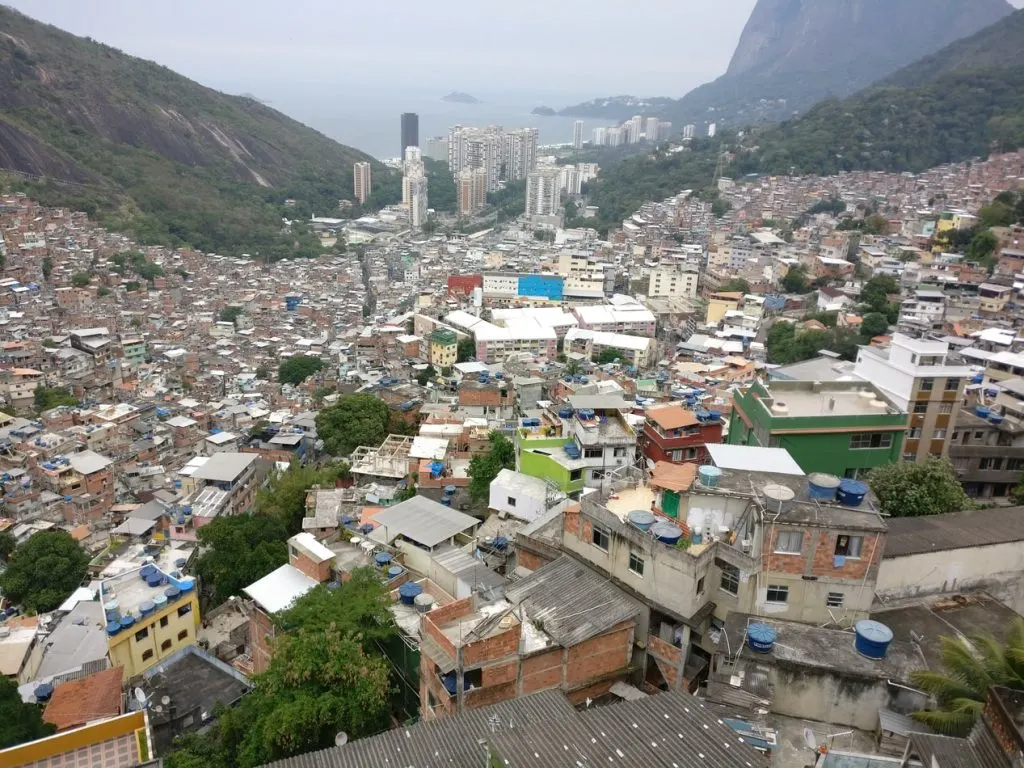 Sambadrome
Another modern architectural wonder in Rio, the Sambadrome Marquês de Sapucaí, is a purpose-built parade area built for the famous Rio Carnival. Located in the Centro, this 700-meter strip flanked by huge bleachers is where samba schools parade each year for five days to thousands of cheering Brazilians and foreign tourists.
The edifices of the Sambadrome were devised by the famed architect Oscar Niemeyer and are notable as his first major work after the end of the Brazilian dictatorship in 1985. The Sambadrome not only functions as the focus of the Rio Carnival but also supports a 115-room primary school underneath the grandstands.
The best way to experience this festival is by buying tickets for either the parade itself or a technical rehearsal. Rio Carnival Sambadrome tickets are only issued a week before the Carnival to protect against misappropriation and duplication.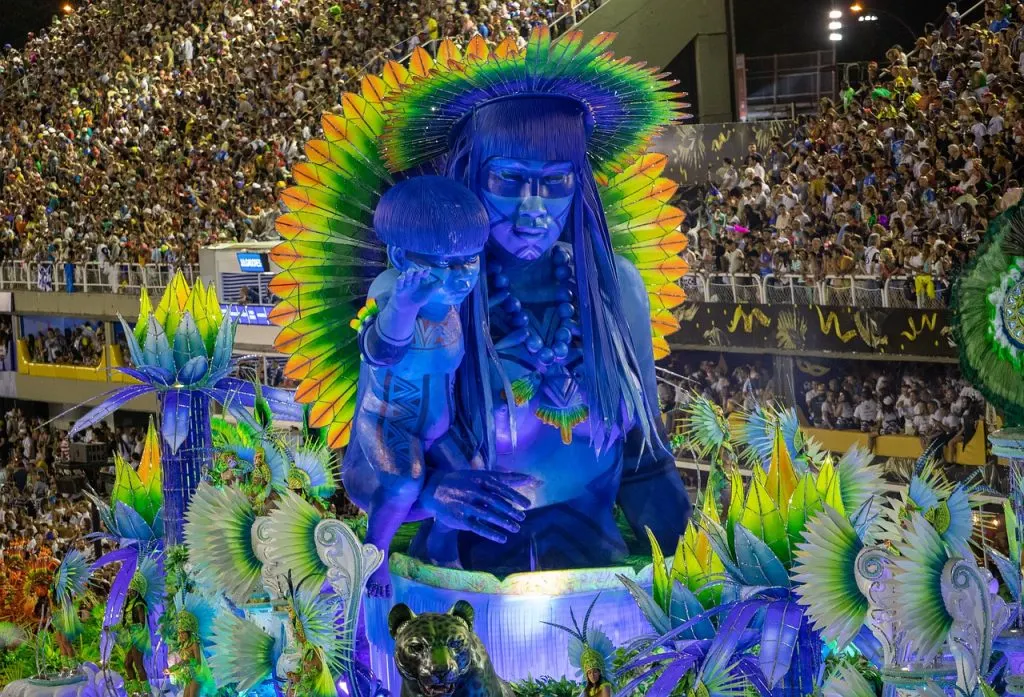 Santa Teresa Tram
The Santa Teresa Tram is an adorable historic tram line that connects the Rio city center with the quiet and artistic inner-city neighborhood of Santa Teresa. It opened in 1877, but today is mainly sustained as a tourist attraction, having been designated a national historical monument in 1988. The Santa Teresa tram line is 6.0 kilometers (3.7 miles) long and is now among the oldest street railway lines globally. It is also the only remaining metropolitan tram system in Brazil.
A trip on the Santa Teresa Tram passes over the iconic Arcos da Lapa and offers beautiful views of the downtown and out to Guanabara Bay. Once you arrive, there are more viewpoints along with cute cafes, colorful galleries and bars to explore
The cost of the tram ride is around 20 reals that included your return trip. The trams run every 30 minutes and start next to the ridiculous-looking Petrobrás Building that you can't miss.
Santos Dumont Airport
One for aviation geeks. Marvel at the planes that take off and land at Santos Dumont Airport – Rio's secondary, smaller airport located adjacent to the city center.
If the short runway and incredible views you get on takeoff and landing weren't enough, watching the planes from nearby Flamengo Beach is out-of-this-world. Just watch the steep turns that they make to avoid Sugar Loaf – it is no wonder this is one of the world's most incredible airports to take off from.
If you are traveling in Brazil and need a domestic flight, you should try to get it into or out of Santos Dumont Airport — but sadly, international flights are no longer on offer here. If you are lucky enough to find a flight option to suit, don't forget to spring for the window seat!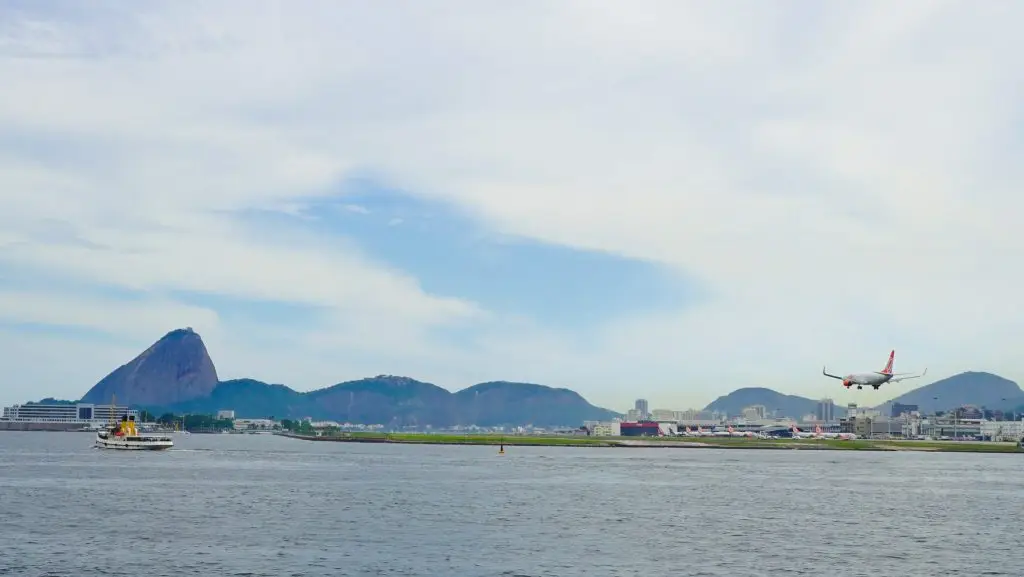 Selina Rio
A popular design-forward hostel chain taking Latin America and the world by storm, Selina is all about providing artistic places for travelers to stay, travel, and work abroad indefinitely.
We are a little bit obsessed with these vibes and communities they seem to cultivate after stays with them in Porto, Mexico City, and La Paz. Salina puts their heart, soul, and wanderlust into providing travelers with a new and exciting way to explore the world, focusing on community, design, and authentic activities and experiences. And their Rio de Janerio space is no exception, freshly opened in Lapa, the most bohemian area in Rio.
Selina Lapa is just footsteps away from Selarón's mosaic stairs and the Lapa Arches, Selina Lapa is a magnet for international travelers, Rio's emerging artists, and creative entrepreneurs. Highlights include a South American-inspired restaurant, rooftop terrace, yoga deck, cocktail bar, and a movie room. Plus, you'll have the chance to meet local musicians at Lapa55 Radio — their in-house radio station devoted to broadcasting powerful sounds and inspirational stories. The perfect place to stay if you are flying solo or on a budget and want to meet like-minded travelers.
Even if you don't stay here, you should pop in to enjoy a drink, try the food and see what is going on.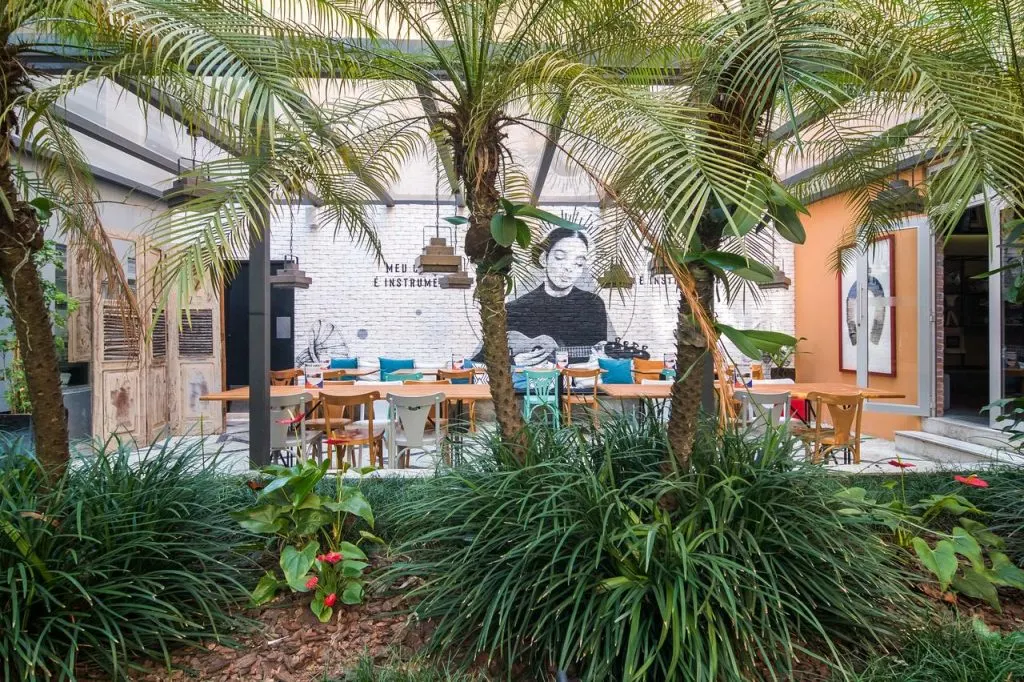 Sugar Loaf Mountain
Another fun thing to do in Rio de Janerio is to walk around the world-famous Sugar Loaf Mountain / Pão de Açúca. Or for the more brave take the two cable cars to the top for some truly breath-taking views.
The most famous of the many monolithic granite and quartz mountains that give Rio its incredible feel, the first sight of this beauty rising straight out of the water's edge, is something you can never forget.
Rising 396 m above the harbor, its name refers to its resemblance to the traditional shape of concentrated refined loaf sugar, and the cable car trip here is one of the world's best. Don't worry; it is doing much better after its 1979 encounter with Jaws in Moonraker. Yes, this is a James Bond filming location worth visiting….
You can also hike/climb/scramble to the top, but we don't recommend it unless you have prior experience and are with a local.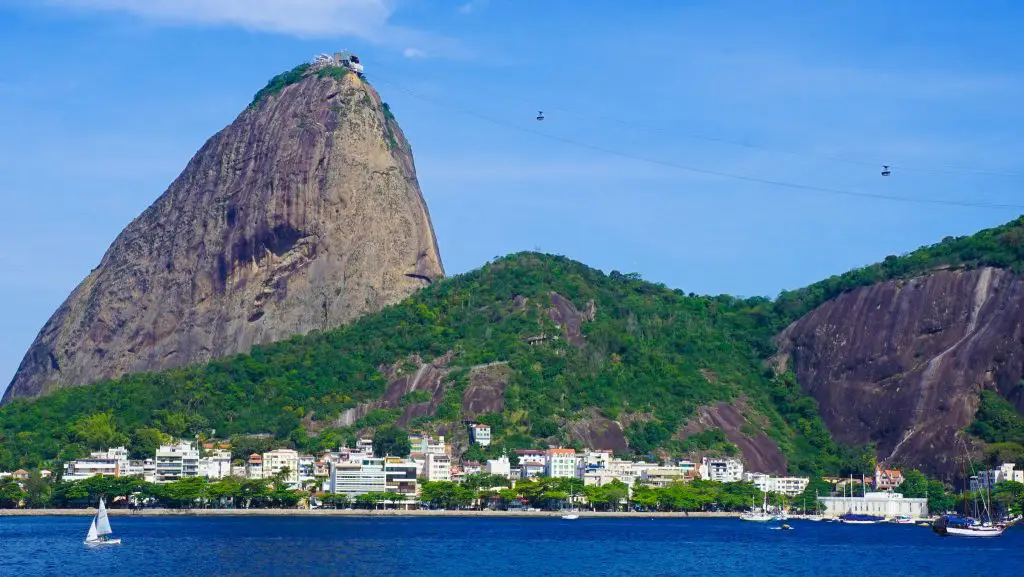 Sunset Sailing
Set sail along Guanabara Bay for a marvelous adventure just as the sun is setting below the horizon. Trust us; you will never forget the experience of watching Rio come to life in front of your eyes. This small-group sailing experience is an excellent way to unwind and see some of the top sites in Rio de Janeiro from a different perspective.
Relax with free drinks and light snacks while you sail past iconic landmarks such as the Museum of Contemporary Art, Sugarloaf Mountain, and the Rio-Niteroi Bridge. This small-group sailing is capped at ten travelers, so you are ensured an authentic trip — and maybe to make a few friends to explore the city with. Also, an outstanding way to start out a night in Rio!
Theatro Municipal
The Theatro Municipal is a majestic opera house in the Centro district of Rio de Janeiro built at the beginning of the twentieth century. It is rated as one of the most important theatres in Brazil, and one of the most beautiful in the world.
Designed in 1905 in the eclectic style, the Theatro Municipal is inspired by the Paris Opéra and came to represents a new era to the elegant capital of Brazil. In its heyday, it was open to only foreign opera and symphonic orchestra shows, though now includes both local and international productions of ballet and classical music. While exploring the center of Rio, take your time to admire the outside walls, which are inscribed with the names of classic European & Brazilian artists, or step into the entrance to the lobby for a quick peek.
To see most of the stately interior, you will need to attend a performance — and prices can be very affordable, depending on the production. You'll quickly discover the interior of the theater is as opulent as the facade, with grand sculptures, ornate foyer ceiling, a magnificent drop curtain, and impressive theatre frieze. The only other way to see the extravagant insides of the Theatro Municipal is on a guided tour of the theater, which is offered in English most afternoons. You could also visit the restaurant Assírius in the basement with its remarkable Assyrian decor.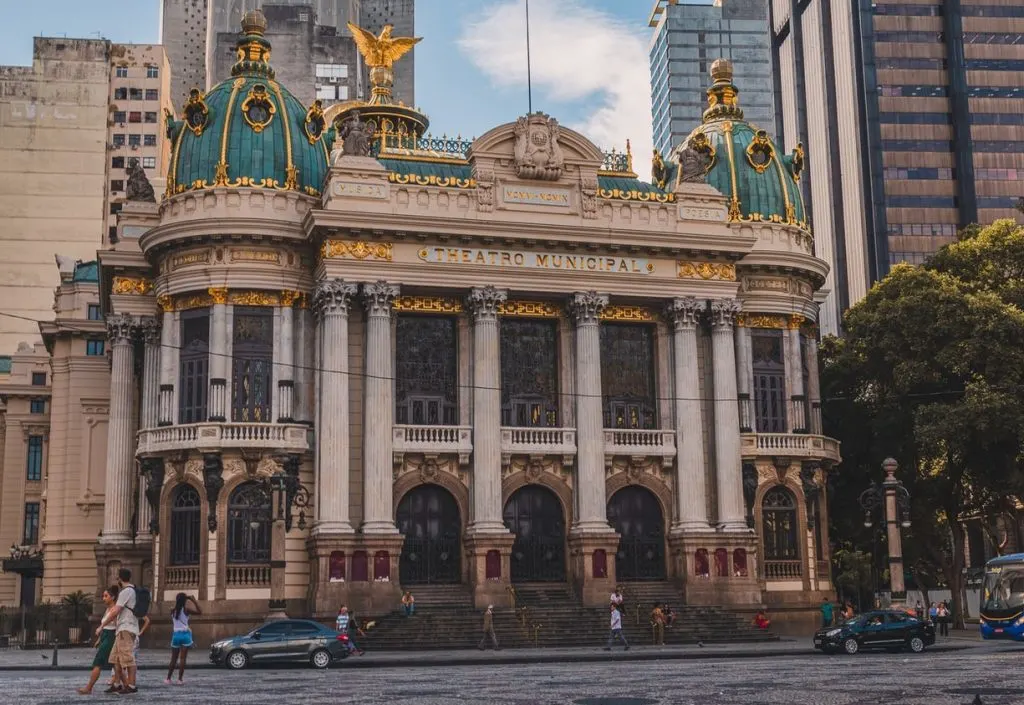 Tijuca National Park Peak
Rio's highest peak, Pico da Tijuca (1022m – 3353ft), is found smack-bang in the center of the Tijuca Forest and offers glorious views over most of the city. You can go at it alone or hike to the top of Tijuca Peak with a guide during this popular half-day excursion in Rio de Janeiro.
Experience convenient pickup at your Rio hotel and then a picturesque ride through the dramatic forest of Tijuca National Park. Along the way, stop off at the Taunay Waterfall, one of the highest hidden in this urban forest, before arriving at the Visitor's Center, where you will begin your hike. If you opt for a tour, you'll learn about the local flora and fauna as you walk, and make stops at the Chinese Viewpoint and the Emperor's Table.
Either solo or accompanied, you will end up at Monkey's Waterfall on the pinnacle of Tijuca Peak, and get Instaworthy views out over the marvelous city and beyond. One of the top things to do in Rio de Janeiro if you are a lover of nature and the outdoors.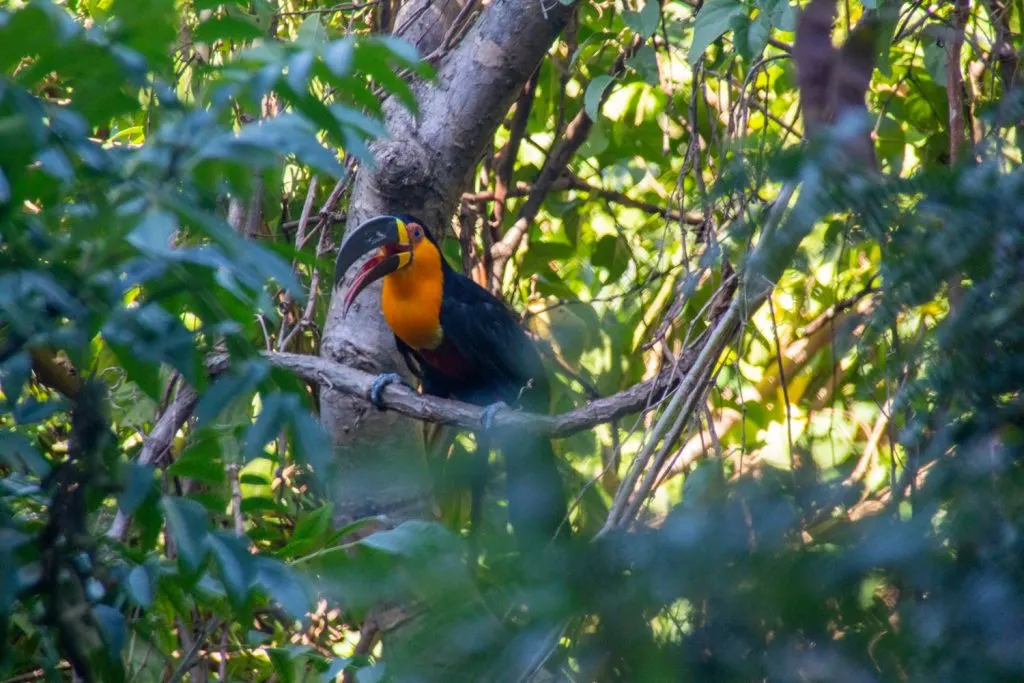 How have you enjoyed these Top Things To Do in Rio de Janeiro Brazil? Hopefully, this has helped you decide what to do on your upcoming trip to Rio de Janeiro Brazil or convinced you to start planning one! The Olympics are over, and prices are returning to normal, if not lower, due to the currency devaluation, so expect the good times to continue – for the tourists at least!
Also, don't forget to book your accommodation in advance to avoid missing out! Compare great deals for hotels and hostels in Rio de Janeiro with the best rate guarantee, so you can splash out on all these other awesome things!