The United States of America is well known for its extraordinary natural diversity, vibrant culture, and remarkable urban landscapes. Fittingly, the USA is also home to 24 of the more than 1,000 World Heritage Sites worldwide, as inscribed by the United Nations Educational, Scientific, and Cultural Organization (UNESCO).
USA's fascinating UNESCO sites include the ruins of ancient civilizations, extensive national parks, and geological wonders. These sites range from the iconic Statue Of Liberty and the spectacular Mesa Verde to the far-flung Hawaii Volcanoes National Park and practically inaccessible Papahānaumokuākea.
The theme of nature and culture is evenly throughout these sites, reflective of the USA's remarkable natural and human heritage. Some of these sites are landmarks of the USA, but many are rather obscure and likely only known to the most persistent of travelers.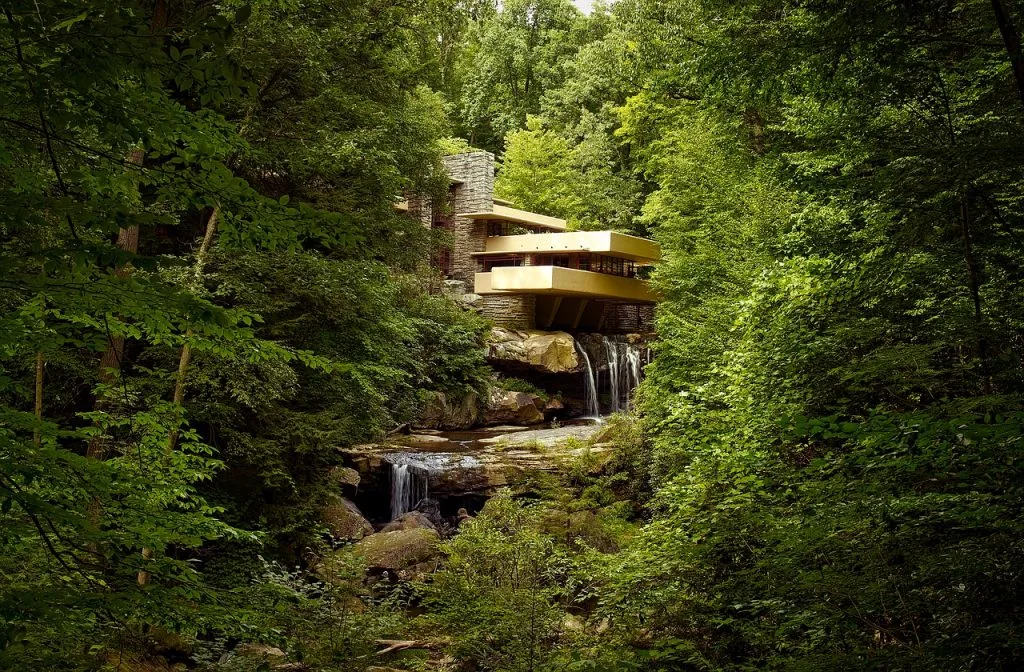 UNESCO is a bureau of the United Nations that endeavors to support the protection and growth of the world's intellectual and cultural property and elects UNESCO sites due to their "outstanding universal value" in science, history, or culture. As a result, UNESCO Sites are meaningful to the mutual interests of humanity – and legally guarded by international treaties.
Travel influenced by UNESCO sites allows visitors to explore esoteric spots, aid preservation, obtain specific knowledge about the history of Earth and humanity – and to wonder at unequivocally majestic sites. While a few such as majestic Schonbrunn palace in Vienna and the avant-garde Sydney Opera House are famous around the world, there are far more untouristy UNESCO sites worthy of insertion in any 'off-the-beaten-track' bucket list.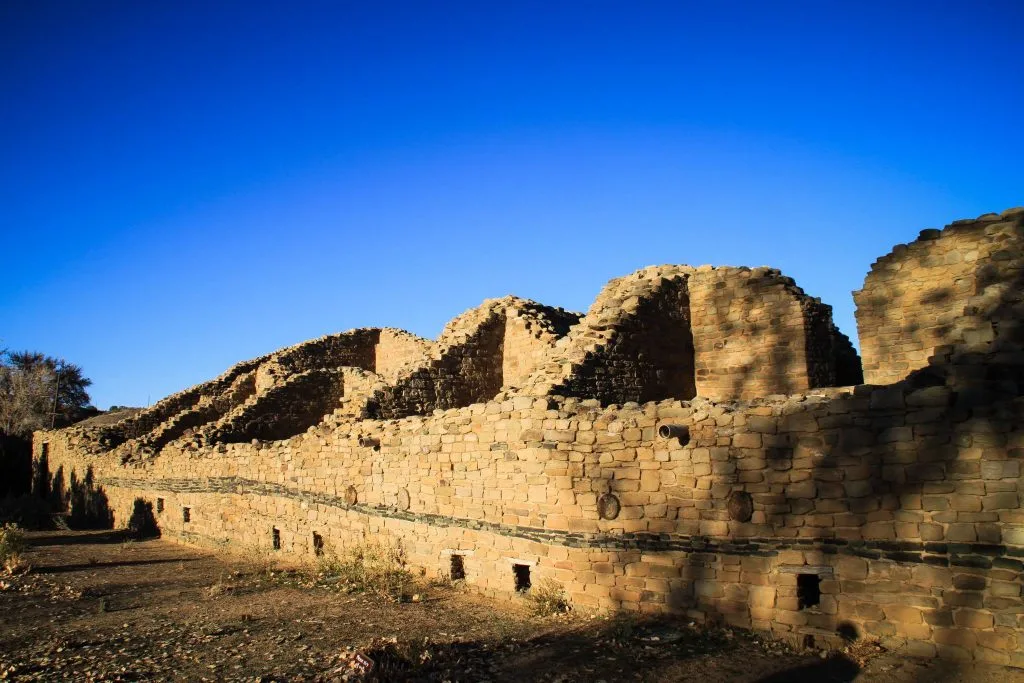 Inscriptions settle into two categories: cultural and natural locations, or a combination of both (mixed). There are currently 24 UNESCO world heritage sites in the USA, 11 cultural ones, 12 natural ones, and one mixed. While I have visited most of them myself, I have included all sites here – so you can get an idea of what makes each special.
So, why not immerse yourself in one or more of these sites on your next USA vacation? From breathtaking natural wonders to unprecedented feats of human engineering, check out our exhaustive list of USA UNESCO sites to determine which places resonate with you. You can then use them as a roadmap for the trip of a lifetime.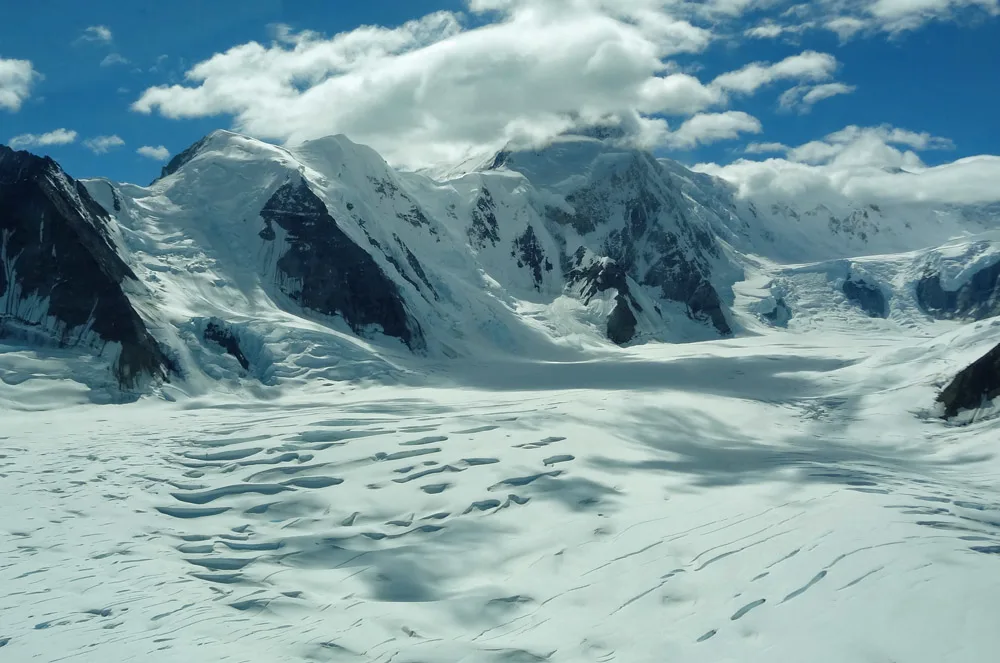 Cultural UNESCO World Heritage Sites In USA
Cahokia Mounds State Historic Site
Nicknamed the "City fo the Sun," Cahokia Mounds represents the largest pre-Columbian city in the U.S. Archeologists estimate that between ten and twenty thousand Native Americans were living here, with even more residing in the greater metropolitan area.
The city was thriving for a period of about one hundred and fifty years, between about 1050 and 1200 CE, though it was potentially inhabited for almost six hundred years, from 800-1400 CE. The city thrived due to the availability of natural resources and the opportunities provided by the Mississippi River. The community traded with civilizations as far away as the Gulf of Mexico. We refer to the people who lived in Cahokia as the Mississippian culture because we do not know how they referred to themselves.
This culture built important mound sites throughout the eastern United States. While at Cahokia, you will walk around and see the different archeological sites. Wear comfortable shoes, as you are exploring an entire former city on foot! The highlight for most is climbing up to the top of Monk's Mound, the tallest and grandest of the mounds you'll see during your visit. According to UNESCO, this mound is the largest prehistoric earthwork in the Americas. Cahokia is preserved and managed by the Cahokia Mounds State Historic Park in Collinsville, Illinois, and it is located just over the border from St. Louis, Missouri. This makes it an easy day trip or a half-day trip from St. Louis.
To get here, you will need to drive or hire a taxi or rideshare. Cahokia is just fifteen minutes from St. Louis depending on which part of the city you are in.
Explored by Stephanie Craig from History Fangirl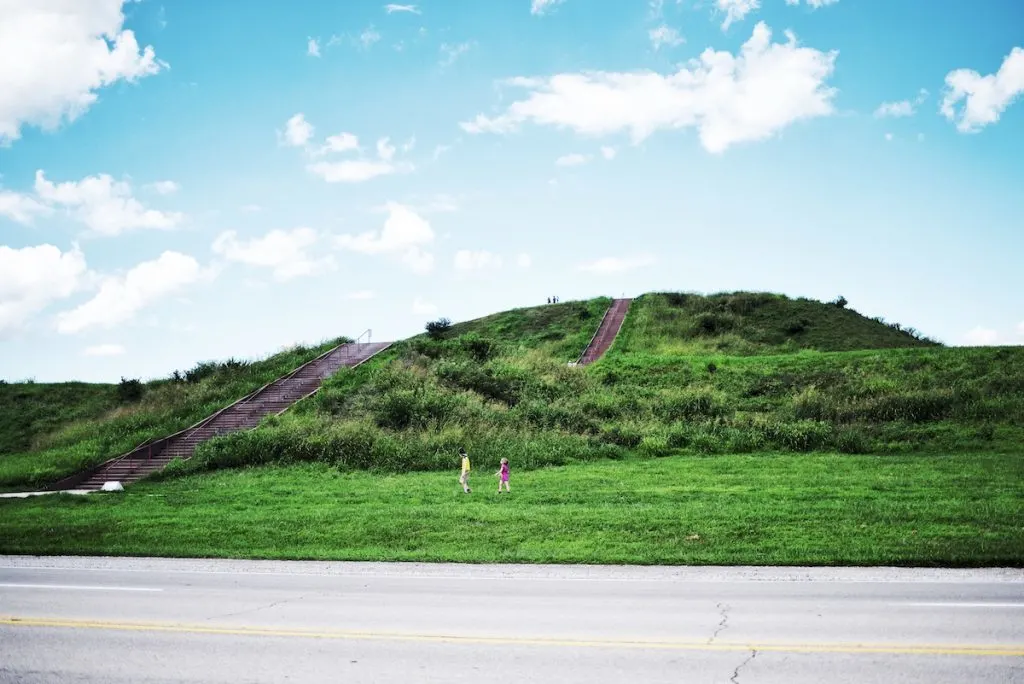 Chaco Culture
Chaco Culture is a chain of archaeological sites in northwestern New Mexico that conserve notable traces of a comprehensive pre-Columbian cultural complex that rose to command large portions of the southwestern United States between 850 and 1250.
The World Heritage Site comprises Chaco Culture National Historical Park, the related sites at Aztec Ruins National Monument, and five supplementary protected archaeological areas. For over 2,000 years, Pueblo communities inhabited the southwestern United States. Chaco Canyon, the location of these world heritage sites, became a significant focus of ancestral Pueblo culture, including ceremonies trade, and political activity. Chaco is extraordinary for its impressive public and ceremonial structures, including distinctive multi-story "great houses," distinguishing architecture, and carefully engineered and constructed roads that linked urban areas together.
The site is unlike anything achieved before or since, and even more exceptional given the harsh conditions of the region. The best way to start your visit is at the Chaco Culture Visitor Center. You can get more information on the history of the place here and speak to rangers about what options best suit your time and interests.
The most popular option seems to be the 9-mile loop road, which takes you past five major Chacoan sites, including Pueblo Bonito. At each site, short self-guided trails are marked, though there are four backcountry hiking trails if you have time and the inclination to visit more remote sites.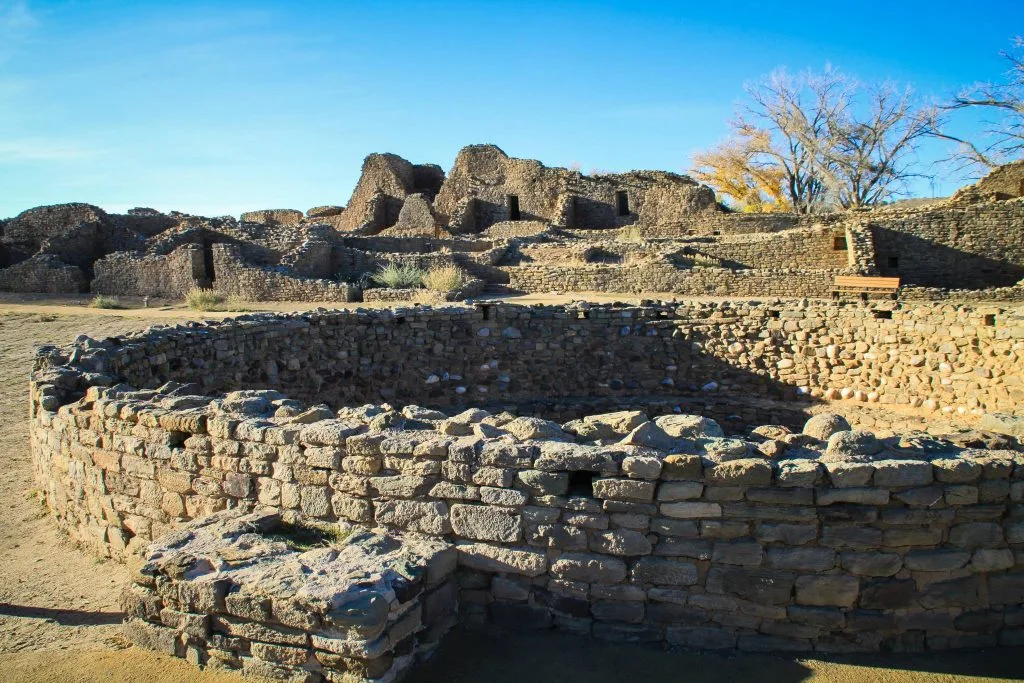 Independence Hall
Independence Hall is the centerpiece of the Independence National Historical Park in Philadelphia, Pennsylvania, and was designated one of the United States' world heritage sites in 1979.
In this fine early 18th-century building, the Declaration of Independence was approved, and the Constitution of the United States of America signed in 1776 and 1787, respectively. The universal systems of freedom and democracy outlined in these papers are of central relevance to American history and became the models for similar codes of other nations. To many, the Declaration of Independence and the Constitution of the United States of America are judged to have declared the modern era of government.
However, there can be no doubt about the ramifications the ideas set out had on the world. Independence Hall, built-in 1753, is a classic brick structure with a wooden steeple that is was once the home of the Liberty Bell (now located in a separate building nearby). The building has undergone many changes during its life, but in the 1950s was returned to its original appearance by the National Park Service beginning in the 1950s.
Entrance to Independence Hall is by tour only and tickets are required to enter the building from March through December; no tickets are required in January and February, or after 5 pm during summer hours. Thankfully the tour is not only free but very insightful. It explores the consequential events that transpired here, along with their contribution to the spread of democracy.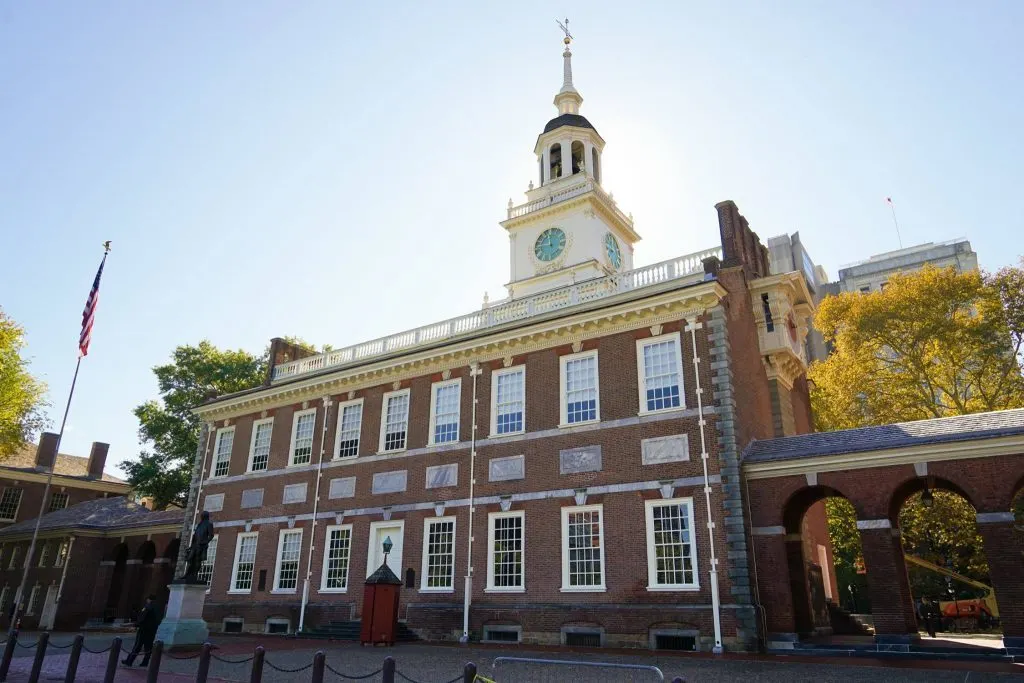 La Fortaleza and San Juan National Historic Site in Puerto Rico
If you are planning a visit to San Juan, you must put exploring Castillo San Cristobal and El Morro at the top of your itinerary for the old city. The two spectacular hilltop forts are part of the San Juan National Historic Site. The National Historic Site also includes parts of the old city wall and other Spanish-era military structures around the old city.
Together with La Fortaleza, the pretty blue Governor's mansion that also used to be a Spanish-era fort, these various structures are designated a UNESCO World Heritage Site. San Juan, with its strategic location on the bay, was considered a prize in colonial times, and several countries fought over it.
Seeking to protect their territory in the New World, the Spanish settlers built a series of fortifications around the city. If you enjoy military history and sites, you will love exploring the San Juan UNESCO Site. The sites are also famous for their spectacular views over the San Juan Bay, and they are prized by photographers as gorgeous photo spots in Viejo San Juan.
In the two forts of San Cristobal and El Morro, you can still see aspects of the fortifications from all those centuries ago: you can stand in a sentry box and look out over the water like the sentries of old, gape at the cannonballs, and wander through the tunnels and passageways of the forts, imagining what it was like to live there during the Spanish Colonial era.
I enjoyed the San Juan UNESCO sites for their beauty as well as the history. The many information plaques around the sites are very informative, and if you enjoy history, you will want to take the time to read them!
Dhara from It's Not About the Miles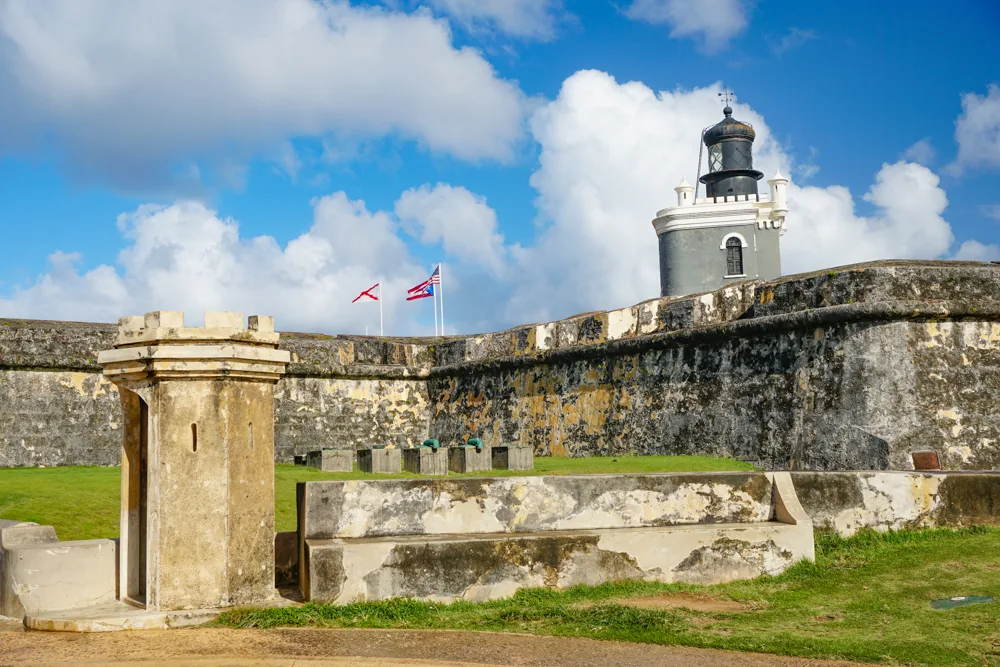 Mesa Verde National Park
The Mesa Verde landscape is an exceptionally well-preserved prehistoric settlement panorama of the Ancestral Puebloan culture, which dominated this region for around nine hundred years from 450 to 1300 AD.
Located on a spectacular plateau in southwest Colorado, at an altitude of more than 2,600 meters, the magnificent Pueblo Indian dwellings found here, including the exceptionally remarkable cliff dwellings, are some of the most most beautiful ruin sites in the world. Over 600 cliff dwellings carved of sandstone and mud mortar have been reported within Mesa Verde National Park.
Some of the more famous are the multi-story Cliff Palace, Balcony House, and Square Tower House, all of which can be explored with well-organized trails. There are, however, an additional 4,300 archaeological sites discovered so far and more likely to be found in the future, as this rich archaeological laboratory continues to advance our knowledge of the Ancestral Puebloan people. There are many ways to go and places to in the park, and your first stop should be the Mesa Verde Visitor & Research Center, along a steep, narrow, winding mountain road near the park entrance.
There are further trails for cars, bikes, hiking, and more – all with spectacular views into four surrounding states. It would be best if you stopped by the Chapin Mesa Archeological Museum to learn about the lives of the Ancestral Pueblo people and visit a few of the cliff dwelling or other cultural sites. There are various ranger-guided and self-guided tours available, but keep in mind that the Cliff Palace, Balcony House, and Long House require an advance ticket purchase for the ranger-guided tour.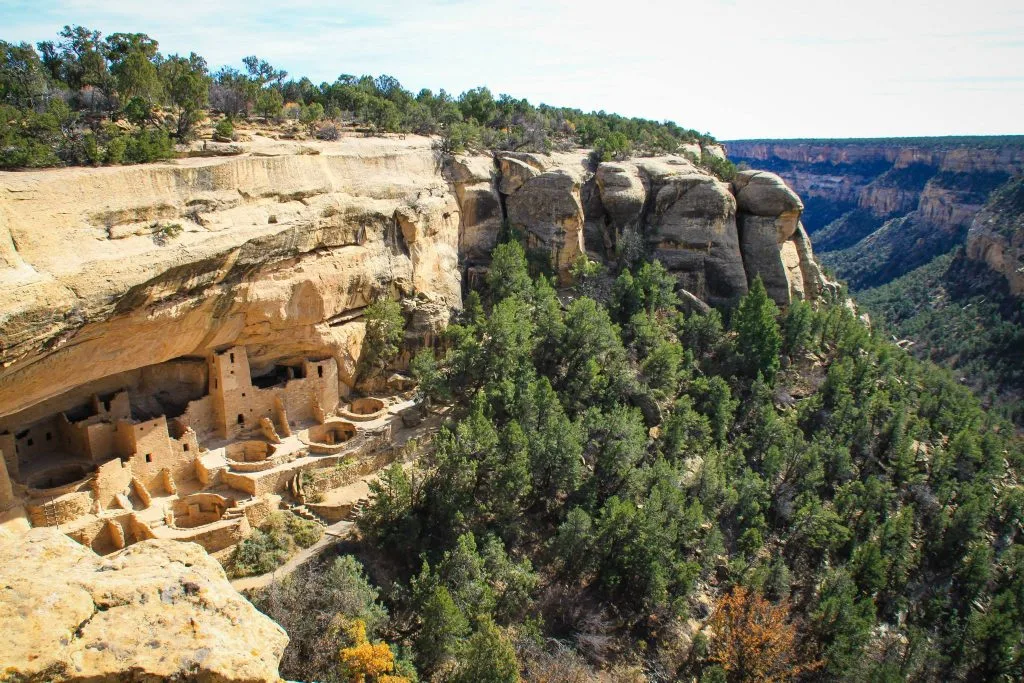 Monticello and the University of Virginia in Charlottesville
Thomas Jefferson was the third U.S. President and, perhaps more importantly, was the author of the Declaration of Independence. As the first Secretary of State (under President George Washington), Jefferson traveled to and around Europe (no small feat in the late 18th century) and forged relationships with established European governments. His ideals for the new country were heavily influenced by existing and historical European culture, cuisine (and wine), and architectural styles.
Nestled in the gorgeous central Virginia foothills, Thomas Jefferson's historic house—which he called Monticello—and his concept of an "academical village" at the University of Virginia together are acclaimed as a UNESCO World Heritage Site.
In Monticello—Italian for "little mountain"—Jefferson incorporated Italian Renaissance design along with ancient architecture styles with his own added New American aspects. Construction of the estate lasted over 40 years, and touring Monticello is one of the most popular things to do in Charlottesville, Virginia. On tours, I love seeing and learning about Jefferson's time, including how the food was prepared and delivered (some ingenious creations for the time), how he spent his time (work/life balance), and even comparing the building style to that on the nickel coin.
Jefferson's second architectural contribution to this UNESCO designation is the original footprint of the University of Virginia—called the Academical Village. It is the only USA university and one of only four universities in the world to be recognized as a UNESCO World Heritage Site. This village consists of a U-shaped set of buildings, centered by the magnificent The Rotunda, enclosing a terraced lawn space. The Rotunda is modeled after the Pantheon in Rome, Italy, and is actually half the size of the ancient structure. My daughter graduated from UVA, and one of the most poignant U.S. college traditions is for graduates to walk The Lawn. Allow some time to savor this remarkable setting.
In both properties, Jefferson not only revolutionized architecture, but he designed them to fully utilize the gorgeous natural settings. Charlottesville is about a two-hour drive from the Washington DC area airports (Dulles and National) or a touch over one hour from Richmond, Virginia.
Explored by Charles McCool from McCool Travel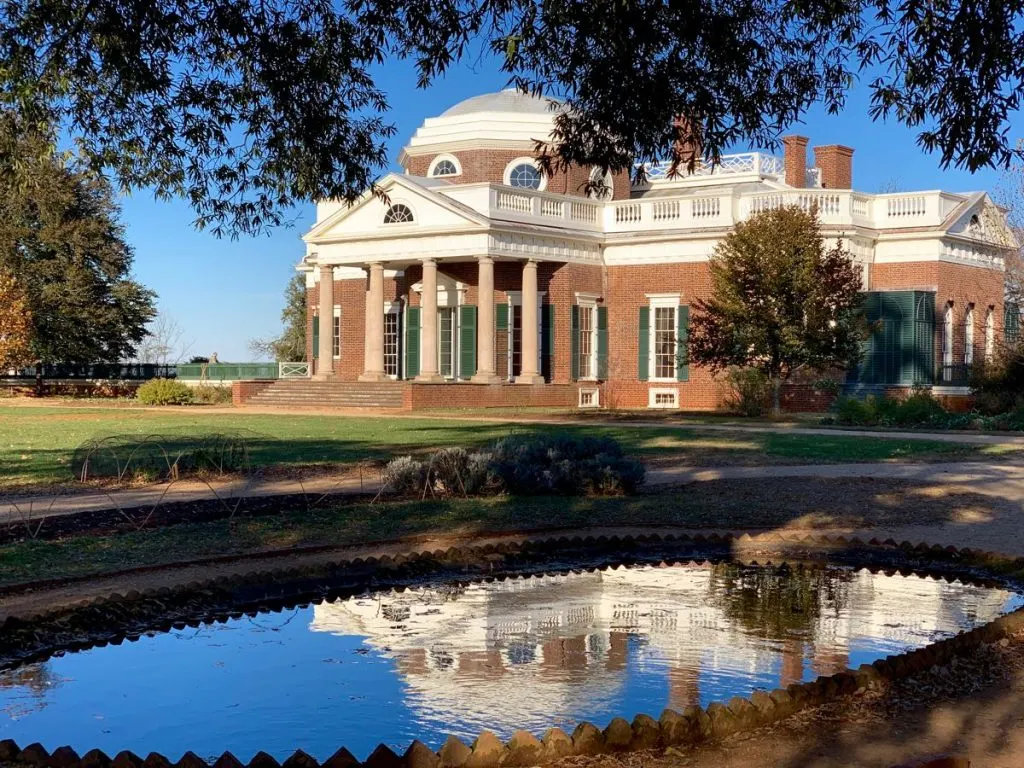 Monumental Earthworks of Poverty Point
The Monumental Earthworks of Poverty Point UNESCO World Heritage Site is a 400-acre archaeological park in Louisiana that encompasses some of the prehistoric earthwork constructed by the Poverty Point culture.
The Poverty Point culture was a prehistoric indigenous people who occupied this area of the Lower Mississippi Valley and surrounding Gulf coast in around 1730 – 1350 BC. Much remains unknown about these people, but archeologists have cataloged over 100 different sites pertaining to this mound-builder society.
Through these sites, there is evidence of the extensive trading system they developed that spanned much of what is now the eastern USA. The Poverty Point State Historic Site is the largest and most significant of these sites. It is located on the edge of an elevated landform, Macon Ridge, in the Lower Mississippi Valley. The historic site protects a mixed complex of earthen monuments, most of which date back to around 3,700-3,100 years ago in the Late Archaic period.
This makes the site far older than other great / more famous North American ruins like Tikal, Chichen Itza, and Monte Alban. In fact, the remarkable accomplishment in earthen construction was unmatched for at least another 2,000 years – which even more astounding that a hunter-fisher-gatherer society constructed it.
Although not the oldest earthworks in the USA (those at Watson Brake were built about 1900 years earlier), the Poverty Point UNESCO Site is distinguished as the oldest earthworks of this extent in the Western Hemisphere. Unlike many other ancient sites that have been altered or disturbed by recent projects, it is approximated that less than 1 percent of Monumental Earthworks of Poverty Point has been disrupted.
All the unique elements that make up the collection special survive mainly in shape today – the mounds, the system of ridges and swales, the aisles, the plaza with the posthole circles, the causeway, the bisector ridge, the dock, and the borrow areas. It is rather incredible.
Often overlooked by travelers in the USA, Poverty Point is an astounding place to visit. There is a wonderful museum on site full of artifacts related to the mounds and staff that was very informative and accommodating. There is a self-guided driving tour you can take, or a explore by tram/hike.
San Antonio Missions
The San Antonio Missions world heritage sites are a collection of five frontier mission complexes resided along the San Antonio River basin in southern Texas. A ranch settlement is also included – though it is about 37 kilometers away.
The mission grew up because, in the early 1700s, the native cultures and people of South Texas found themselves under attack. Apache attacked from the north, dangerous diseases migrated up from Mexico, and an intense drought persisted. These people saw their only option for survival as laying within these foreign missions. By accepting the safety of these missions, they renounced their traditional way of life to essentially become Spanish, taking a new religion and swearing allegiance to a distant king.
Franciscan missionaries organized the mission complexes in the 18th century and, as recognized by UNESCO, demonstrate the Spanish Crown's endeavors to colonize, proselytize and guard the northern frontier of New Spain. The San Antonio Missions also show tangible signs of the interweaving of Spanish and local cultures, demonstrated in the ornamental details of churches, which connect Catholic symbols with indigenous patterns and motifs inspired by nature. The San Antonio Missions protects not only the architectural and archaeological structures of the missions but associated farmlands, housing, churches, and granaries, as well as primitive water distribution systems.
Visiting these missions is an absolute must when in San Antonio, (as they are landmarks of Texas), and is relatively easy as the four missions each have their own visitor areas. They are all located around 2-3 miles apart from each other and are well connected by biking trails.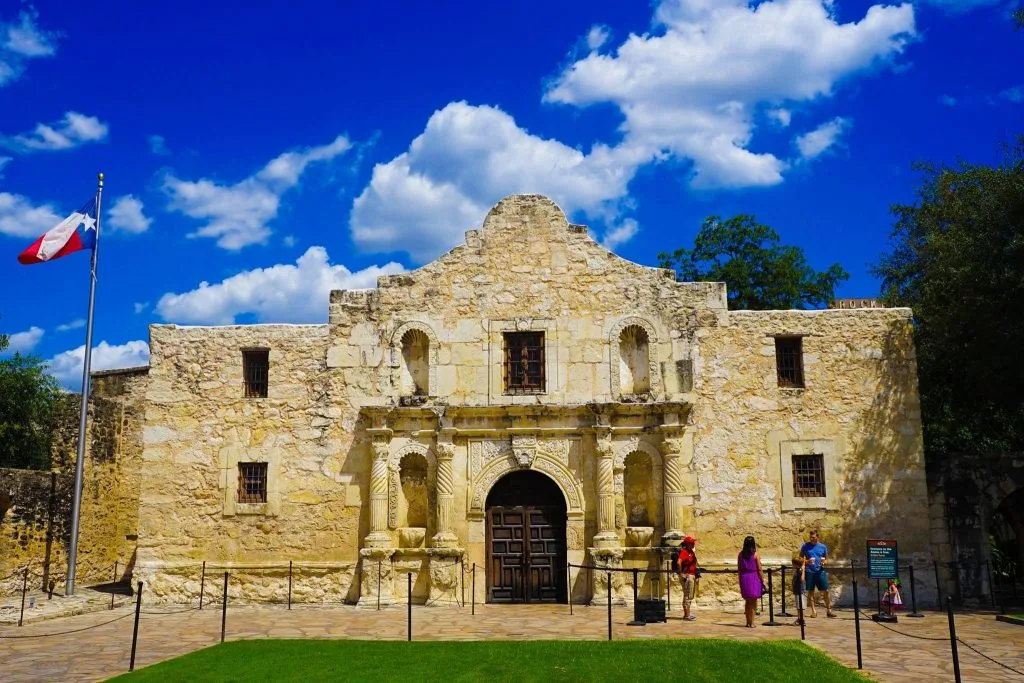 Statue of Liberty
The Statue of Liberty is a cultural world heritage site in the United States that was given as a gift of friendship from the people of France to the United States in 1886. It was created by French sculptor Bartholdi, in partnership with Gustave Eiffel (whose name is given to the famous tower in Paris and is also responsible for the Dom Luís I Bridge in Porto).
Its composition and structure are among the most distinguished technical accomplishments of the 19th century and was hailed at the time as a bridge between art and engineering. Atop its pedestal (designed by American architect Richard Morris Hunt), the Statue has welcomed millions of immigrants to the United States since it was dedicated in 1886. The Statue is a treasure of colossal art, drawing on traditions and classical elements fro antiquity, but with a nod to the modern Art Nouveau.
This towering monument to liberty was presented to the U.S. on the anniversary of American independence and welcomed over 12 million immigrants to the United States. They were processed nearby at Ellis Island, the gateway to America, until 1952, when the facility was closed. Today the Statue of Liberty is still perceived as a symbol of liberty, equality, and democracy the world over. Easily accessed from Manhatten in NYC by boat, large crowds flock here daily to marvel at her majesty.
For a more immersive experience, be sure to plan a visit to the museum on Liberty Island. Transport is free over on a ferry with the NYC City Pass. However, if you want to visit the Crown, purchase limited tickets in advance to avoid missing out.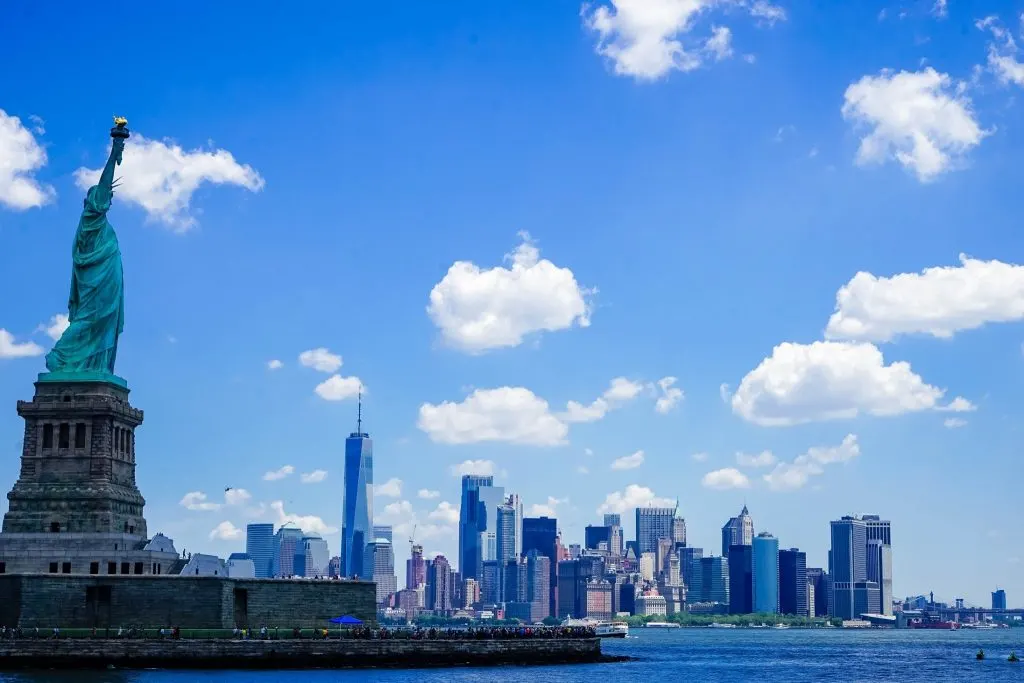 Taos Pueblo
Established in a valley-tributary of the Rio Grande in northern New Mexico, this extraordinary adobe village – consisting of dwellings and ceremonial buildings – represents the culture of the Pueblo Indians of Arizona and New Mexico. Even more remarkably? This is a living UNESCO World Heritage Site, with a culture and community that is still very much active and thriving today.
The Taos Pueblo settlement contains ceremonial buildings and amenities and multi-story adobe dwellings built in terraced tiers. It embodies the living history of a society of present-day Pueblo Indian people. As one of a group of villages settled here in the early 14th century, Taos Pueblo denotes a vital step in the region's urban, community, and cultural life and development. Taos Pueblo has been inhabited without interruption since its settlement. It is the largest of these Pueblos (that still exist), and the people of the Pueblo speaks of their presence in the Taos Valley since time immemorial. Around 150 people still live within the Pueblo full-time today.
While Taos Pueblo presents many similarities to the ancient U.S. world heritage sites at Chaco Canyon and Mesa Verde, their culture is nevertheless unique and not descended from these societies. Taos Pueblo is the only living Native American community designated both a World Heritage Site by UNESCO and a National Historic Landmark.
A visit to this incredible, walled village is an absolute must. It lies just north of the modern city of Taos inNew Mexico, and the community offers optional tours. These are highly recommended if you want a better understanding of the highlights of the Taos Pueblo culture, history, and people.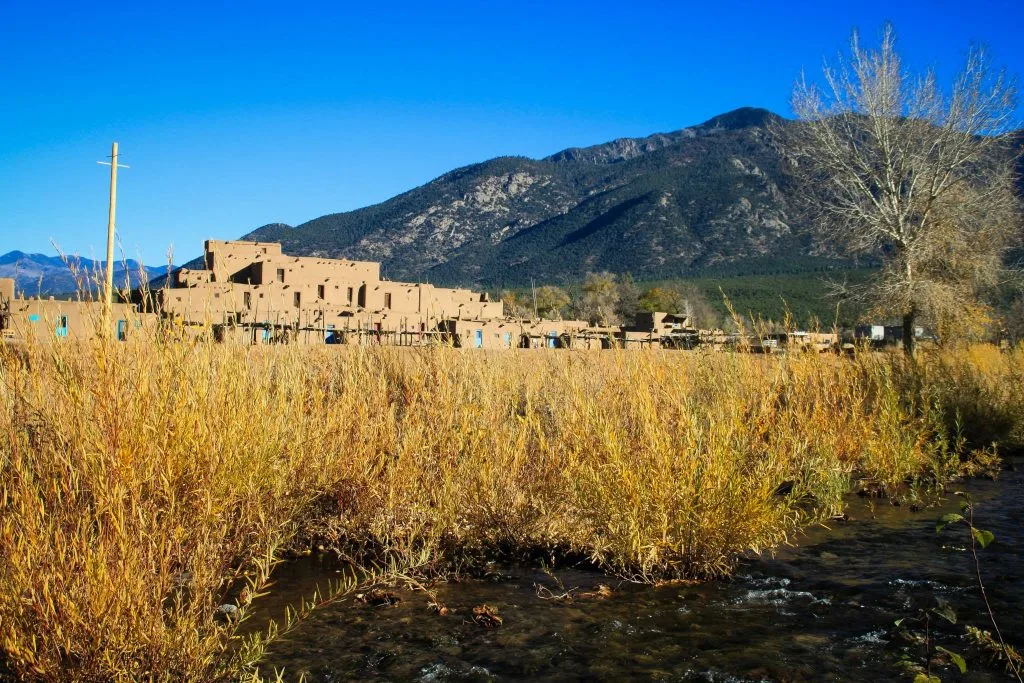 The 20th-Century Architecture of Frank Lloyd Wright
The 20th-Century Architecture of Frank Lloyd Wright is a collection of eight buildings across the United States composed by the famous architect during the first half of the 20th century.
In 2019 the assortment was collectively appointed UNESCO World Heritage Site sites as the grouping explicitly spoke to Frank Lloyd Wright's theory of organic architecture, which resulted in designing structures that were in balance with humanity and its surroundings. Hallmarks of his philosophy manifested in open-plan spaces, a blurring of the lines between exterior and interior, and the novel use of materials such as concrete and steel.
Wright's ideas and works had a global influence on the evolution of architecture in the 20th century, in particular, the advancement of modern architecture in Europe. The eight sites are:
Unity Temple in Oak Park, Illinois
Frederick C. Robie House in Chicago, Illinois
Taliesin Spring Green in Wisconsin
Hollyhock House in Los Angeles, California
Fallingwater Mill Run in Pennsylvania
Herbert and Katherine Jacobs House in Madison
Wiscon Taliesin West in Scottsdale, Arizona
Solomon R. Guggenheim Museum in New York
Each of these constructions proposes innovative solutions to requirements for housing, devotion, work, or recreation. Of these, the most visited is the Solomon R. Guggenheim Museum in NYC, which reimagined the modern museum as a space to be in conversation with art. The glorious building is located across from Central Park. This nature is paramount to its design and paid reverence to through the curved spiral design used inside and out.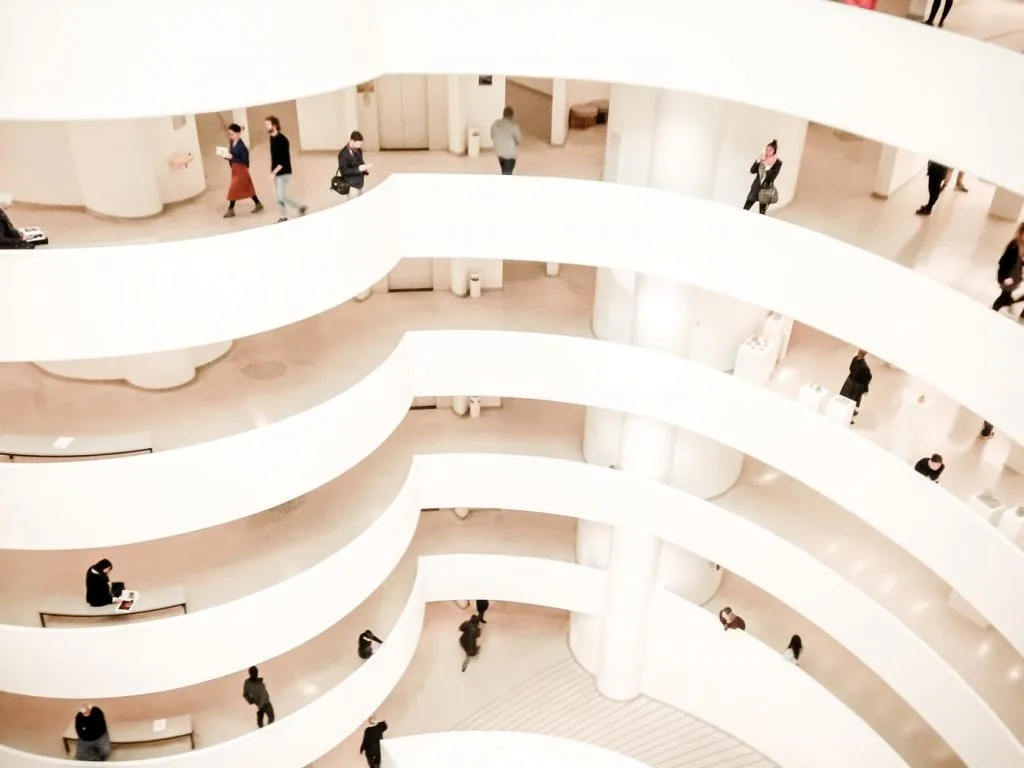 Natural UNESCO World Heritage Sites In USA
Carlsbad Caverns National Park
Carlsbad Caverns National Park is one of the most intriguing parks in the United States, as well as one of the most unique UNESCO destinations.
On the surface, visitors can witness an intricately woven desert environment with rugged trails, distinctive plant life, and resilient wildlife. Below ground, one of the best things to do in Carlsbad Caverns National Park is to explore one of the most impressive displays of natural architecture, from the most well known and visited "Big Room" cave, to the lesser-known underground formations such as the King's Palace, Spider Cave, and Slaughter Canyon.
Carlsbad Caverns National Park is located in the southeastern corner of New Mexico, approximately 30 minutes from the city of Carlsbad. Other nearby cities include White's City, which has camping and lodging available, and El Paso, which has an international airport. This National Park is the supreme attraction in the region, due to not only the diversity of its cave ecosystems but also the size and beauty of the caverns. These magical depths and otherworldly formations are not only a treat for the senses, but they provide a unique educational opportunity for understanding both the past and present of the region's geology.
Carlsbad doesn't just provide a better understanding of its geological roots; it spotlights the unique symbiotic relationship between its caves and the resident wildlife. One of the most beloved traditions at Carlsbad Caverns is the nightly bat flight, where guests can witness the dusk emergence of the Carlsbad Caverns Brazilian bat population!
Explored by Kristen from Yonderlust Ramblings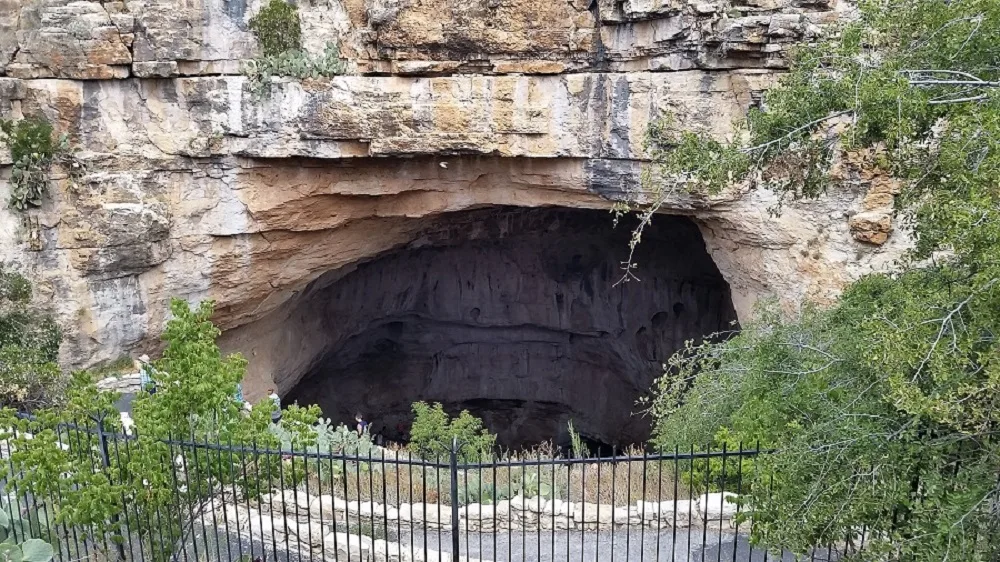 Everglades National Park
Everglades National Park is the most comprehensive sub-tropical protected wilderness area on the North American continent. Its position in the transitional temperate and sub-tropical climatic zones of America along with its fresh and brackish water, shallow bays and deeper coastal waters area combine to create a network of environments that supports a great variety of flora and fauna.
The Everglades National Park world heritage site also includes the most comprehensive mangrove ecosystem in the Western Hemisphere, the biggest unbroken stand of sawgrass prairie and the most important breeding ground for wading birds in North America. An international treasure under threat from continued developments and draining in Florida, the Everglades National Park protects an exceptional landscape home to precious and imperiled species like the manatee, American crocodile, and the elusive Florida panther.
For travelers looking to explore while on a more comprehensive Florida road trip, there are various locations offering trails that are both guided and non-guided. However, given the wetland that comprises a large extent of the site, you should consider exploring it by boat. There are three authorized airboat businesses positioned along US Hwy 41 between Miami and Shark Valley, and by supporting these businesses, you can be sure some of your money is going back to support long term protection of this incredible place.
Other options include canoe and kayak tours, fishing guides, photography tours, and more! Just be careful to try experiences in the winter dry season, which runs from early December through late April and early May. Otherwise, be prepared for soaring heat, intense humidity, and vast clouds of mosquitoes and other insects that want a taste.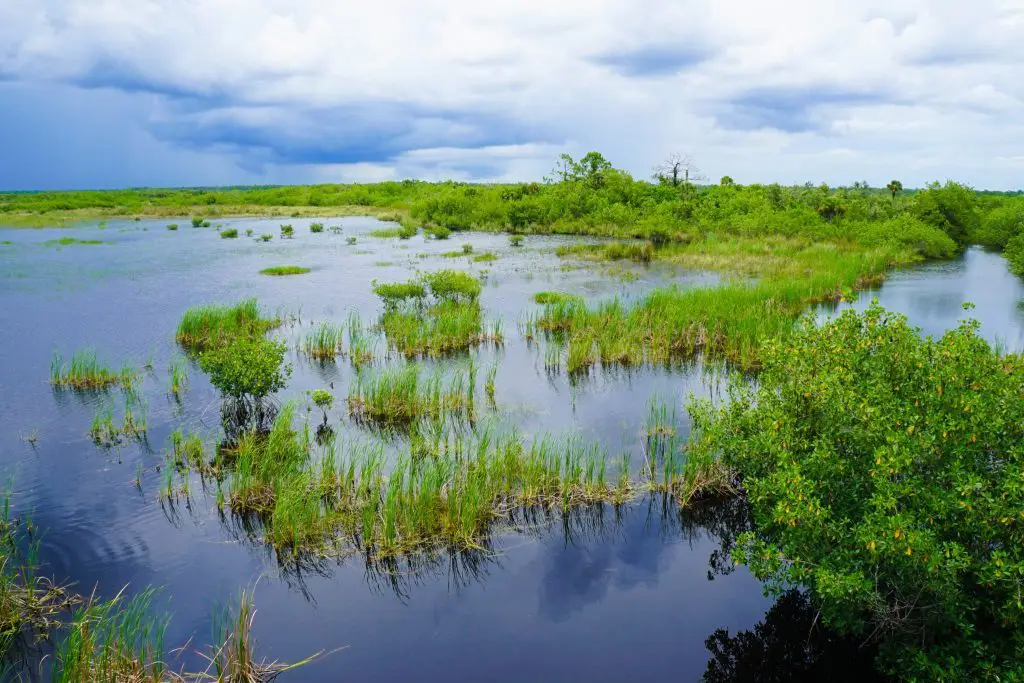 Grand Canyon National Park
The Grand Canyon world heritage site should need no introduction to anyone as it is among the most recognizable places in the world – as well as being the Earth's greatest on-going geological exhibitions. Its enormity is astounding, and the testimony its features reveal to us about the Earth's past is priceless.
For those who don't know, the Grand Canyon is a 1.5-kilometer (0.9 miles) deep gorge that varies in width from 500 m to 30 km (0.3 miles to 18.6 miles) and winds and bends for around 445 km (276.5 miles). The gorge first started developing around 6 million years ago due to geologic action and erosion where upraised Earth's crust meet the roaring Colorado River. As a result, the canyon is basically an upside-down 277-mile-long mountain range. The buttes, spires, mesas, and temples of the Grand canyon appear as mountains when looked down upon from the rim edges – which are encountered by travelers at four overall destinations: the South Rim, Grand Canyon West, Grand Canyon East, and the North Rim.
As you walk to its precipitous edge, the entire Earth seems to simply fall into a disorientating stretch of peaks, plateaus, and gorges so enormous that its impossible not to feel humbled. If you allow more time for your visit, you can hike down below the rim, and the feeling of reverence only builds. You are overshadowed by abrupt stone walls heaped to the sky and views that shift and change with every turn. Interestingly enough, the Grand Canyon Valley was largely unknown until after the Civil War.
It wasn't until 1869 when Major John Wesley Powell, a one-armed Civil War veteran, made his pioneering journey through the Grand Canyon along the Colorado River. Today, the Grand Canyon is most accessible on a (long) day trip from Las Vegas, but if you plan a longer USA road trip, there is a multiplicity of options. I drove from Palm Springs to the South Rim in one day, stayed the night, and continued to the other incredible geological wonders of Utah and Arizona afterward.
What is certain is no matter when or where you visit, you will be left in awe and forever changed.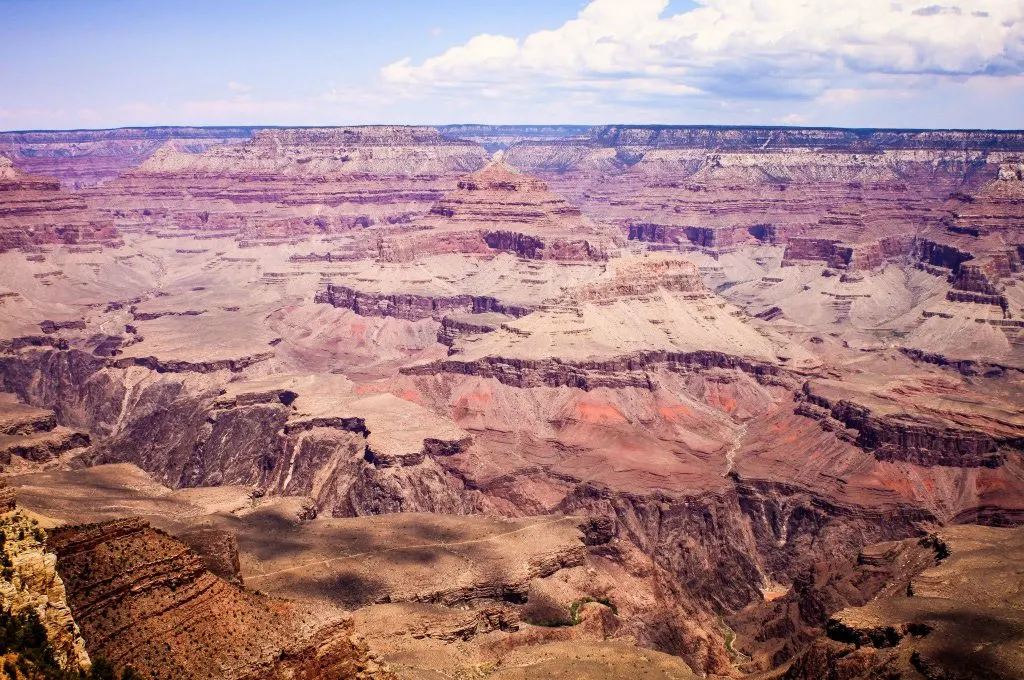 Great Smoky Mountains National Park

Great Smoky Mountains National Park is located in two different states, covering over 520,000 acres in both eastern Tennessee and western North Carolina. It is the most popular park in the country, partly due to the fact that it is easily accessible. Most visitors enter from two main gateway cities either through Gatlinburg, Tennessee, or Cherokee, North Carolina.

The park is inscribed as a UNESCO world heritage site for a few reasons, but the main one is simply that it is an incredibly diverse habitat for flora and fauna. Some specific unique features include a vibrant population of black bears, housing the largest block of virgin red spruce remaining on Earth, and protecting the largest diversity of salamander species, 31, in the world. Despite being heavily visited, 90% of the park is managed for wilderness protection instead of tourism, making it a safe haven in between several busy metro areas.

Our family loves the Great Smoky Mountains National Park, and our favorite thing is experiencing all the waterfalls! In spring and summer, the landscape is unspeakably lush with moss, green leaves, and running streams just about anywhere you look.

Our family loves spending time on the trails, and the waterfalls at GSMNP can't be beaten; the experience of walking behind Grotto Falls is truly special, and hiking the loop of waterfalls at Deep Creek makes for an exciting day. There is a waterfall for every hiking ability, and they are such a joy to witness! Check out this blog post for more of our favorite short trails in Great Smoky Mountain National Park.

Explored by Stephanie from Explore More Clean Less


Hawaii Volcanoes National Park
A World Heritage Site, which includes two very active volcanoes — including Kilauea, the most active volcano on Earth. The possibility to observe the primordial process of land creation and destruction in person ensures that the park remains one of the most visited visitor attractions in Hawaii, and it is easy to imagine why. Here you can encounter some of nature's most overwhelming phenomena at Hawaii Volcanoes National Park – and just 45 miles southwest of Hilo.
The park incorporates around 335,000 acres of land from the summit of taller Mauna Loa down to the sea. This is an area not much small that the entire island of Oahu. The exact area is always fluctuating; however, and at one point during recent eruptions, this productive volcano produced 650,00 cubic yards of lava…a day!!!
This flow is equivalent to the resurfacing of a 20-mile-long, two-lane road… The exceptional natural diversity of the park ensured it was honored as a World Heritage Site in 1984. Both volcanoes tower over the Pacific Ocean, and their lava flows reveal unusual geological formations as well as create habitat for rare birds and many endemic species.
Visitors who make an effort to get to this spot in the middle of the Pacific Ocean are rewarded with over 150 miles of hiking trails, which takes them within volcanic craters, burned deserts, and lush rainforests of giant ferns. However, seeing the volcano is action can be tricky and, in many ways, is just down to luck. Mauna Loa last erupted in 1984, so your chances are low, but Kilauea last erupted in 2018 and has been active on and off since 1983.
Kluane / Wrangell-St. Elias / Glacier Bay / Tatshenshini-Alsek
Massive mountain peaks, extensive river valleys, and the world's largest non-polar icefields make the Kluane / Wrangell-St. Elias / Glacier Bay / Tatshenshini-Alsek UNESCO World Heritage Site one of the most scenic areas in the world.
These four parks in Alaska and Canada cover more than 24 million acres, but only small sections of the parks are accessible by vehicle. That makes exploring this region a challenge.
The coolest way to observe the glaciers and mountains is by taking a flightseeing excursion. Several companies offer short bush plane flights in these parks. Flying in between some of the tallest peaks in Kluane and seeing the endless landscape of snow and ice from above was one of the coolest travel experiences I've ever had.
To visit by vehicle, you can fly into Whitehorse, Yukon, and drive 90 minutes to the edge of Kluane to hike or camp. Or fly to Anchorage, Alaska, and drive 3.5 hours to Wrangell-St. Elias, the largest national park in America.
Wrangell-St. Elias is the only one of these parks with a road that goes deep into the wilderness. McCarthy Road is a bumpy gravel road, so most visitors take one of the shuttles that travels more than 60 miles to the end of the road near the old mining town of Kennecott.
The other great way to explore this region is to get out on the water. Tatshenshini-Alsek has some of the most incredible rafting and kayaking opportunities in the world, while Glacier Bay is most easily explored by cruise ship. Many Alaskan cruises pass through Glacier Bay, giving guests a chance to see glaciers up close while watching for humpback whales in the water and bears along the shore.
Those who enjoy impressive natural landscapes will be blown away by this heritage site. Come during the summer, when the weather is warmer and more tour companies are operating.
Explored by Scott Shetler from Quirky Travel Guy
Mammoth Cave National Park
Mammoth Cave National Park is the world's longest cave system located in Southern Kentucky. It is an easy drive from Nashville and Louisville, as well as many Midwest and Southern cities.
It became a UNESCO site in 1981 and has almost 400 miles of underground chambers and tunnels, yet only about 10 miles have been explored. You can enter the cave on a ranger-led guided tour. The National Parks Service offers a variety of tours based on length, difficulty, and time of day. The tour we took, Domes and Dripstones, was about 2 hours long and about a mile in distance.
However, you are expected to be in good physical condition because there are about 500 steps (some with quite an incline). It is rated moderate for physical activity, yet it would be fine for older children and anyone not afraid of tight spaces. The park does offer a few other options for younger children and elderly who may not be as mobile.
This was my first visit to a cave, so I was not completely sure what to expect. I am usually slightly claustrophobic, yet there were enough open spaces that I felt fine the entire time. We had ample opportunity to stop and take pictures and soak in the beauty of this underground world. Seeing the stalagmites, stalactites, and all of the other rock formations created over time by water, was truly a spectacular natural beauty!
One of the many things I learned is that Mammoth Cave received its' name due to the vastness of its' size (not the discovery of mammoth fossils).
Explored by Margie DQ from D.Q. Family Travel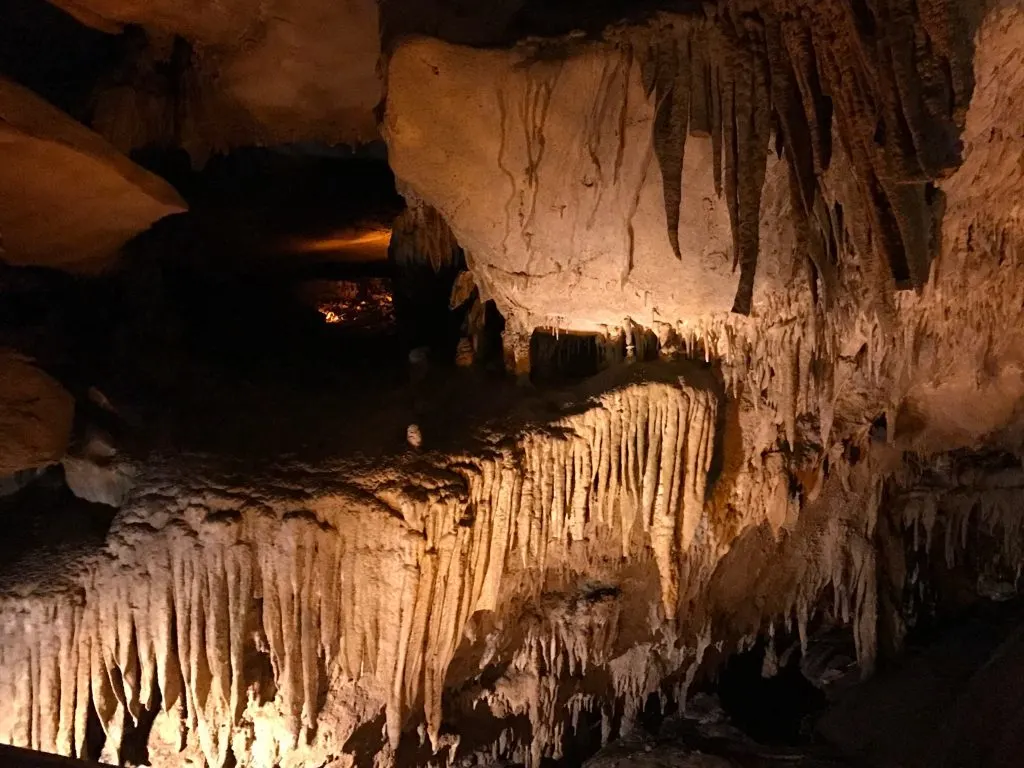 Olympic National Park
Located in the Olympic Peninsula of northwest Washington State, Olympic National Park is spectacular in the diversity of its ecosystems.
Snowy glacier marked mountains are surrounded by alpine meadows and an extensive old-growth forest that exemplifies the characteristic temperate rainforest of the Pacific Northwest. Eleven river systems drain the Olympic mountains, offering some of the country's best habitat for migrating fish such as salmon. The dense green Hoh Rain Forest, laced with fish-filled streams, makes a memorable and cool hike out of the sun. Although the forest has suffered recently from a general lack of rain on the West Coast, it still presents lush carpets of green that contrast so starkly with the snowy mountain views.
The drive along the north side of the park, with its views of Crescent Lake, makes for the best sunsets available in the park. And the hike along Hurricane Ridge will give you the opportunity to get close to deer and other wildlife who take advantage of their protected status to not shy too far from hikers. When you emerge from the wooded part of the path, you'll get lovely vistas of the Olympic Mountains as the landscape changes from forest to grassy mountain meadows.
The park also includes 100 km (60 miles) of wilderness coastline, the longest undeveloped coast in the contiguous United States. Ruby Beach is the highlight of that ecosystem. When we were there, it was littered with enormous drift logs from the nearby forest. As logs fall and end up in various rivers, they make their way to the sea, only to be battered into gray driftwood and tossed back up onto the shore at Ruby Beach.
You get to Olympic National Park by taking U.S. Highway 101 out of Seattle to Port Angeles and the Park entrance.
Explored by Tom Bartel from Travel Past 50
Redwood National and State Parks
Redwood National Park World Heritage Site constitutes a section of coastal mountains running along the Pacific Ocean north of San Francisco in California.
The site is home to majestic forests of soaring coastal redwood trees, the tallest and most noble trees in the world. While the trees themselves are famed around the world, what many travelers do not realize is the forests are also home to a remarkable diversity of marine and terrestrial fauna, including adorable sea lions, the 'all-American' bald eagle, and the endangered California brown pelican.
The redwood has existed for around 160 million years, making them some of the world's oldest known trees. They once blanked many of the globes wet temperate areas but is now only grow naturally in the coastal redwood forests in wet regions of the west coast of North America. More specifically, the Sequoia sempervirens, as it is formally known, remains in only a slender strip of land approximately 750 km (470 mi) long and 5–47 mi (8.0–75.6 km) wide along the Pacific coast from Monterey Count in California to southwestern Oregon. There is also a remarkable Redwood Park in Rotorua, New Zealand, where they were planted at the beginning of the 20th century to assess the viability of exotic trees for commercial forestry there.
The Redwood National Park World Heritage Site was conceived to protect one of the last surviving major clusters of these noble trees. It is located in northernmost coastal California—about 6-hours drive north of San Francisco. It is situated along the north-south U.S. 101 highway, meaning it is entirely conceivable that you could drive entirely through the parks without even realizing you have been here before.
Obviously, for the best experience at the Redwood National and State Parks, you should plan a few hikes – of which there are plenty to choose from of various lengths and difficulties. The coastline and coastal mountain environment are phenomenal and one of the most beautiful places anywhere in the world…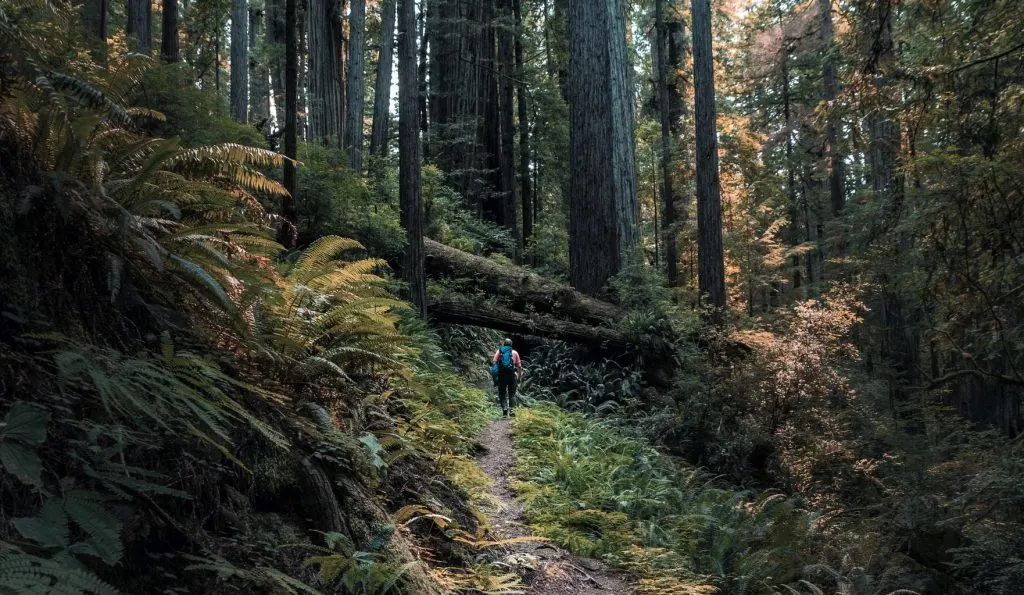 Waterton Glacier International Peace Park
In 1932 Glacier National Park in Montana, United States, was coupled with the Waterton Lakes National Park in Alberta, Canada, and the world's first International Peace Park was born.
Established on the edge of these two countries, the park protects excellent mountain scenery and exceptional prairie, forest, and glacial features. The park is particularly rich in plant and mammal species due to a quirk of geography that allowed plant communities and ecological complexes to evolution here found nowhere else in the world. The abundance of wildflowers is also notable and makes a visit here in spring all the more special.
The two parks are governed separately, and each has separate entrance fees but recognized as one UNESCO World Heritage Site. This is unlike some other trans-national world heritage sites like the Sunderbans, which is listed as a separate site for both India and Bangladesh. I think this way makes more sense, as the park can be protected as one unit. After all, the grizzly bears, moose, wolves, and mountain lions here don't respect national boundaries…
Everyone who makes an effort to get to the Glacier National Park can discover their own little slice of heaven. From the refreshing water of crystal clear lakes to the fields of wildflowers in high alpine meadows, there's more than enough here to justify an entire trip. As you can imagine, there are also copious amounts of hikes, but one of my favorites would have to be the 27 kilometers/16.8 miles round trip hike that takes you across the Canadian border and back to U.S. soil…all without and passport control.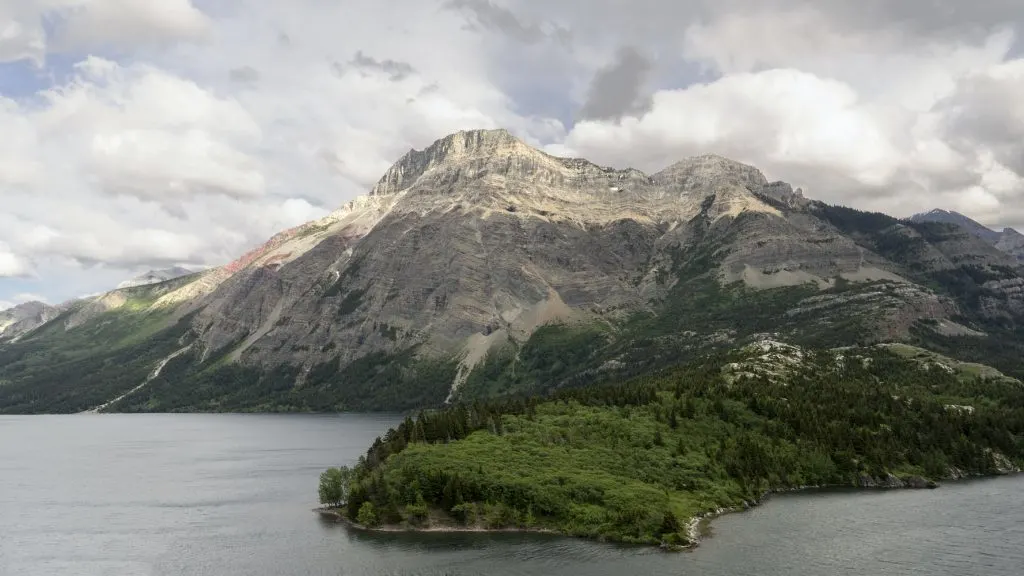 Yellowstone National Park
Yellowstone National Park's is a 2 million acres wonderland home to an unequaled manifestation of natural beauty, mountainous wilderness, dignified peaks, and plentiful wildlife.
The world's greatest concentration of geysers and thermal features here and showcases important geological phenomena and processes. This collection is less surprising when you learn that the area is concentrated over the Yellowstone Caldera, the largest supervolcano on the continent. Mostly found within Wyoming but with parks in Idaho and Montana, Yellowstone was the site of the world's first national park and has provided a model for conservation for countess places around the world ever since.
It is also significant as one of the last surviving (unmodified by humans) large ecosystems in the northern temperate zone of the Earth. As a result, the ecological assemblages at Yellowstone provide unmatched opportunities for conservation, research, and tourists' appreciation. A visit here is humbling and enthralling, and even better: the wonders of Yellowstone can be experienced year-round.
There are five entrances ⎯ North Entrance, Northeast Entrance, South Entrance, East Entrance, and West Entrance, and are a multitude of ways to visit. While you can simply drive through in a few hours, it would be best to stay a few nights or more (camping or in huts) to tour the climactic canyons, alpine rivers, verdant forests, hot springs and surging geysers, including its most famous, Old Faithful.
If you are lucky enough, you may even get the chance to spot the bison, elk, and antelope who live here – or bears and wolves.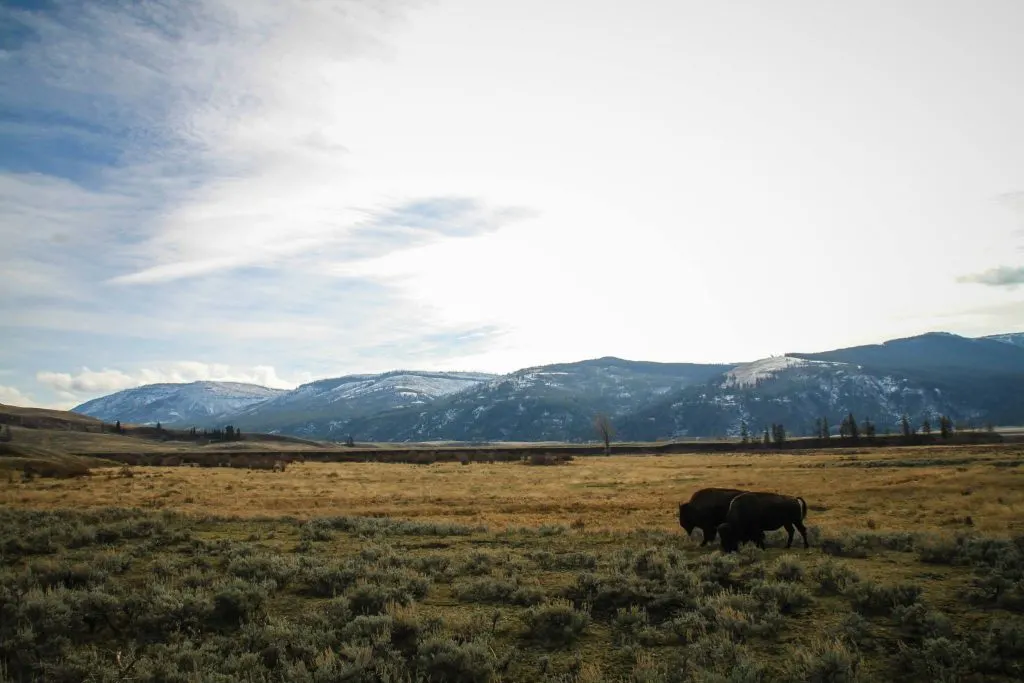 Yosemite National Park
Yosemite National Park is another United States World Heritage Site that likely needs no introduction. Covering 748,436 acres in the western Sierra Nevada Mountain range of Central California, Yosemite is globally known thanks to its iconic granite cliffs, free-falling waterfalls, crystalline streams, giant sequoia forests, soaring mountains, relaxed meadows, glaciers, and more.
UNESCO decided that in 1984, Yosemite represented a natural heritage of the world as it distinctly demonstrates the reoccurring glacial erosion of granitic bedrock over millions of years. This process produces many geologic features here not seen anywhere else in the world, including Half Dome and the spectacular Yosemite Valley, a 1 kilometer (1/2 mile) deep, glacier-carved cleft with large sheer granite walls.
These geologic hallmarks present a dramatic backdrop utilized in countless films and deliver a distinct panorama of exceptional beauty for millions of people who visit Yosemite from April through October each year. Located around a four-hour drive from San Fran, you can visit in one day, but it would be an exceptionally long day. It would be better to plan a multi-day adventure and take advantage of the cute bed and breakfasts, hotels, cabins, campgrounds, and more.
Sadly, Yosemite's fame has resulted in issues with overcrowding in areas, so be sure to arrive in the park before or after peak hours – and book far in advance if you plan to stay over.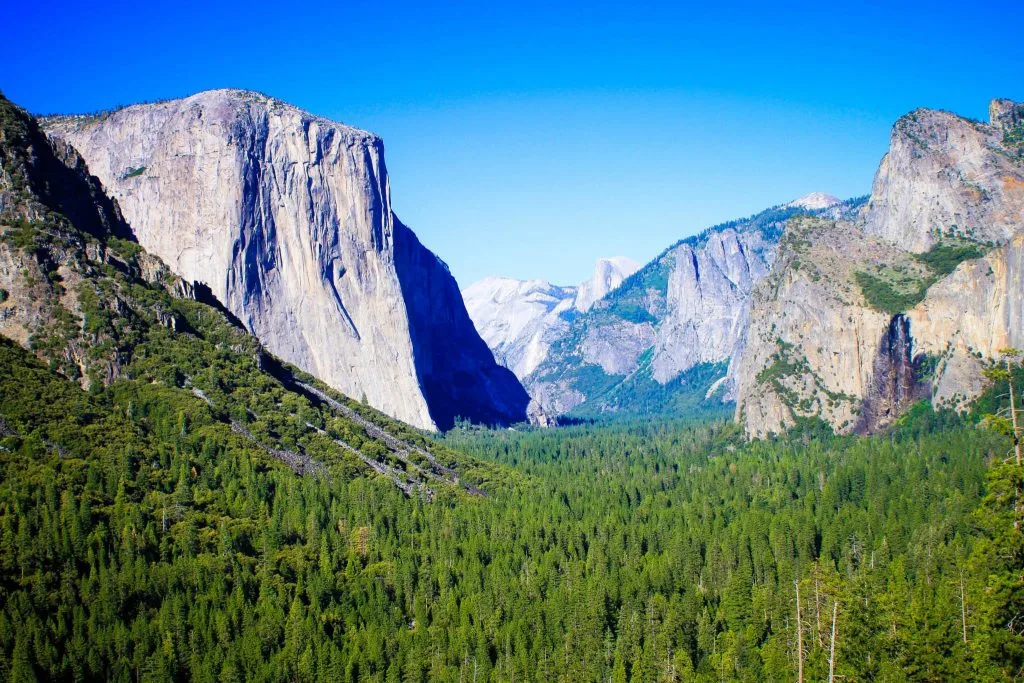 Mixed UNESCO World Heritage Sites In USA
Papahānaumokuākea
Papahānaumokuākea is a UNESCO site in the USA you are unlikely to have heard of, let alone toured as not only is it the least visited world heritage site in the USA – but it is also the most isolated.
The Papahānaumokuākea Marine National Monument area encompassing 583,000 square miles (1,510,000 km2) of ocean waters, including ten islands and atolls of the Northwestern Hawaiian Islands. It is roughly 250 km away from the main inhabited Hawaiian Archipelago and extends for over 1931 kilometers and out to the limits of the USA exclusive economic zone. This makes it one of the world's largest protected areas.
UNESCO protected Papahānaumokuākea not only for the exceptional pristine marine habits its presents but also due to its profound cosmological and traditional importance for living Native Hawaiian culture. Similar to Tongariro National Park in New Zealand, Papahānaumokuākea is a mixed world heritage site ancestral environment. It is the manifestation of the Hawaiian notion of the alliance between people and the natural world. It is also the area where Native Hawaiian consider life arises and to which all spirits are delivered after death.
In terms of its natural significance, the area sustains over 7,000 species, one-quarter of which are endemic, across its various pelagic and deepwater habitats, seamounts, submerged banks, extensive coral reefs, and lagoons. Some of the notable species found here are the threatened green sea turtle and the endangered Hawaiian monk seal.
Given the remoteness of the site, visiting Papahānaumokuākea for your average tourist is difficult. Previously the most straightforward way was to plan an expedition to the Midway Atoll National Wildlife Refuge (included on the site), but due to reductions in an operational capacity, historical and eco-tour access is currently not allowed. Visitation options in the future are being considered by U.S. authorities to be determined in operational support can be sustained.
For now, you will have to stop by the Waikiki Aquarium Northwestern Hawaiian Islands exhibit which showcases fish from Papahānaumokuākea or Kaʻena Point on the north shore of Oʻahu claims ecological features similar to those in the world heritage site. While I love ticking off UNESCO Sites, I do personally think it is more important to protect the integrity of the site rather than allow tourism access to ruin it – so for now, Papahānaumokuākea will remain unvisited.
---
And there you have it—all of the world heritage sites in the USA. Hopefully, you have learned something about this country's history already through these sites. Maybe some of them have even inspired your future travels. While overtourism is most certainly an issue, many United States world heritage sites have recognized this issue and are taking steps in the right direction.
If you get the opportunity to visit, please make choices that encourage the protection of these special places for future generations. If you haven't quite had enough, the USA also has tentative UNESCO sites which it has proposed but has yet to be ratified. These may or may not be included at a future date but are very telling in that they are what each country considers to be it's cultural and/or natural heritage of outstanding universal value.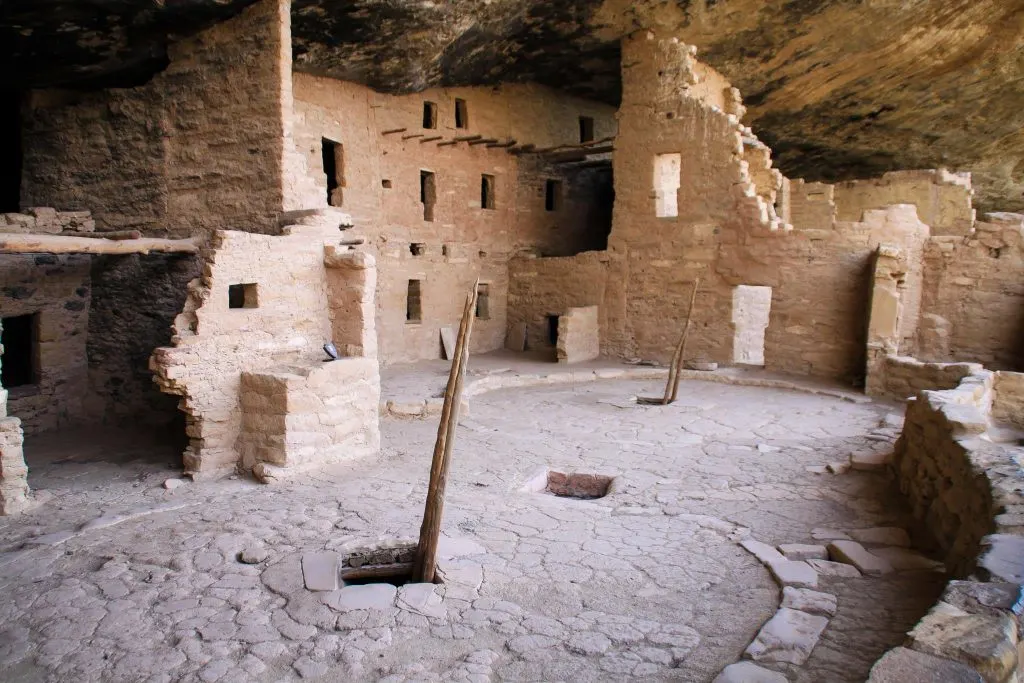 They typically are worthy candidates for inscriptions and should be of interest for adventurous travelers who want to explore under-the-radar spots before they become touristy. For the USA, these tentative sites are:
Civil Rights Movement Sites
Dayton Aviation Sites
Hopewell Ceremonial Earthworks
Thomas Jefferson Buildings
Mount Vernon
Serpent Mound
Okefenokee National Wildlife Refuge
Petrified Forest National Park
White Sands National Monument
Brooklyn Bridge
Ellis Island
Central Park
Early Chicago Skyscrapers
Pacific Remote Islands Marine National Monument
California Current Conservation Complex
Marianas Trench Marine National Monument
Marine Protected Areas of American Samoa
Moravian Church Settlements
Big Bend National Park
Happy exploring!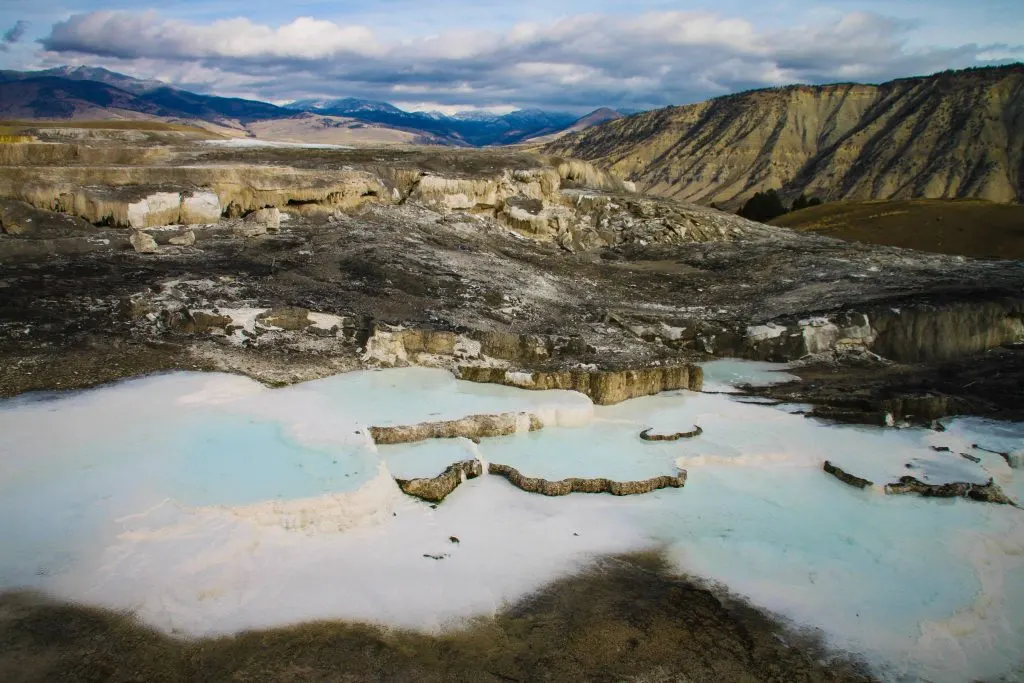 Staying Connected While Travelling
In today's increasingly connected world, staying online while traveling has become essential for a seamless experience. That's where eSIMs come into play, revolutionizing the way we access mobile networks during our global adventures. Say goodbye to hunting down local SIM cards at the airport; eSIMs provide instant activation the moment you land, sparing you the fortune usually spent on international roaming and allowing you to genuinely travel like a local (without getting hopelessly lost!).
With eSIMs, tasks like restaurant recommendations and reservations, up-to-the-minute public transport instructions, checking opening hours, and accessing further information become a breeze. And, of course, sharing your journey on social media is easier than ever. To stay connected wherever you roam, consider using either Airalo or Holafly. Airalo boasts the most extensive range of destinations worldwide, offering smaller data bundles tailored to your needs, while Holafly provides unlimited data packages and fantastic EU data deals.
So why wait? Embrace the future of travel connectivity with eSIMs and make your next journey effortlessly smooth.
Further Things To Consider Before Any Adventure
Now you're all set and prepared to explore our big wide world, why not sort out everything else out all in one go? If necessary for your travel plans make sure you have brought proper travel insurance, protected your privacy by getting a secure VPN, compared all the top hotel booking sites to find just what you're after, reserved an unbeatable rental car price and - of course - booked the best flight deals!
Or maybe just forget it all and go for a last-minute cruise or effortless tour instead?
Many budget travelers (including me) indulge in worldwide airport lounge access, so we can experience luxury while still slumming it in economy. Naturally, we would never leave home without a more general travel guide since we couldn't possibly cover everything here!
Just add an adventurous attitude and plenty of smiles - they go a long way - and that about covers it all! Now go out, find your own path and don't forget to share your best inspiration stories with me on Facebook, Twitter, and Instagram...I'd love to hear from you!