Chichen Itza, a UNESCO World Heritage Site and one of the Seven Wonders on The World, is famed the world over. Its iconic pyramid-shaped temple is the poster-child for the Mayan civilization, explaining why Chichen Itza is on most travelers bucket-lists — I know it was on mine!
Chichen Itza is found in Mexico's Yucatan Peninsula — only around 2 hours from the tourist mega-resort city of Cancun and comparatively smaller beachside vacation destinations of Playa del Carmen and Tulum. For decades, it has become one of Mexico's most visited destinations – and for good reason.
But, with masses of tour groups being dumped on this site daily, is there any way to enjoy Chichen Itza without the crowds? And how can you do Chichen Itza by yourself and on the cheap?
Let me tell you how you can have a unique experience here, without any other tourists in your photo, for a far lower price with just a small bit of planning. But first, a short history of the Chichen Itza UNESCO site to get you even more excited!
Ignore the Lonely Planet who give up and claim '" you're never going to have the place to yourself,". It is very easy to visit Chichen Itza and be alone! As we discover at other incredible ancient ruins like Machu Picchu, Tikal, and the My Son Ruins near Hoi An — you just need to come up with a plan to escape the crowds. Trust me, it is entirely worth it.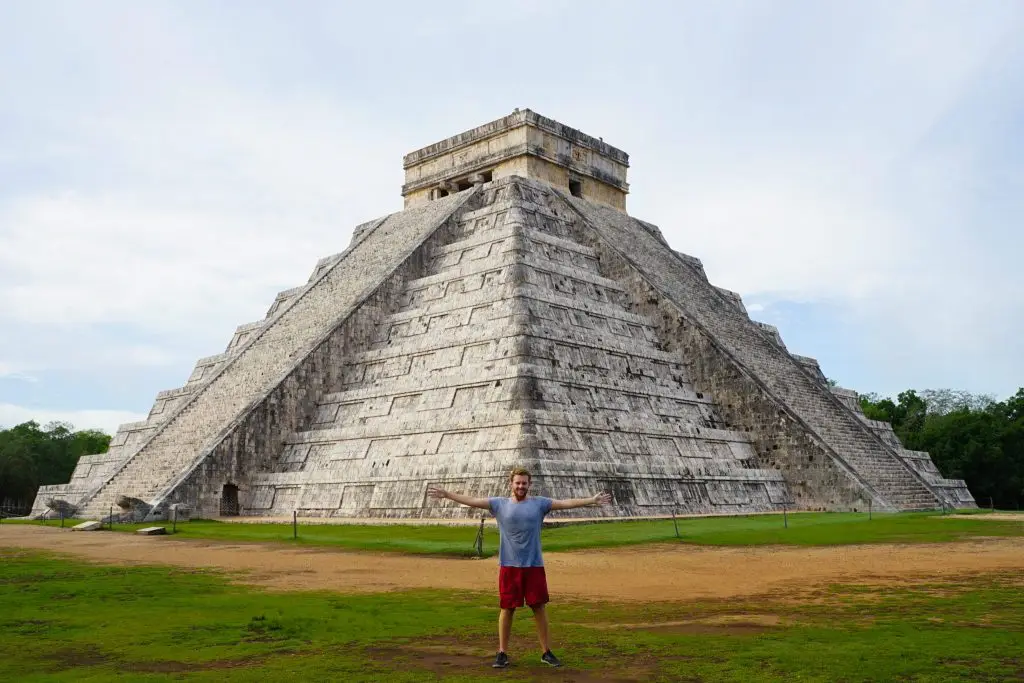 The Quick History Of Chichen Itza Mexico
Chichen-Itza has over 1,000 years of history, and even after being abandoned (twice!), it still maintained a tremendously important rule in Mayan culture in the Yucatan right up until the Spanish Conquest where Conquistadores found locals still making pilgrimages to this sacred site.
A unique pre-Hispanic city that displays a blend of the Maya and Toltec culture and vision of the world – Throughout the ruins, you can see evidence of both Chac, the Maya rain god, and Quetzalcóatl, the plumed serpent of the Toltec.
While the Maya brought their trademark architecture skills, the Toltec brought their expertise in warfare and elevated human sacrifices here to a level not seen in any other Maya cities.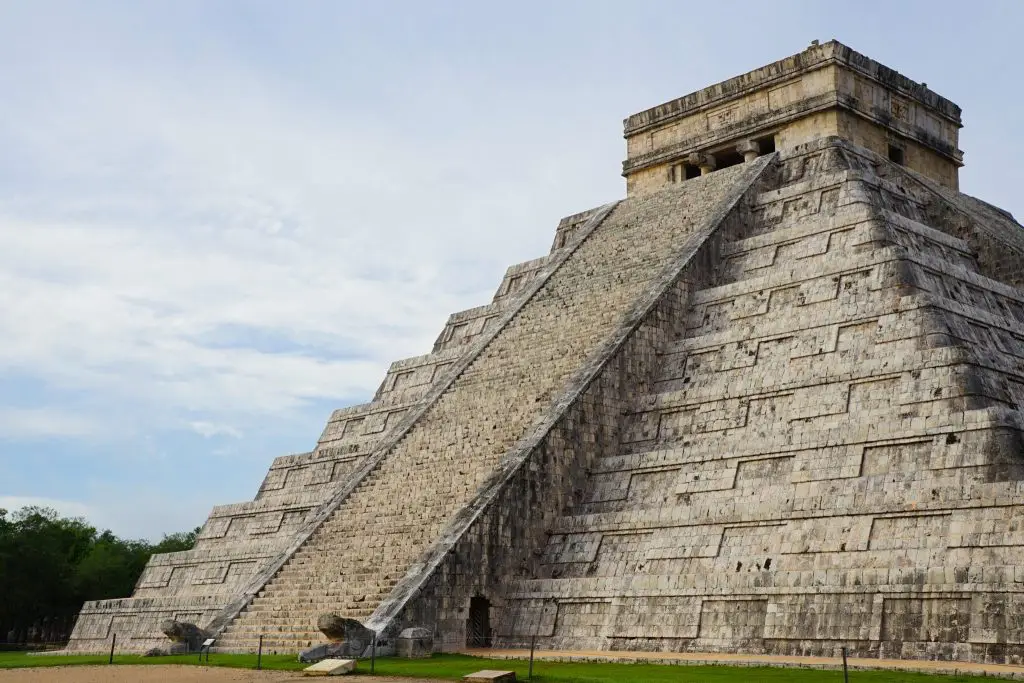 The stand out attractions of Chichen Itza today is the Warriors" Temple, El Castillo, and the circular observatory known as El Caracol. El Castillo, in particular, is iconic of the site and the money-shot everyone wants to get. Not actually a pyramid but more of an ancient Mayan calendar, it is divided into two by a staircase, creating 18 different terraces that commemorate the 18 months in the Mayan Year, each with 20 days.
There are four staircases (one on each side), with 91 steps on each – counted together plus the final platform is 365, the number of days in the year. As if that wasn't enough on the spring and autumnal equinoxes each year, the morning and afternoon sunlight produces a light-and-shadow illusion of the serpent ascending or descending on El Castillo's's famous staircase. While an incredible sight expect hoards of tourists, and the effect is almost as good in the days before or after the equinoxes.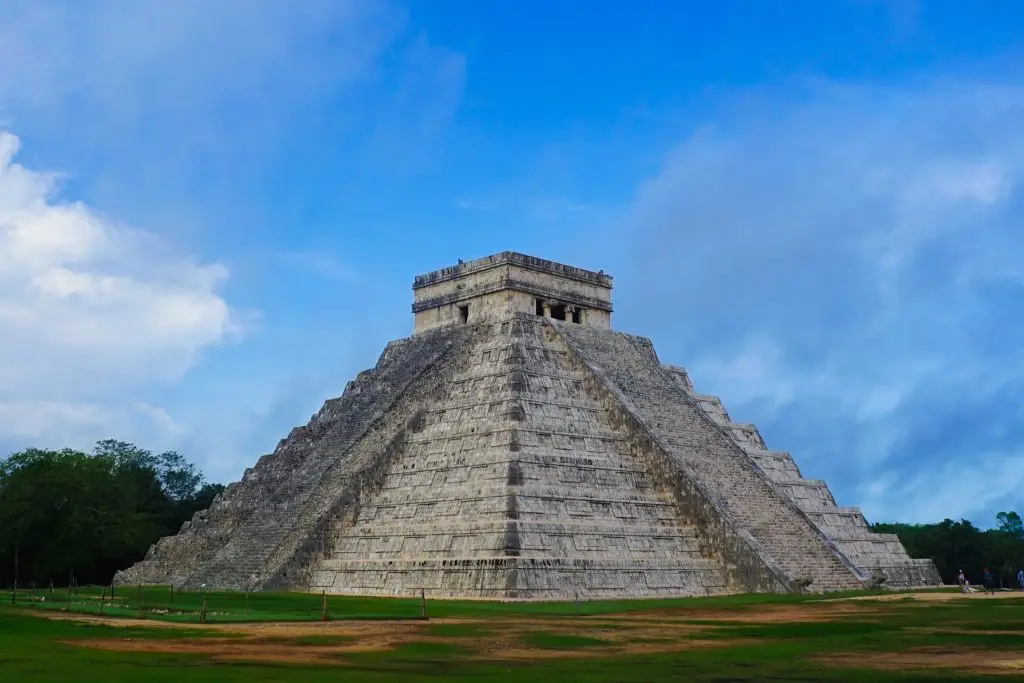 How To Visit Chichen-Itza Alone And See Chichen-Itza Without The Crowds
You do not need to go on a Chichen Itza private tour to have your own quiet time here; in fact, this would not help at all as they generally arrive too late in the day. The only way to see Chichen Itza without the crowds is to go there by yourself, either with a car or staying in a nearby town.
I recommend staying in the charming colonial town of Valladolid – colorful, easily accessible, and not too big or too small – and from here you can catch a quick and easy 40-minute collectivo straight to the front gates. If you are like me and find the first collectivo from the station next to the Valladolid ADO bus station at 7 am, you can arrive just before eight, be the first people to pay the Chichen Itza entrance fee, and the first people to enter the park.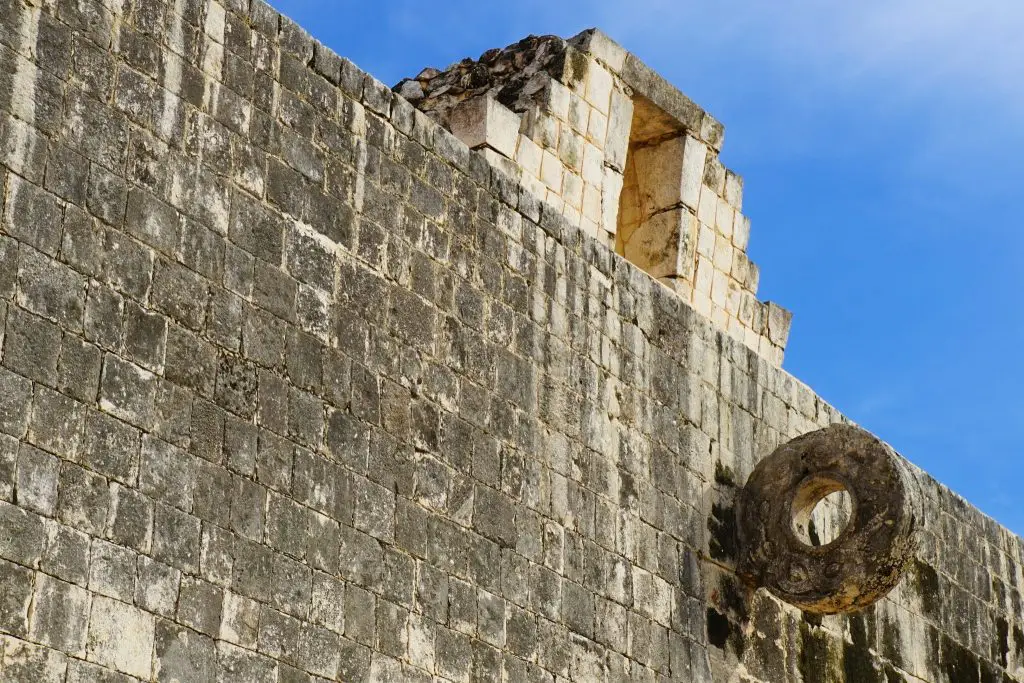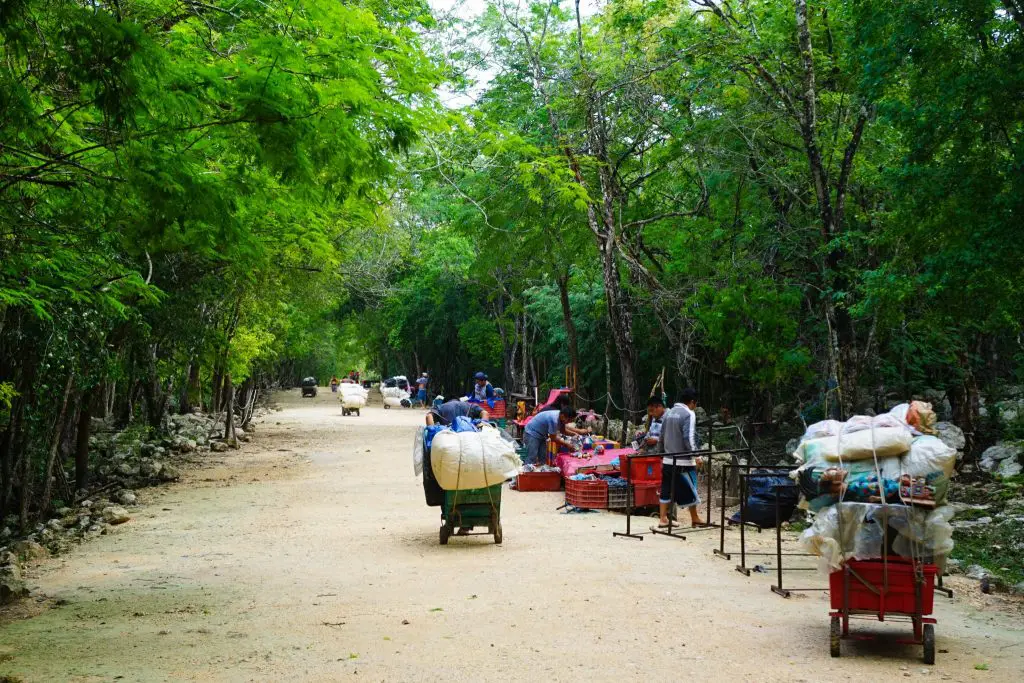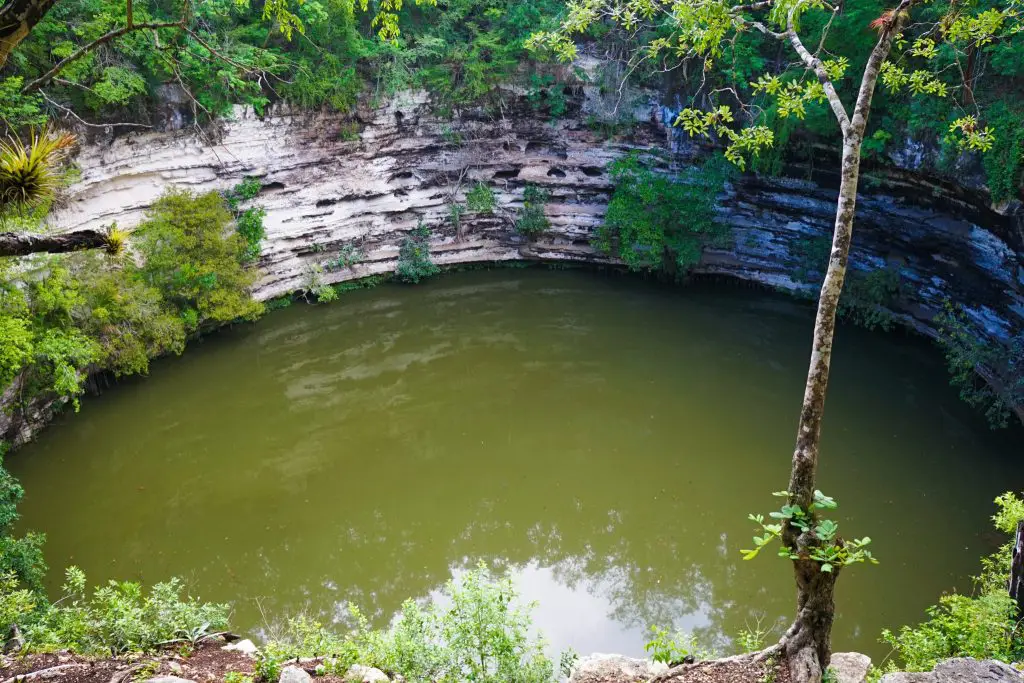 I am quite serious. There were only three other people who came 10 minutes after me, and then — besides the tacky souvenir sellers — it was only just before 9 am that the tours from Cancun started arriving. Things intensified considerably after 10 am when I left.
You will also save the outrageous Chichen Itza tour price and only have to pay for your bus ticket and Chichen Itza entrance fee, which was 223 Pesos. The only other people where the touts were setting up for the day!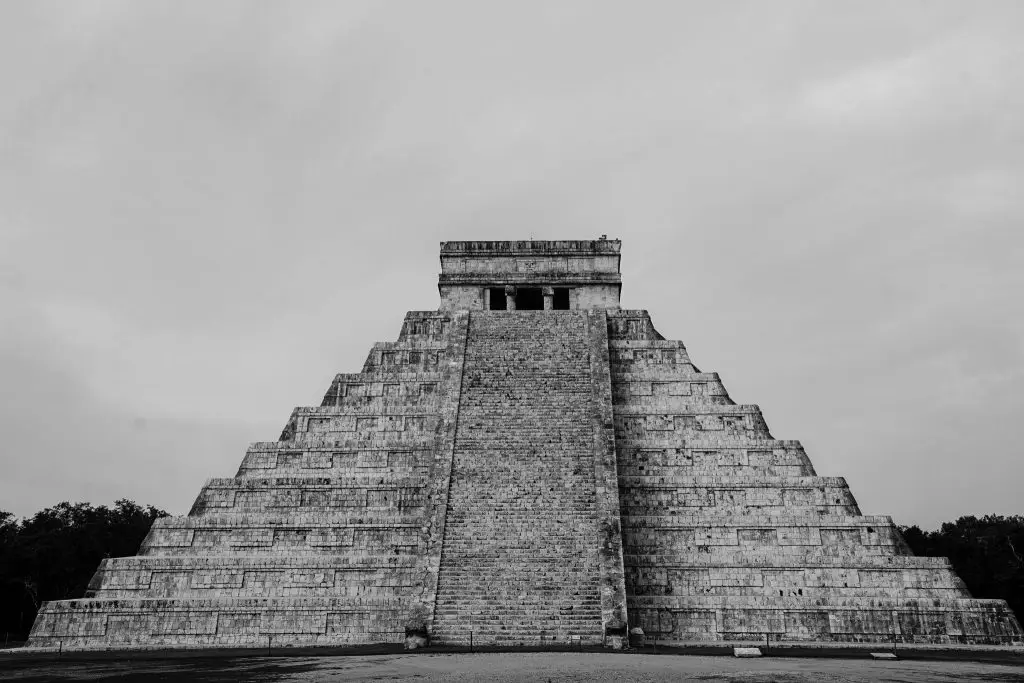 How Big Is Chichen Itza Mexico?
The Chichen Itza Ruins are more than 740 acres (300 hectares) in size, a large city in the past, but today without a guide, you can easily cover it all in 2-3 hours, getting out before the worst of the tours or heat kicks in.
I truly loved being able to marvel at this 7th Wonder of the World all by myself and to appreciate its beauty and history – at least for a moment. By contrast, I felt sorry for the thousands upon thousands of other daily visitors, who sadly spend more time searching for shade or their tour guide in the hot sun than looking on in amazement.
When the tours arrive, beat a hasty retreat and go on a Chichen Itza cenote tour about 3 km down the road before the tour buses go there in the early afternoon and ruin that too.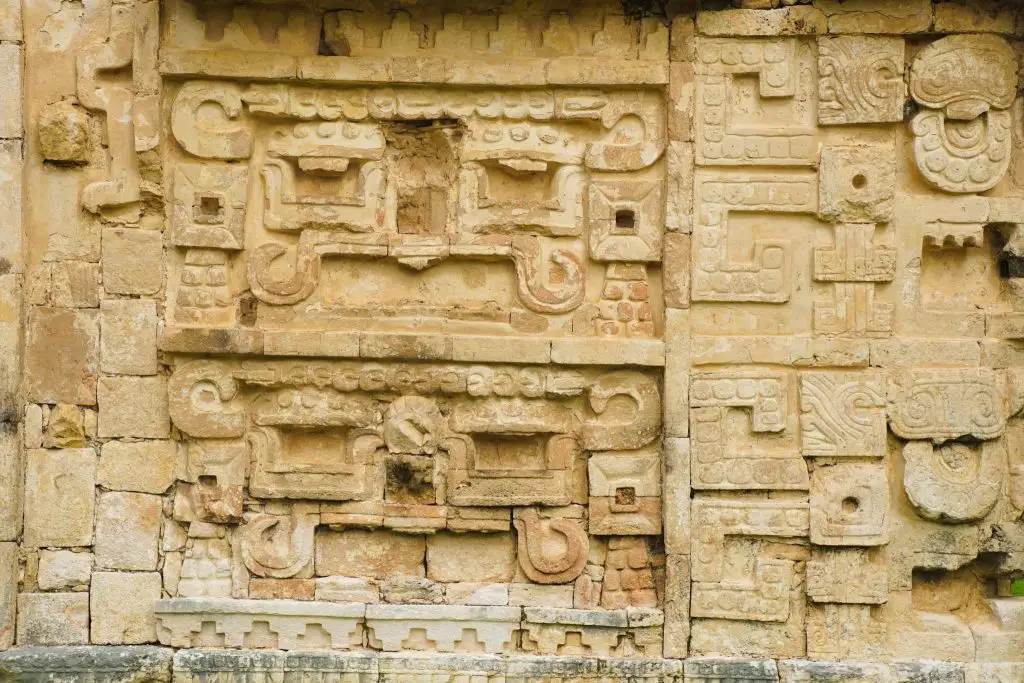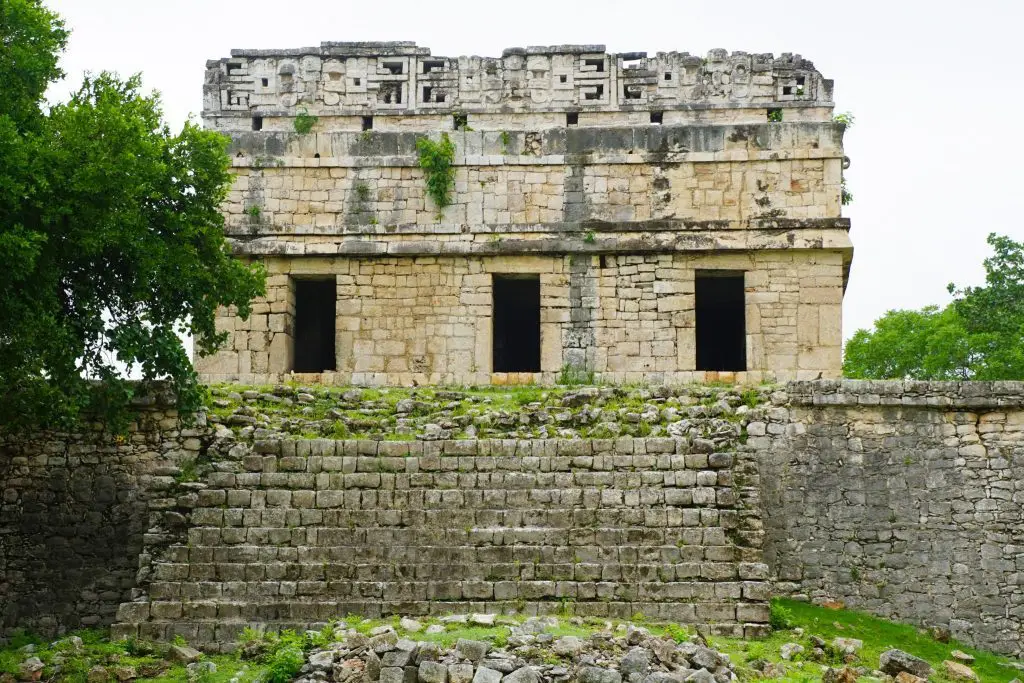 How to Visit Chichen Itza From Valladolid
Valladolid is very accessible from most of the Yucatan being on the main road between Cancun and Merida, or Tulum and Merida. If you have the time, it's a beautiful place to relax for a few days and to use it as a base to see the Reserva de la Biosfera Ría Lagartos, the largest and most impressive flamingo colony in Mexico.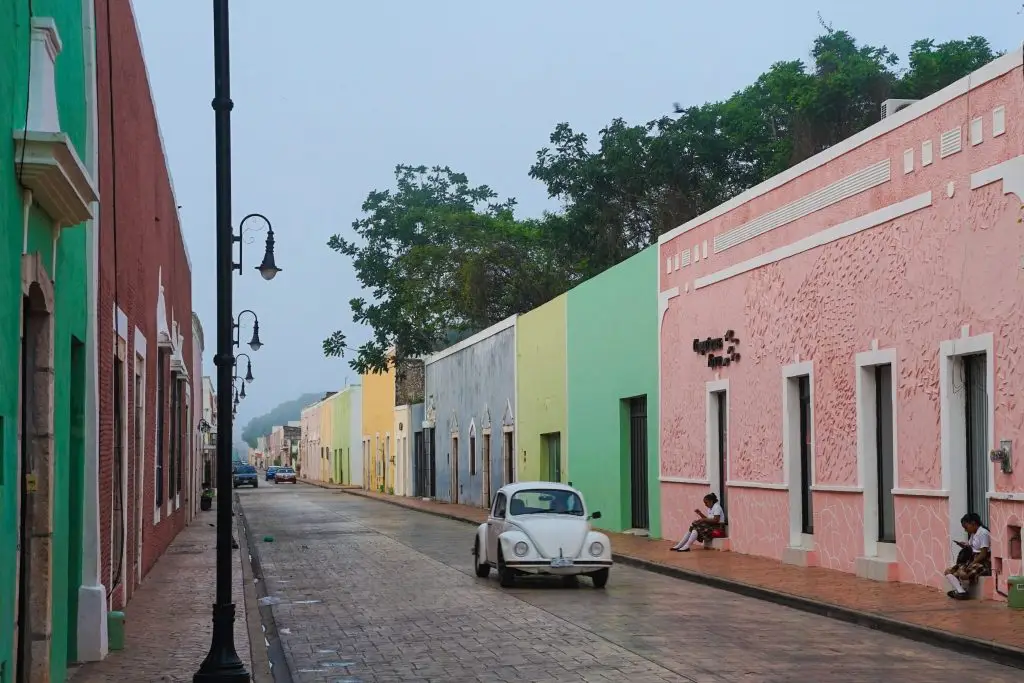 There are also plenty of cute cafes, an impressive collection of Mexican folk art at Casa de Los Venados, bike tours, tequila tasting, and delicious taquerias to be discovered! Oh, and of course, there are a few cenotes around, even some in biking distance.
Skip the overhyped Cenote Zac in town; it is heavily polluted thanks to its location in the center of the city — and neither beautiful or swimmable. For something magical and worthy of topping off a day at Chichen Itza, try booking onto a bioluminescent night snorkeling tour. On this adventure, you are guided underwater and under the moonlight through a reef filled with nocturnal sea creatures, turtles, and a dazzling bioluminescent show from sea particles.
Much like a visit to Chichen Itza, this is out-of-this-world! But if you haven't had enough of ruin exploring you could always visit the Pre-Hispanic Town of Uxmal in nearby Campeche. Further north in Mexico there is also the awe-inspiring Monte Albán in Oaxaca or the Pre-Hispanic City of Teotihuacan close to CDMX.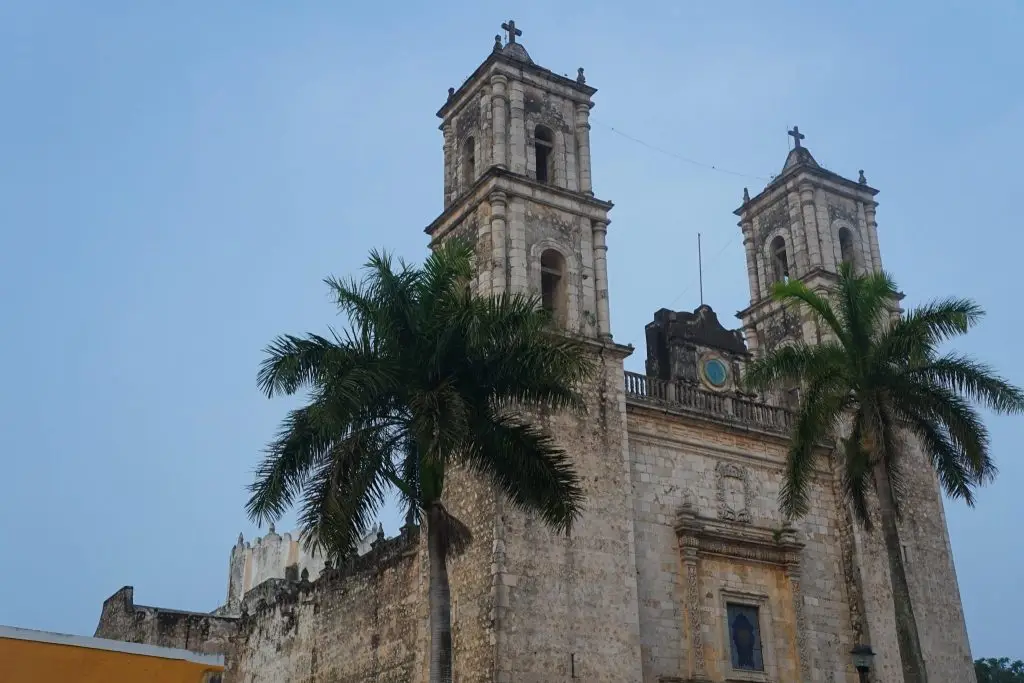 Where To Stay in Valladolid When Visiting Chichen Itza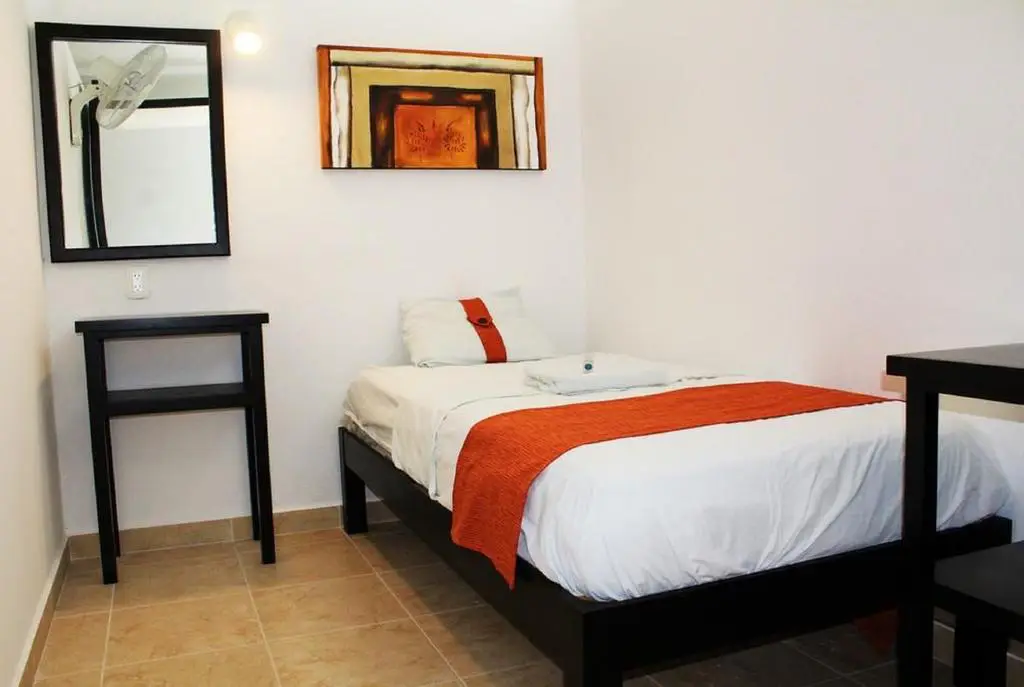 BUDGET Hostal Gayser
Affordable single and twin rooms at dorm price. Clean, 24/7 security, and fast WiFi. Only a 10-minute walk to the center.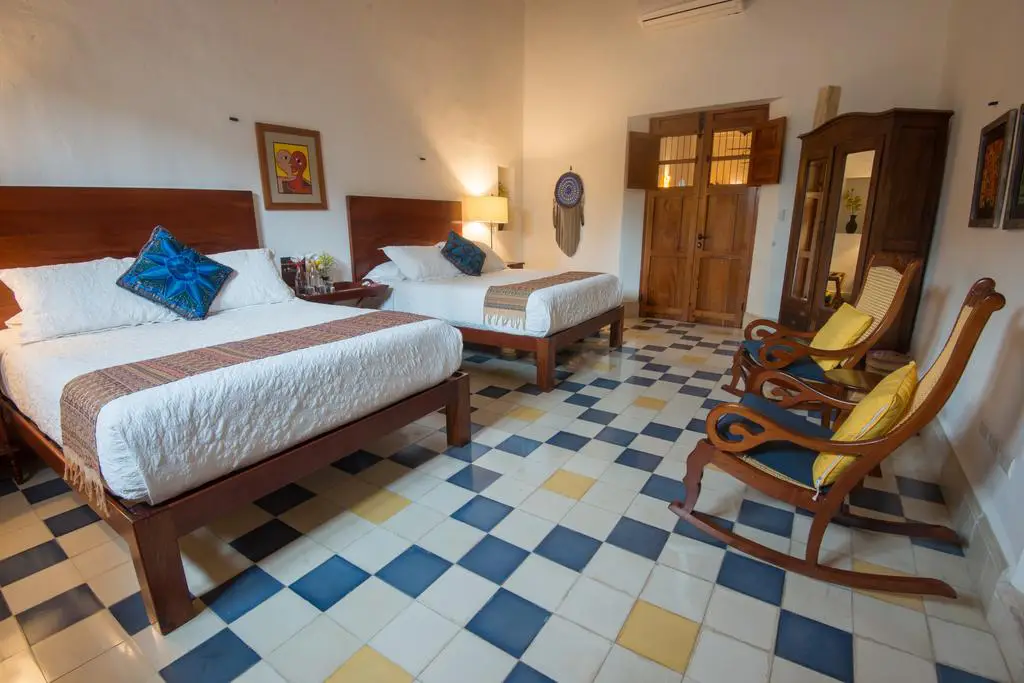 MID-RANGE Posada San Juan
Colonial chic with outdoor pool, sun terraces, and gardens. Free breakfast, great interior design, and a fab location for enjoying the city.
–> Take a sneak-peak at the best deals on Hotel Posada San Juan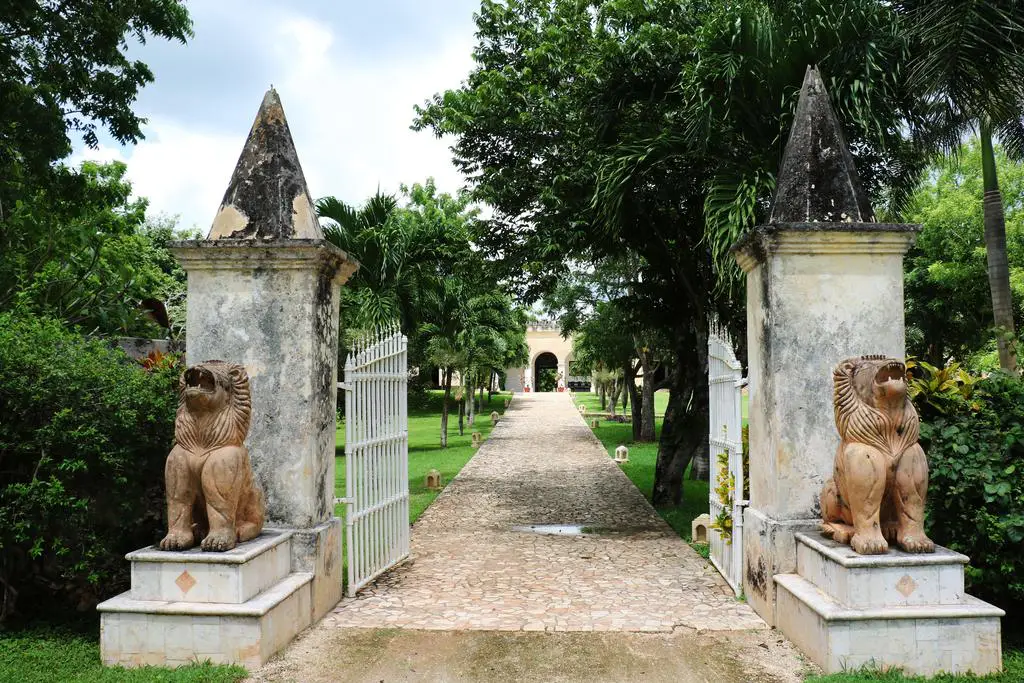 LUXURY Hacienda Kaan Ac
A luxury castle made famous in the love story "El Filibustero,", this 172,000 square meter offers nothing but exclusive luxury and refinement of the XVI Century
---
And there you have it! The perfect way to see Chichen Itza without the crowds – just stay in colonial Valladolid, relax, take your time, and enjoy this amazing place as it should be seen! Oh, and for those who are wondering still how to pronounce Chichen Itza in English, it is CHEE-chen EET-suh, not Chicken Pizza!!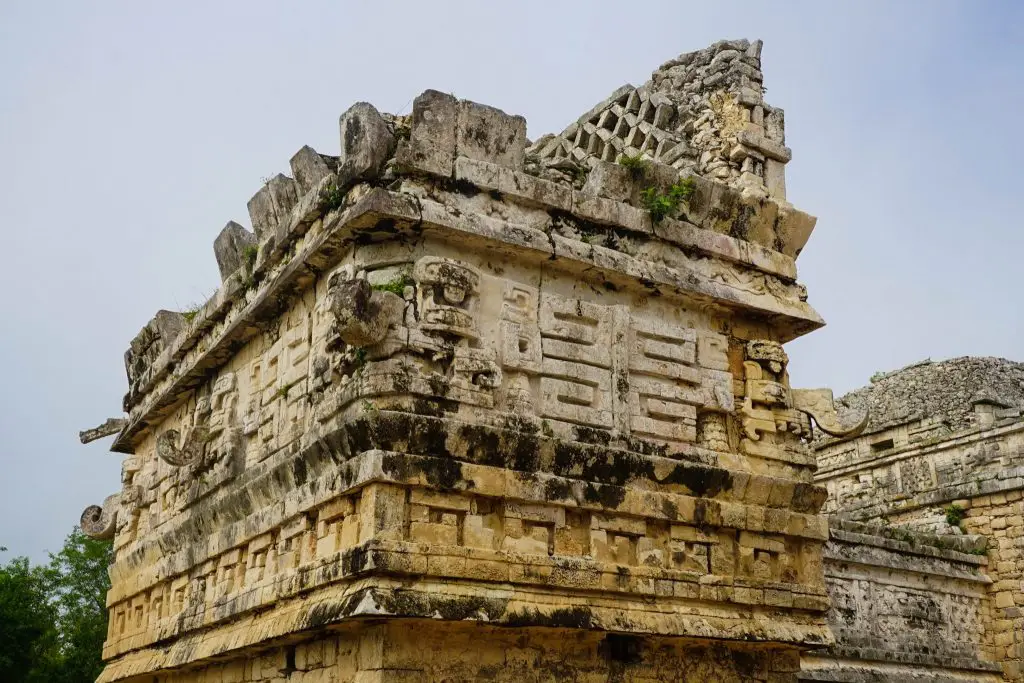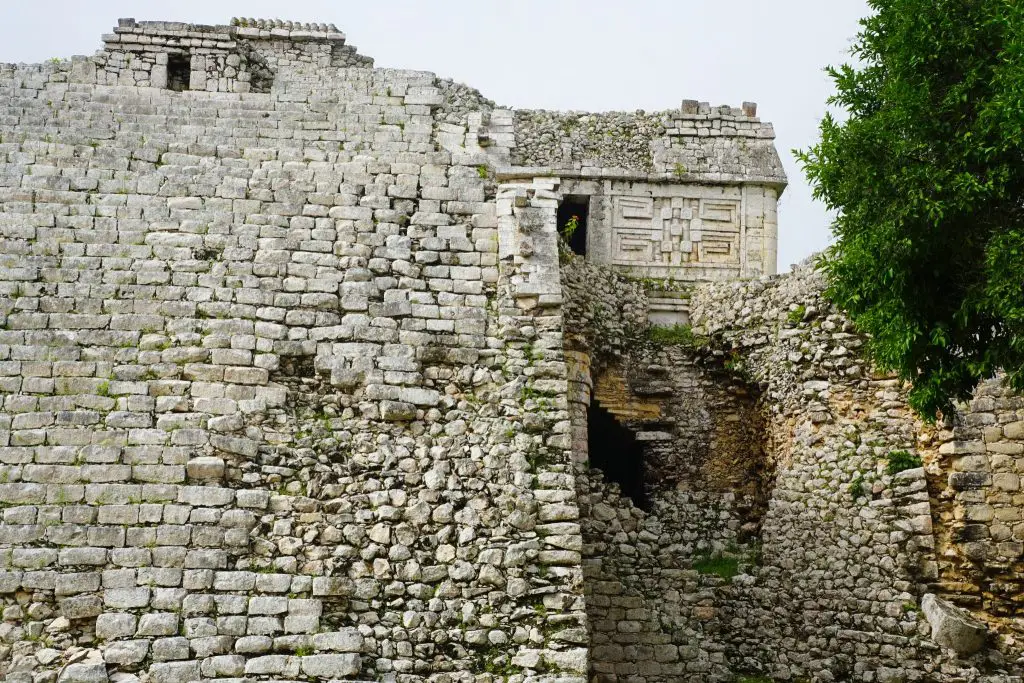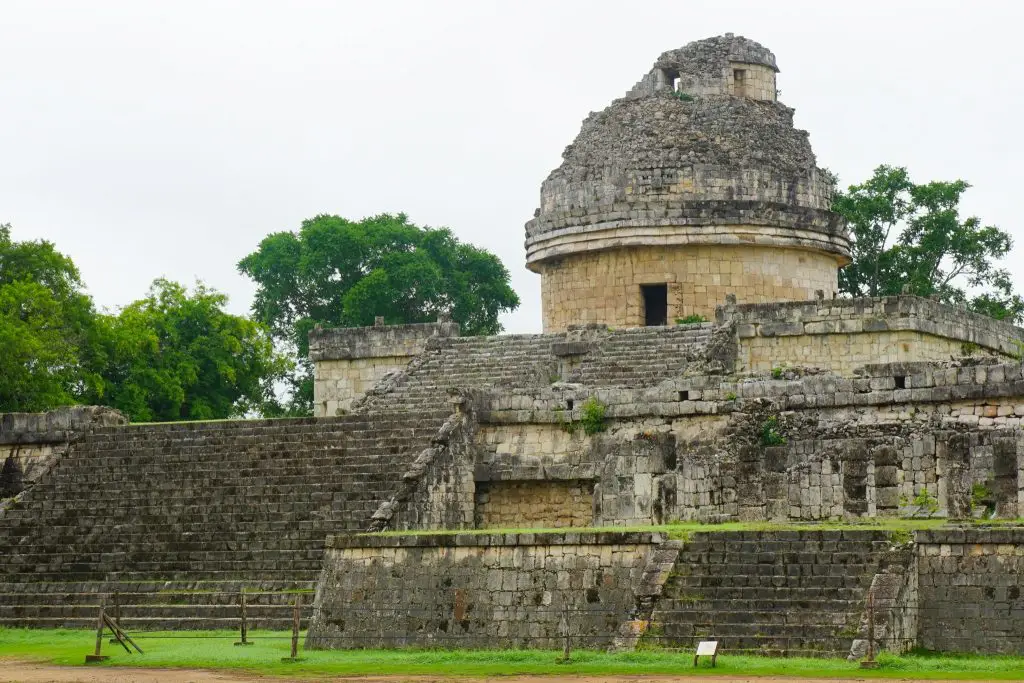 Staying Connected While Travelling
In today's increasingly connected world, staying online while traveling has become essential for a seamless experience. That's where eSIMs come into play, revolutionizing the way we access mobile networks during our global adventures. Say goodbye to hunting down local SIM cards at the airport; eSIMs provide instant activation the moment you land, sparing you the fortune usually spent on international roaming and allowing you to genuinely travel like a local (without getting hopelessly lost!).
With eSIMs, tasks like restaurant recommendations and reservations, up-to-the-minute public transport instructions, checking opening hours, and accessing further information become a breeze. And, of course, sharing your journey on social media is easier than ever. To stay connected wherever you roam, consider using either Airalo or Holafly. Airalo boasts the most extensive range of destinations worldwide, offering smaller data bundles tailored to your needs, while Holafly provides unlimited data packages and fantastic EU data deals.
So why wait? Embrace the future of travel connectivity with eSIMs and make your next journey effortlessly smooth.
Further Things To Consider Before Any Adventure
Now you're all set and prepared to explore our big wide world, why not sort out everything else out all in one go? If necessary for your travel plans make sure you have brought proper travel insurance, protected your privacy by getting a secure VPN, compared all the top hotel booking sites to find just what you're after, reserved an unbeatable rental car price and - of course - booked the best flight deals!
Or maybe just forget it all and go for a last-minute cruise or effortless tour instead?
Many budget travelers (including me) indulge in worldwide airport lounge access, so we can experience luxury while still slumming it in economy. Naturally, we would never leave home without a more general travel guide since we couldn't possibly cover everything here!
Just add an adventurous attitude and plenty of smiles - they go a long way - and that about covers it all! Now go out, find your own path and don't forget to share your best inspiration stories with me on Facebook, Twitter, and Instagram...I'd love to hear from you!