Previously touted as the alternative to the mass-tourism of Cancun, Tulum on the southern reaches of the Maya Rivera was a laid-back hippie town with a stunning beach, some beachfront ruins, a few shacks for great food (if you want to do Tulum on a budget) and for drinking the night away.
Tulum's meteoric rise to fame over the last decade has, however, changed it forever…
It is currently one of the fastest growing towns in all of Latin America – and sadly, with such rapid development comes the inevitable growing pains.
Large scale condominiums, countless new hotels, seemingly endless amounts of dive shops and convenience stores, and a large amount of haphazard development and environmentally destructive practices have become the new normal.
That is not to say it's all bad, and currently nowhere near the scale or garishness of nearby Cancun and the Playa del Carmen.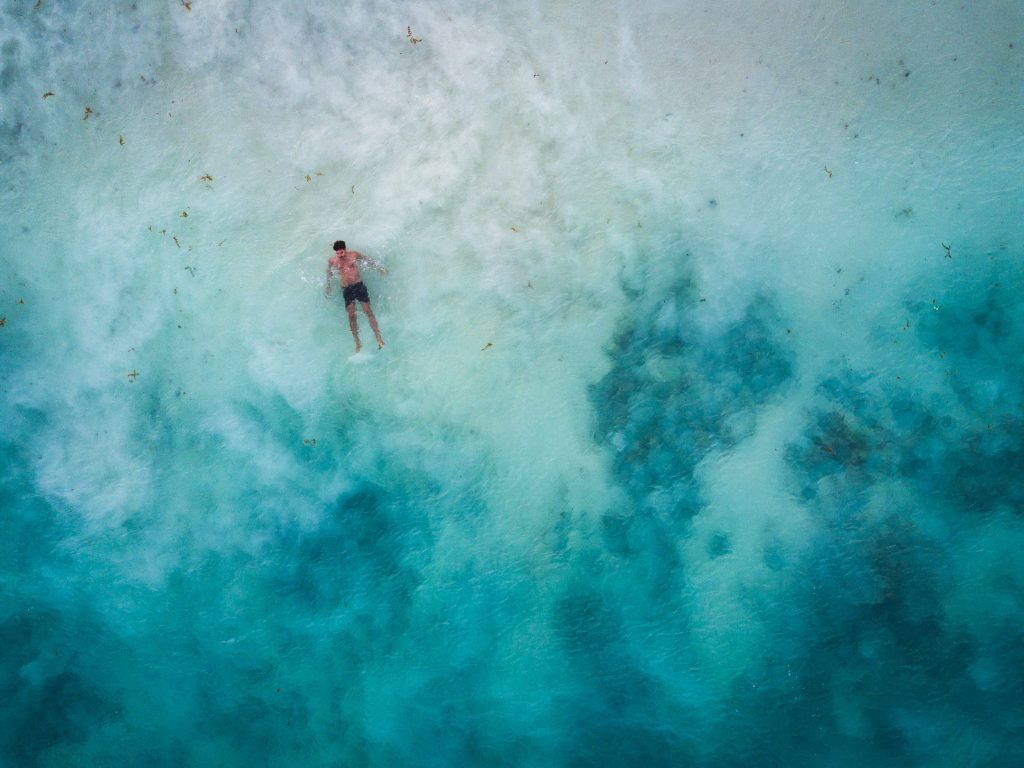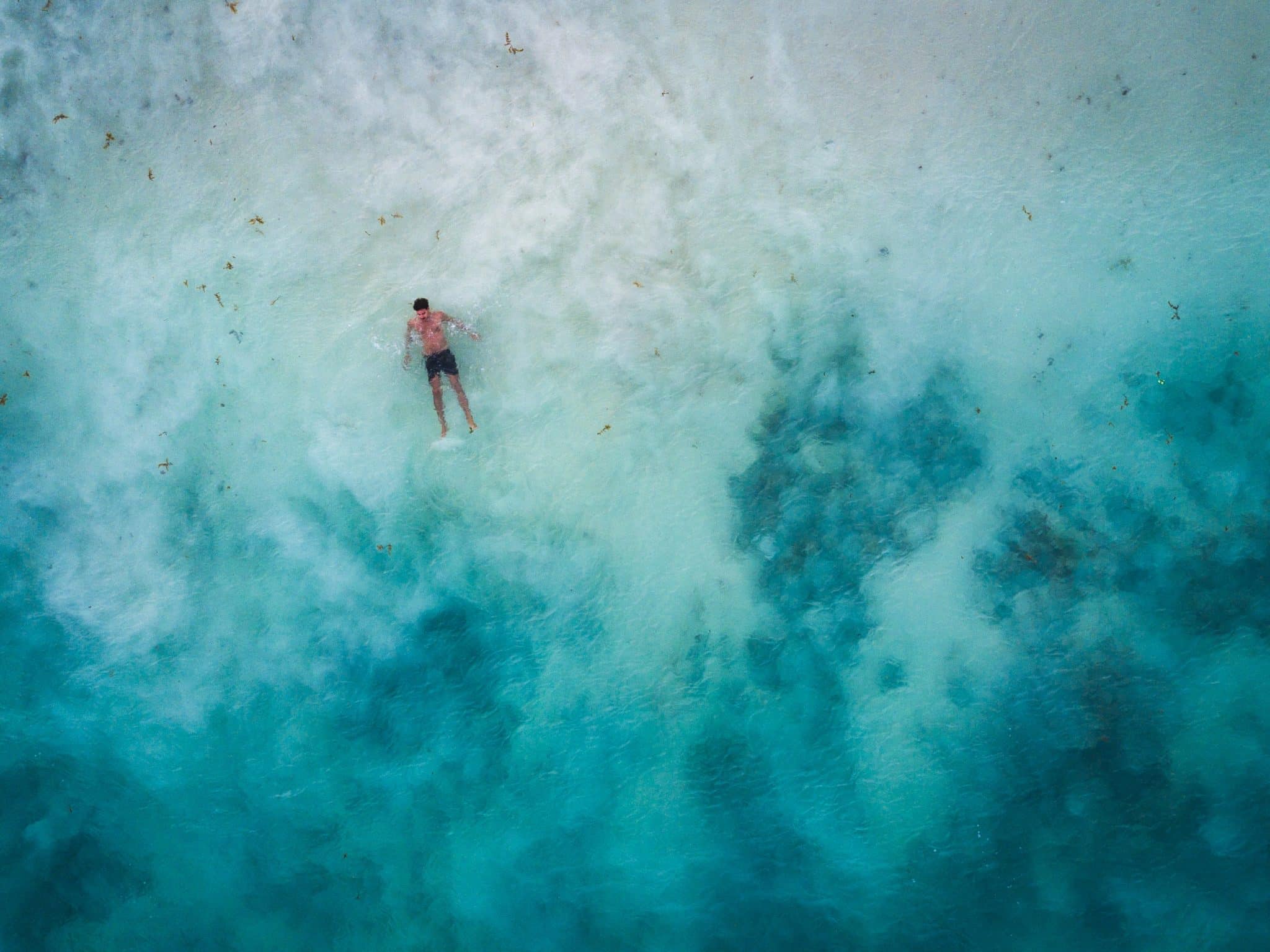 Tulum still does offer charm and numerous attractions that will make you go WOW – and there are plenty of signs that things are changing as people open their eyes to the effects of the most recent tourism influx.
World-famous ruins are still on your doorstep, incredible diving, white sandy beaches, and a nearby UNESCO World Heritage Site to boot, popular Tulum always justifies a visit. If you do it right, you can avoid all the adverse effects, support only environmentally conscious hotels and tour operators, and have a stay that will leave you begging for more.
So here are my ten top things to do in Tulum — Mexico's' current IT Town, along with some helpful tips for how to make the most of your vacation in Tulum.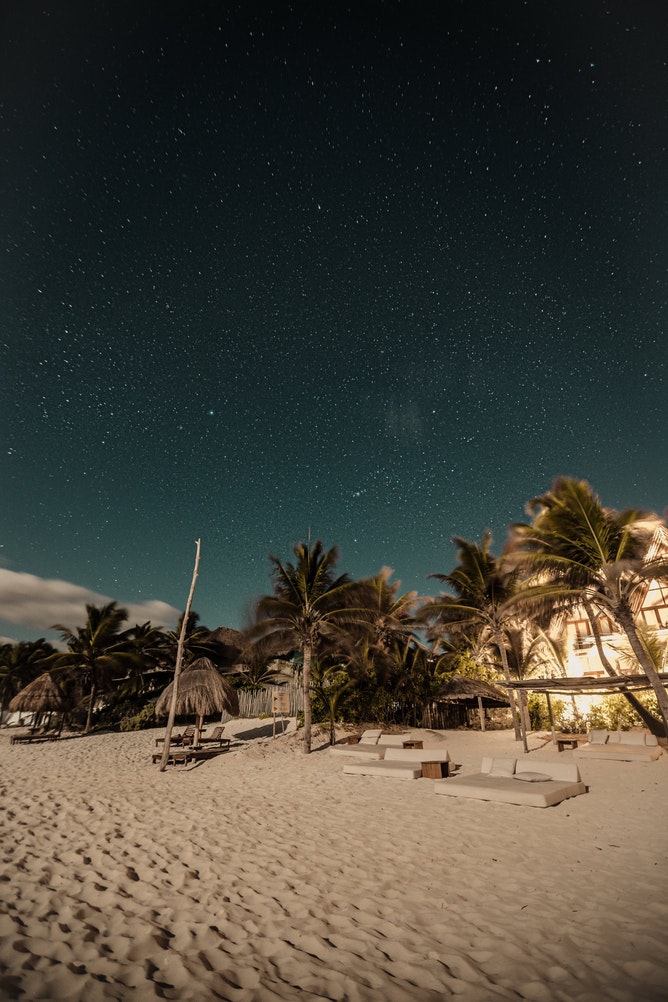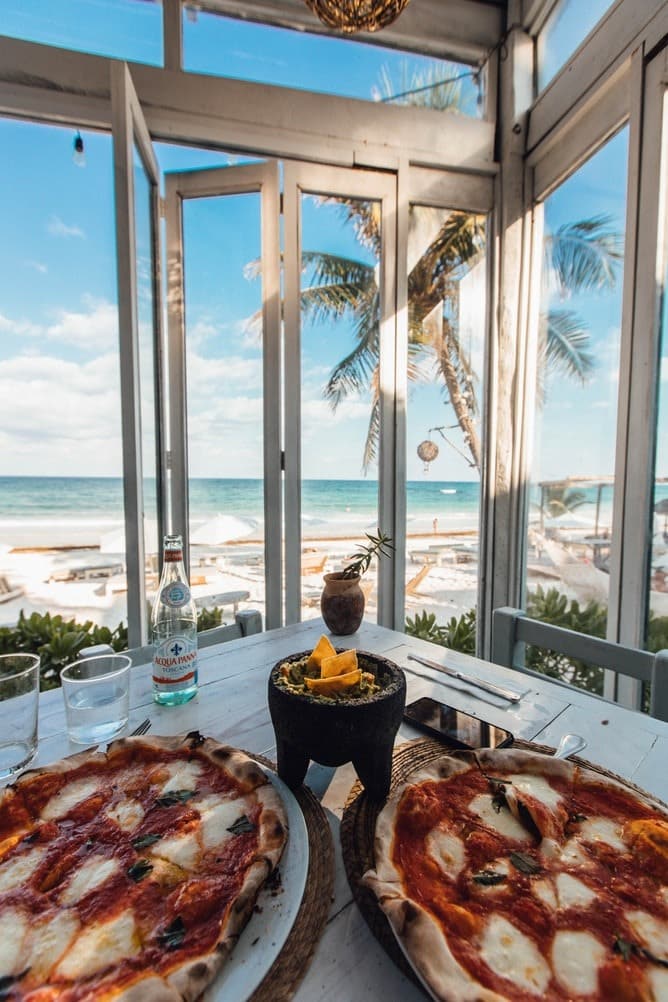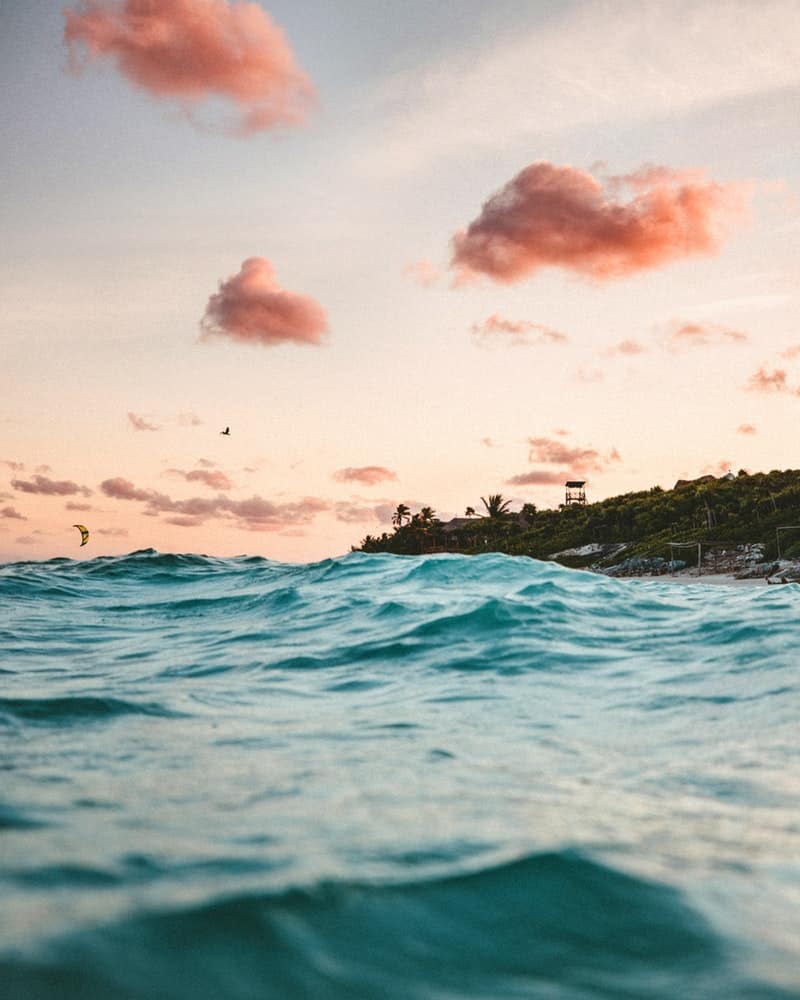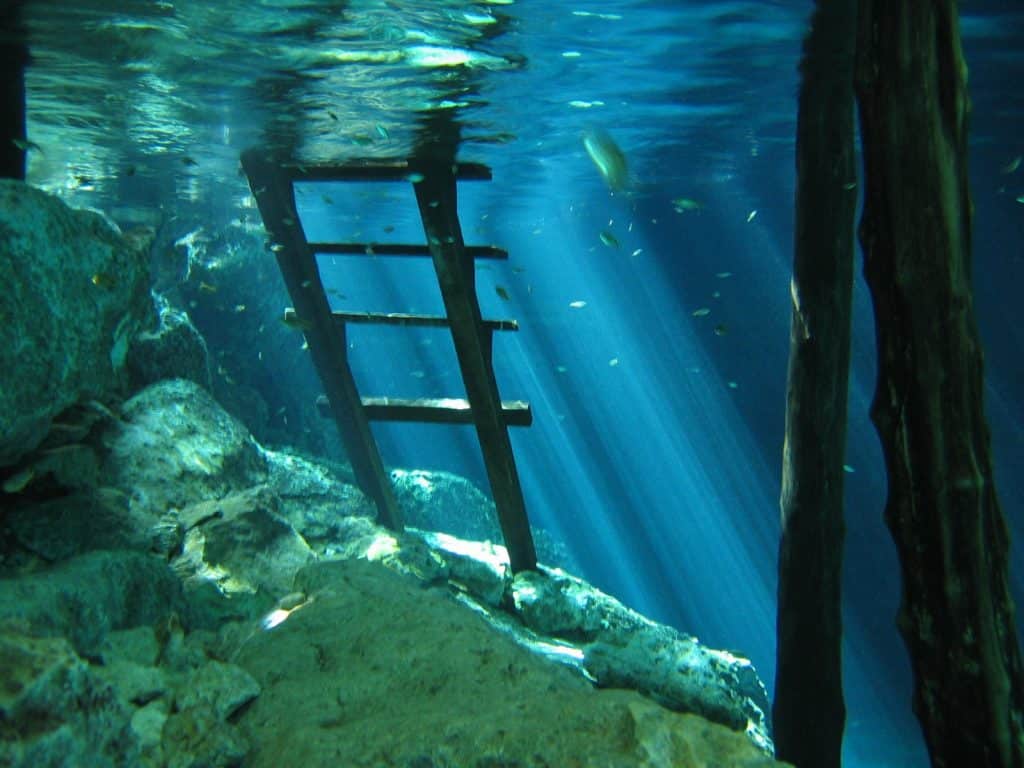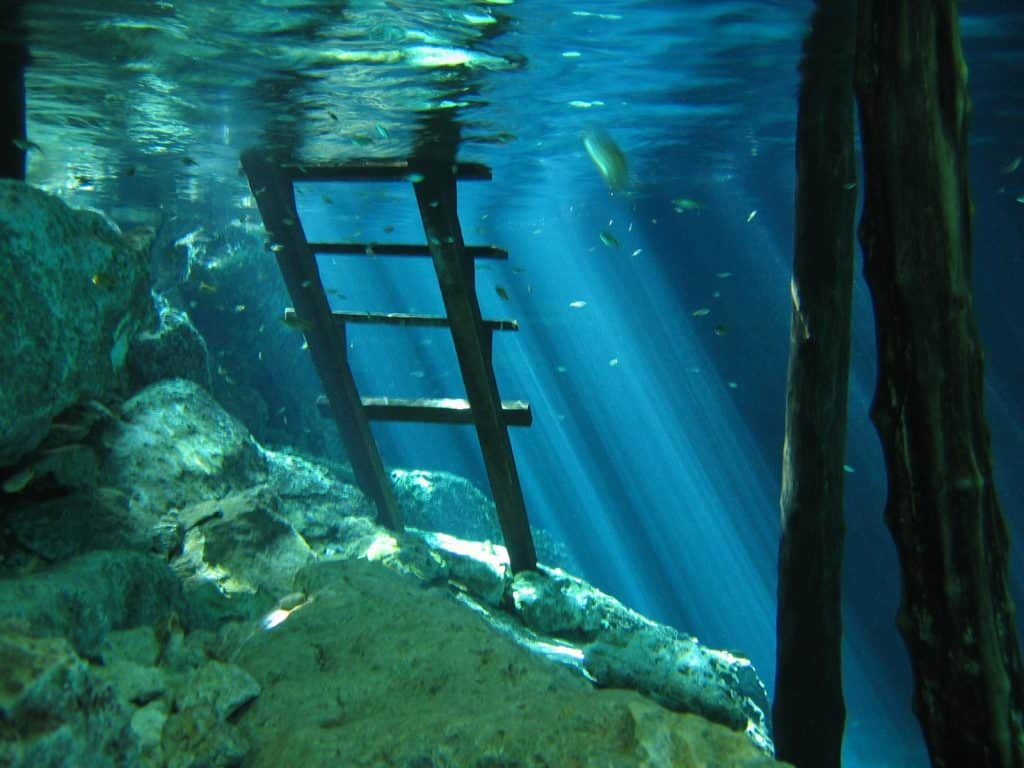 The Top 10 Things To Do in Tulum Mexico: Mexico's Hippy Seaside Town 🌊
1. With Tourism Comes Gastronomical Delights, So Take Advantage And Sample All The Best Food In Tulum!
Whether you stay in the glitzy Tulum Hotel Zone or stay in more budget-friendly Tulum Town, you are going to be bombarded with many delicious options for food. Be it street tacos, natural juices, pizzerias, or fine dining – you won't know what to do with yourself.
My advice – Ask locals for their opinion of Tulum's best restaurants and follow their lead! With many places, opening-up it's hard to keep track, but the tried-and-true adage of 'if it's busy, it must be good' really applies here, especially if you are opting to do Tulum on a budget and considering your street food options.
One of my favorite budget finds was the Taco Truck parked outside Hostel Che Babel – or for a more relaxed fine-dining vibe (with super-Instagrammable food and voted one of the Tulum best restaurants) why not try the Real Coconut at Sanará on the Tulum Beachfront…Buen provecho!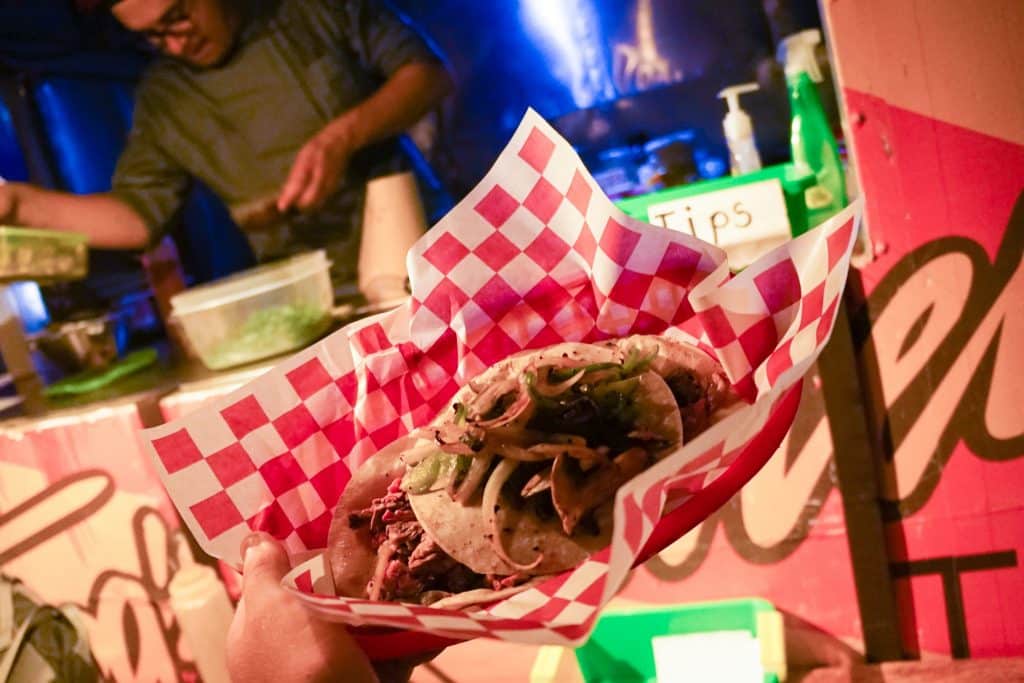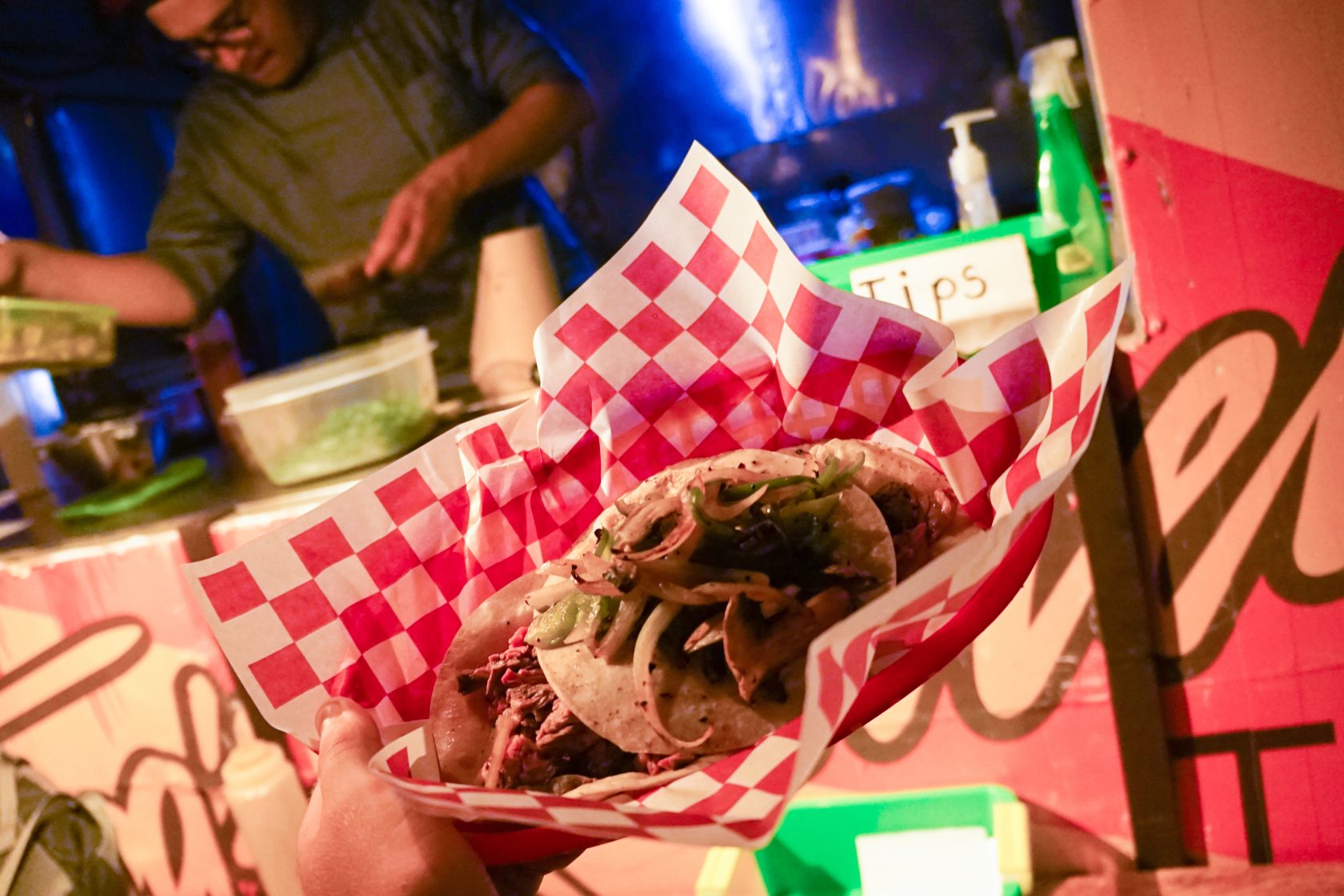 2. Snorkel Tulum's Cenotes – Crystal Clear And Spectacularly Beautiful!
One of the highlights of Mexico – the natural wonder that is the Tulum cenotes (a window into the Tulum underground river!) is actually a large part of why people visit the Yucatan Peninsula!
With crystal-clear visibility and a wide range of weird geological formations including stalagmite and stalactite, a trip to any of the Tulum cenotes is one that you will not soon forget!
If you are looking for a Cenote close to Tulum, then you can hire a bike in Tulum and bike to Cenote Escondido, or for one of the best Cenote snorkeling experiences, why not head to Cenote Dos Ojos (many famous around the world by a National Geographic Film). Some of the other best Cenote for snorkeling near Tulum is Cenote Calavera and Cenote Carwash.
I experienced the Cenote Dos Ojos and Tulum underwater with MexiDivers and wrote about it, along with a background to how these crazy underground river's formed!
If placid cenotes and freshwater aren't your things, however, why not add a little more adrenaline into your system with this crazy, excellent bull shark diving excursion to nearby Playa del Carmen. Running from November to March, you can get up close and personal with these massive, squat, heavy, and beautiful beasts and still be home in time for sunset!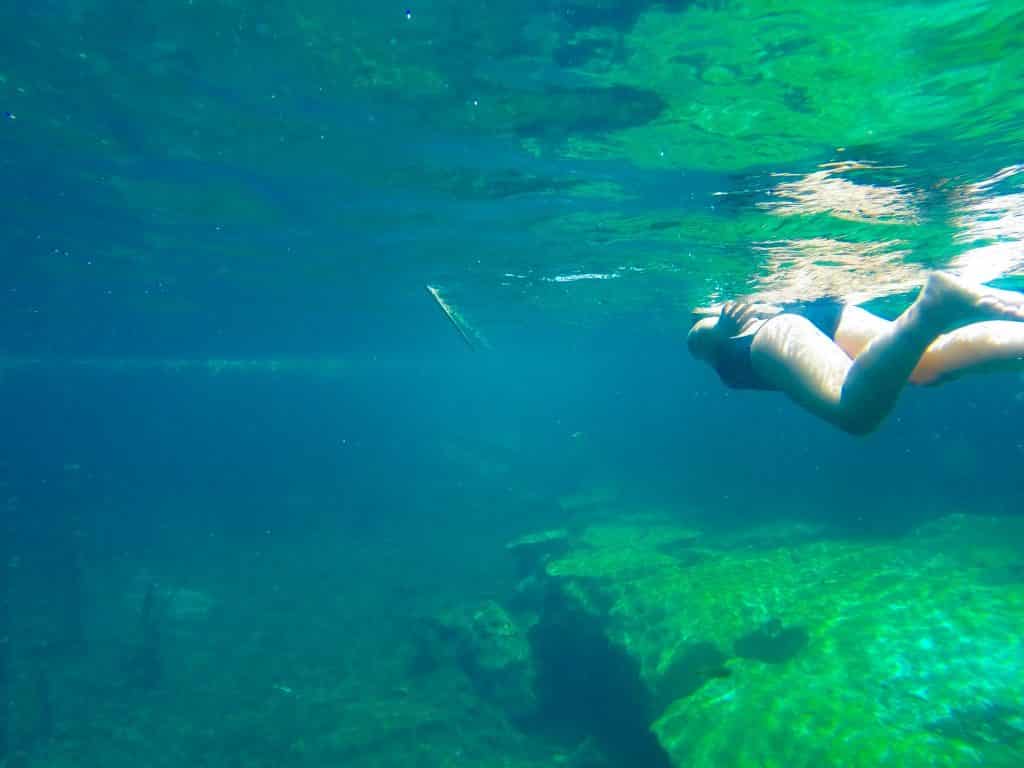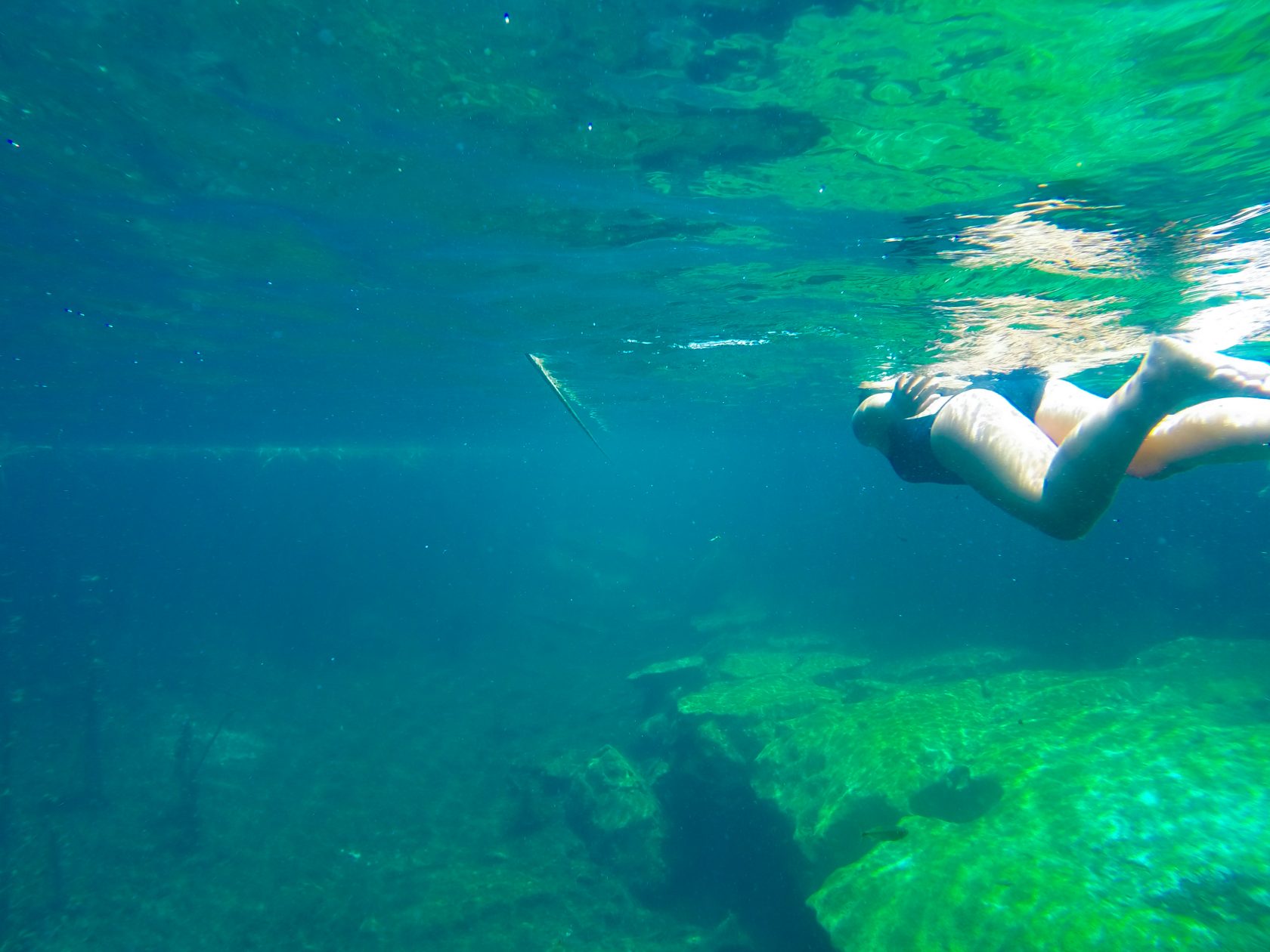 3. Take A Dip In The Warm Embrace Of The Caribbean Ocean At Tulum Beach!

Powder-white sand stretching for miles, a glorious breeze, waving palms, and bright blue waves lapping at the shore all combine to make Tulum Beach one of the best beaches in Mexico. Despite a slight problem with sea-grass after a big storm, Tulum beach is the perfect place to take a dip into the delightfully playful Caribbean.
With multiple points Tulum beach access point through-out the hotel zone, the Tulum public beach never gets too crowded at any one spot – and if you go at the right time of day, it can feel like you have it all to yourself! For those who are not doing Tulum on a Budget, I recommend splashing out on renting a Tulum beach cabanas for the day, or if you want to go all out, some fantastic, luxurious Tulum beach bungalows will surely be your go-to new happy place!
One of the most extensive reefs in the world also runs off this gorgeous beach – as if it didn't have enough going for it already – and so Tulum snorkeling trips to the reef can be arranged with a number of operators on the beach or in the hotel zone. It's guaranteed you will stay longer than you plan, so just don't forget your sunscreen!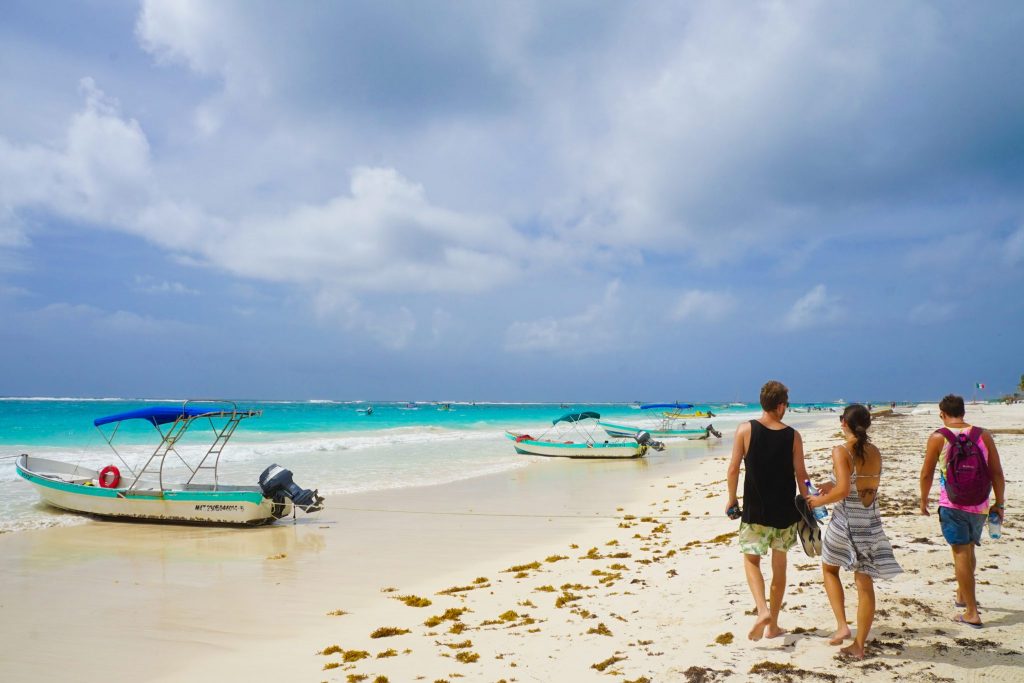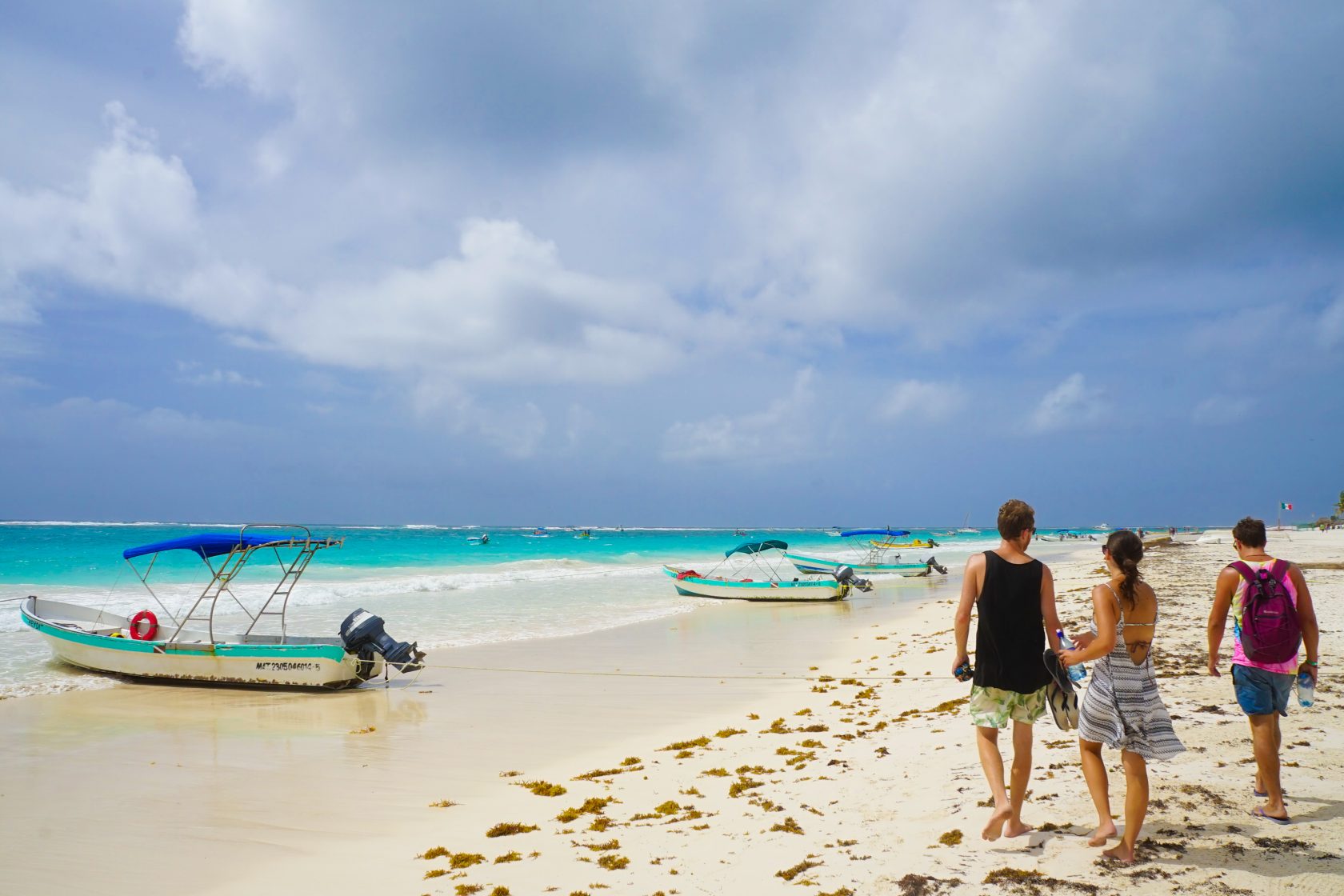 4. Try Your Hand At Kitesurfing In Tulum (For True Thrill Seekers Only!)
Not only is the Tulum beach drop-dead gorgeous, but it also offers the optimal conditions for Tulum kiteboarding! Beginners and pro alike are making their way from all over the world to experience the conditions on offer here – an offshore reed breaks most large waves, strong winds, and no rocks – perfect for jumping and perfecting tricks!
The conditions also mean that kiteboarding or kitesurfing in Tulum is an excellent place for beginners to start, and there are now a few Tulum kitesurfing school's which offer lessons for anyone – from complete newbies to those just wanting a touch-up!
If you are not a thrill-seeker, or just don't have the time, the Tulum Public Beach – and many of the Tulum Beach Clubs – provide the perfect place to sit and admire those with the courage (and upper-body strength) to give this crazy sport a go!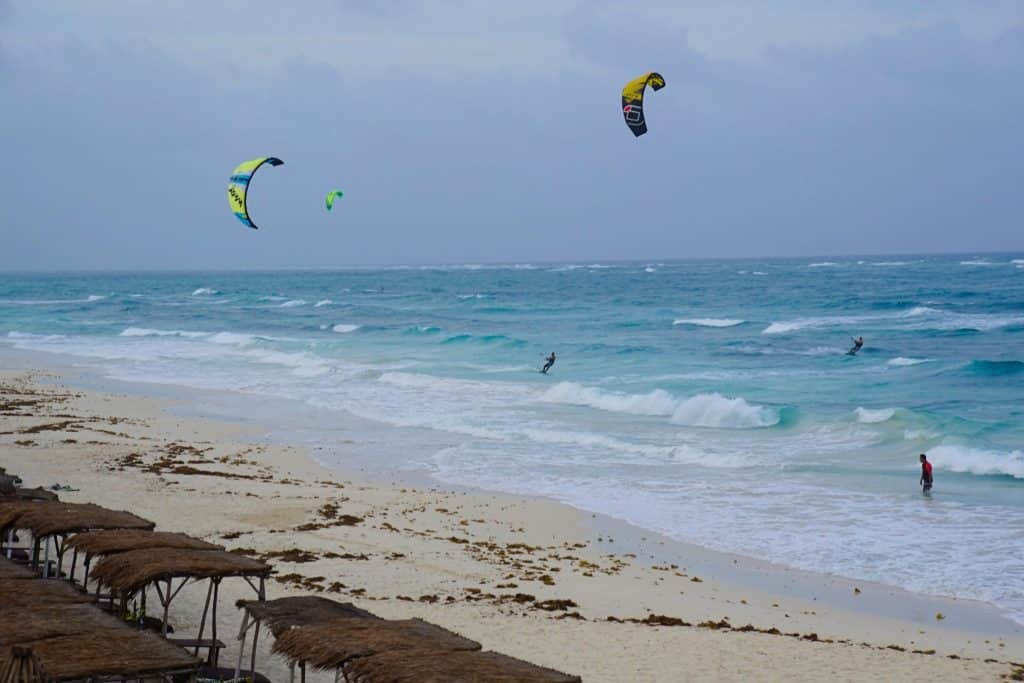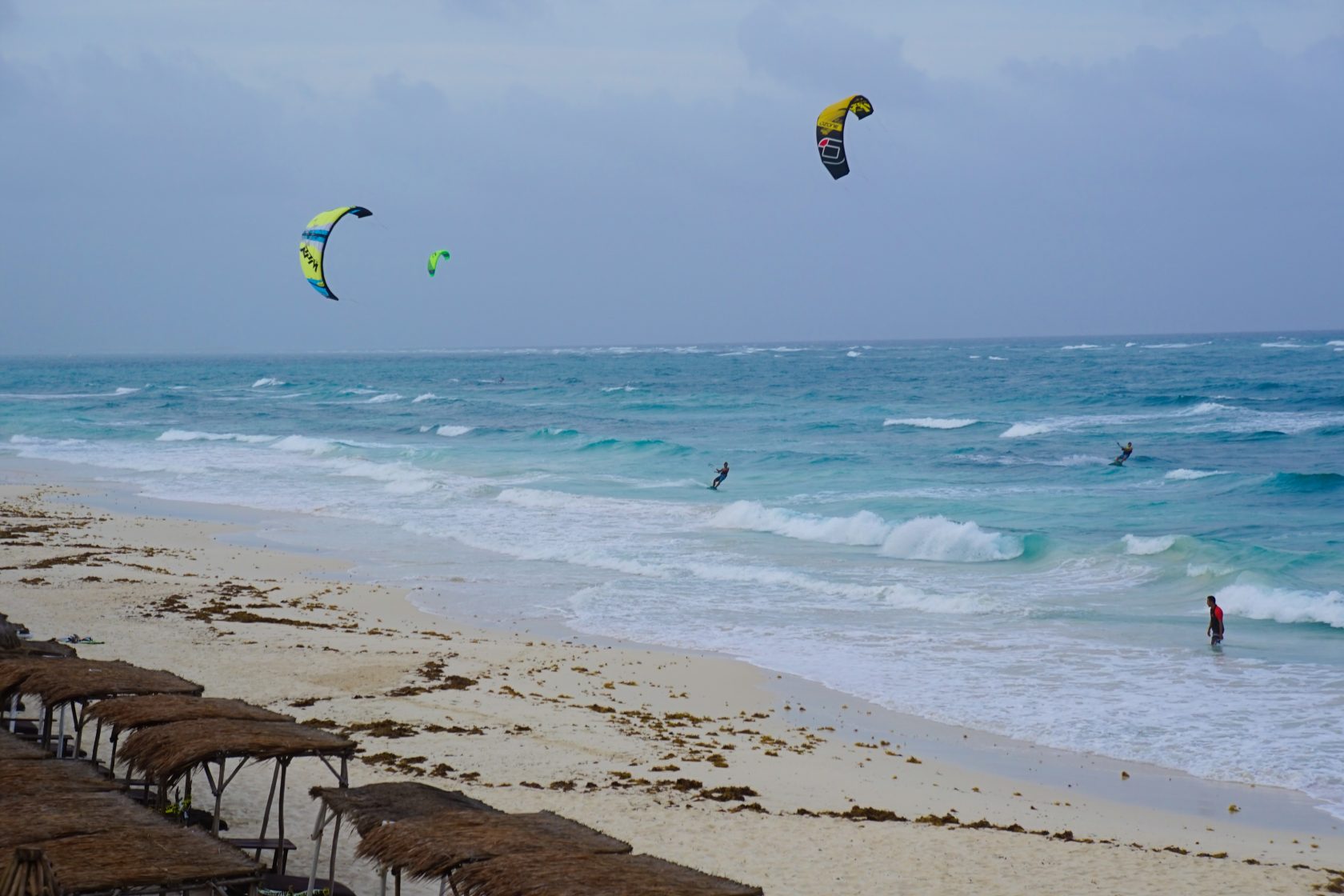 5. Explore The Unique Sian Kaan Biosphere / Unesco World Heritage Site
One of the best things to do in Tulum is a Sian Ka'an tour / eco-day trip to the Tulum biosphere. It's one of the most underrated activities in Mexico. Completely unforgettable and incomparable to anything else I had ever done before, and an opportunity to see the only Tulum UNESCO site!
Here you can spend the day floating through canals dug by the ancient Mayans for trade while searching for fish amongst the mangroves followed by snorkeling on a crystal clear cenote marveling at the extensive underground river system that is largely unique to the Yucatan Peninsula.
As if this wasn't enough, you also get to explore the Tulum Biosphere, and a UNESCO protected forest and wetland system, which hides an ancient Mayan trading out-post!
It doesn't get much more exciting and beautiful than that, and truly was an unmissable activity when staying in Tulum, Mexico! I wrote about this Tulum UNESCO site in full separately as it was so incredible and so you can know what you can expect on an eco-day trip to the Sian Ka'an with Agua Clara Diving Tulum!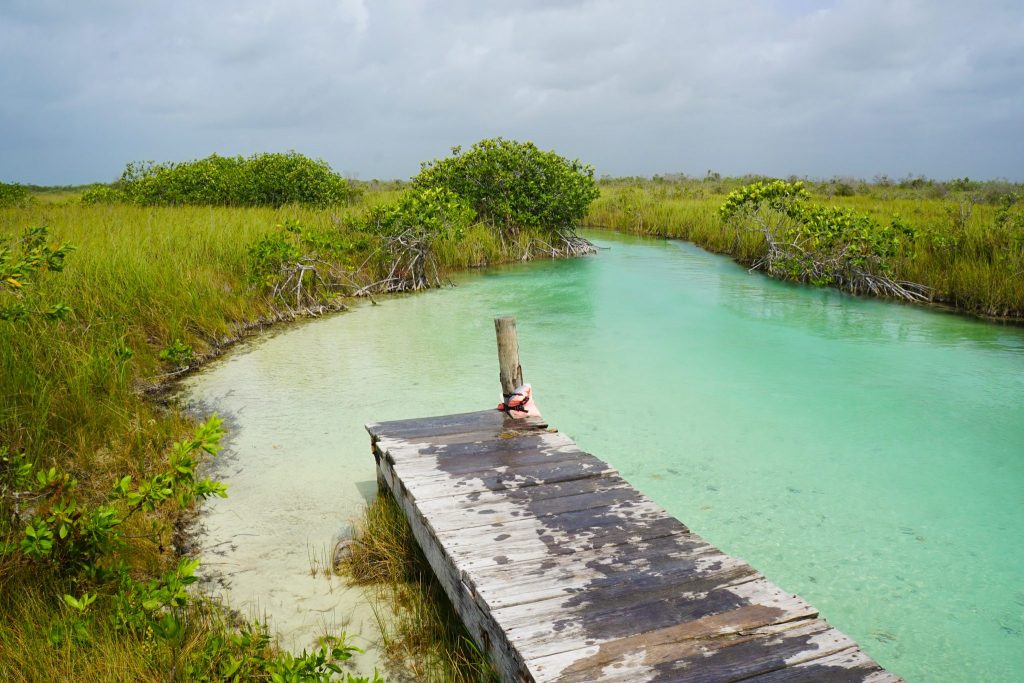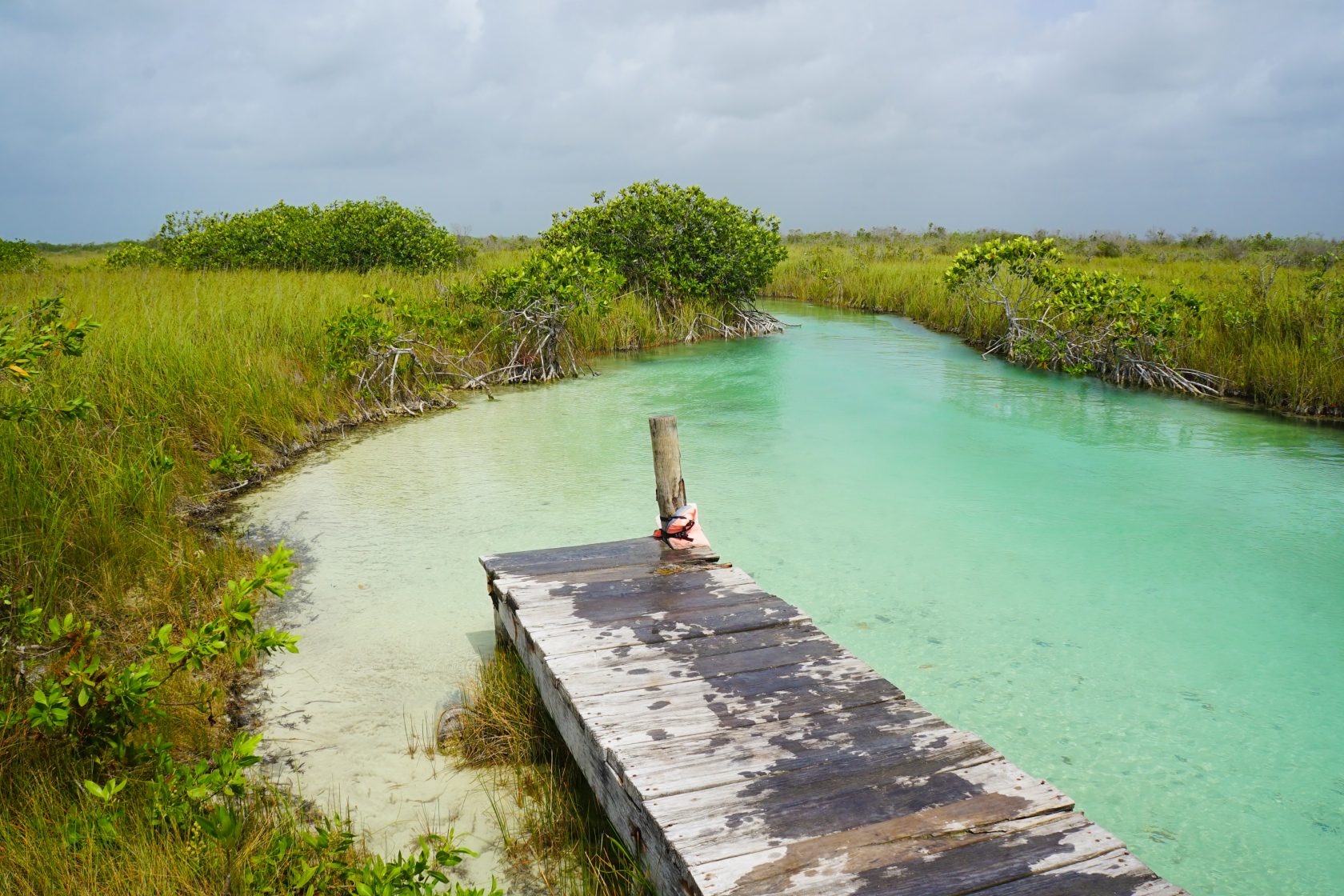 6. Swim With Whale Sharks In Tulum Mexico!

One of the top must-do experiences on any travelers or divers bucket-list is to swim with Whale Sharks – the Goliathan gentle giants of the deep blue.
And one of the best places in the world to see whale sharks is off the Mexican Riviera, where every year between May to September hundreds, even thousands, of these spotted beauties congregate in the warm Caribbean ocean to chow down on the phytoplankton smörgåsbord on offer here.
While they assemble further north day trips from Tulum to swim with the whale sharks can easily be arranged with Mexico Whale Shark with easy transfers and a sterling reputation. A once-in-a-lifetime opportunity not to be missed (and easily one of the Top Things To Do in Tulum Mexico!).
And if that's still not enough wildlife or you are in the wrong season, you can still watch baby turtles hatch on the beach in Mexico!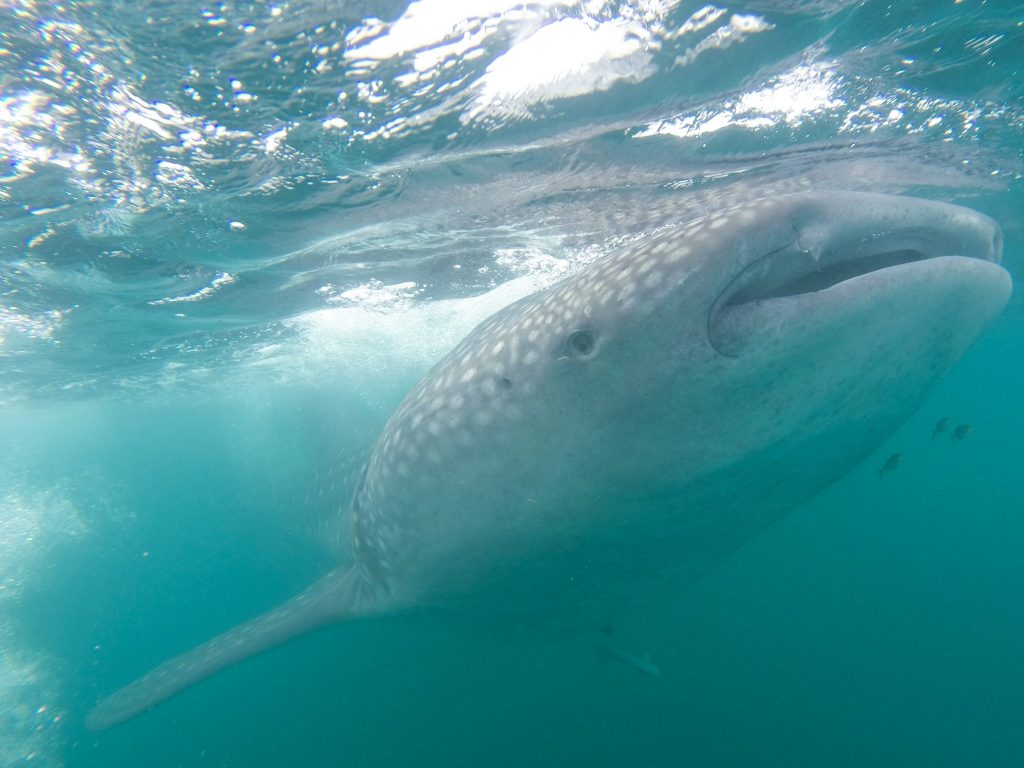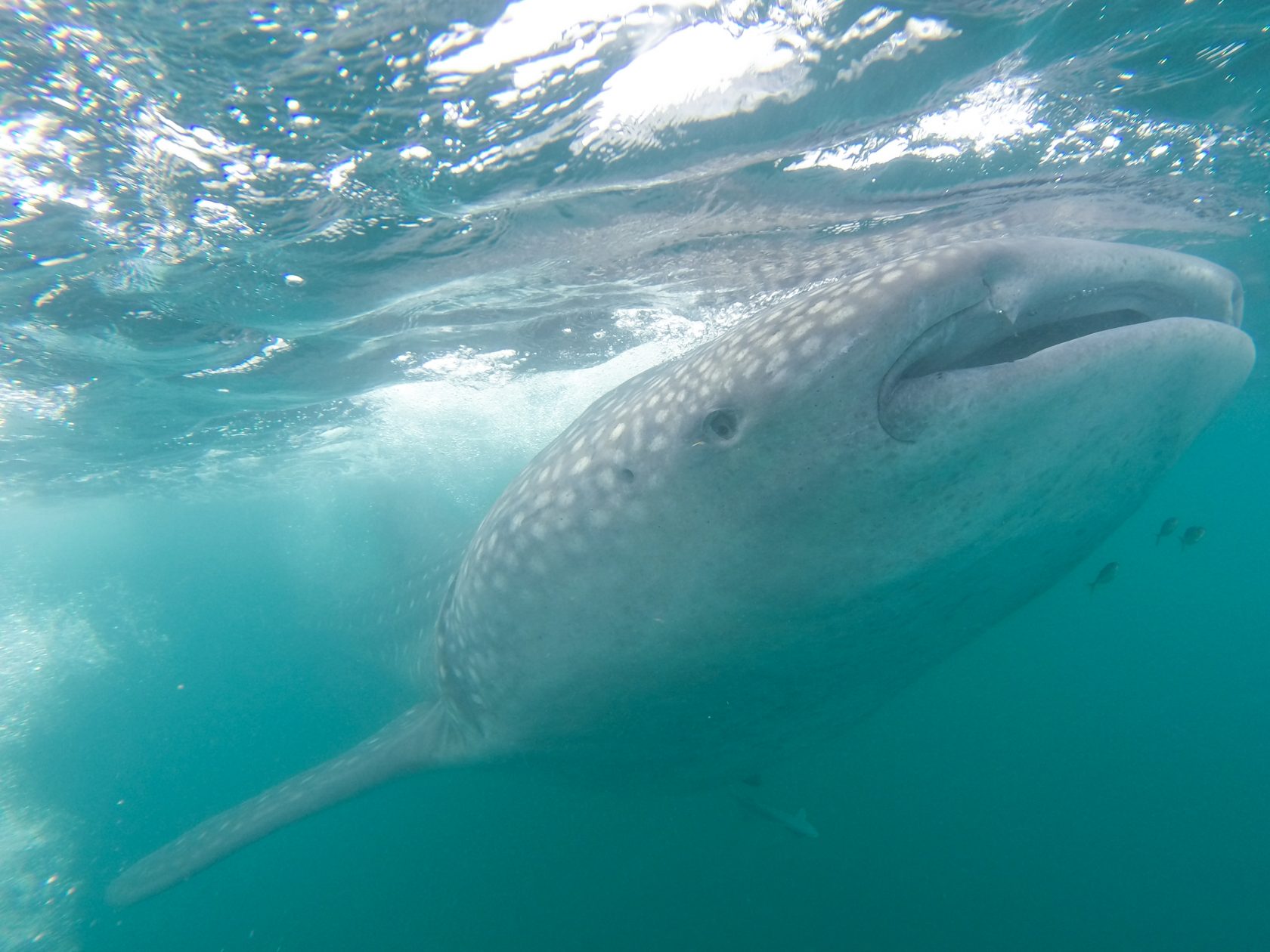 7. Enjoy An Ice-cold Corona – And Those Tulum Sunset Views!
OK – so it doesn't have to be a Corona, but make sure you make time every day to enjoy an iced cold drink at one of the many Tulum beach clubs which have incredible sunset views and Happy Hour specials.
With great music and vibes – it's hard to choose where but some of the best Tulum beach clubs are the upscale Papaya Playa with its trendy two-story bar or Coco Tulum with a more laid-back vibe. You honestly can't go wrong as all of the beachfront bars have incredible views of the Tulum sunset, and there is something for everyone!
But seriously – When Corona is just USD 2…How can you refuse!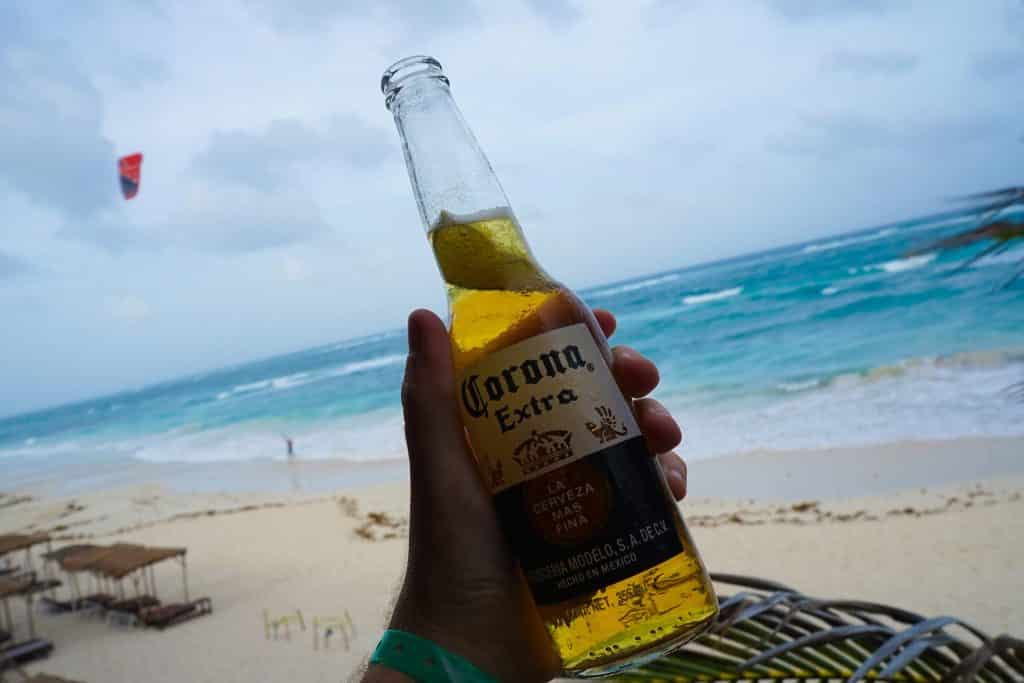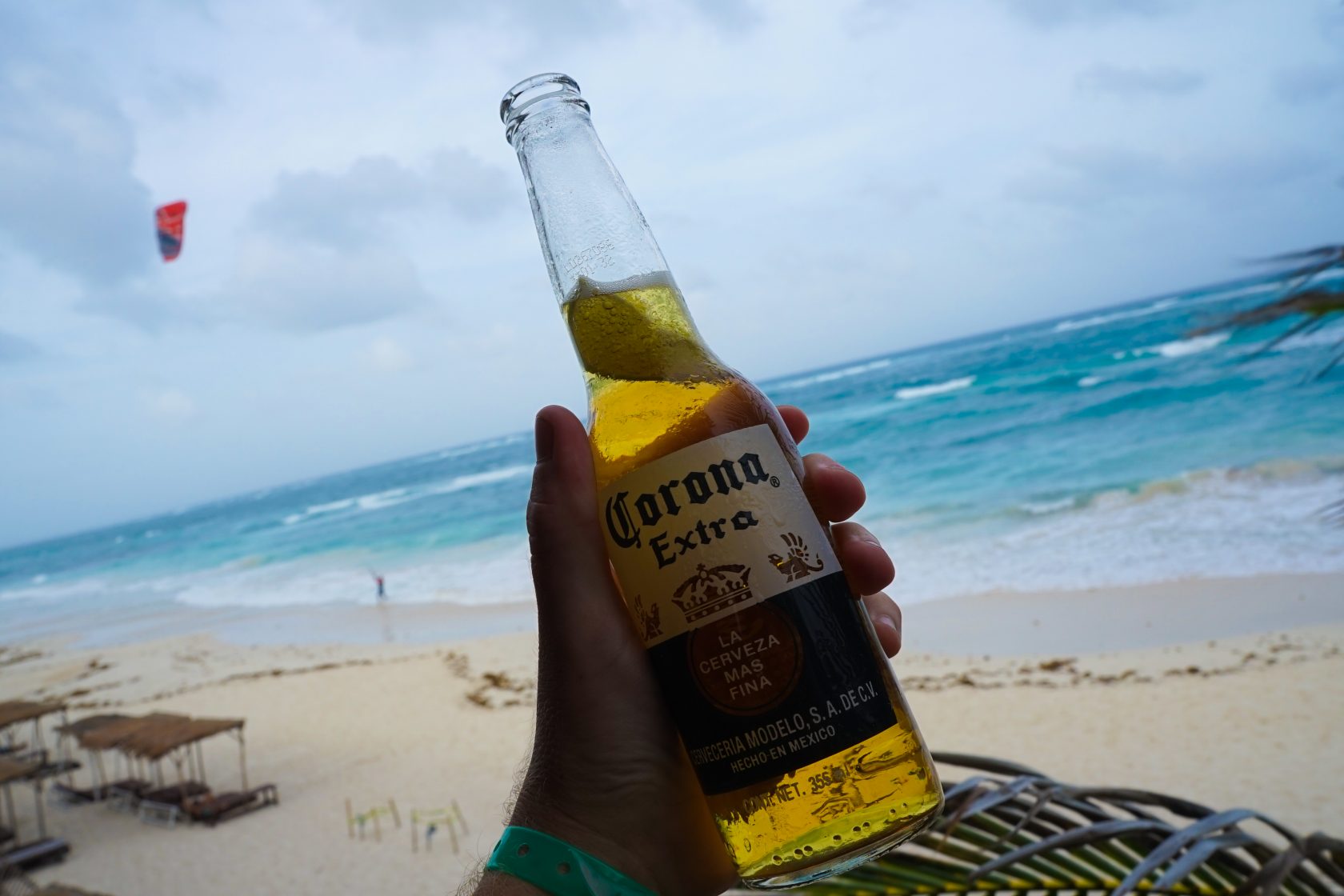 8. Take Your Time, Relax And Unwind In One Of Tulum's Many Coffee Shops!
Another side-effect of Tulum's crazy popularity is the many great coffee options that have sprouted up to provide every caffeine junkie with their fix! Whether you just want a quick coffee to go or a laid-back, quiet Tulum coffee shop to relax and unwind for a few hours, there are plenty of options to have you covered.
Tulum's best coffee options are always changing, but as of now, the best options for good coffee in Tulum are Ki'bok, for a relaxed garden environment, and the Tulum Art Club, which feels like a gallery dropped straight out of SoHo! Del Cielo and Campanella Cremerie also come highly rated but for an afternoon of working – or just making onwards travel plans with fast WiFi.
I personally loved Tulum Art Club (and their air-conditioning)…If only their WiFi wasn't limited to 1-hour sessions, as it gets old quick asking for more additional login codes!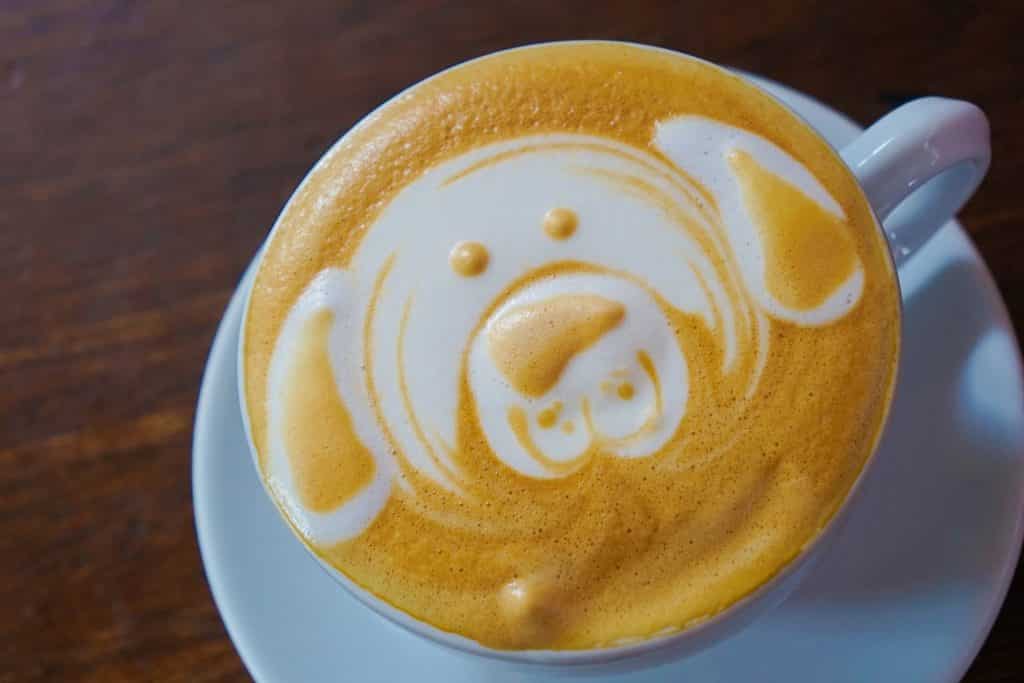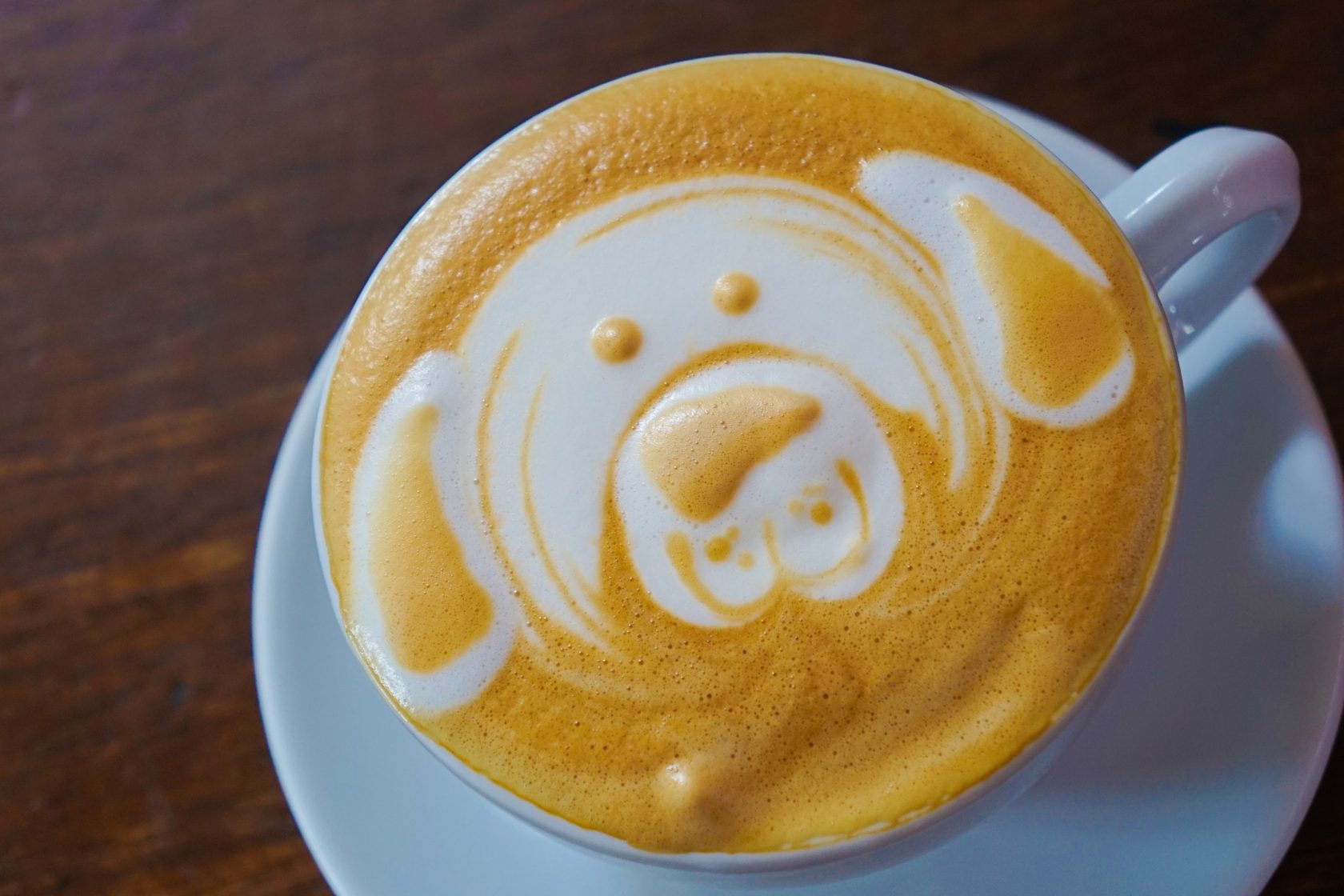 9. Get Snap Happy In The Most Photogenic Mayan Ruins – The Beachfront Tulum Ruins!
While not the most historically important ruin in Mexico, the Tulum Ruins beachfront location make this one of the Top Things To Do in Tulum Mexico.
Post-card perfect with a rugged coastline and the Tulum public beach running below, this post-classic Maya site was always going to be popular, and so the best time to visit the Tulum Ruins is first thing in the morning – 8 a.m. – when the Tulum Ruins open!
Take a cab from town and enjoy the serenity for a good hour before all of the tour buses arrive from Cancun and Playa del Carmen! If you haven't quite got your fix of ruins after this, there are direct buses from Tulum to Chichen Itza, which take only about two hours!
If your wondering Tulum or Chichen Itza – I have to say Chichen Itza for its sheer scale, detailed restoration, and historical significance. Check out my other post on how to visit Chichen Itza without the crowds!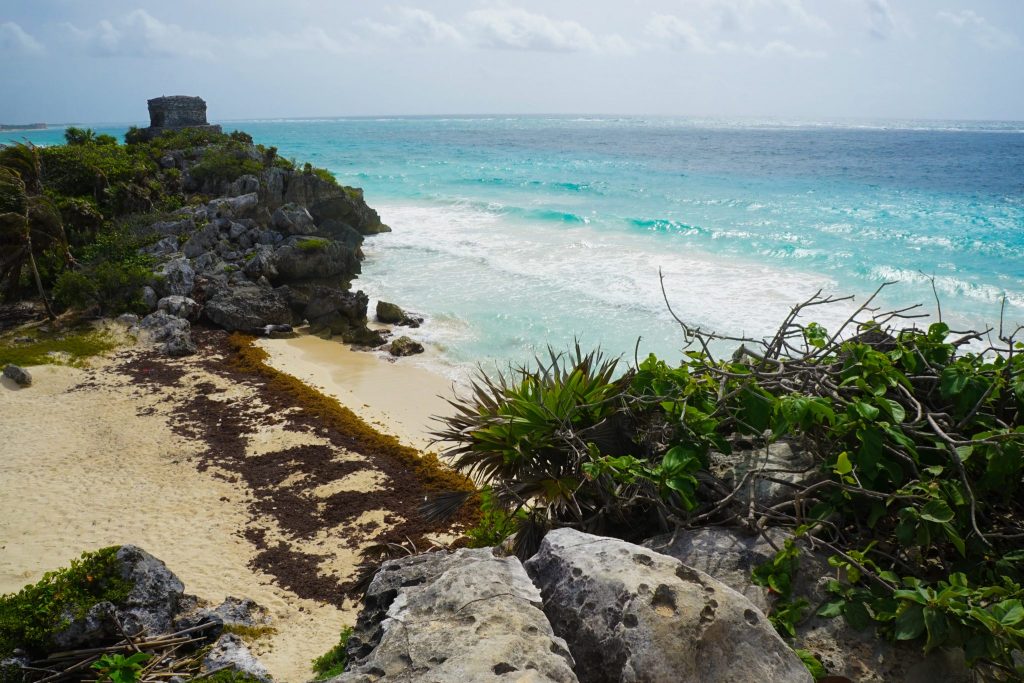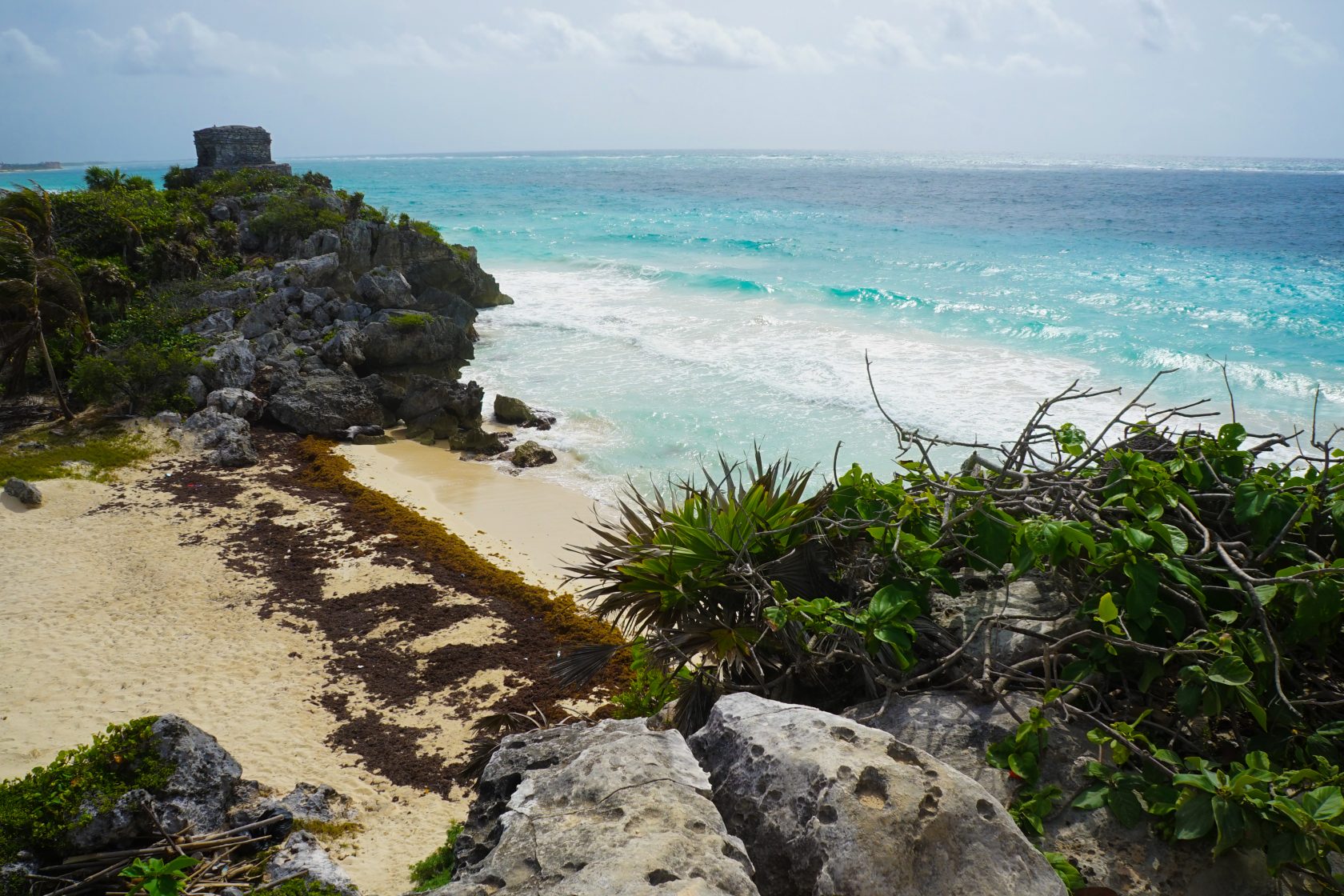 10. Enter The Mayan Underworld By Cavern Diving In Tulum!
The Riviera Maya in Mexico is known for the best cenotes, cavern, and cave diving in the world and what better place to experience them than in Tulum.
An experience of a lifetime that takes you through pristine, blue waters underground to admire stalactites, stalagmites, and columns and explores what the Mayans believed was the entrance to the underworld. Having dived all over the world, I was apprehensive, to say the least, about the quality of diving I would get in the touristy town of Tulum and at the Tulum Cenotes.
However, as soon as I saw my first cenote (seh-NOH-tay), all my suspicions washed away as I was introduced to these wonders of the world. Diving the cenotes in Tulum is one experience you absolutely do not want to miss if you are a scuba diver, and I promise you will be addicted and begging for more.
Here is a separate article I wrote about diving in Cenote Dos Ojos near Tulum with MexiDivers.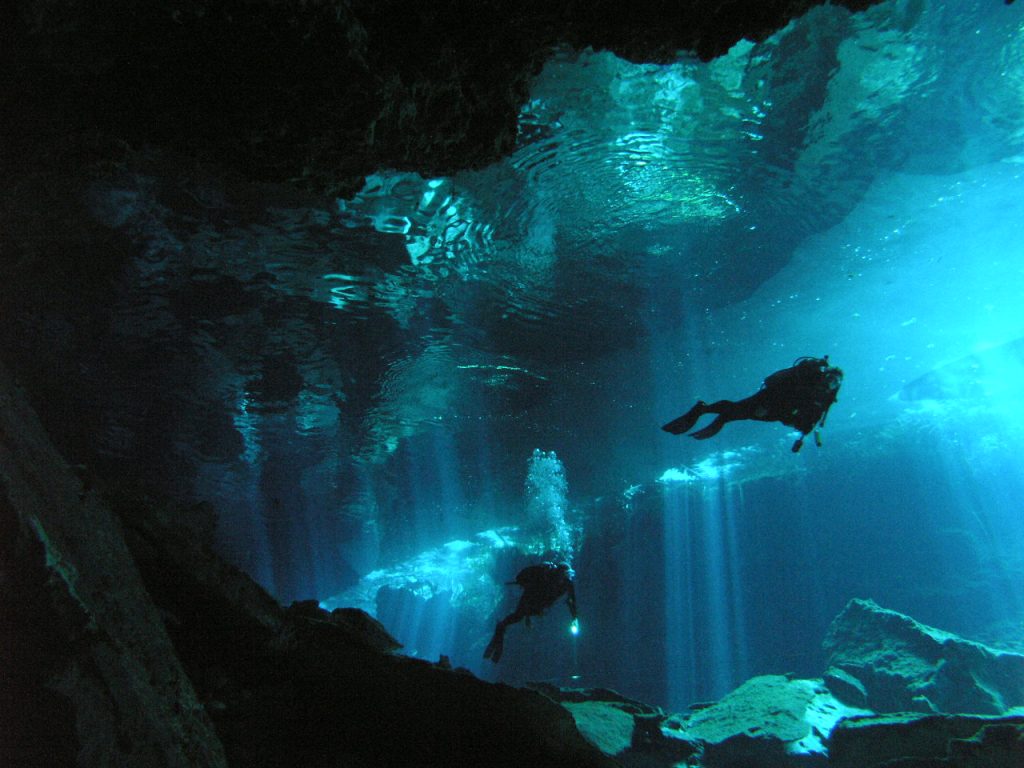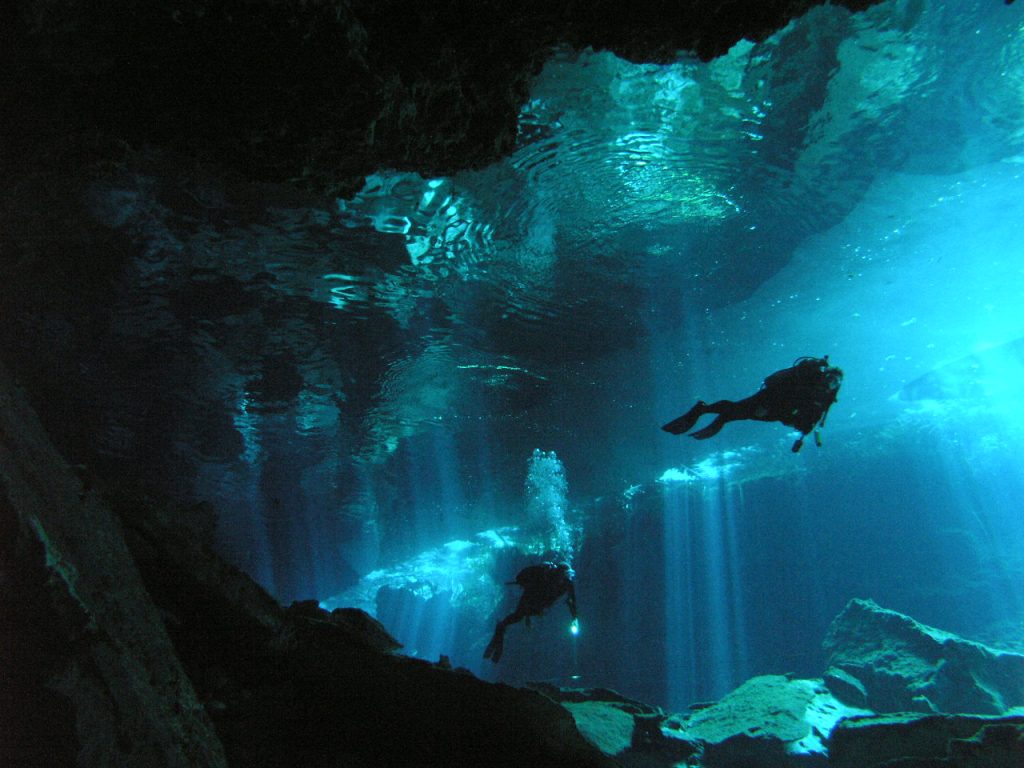 Where To Stay in Tulum Mexico: Some Options For Great Tulum Beach Hotels
When planning a trip to Tulum Mexico – location is key, I would honestly be remiss if I did not recommend you to only consider Tulum accommodation options in the Hotel Zone.
This is because although many cheap Tulum boutique hotels have sprung up in the town, the location is just not there (yet!), and as we all know: location, location, location is key! So here are my favorite Tulum beach hotels to enjoy those gorgeous Tulum sunsets and soft, white sand right on your doorstep, and while prices vary significantly, I have put together three great options for you to consider with a great location, prices, reviews, and amenities!
Enjoy!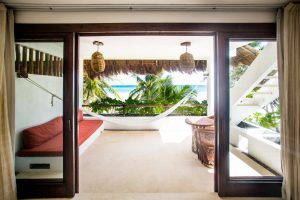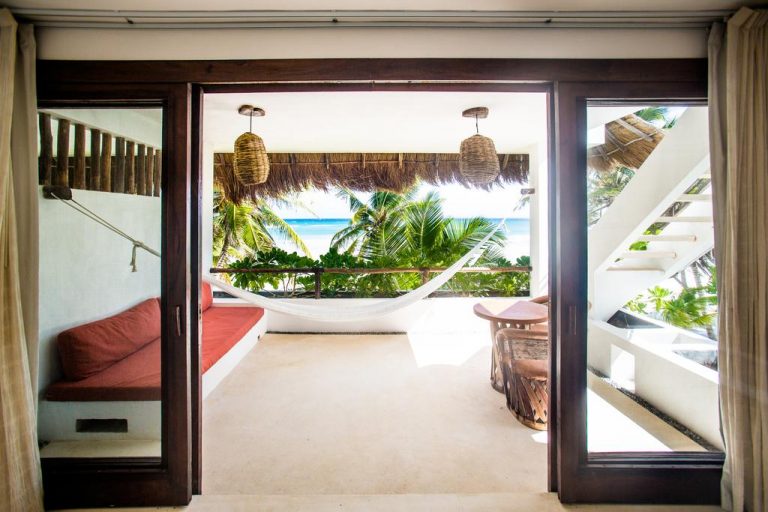 LUXURY The Beach Tulum Hotel
Adults-only with beachfront rooms with stylish, minimalist décor, an enviable outdoor pool and one of the best Tulum beach clubs – This is one of the most highly rated Tulum Hotels and books out fast! –> Check it out!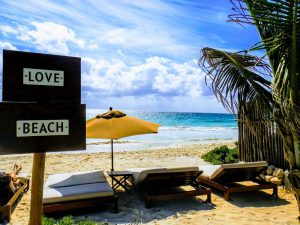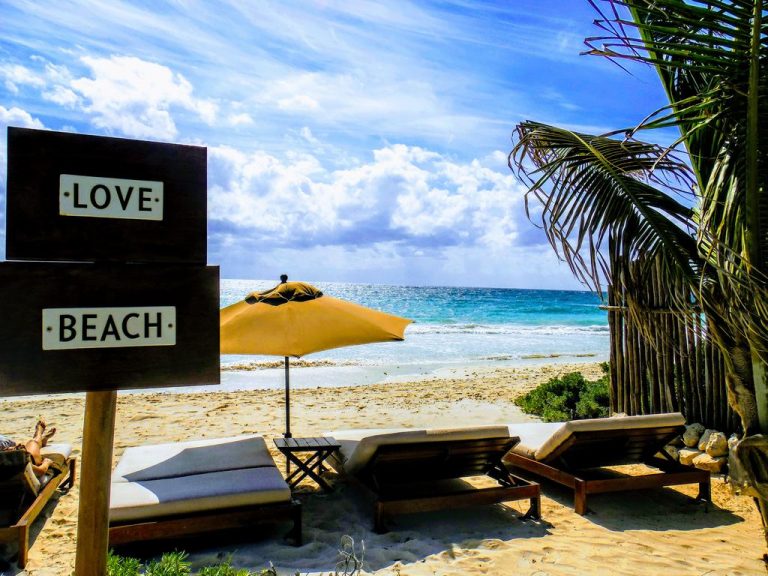 MID-RANGE Casa Ganesh Tulum
Located outside of the Tulum Hotel Zone, Casa Ganesh Tulum offer's beautifully appointed wooden rooms with its own quiet private beach, free bike rental, and more. A good middle-range hotel in Tulum for a splash of luxury! –> Check it out!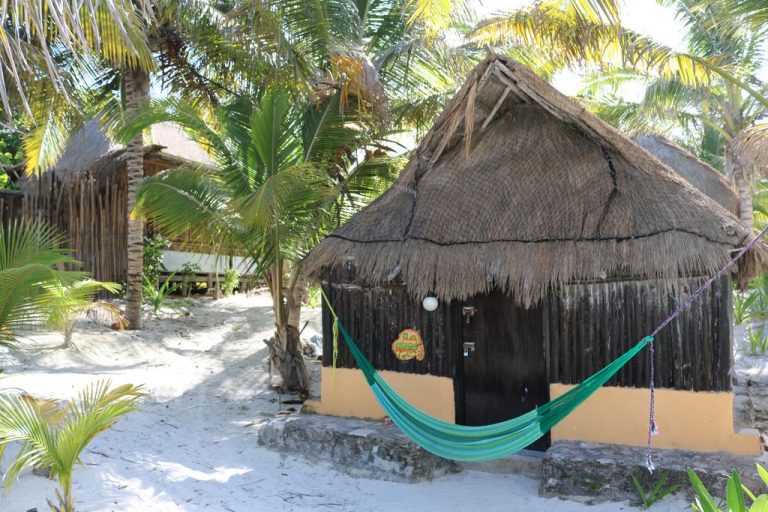 BUDGET Cabañas Zazil Kin Tulum
An affordable accommodation option in Tulum offering beachside bungalows at low prices with included breakfast. The cheapest beach accommodation in Tulum with a private beach too! –> Check it out!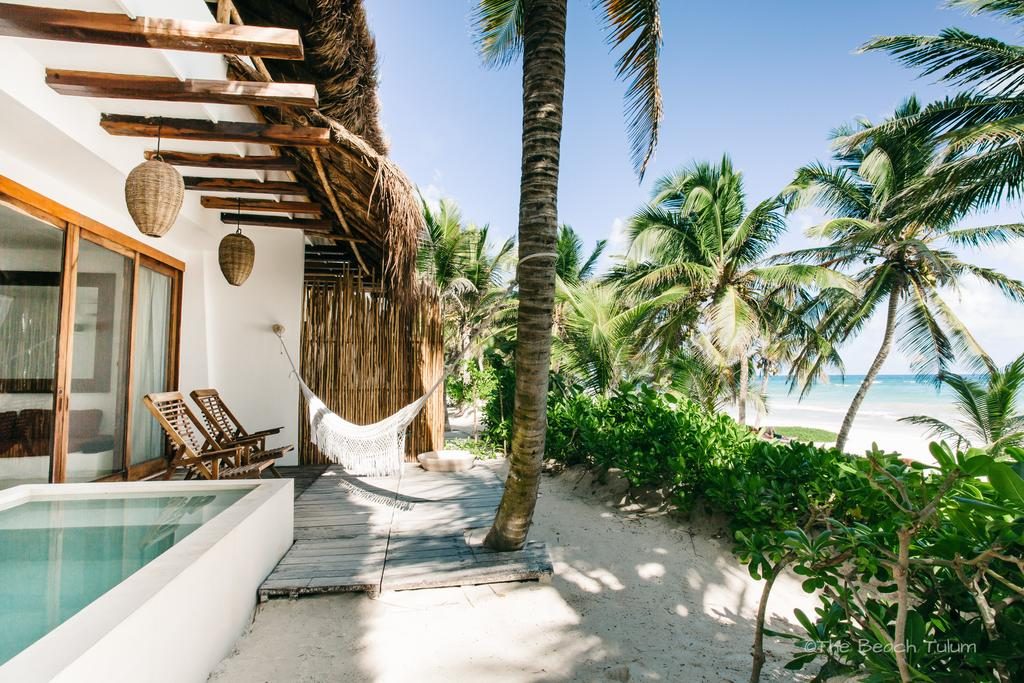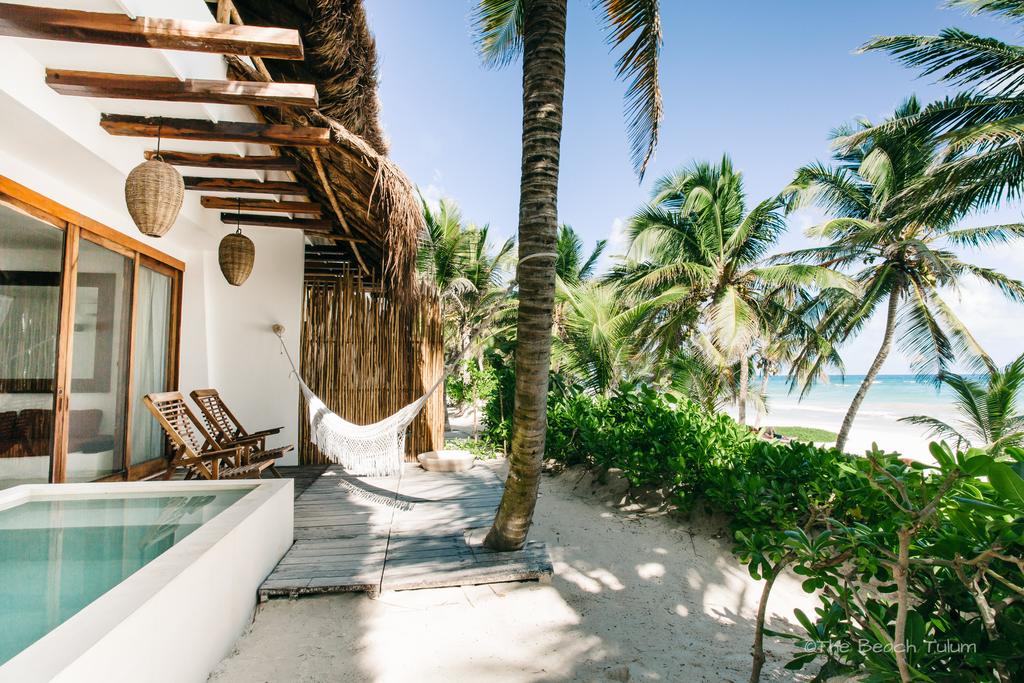 So are you inspired to travel here yet?
Have these Ten Top Things To Do in Tulum convinced you to visit this tropical Mexican holiday destination?
Don't be put off by the rampant development in the town, stay at the beach, choose your Tulum tour operators carefully, and you will have an amazing time!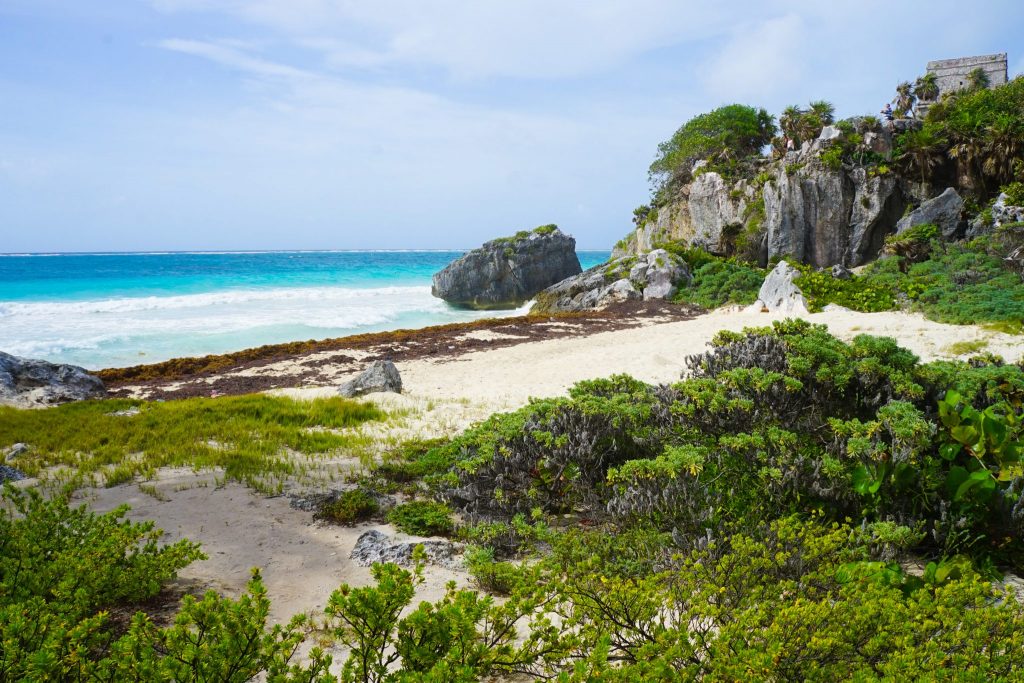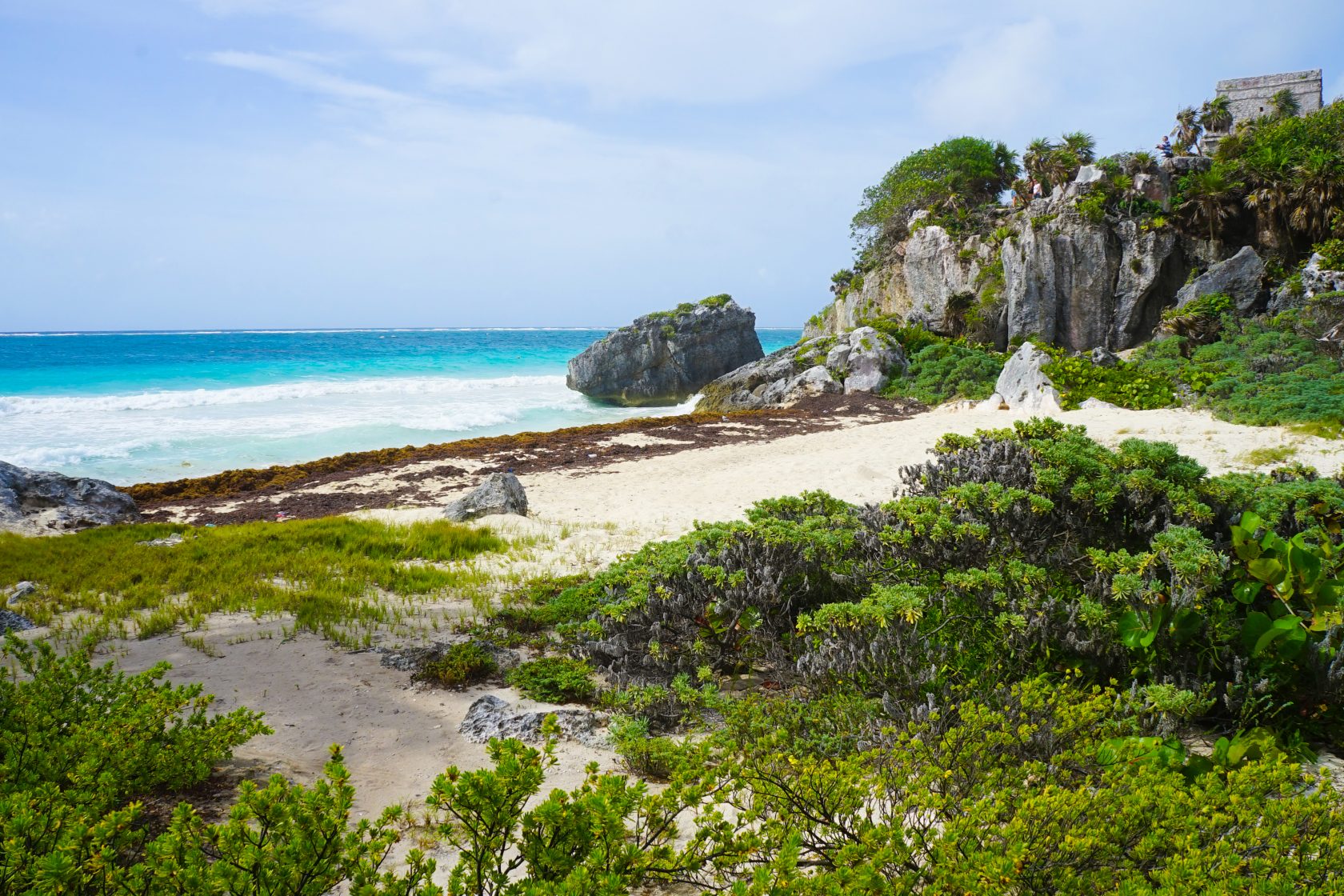 Further Things To Consider Before Any Adventure
Now you're all set and prepared to explore our big wide world, why not sort out everything else out all in one go? If necessary for your travel plans make sure you have brought proper travel insurance, protected your privacy by getting a secure VPN, compared all the top hotel booking sites to find just what you're after, reserved an unbeatable rental car price and - of course - booked the best flight deals!
Or maybe just forget it all and go for a last-minute cruise or effortless tour instead?
Many budget travelers (including me) indulge in worldwide airport lounge access, so we can experience luxury while still slumming it in economy. Naturally, we would never leave home without a more general travel guide since we couldn't possibly cover everything here!
Just add an adventurous attitude and plenty of smiles - they go a long way - and that about covers it all! Now go out, find your own path and don't forget to share your best inspiration stories with me on Facebook, Twitter, and Instagram...I'd love to hear from you!