The Riviera Maya in Mexico is known for the best cenotes, cavern, and cave diving in the world so no matter what, you don't want to miss an opportunity for unique scuba diving in Tulum!
An experience of a lifetime that takes you through pristine, blue waters underground to admire stalagmites, stalagmites, and columns and explore what the Mayans believed was the entrance to the underworld.
Having dived all over the world, I was apprehensive (to say the least)about the quality of diving I would get in the touristy town of Tulum and at the Tulum Cenotes. However, as soon as I saw first cenote (seh-NOH-tay), all my suspicions washed away as my experienced guide Joe from MexiDivers introduced me to these wonders of the world.
Diving the cenotes in Tulum is one experience you absolutely do not want to miss if you are a scuba diver, and I promise you will be addicted and begging for more. Read on to find out more about these mysterious cenotes, why Tulum Cenotes offers the best cavern diving in the world, and why I trusted MexiDivers for cave diving in Tulum.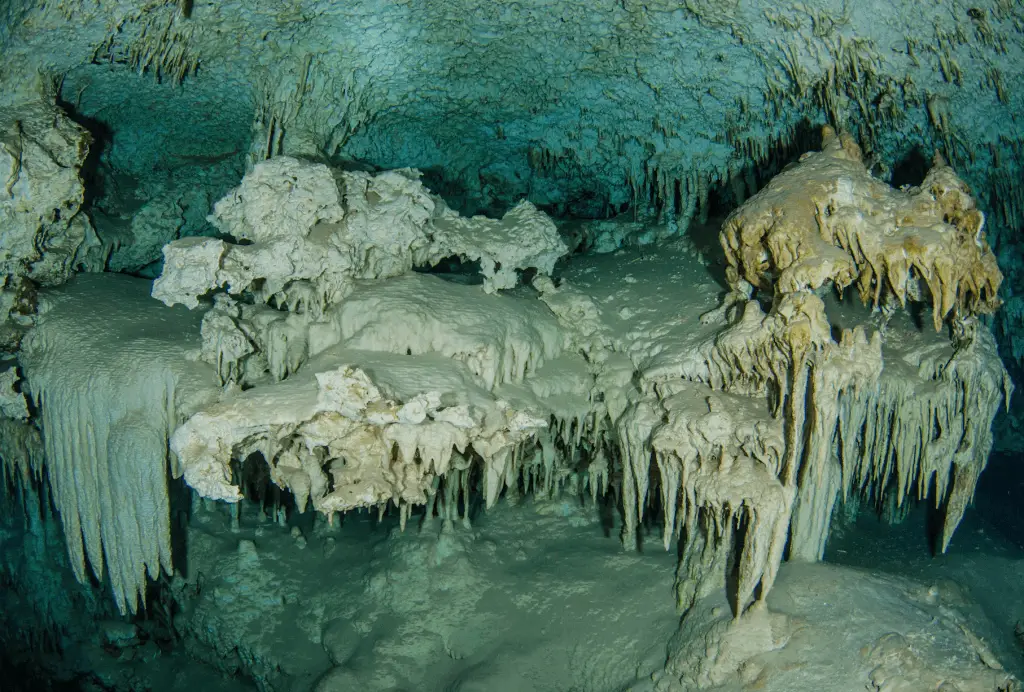 Scuba Diving Tulum: Mexico Cenotes And The Mayan Underworld! 💦
Tulum's Sacred Rivers – The World's Best Cenote Diving
In Mexico's Yucatan Peninsula there are over 6,000 cenotes (naturally occurring sinkholes) scattered around, usually connected to a network of underground rivers – and Tulum Cenotes are all connected to three of the largest underground river systems, the Dos Ojos system, Sac Actun system, and the Ox Bel Ha.
These underground rivers are formed over eons as rainwater – which is ever so slightly acidic – slowly dissolves the Yucatan's natural limestone bedrock on its course for the ocean.
So instead of atypical above-ground rivers (there are zero rivers in the Yucatan!) here you end up with large river systems hidden within the calcareous landscape until the limestone roof of the river collapses from the weight above and a cenote allows access to this pristine, clear water…or to the Mayan underworld!
While the reasons behind the Yucatan's unique geology and cenote formation are still debated, it is at least partially attributed to the Chicxulub asteroid impact of 66 million years ago – which also famously ended the age of the dinosaurs! Bad for the dinosaurs, fabulous for Tulum scuba diving…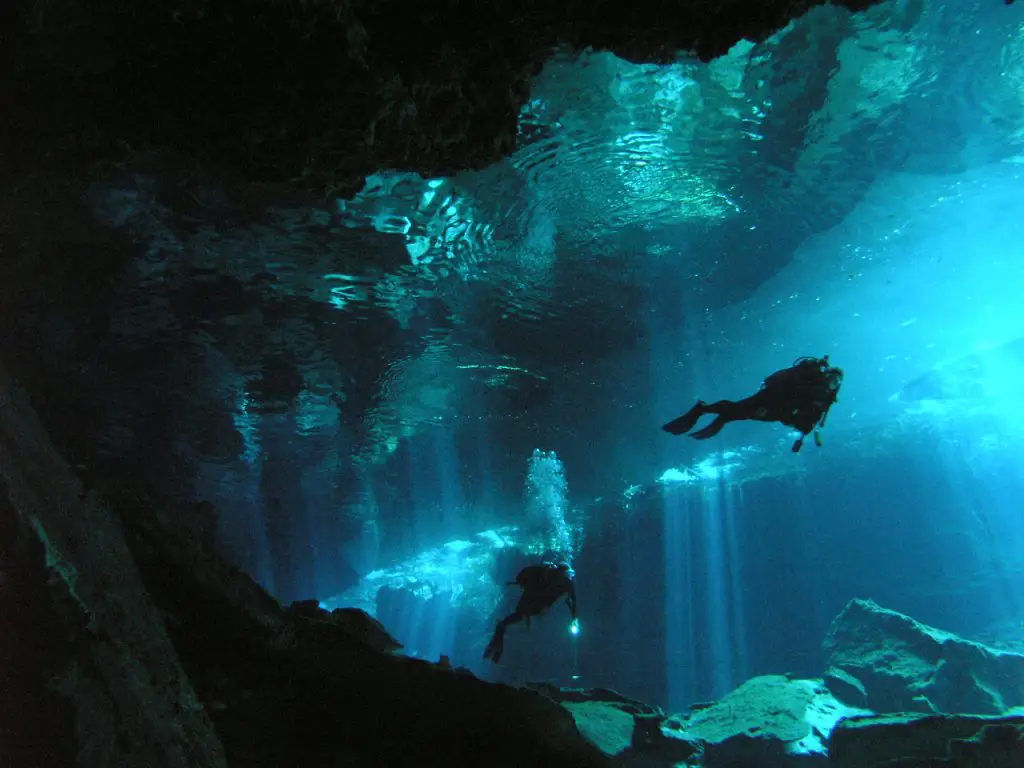 In ancient Mayan culture, cenotes were considered the entrance to their underworld Xibalba, roughly translated as 'place of fear.'
In other mythologies, the Mayan rain god Chaak was thought to reside in cenotes, and even today, Mayan farmers in the Yucatán dry season still appeal to Chaak for rain. If you are interested in Mayan culture, you also should not miss the relatively nearby Mayan ruins in Tikal, Palenque, or Campeche.
In the past, cenotes were a place of ritual to invite rain and so, alongside dinosaur and human remains, cave divers here have discovered many ancient treasures from Maya times within the cenotes system – So keep your eye out for anything shiny while Tulum cenote diving!
There is even evidence human sacrifices were made at cenotes. Although there is significant debate as to whether this actually occurred in pure Mayan society, it is known to have happened on a large scale at Chichen Itza's sacred cenote thanks to a mixing of cultures over time.
Not to scare you off – but ancient Maya mythology says the road to the underworld was filled with obstacles such as a river filled with scorpions, a river filled with blood, and then a river filled with pus. A far stretch from the tranquil and beautiful Tulum cenote scuba diving experience offered today.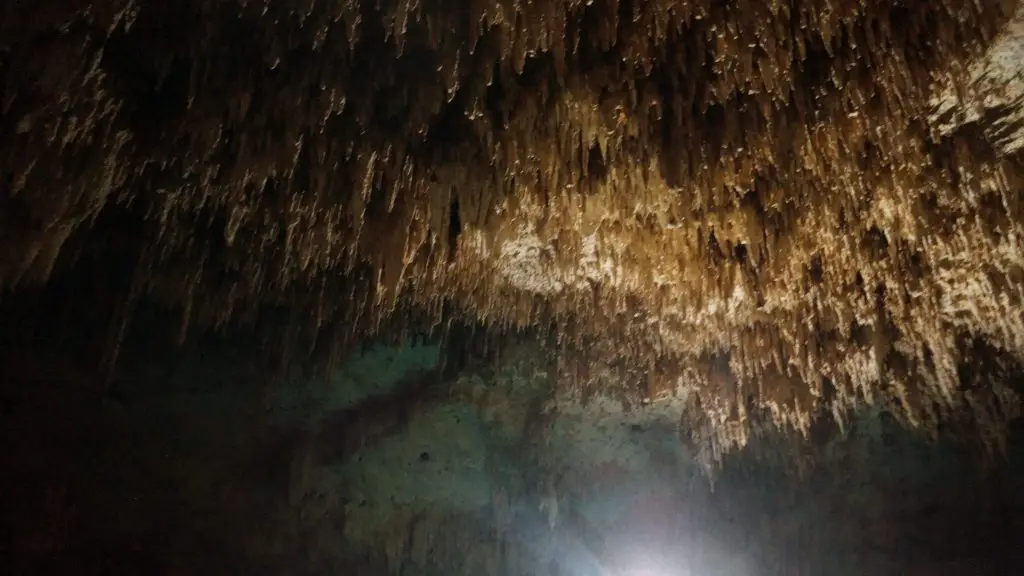 Scuba Diving In Mayan Underworld In Tulum
Tulum on Mexico's Maya Riveria is world's premier destination for cenote and cavern diving because of it's proximity to the world's three largest underwater cave systems – The Dos Ojos system (56 km), Sac Actun system (61 km) and the Ox Bel Ha (129 km), all of which are still being explored!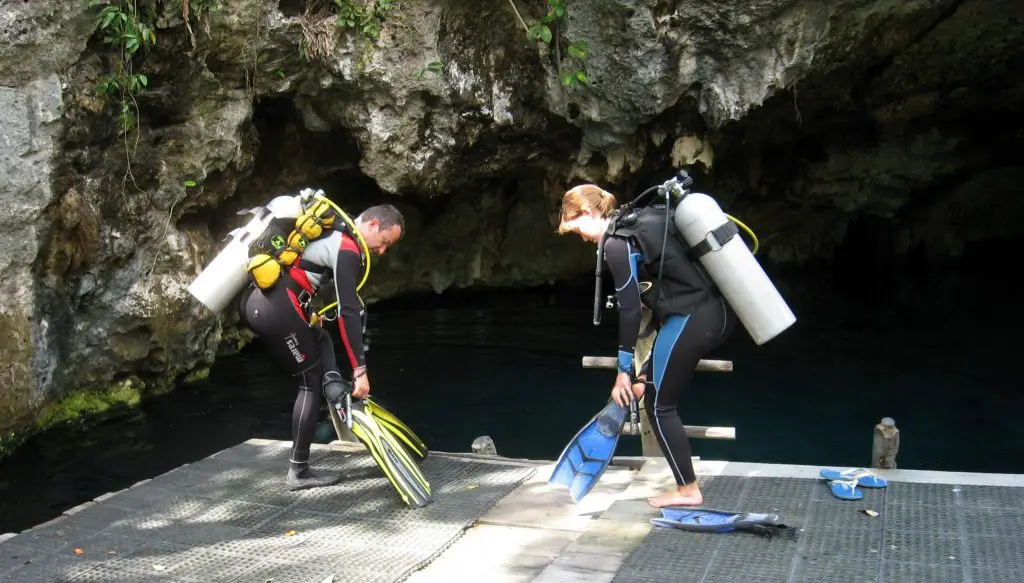 Although there are many, many cenotes surrounding Tulum, relatively few provide all the requirements for recreational cavern diving to go ahead safely.
Obviously, cavern diving is not like diving in the open ocean; the principles are slightly different. In saying that, if you listen and follow all instructions from a good, safe dive guide, you will have nothing to worry about!
I honestly cannot stress this enough; when going scuba diving in Tulum, choose a reputable dive operator. Accidents are infrequent, but do you really want to risk it. We are talking about cave diving, after all…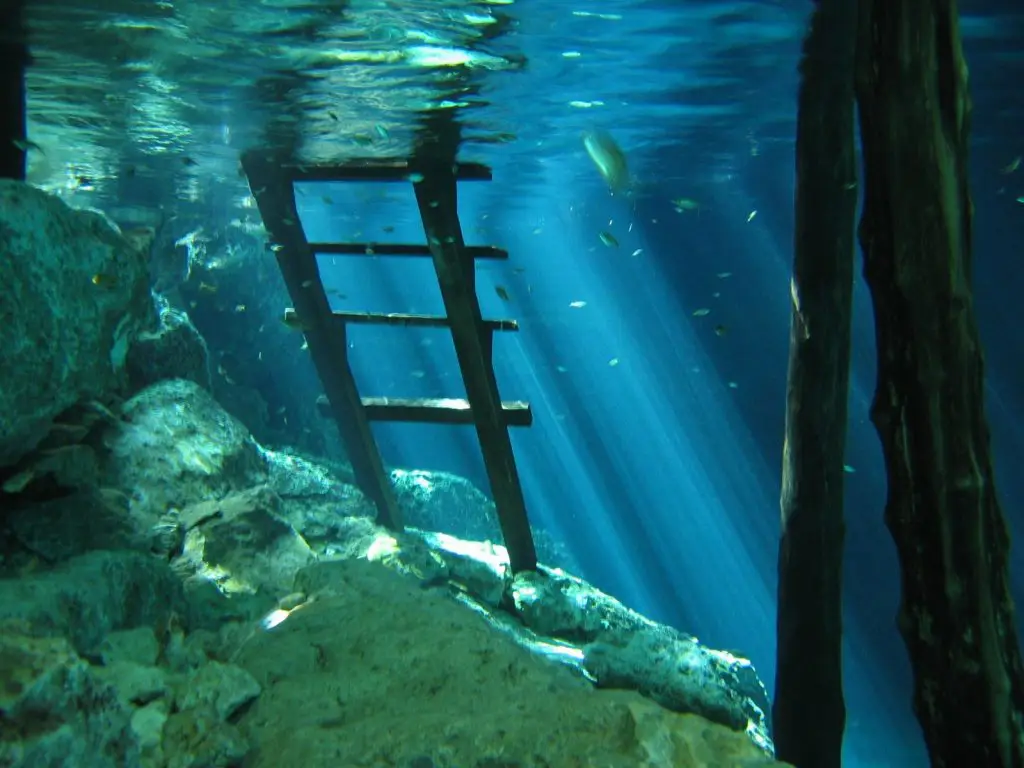 And here are some of the rules for safe cavern diving in Tulum (and around the world!):
Always stay within the limits of natural light penetration in the cavern.
Do not venture further than 60 meters or 200 feet from the nearest cavern opening.
Only go with a certified divemaster/cave diving expert who is familiar with the site.
Follow all guidelines (temporary or permanent) given to you by your guide.
One flashlight per diver is a minimum.
Have no more than four divers per guide.
Do not pass a maximum depth of 21 meters.
Always follow, but do not touch, the guide rope.
Follow the cavern diving rule of thirds: one-third of a tank into the cavern, one-third of a tank out of the cavern and one third as a safety reserve
A cavern is defined as an area of a cave with natural daylight and found at a maximum depth of 60m from the surface.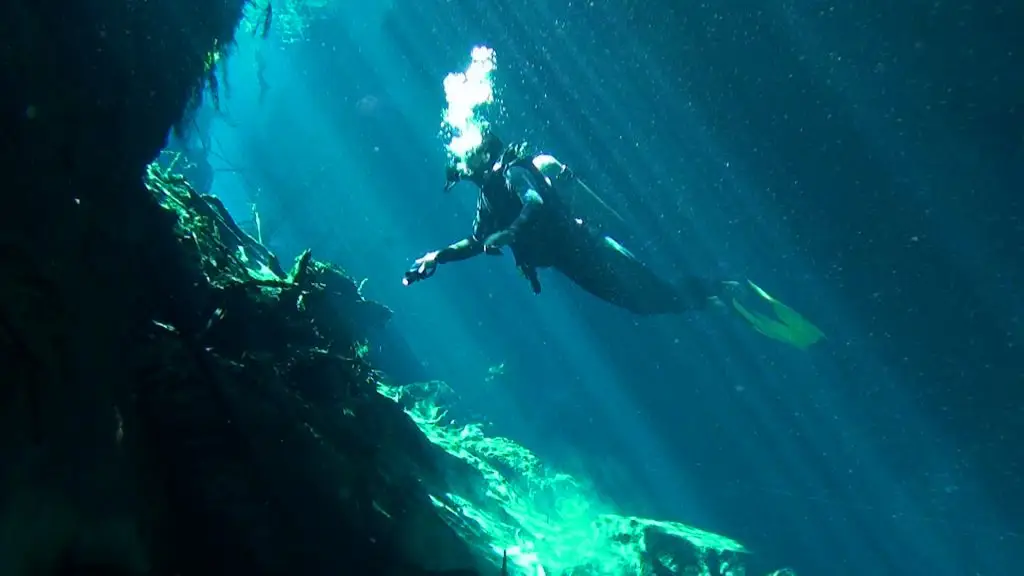 The best cenotes near Tulum for scuba diving are:
Dos Ojos Cenote – Easily one of the world's best cavern dives. Dos Ojos means two eyes and refers to the two significant cenotes here interconnected by an enormous cavern you can explore. Expect insane clarity, many stalagmites, stalactites and columns, and a mid-dive visit to the bat cave! A shallow dive with plenty of room, perfect for beginner scuba divers and snorkelers alike.
Tajma Ha Cenote – A quiet cavern not often frequented by dive groups because of its up-and-down profile but offers all the hallmarks of cenote diving include fossils, a sharp halocline, collapses and limestone halls. A delightful dive not recommended for beginners or those with sensitive ears.
Temple of Doom Cenote – Three holes of the roof here give you the feeling of being in a skull, and complete with a unique halocline make this a very popular five. Every tree branches can be seen here, and well as a weird green light at the entrance of the cave… Just don't go too far unless you want to find out how right the Mayans were.
Garden of Eden Cenote – If you are a marine life lover, this one is going to be for you! A pond full of aquatic creatures, including the occasional turtle, you can also get that much-desired halocline and associated light effects here. There is also an unusual temperature variation in this cenote attributed to the mixing of salt and freshwater.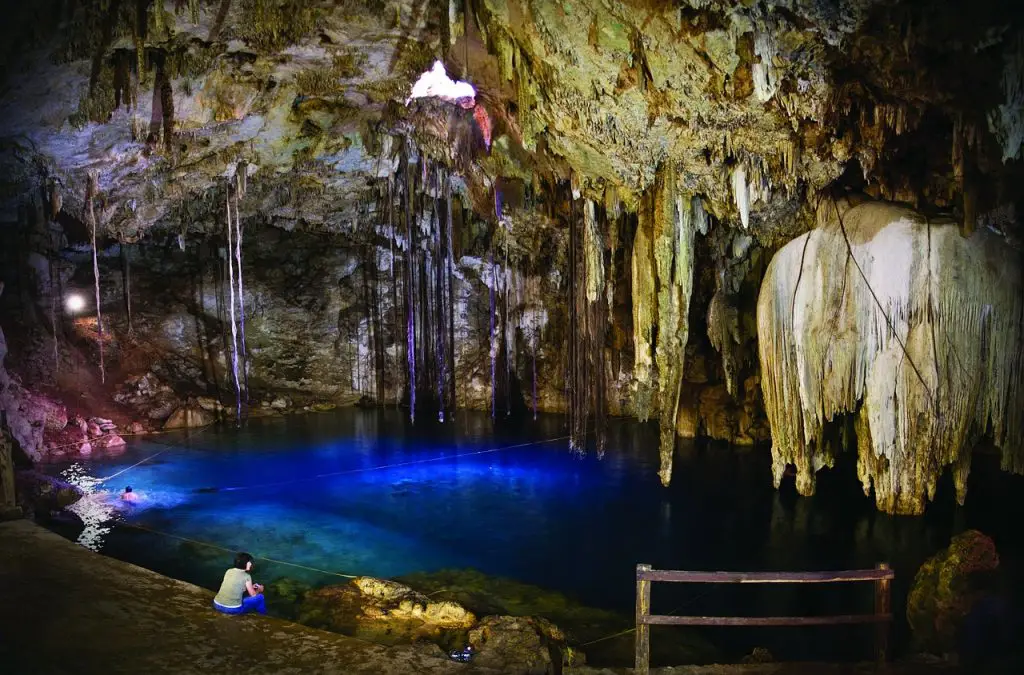 Kukulcan Cenote – Two dives are possible here with two unique experiences. Enjoy a fantastic curtain of light, only visible in the morning, and a strong halocline effects which have been likened to diving into jelly! The second dive includes an awe-inspiring collapsed dome and plenty of stalagmites, stalagmites, and columns.
Angelita – A cenote everyone is raving about because it is not like anything else out there. You are only diving in open water but is famous because of a thick hydrogen sulfide layer at around 30 meters formed from rotting vegetation. Hard to describe, it is something out-of-this-world and top of any cenote divers bucket list!
Dreamgate Cenote – One of Tulum's most famous cenote dives offering two dives in one. Short but sweet. Experience the sensation of flying with a rooftop completely covered in stalactites. You'll be amazed they haven't all fallen off—another for those with excellent buoyancy control.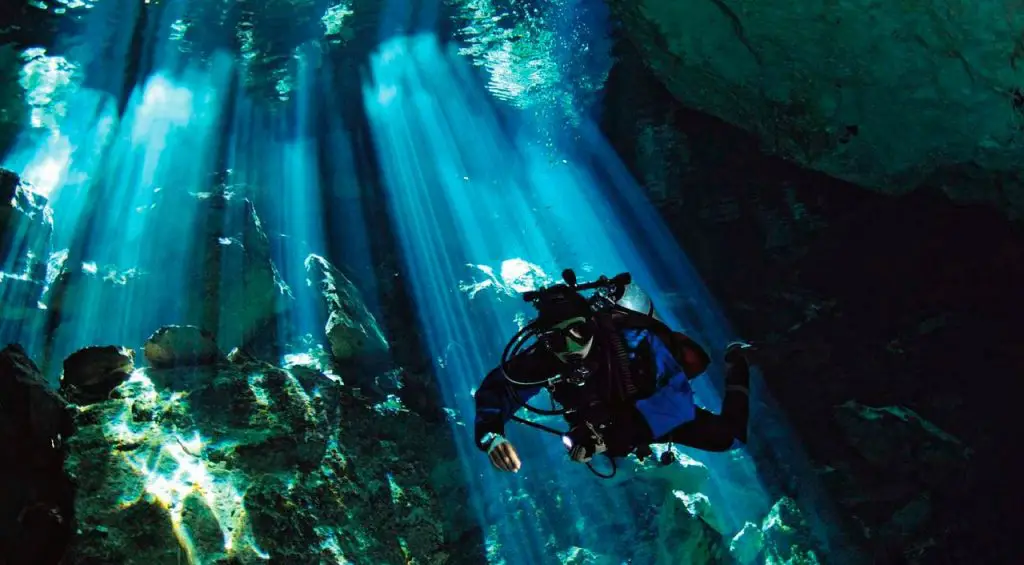 Tankah Cenote – Located in the middle of a mangrove swamp and connected to one of the longest cave systems in Tulum, this is one unique dive. Due to it's proximity to the ocean, both fresh and saltwater fish residue here, and you get the unique feeling of diving in a jungle as well as to see the halocline and its incredible light effects. With plenty of room, this is a great one for beginners.

Pet Cemetery Cenote – Another stunning cenote hidden in the dense jungle. Many animal skeletons have been found here, thus the name, including a fossilized camel of all things! Also, one of the most ornate cenotes with white stalactites, stalagmites, and columns dripping from surfaces – This is one cenote dive that requires excellence buoyancy.

The Pit Cenote – The deepest cenote in Tulum at 119 meters of 391 feet (and also the deepest cenote in Quintana Roo). An awe-inspiring sight of a seek-hole deep within the jungle. Has an outstanding hydrogen sulfate cloud and black lined record levels of water during the ice ages!

Gran Cenote – The Gran Cenote is very close to Tulum and forms the heart of the Sac Aktun system, or 'white caves' – and the name is definitely well deserved. A collapse has also made this a dive with plenty of space and natural light so you could be forgiven for thinking you were in a palace more than the Mayan underworld.
Cenote diving in Tulum does not require you to have special cave diving certification because you are technically not entering the cave, but a cavern with natural light and a close-by escape route. Safety, however, is still paramount, so it pays to explore these natural wonders of the world with a reputable operator!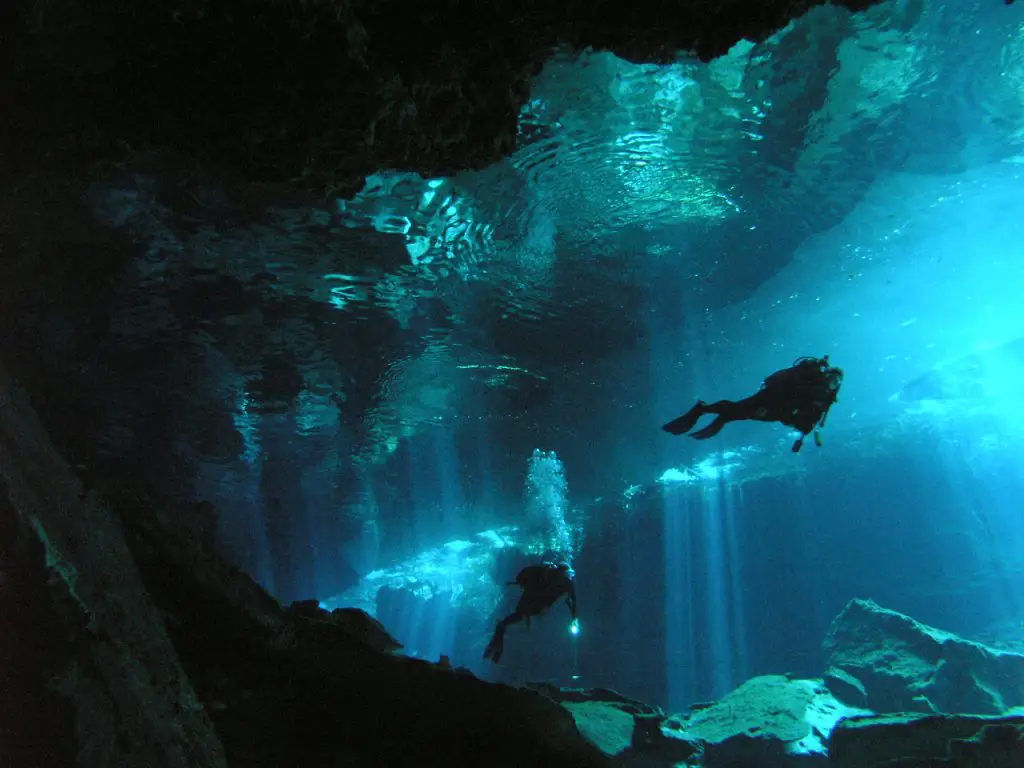 Explore Land And Sea While Scuba Diving Tulum With MexiDivers Tulum
Given the recent tourist boom in previously sleepy Tulum, it's no wonder many, many dive shops have pop'd up to cater for demand – but as every scuba diver knows, quality is king, and it always pays to go with the best.
This is why after extensive research, I opted for a trip with MexiDivers Tulum due to their long and stellar service record, passionate staff, family-run operation, and location: beachside on the edge of the Tulum Hotel Zone.
They are also the only dive shop in Tulum with their own boat to explore the reefs off Tulum (part of the second-largest barrier reef system in the world!) if you fancy a bit of fresh and salty!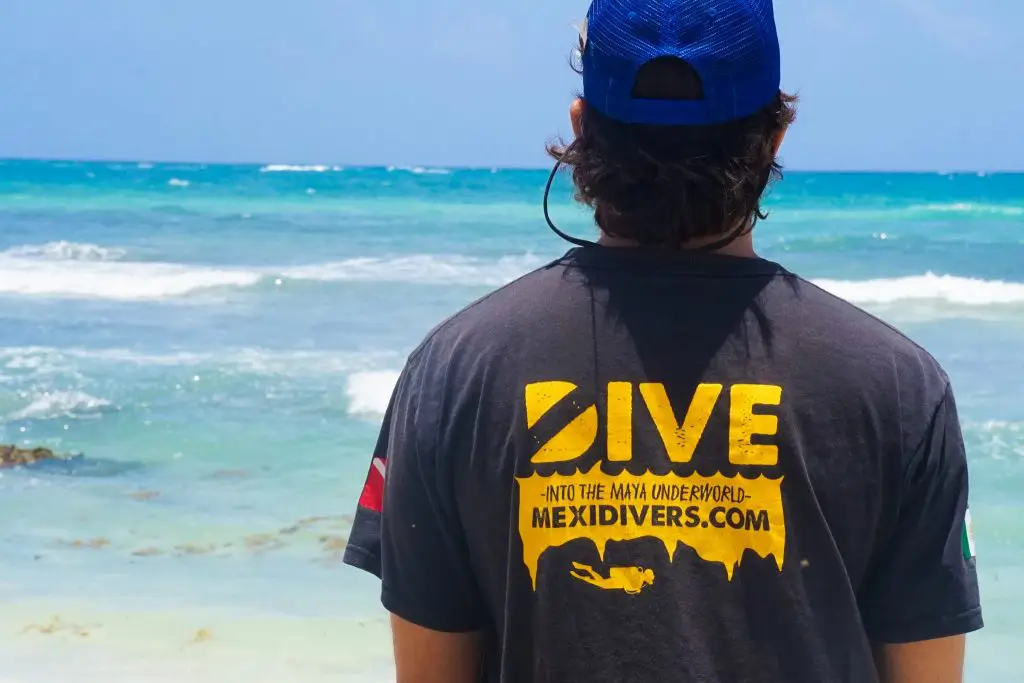 MexiDivers has a fully an equipt Tulum dive shop with new gear and well-looked after equipment that made getting in and getting decked out a breeze.
Their guides were all amiable, passionate, and knowledgeable about what they were doing, and Carlos, the shop's owner, ensures rigorous training and checks are carried out so that each and every one of these guides is of an exceptional level.
For my dives in Dos Ojos, I had Joe, a guide with 17 years experience diving int the ocean and cenotes, and from the moment I meet him, I felt calm and confident.
He clearly explained the rules and concepts to me at the dive site beforehand, gave a thorough briefing and in the water was an absolute pro -knowing the best way of entry, dive position, even how to light photos (but sadly even he couldn't save me from my GoPro's bad lighting settings!).
This is a must if you are wondering how to make money on Shutterstock by selling your photos after…
Bottled water was provided for after the dives, as was a high-quality underwater flashlight, so you do not need to worry about bringing your own. A new air-conditioned van was used to take us to the dive sights – and, unlike many other unscrupulous operators in town, all taxes, entrance fees, gear rental, etc. was included in the one-off fixed price.
It's that easy!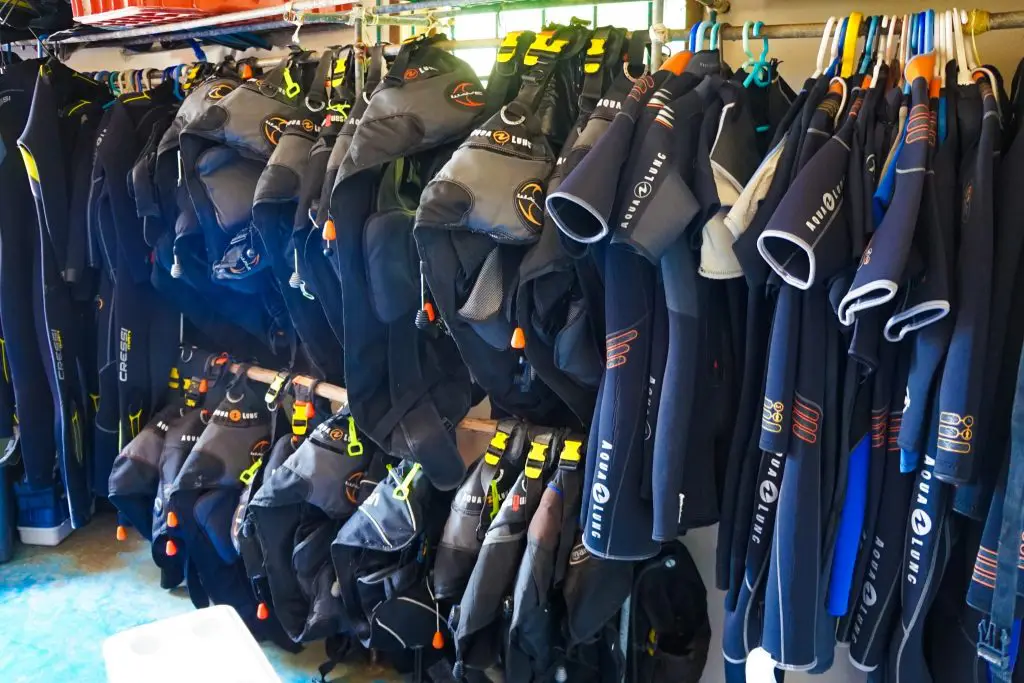 Mexidivers is affiliated with PADI, SDI, and TDI, so you are also able to undertake your open water and advanced courses in this diving mecca.
Learning to scuba dive in Tulum is an excellent idea as you are given the ability to undertake incredible fresh and saltwater dives, and to take classes right opposite the beach with the cool breeze blowing rather than being stuck in the main town like all the other dive shops! While I did not have time on my trip to explore the Tulum Reef, I did go a bit further down the coast in Belize, and the visibility and coral structures were out of this world.
Truly world-class diving – so if you have the time talk to Carlos about a package deal with a mix of both!
If you are short on time, MexiDivers also runs like a fine-tuned machine, so its Tulum cenote diving tours really only take half a day allowing for another activity in the morning or afternoon – perfect if you only on a brief long weekend in Tulum from the United States.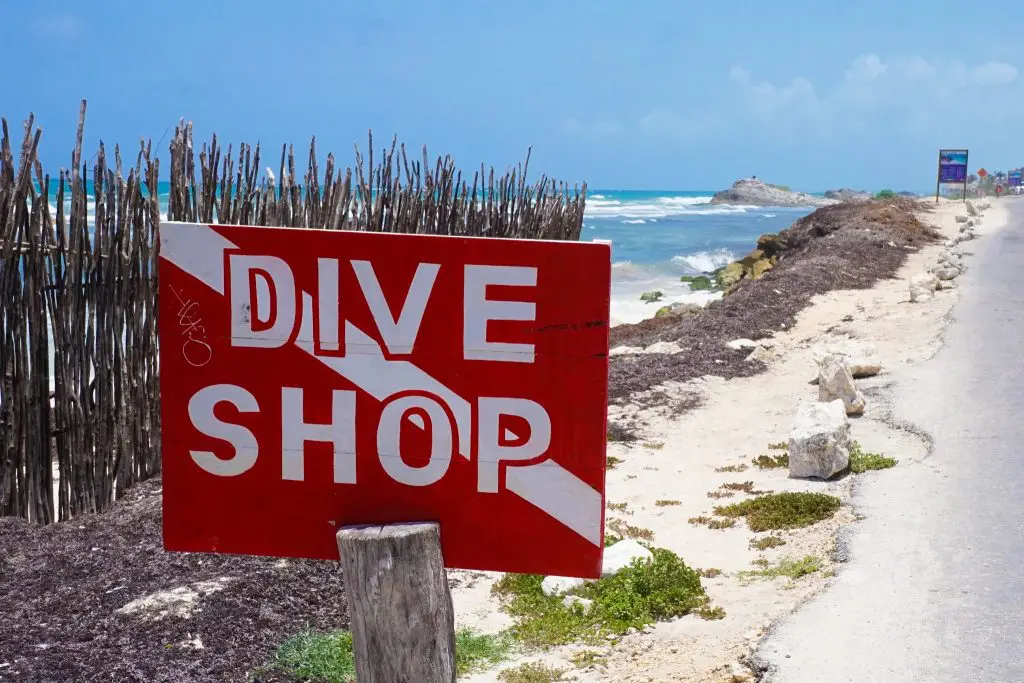 Diving into a Mexican Cenote is a unique experience not to be missed by any scuba diving aficionado! Cavern's that allow a glimpse of the world's largest underground rivers – or the Mayan underworld – you should keep your eye's peeled here in the crystal clear water not only for stalactites and stalagmites but undiscovered treasure offered to the Mayan Rain god centuries ago…
MexiDivers Tulum offers some of the best scuba diving in Tulum. With a decade of experience both in the cenotes and out at sea, you will be sure of a safe and utterly unforgettable adventure.
Honest and reliable, with a track record of great customer reviews and safety, MexiDivers is my recommendation for scuba diving in the Tulum Cenotes. If you have any questions, give them an email today!
While you are in the area, don't miss all these other fun things to do in Tulum, or consider heading up the coast with a fun Mexico whale shark tour. Or, don't—and just spend every day scuba diving in Tulum.
I won't judge you…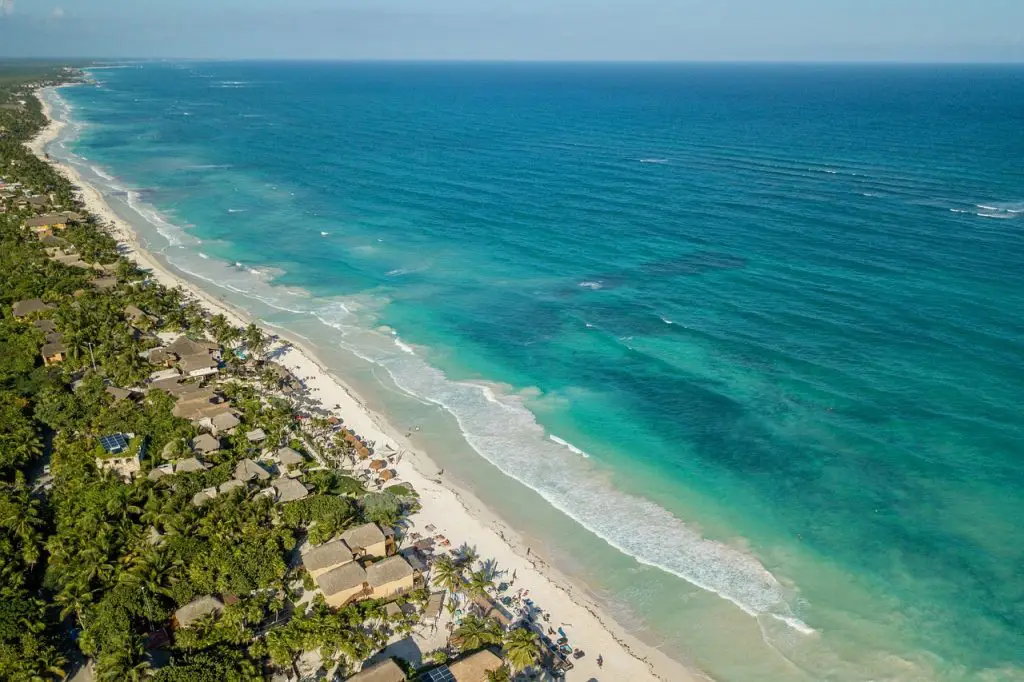 Staying Connected While Travelling
In today's increasingly connected world, staying online while traveling has become essential for a seamless experience. That's where eSIMs come into play, revolutionizing the way we access mobile networks during our global adventures. Say goodbye to hunting down local SIM cards at the airport; eSIMs provide instant activation the moment you land, sparing you the fortune usually spent on international roaming and allowing you to genuinely travel like a local (without getting hopelessly lost!).
With eSIMs, tasks like restaurant recommendations and reservations, up-to-the-minute public transport instructions, checking opening hours, and accessing further information become a breeze. And, of course, sharing your journey on social media is easier than ever. To stay connected wherever you roam, consider using either Airalo or Holafly. Airalo boasts the most extensive range of destinations worldwide, offering smaller data bundles tailored to your needs, while Holafly provides unlimited data packages and fantastic EU data deals.
So why wait? Embrace the future of travel connectivity with eSIMs and make your next journey effortlessly smooth.
Further Things To Consider Before Any Adventure
Now you're all set and prepared to explore our big wide world, why not sort out everything else out all in one go? If necessary for your travel plans make sure you have brought proper travel insurance, protected your privacy by getting a secure VPN, compared all the top hotel booking sites to find just what you're after, reserved an unbeatable rental car price and - of course - booked the best flight deals!
Or maybe just forget it all and go for a last-minute cruise or effortless tour instead?
Many budget travelers (including me) indulge in worldwide airport lounge access, so we can experience luxury while still slumming it in economy. Naturally, we would never leave home without a more general travel guide since we couldn't possibly cover everything here!
Just add an adventurous attitude and plenty of smiles - they go a long way - and that about covers it all! Now go out, find your own path and don't forget to share your best inspiration stories with me on Facebook, Twitter, and Instagram...I'd love to hear from you!