Canada is well known for its extraordinary natural diversity, vibrant culture, and remarkable urban landscapes. Fittingly, Canada is also home to twenty of the more than 1,000 World Heritage Sites worldwide, as inscribed by the United Nations Educational, Scientific, and Cultural Organization (UNESCO).
Canada's beguiling UNESCO sites include remote whale stations, mountainous national parks, indigenous heritage, and geological wonders. These sites range from the iconic Waterton Glacier International Peace Park and the spectacular Historic District of Old Québec to the far-flung Wood Buffalo National Park and impressive Rideau Canal.
The theme of culture and nature is prevalent throughout these twenty sites reflecting Canada's remarkable human and non-human heritage. Some of these sites are landmarks of Canada, but many are rather obscure and likely only known to the most persistent of travelers.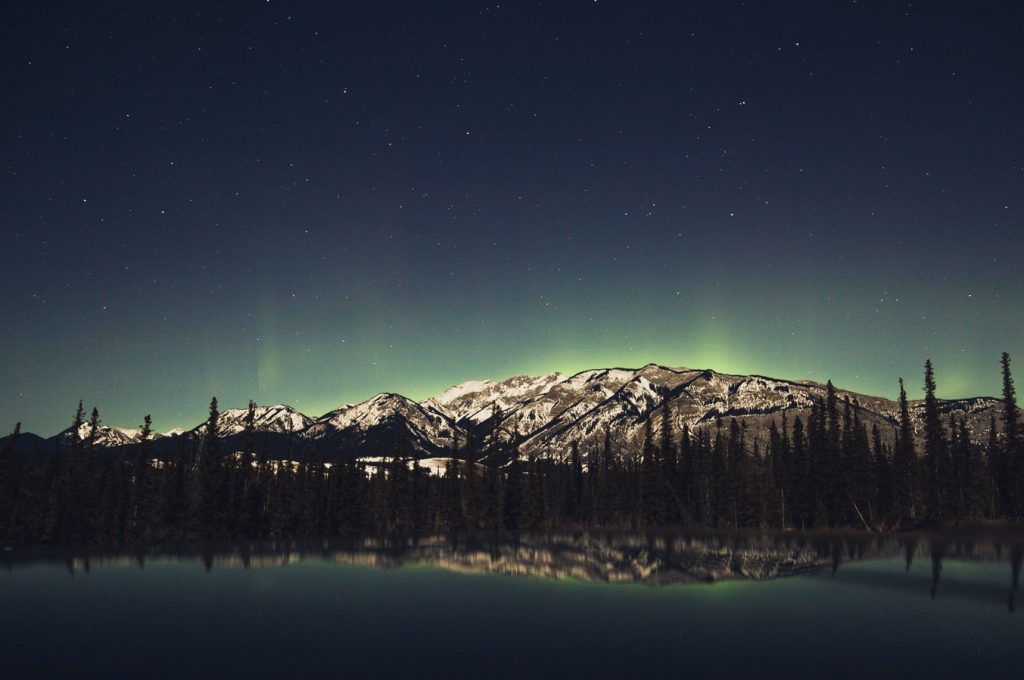 UNESCO is a bureau of the United Nations that endeavors to support the protection and growth of the world's intellectual and cultural property and elects UNESCO sites due to their "outstanding universal value" in science, history, or culture. As a result, UNESCO Sites are meaningful to the mutual interests of humanity – and legally guarded by international treaties.
Travel influenced by UNESCO sites allows visitors to explore esoteric spots, aid preservation, obtain specific knowledge about the history of Earth and humanity – and to wonder at unequivocally magnificent sites. While a few such as Halong Bay and the Sydney Opera House are famous around the world, there are far more untouristy UNESCO sites worthy of insertion in any 'off-the-beaten-track' bucket list.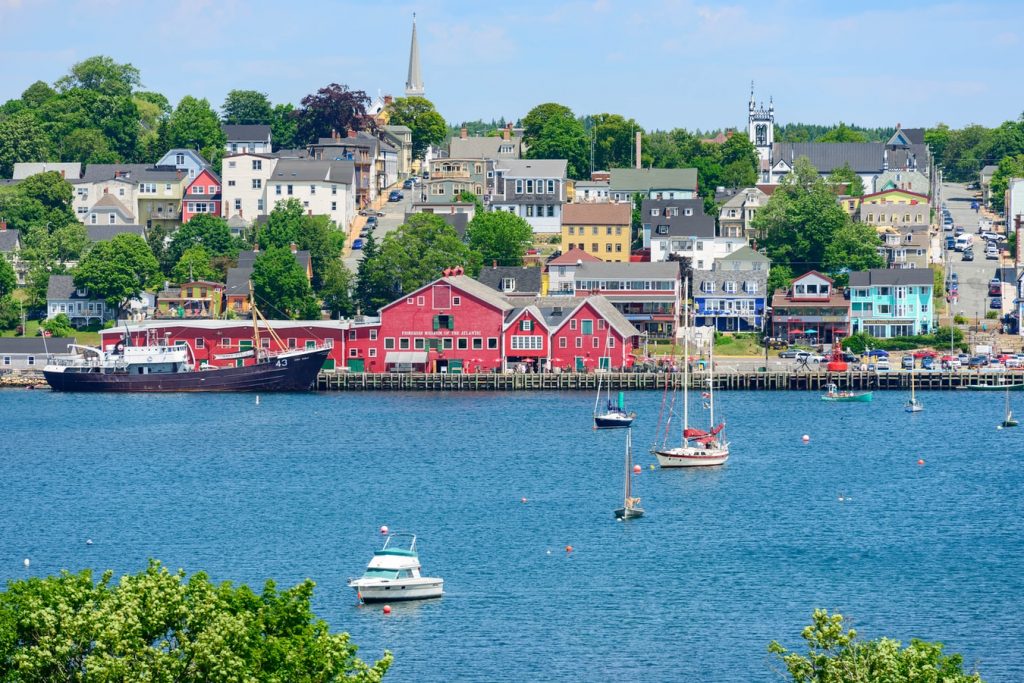 Inscriptions settle into two categories: cultural and natural locations, or a combination of both (mixed). There are currently twenty UNESCO world heritage sites in Canada, nine cultural ones, ten natural ones, and one mixed. While I have visited many of them myself, I decided to reach out to other travel bloggers to get their opinions on other sites. I wanted to find out what made their visit special and to gain inside tips to inspire future visits.
So, with their help, why not immerse yourself in one or more of these sites on your next Canada vacation? From breathtaking natural wonders to unprecedented feats of human engineering, check out our exhaustive list of Canada UNESCO sites to determine which places resonate with you personally. You can then use them as a roadmap for the trip of a lifetime.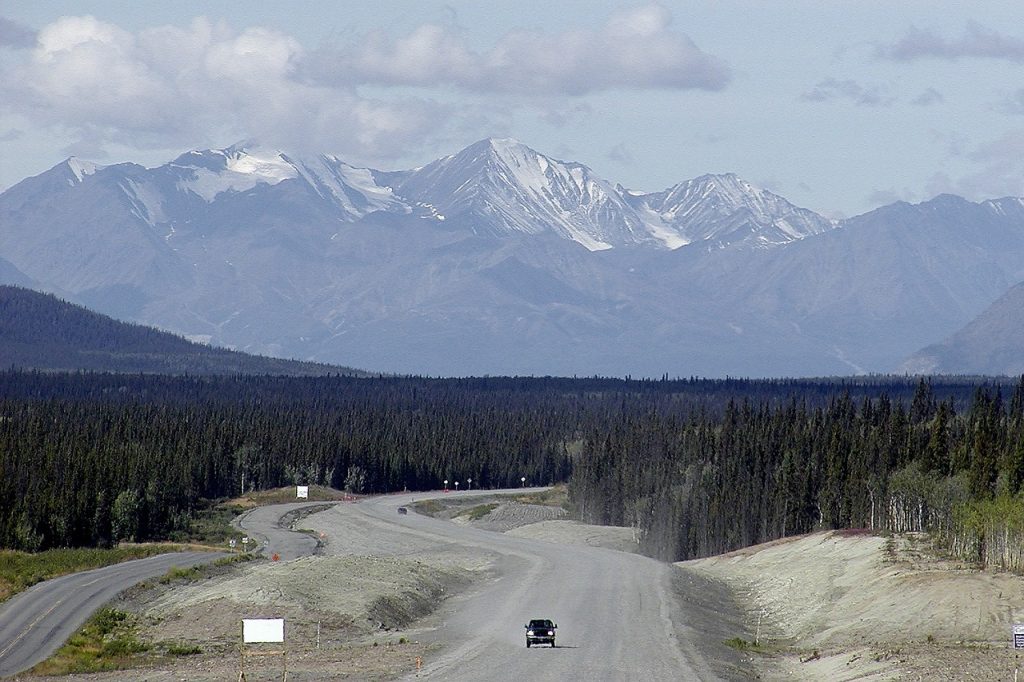 Cultural UNESCO World Heritage Sites In Canada
Head-Smashed-In Buffalo Jump
For almost 6000 years, the early Plains People depended on the vast herds of bison grazing in the grasslands in North America to survive. Over time their hunting methods became highly efficient. They forced the bison to run over large cliffs falling to their deaths. These sites are called buffalo jumps.
Head-Smashed-In Buffalo Jump is located in rural southern Alberta. The site is a 2-hour drive south of Calgary (175 kilometers). It was designated a UNESCO World Heritage Site in 1981. Of the many buffalo jump sites discovered in North America, Head-Smashed-In Buffalo Jump was granted the UNESCO designation for being the most outstanding and well preserved.
A successful bison hunt at a jump site required a large, communal, and organized effort. The people slaughtered large numbers of bison in one drive, ensuring the survival of the community.
The Interpretive Centre is impressive and provides a detailed look into the Plains People and their culture. Their ceremonies and family life are explained. The center's exhibits give further information about the bison hunt, including the set-up, the tools used, and how the buffalo was processed into useful items for the community.
Outside the building, trails lead visitors to both the jump point at the top of the cliff and the "kill" site at the cliff base. Allow at least two hours to explore Head-Smashed-In Buffalo Jump to learn about these early people and how the buffalo was central to their way of life.
Explored by Andy Vanr from AvrexTravel.com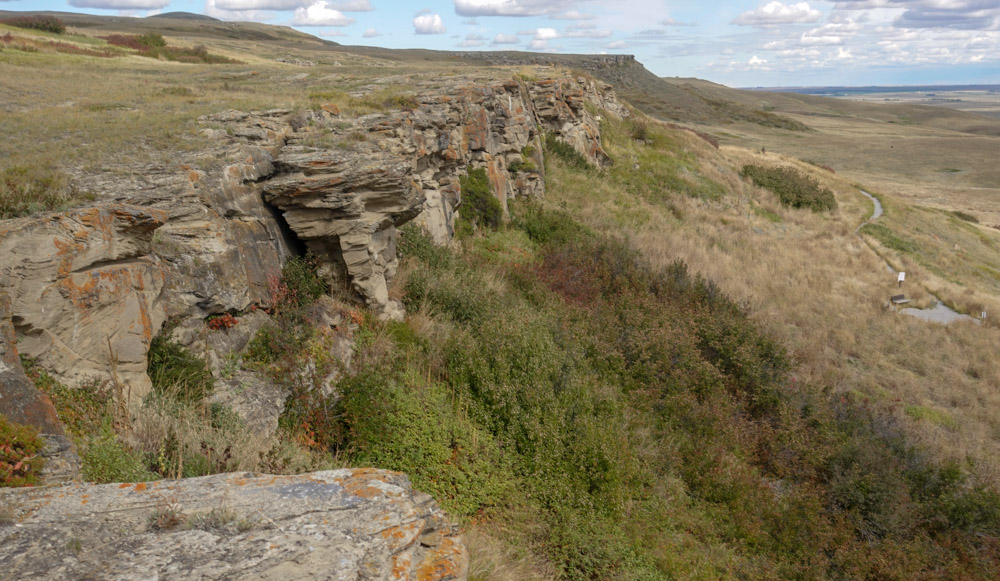 Historic District of Old Québec
Québec City was established by the French explorer Champlain back in the early 17th century and attested to relevant stages in the European settlement of the New World / Americas. At the time, Quebec was the capital of New France and following 1760, the capital of the new British colony.
Today Quebec City is the only city in North American (north of Mexico) to have conserved its ramparts. Today travelers can admire them collectively with the various bastions, gates, and defensive works that still protect Old Québec.
The Upper Town of Quebec was built on a steep cliff, has endured as a major religious and administrative hub, with its churches, abbeys, and additional monuments such as the Dauphine Redoubt, the magnificent Citadel, and world-famous Château Frontenac. Together with the Lower Town and its historic districts, the Quebec City UNESCO World Heritage Site protects an urban ensemble that constitutes one of the most exceptional representations of a protected colonial city.
Easily reachable by train or flights, days can be spent exploring Quebec City – and with more than four centuries of history, you won't want to rush it.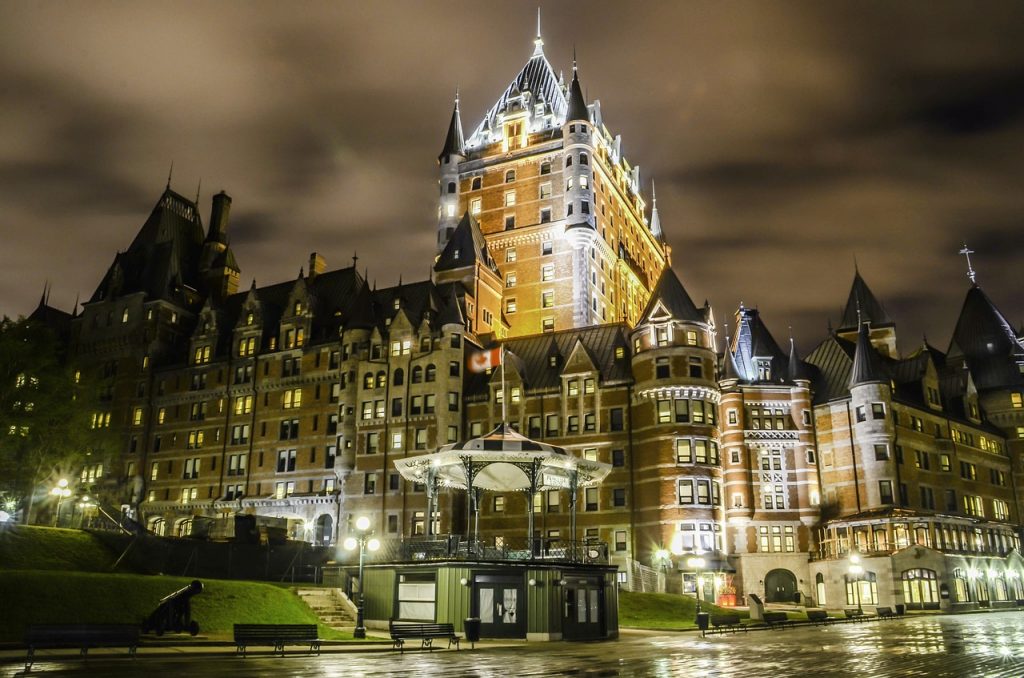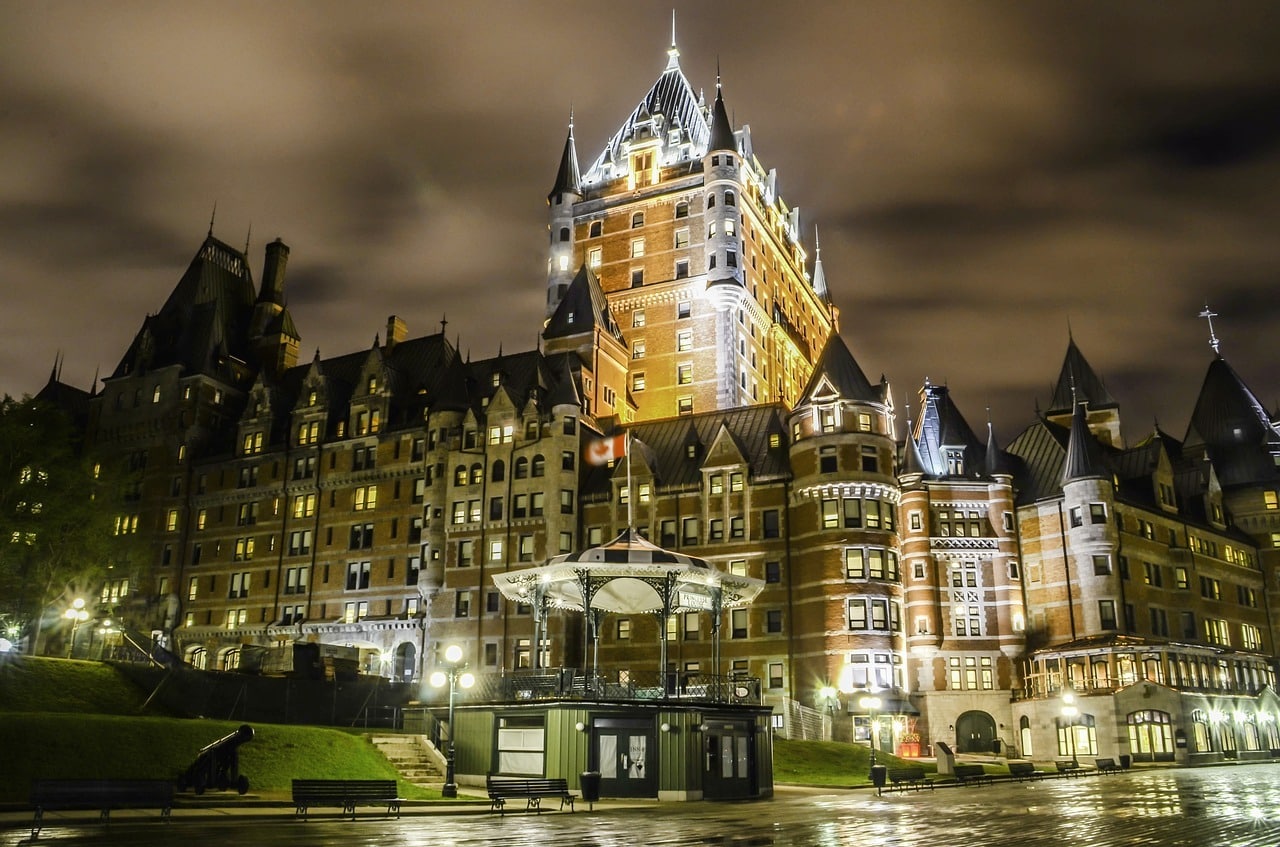 L'Anse aux Meadows National Historic Site
Inscribed in 1978, L'anse aux Meadows National Historic Site is one of four UNESCO world heritage sites in Newfoundland. It is an 11th century Viking site and is the only known one in North America. What makes L'anse aux Meadows, so historically significant is that it's the earliest evidence of European settlement in the new world.
What I loved most about visiting was getting to walk around the original structures, feeling although I'd traveled back in time. The site is well preserved with an information center that walks you through the fascinating history of the area.
L'anse aux Meadows is on the tip of the Great Northern Peninsula in Newfoundland. To get there, you'll have to drive down the Viking trail, which starts in Deer Lake, where there is an airport. The Viking Trail is a perfect addition to an East Coast Canada road trip, taking you through Gros Morne National Park, quaint fishing villages, and charming white lighthouses. During the spring, you can often see icebergs along the Viking Trail.
Explored by Lora of Explore with Lora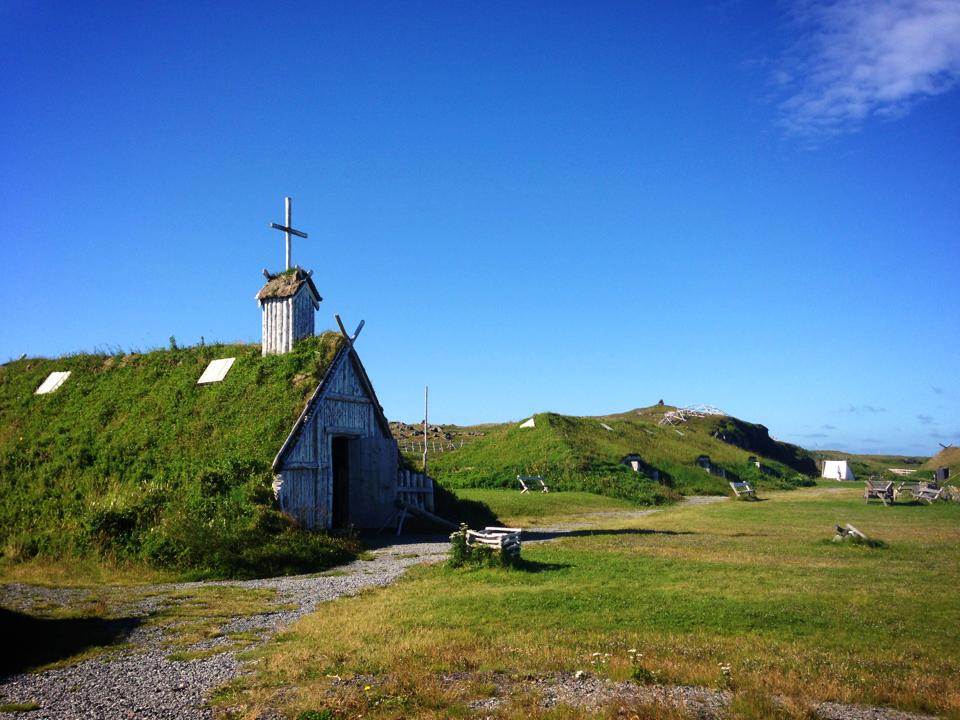 Landscape of Grand Pré
Added to the UNESCO World Heritage List in 2012, the Grand Pré National Historic Site commemorated the expulsion of the Acadians by the British in 1755. The site is located in the small village of Grand Pré, which means "great meadow" in French.
Grand Pré was first settled in 1680 by an Acadian family who moved from nearby Port Royal, and from there, the area grew into the largest Acadian settlement in Nova Scotia. The families used innovative methods to build dikes along the shoreline, which created rich, fertile farmlands. Today this fertile area is well-known for the delicious wines produced in its many vineyards.
Tragically, in 1755 at the hands of the British, 11,500 people were forcefully deported from Grand Pré and other Acadian communities when they refused to sign oaths of allegiance to the British Crown. During this time, many villages were burned to the ground to ensure the Acadians wouldn't return, and many died from drowning, starvation, imprisonment, and exposure.
The site brings the history of the Acadian people, and their deportation, to life. Exploring the pretty grounds, you'll find vegetable gardens, a blacksmith shop, a lookout over the farmlands, and a small stone church which is believed to be built on the site of the original church. In the church, you'll see paintings that showcase the history of the Acadians and a copy of the original expulsion order.
Grand Pré is located just off Highway 101, about one hour from Nova Scotia's capital city, Halifax. Along with clearly teaching this tragic part of Canadian history, the setting of Grand Pré in the beautiful Annapolis Valley is one of the reasons I loved visiting this UNESCO site and will recommend it to everyone that comes to visit us in Nova Scotia.
Explored by Lee and Stacey from One Trip at a Time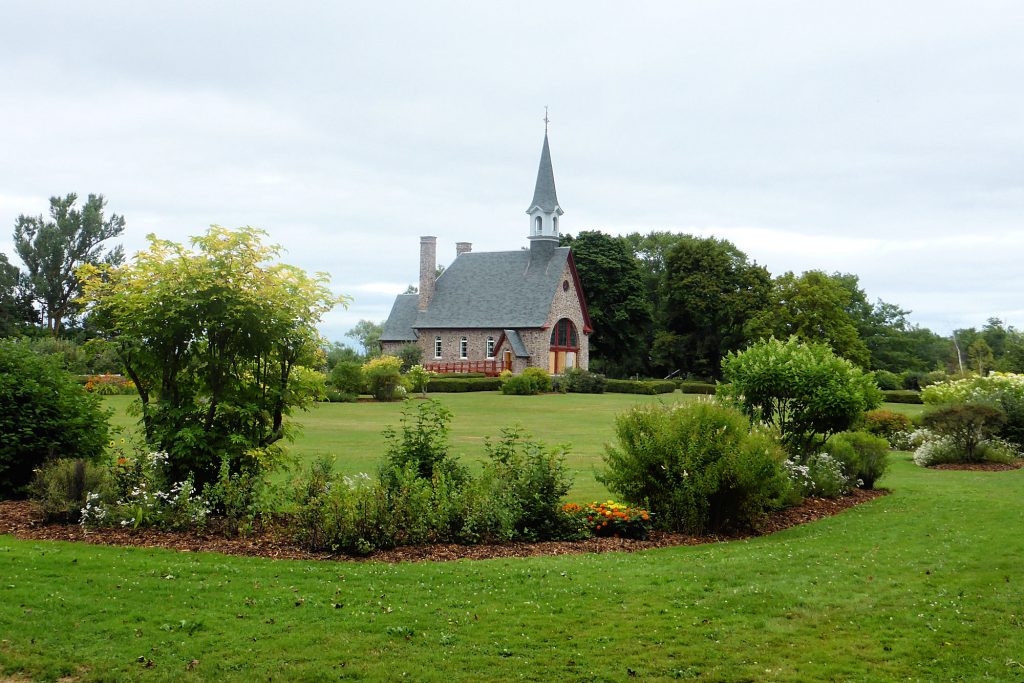 Old Town Lunenburg
Old Town Lunenburg is a unique UNESCO World Heritage Site and an excellent example of a British Colonial grid-pattern street layout with 48 blocks. The whole Old Town of Lunenburg is a National Historic District and home to three National Historic Sites – the Lunenburg Academy, St john's Anglican Church, and Knaut-Rhuland House.
It's also one of only three places on the UNESCO World Heritage list that are urban communities in North America. The colorful seaside town is fun to explore as the historic timber buildings are filled with shops, restaurants, cafes, and museums.
Highlights include the Bluenose II, which is moored on the waterfront and is a replica of the original, world-famous racing schooner, and the Fisheries Museum of the Atlantic, where you can discover Nova Scotia's maritime heritage within a bright red building on Lunenburg's waterfront. The museum is also home to Canada's oldest dory schooner, the Theresa E. Connor, and a steel-hulled side trawler called Cape Sable.
It is a charming town where you can discover historic architecture along a working waterfront and eat the best seafood in the country. Named after the King of England, George II, who was also the Duke of Braunschweig-Lüneburg, Lunenburg is a German settlement and the place to eat hearty dishes Lunenburg sausage, pickled herring, and sauerkraut.
One of the places I love visiting is the Ironworks Distillery, which is in an 1839 heritage building that used to be a blacksmith's shop. Here you can pick up a bottle of local brandy, rum or gin, and vodka.
Lunenburg is on the southwestern coast of Nova Scotia, and getting there is a scenic drive from Halifax, the province's capital. The journey to Lunenburg along the Lighthouse Route via Mahone Bay is one of the highlights of the visit.
Explored by Christina from Travel2next.com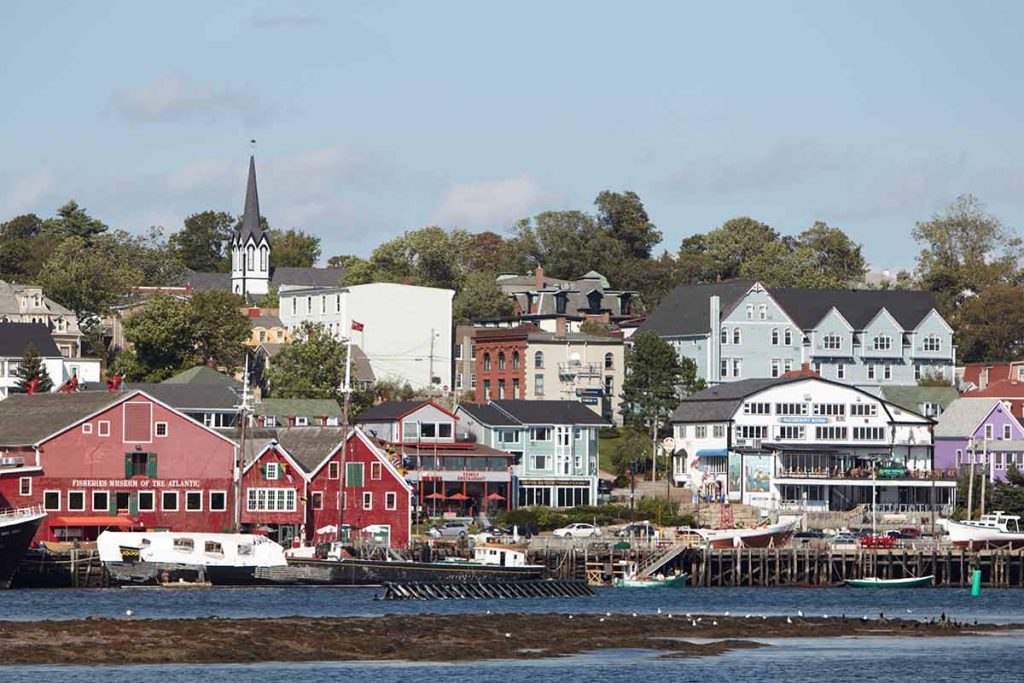 Red Bay Basque Whaling Station
The Red Bay Whaling Station, organized in the 16th century by Basque mariners, is located on the extreme north-eastern tip of Canada – on the edges of the Strait of Belle Isle.
Today it is a protected archaeological site of international significance thanks to the insight it presents about early / pre-industrial European whaling tradition. Gran Baya, as it was termed when it was founded in the 1530s, has throughout its history be utilized as a base of operations for the coastal hunting of cetaceans, including the butchering of meat, rendering of whale fat (used for oil) and storage before export.
The Red Bay Basque Whaling Station grew to be a significant fount of whale oil for Europe, where it was used for lightening. However, it was only used for around 70 years as the local right whale and bowhead whales populations were decimated.
Today the site remains exceptional well-preserved with wharves, rendering ovens, living quarters, and cemetery – however, much of the site remains buried to conserve it from the ravages of time. This means stopping at the onsite Visitor Interpretation Centre is imperative to understanding the site layout and its significance. There are also remains of vessels that lay underwater were they were dismantled or sunk at various points – making Red Bay one of the most valuable underwater archaeological sites in the Americas.
Rideau Canal
The Rideau Canal is an impressive early 19th-century creation that traversing 202 km of the Cataraqui and Rideau rivers from Ottawa through to Lake Ontario. It was constructed fundamentally for military objectives because, at the time, the United States and Great Britain were competing for control of the territory. The Rideau Canal was one of the first canals in the world to be devised explicitly for steam-powered ships – and it also includes an innovative ensemble of protective fortifications in its design.
It was inscribed as UNESCO World Heritage of the world as it showcases a well-preserved specimen of a slack water canal in North America while illustrating the use of a novel European technology deployed a grand scale in a colony. Even today, the Rideau Canal is the only canal that remains operation largely in its original condition that dates from the great North American canal-building period of the early 19th century.
The Rideau Canal cuts through the heart of Ottawa. Visitors can embark on boat tours on the Rideau Canal, or hikers can head on out a legendary trail along its length, which proves a great way to explore the city from a new perspective.
To truly appreciate the grand scale of this endeavor and its effect on Ottawa and Canada, a visit to the ByTown Museum is recommended. The museum sits conveniently next to the Rideau Locks (under Parliament Hill )in Ottawa's oldest stone building.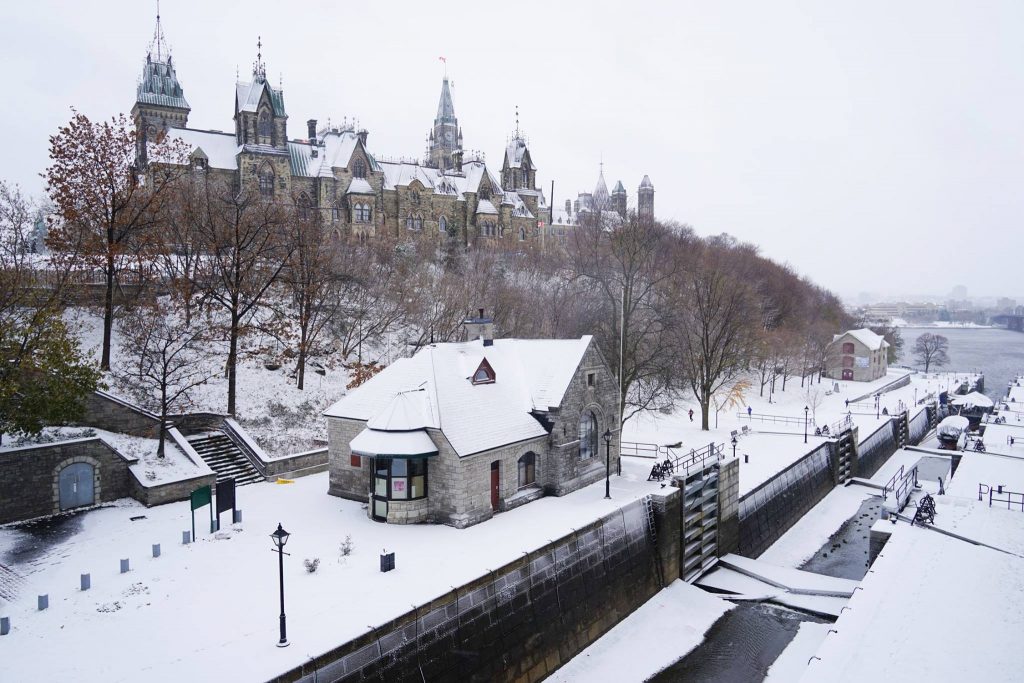 SGang Gwaay
SG̱ang Gwaay Llanagaay (Red Cod Island Village), sometimes called by its English name Ninstints, is the remains of a village of the Haida Nation that has been abandoned since the early 1880s. In accordance with Haida traditions, it has been left to return to nature. In addition to the remains of log houses, it has the largest collection of Haida totem (memorial and mortuary) poles in their original locations in the world. In addition, the artwork of the carved totem poles is widely considered the finest in the world.
The village became a world heritage site in 1981 because of the importance of the site to living culture, its integrity, and its authenticity. The site commemorates the living culture of the Haida people and their relationship with the surrounding natural environment. It holds spiritual meaning for the Haida people and is still used for ceremonies today. There are dozens of totem poles in various states of decay, some standing and some lying down. Visiting the village is a truly memorable experience.
SG̱ang Gwaay Llanagaay is found on remote Anthony Island, a small island in the southern part of the Haida Gwaii (formerly called the Queen Charlotte Islands) archipelago, off the northern coast of British Colombia. It can only be reached by boat, seaplane, or kayak from the two small townships at the northern end of the archipelago, which is, in turn, reached by plane from Vancouver or ferry from Prince Rupert. Taking a sea kayak trip around the remote islands of Haida Gwaii National Park is the best way to truly appreciate the natural beauty and cultural importance of this incredible place.
Explored by James Ian from Travel Collecting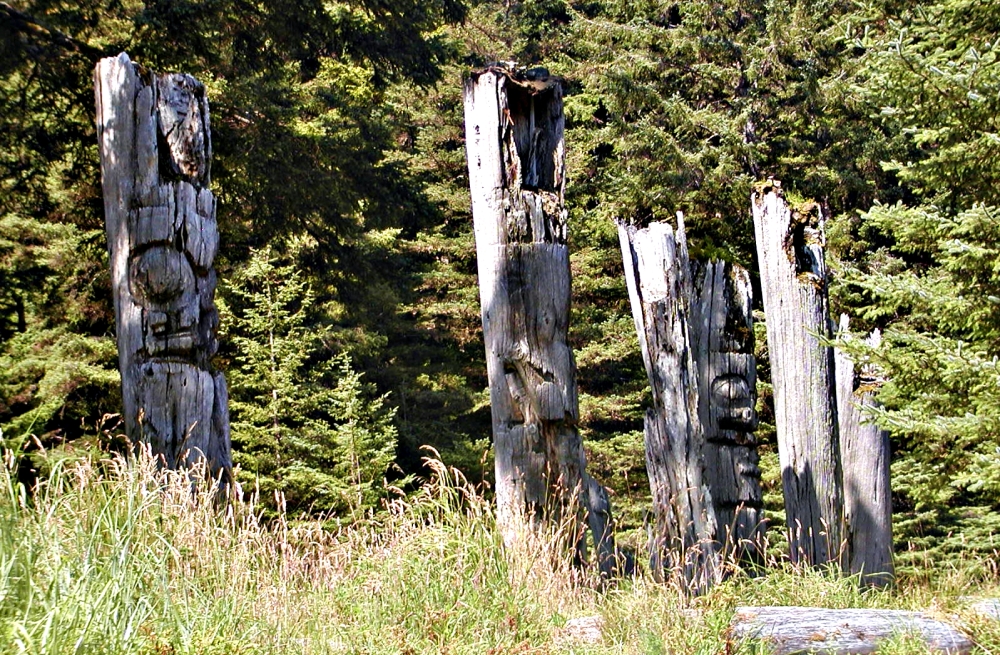 Writing-on-Stone / Áísínai'pi

Writing-on-Stone Provincial Park is the most recently designated UNESCO World Heritage Site in Canada (July 2019). Located in Southern Alberta just five kilometers from the United States border, it is one of the largest protected areas in the Canadian plains. It contains the highest concentration of ancient indigenous rock carvings and paintings anywhere in the North American Great Plains and is sacred to the Blackfoot (Niitsítapi) and other indigenous peoples.

The isolation of Writing-on-Stone is part of its appeal; it's on the way to virtually nowhere, and you'll have to drive some 3.5 hours to reach it from the nearest major city (Calgary). The park's landscape, which consists of the Milk River Valley, is characterized by arid plains. One of the most fascinating aspects of visiting is seeing numerous sandstone 'hoodoos,' a kind of windswept rock formation with a flat table on top.

To experience the park's most unique feature, its 50+ sites with pieces of rock art over 3000 years old, stop in first at the park's visitor center for information, then follow the self-guided interpretive trail, which includes several great viewpoints and access to pictographs and petroglyphs. However, to view the best ones in the park, you'll need to join a guided tour (summer only, three times per day), as these are strictly protected.

Besides the indigenous rock art, the park is also home to a wide range of wildlife, including falcons, bobcats, leopard frogs, and rattlesnakes. To best experience the park, spend the night at its campground, with campsites shaded in by cottonwood trees. Comfort camping is also available in large, luxurious canvas tents.
By Nick Kembel of Spiritual Travels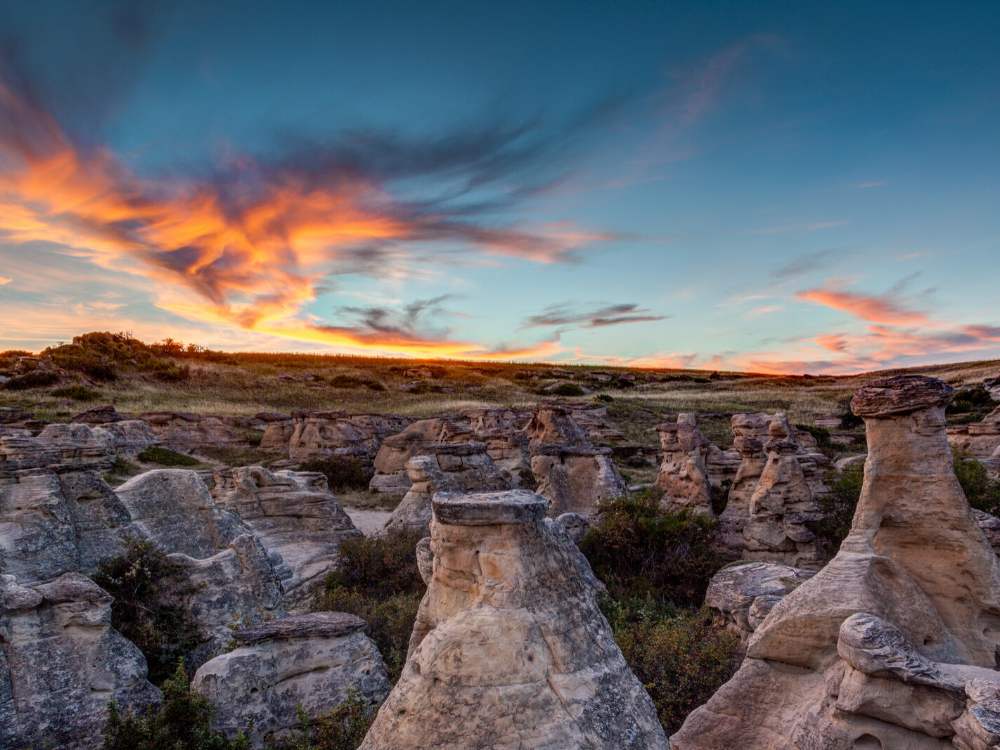 Natural UNESCO World Heritage Sites In Canada
Canadian Rocky Mountain Parks
The Canadian Rocky Mountain Parks in Alberta and British Columbia were collectively inscribed by UNESCO as a World Heritage Site in 1984. Included in the designation are four national parks- Jasper, Banff, Yoho, and Kootenay- and three provincial parks- Mount Assiniboine, Mount Robson, and Hamber.
These parks were chosen for inscription because of their phenomenal natural beauty and outstanding geological features that illustrate the Earth'sEarth's evolution. From a significant collection of marine life fossils to the uplifted sedimentary rocks of the continental divide, the region tells a story of hundreds of millions of years of natural history.
During a road trip in the Canadian Rocky Mountains, you'll see many examples of the glacial processes that have shaped the landscape into what it is today. Towering rocky peaks frame vibrant lakes filled with various shades of turquoise water. Icefields and glaciers occupy alpine valleys while rivers and waterfalls rage through deep canyons.
This exceptional beauty made me first fall in love with the Canadian Rocky Mountain Parks, but over the years, I've discovered their endless potential for outdoor recreation and adventure, no matter the season. From breathtaking hikes, scenic boat trips, soothing hot springs, and exciting wildlife sightings, these parks keep me coming back year after year.
The most convenient gateways for accessing these parks are Calgary and Edmonton. After flying into one of these international airports, you can then rent a car and drive to the mountains.
Explored by Rhonda Krause from Travel? Yes Please!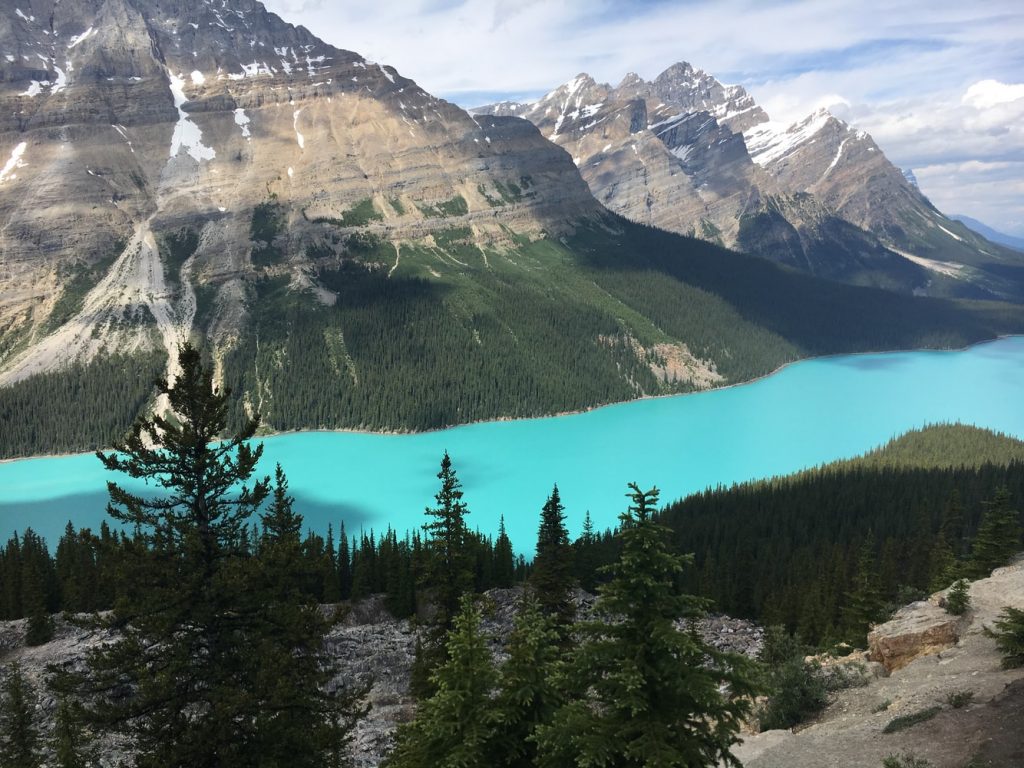 Dinosaur Provincial Park
To me, the Dinosaur Provincial Park is the coolest and most unique UNESCO world heritage site that stands out from the others. The site is located about 200 kilometers east of Calgary, or 150 kilometers south from Drumheller in the Red Deer River Valley.
While visitors could take a bus from Calgary to Brooks (the closest city to the Provincial Park), the best way to explore the Dinosaur Provincial Park is self-driving. It is an easy 2.5-hour drive from Calgary via Trans-Canada Highway #1, go north on Highway 873 from Brooks, then turn east onto Highway 544. Follow the park signs, and you will find yourself at the visitors center – this is the place you start your trip to the park.
So why do I think the park is cool? First of all, the park is the world's richest dinosaur fossil site. It became a UNESCO World Heritage site in 1979 because it is nearly 500 species of ancient lives were unearthed here, from fossils to full skeletons of fish, amphibians, mammals, and dinosaurs. These specimens (nearly 100,000 of them, including 35 types of dinosaurs) are now on display in the Royal Tyrrell Museum in Drumheller.
Today, you may still find real dinosaur bones in the park. One of the best experiences here is to follow a guide, walk through the badland's lunar landscape and learn about the lives of dinosaurs in the past – it was a great field trip before us visiting the Royal Tyrrell Museum. While we visited there in October, it's already too cold for us to go camping in the campsites; yet the snow-covered rocks and dry land create a vivid image of how the ice age looked like when the dinosaurs were still alive.
Explored by Kenny from Knycx Journeying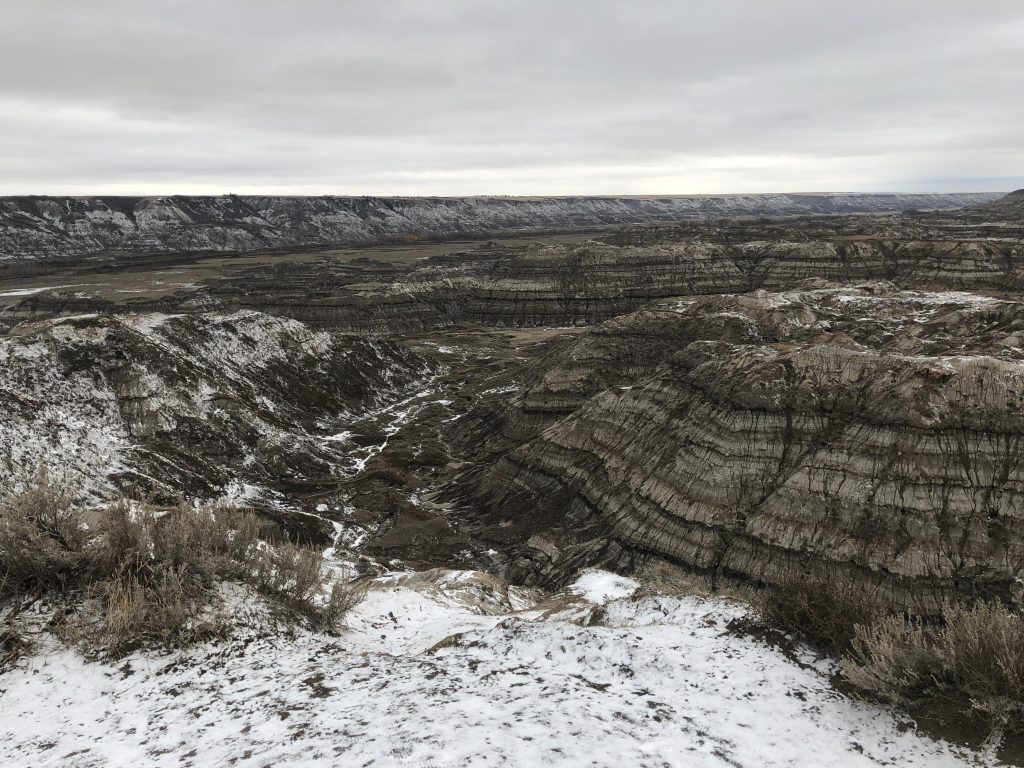 Gros Morne National Park
Gros Morne National Park is located on the west coast of the island portion of Newfoundland and Labrador. The west coast of the island is best accessible by air, arriving at the Deer Lake Airport 30 minutes south of the entrance to Gros Morne or by sea, arriving on the Marine Atlantic Ferry to the port of Port Aux Basques, four hours to the south of Gros Morne. The park is huge, so you'll definitely need a car to explore.
Gros Morne was inscribed as a UNESCO World Heritage Site in 1987. It is known and protected for its natural beauty and geological formations. Millions of years ago, tectonic plates collided, which created many of the mountain ranges we have today. Gros Morne National Park is one of the only places in the world where this can actually be seen. At the southern edges of the park, visitors can see and walk on the Tablelands. The orange, desert-like Tablelands are actually a part of the Earth'sEarth's mantle (interior) that was exposed when these plates collided. As they enjoy hiking trails and boat trips, visitors can also experience million-year-old glacial lakes, waterfalls, and fjord valleys as they explore the park.
The geographic and geological variety from the south to the north is probably what I love so much about Gros Morne. The park also caters to a variety of visitors from those enjoying long multi-day hiking experiences to those that prefer short walks on boardwalk trails. It allows everyone to truly enjoy the amazing beauty and geology of the park.
Explored by Joanne from Sunsets and Roller Coasters
Joggins Fossil Cliffs
Joggins Fossil Cliffs is a unique site in Canada. Located in Nova Scotia, about two and a half-hour drive from Halifax and an hour from Moncton, this preserved area's location is extremely important. Joggins is indeed located on the other side of the Bay of Fundy, which is home to the biggest tides in the world. The exposed cliffs hold history from 300 million to 100 million years ago.
It is no wonder UNESCO chose to have Joggins listed as a World Heritage Site. Joggins is the best-preserved fossilized rainforest in the world (hard to imagine in present-day Nova Scotia!), and up to 148 species of fossils have been found on site. The Joggins Fossil Cliffs have even been nicknamed a "coal age Galápagos," due to the understanding the rocks and fossils of the site have shed on the history of the Earth.
Visiting Joggins Fossil Cliffs is easy. You decide on how long you want your guided tour to be – it could range from half an hour to a half-day. A ticket also gives you access to the Interpretative Gallery, where you can learn about the history of the region while waiting for your tour to start. The displays are well done, and there are lots of child-friendly activities. Then, a guide takes you to the beach, and it's really a treasure-hunt game: the guide will pick up fossils on the spot (each visit is different because of the tide) and discuss with you its age and origin.
Explored by Kenza Of Cups of English Tea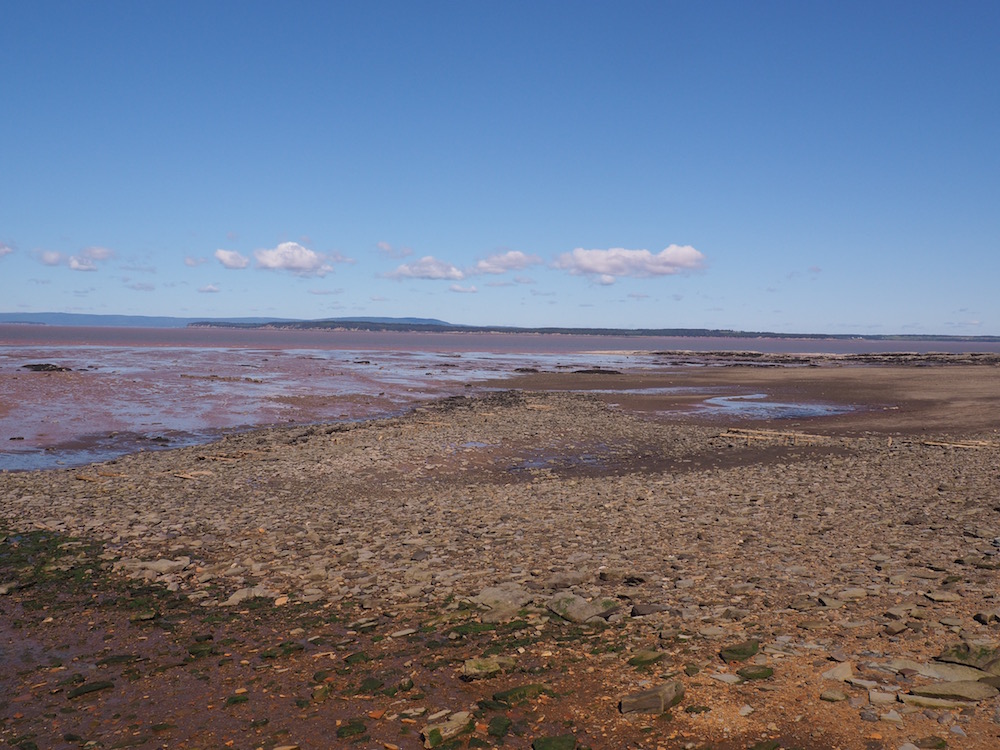 Kluane / Wrangell-St. Elias / Glacier Bay / Tatshenshini-Alsek
A natural UNESCO heritage site in Canada that is jointly shared with the United States. A series of four parks that cover an extraordinary network of glaciers and high peaks on both sides of the border between the United States (Alaska) and Canada (Yukon Territory and British Columbia) and is considered to be the largest non-polar icefield in the world.
Distinguished by towering mountains, pristine icefields, and massive glaciers, the unique property shifts from an almost polar interior to various biogeoclimatic zones on the coast. The Tatshenshini and Alsek river valleys are particularly important to the site's uniqueness. They provide ice-free linkages between the coast and the interior for plant and animal movement.
This results in extremely high biodiversity of plants and animal populations throughout the sites, including ecosystems of marine, coastal forest, montane, sub-alpine, and alpine tundra. The magnificent natural landscape is notable for its significant population of grizzly bears, caribou, and Dall's sheep, along with its demonstration of glaciation and landscape modification through glacial action.
While rather challenging to reach, explorers come here for a backcountry odyssey with glacier rafting, exceptional day hikes, and jaw-dropping scenery. There is plenty of options and ways to experience this world heritage site, including by boat and place. Still, the easiest is probably via the Alaska-Canadian Highway or with a Canadian tour.
Miguasha National Park
The significant palaeontological site of Miguasha National Park located on the Gaspé peninsula in south-eastern Quebec provides the world's most notable instance of insight into the Devonian Period, also referred to as the 'Age of Fishes.'
The geology and fossils here have been dated to around 370 million years ago, and the 'Upper Devonian Escuminac Formation/ Miguasha Fossil Site' records evidence of five of the six fossil fish assemblages correlated with this stage in the Earth evolution. The significance of the Miguasha National Park derives specifically from the discovery of large numbers of exceptionally preserved fossil records of the lobe-finned fishes that would eventually evolve into the first four-legged, air-breathing terrestrial vertebrates – aka tetrapods.
While it might not be physically much to look at, this UNESCO world heritage site in Canada allows scientists to better understand a vital time during Earth's evolution.
One of many notable fossil records in Canada, a visit to the Miguasha National Park museum, allows visitors to explore exhibits, including 9,000 specimens of fossil fish and plants, for a better understanding of what exactly went on.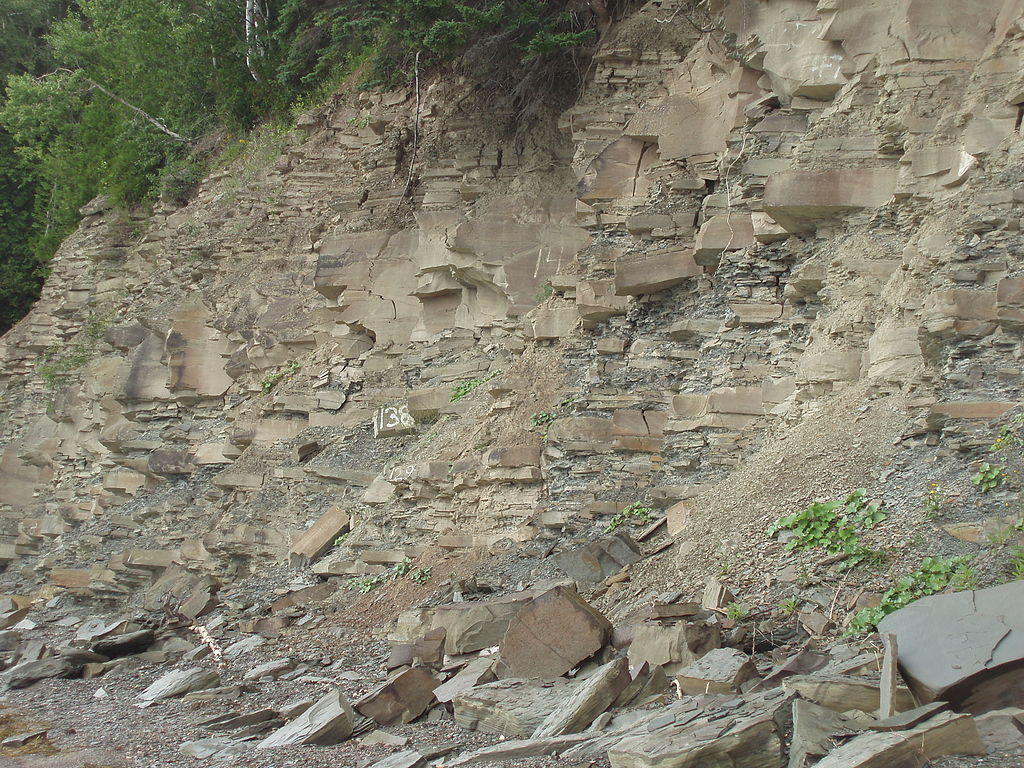 Mistaken Point

Located just two hours south of St. John's, the provincial capital of Newfoundland, Mistaken Point is 17 kilometers of rugged cliffs standing tall against the Atlantic Ocean. But what makes these particular cliffs different from all the others on the island are the ancient fossils found within them.

Following the Irish Loop road along the coast, you pass through some absolutely stunning scenery along the way. The only way to see the cliffs and fossils themselves is through a guided tour from the nearby village of Portugal Coast South, which must be booked in advance. From the visitor center, you drive behind the guide into the Mistaken Point Ecological Reserve, a protected area, before hiking along the coast for about half an hour.

Once you get to the fossil bed, your guide hands out soft slippers to put on in place of your shoes, in order to protect the fossils. Because, yes, you actually walk on top of the fossils! These fossils and cliffs are 560-580 million years old and are the oldest known collection of large fossils anywhere in the world.

It's no wonder UNESCO decided to protect them by giving the area World Heritage Status. Reaching down and touching something so unbelievably old is quite the experience. I tried to imagine what the world looked like when these organisms were alive and failed miserably.

Between the fossils, the cliffs and the beauty all around, Mistaken Point makes for a perfect day trip from St. John's.

Explored by Dearbhaile from This Wild Life Of Mine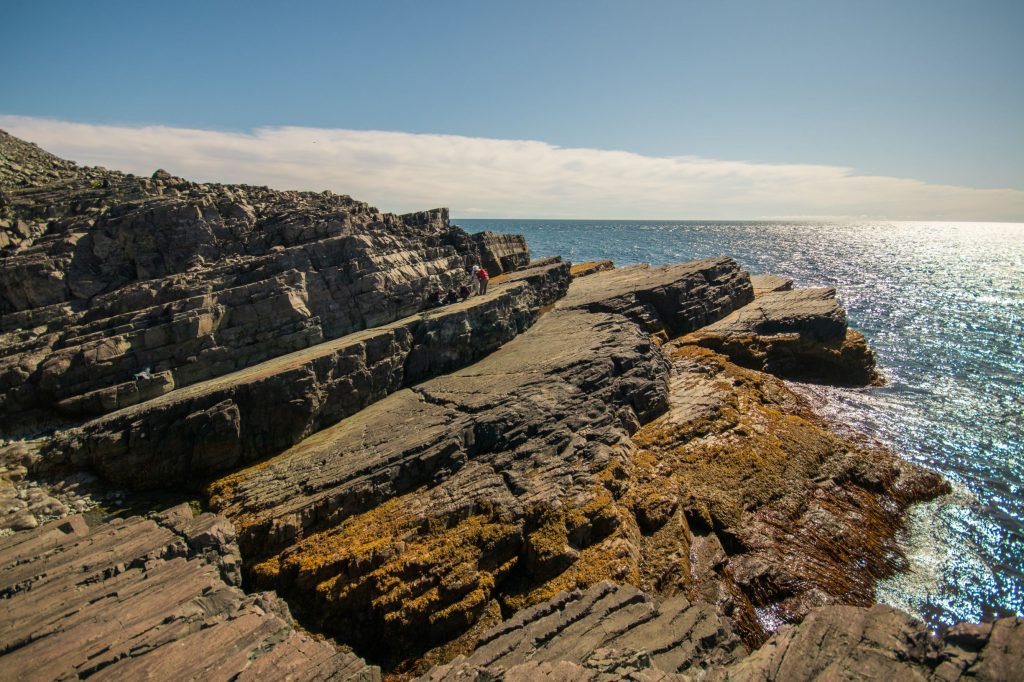 Nahanni National Park
Centered around one of the most magnificent wild rivers in North America, the South Nahanni River, this world heritage site includes deep canyons, immense waterfalls, and a series of unprecedented limestone caves – along with other unique geologic and natural phenomenon.
Found in the Northwest Territories, Canada, roughly 500 km west of Yellowknife, the South Nahanni River is older than the mountains it carves its way through and as a result has produced one of the most distinct examples of river canyons in the world, with four noteworthy canyons formed by the river reaching up to around 1,000 m (3,300 ft) in depth.
The geomorphology of the site is therefore exceptional in its abundance of natural forms form by complexity evolutionary fluvial processes and is unmatched by any national park in Canada. Within the Nahanni National Park are representatives of nearly every category of river or stream classifications, along with one of North America's most dramatic waterfalls, Virginia Falls. The park is also noteworthy as a refuge of boreal forest animals protected here, including wolves, grizzly bears, and caribou.
The Nahanni National Park Reserve park office must be reached either via air or hiking, and there are no public roads. The vast majority of tourists arrive on floatplanes chartered in the nearby regional communities, including Fort Simpson and Yellowknife in the Northwest Territories, Muncho Lake in British Columbia, and Watson Lake, Yukon.
Waterton Glacier International Peace Park
In a country where stunning scenery is seemingly around every corner, Waterton National Park still stands out. Located 260km from Calgary in Alberta, the park borders Montana's Glacier National Park in the USA, where the Alberta prairies collide with the Rocky Mountains. It's a UNESCO World Heritage Site and UNESCO Biosphere Reserve.
Waterton also forms part of the world's first International Peace Park. In 1932, Waterton Lakes National Park was combined with Glacier National Park to commemorate the peace and goodwill that Canada and America share. The idea behind the park was to create shared management of one ecosystem. There are now 170 such peace parks around the world.
What is particularly special about Waterton – in addition to the spectacular scenery – is that it still feels relatively undiscovered. In contrast to some of Alberta's more famous parks, Banff and Jasper, Waterton still maintains a homegrown feel. The small town of the same name sits within the park itself. It's laidback and low-key, made up of just a handful of streets and family-run shops and restaurants.
The myriad hiking trails are Waterton's main attraction, with Crypt Lake Trail being the most famous hike in the area. Other activities include cycling, wildlife watching, horse riding, and the annual wildflower festival.
Explored By Katja From Globetotting.com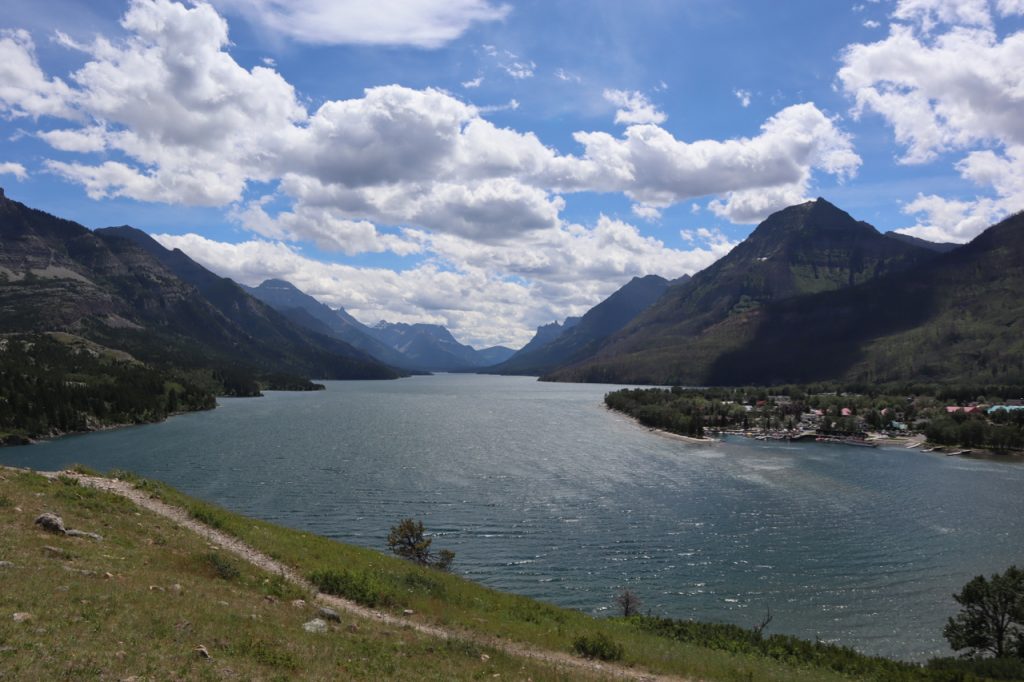 Wood Buffalo National Park

Straddling the border between the Northwest Territories and Alberta, Wood Buffalo National Park became Canada's largest national park in 1922. At 44,807 km2, Wood Buffalo is larger than Switzerland!

While it's sheer size is incredible, there are a number of reasons why it's been classified as a UNESCO World Heritage Site. First, Wood Buffalo National Park is home to the largest free-roaming heard of wood bison in the entire world. Second, it's one of just two nesting grounds for the endangered species, the Whooping Crane.

Third, Wood Buffalo is home to incredible geological formations such as the salt flats, which are the only ones within Canada. These are all amazing reasons which make Wood Buffalo special, but for me, it was the vast wilderness that really took my breath away. It's one of the few places in the world where you can accessibly disconnect and fully connect with nature. I mean it – you'll find little to no cell service in the entire park! Oh, and it's one of the best destinations in the world to see the Northern Lights.

It's an eight-hour drive from Yellowknife to the park's visitors' center in Fort Smith, but it's worth the trek. If you're planning on visiting, be sure to do so in the summer months. August is a perfect time as you'll be able to catch the Thebacha Dark Sky Festival and experience true northern hospitality!

Explored By Lindsay of I've Been Bit! Travel Blog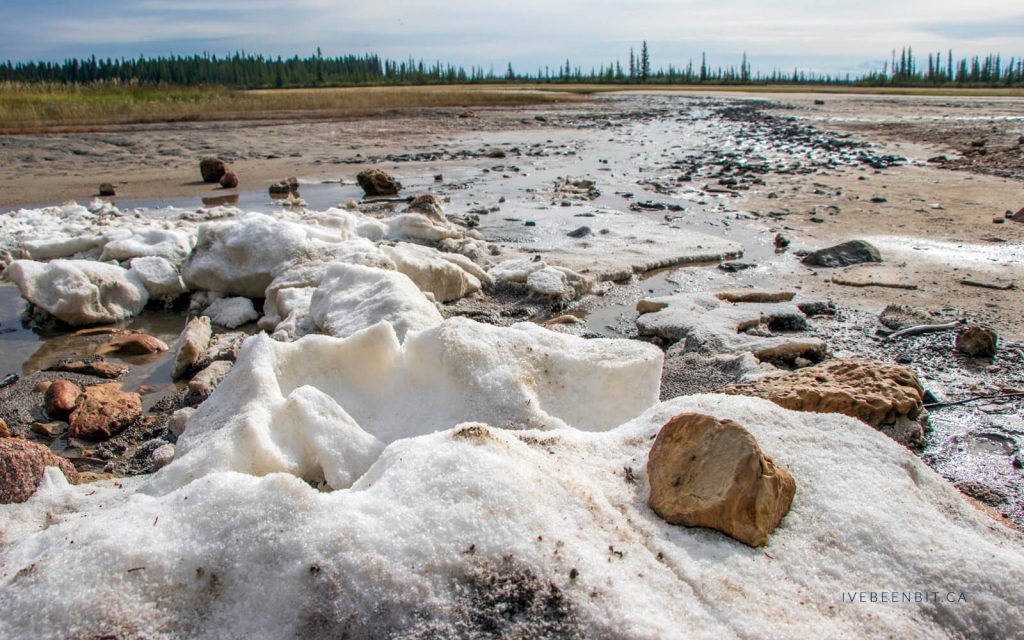 Mixed UNESCO World Heritage Sites In Canada
Pimachiowin Aki
Pimachiowin Aki (translated as 'The Land That Gives Life') is the only mixed world heritage site in Canada – and one of very few in the world. Found in the Boreal forests that cover portions of Manitoba and Ontario, this 29,000 square kilometers area constitutes an exceptional collection of rivers, lakes, and wetlands. It also covers a section of the traditional home of the indigenous Anishinaabeg people, who subsist here through fishing, hunting, and gathering.
The inscription of Pimachiowin Aki took place in 2018 after a partnership between four of the five original First Nations and includes sections of the Manitoba Provincial Wilderness Park of Atikaki Provincial Park and the Ontario Woodland Caribou Provincial Park.
Pimachiowin Aki comprises the ancestral lands of four Anishinaabeg communities (Bloodvein River, Little Grand Rapids, Pauingassi, and Poplar River). The site is also an outstanding illustration of the cultural custom of Ji-ganawendamang Gidakiiminaan ('keeping the land') still undertaken here, which involves of venerating the provisions of the Creator, appreciating all forms of life, and sustaining harmonious relationships with others.
A complicated arrangement of sustenance sites, occupancy sites, travel courses, and ritual locations at Pimachiowin Aki, usually connected by waterways, attests to this ancient and enduring tradition.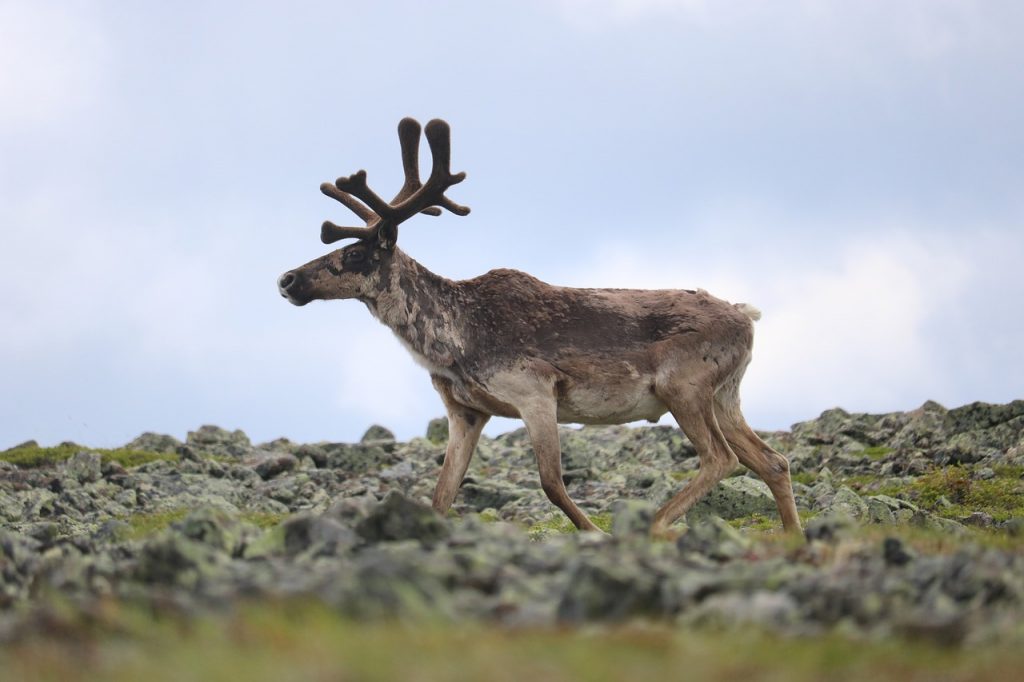 ---
And there you have it—all of the world heritage sites in Canada. Hopefully, you have learned something about this country's history already through these sites. Maybe some of them have even inspired your future travels. If you get the opportunity to visit, please make choices that encourage the protection of these special places for future generations.
If you haven't quite had enough, Canada also has tentative UNESCO sites which it has proposed but has yet to be ratified. These may or may not be included at a future date but are very telling in that they are what each country considers to be it's cultural and/or natural heritage of outstanding universal value.
They typically are worthy candidates for inscriptions and should be of interest for adventurous travelers who want to explore under-the-radar spots before they become touristy.
For Canada, these tentative sites are:
Gwaii Haanas
Ivvavik / Vuntut / Herschel Island (Qikiqtaruk)
Quttinirpaaq
Tr'ondëk-Klondike
Île d'Anticosti
Hecate Strait and Queen Charlotte Sound Glass Sponge Reefs Marine Protected Area
Qajartalik
Sirmilik National Park and Tallurutiup Imanga (proposed) National Marine Conservation Area
Stein Valley
Wanuskewin
Yukon Ice Patches
Happy exploring!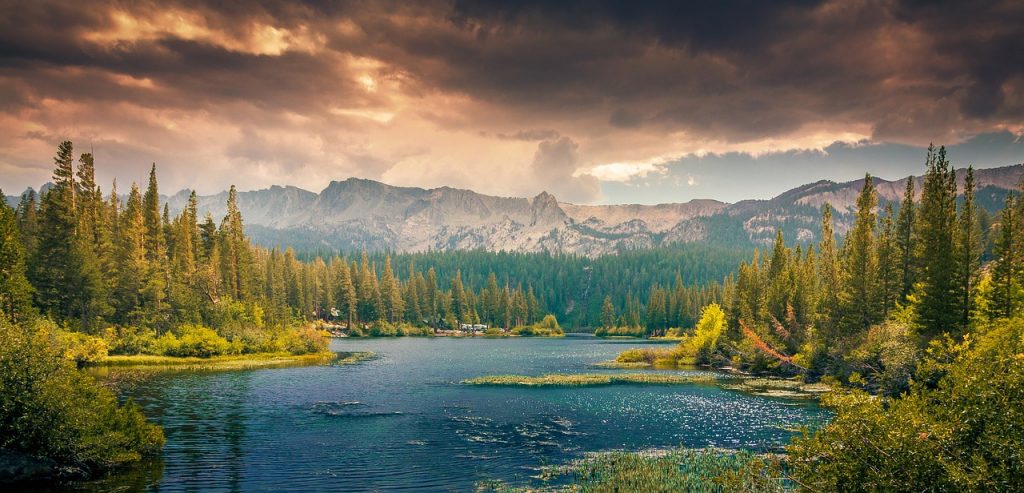 Further Things To Consider Before Any Adventure
Now you're all set and prepared to explore our big wide world, why not sort out everything else out all in one go? If necessary for your travel plans make sure you have brought proper travel insurance, protected your privacy by getting a secure VPN, compared all the top hotel booking sites to find just what you're after, reserved an unbeatable rental car price and - of course - booked the best flight deals!
Or maybe just forget it all and go for a last-minute cruise or effortless tour instead?
Many budget travelers (including me) indulge in worldwide airport lounge access, so we can experience luxury while still slumming it in economy. Naturally, we would never leave home without a more general travel guide since we couldn't possibly cover everything here!
Just add an adventurous attitude and plenty of smiles - they go a long way - and that about covers it all! Now go out, find your own path and don't forget to share your best inspiration stories with me on Facebook, Twitter, and Instagram...I'd love to hear from you!