Vietnam is well known for its extraordinary natural diversity, vibrant culture, and remarkable urban landscapes. Fittingly, Vietnam is also home to eight of the more than 1,000 World Heritage Sites worldwide, as inscribed by the United Nations Educational, Scientific, and Cultural Organization (UNESCO).
Vietnam's captivating UNESCO sites include magnanimous temples, extensive national parks, and geological wonders. These sites range from the iconic Ha Long Bay and the spectacular Hoi An Ancient Town to the far-flung Phong Nha-Ke Bang National Park and hidden My Son Sanctuary.
The theme of culture is prevalent throughout these eight sites. However, there are also critical natural and mixed sites that reflect Vietnam's remarkable natural heritage. Some of these sites are landmarks of Vietnam but a few are rather obscure and likely only known to the most persistent of travelers.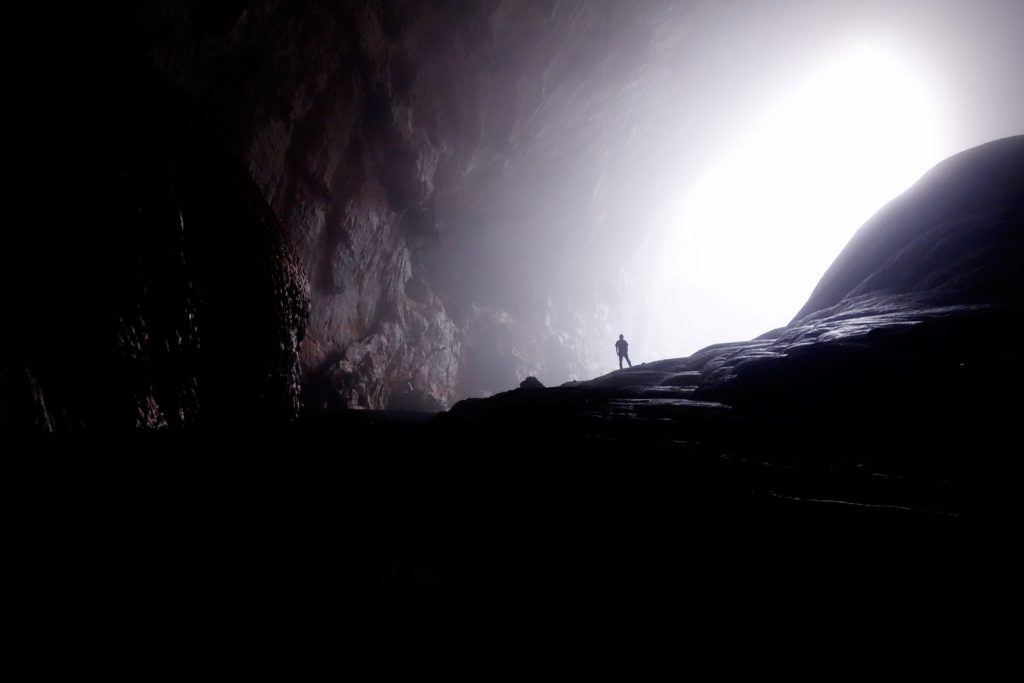 UNESCO is a bureau of the United Nations that endeavors to support the protection and growth of the world's intellectual and cultural property and elects UNESCO sites due to their "outstanding universal value" in science, history, or culture. As a result, UNESCO Sites are meaningful to the mutual interests of humanity – and legally guarded by international treaties.
Travel influenced by UNESCO sites allows visitors to explore esoteric spots, aid preservation, obtain specific knowledge about the history of Earth and humanity – and to wonder at unequivocally majestic sites.
While a few such as the bewitching Moai of Easter Island and the majestic Persepolis in Iran are famous around the world, there are far more untouristy UNESCO sites worthy of insertion in any 'off-the-beaten-track' bucket list.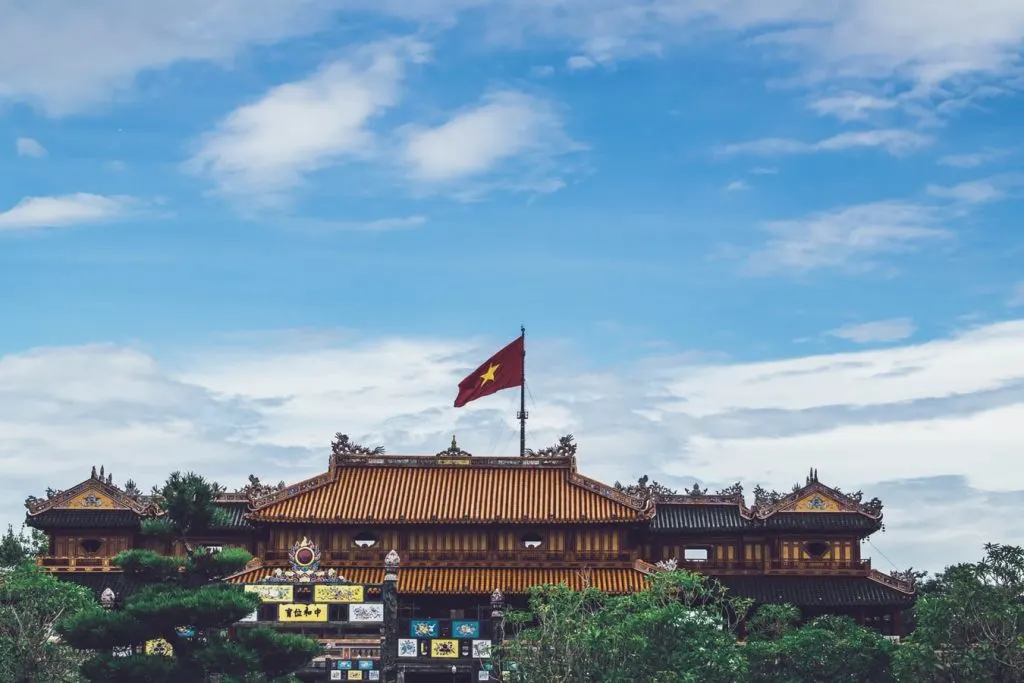 Inscriptions settle into two categories: cultural and natural locations, or a combination of both (mixed). There are currently 8 UNESCO world heritage sites in Vietnam, five cultural ones, two natural ones, and one mixed. While I have visited most of them myself, I have included all sites here – so you can get an idea of what makes each special.
So, why not immerse yourself in one or more of these sites on your next Vietnam vacation? From breathtaking natural wonders to unprecedented feats of human engineering, check out our exhaustive list of Vietnam UNESCO sites to determine which places resonate with you personally.
You can then use them as a roadmap for the trip of a lifetime.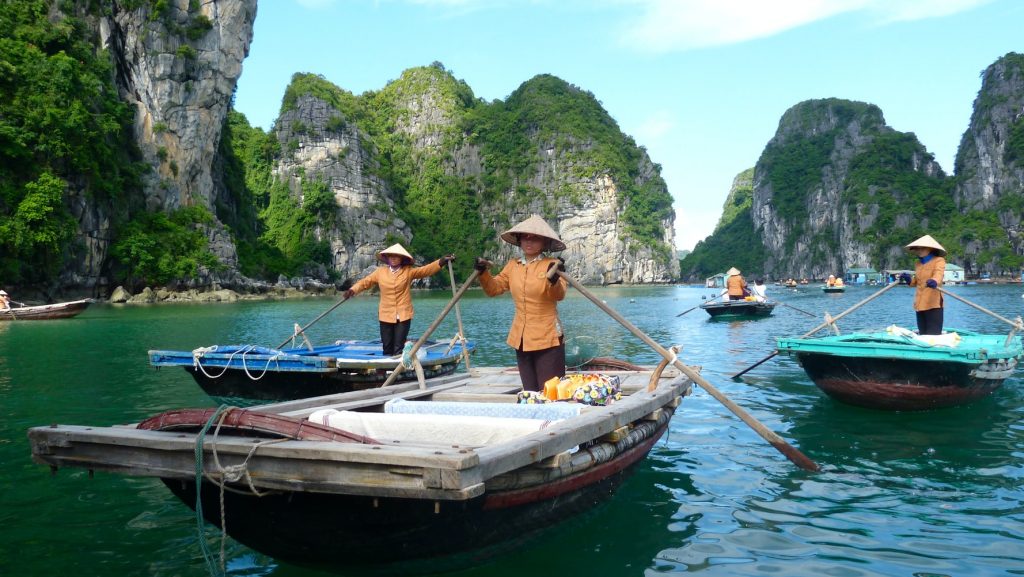 Cultural UNESCO World Heritage Sites In Vietnam
Central Sector of the Imperial Citadel of Thang Long
The hub of Vietnamese military power for over 1000 years, Hanoi Citadel, or the Imperial Citadel of Thăng Long, was built in the 11th century during the Ly Viet Dynasty. Constructed on land reclaimed from the Red River Delta – a significant achievement at the time- and over a 7th-century Chinese fortress, the Citadel marked the independence of the Dai Viet from their neighbors to the north.
The Imperial Citadel of Thang Long is also remarkable as it remained the uninterrupted center of provincial political power over the centuries until the Nguyễn dynasty moved their capital south to Huế in 1802.
After this time, the royal palace fell into disrepair. It was furthered ruined by the French conquest of Hanoi in the late 19th century. Many of the surviving structures were then torn down, and it was only very recently in the 21st century that the Citadels foundations were systematically excavated. This makes it unique in that it was inscribed by UNESCO so quickly – and without a comprehensive understanding of the site.
Dripping in history with plenty of small museums, shrines, look-outs, and photo spots – the Hanoi Citadel was awarded UNESCO World Heritage Status in 2010 and has since seen a significant overhaul. While the site's longevity, continuity, and significance are not disputed, much remains to be discovered here as archeological digs and research is ongoing.
Conveniently located in the center of bustling Hanoi, the Imperial Citadel of Thang Long remains an icon of the city – and Vietnam – that should not be missed!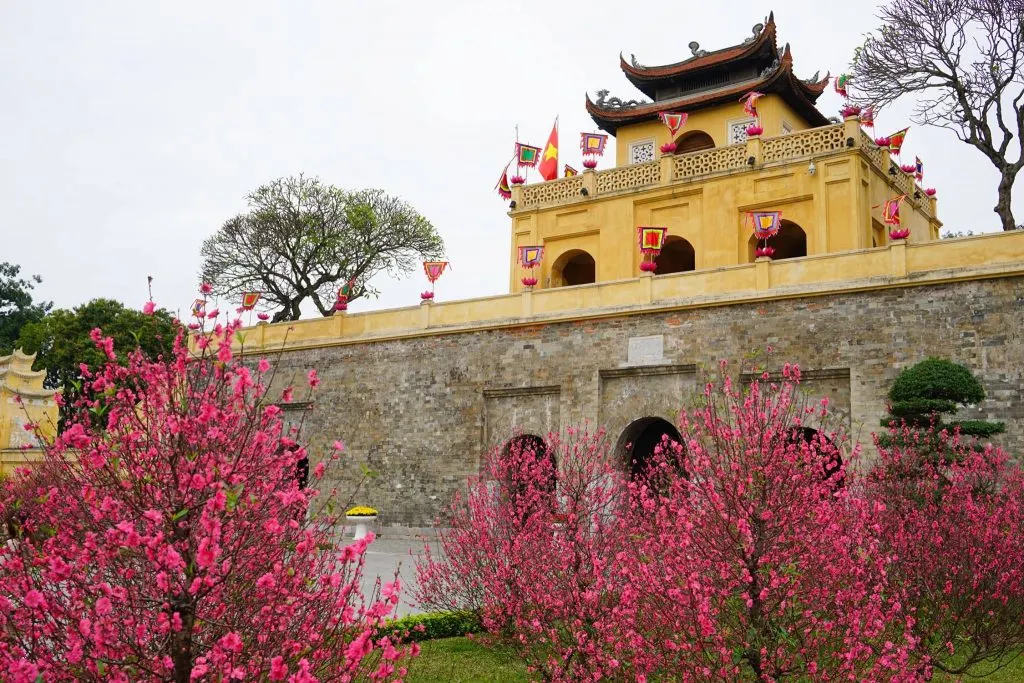 Citadel of the Ho Dynasty
The Ho Dynasty Citadel is a ruined castle constructed in the 14th-century following feng shui principles – although all that remains today is the entrance gate.
Found in Tây Giai in the Vĩnh Lộc District, today this is basically 'in-the-middle-of-no-where' but between 1398 to 1407, this was the capital of Vietnam. – Thankfully, adventurous tourists will find it is relatively accessible on a day trip from Ninh Binh.
The Citadel of the Ho Dynasty was inscribed by UNESCO as evidence of the proliferation of neo-Confucianism in Vietnam in this period, which then quickly circulated to other parts of east Asia. According to these feng shui teachings, the Citadel was positioned in a scene of great picturesque beauty on an axis between the Tuong Son and Don Son mountains and between the Ma and Buoi rivers.
While it is by no means as visually impressive as other UNESCO ruins like Tikal or Uxmal, the Ho Dynasty citadel denotes an exceptional example of a new construction style of south-east Asian imperial city. The assemble of enormous limestone blocks used in its construction showcase the advancement and adaptation of architectural technology in city planning.
At the same time, the decorative motifs visible throughout helped researchers understand how Confucian philosophy was fused with what was a predominantly Buddhist culture at the time.
More suited to history buffs than those wanting glorious, Instagram-worthy ruins, exploring the Citadel of the Ho Dynasty is still a fun adventure – and one you are likely to experience without another tourist in sight.
Complex of Hué Monuments
Another UNESCO World Heritage Site in Vietnam that was at one point the capital of unified Vietnam in 1802 (after it moved from Imperial Citadel of Thang Long in Hanoi). Hué remained the political and cultural and religious center of Vietnam under the Nguyen regime until the end of the last royal Vietnamese dynasty in 1945.
The plan of Hué as a new capital was set out following ancient oriental philosophy and work with the site's physical geography. As a result, the existing Perfume River winds naturally through the historical monuments of Hué, including the Capital City, the Imperial City, the Forbidden Purple City (a similar concept to the Forbidden City in Beijing), and the Inner City.
This philosophy also dictated the positioning of the site itself, chosen for the symbolic importance of the majestic Ngu Binh Mountain providing a 'Royal Screen' to the site, while the entire city was aligned cosmologically with the Five Cardinal Points (center, west, east, north, south), the Five Elements (earth, metal, wood, water, fire), and the Five Colours (yellow, white, blue, black, red).
Interestingly, during the opening phases of the Battle of Huế in the Vietnam War, U.S. troops were commanded not to bomb or shell the city due to Huế's religious and cultural status, which was a similar consideration that also saw Kyoto and the Imperial Palace in Tokyo protected in World War 2.
However, as casualties mounted, the U.S.A's resolve to preserve this heritage diminished, and the Imperial City saw considerable damage. Sadly, out of 160 buildings, only 10 significant sites remained afterward.
Things began to look up after this when Hué was designated a UNESCO site in 1993 and many buildings have been restored and repaired since then. As a result, the grounds of the Imperial City in Hué are one of the top attractions in Vietnam today, and one of the most intriguing highlights of the city – along with the abandoned waterpark near.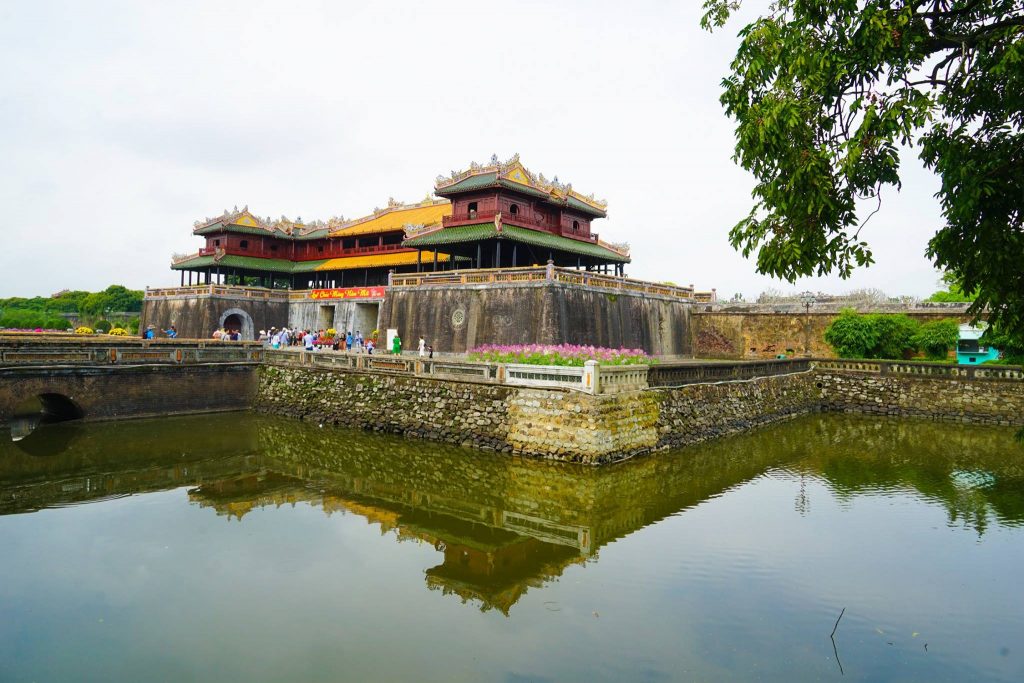 Hoi An Ancient Town
The celebrated town of Hoi An needs no introduction as it is probably the most well known cultural site in all of Vietnam.
Not only is it an unusually well-preserved example of a South-East Asian trading port dating back to the 15th century, but it also displays an amalgamation of indigenous and foreign cultures (notably Chinese and Japanese with later European influences) that ensured Hoi An, and thrived, over time.
By the early 18th century, Hội An was viewed by Chinese and Japanese shippers as the best address for trading in all of Asia. In fact, Hoi An was for a time, the sole trade channel between Europe, China, India, and Japan, particularly for the ceramic industry. This historical prominence is still visible today in the intricate traditional architecture, its street plan, rich heritage, and exquisite textiles, and ceramics dating from this period.
While Hoi An today might be a little Disney-esque, and comparisons with the over-touristy old towns of Prague or Tallinn are not without warrant, but it undeniably unique and beautiful. Adventurous tourists should also take time to explore outside the old town of Hoi An – and dive into the incredible food scene, relaxed pace of life, tropical beaches, and foreign-friendly nightlife on offer here.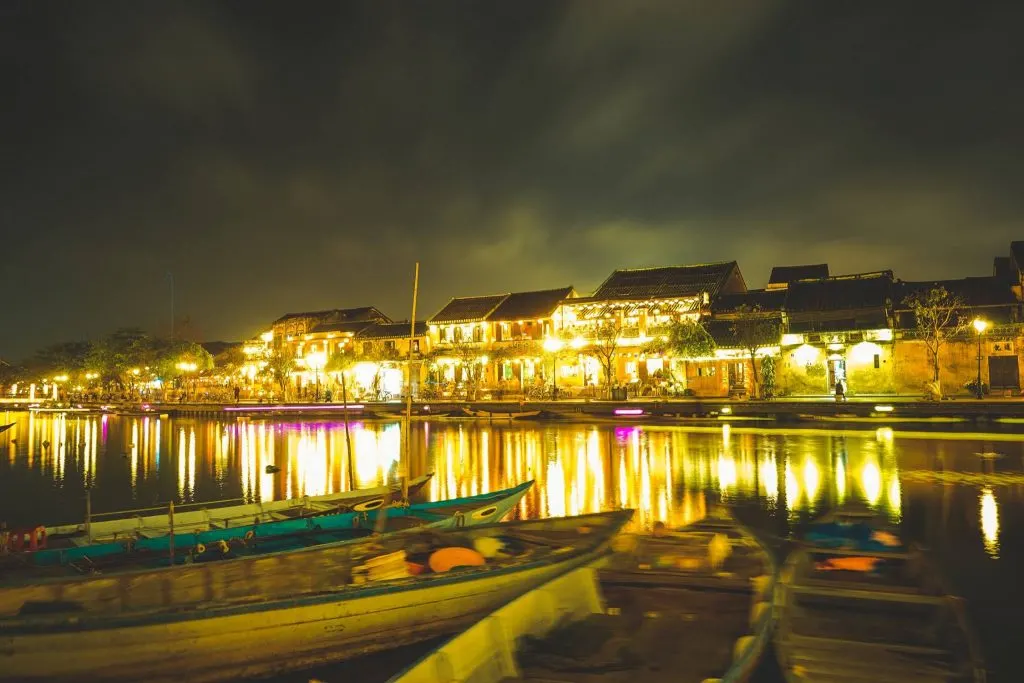 My Son Sanctuary
The ruins at My Son Sanctuary hark back to the early centuries AD when the Hindu Champa civilization ruled much of central Vietnam. This UNESCO world heritage site is a testament to this innovative culture that leaned on its spiritual origins to Indian Hinduism – rather than that of China to the north.
Found an hour south of Hoi An, it is often compared with other historical temple complexes in Southeast Asia, such as Borobudur of Java in Indonesia, Angkor Wat of Cambodia, Bagan of Myanmar and Ayutthaya of Thailand.
Following the victory of central Vietnam by the Viet and the deterioration and eventual fall of the Hindu Champa civilization, the Mỹ Sơn complex was largely forgotten and ceded to the forest for centuries. So, in a sense, half of the UNESCO sites in Vietnam showcase the movement of power around the land over time. First from My Son to the Ho Dynasty Citadel, then to the Imperial Citadel of Thang Long in Hanoi and finally to Hue.
But My Son ruins were not only subject to the ravages of time and the encroaching jungle. In 1969, during the American War, the Nixon administration targeted My Son from the air (because it was a Viet Cong haven). The 70 or so towers and attendant structures were hammered, but all things considered, the structures survived remarkably intact …even if they are surrounded by bomb craters.
Today mass tourism is also taking its toll on My Son Sanctuary – in large part thanks to it's UNESCO World Heritage listing. That doesn't mean you should skip My Son Sanctuary off your list of Vietnamese UNESCO sites. After all, it would be a shame to miss such an extraordinary architectural ensemble that was the center of spiritual and political life here for almost a millennia.
Instead, I recommend you brave the heat and hire a private driver to take you to My Son in the afternoon (when the crowds have all returned to Hoi An at around 1 pm). The good-back up is to sign up to any of the tour buses taking groups out for sunset on a half-day morning tour, which is generally less busy.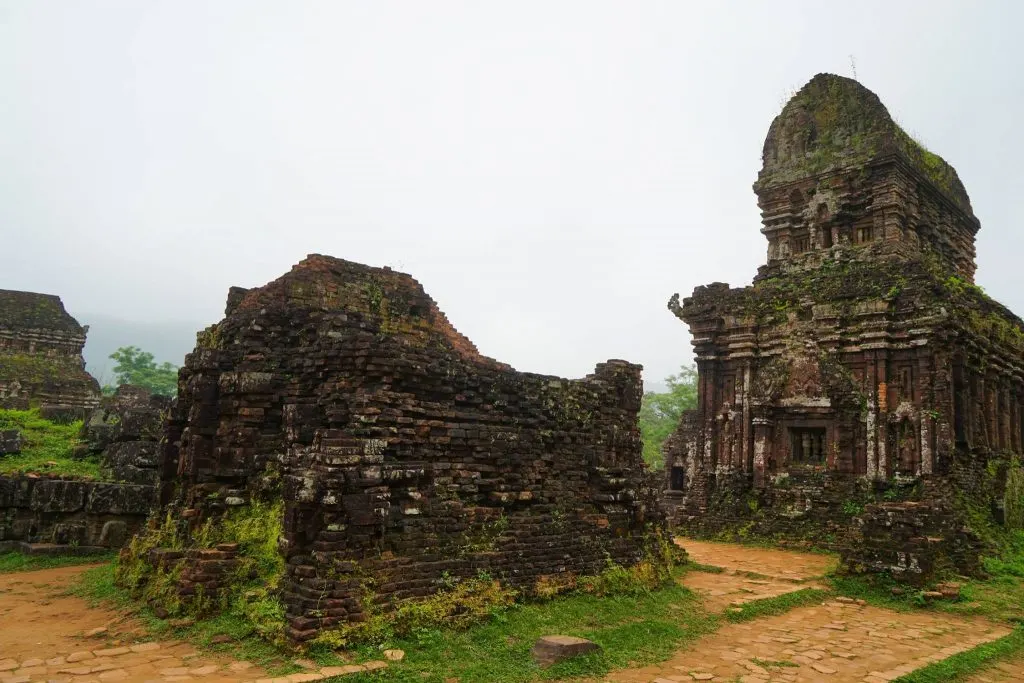 Natural UNESCO World Heritage Sites In Vietnam
Ha Long Bay
Ha Long Bay, in the Gulf of Tonkin, comprises an exalted collection of over 1,600 islands and islets, producing a dramatic seascape of limestone pillars.
As a result of the precipitous environment, most of the pillars and islands are uninhabited – and historically were uniquely unaffected by humans interference. Thus the property is inscribed by UNESCO not only for its biological and geological interest but also for its excellent scenic attraction.
Today, however, it would be tough to agree that Ha Long Bay is unaffected by human development. Ironically, as a direct result of it becoming a protected UNESCO Site in Vietnam, Ha Long Bay is suffering from over-tourism.
Tourists by the thousands flock here every day to take day cruises or overnight trips out to be amongst these magnificent pillars and to explore the arches, caves, and other coastal erosional features that make this place unique. Water quality is deteriorating, and its scenic attraction is diminished as more and more tourists descend on a few 'must-see' spots.
While Ha Long Bay is still an absolute must-see in Vietnam, I recommend you consider longer cruises that take less busy routes and explore the more far-flung reaches of this bay should you wish revel in the experience rather than just tick off a bucket list item.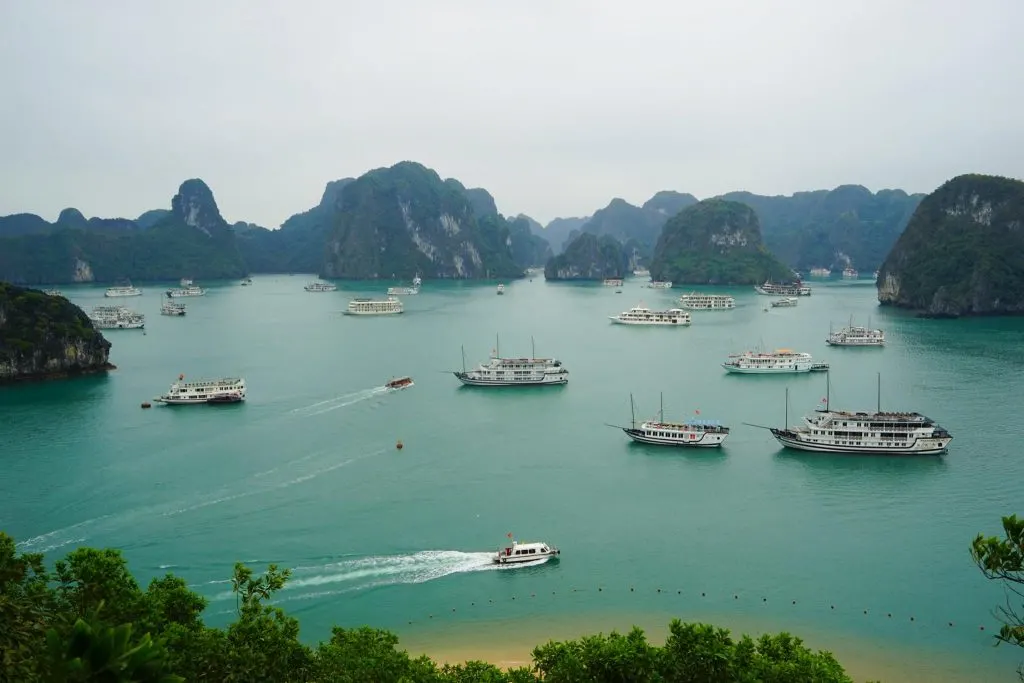 Phong Nha-Ke Bang National Park
The Phong Nha-Ke Bang National Park is a protected area in north-central Vietnam, just north of the 17th parallel demarcation along which Vietnam was once divided. Bordering the Hin Namno Reserve in Laos, this natural UNESCO world heritage site in Vietnam is renowned for its limestone karst mountains, lush tropical forests, and extensive underground river and cave network.
It is unique in its geological diversity and recognized by UNESCO in particular for its caves, including the Son Doong Cave cave, which is the largest in the world. Not to mention the incredible biodiversity of flora and fauna that is found here.
An area long lost on the typical backpacker trail, today tourism is booming in Phong Nha-Ke Bang National Park – just as researchers and conservationists are beginning to understand the uniqueness of the site. Already, the site has seen a 46 % increase in the area covered by its UNESCO inscription, and more revelations about the natural phenomenon on offer will be unearthed in the future.
Only a fraction of the park is open to tourists, but there is still plenty of hiking, cycling, multi-day wild-life viewing, and cave exploration. Independent explorations are not prohibited as a result of the unexploded ordnance left over from the Vietnam war.
Mixed UNESCO World Heritage Sites In Vietnam
Trang An Landscape Complex
Located on the southern margins of the Red River Delta (on which Hanoi is founded), the Trang An Landscape Complex is a striking landscape of limestone karst peaks and vertical cliffs penetrating deep valleys and meandering rivers. Geologically similar to the formation of Halong Bay, except without the intrusion of the ocean, meaning that humans were able to live here.
This is why the Trang An Landscape Complex is a mixed UNESCO World Heritage Site location in Vietnam as not only is it of natural significance, but the caves here also contain archaeological evidence of human activity over a continuous period dating back more than 30,000 years.
Most tourists opt to explore the property through a boat trip that takes you through caves and between valleys, exploring the temples, pagodas, and paddy-fields, which are also inscribed on the property. While this trip is nothing short of mind-blowing, it again is suffering from the effects of overtourism and its proximity to Hanoi.
To experience this site at its best, I recommend staying at nearby Ninh Binh instead of visiting on a day trip. This way, you can take a longer boat tour route, which more day-trippers do not have time for, and visit later in the day when most people have left.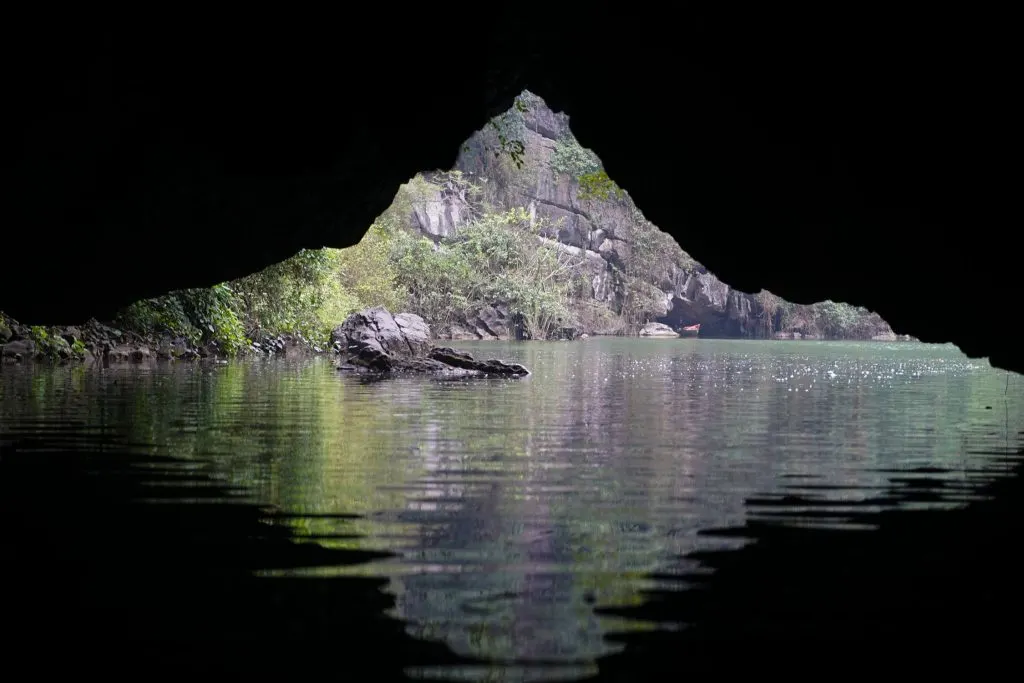 ---
And there you have it—all of the world heritage sites in Vietnam. Hopefully, you have learned something about this country's history already through these sites. Maybe some of them have even inspired your future travels. While overtourism is most certainly an issue, Vietnam has recognized this issue and is taking steps in the right direction.
If you get the opportunity to visit, please make choices that encourage the protection of these special places for future generations. This includes consideration of the transport you take in Vietnam, along with which Vietnamese tour companies you choose to support.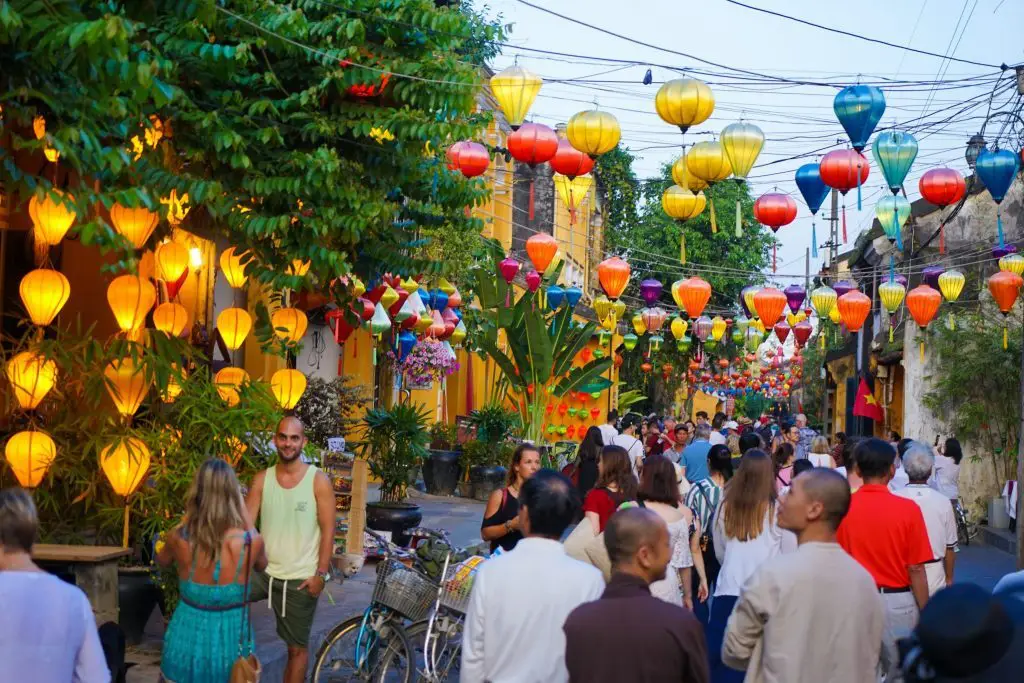 If you haven't quite had enough, Vietnam also has tentative UNESCO sites which it has proposed but has yet to be ratified. These may or may not be included at a future date but are very telling in that they are what each country considers to be it's cultural and/or natural heritage of outstanding universal value.
They typically are worthy candidates for inscriptions and should be of interest for adventurous travelers who want to explore under-the-radar spots before they become touristy.
For Vietnam, these tentative sites are the area of Old Carved Stone in Sapa, the Huong Son Complex of Natural Beauty and Historical Monuments, the Cat Tien National Park, the Con Moong Cave, the Complex of Yen Tu Monuments and Landscape, the Cat Ba Archipelago and the Ba Be – Na Hang Natural Heritage Area.
Happy exploring!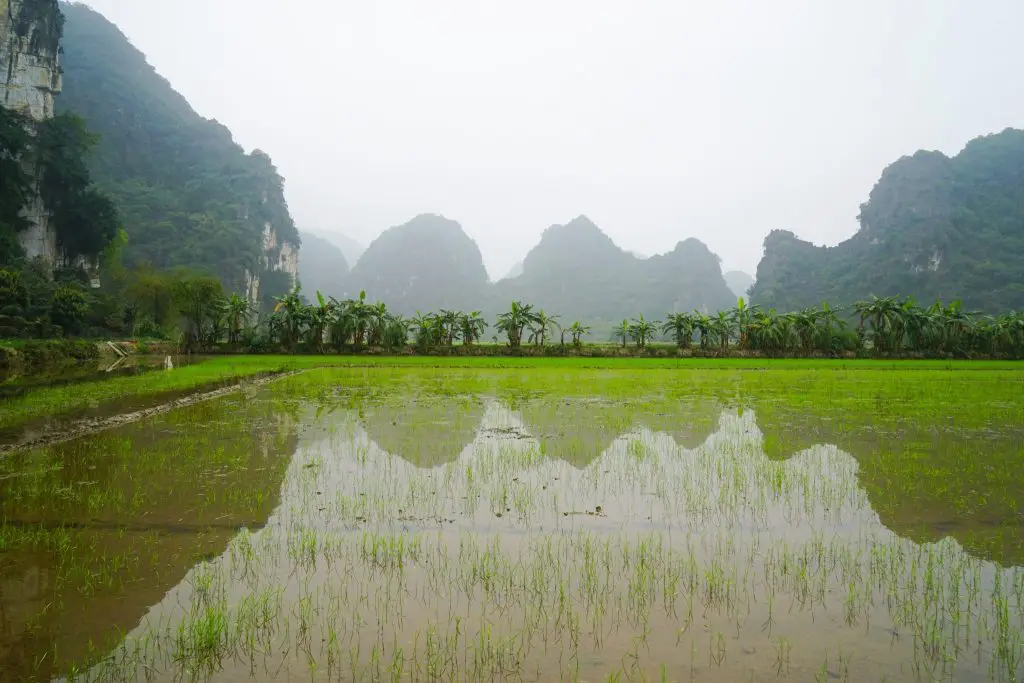 Staying Connected While Travelling
In today's increasingly connected world, staying online while traveling has become essential for a seamless experience. That's where eSIMs come into play, revolutionizing the way we access mobile networks during our global adventures. Say goodbye to hunting down local SIM cards at the airport; eSIMs provide instant activation the moment you land, sparing you the fortune usually spent on international roaming and allowing you to genuinely travel like a local (without getting hopelessly lost!).
With eSIMs, tasks like restaurant recommendations and reservations, up-to-the-minute public transport instructions, checking opening hours, and accessing further information become a breeze. And, of course, sharing your journey on social media is easier than ever. To stay connected wherever you roam, consider using either Airalo or Holafly. Airalo boasts the most extensive range of destinations worldwide, offering smaller data bundles tailored to your needs, while Holafly provides unlimited data packages and fantastic EU data deals.
So why wait? Embrace the future of travel connectivity with eSIMs and make your next journey effortlessly smooth.
Further Things To Consider Before Any Adventure
Now you're all set and prepared to explore our big wide world, why not sort out everything else out all in one go? If necessary for your travel plans make sure you have brought proper travel insurance, protected your privacy by getting a secure VPN, compared all the top hotel booking sites to find just what you're after, reserved an unbeatable rental car price and - of course - booked the best flight deals!
Or maybe just forget it all and go for a last-minute cruise or effortless tour instead?
Many budget travelers (including me) indulge in worldwide airport lounge access, so we can experience luxury while still slumming it in economy. Naturally, we would never leave home without a more general travel guide since we couldn't possibly cover everything here!
Just add an adventurous attitude and plenty of smiles - they go a long way - and that about covers it all! Now go out, find your own path and don't forget to share your best inspiration stories with me on Facebook, Twitter, and Instagram...I'd love to hear from you!