China is one of the world's most captivating travel destinations, a juxtapositioned mess of ancient and modern marvel from the magical gardens of Suzhou and the urban jungle of Hong Kong to the fairytale-esque Kunming Stone Forest and the mystical Forbidden City.
There is so much to see here. It can all seem a little overwhelming — but discovering the most famous landmarks in China is an excellent place to start…
There are captivating temples, holy mountains, inspiring stories, small towns, palaces, parks, arts and cultures galore, museums, and plenty of tradition. As you would expect of a country with over 3,000 years of civilization.
Amidst all this, it is easy to forget that this Asian nation is also extraordinarily well-endowed with incredible natural landscapes of fantasy-land karst mountains, deep gorges, lush forest walks, and the improbable rice fields.
There is so much to places to visit in China; you could spend a lifetime explore its riches and only just scratch the surface. This is why we have developed this cheat sheet to help you with your travels.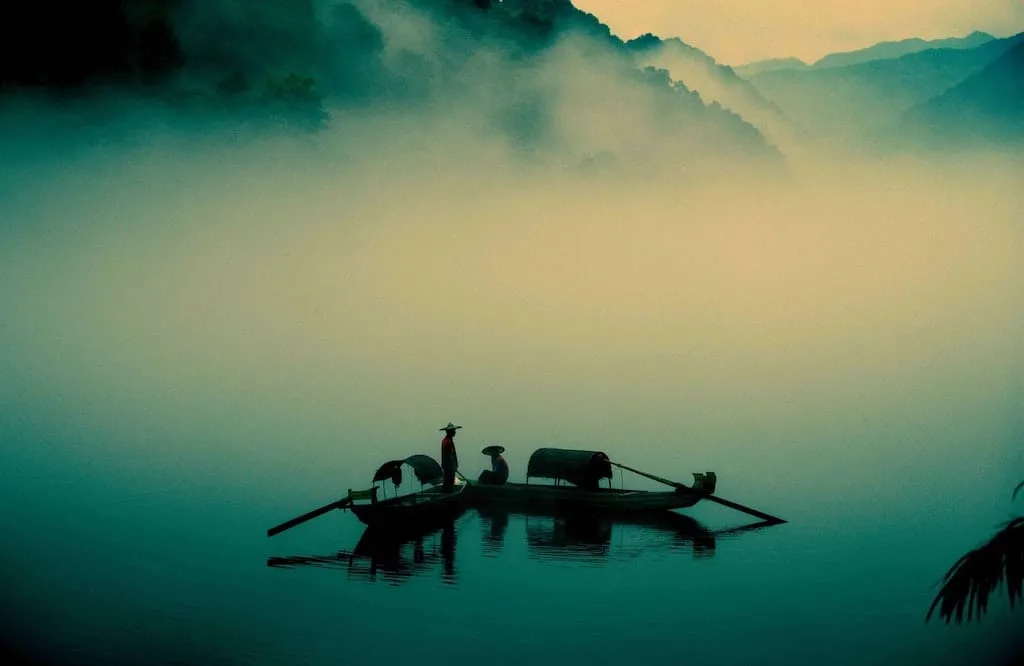 But first – what is a landmark?
A landmark is a recognizable natural or artificial feature that typically stands out from its environment and has become a local or national symbol. For modern tourists, a landmark is useful for navigation – in terms of both being a physical waypoint and in trying to help you organize your itinerary.
Getting the off-the-beaten-track is all well and good, but at the end of the day – there are some spots you just have to see when you visit a country. Think about the Sydney Opera House or Christ the Redeemer. Instantly recognizable places you couldn't miss if you tried. And China has more than its fair share…
When approaching a trip to this ancient land, you will want to tick off as many famous Chinese landmarks as you can – and the best way is to do that is often by taking a tour, or using the high-speed train network to get around.
We have decided to include Tibet, Hong Kong, and Macau within this — but not Taiwan — as it makes the most sense for future travelers planning out their adventures. Rather than a specific political statement, this is simply a recognition of the reality of which territories are under the sovereignty of the People's Republic of China (PRC).
There is a lot to explore in China — and no list of iconic Chinese landmarks could ever be exhaustive. But, we have tried to get the top highlights by putting a call out to our favorite travel bloggers and asking them to regale us with stories and helpful tips about their best-loved.
This way, you have a reasonable frame of reference to inspire your China travels from which you could choose a few landmarks that you absolutely cannot miss… or cram as many as possible into one trip.
If you plan it right — and have enough time—, you might just hit them all. And discover plenty more of your own highlights of China while you're at it!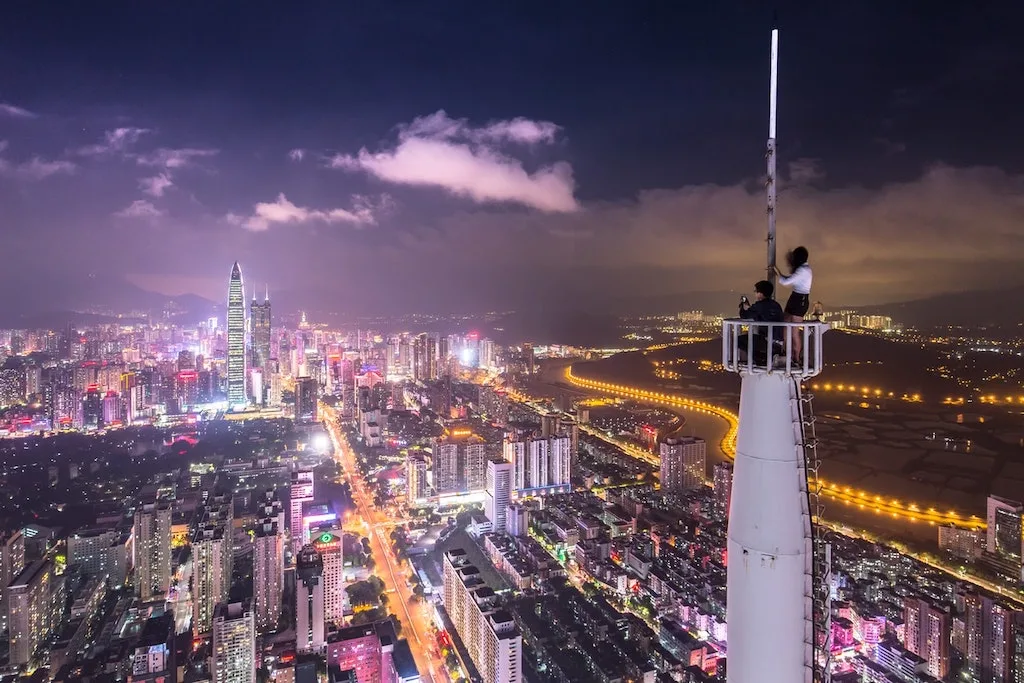 30 Famous Landmarks Of China To Plan Your Travels Around! 🇨🇳
CCTV Headquarters
The CCTV headquarters in Beijing is a remarkable take on the typology of skyscrapers. Rather than engaging in the quest for supreme height and elegance in a conventional two-dimensional tower rising skyward, the CCTV loop provides a completely three-dimensional experience.
The result is a modern famous landmark of China that cantilevers 75 meters — and is a prominent feature of most Beijing travel itineraries. Inside, the CCTV builds shape actually makes it easier to integrate the entire TV-making process in a system of interconnected activities.
That means unlike many of China's rather absurd looking buildings that have sprouted up in the 21st century, this one has form and function that make sense. Administration, news, broadcasting, and program production offices and studios are all enclosed within. Inside the main building is six horizontal and vertical sections providing 473,000 m2 of floor space.
Standing 234-metres tall and coming in at 51-story, this 'one and a half' building was completed in 2013 after almost a decade as a massive fire next door led to huge delays. It has since won a bevy of awards and is affectionately known as "big boxer shorts" by many locals.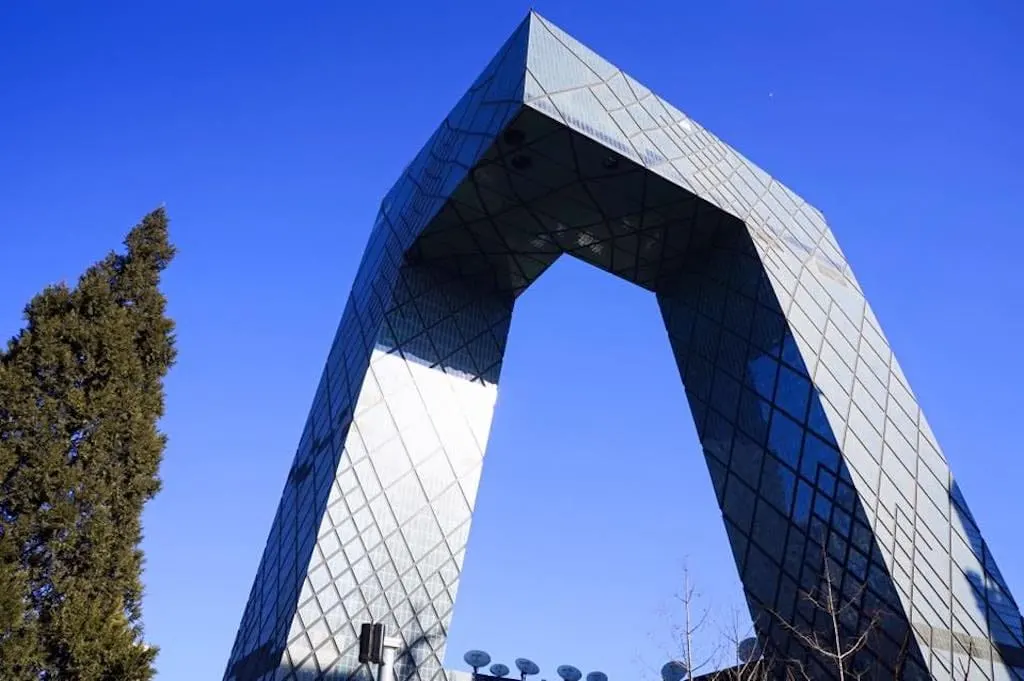 Chengdu Research Base Of Giant Panda Breeding
Chengdu, the capital of southwest China's Sichuan Province, is home to the world-renowned Research Base of Giant Panda Breeding. The Research Base started as a sanctuary for just 6 pandas who were rescued in the 1980s. With a successful breeding program, the population has now grown to almost 200 pandas.
A visit to the Research Base of Giant Panda Breeding offers an incredible opportunity to see the Giant Pandas as they playfully roll around their enclosures and munch on bamboo. As well as adult giant pandas, it's often possible to see baby pandas in the panda nursery. There are also red pandas at the Research Base.
The best times to visit the Chengdu Research Base Of Giant Panda Breeding is March to June and September to November. Summer and Fall usually offer the best chance to catch a glimpse of a newborn baby panda. Day to day, the pandas are most active early in the morning when the temperatures are lower and they tend to sleep for most of the afternoon.
Chengdu is easily reached by a short flight from either Shanghai or Beijing. It is also possible to get to Chengdu by high-speed train. It takes around 8 hours from Beijing and 12 to 15 hours from Shanghai. Once in Chengdu, the Research Base of Giant Panda Breeding is a short taxi or bus ride from the city center. Chengdu is also a great base from which to visit the UNESCO World Heritage designated Leshan Giant Buddha, located an 80-minute train ride from Chengdu.
Explored by Elaine of The Whole World is a Playground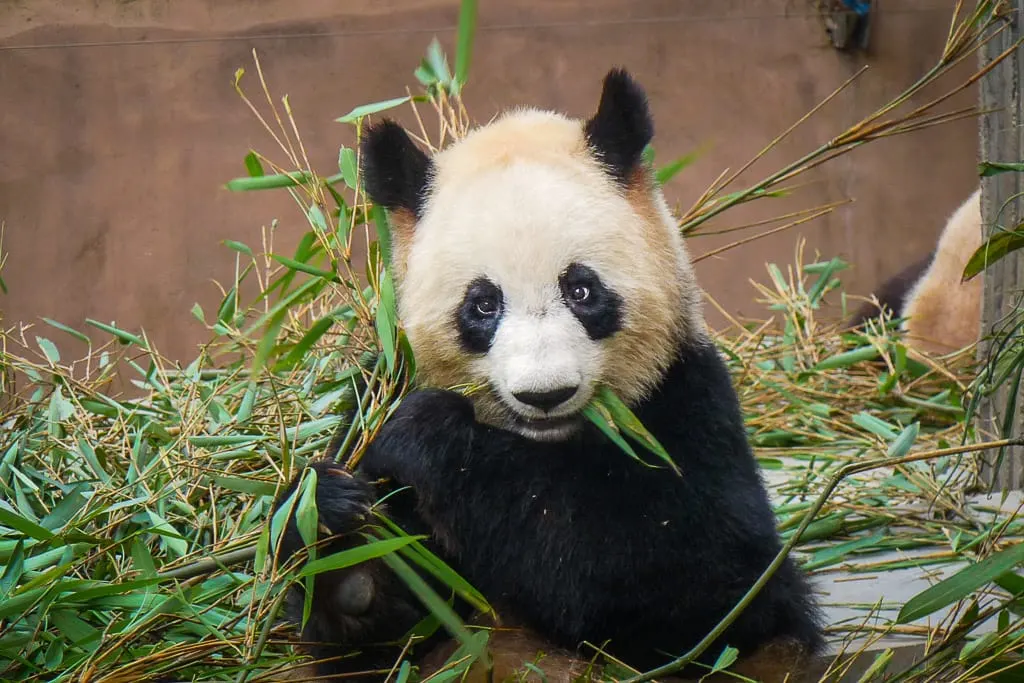 Cotai Strip
The Cotai Strip is a glitzy area of mega hotel-casinos in Macau, a gambling mecca unsurpassed the world. While it may resemble the Las Vegas Strip on a smaller scale and even have well-known brands like the Venetian, Wynn, and MGM – the Macau Cotai Strip rakes in far more cash.
How much more?
Last year, Macau casinos gathered around $6.5 billion, exceeding Las Vegas, which is five times as big, with ten times more hotel rooms.
Vibrant, shiny, and gastronomic—the three best words to describe Macau's Cotai Strip in a nutshell. Conveniently accessible via ferry from neighboring Hong Kong there is far more to go on the Cotai Strip than just gamble and marvel at the mega-structures.
You can set-up an unforgettable date at The Venetian Macau where you op on an affordable gondola ride and tour around the Grand Canal while being serenaded by an authentic Italian gondolier. Or prepare to be in awe with death-defying acrobatics, splendid costumes, and other brilliant acts at The House of Dancing Water, the world's largest pool-based performance.
After a hard day exploring the numerous shops, bars, and restaurants, why not treat yourself to a pamper session at Banyan Tree Spa? There are so many unique things to do in Macau – and you'll find most of them on the Cotai Strip!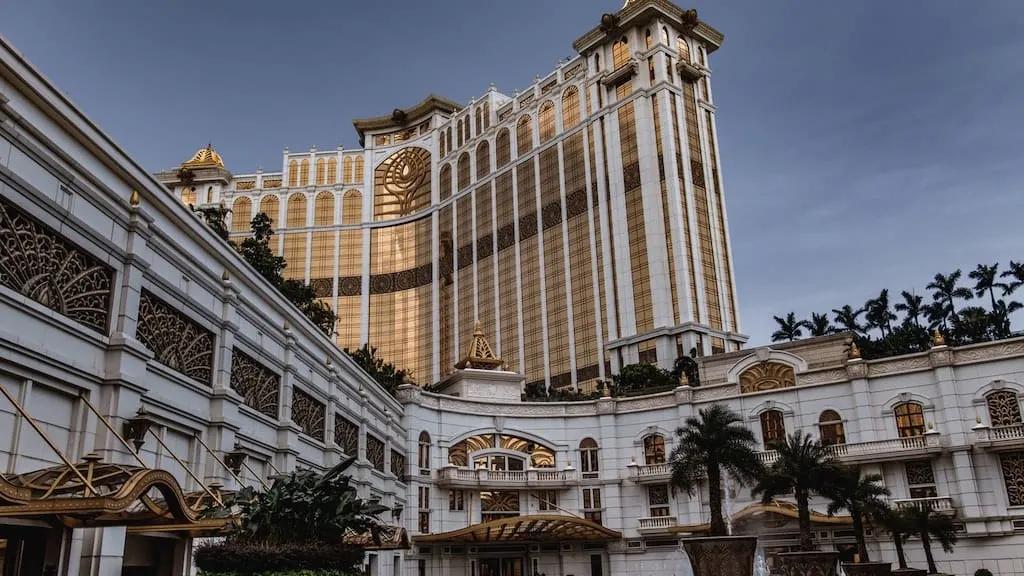 Dr. Sun Yat-sen's Memorial Hall
China is close to my heart in one aspect – it was my first ever international trip and I visited Guangzhou for work (the trade-fair)! Of course, that would mean I had very little time to explore the region, but one of the very few places, I did manage to visit was Dr. Sun Yat Sen's Memorial Hall, Guangzhou.
Sun Yat-Sen was one of the greatest leaders of modern China and is considered the Father of the Nation of the Republic of China. He was the first president of the country and he was a philosopher, physician, and politician. There are quite a few memorials, structures, streets, parks, and more named after him all over China, Taiwan, Singapore, Hongkong, etc.
Dr. Sun Yat Sen's Memorial hall in Guangzhou is located just across the road from the Canton fairgrounds. It is a large octagonal shaped hall, blue & red in color, built in the traditional Chinese architecture complete with 8 monumental red pillars. There are no pillars inside at all and the roof is a glass dome making the hall feel humongous.
The hall is used as a venue for a variety of events and on a normal day, it is just empty. At the facade is an inscription that means 'the whole world is one family', a philosophy that Dr. Sun preached & followed. Right in front of the building is a bronze statue of Dr. Sun Yat Sen. The Memorial Hall is surrounded by a huge park which is free of charge to access.
Covering an area of 16 acres it provides to the green lungs of the otherwise busy city.
Explored by Bhushavali from My Travelogue by Bhushavali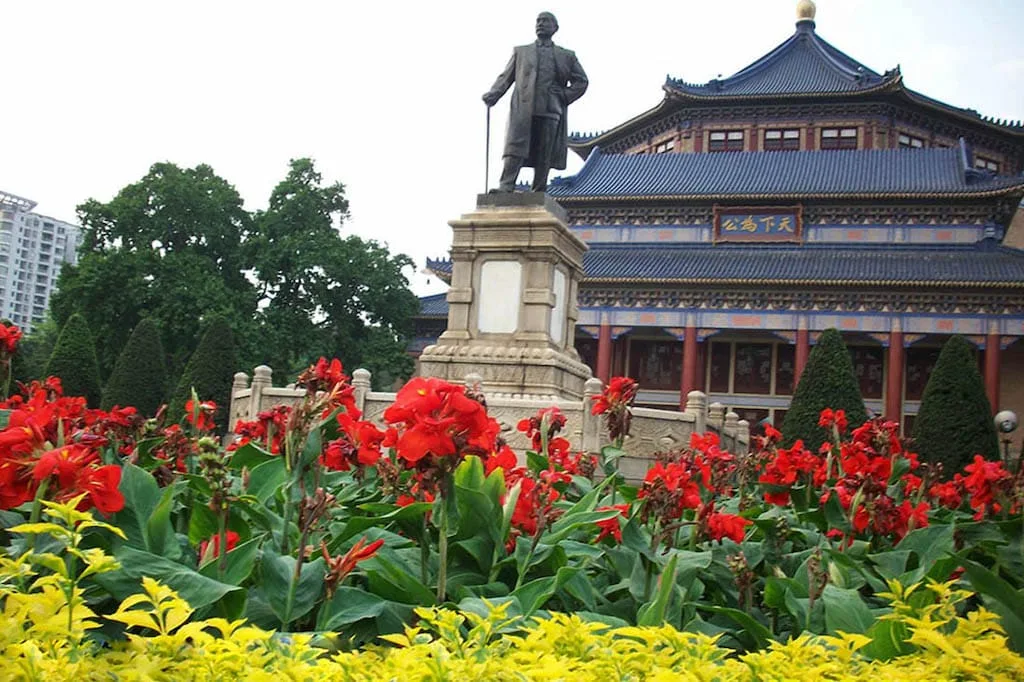 Forbidden City
Situated in the heart of the capital city of Beijing is the Forbidden City, one of China's most iconic landmarks. It was the former Chinese imperial palace and state residence of the Emperor of China.
The Forbidden City is a palace complex that served as the home to Chinese emperors and their households. Construction began in the early 1400s, required more than 1 million laborers, and took 14 years to build. By 1420 It was the ceremonial and political center of the Chinese government and it stayed that way for almost 500 years.
Roughly translated, Forbidden refers to the fact that no one could enter or leave the palace without the emperor's permission. The complex is huge! It consists of over 980 buildings and spans over 180 acres.
In 1987 it was declared a World Heritage Site by UNESCO. Today the Forbidden City holds the record of the world's largest palace complex and has the best collection of preserved ancient wooden structures and Chinese historical artifacts in the world.
Visitors can view up to 60% of the restored complex which can take up an entire afternoon, considering it does contain over 8,000 rooms. Located in the center of Beijing, take the Subway Line 1 and get off at Tiananmen West or Tiananmen East Station. There is only one entrance to enter the Forbidden City which is the Southern gate.
Most people walk through Tiananmen Square to the get to South gate. This approach takes longer due to the popularity and security checkpoint. If you want to avoid the crowds you can get to the South Gate from the East or West avoiding Tiananmen Square all together.
Don't leave home without your passport, you'll need it for entry into the sight. No passport=no ticket because it becomes your ticket needs to be scanned in order to get through the gates. Visiting the palace earlier, the better as you can avoid crowds and the heat!
Explored by Jess from I'm Jess Traveling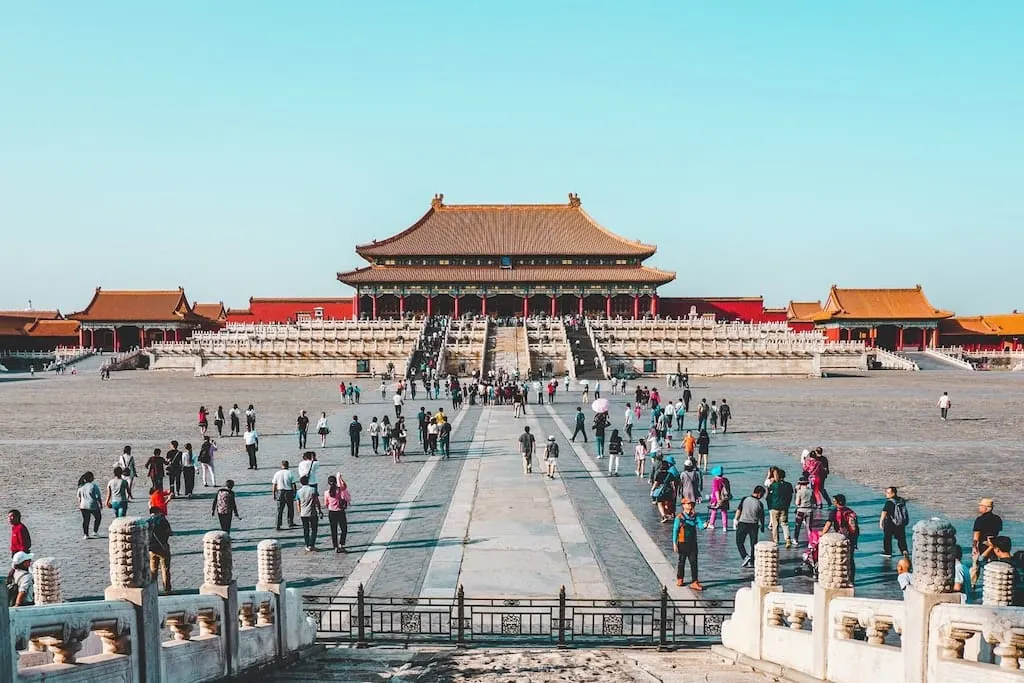 Giant Wild Goose Pagoda
Although Xi'an might be famous for its magnificent Terracotta Army, there is a lot more this central-Chinese city has to offer. Once being the heart of Chinese civilization, this city still boasts many historical treasures to explore.
One of the most interesting, however, is the Giant Wild Goose Pagoda. This Buddhist pagoda was built during the Tang Dynasty and legendary Chinese Empress Wu Zetian added 3 more stories to the existing 7 stories of the Pagoda. The Wild Goose Pagoda is till this day one – of not THE, most important Pagoda on mainland China.
Although now tucked away in museums, there were thousands of artifacts in the Wild Goose Pagoda – most of which all came from India.
In 1556 an earthquake damaged the Pagoda – toppling the three stories Wu Zetian added. Now you can visit the 7 stories Pagoda and the surrounding Buddhist monastery on your trip to Xi'an.
If you are interested, not too far from the Wild Goose Pagoda you will be able to visit Tang Paradise. This is a large park where they built a lot of gardens and buildings in Tang Dynasty style.
The best way to approach the Wild Goose Pagoda is by metro line 3 and 4. Watch out: it is quite a walk, and you basically approach the Wild Goose Pagoda from the wrong way. The entrance is on the side of the large shopping center.
My number one tip would be to bring a few bottles of water with you. Water is quite expensive within the temple grounds. China is very hot and humid in summer which means you will be thirsty all – the – time.
You should definitely try and climb all 7 stories as the view from the Wild Goose pagoda is breath-taking! After you visited the Wild Goose Pagoda there will be loads of great restaurants and pubs in the area for you to recharge your batteries!
Explored by Lieze Neven from Glitterrebel.com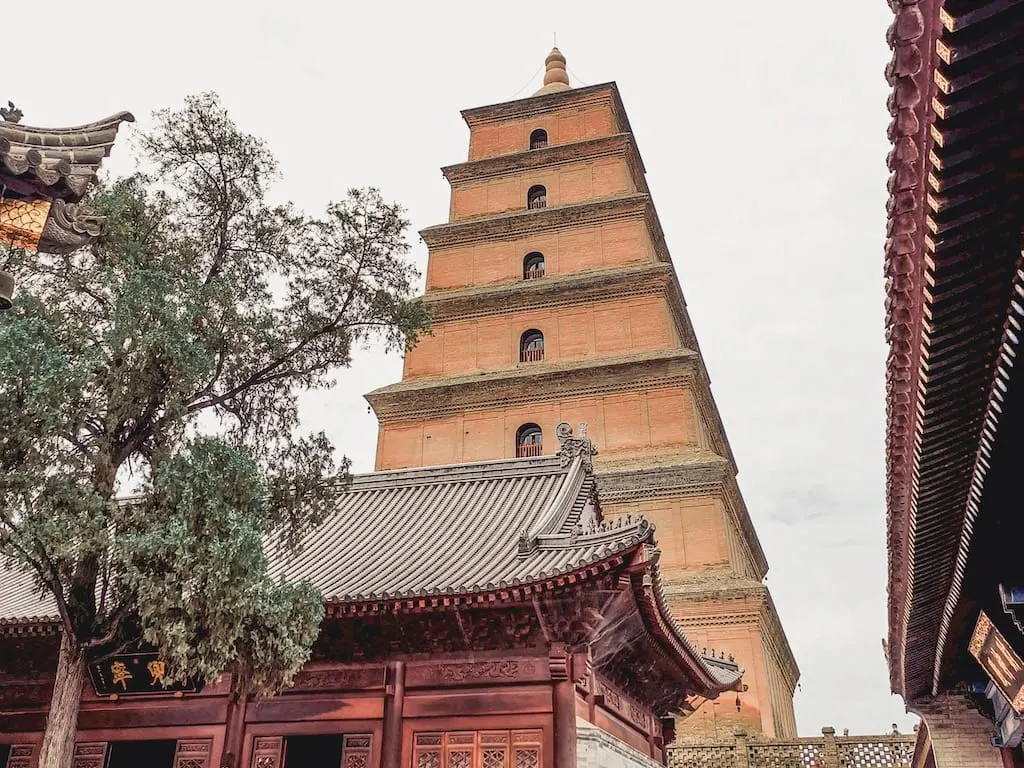 Happy Valley Racecourse
The Happy Valley Racecourse in Hong Kong is not only a landmark of China – but also home to one of the oldest institutions in the city, the Hong Kong Jockey Club (HKJC), which dates back to 1884.
Located in Happy Valley on Hong Kong Island, the venue has a capacity for 55,000 and stands out amidst the towering skyscrapers and lush mountains that surround it. It was first built in 1845 and has evolved over the years, and racing became more popular, and Hong Kong expanded around it.
Today you can visit the Hong Kong Jockey Club Archive and Museum to learn more about this unusual local landmark and its importance to the city – and how the HKJC is the largest taxpayer in Hong Kong, as well as the largest community benefactor.
Or, better still, why not go to a race yourself?
In particular, the Happy Wednesday event is the place to be – not only is there horse racing, but it's a giant party that brings together everything that's great about Hong Kong. If you are visiting Hong Kong, this is an event that needs to be on your itinerary, and if you are local and you haven't been yet, what are you waiting for?
You can join the Horse Races Pub Crawl, a great way to meet new and like-minded locals, travelers, and ex-pats whilst discovering some of the best bars in the Wan Chai area — or read more about why the Happy Valley Races Wednesday's are so popular.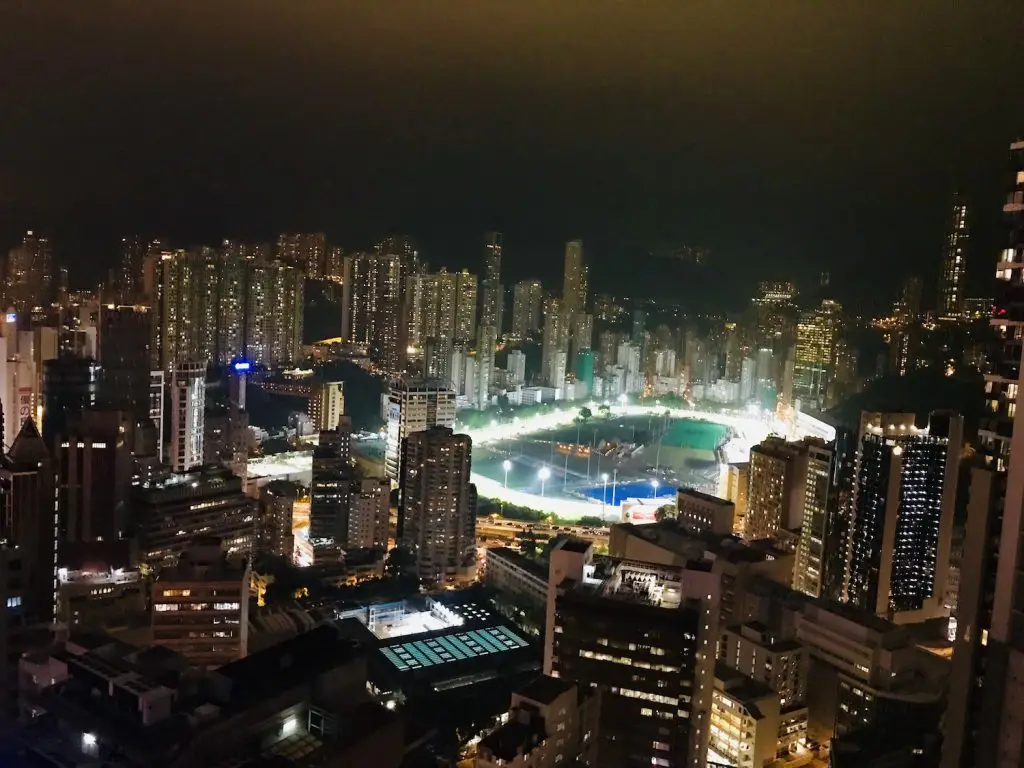 Harbin International Ice And Snow Festival
A landmark of modern China — if only for a month each year — if you love the majestic beauty of winter, you need to add the Harbin International Ice and Snow Sculpture Festival to your China bucket list right away.
This is the largest snow and ice festival in the world, with mind-blowing sculptures that you can't find anywhere else. Held in the Chinese city of Harbin, this festival draws millions of people from all around China and the world. Fifteen million visitors came in 2019 alone. There's a unique theme each year, which adds even more excitement to the proceedings.
The festival covers over 600,000 square meters of space, and there are more than 100 incredible landmarks to explore, made with ice and snow pulled from the Songhua River close by. Entrance to the Harbin Ice and Snow World, which is the main attraction of the festival, costs RMB330, which is about $48 US. There are also many free activities around town that you can explore through January and February.
This festival was first celebrated in 1985, and over the years, it has risen, evolved, and became famous outside of China. The initial inspiration for the celebration was the area's traditional lanterns, which were carved out of ice and used candles for illumination. Unsurprisingly, sculptures here have been cited in the Guinness Book of World Records as some of the world's largest. There are so many stunning ice sculptures and attractions to immerse yourself in at the festival.
Sculptors have come from 12 different countries to compete in the festival's competition, and their works are definitely worth checking out. However, the major attraction is the beautiful ice castles, which are illuminated with colorful lights and will blow you away. These are located in the Ice and Snow World, which feels like an entire city made of ice.
There are also a range of fun 3D light shows, a life-sized snow Buddha, and giant ice slides, just to name a few of the exciting attractions. Sun Island is another dominant display of ice sculptures in a more expo-style format. Over 10,000 workers are necessary to create these gigantic displays, which grow in size every year as technology gets more advanced.
Many companies even put together tours to help you navigate the festival. To be honest, however, a foreigner in such a …alternative travel destination in China, you will likely be the entertainment. Embrace it. Take those selfies. Chat with locals and let them show you around!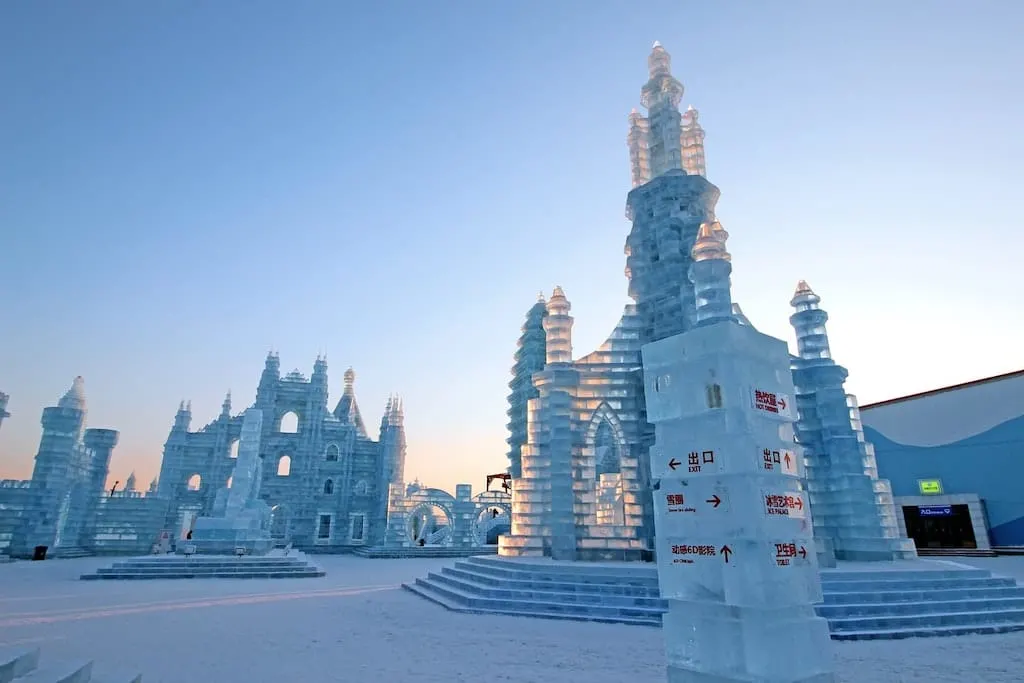 Hong Kong Skyline From Victoria Peak
If a single photo could encapsulate the essence of Hong Kong, it could arguably be that of the almost other-worldly panorama from Victoria Peak.
The glorious skyline of Hong Kong Island, an indisputable landmark of modern China, is famous for its unprecedented arrangement, encompassing mountains and Victoria Harbor, which only adds to the beauty of the rows upon rows of skyscrapers. Hong Kong is the world's tallest urban agglomeration, with over 9,000 high-rise buildings, of which over 4,000 are skyscrapers standing taller than 100 m (328 ft) and an incredible 454 buildings over 150 m (492 ft).
From high above at the popular vantage point at Victoria Peak, you can admire one of the most magnificent harbors on Earth and can judge a skyline so improbable, grand, and daring it makes Manhattan look almost quaint in comparison. You can admire these soaring monoliths with a view like no other, where the energy and vigor of Hong Kong lie exposed for all to see.
As the sunset and the lights slowly flicker on across the city, it's ridiculously magical, and even a cynic could not doubt its majesty.
Should the regular views from the top not be enough, you can get even better with 360-degree panoramic views of Hong Kong from the Sky Terrace 428. And if you are feeling peckish – or want to enjoy more time here, we can highly recommend a visit to Kala Toast with their Instagram-worthy colorful and irresistible cheese toast.
For a more refined dining experience, you should look no further than the Peak Lookout, a 19th-century Grade II Historic Building offering upscale dishes and uninterrupted views of Hong Kong's superb skyline, from Aberdeen all the way to the South China Sea.
There are many ways to get up to Victoria Peak, including a somewhat enjoyable hike – depending on your fitness level -, taxi, bus, or the iconic Peak Tram. The Tram is a Hong Kong attraction in and of itself. As such, it can demand insanely long waits – but thankfully, there is now an advance ticket sale system in place that allows you a special lane and hassle-free access by avoiding the long queue on the regular lines!
As an alternative place to view the skyline, try the Avenue of The Stars where each night you can see 44 buildings on the shores of Victoria Harbor participate in A Symphony of Lights, a synchronized show that is the largest permanent light fixture in the world — and our favorite thing to do in Hong Kong.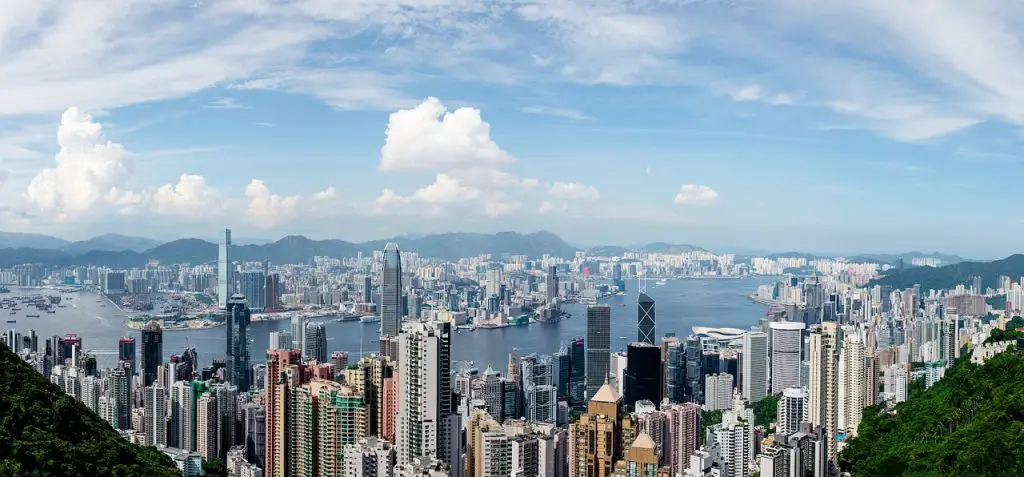 Huangshan Mountain Range
Huangshan, otherwise known as the 'Yellow Mountain", is one of the most famous and beautiful mountainous areas in Anhui Province in Eastern China. Known for its cloud views, amazing sunrises, twisted pine trees, and granite peaks, Huangshan is a paradise for outdoor enthusiasts and hikers.
The mountain was previously known as "Yishan" during the Qin Dynasty (221 BC – 206 BC) but was renamed for "Huangshan" (Yellow Mountain) after the cultural hero Huang Di, a legendary Chinese sovereign. Fairly inaccessible and barely frequented in ancient times, Huangshan began its ascent to fame right after the imperial decree, which gave rise to many temples in the area.
Huangshan's area was added to the list of UNESCO World Heritage Sites in 1990 for its scenery but long before that, the Yellow Mountain provided inspiration for artists and poets such as Li Bai. It's no surprise why James Cameron named Huangshan as one of his influences in designing the fictional world of his 2009 film Avatar.
This popular tourist destination is enjoyable all year round. With clearly marked four seasons, short spring and autumn, each season has its own unique benefits. The comfortable weather in summer provides great opportunities for exploring the area's numerous hiking trails.
With its 60,000 steps carved directly into the mountain about 1500 years ago and leading to all the main points of interest, there are also cable cars that will take visitors to the summit.
To get to Huangshan you can take bullet trains from Wuhan, Nanjing, Hangzhou, and Beijing. Direct buses connect Huangshan Mountain scenic area to pretty much all major cities in China. There is also a Huangshan Tunxi International Airport, which operates domestic flights to most major cities such as Beijing, Guangzhou, and Shanghai as well as international flights to Seoul.
Explored by Ivan from Mind The Travel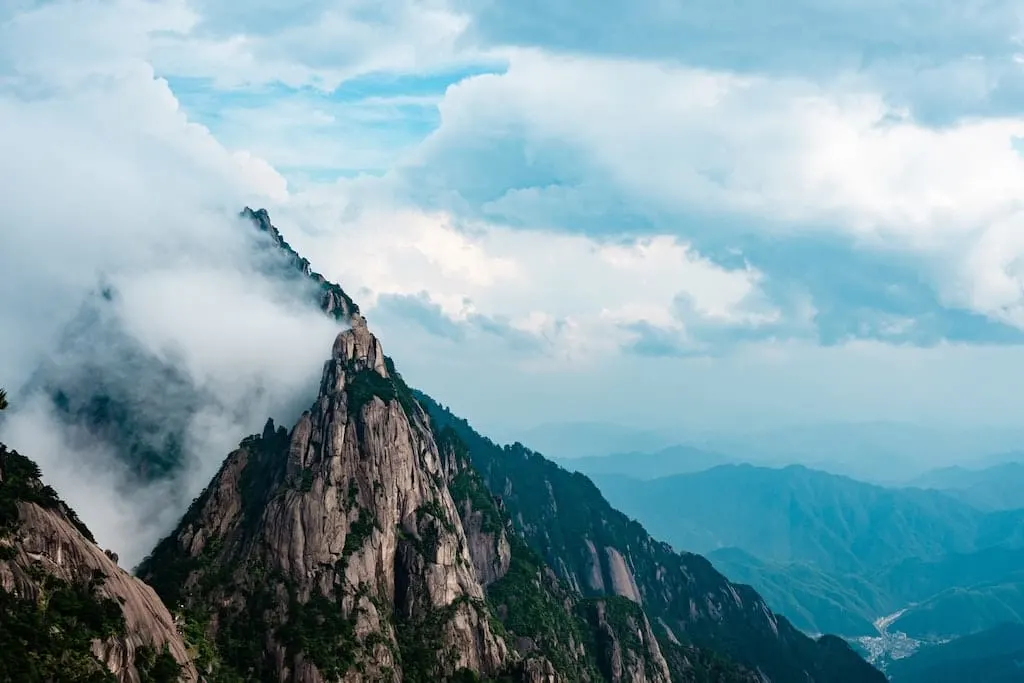 Hutongs Of Beijing
Beijing is definitely where old meets new, with a stronger emphasis on the old than many other Chinese cities. The Beijing Hutongs are the best place to see how life used to be for the people of Beijing.
Many of the Hutongs were demolished to make way for skyscraper buildings and road expansions to accommodate their ever-growing population. Huong means 'narrow street' in Mandarin and compared to the multi-lane roads now moving people around Beijing, they certainly are the perfect place to escape the hustle and bustle of modern Beijing and a step back in time to see how it all started.
The Hutong's that remain in Beijing are mostly tourist attractions and are preserved to protect Chinese cultural history. There are 35 Hutong's remaining, many residents have passed the home down from generation to generation. Hutong's generally consist of only 2 rooms and do not have bathroom facilities.
Bathroom facilities are shared and are located in a central block. Unsurprisingly, Hutong's are worth millions in Beijing, viewed as an escape from living in a high-rise apartment like the majority of the population. Many Chinese people now prefer the traditional Chinese way of life however it is rare to find one for sale.
The Hutong I visited had a large lake and a canal system running through it. There were restaurants and bars dotted around the lake. I can see why it would be an attractive place to live. Traffic is limited in the Hutong's due to the narrow roads and you'll find cars parked along the side of the narrow streets making them even narrower.
The perfect way to experience the Hutong is on a rickshaw tour, sit back and relax while your guide takes you around and shows you the traditional Chinese way of life.
Explored by Sally from Our3kidsvtheworld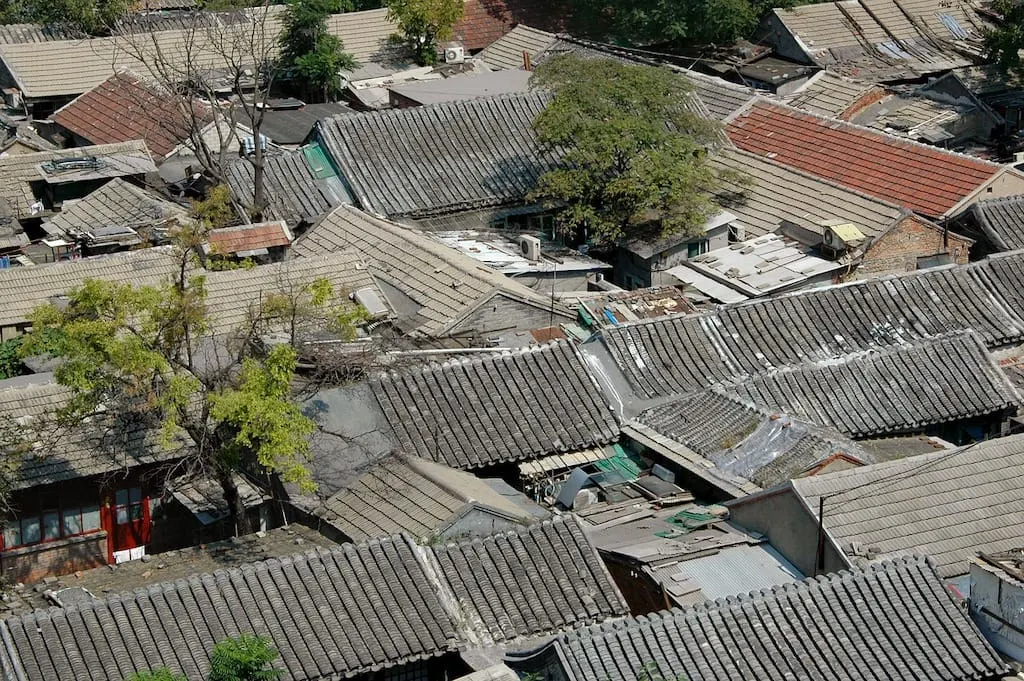 Karst Landscapes Of The Li River
We visited the famous karst landscapes surrounding the Li River in Guangxi, southern China, as part of a family gap year with our three children. This incredible limestone landscape was one of our 'must-see' landmarks in China and it did not disappoint.
An ideal way to explore the towering karst formations is by a cruise along the Li River, which is best accessed from the bustling city of Guilin. Cruising along the Li River allows you to travel through hundreds of the imposing karst peaks rather than around them which local roads tend to do.
The Fengcong and Fenglin limestone peaks that are predominantly found in this region range from 30 meters to 300 meters high and at times the cruise boats pass close to the base of the cliffs to give visitors an idea of just how huge the cliff faces actually are. Guides point out iconic 'shapes' and named formations as well as the scenic image which is featured on a 20 Yuan note.
For me, the highlight of the trip was the chance to view rural China and everyday life; I was surprised by the number of people camping for pleasure alongside the river. Most visitors only travel a portion of the river from Guilin to nearby Yangshuo which is a journey of around five hours. There are several options for transport to choose from ranging from air-conditioned large boats to tiny rafts.
In Yangshuo, I would recommend traveling to outlying villages based at the feet of the karst mountains which provide hiking opportunities to see this awe-inspiring landscape from a different perspective.
Explored by Sinead from Map Made Memories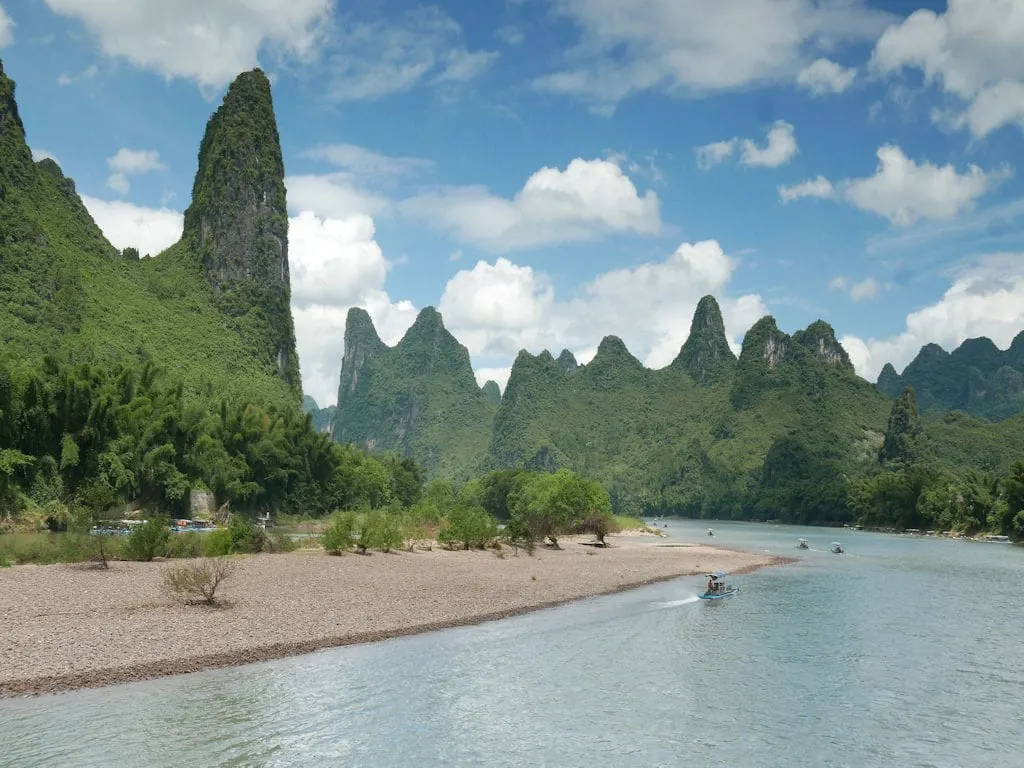 Kunming Stone Forest
The Stone Forest or Shillin is a UNESCO World Heritage Site and an icon of the Yunnan Province. Located 120km from Kunming this incredible "forest" is actually a collection of naturally formed limestone pillars that appear to look like petrified trees.
The region was once a vast sea but over millions of years, the water retreated and the rocks were pushed upwards. Over time these intricately carved rocks were formed by the constant erosion from wind and rain.
This Karst region is also home to Sani people who are a branch of the Yi ethnic group. If you visit the Stone Forest in June you can witness the Sani Torch Festival which consists of traditional performances such as dragon playing, pole climbing, and lion dancing. Locals dressed in a traditional dress can found at the entrance to the forest all year round.
The easiest way to visit the Stone Forest is from Kunming. Regular buses run throughout the day from Kunming East Coach Station. Alternatively, take a bullet train from Kunming South Railway Station to Shillin West, then take bus number 99 to the site.
On top of the entrance fee, there is a golf-buggy fee for the cart that takes you from the car park into the site itself. Once inside the site, I recommend walking around the perimeter of the forest to appreciate the various rock formations, before venturing into the center of the forest itself.
There are many trails twisting through the high walled rocks so it's quite easy to lose your way, however, there are regular signposts throughout to help get you back on track. After wandering around the various paths and admiring the vast array of unique limestone formations, head to the pavilion in the center for the best panoramic view of the Stone Forest.
The Stone Forest is a very unique landscape, not just for China but for the whole world so is a must-see for any trip to Southern China.
Explored by Louise France from Wandering Welsh Girl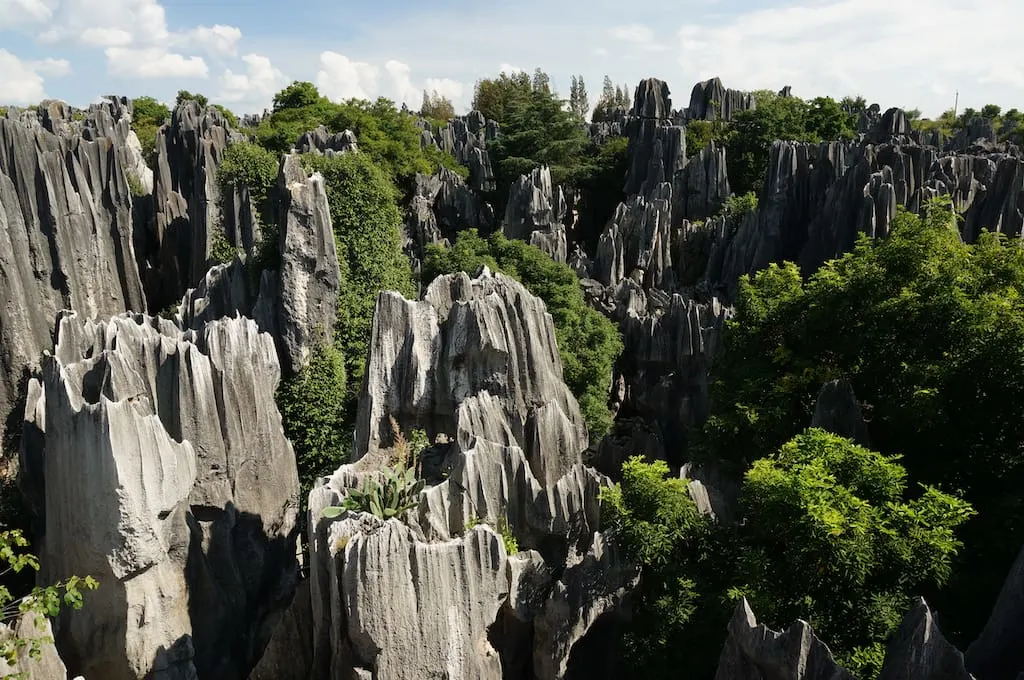 Leshan Giant Buddha
The Leshan Giant Buddha is one of the most iconic landmarks in the province of Sichuan. This huge Buddha represented in seating posture is the biggest carved stone Buddha in the world measuring 71 meters high, and 24 meters wide. The Leshan Giant Buddha is listed UNESCO World Heritage since 1996.
The Leshan Giant Buddha has also a stunning location, at the confluence of three rivers, namely, Min River, Qingyi River, and Dadu River, and a stroll around this scenic area is highly recommended. Also, there's the possibility to take a boat tour for a full picture of the Buddha and lesser crowds.
It was a monk who had the idea of carving a giant Buddha in this area to protect the people from the tempestuous waters at the confluence of the three rivers. The inhabitants thought that it was because of a water spirit and a giant Buddha could keep the spirit under control.
It took the monk 20 years to gather the money for the works and finally the project begun in the year 713. The carving took 90 years and a considerable amount of dedicated workers and skilled artisans for the most delicate parts of the Buddha.
Apart from the beauty of some details like the hair buns, the Buddha has an interesting and highly effective drainage system to keep the inner parts always dry.
People usually visit the Buddha on a day trip from Chengdu by bus but if you are short of time, there are many tour operators that combine the Leshan Buddha with some hours in the Panda Park of Chengdu in a full-day tour from Chengdu.
Explored by Elisa from World in Paris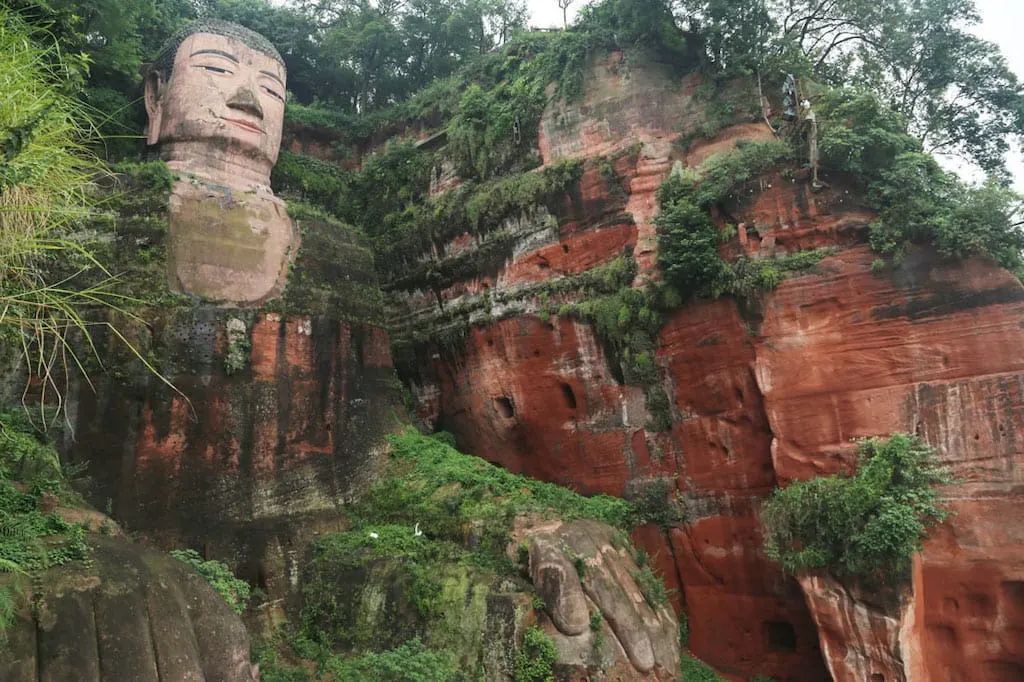 Longji Rice Terraces
The Longji Rice Terraces are one of the best places to visit in China and certainly one of Guilin's underappreciated gems. Many travelers instead flock to the famous Li River and encompassing karst scenery, giving little thought to the Longji Rice Terraces until after their travels. But this is a mistake.
Longji Rice Terraces, translated literally as 'Dragon's Backbone Rice Terraces,' are famed as the rice terraces echo the scales of a dragon scales, and the surrounding mountain range can be compared to the backbone of a dragon. It is one of the most beautiful rice terraces in the world, up there with those of Bali or Vietnam.
Construction of the improbable Longji Rice Terraces started during the Yuan Dynasty (1271-1368) and has endured until the present area, though tourism is now a big player. Covering a massive 66 square kilometers area and cascading from 1,100 meters above sea level down to around 300 meters, there are many places to appreciate the rice terraces.
The two popular viewing areas are at the Jinkeng Terraced Fields and the Ping and Zhuang Village Terraced Fields. Many tours operate here, and in addition to marveling at this astonishing landmark of China, you can also learn about the Zhuang and Yao ethnic minorities who have farmed and lived in this area for hundreds of years.
Each ethnic group has its individual and fascinating customs in dining, clothing, and living styles, making a trip here all the more worthwhile.
There are many 'best times to visit' depending on what you would like to see, though chances are your travel dates to China will dictate when you come here. From mid-April to late June, you can see the famous 'water mirrors' on the paddies and late September through to October is when crops ripen and you can see golden rice dancing in the wind.
However, the best times to visit also coincide with the most popular times, so for a more relaxed visit to the Longji Rice Terraces, you could consider coming outside of peak periods.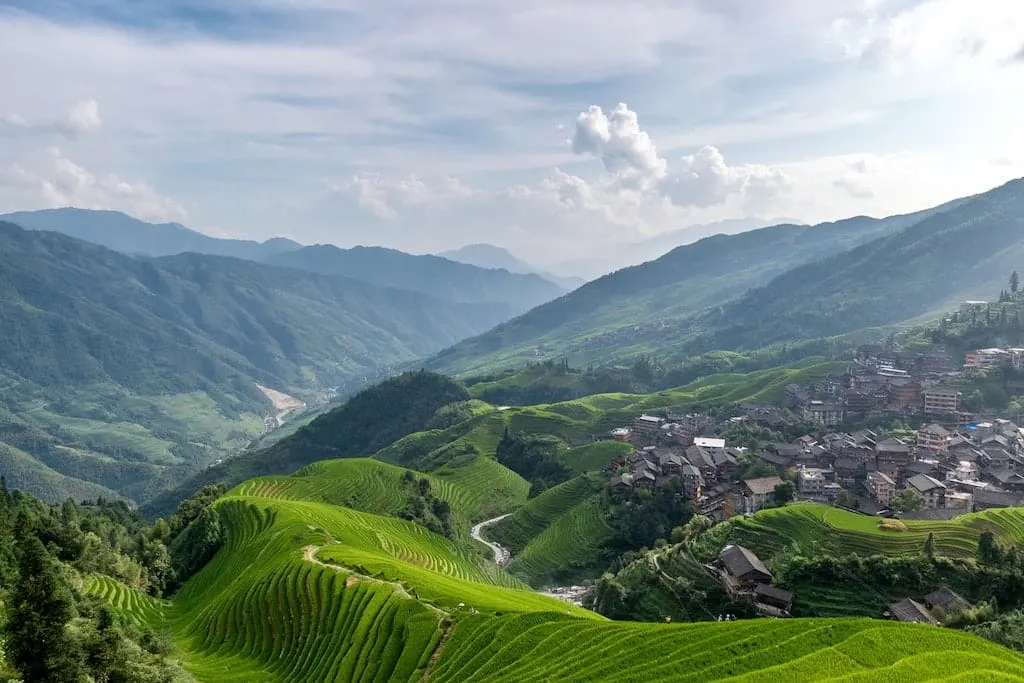 Longmen Grottoes
The Longmen Caves located 10 km south of Luoyang in the Henan province may be less widely known than China's other iconic attractions but they fully deserve greater attention.
An incredible 100,000 statues of Buddha and his disciples line a 1 kilometer stretch of limestone cliffs either side of the Yi River. Carved into the rock as outdoor reliefs and within man-made caves, these Longmen Caves also referred to as Dragon's Gate Grottoes are an incredible sight.
Designated a UNESCO World Heritage Site since 2000 the statues and fabulous examples of Chinese Buddhist Art date back to 493 AD during the Northern Wei dynasty. Their creation continued for a further 400 years to the time of the Tang Dynasty.
During this period the largest cave measuring 30 meters by 30 meters known as Fengxian Temple home to incredible stone carvings was constructed. Home to the Vairocana Buddha this incredible statue is over 17 meters tall and boasts a head of 4 meters in length. From the opposite of the Yi River, the Fengxian Temple is an inspirational sight.
Whilst most visitors will arrive at the Longmen Caves as part of a guided tour it is possible to reach the site from Luoyang Rail Station via one of several local bus services. Luoyang itself located 800 km southwest from Beijing and 375 km east of Xi'an can be easily reached using China's hugely impressive high-speed rail network.
An entry ticket to the Longmen Caves costs CNY 90 equivalent to $13 or €11. During the busy summer period, opening hours are 08.00 – 18.30.
When traveling to the Middle Kingdom, you really should do all that you can to see these majestic statues for yourself.
Explored by Paul Rought from thetwothatdo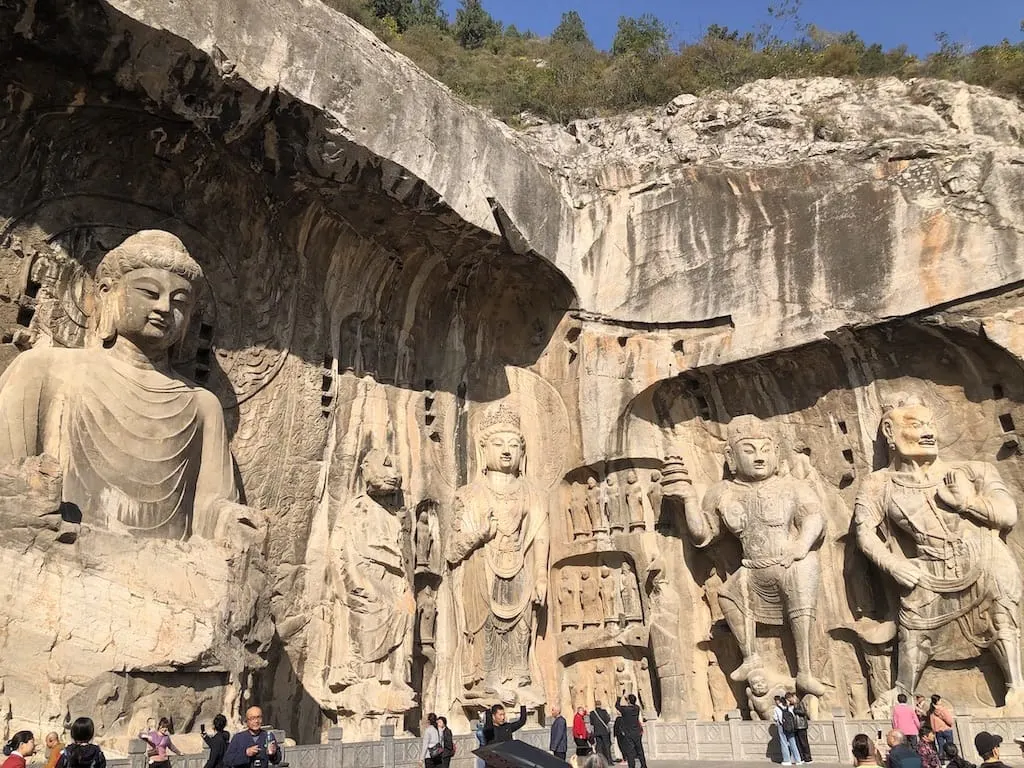 Mogao Caves
The incredible Mogao Caves (often called the Caves of the Thousand Buddhas) are a system of 500 interrelated temples located deep in China's interior near the center of Dunhuang. A landmark of China dating back to ancient times, the area was an oasis established at a religious and cultural crossroads of the famous Silk Road, in what is now Gansu province.
Protected by UNESCO as world heritage, there is a lot to explore here. More than 1,000 caves were cut into a cliff, which is more than 2 kilometers long, though some of the earlier caves have disappeared with time. Today around 735 caves still exist and include living quarters, meditation chambers, and burial sites for the monks.
The Mogao Caves have incredible examples of Buddhist art created over more than a millennium – many of which are well preserved. The first caves here are thought to have been dug out around 366 AD as used as spaces for Buddhist meditation and worship.
Often compared with the Longmen Grottoes and Yungang Grottoes (other famous Buddhist sculpture paces with China), the Mogao Caves are the most crucial for researchers. One reason was that, in 1900, an extraordinary stockpile of records was found in a 'library cave' that had been walled over for 1000 years — the contents of which were dispersed around the world.
The most comprehensive, most richly endowed, and longest used treasure trove of Buddhist art in the world with over 45,000 square meters of painted murals and 2,000 plus painted sculptures, if you are anywhere near the Mogao Caves in China you just have to visit!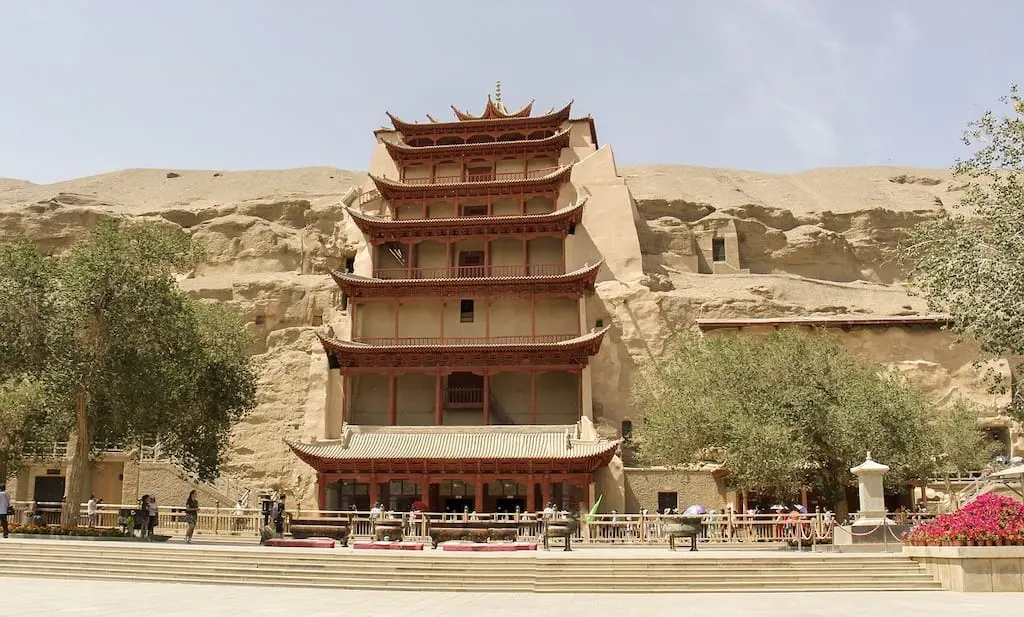 Mount Qingcheng
Dujiangyan is a popular day trip from Chengdu, only about an hour train ride each way. Dujiangyan is home to the famous Mount Qingcheng, one of the birthplaces of Taoism, and is actually one of the most important Taoist sites in China.
You can easily (and affordably) catch a taxi from the train station to the base of the mountain, where you will then buy an entrance ticket to the temple. You can either hike the entire way or opt to take a cable car which will cut down the journey from five hours round trip to about two. Whether you hike the entire way or not, plan to spend at least a half-day visiting the mountain.
The mountain is divided by the front side and the backside. The cable passes through the front and is the access point to most of the physical attractions. Between stair sections, each landing area of the mountain will have a few restaurants and stores to refuel your body and pick up souvenirs.
On your ascent, you will also pass through numerous temples and palaces, all built during different eras of Chinese history. That said, due to all of the stairs, the mountain is not wheelchair-friendly.
The backside of the mountain is full of beautiful trails with quaint streams and lush trees. Once you've gotten your fill of the mountain, you can easily visit the Dujiangyan panda center at the base of the mountain to get your fill of pandas. It is one of the less-visited panda centers, so you can see the animals with fewer crowds.
Also surrounding the mountains are multiple spas, so a day trip to the mountain could easily turn into a relaxing physical and spiritual wellness retreat.
Explored by Kay from The Awkward Traveller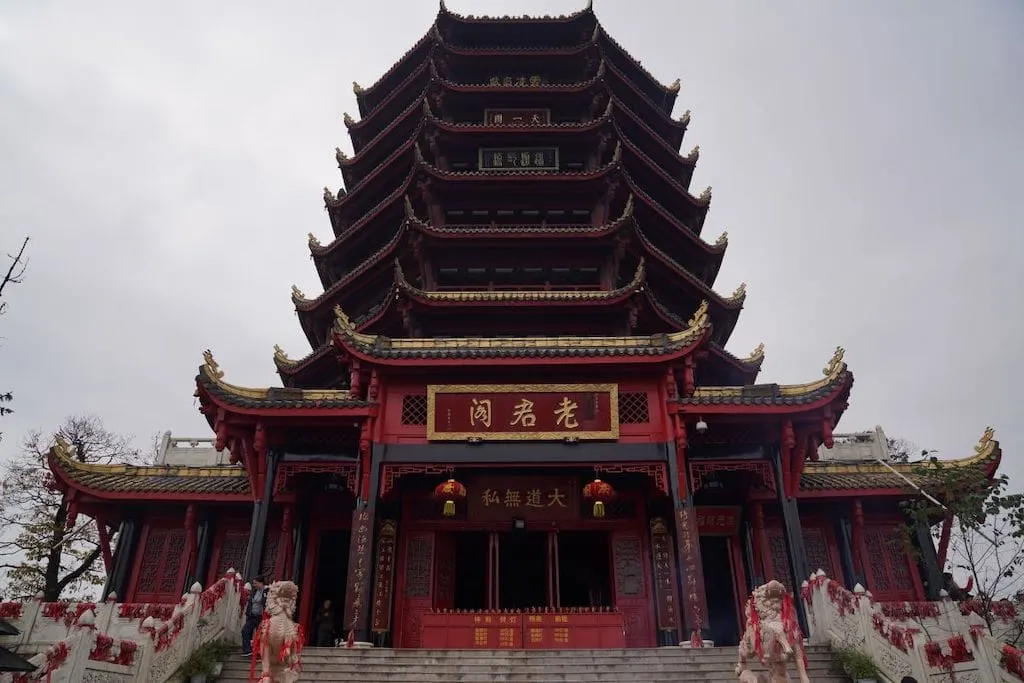 Mount Tai
Mt Tai (Taishan), located just to the north of the city of Tai'an, in Shandong province, is a famous landmark of China known as the holiest of holy mountains. But speak to any outsider – even the most prolific of travelers – and you are highly likely to be met with a blank gaze.
As with so many of China's attractions, Mt Taishan thrives off domestic tourists and has a foreigner barely in sight. However, if you take the time to find and explore it, you will be rewarded with rich cultural treasures and memories that last a lifetime. Legend tells if you manage to complete the Taishan mountain climb, you will live to over 100 years old, which for me is reason enough to visit! Mt Tai is associated with sunrise, birth, and renewal.
It is regarded as the foremost of the five Great Mountains of China — it has been a place of worship for over 3,000 years, serving as one of the most important ceremonial centers of China during large portions of this period. Testaments of this history can be seen dotted all over the majestic landscape.
For more visitors, reaching the Jade Emperor Peak is the ultimate goal here at Mt Tai, found after passing Half Way to Heaven and Heaven Gates. At 1,532.7 meters (5,029 ft) above sea level, it really is a sight to behold looking out into the clouds. It is as if you have arrived in heaven itself.
Mt Tai has been a UNESCO World Heritage Site since 1987, and on top of its natural and cultural importance, it is also widely known for its special ceremonies. Mt Tai has seen visits by many poets and literary scholars who have traveled here to gain inspiration over the years. They included Confucius, who declared from its top: "The world is small!" and later Chairman Mao announced: "The East is red!" from their lofty heights.
When I scaled, the most profound pinnacle proclamation I could think of was, "My feet really hurt!"
With over 7,000 brutal steps including a sadistic "Eighteen Bends" near vertical section before you reach the end at (aptly named) Heaven's Gate, it wasn't easy. But climbing Mt Taishan in China is worth it to be surrounded by so much history. Grandiose temples and stone inscriptions were literally carved into the mountain, which played an important role in the development of Buddhism and Taoism.
From its heights, China's unity was even proclaimed by the first Emperor of China back in 219 BCE. And if that doesn't make it one of the top places to visit in China, I don't know what will.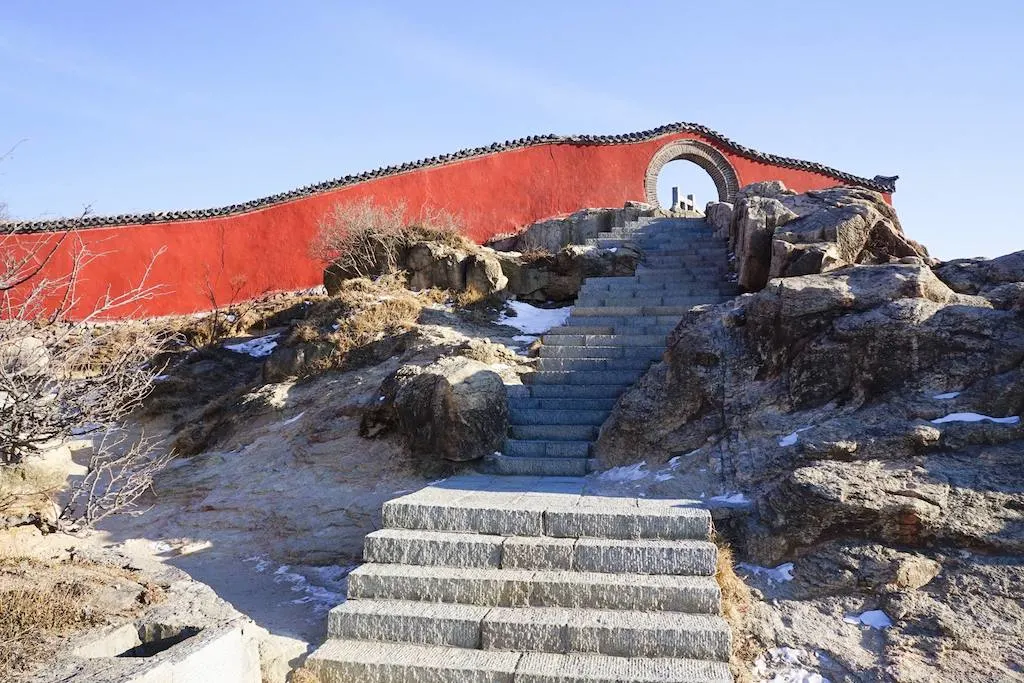 Potala Palace
The Potala Palace is a majestic fortress in the city of Lhasa in Tibet. It was the Dalai Lamas' winter residence until 1959 and has since become a museum and was designated a World Heritage Site since 1994. The Palace takes its name from Mount Potalaka, the bodhisattva Avalokiteśvara's legendary abode.
The Potala Palace has the distinction of being the world's highest (ancient) Palace, located at 3,750 meters (12,300 feet) above sea level, and towering 100 m (300 feet) above the also iconic town of Lhasa. The Palace was established in 1645 by the fifth Dalai Lama and was the center of Tibetan rule for centuries.
This 13-story Palace has more than 1,000 rooms and occupies more than 32 acres. With Chinese restrictions, it is currently challenging to visit Tibet for foreigners. Still, for those that make the effort to get here – the sight of this incredible landmark of China which symbolizes Tibetan Buddhism is utterly unforgettable.
The elegance and originality of the architecture, the rich embellishment, and harmonious integration in a fascinating landscape add to its overall appeal.
Ruins of St. Paul's
Situated at Senado Square, the Ruins of St. Paul is arguably the most iconic landmark in Macau – a special administrative region of China on the western Pearl River Delta.
Also considered as a UNESCO World Heritage Site, no one should visit Macau and leave without seeing this remarkable piece of history with the naked eye. The Ruins of Saint Paul's are all that remains of a 17th-century Catholic religious complex dedicated to Saint Paul the Apostle. The church was one of the most important Catholic churches in Asia at the time, and well connected through Portuguese rule back to the Lisbon and Porto.
With the decline of Macau as trade moved across the delta to Hong Kong, the church's fortunes similarly ebbed. It was then ruined by a fire during a typhoon in 1835. More recently with the rise of Macau as a gambling and tourism destination, the ruins have been excavated by the local authorities and partially restored into a museum. The grand façade is now buttressed with concrete to preserve its aesthetic integrity.
Standing at the foot of the stairs below to get an awe-inspiring view of the Ruins of St. Paul or atop of it to get a semi-aerial view of the busy square below.
As much as the attraction itself is a sight to see though, the alley leading to Ruins of St. Paul deserves a mention as well. The passage leading to the landmark can be a bit of a long walk, but not if you're in for a walking feast. Expect a lane of food stalls offering a free taste from beef jerkies to almond cookies, peanut candies, and pork floss rolls.
We're telling you, it's going to be the most epic food trip that you never expected – and eating previously unknown food has to be one of the most unique experiences not to be missed on any Macau itinerary!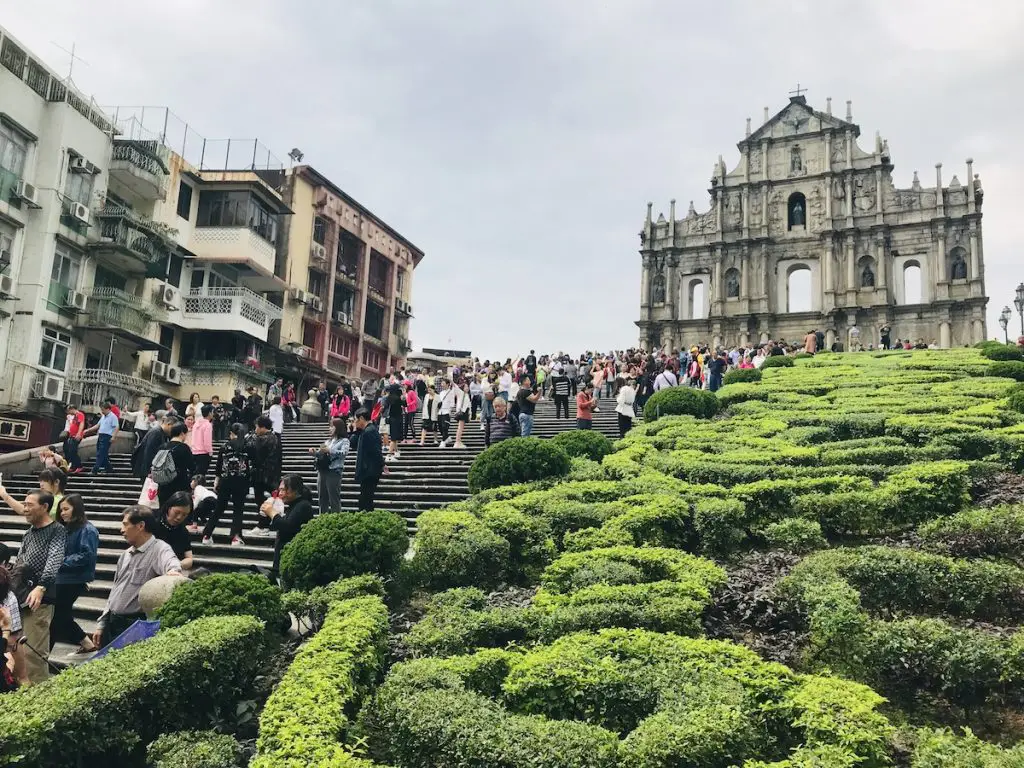 Shanghai Disneyland Park
Shanghai is one of the few cities in the world to be blessed with a Disneyland, and while Hong Kong has a small park: Shanghai Disneyland Park is much, much bigger. And instantly became a modern landmark of China after it opened in 2016. It also happens to be a magical and wonderful place to spend your day with your family while visiting Shanghai.
Disneyland Shanghai is the newest addition to Disney's collection of theme parks, which can also be found in LA, Paris, Hong Kong, Orlando, and Tokyo. It is already drawing in as many as 11,000,000 people a year – making it one of the most popular theme parks globally. It is authentically Disney and distinctly Chinese, with Disney staples like Mickey Avenue, Treasure Cove and Fantasyland, and a layout that mirrors other Magic Kingdom parks.
However, there is more live entertainment than Western Disney Parks, and things like the unique Chinese zodiac gardens called the Gardens of Imagination to set it apart. The highlight here is the landmark Enchanted Storybook Castle, novel among other Disney Castles. It embodies all of the Disney Princesses (not only one) and is the tallest castle in all of the related Disney theme parks. Inside the castle are a walk-through attraction, a Disney Character Dining Restaurant, and a boat-themed ride.
When visiting the Disney Shanghai park, you will have a chance to try out a wide variety of activities ranging from meeting your favorite Disney characters to riding on a rocky river rapids ride. Even better, if you are a fan of Beauty and the Beast, you are in luck! The beautiful fairy tale is now live at Walt Disney Grand Theater for you to enjoy!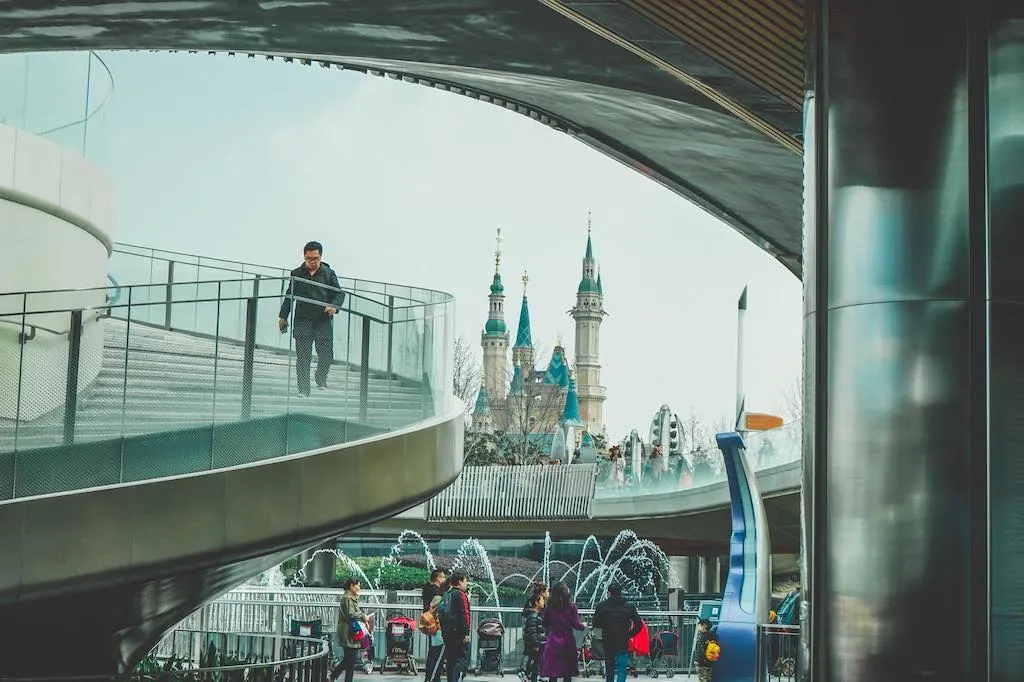 Temple Of Heaven
Built in the 15th century, Temple of Heaven is an imperial complex of religious buildings used by the Emperors of the Ming and Qing dynasties for annual ceremonies of prayer to Heaven for a good harvest.
Surrounded by a large park, the entire complex covers a total of 267 hectares (660 acres) land, which is 4 times larger than the nearby Forbidden City. This UNESCO World Heritage site comprises three main groups of historical temple constructions, all built according to strict philosophical Fengshui requirements.
The Hall of Prayer of Good Harvests is the iconic triple-gabled circular building built on three levels of marble stone base where the Emperors used for prayers ceremonies. This is the exact place believed to be where heaven and earth meet according to the Fengshui masters. The other main features of the temple include The Imperial Vault of Heaven, which is a single-gabled circular building, as well as The Circular Mound Altar, which is the altar proper supposed to boost the prayer to Heaven.
Located in Central Beijing, the Temple of Heaven is easily accessible directly by subway, alternatively by bus or taxi. The entrance ticket is priced at RMB 15 (April – November) and RMB 10 (December – March). Although the historical buildings only open from 8 am onwards, do check out the surrounding park which opens from 6 am where the locals use it (especially on weekends) for various activities from singing, dancing, chess games, to traditional Chinese sports such as shuttlecock, Kung Fu and Tai Chi sessions.
Explored by Allison Wong from Sassy Urbanite's Diary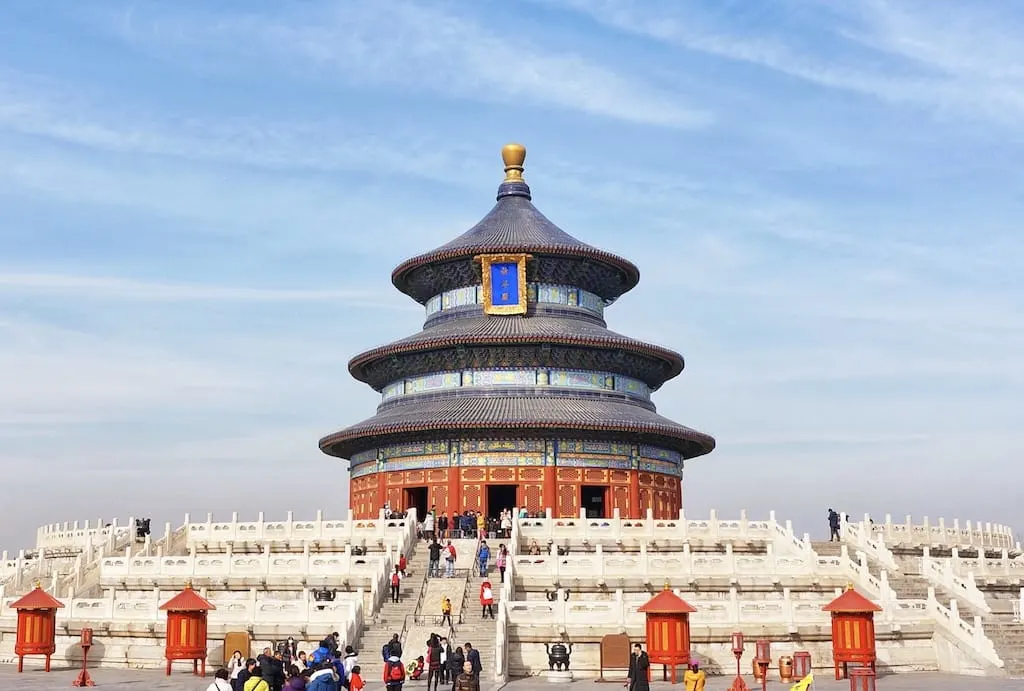 The Beijing Summer Palace
Initially built in 1750, partially demolished in the 1860 Second Opium War and rebuilt again in 1886 –The Summer Palace of Beijing is a marvel of Chinese landscape garden architecture.
And one of the top places to visit in China. The organic hills and wide-open water-landscape is coupled with architectural elements such as pavilions, courts, palaces, temples, and ornate bridges that create a harmonious ecosystem of exceptional aesthetic interest — and one that you could spend days exploring.
The area covered is vast, 297 hectares, though the water of Kunming Lake dominates three-quarters of this. Beloved by locals who use it daily for recreation, the Beijing Summer Palace has a long and rich history that can be explored through onsite museums and displays. However, it is equally appealing to wander aimlessly and find your own hidden pockets of joy.
In winter, the lake freezes over, and you can try your hand at ice skating or water. In spring, the flower bloom and picnics are a fashionable affair.
Located 15 kilometers from downtown Beijing, the over 3,000 human-made structures and surreal environment here never fails to impress – which is no surprise given it is still the largest and most well-preserved royal park in China.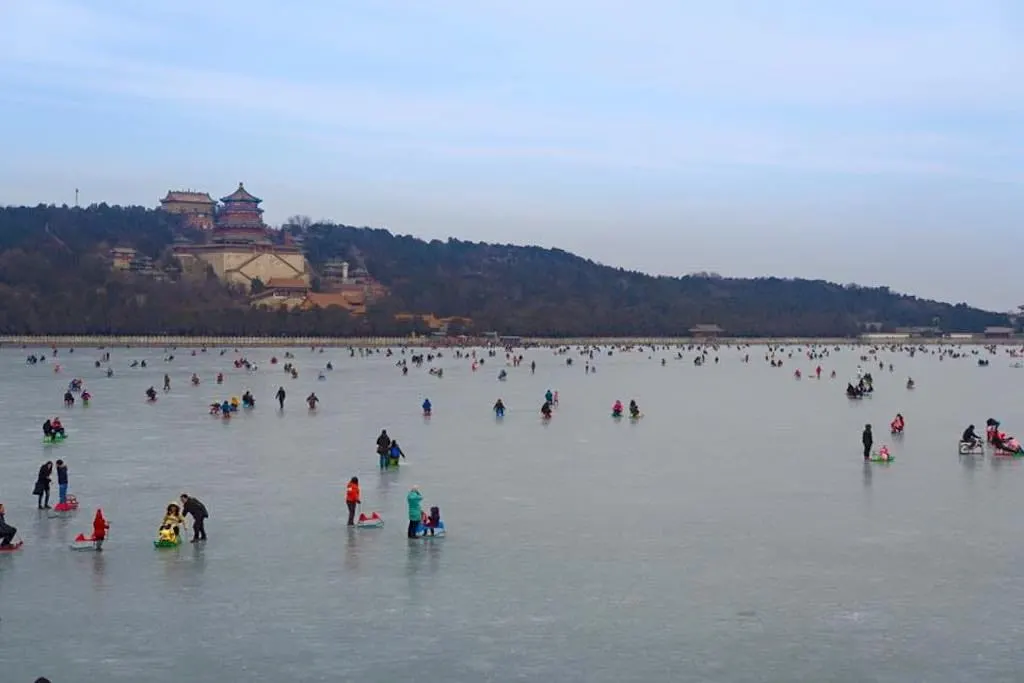 The Bund
The Bund is not only one of Shanghai's most popular places to hand out, but a landmark of China — offering a little something for everyone. Along this one-mile (1.6 km) waterfront promenade along the bank of the Huangpu River, there are ornate colonial buildings, glimmering skyscraper views of modern Pudong, fabulous people watching, street food and more.
For a century, the Bund has been one of China's most recognizable symbols and the pride of Shanghai. The architectural tendencies presented by this living museum are also noteworthy.
There are 52 historic buildings here with most in the Eclecticism style, but some displaying Renaissance Revival, Baroque Revival, Neo-Classical or Beaux-Arts traits. There are also a few Art Deco buildings – as Shanghai has one of the most stylish collections of Art Deco buildings in the world, up there with Singapore and Miami.
Huangpu River is one of the most important rivers in China, and here it runs through the heart of both Old Shanghai and New Shanghai. A cruise along this river is a great way to see the Bund and Pudong skyline from afar, thought the 360-degree panoramic view from the observation deck of the 118th floor of Shanghai Tower would also take your breath away!
My personal favorite experience is just simply to stroll the Bund at sunset as the light changes, and people watch as families come to enjoy its enchanting appeal.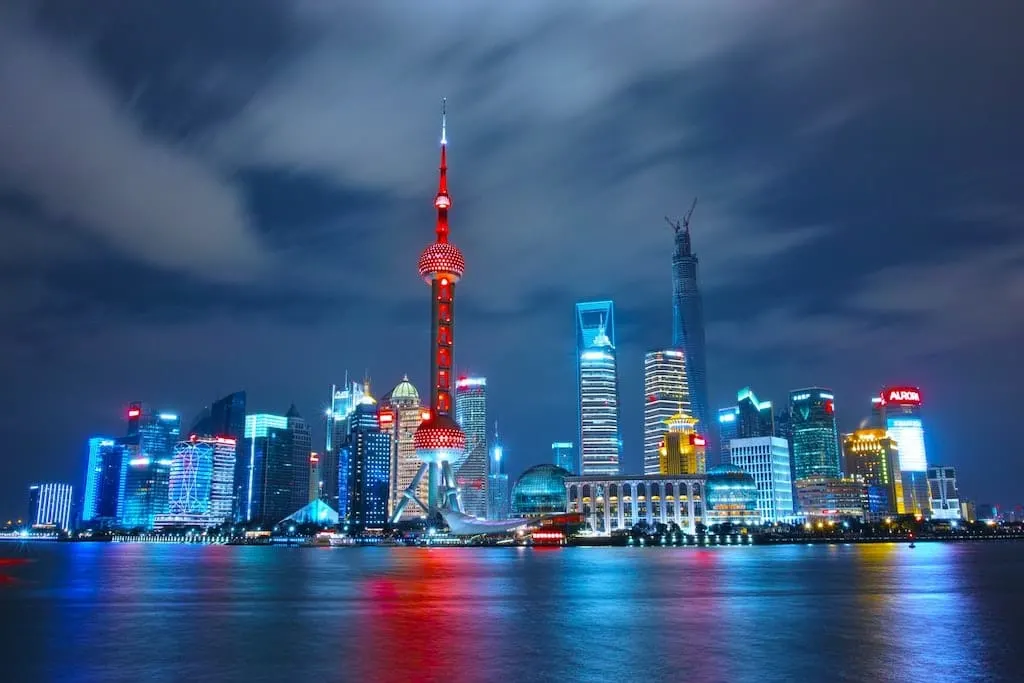 The Gardens Of Suzhou
Stressed by the crowds and the hustle and bustle in Shanghai, are you looking for peace, relaxation and peaceful nature? Then Suzhou is the place for you! Just a good hour by express train from the pulsating Shanghai Zhan train station is between the metropolises of Shanghai and Hangzhou. With a population of more than 10 million, Suzhou is itself an important economic center today.
The city is particularly known for its classical gardens and canals and is still today, as then, an important attraction for scholars, artists and craftsmen.
Enjoy long walks through the gardens where time seems to have stood still. Many of the 70 plus gardens in Suzhou are listed as UNESCO World Heritage Sites.
Do not miss the Humble Administrator's Garden (Zhuo Zheng Yuan 拙政园), which is the largest in Suzhou with over 52,000 square meters and is one of the four most beautiful gardens in China. Let yourself be enchanted by well-thought-out ponds, bamboo groves, Ming Dynasty style pavilions, and rock formations. There are even boat tours through the garden canals.
Lion Forest Garden (Shi Zi Lin 狮子林) is part of a former Buddhist monastery and is particularly famous for its unique rock formations. Go on a discovery tour through different levels of paths, caves, and footbridges.
Do you prefer it to be clear and cozy? The Master of the Nets Garden (Wang Shi Yuan 网 师 园) is your place to be! With its comparatively small area, this garden represents a pleasant contrast to the larger gardens. The elegant pavilions are among the best preserved in the city and blend in wonderfully with the surroundings of trees, ponds, and rocks.
Autumn is a particularly good time for the gardens when the leaves change color to create a breathtaking color. Entrance fees to the Suzhou Gardens range from ¥ 10 to ¥ 90, depending on their size and popularity.
Explored by Philipp from JOURNICATION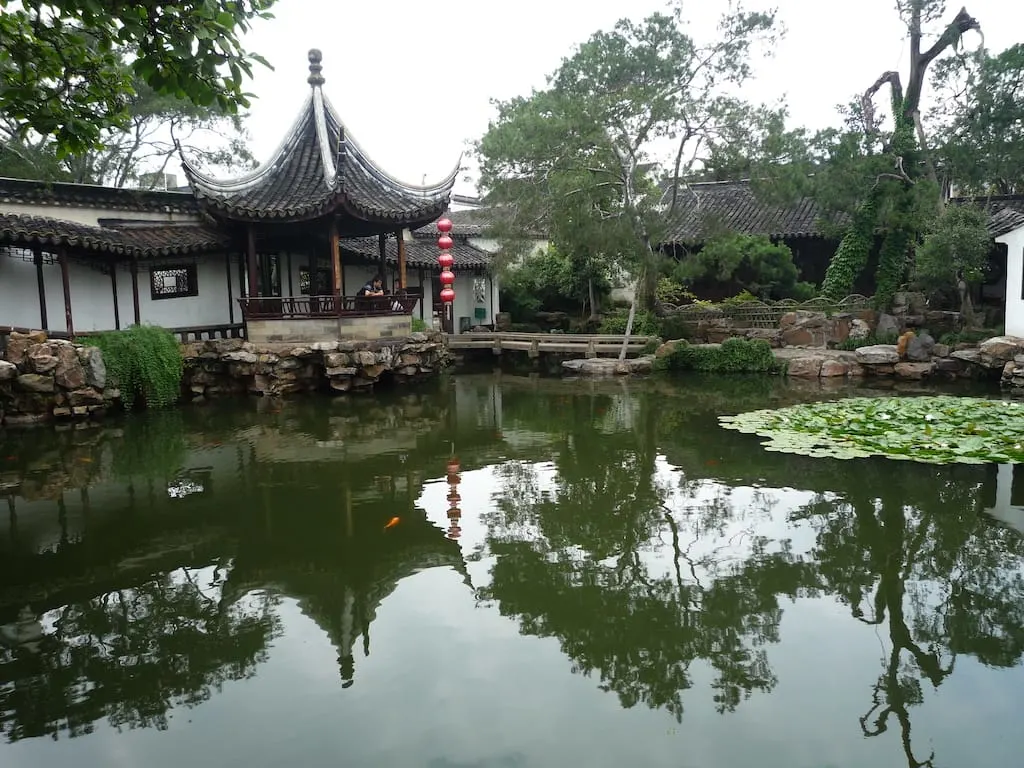 The Terracotta Army In Xi'an
Located in one of China's ancient capitals, the Terracotta Warriors of the Qin Dynasty are sometimes also known as the "8th Wonder of the World". The warriors were accidentally discovered by a local farmer about 40 years ago; until then, they stood guard silently and protected Emperor Qin Shihuang's mausoleum for more than 2,000 years.
The thousands of warriors were painstakingly created by hand to accompany the emperor into the afterlife, with each one featuring a unique hairstyle and facial feature – just like in a real, human army, the soldiers serve different functions with some manning war chariots, some serving as archers and others as foot soldiers.
The warriors and mausoleum were designated as a UNESCO World Heritage Site, and is the largest preserved site in China, though the scale is bound to make your jaw drop when you arrive. Various pits of archaeological excavations are currently open to the public, with the first pit being the most visually striking as you set your eyes open thousands of standing warriors in orderly rows facing east – towards the main tomb.
Don't skip the third pit, home to the "complex army" or charioteers and archers, including one kneeling archer who avoided earlier damage from a collapsing roof. The Qin Shihuang mausoleum is located about an hour by car outside of Xi'an city.
It is highly recommended that you hire an experienced guide to provide the rich historical background and to point out fascinating details that you would otherwise miss if you were exploring the tomb on your own.
Explored by Flo from Yoga, Wine & Travel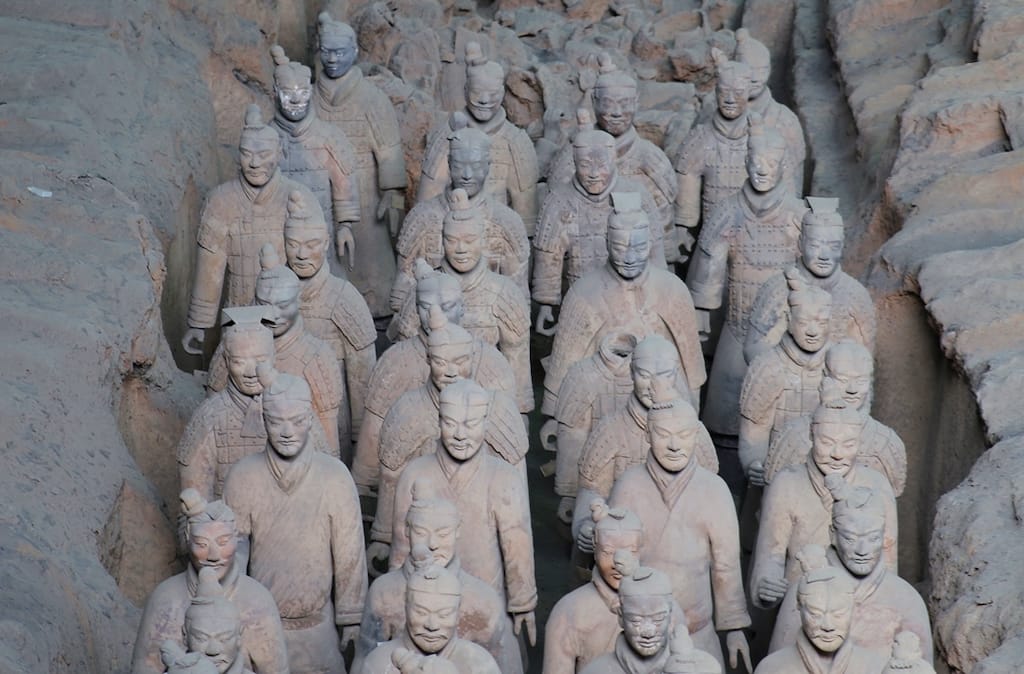 The Great Wall Of China
The Great Wall of China is one of the most iconic structures in the world and a bucket-list-worthy destination! Made by thousands of civilians, convicts, and soldiers, it's truly a spectacular sight, worthy of its place as one of the New Seven Wonders of the World.
The wall spans over 21 000 km but sadly, many parts are breaking away and disappearing due to erosion. A few sections have been restored and are well-maintained, but most are in their original form, offering a wilder experience to visitors. It's best to spend your day hiking The Great Wall where you'll pass beacon towers and picturesque arched doorways and windows.
If you'd prefer to walk a shorter distance, many sections have a cable car that transport travelers to and from the wall.
You can easily visit the Great Wall of China on a day trip from Beijing. The sections closest to the capital city include Badaling and Mutianyu which are accessible via public transport. However, these attract tourists in their numbers. If you're looking for a crowd-free experience, it's best to venture slightly further away and explore the semi-restored Jinshanling Great Wall. The unspoiled, panoramic views make the 2.5 hours' drive worth it!
The best time to visit the Great Wall of China is during the spring or fall when the temperatures are warm and comfortable. The summer months in China can be extremely hot whilst you can expect snow during the winter. Either way, no trip to China is complete without visiting The Great Wall so be sure to add it to your Beijing itinerary!
Explored by Carryn Beard from Torn Tackies Travel Blog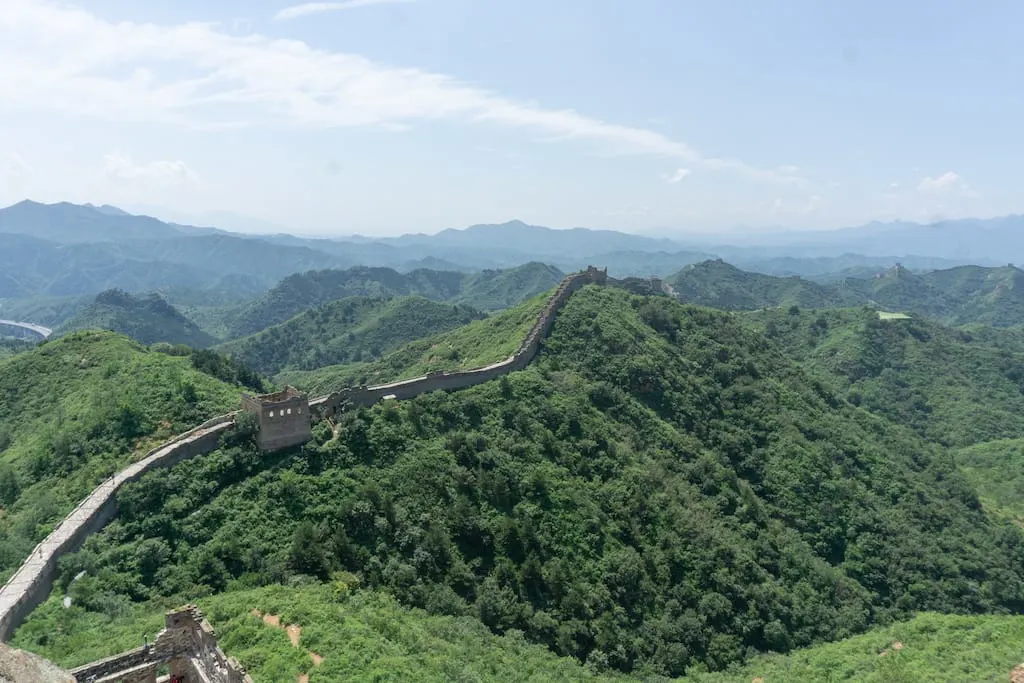 Three Gorges Dam
One of the most interesting landmarks we visited in China was the Three Gorges Dam along the Yangtze River. Completed in 2006, this is the world's largest power station and an impressive landmark in China.
Most people will visit the Dam as part of their Yangtze River Cruise but the nearest city is Yichang. To enjoy the gorgeous nature along the Yangtze River, we highly recommend taking a cruise; we booked our cruise via China Highlights.
From Yichang, you can catch a number of buses to get to the Dam but the easiest option is to hire a driver directly to the museum. For the bus, take buses 4, 10, 21, 34, 100, or 101 to Yemingzhu Station then take bus 8 in the dam area and get off at Liuzhashou Tourist Center.
The Dam was originally built to prevent flooding downstream, with the hydroelectric gravity dam controlling the flow of water. The dam produces electricity, in China's bid to lower its pollution levels, but was also made to increase the river's shipping capacity. You can visit the smaller dams and locks in this expansive ground but most will visit the main dam, which includes impressive (but often misty views) and a detailed museum.
As interesting as the landmark is, what stuck with us the most are the stories from our guide. As we cruised along the waters, our guide pointed under the water and explained his home was beneath us. Although many see the dam as a fantastic success and incredible engineering, it is important to be aware that 13 cities, 140 towns, and 1352 villages were flooded in order for the dam project to go ahead; relocating over 4 million people.
In doing so, cities like Fengdu, with thousands of years of history, were destroyed.
Explored by Katie from Creative Travel Guide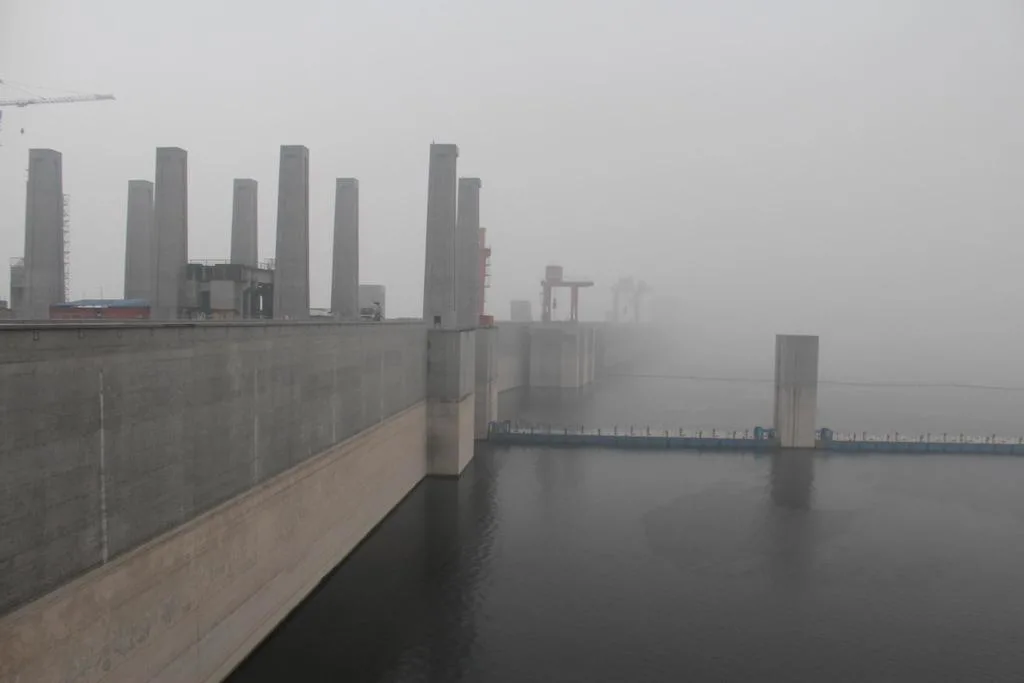 Tiger Leaping Gorge
For travelers to Yunnan province, Tiger Leaping Gorge has long been among the most iconic sites of the entire region. Named after a legendary tiger that jumped clear across the roaring Jinsha River to escape the pursuit of an ancient hunter, in modern times this rugged mountain canyon still sees tourists jumping with excitement (or fainting from the elevation).
It is possible (and quite popular) to explore Tiger Leaping Gorge by tour bus along the well-paved highway that runs the length of the gorge and beyond. However, for more adventurous travelers and those looking to enjoy the scenery at a slower pace, the Tiger Leaping Gorge Hike is a long-time favorite.
Though signs of development continue to push deeper into the canyon and higher up these steep mountain slopes, with more paved roads to hike along and more power lines and water pipes to occasionally obscure the view, the rugged nature of the mountain peaks just across the river make the whole route a worthwhile experience.
Though confident hikers can easily make the entire 25km trek in one day, it really is worth finding time to stop overnight at a guesthouse along the way (Halfway Guesthouse in Bendiwan remains a favorite) to enjoy the peaceful evening atmosphere and full sky of stars – something of a rarity for most travelers in China.
The most obvious access point is the popular tourist town of Lijiang – buses leave regularly for the village of Qiaotou and drop hikers off right at the trailhead beyond the Tiger Leaping Gorge ticket office. In the opposite direction, some travelers opt to disembark from Shangri-La – Lijiang busses at the Qiaotou highway stop, which adds several kilometers of road walking to the itinerary.
Explored by Stephen of Asia-Hikes.com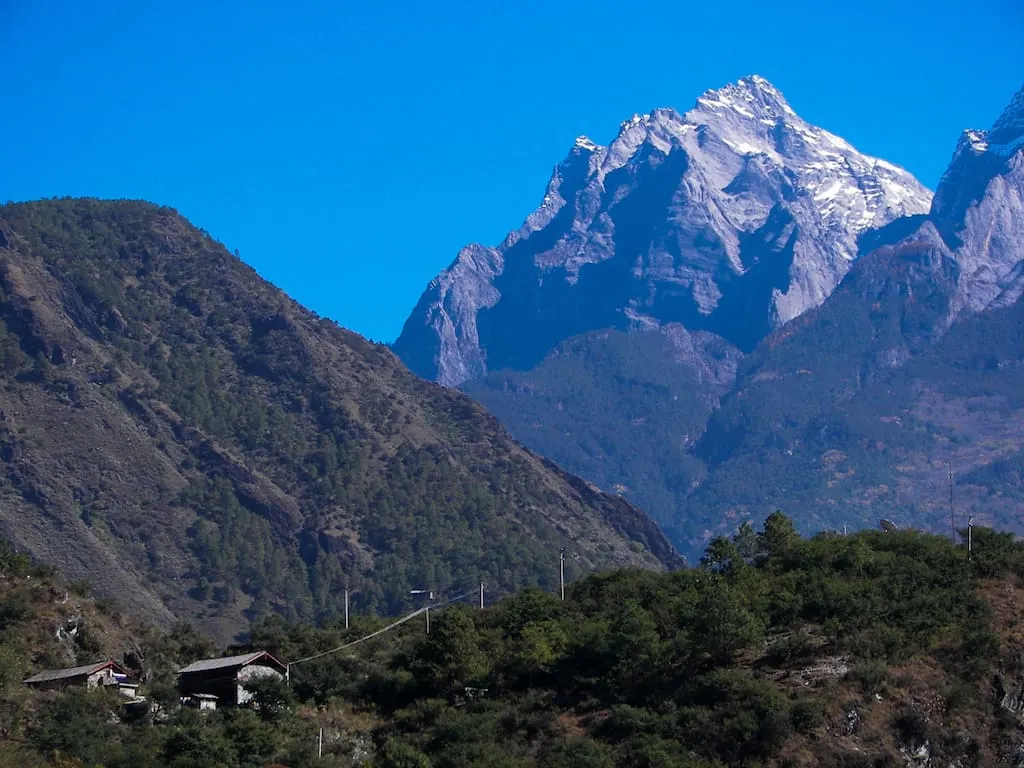 Zhangye Danxia Geopark
In the remote Gansu province in the west of China, there is a spectacular landscape of 500 square kilometers of undulating, multicolored mountains. It's known officially as the Zhangye Danxia Landform Geopark, but most people refer to it as China's "Rainbow Mountains".
And what's even more amazing is that virtually no one knew about this astounding natural wonder until 2011! My husband and I actually visited the nearby city of Zhangye in 2009, and we had no idea that the mountains existed. Our guidebook didn't mention them, and no one we met in town suggested that we go there.
Shortly afterward, though, the government of China established a geopark here and created the infrastructure to accommodate tourists. Nowadays, it attracts busloads of Chinese tourists, though it's still very much off the radar for foreign visitors. Like many natural sights in China, the park is set up to be visited by a shuttle bus rather than on foot.
Indeed, hiking is not allowed here, and you're sure to draw the attention of one of the guards if you attempt it.
From the entrance, you will board a shuttle bus that will take you on a circuit that includes stops at four observation platforms. All of these offer spectacular views, but my favorite is the Yun Hai Tai (云海台), which means "colorful sea of clouds platform". Various rock formations can be viewed from here, including the descriptively named "monks worship Buddha" and the "spirit monkey views the sea" formations.
Thanks to China's ever-growing high-speed rail network, Zhangye is not as difficult to reach as it once was. From Beijing and other cities in the east, you can take a high-speed train to Lanzhou and transfer to a slower train to Zhangye. From there it's 40 kilometers to the park, which costs about 220 yuan return in a private taxi.
Explored by Wendy Werneth from The Nomadic Vegan