One of the greatest joys in traveling is discovering hidden treasures; places that others might not necessarily come across. We know you're the same as us – constantly seeking out new experiences.
There are plenty of new things to discover in Vietnam and one of our favorites is the famous abandoned Ho Thuy Tien Waterpark near Hue.
There's something slightly creepy but incredibly fascinating about deserted attractions. While there's a sense of melancholy, there's also a dreamlike quality to being there.
Places like this do not come along very often. And it's easy to see why. Millions of dollars invested just to walk away, then security is lax enough to let tourists wander around – and all only a minute drive from one of the biggest tourist destinations in Vietnam.
So do not miss the chance to feel it out for yourself, we didn't buy all the hype and almost, almost decided not to come while traveling in Vietnam as it sounded difficult.
But when on the spur of the moment we decided to give it a go, we couldn't believe what we found. And trust me, photos could never possibly do this place justice…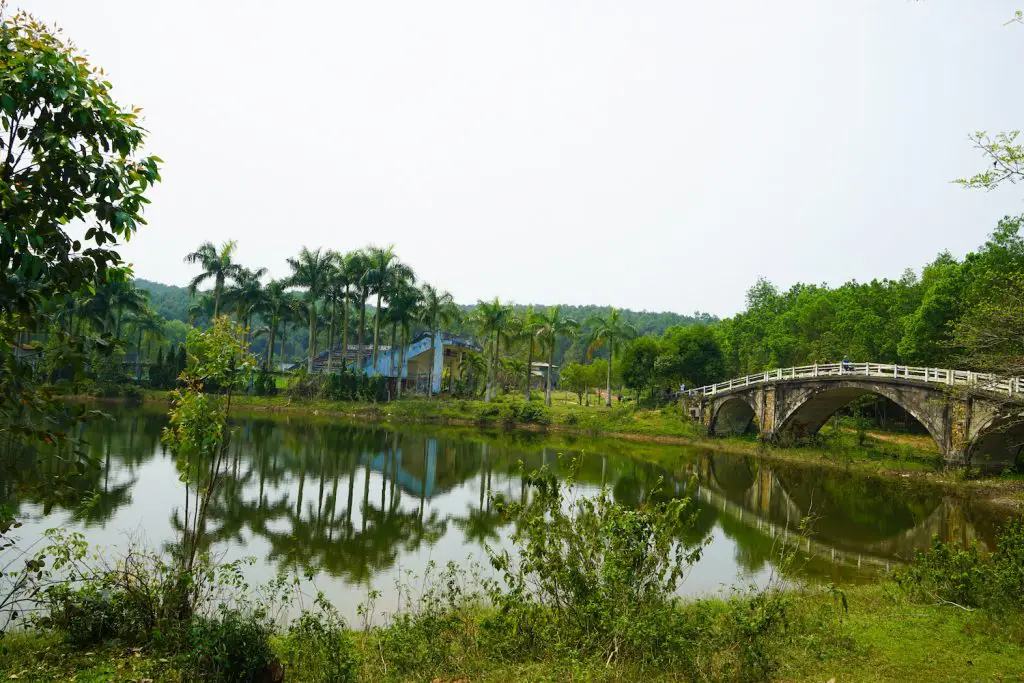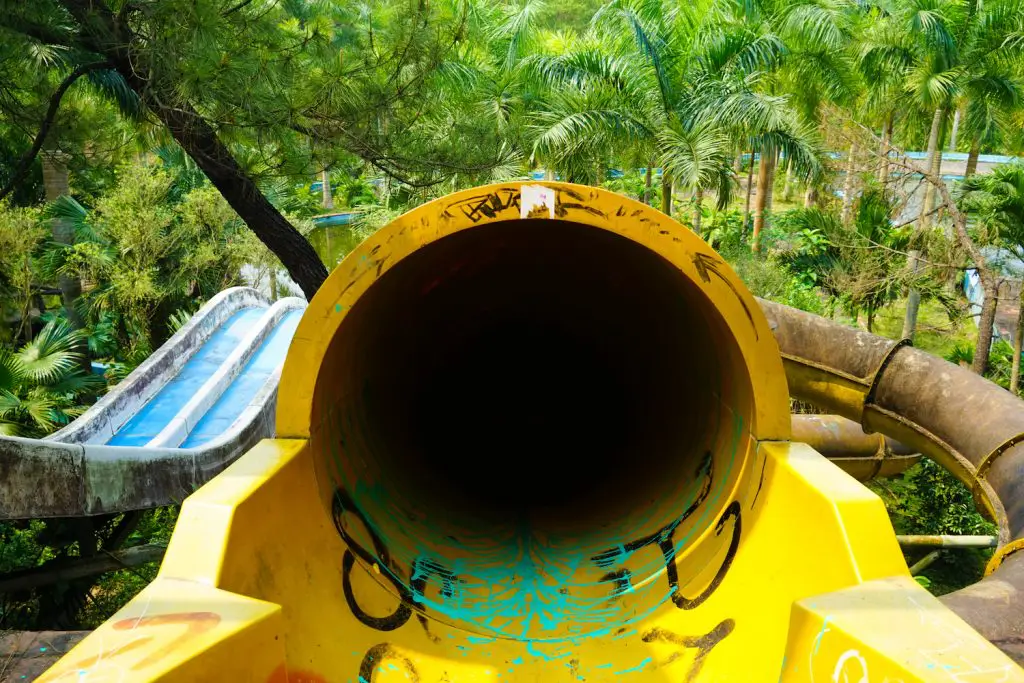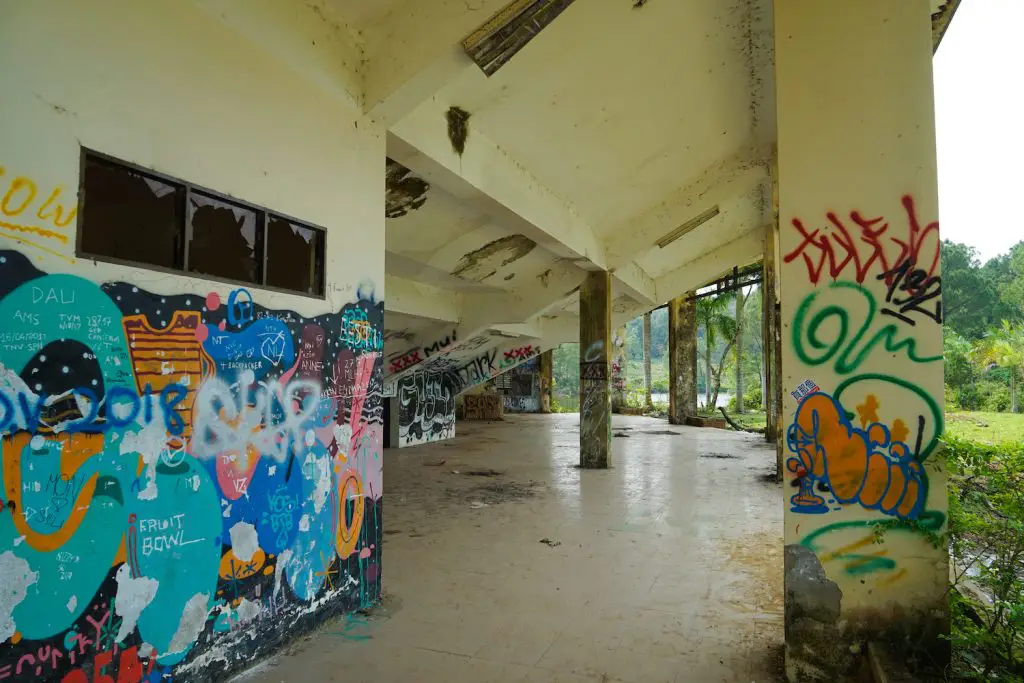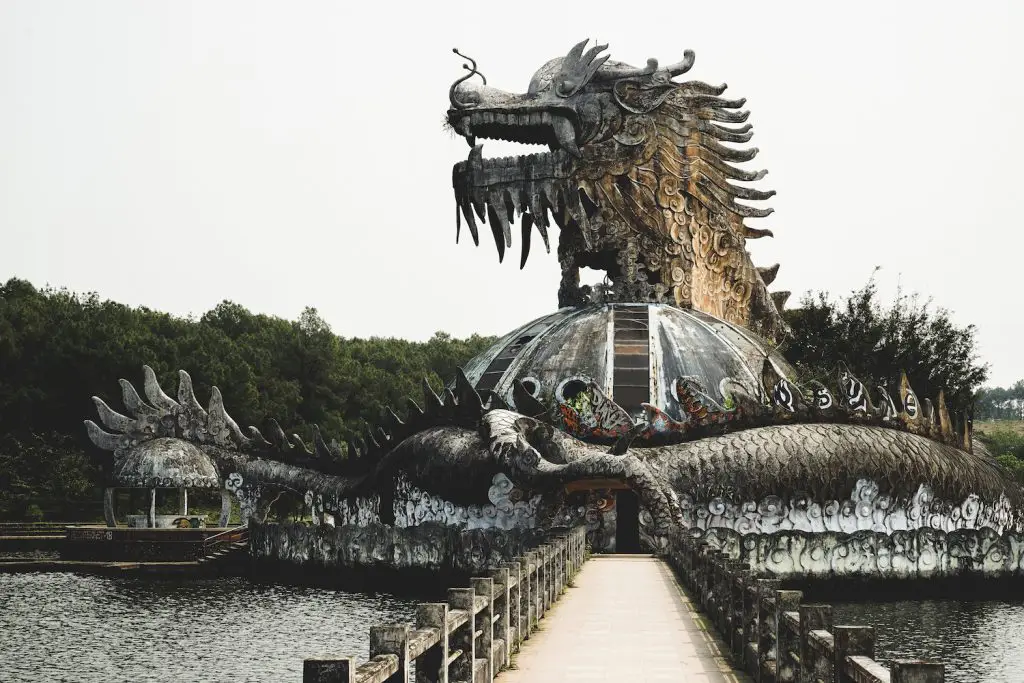 Sneaking Into The Abandoned Ho Thuy Tien Waterpark In Vietnam
How Can You Get To Ho Thuy Tien Park?
Set beside the Thuy Tien Lake, this site is so off the beaten track that you won't find it in any guidebooks; you have to ask other travelers or get dropped pin coordinates off someone in the know. It's about 10 kilometers outside of Hue and isn't that easy to get to, but it's worth it!
You can rent a push bike (or motorbike), or try and persuade a taxi to get you there. We actually organized a Grab (the local version of Uber) and put in the GPS co-ordinated beforehand. Write down the address to give to the driver if you're taking a taxi so there's no confusion.
We have a handy GPS shortcode at the end to find it . You could even do on the way to incredible Hoi An if you are taking a private car or motorbike trip to save time…
What's The History Of This Abandoned Water Park In Hue?
The history of the Ho Thuy Tien Waterpark is a bit of a sad one, really. It was an ambitious dream funded by the Company Hue Tourism to the tune of 3 million USD. The aim was to create a wonderland for families to go to, an oasis of rides, water slides, features, shops, and restaurants.
In 2004 the park opened, despite the fact that it wasn't finished yet. There was some initial excitement but there were immediately issues and rumours swirling. Only a couple of years later the park closed – to this day, no one really knows why.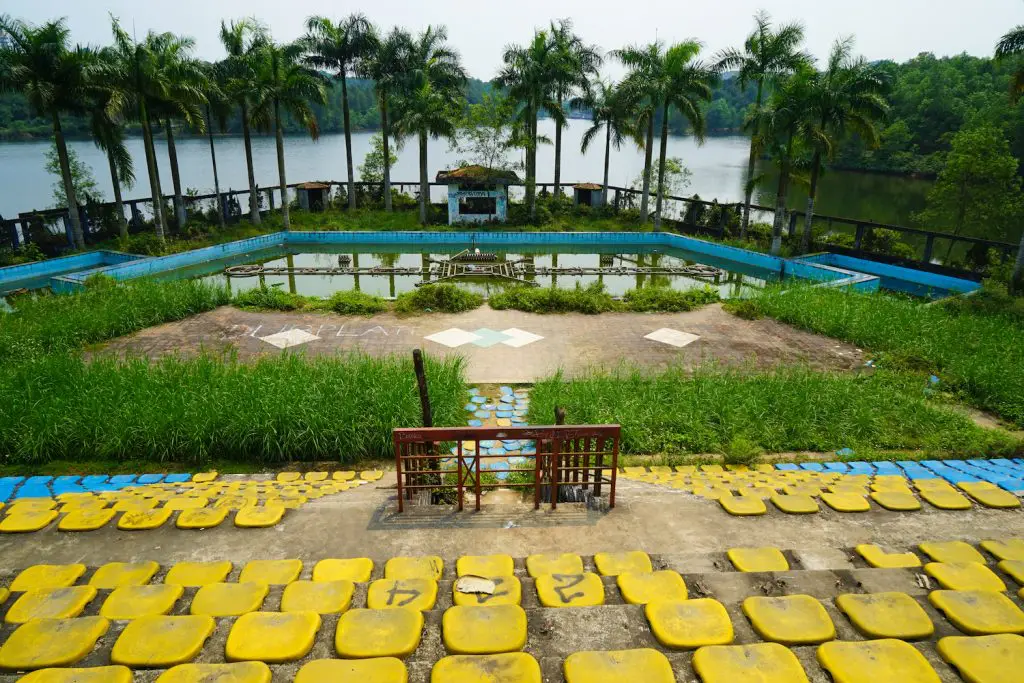 More rumors went around about plans to revive it, but nothing ever came of it. Lets hope they don't revive it – because, well, its freaking awesome and I for one don't want to lose it!
In an ironic twist, Ho Thuy Tien actually pulls in quite a few tourists now it's inactive. Word spread about the eerie wonders (and crocodiles) and quite a few young people in Vietnam and adventurous travellers head there. Word of mouth has made it famous along the backpacker trail.
So is it worth the detour? Hell, yes!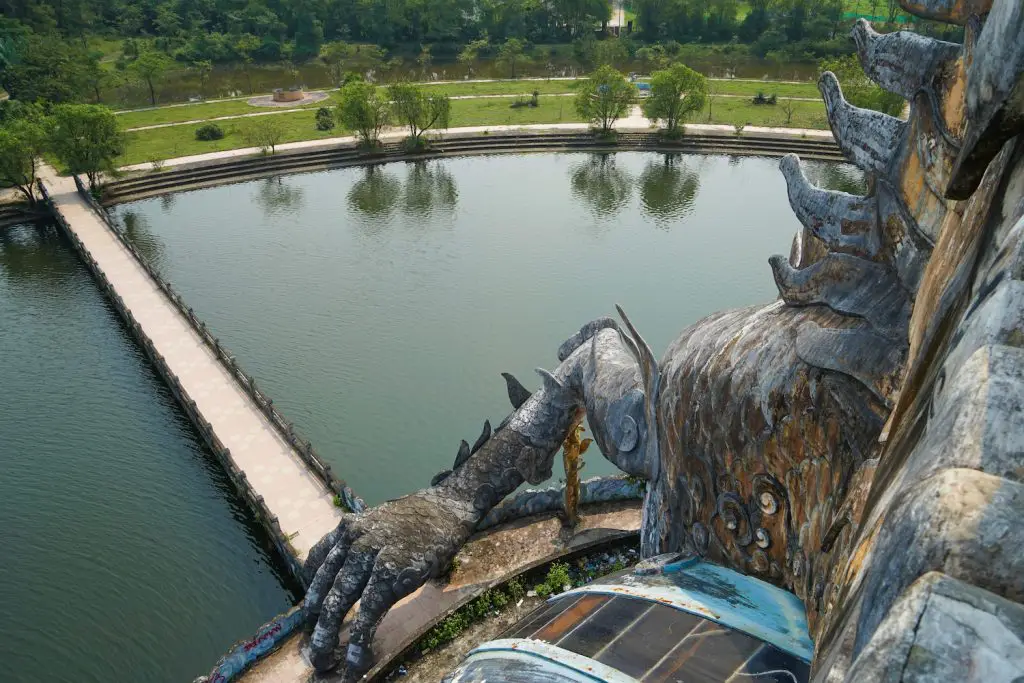 What's At Ho Thuy Tien?
The first thing you'll see once through the gates is the famous three-story-tall dragon that acts as the guardian of this ghost town.
Its scaly body, beginning to rust, is perched on top of a spaceship-shaped dome that once housed an aquarium. Despite the graffiti adorning its powerful coils, there's something rather life-like about this dragon, almost as if it could roar back into life at any point.
If you can get over the feeling that it will take off, you can climb up the staircase built into the dragon's ribcage and find yourself in its mouth. Between the no-longer-quite-so-sharp teeth you get an incredible view of the lake. On a still day, the attractions are perfectly reflected in the surface, adding to the otherworldly appearance of the area.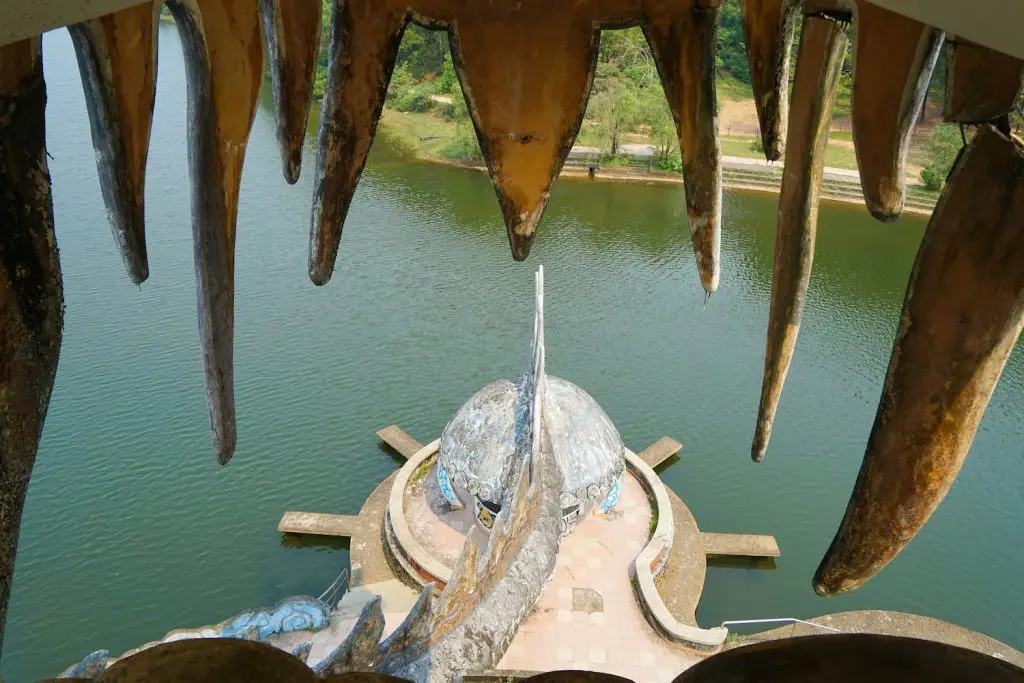 The aquarium in the dragon's belly used to be home to live fish and crocodiles. After the park closed, rumours abounded about the crocs now being on the loose in the park.
Apparently there were three or four which were kept alive by the trespassing backpackers and locals. Luckily, reports to WWF and PETA finally resulted in them being humanely rehomed in a wildlife park. Still, we didn't much feel like getting into the water around the slides or in the lake, just in case!
Heading on into the rest of Ho Thuy Tien Waterpark, you'll find more of the same eerie desolation as nature slowly takes back a place that was designed to be buzzing with life and energy. As you stroll around you can almost imagine what it once was; in the distance there's the sound of kids laughing, delighted squeals echoing around the water slides, applause coming from the amphitheatre.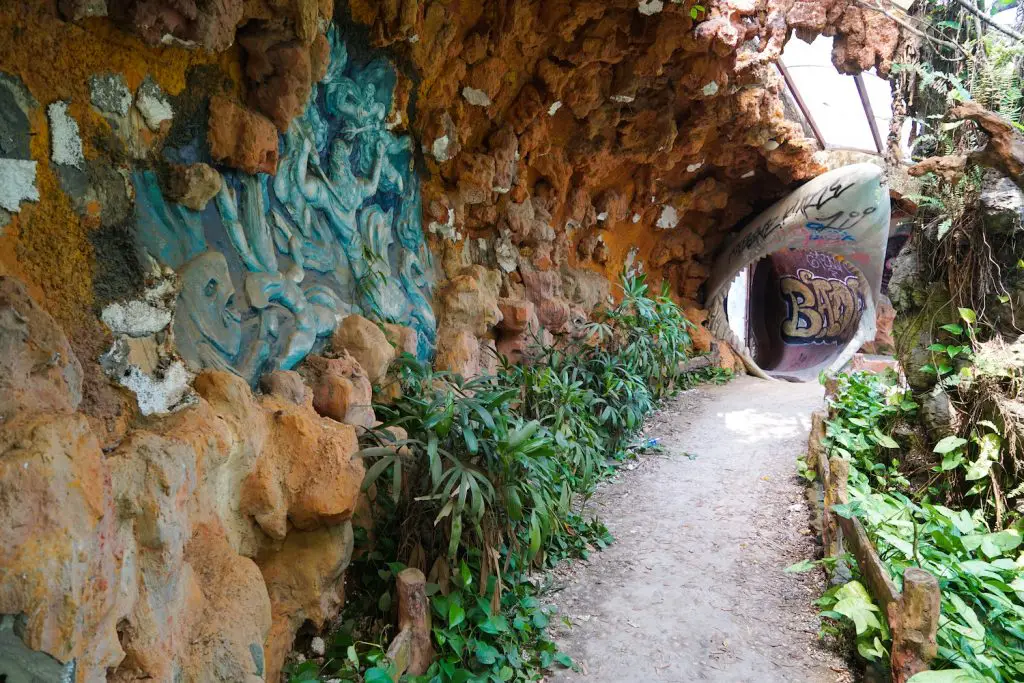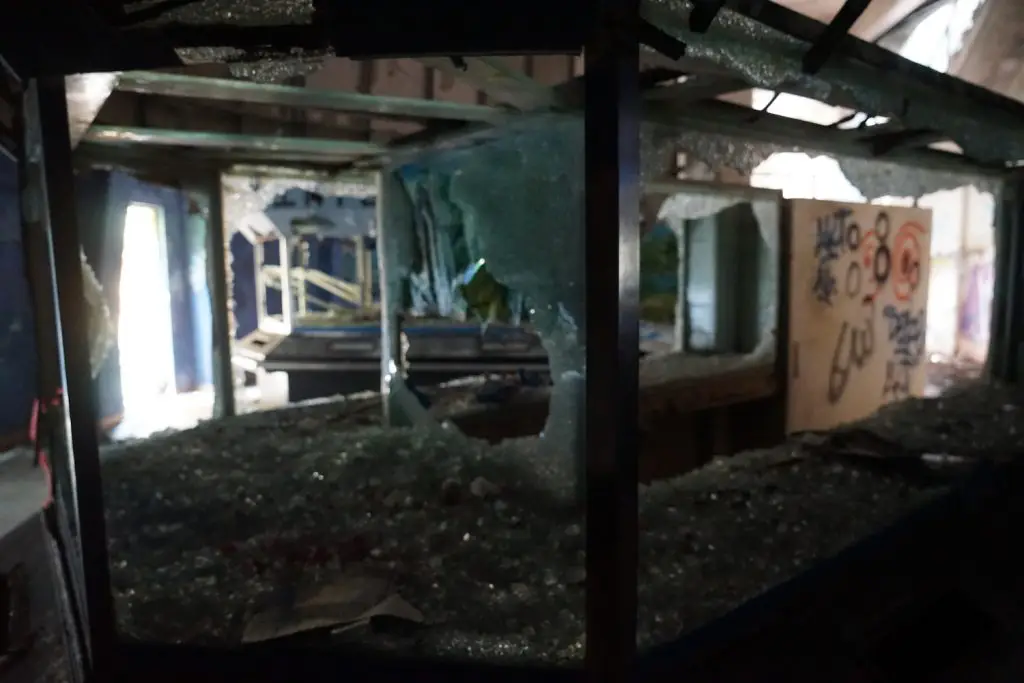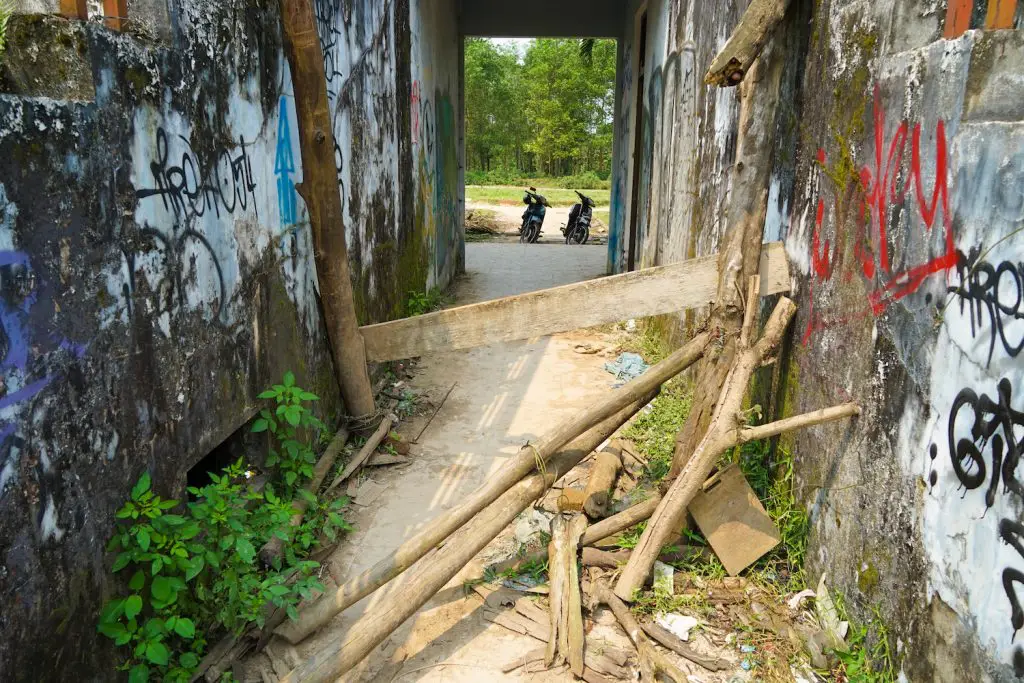 At times it feels like the beginning of a post-apocalyptic movie, as if the park has been abandoned in a hurry as UFOs descend from the sky. Or you imagine a curious velociraptor lurching out of the undergrowth to say hi. There's definitely a feeling that you could be a time traveller accidentally discovering a society that is long gone. A bit like wandering the backstreet of Hanoi in a way…
The amphitheater is somewhere this feeling is amplified. Walking around the enormous space with hundreds of seats, now partially covered in moss, really gives you the sense of abandonment. You can well imagine the excitement as the shows started back in the day. It's always strange to be alone in somewhere that's meant for crowds.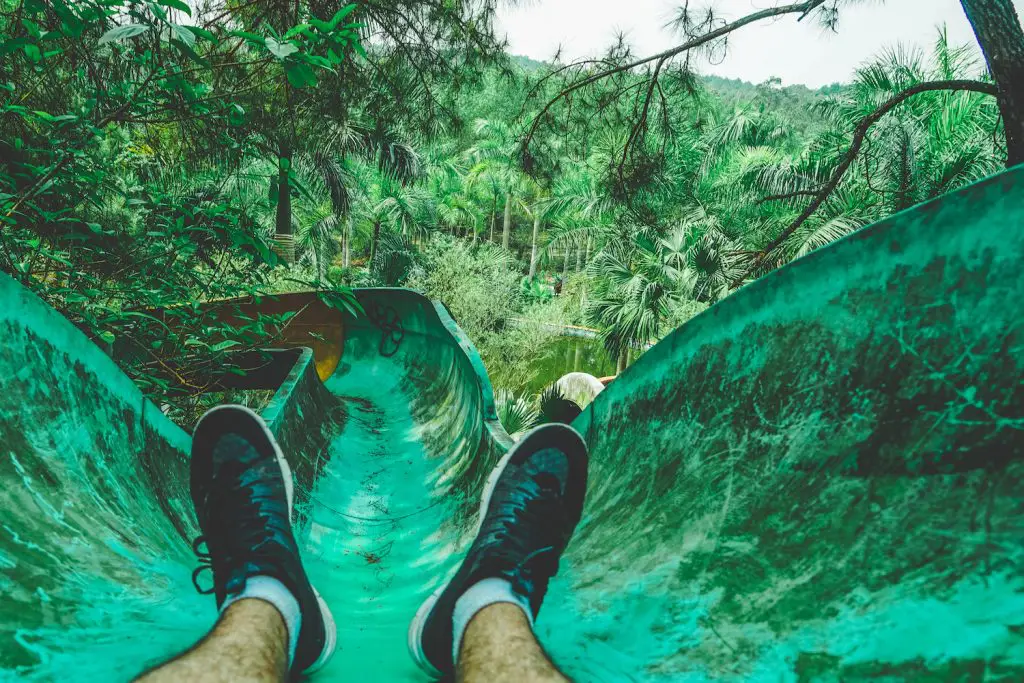 The waterslides that wind around the park are now partially enclosed by the encroaching forest. Weeds grow up in the cracks in the plastic and more graffiti decorates the sides. You might even see a herd of cows, totally unbothered, calmly grazing beside the old restaurants.
Sure, you can also find cows wandering around Ninh Binh and outside your hotel, but this is different!
It's so unusual to visit lonely places in this day and age; even temples and ruins are often overrun with visitors and have a gift shop. It's definitely not a place to visit if you're easily spooked! We'd also recommend being careful as you walk around, as there are loads of things to trip up on and no safety provisions in place.
Plus, being slow and careful means you won't miss anything! It's also not the sort of place you feel like you can rush around in. There's such a stillness over the idle attractions that running around them feel almost like you're doing something wrong.
Take your time and enjoy the unique atmosphere at this bizarre but fascinating place!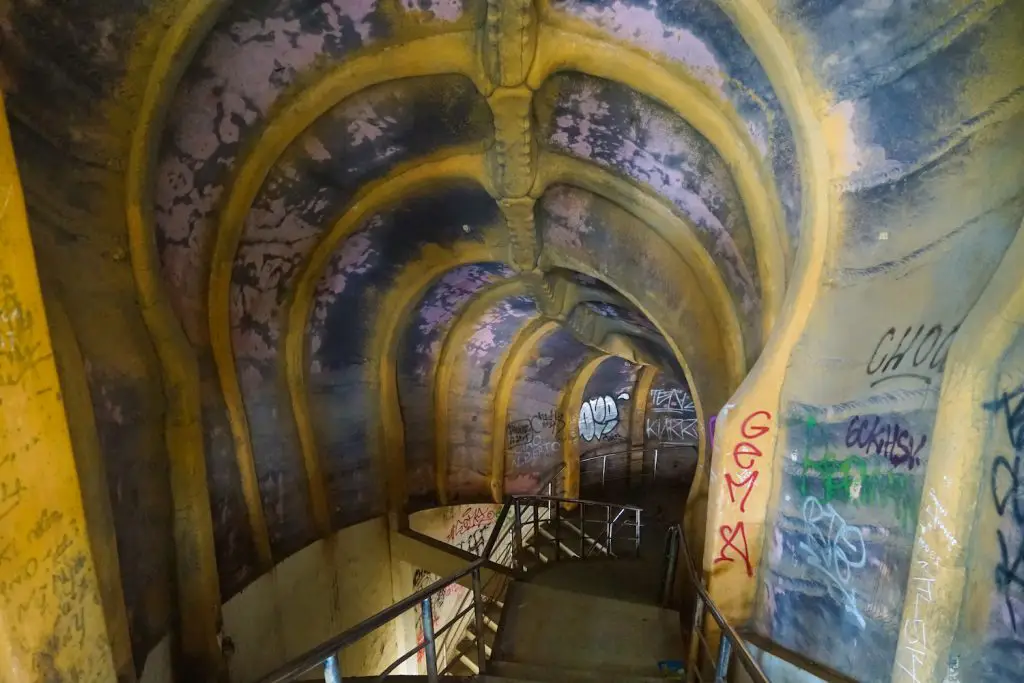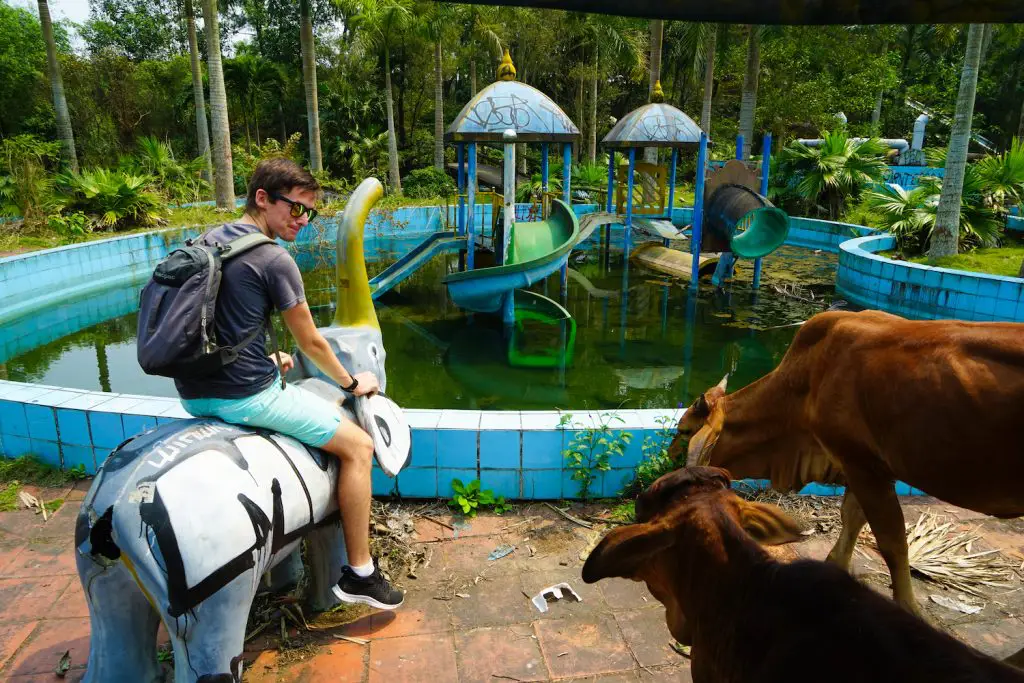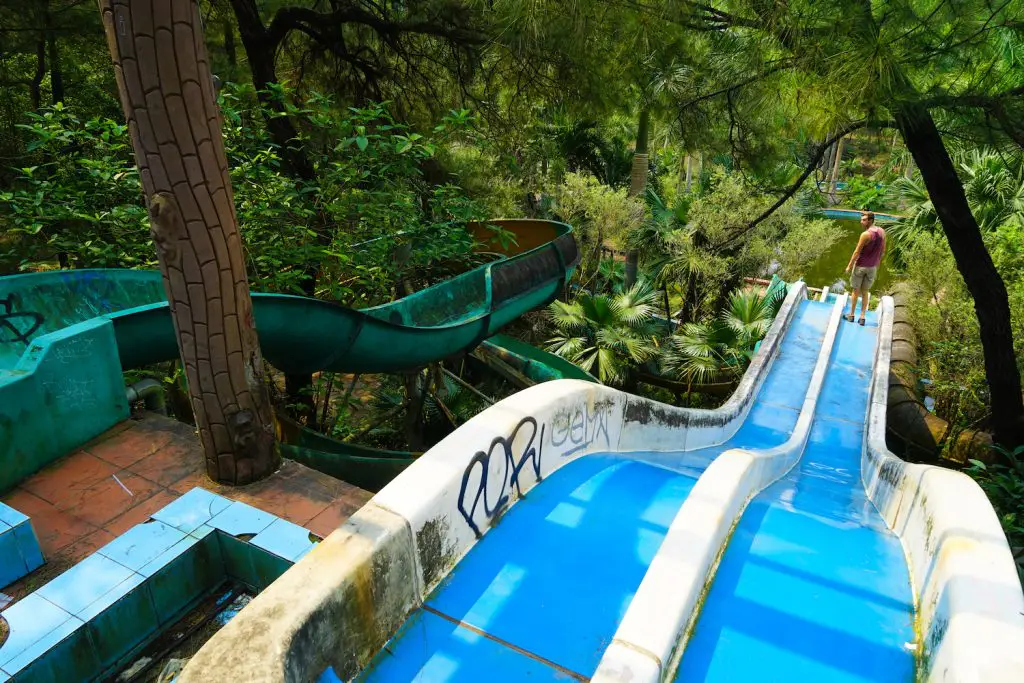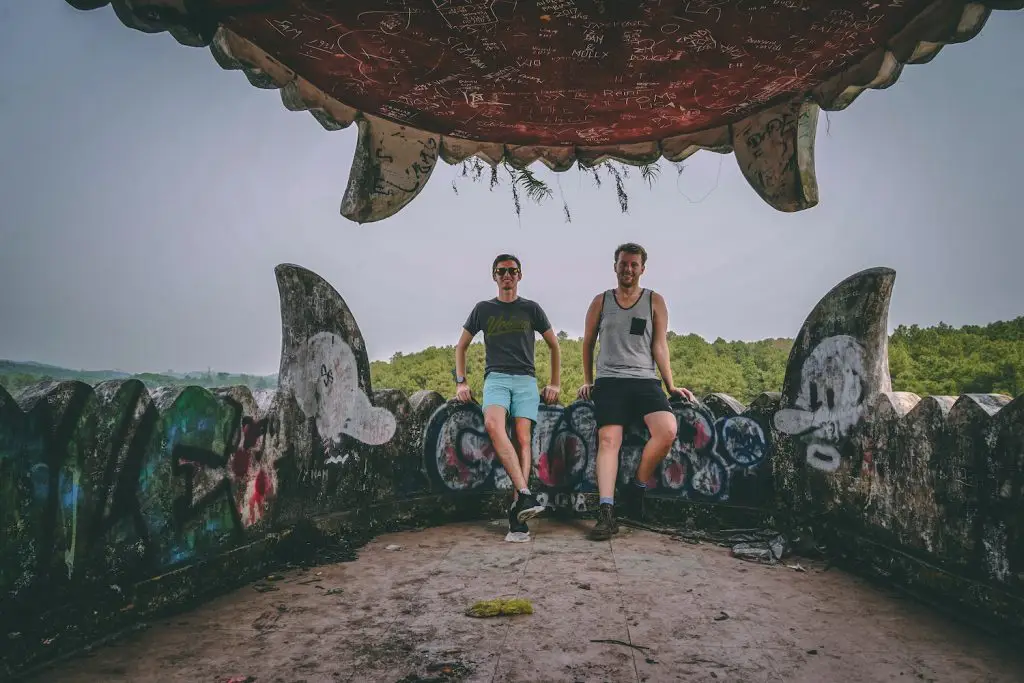 How To Actually Get Into the Ho Thuy Tien Waterpark
As I said before – push bike, Grab (local version of Uber) or a taxi is your best bet. The GPS coordinates for Ho Thuy Tien Waterpark are 16°24'43.3″N 107°34'40.6″E 16.412019, 107.577952 – well, at least that is the entrance we used. Now, the tough part is knowing who will be on guard when you get there.
We actually found our hotel in Hue had some up-to-date advice so you might want to ask ahead in case they have some inside knowledge to help out.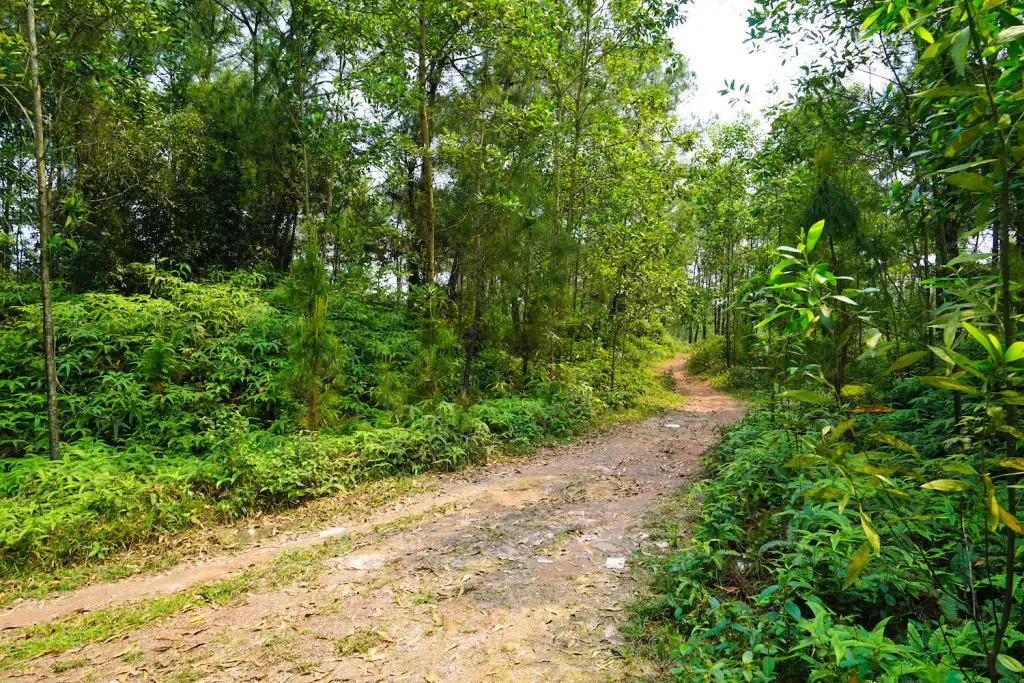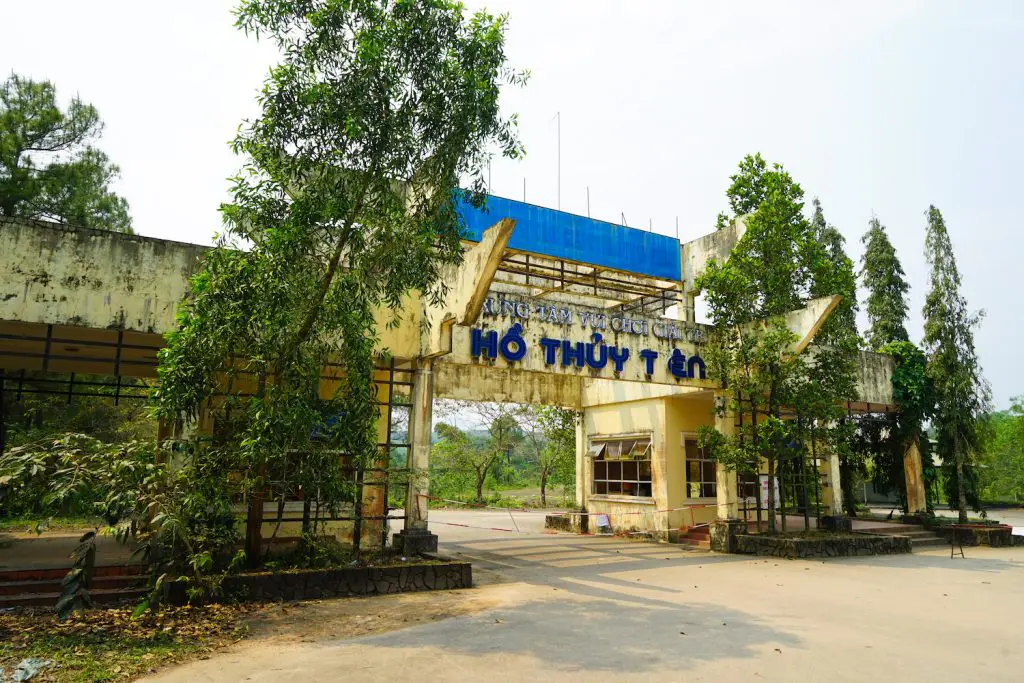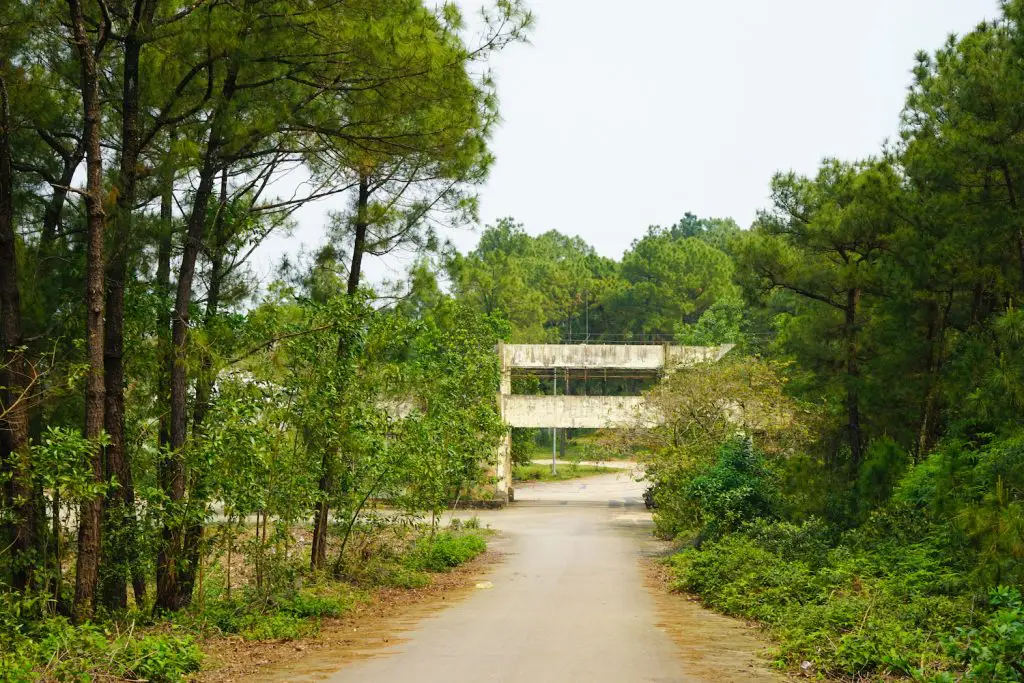 You can try just sneak around the guard, but we heard mixed reports beforehand – and obviously, you are trespassing, but given that there were at least 6 other tourist couples /groups wandering around, you won't be alone.
You just won't find any Vietnam tour companies taking groups here. You can also try to bribe the guard, which is the option we took but it didn't go as expected…
The guard took our money (around $10 USD) and then showed us a side path entrance in, not the main road. I guess so he technically didn't 'let' us in but clearly, this is all semantics.
This not-so-secret path is around 150m before the guardhouse on your left as approach the main entrance, but more of a dirt trail. You could just take this path on your own which cuts across to the main dragon head island, and then just wander around as usual.
A trip to the Ho Thuy Tien Abandoned Waterpark in Hue is well worth the effort – and is honestly like no other place in Vietnam …or on Earth! Well, except Chernobyl, but that is another story.