Canada is one of the world's most captivating travel destinations, a juxtapositioned jumble of modern cities and ancient nature from the concrete jungle of Toronto and relaxed vibes of Vancouver to the fairytale-esque Quebec City and the vast expanses of the Canadian Arctic tundra.
There is so much to see here, but discovering the most famous landmarks in Canada is an excellent place to start…
Unique cities, architectural monuments, inspirational tales, small towns, parks, forests, art and music, museums, and much more remain to be discovered by intrepid tourists in Canada. As you would expect from the world's second-largest country.
Not to mention that this continent-spanning country is also incredibly well endowed with spectacular natural scenes of thick forests, long rivers, high mountain ranges, and glaciers galore.
There are so many places to explore in Canada; you could spend your life enjoying their richness and scrape only the surface. Which is why we created this cheat sheet to guide you on your journey.
To ensure you can visit this incredible country, you'll first want to ensure you have the right type of visa of travel authorization before you go. An Canadian Electronic Travel Authorisation is required as a minimum for entry, but the application process through Byevisa makes it rather straightforward and takes around 24 hours. If you are from a country that is not eligible for eTA, you'll need a visitor visa to enjoy the iconic landmarks of Canada.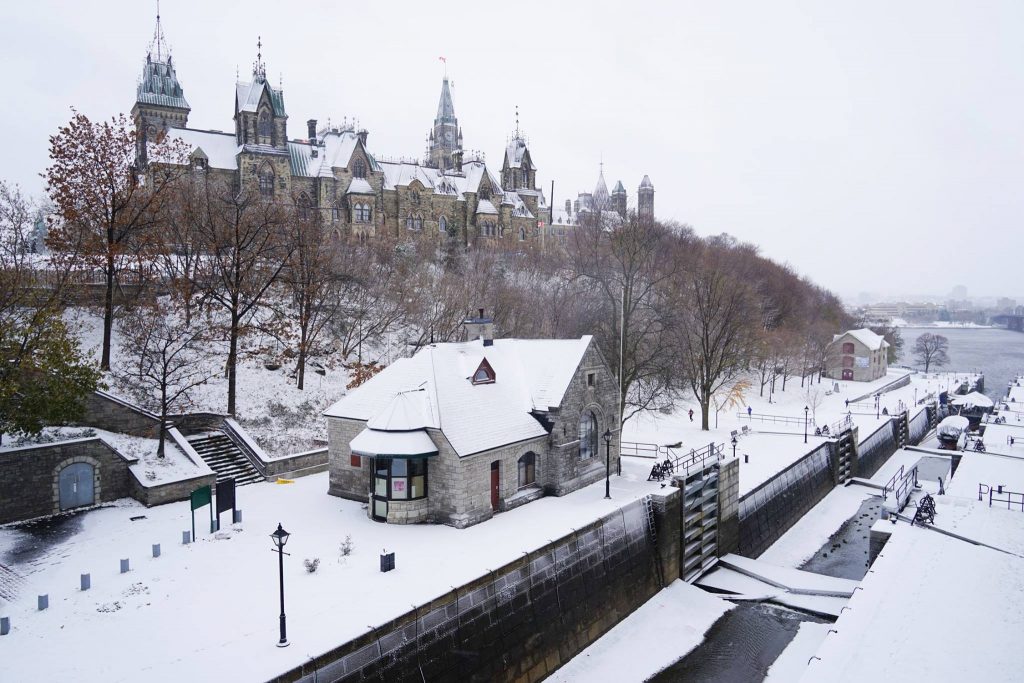 But first – what is a landmark?
A landmark is a recognizable natural or artificial feature that typically stands out from its environment and has become a local or national symbol. For modern tourists, a landmark is useful for navigation – in terms of both being a physical waypoint and in trying to help you organize your itinerary.
Getting the off-the-beaten-track is all well and good, but at the end of the day – there are some spots you just have to see when you visit a country. Instantly recognizable places, like the Sydney Opera House or the Royal Palace in Stockholm; you couldn't miss if you tried. And Canada has more than its fair share…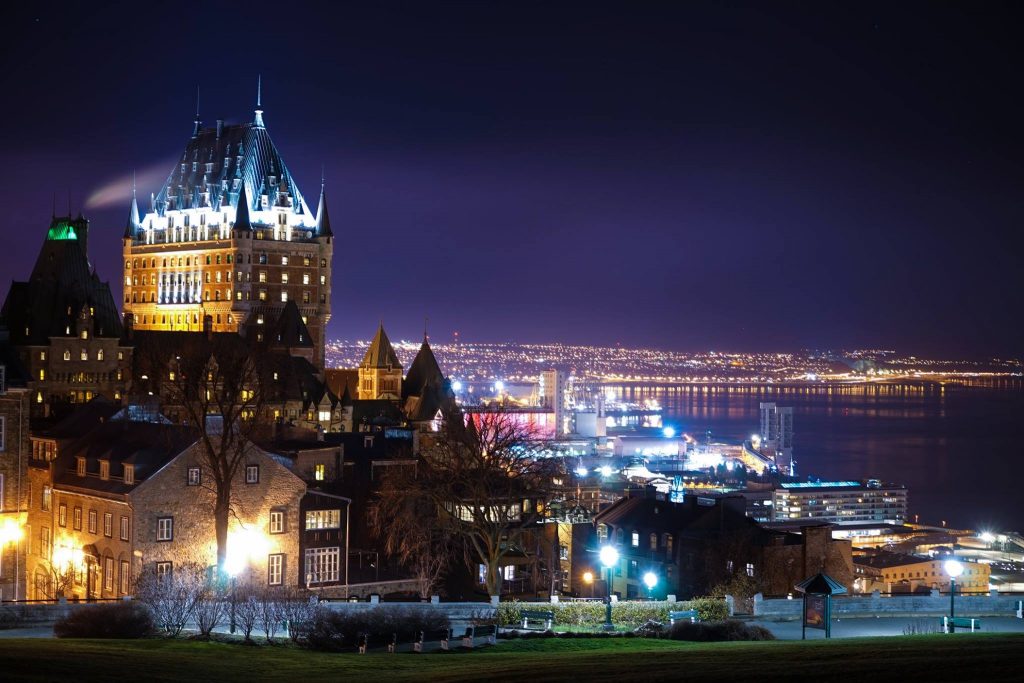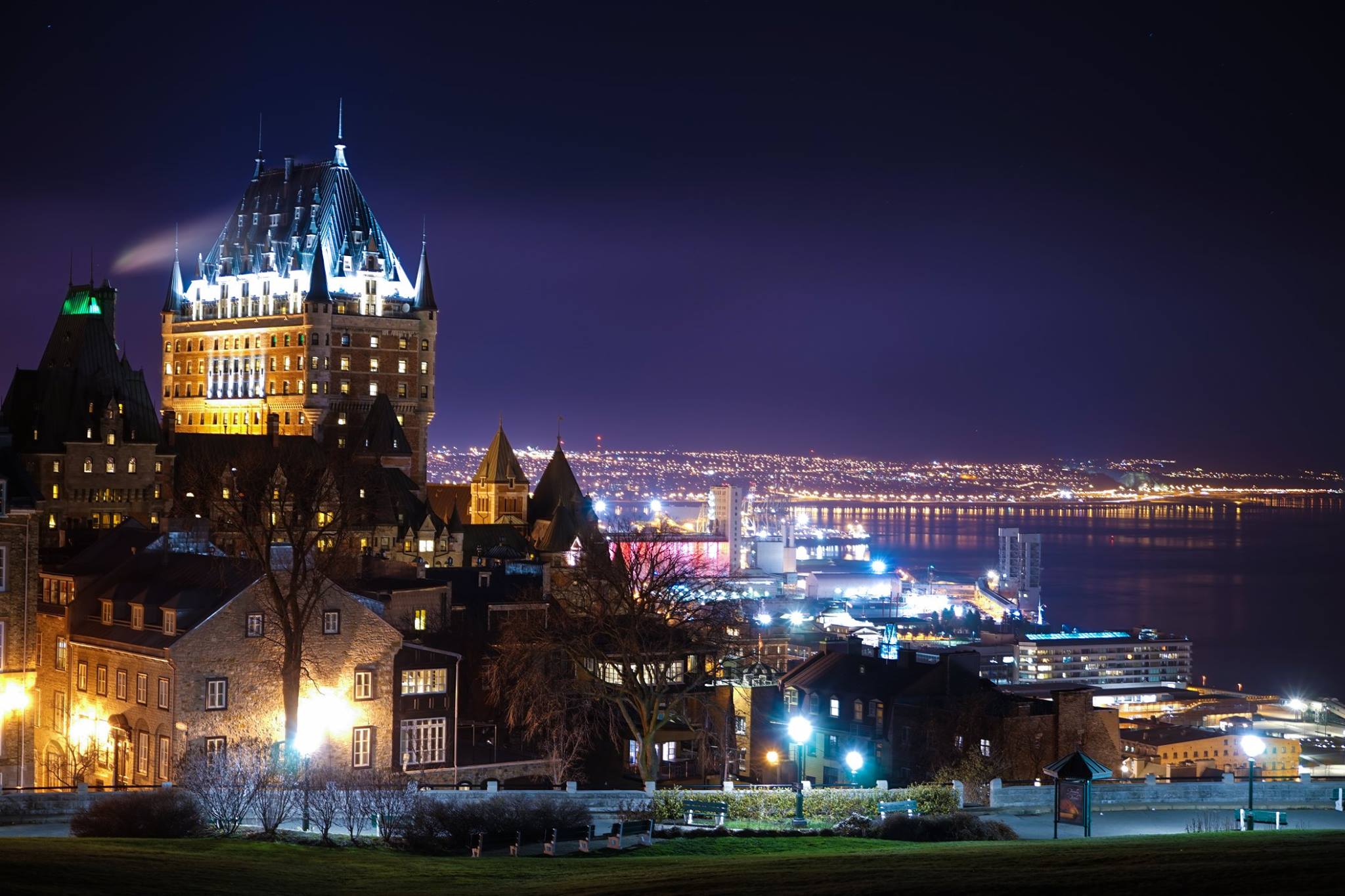 When approaching a trip to the land of Maple Syrup and over-politeness, you will want to tick off as many famous Canadian landmarks as you can – and the best way is to do that is often by renting a car, taking a tour, or using the famous Canadian rail system to get around.
There is a lot to explore in Canada — and no list of famous landmarks in Canada could ever be exhaustive. But, we have tried to collate the top highlights to get you started. This way, you have a reasonable frame of reference to inspire your Canada travels from which you could choose a few landmarks that you absolutely cannot miss… or cram as many as humanly possible into a single trip.
If you plan it right — with enough time—, and you might just hit them all. And discover plenty more of your own favorite highlights of Canada while you're at it!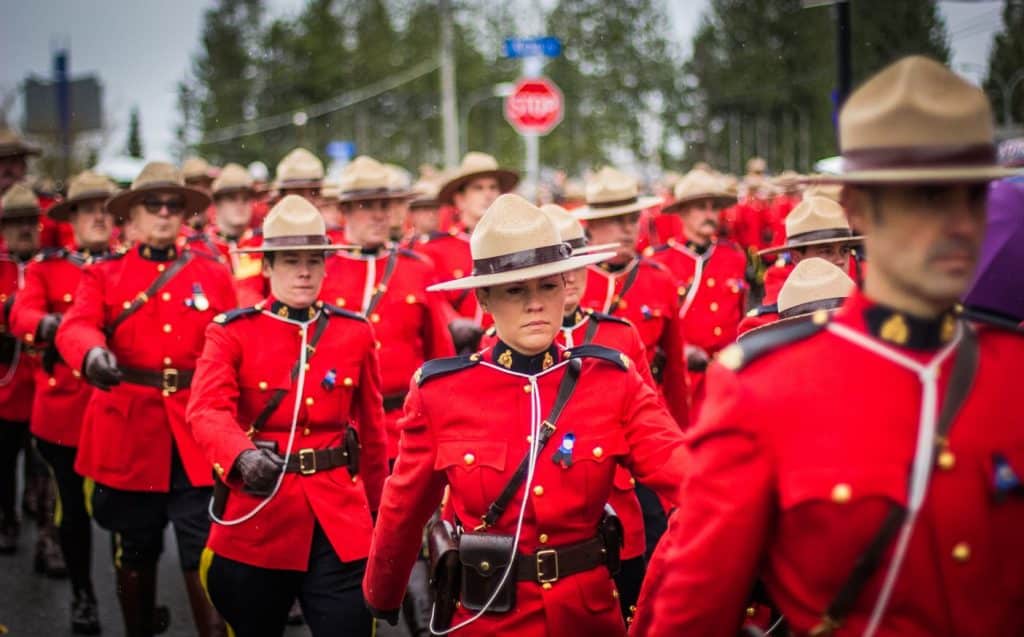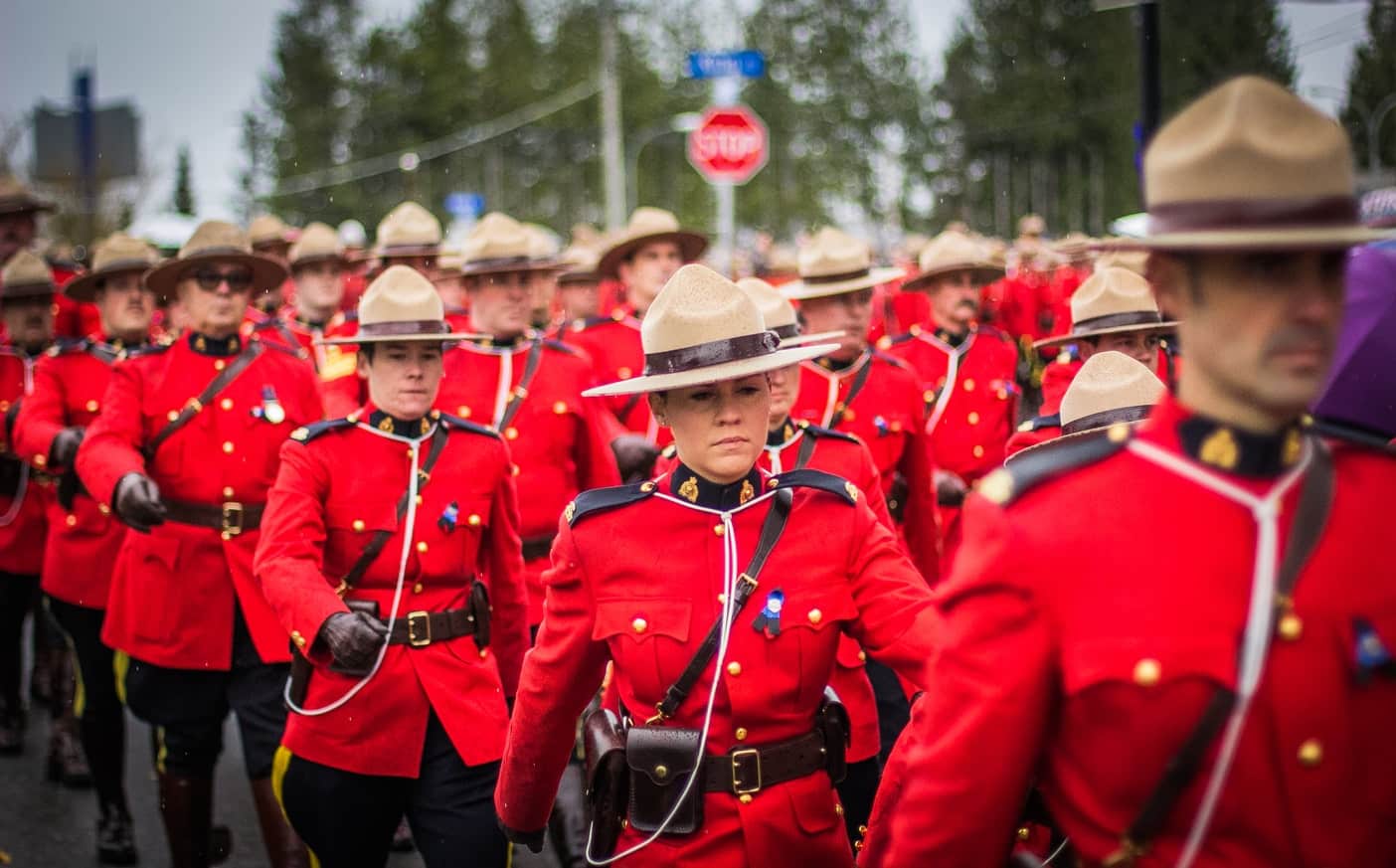 10 Famous Canadian Landmarks To Plan Your Road Trip Around! 🇨🇦
Banff National Park
Rocky Mountain ranges, turquoise glacial lakes, a picturesque resort town and community, plentiful wildlife, and spectacular drives make Banff National Park of one Canada's most famous landmarks – and the nation's park system flagship.
About three million tourists a year make the pilgrimage to the Banff for a range of events including climbing, walking, skiing, and camping in some of the most beautiful mountain scenery in the world. Banff is also the oldest national park in Canada, formed in 1885. Located in Alberta's Rocky Mountains, around 180 kilometers west of Calgary, Banff covers 6,641 square kilometers of rugged terrain, with various glaciers and ice fields, thick coniferous woodland, and alpine sceneries.
Banff National Park is huge, and there are a great many places within it to visit. Our top picks are Moraine Lake, Peyto Lake, and Takakkaw Falls.
CN Tower
The CN Tower is a reinforced concrete communication and observation tower standing 553.3 meters high located in downtown Toronto. It was established on the former Railway Lands, and finished in 1976. Canadian National, the railway company that developed the site, was previously referred to by the initials "CN." — thus the towers name.
The CN Tower set the world record for the world's largest freestanding building for 32 years till 2007 when it was exceeded by the Burj Khalifa. It is currently the world's ninth-highest free-standing structure and continues to be the tallest free-standing structure in the Western Hemisphere. It is an iconic symbol of the skyline of Toronto, it has been called one of the new Seven Wonders of the World and draws more than two million international visitors each year.
From the LookOut stage, you'll witness a mind-blowing new viewpoint on Toronto's most amazing scenery with floor-to-ceiling panoramic Window Walls and a spooky Glass Floor. There is also a fine dining restaurant, Edge Walk experience – the world's highest full-circle, hands-free walk, and the world's highest bar.
Even if you only have one day in Toronto, getting up the CN Tower is an absolute must.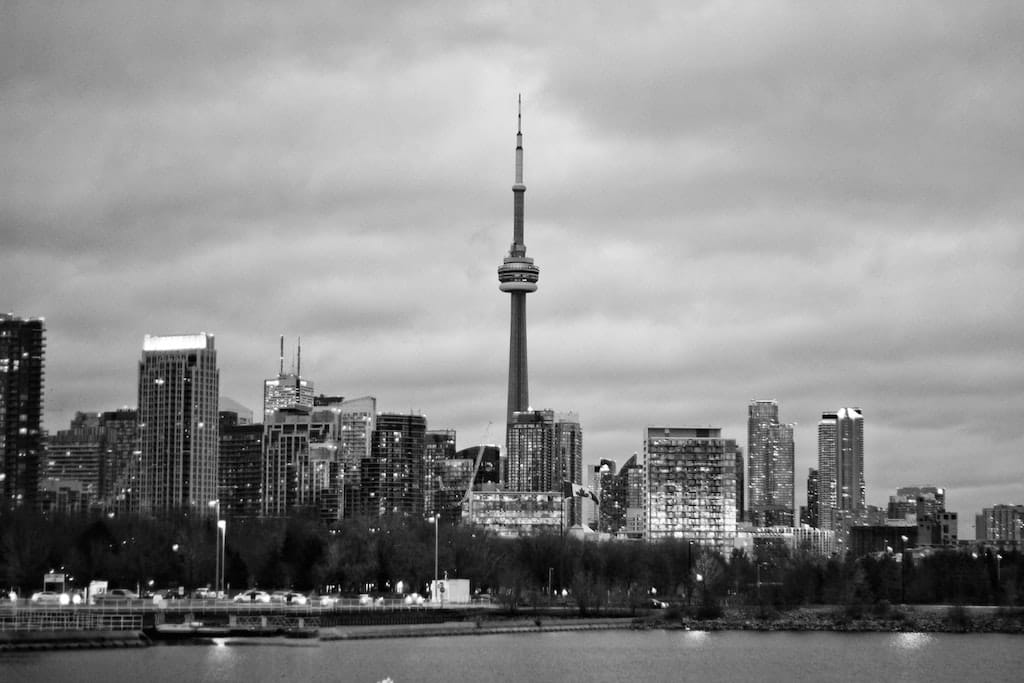 Habitat 67
HABITAT 67, or just Habitat, is a prototype community and housing project built by Israeli-Canadian architect Moshe Safdie in Montreal. It was first conceived at McGill University during his master's thesis on architecture and later constructed as a pavilion for Expo 67, the World's Fair held in Montreal in the same year.
It is situated next to the Saint Lawrence River and generally recognized as an architectural landmark, and one of Montreal and Canada's most iconic structures. Habitat 67 is celebrated internationally for its lavish minimalism, progressivism, and general aesthetics. Emblematic, this house is a prominent feature of the Montreal landscape, and through rethinking residential spaces attempts to balance quality of life with urban climate.
Habitat 67 comprises 354 majestic grey-beige modules arranged in various combinations, reaching up to 12 stories in height and forming 148 homes. The outlandish construct unites in a giant structure with architectural interiors, paths, pedestrian streets and elevated terraces, aerial rooms, various angle skylights, large esplanades, and colossal elevator pillars.
Habitat 67 reflects an openness to exploration and is remains even today (more than 50 years on) one of Canada's most famous buildings.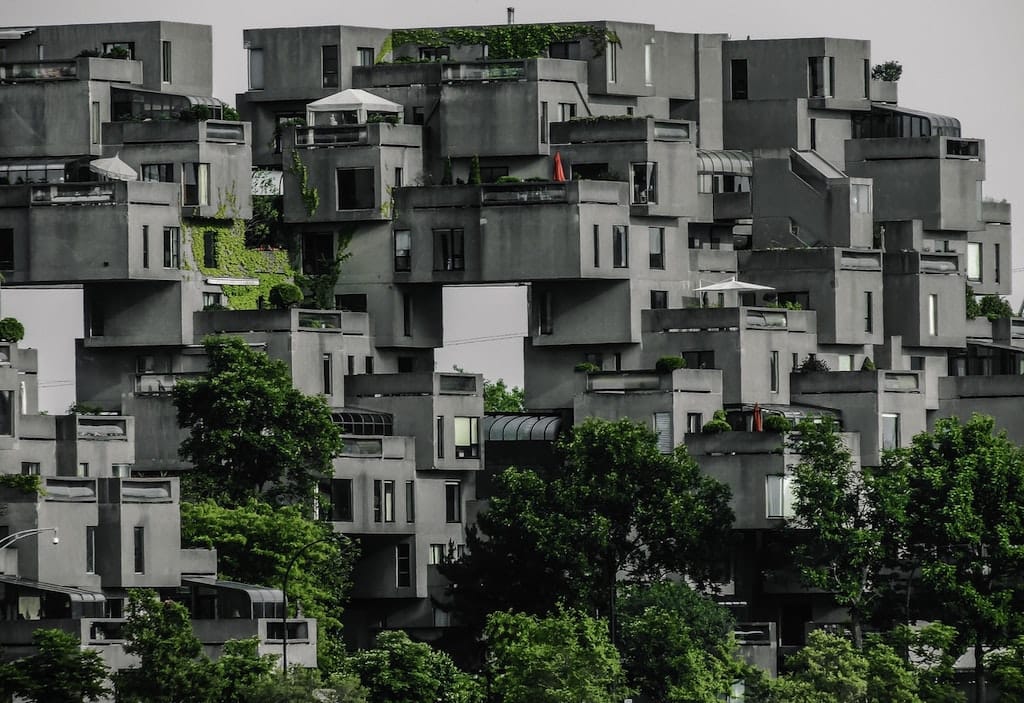 Historic District of Old Québec
Québec City was founded in the early 17th century by French explorer Champlain, and today still stands as an iconic Canadian landmark. Its various architectural highlights attest to related stages in the New World / Americas European settlement and today it stands as one of the most beautiful cities in the world.
At the time, Quebec was New France's capital and the capital of the emerging British colonies since 1760. Today Quebec City is the only North American city (north of Mexico) that has retained its ramparts. With the numerous bastions, walls, and defensive works Old Québec is still protected today, and travelers today will unanimously appreciate them.
The Upper Town of Quebec was built on a steep hill, with its temples, abbeys, and additional landmarks such as the Dauphine Redoubt, the majestic Citadel, and the world-famous Château Frontenac, it has survived as a significant religious and administrative center. The UNESCO World Heritage Site of Quebec City, along with the Lower Town and its historic neighborhoods, preserves a historical ensemble that constitutes one of the most outstanding examples of a restored colonial area.
Easily reachable by train or planes, days can be spent exploring Quebec City – and you won't want to skip it the more than four centuries of history here.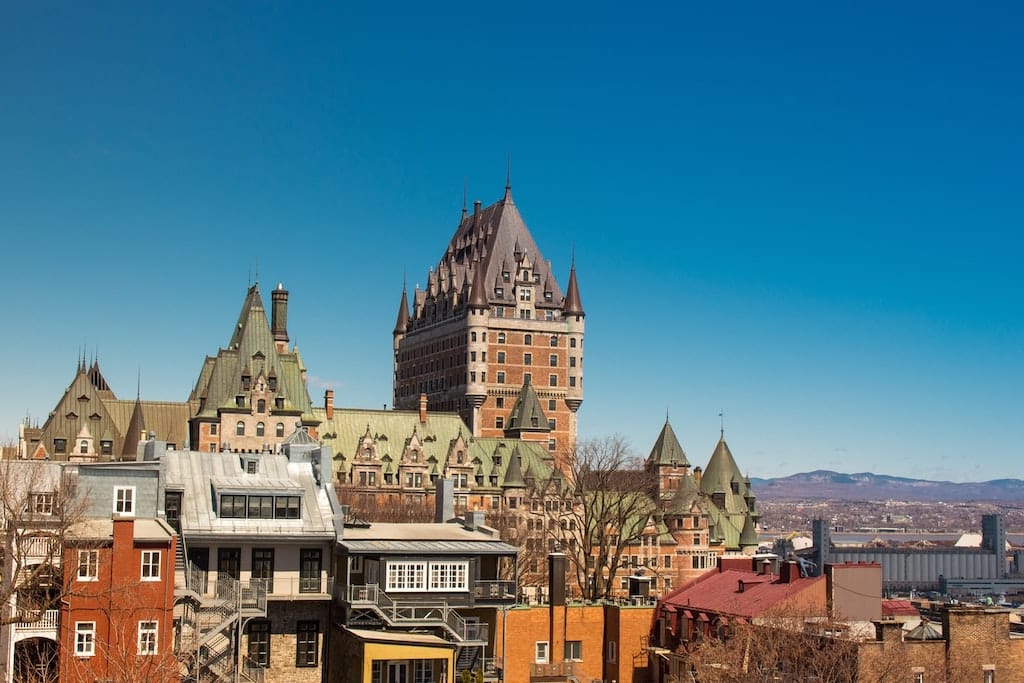 Kluane / Wrangell-St. Elias / Glacier Bay / Tatshenshini-Alsek
A UNESCO global heritage site in Canada shared together with the United States. A series of four parks spanning an impressive network of glaciers and high peaks on both sides of the U.S. (Alaska) and Canada (Yukon Territory and British Columbia) boundary, and believed to be the world's biggest non-polar icefield.
The unusual area, characterized by high mountains, virgin icefields, and vast glaciers, changes from a mostly polar interior to numerous biogeoclimatic zones along the coast. The Tatshenshini and Alsek river valleys are especially important to the significance of the region. They have ice-free linkages for flora and animal movement between the coast and the interior.
This results in extraordinarily high plant and animal diversity in the areas, including aquatic, coastal woodland, montane, sub-alpine, and alpine tundra habitats. The beautiful natural landscape, along with its example of glaciation and habitat change by glacial activity, is noteworthy not only as a famous landmark in Canada but for its large population of grizzly bears, caribou, and Dall's sheep.
Travelers who come here for a backcountry odyssey of glacier rafting, spectacular day hiking, and jaw-dropping scenery are greatly rewarded, though getting here can be very difficult. There are many ways and opportunities to visit this world heritage site, including by boat, tour, or with a car trip along the Alaska-Canadian Highway.
Notre-Dame Basilica
The Basilica of Notre-Dame is a stunning basilica in Old Montreal's historic district, facing the Place d'Armes square. The church's interior is perhaps the most beautiful in the world, and is considered the pinnacle of Gothic Revival architecture.
The dark blue vaults are lined with sparkling stars and the balance of the sanctuary is adorned with various shades of azures, reds, mauves, silver, and gold. Dozens of exquisite wooden carvings and many religious sculptures are also housed within. The stained glass windows around the church walls are also very interesting in that they do not represent biblical scenes but instead scenes from Montreal's religious past. About 11 million tourists visit the Basilica of Notre-Dame each year, making it one of North America's most toured monuments, and only one million less than visited Paris's Notre-Dame (before its fire).
The Basilica of Notre-Dame now costs CAD $10.00 for access, unless you are there to attend Mass. "Aura," a lighting and sound display showcases the beauty and history of Notre-Dame Basilica, in the evenings and is one of the best ways to experience this Canadian landmarks. The show's average length is 45 minutes split into two parts: a thematic route accompanied by an interactive encounter.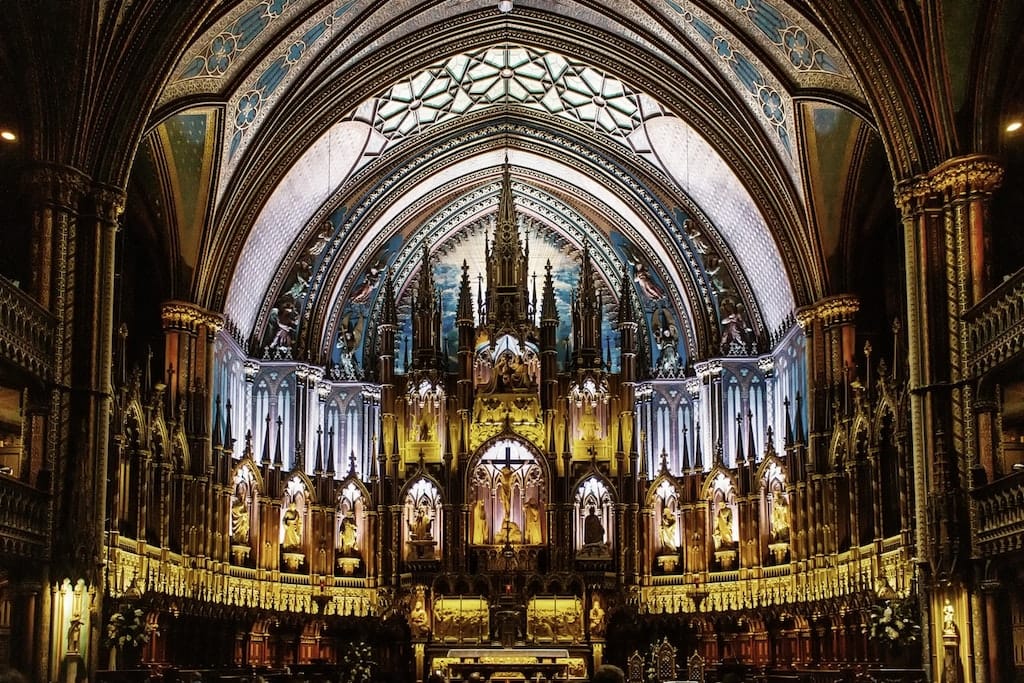 Parliament Hill
Not just a series of some of the world's most beautiful Gothic Revival architecture, Parliament Hill in Ottawa is the Canadian Nation's beating heart and one of the country's most famous landmarks.
To better appreciate how such a diverse and inclusive society can exist, opt for one of Parliament's many regular free tours (on a first-come, first-served basis) to look inside and explore the past, architecture, and work of the Parliament of Canada including the Senate, Commons House, and Library. Only walking through the grounds is also a wonderful experience.
If you're heading to Ottawa during the summer, make sure your visit is scheduled to capture the guard's daily shift. The Parliament building will also be shrouded in hundreds of thousands of lights during the Christmas Celebrations Across Canada festivals in December. Many events and concerts are held on the lawn here during the year. Regardless of whether you are a Canadian or a tourist, there's something everybody can learn from a visit here.
Rideau Canal
The Rideau Canal is a remarkable early 19th-century formation that stretches from Ottawa to Lake Ontario over 202 km of the rivers Cataraqui and Rideau.
It was designed mainly for defensive reasons since the United States and Great Britain were fighting for colonial influence at the time. The Rideau Canal was one of the world's first waterways to be specifically constructed for steam-powered ships – and it also incorporates in its architecture a revolutionary series of defensive fortifications.
It was designated as one of Canada's many UNESCO World Heritage Sites, as it shows a well-preserved example of a slack water canal in North America thus demonstrating the use of a modern European invention applied in a colony on a wide scale. Today, the Rideau Canal is the only canal still running essentially in its original state dating from the early 19th-century great North American canal-building period. The Rideau Canal bends around Ottawa's middle. Visitors can go on boat trips on the Rideau River, or hikers can stroll along a famous path that is a perfect way to experience the region from a different viewpoint.
A visit to the ByTown Museum is recommended to better understand the grand scale of this undertaking and its impact on Ottawa and Canada. The museum is strategically situated in Ottawa's oldest stone house, next to the Rideau Locks (and underneath another famous landmark in Canada, the Parliament Hill).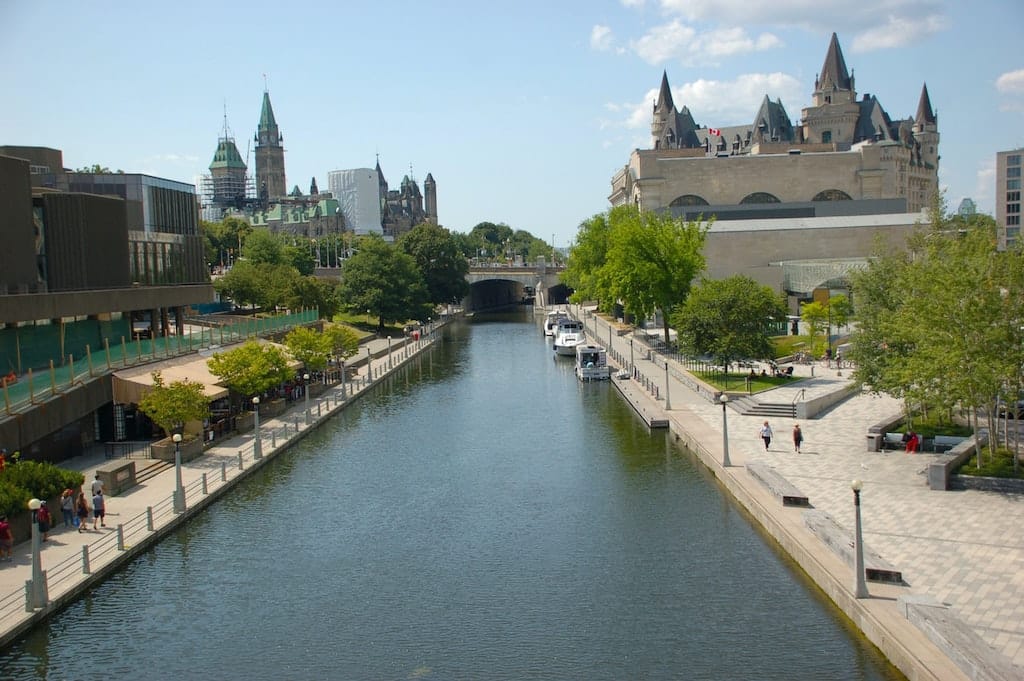 Stanley Park
Stanley Park is a 1001-acre public park which neighbors downtown Vancouver in British Columbia and is mostly flanked by Burrard Inlet and English Bay waters. Not only is it one of the most famous places in Canada, but it is frequently voted one of the world's best public parks.
The area around Stanley park has a rich history and was initially occupied for centuries by Indigenous peoples until British Columbia invaded and occupied it during the Fraser Canyon Gold Rush of 1858. The eventual park and its land will also be host to non-Indigenous colonists for several years following the settlement. The estate was eventually converted into the first park in Vancouver after the town was founded in 1886. Originally known as the Coal Peninsula, and the area was set aside to protect the gateway to Vancouver harbor for military fortifications, but then the city council of Vancouver acquired a park lease that was approved for just $1 per annum. The park has since been open to everyone.
Unlike other big metropolitan parks, Stanley Park is not the product of landscape design but the progression of a forest and urban area over several years. Most of the human-made buildings currently in the park were constructed between 1911 and 1937 but other major attractions were added post-war, such as a polar bear exhibition, aquarium, and miniature railway. Most of Stanley park continues to be heavily wooded as it was in the late 1800s, with around half a million trees, several of which are as high as 76 meters and hundreds of years old. The park also includes forest walks, beaches, lakes, playgrounds for children, and the Vancouver Aquarium, among several other amenities.
If you are young or young at heart, there are endless events and experiences to explore. Pack your swimsuit and your lunch and plan to spend at least a day here.
The Butchart Gardens
The Butchart Gardens is a collection of decorative show gardens situated near Victoria on Vancouver Island. Every year the gardens attract more than one million visitors and are one of the most iconic landmarks of Canada, and have even been declared a Canadian National Historic Site.
The gardens were formed by Jennie Butchart over 100 years ago who envisaged converting a former quarry into a stunning garden paradise with lush greens and vivid blooms. Her dream results in the Butchart Gardens, which are still family-owned and run to this day. There are a great many areas to explore including the Sunken Garden, Rose Garden, Japanese Garden, Italian Garden Mediterranean Garden, and various other special features. The Butchart Gardens are also the inspiration for the gardens at the Canadian pavilion opened at Disney's Epcot Centre in Orlando.
Constantly growing and evolving, wandering among millions of bedding plants and over 900 varieties is a memory you'll never forget.