On my second visit to Lima this year I was determined to see another side of the city – and to explore it further and discover Lima off the beaten path. Having been whisked around by bus and taxi previously I was curious to learn more about the neighbourhoods we passed by in a blur and the people that lived there.
After all, it is fairly obvious not everyone is privileged enough to live in Miraflores or Barranco. With this in mind I contacted Alternative Peru, a pioneering tour operator in Peru offering sustainable, responsible travel experience to off-the-beaten-path destinations with a goal of providing authentic intercultural experiences and meaningful encounters with locals.
This progressive outlook and noble goal of trying to benefit local communities had me hooked and after a quick few email exchanged we had decided on the perfect tour to meet my interest's – the Full-Day Authentic Lima Day Tour which gets beyond the tourist sites and aims to engage travellers with local communities, discuss the issues they face and most importantly to experience how Lima's diverse inhabitants live their daily lives!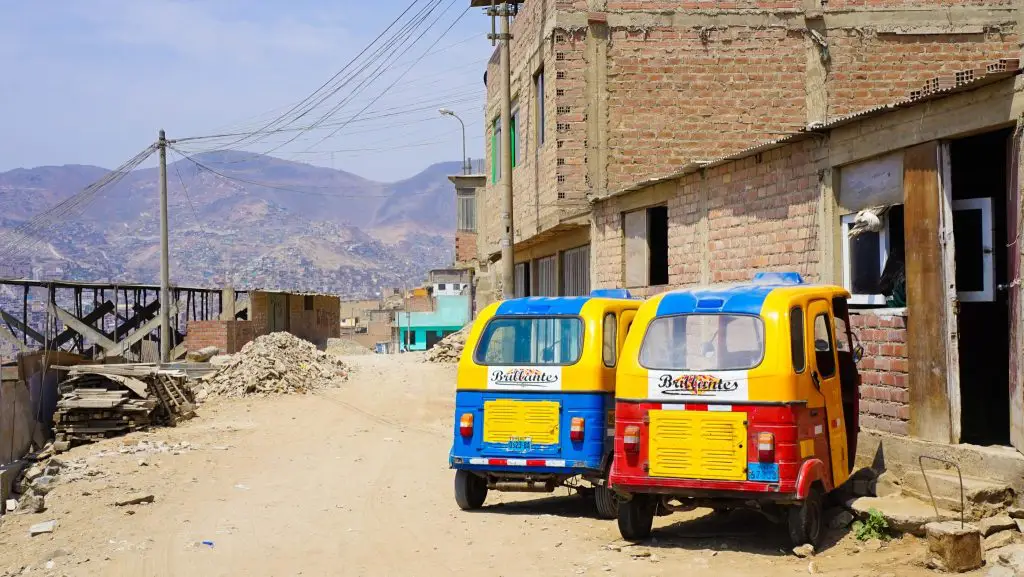 Our day started with a morning visit to Chorillos, a coastal suburb of Lima where we visited a fish market on the beach and tasted freshly caught ceviche.
We learnt that many years ago fisherman used to sell directly on the beach but have since banded together to form this fish market with, possibly, the freshest fish in Lima as it doesn't have to be transported through the cities notorious traffic jams loosing vital freshness.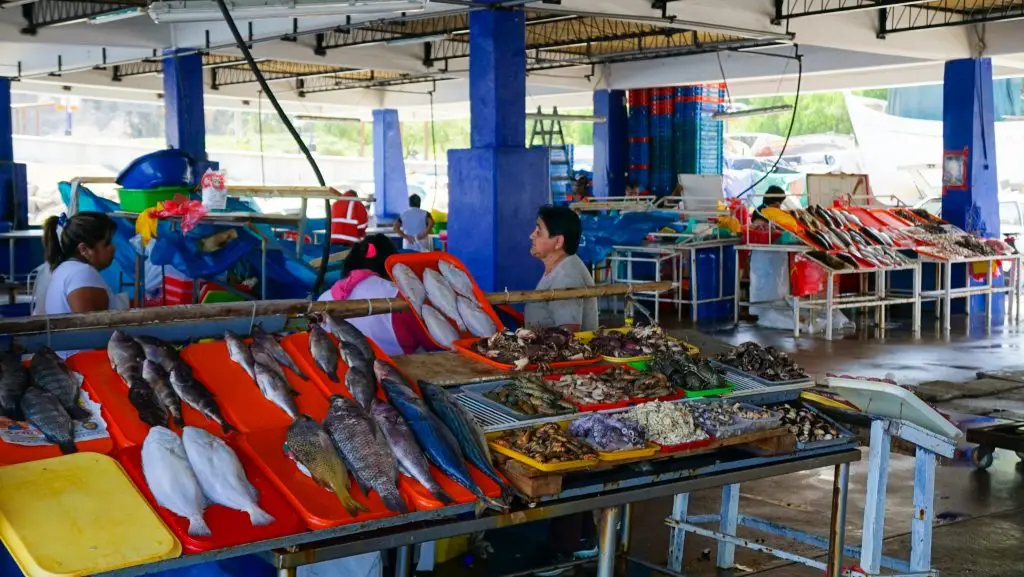 We then took a boat tour with a local fisherman, Jaime, to get a better view of the Lima coast – wrapped in its trademark fog of course!
Out in the ocean Eline told us a bit about Peru's more recent history including the Shining Path terrorist group and its dictatorial rule, providing some context for the three mass movements which brought provincial citizens to Lima.
It was also interesting to get a view of one of Limas most exclusive social clubs where membership can run up to $50,000 USD – as we were about to find out this is truly a city of contrasts.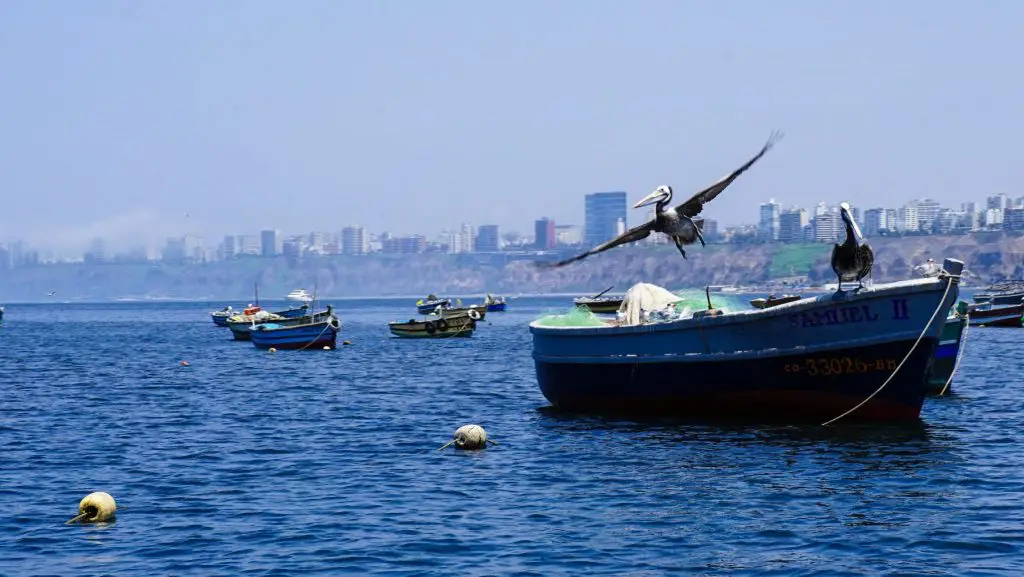 After our boat tour we drove to the Morro Solar lookout to see the statue of Christ of the Pacific [it wouldn't be a South America city without one right!], the big cross next to the sanctuary dedicated to Virgen de María and of course the unforgettable view down over Lima.
Interestingly it is rumoured the metal cross is made from power pylons destroyed by the Shining Path and was placed here to commemorate the visit of the Pope. I'm not sure if it's true or not but I like the symbolism!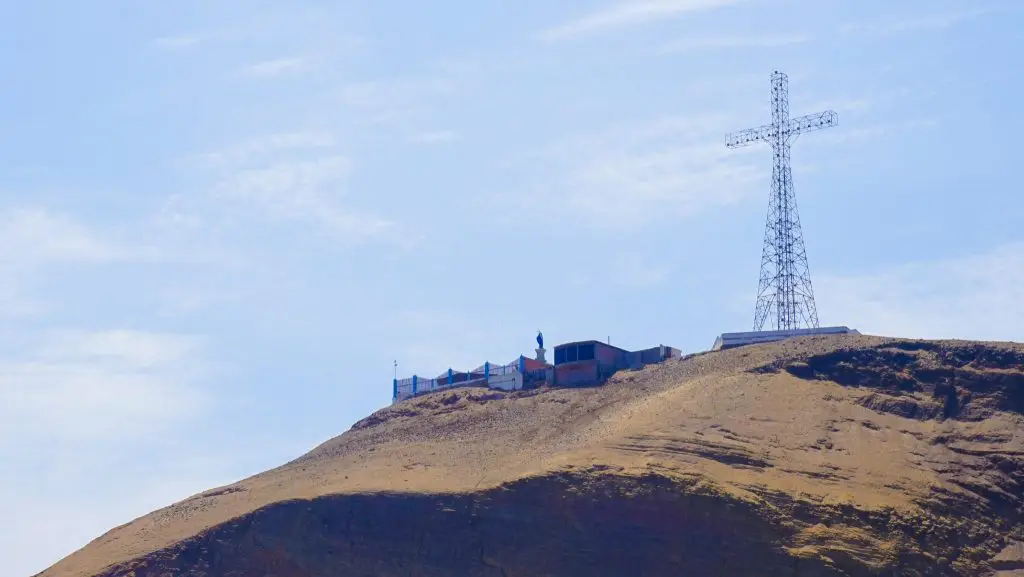 Next we headed inland – away from the prosperous seaside neighborhoods – and into a part of Lima most travelers will never see. Our first stop here was Cementerio Virgen de Lourdes, the worlds second largest cemetery with an estimated 1.5 million burials. It was unique to say the least – a colourful, chaotic and beautiful space with burials on top of burials and seemingly no ryhmm or reason to its layout.
In uniquely Peruvian tradition most of the grave sites were incomplete – like the countries houses – and yet it all just worked.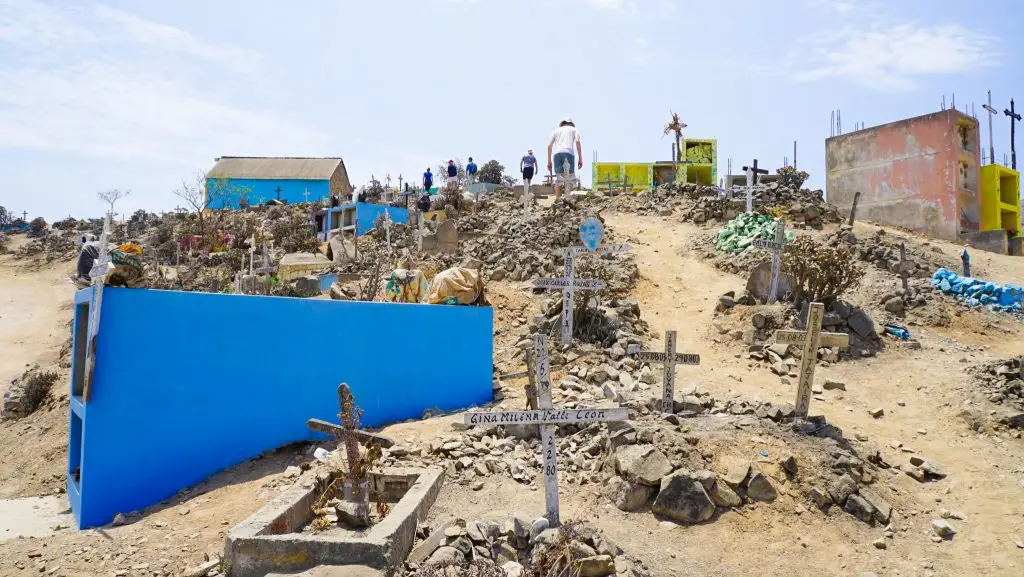 A special place to spend eternity, and much more lovely than anything we have in the west. We saw many visiting families coming to pay their respects but to fully appreciate this cemetery you should visit on November 1st when it transforms into something akin to a street party.
Here is a video to show it best that was filmed in the area on November 1st 2013, when over 1,5 million people visited this cemetery!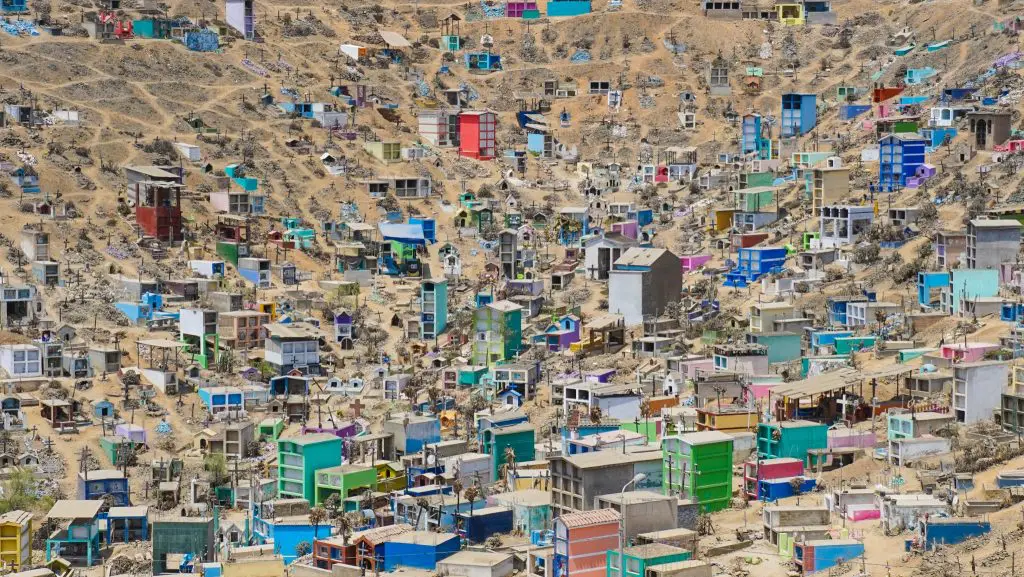 Afterwards we visited the workshop of señora Balvina who works with a Fair Trade organisation called Bridge of Hope that is confronting the root causes of poverty by providing an alternative way of doing business, in order that the artisans from the most impoverished areas of the country have opportunity for development and direct access to markets.
She told us a touching story about how she had fled her province after her brother had gone missing in the war with the Shining Path and sought refuge in Lima. When she became pregnant she needed an income source that allowed her to work on her own time while raising her family and thus working with textiles and sewing allowed her, and many other women, the opportunity to earn an income on a flexible schedule that suited them.
Inspiring work and I couldn't resist buying some gorgeous decorations here [though she was very insistant that our visit was to hear her story and in no way did I feel forced to buy anything] – if only I had space in my luggage for more! (Ok…I may have brought just a few!)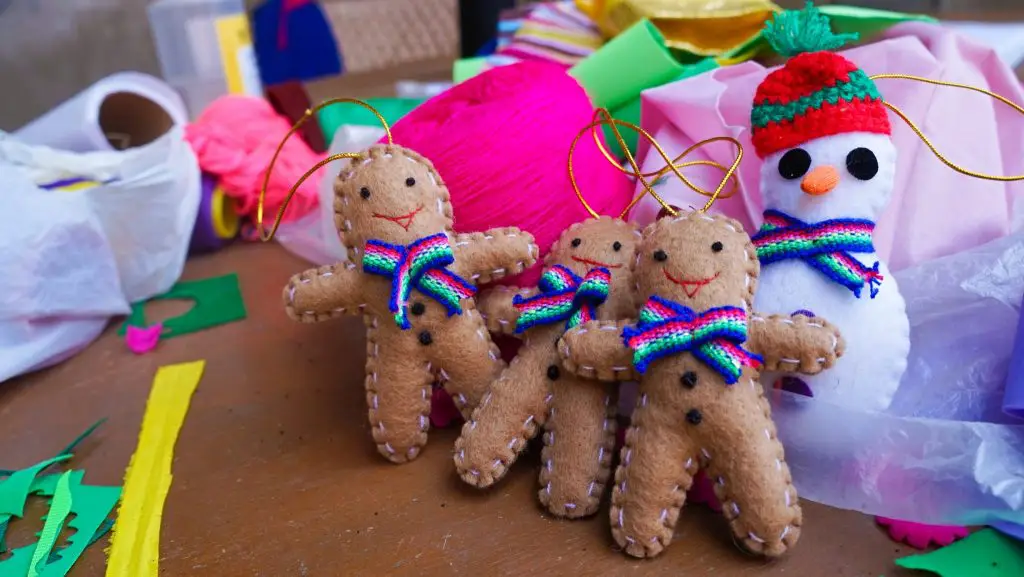 Outside the workshop we could see the infamous "wall to shame" – an unsanctioned 3 meter tall brick wall which separates the richer neighborhoods from the developing young towns or human settlements.
I was shocked at this level of contempt for other human beings and as a direct result many people must now commute 1.5 hours (instead of the previous 30 minutes) to get to work in the richer neighbourhoods where many work as maids, gardeners, nannies or in other jobs.
Truly sad as it was a community initiative not proposed or allowed by the municipal Government … but you don't see it getting torn down either. I would recommend watching this interesting – if somewhat one sided – video by Al Jazeera showing the areas that the wall divides.
---
Like this? Want to read more like it?
---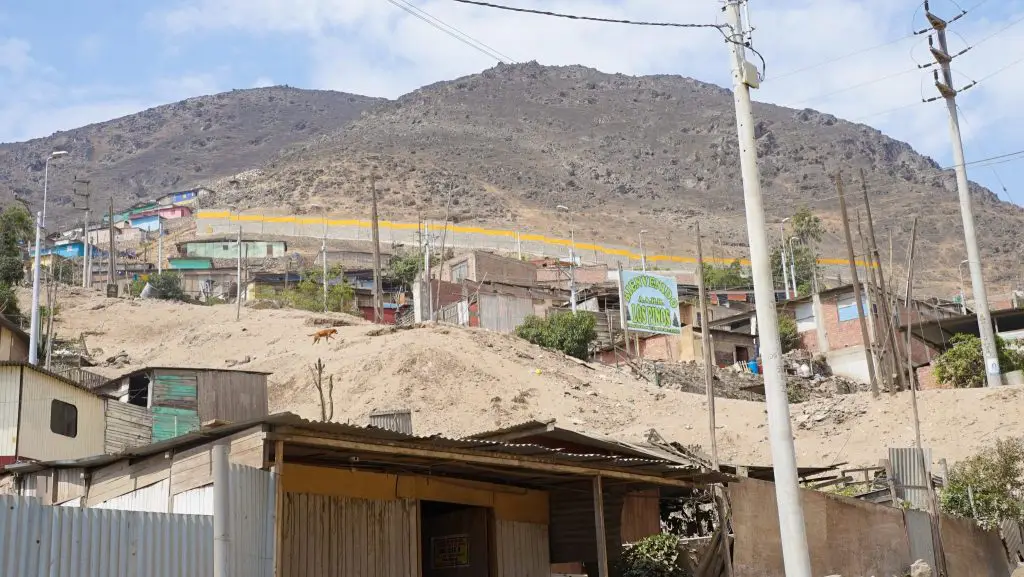 We then spent the afternoon in the Nueva Rinconada sector – a young town barely 10 years old high up in the hills of Lima.
We had lunch at señora Ninfa's house who together with some other local women started a soup kitchen and now she is the president of a local initiative that provides breakfast for poor children and elderly people.
It was a honour to be invited into her home and hear of the work she was doing for the most vulnerable members of community – what a strong leader she was. I loved sitting at her dining room table and having an exchange of questions about not only her world but also those of our home countries – in this case New Zealand, United States and China.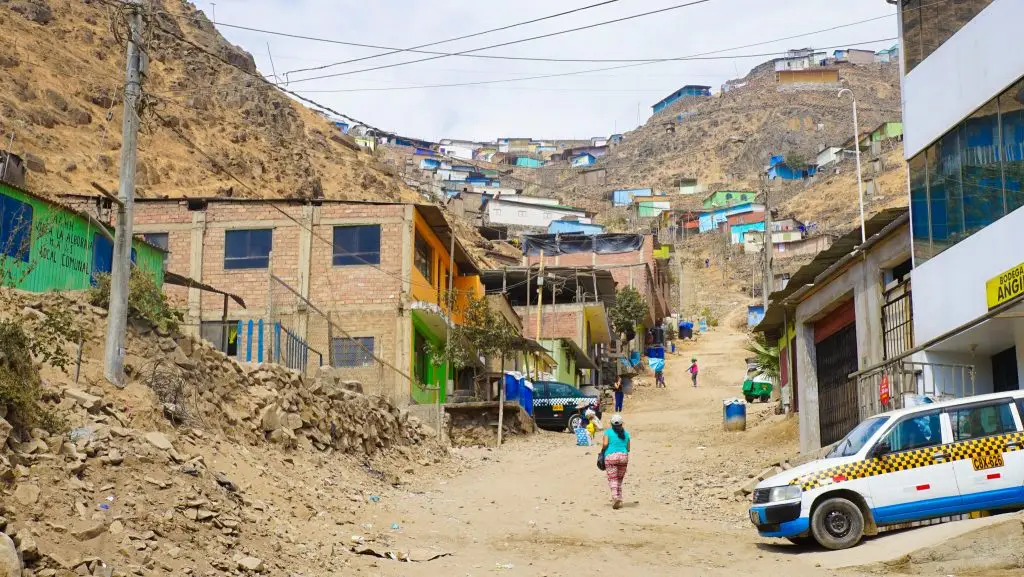 We heard about the strong knit community that is present in the human settlements in terms of protecting your neighbours, helping out with communal infrastructure, electing leaders and dealing with crime.
It struck me that bonds of this community between neighbours and friends are stronger than most places in the Western world and that there is much we can learn from people here.
I was also shocked to hear of the discrimination these provincial migrants receive from members of their own country – it is generally frowned upon to use Quechuan or Aymara in social contexts (the major native languages of Peru) and only Spanish is largely taught to the new generation.
The lose of cultural ties moving to a new city must be hard enough without giving up your language – hopefully the children born here still manage to stay connected to their heritage and can be proud of where they came from!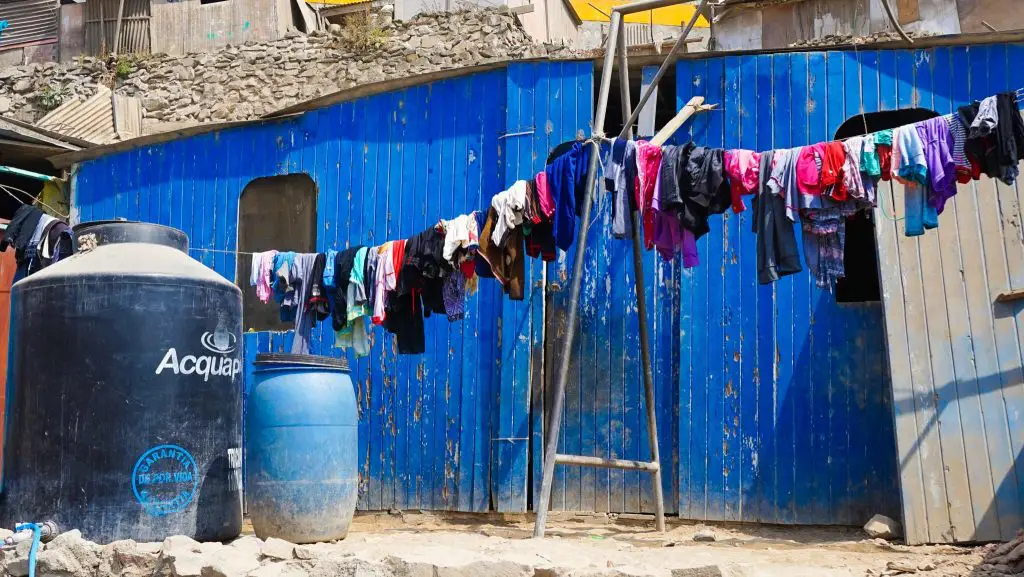 Our last stop of the day on our Alternative Lima City Tour was further into the human settlements where our local guide Eveli talked about her work with Jugando Aprendo, a Non-Governmental Organization (NGO) that focuses on helping child domestic workers escape the cycle and moreover, they help local children with their homework and education.
We were honoured to be invited into their after school classroom and have introductions – we learnt many of the children are obsessed with dancing and their excitement was infectious. We also shared about about ourselves and not for the first time I wished I could speak Spanish just to be able to speak directly with the children myself – but in many ways their smilies said enough!
If you'd like to learn more about the work they do and how you can make a difference check out the website.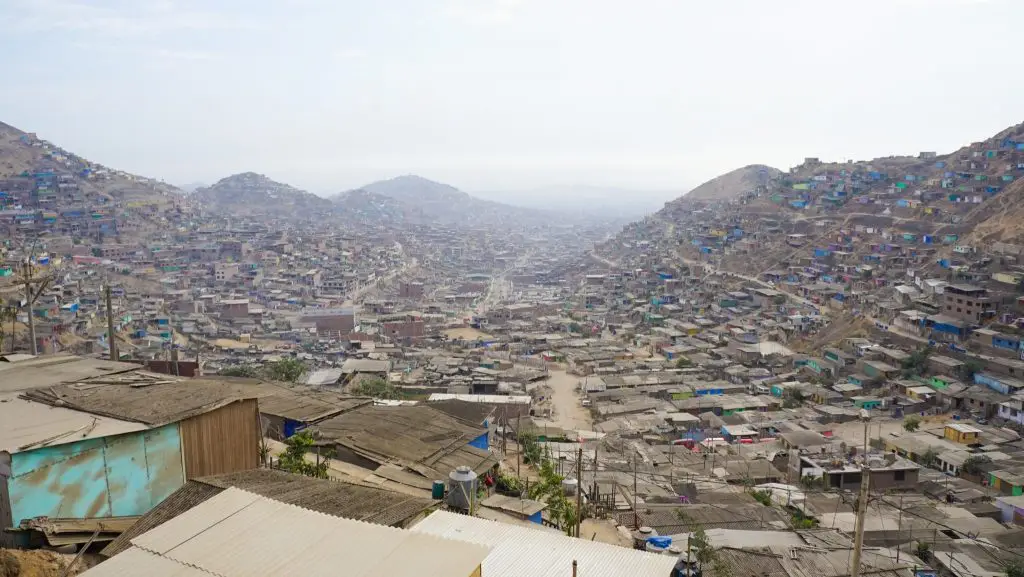 After this stop we headed back to Miraflores to be dropped back at our hotels. On the way we discussed the impact the day had had on each of us and impressions that were made, and of course – the amazing people we had met!
It was an eye-opening introduction to a world I knew nothing about, but we all agree that the tone of the tour was what made this unique. Truly one of the best things to do in Lima – and a great addition to any tour of Peru. Alternative Peru facilitates inter-action and cultural exchange rather than 'slum tourism' as has become so common in places like Rio de Janerio.
We were offered the opportunity to witness and understand another way of life, a harsh reality to be sure, but also beautiful – the sense of community and optimism in the human settlements was infectious and I walked away feeling …different.
I cherish this experience afforded to me, the ability to interact on a equal footing and to witness the incredible work being undertaken by ordinary people. I will never look at Lima the same and hope anyone that visits gets the chance to experience this alternative Lima for themselves.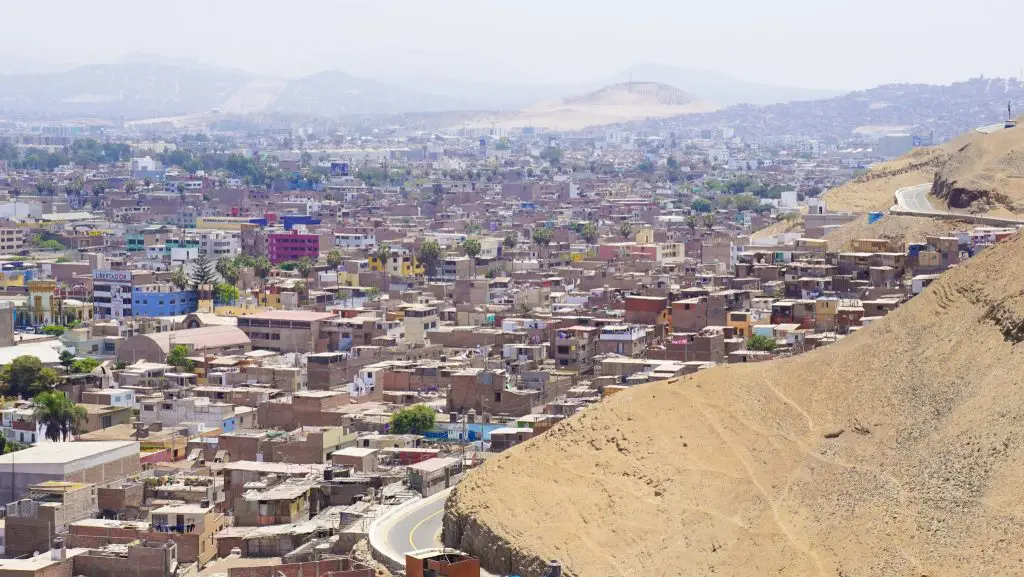 Let me know in the comments below which places you have been which truly make you consider your place in the world? Perhaps you have been volunteering and made a difference in people's lives? I'd love to hear from you! Oh and let me know how you enjoy Lima off the beaten path!