I love travel, learning about the world and developing an empathy with my fellow humans. It's one of the biggest thrills in life, and yet I recently found myself wondering if I was making the right choices.
Am I using a sustainable tourism provider?
Is this hotel locally or foreign owned?
Am I doing all that I can to be an ethical tourist and is my tourist dollar going to where it is needed most and really making a difference in the communities that have touched my heart?
And so I decided to create an ethical travel guide for how to be an ethical tourist!
Well in this case however, it turns out I didn't need to worry when I signed up recently for Cartagena Insider's tour of the exotic Bazurto Market because I knew I was in good hands and supporting FEM, a non-profit organization operating in Cartagena (more on them in a second!) …
But it got me thinking, can I do more when travelling to promote sustainability and empowerment of local people? Tourist dollars have the potential to do a lot of good when used correctly, and if everyone who travelled made ethical travel choices we would all be living in a much better world?
I began to imagine the consequences, and consider the implications – and decided I would wright a guide about sustainable travel choices and how we, as consumers and travel decision makers, can empower those in need and make the world a better place simply through making ethical travel decisions.
I am going to use my recent experience with FEM as a perfect case-study here, but please think about how it could apply to your unique travel choices and destinations in the future. First of all though….
What Exactly Is FEM?
FEM (Fundación por la Educación Multidimensional or the Foundation for Multidimensional Education) is a non-profit organization based in Cartagena, Colombia which seeks to empower indigenous and afro communities through sustainable development projects.
FEM is the brainchild of Keith Bookwalter and Ana María González and now, in its 7th year of operation, has had incredible success which they attribute to allowing the local communities to express their own needs and then working together as equals.
This first step allows for a relationship that empowers the communities they work with to ensure a sense of ownership in their sustainable development projects which then allows such projects to be successful.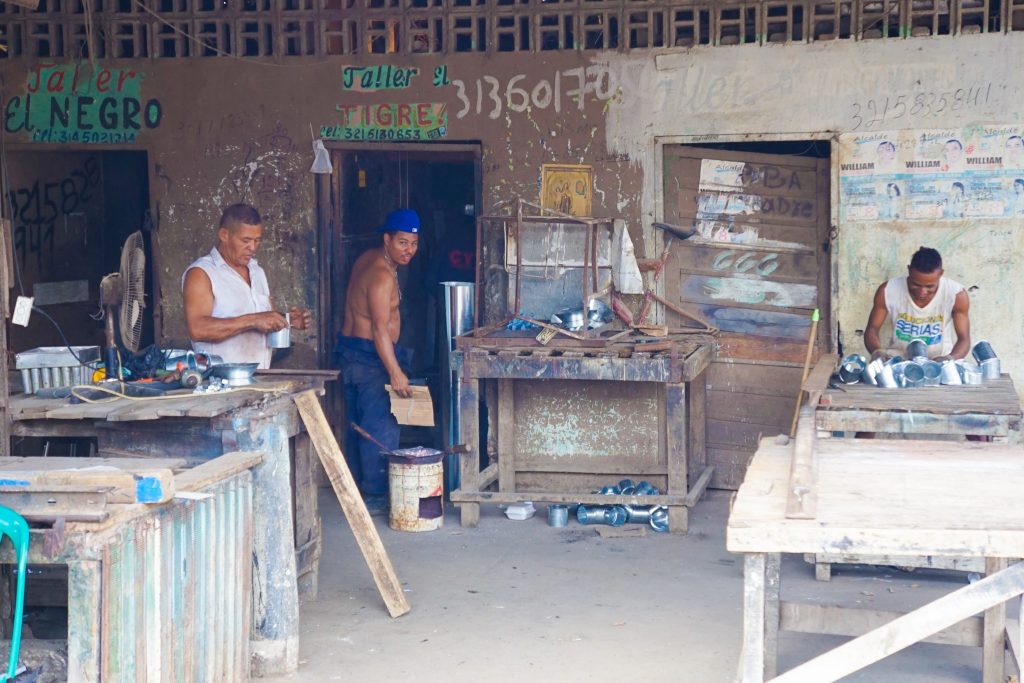 FEM faces a variety of funding difficulties due to the Colombian social intervention environment in which corruption is omnipresent in raising public funds and international cooperations tend to only work with big national players.
In the face of these challenges FEM, as a locally based non-profit, was forced to innovate in order to maintain independence and spend more time working with local communities. They developed novel fundraising approaches including crowdfunding, providing their own products and services and having scholarship agreements for volunteers which allows for a highly skilled team.
In 2014, faced with closure due to lack of funding, FEM made it's most radical fundraising innovation to date and launched their first entrepreneurial venture – Cartagena Insider, a tour company which takes guests on excursions of the greater Cartagena community. You can read about my experience with Cartagena Insider here.
Then in 2015 they opened Volunteer Hostel, which allowed a place for travellers to rest while also provided FEM with a office space with zero expenses, significantly reducing their operating costs and overheads. Today profits from Insider Cartagena and Volunteer Hostel actually make up 40% of FEM's annual budget, allowing them to focus on sustainability projects in local communities and having a sustainable income source.
To me this is a radical idea, that by tourists simply choosing to stay at a specific location or supporting one tour operator they are actively driving positive change in the region they are travelling in, all the while at no extra cost!
​"Give a man a fish, and you feed him for a day; teach a man to fish, and you feed him for a lifetime."
Two of the major aims of FEM in their work with communities in need is ethnic education and economic empowerment. With ethnic eduction FEM supports projects which aim to protect the afro and indigenous immaterial heritage, such as songs, dances, and trades.
Through raising public awareness and developing price and identification with these practices within the affected communities they are working to ensure this intangible cultural heritage is not diminished. In order to simultaneously preserve cultural traditions and reduce social and economic inequality, FEM works to achieve economic empowerment of communities by connecting them with innovative work and business opportunities.
FEM even operates a business incubator in which they are able to support entrepreneurial projects based on the use and conservation of cultural elements. You can see the on-going projects of FEM here.
Over 7 years of operation FEM as developed a significant network of over 130 committed partners and organizations who they work with on different projects. They have also partnered with 10 professional networks, such as Architects Without Borders, 2 organizations that promote international cooperation, and 17 universities across Europe and the United States to promote significant change.
Today, thanks to the support of travellers, local and international partners FEM is able to have a measurable and sustainable impact on those in indigenous communities and has become a self-sustaining international non-profit.
So, How Can I Make Ethical Travel Choices….
As a traveller you have many ways you can enact change through informed decision-making and opting for sustainable travel choices. To make things easier however I have identified four key things you can easily do when making ethical travel choices to help make the world a better place.

Become A Volunteer or Intern
Offering your time while on holiday is one surefire way to enact positive change. I have previously written about volunteering in Palestine at the Four Homes of Mercy but you can do this anywhere in the world. Choose a cause close to your heart, find a reputable non-profit who aligns with your values and offer yourself up.
This is a direct way you can contribute, learn more about the cause and see the impact your ethical travel choices have on the world. FEM has positions for students and recent graduates who want to volunteer abroad and are committed to empowering local indigenous communities and fighting inequality in Colombia.
To date, they have connected over 117 international volunteers to local projects so if you are in Cartagena contact FEM to see how you can help.
Purchase Sustainable and Ethical Products
By purchasing products directly from indigenous communities, or through a reputable platform, you can be sure your tourist dollar is going to where it is needed more. Consider the types of souvenirs you are buying and the impact they will have.
A beautiful, one-of-a-kind handicraft from a local community will be more memorable and beautiful than a tacky rip-off from a large format souvenir store – and you can be sure none of the profit from the later will be helping out those who need it more. By choosing your purchases carefully you can help to preserve vital components of indigenous culture heritage and economical empower the products creator.
Through FEM's business incubator they also have a range of products you can purchase as a ethical travel choice, from hand-woven basket/ lamps to traditional coffee direct from the grower.
Choose Sustainable Tourism
By choosing sustainable tourism operators and opting for those who seek to enact social or natural change you can ensure your tourist dollar is benefiting the things that you are privileged enough to see. I have previously written about this and my ethical travel choices in visiting Sani Lodge Ecuador and my Alternative Lima Tour but there are numerous examples word-wide.
Opt for tour operators which use local suppliers and team up with local communities to give you unique experiences beyond the usual city tour. You will have a more authentic and memorable experience full of local interactions and your money will be used to support those same communities.
FEM's Cartagena Insider is the perfect example of this and their Volunteer Hostel is a ground-breaking concept that I would love to see more of!
Donate & Give
If you are not currently travelling or are not able to give in a meaningful way, don't worry – you also have to option to donate directly to the causes close to your heart.
If you have visited somewhere that you think is doing inspirational things, consider giving a little to help them on their way. Be sure to research before donating and be sure you money is well spent, but as you can see with FEM they are actively working to reduce overheads so that donations made can be focused directly where they are needed – making positive change in Colombia!
And of course, if you can't donate you can still help by spreading the word, telling others of the amazing things you have seen being done in terms of natural and social development, and sharing on social media!
Choose Responsible Wildlife / Ecotourism Options
Ecotourism is based around a conscious decision to reduce the impact your travel has on the environment and community you visit. Think of it as leave only footprints, take only memories…. When making ethical travel choices you should consider if the activity you are undertaking is in line with your morals?
Do you really want to support the riding of elephants or photo taking with an enchained monkey?
This ethical travel guide suggests you seek to only have interactions with animals in a situation where they are comfortable, never touching them, and in which they are free to leave at any time – such as swimming with Sea Lions in Lima or opting for a Costa Rica Ecotourism Holiday that focussing on sustainable tourism management.
In this way your tourist dollar is encouraging locals to conserve and protect their local environment from which they can earn money, but discouraging the trapping and imprisonment of wild animals for material gains.
---
What do you think about the concept of ethical travel choices and my Ethical Travel Guide? Do you think the innovate funding model adopted by FEM to become self-sustaining and independent is the future? Do you have any more ideas on how to be an ethical tourist?
Let us know about other innovate travel companies and concepts you have seen which promote positive change in the world and lets all try to use them to make this world a better, more social justice and natural place! And if you liked this, you are almost certainly going to want to make your next travel adventure zero-waste.