To explore the exotic Bazurto Market in Cartagena is to askew the touristy and picture perfect historic old town, and discover the diversity and chaos which keeps the city running.
Bazurto Market is the real Colombia – gritty, friendly, unconventional and oh-so-photogenic! I decided to take a deeper look into the bowels of this market on a day trip offered by Insider Tours Cartagena, and boy – what an experience it was!
Insider Tours Cartagena is the for-profit wing of FEM, an NGO working tirelessly to empower and promote the rights of indigenous and Afro communities in Colombia.
I love their concept and am always eager to help support sustainable tourism: check out this related post if you want to learn more about how you can support indigenous and Afro communities through tourism in Colombia.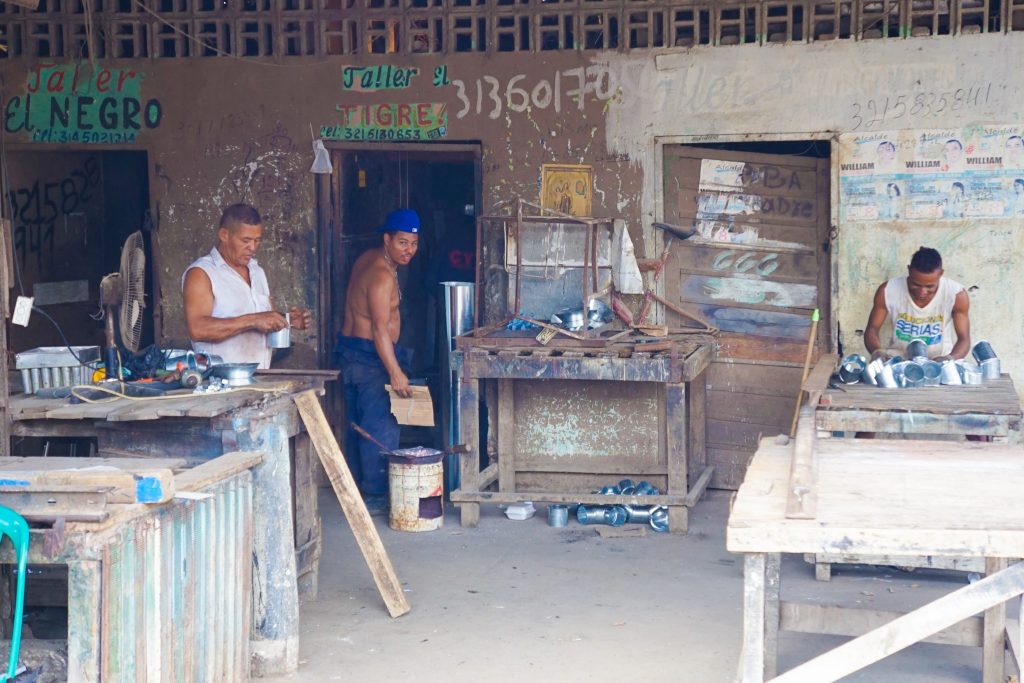 Our adventure began at a high-end mall on the edge of the 'Chinese' neighborhood – so named for the one Chinese restaurant and family who have since moved out.
The contrast between the two places was immediately obvious, as this mall, unceremoniously dumped on the edge of this community, makes no effort to integrate itself – indeed it actively seeks to close itself off, discouraging locals from visiting or being seen by their clientele, though sadly this is rather common in Colombian development.
Colombia is one of the top five most unequal societies on Earth and as expected corruption is rife and little effort is made by developers to involve the local community.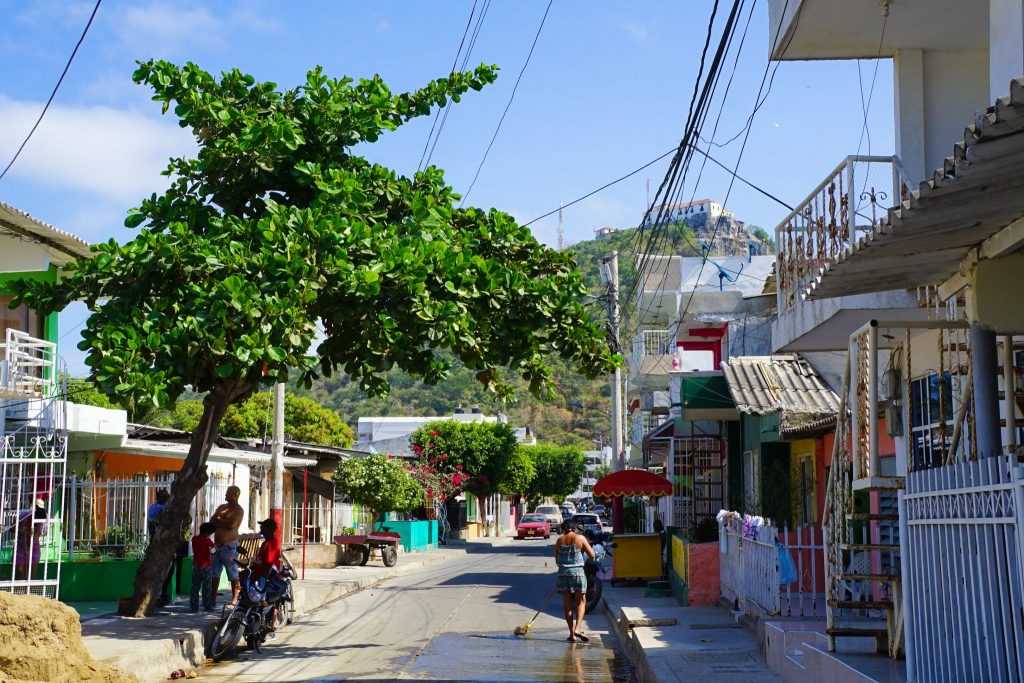 Exploring the Chinese neighborhood on foot allowed us to interact with locals, view their customs and lifestyles and understand their living conditions.
Due to the relationships cultivated by Insider Tours we would hear on our Bazurto Market Tour consistently from locals living in this neighborhood, learn about their situations and living conditions, the problems they face and how they see the future.
For me a huge part of travel is seeking to understand a foreign environment and way of life, while also interacting with those who live there – something that is not always easy as a non-Spanish speaker so I loved this opportunity to discover.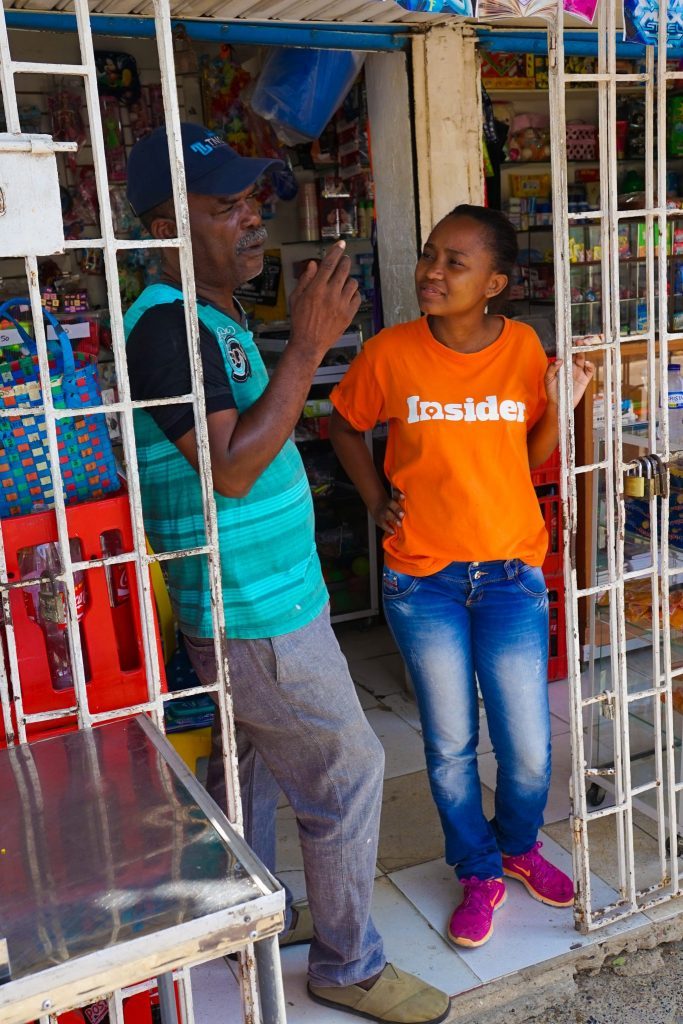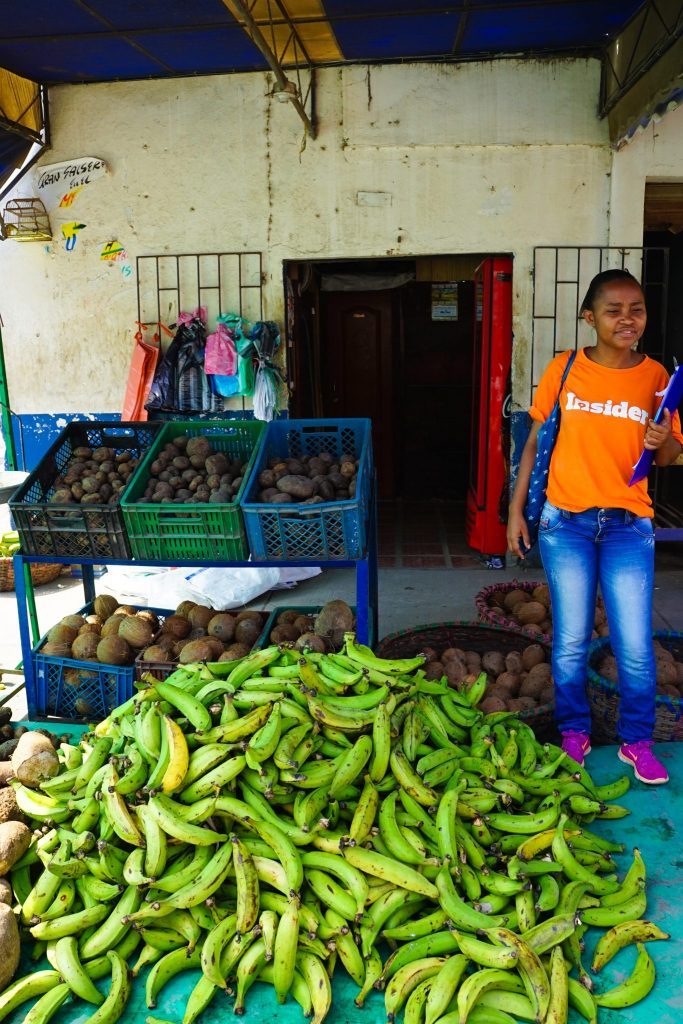 Moving towards the Bazurto Market proper, it becomes obvious how mammoth this place is – being the cities only proper market where people from all over come to barter and trade. Really any types of goods imaginable are on sale here and it was great to take our time to explore it properly.
One of our first stops was a local metalworking co-operative where a series of individual shop owners had come together for a more efficient and streamlined production process. Again, we were able to speak to one of these owners about his methods, designs and clientele – including many of the old town's restaurants.
We also learnt most of the markets businesses are passed down through the generations and either the current operators or their parents had moved to this new site after an explosion at the old market – now the Cartagena Convention Centre in Getsamani – in 1978??
The transition to the new market place took over a decade and the structure built was quickly found to be too small for the burgeoning town, resulting in a situation today where 95% of the businesses are outside and surrounding the hard-market structure.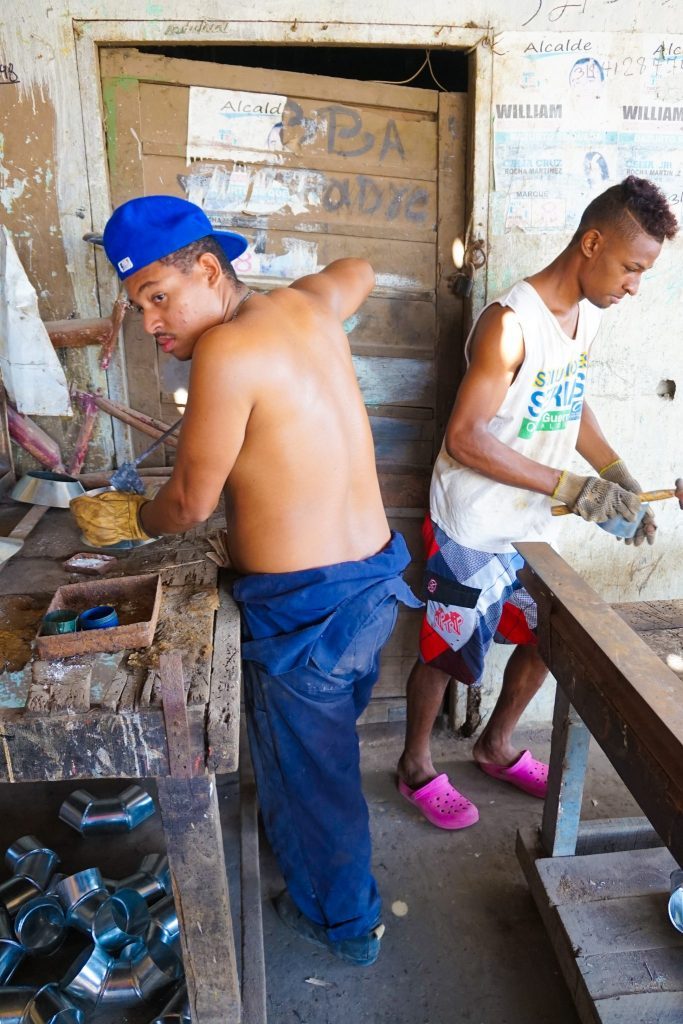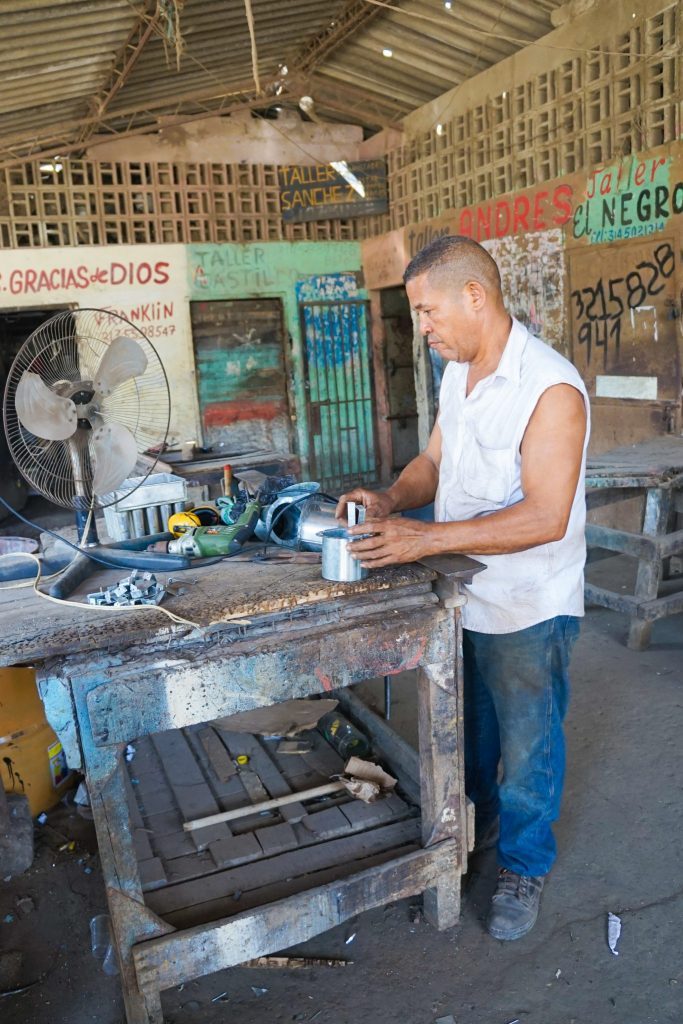 Another stop we loved was a small stall with booming speakers selling Champeta music. If you spend anytime on the Caribbean coast of Colombia you are sure to come across this music and the associated dancing, traditional and modern.
We were able to participate in a demonstration of both, which had all the locals stopping by – clearly intrigued by what these silly Gringos were trying to do.
Tes, my hips don't move like that and no, I do not have any sense of rhythm.
Oh, and let's just say while the traditional variety is beautiful, the modern is slight more 'picante', or hot!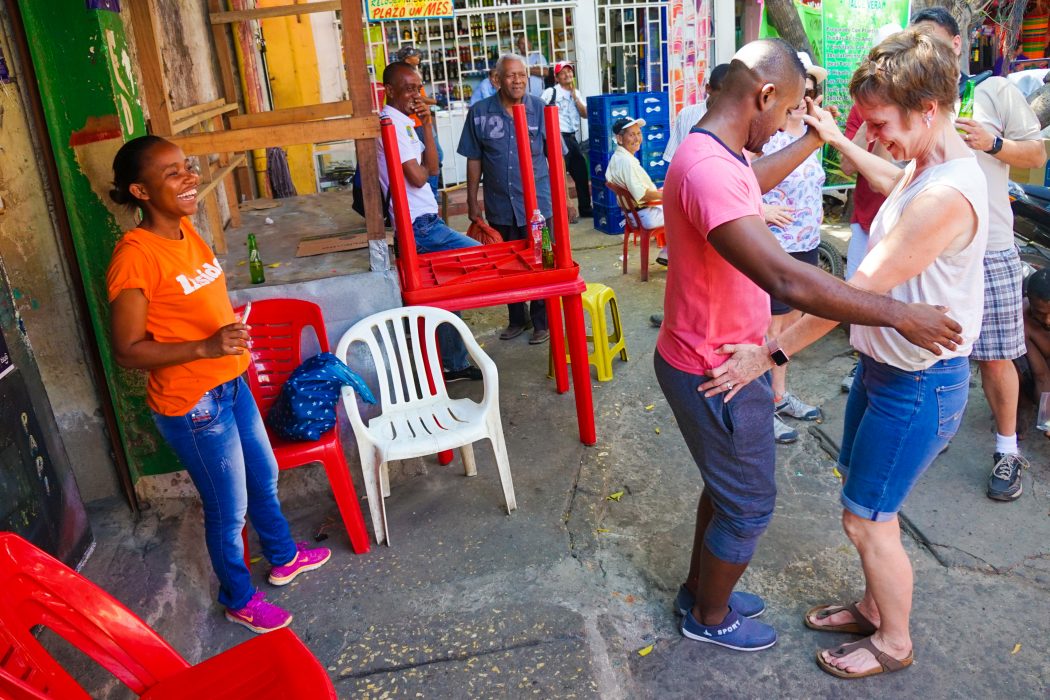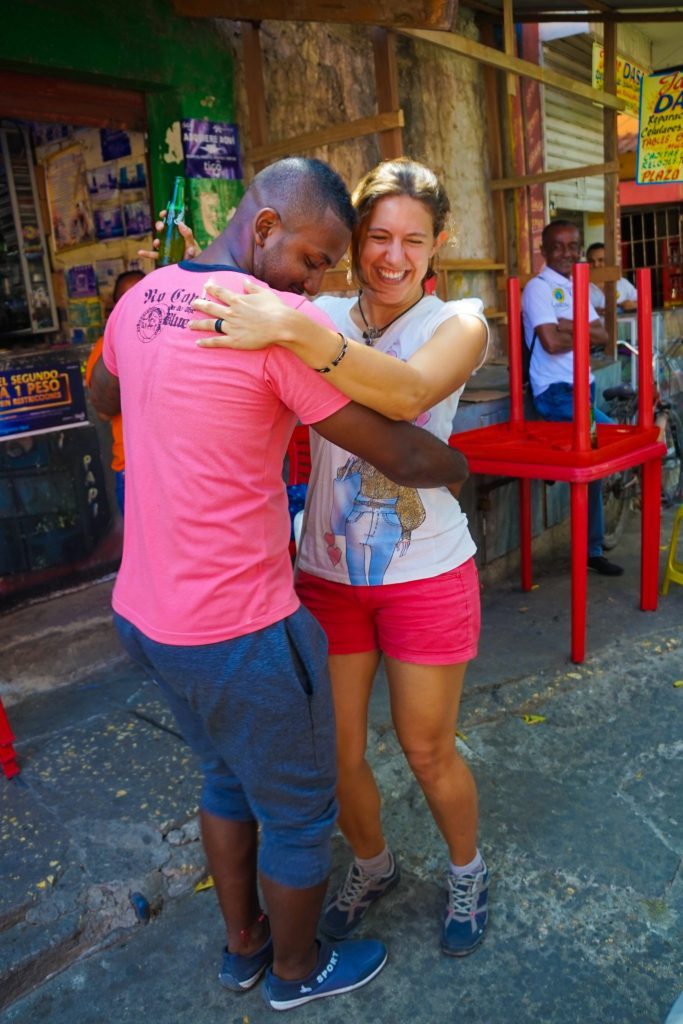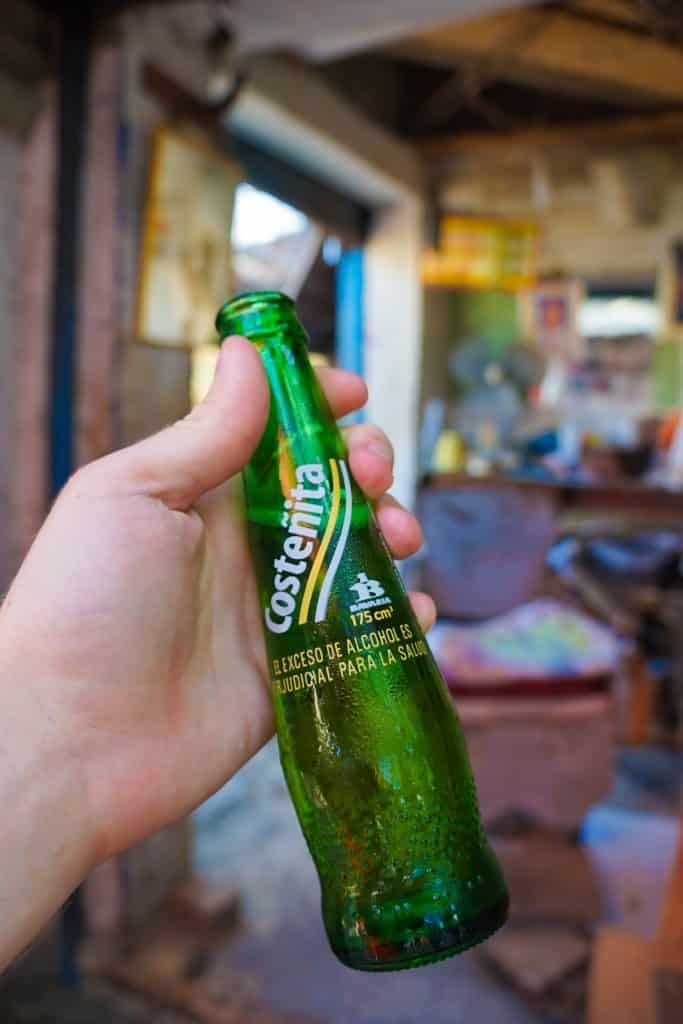 Another aspect of our exotic Bazurto Market Tour in Cartagena I really liked was the creativity, entrepreneurship and passion on display. We spoke with one business owner who came up with the idea to promote events and celebrations with hand-painted posters which we had seen plastered around the neighborhoods.
He told us how he is doing his part to break the cycle of gang culture by offering at-risk youth employment in his business, providing a creative outlet and a pathway of hope and opportunity – qualities which can be hard to find in impoverished communities where violence and crime are often seen as the only options.
Insider Tours Cartagena even provided us with a custom poster gift, so you have a nice keepsake and also the chance to see these artists in actions. Their speed, skill and impromptu designs were really something to behold!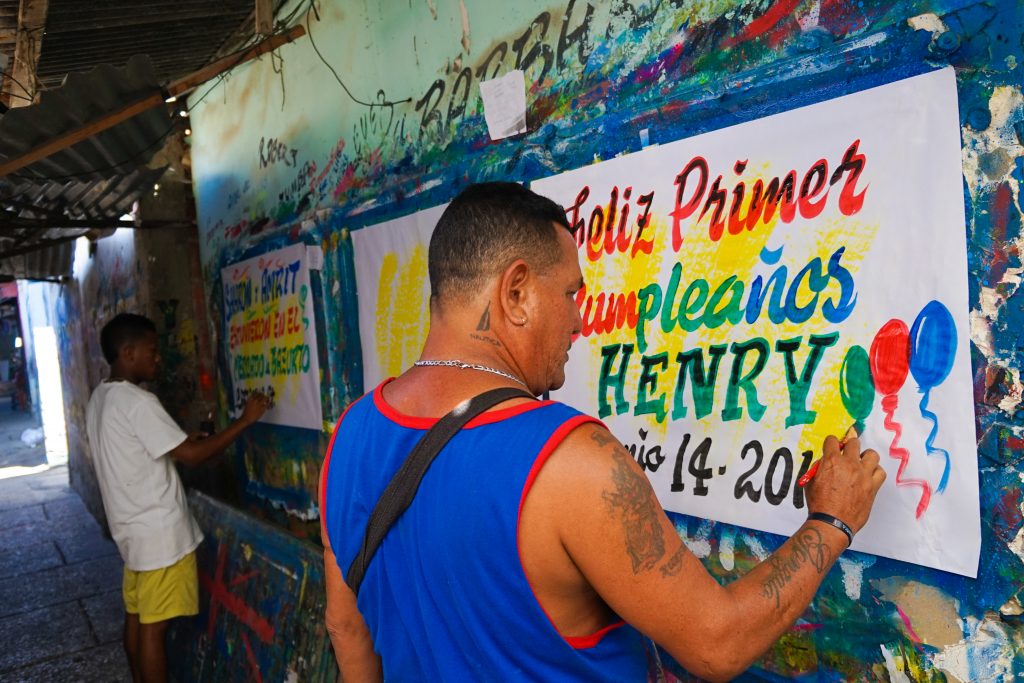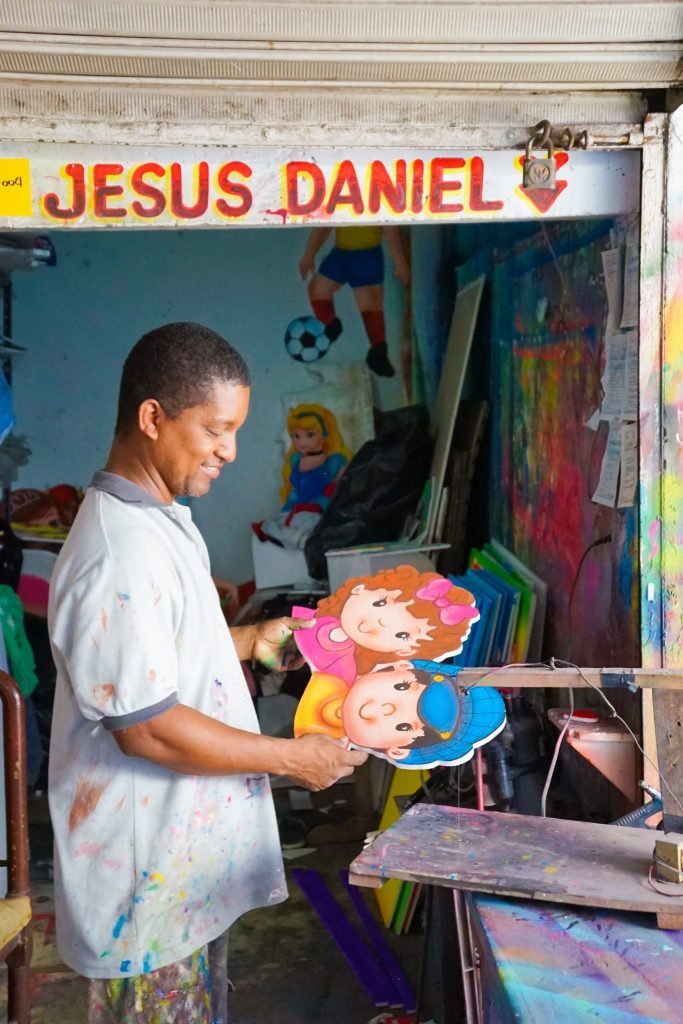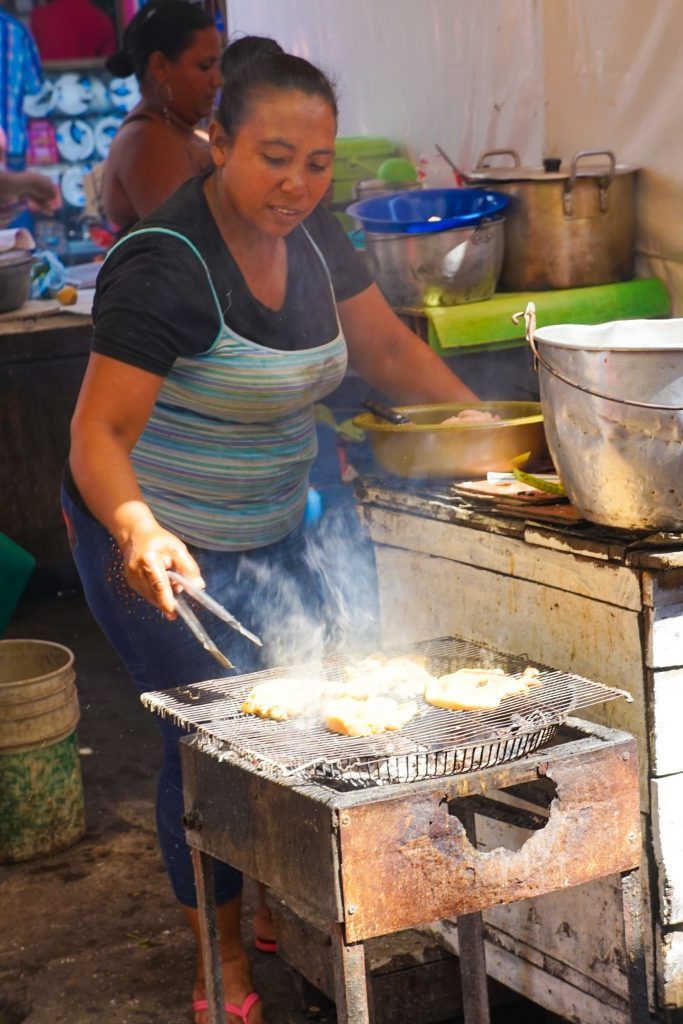 While the meat-market section of any market does make me want to be sick, here you can get a glimpse of the food culture of Colombia – namely, that they use everything!
Anyone which has spent anytime in Colombia is sure to have had some stomach lining or hooves turn up in a soup, but here you can see spines, brains, snout and more. Probably the low-light of the Bazurto Market Tour occurred here, in that I saw Armadillo for sale.
It is illegal here but the seller just told us the police look the other way. It's not likely you will buy this I'm sure but please do not support the trade of illegal animal products without exception.
Either way, this part of the market is raw, confronting, slightly nauseating and an experience you just can't get in 'Western' countries. Love it or hate it, you won't be forgetting it anytime soon!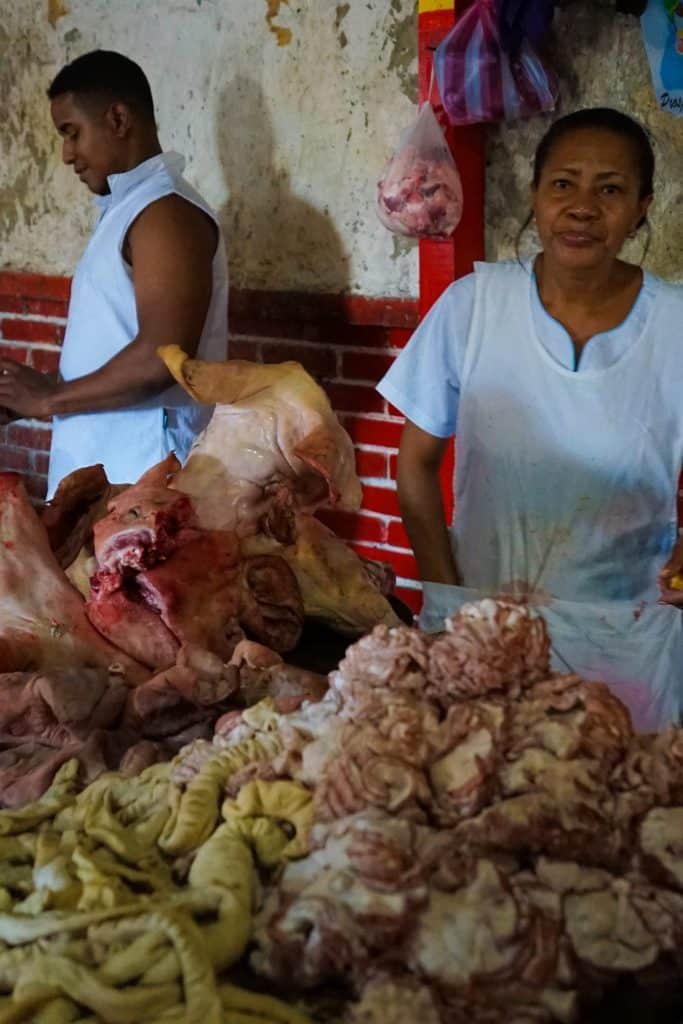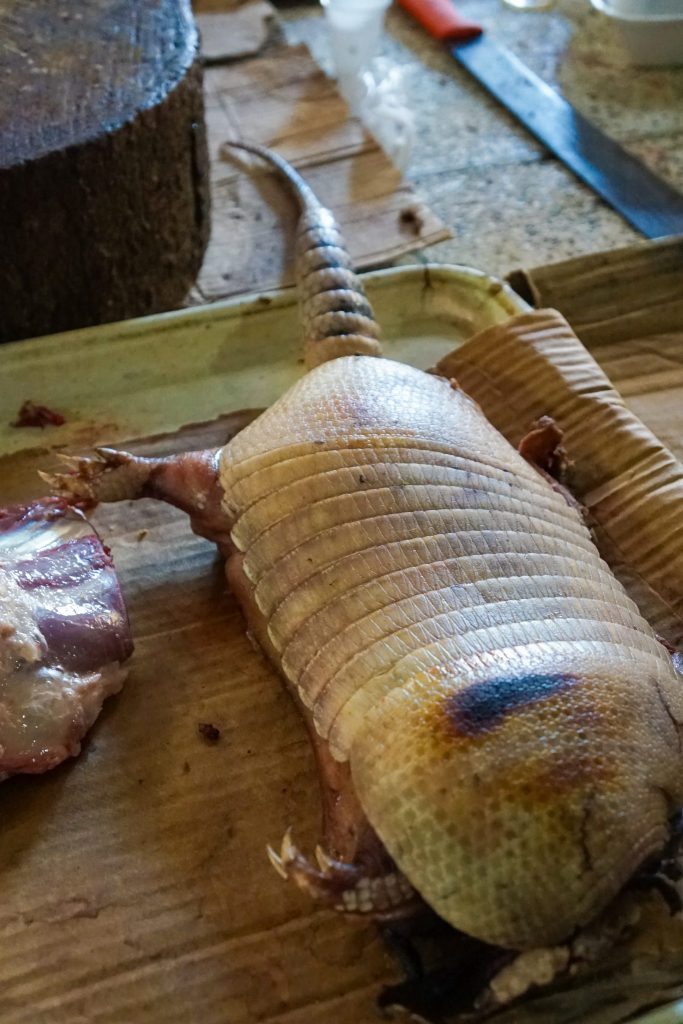 If you're turned off by the sight of blood and gore, don't worry – their fruit tasting is much more fun! It was great to try all those exotic fruits I've been seeing but was nervous to try on my own.
Lulo, a sweet yet acidic taste, is easily my favorite but a close second was Nispero – a weird potato looking thing which is incredible. Be adventurous and try them all, you're almost guaranteed to never see these at home sadly!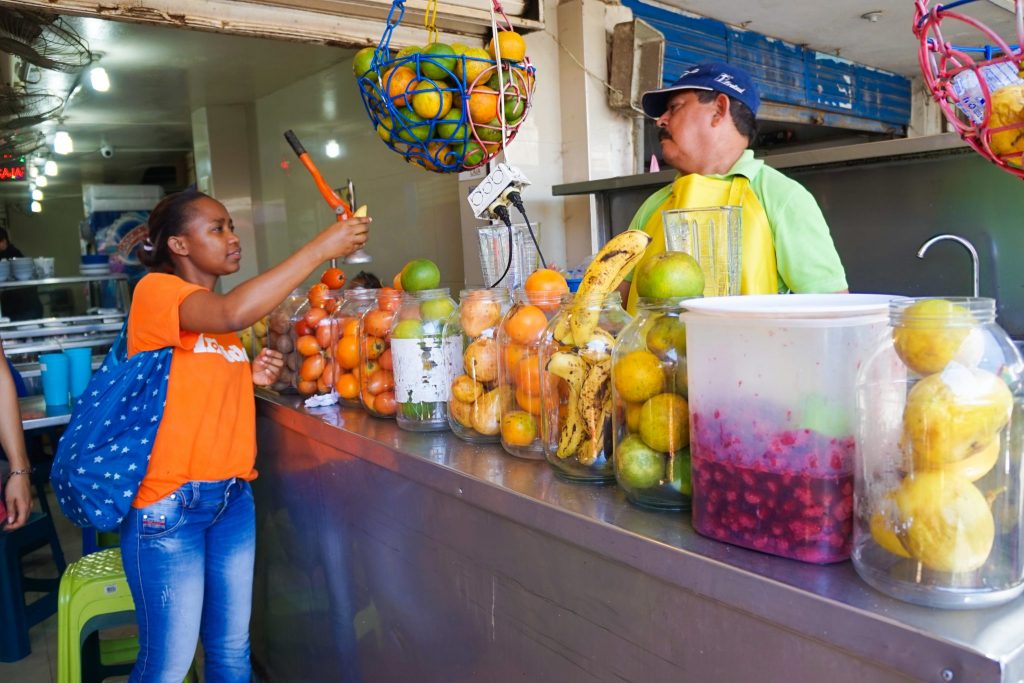 The final stop on our exotic Bazurto Market tour was an assortment of seafood restaurants – reputably the best and freshest in the city, which makes sense given its proximity to the harbour.
Food travel blogger, Anthony Bourdain, gave this place a big thumbs up and I can see why! The flavours and scents were just heavenly, and we were lucky enough to have lunch here. Not to be missed was the deep-fried fish and banana cooked in red soda!
Shark was also served but without knowing the species and as an avid diver I have to recommend you just say no – but this is rather hypocritical of me as most fish species are also over-harvested. A topic best saved for another blog post I think…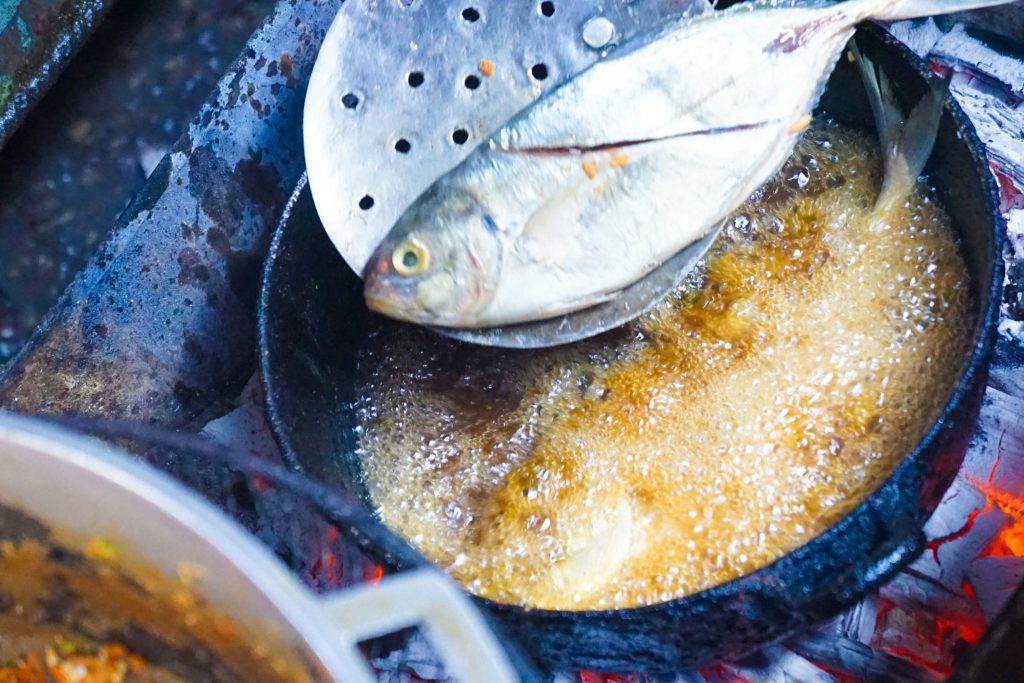 Overall the exotic Bazurto Market Tour with Insider Cartagena is an eye-opening and fascinating opportunity to see the real Cartagena, a complete contrast to the perfectly red main street of the Old Town.
It's a chance to see and hear from local vendors, practice your photography, get really off-the-beaten track and support the work of FEM to empower and promote the rights of indigenous and Afro communities in Colombia.
A Cartagena day trip I am unlikely to ever forget!
If you are travelling further Colombia, you might also like to read these blog posts:
Further Things To Consider Before Any Adventure
Now you're all set and prepared to explore our big wide world, why not sort out everything else out all in one go? If necessary for your travel plans make sure you have brought proper travel insurance, protected your privacy by getting a secure VPN, compared all the top hotel booking sites to find just what you're after, reserved an unbeatable rental car price and - of course - booked the best flight deals!
Or maybe just forget it all and go for a last-minute cruise or effortless tour instead?
Many budget travelers (including me) indulge in worldwide airport lounge access, so we can experience luxury while still slumming it in economy. Naturally, we would never leave home without a more general travel guide since we couldn't possibly cover everything here!
Just add an adventurous attitude and plenty of smiles - they go a long way - and that about covers it all! Now go out, find your own path and don't forget to share your best inspiration stories with me on Facebook, Twitter, and Instagram...I'd love to hear from you!