The Portal de la Marquesa Boutique Hotel is one of those perfect boutique hotels you day-dream about while stuck in an office cubicle.
A beautifully decorated 400 year old colonial villa, respectfully renovated with modern comforts located on the banks of a quiet river: this is the elegant manifestation of old world charm and the perfect place to escape from reality.
And if that's not enough to tempt you, Simón Bolívar – the famed revolutionary hero – has also slept the night here at least once on his many visits to Mompox during his quest for independence from Spain …
Where do I sign up right??! But first, let's have a closer look at what the Portal de la Marquesa Boutique Hotel in Mompox, Colombia has to offer…
See the best prices for booking Portal de la Marquesa today or compare availability of all hotels in Mompox across multiple booking engines for later!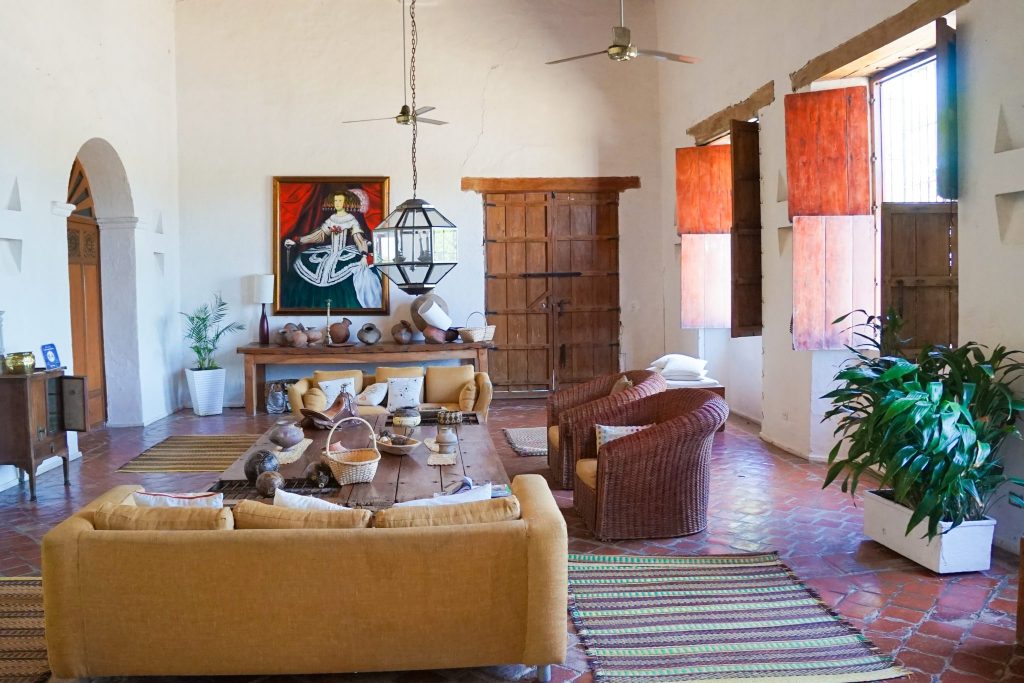 Portal de la Marquesa Boutique Hotel Mompox Review
A hotel which moves to its own beat, Portal de la Marquesa is perfectly suited to its surrounding in UNESCO listed Mompox, an isolated town on the banks of Colombia's Magdalena River once famed as the gateway to South America.
Nowadays Mompox is trapped in time, a slow-paced town embracing its glorious past while seeking to attract small-scale sustainable tourism. Portal de la Marquesa Boutique Hotel completely embraces the new ideals of Mompox and is a perfect place for a bit of luxury whether staying as a family, solo travel, couple or just friends – and luckily I had the pleasure of staying here for two luxurious night recently in early February.
Mompox is a bit remote to be sure, but entirely worth the extra leg-work to get here. You are rewarded with streets free from tourists or souvenir sellers, just locals who are genuinely glad you made the effort to visit their hidden paradise.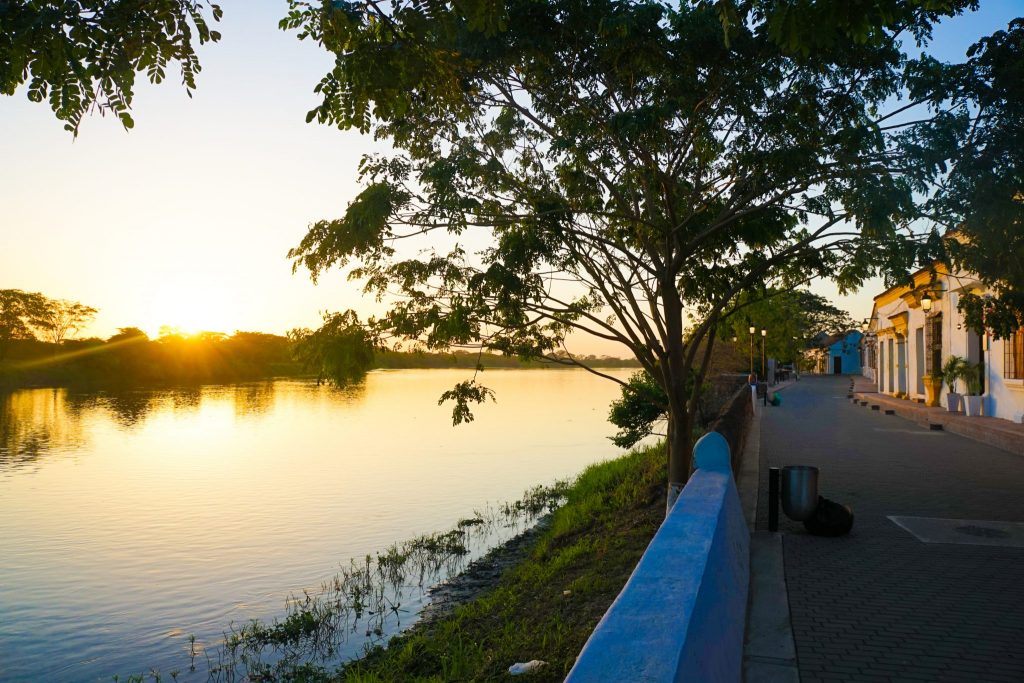 The standard comfort room I had at Portal de la Marquesa had a generously sized, and very comfortable, king bed and an extra single bed with a large floor space and high ceilings to match.
The toilet and shower were just as well proportioned and there is no chance of running out of room here either.
There is even enough space to fit a beautifully plush antique chair and full sized dresser for those who really want to unpack and imagine their life as a colonial high roller for a few days.
I especially loved the full window opening up onto the internal courtyard and garden filled with lemons, oranges, bananas and bougainvillea.
The scent that wafted in with the breeze was just heavenly, and perfectly cooling during the sweltering midday head. I'll give them one thing – those Spanish sure knew how to build houses! If this isn't enough however there is also air-conditioning available to cool you down.
In the bathroom soft towels carefully rolled awaited as did an open shower, complete with toiletries, to wash off the grime after a long day marvelling at the colonial streetscape.
While you may be tempted to lie down for a siesta in that crisp white linen at this point it would be amiss to not utilize the stylish common areas.
Open-plan and incredibly inviting, take a moment or two to relax in the causal lounge and appreciate the small details the owner has clearly put so much effort into. The wrought iron windows which offer perfectly framed vistas of the river, the pieces of art which are tastefully displayed and all the minor artifacts which remind you of this buildings grand history.
Easily one of the most historic and authentic Mompox Colombia Hotels, and lets be honest – that's exactly what you want when you stay in a place like Mompox!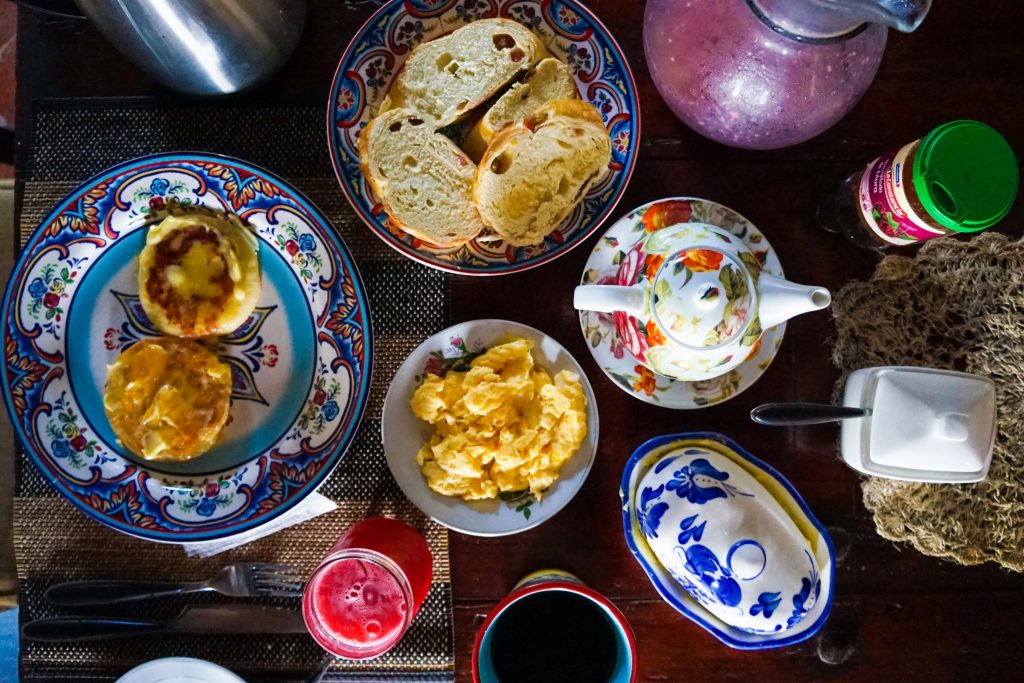 There is also a generous breakfast served here with fresh fruit, a-la-carte eggs, fresh juice, pancakes, coffee and more – all beautifully set on a long farmhouse style table with views of the courtyard garden.
The pancakes and arepas were some of the most delicious I have tasted in South America, but I have to be honest here – I absolutely hate papaya….Why every hotel in this country is so enamoured by its is beyond me. Just take it off the menu, its the worst!
Luckily the incredible mora or raspberry juice more than made up for it…
If you are interested in a little splurge Portal de la Marquesa Boutique Hotel also has a supremely luxurious suite (or perfect for a honeymoon!), complete with private sitting area and a personal swimming pool, perfect for afternoon dips to help you cool down.
It's only a small amount more than the normal room and well worth it in my opinion. The pool is however available for all guests to use when the suite is not occupied!
Beyond its luxurious setting and tasteful decor, the Portal de la Marquesa really shone through with their attentive staff. Always smiling and ready to help with any questions about the town and surrounding area. Every time I came or went the staff always knew my name and made me feel incredibly welcome – even with my limited Spanish! Especially the night guard, possibly the kindest person in Colombia…
The only fault I could find was that there doesn't seem to be any information or books on what to do in the town, where to eat and so on. Not a major gripe, especially as the staff were always so helpful, but would be a nice addition.
For now you can check out my guide to Mompox for more advice here!
Overall the Portal de la Marquesa in Mompox offered me exactly what I was after, an architecturally beautiful boutique hotel with amazing facilities, welcoming staff and a stunning location.
It is certainly one of the best hotels I have ever stayed in, and yet it manages to avoid being arrogant – the staff are professional yet relaxed, the decor is supremely suited yet understated and breakfast is entirely delicious.
I can't imagine having a complete Mompox experience without this colonial stay, and I dare say your visit to Colombia won't be complete without it either!
Portal de la Marquesa Boutique Hotel Features and Amenities
24/7 Reception
6 Sound-Proofed Rooms
Completely Non-Smoking
Free Wi-Fi available throughout
Luggage Storage
Free breakfast
Satellite channels / LCD Television
Daily Room Service
Toiletries Provided