Hello again from windy, windy Wellington!
I recently spent a long weekend in Wellington (the capital of New Zealand) on a quick New Zealand road trip getaway and thought I would tell you the highlights!
Fair warning: there is about to be quite a lot of talk about food as a weekend in Wellington is not complete without some signature downtown spots! So let's dive right in to this Wellington City Travel Guide!
Let's start with a bold statement…Wellington is one of the easiest to navigate most walkable cities I've been to. Granted, that's not that many, but having studied geographies of urban development, I can recognize and appreciate a walkable city when I stumble upon one. The city centre is flat as a pancake and pretty compact so everything is a 15 minute walk away, and when you can walk around the waterfront to get there – why not!
It's also the Southernmost Capital in the world, so you are welcome for that fun New Zealand fact. We were staying in an apartment opposite Te Papa and although we didn't visit New Zealand's most famous museum, I would recommend it for a 1/2 day based on my past experiences.
True to form, our weekend in Wellington was as blustery as anything but that couldn't dampen our enthusiasm. As an avid Lord of the Rings/Hobbit fan (who loves to visit Hobbiton), I was pretty excited to explore the area where NZ's most famous cinemas have been created.
Our first activity was to hop on the bus (25 mins on public bus 2 from Courtenay Place to Miramar) and head to the Weta Studios. The electric bus ride is a different experience to gas-guzzling Auckland buses and a neat way to see the suburbs.
The bus drivers are happy to let you know which stop to hop off for the Weta studios and point you in the right direction (just around the block) to the Weta Cave. You know you're close when you see trolls' Tom, Bert, and William frozen into stone (they must've been caught in a rare sunny Welly moment!)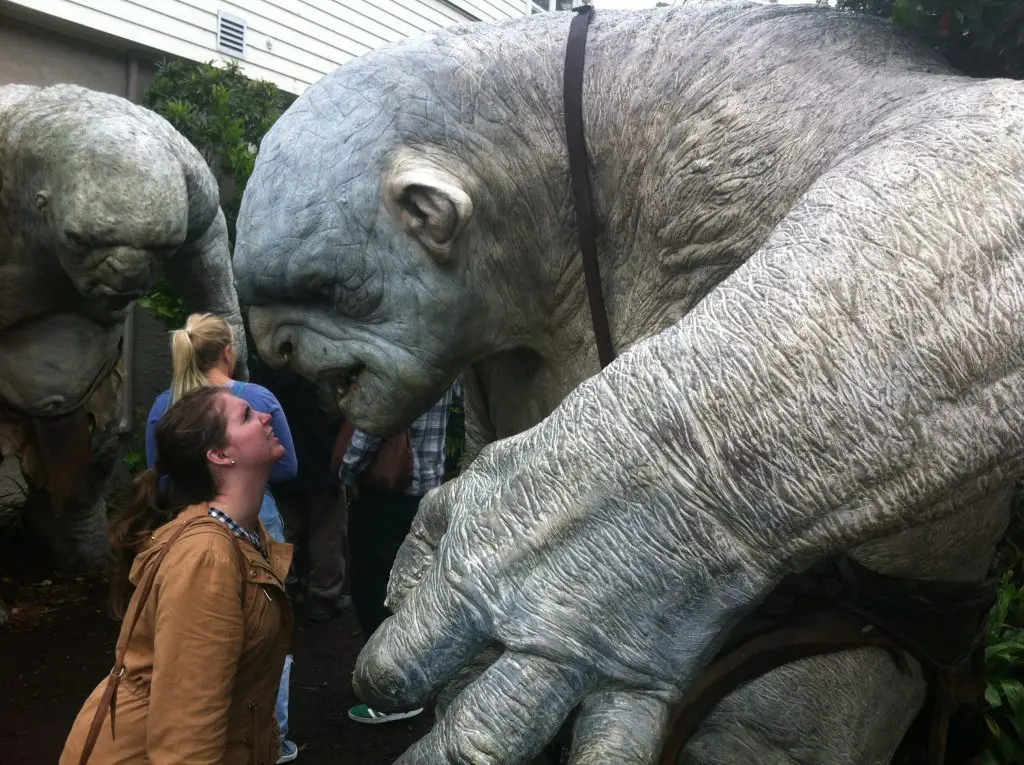 The Weta Workshop is an experience I would recommend to all Middle Earth fans. It only takes around 2 hours (+1 hour return travel) and is very inexpensive. You will need to book to do the $25 tour of the studios. It isn't your typical Hollywood tour tailored for tourists but rather a look at the workshop where models are created and stored.
While I do think they could have capitalized a little better on the experience for fans, they are obviously in love with their craft and this is their way of sharing that with you. I can respect them for not turning it into a tourist conveyor belt but instead keeping the authentic nature of the workshop with a true passion from the employees shining through.
While you do get to touch mithral and the squashy dwarf noses, don't expect the tour to be LotR heavy as they are trying to showcase many of the projects they have been involved in. The tour is well worth the NZD$25 – trust me, you'll spend more on dinner!
The Weta Cave is not just a gift shop. It is an opportunity to see some detailed costumes, weapons, and lifesize models up close. The majority of items for sale are model figurines, books, and the obligatory posters, magnets, and key rings. Make sure to get a free ticket from the counter for the short doco in the back room about the history of Weta Workshop.
This Wellington City Travel Guide votes the Weta Cave a Number 1 priority!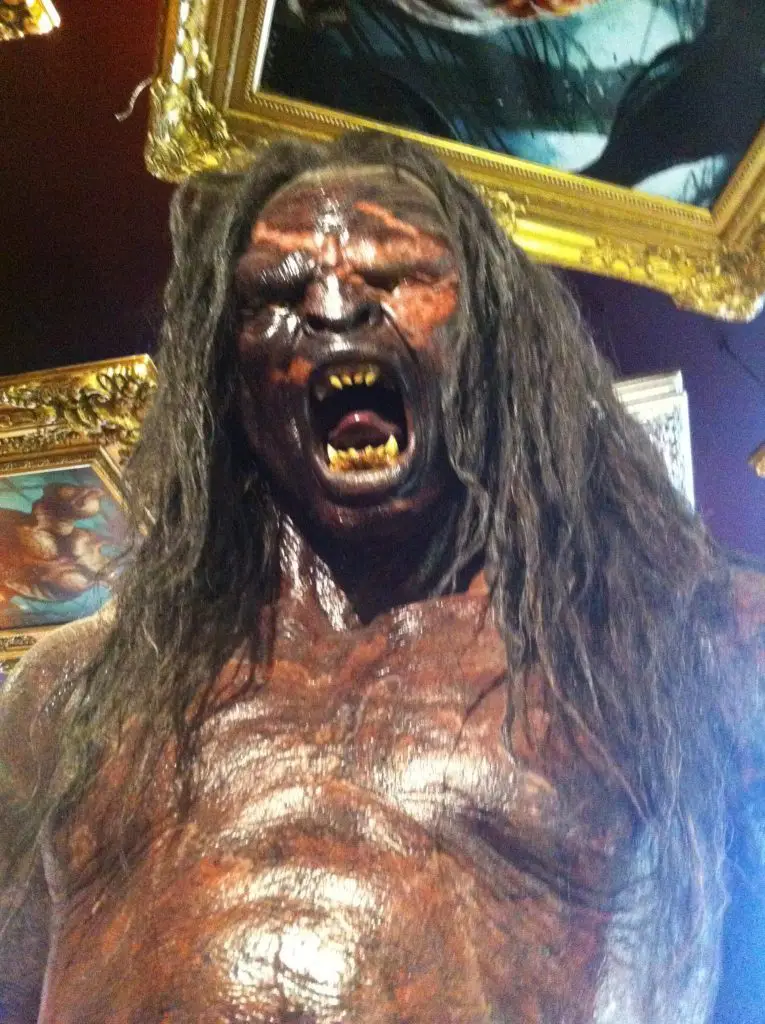 One activity we didn't have time for during our weekend in Wellington was to visit any of the filming sites from the Middle Earth films. Just another excuse to go back and visit Wellington New Zealand right? There are independent van tours which cost anywhere in the realm of $80-$250 NZD.
They drive you around a variety of the filming sites including the quarry where Helm's Deep was constructed and the 'shortcut to mushrooms'. I think the price is quite hefty but you could potentially research the routes to the areas you are keen on and hire a car for the day. You could also take a picnic lunch to have in 'Rivendell' or by the 'River Anduin'.
Following Weta Workshop, a bus ride back through the colourful coastal style buildings of Miramar saw us in town for some waffles at 'Mama Brown'. This diner style eatery (decked out in recycled airplane seats) is casual and friendly with simple American food.
Pretty good for an easy but decadent brunch. The milkshakes are huge and delicious, I would recommend sharing one with the waffles are they are both very sweet and we only drank 1/4 of our milkshakes.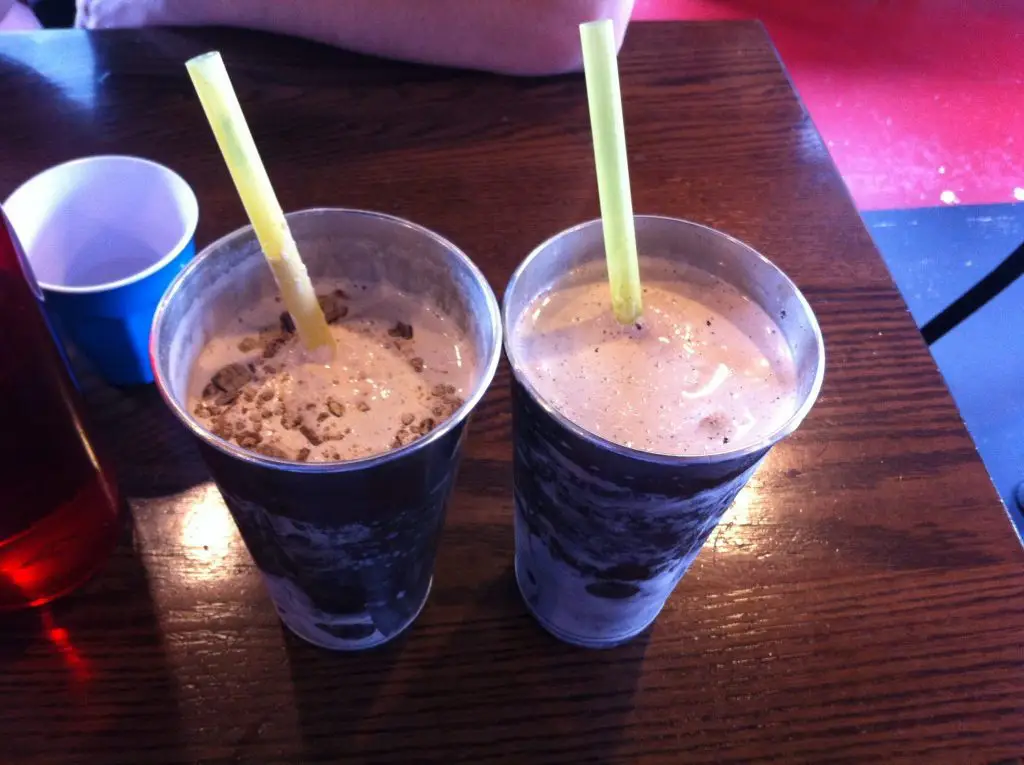 That afternoon, we were pretty tired, but managed to stroll down Cuba St and see the mesmerising bucket fountain before hitting a local Irish pub 'Murphy's' for pints and free pool.
I can't remember the name of the Irish pub but to be honest, the crowd there was a bit too rowdy for my liking (think tradies on a late Friday arvo). There are heaps of brilliant bars in Welly – particularly rooftop bar 'Dirty Little Secret' which I have heard a lot about from family and friends alike. Far too many to cover in this brief Wellington City Travel Guide!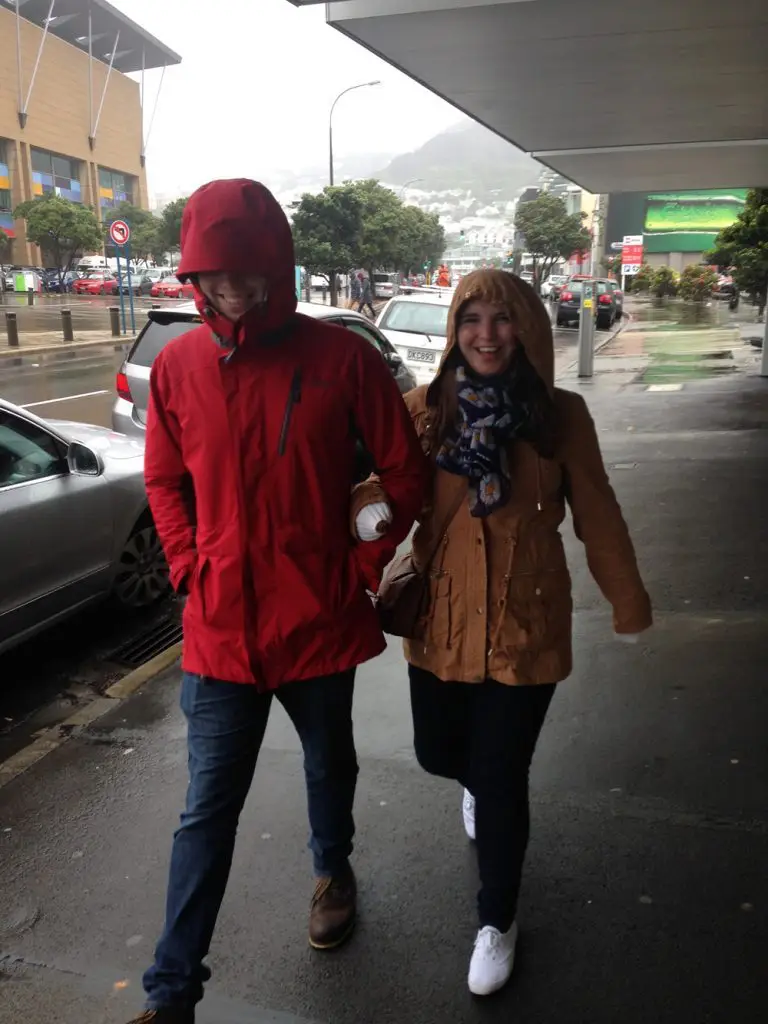 On our way home, we hit up 'Common Sense Organics' on Wakefield St (Just past the Tory St. intersection). It reminded me a lot of 'Wise Cicada' in Newmarket (Auckland) and is filled with all things vegan/organic/allergy-friendly/gluten-free/everything else healthy.
I'm not a health-nut by any means (see multiple mentions of waffles), but as a vegetarian who doesn't eat gelatin I am always keen to find some vegetarian-friendly sweets (mostly pretty gross to be honest). Not only did I come away with a very small $7.50 bag of organic jellybeans, I bought organic Elderflower syrup (to mix with lemonade in the summer – I love St Germain liqueur but am not a big drinker so this is a perfect alternative), aluminum-free spray deodorant (it's pretty good!) and some coconut chips (I wish I could say they were tasty but…).
It's a pretty hip spot for buying ethical cosmetics but why on earth do they sell bags of frozen chicken feet right next to the Co-Yo??
For dinner we didn't have to stray far (as is common in Welly) and went to Pizzeria Napoli on Courtneay Place (apparently a local fave!). Everyone loved their food and we were determined to go back at some point during our weekend in Wellington. How can you go wrong with Italian?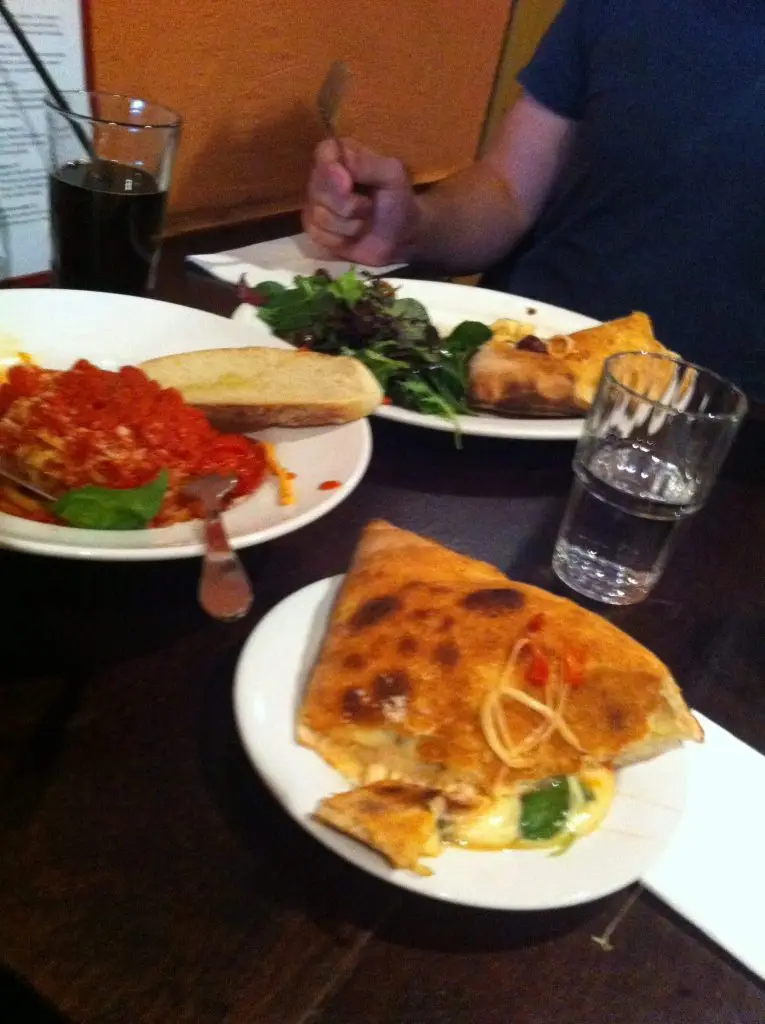 Day 2 of our weekend in Wellington started with a little bit of Christmas shopping on Lambton Quay. Ever since coming back from the States I had secretly missed the giant department stores. David Jones has come to Wellington in the last year or so and it is magical!
Something about David Jones just felt special and different from long-time exclusive dept store in Auckland (Smith & Caugheys). So please David Jones, if you're listening, come to Auckland!
The Christmas section was stunning and pretty extensive. I had to resist buying one of everything but did splurge on a couple of ornaments as gifts and one for my tree plus some NYC themed wrapping paper to remind us of our 2015 Christmas in luxurious Manhattan – Coming soon in Part Two of the Wellington City Travel Guide!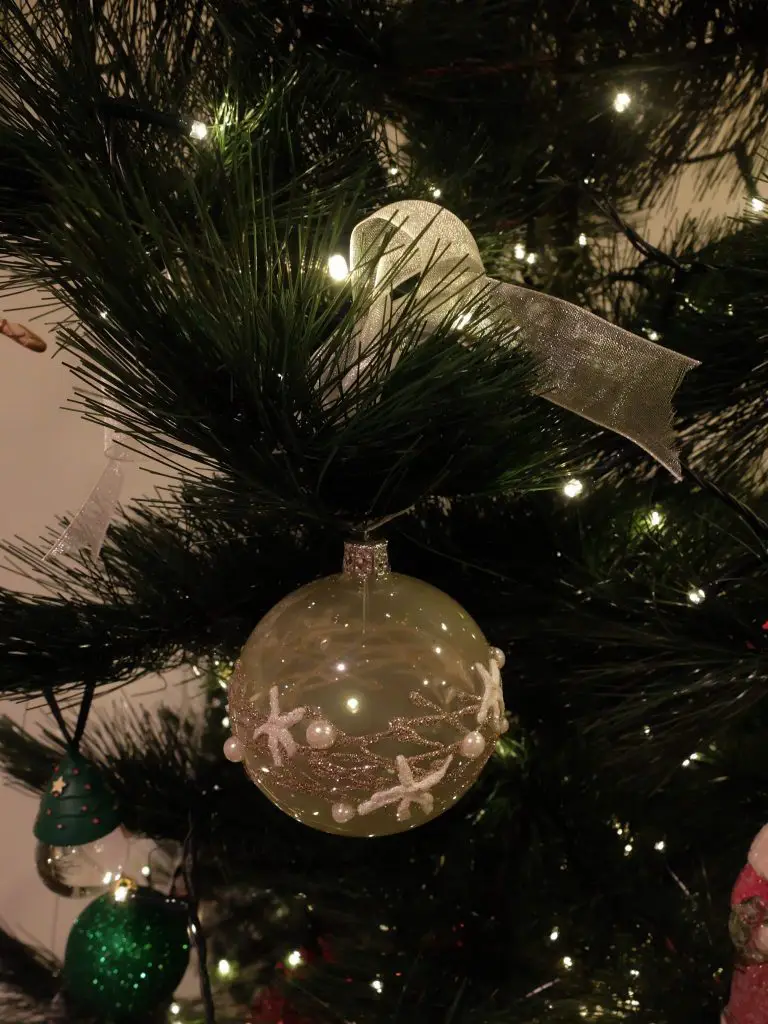 Lunchtime called and we headed to a friendly fave, Enigma Cafe on Courtenay Place. I asked for the B.L.A.T, without the Bacon – just to be difficult. The waitress asked if I would like it substituted for a hash brown. That is what I call above and beyond.
They are so accommodating for allergies and food preferences and frankly the food was delicious! They also have a huge range of food (including an ice-cream cabinet) and you can tell it is a really ethically run small business. Pictured below is my friend's chicken salad which I am assured is also fantastic.
We were then wowed by the talents of Massey University's design students who had their 'Exposure' exhibition going on (during November). This is free to the public and a really cool way of seeing innovative and seriously fun ideas. We played with some virtual reality experiences, saw a special watch for divers, and even the packaging that the boys had eaten take-away waffles in earlier that morning on Courtenay Place.
It's very cool to see student projects being used commercially. The packaging is made from beeswax. It is a tiny hole in the wall counter and you can sit and scoff a lemon meringue waffle on a bench while people watching!
We ended up back in town and somehow a gust of wind blew me into the The Christmas Heirloom Company store. I was very lucky that my boyfriend offered for me to select a few ornaments as stocking presents so I spent a solid half hour (…hour…) exploring.
We had been recommended a restaurant called 'Chow' by SO many people (including Jordan – the owner of Inspired by Maps). I'm not a big fan of Chinese food but was willing to give it a go since it was so highly regarded. Make sure if you are planning to go that you make a booking in advance as it is very popular!
To be honest, neither Andrew or I were wowed by the food but we may have just had bad luck with our choices. The rest of our party are loyal lovers of Chow and I must say the 'Fun Fun Fooey' passion fruit, mint, and ginger beer cocktail was delicious!
I've also heard good things about the desserts at The Library Bar which is owned by Chow as well and right next door, but we were too full for any more food.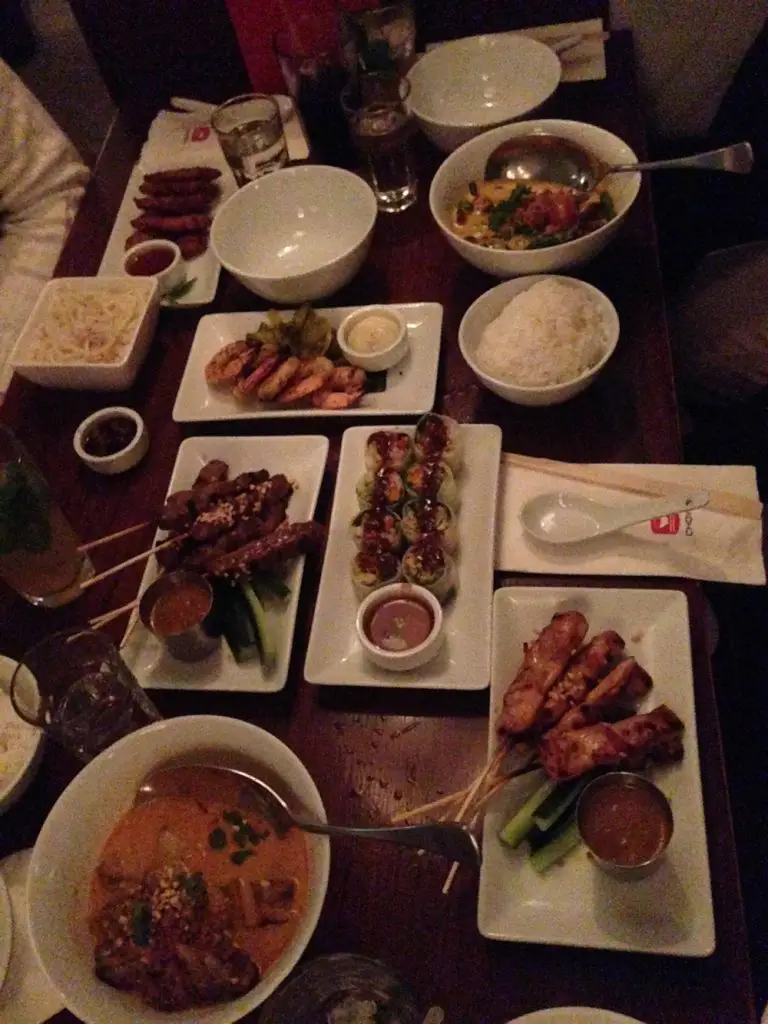 Day 3 saw us packing up early on and then venturing out to do a few of Wellingtons affordable activities. We took the famous Cable Car (student discounts available with ID) and had a look at the perfumerie at the top of the hill.
Touristy I know but no Wellington City Travel Guide would be complete without it!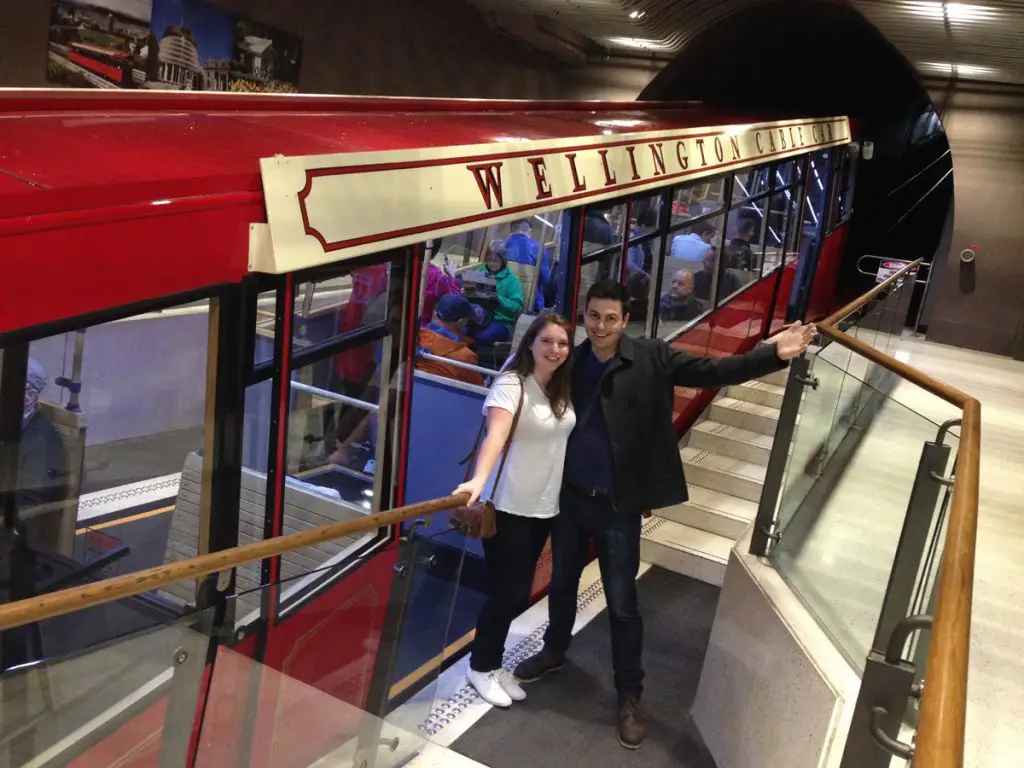 I had planned to take my boyfriend on a date night to the observatory the night before but it was too cloudy to make the most of it. If you do happen to be in Wellington during a sunny time however, I think a trip up the cable car, visit to the observatory, and a look out over the city lights would be a wonderful date!
From the top of the hill, we spent a few hours wandering down through the Botanic Gardens. Favorites included the hydrangea blooms, the Australian garden and the succulent patch.
---
If you like this you might also want to read about other places in the Pacific!
---
We then strolled around to the Beehive having booked in the parliament tour based on a recommendation. We accidentally took the wrong tour and I'll be honest – it was DULL.
If you are thinking of checking out a parliamentary tour, please do the 'Introducing Parliament' tour rather than the 'Highlights of Parliament' tour. The best part was seeing the earthquake proofing technology in the basement in which layers of rubber and steel have propped the building up. These allow the entire structure to shift 30cm each way. This technology is also under Te Papa museum.
Speaking of Te Papa, there is a market on Sunday mornings in the carpark next to Te Papa museum that has some incredible food and fresh produce…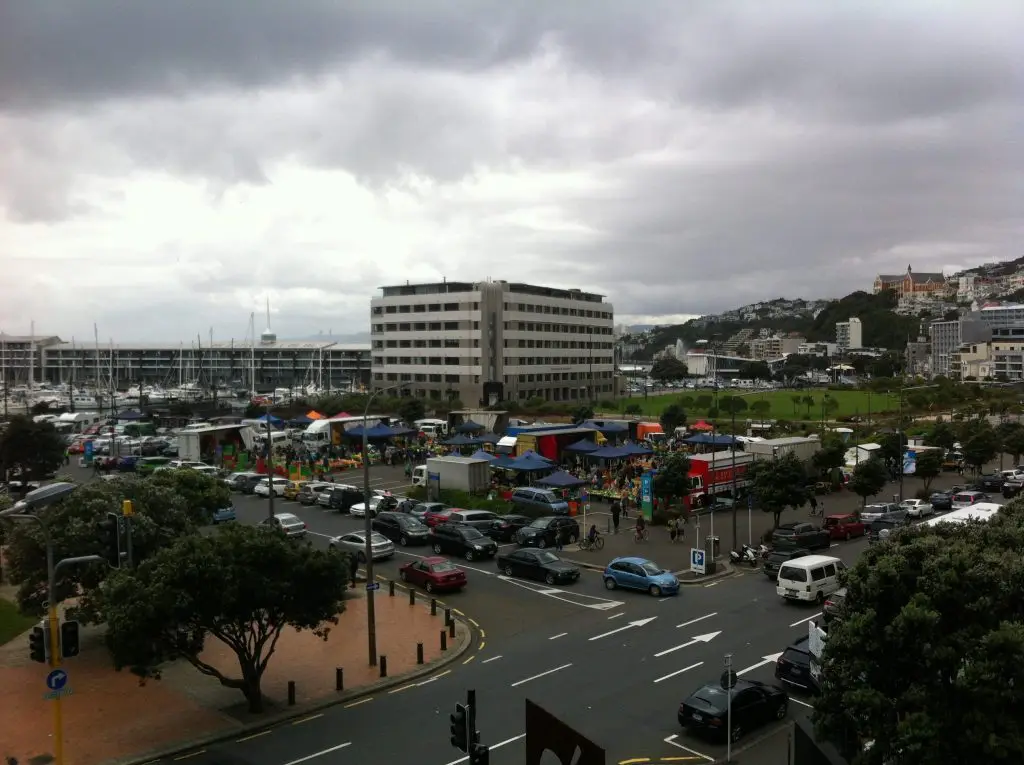 A little tidbit of info about me – I LOVE airports. Wellington domestic terminal is pretty great! We got a little booth overlooking the airfield at sunset and looked in awe at the Hobbit structures.
After what felt like 5 minutes in the air we were home and already reminiscing about our weekend in Wellington. I hope this gave you a snapshot of how easy Wellington is to navigate allowing you to squeeze lots of fun into a long weekend. Hope you enjoyed this Wellington City Travel Guide, and as I mentioned – keep an eye of for Part Two which will drop soon!
If your not getting as far as Wellington, why not check out the Taranaki or Rotorua?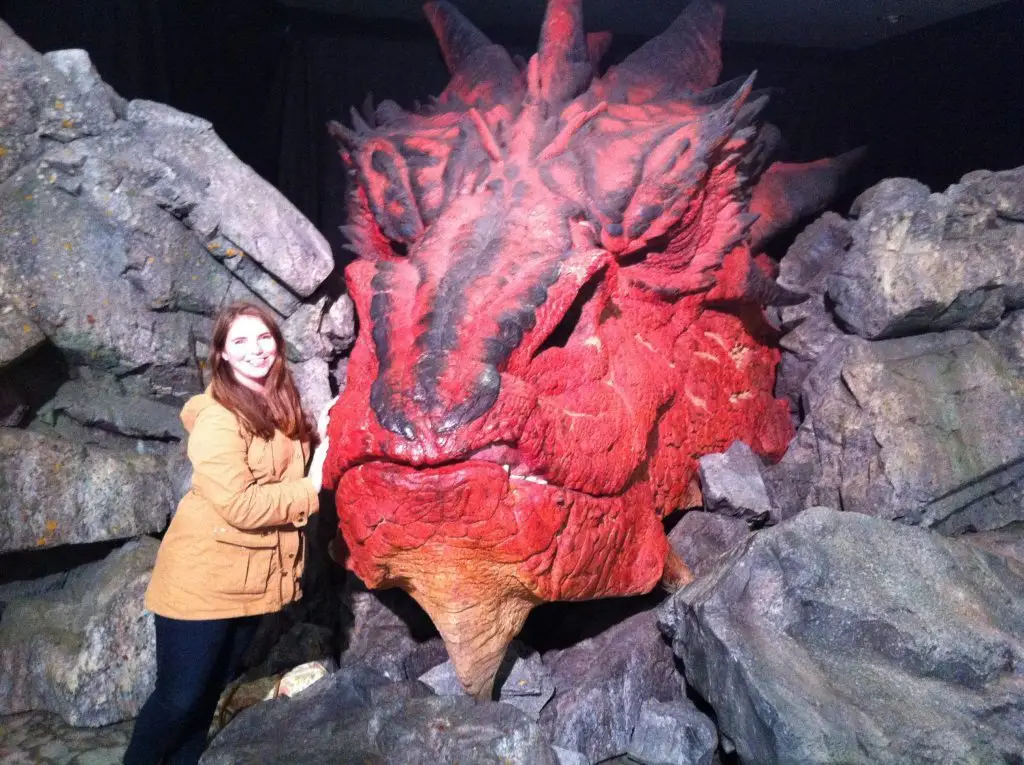 ---
Olivia Philpott, a young Kiwi who loves all things coastal, is convinced she is a mermaid. Having traveled throughout the Pacific, she is just stretching her wings and hopes to tackle Europe, North America, and SE Asia next. Follow for guest posts from an admittedly high maintenance traveler who doesn't take things too seriously! Her travel is inspired primarily by the geography on offer and whether they serve Pina Coladas!