And welcome all – to another Wizarding World of Harry Potter post – this time focussed on the Diagon Alley experience in Orlando's Universal Studios!
Whether you arrive via the Hogwarts Express or through the park be prepared for an immersive experience to blow your one slimy sock off (straight into Dobby's awaiting hands).
You will find Diagon Alley (like Hogsmeade) right at the back of the park so do consider stopping in some of the cool areas like New York and San Francisco for a street show (although I have heard they may be shutting these down in lieu of new exciting projects).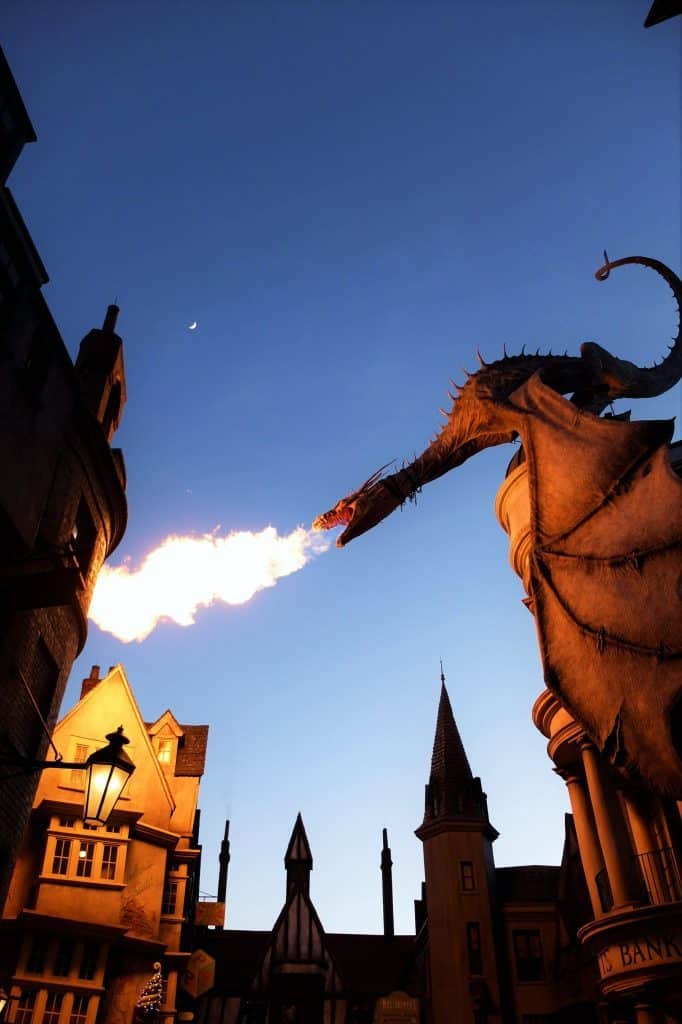 To read about Hogsmeade in Islands of adventure please check out my Wizarding World of Harry Potter Review (Part 1) here.
Right by 'London' where you walk through from the Hogwarts Express in the freezing hallways (like true Kings Cross) is BAM! The triple decker purple Knight bus – if you can see it (Muggles don't see nothink do they?). Then behind that, around a wall is the hole in the bricks that will take you right back to Philosophers stone and that magical feeling you experienced when you first read/saw it and were introduced to the wizarding world.
The first thing I would say about Diagon Alley is that it is incredibly immersive. This is what put it ahead of Hogsmeade for my boyfriend.
Once you walk in you cannot see or hear anything of the rest of the park and as there is only one entry/exit point it really feels like this bustling little village and everyone is pleased to be there (rather than having to use it as a thoroughfare).
Havn't looked at accomodation in Orlando yet? Don't worry I've got all the best deals and price right here! With free cancellation on most properties, why don't you take a look now!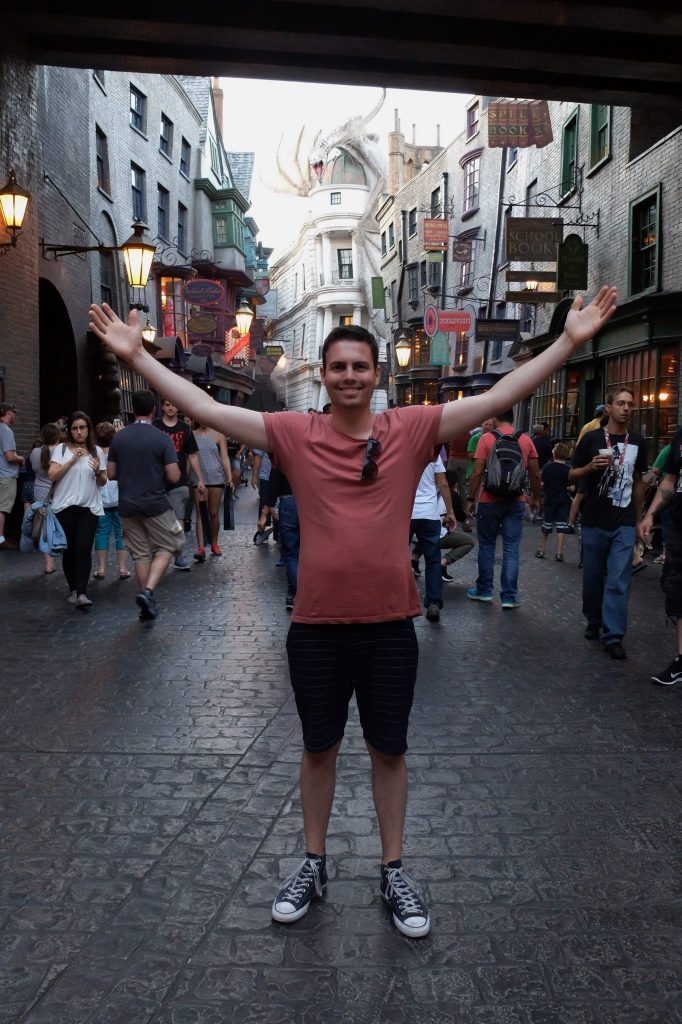 Let's first talk about the ride: Gringotts – only the Forbidden Journey rivals its epicness. From the detail and design of the entrance hall complete with goblins hard at work, the warning on the wall and chandeliers hanging from the marble ceiling.
There were some exceptional parts of the experience to get to the Escape from Gringotts rides including little hologram scenes of Bill in his office so you will not be bored when in line!
The offering out of 3D glasses did make my partner grimace as this, like the Forbidden Journey, is a motion master style ride so not great for those who experience motion sickness.

I would say that this one is a little less nausea-inducing than the Forbidden Journey but my boyfriend had closed his eyes to avoid motion sickness throughout this ride so I cannot give you a for sure answer.
I will say though that this ride is slightly scarier. It is a cart on a track style which goes fairly fast. I won't spoil too much because I do think the experience is more magical when it is a surprise but I will say the girl (me) who got scared on the kids Hippogriff rollercoaster loved the Gringotts ride! It is the perfect thrill for wusses and has exclusive scenes that break the fourth wall as I swear you can feel the fire!
You go in sets of two carts (that seat around 12 each) so if you are nervous, ask the staff to put you in the back cart which will allow you to see what will happen to you a second in advance.That sounds strange but it really did help! For the thrill seekers try to get in a front cart. One of the nicest things is that when you get out of the ride, the staff all clap and cheer for you having made it!
Again, I would recommend once having experienced it for yourself if you can manage to clutch the lap bar rather than your friend/family members arm, utilise that single rider line!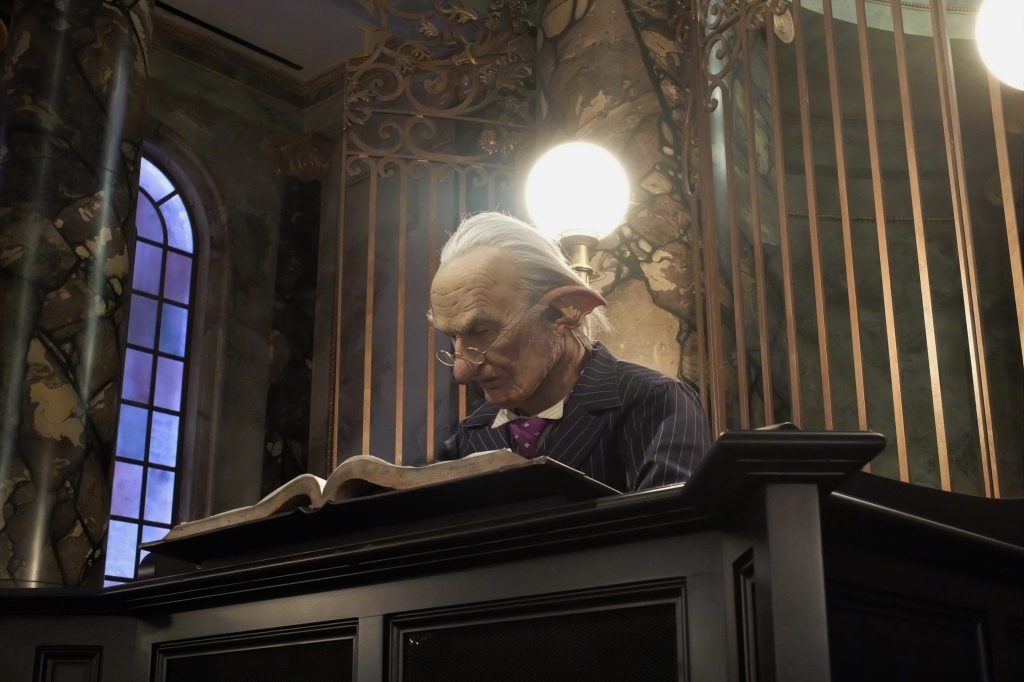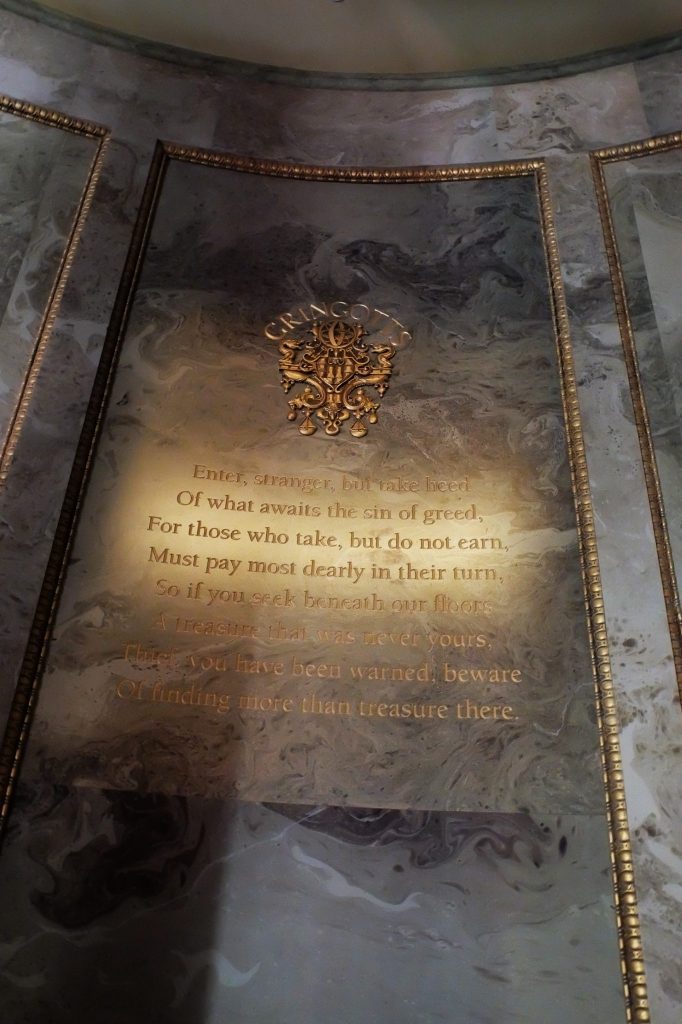 Escape from Gringotts is the only ride in Diagon Alley but there is a lot else to explore. The shops here are more particular than at Hogsmeade where they are more general.
The stores in Diagon Alley include Weasleys Wizard Wheezes, Madam Malkins Robes for all Occasions, Borgin and Burkes, Quality Quidditch Supplies, the Magical Menagerie (full of magical creature soft toys), and my favourite – Florean Fortescues ice cream!
We each got a Butterbeer soft-serve cone which were ginormous and sat in the sunshine waiting to catch the dragon breathing fire.
My favourite store experience was at a wand stand. The kind lady working at the stand-alone wand stall (rather than in Ollivanders) entertained my idea of a fun game which was to guess the owner of every wand they have for sale (around 40).
We were lucky to be there at a time when it wasn't busy so she helped me out with little hints for obscure character wands (Narcissa Malfoy) and gave me interesting facts about others (since their opening, the park has sold over $2 million worth of the best-selling wand alone – can you guess whose? Hint: Swish and Flick! A major tip I would recommend to everyone visiting the park is to interact with the staff.
They have been hired because they love Harry Potter as much as you do! They know fun facts about the park and are always happy to chat about the stories and answer your questions.
While your here – why not take a look at the best deals on Universal Studios and other Orlando Theme Parks? It's cheaper than booking direct or at the gate – Trust me!
Right by the entrance is the Leaky Cauldron pub which offers a small selection of English pub food which is a cool experience to enjoy.
There are some shops which have some VERY cool merchandise which include a glowing tri-wizard cup, Lucius Malfoys snake head walking stick, Hermiones time-turner necklace, full chess sets and loads, loads more. I would recommend shopping towards the end of the day so you don't have to carry your goods around.
There is an option if you are staying at Universal accommodation to have your shopping sent to your room but I believe there is a small charge so I chose to do my shopping at the end of the day – they very rarely run out of stock from what I saw.
A word on Butterbeer – Butterbeer comes in four varieties: chilled soda, frozen slushie, soft serve ice-cream, and hot chocolate style. I had the frozen variety and the soft serve. It is pretty sweet to the extent that one option a day was enough for me and plus you need to give yourself something to look forward to for next time right?
Yes, it is fairly pricey but yes, it is so delicious. Try them all but the soft serve is my must-try recommendation.
One of the biggest selling points for Universal is the Hogwarts Express -but is it worth it?. You probably already know that you must have a park-to-park ticket that allows you entrance to both Universals Islands of Adventure and Universal Studios. This costs roughly 50% more than buying a day pass for one park.
For first-timers I would say the train is a must. To make the most of your time, consider going to the train station first thing. Go to the park you don't want to see first thing and you will end up at the other one for the morning.
The reason for this is that most people head to the train once they have had their fill of one half around 1-3 pm and the line takes about an hour.
The line area for this is not as intricate or enticing as for the other rides. The train journey takes about 3 minutes and while the experience was cool and the ride had some wicked features – I personally wouldn't spend the extra $50 USD per day again. If you have one day at Universal – do it for sure because you don't want to miss either half of Harry Potter world.
Universal have structured their sales options very cleverly in that tickets are cheaper per day the more days you visit but all tickets must be the same (park-to-park or single park access).
I would say go all out your first time and then make up your mind about whether you would do the same again, personally – I would sacrifice the train journey to save $50 per person. It also means you don't feel like you have to make the most of both parks each day and tire yourself out. I'm sounding a bit salty here – think I need a butterbeer!
In Orlando, you are going to want to get a car to get around! It is the USA after all. Luckily Orlando car hire rates are some of the cheapest in the world if you book in advance. Why not take a look at the best rent a car rates for Orlando now – with free cancellation in most cases!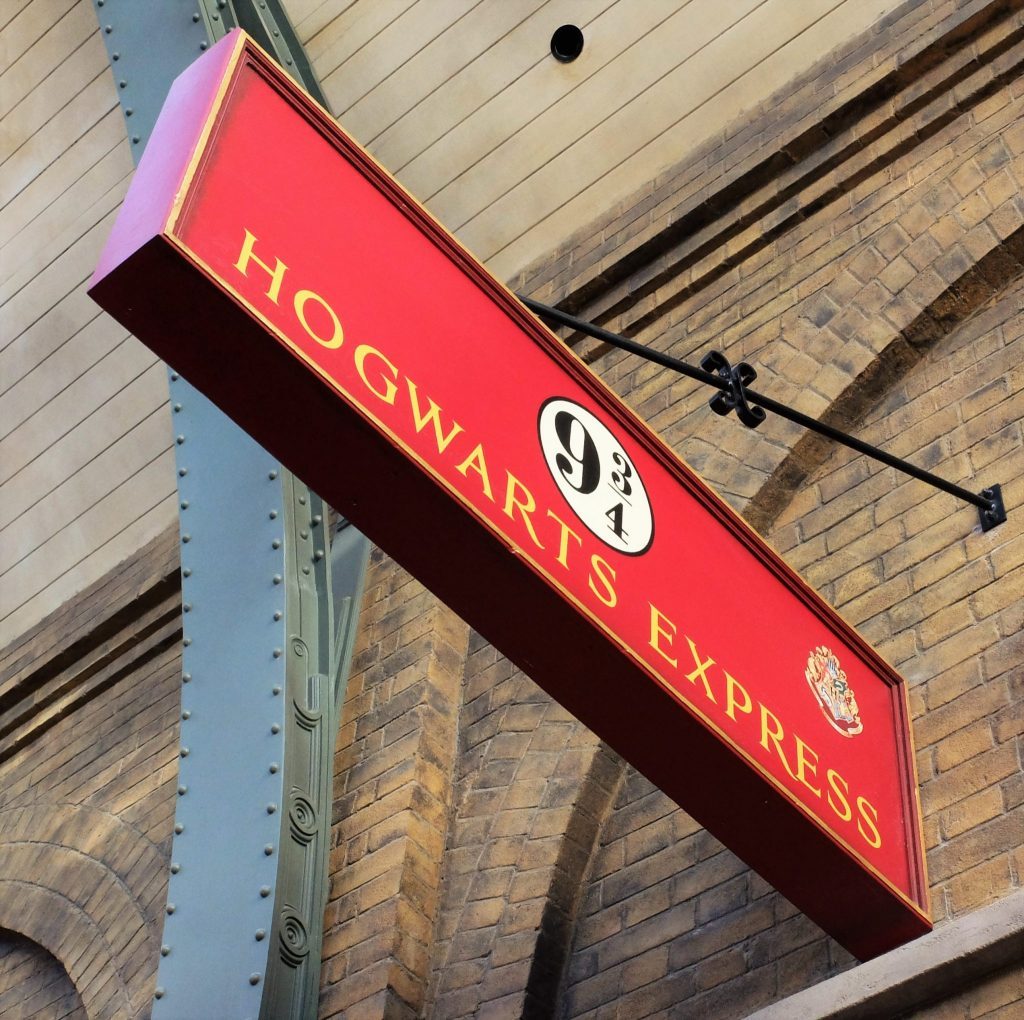 Tips For Enjoying Diagon Alley And Harry Potter World In General!
If you cannot find merchandise you had your heart set on or they have run out of your size – know you can buy it all online! In the moment I wanted the Hogwarts throw blanket (too bulky for luggage) and the Mirror of Erised photo frame ($44 UDS). Both items, I reasoned could be bought online and I would not use for the rest of our month long trip and I haven't had the urge to buy either in the 7 months since getting home.
Make a bit of a shopping list before you go so you know prices and what you don't want to miss.
Harry Potter World has an obsession with keyrings (or key chains) and badges (pins). They have carts that sell so many variations (chocolate scented chocolate frogs in metal boxes, Buckbeak, and the sorting hat. Most people only have need for one keyring but remember if you fall in love with one for you or as a gift – key rings make great Christmas tree ornaments.
'Gilly Water' is plain old H2 Good for hydration but they do have water fountains so consider just bringing your own water bottle to fill.
I was too embarrassed to wear any Harry Potter merchandise in the park for fear of looking "lame". If there is anywhere you will ever fit in more rocking your Hogwarts T-Shirt – it is here. Go for it!
Be sure to watch the Grimmauld place exterior which is outside the entrance to Diagon Alley on the other side from the train station. Every so often a not so friendly face pokes out.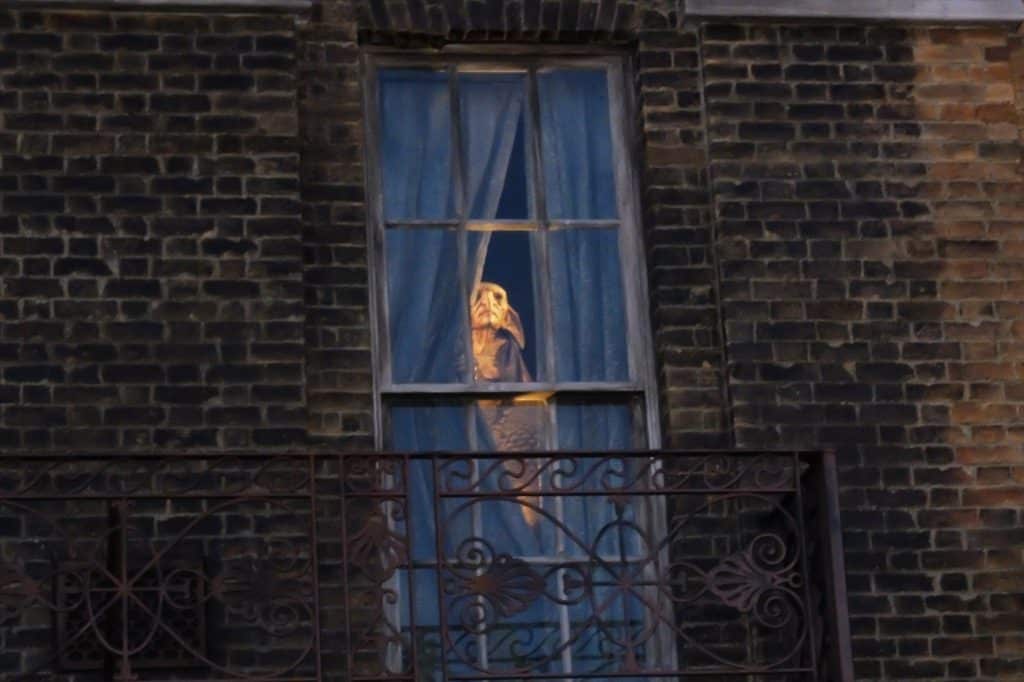 Also in Universal Studios is the Mummy ride which was super fun and tested the limits of my scaredy-cat-ness. Be aware though that the lockers next to this ride cost a small fee (unlike the free ones in the Wizarding World section) so I stuffed my shoulder bag with our things and I wore it on the ride.
Make sure your bag has a zipper or is secure on any rides because you will get jostled around a fair bit.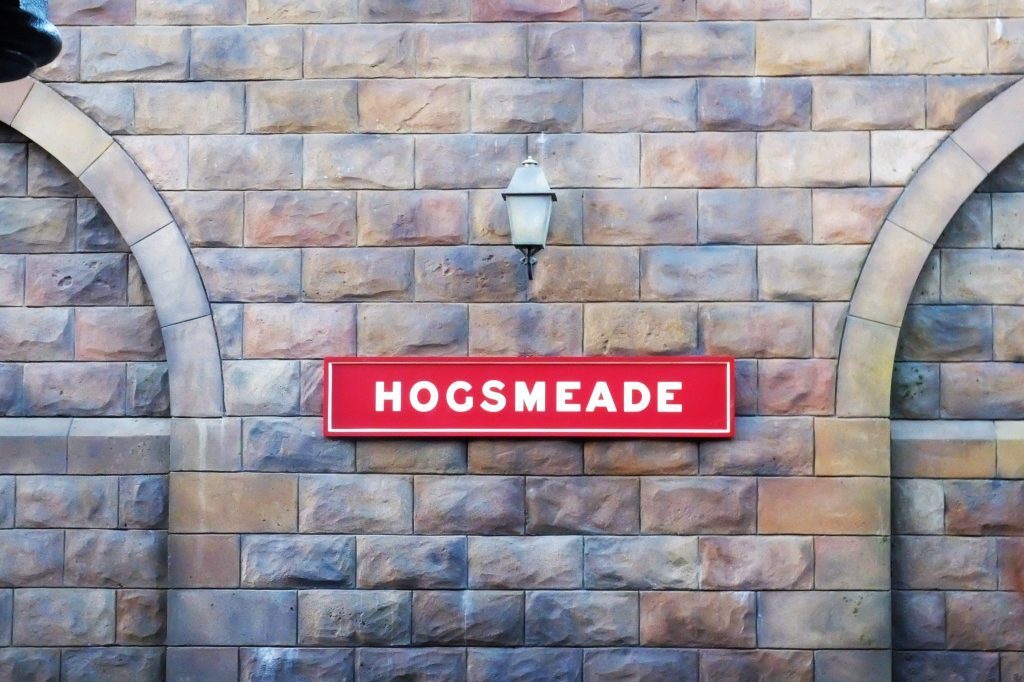 Universal Studios in general has a much more adult enjoyment feel to it than Islands of Adventure which is more designed for the young and young at heart.
Although as I understand it, changes are being made to the Studios. If you can only choose one park to explore outside of the Harry Potter sections – Islands of Adventure really is better unless you are super high-brow and don't like rides.
Universal Studios without Diagon Alley would be – dare I say it – a little bit boring and without the Harry Potter sections I would have been disappointed to have spent my money and time here.
To read about the Island of Adventure 'Hogsmeade' experience including my opinion on Bertie Botts beans, the 'kids' hippogriff coaster, and for the best ride of your life, click here. Hope you enjoy your time here, let me know your favourite part and have as much fun as possible!
Oh – And if your going to Disney read up on the best Disney World Tips And Questions Answered Before You Go…
---
Olivia Philpott, a young Kiwi who loves all things coastal, is convinced she is a mermaid. Having traveled throughout the Pacific, she is just stretching her wings and hopes to tackle Europe, North America, and SE Asia next. Follow for guest posts from an admittedly high maintenance traveler who doesn't take things too seriously! Her travel is inspired primarily by the geography on offer and whether they serve Pina Coladas!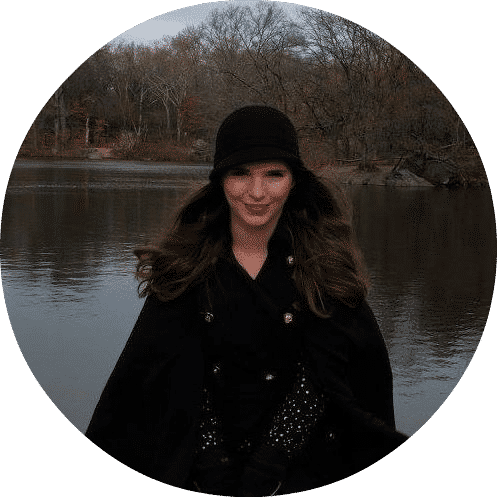 Further Things To Consider Before Any Adventure
Now you're all set and prepared to explore our big wide world, why not sort out everything else out all in one go? If necessary for your travel plans make sure you have brought proper travel insurance, protected your privacy by getting a secure VPN, compared all the top hotel booking sites to find just what you're after, reserved an unbeatable rental car price and - of course - booked the best flight deals!
Or maybe just forget it all and go for a last-minute cruise or effortless tour instead?
Many budget travelers (including me) indulge in worldwide airport lounge access, so we can experience luxury while still slumming it in economy. Naturally, we would never leave home without a more general travel guide since we couldn't possibly cover everything here!
Just add an adventurous attitude and plenty of smiles - they go a long way - and that about covers it all! Now go out, find your own path and don't forget to share your best inspiration stories with me on Facebook, Twitter, and Instagram...I'd love to hear from you!