Ok, ok now you've got your flight ticket booked and you're on your way to Oktoberfest…but what exactly is Oktoberfest? What should you expect? What should you do…
Don't worry!
I've got your perfect Munich Oktoberfest guide to enjoying 'Wiesn' like a local! I did the hard yard drinking and …well, more drinking, so you don't have to. Ok, there was also some research in between and plenty of chatting with locals.
But with accommodation at Oktoberfest going for a premium, and plenty of shenanigans to be had, I don't want you loosing a second of your precious time here at this magical place.
How To Oktoberfest Like A German: The Ultimate Guide To Wiesn 🍻
Oktoberfest Guide: The History of Oktoberfest
Well, it all began with a Royal Wedding on 12 October 1810. The Crown Prince of Bavaria Ludwig, who later became King Ludwig I, was married to Princess Therese of Saxony-Hildburghausen.
To celebrate, all the citizens of Munich were invited to a meadow outside the city walls for a festival to celebrate the occasion. Because of this, the meadow was renamed Theresienwiese in honor of the momentous occasion, while today the locals simply refer to it as Wiesn.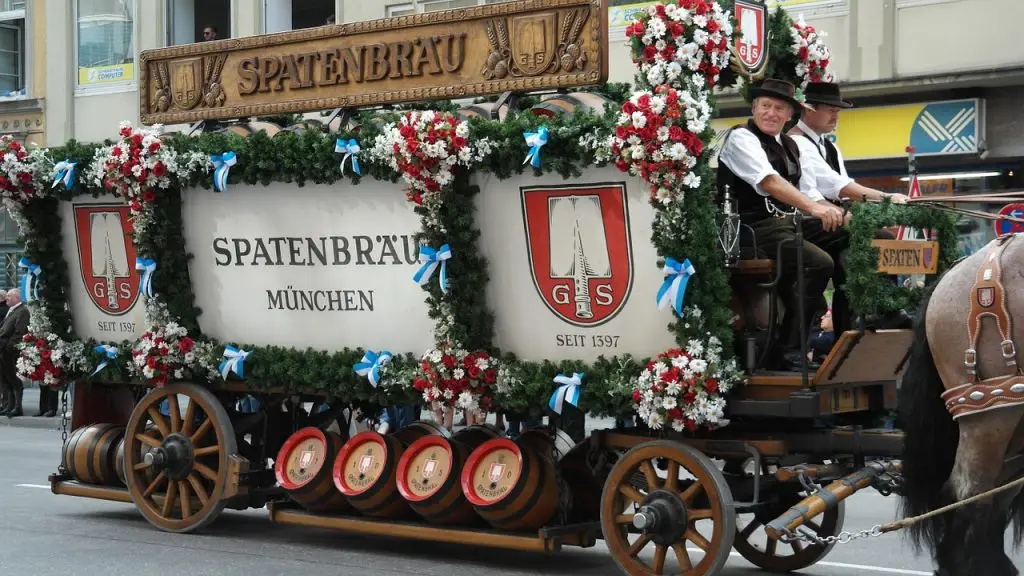 The close of the original festival was marked by horse races with royal attendance. These races were repeated in subsequent years giving rise to the tradition of Oktoberfest and a festival which celebrates the whole of Bavaria!
Today the horse races, which were once the highlight of the celebration, no longer take place but an agricultural show, instituted back in 1811 does however still occur every three years!
The first amusement rides appeared in 1818 in the form of a carousel and swings – quickly adjoined by a small beer stand to quench thirst. By 1896 the first beer tents and halls were set up by Munich's beer breweries and the remainder of the site was taken up by a fun-fair as the fairground trade grew in popularity in Germany. The rest, as they say, is history!
Oktoberfest in Munich today is the worlds largest festival.
A gathering of people from all over Germany, and the world, with the distinct Bavarian characteristics of its 19th-century roots, still cherished. Oktoberfest has now been celebrated annually for over 200 years, only interrupted by cholera epidemics and war.
But what is Oktoberfest like now?
Today the main events to see are the Grand Entry of the Oktoberfest Landlords and Breweries, the Costume and Riflemen's Procession, and a concert involving all the brass bands! And of course, beer is a prominent theme throughout…..
Ok – The history is all fine and dandy but what I really want to know is why is it Oktoberfest in September?!
Well, that's because Oktoberfest traditionally opens on the third weekend in September and continues until the first Sunday of October.
And since the Royal Wedding was in October it makes sense – kind of!
How To Oktoberfest Like A German: Oktoberfest Etiquette
Before enjoying 'Wiesn' like a local – or the beer halls of Munich like a local – you should first be aware of the Oktoberfest Etiquette after all the Germans are world renown for their rules!
Don't stand on the tables. Benches are fine but no need to trample the place where everyone eats and drinks! Trust me, you won't make any friends this way…The exception is, however, one foot up which signals you will skull your entire beer, and everyone will be watching. Not recommended!
Eye contact is key! For us in the English speaking world cheers is just a big communal action, no eye contact necessary. However, here in Germany each 'Prost' or cheers must involve direct eye contact with each and every participant.
Steins are not as strong as you would imagine. Clink them at the bottom on an angle, not hard against each other near the top or you will have some very expensive beer wasted and some angry looks. Oh and don't steal the glasses, you'll be caught anyway and end up looking like another drunk tourist!
Tent hopping is for chumps! You'll soon realize getting a seat in a crowded tent is not easy, so once you have your's don't give it up in a few hours to try for another tent. You're unlikely to get lucky twice, especially later in the day, and the experience is much the same across the board. The grass isn't always greener in the other tent!
Cash is king! Few tents enjoy facilities for card and even fewer servers are going to want to use it. Payment is expected on delivery so unless you want to be avoided all day bring cash and plenty of it – Those ATM lines are an absolute buzz-killer. While we are at it – tipping is customary, a euro per stein minimum but I normally just round up!
Close-toed shoes are the only option. Pretty simple really, being a beer festival its more than likely a few drunks will accidentally stand on your feet. There is a lot of spilling and stumbling, and the odd broken stein, so just leave those new heels at home!
Don't hog the benches! Everyone is just trying to find a space, same as you, and taking up extra spots or saving them for a friend who may or may not come is heavily frowned upon. Besides, isn't Oktoberfest really about celebrating with total strangers!
Leave those valuables at home. Alcohol plus things you can't afford to go missing do not mix well. Just put what you absolutely need in your pockets. The aforementioned cash and possibly a phone if you need to – If you can find your way home without it, all the better. And a purse covered in beer is not going to complete any outfit! Plus if you go too far and pass out thieves and pickpocketers have been known to prey on the bierleichen (beer corpses).
And finally, pace yourself! It's a long day and not a sprint to the finish. The steins are bigger than you think and are brewed with higher alcohol content than normal beer. Consider a Radler (half beer/ half lemonade) as every second beer and be sure to try some of the amazing food! If you tap out early you risk being ridiculed by your friends and miss the prime time events which occur in the evening!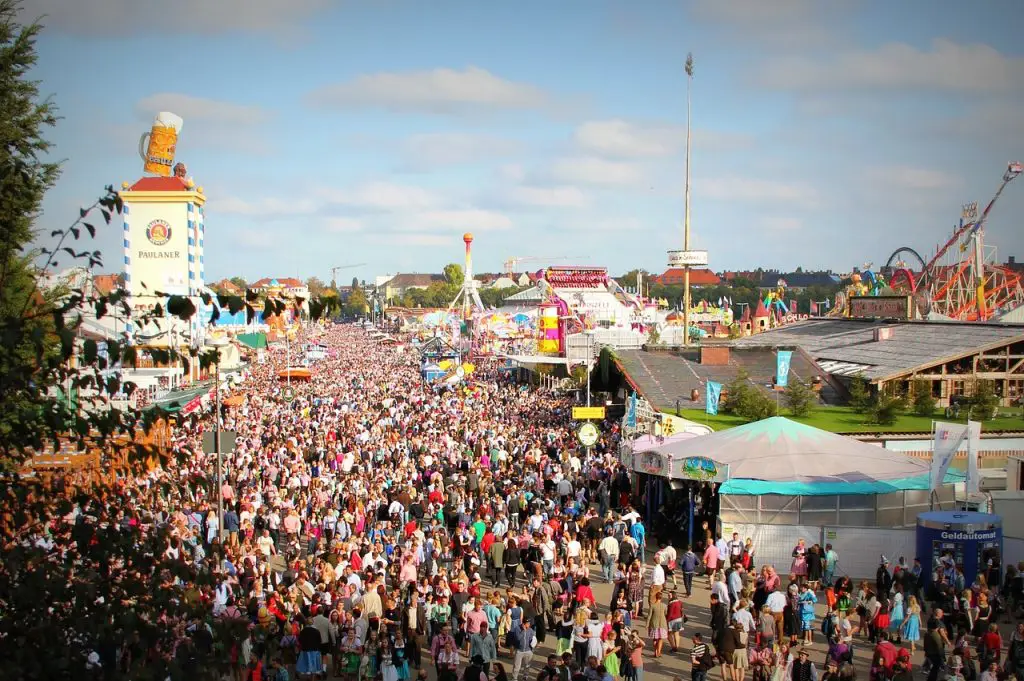 Oktoberfest Guide: Oktoberfest Tips for Drinking and Eating
Walking into these giant tents for the first time can be daunting, and even once you have found yourself the perfect spot it can all still be a bit confusing. Read up before you go about how it works and you will be an expert on how to Oktoberfest like a German in no time…
You need to be sitting to order a beer. With the exception of the Hofbräu tent, a server will completely ignore you until you are seated. Simple as that!
Reservations are not required. Many tables in a given tent are reserved by companies months in advance but plenty of tables are free, either all day or from or till a certain time. All tables are marked as such so get there early and claim your spot. If in doubt, just ask a server for help!
Only one size of stein is available. There is also juice, soft drinks and water but you will soon notice they are close to the same price as beer.
There is only one choice of beer per tent. As only beer brewed in Munich are offered here, you won't have much choice. Each tent has its own beer by its own maker, so its easy in that respect – Just take what you're given!
Manners go a long way and so does an attempt to learn the language! You're more likely to get the servers attention and, as in every country, locals love it when you give it a go. Don't be afraid. Here are a few phrases that will make your Oktoberfest experience even better and ensure you are a pro at knowing how to Oktoberfest like a German.

A stein of beer: ein maß (ß is a 'ss' so its pronounced mass).
Thank you: Danke
Please: Bitte
You're welcome: Bitte schön
Cheers!: Prost!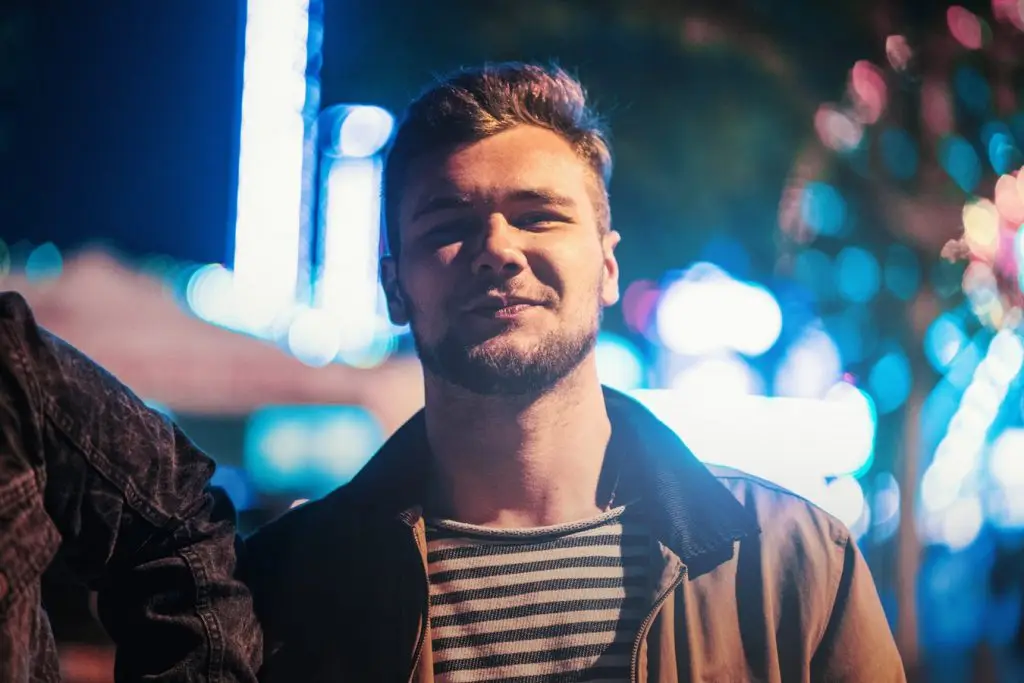 The food is delicious and traditional! Make sure to try some. Here is an overview of the options and a helpful translation:

Brezeln: Pretzel, brought around in baskets
Hendl: Roasted chicken. Can order half or whole!
Weisswurst: White sausage.
Schweinshaxe: Pork knuckle.
Kartoffeln: Potatoes. Perfect to sober up a bit!
Spätzle: Egg noodles typically served with cheese (käse).
Oktoberfest Guide: Oktoberfest Without Drinking
Enjoying 'Wiesn' like a local, or even Munich like a local, is not all about drinking. Don't get me wrong… The beer festival is a major component of it, but actually at its heart Oktoberfest is a celebration of all things Bavarian.
Over half of the 'meadow' is taken up by amusement rides and carnival attractions, so there is something if you're looking at going as a family. You don't have to drink to dress up the in the traditional dirndl and lederhosen or enjoy the festive tent atmosphere and of course, there is the food.
All the delicious food!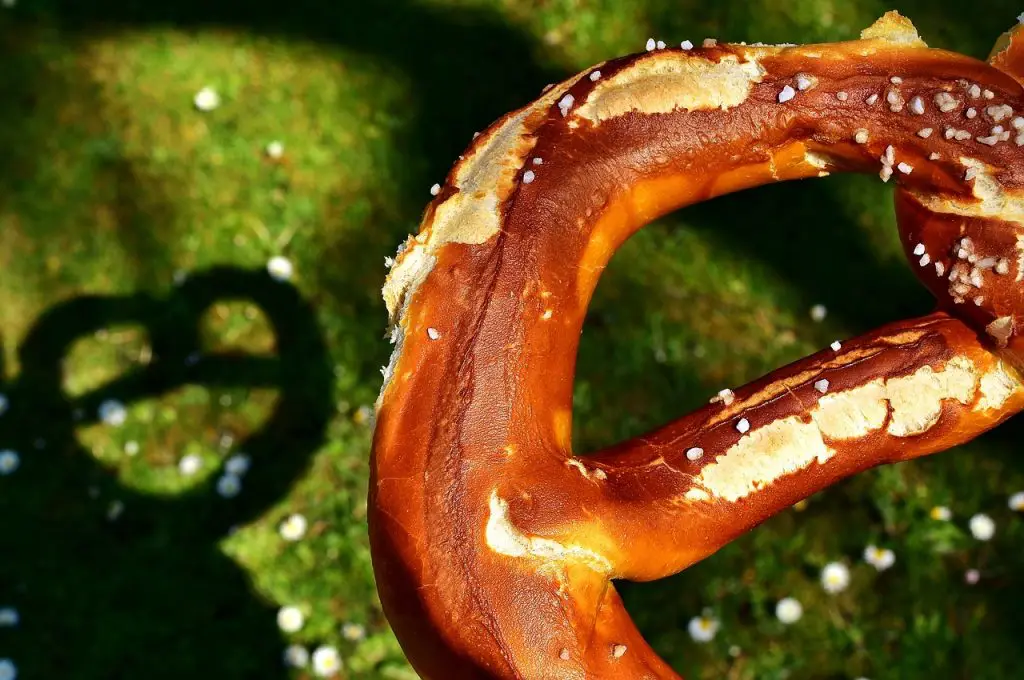 We actually went along on our first night just to check out the rides, enjoy the sights and smells and get an idea for the actual festival because as I mentioned earlier…Once you're in a tent, you would be daft to leave and give up your space.
They also have live music, various shows and of course the daily, largely ceremonial, changing of the tent in which every brewery has horses and carriages to change the wooden barrels. Not to be missed also are the Oktoberfest Costume and Riflemen's Parade, the Schichtl Variety Show as well as the Oktoberfest Opening Day Parade!
Oktoberfest Guide: Alternatives to Munich Oktoberfest
While Oktoberfest in Munich is undoubtedly the world's most well known, the event has now proliferated around the world and you can find it in such exotic places as Palestine, Hong Kong, and Namhae Island in Korea.
Within Germany, many people from other regions will insist their local festivals are better and more authentic. While the merits of these claims are up for debate they are sure to be less touristy and, normally, quite a bit cheaper, so it doesn't hurt to consider them… especially if you are visiting at another time of year.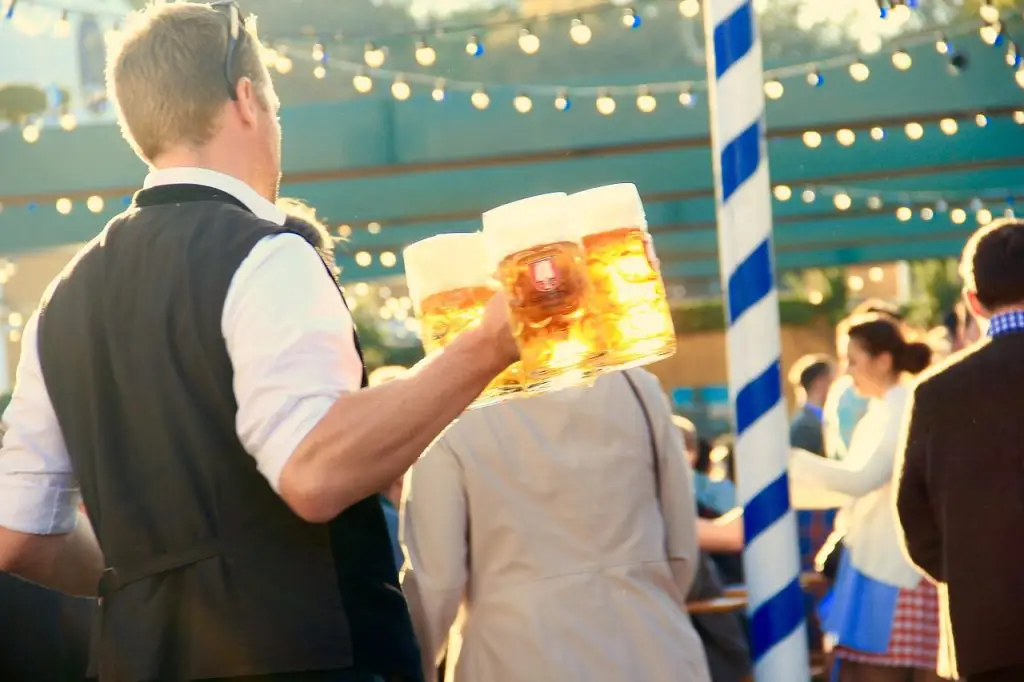 Here is a selection of the other well-known German Beer Festivals:
Oktoberfest Guide: What Else To See In Munich
Munich is the historic capital of Bavaria and full of architectural delights, so make time to explore Munich like a local! Its unique blend of Bavarian traditions blends seamlessly with the cutting edge of business. Germans across the country sing praises for their beloved city and cherish the high quality of life afforded here.
Don't miss the Surfers Bridge, Dachau Concentration Camp or the chance to visit Neuschwanstein Castle from Munich!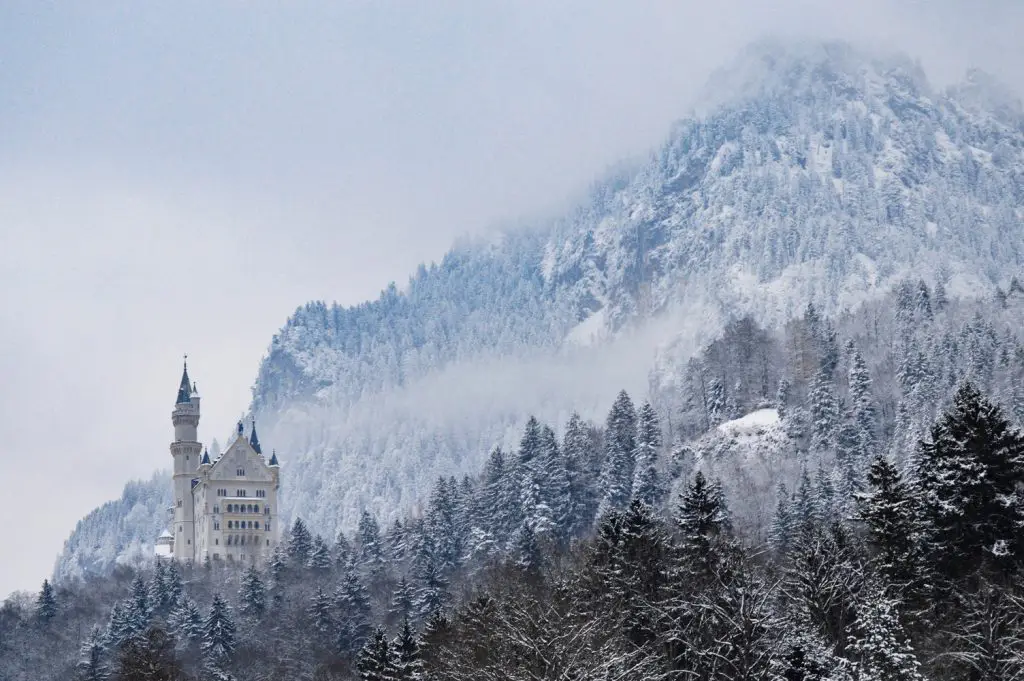 And if you're interested in history Sandermans offers multiple walking tours exploring all aspects of this glorious city – My personal favorite is the Third Reich tour exploring the dark events which lead to the rising of the Nazi Party here.
I hope this Oktoberfest Guide really helps you in enjoying 'Wiesn' like a local and you no longer are wondering what is Oktoberfest like. Its such an incredible experience and a once-in-a-lifetime thing you have just got to see!
Don't be nervous – and if you are, try this 50 Oktoberfest Tips for the First-Timers aswell.
Have a little fun, but be safe!