Castles are magical places. Once the homes of royalty, they always offer fascinating insights into how people used to live.
Walking within the cold, stone walls is a way of traveling back in time to before heating, electricity, and Netflix, when survival was paramount.
As you might imagine from a country as rich in history as Scotland is, they have some pretty amazing castles.
From the Big Name castles that loom above Edinburgh and Stirling to less well-known ruins in the Highlands, there are plenty of historical fortifications to explore.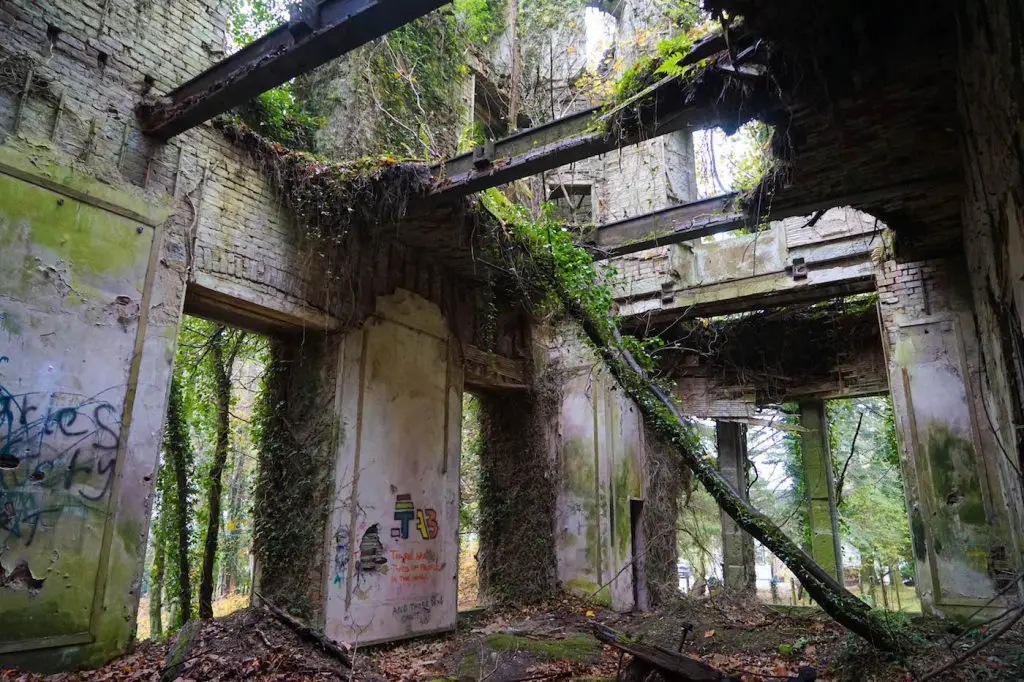 If you love a castle and like to go places off the tourist trail, then we have the perfect recommendation for you: Buchanan Castle in Stirlingshire, easily one of the best things to do in Scotland.
Abandoned to nature after World War II, this grand old home is still the official seat of Clan Graham, although it is more ruins than homely now. It's a spectacularly spooky place to visit (go in daylight), but also fascinating.
We should mention here that technically it's not a visitors' site, but we'll talk more about that later! First, let's talk a little more about this amazing place.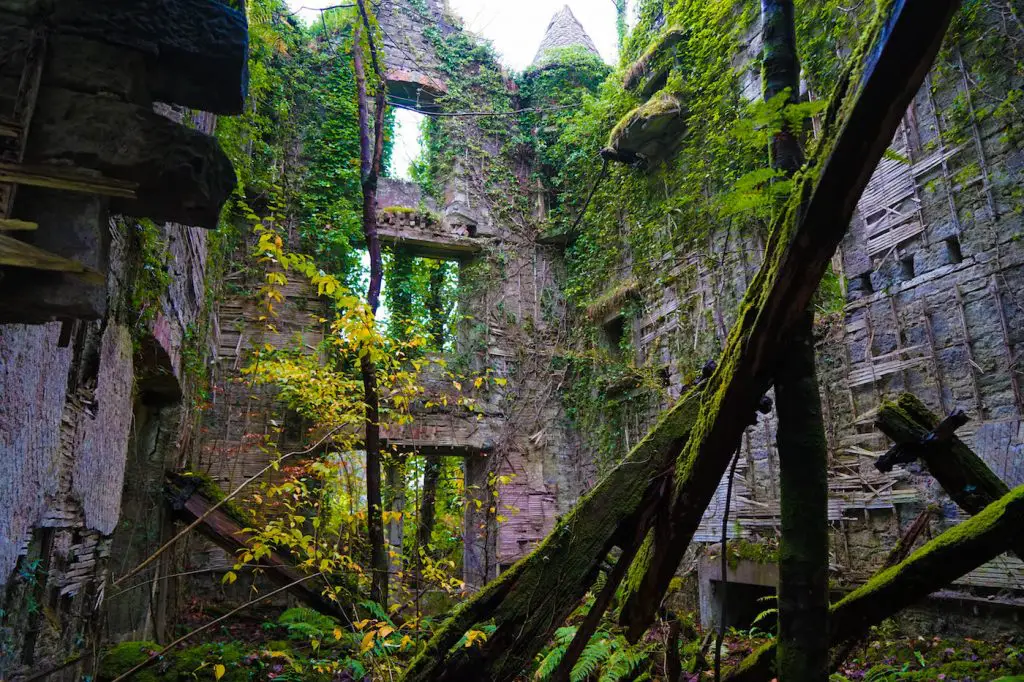 History Of The Buchanan Castle Estate
Scotland used to be ruled by a collection of Clans – families who each had their own area of Scotland to control and usually their own 'seat'. Nowadays, they mainly exist in their tartan and heraldry, but centuries ago, your clan was important.
Clan Buchanan formerly held the land that Buchanan Castle now stands on, but when they went bust in the 17th century, Clan Graham took over the estate. Buchanan Auld House was the family home at first, but it was destroyed in a fire in 1852, which is when Buchanan Castle was built.
William Burn was hired to design the Castle. This Scottish architect was a pioneer of 'Scottish baronial style,' a very gothic and romantic interpretation of Renaissance architecture. Unsurprisingly, then, Buchanan Castle is a textbook example of this style, with turrets, pinnacles, and pointed towers adorning the manor.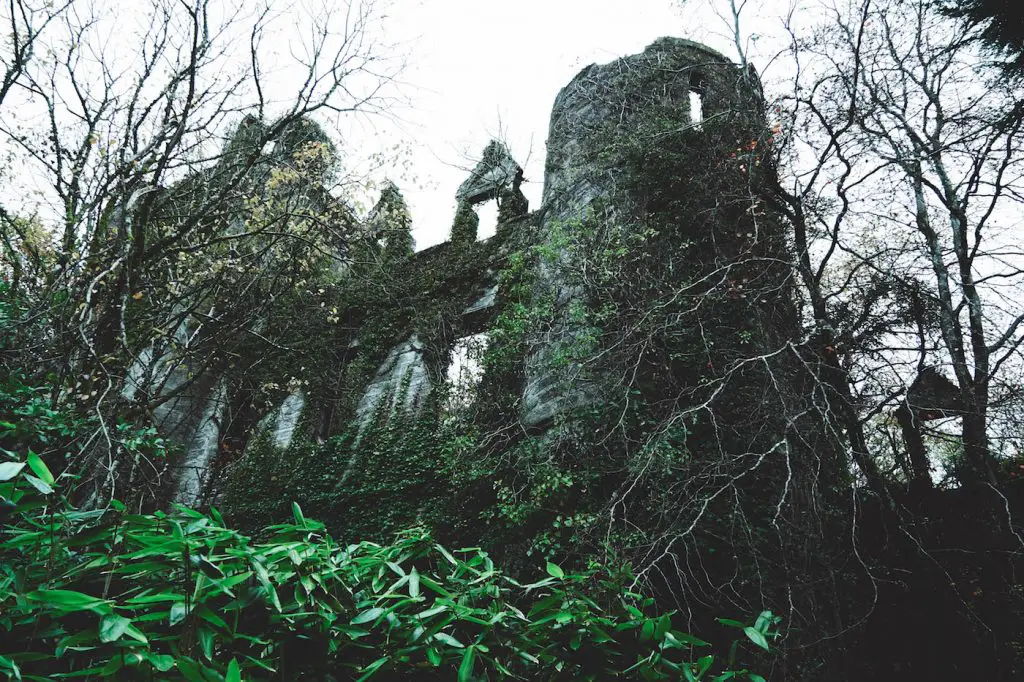 You can see just from looking at it that the family of dukes definitely considered themselves royalty and felt they needed a home to match. I mean, they called it a 'castle' even though those days were long gone (even in 1852).
The family lived there until 1925 and then sold the house, which later briefly became a hotel. This was also when the surrounding golf course was established.
You can imagine it was an exquisite place to spend a night or two — like the modern luxury hotels of NYC —, but its time as a grand hotel was short-lived. There were plans for residential development that were then derailed by the outbreak of the Second World War.
Buchanan Castle was then requisitioned for the war effort and became a military hospital. One of the patients was, famously, Rudolf Hess, Hitler's right-hand man. He had been on a secret mission to negotiate peace with Britain when his plane ran out of fuel, and he injured his ankle parachuting out.
There's something about military hospitals in old buildings that seem just made for spooky sites and horror films, and Buchanan Castle does have more than a hint of that! It is part of what makes haunted or dark tourism spots are just so captivating.
Like we also found at Chernobyl at night, the Hồ Thuỷ Tiên water park in Vietnam and at Universal Orlando Halloween Horror Nights, the architecture of creepiness has an enduring appeal we just can't resist.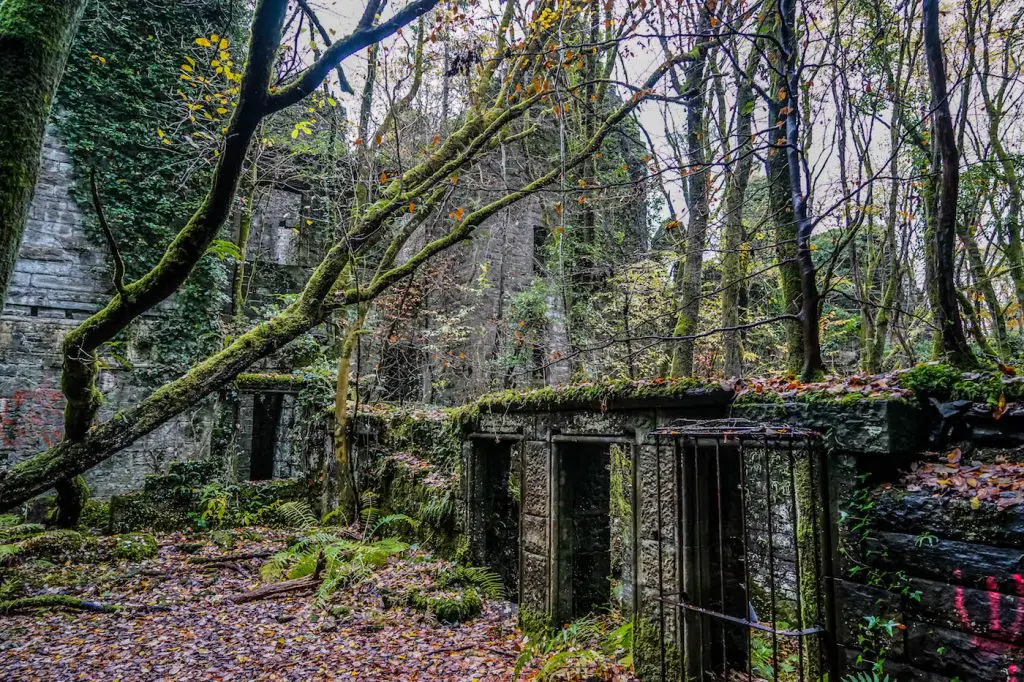 After the Second World War, Buchanan Castle was shortly used as an Army school, but then in 1954, they removed the roof to avoid paying tax (yup, that's a thing). It will come as no surprise that the dereliction began then.
There have been proposals to turn the building into flats, but these were refused planning permission, and so the plants and trees have crept in. The walls are still in pretty good condition, although much of the grey stone is hidden under an encroaching layer of moss.
Trees now grow in the middle of the old asymmetrical drawing and dining rooms, while the turrets above them crumble. Many of the fireplaces are still intact, although now owls live where there were once roaring fires keeping the family and their guests warm.
Interestingly, it's located right in the middle of a residential estate, so it's not as isolated as it looks. Imagine looking out of your front room window to see those looming empty windows, though!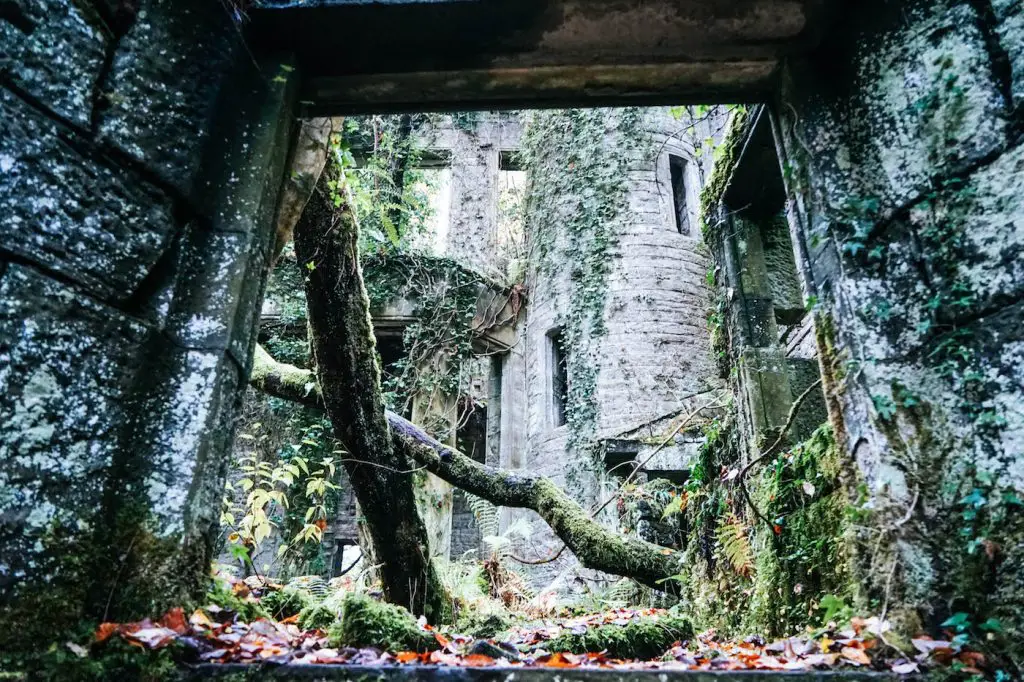 Where Is The Buchanan Abandoned Castle In Scotland?
Buchanan Castle is in Stirlingshire, on the way to Loch Lomond. In fact, people traveling around Scotland often pass it all the time and have no idea – even locals! It's about a mile from the village of Drymen (birthplace of Billy Connolly!), which is a stop on the West Highland Way on the banks of Loch Lomond.
Get a bus there, or drive with a hire car, then walk to the Castle. It's an excellent stopping-off point on your way to the Highlands being about 1.5 hours from Edinburgh and on the road to Glencoe and the secret James Bond filming location.
The Buchanan Abandoned Castle in Scotland is also about 4 hours from the magical Isle of Skye.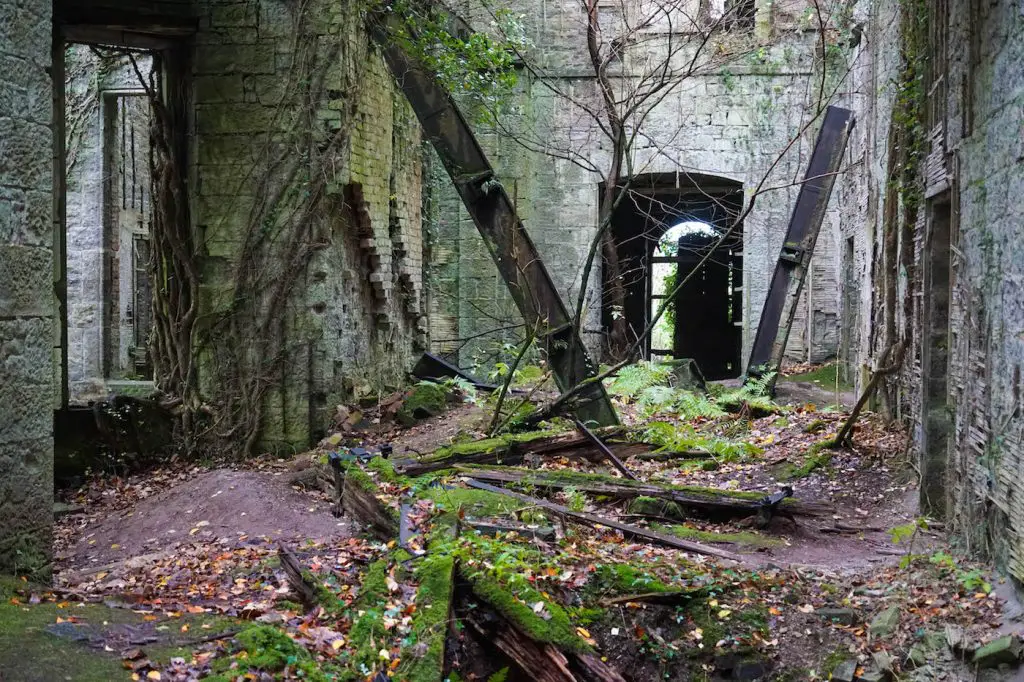 How Do I Explore This Creepy Deserted Castle?
Now, we should be clear here – technically, you are not allowed to explore it as that's trespassing. It's no open to visitors, and we don't condone breaking and entering. Having said that, there's no security at all, so you won't run into any problems if you'd like to get a closer look.
Be careful once you're inside as it is a derelict building with no safety provisions. Don't climb the walls and watch out for things you could trip up on.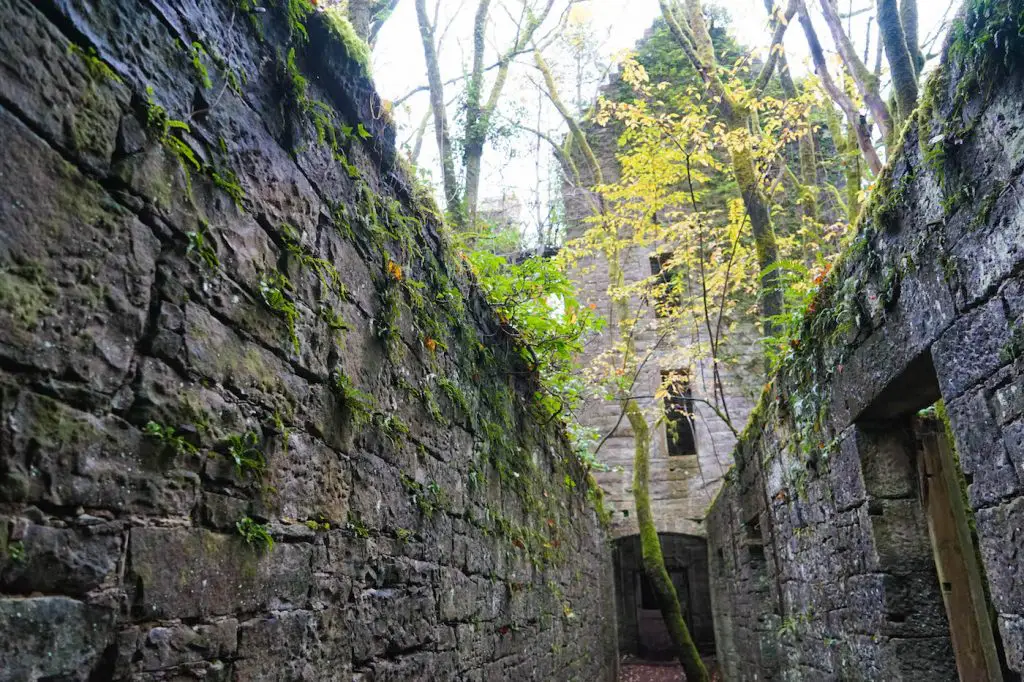 It's fascinating to see how nature has begun to engulf what was once a magnificent building – it's a reminder of the impermanence of human-made structures and the power of the natural world. There's something quite humbling about it, really.
We loved wandering around the formerly grand building, imagining all the things that have taken place there, from romances to war wounds to family dinners. It's a real sense of history around you – and this sense of history is what makes Scotland as a country so magical.
Bring a camera when exploring this abandoned Castle in Scotland and be careful of ghosts (and other hazards…)!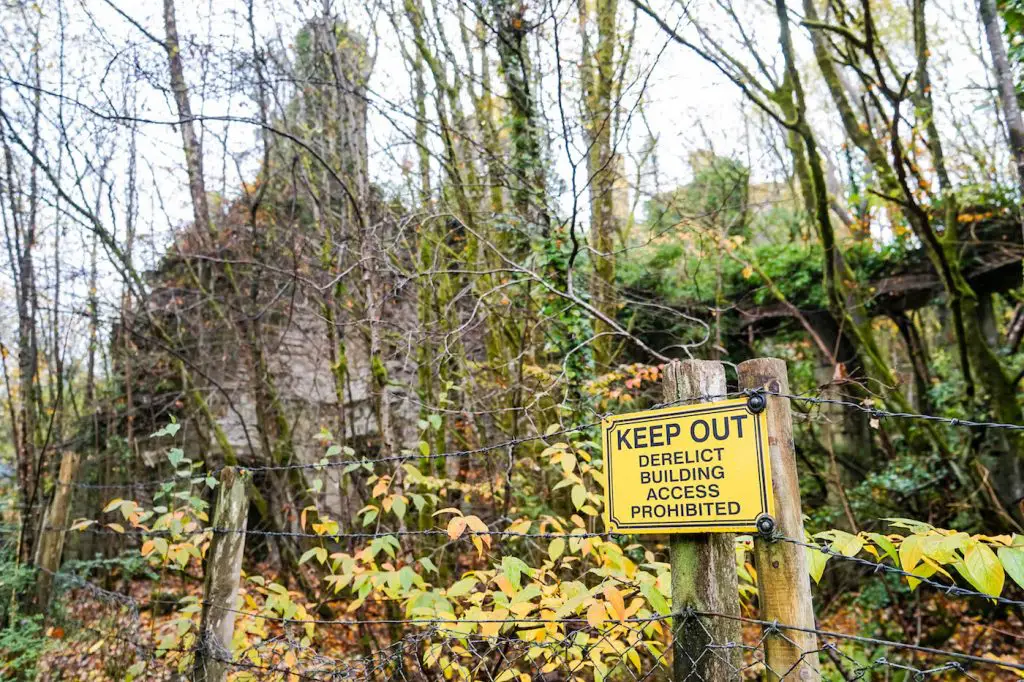 Staying Connected While Travelling
In today's increasingly connected world, staying online while traveling has become essential for a seamless experience. That's where eSIMs come into play, revolutionizing the way we access mobile networks during our global adventures. Say goodbye to hunting down local SIM cards at the airport; eSIMs provide instant activation the moment you land, sparing you the fortune usually spent on international roaming and allowing you to genuinely travel like a local (without getting hopelessly lost!).
With eSIMs, tasks like restaurant recommendations and reservations, up-to-the-minute public transport instructions, checking opening hours, and accessing further information become a breeze. And, of course, sharing your journey on social media is easier than ever. To stay connected wherever you roam, consider using either Airalo or Holafly. Airalo boasts the most extensive range of destinations worldwide, offering smaller data bundles tailored to your needs, while Holafly provides unlimited data packages and fantastic EU data deals.
So why wait? Embrace the future of travel connectivity with eSIMs and make your next journey effortlessly smooth.
Further Things To Consider Before Any Adventure
Now you're all set and prepared to explore our big wide world, why not sort out everything else out all in one go? If necessary for your travel plans make sure you have brought proper travel insurance, protected your privacy by getting a secure VPN, compared all the top hotel booking sites to find just what you're after, reserved an unbeatable rental car price and - of course - booked the best flight deals!
Or maybe just forget it all and go for a last-minute cruise or effortless tour instead?
Many budget travelers (including me) indulge in worldwide airport lounge access, so we can experience luxury while still slumming it in economy. Naturally, we would never leave home without a more general travel guide since we couldn't possibly cover everything here!
Just add an adventurous attitude and plenty of smiles - they go a long way - and that about covers it all! Now go out, find your own path and don't forget to share your best inspiration stories with me on Facebook, Twitter, and Instagram...I'd love to hear from you!