Do you want exquisitely beauty, white sandy coves, nesting puffins, curious seals and peaceful silence? Then let me recommend to you the Isle of Muck, a windswept speck of basalt in the Inner Hebrides of Scotland, and provide you with some Isle of Muck Things to Do!
Scotland??! White sandy coves? You have got to be kidding??! How is the Isle of Muck population only 38 people!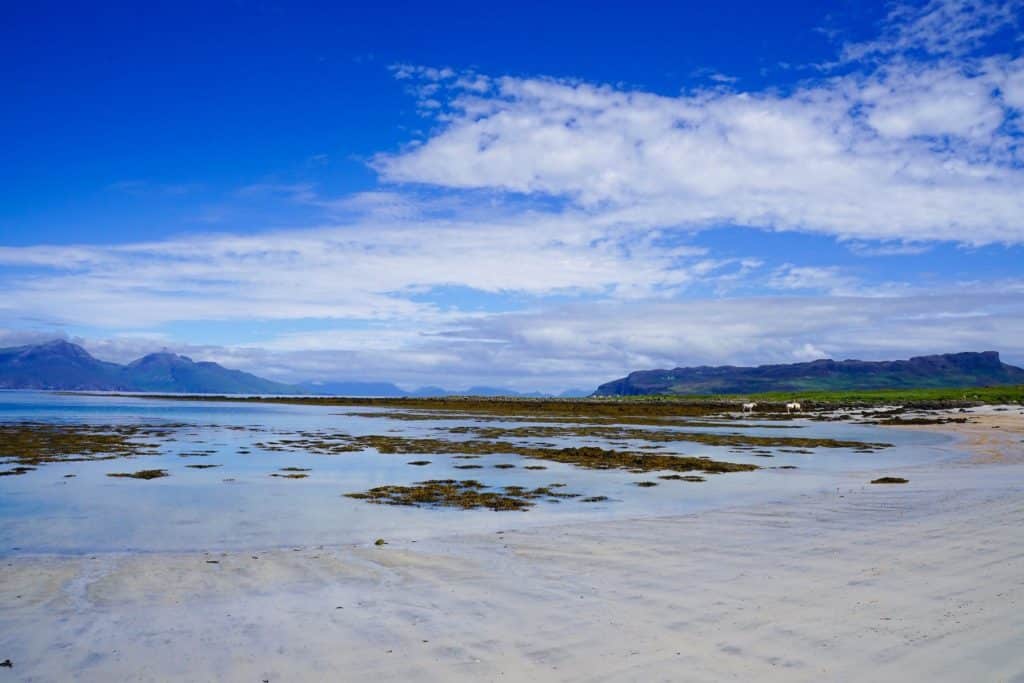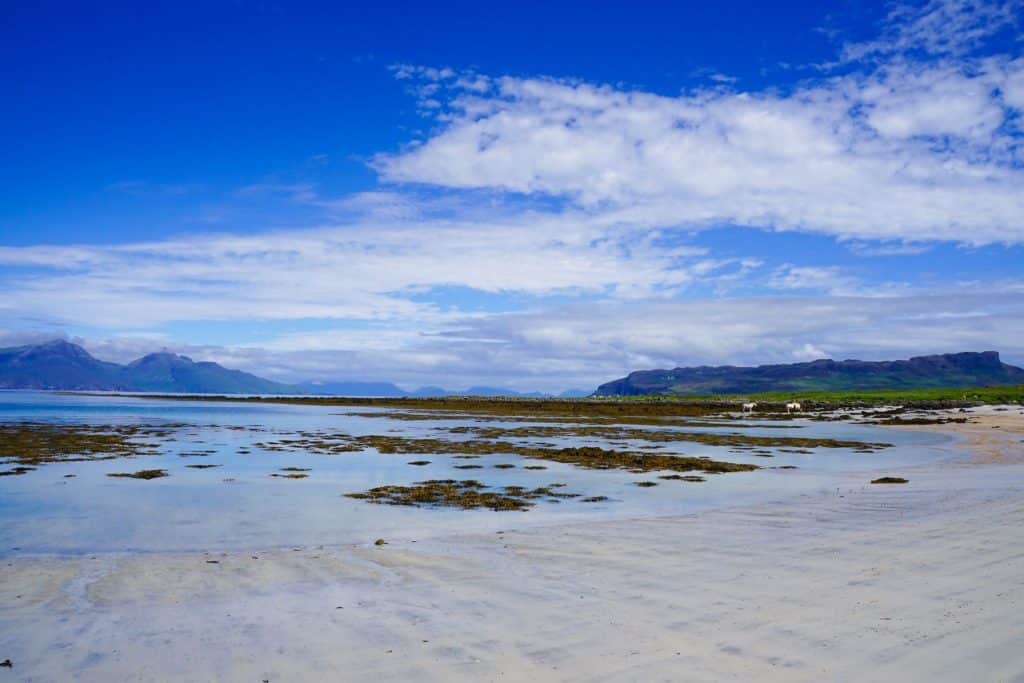 Nope, the Isle of Muck is the smallest and most fertile of Scotland's Small Isles, a private farm island with 40 residence only about 4 km long. No church, no pub, no post office. The raw isolation here is a big draw card, along with the wildlife, and Muck is about as far removed from the modern world as you can get without actually abandoning it (there is WiFi and a recently built wind farm for local use.)  There are plenty of treasures here to be explored and can be reached from Glasgow in a day if ferry crossing are timed right (and they are so cheap with Caledonian MacBrayne – cheapest part of my trip!).
Wondering where to stay in the Isle of Muck? There are not meany options but you can see the best Isle of Muck accomodation choices here! 
You can't take cars onto the island and the locals only have a few for their 1.5 mile long road, but this is one of my favourite places I've ever visited. Locals all know one another and stop for a chat, you'll be invited to any local events that are happening and soon never want to leave! [I for one fully intend to apply at Marine Harvest to be a salmon farmer here if I ever stop travelling!]… But if this isn't enough to sell you, don't worry. As promised here are my ' Isle of Muck Things to Do '
---
Isle of Muck Things to Do
Walk to Horse Island at Low Tide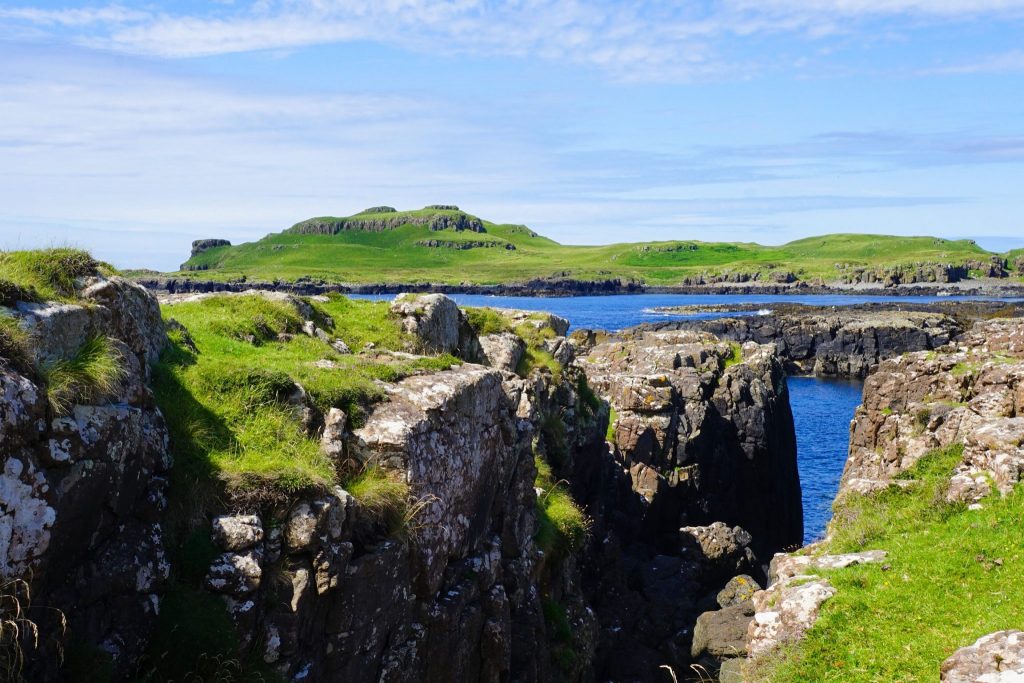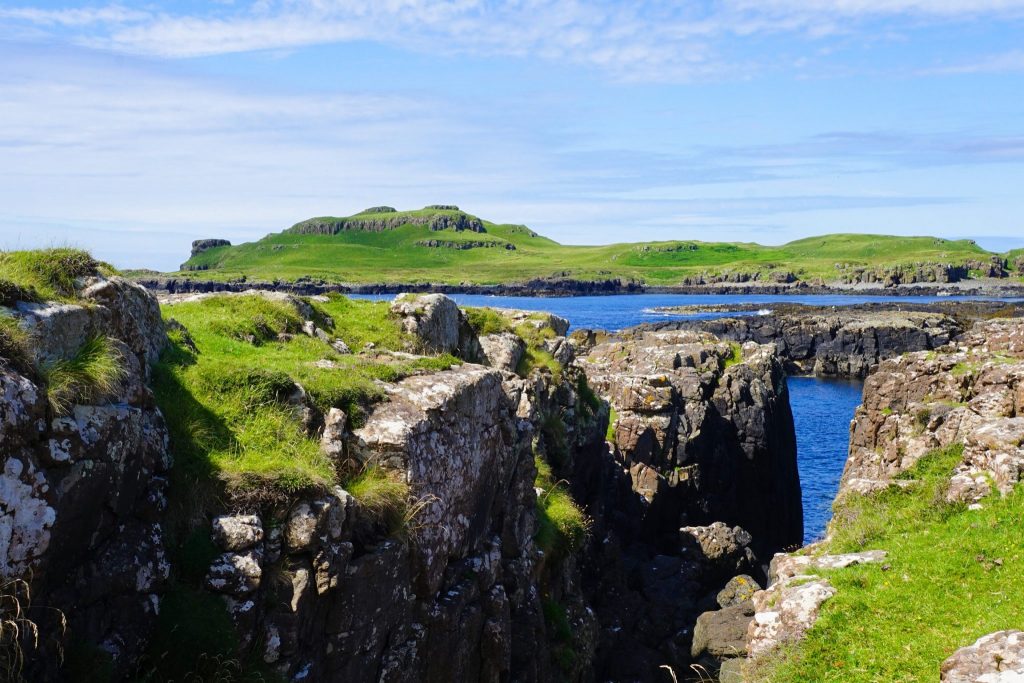 Full of nesting sea-birds and even Puffins in the right season! Just be careful to time the tides right at the path is only there a few hours either side of low tide…Ask a local if you are unsure or play it safe and borrow some kayaks!
Swim in the Giant Rock pool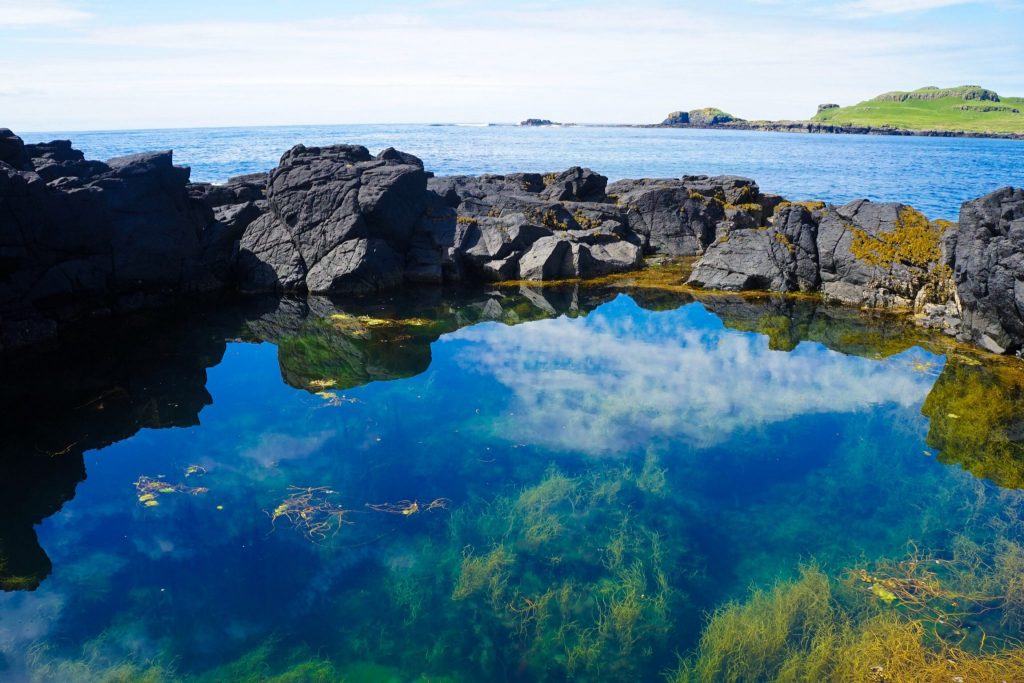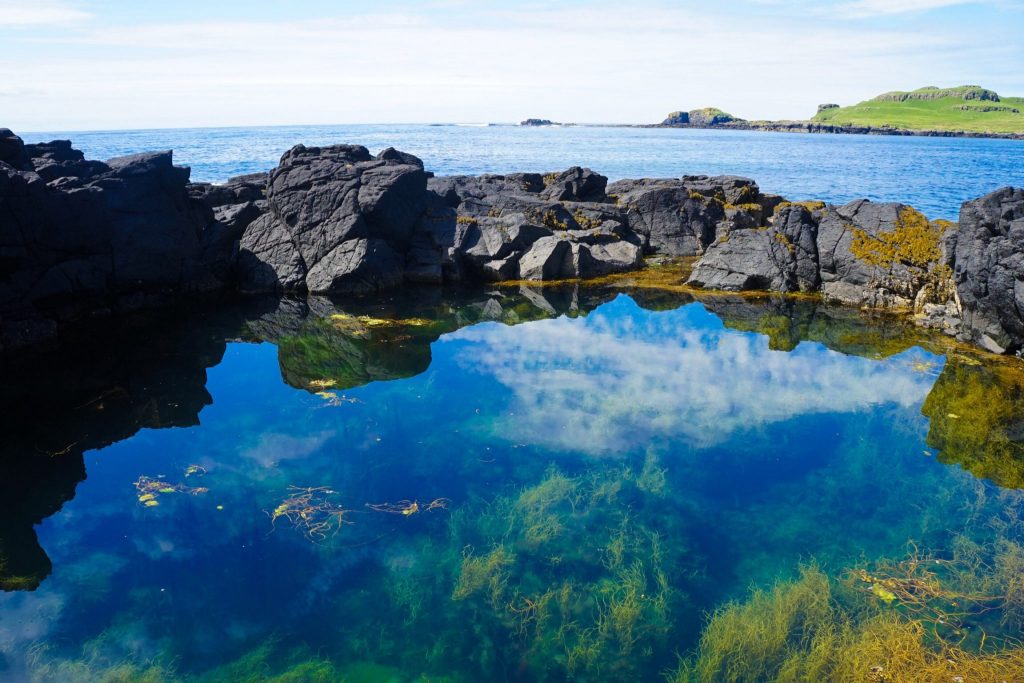 A way to avoid any jellyfish, this incredible clear, deep pool is used by locals to learn to swim. Ask around for directions and try to go at at low tide as its covered and refreshed at high tide!
Kayak with seals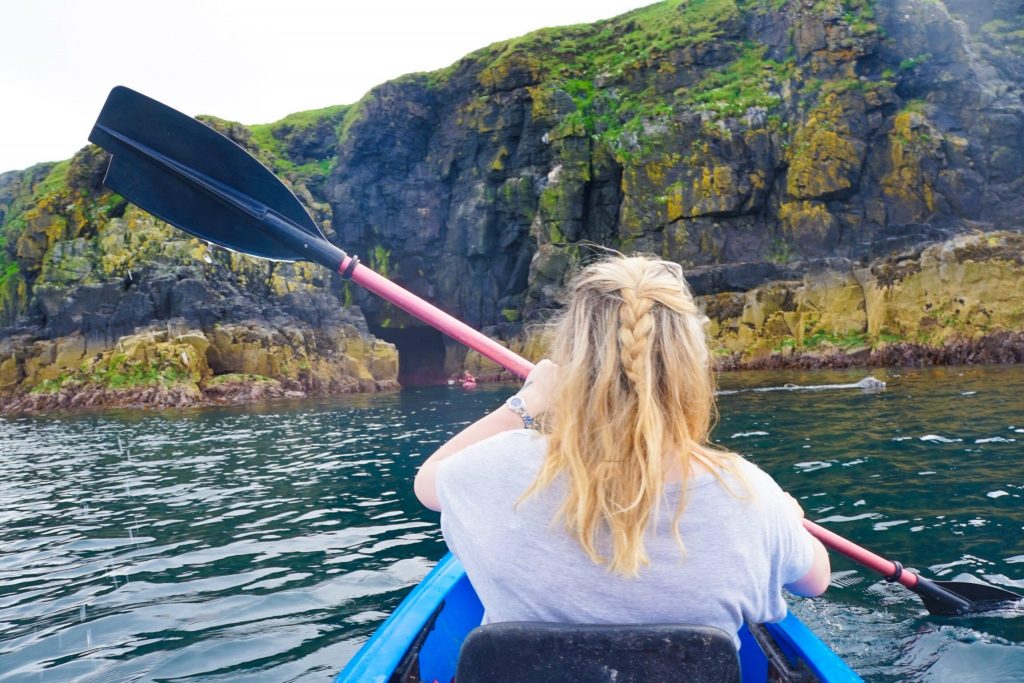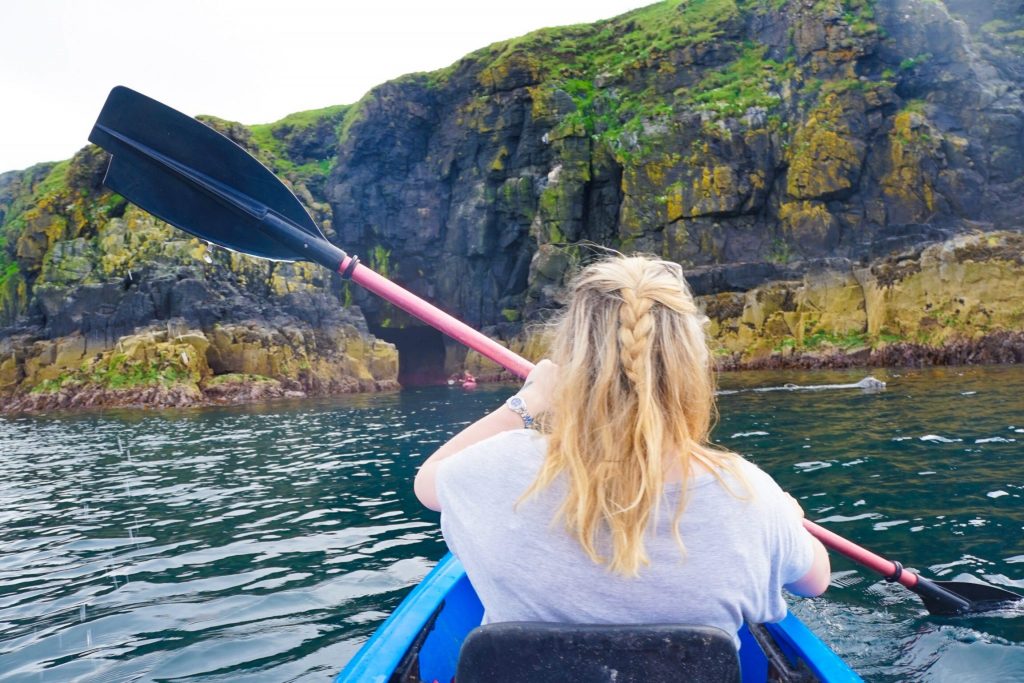 Hard to get a photo but its on the left! This things litter the rocky outcrops of the island and are incredibly curious. They will likely follow your kayak and pop in and out of the water staring at you. Just pure magic!
Eat at the Craft Shop and Tea Room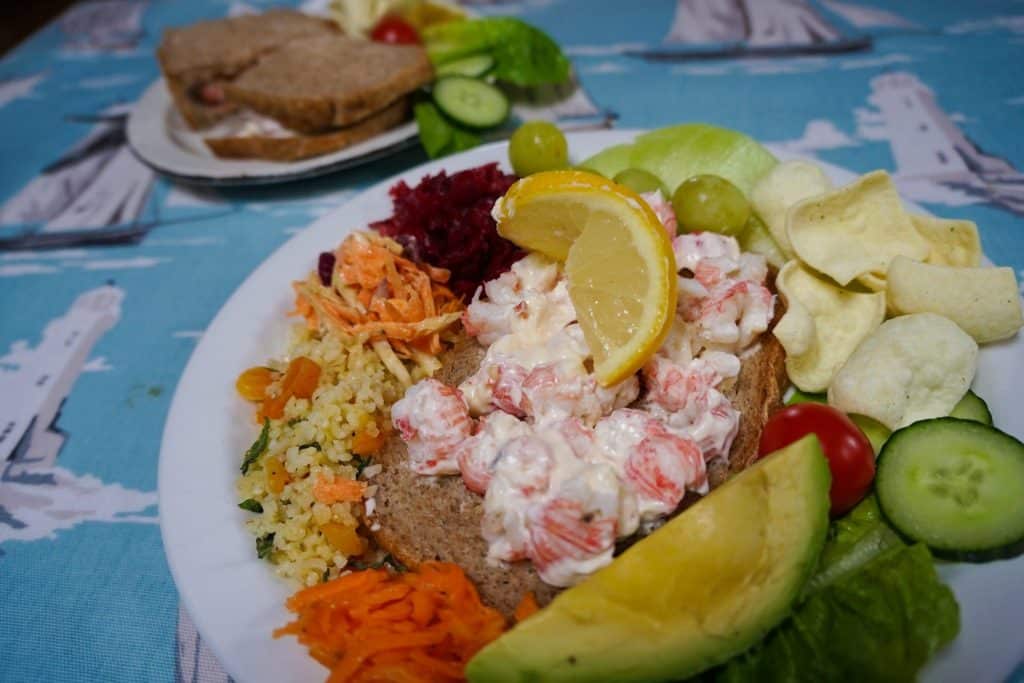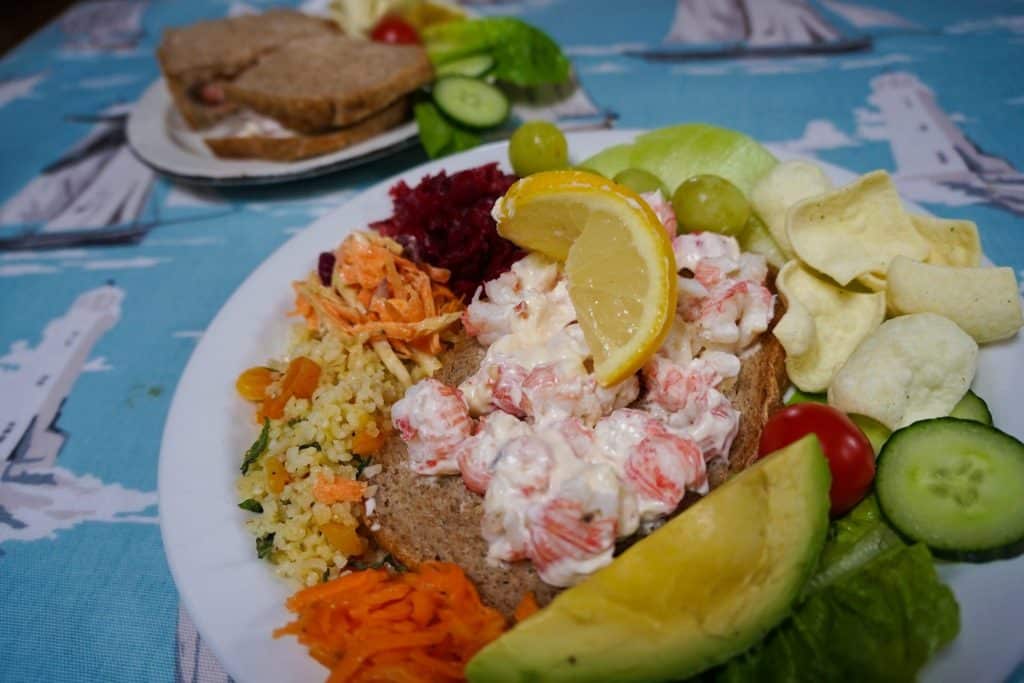 The only place on the island to sell food. The Craft Shop and Tea Room is run by Jenny it is actually really well priced but only open on days the boat lands from 11 – 4pm (roughly). She can also do dinner sometimes by request if enough people. Go in and have a chat with here, the sweets are delicious but be sure to ask for the squat lobster sandwich (not on menu) …You are in luck if she has supplies! Delicious!
Take a boat trip with dolphins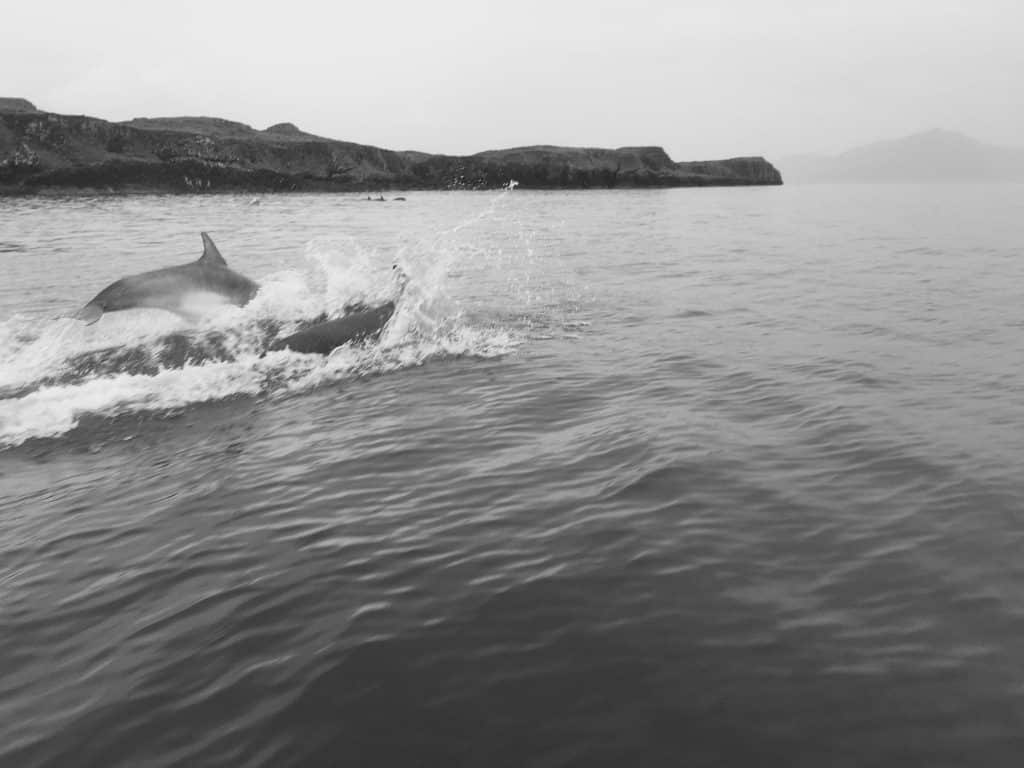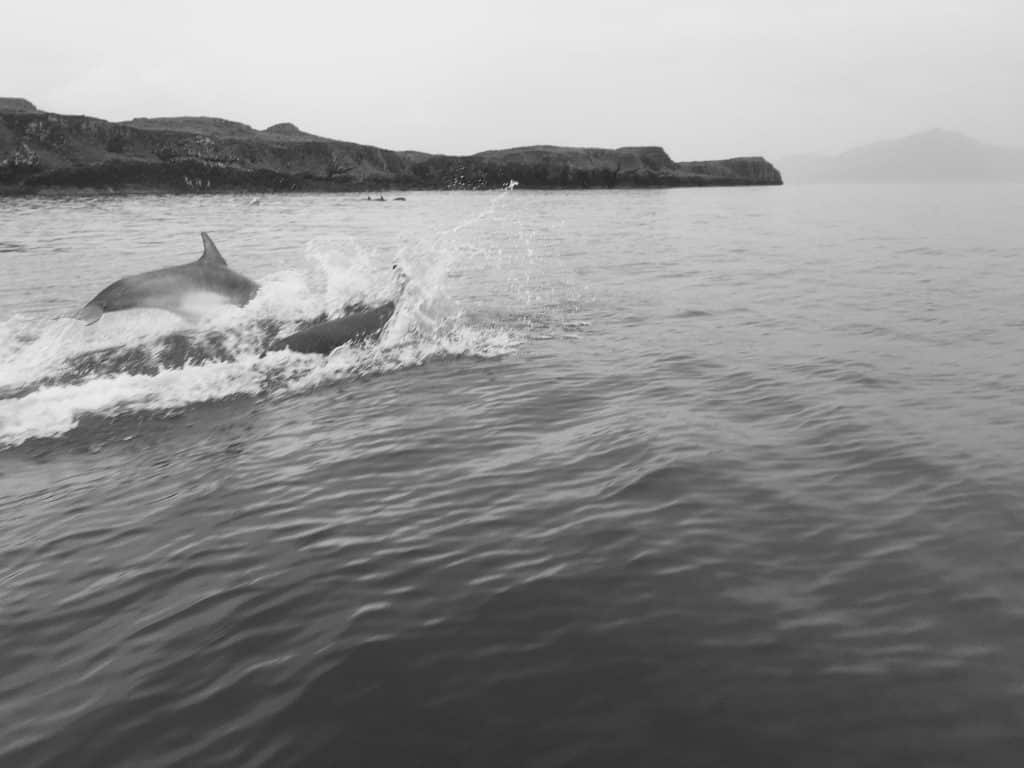 Ask around the island and see if you can hire a boat for a trip or bribe your way onto a vessel. Bottlenose dolphins just love the Marine Harvest Salmon farm off-shore and can be found here in huge pods most of the year. This was an incredible once-in-a-lifetime thing for me!
---
If you like reading about the Isle of Muck Scotland you might also like:
---
Walk around the island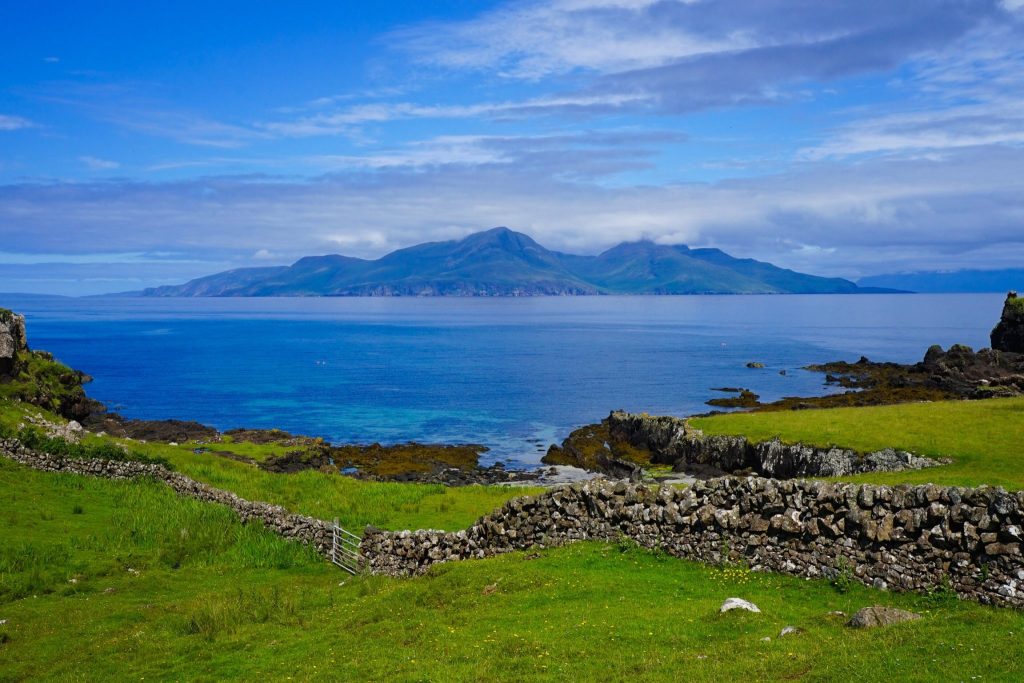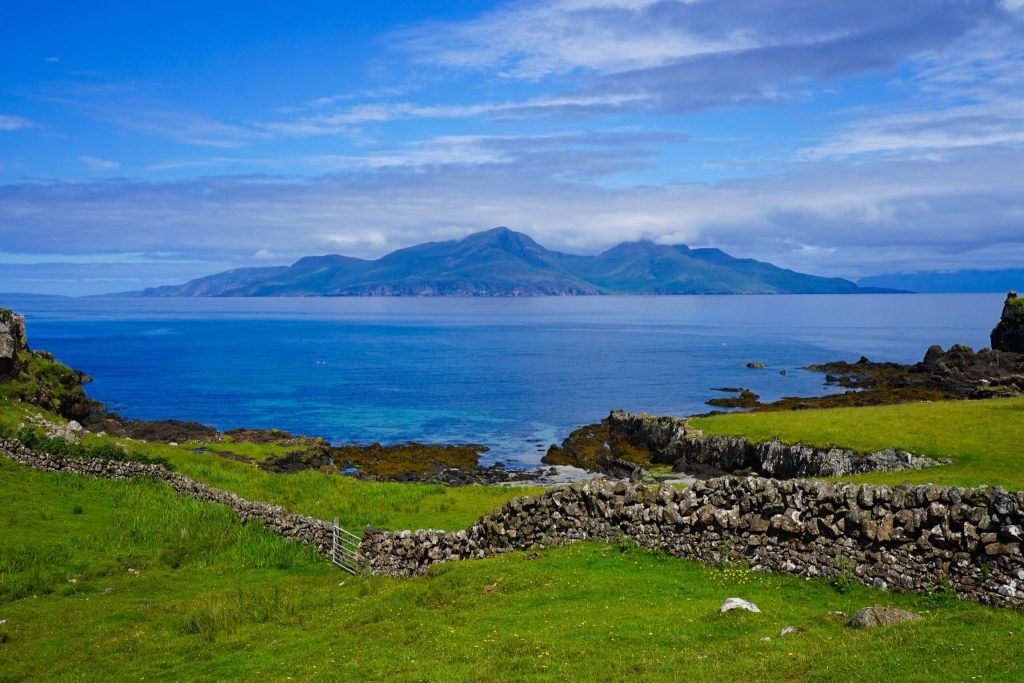 Wait for a nice calm day, lace up your hiking shoes and do a loop of the island. Shouldn't take more than a few hours and you will be rewarded with insane vista's in every direction. Oh and don't worry…The farmers don't mind you walking across their land!
Stay in a warm yurt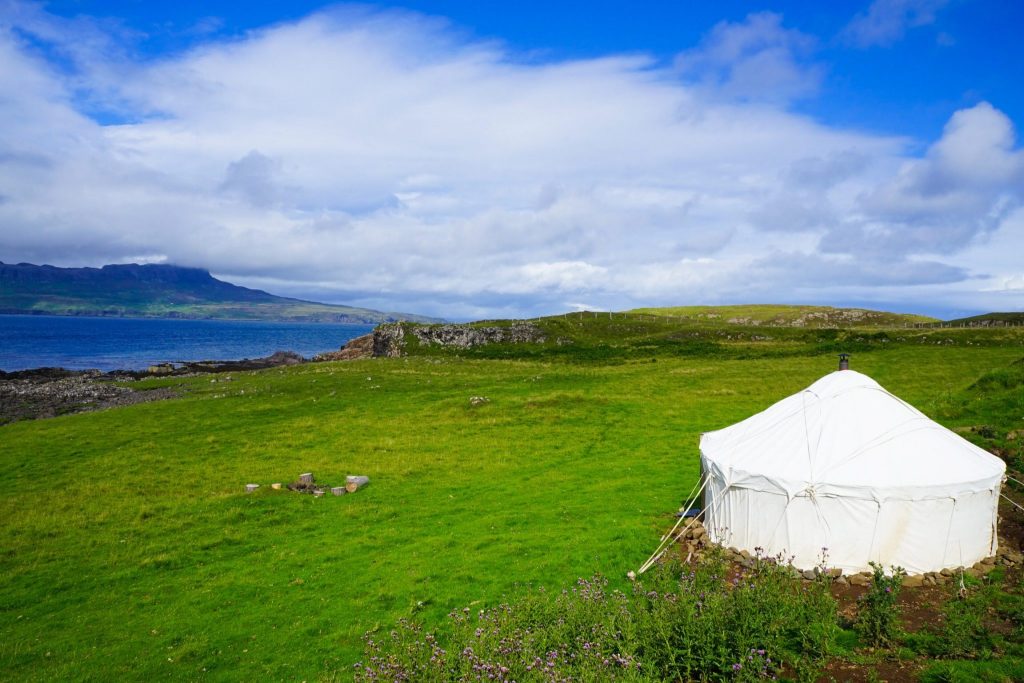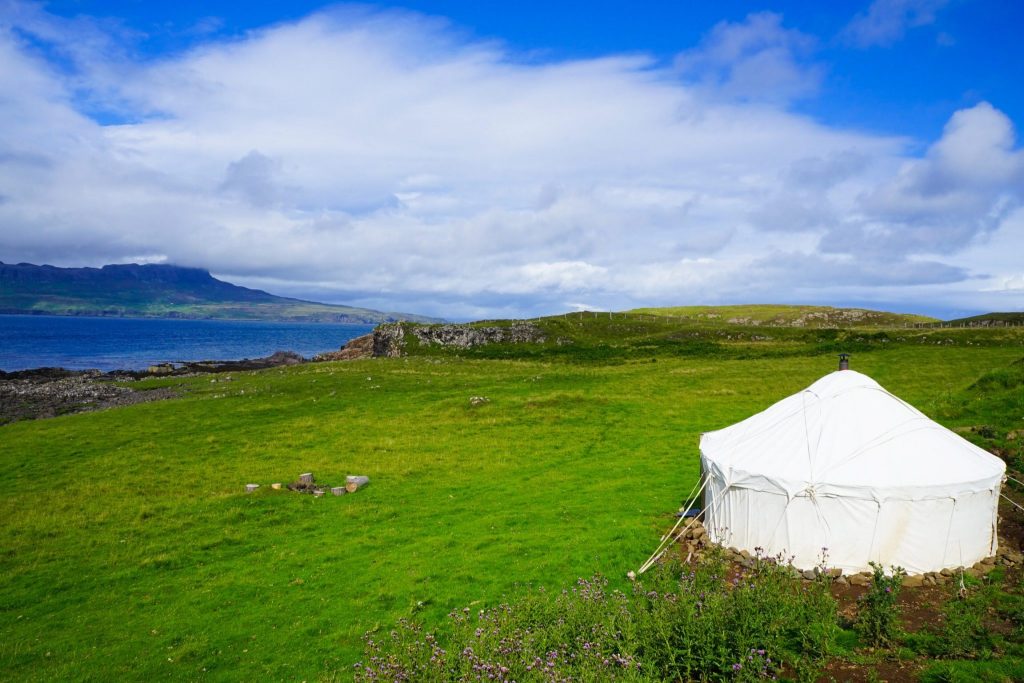 A unique Isle of muck accommodation option that will keep you within budget. Tucked away under a sheltered cliff it is warmed inside by a wood fire and has basic facilities. An experience to say the least. For more luxurious isle of muck accommodation you can try Isle of Muck Cottages or the surreal Gallanach Lodge.
Swim at the crystal clear beaches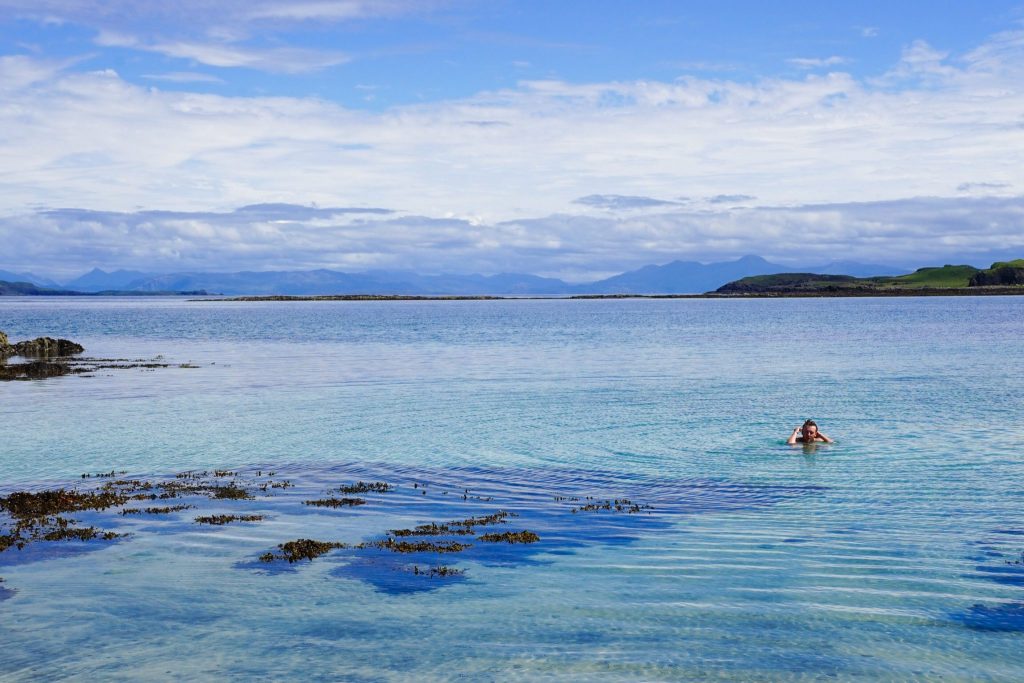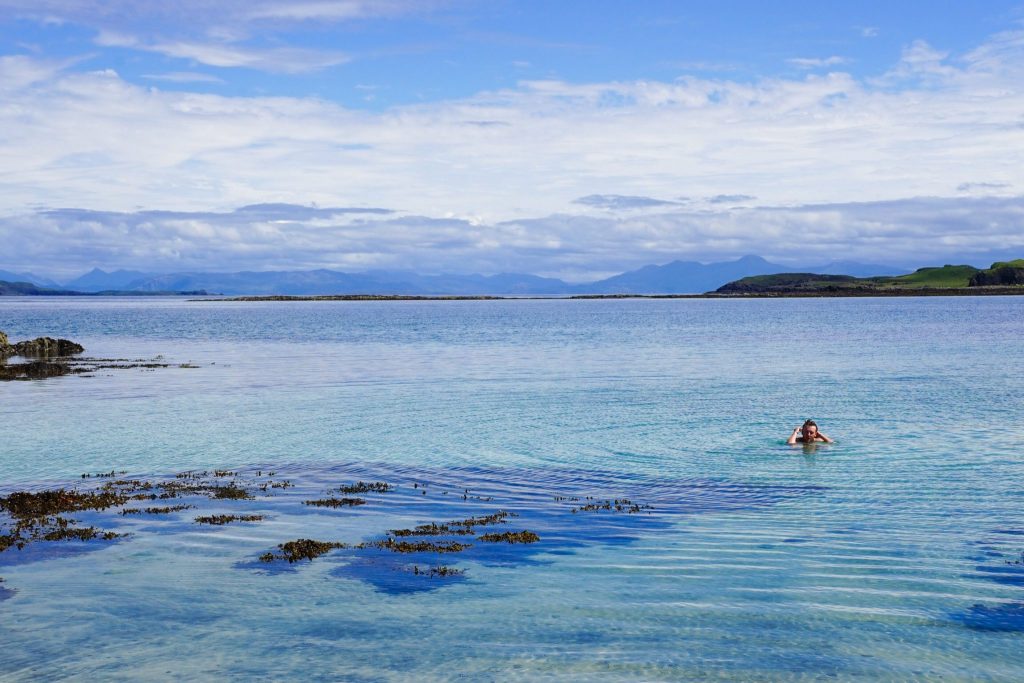 Tahiti or Scotland? Just incredible, aqua blue water and no one else crowding the beach! Just watch out for those Jellyfish and be sure to have a towel handy to warm up after! How can this *not* be one of the 20 best beaches in the UK!
Play with the gorgeous horses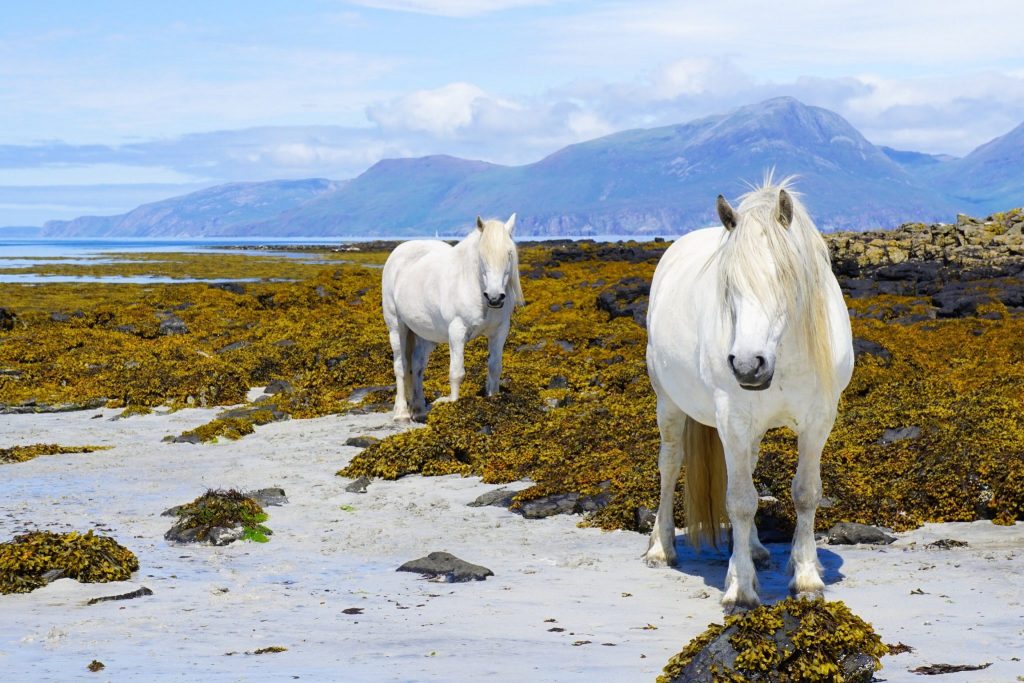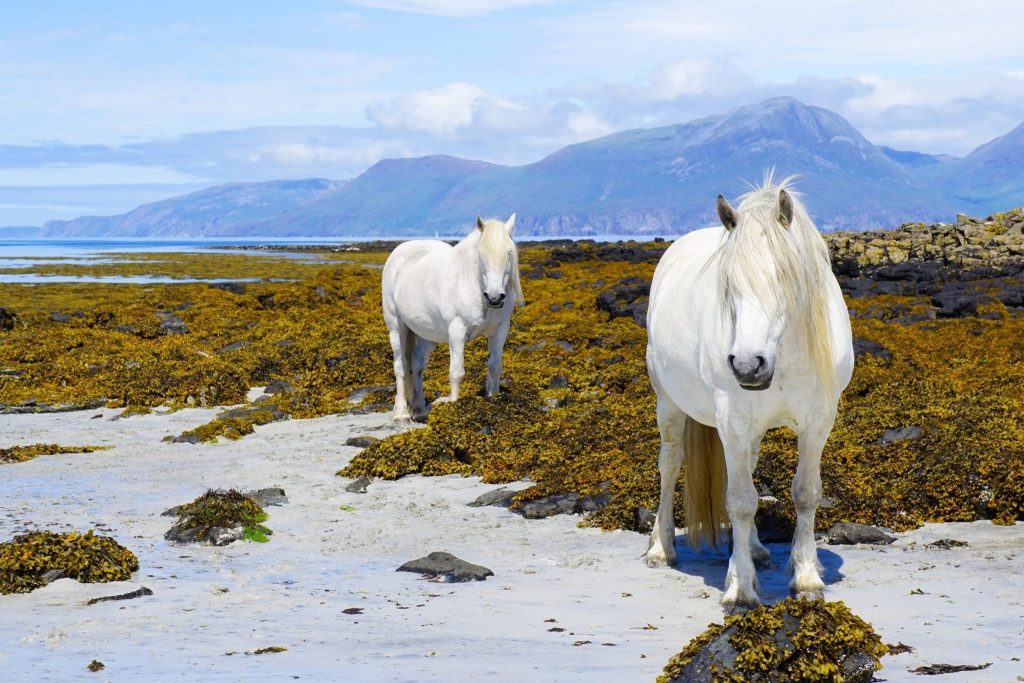 These horses roam the island semi-freely, and seem to love hanging out on the sandy white beaches. Be sure to pack some carrots as they are extra friendly and won't shy away from pats and some food!
Go fishing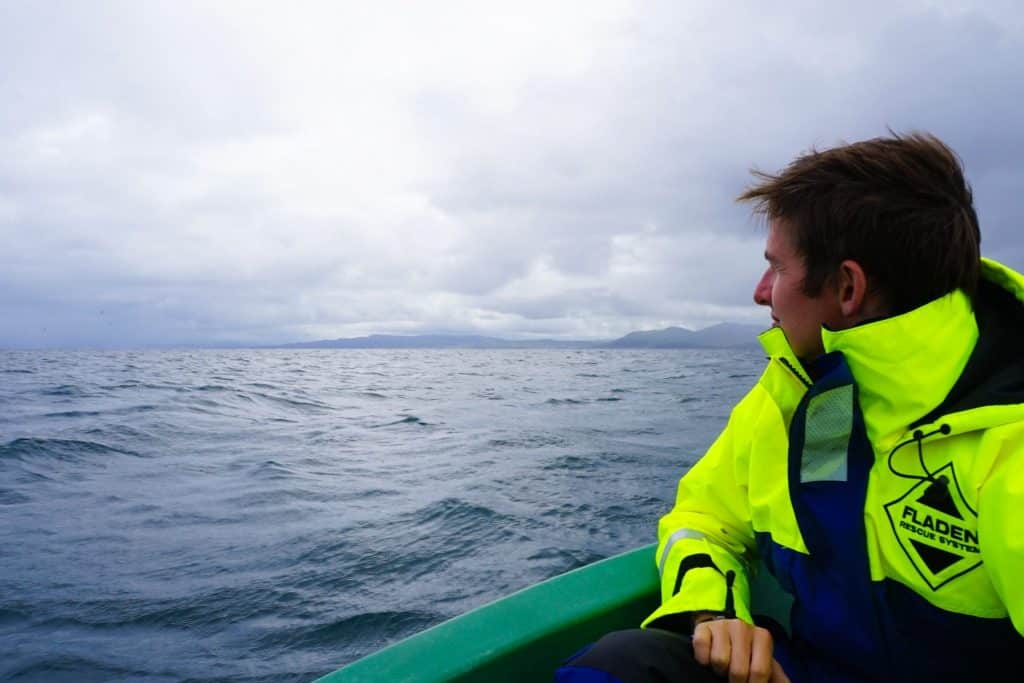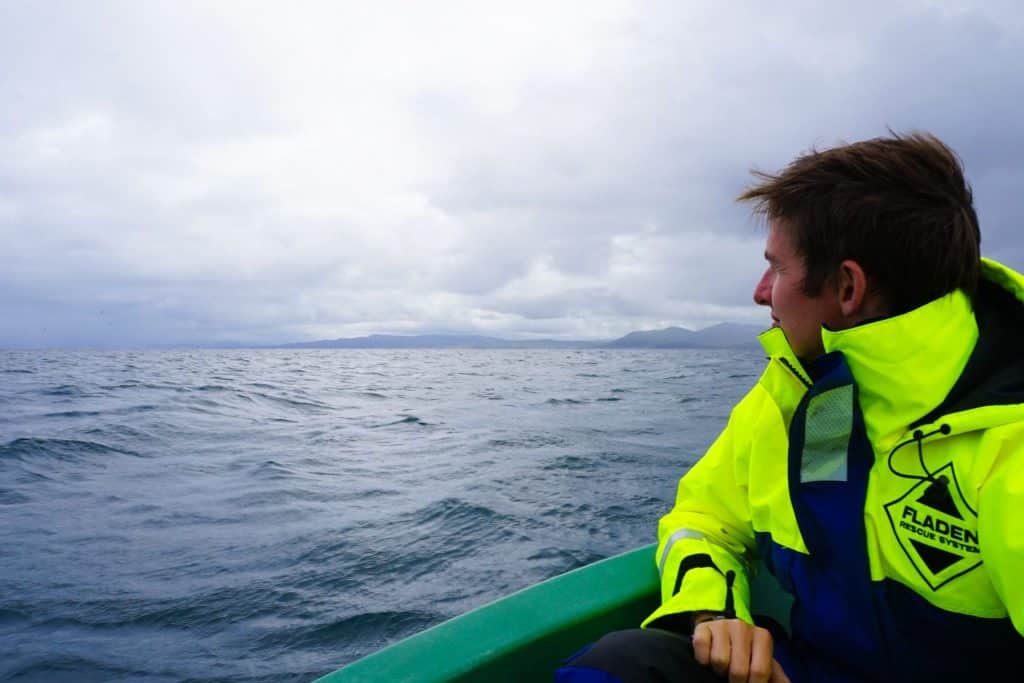 Goes with the earlier hire a boat or kayak…But you can always fish off the rocks with the right equipment. Incredibly nutrient rich waters and the local salmon farm means there is plenty of fish, lobsters and crabs to be caught here. Give it a go, it always tastes better when you catch it yourself!
Make a meal of fresh lobster and crabs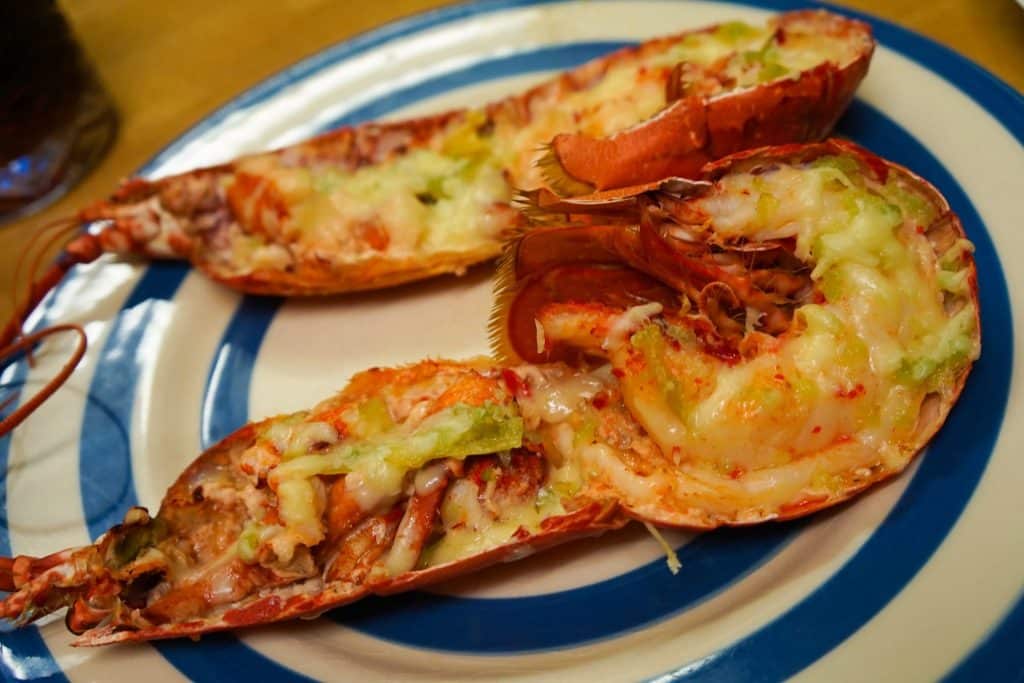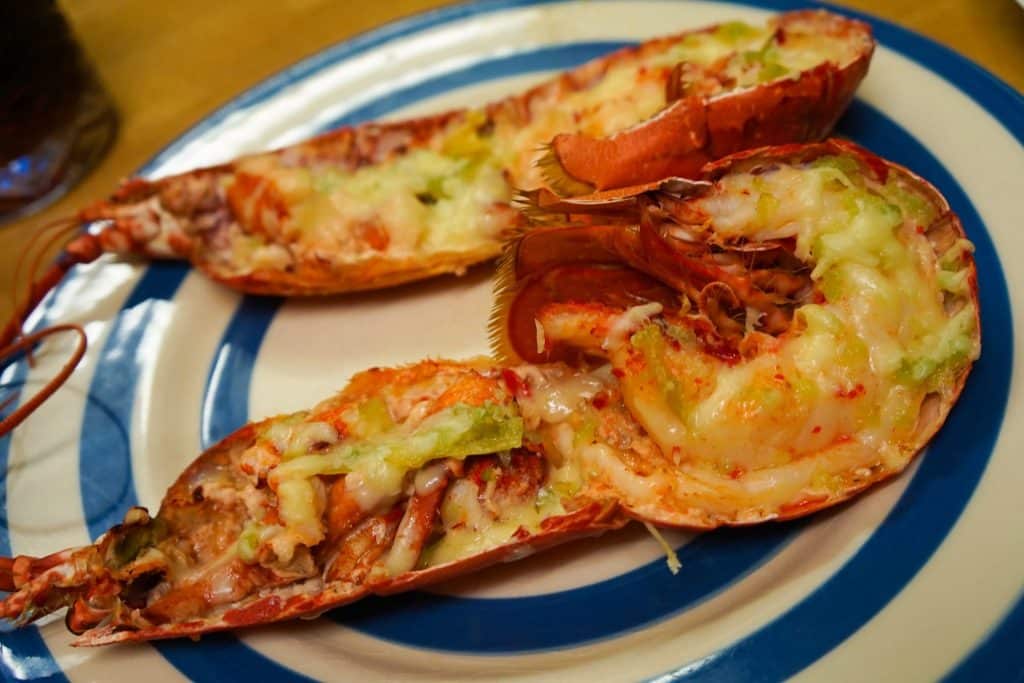 And when you catch the food, make sure to get some help cooking it up (or share it around if you have to much!). No luck out on the sea's? No worries, the island fisherman sells fresh lobster and crabs for under 10 pounds…Such a deal!
---
What are you waiting for! I'm sure you are now convinced by my Isle of Muck Things to Do! Book your trip it now before the world discovers the secret and the Isle of Muck population grows! You can find the best options of Isle of Muck hotels here….and if your looking to include this on part of a wider Scotland roadtrip (after all there is so much to see!) why not check out the best deals for car hire in Scotland in advance to ensure you don't miss out!
Further Things To Consider Before Any Adventure
Now you're all set and prepared to explore our big wide world, why not sort out everything else out all in one go? If necessary for your travel plans make sure you have brought proper travel insurance, protected your privacy by getting a secure VPN, compared all the top hotel booking sites to find just what you're after, reserved an unbeatable rental car price and - of course - booked the best flight deals!
Or maybe just forget it all and go for a last minute cruise or effortless tour instead?
Many budget travelers (including me) indulge in worldwide airport lounge access, so we can experience luxury while still slumming it in economy. Naturally, we would never leave home without a more a more general travel guide since we couldn't possibly cover everything here!
Just add an adventurous attitude and plenty of smiles - they go a long way - and that about covers it all! Now go out, find your own path and don't forget to share your best inspiration stories with me on Facebook, Twitter, and Instagram...I'd love to hear from you!