Do you want exquisite beauty, white sandy coves, nesting puffins, curious seals, and peaceful silence? Then let me recommend to you the Isle of Muck, a windswept speck of basalt in the Inner Hebrides of Scotland, and provide you with some Isle of Muck Things to Do!
Scotland??! White sandy coves? You have got to be kidding??! Yes, this is not a typo or some kind of weird April Fools joke. We were quite shocked ourselves at first.
Much like we were when arriving at the Isle of Skye, except Muck is even more unbelievable. Not to mention the Isle of Muck only has a population of only 38 people. It seems they have indeed managed to keep their little slice of paradise a secret… probably because it hasn't become a famous Scottish filming location (yet!).
The Isle of Muck, a 1,500-acre island on the west coast of Scotland, constitutes part of the aptly named 'Small Isles' group, along with the nearby islands of Eigg, Canna, and Rum. The Isle of Muck is the smallest and most fertile of these. It is around 4 kilometers long and hosts a private farm and approximately 40 residences.
No church, no pub, no post office.
But what it may lack in cultural attractions it makes up in sheer natural beauty. There are white sandy beaches, tempting – if somewhat frigid – blue water, secluded rocky bays, and an enviable range of wildlife to make friends with including whales, porpoises, otters, seals, eagles, puffins, and more.
Not that gorgeous vistas are the only drawcard. The Isle of Muck also has an arresting history. It is thought that Muck was settled by humans back in the Mesolithic times. Still, archeological finds, including multiple burial cairns and a dagger, provide evidence people have lived here at least as far back as the Bronze Age.
The population of Muck peaked at the outset of the 19th century, and by 1821, around 320 called Scotlands smallest isle home.
The MacLeans clan owned the island and, during bad years, had to provide Rum and Muck with foods as the population was too high to be sustained by local production. The MacLeans, it turns out, were also severely in debt, and in 1828 they became unable to afford Muck and ordered it evicted.
A series of ventures for the island unraveled over the proceeding years, including the introduction of sheep in 1836. A threshing mill was built in 1845, and the entire island was plowed in grain. Around this time, a large pier was constructed at the harbor at Port Mòr, a 'town' of a few buildings which most of the island still lives near today.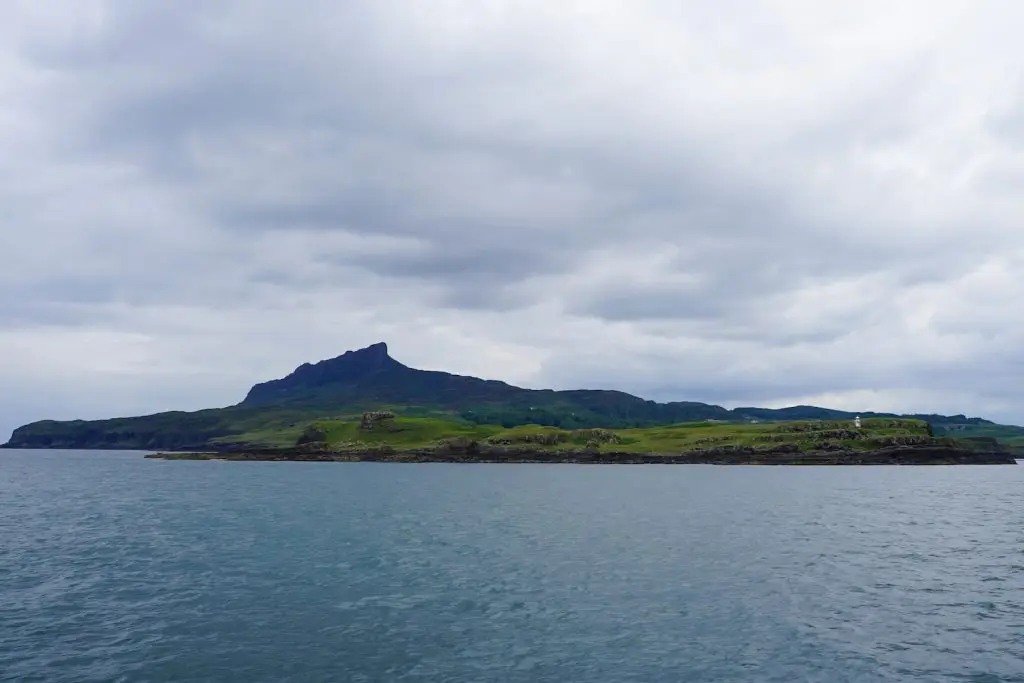 A 2.5 km road was also constructed to connect the Port to the Gallanach Farm, where dairy cows were then brought in 1878. In 1896 Muck was brought by the MacEwen family, who continue to own the island today. After WW2, when the Department of Agriculture funded a grand modernization scheme, which saw the households of Muck get piped water, cookers, and lamps. Fancy!
Today the Isle of Muck is still managed by the legendary Lawrence MacEwen, who farms native livestock on the island along with his son Colin — and maintains the spirit of self-sufficiency. The passion for Muck held by the MacEwen is evident when you ask around.
In fact, Lawrence is so enthusiastic about the natural beauty of Muck that even today, there is no pier on the more boat-friendly side of Muck merely because it would defile the astonishing sight of the cliffs and peaks of Rum across the ocean.
The downside is that the Isle of Muck can still be cut-off when the ferry is unable to access the harbor at Port Mor securely — something to think about when planning a trip.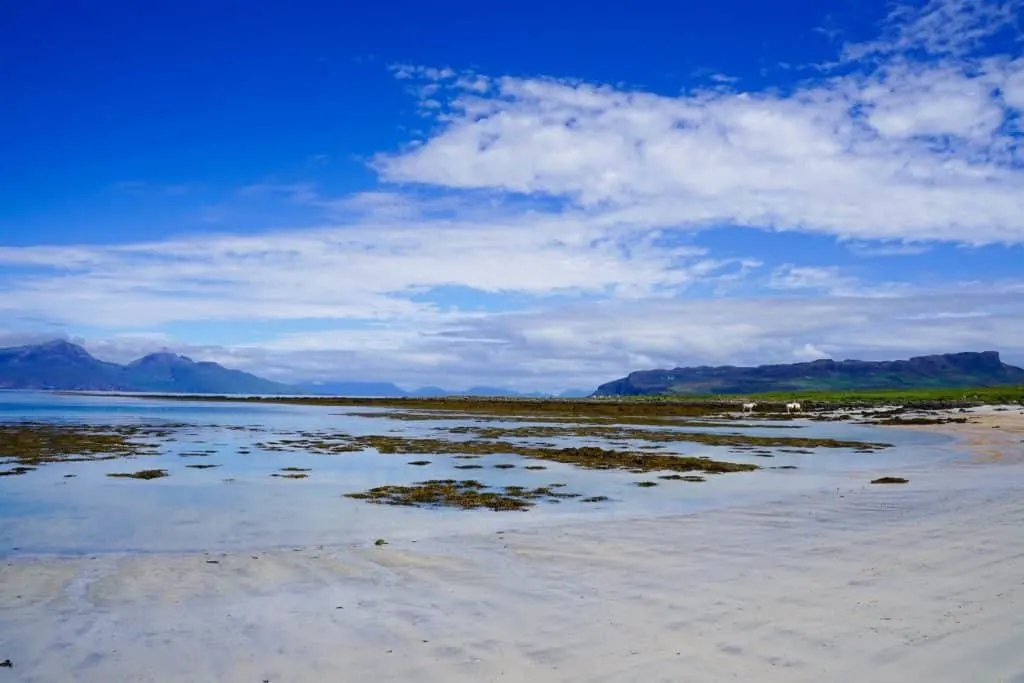 But the raw isolation available here is today the island's biggest draw, along with the wildlife. It's fair to say Muck is about as far removed from the modern world as you can get without actually abandoning it.
There is still WiFi available here — and even recently, a local wind farm was built to power the island. What more could you want? And why would you go abroad for adventures where there are plenty of hidden treasures here on the west coast of Scotland. Not to mention the Isle of Muck can even be reached from Glasgow in a day trip if your ferry crossing is timed right.
Even better? The ferry crossing is subsidized, and so our journey across with Caledonian MacBrayne was one of the cheapest parts of our whole extended adventure in Scotland.
While we stayed for a few days, there is truly limited options for staying overnight. You can see the best Isle of Muck accommodation choices here and decide what option is best for your trip. Much has a variety of accommodation choices with something for everyone.
There are holiday cottages, a lux catered lodge, guest house, bunkhouse, and even a yurt. Not bad for Scotlands smallest Isle — right?
There is also anchorage should you be heading here in a yacht. If this is the case, can we be your friends? Please? Otherwise, campers are also welcome, and you might want to take advantage of the liberal wild camping regulations in Scotland here.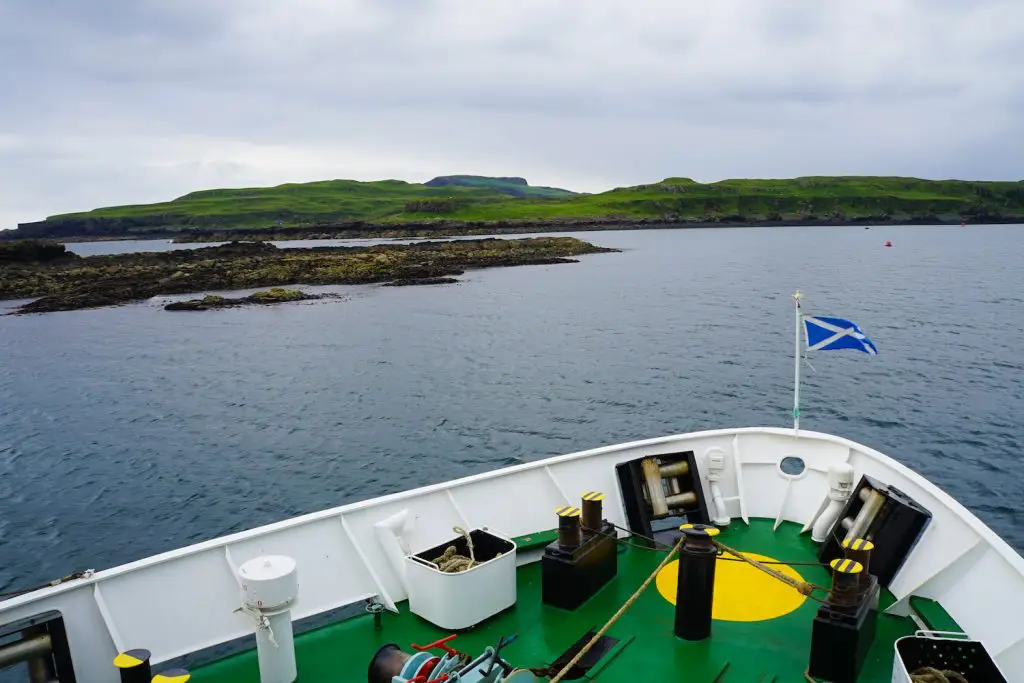 You can't take cars onto the island, and the locals-only have a few for their 1.5-mile long road, but this is was quickly one of my favorite places I've ever visited. And certainly one of the most intriguing islands I have ever visited, up there with Waiheke Island and Easter Island. A rather outsized proclamation I realize, but one which is truly deserved.
The Isle of Muck is just that magical!
Here, the locals all know one another and stop for a chat with everyone. It is highly likely that after just a few minutes on the Isle you'll have been invited to any local events that are happening. That's if you haven't been invited already on the ferry over.
It is a place you'll never want to leave, and I fully intend to apply for a job as a salmon farmer with local company Marine Harvesting — if I ever stop traveling!
But if this isn't enough to sell you, don't worry. As promised we have plenty of ideas for you to try out while exploring this glorious isle.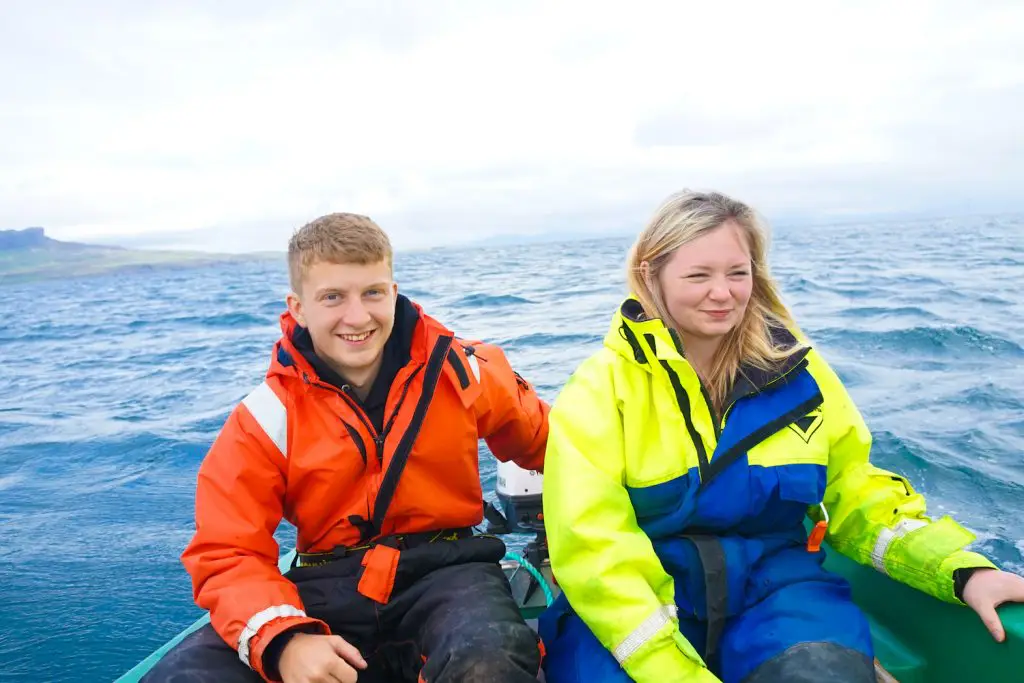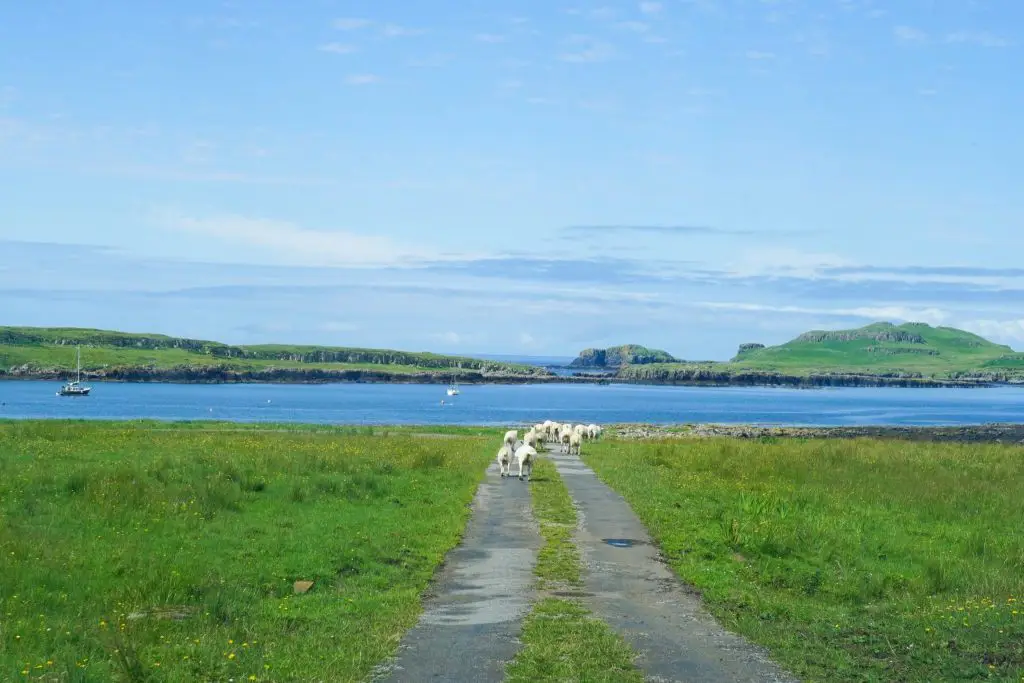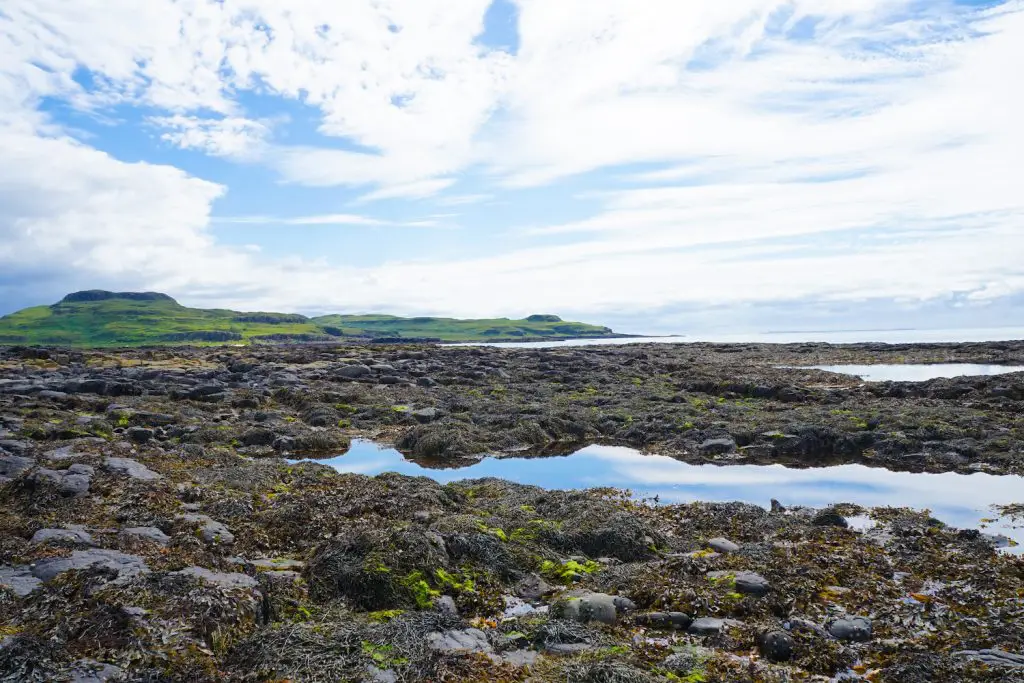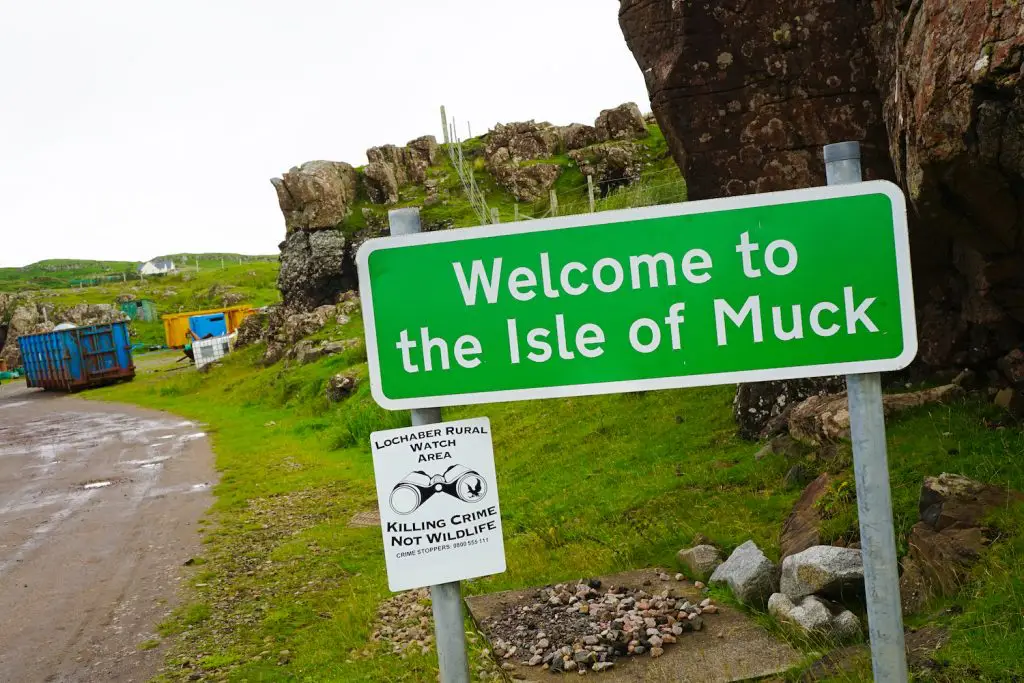 Walk To Horse Island At Low Tide
Full of nesting sea-birds and even Puffins in the right season! Just be careful to time the tides right as the path is only there a few hours either side of the low tide. Ask a local if you are unsure or play it safe and ask around to borrow some kayaks!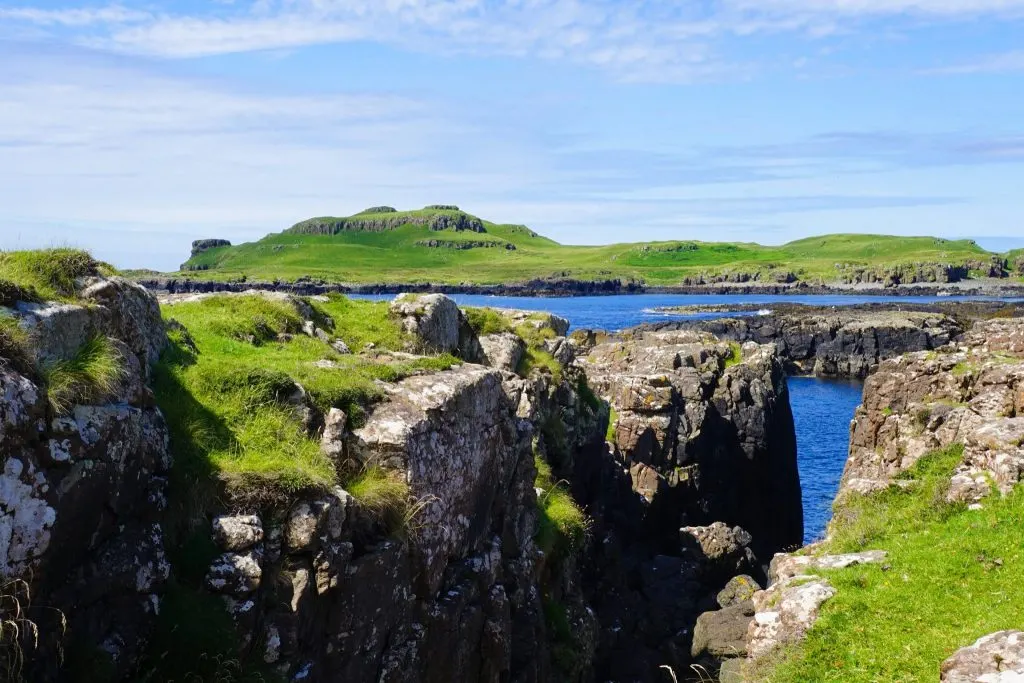 Swim In The Giant Rockpool
New salmon farms off Muck seem to be correlated with an abundance of huge jellyfish in the waters here. One way to avoid them is to utilize this incredibly clear, deep pool. Its also used by locals to learn how to swim. Ask around for directions and try to go at low tide as it's covered (and refreshed by the ocean) at high tide!
While it is jellyfish-free, it is still just as cold as the surrounding ocean. Sorry.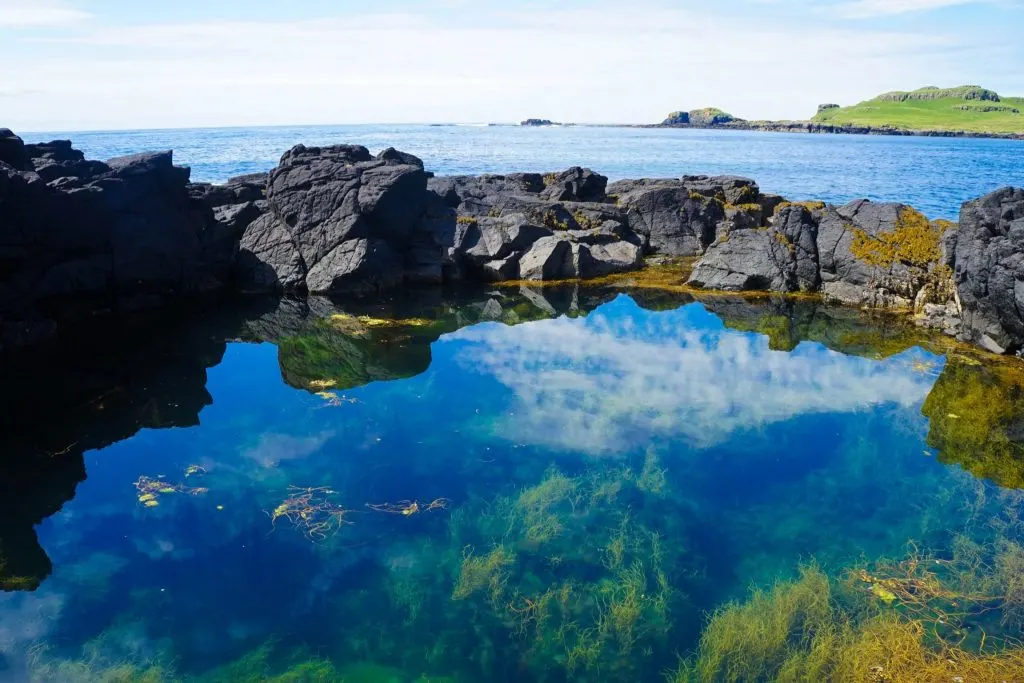 Go Kayaking With Seals
Ok, its really hard to get a photo, but if you look in the picture below – there is a seal on the left! These furry things litter the rocky outcrops of Muck and are incredibly curious. They will likely follow your kayak and pop in and out of the water staring at you. Just pure magic.
As I found out on a later sea lion swim in Lima, seals are not aggressive when they are in the water and feel safe… but I personally wouldn't recommend you just in with them here. As much as you want to.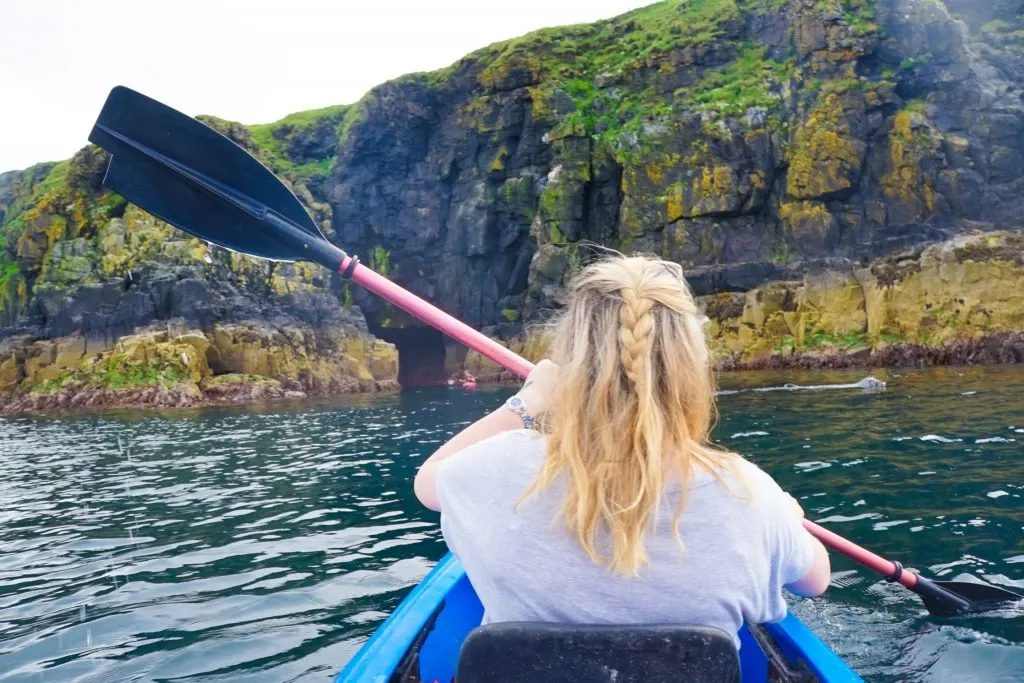 Eat At The Craft Shop And Tea Room
The only place on the island to sell food and a godsend if you have not brought your own supplies. The Craft Shop and Tea Room is run by Jenny, the wife of the island owner. It is actually really well priced but only opens on days the boat lands from 11 – 4 pm (roughly). In high season the hours can be longer. Just drop by when you arrive to confirm and avoid disappointment — or phone the number listed on the door.
Found just outside of the bustling Port Mor hub, the Craft shop is the heart of island life where visitors and locals interact. Jenny serves homemade food including soups, sandwiches, fresh-baked bread, and more. As much as possible is locally sourced. She can also do dinner sometimes by request if enough people. There are also some cute local crafts should you be in need of a souvenir.
Go in and have a chat with here; the sweets are delicious, but be sure to ask for the squat lobster sandwich (not on the menu). You are in luck if she has supplies. It is absolutely delicious!
Take A Boat Trip With Dolphins
Ask around the island and see if you can hire a boat for a trip, take a wildlife cruise around the small isles or bribe your way onto a vessel. Bottlenose dolphins just love the Marine Harvest Salmon farm off-shore and can be found here in huge pods most of the year. This was an incredible once-in-a-lifetime thing, and something I barely believed possible in Scotland.
But, it turns out, they are quite common here. In fact he Isle of Muck's name comes from Gaelic Muc Mhara, meaning sea-pig, a generic name for dolphins and whales. I'm not sure if the name was used due to the abundance of bottlenose dolphins in the area of the silhouette of Muck looking like the curved back of a cetacean emerging out of the sea.
Either way, it's rather suited.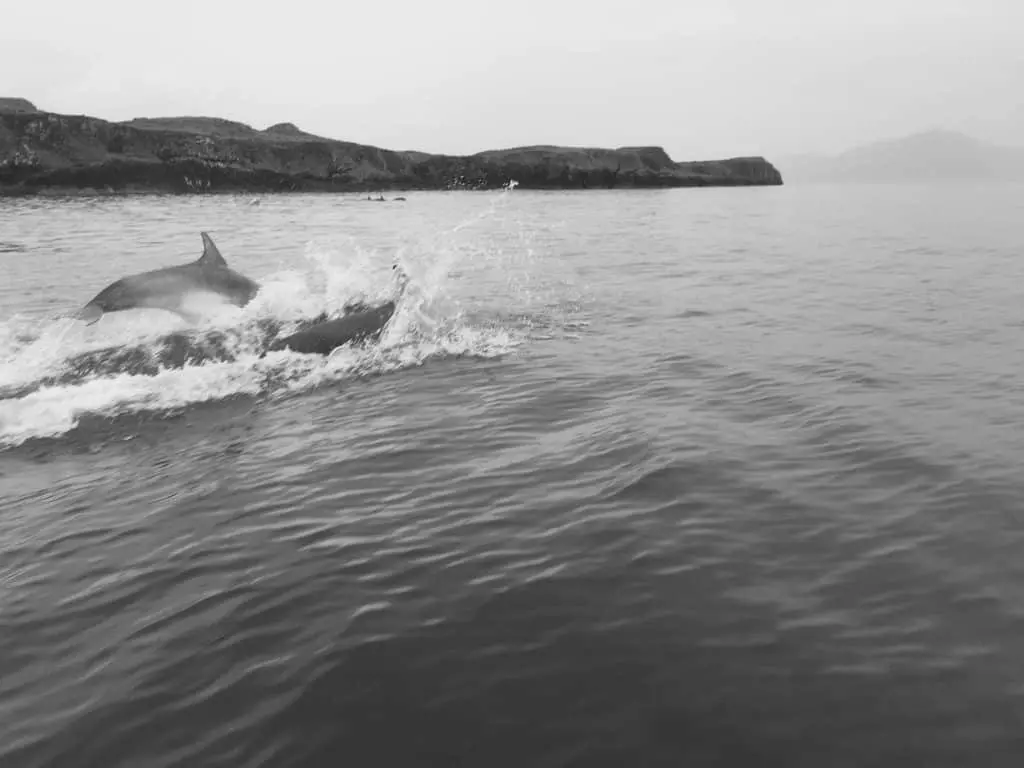 Walk Around The Island
Wait for a beautiful calm day, lace up your hiking shoes, and make a loop of the island. It shouldn't take more than a few hours. Up until 1922 there were no trees on the Isle of Muck, but small groups have been planted in the years since for shelter and fuel.
When the wind gets up, this means there is still very little windbreak on the island — but it is also incredible that the few trees here have been able to survive.
The upside? You will be rewarded with unencumbered vistas in every direction wherever you chose to explore. Oh, and don't worry. The farmers of Muck don't mind you walking across their land!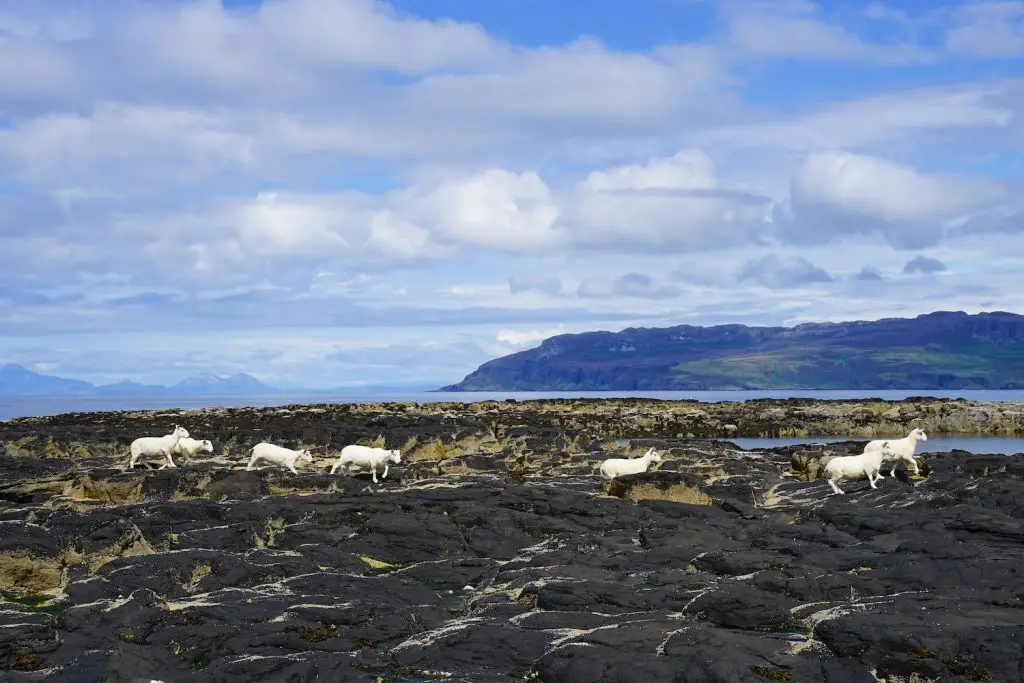 Stay In A Warm Mongolian-Style Yurt
A unique Isle of muck accommodation option that will keep you within budget. Tucked away under a sheltered cliff, the Yurt is warmed inside by a wood fire and has basic facilities, including an outdoor composting toilet. Showers are a short walk away at the Community Hall, or you can brave a daily swim in the ocean. An experienced, to say the least, and rather affordable at £15 per person, per night.
The Isle of Muck Yurts are best suited for the more adventurous (and those who enjoy camping), you can book a stay here from May through September. You'll be treated with gorgeous views the Cuillins of Skye, and the islands of Eigg, Rum and Canna and stay in a privileged location on the north side of the island. They don't have a website but you can reach them via email on [email protected].
For more luxurious Isle Of Muck accommodation, you can also try the PortMor Guest House or the luxurious Gallanach Lodge.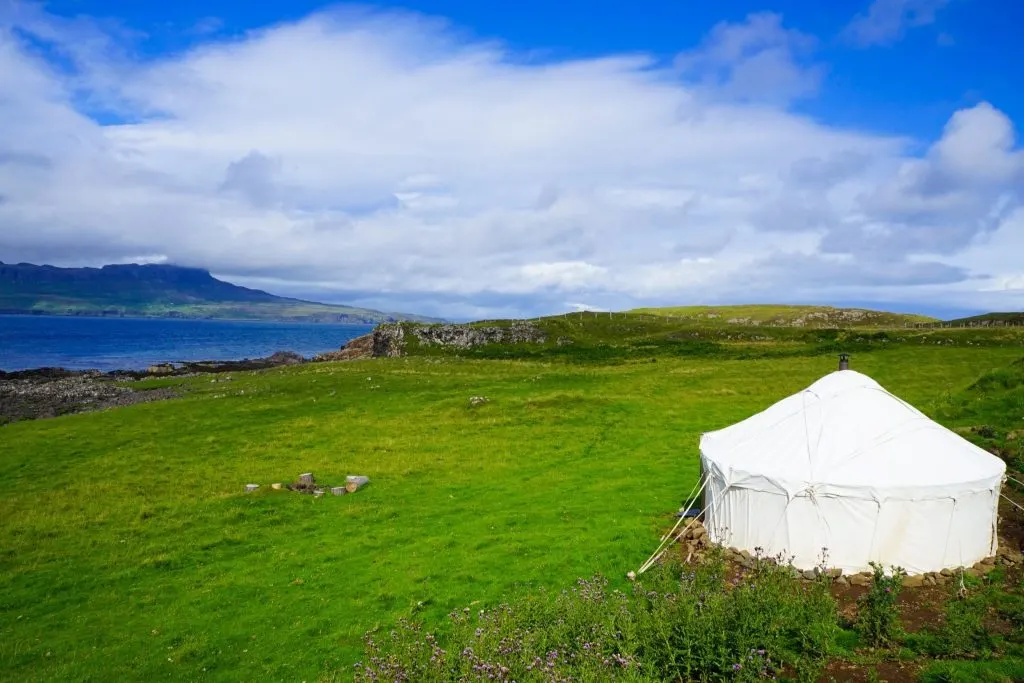 Swim In The Crystal Clear Beaches
Fiji or Scotland? Just incredible, aqua blue water and no one else crowding the beach!
Just watch out for those Jellyfish, and be sure to have a towel handy to warm up after! The water might be inviting, but so is the chill afterward if you are not careful. I can see why the Scottish are such a hardy bunch after this. We thought the beaches of Cornwall were magical, but after a visit here, how could this *not* be one of the best beaches in the UK!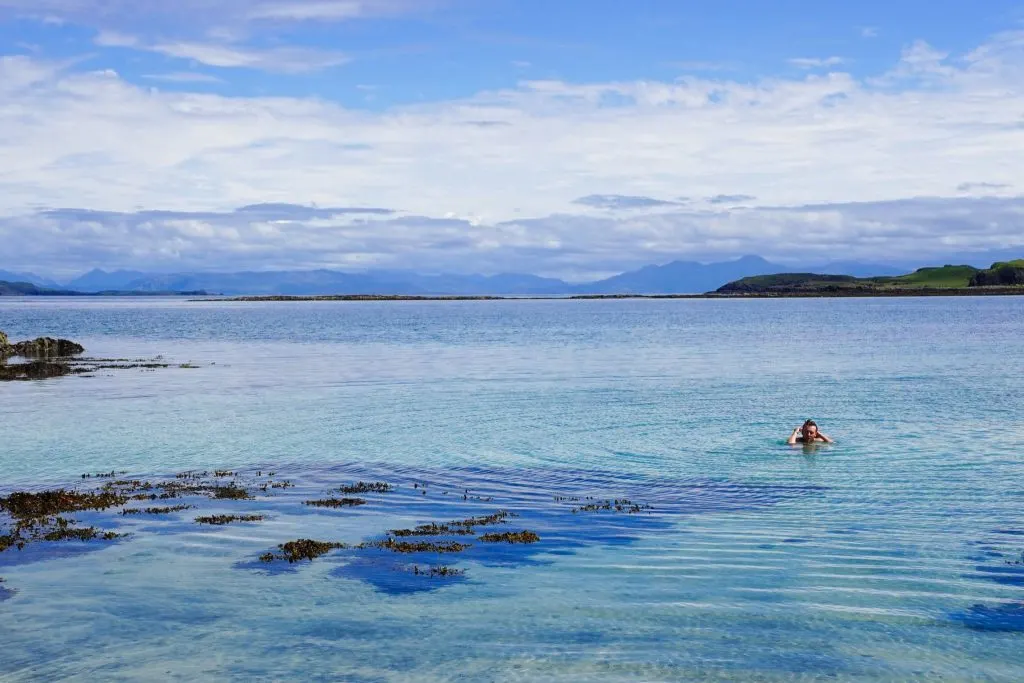 Play With The Gorgeous White Horses
These horses roam the island semi-freely and seem to love hanging out on the sandy white beaches. Truly like something out of a fairytale, it turns out that the Isle of Muck actually breeds Highland ponies.
There is one stallion called 'Strathmashie Seumas Mhor', and a number of brood mares. The original Highland ponies came from the Isle of Rum and were used at workhorses due to strength and hardiness. Traits that allow them to survive here today, even if they are no longer used on the farms.
If you ask around, you might be able to arrange some horse trekking, but there seems to be no current information available.
Either way, sure to pack some carrots as they are extra friendly and won't shy away from pats and some food!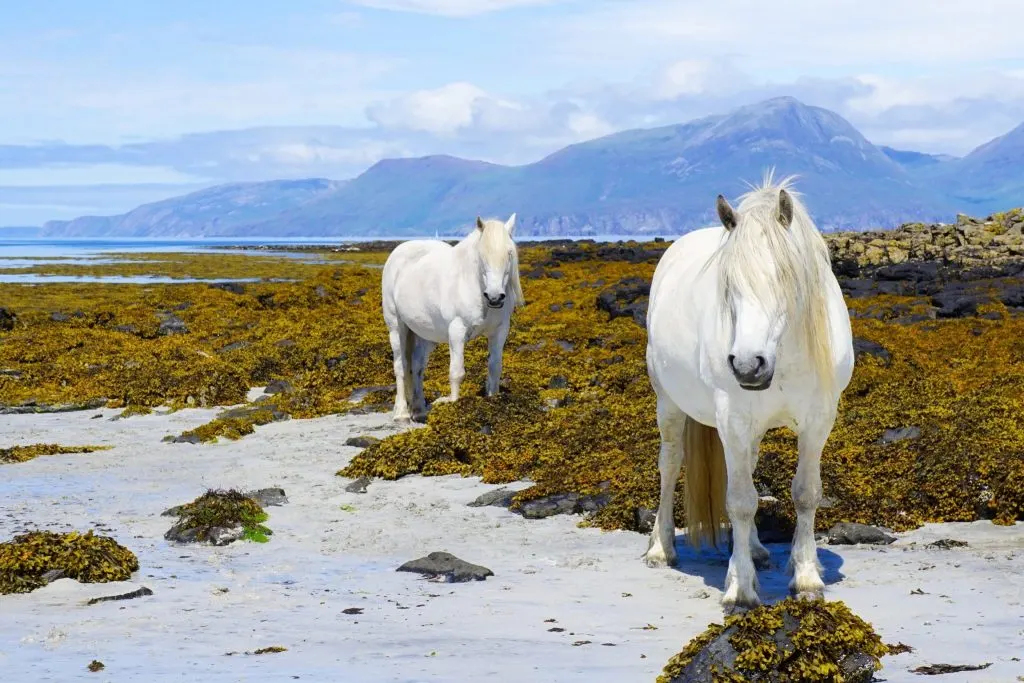 Go On A Fishing Expedition
Goes with the earlier hire a boat or kayaking idea — but you can always fish off the rocks with the right equipment. The incredibly nutrient-rich waters and the local salmon farm means there is plenty of fish, lobsters, and crabs to be caught here. Give it a go; seafood always tastes better when you catch it yourself anyway!
If you are staying in the Isle of Muck yurt, there is a small gas stove and cooking utensils you could use. You could always ask in advance about fishing equipment. We found the locals very helpful…
Make A Meal Of Fresh Lobster And Crabs
And when you catch the food, make sure to get some help cooking it up (or share it around if you have too much!). No luck out on the seas? No worries, the island fisherman sells fresh lobster and crabs for under 10 pounds…Such a deal!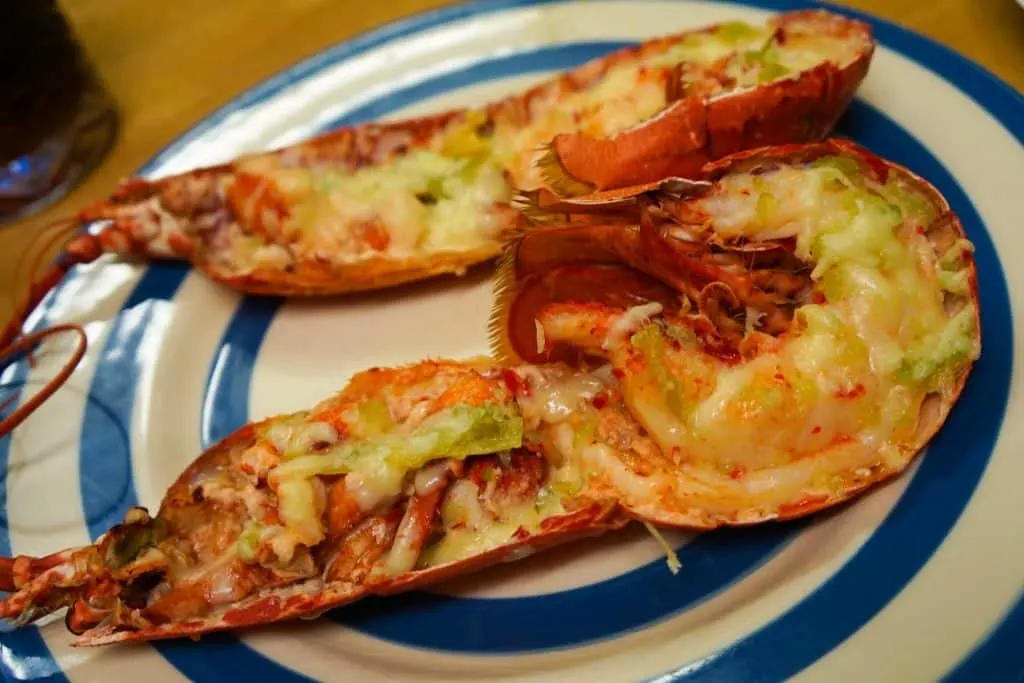 Getting To The Isle Of Muck
Your transport options to the Isle Of Muck are limited to ferries from Arisaig and Mallaig. From Arisaig, you are limited to summer months services. The nearest international airports are Glasgow, Edinburgh, and Inverness. From there, you would need to either drive or take a train. You might want to consider using the Spirit of Scotland rail travel passes as Mallaig and Arisaig are at the northern end of one of the world's most spectacular rail journeys. But if you want to explore more of the Scottish Highlands, you'll need to hire a car.
Both villages (Arisaig & Mallaig) have car parks where you can leave your car as all non-residents are expressly forbidden from taking a vehicle to Muck. With 2.5 kilometers of road, you can see why.
From Arisaig, in the summer months, you can jump on one of the wildlife cruises to the Small Isles aborad the MV Sheerwater. Booking is advised in advance, and you can either make a return trip with shore time or book two single trips and stay overnight.
From Mallaig, you will have the option of the Loch Nevis ferry operated by Caledonian MacBrayne. This is the more affordable option, and the one used most by locals. It runs year-round with 5 services weekly in summer and three in winter. All ferries dock at Port Mor, which is a pleasant 20 min walk along the road to Gallanach should you be staying there.
Some accommodation providers will meet you at the ferry. You can't really get lost…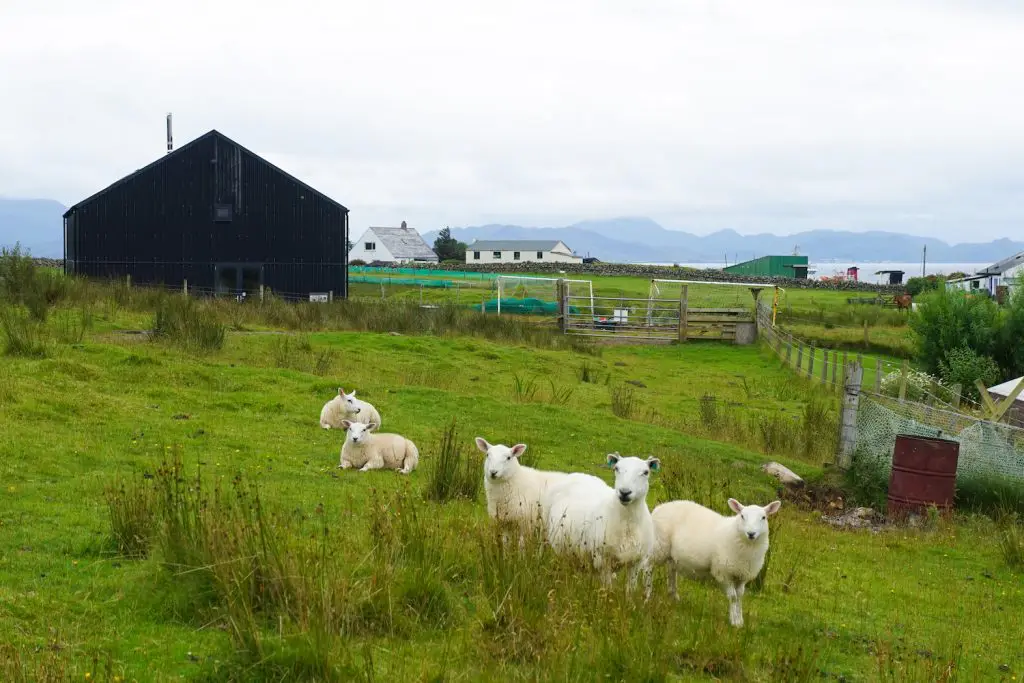 Well, there you have it, Scotland's smallest Isle! I am sure that this list of things to do on the Isle of Muck has convinced you beyond a shadow of a doubt this is the place for you. I mean — how could it not have!
There is a lot of incredible places in Scotland, including Buchanan Castle, the rugged Highlands, historic St Andrews, and even a secret James Bond filming location, but the Isle of Muck has to be the most magical of them all. Book your trip it now before the world wakes up and discovers how amazing this place is for themselves, and the Isle of Muck population inevitably grows!
You can find the best options of Isle of Muck hotels here….and if you're looking to include this on part of a more extensive Scotland road trip (after all there is so much to see!) why not check out the best deals for car hire in Scotland in advance to ensure you don't miss out!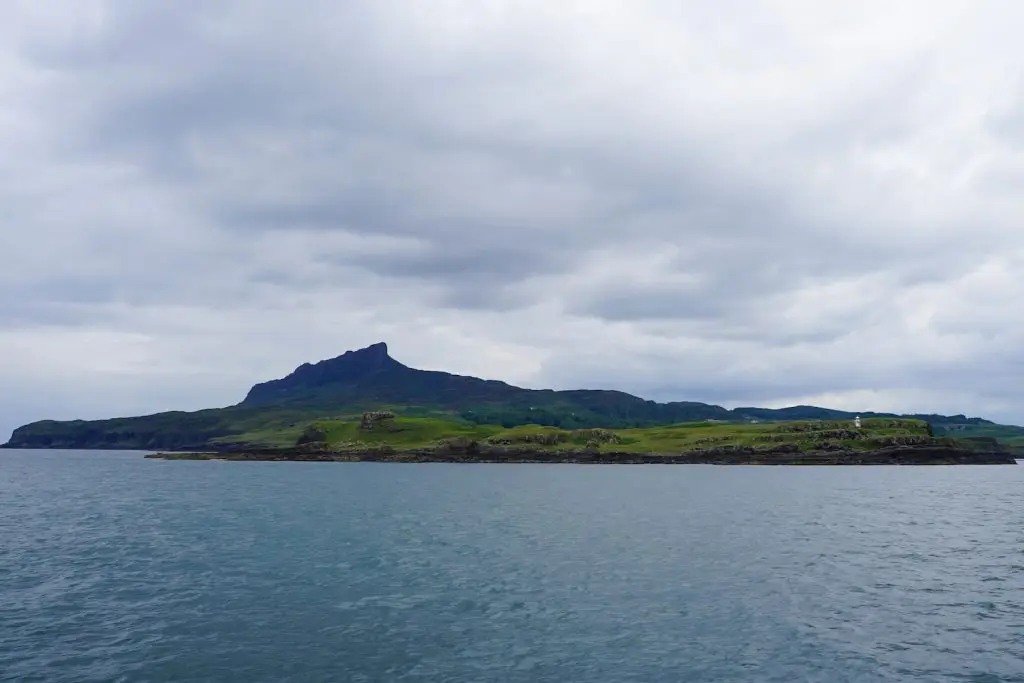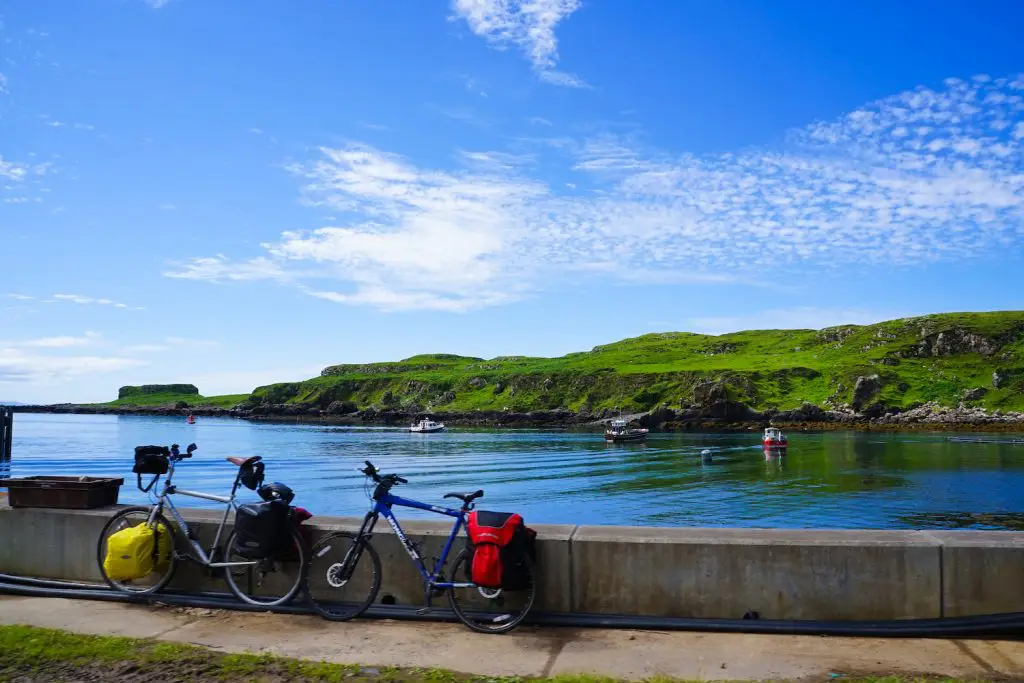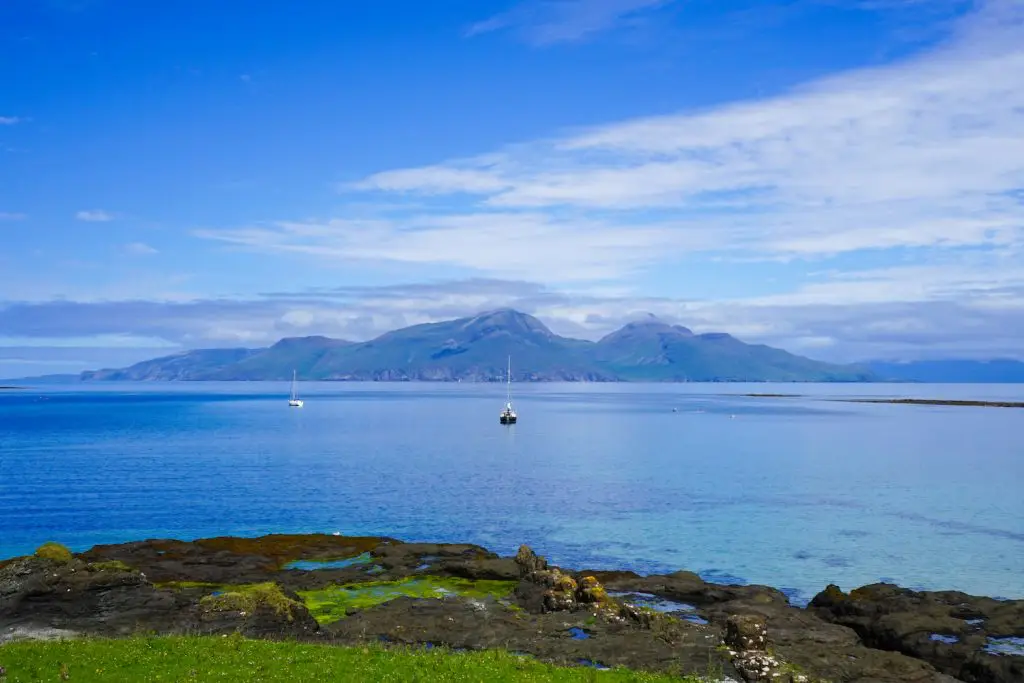 Staying Connected While Travelling
In today's increasingly connected world, staying online while traveling has become essential for a seamless experience. That's where eSIMs come into play, revolutionizing the way we access mobile networks during our global adventures. Say goodbye to hunting down local SIM cards at the airport; eSIMs provide instant activation the moment you land, sparing you the fortune usually spent on international roaming and allowing you to genuinely travel like a local (without getting hopelessly lost!).
With eSIMs, tasks like restaurant recommendations and reservations, up-to-the-minute public transport instructions, checking opening hours, and accessing further information become a breeze. And, of course, sharing your journey on social media is easier than ever. To stay connected wherever you roam, consider using either Airalo or Holafly. Airalo boasts the most extensive range of destinations worldwide, offering smaller data bundles tailored to your needs, while Holafly provides unlimited data packages and fantastic EU data deals.
So why wait? Embrace the future of travel connectivity with eSIMs and make your next journey effortlessly smooth.
Further Things To Consider Before Any Adventure
Now you're all set and prepared to explore our big wide world, why not sort out everything else out all in one go? If necessary for your travel plans make sure you have brought proper travel insurance, protected your privacy by getting a secure VPN, compared all the top hotel booking sites to find just what you're after, reserved an unbeatable rental car price and - of course - booked the best flight deals!
Or maybe just forget it all and go for a last-minute cruise or effortless tour instead?
Many budget travelers (including me) indulge in worldwide airport lounge access, so we can experience luxury while still slumming it in economy. Naturally, we would never leave home without a more general travel guide since we couldn't possibly cover everything here!
Just add an adventurous attitude and plenty of smiles - they go a long way - and that about covers it all! Now go out, find your own path and don't forget to share your best inspiration stories with me on Facebook, Twitter, and Instagram...I'd love to hear from you!