One of Auckland's best open secrets – sultry Waiheke is only 40 mins away from Auckland's downtown via a scenic ferry and yet feels an entire world away.
Envisage endless vineyards melting into the turquoise sea, tempting white sandy beaches, stunning cliff top walks, and refreshing enclaves of native forest, and you can get a small sense of the appeal. D
If it is good enough for Miley Cyrus, Justin Timberlake, Beyonce, and Jeremy Clarkson, its good enough for us! Don't miss the epic views at Cable Bay Vineyards, any of the trails (some of the best Auckland walks there are), and exploring off-the-beaten-track. Waiheke is just big enough to get lost on, but not so big that you won't find a friendly local to point you back in the right direction when you do.
A bit of an adventure, every Aucklander has their own opinion and ideas about what to do in Waiheke. Here we present our itinerary for the ultimate Waiheke Island day trip, which includes visiting some of the great beaches, restaurants, and vineyards along with public transport information to get around the island to save you a bit more cash.
Extremely different than the vineyards of Queenstown and Wanaka, we think this is one of the world's most fabulous islands and a true highlight of New Zealand.
Just follow this simple plan and we promise you the ultimate Waiheke Island Day Trip.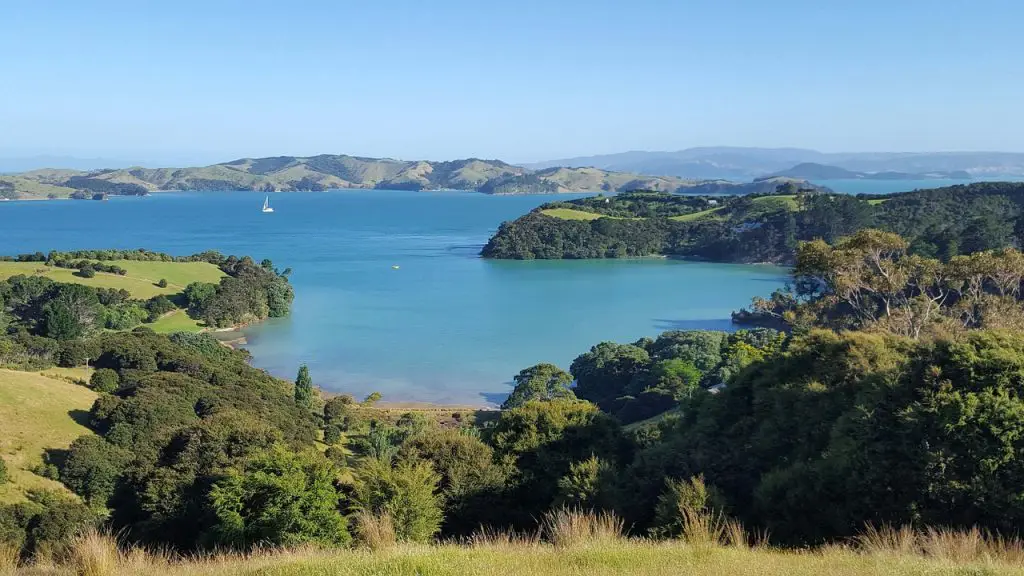 Of course, you need to account for weather, and you can add in a few more stops in the summer months as there is more light – or shorten in the winter months, but in general, this is how we recommend you visit. Of course, you can also make it really simple and book onto a Waiheke Island wine tour ... but where would be the challenge in that…
We have also tried to give you the bus options, but Auckland Transport changes frequently. Buses will generally meet the ferry but after that – You can use the Auckland Transport app to see live bus locations and departures. We say this because Uber is not available on the island, and – well, taxis here and amongst the most expensive we have ever encountered in the world.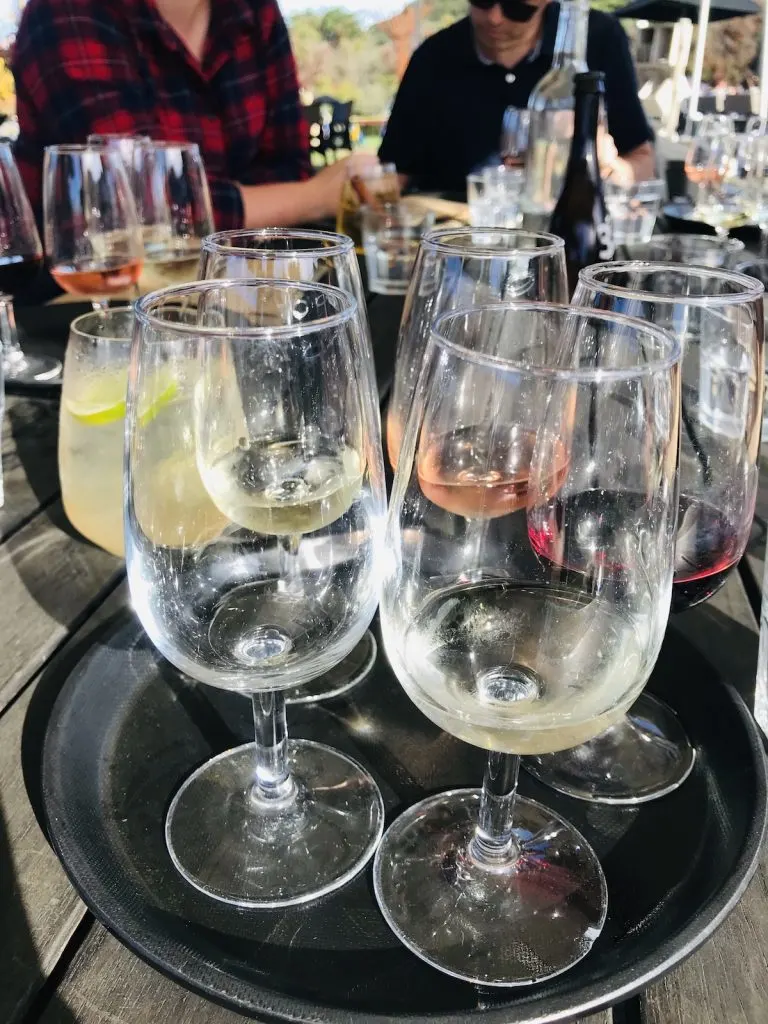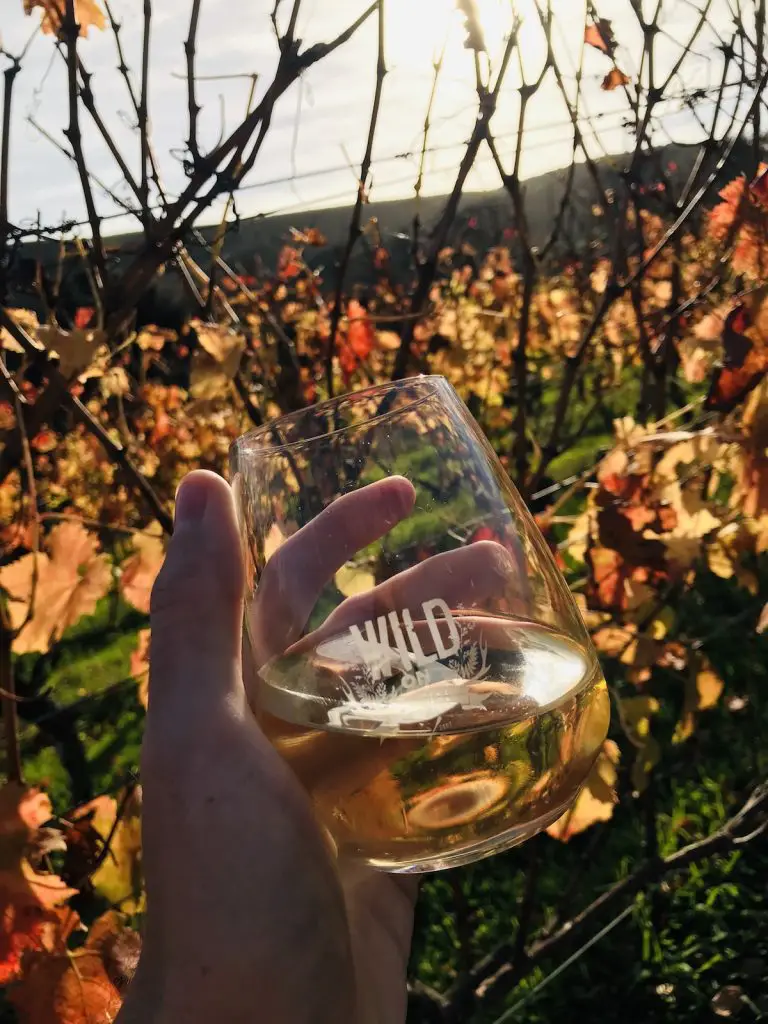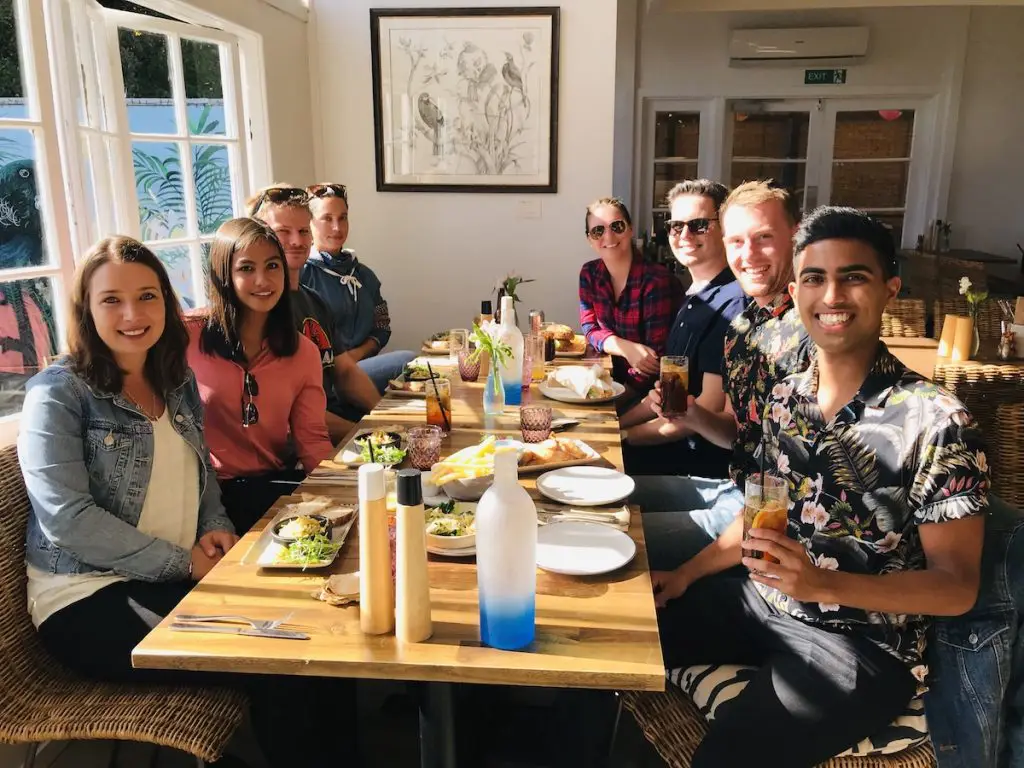 A Simple Guide & Itinerary For The Ultimate Waiheke Island Day Trip 🍷
6am-10am: Ferry Ride To Waiheke
From Albert park head North to Queens Wharf which is the closest port for getting to Waiheke Island. You'll be walking through some of the fanciest parts of downtown Auckland and there are plenty of places to grab a coffee and a snack before you jump on the ferry. While you're at the Waterfront, check out the beautiful harbor. You'll be able to look out to Auckland Harbour Bridge and also check to see if there any Cruise Ships entering the harbor. These huge watercraft are hard to miss as they are easily the biggest boats in the harbor, towering over everything including a lot of the buildings on the mainland.
The best times to catch the ferry are at sunrise or sunset. If you're visiting in June or July this means getting to the ferry for 6 o'clock and heading back after spending 12 hours on the island. That's a long day, we understand so our advice is to aim to catch the ferry back at sunset which ranges from around 10:30 pm in the evening during summer and 6:00 pm in the winter.
Also, in the weekends and busy tourist months of December – February the ferry can be absolutely packed and you may need to arrive up to one hour advance to actually board your planned sailing…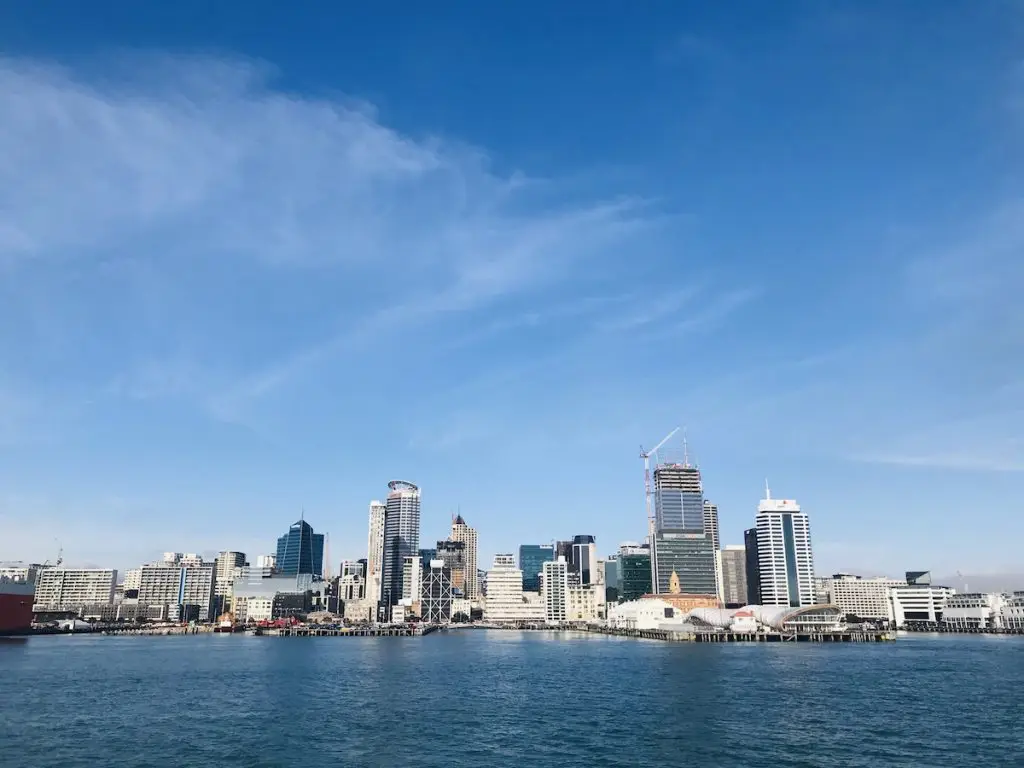 10:00-12:00: Breakfast At Arcadia Café And Walk On Palm Beach
Once you've arrived at Waiheke island it's time to catch the 2/ 2x for about 15 minutes to the first stop on the itinerary, Arcadia Café just a few houses back from the beautiful Palm Beach. This friendly and welcoming café serves great seafood matched with fantastic wine pairings, but we'd recommend that you stop in for a beautiful brunch.
We'd recommend just a light bite here because soon you're going to be heading on to Wild On Waiheke for lunch, but if you are looking for something more filling, here they have all the classics. The Eggs Benedict and Brioche French Toast are both dishes that are absolutely to die for, so take your pick depending on how sweet a tooth you've got. In terms of the lighter options, the cafe does great smoothies which will keep you refreshed and read ready to head to the beach and get some sand between your toes.
Palm Beach looks out and is a popular mooring spot for pleasure boats enjoying the beautiful island air. If you head West along the beach and over the rocks, you'll find little palm beach, which is a great spot for a secluded dip in the beautiful clear waters.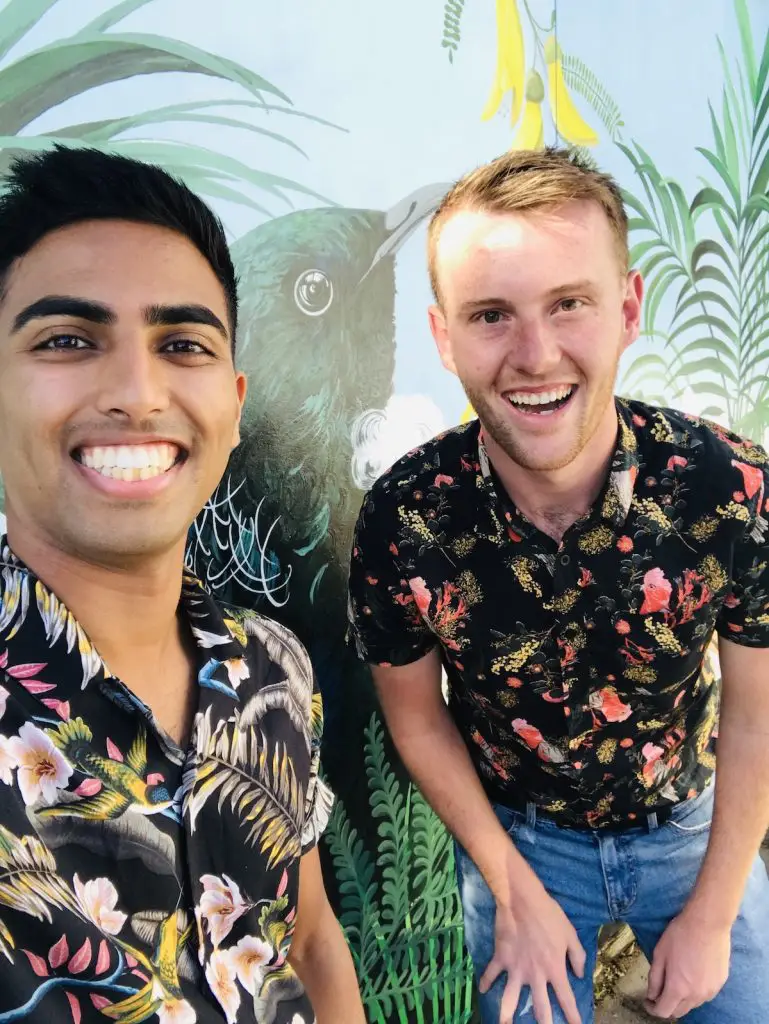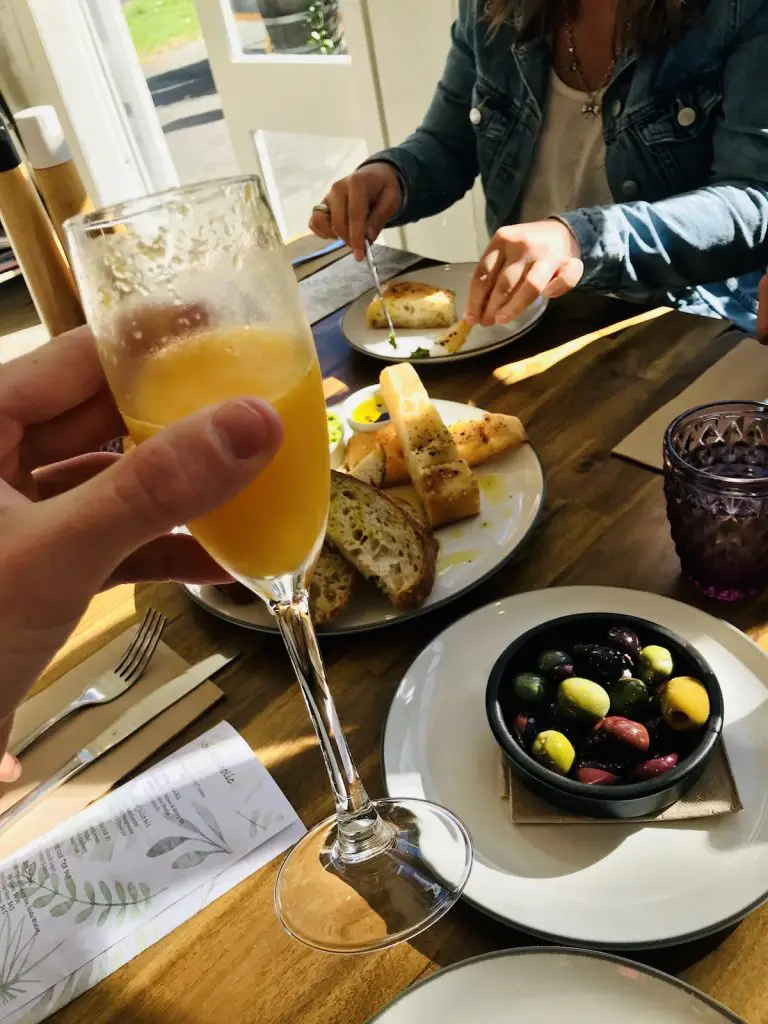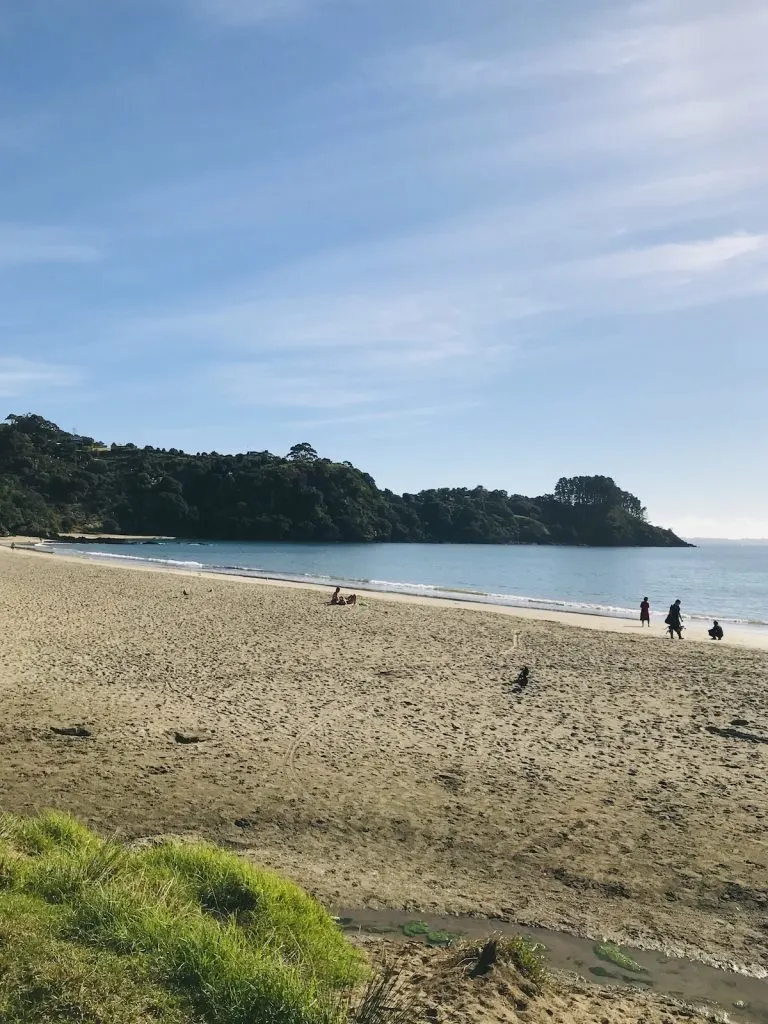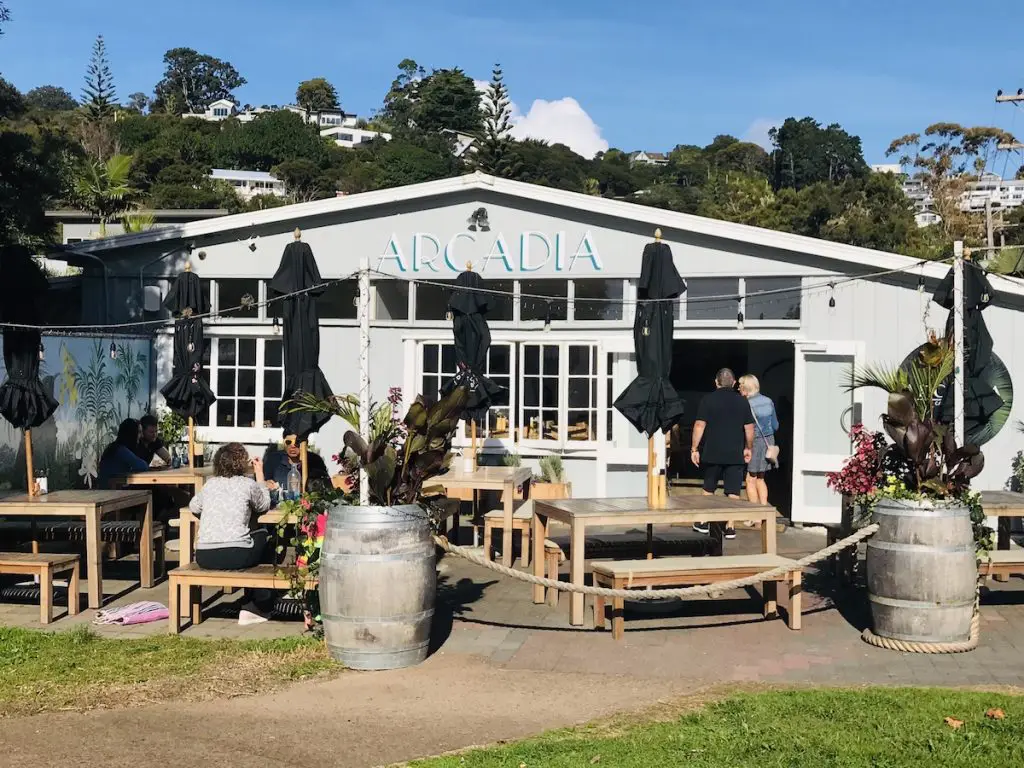 12:00 – 15:30: Wild On Waiheke And Surrounding Vineyards
The next step on the journey is out and on to Wild on Waiheke which just a 10-minute 2 / 2X bus ride from Palm Beach promises a host of activities including archery, laser clay pigeon shooting as well as tours around their fully operational vineyard. Summer is the perfect time for exploring their amazing vineyards.
They also offer group tastings of their specialist beers and wines were the local experts can talk you through the story of how Wild On Wines came to be and why Waiheke soil and climate make for such delicious and excellent flavors. Putiki O Kahu is in charge of the wine operations down at Wild On and recommends the wines taste best when enjoyed in beautiful relaxed surroundings and whilst playing a game of chess. It's lucky that you can do exactly right there at Wild on where there is a free giant chess set and loads of spaces to sit and drink nestled between the hills and the gorgeous vineyards.
Wild On Waiheke offers an experience of the peaceful and playful nature of the island. Waiheke really is a place where you can get away from the hustle and bustle of the city and just enjoy delicious food and drink in beautiful green surroundings and there are plenty more vineyards within easy distance of Wild on Waiheke.
Within 5 minutes of Wild on Waiheke, you'll be able to walk to the Tantalus Estate, Stonyridge Vineyard and Te Motu Vineyard. All the vineyards on this western side of Waiheke have taken their little slice of paradise to plant and grow beautiful grapes from around the world. Each offers a slightly different experience, and each has its own wine experts who have carefully crafted the taste from the surrounding land. If you've had a few glasses of wine already, just have fun exploring the hills in the interior of the island. Most of the landscape here is cultivated for wine production so it's easy to spend hours wandering through row upon row of beautiful grapes.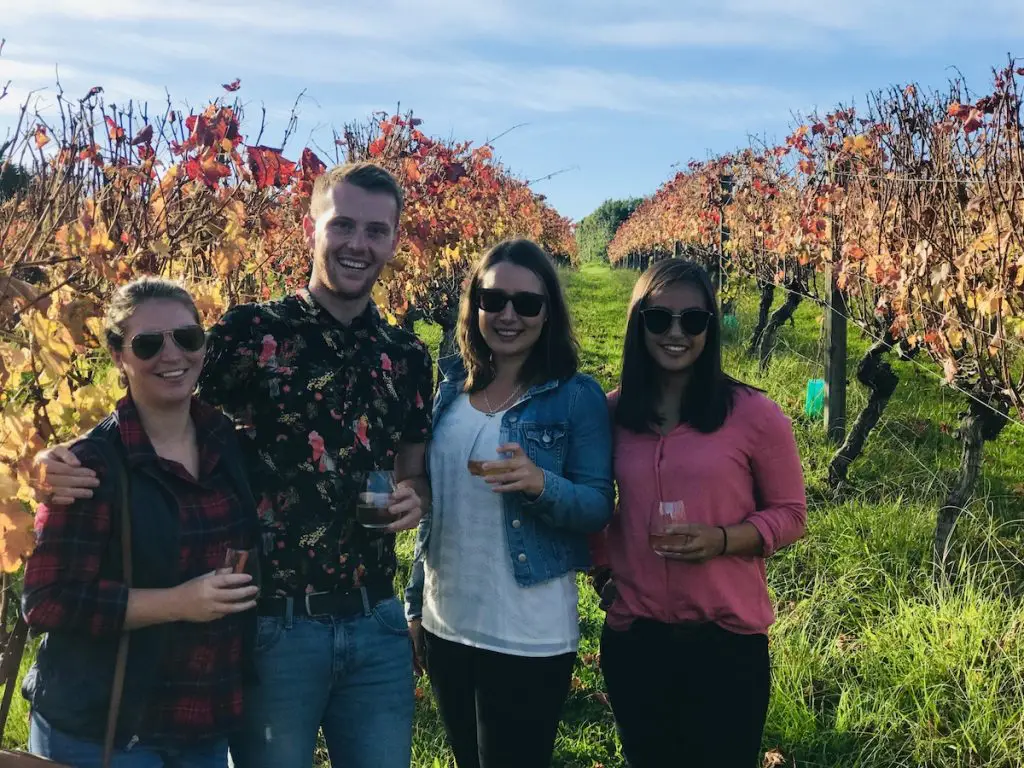 15:30 – 19:00: Explore Oeneroa Art Café And Beach
Oneroa is the unofficial capital of Waiheke Island, and you can reach it by catching the Number 1/4/2 bus from just outside Wild On Waiheke. Again, look on Google Maps in advance, ask the staff or download the Auckland Transport app. The town features the main beach of the island which looks out to the north. Similar to Palm Beach you'll find the bay packed with day boats on yachts. There is plenty to do in the hills and cliffs surrounding Oneroa including walking out to the headland or visiting the blowhole that separates Oneroa bay from Hekerua bay to the west.
The town proper is only a few shops, but that doesn't mean there aren't little gems to find here. If you think you're going to need cash, here's a good place to grab some as there aren't loads of cash points dotted around the island. Many of the businesses here have been set up by retirees from Auckland, and shop owners are happy to welcome visitors and give them stories about the island. Shops that are worth looking out for are Victorian Gilt, a strange little vintage shop that sells antiques and collectibles. It's a great place to get lost for half an hour as your rummage around its many corners, nooks, and crannies.
Another spot worth visiting is the community art gallery which was set up by a group of local artists. Here you can find 4 separate uncluttered exhibition spaces, that celebrate the light and air of Waiheke. There are original sculptures, bronzes and paintings, and drawings. It's easy to see how Oneroa has become such a successful community for artists, so you might leave feeling inspired by the calm quiet atmosphere.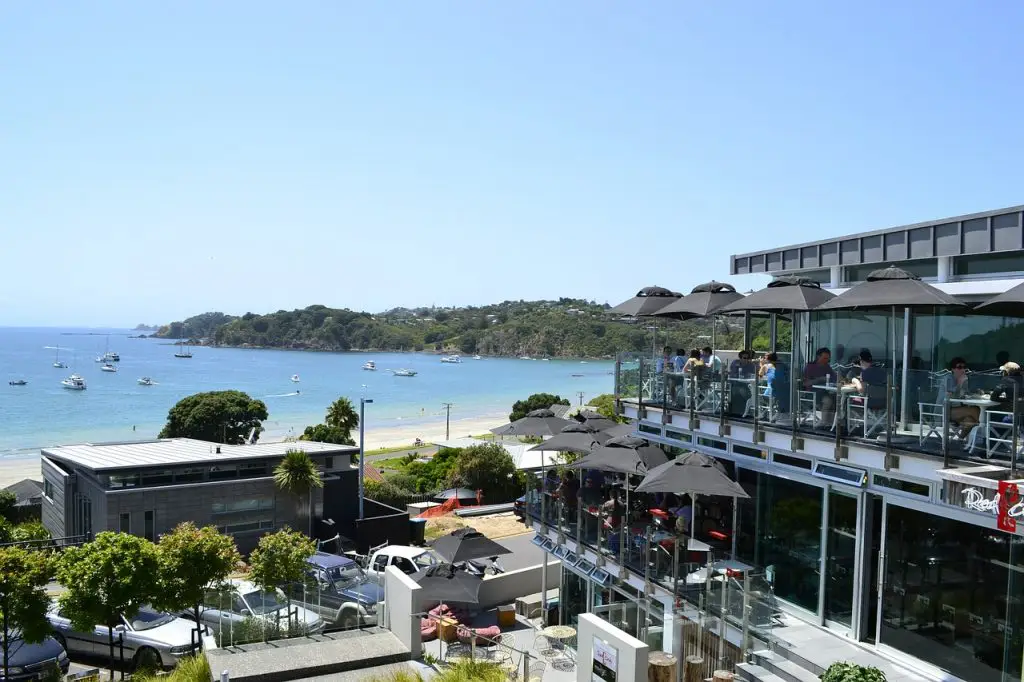 19:00– 21:00: Dinner At Cable Bay Vineyard
The final stop on our recommended tour of Waiheke is the beautiful Cable Bay Vineyard. It's just a 20-minute walk up the road from Oneroa. The Cable Bay vineyard was first planted back in 1998 and the estate has now grown to include a winery, olive groves, organic gardens, not to mention a host of small lot vineyards.
The very first vintage produced from this incredible vineyard won a gold medal in London in 2002 and they've continued to produce incredible wine ever since. Amongst the restaurants and vineyards, you will find an impressive private art collection from some of New Zealand's best artists. The art is on permanent display all year round, so keep your eye out for the beautiful works as you stroll around the complex.
Like so many places on Waiheke, Cable Bay champion sustainable and ecological ideas and have developed their organic gardens with that in mind. The gardens not only produce food for the restaurants but are also fed by let over waste from the kitchens, dramatically cutting down on the waste produced by the estate and also creating extra tasty food for the restaurants. When visiting Cable Bay try the food knowing that as much as physically possible is produced locally on the island, and nothing is wasted.
The most recent addition to the Cable Bay estate was added in 2016 when the olive grove was acquired alongside a small fruit tree orchid and 2500 manuka trees. The final ingredient in the recipe was the addition of several bee hives for honey production. Cable Bay truly is one of the jewels in Waiheke's crown, with an incredible, sustainable complex delivers delicious food and experiences, all with incredible views over the hills, coast and back to Auckland and the mainland. It's the perfect place to end your day on Waiheke. Watch the sun dip lower with a final glass of wine in hand before making your way back to the ferry with a 15-minute walk downhill. There is a forest trail if it is still daylight, or we recommend sticking to the main road in the evening.
The journey back to the mainland under the setting sun is one that you simply won't forget after a packed day on Waiheke Island.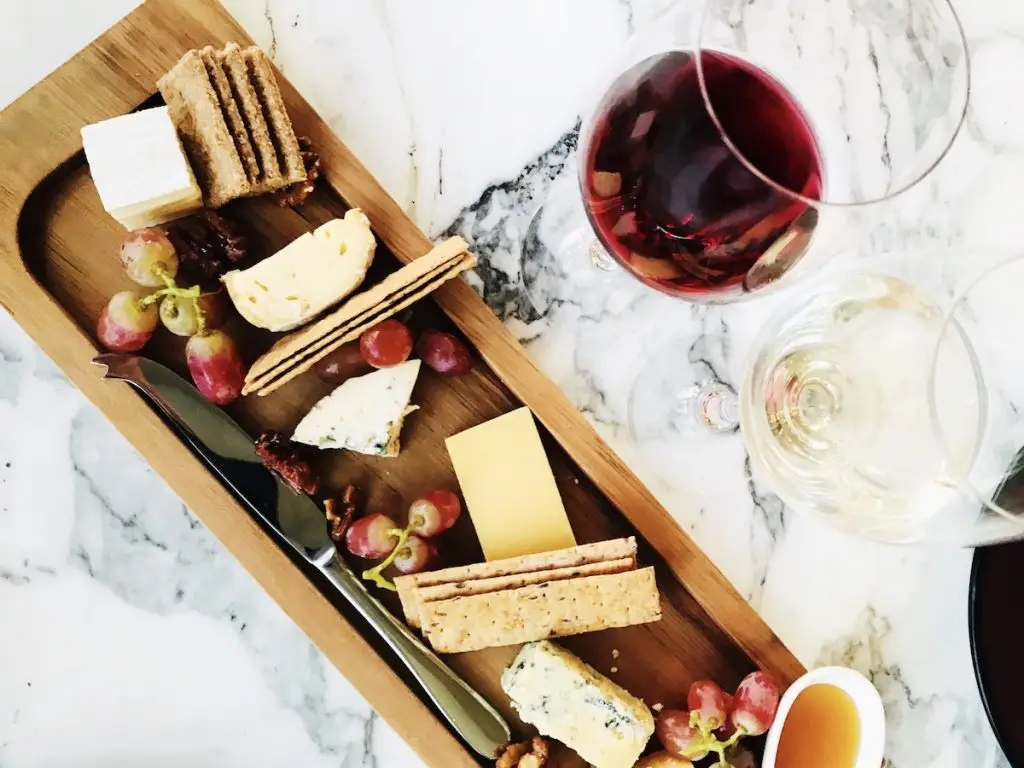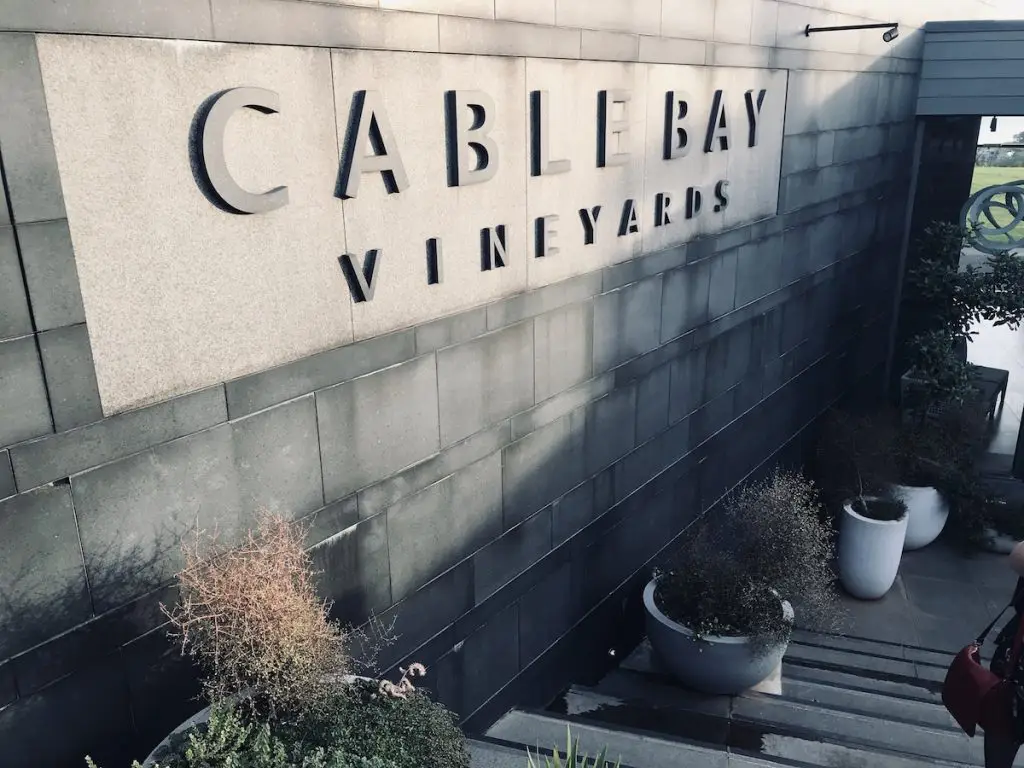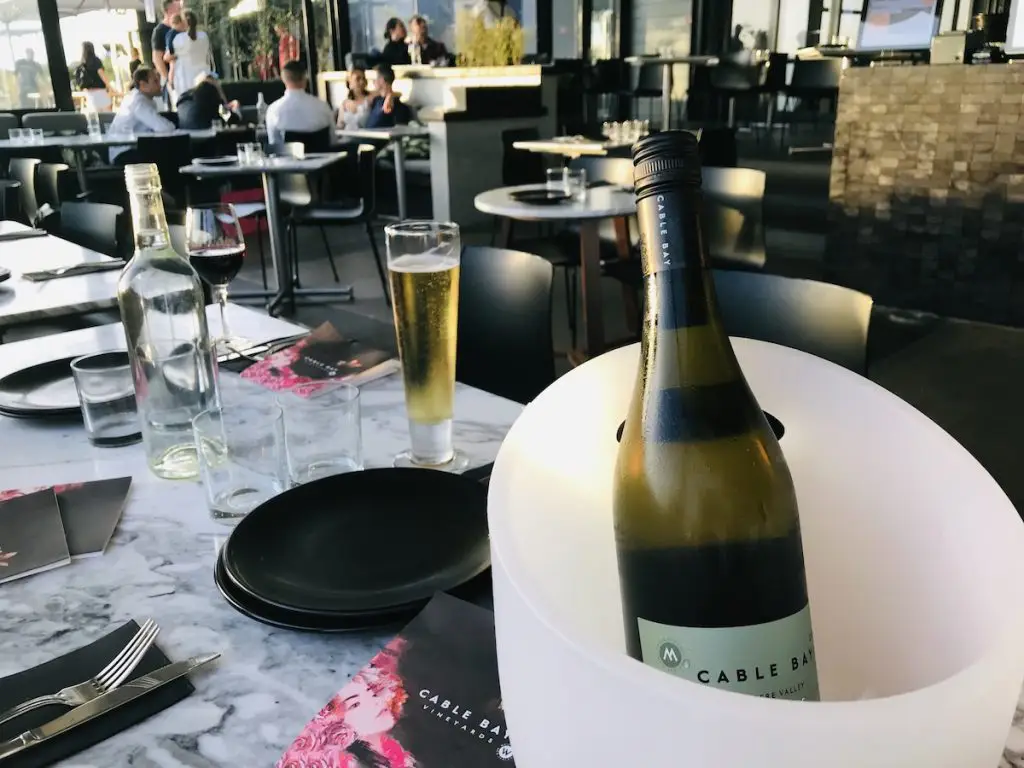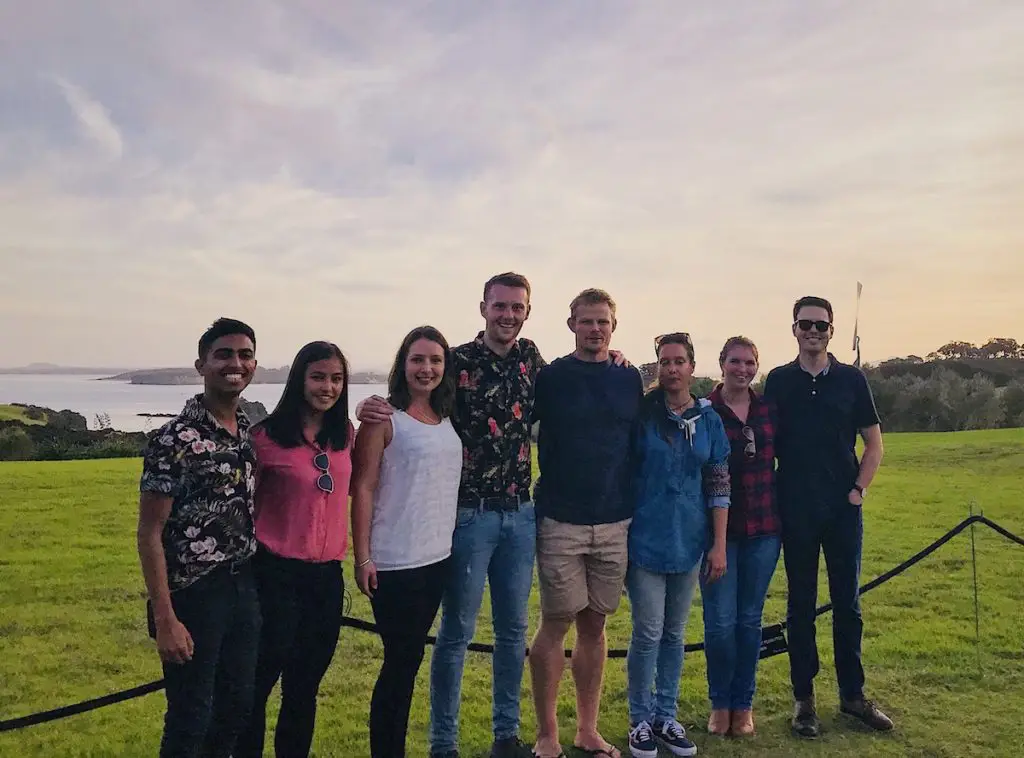 Where To Stay In Auckland
LUXURY SO/ Auckland
The trendiest artistic and musical melting pot in town. A luxurious urban hotel with avant-garde design, local energy, and magnificent views. –> Treat Yourself!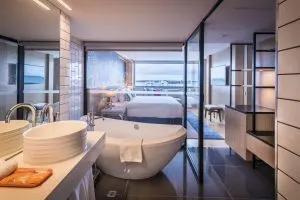 MID-RANGE M Social
A 190-room designer hotel overlooking the vibrant Princes Wharf with wallet-friendly prices, glass-enclosed bathrooms, and harbor views. –> Find the best price!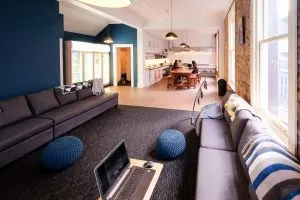 BUDGET Haka Lodge
Enjoy a warm welcome, comfy beds, and free unlimited wifi at this upmarket backpacker lodge located on hip-and-cool Karangahape Road. –> Book now!