Do you love the feeling of being spooked? Enjoy that tingly sense of goosebumps on your skin? Feel more alive after being terrified?
Then why is Halloween Horror Nights Orlando not already on your bucket list?!
These incredible events with their detailed haunted houses and imaginative scare zones are the best Halloween events in the US and are a must-go for any fan of (fake) fear.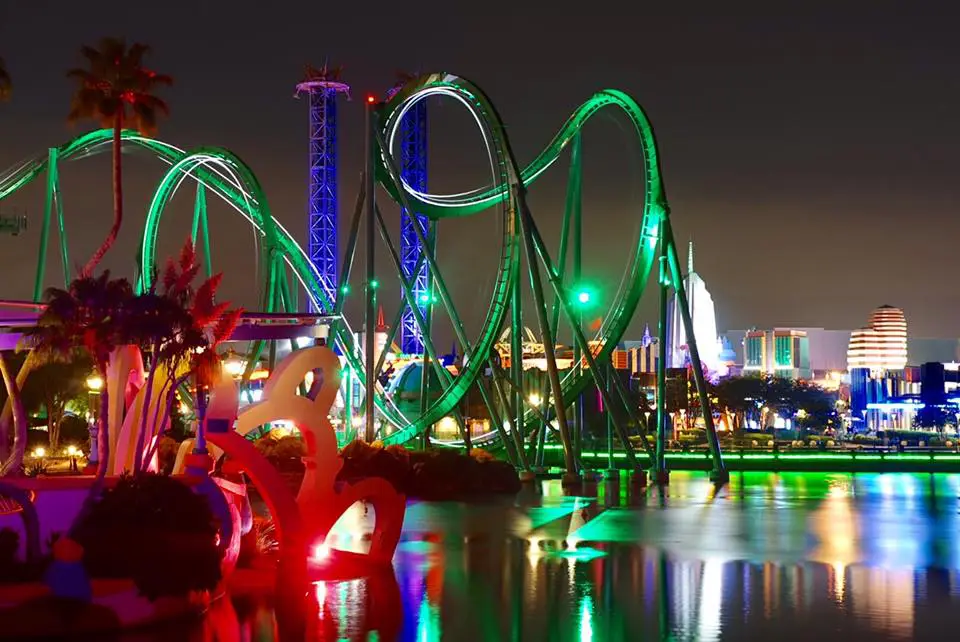 The Halloween Horror Nights have been running in Orlando since 1991, when there was only one haunted house open over three nights. Since those innocent days, the event has expanded to 10 haunted houses, five 'scare zones' and runs for over a month. To say it's popular is an understatement.
Of course, if you're the kind of person who is terrified by the beginning of A Nightmare Before Christmas then you'd be forgiven for thinking this is not an item for your bucket list. However, so much ingenuity and creativity goes into Halloween Horror Nights Orlando that it's well worth a trip even for the most scaredy of scaredy-cats.
Seriously, it's amazing how balmy Orlando can suddenly feel so chilly once you start creeping around the scenarios here. Read on to find out more.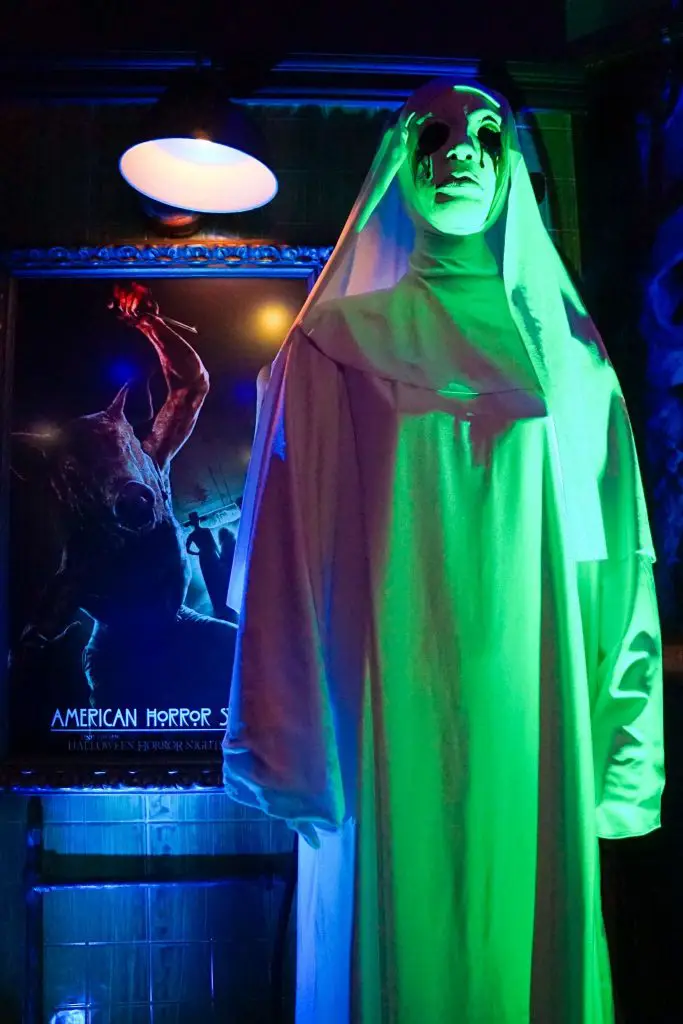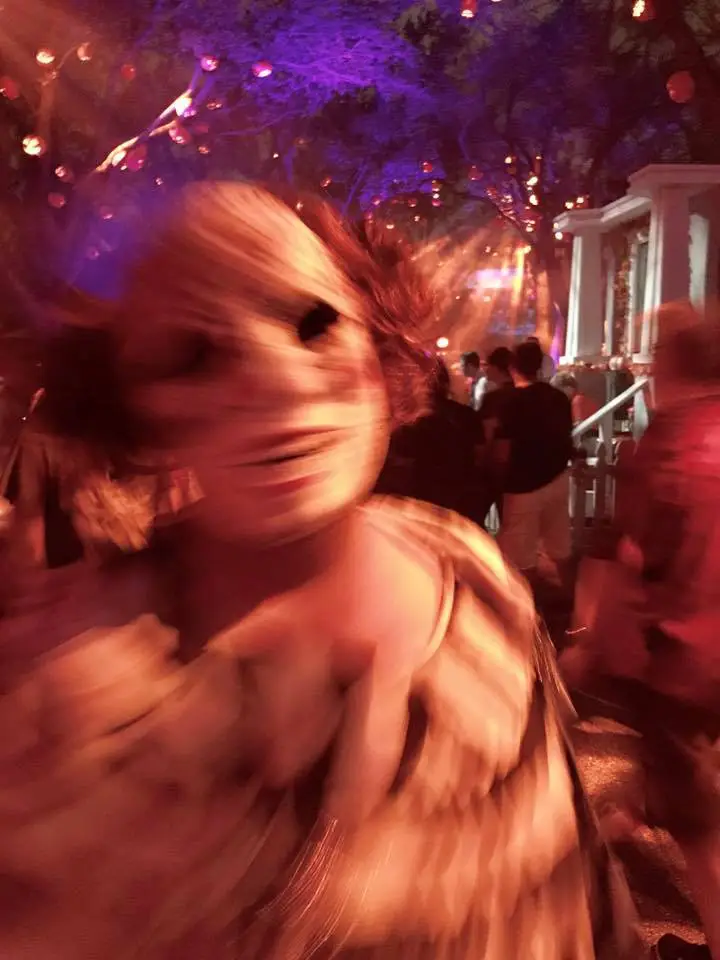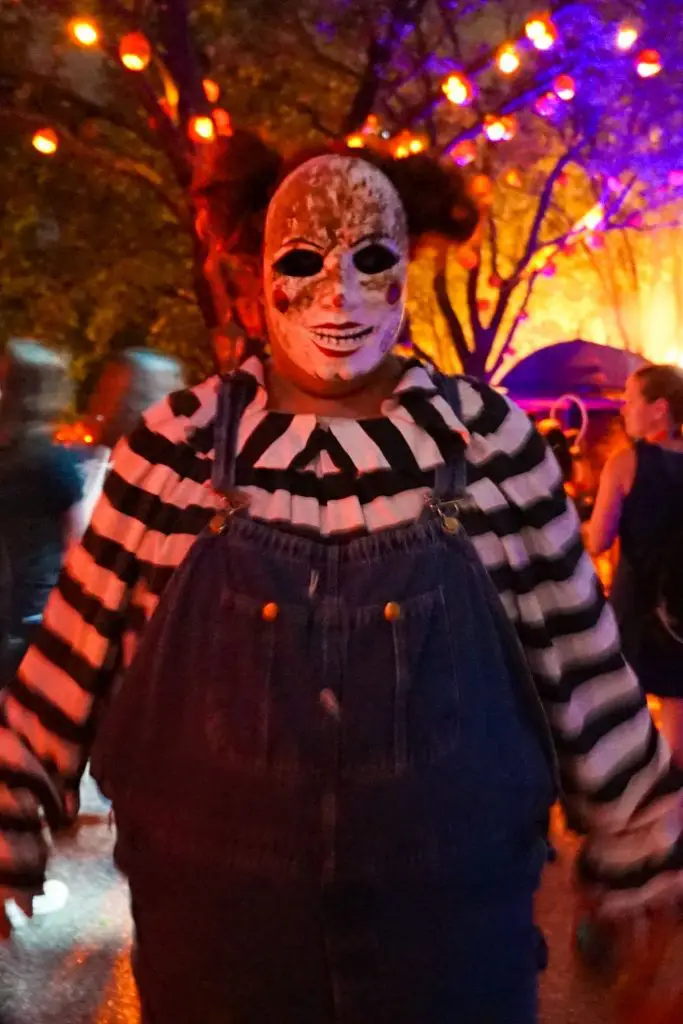 What Can You Expect At HHN Orlando?
It might seem slightly counter-productive to tell you too much about what you can expect from a Horror Night as, of course, the element of surprise is such a key component to a good scare. However, they change so much every time that there will always be that element of originality, no matter how much people have told you in advance.
Essentially, after 5pm on the Halloween Horror Nights an area of Universal Studios is taken over by creatures of your nightmares (*cue: creepy music*). Themed haunted houses, the main attractions, spring up ready to welcome in unsuspecting visitors.
These incredibly detailed houses are almost like movie sets and apparently they take months to construct. The houses might be based on particular films or characters, or they might be original themes. The experiences inside these innovative creations are always unnerving, fascinating and terrifying.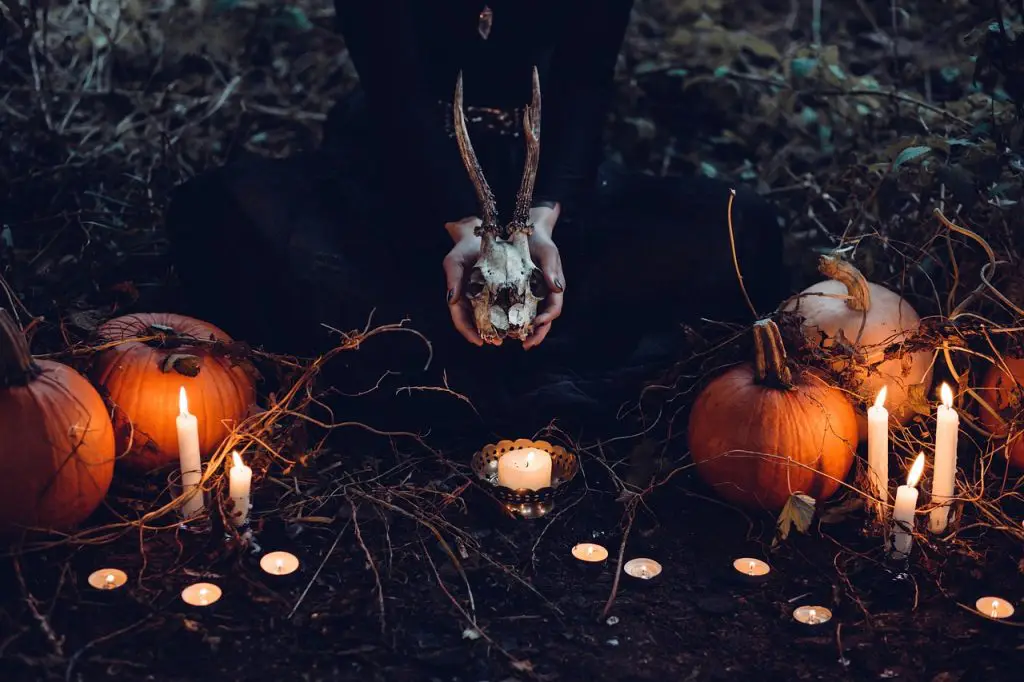 Around and between the haunted houses there are also designated 'scare zones' populated by scare actors intent on spooking people walking through.
The design at Orlando is such that attendees have to walk through at least one scare zone. These are also themed and the actors are allowed to chase people, often armed with weapons. Don't worry, they're not allowed to touch you. Our top tip: they'll chase people who act most scared, so if you smile and wave they'll leave you alone!
Halloween Horror Nights Orlando also boasts icons (lead characters) with their own intricate back-stories linked to the house or scare zone themes. They are often in-house created, like Jack the Clown, The Storyteller and The Usher, but Universal have also licensed intellectual property from other studies, like Freddy Krueger.
There's nothing quite like experiencing all of these things in the flesh (as it were). It feels like each year just gets better and better; scarier and scarier. We love how much goes into creating a perfectly themed event.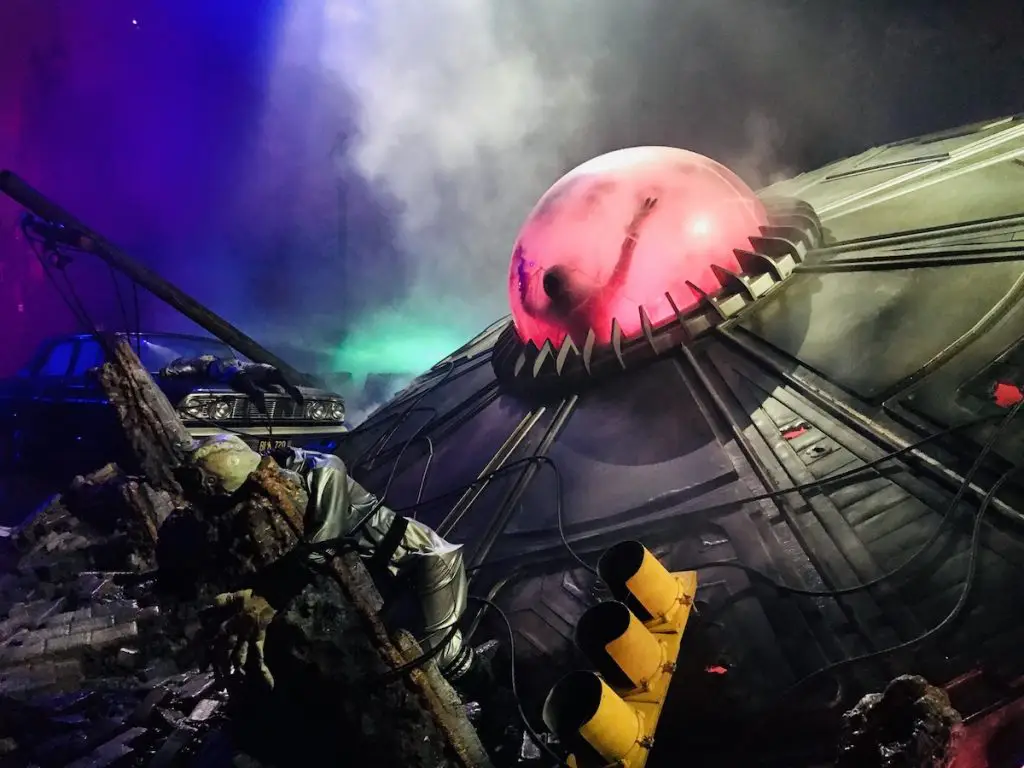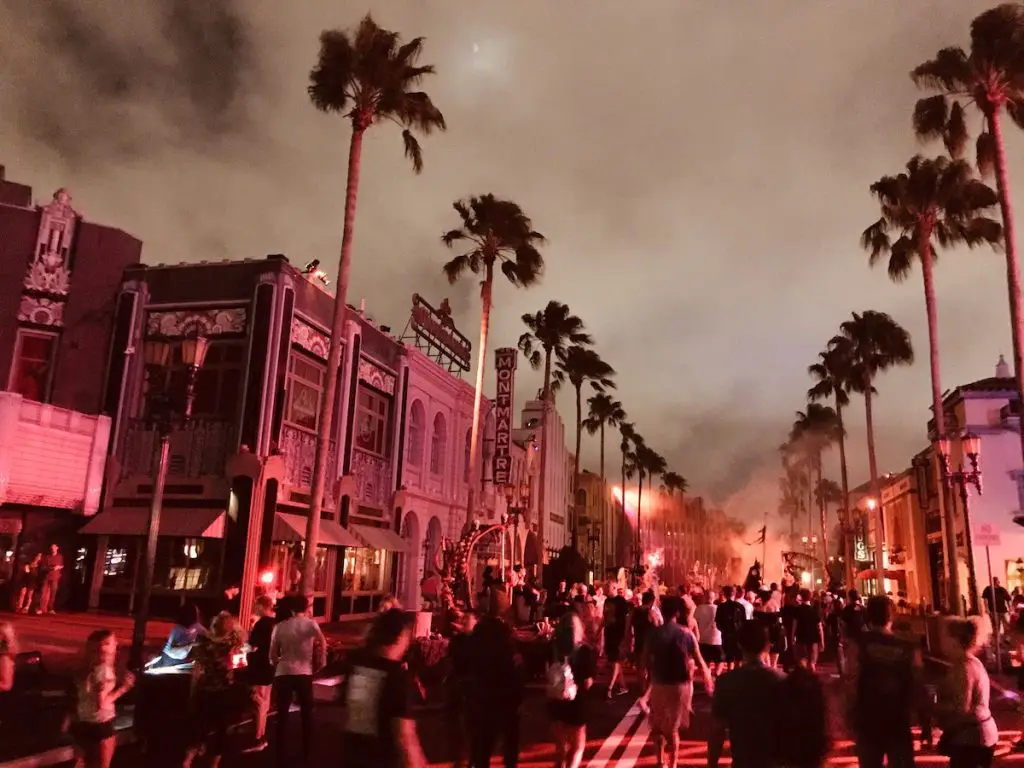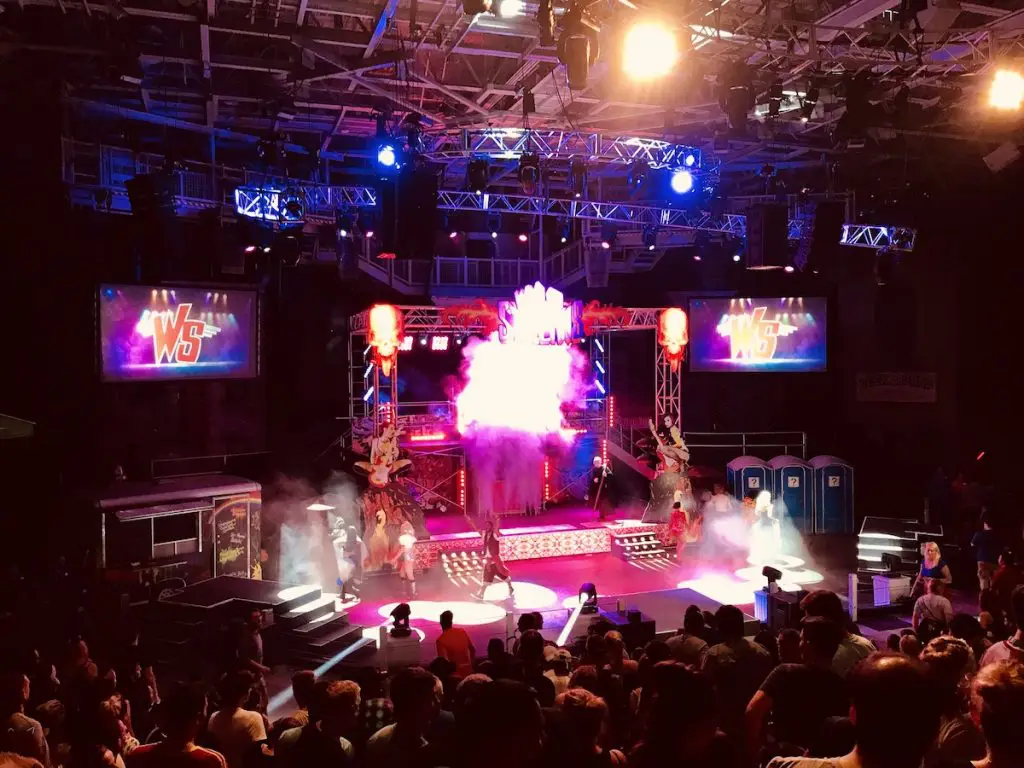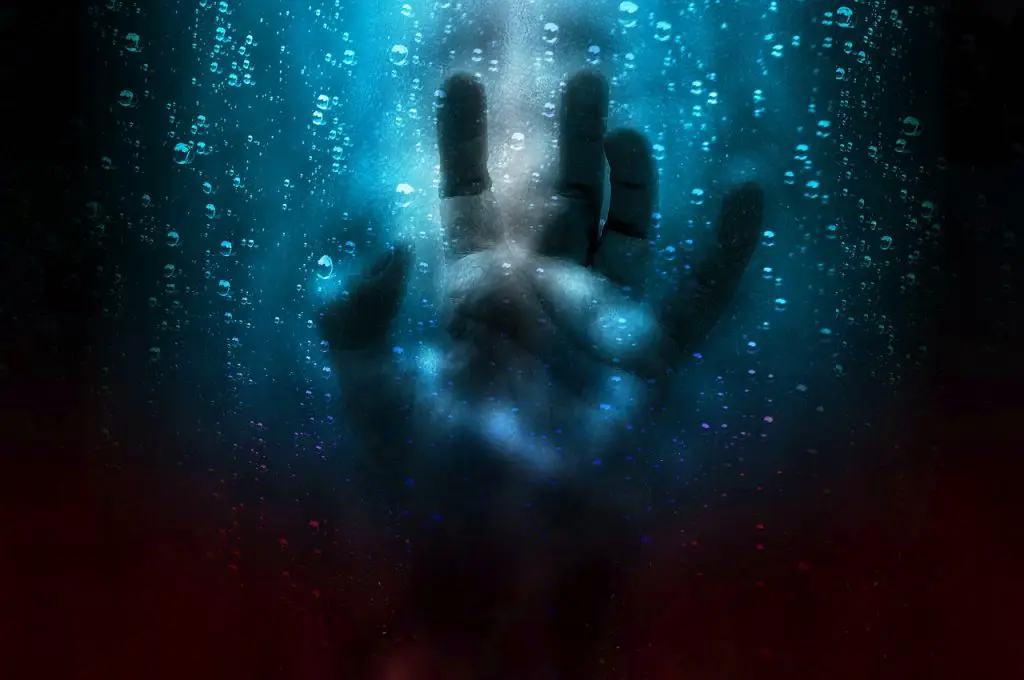 One thing to note is that it will get busy (there's no getting around it). It's unlikely you'll be able to see more than five haunted houses in one night, unless you take an RIP tour which means you can skip the queues. I mean, the atmosphere is so great that you usually don't mind waiting anyway!
For those of you who want some downtime in between visiting the houses, there are always incredible shows. I mean, we're not sure that describing these high-energy performances in the park's theatres as 'downtime' is entirely accurate, but you do get to sit down a bit and rest your feet. Rocky Horror and Bill and Ted were regulars on the show schedule, although they change it up a bit as well.
If you've got kids, it's worth noting that the minimum recommended age is 13. We know that kids today are braver than we were (maybe), but once you experience the Horror Nights you'll see why – some of it is genuinely terrifying and more than a pre-teen could handle.
[/sc]
When Is The Universal Studios Orlando Halloween Event?
Usually Halloween Horror Nights Orlando lasts for just over a month, although in 2019 they're adding even more dates so it will start in early September and run until early November.
This means there could be as many as 40 nights of terror to choose from – or go to more than one if you want to make sure you catch everything. And if you get a little too scared – you can always have some more wholesome fun during the day exploring Disney Orlando or maybe swimming with Manatees…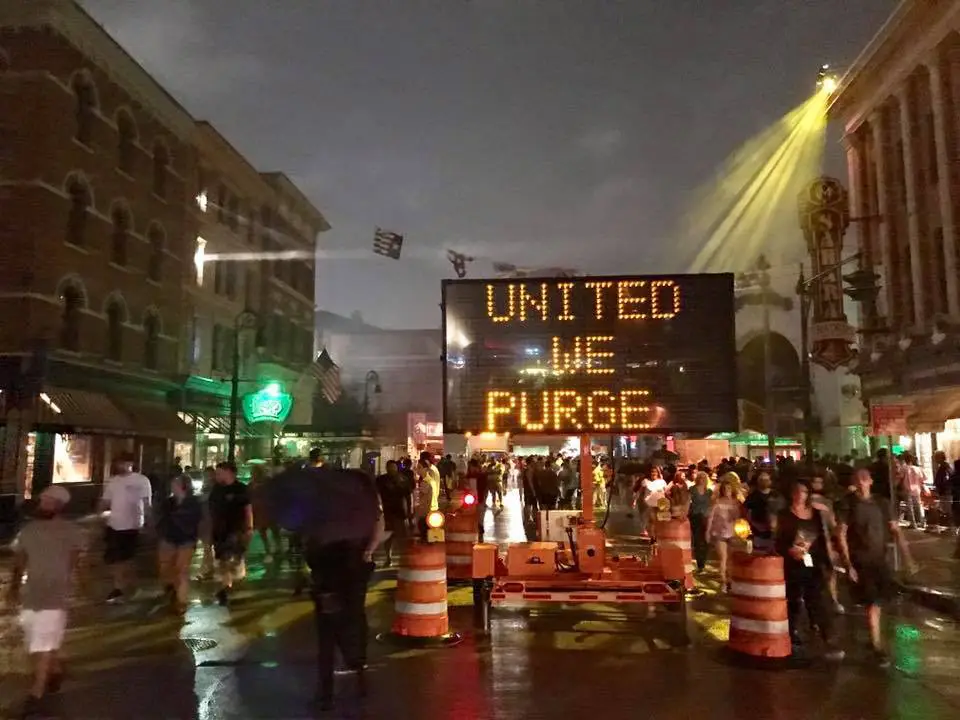 What Kind Of Themes Does The Universal Orlando Halloween Horror Nights Have?
Generally each year there are themes for the scare zones and haunted houses, some original and some based on movies or Universal characters.
In 2018 (the 28th Halloween Horror Nights) the big draw was the inaugural Stranger Things haunted house, which made visitors feel like they had actually stepped into the world of Hawkins. From the Upside Down to the middle school, each of the sets was perfectly rendered. And can you imagine the Demogorgon?
This house set the tone for a 80s vibe that influenced the rest of the event. Other houses included Halloween 4 and Poltergeist and the scare zones were the hunting ground for monsters on 1985 New Year's Eve.
The year before, 2017, saw a festival of all things terrifying. While there was no overarching theme, it almost seemed like fear itself was the icon. It was the last event where Bill and Ted went on their Excellent Halloween Adventure, so there was a farewell to them after 26 years of spooky comedy.
The American Horror Story: Volume 2 House was a truly incredible showcase of all that makes Halloween Horror Nights Orlando jaw-dropping. With 3 themes – AHS Asylum, AHS Coven and AHS Roanoke – fans of the show felt totally immersed in the episodes. The Shining House was what really blew attendee's minds, however, with the ability to do such an iconic movie justice.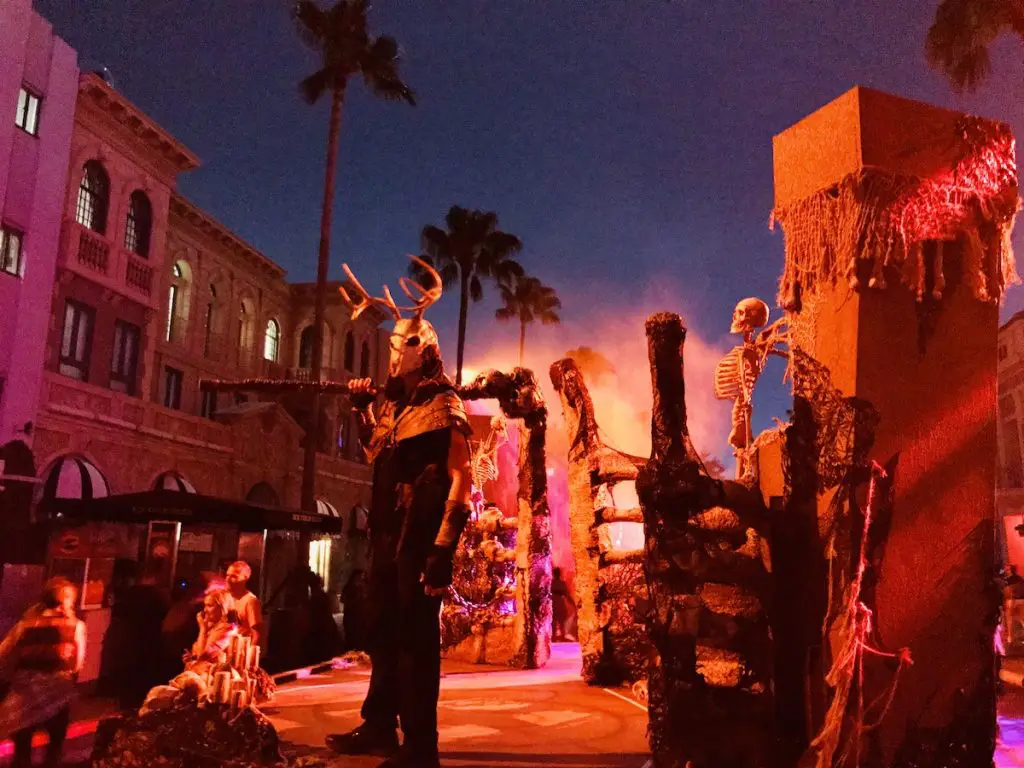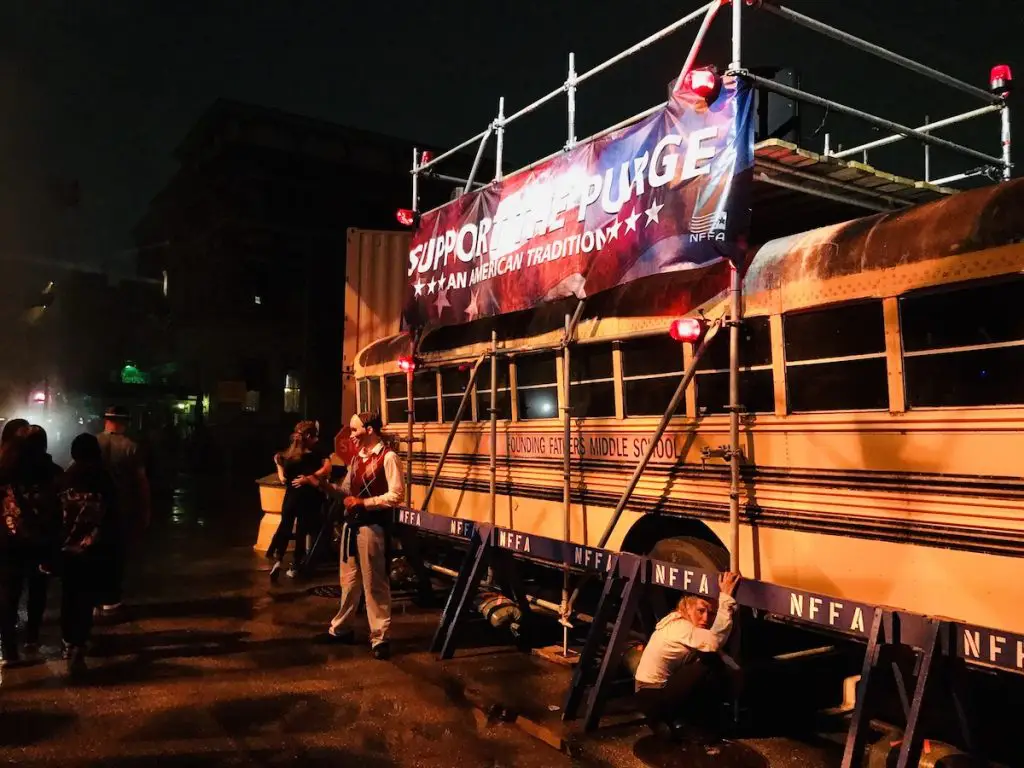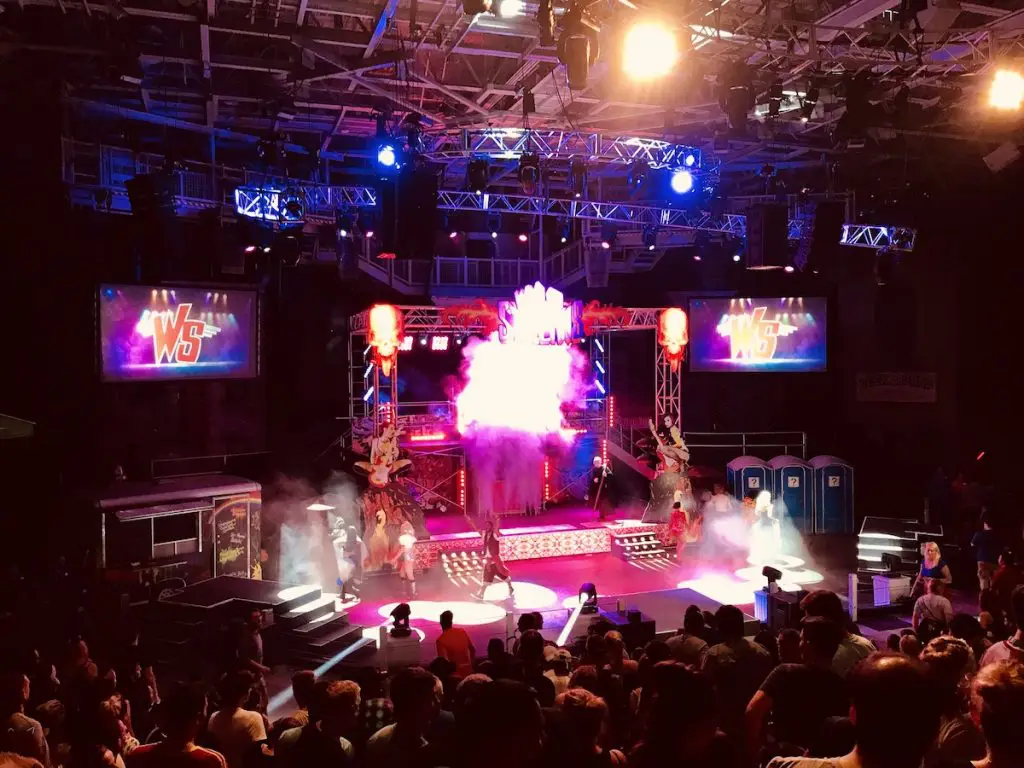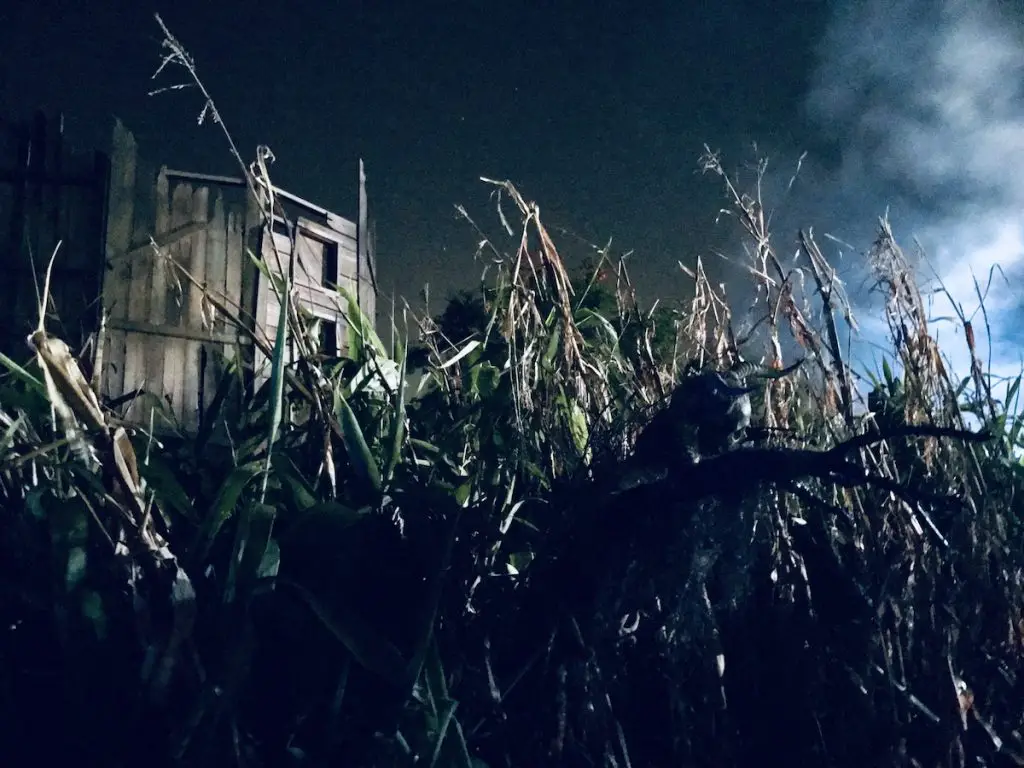 The scare zones were a triumph of imagination, in particular the 'Trick 'r Treat' masterpiece where hundreds of memorable characters come out to celebrate Halloween. You could easily have spent the whole night exploring here.
The Purge is a popular recurring theme for the scare zones as well, which makes sense as it is such an easy one to recreate. Walking through the streets of New York, you feel the menace as gangs roam around looking for victims. In terrifying moments, you think a fellow attendee has just been dragged into a van ('But I thought they couldn't touch us', you think!), before you realise it's another actor playing the role of a visitor!
In the past there have also been musical tributes to The Rocky Horror Picture Show, houses based on An American Werewolf in London, The Cabin in the Woods and Resident Evil, as well as icons from The Walking Dead.
Trust us, this is a very short list compared to all of the many, many themes, icons and inspirations there have been for Halloween Horror Nights Orlando. You can see why people keep going back year after year: they know there will always be something new to scare them all over again. We think it is one of the top things to do in Florida and a must-do if visiting in spooky season on any Florida road trip!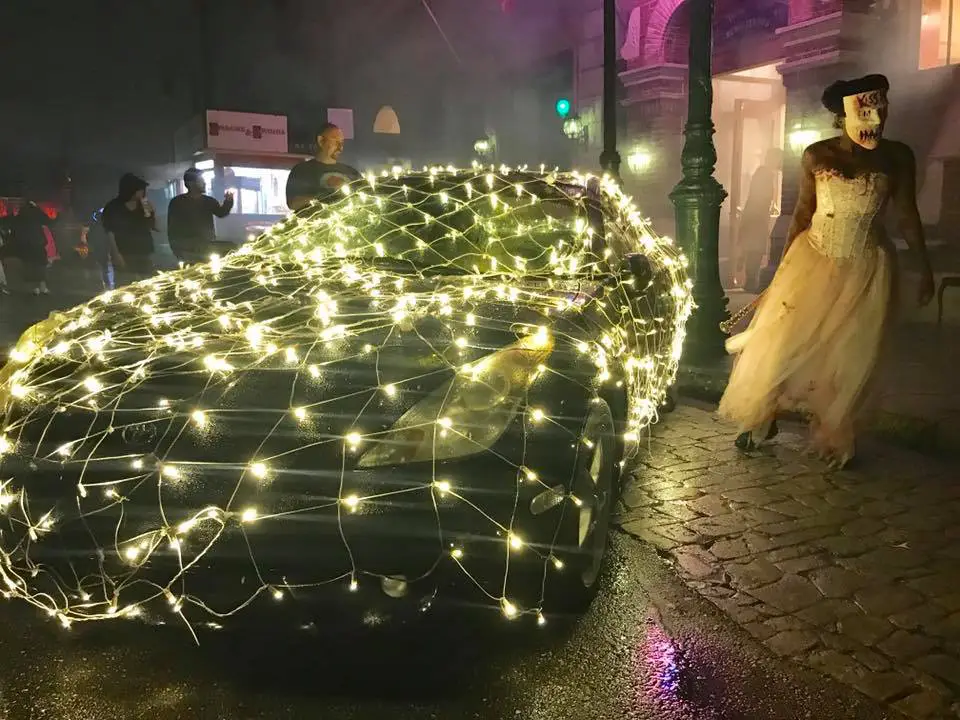 What Makes Universal Horror Nights Orlando Unique?
The reason we think this should be on your bucket list is that there genuinely is nothing else like it out there. One night at the Halloween Horror Nights and every funfair haunted house you've ever been in will seem like a trip to Sesame Street.
As soon as the gates close to the day trippers at 5pm, fog starts to roll across the park and manic laughter can be heard echoing in the streets. Waiting in line, you can feel shivers already starting to creep up your spine. It's these small details and the total commitment to the experience that makes Halloween Horror Nights Orlando so unique.
There's not a moment when you don't feel completely immersed in your surroundings. This doesn't mean it's wall-to-wall terror (don't worry, scaredy cats!); there are moments where you can relax and enjoy all the visuals and special effects, or just grab some food without someone jumping out at you.
We also love that you essentially are part of a movie set for the night. The creators don't cut any corners with making everything as realistic as possible and you can totally tell. The thrills and chills keep on coming and everyone you ask says they're definitely coming back next year (if not the next night!).
Whether you're at Halloween Horror Nights Orlando because you're fascinated by film or love the adrenalin rush of fear, you will definitely not be disappointed.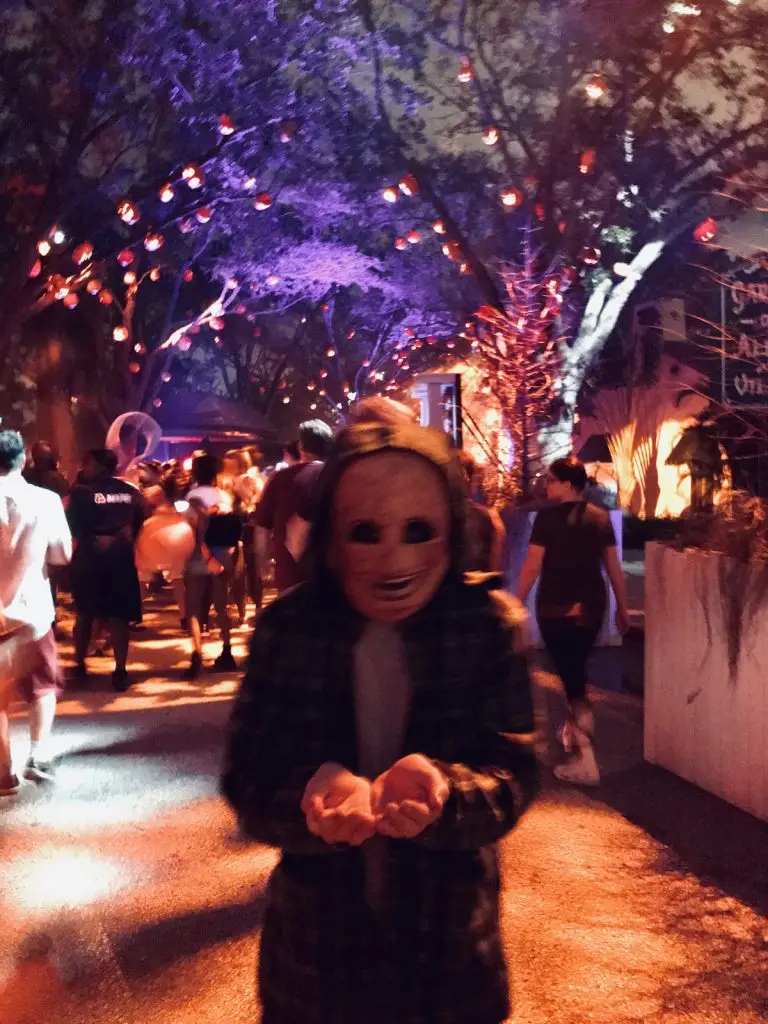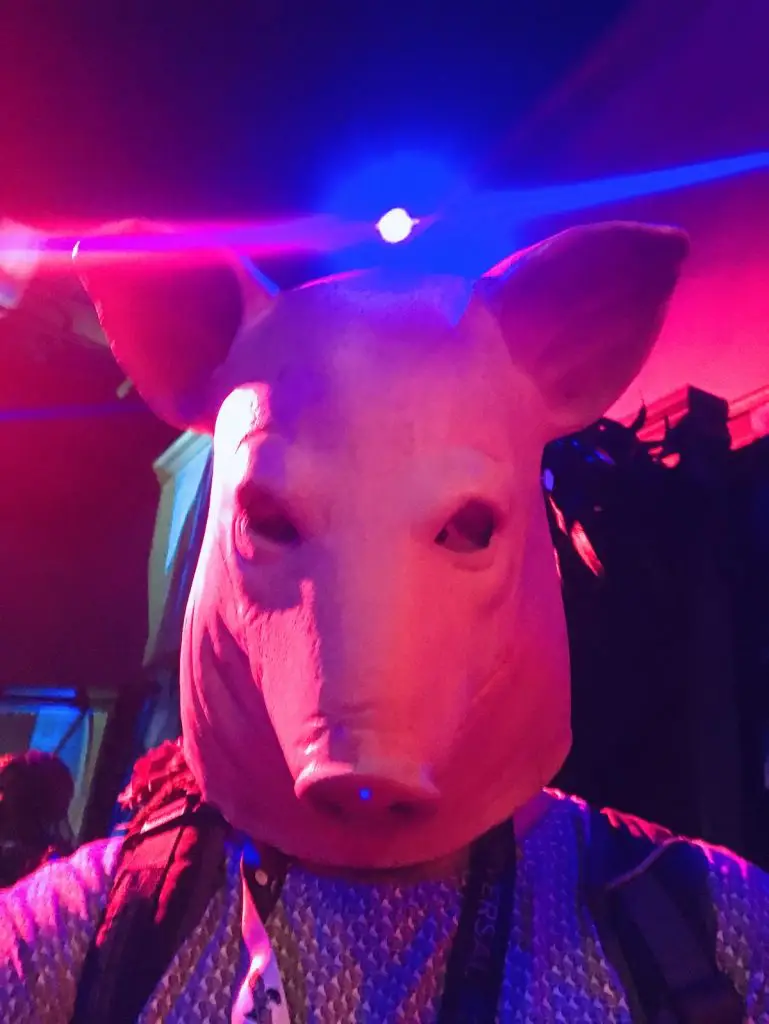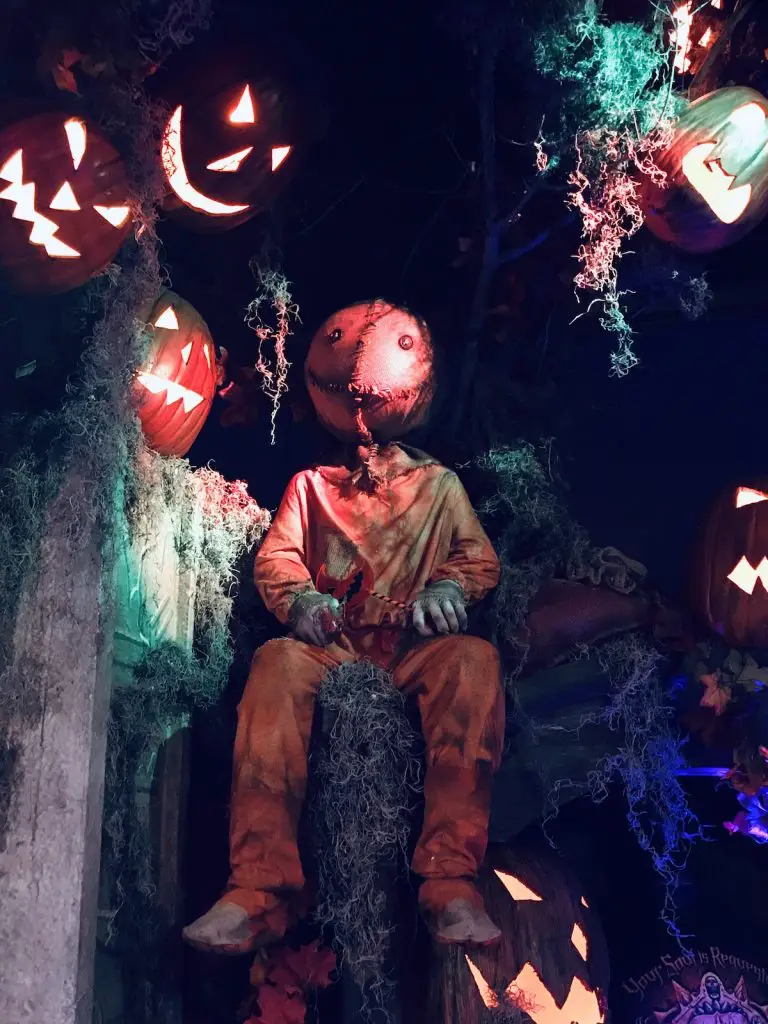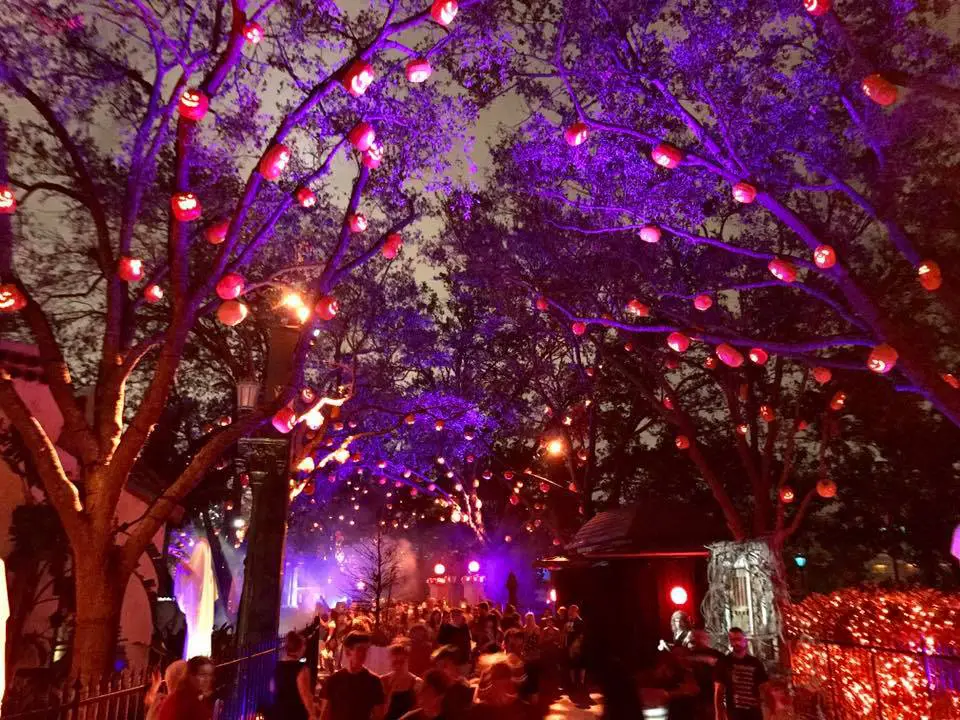 Staying Connected While Travelling
In today's increasingly connected world, staying online while traveling has become essential for a seamless experience. That's where eSIMs come into play, revolutionizing the way we access mobile networks during our global adventures. Say goodbye to hunting down local SIM cards at the airport; eSIMs provide instant activation the moment you land, sparing you the fortune usually spent on international roaming and allowing you to genuinely travel like a local (without getting hopelessly lost!).
With eSIMs, tasks like restaurant recommendations and reservations, up-to-the-minute public transport instructions, checking opening hours, and accessing further information become a breeze. And, of course, sharing your journey on social media is easier than ever. To stay connected wherever you roam, consider using either Airalo or Holafly. Airalo boasts the most extensive range of destinations worldwide, offering smaller data bundles tailored to your needs, while Holafly provides unlimited data packages and fantastic EU data deals.
So why wait? Embrace the future of travel connectivity with eSIMs and make your next journey effortlessly smooth.
Further Things To Consider Before Any Adventure
Now you're all set and prepared to explore our big wide world, why not sort out everything else out all in one go? If necessary for your travel plans make sure you have brought proper travel insurance, protected your privacy by getting a secure VPN, compared all the top hotel booking sites to find just what you're after, reserved an unbeatable rental car price and - of course - booked the best flight deals!
Or maybe just forget it all and go for a last-minute cruise or effortless tour instead?
Many budget travelers (including me) indulge in worldwide airport lounge access, so we can experience luxury while still slumming it in economy. Naturally, we would never leave home without a more general travel guide since we couldn't possibly cover everything here!
Just add an adventurous attitude and plenty of smiles - they go a long way - and that about covers it all! Now go out, find your own path and don't forget to share your best inspiration stories with me on Facebook, Twitter, and Instagram...I'd love to hear from you!