Swimming with Manatees in Florida has always been on my bucket list ever since I saw these adorable creatures on a National Geographic Documentary many years ago. So when planning a recent Florida road-trip, this was top of the agenda – but little did I know it was not as easy as I thought!
See, it turns out manatees in Florida are considered threatened and are now extremely protected by both states and federal laws (and rightly so!), but this means you can't just find one – no easy task anyway – and jump in the water with it.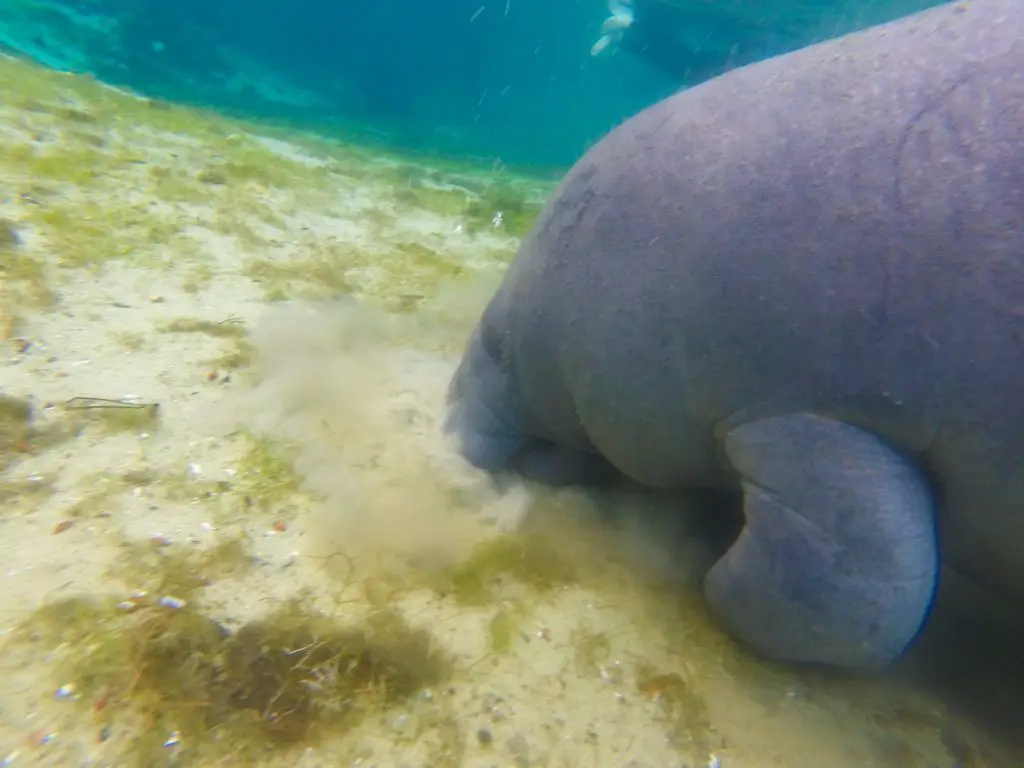 This could get you arrested, thrown in jail, or at least a hefty fine – not to mention that an unsupervised swim with manatees could put both them and yourself in danger.
Luckily, however, after hours of research and talking to other travelers, I heard about the Crystal River Florida Manatee Swim with Birds Underwater. They are a sustainable tourism operator based in Crystal River, which offers you the unique chance to swim with the manatees in Florida in their natural habitat.
Before traveling to Florida, be sure to have your ESTA visa in order. Applying for an ESTA doesn't take long (only around 5 minutes), and it is so simple – you won't need to visit an embassy or anything. Just apply online, and you'll get your ESTA via email within 24 hours. Too easy!
I was skeptical at first that I could truly swim with the manatees in Florida in their natural habitat, and a little apprehensive to book. Much like I was before seeing whale sharks in Cancun, tiger spotting in India, or seeing manta rays in Komodo Islands. However, after talking to the owner Bill' Bird' and hearing about their stellar reputation for over 20 years, I signed up for one of their Crystal River Manatee Tours.
Then, I got ready for the experience of a lifetime!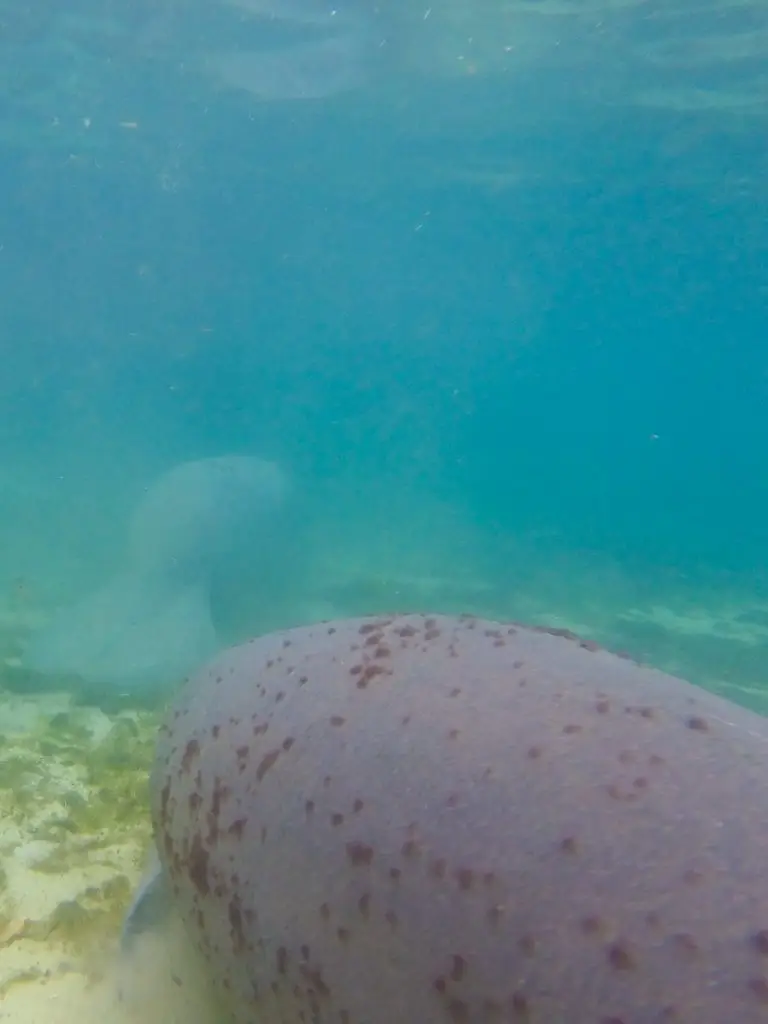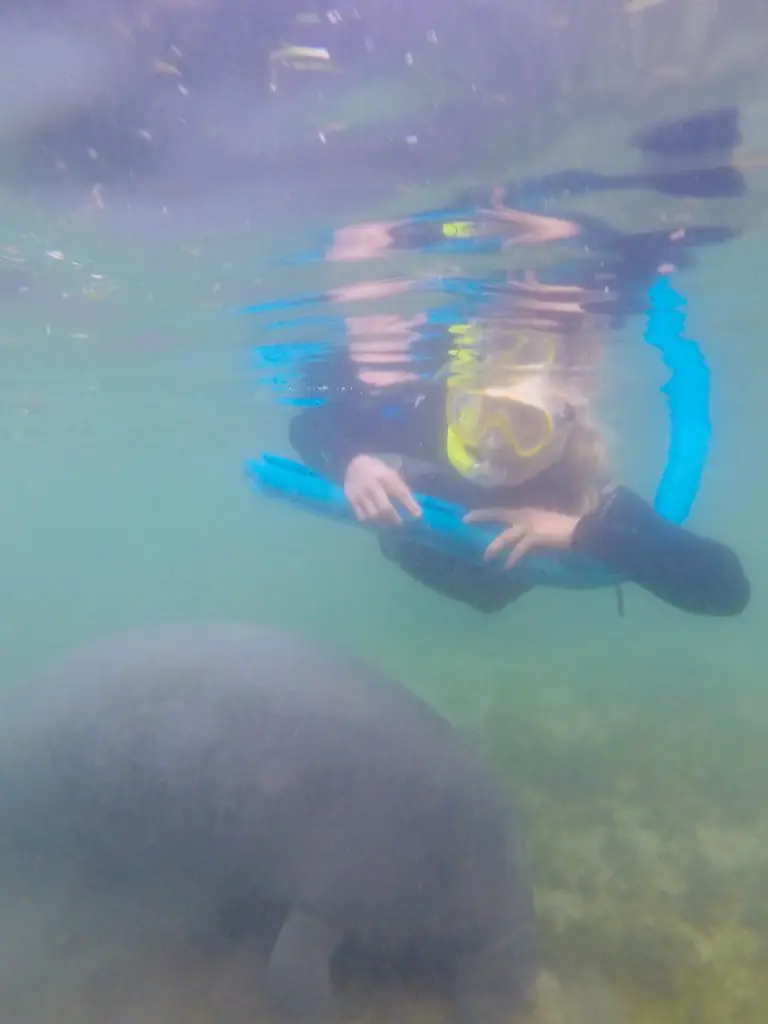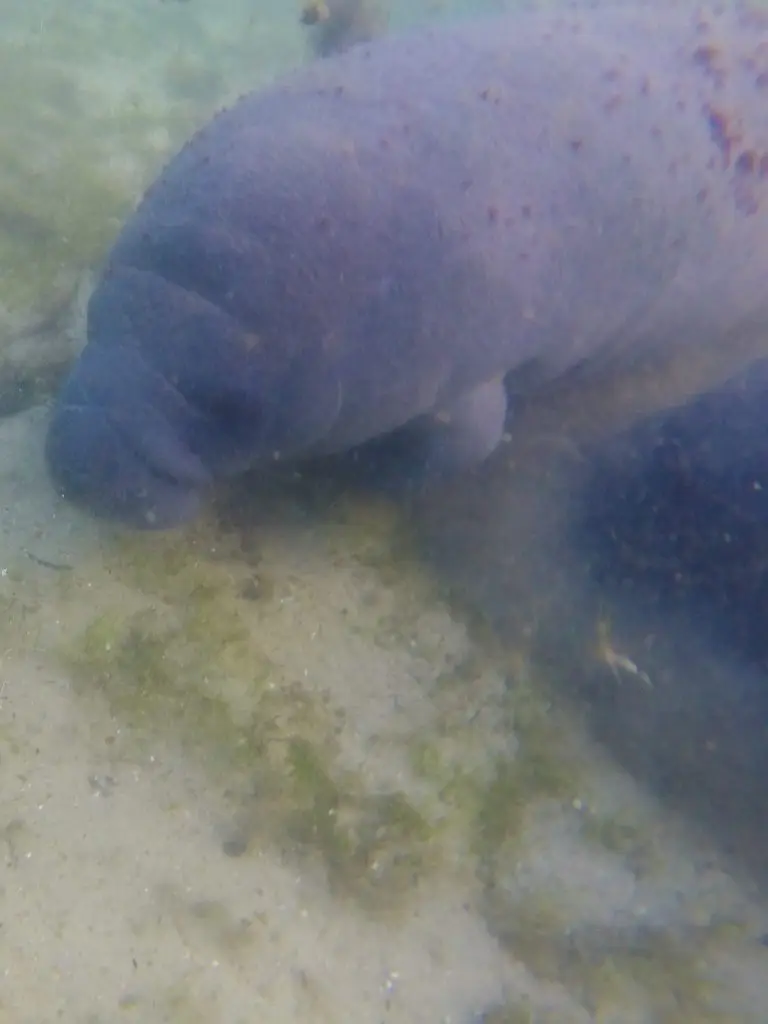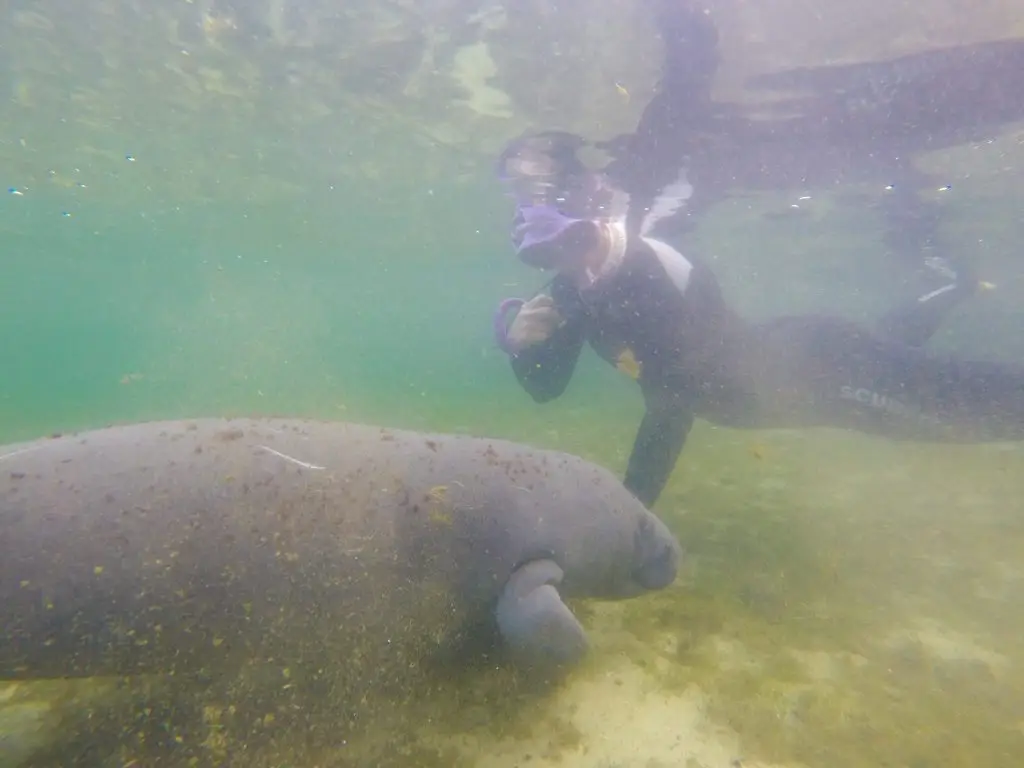 Where to Swim with Manatees in Florida Without Breaking the Law! 🏊
Where Can You Swim with Manatees in Florida?
So even with manatee numbers on the rise thanks to strict state and federal protections, the Manatee (Florida's official state sea mammal!) is still highly protected. It is entirely illegal to approach – or touch – a wild manatee anywhere in the state, that is except for a small area in King's Bay, Citrus County Florida know as Crystal River.
Manatees chose to live at Crystal River during the cold winter months as hot springs in the area warm the water to significantly higher temperatures than the Gulf of Mexico downstream.
As a result of this, and a unique legal exception that allows interaction with these adorable creatures in this area, Crystal River Florida is the only place you can legally swim with Manatees in Florida.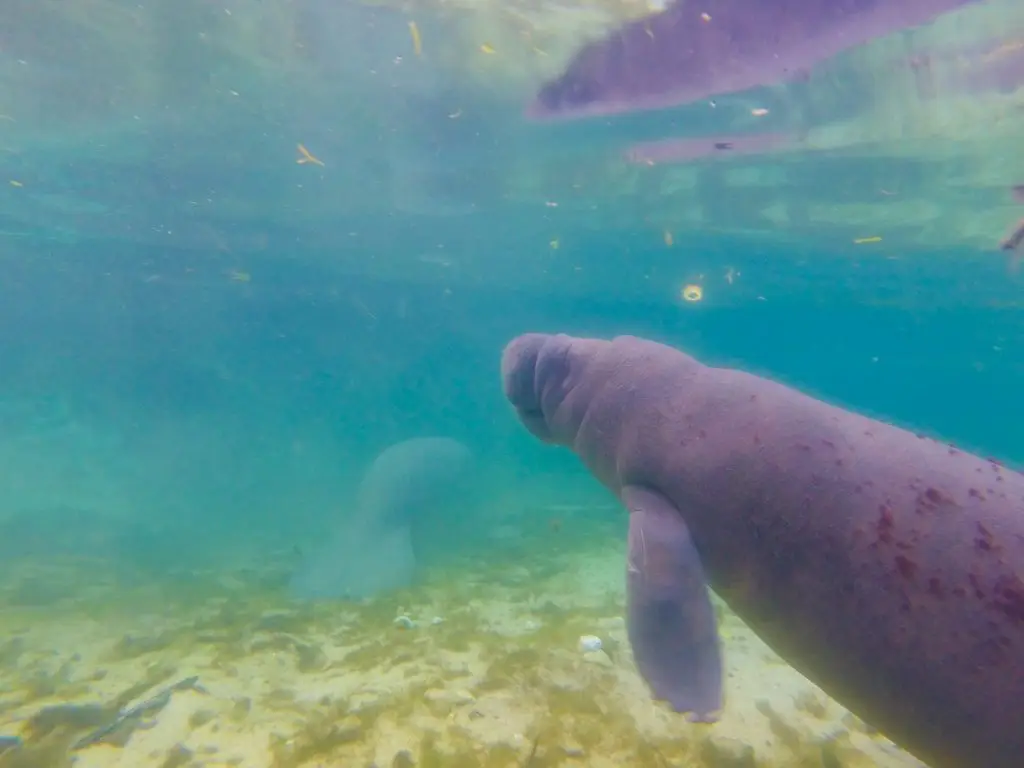 You are allowed to enter the water with manatees here following stringent guidelines and while under supervision, ensuring plenty of protected areas for the manatees to rest undisturbed by curious tourists.
Because of this protected zone, when you swim with manatees in Crystal River, they are choosing to leave their 'safe' zones to interact with you out of curiosity and are not harassed, bribed with food or coerced in any way. An incredibly humbling and natural experience, made all the more amazing knowing these creatures are choosing to interact with you!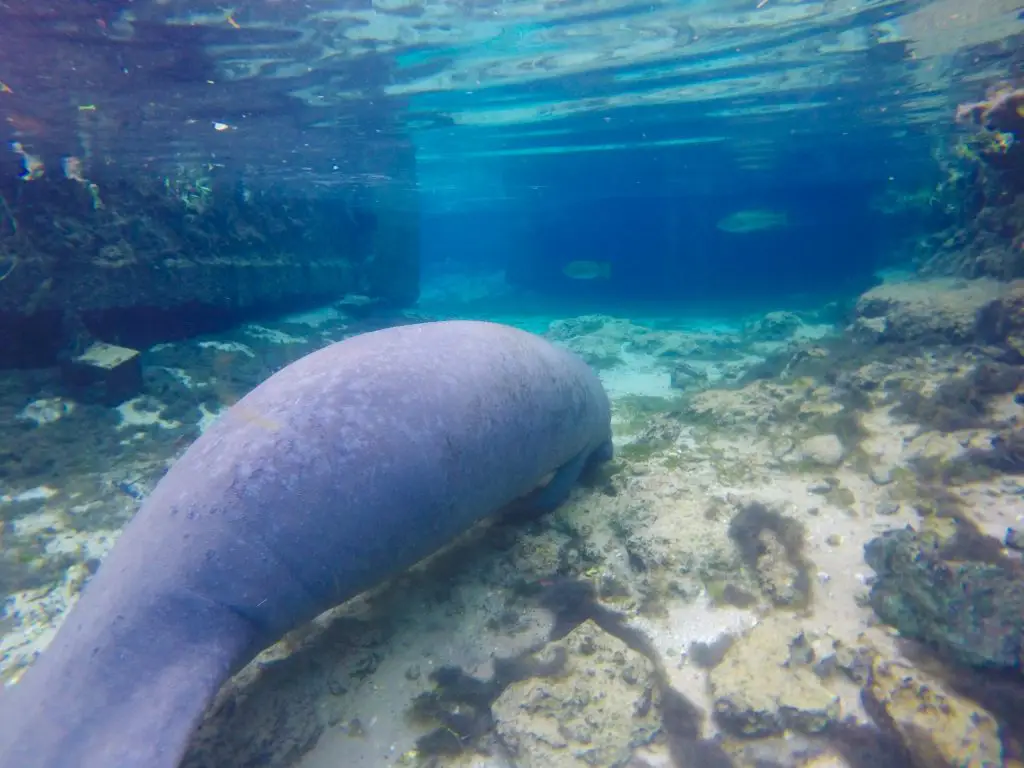 Guidelines and Rules For How to Swim with Manatees in Florida.
Of course, even though it is legal to swim with manatees in Crystal River, the manatees are still protected under both the Endangered Species Act and the Marine Mammal Protection Act. As such, there are some particular rules you should be aware of ensuring your safety and that of the manatees.
These rules are very strictly enforced and must be followed at all times – but don't worry, they are reasonably obvious to most people. Before I went out with Birds Underwater, they showed a beautiful video to ensure everyone was clear of all guidelines for swimming with manatees before departure.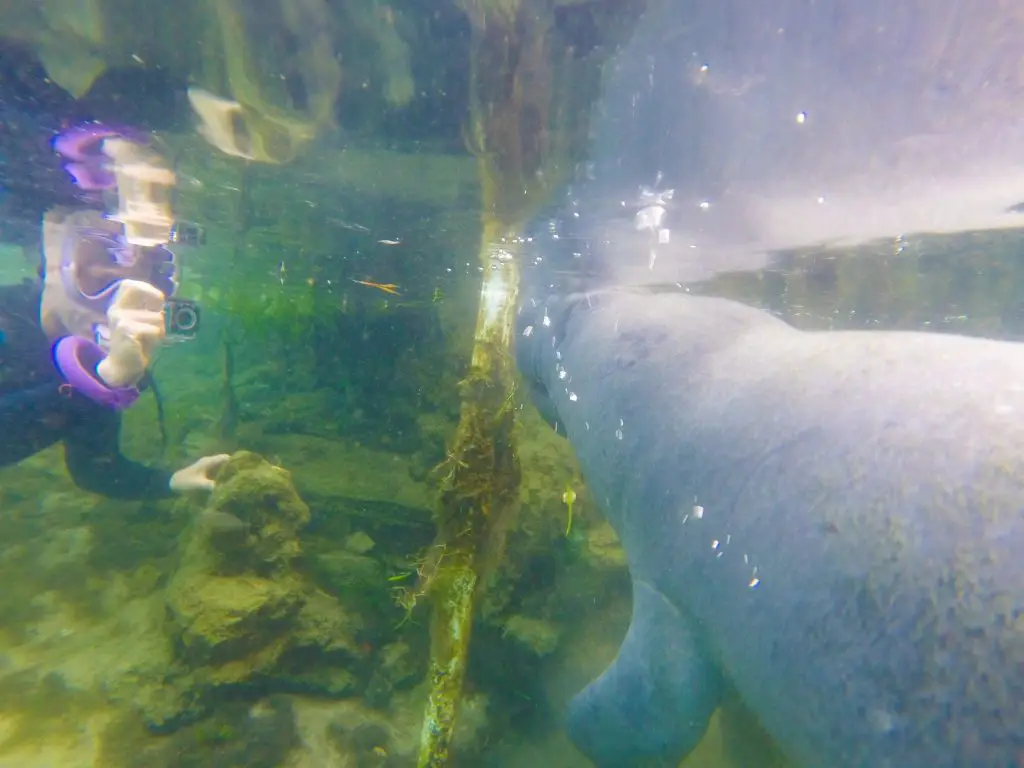 The basic's of these rules for swimming with manatees in Florida is that even though physical interaction with manatees is allowed at Crystal River – it must always be in a controlled manner, initiated by the Manatee and always with a single open hand.
This is nature, not a petting zoo. I honestly think there is no reason to touch a manatee while swimming – but some manatees, especially young ones, are very curious and may come up to examine you (Manatees are very short-sighted). In this case, you may put your hand out to the Manatee for it to brush or inspect.
However, Birds Underwater encourages passive observation, which has been proven to lead to more prolonged interactions with the manatees and is better for their long-term safety as they do not become as accustom to human's or their boats.
At all times on your Crystal River manatee swim, remember that you are privileged to enter the natural habitats and homes of these unique animals. Please treat them with respect, so this novel interaction between humans and manatees may continue.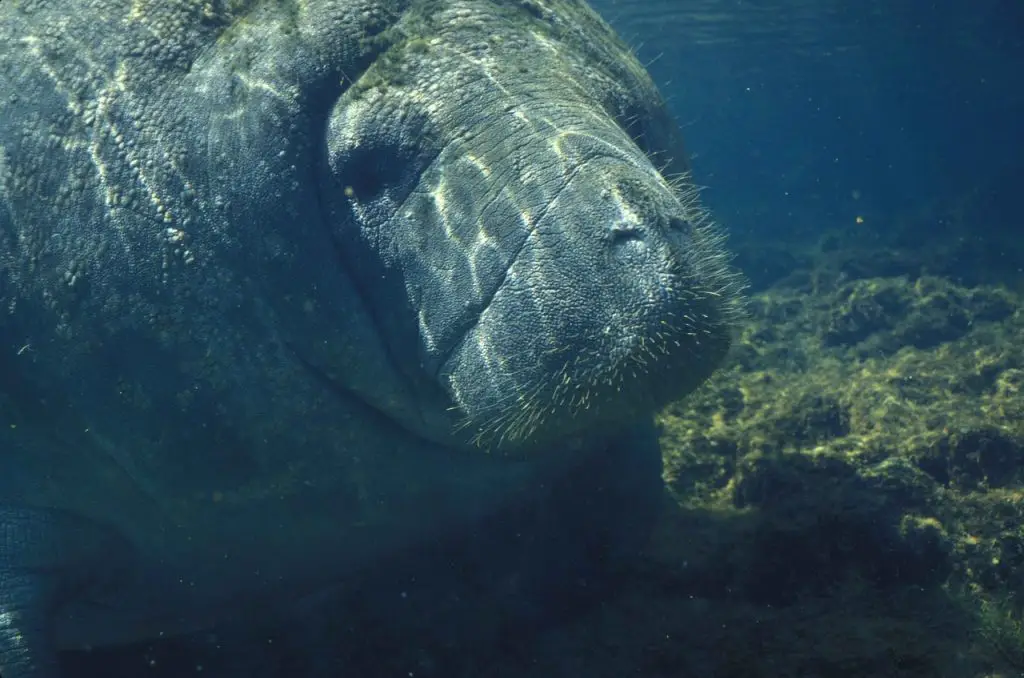 What is the Best Time To Swim with Manatees in Florida?
While the manatees of Crystal River are present year-round, their number is significantly boosted during the cold winter months of December, January, and February.
In Crystal River, there are around 40-45 permanent manatee residents, which explodes during the colder winter months to about 850 as the local springs provide a source of relatively warm water not available in the Gulf. If you can plan your trips around these peak times, you will likely see many more Manatee.
Just remember, this also results in far more tourists and travelers coming to see them.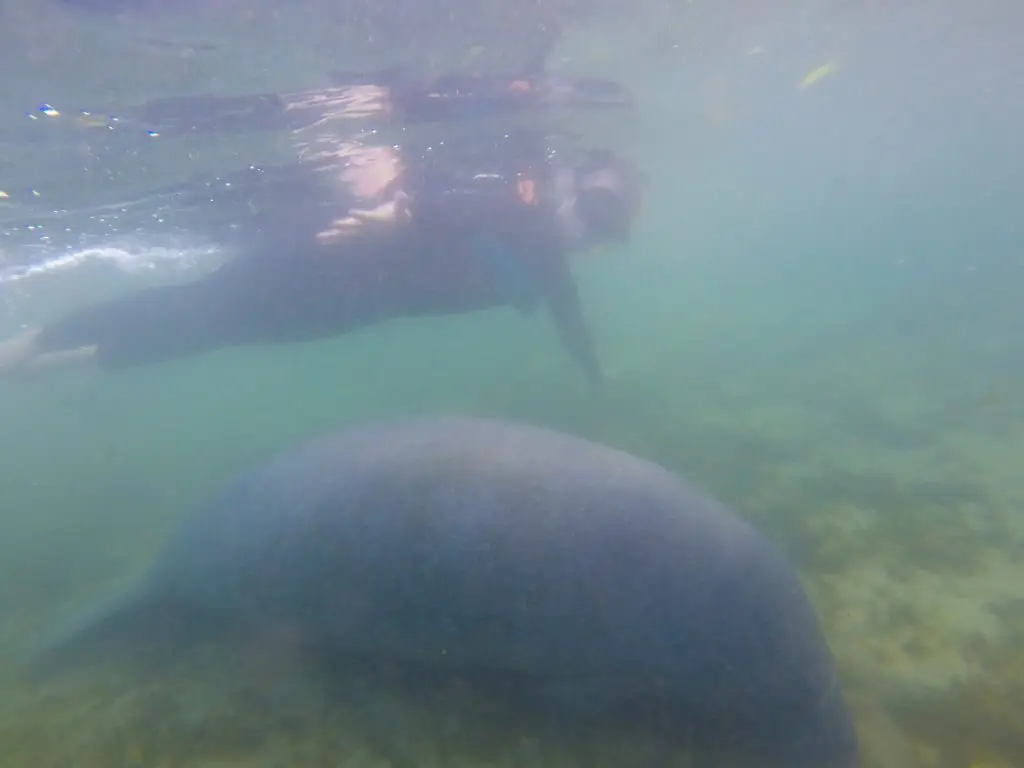 We went in July – the lowest month – and still managed to see five individuals (including two babies!) and were therefore lucky enough to be able to spend a significant amount of time with these individuals without any other groups around. I even swam with a manatee by myself for 30-40 minutes, which will be one of the greatest memories of my life!
The famed Three Sisters Springs, however, are only inhabited by manatees during these winter months, and it is infrequent to see even one Manatee in here during the summer.
Birds Underwater only recorded 2 outings in all of the 2016 where they did not find Manatees so your chances of encountering manatees year-round in Crystal River are pretty high!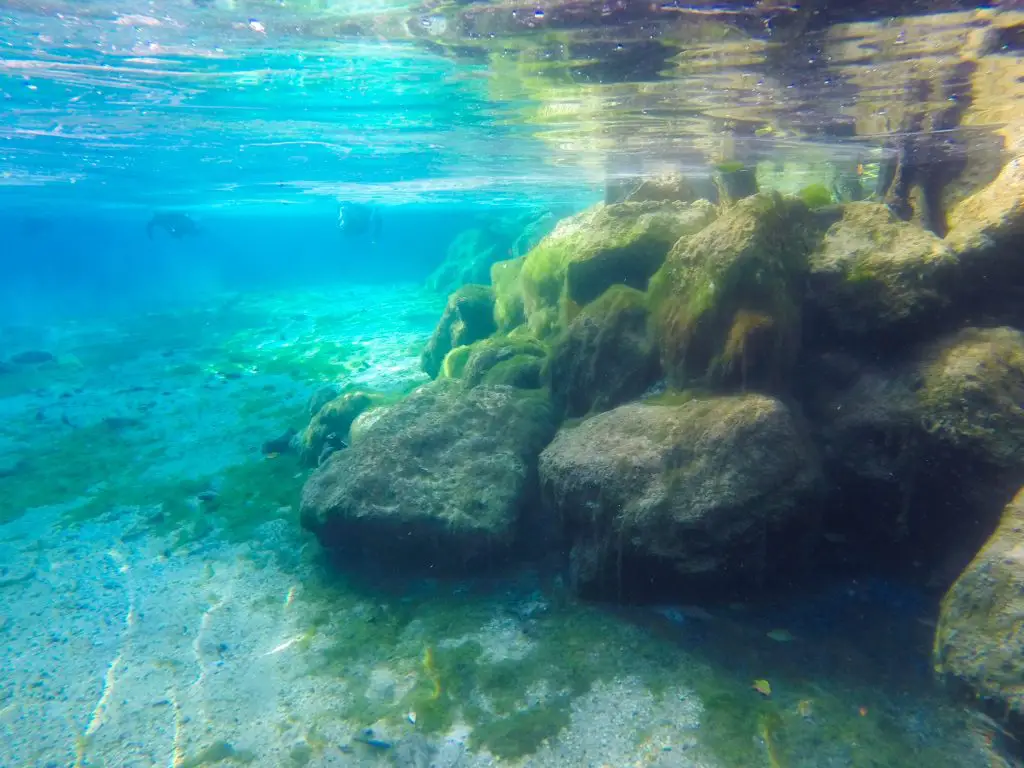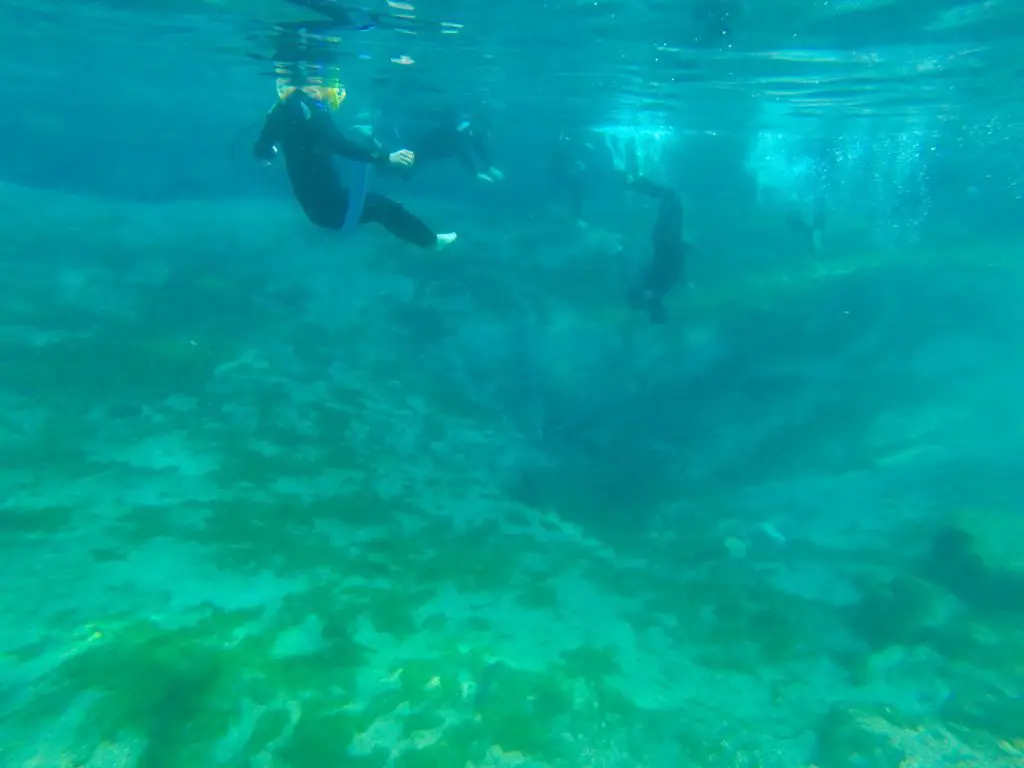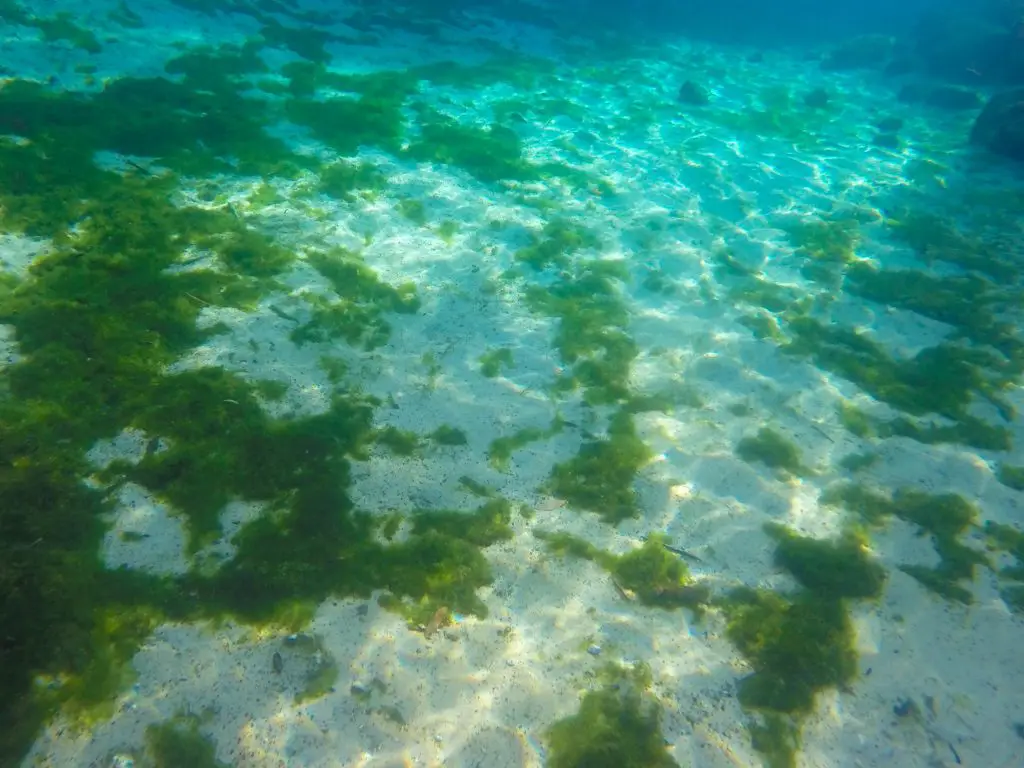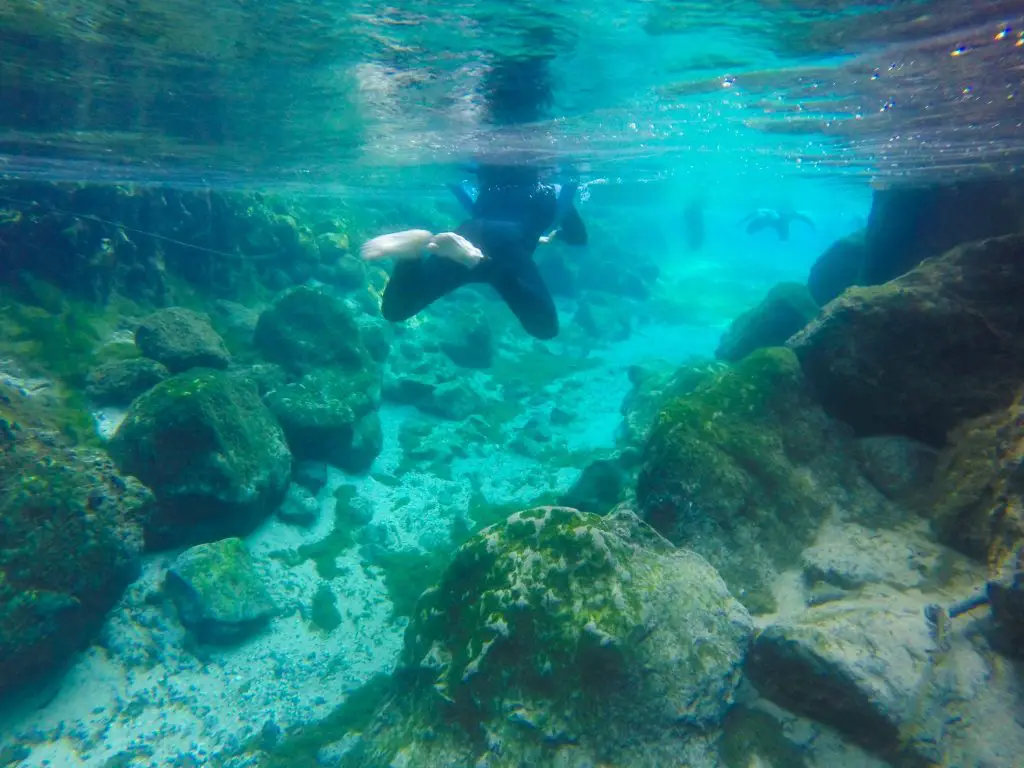 What Crystal River Manatee Tours Are The Best And What To Expect On One?
The first thing I discovered when exploring options for a crystal river manatee tours was that not all companies operate under the same conditions.
Some less reputable companies do not have their own piers meaning longer transfer times and less time in the water, some do not put a focus on the Manatee's well-being, some take too many passengers per boat, and some were late to the game meaning as we left the manatees for their mid-morning snooze their ships were only just turning up.
After extensive research, seeking out first-hand reviews and talking to their owner – I opted with Crystal River Florida Manatee swim with Birds Underwater! This company ticked all the boxes for me: high-quality gear, their own boats, dock and shop, knowledgeable and enthusiastic staff, great prices, and a passion for Manatees and sustainable tourism.
Everything on our trip went perfectly, and I was impressed with how seriously our crew took their responsibility to the manatees, ensuring an unforgettable interaction that was safe for all participants!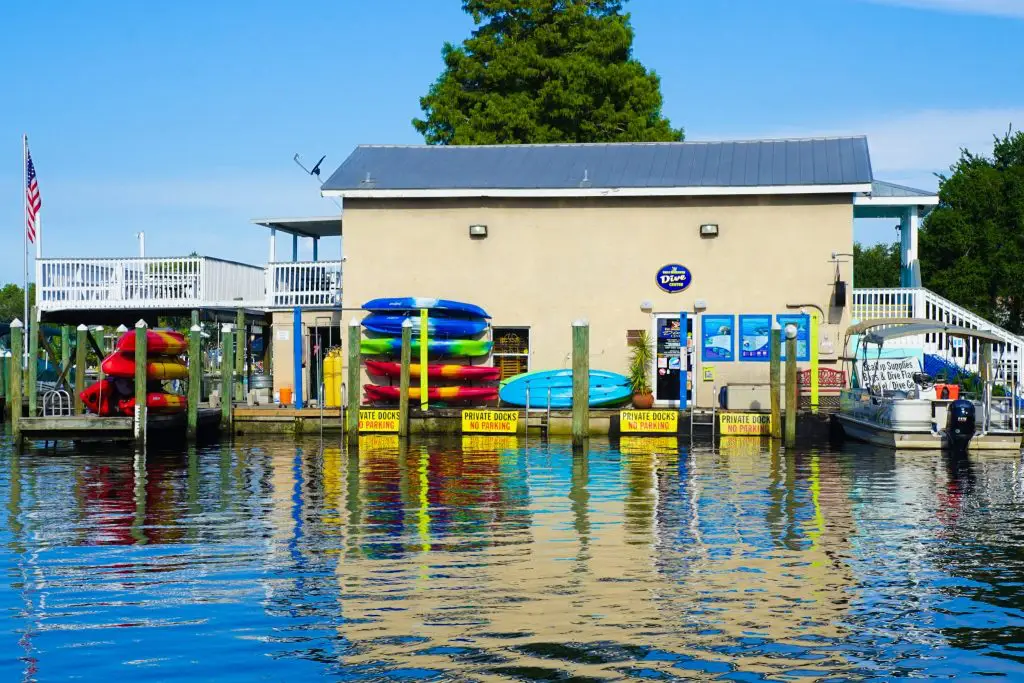 Our early morning Crystal River manatee tour departed at 6 am – horribly, disgustingly early I know – but as I had been briefed before booking, this is to ensure we see the manatees at their most active.
Luckily fresh coffee was waiting at the shop before departure, where we were quickly fitted with thick Scuba Pro wetsuits, snorkeling gear, and briefed on how to safely swim with the manatees.
After this, we were off on their custom boat – 8 guests, one jolly captain full of tales, and our scarily enthusiastic guide (how she has so much passion day after day at 6 am I'll never know!). There were even fresh Dunkin Donuts waiting to give us a quick boost of energy in the morning as we searched the river and canals for the elusive sea-creature.
Shortly after departure, we spotted our first Manatee munching on some sea-grass. As we dipped into the water, we were delighted to discover there was actually one juvenile, two new-borns, and a mother waiting for us! WOW!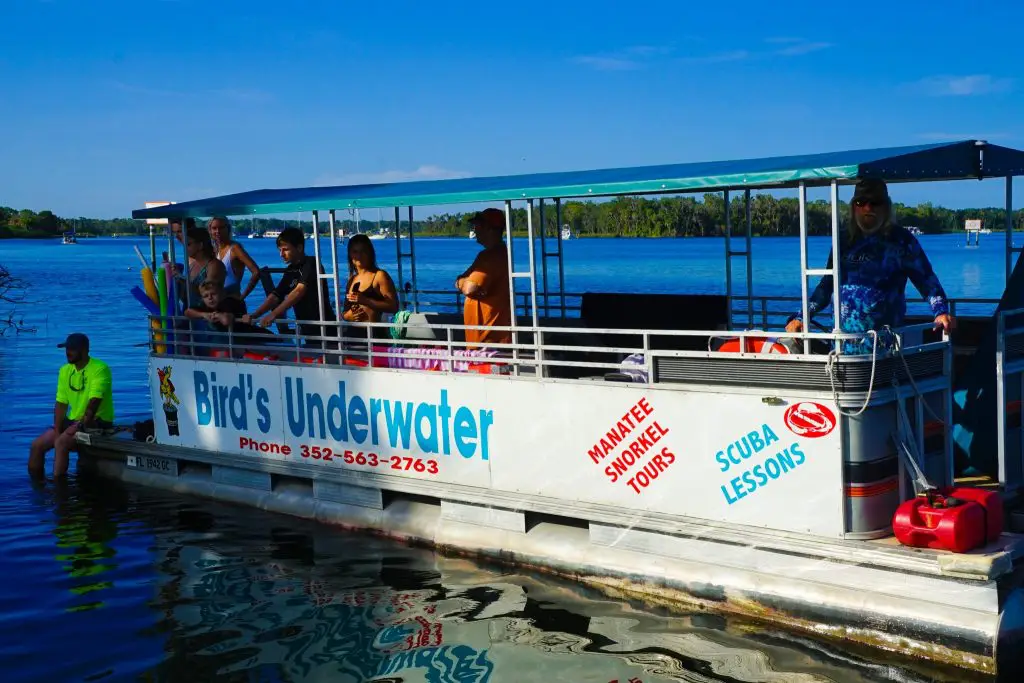 Our early departure was now all the more worthwhile as we had these beautiful creatures to ourselves for over an hour as we watched them play, eat, and suckle as the sun rose above us.
The water clarity was incredible for the most part, leaving no doubt in our minds why this place was called Crystal River and was only silted up by the manatees chowing away on the sea-grass below.
Being located in such shallow water, we got to make out every detail of these majestic creatures, and our guide ensured at all times we were obeying the rules. Birds Underwater also expertly managing our swimming to maximize interaction with both the older manatees and the curious new-borns who were continually coming up and checking us out!
Everyone was given a buoyancy noodle, so floating above was not very strenuous and took every little energy – much like the manatees themselves!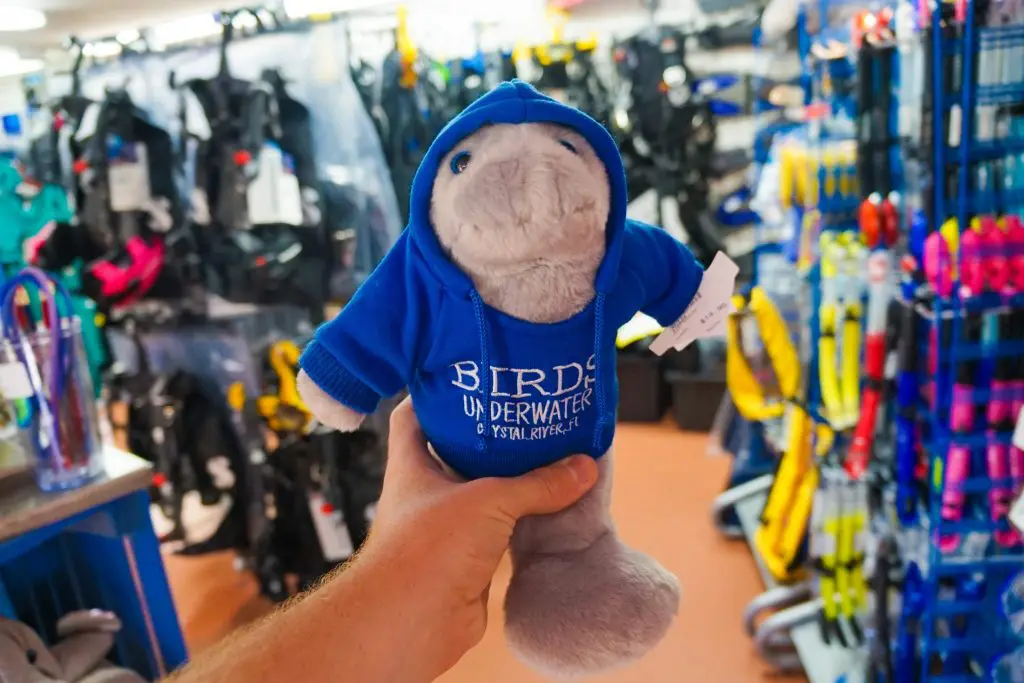 After one of the most incredible hour's of my life, the manatees moved away, and we all headed back to the boat where fresh refreshments and much-needed snacks were waiting for us as we made our way to the Three Sisters Springs for some more snorkeling.
Along the way, the captain and our guide shared details and history of the area, and it's development as well as answered any and all manatee questions. Nothing has these guys stumped, and by the end, you will be a budding manatee expert in your own right!
Manatees were not the only wildlife we spotted that day as we were also lucky enough to spot crabs, rare birds, and to witness dolphins hunting in the bay — all of which was just the cherry-on-top of an already incredible experience!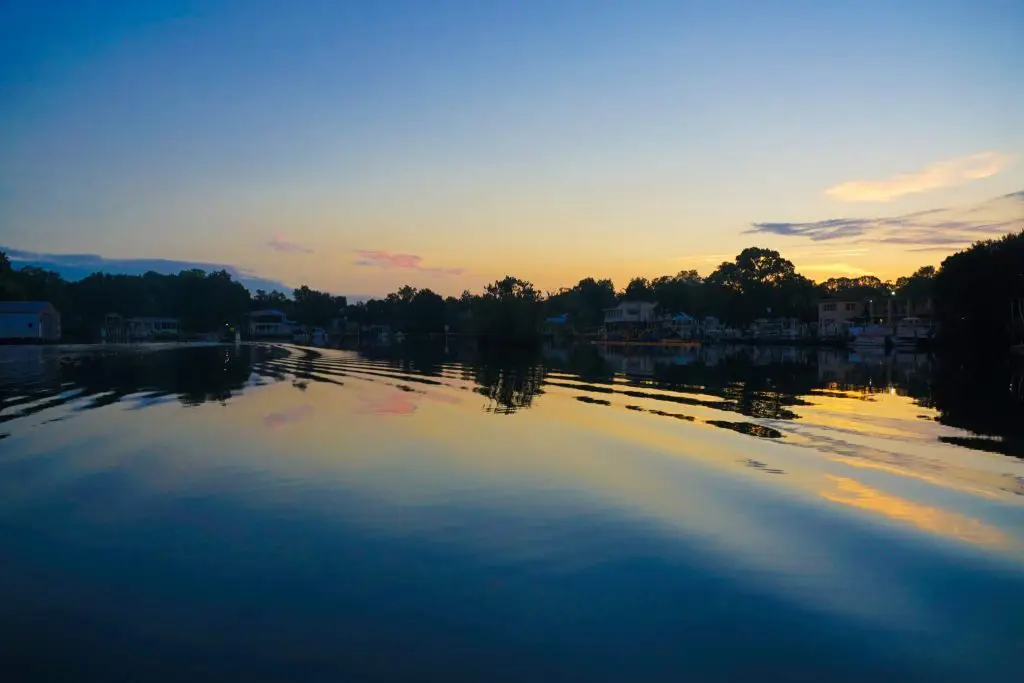 Throughout the 3 hour trip, our guide took plenty of snaps and videos of us below the water, which are available at the end for purchase for 35 dollars, including a USB stick.
I usually find these things a bit gimmicky, but the photos were actually very well composed and varied. The images are also well worth it to enjoy your time in the water without being worried about getting everybody in a photo or getting an un-blurry picture of the Manatee at the right angle. That is if you even have a water-proof camera – in which case a floaty grip is going to be one of the best GoPro accessories for this trip!
There was also secure and plentiful parking off-site, bathroom facilities, credit card accepted, and diving + scalloping tours on offer for those who wanted to see more of the area! Altogether one of the best crystal river manatee tours around, with absolutely nothing I could find to even fault – and getting to the manatees while they were active before any other operator was truly worth the early morning start!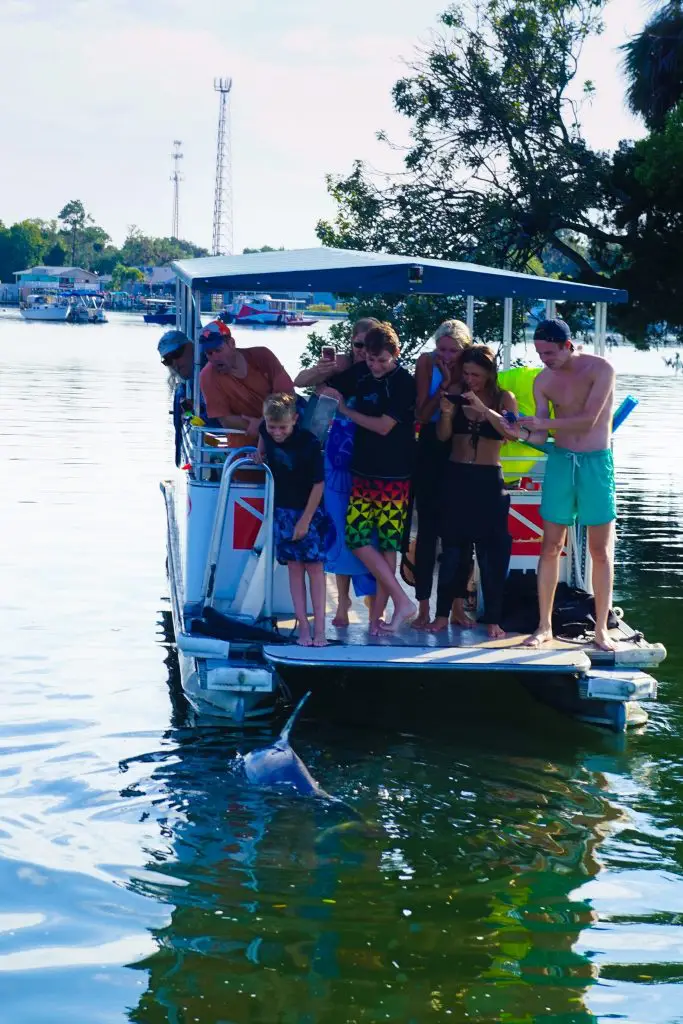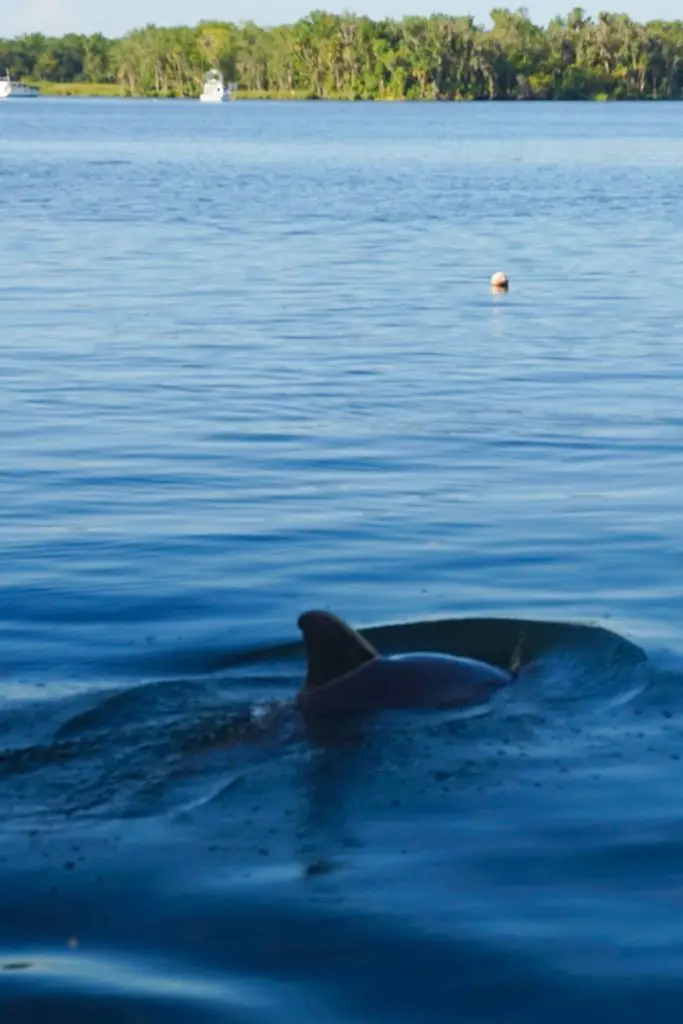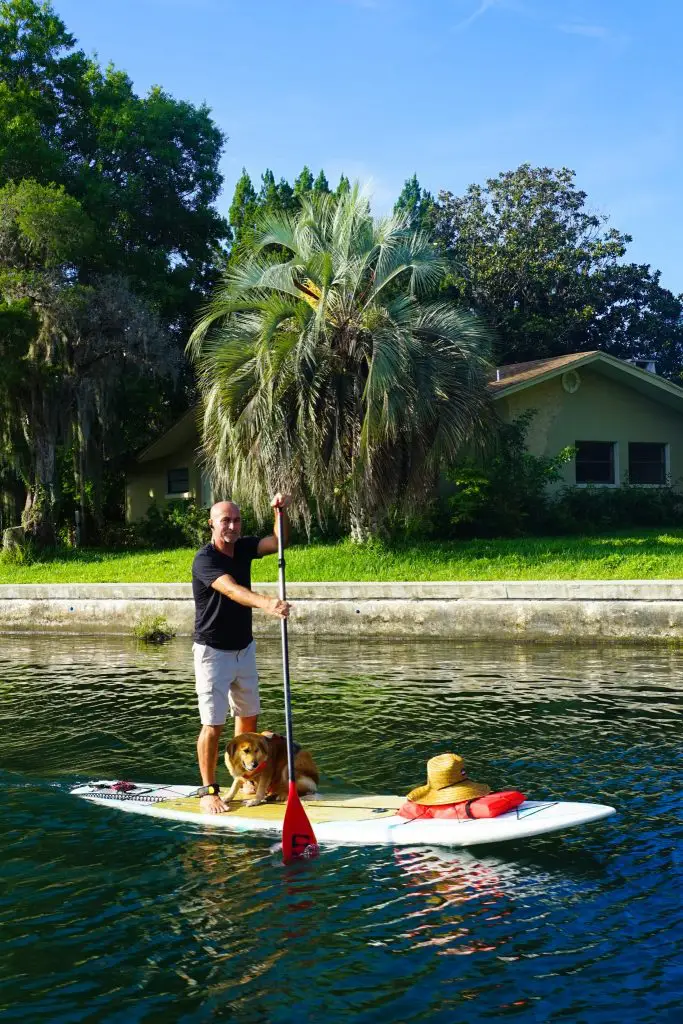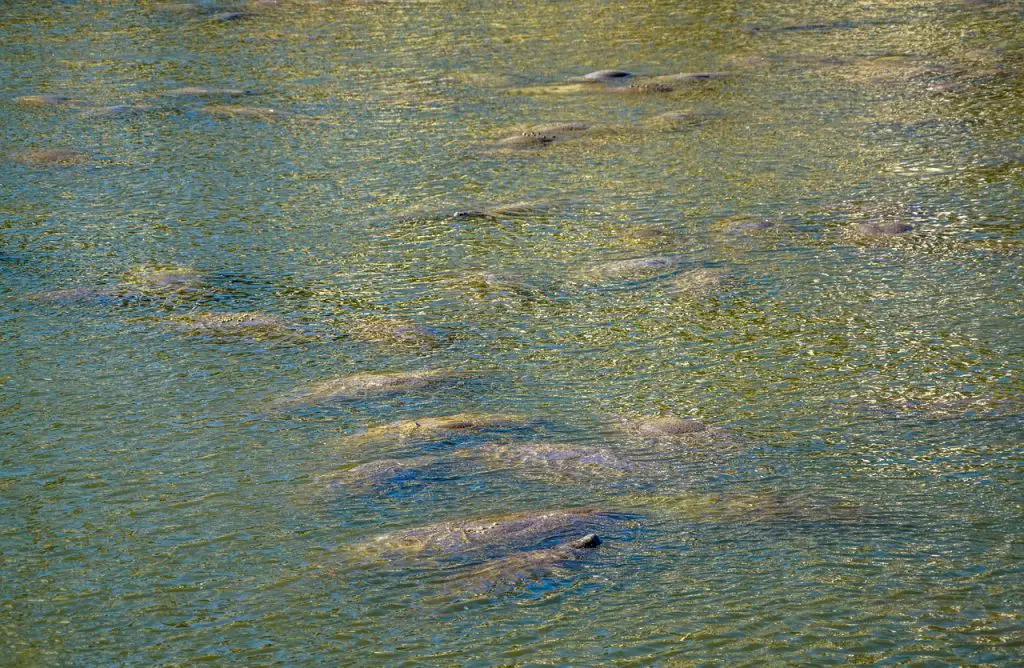 Hopefully, now you know where to swim with manatees in Florida – and how to do it safely and legally! The one-of-a-kind experience offered by Crystal River Florida manatee swim is not to be missed, and I can guarantee that one swim with the manatees in Florida will be a life-changing experience not to be missed.
There are many, many Crystal river manatee tours on offer, and it can be hard to choose the best option. Still, hopefully, my experience with Birds Underwater can give you some insight into what to look for and how to have a sustainable and safe interaction with a company that puts both manatees, and it's customers first. I cannot wait to get back to Crystal River (an iconic natural landmark of Florida) for another manatee swim, and will 100% be getting in contact with Birds Underwater again!
And if you can't make it here, there are plenty of other fabulous freshwater springs in Florida or spring break beaches in Florida explore on your road trip here!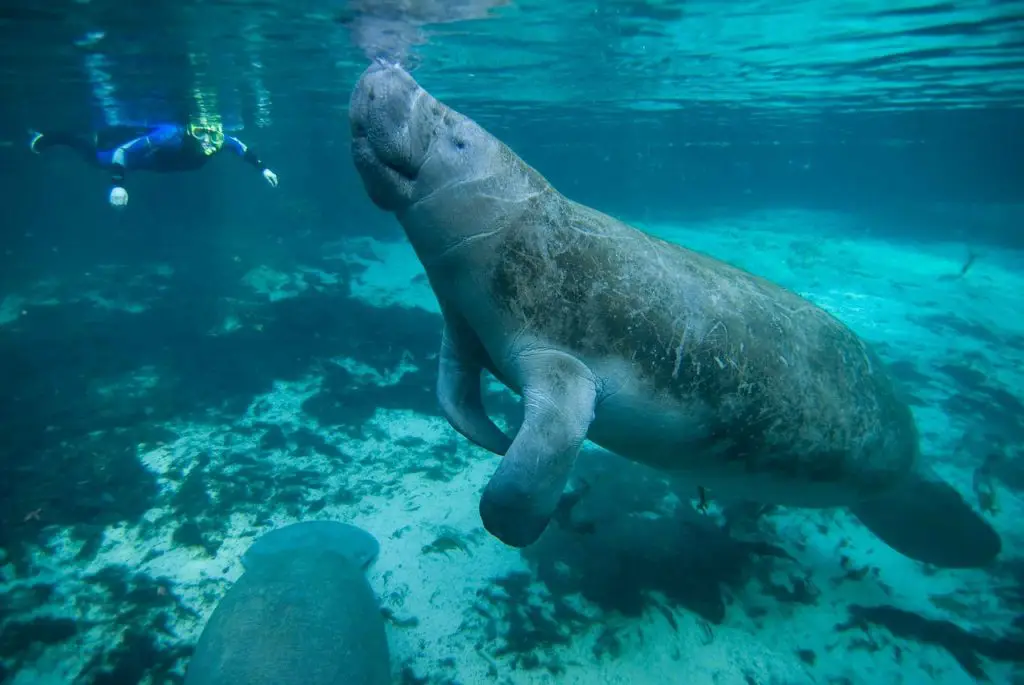 Staying Connected While Travelling
In today's increasingly connected world, staying online while traveling has become essential for a seamless experience. That's where eSIMs come into play, revolutionizing the way we access mobile networks during our global adventures. Say goodbye to hunting down local SIM cards at the airport; eSIMs provide instant activation the moment you land, sparing you the fortune usually spent on international roaming and allowing you to genuinely travel like a local (without getting hopelessly lost!).
With eSIMs, tasks like restaurant recommendations and reservations, up-to-the-minute public transport instructions, checking opening hours, and accessing further information become a breeze. And, of course, sharing your journey on social media is easier than ever. To stay connected wherever you roam, consider using either Airalo or Holafly. Airalo boasts the most extensive range of destinations worldwide, offering smaller data bundles tailored to your needs, while Holafly provides unlimited data packages and fantastic EU data deals.
So why wait? Embrace the future of travel connectivity with eSIMs and make your next journey effortlessly smooth.
Further Things To Consider Before Any Adventure
Now you're all set and prepared to explore our big wide world, why not sort out everything else out all in one go? If necessary for your travel plans make sure you have brought proper travel insurance, protected your privacy by getting a secure VPN, compared all the top hotel booking sites to find just what you're after, reserved an unbeatable rental car price and - of course - booked the best flight deals!
Or maybe just forget it all and go for a last-minute cruise or effortless tour instead?
Many budget travelers (including me) indulge in worldwide airport lounge access, so we can experience luxury while still slumming it in economy. Naturally, we would never leave home without a more general travel guide since we couldn't possibly cover everything here!
Just add an adventurous attitude and plenty of smiles - they go a long way - and that about covers it all! Now go out, find your own path and don't forget to share your best inspiration stories with me on Facebook, Twitter, and Instagram...I'd love to hear from you!