Apart from being the home of America's politicians we all know that Washington DC is also the home of America's museums.
In the Smithsonian museums spread along the national mall of DC you can see everything from the US Constitution to Dorothy's red slippers from the Wizard of Oz.
Now of course if it's aviation that tickles your taste buds you can't go past the National Air and Space Museum on the national mall, home to the Wright Brothers Flyer, the Bell X-1 and other hugely historic aircraft. It's a great place to visit, however it's not the only aircraft museum on the Smithsonian's books.
With that I present to you the guide to Smithsonian Air & Space Museum!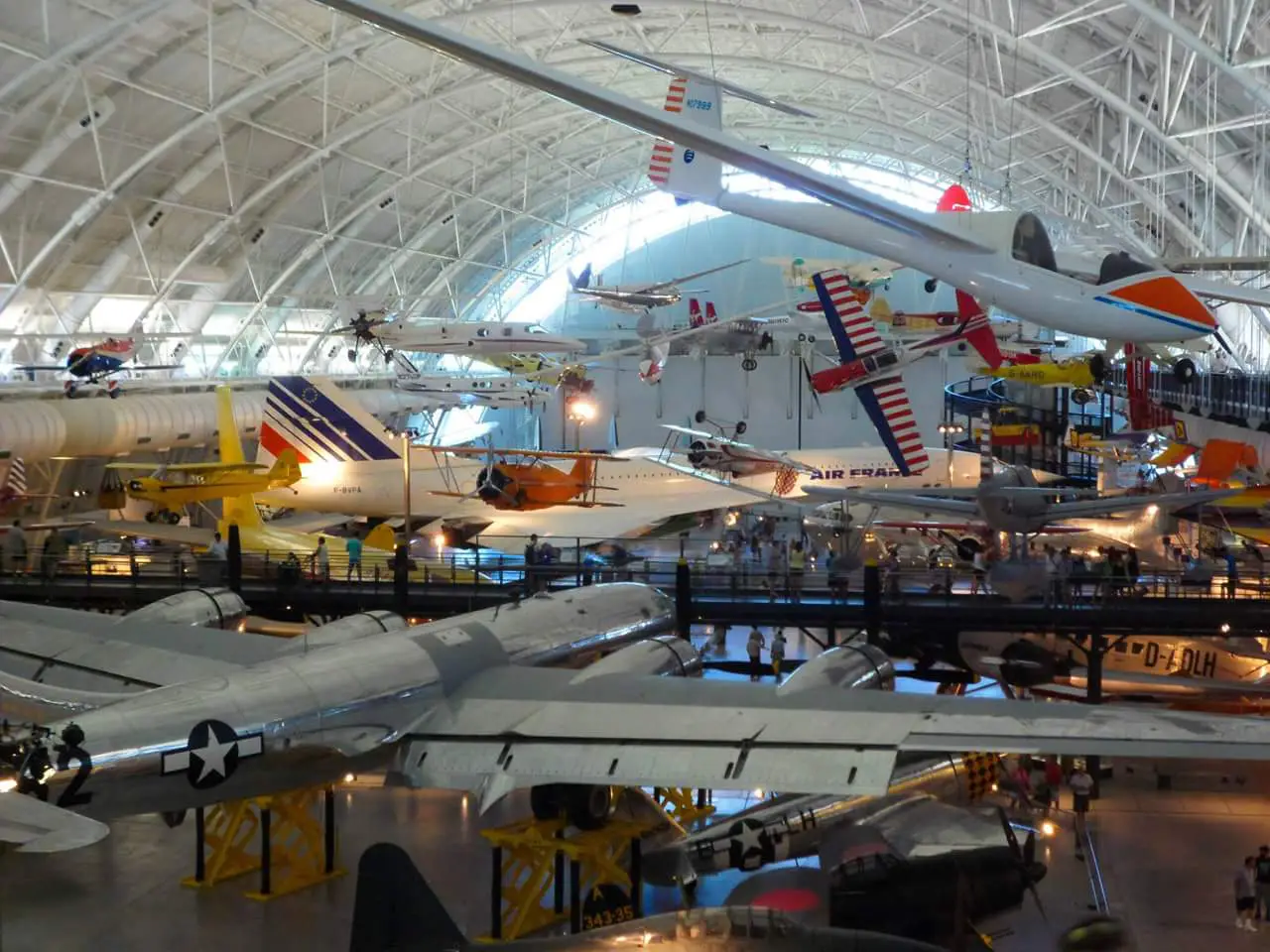 The Steven F. Udvar Hazy center was opened in 2003 and is the National Air and Space Museum second location (the original being on the National Mall) at Washington Dulles International Airport. This place is MASSIVE!
With 71,000m2 of floor space it was designed to display aircraft that had previously been in storage. It now houses over 170 aircraft and over 150 space artifacts including the space shuttle Discovery! It also has an IMAX theatre, a restoration and preservation facility (which you can get a sneak peak at from the 2nd floor viewing window) and an Observation Tower which gives you a 360-degree view of the airport and surrounding area.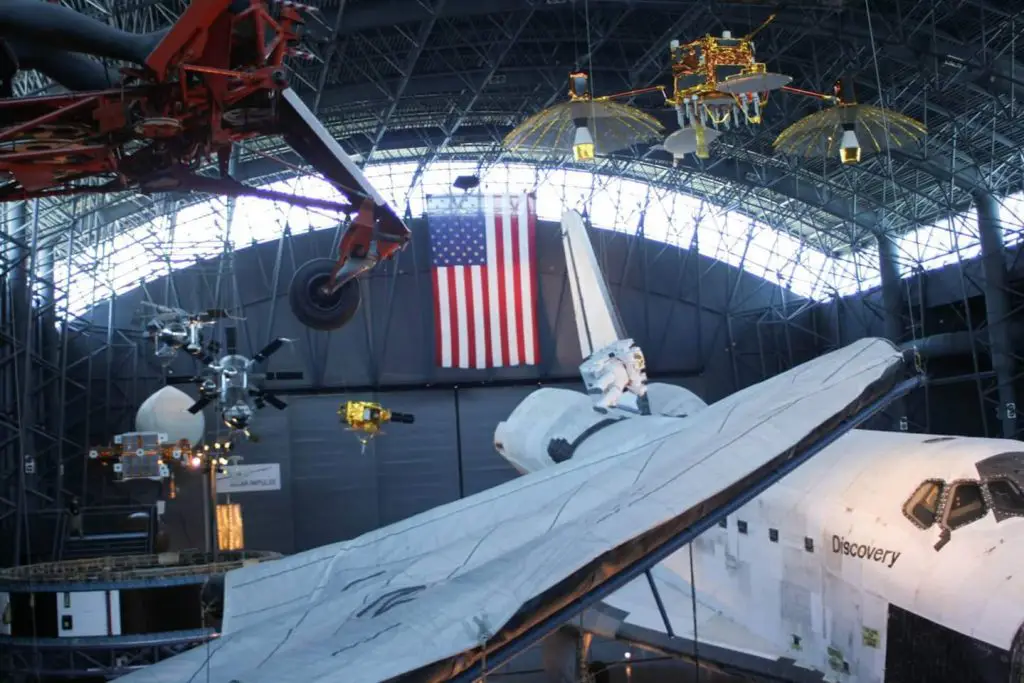 And as if there wasn't enough floor space already, they even have aircraft hanging from the roof! Every inch of this space is crammed full.
Its still easy to get great views though with raised walkways throughout the Dulles Smithsonian Air Museum allowing you to see things from angles you usually wouldn't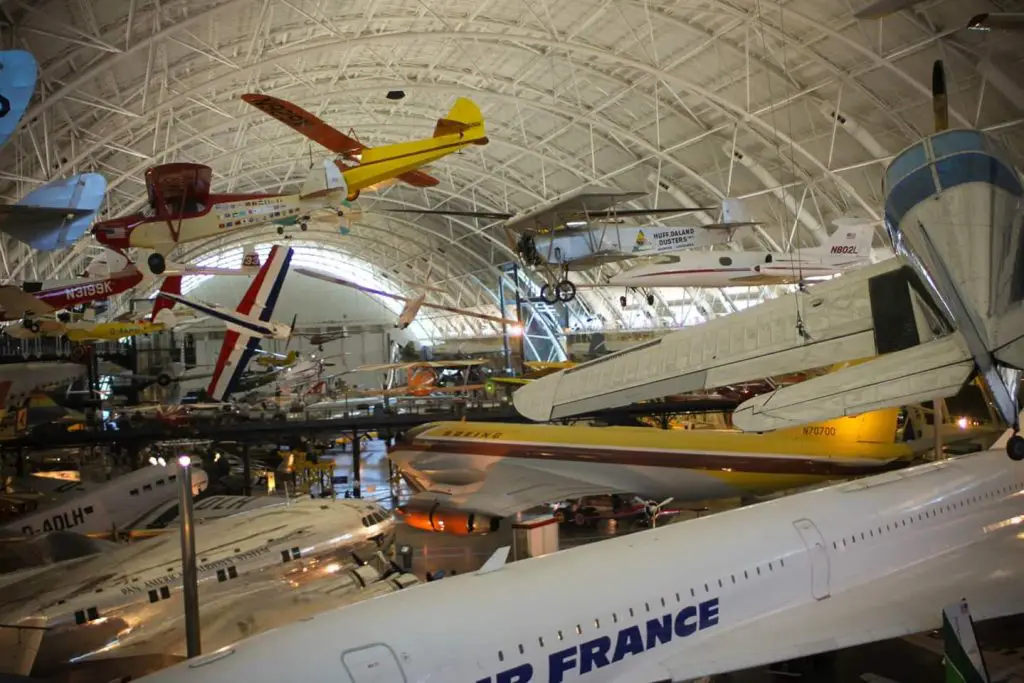 It looks like an air traffic controllers worst nightmare! So to help you out here are 5 Aircraft You Can't Miss at the Smithsonian Air & Space Museum!


LOCKHEED SR-71 BLACKBIRD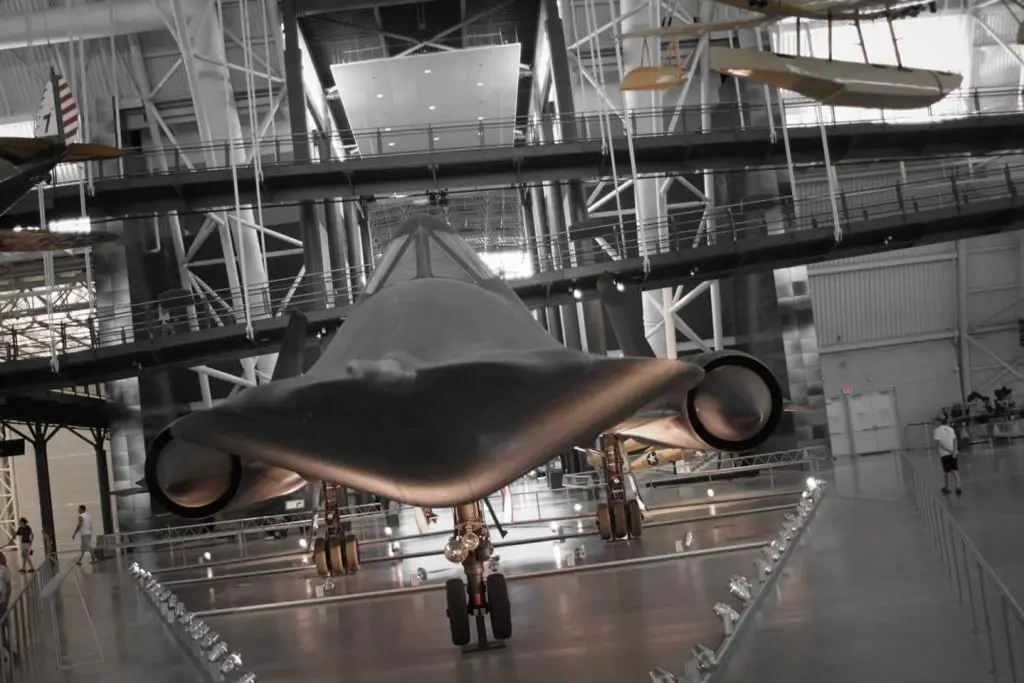 Now you definitely can't miss this aircraft on a visit to the Steven F Udvar Hazy center…literally….it's right in front of you when you walk in. The SR-71 first flew in the 60's and was design as a long range, high altitude reconnaissance aircraft. Now this thing is fast!
Its long streamlined body with 2 massive engines strapped to the sides got it up to speeds of Mach 3.3! If in action a surface-to-air missile was detected, the standard evasive action was to simply accelerate and out fly the missile!
You may also recognise it as the Deception turned good guy Jetfire from Transformers 3, which was partly filmed at the museum.
BOEING B-29 'ENOLA GAY'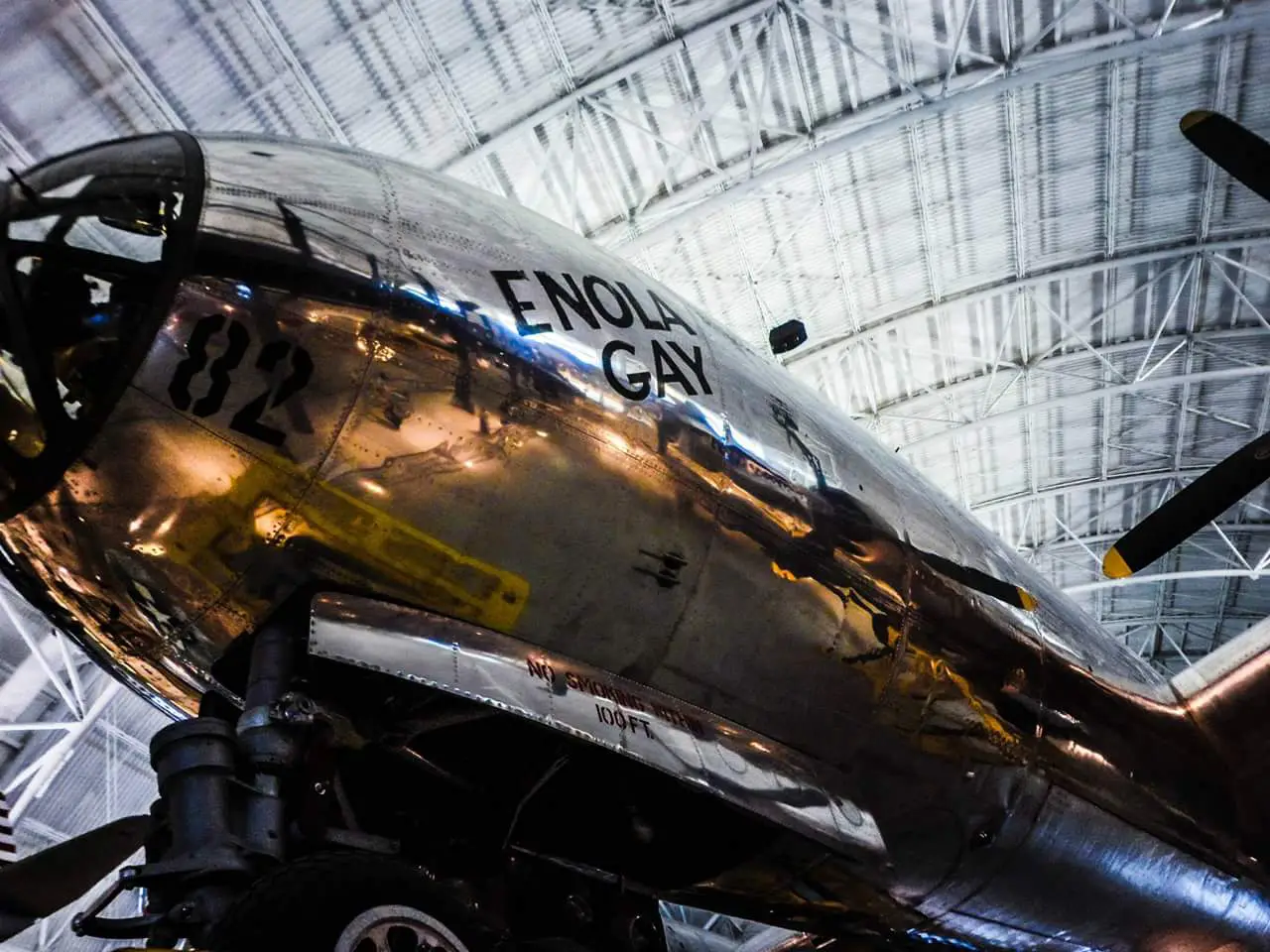 Designed in the second half of WW2 the B-29 went onto become known as the aircraft that arguably won the war. In particular the very aircraft on display, the Enola Gay. It was this aircraft that dropped the world's first atomic bomb on Hiroshima leading to the surrender of Japan.
Known as the Superfortress it had a number of new design features not seen on other aircraft of the time including pressurised cabin and remote controlled turrets. With a bomb load of 20,000lb (9,100kg) it quickly became a successful heavy bomber for the US in WW2 and continued operations during the Korean War.
DORNIER DO-335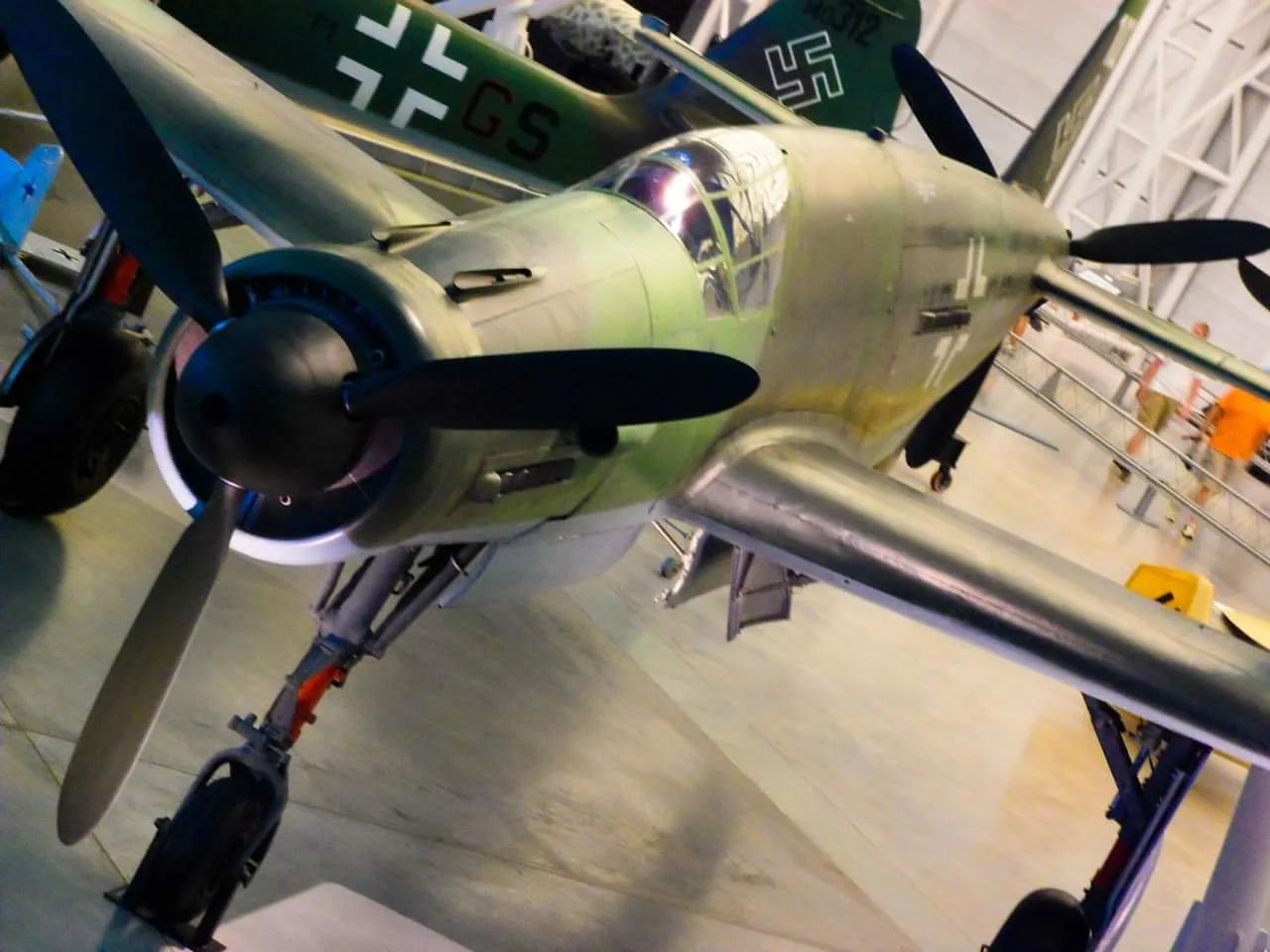 The only surviving example of this unique piece of Nazi Germany aviation resides at the Smithsonian Air and Space Dulles.
This experimental aircraft differed from most twin engine designs for the fact that it had its engines and propellers arranged in a fore and aft layout. Built as a heavy fighter this unusual layout resulted in impressive performance, the large aircraft being able to keep up with its enemy counterparts. First flown in late 1943, Hitler ordered maximum priority to its production.
However tides were turning in the war and though 37 were built no aircraft ever saw service. This particular aircraft was captured by allied forces in the plant in 1945 and was sent back to the US for evaluation. A
fter about 20 years of languishing outside it was passed to the Smithsonian where it eventually returned to Germany for restoration by the original company that built it, then later returning to be put on display.
---
Like this article? Here are some others I think you might like!
---
BOEING 307 STRATOLINER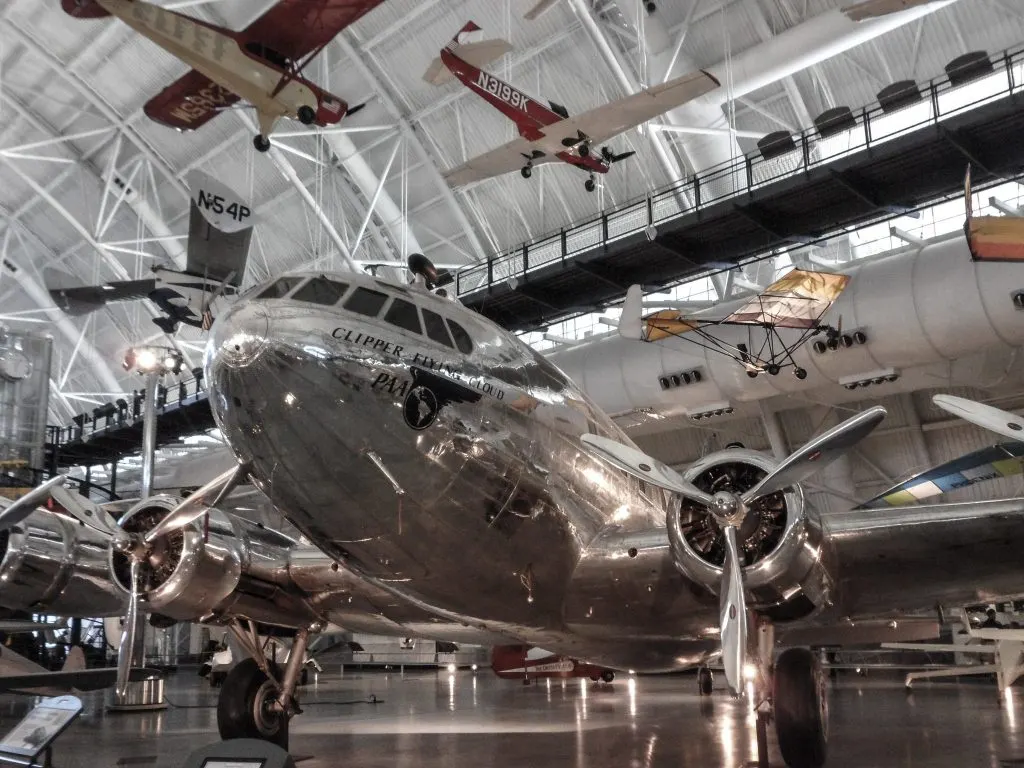 A glistening piece of artwork as much as an airplane. Surprisingly it was a design that was originally based on a heavy bomber but quickly became successful flying with Pan Am and TWA.
Not only popular with the public for it 30's style, one also became the luxurious flying penthouse of eccentric millionaire Howard Hughes. Being the worlds first commercial passenger aircraft to be fully pressurised, it allowed the aircraft to fly above the weather and offered passengers a smooth ride in comfort. This particular aircraft is the only example left and was originally preserved to flying condition.
However it suffered an accident in 2002 crashing into a lake! Thankfully it was able to be fully repaired so visitors can once again admire it at the Dulles Smithsonian Air Museum as well as themselves in the bodywork.
BOEING 367-80 (B707)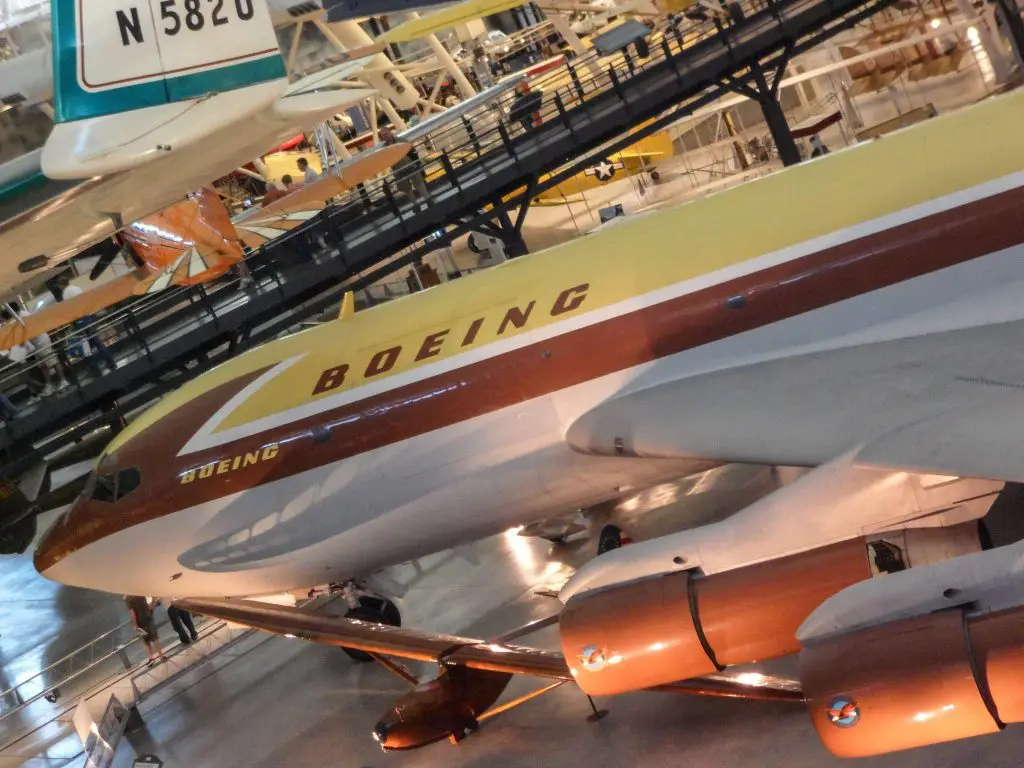 The Boeing 707 revolutionised the world of air travel. It was not only Boeings first jet airliner but also the first commercially successfully jet airliner.
It dominated passenger transport during the 60s and 70s and is generally credited with ushering in the jet age. This makes the aircraft on display at the museum the grandfather of modern air travel as its the original prototype! Over 1,000 707s were built and in 2013 ten were still flying. Military derivatives were also developed with the modified 707 still operational with a number of air forces as the E-3 Sentry.
Now there's a slightly unbelievable story that goes along with this particular prototype. As part of the demonstration program this aircraft made a number of appearances at various airshows. At one particular airshow it was to perform a simple fly over, but Boeing test pilot Alvin 'Tex' Johnston instead carried out not one, but two barrel rolls!
If you don't believe me, here's the video!
"The S

mithsonian Air and Space Dulles

houses plenty of other famous and historic aircraft, for some it's the only place worldwide where it's possible to see them."
The Dulles Smithsonian Air Museum is a breath taking facility which is often missed by travellers as its away from the national mall and other museums. Though it's location can make it even easier to visit with it being located right on the airport with busses running from the main terminals.
The museum also has free lockers so you don't have to worry about carrying your bags with you.

Guide to Smithsonian Air & Space Museum: More Useful Information
The Udvar-Hazy Center is located in Chantilly, VA, just minutes from Washington Dulles International Airport. Address: 14390 Air and Space Museum Parkway, Chantilly, Virginia.
Public transport options are available from both the airport and DC. Udvar Hazy hours of operation are 10am-5.30pm, 7 days a week & admission is FREE. Steven F Udvar Hazy Center Parking is available for $15 USD before 4pm or free after.
---
I hope you find my guide to Smithsonian Air & Space Museum useful. Its an amazingly huge place so hopefully this makes your visit to the Dulles Smithsonian Air Museum a little less stressful!
If you have time I also recommend to check out my post on the Russian Central Air Force Museum at Monino – The rusting airpower of the USSR is quite a contrast!
Staying Connected While Travelling
In today's increasingly connected world, staying online while traveling has become essential for a seamless experience. That's where eSIMs come into play, revolutionizing the way we access mobile networks during our global adventures. Say goodbye to hunting down local SIM cards at the airport; eSIMs provide instant activation the moment you land, sparing you the fortune usually spent on international roaming and allowing you to genuinely travel like a local (without getting hopelessly lost!).
With eSIMs, tasks like restaurant recommendations and reservations, up-to-the-minute public transport instructions, checking opening hours, and accessing further information become a breeze. And, of course, sharing your journey on social media is easier than ever. To stay connected wherever you roam, consider using either Airalo or Holafly. Airalo boasts the most extensive range of destinations worldwide, offering smaller data bundles tailored to your needs, while Holafly provides unlimited data packages and fantastic EU data deals.
So why wait? Embrace the future of travel connectivity with eSIMs and make your next journey effortlessly smooth.
Further Things To Consider Before Any Adventure
Now you're all set and prepared to explore our big wide world, why not sort out everything else out all in one go? If necessary for your travel plans make sure you have brought proper travel insurance, protected your privacy by getting a secure VPN, compared all the top hotel booking sites to find just what you're after, reserved an unbeatable rental car price and - of course - booked the best flight deals!
Or maybe just forget it all and go for a last-minute cruise or effortless tour instead?
Many budget travelers (including me) indulge in worldwide airport lounge access, so we can experience luxury while still slumming it in economy. Naturally, we would never leave home without a more general travel guide since we couldn't possibly cover everything here!
Just add an adventurous attitude and plenty of smiles - they go a long way - and that about covers it all! Now go out, find your own path and don't forget to share your best inspiration stories with me on Facebook, Twitter, and Instagram...I'd love to hear from you!