Stockholm has essentially become synonymous with cool, even in the already-super-cool Scandinavian region. With its stylish locals, trendy cafes, and love of design, you know you're in a place of taste and culture every moment you are in Sweden's majestic capital.
To add to its list of hip credentials, Stockholm's metro system boasts varied and fascinating artwork in almost every station. That's right – there's no bog-standard, utilitarian public transport here. The underground in Sweden's capital has even been dubbed 'the world's longest art gallery'.
So how are you going to see the best of it (beyond spending every moment in the city on a train going from station to station – although that's one way!)? Here's everything you need to know about exploring the Stockholm subway art.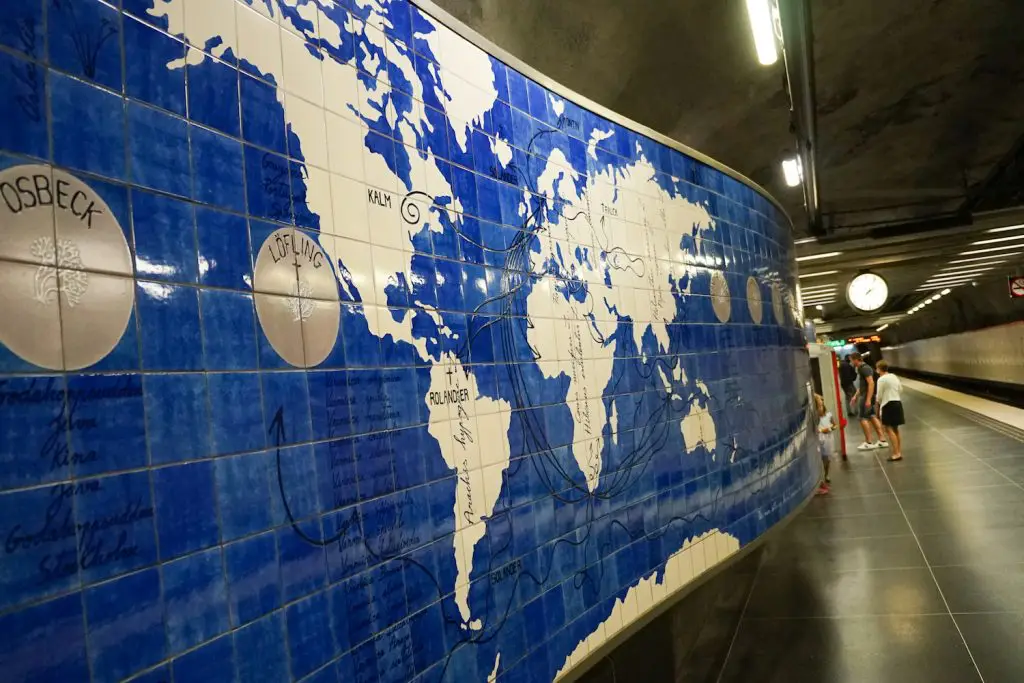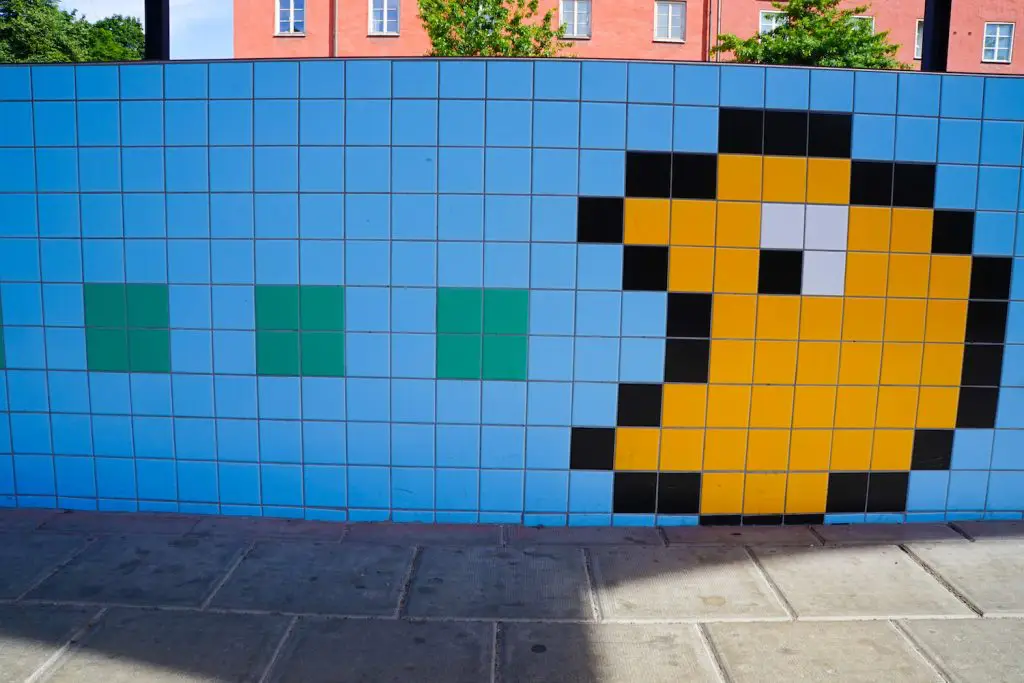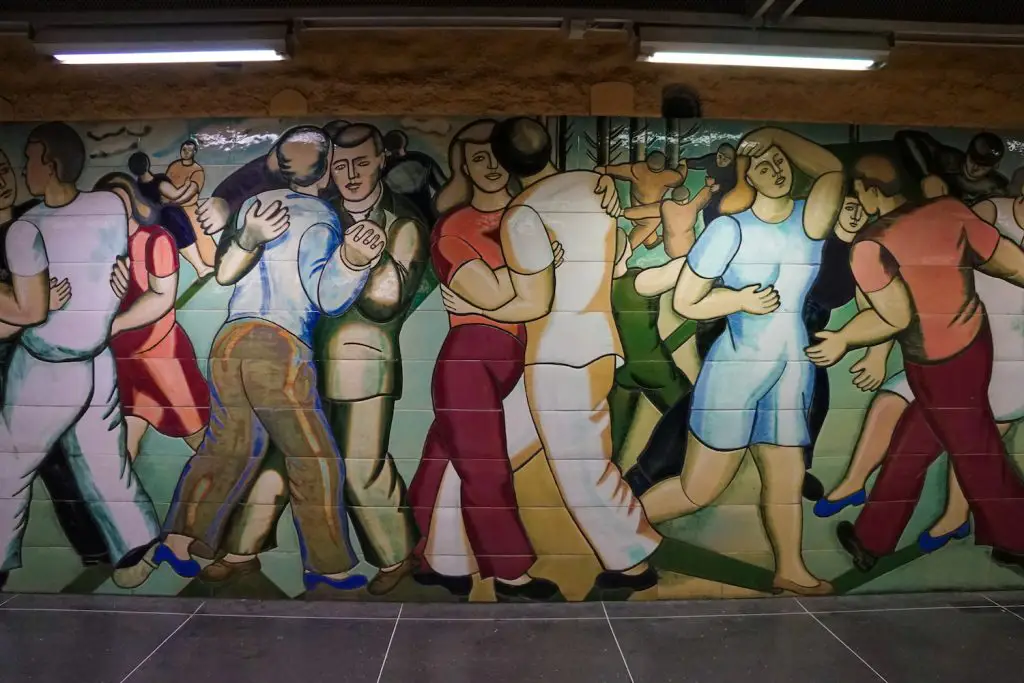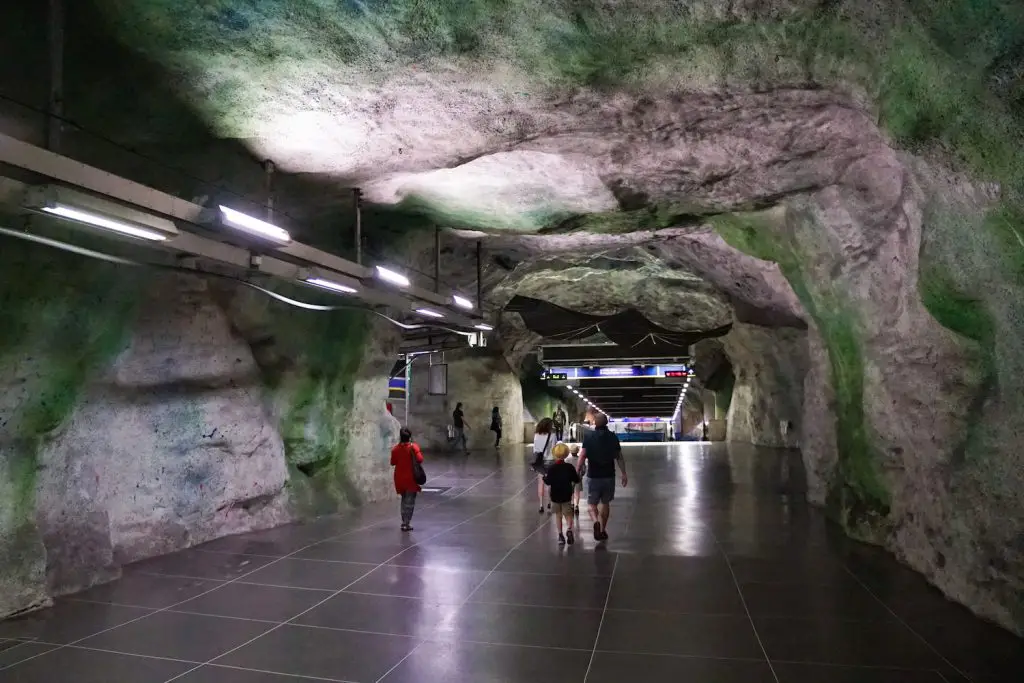 Exploring the Stockholm Metro Art: Everything You Need To Know 🚇
What Exactly Is The Stockholm Metro Art?
It's basically what you'd imagine from the name – a series of artworks in the Stockholm metro system. You'll see murals, of course, but also mosaics, sculptures, installations, engravings and reliefs.
Over 150 artists have contributed so there's a huge range of work to see and each station included (about 90 of the 100) has its own feel.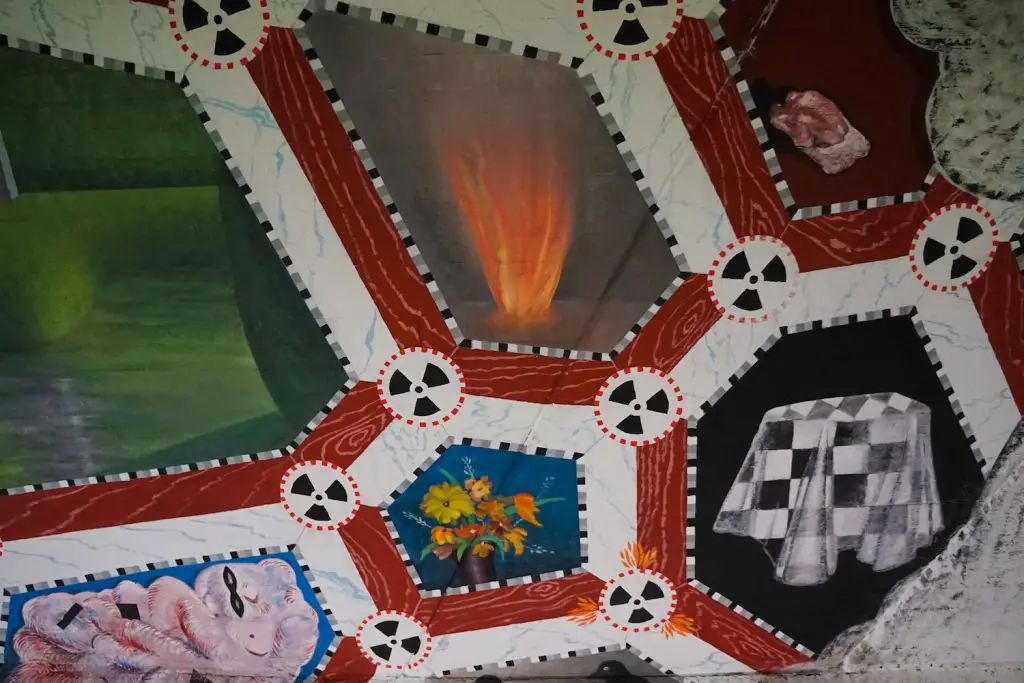 Why Is There Art In The Stockholm Subway?
This is a perfect example of how great Sweden is, really. The art community campaigned passionately for the Stockholm metro art, believing that art should be accessible to everyone, not only available for the price of a ticket behind the walls of a museum.
Finally, politicians and lawmakers were convinced that a public space could be functional and creative at the same time and over the years this incredible artwork has been introduced to the majority of the stations. When you compare this to other subway systems and their endless advertisements on the walls, it's an amazing achievement.
You don't realize how fed up with constant advertising you are until it's not there – it's such a relief! And when you're experiencing innovative art in its place, even better!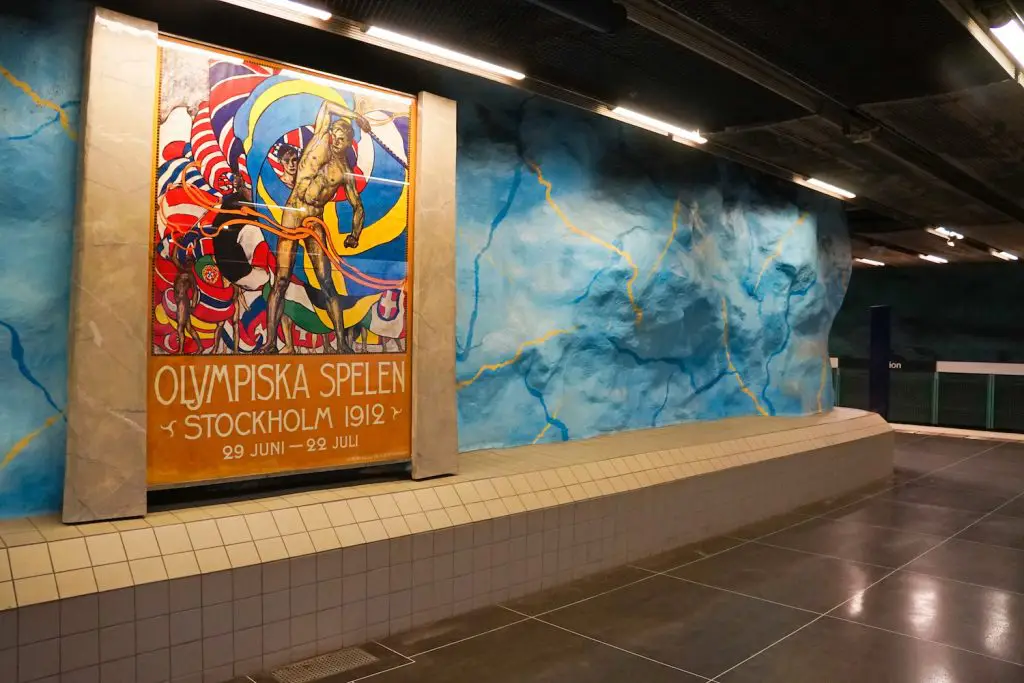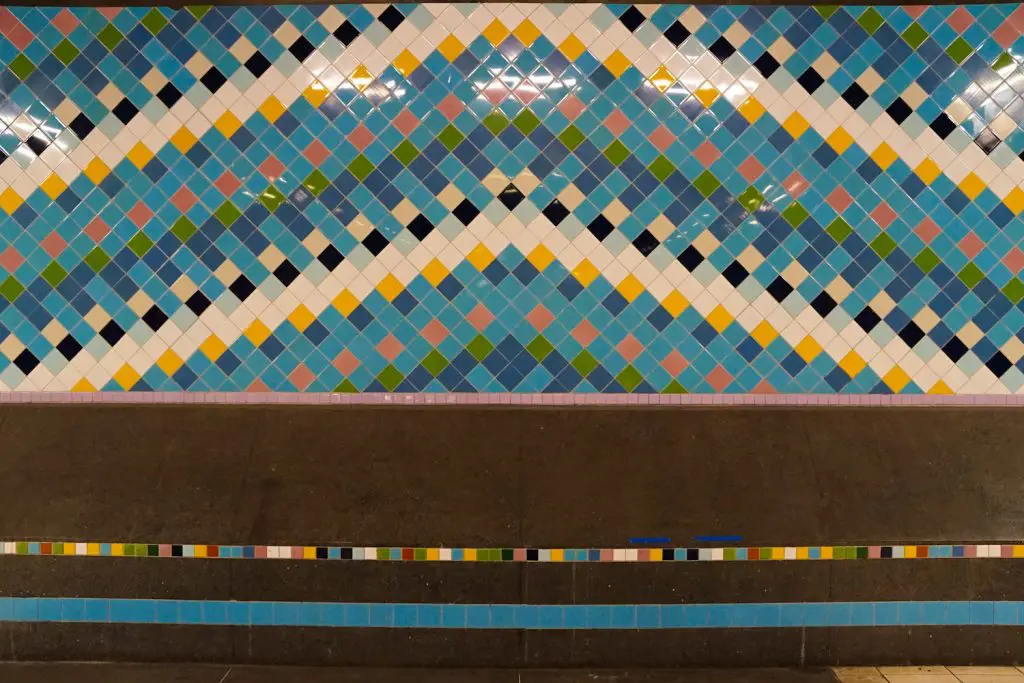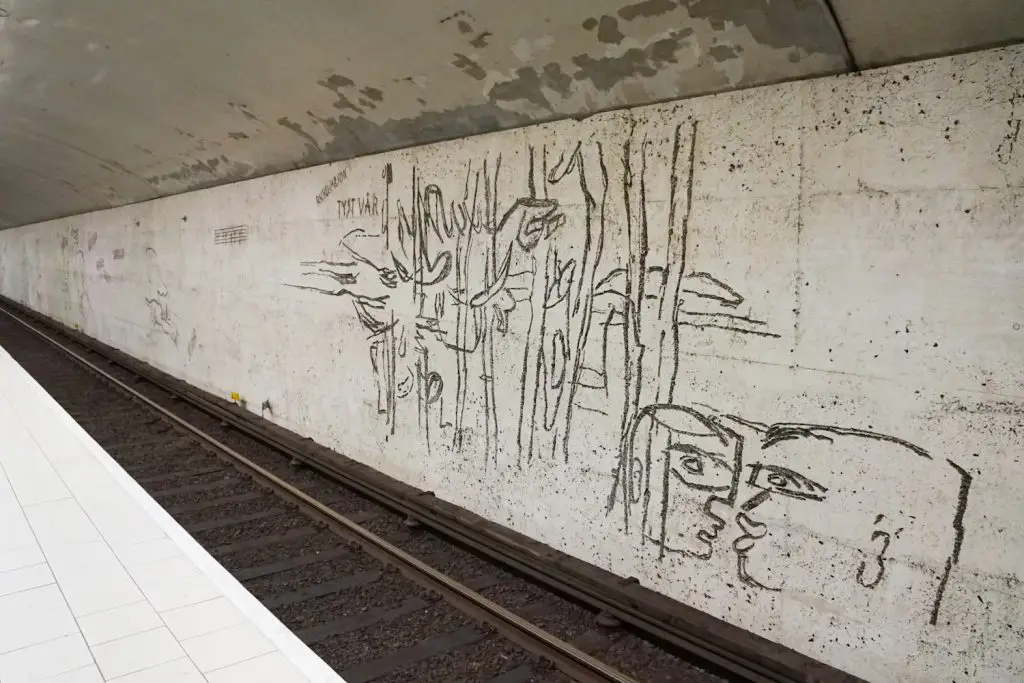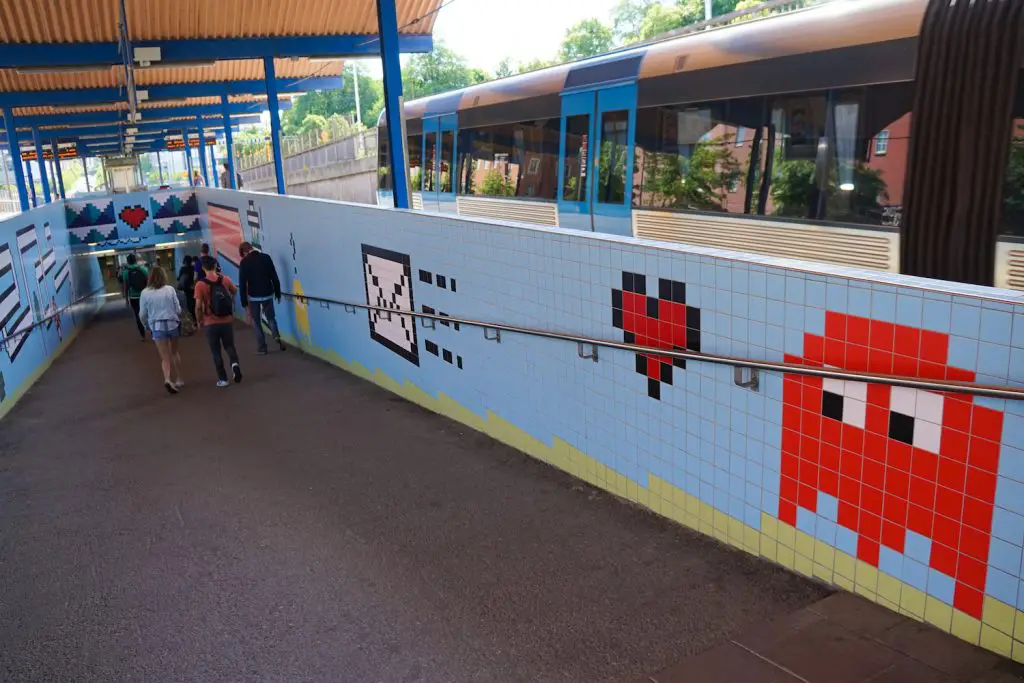 When Can I See The Stockholm Metro Art?
Obviously you're able to see the Stockholm metro art any time you're on the underground, but if you want to be able to linger without being jostled by crowds, avoid rush hour.
Between 11am and 3pm on weekdays or later in the evening are good times to schedule a little exploration. If you're only planning to see stations on the same line, plan for about an hour; if you want to go to stations on different lines, schedule about 2 hours to see everything.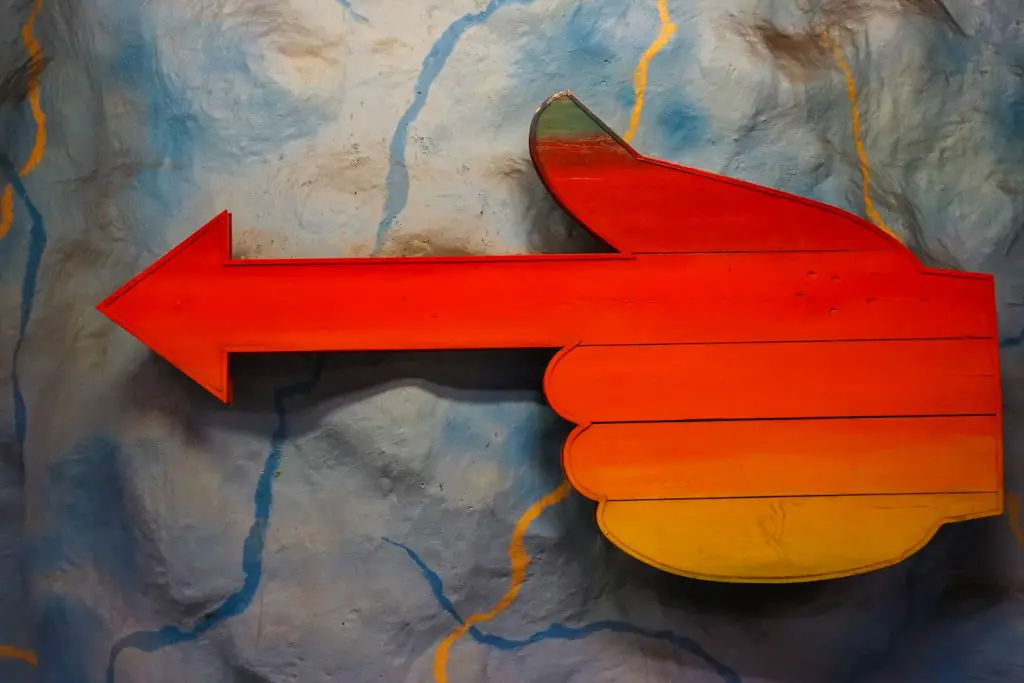 What Are The Best Stations To Visit / Highlights?
This is a difficult question to answer, really, because art is so subjective. We could recommend our faves and you could hate them! But there are a few stations that really stand out, whether you end up loving them or hating them.
Let's start at the centre of it all, T-Centralen station. It's the main hub of Stockholm's subway system and was also the first station to get artwork-ed up. In shades of blue with elegant painted blue vines climbing the cavernous walls, the theory is that the artist, Per Olof Ultvedt, aimed to create a calm vibe in the most hectic station. It's also located on the blue line, of course!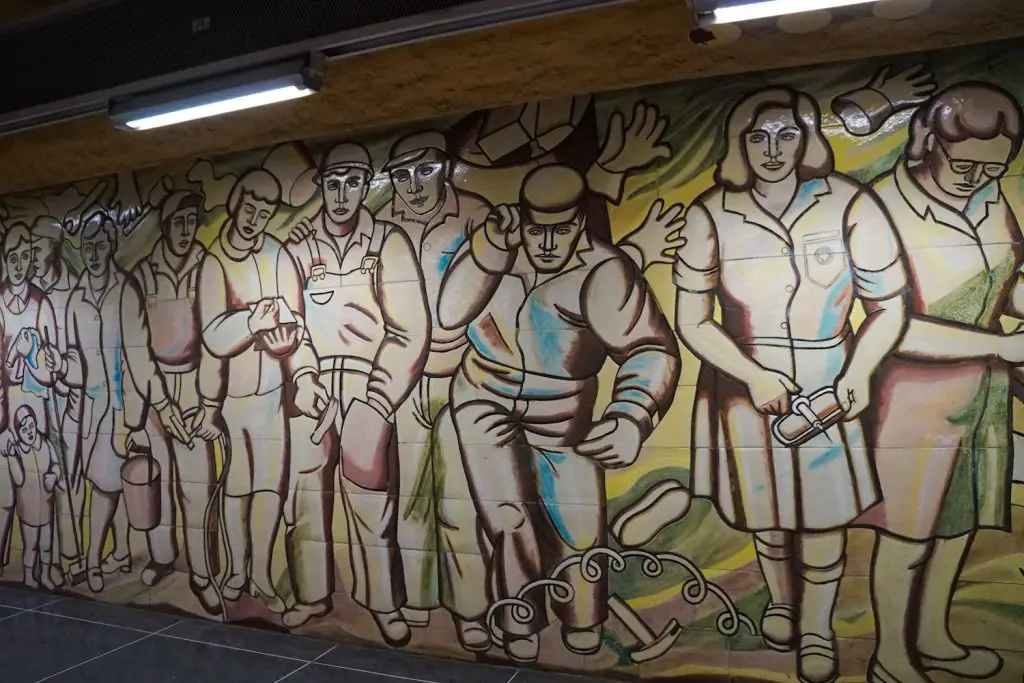 The Solna Centrum station, which is also on the blue line, has a totally different vibe with the walls and ceilings mostly painted a deep crimson red, meant to be a setting sun behind the dark green forest that's painted on the lower half of the walls. It's not a neutral landscape, however. Pictures added later by the artists symbolise some of the main political issues from the 70s in Sweden, including over logging the forests and rural depopulation.
One of our favourite examples of the imagination behind the Stockholm metro art is at the underground stop for the Royal Institute of Technology (Tekniska Högskolan station on the red line). Artist Lennart Mörk celebrates scientific discoveries with work representing Newton's laws of motion, Polhelm's mechanical alphabet and the eye-catching polyhedra (figures with more than six plane faces – we Googled so you don't have to!).
These each represent fire, water, air, earth and ether, Plato's five elements. Cool, right?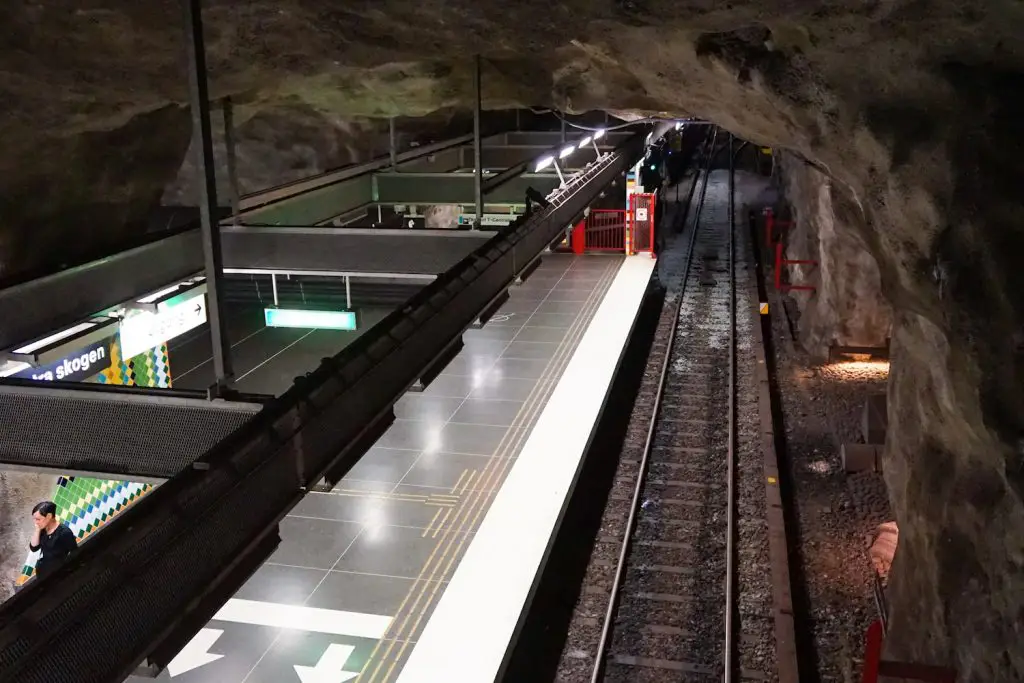 Of course, we couldn't talk about Stockholm metro art without talking about the powerful and uplifting work at the Stadion station on the red line.
It was the first of the so-called cave stations in the city, which were underground stations using organic architecture and leaving the rock exposed. Now, this sounds pretty cool to us, but when they were first conceived lots of people were concerned they'd be spooky and claustrophobic.
Stadion counters this with its sky-blue colour and the bright rainbow arcing over the commuters, reminding them that the outside world is not far away. We also love that this rainbow-decorated station is the nearest to the location of Stockholm's annual Pride festival.
Our final highlight is a shout-out to the often-overlooked green line. Thorildsplan station is a street-level station decorated with pixelated mosaics by Lars Arrhenius in 2008.
The intricate crossings and mixed levels at Thorildsplan reminded his of a video game, which is how this station ended up with the bold design and primary colours reminiscent of Mario Kart. It's fun, creative and we love how it uses a medium often seen at your average subway station – tiles – and flips it on its head.
Of course, these are only five of 90 stations and the more you explore, the more you'll discover.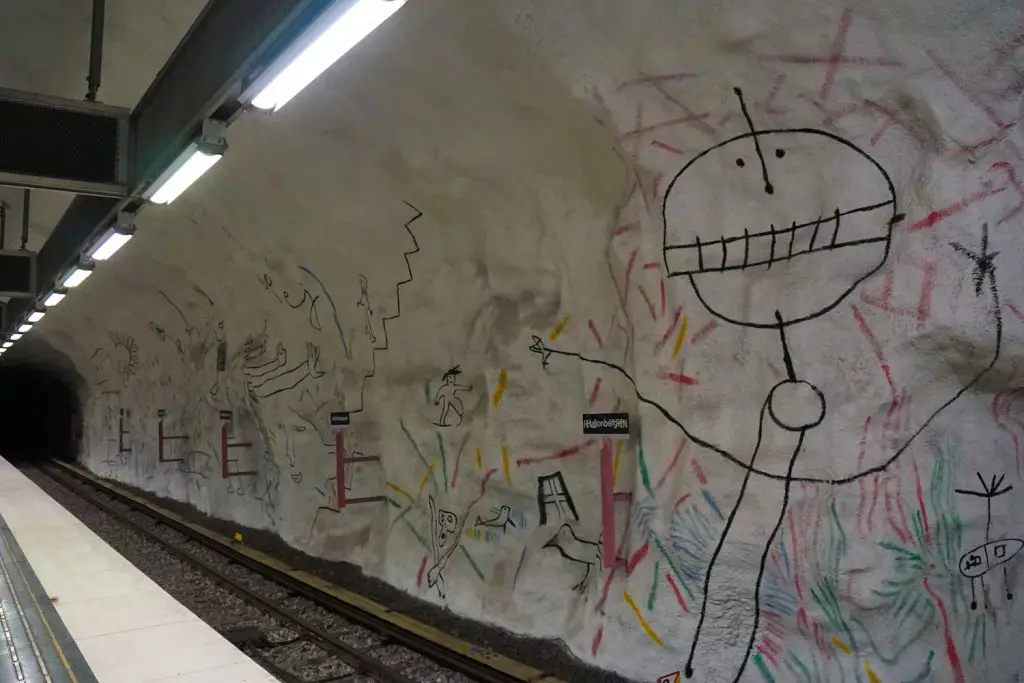 What's Does It Cost To Enjoy The World's Longest Art Gallery?
Well, it's whatever the cost of your metro ticket is. A single-use ticket lasts for 75 minutes, so if you want to do a whirlwind tour then this might be enough. Otherwise, we'd recommend at 24-hour pass so you can really take your time exploring underground (and over ground sights as well!).
Enjoy marveling at this gift to the public and the feeling that each station is like a different world!