Japan has always been a fascinating country to all travelers thanks to its exciting culture, its breathtaking landscapes, and, most importantly, it's lovely and hospitable citizens. Japanese are famous worldwide for being one of the most polite and friendly peoples in the world.
Spending a few days with these nice and lovely Japanese will be the perfect mood-lifter after a long day traveling. Interestingly, it would seem that politeness has become a universal value in the country, as not only are the people polite but the animals here seem to have taken up that trait as well.
At Nara Park in the ancient Japanese city of Nara, the local dears have become celebrities for their politeness: if you bow to them, they will graciously bow back, making the park a must-see destination in the city on a day trip.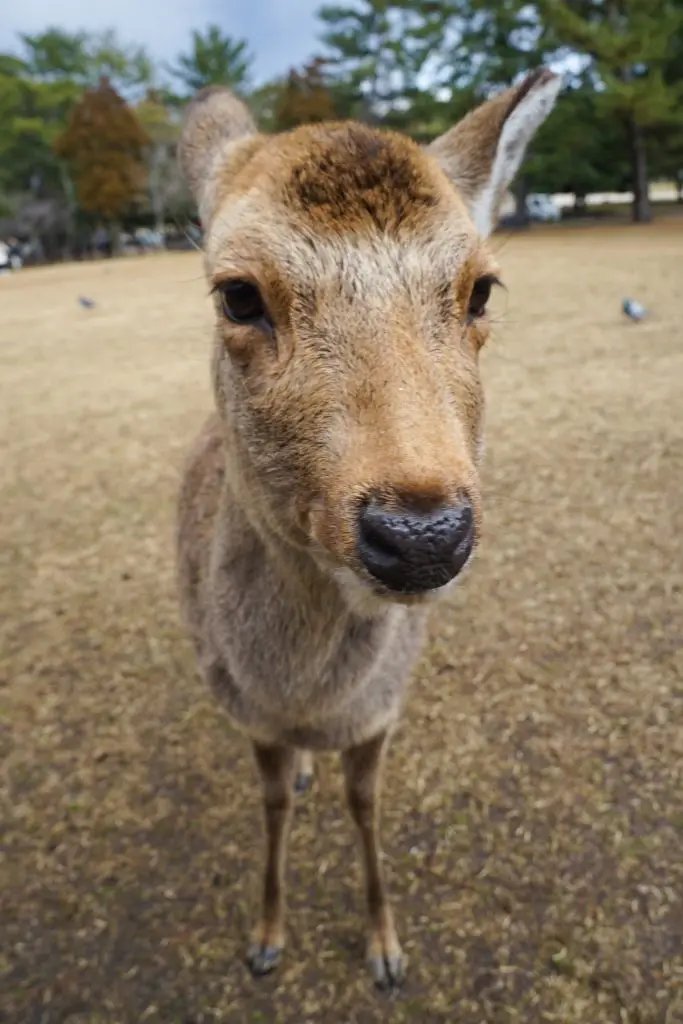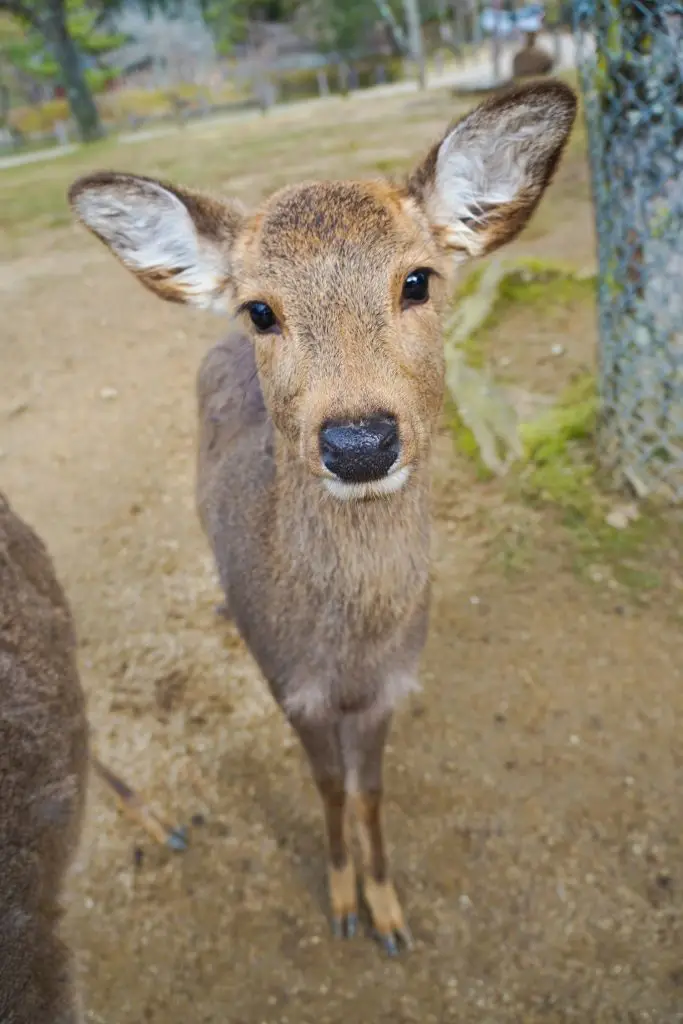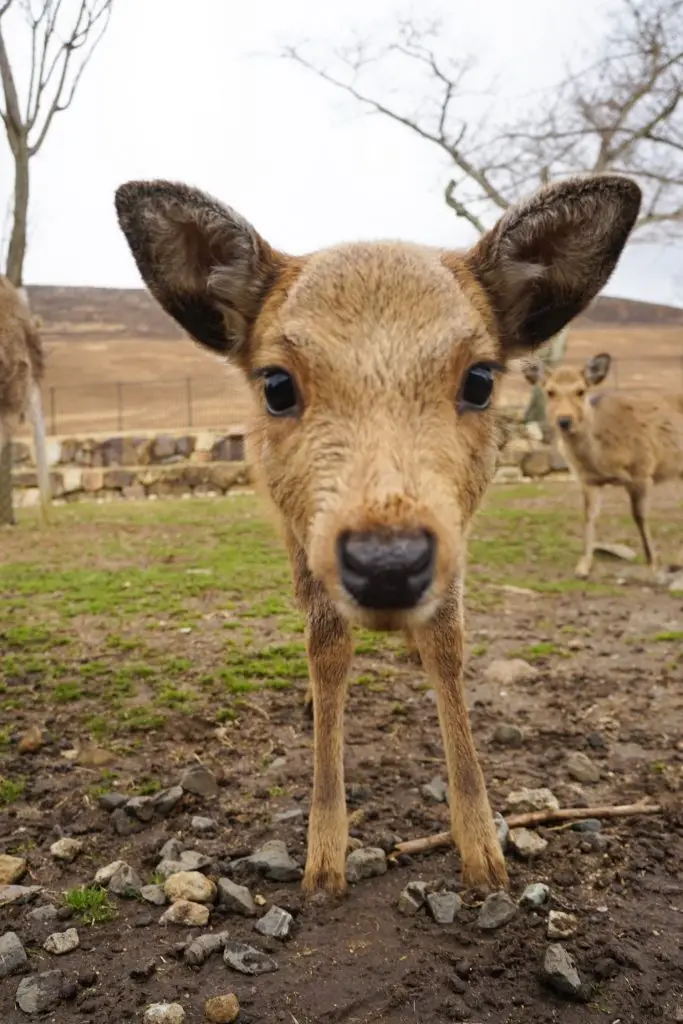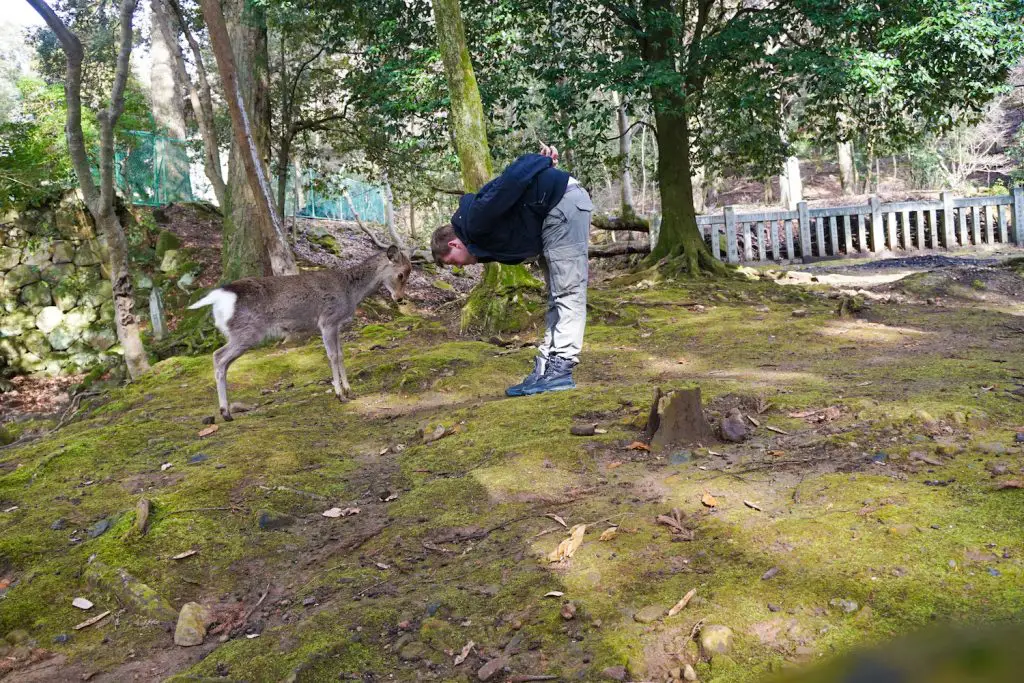 How To See The Super-Polite Bowing Deer On A Nara Day Trip In Japan! 🦌
Nara, the Ancient City
As one of the most ancient cities in Japan, Nara is the country's first capital, even before the ascension of Kyoto. Its original name was Heijo-kyo, and the city flourished remarkably in its heyday, which lasted from its founding year of 701 until the government moved the capital to Nagaoka in 784.
In spite of its relatively short-lived golden age, the era was so successful that it even has its own name: the Nara Period.
The Nara Period was a golden age for Buddhism, as it was officially endorsed by the incumbent government. As a result of this widespread support for the religion, a series of large temples were built around important points in the city to protect the emperor and his country from evil spirits.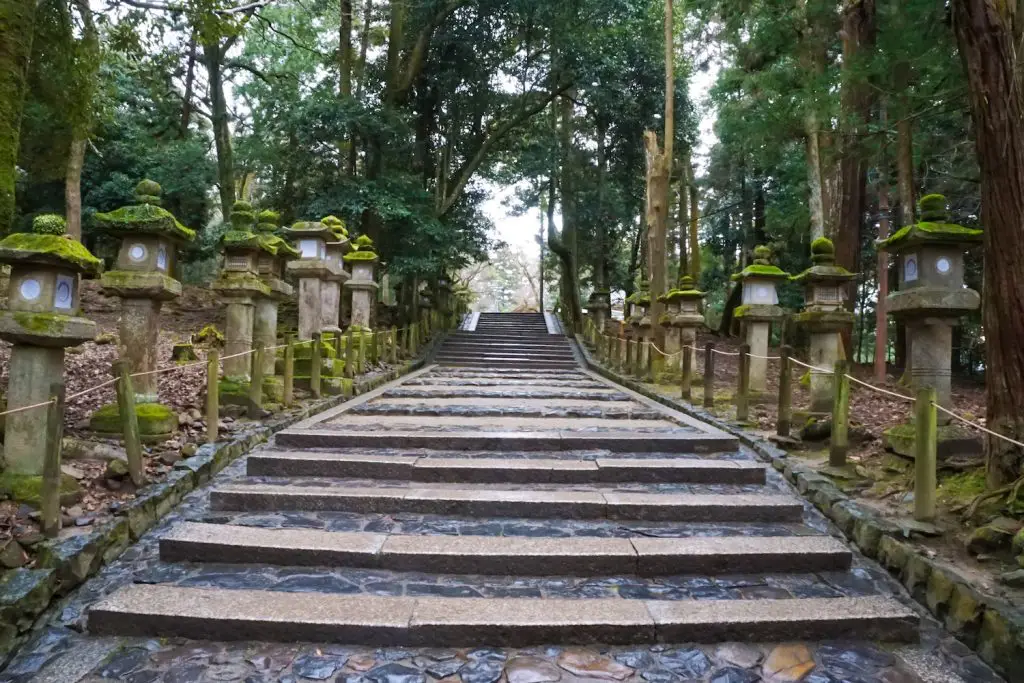 This period also marked a tightly-knitted relation with the Tang Dynasty in China. At that time, the Tang Dynasty was one of the most advanced civilizations in the world, and this relationship between the two countries had allowed Nara to receive cultural influences from China, creating many unique and interesting Japanese art pieces and cultural artifacts that are still in existence today.
In fact, most of the city's ancient architecture still stands today, and some of them have received UNESCO World Cultural Heritage status, making the city akin to a timeless beauty frozen in time.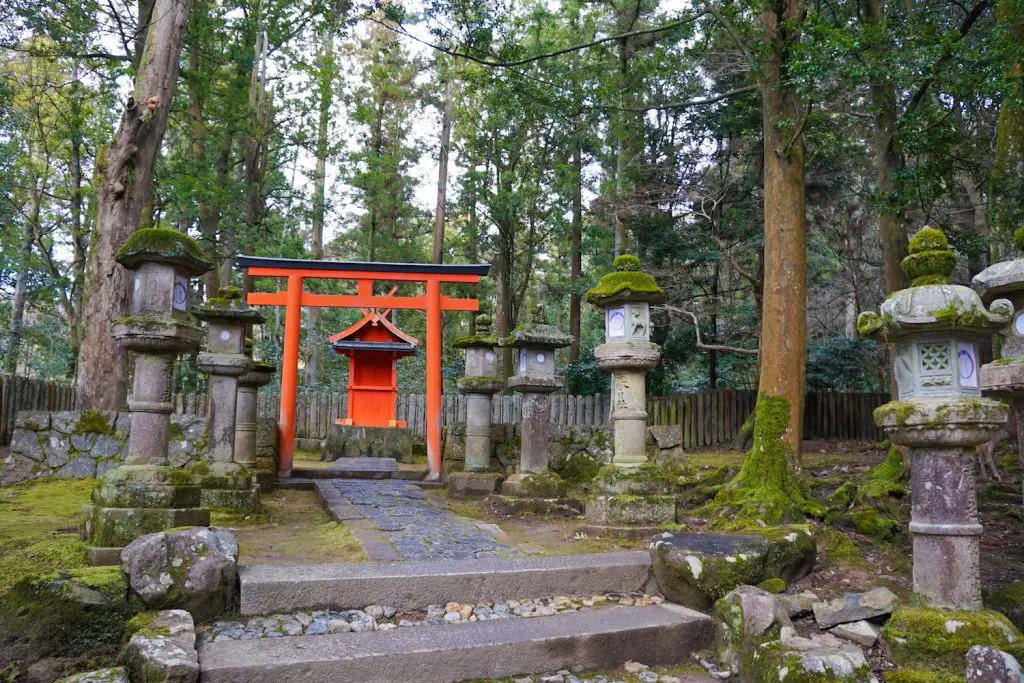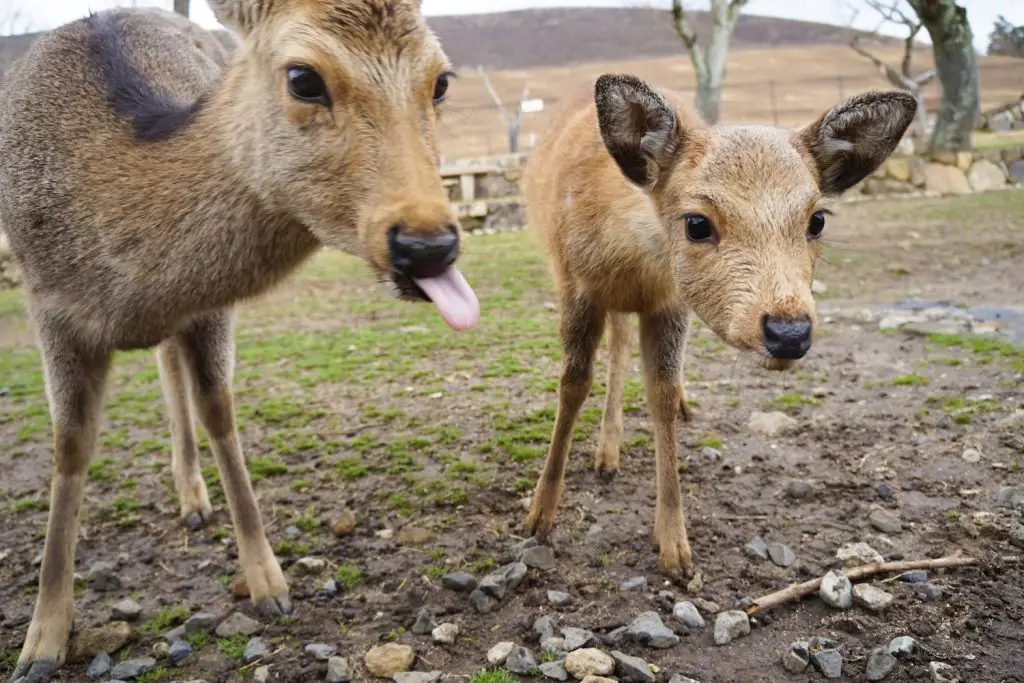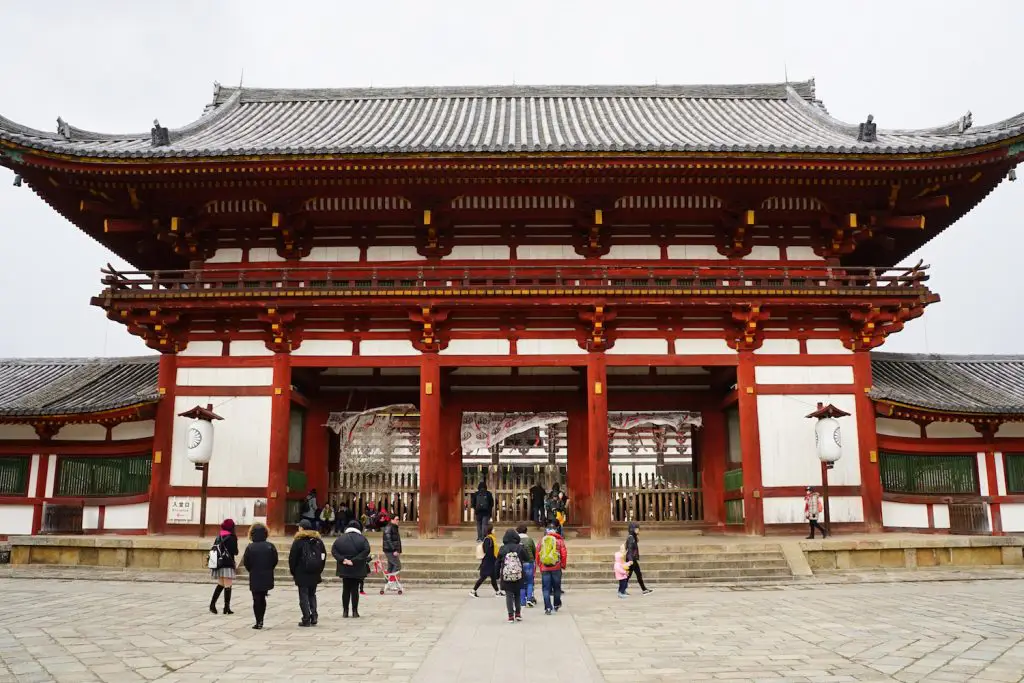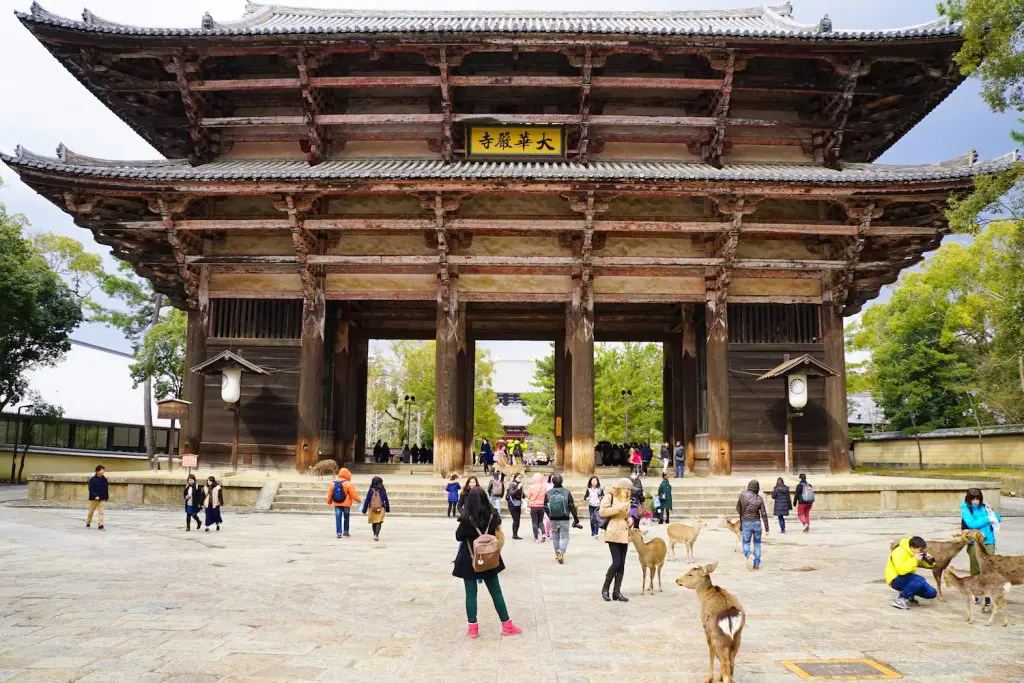 Nara Park, Home of the Ancient
At the center of the city is Nara Park, a vast area of green amidst the urban city. Nara Park was established in 1880, and it is more than just a pleasant green space for the city as it also houses most of the city's well-known destinations, making the park a historical quarter of the city.
Among the most well-known locations in the park is Todai-ji, home to the second biggest Buddha statue in Japan, and among the biggest ones in the world. At 15 meters tall, the statue stands as a gigantic artifact from the earliest days of Buddhism in Japan.
The construction of the statue was a feat in itself, as it took 350,000 labourers to work on it, and about 8 years to complete the three castings separately.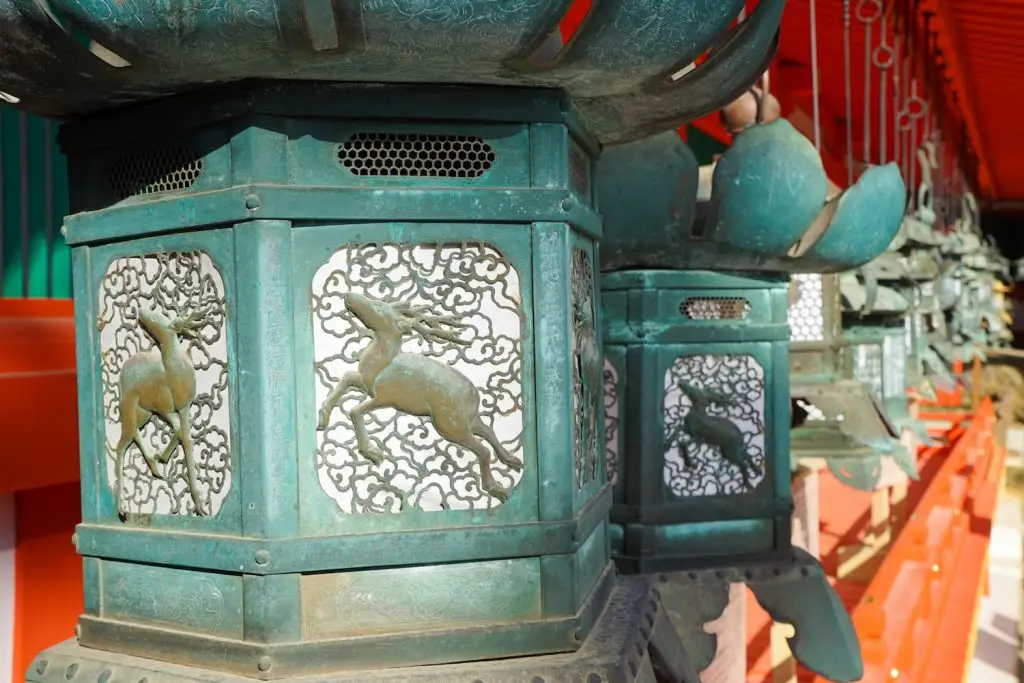 In fact, the project was so ambitious that it nearly bankrupted Japan's economy at that time! The great hall that houses the statue is called the Daibutsu-hen, and it is a wonder in itself.
At 57 metres long and 50 metres high, it was the largest wooden structure in Japan until 1998, when it was supplanted by other modern structures. The whole temple has been pronounced a UNESCO World Heritage Site for its cultural significance, as has Nikko near Tokyo and the Buddhist Pure Land of Hiraizumi for similar reasons.
Another great landmark to see in the park is the shrine Kasuga Taisha, the most celebrated shrine in all of Nara. It was established at around the same time as the ancient capital, and it is dedicated to the gods that are directly responsible for protecting the city, making it the most important shrine at that time.
It was also the shrine of the Fujiwara Clan, the most powerful clan during the Nara and Heian Period.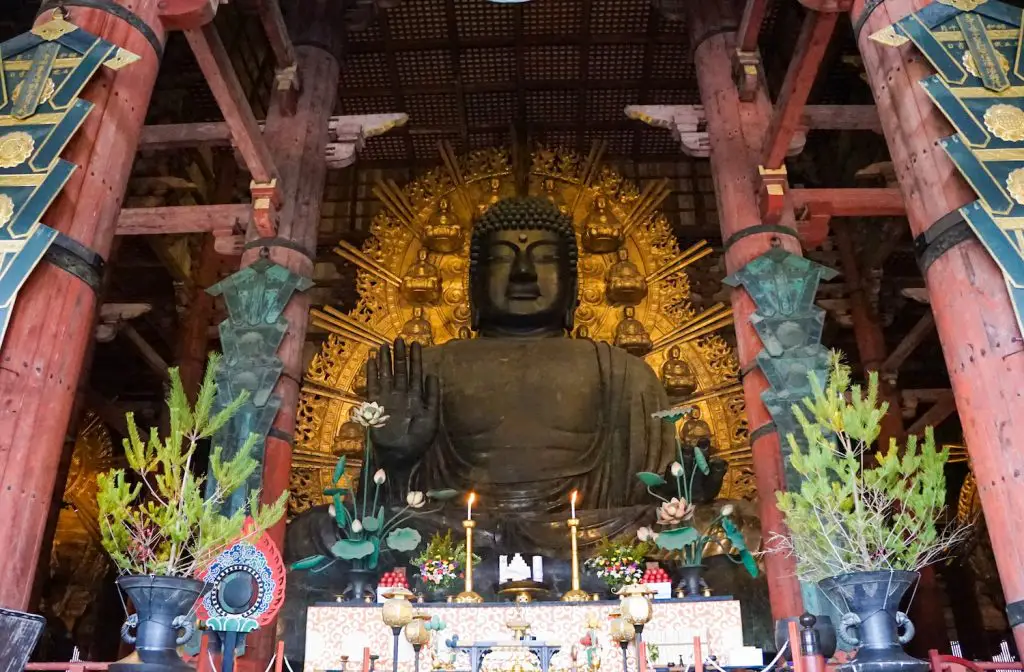 Bowing Deer in Nara
As you enjoy your promenade around the city, or in Nara Park, in particular, it is not difficult to catch sight of deer casually strolling around. Don't worry, these deer do not often cause any ruckus! In fact, they can be a sight to behold, as if you bow to them, some of them will politely bow back to you!
As deer are believed to be messengers of the gods by Nara citizens, the animals enjoy a high level of reverence and worship among the local populace. Deer are allowed to freely roam the city, or more specifically in the areas of Nara Park.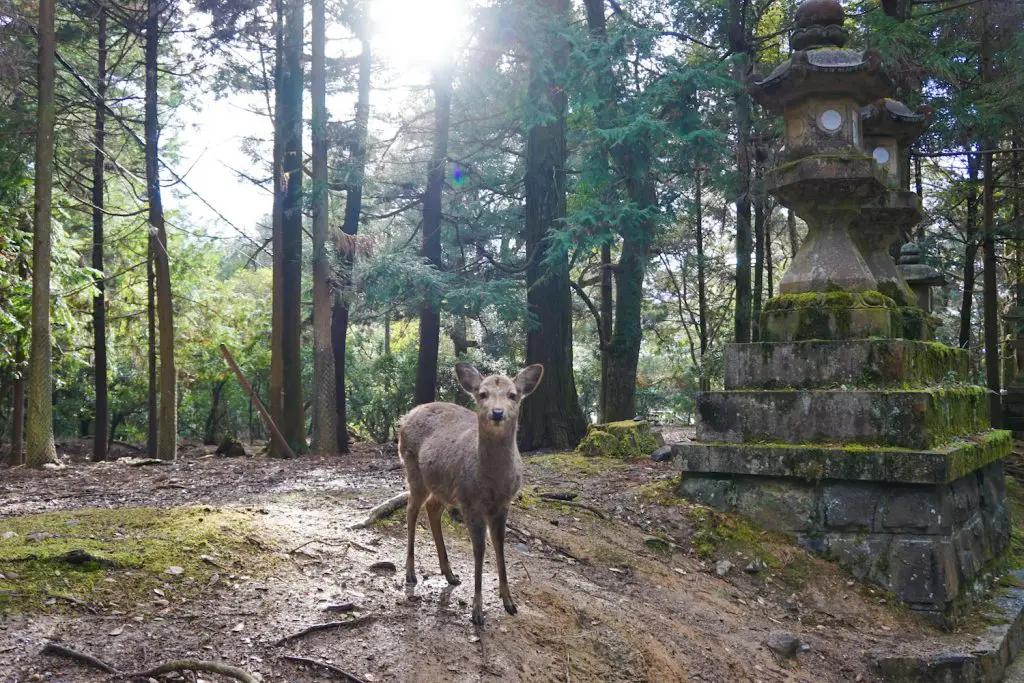 These creatures are very friendly and tame, so they often catch the attention of tourists passing by, who reward their cuteness with the local deer biscuits bought in stands around Nara Park. Over time, the deer have learned to bow their way into getting more biscuits, making them even more popular on social media sites.
If you want to test this story by yourself, you can find these deer roaming about the park, especially near Todai-Ji and Kasuga Taisha. Be careful though, as not all deer are patient enough to bow back. Some might just use slightly more aggressive approaches to get the snacks.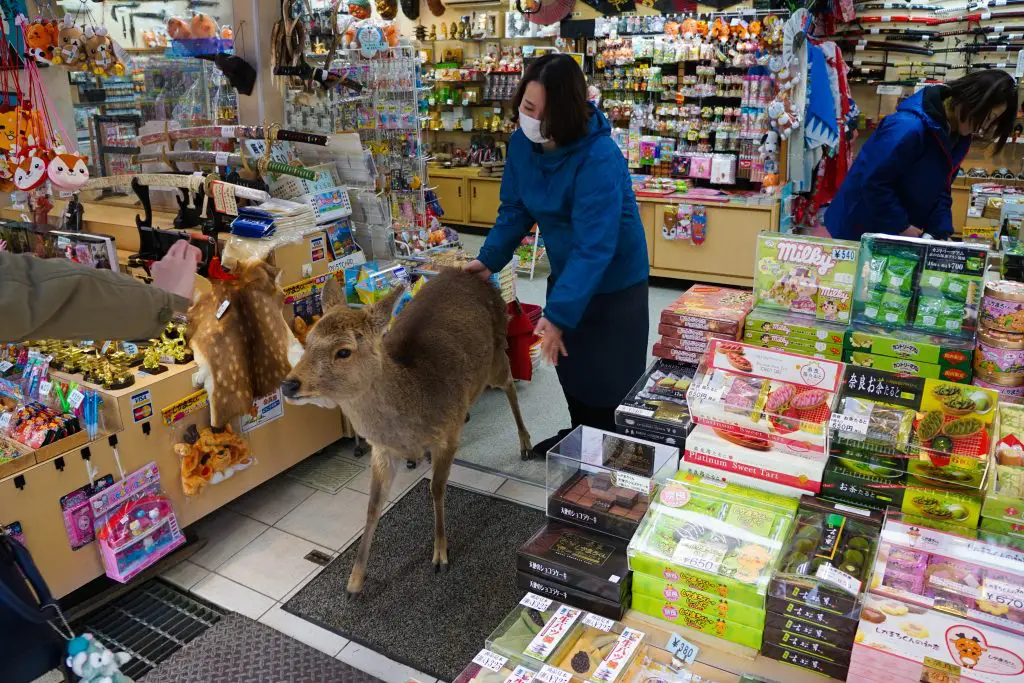 How to Get to Nara
In Japan, the most common and the quickest way to get around is through trains. If you are going to Japan, you are going to want to pick up the JR Pass, as it makes things so, so, so much cheaper. Here is some information regarding how to get to Nara:
From Kyoto: There are two ways to get to Nara from Kyoto. You can either catch a JR rapid train between Kyoto Station and Nara Station, which takes about 45 minutes, costs 710 yen, and is covered by Japan Rail Pass. Alternatively, you can also take Kintetsu Railway trains from Kyoto Station to Kintetsu Nara Station. The fare is 1130 yen, and the commuting time is about 35 minutes. Japan Rail Pass does not cover this train.
From Tokyo: To get to Nara from Tokyo, you must first reach Kyoto. The two cities are connected by the JR Tokaido Shinkansen line, and the commuting time is from 140 minutes to 4 hours, depending on the trains. Once there, you can follow the instructions above to get to Nara from Kyoto.
From Osaka: Just like in Kyoto, there are two ways to reach Nara from Osaka: JR rapid trains or Kintetsu trains. The JR rapid trains take 45 minutes, costs 850 yen, and are fully covered by Japan Rail Pass. The Kintetsu trains go from Osaka-Namba Station to Kintetsu Nara Station within 30 minutes and cost 1070 yen. Japan Rail Pass does not cover this train.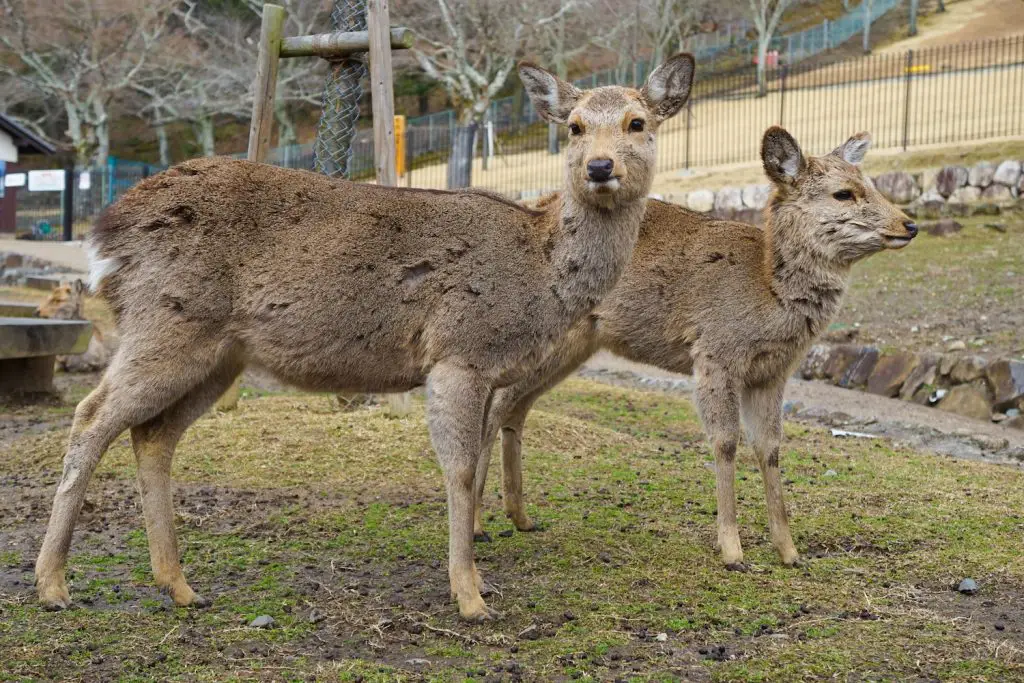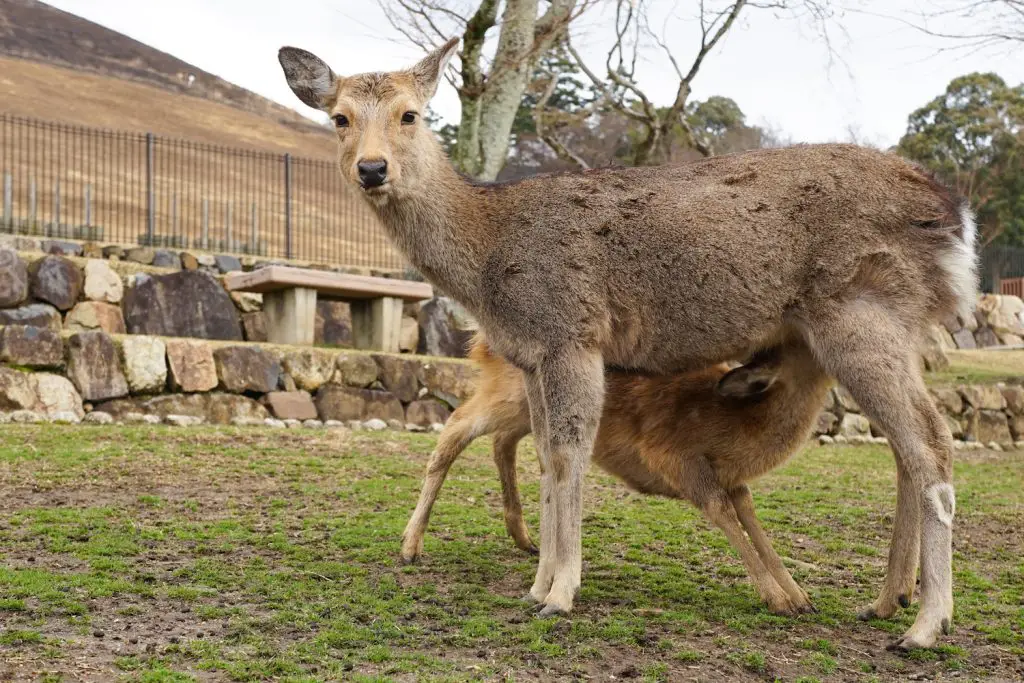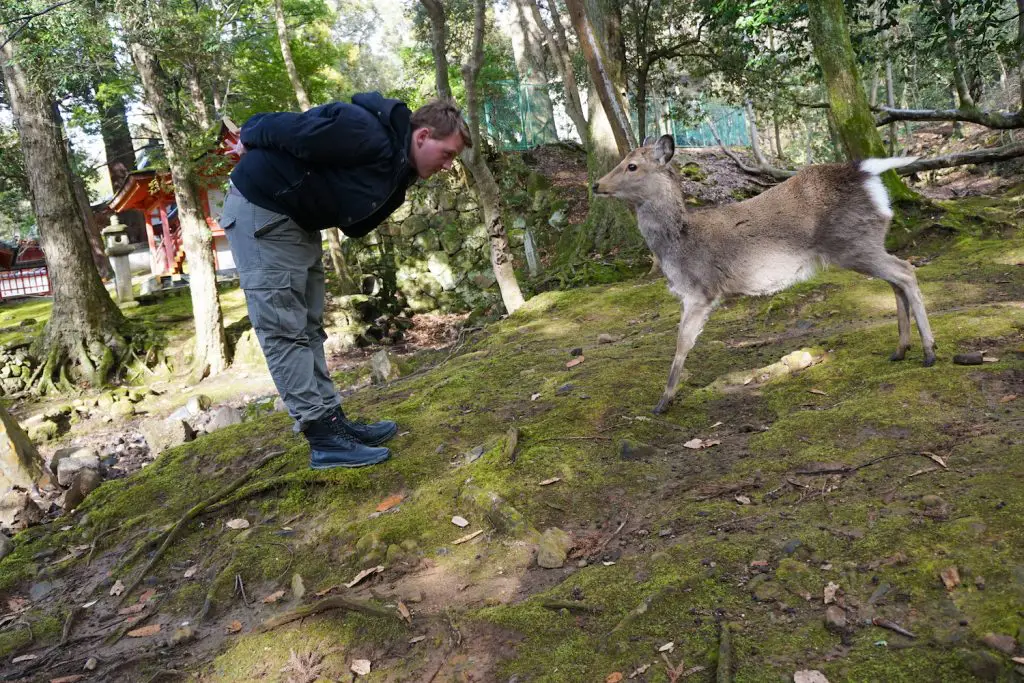 Staying Connected While Travelling
In today's increasingly connected world, staying online while traveling has become essential for a seamless experience. That's where eSIMs come into play, revolutionizing the way we access mobile networks during our global adventures. Say goodbye to hunting down local SIM cards at the airport; eSIMs provide instant activation the moment you land, sparing you the fortune usually spent on international roaming and allowing you to genuinely travel like a local (without getting hopelessly lost!).
With eSIMs, tasks like restaurant recommendations and reservations, up-to-the-minute public transport instructions, checking opening hours, and accessing further information become a breeze. And, of course, sharing your journey on social media is easier than ever. To stay connected wherever you roam, consider using either Airalo or Holafly. Airalo boasts the most extensive range of destinations worldwide, offering smaller data bundles tailored to your needs, while Holafly provides unlimited data packages and fantastic EU data deals.
So why wait? Embrace the future of travel connectivity with eSIMs and make your next journey effortlessly smooth.
Further Things To Consider Before Any Adventure
Now you're all set and prepared to explore our big wide world, why not sort out everything else out all in one go? If necessary for your travel plans make sure you have brought proper travel insurance, protected your privacy by getting a secure VPN, compared all the top hotel booking sites to find just what you're after, reserved an unbeatable rental car price and - of course - booked the best flight deals!
Or maybe just forget it all and go for a last-minute cruise or effortless tour instead?
Many budget travelers (including me) indulge in worldwide airport lounge access, so we can experience luxury while still slumming it in economy. Naturally, we would never leave home without a more general travel guide since we couldn't possibly cover everything here!
Just add an adventurous attitude and plenty of smiles - they go a long way - and that about covers it all! Now go out, find your own path and don't forget to share your best inspiration stories with me on Facebook, Twitter, and Instagram...I'd love to hear from you!