Singapore: multicultural city-state of soaring skyscrapers, glitzy shopping malls and super-fast metro system. While it's widely acknowledged as being at the forefront of modernity, it's not often associated with greenery or parks.
However, this is changing fast as Singapore embraces a new challenge – becoming a 'City in a Garden'. Instead of concrete towers with endless windows, new skyscrapers are 'green', giving off more of an ecosystem vibe than a Gotham City one.
You can just as easily imagine Batman casting aside his cloak to become a gardener on one, rather than leaping off it.
Part of this move towards a greener future is the incredible Gardens by the Bay, Singapore's 101-hectare nature park next to the Marina Reservoir.
That's right, this metropolis is home to a vast park with three waterfront gardens aiming to increase the flora, fauna and general nature in the city. So, does it meet its lofty goals? Find out with our full Gardens By The Bay Singapore review…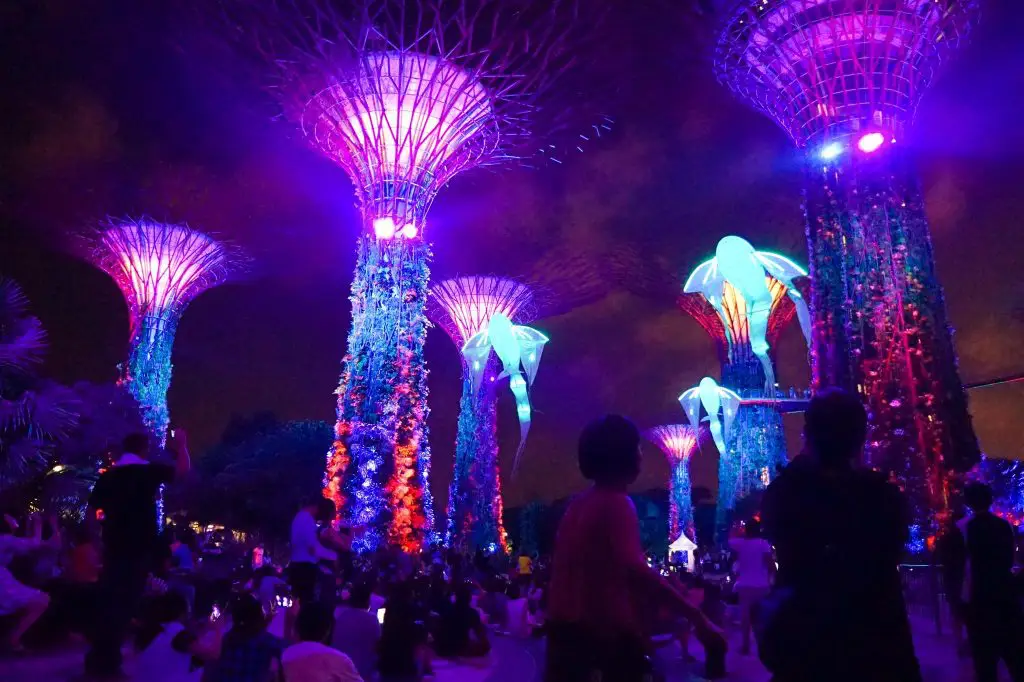 Announced in 2005, the colorful Gardens by the Bay have become one of Singapore's most popular tourist attractions. It's a lovely change of pace from the lively city streets – although, being Singapore, it's got a pretty futuristic vibe even here!
Let's just say this isn't your average city park.
We love how much of it is free admission. The outdoor gardens are open almost 24/7 and won't cost you a penny to roam around.
We think this is pretty cool considering the overall cost of Gardens by the Bay in Singapore was about $1.035 billion! You'll also be able to enjoy the sculptures dotted around the landscape. Visitors do have to pay for certain sections like the conservatories and the famous Supertrees SkyWalk (more on these later).
So what can you see here? There are three distinct garden spaces – Bay South and Bay East, joined by Bay Central Garden's 3 kilometer waterfront promenade. The biggest space is Bay South which covers 130 acres and has the most memorable sights and attractions.
Bay East has more of a laid-back vibe and is less about the wow-factor attractions and more about providing a green space to relax in with a picnic or a walk.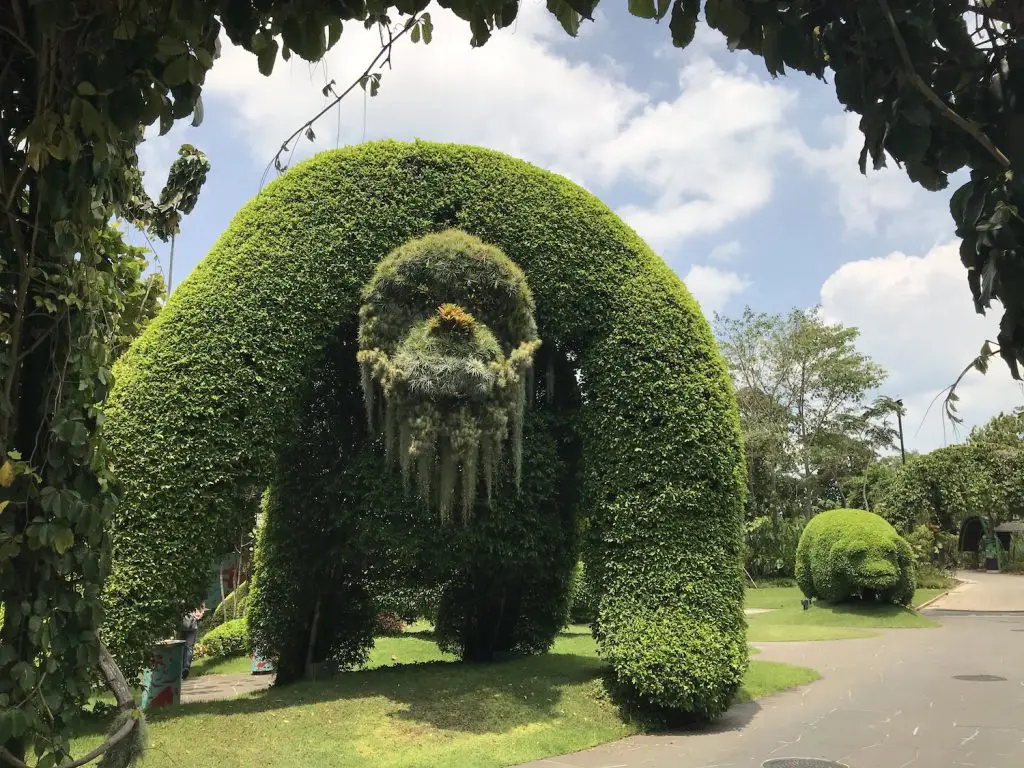 Both have their own distinct appeals and we certainly loved chilling out in Bay East Gardens, enjoying the incredible views you have of the city skyline.
There's a water theme here, with five water inlets to maximise the shoreline, and a series of gardens shaped like tropical leaves create an oasis of calm. It's definitely worth a visit, particularly if you are in need of an escape from the hustle and bustle.
But it's the Bay South Gardens area that will seriously make your jaw drop. Here's where you'll find all the main attractions. They show the kind of imagination and innovation that make you fall in love with Singapore (if the food hasn't already done that!). So what's in store if you venture to the Gardens by the Bay?
First and foremost are those Supertrees we mentioned earlier. Like something from Avatar or another mystical sci-fi movie, these vertical gardens tower above their surroundings at a height of up to 50 metres (on average, they're as tall as a 16-story building). Well, it wouldn't be Singapore if you didn't have to gaze up at something!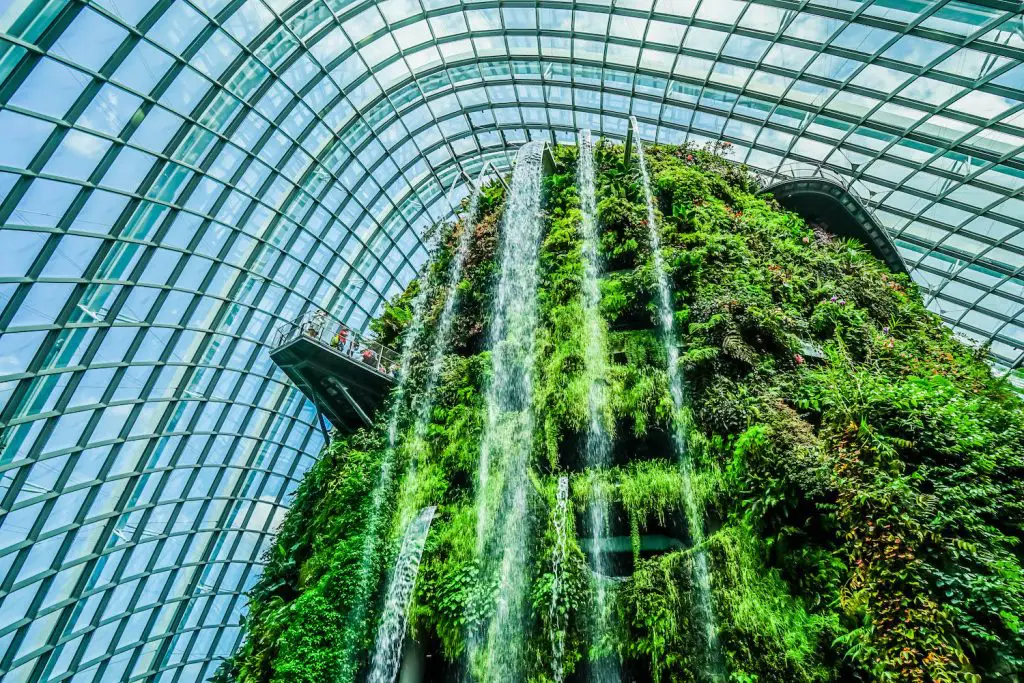 These really are quite magical, joking aside. There are 18 in total and they house a variety of plants in their trunks, such as orchids, ferns, vines and bromeliads (tropical plants) – over 200 species of flowers and plants are nurtured in these structures, which use environmental technology to replicate ecological functions of trees.
For example, photosynthesis is mimicked by cells harnessing solar energy and rain is collected both to water the soil and serve the fountain displays.
You can see the Supertrees from the ground for free or pay for tickets to the 22-metre high walkway weaving through the 'branches' of the trees. This latter option also gives you incredible views out across the Gardens. At night the Supertree Grove turns into a fairy-tale with a music and light show.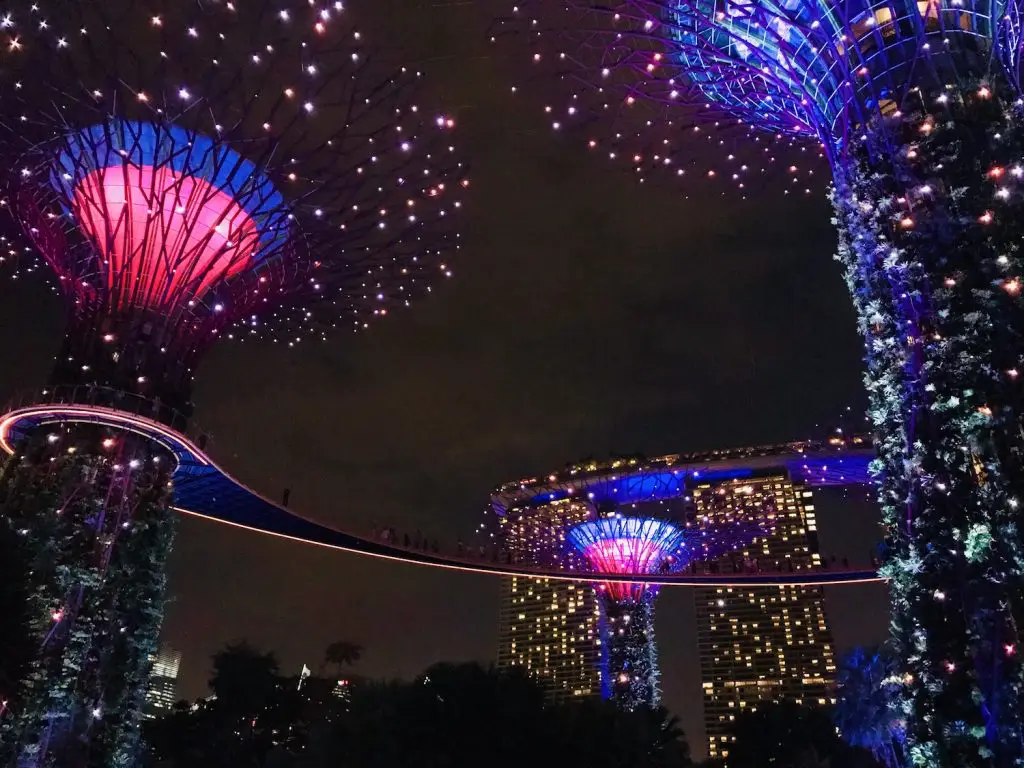 The other main attractions are the two enormous glass domes located on the edge of the Marina Reservoir. These are Gardens' two famous cooled conservatories – the Flower Dome and the Cloud Forest. Both are over 1 hectare in size and are at the forefront of energy efficient architecture, aiming to minimise the environmental footprint.
Everything in the Gardens by the Bay works in harmony to replicate and support nature's processes. Rainwater is collected on the conservatories, and then moved through the Supertrees' cooling system. The Supertrees ventilate the air in the conservatories.
Whether you're there for the architecture or the ecosystems, you'll be in awe of the domes. The Flower Dome duplicates a mild, dry climate like the Mediterranean while the pleasantly cool Cloud Forest is supposed to be a tropical mountain region between 1000 and 3000 meters. Imagine you're hiking in the Latin American mountains as you descend the circular path around a waterfall.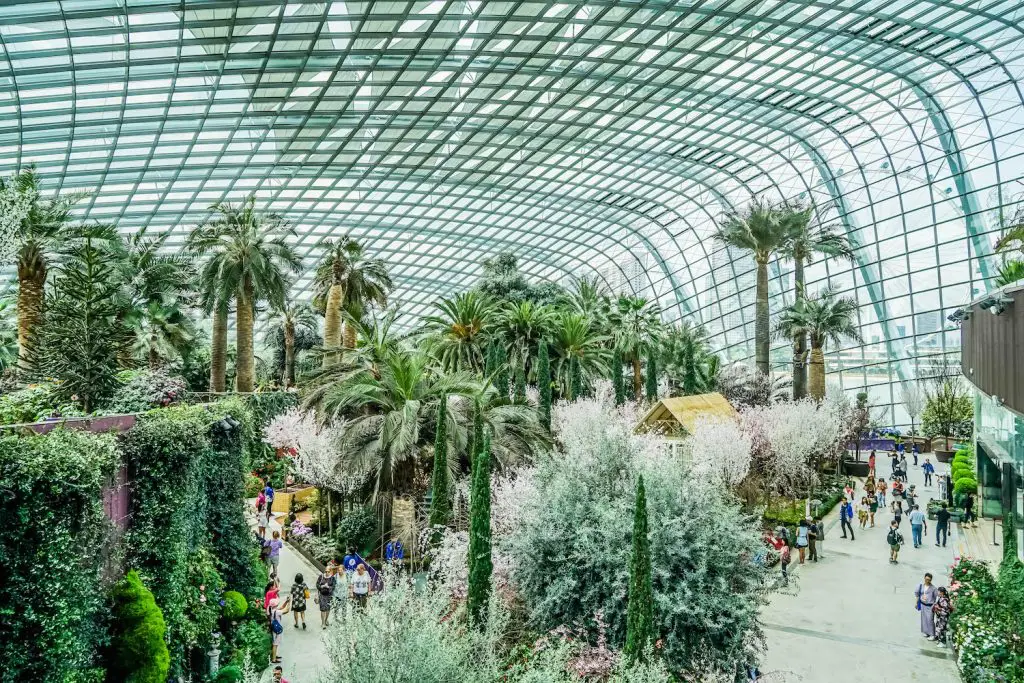 Each conservatory boasts a vast array of plant species, arranged across various areas. There's an olive grove in the Flower Dome and levels like The Lost World and The Cavern in the Cloud Forest. It feels like walking into the Garden of Eden. You have to buy a ticket to visit the conservatories, but it's a small price to pay for access to paradise.
In the free areas you have the chance to walk beside the Kingfisher and Dragonfly Lakes, soaking in the relaxed atmosphere on the edge of the water and spotting jewel-coloured birds flitting around.
There are gardens themed on Singapore's different cultural groups and their plants. You'll also find several cafes and stalls dotted around the park so you can enjoy an ice-cream cone as you meander.
With its perfect mix of secluded natural idyll and remarkable environmentally-friendly structures, Gardens by the Bay Singapore is the ideal getaway from the traffic and crowds of the main city.It's a totally unique way of seeing plant-life and will inspire you to be that bit kinder towards the amazing planet we live on and love to travel around.
Yes, thats a 10/10 must do for our Gardens By The Bay Singapore Review…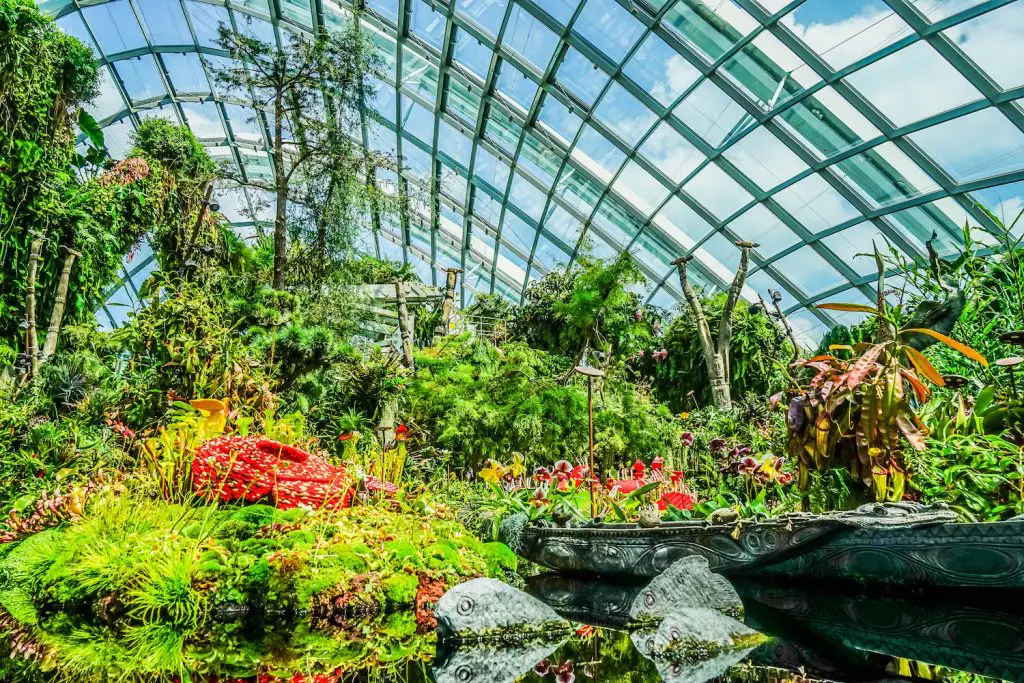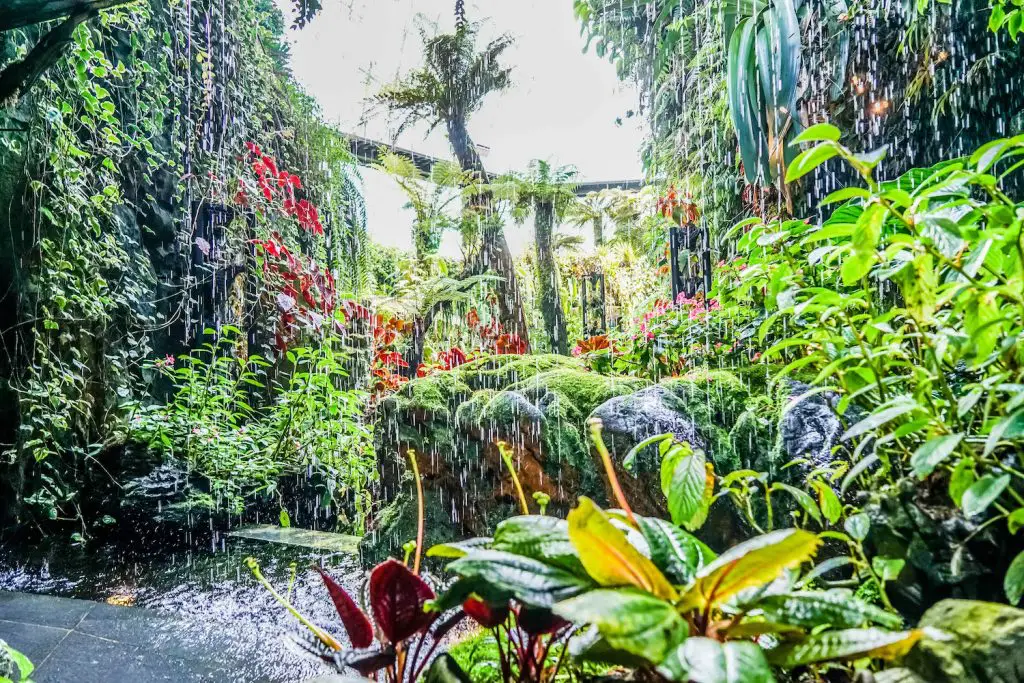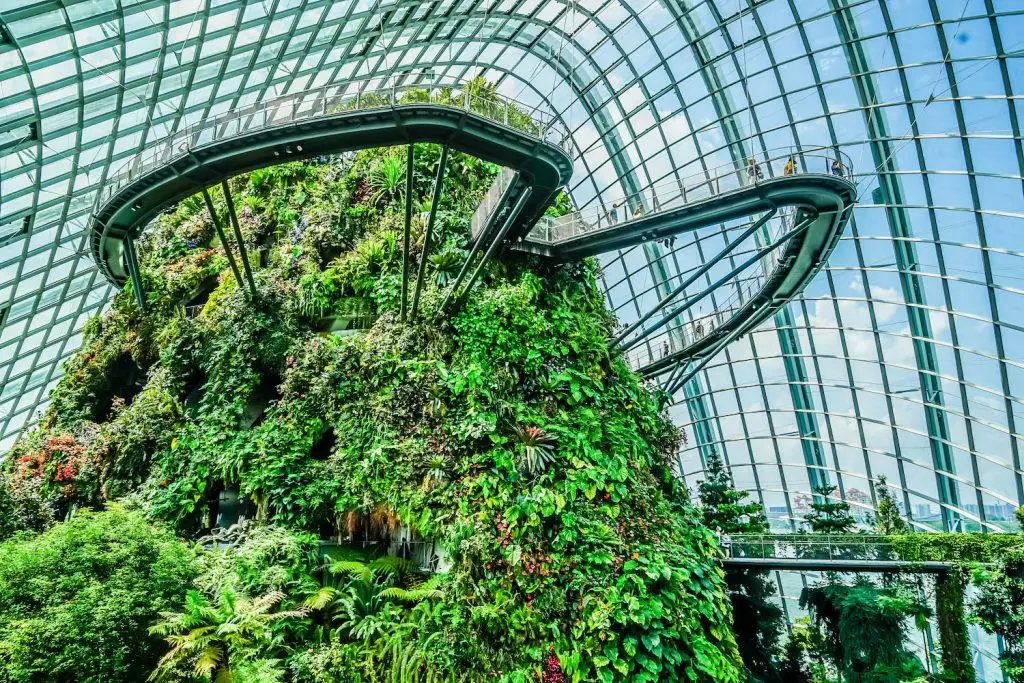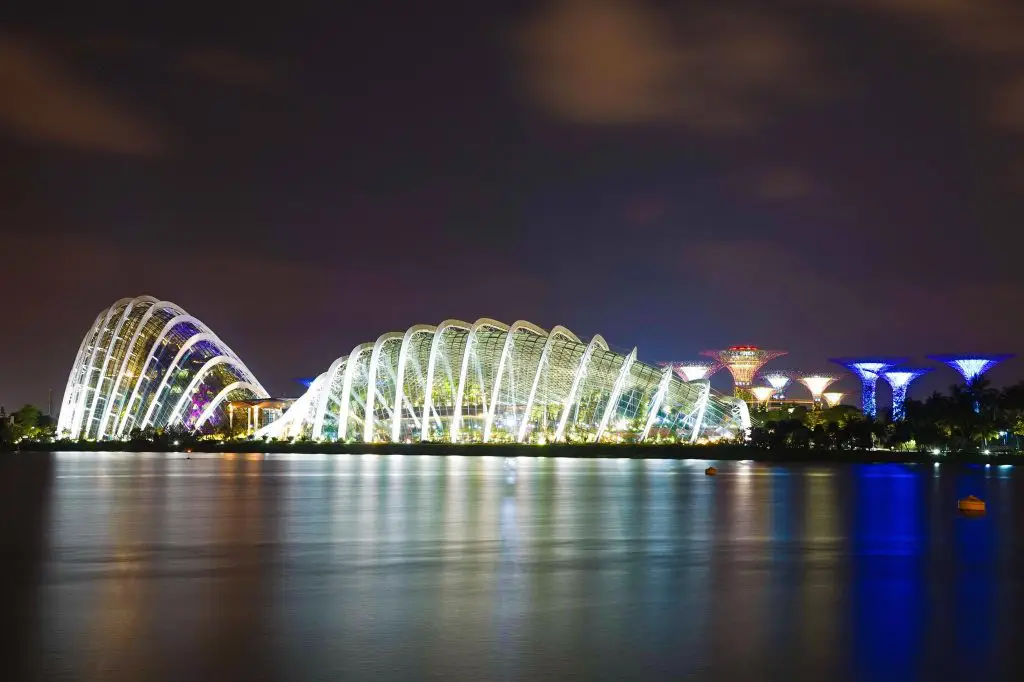 Staying Connected While Travelling
In today's increasingly connected world, staying online while traveling has become essential for a seamless experience. That's where eSIMs come into play, revolutionizing the way we access mobile networks during our global adventures. Say goodbye to hunting down local SIM cards at the airport; eSIMs provide instant activation the moment you land, sparing you the fortune usually spent on international roaming and allowing you to genuinely travel like a local (without getting hopelessly lost!).
With eSIMs, tasks like restaurant recommendations and reservations, up-to-the-minute public transport instructions, checking opening hours, and accessing further information become a breeze. And, of course, sharing your journey on social media is easier than ever. To stay connected wherever you roam, consider using either Airalo or Holafly. Airalo boasts the most extensive range of destinations worldwide, offering smaller data bundles tailored to your needs, while Holafly provides unlimited data packages and fantastic EU data deals.
So why wait? Embrace the future of travel connectivity with eSIMs and make your next journey effortlessly smooth.
Further Things To Consider Before Any Adventure
Now you're all set and prepared to explore our big wide world, why not sort out everything else out all in one go? If necessary for your travel plans make sure you have brought proper travel insurance, protected your privacy by getting a secure VPN, compared all the top hotel booking sites to find just what you're after, reserved an unbeatable rental car price and - of course - booked the best flight deals!
Or maybe just forget it all and go for a last-minute cruise or effortless tour instead?
Many budget travelers (including me) indulge in worldwide airport lounge access, so we can experience luxury while still slumming it in economy. Naturally, we would never leave home without a more general travel guide since we couldn't possibly cover everything here!
Just add an adventurous attitude and plenty of smiles - they go a long way - and that about covers it all! Now go out, find your own path and don't forget to share your best inspiration stories with me on Facebook, Twitter, and Instagram...I'd love to hear from you!