The Fushimi Inari Shrine or the Kyoto Fox Shrine (伏見稲荷大社, pronounced Fushimi Inari Taisha in Japanese) is an important Shinto shrine in southern Kyoto and one of the most popular tourist sites in the whole of Japan.
It is said to be home of the famed Inari Foxes, thus the name Kyoto Fox Shrine, but sadly your not likely to find any read foxes running around here.
After my visit to the Kyoto Fox Shrine, inspired by Memoirs of a Geisha and a yearning to learn more this ancient places quirky history, I can't say that I am surprised by the popularity of the Kyoto Shrine orange gates – even given the ridiculous amount of competition it faces in this ancient island nation!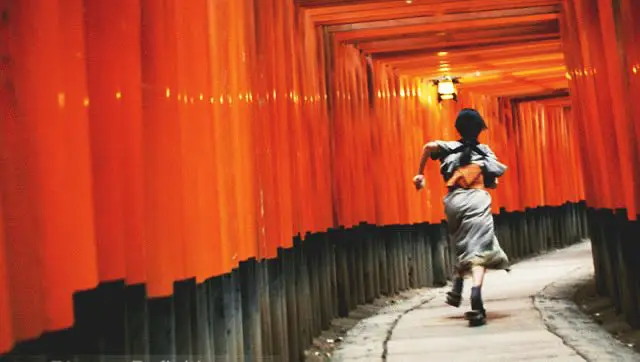 Thousands of vivid orange (correction – vermilion to be specific) torii gates line the well-trodden path, wrapping you up and protecting you from the outside world in a network of trails leading into a wooded forest sanctuary. When there is a gap in the gates you are treated to a vision of lush green forest and a feeling of magic as you make your way up the sacred Mount Inari.
This truly is one place you need to go to Japan, and I'm glad I did (even though it's not a UNESCO site!). It was one of my absolute favorite Japan experiences, up there with the crazy Robot cafe in Tokyo, the surreal natural beauty of Nasu or Edo Wonderland in Nikko.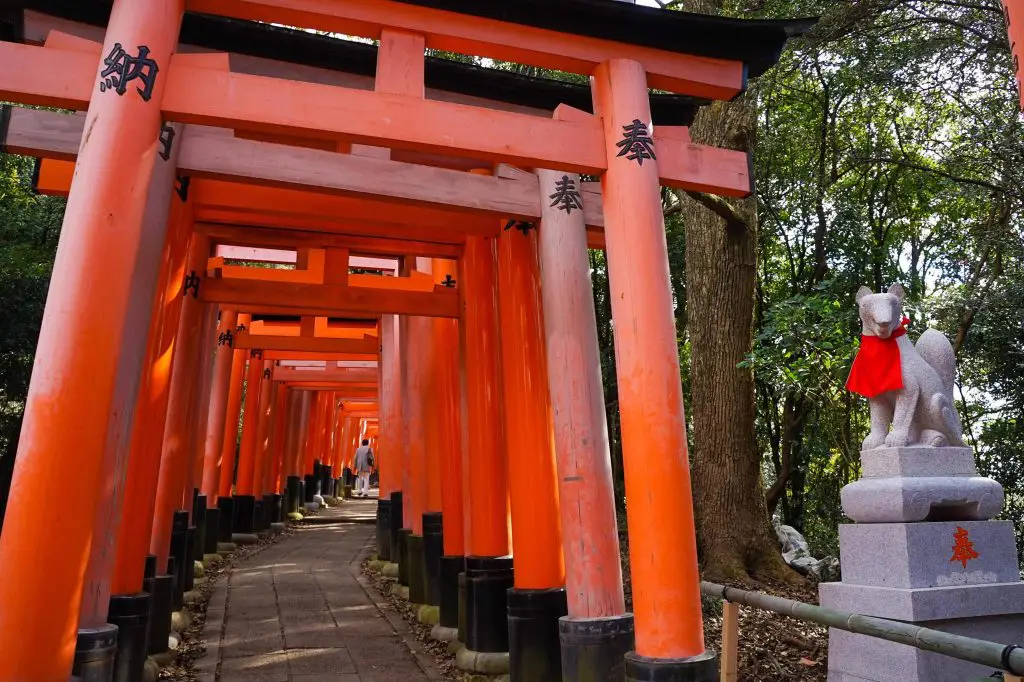 To really enjoy the experience be sure to venture to the top of the mountain – as the saying goes, good things come to those who wait and apparently in this case many people just are not willing to.
The bottom of the shrine complex is overflowing with markets stalls, overpriced souvenir shops and girls living out their geisha fantasies – trust me, no real geisha is hanging out in full get up at TripAdvisor #1 "tourist destination in Japan"!.
But after the quick tour bus type who just want a picture thin out, you will be treated to a tranquil quiet space to reflect, the cool wind blowing through the forest and babbling brooks.
Or you can wait 30 mins + to get an empty shot of the Fushimi Inari tori gates near the bottom of the Japanese Fox Shrine…On the plus side, plenty of time to consider are Inari Foxes Real?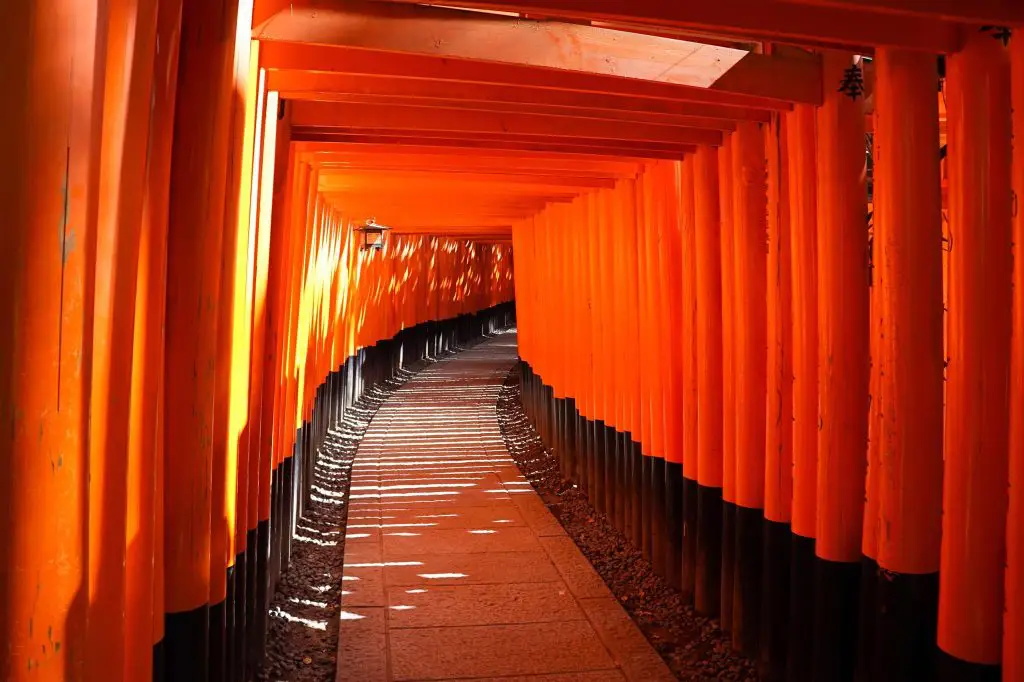 A sense of calm infuses the Japanese Fox Shrine (well from about halfway up the mountain) … Glorious views over Kyoto, ancient shrines and rituals, and shaded groves. I was often alone, no one else around just sitting in wonder at this fusion of nature and culture that is done so well in East Asia, and particularly well in Japan thanks to its Zen Buddhist roots!
The shrine sits at the base of a majestic mountain (also named Inari) which is 233 meters above sea level. There are multiple trails up the mountain to many petite shrines, around 4 kilometers of paths in total, but no matter which you pick it will take around 1.5 – 2 hours to walk to the top.
It is totally worth it though…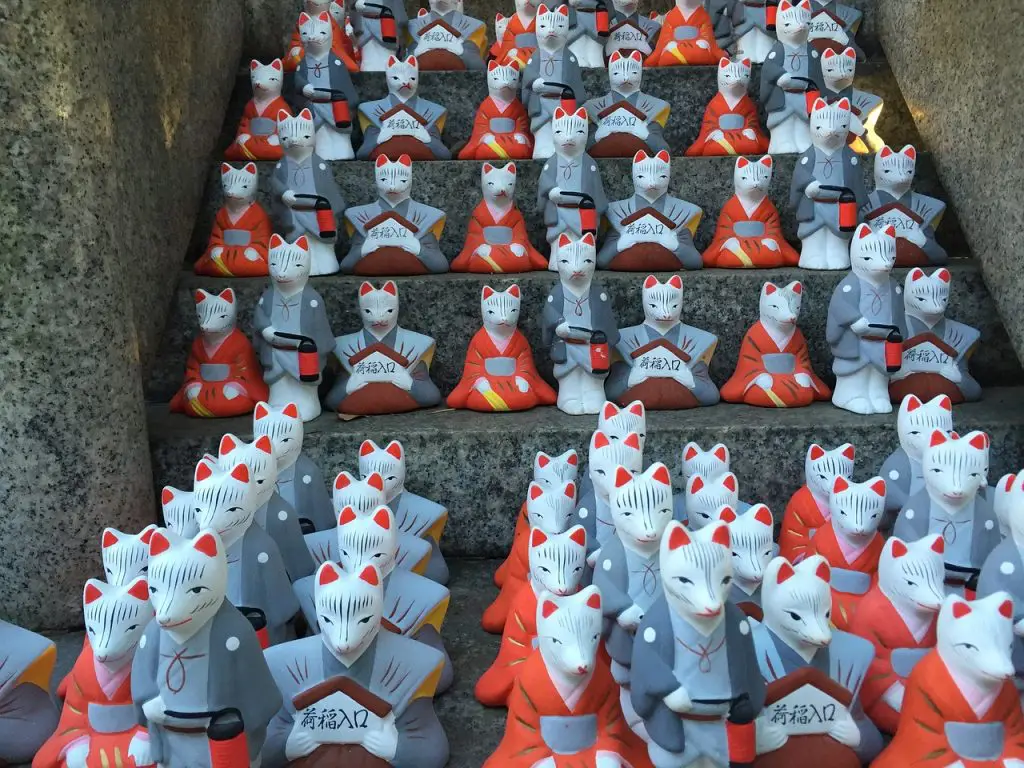 As I said for me my first glimpse of the Kyoto Fox Shrine – Fushimi Inari – was from Memoirs of a Geisha long, long before I was even interested in travel.
Yes, I admit it…I was smitten by the scene of Chiyo running along the path in a whirlwind of orange but upon further research what really sold it to me was the association with foxes, which are one of my spirits animals. Sadly there are no real foxes here, but statues of them are a dime a dozen!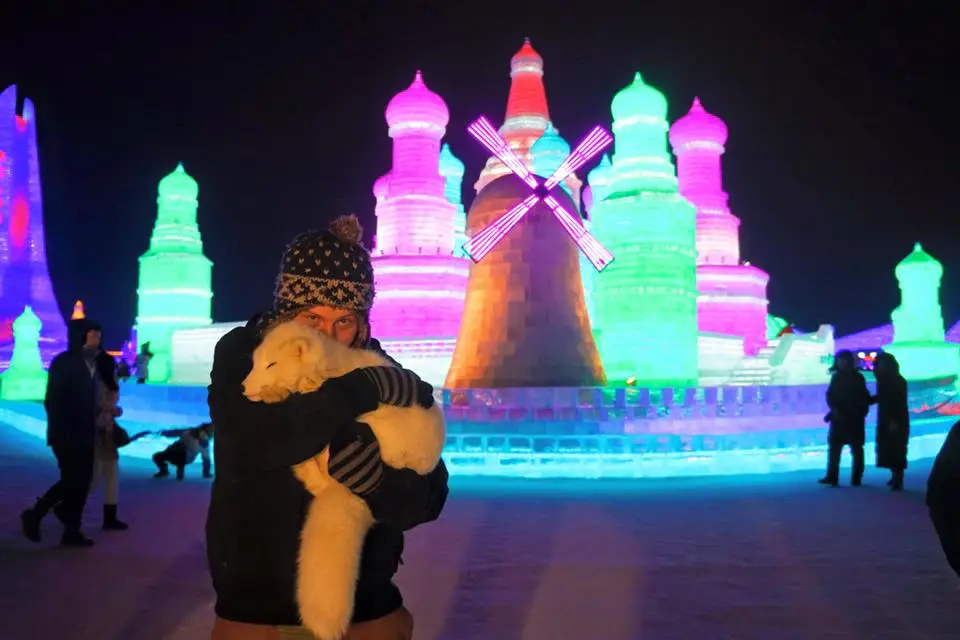 Foxes (kitsune), regarded as the messengers, are often found in Inari shrines and at the Kyoto Fox Shrine – as the name would suggest – they are almost everywhere you look! One notable thing here is a key (for the rice granary) in their mouths, but my favorite are the ones with little-knitted beanies on!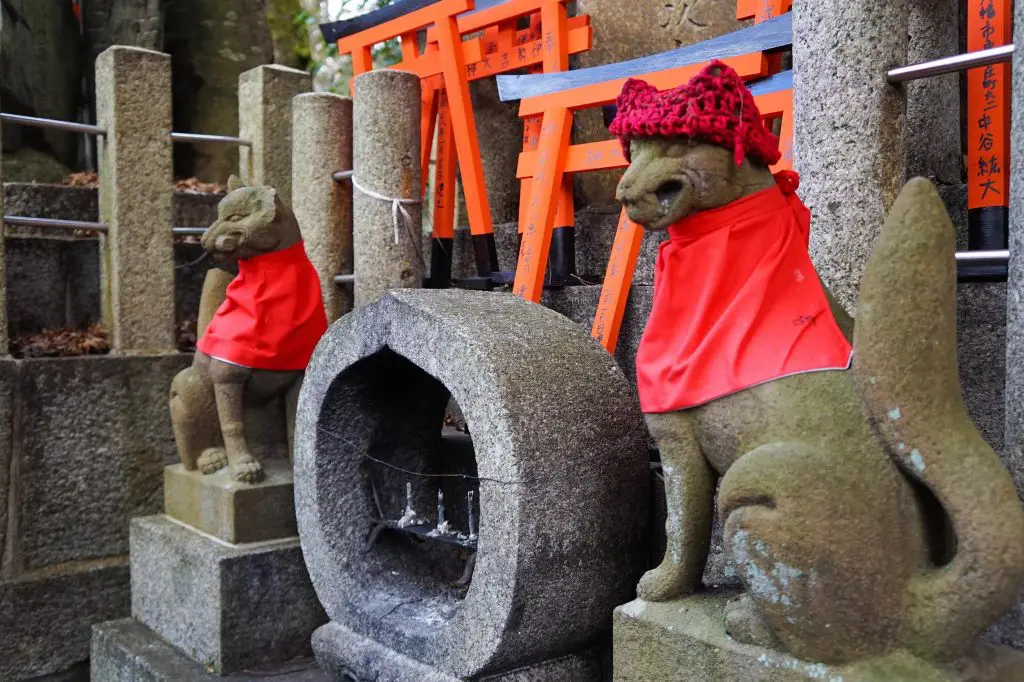 The Kyoto Fox Shrine is the most important of the several thousand shrines dedicated to Inari across Japan, the Shinto god of rice. Fushimi Inari Shrine has ancient origins and even predating the capital's move to Kyoto in 794!
Since early Japan, Inari was seen as the patron of business, and merchants and manufacturers have traditionally worshipped Inari. Each of the torii at Fushimi Inari Taisha is donated by a Japanese business explaining why there are so, so, SO many but you will notice they thin out more near the top so is room for plenty more!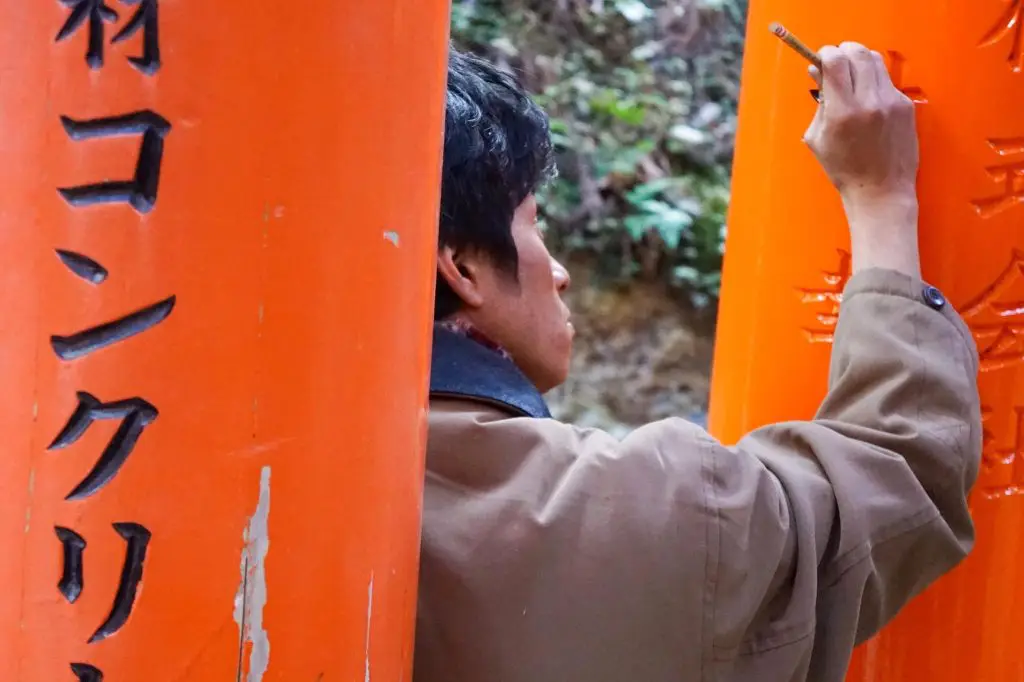 There are also a few restaurants along the way, which offer locally themed dishes such as Inari Sushi and Kitsune Udon ("Fox Udon"), both featuring pieces of aburaage (fried tofu), said to be a favorite food of foxes! How cute is that – And the setting is often overlooking a gorgeous patch of forest makes it even more worthwhile to eat here!
In the approach to the shrine are a number of sweet shops selling tsujiura senbei (辻占煎餅), a form of fortune cookie dating at least to the 19th century, and which are believed by some to be the origin of the Chinese-American fortune cookie.
The shrine is open 24 hours with both the approach to the shrine and the Honden (本殿 main hall) itself illuminated all night. There is no entrance fee.
Getting To The

Japanese Fox Shrine

In Kyoto
The Fushimi Inari Shrine or the Kyoto Fox Shrine is located just outside JR Inari Station, the second station from Kyoto Station along the JR Nara Line (5 minutes, 140 yen one way from Kyoto Station, not served by rapid trains).
If you have your JR Rail Pass it's super easy to just pop by…potentially even as a day trip from weird Tokyo, or from Osaka. Though there is obviously plenty of other things to do in Kyoto that more than justifies spending a few days here…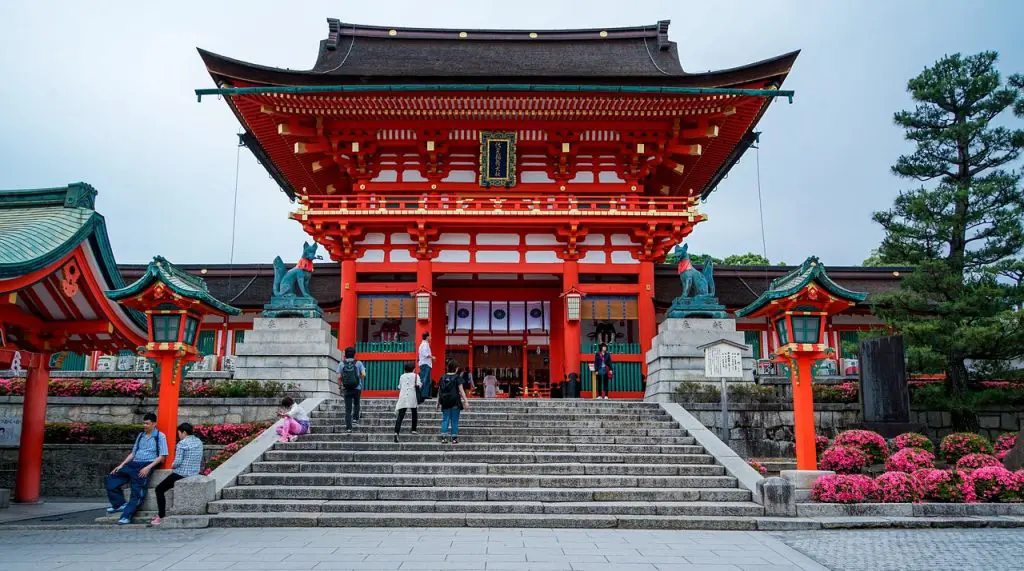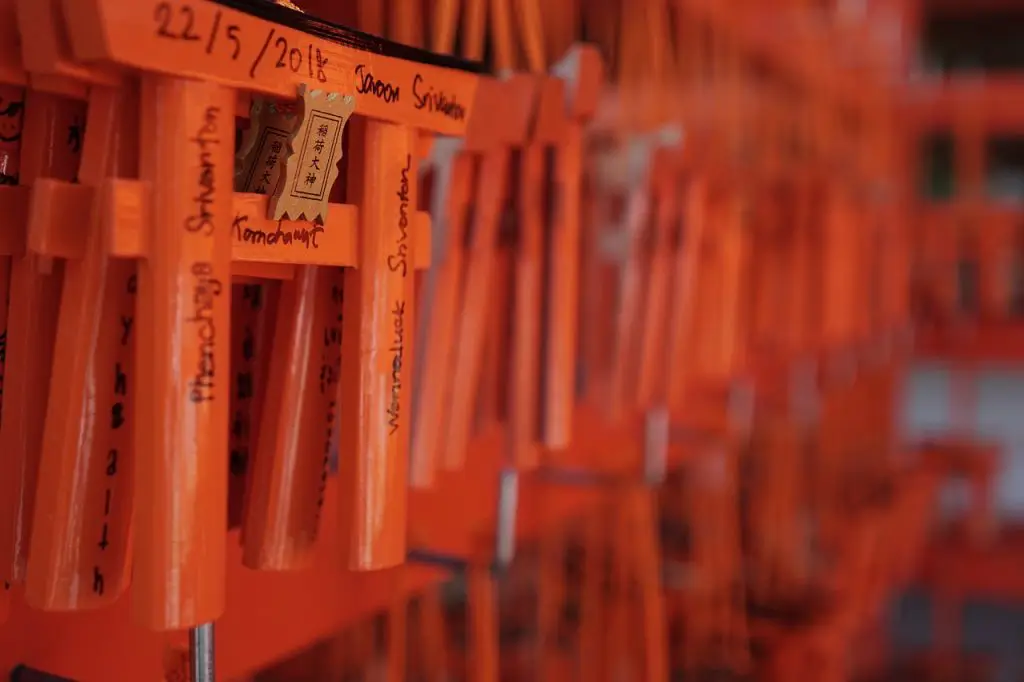 Staying Connected While Travelling
In today's increasingly connected world, staying online while traveling has become essential for a seamless experience. That's where eSIMs come into play, revolutionizing the way we access mobile networks during our global adventures. Say goodbye to hunting down local SIM cards at the airport; eSIMs provide instant activation the moment you land, sparing you the fortune usually spent on international roaming and allowing you to genuinely travel like a local (without getting hopelessly lost!).
With eSIMs, tasks like restaurant recommendations and reservations, up-to-the-minute public transport instructions, checking opening hours, and accessing further information become a breeze. And, of course, sharing your journey on social media is easier than ever. To stay connected wherever you roam, consider using either Airalo or Holafly. Airalo boasts the most extensive range of destinations worldwide, offering smaller data bundles tailored to your needs, while Holafly provides unlimited data packages and fantastic EU data deals.
So why wait? Embrace the future of travel connectivity with eSIMs and make your next journey effortlessly smooth.
Further Things To Consider Before Any Adventure
Now you're all set and prepared to explore our big wide world, why not sort out everything else out all in one go? If necessary for your travel plans make sure you have brought proper travel insurance, protected your privacy by getting a secure VPN, compared all the top hotel booking sites to find just what you're after, reserved an unbeatable rental car price and - of course - booked the best flight deals!
Or maybe just forget it all and go for a last-minute cruise or effortless tour instead?
Many budget travelers (including me) indulge in worldwide airport lounge access, so we can experience luxury while still slumming it in economy. Naturally, we would never leave home without a more general travel guide since we couldn't possibly cover everything here!
Just add an adventurous attitude and plenty of smiles - they go a long way - and that about covers it all! Now go out, find your own path and don't forget to share your best inspiration stories with me on Facebook, Twitter, and Instagram...I'd love to hear from you!