You know by now that I love Tokyo. Seriously, in a world that is full of weird and wonderful places, Tokyo is one of the weirdest and most wonderful.
It's an incredible city that should be experienced by everyone at least once (or twice, or even three times or more!).
When you get there, there is such a range of things to do in Tokyo and see you won't even know where to start There are loads of suggestions out there including Mario Go-Karting, but one that I cannot recommend enough is the Robot Restaurant in Tokyo.
When we say that you need to go, this is no exaggeration: it is a must-see in the purest sense of the world. No matter if you have one night or three days in Tokyo you just cannot miss this… Book your tickets far in advance amd thank us later!
[/sc]
Why You Absolutely Need To Go To The Crazy Robot Restaurant in Tokyo 🤖
So, What Is This Bizarre Robot Restaurant In Tokyo?
The simplest explanation is that this Robot Restaurant in Shinjuku, Tokyo's crazy party district, is a restaurant where diners can watch a cabaret robot show complete with lasers and fireworks.
We know, that is far from a simple explanation. But where can you even start with an experience like this?
You go down a technicolor stairway into a basement and immediately feel like you've entered another world. Arrive early and you can drink in your futuristic surroundings while you drink a beer – although you almost need sunglasses for the bright neon lights, mirrors bouncing back the illumination and video screens.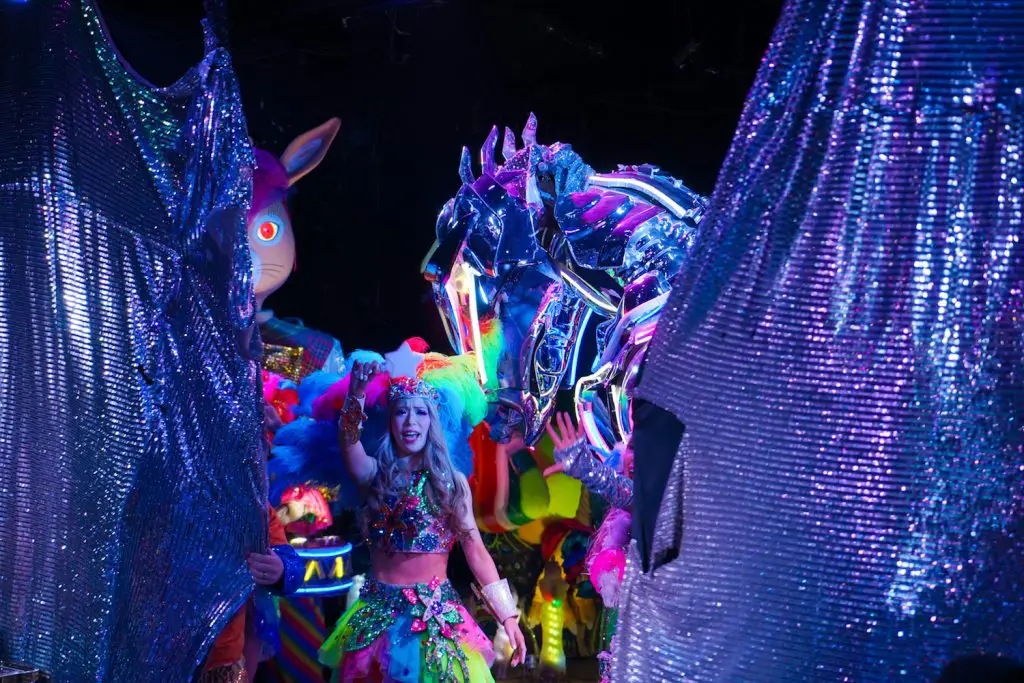 There is then a 90-minute show of glorious madness. There are epic battles between robots and dinosaurs, strobe lighting, fembots dancing, drumming and a whole host of other joys.
It's described as a robot cabaret show in Tokyo, but it is much more than that. Apparently, there is a storyline, not that anyone really follows it, and behind the scenes, there's a dedicated dance troupe who practice daily to produce a sparkling show.
Once the music starts pumping, you'll find yourself glued to your seat as an array of musicians, dancers and performers take you to another world, one filled with rainbow lights and techno music.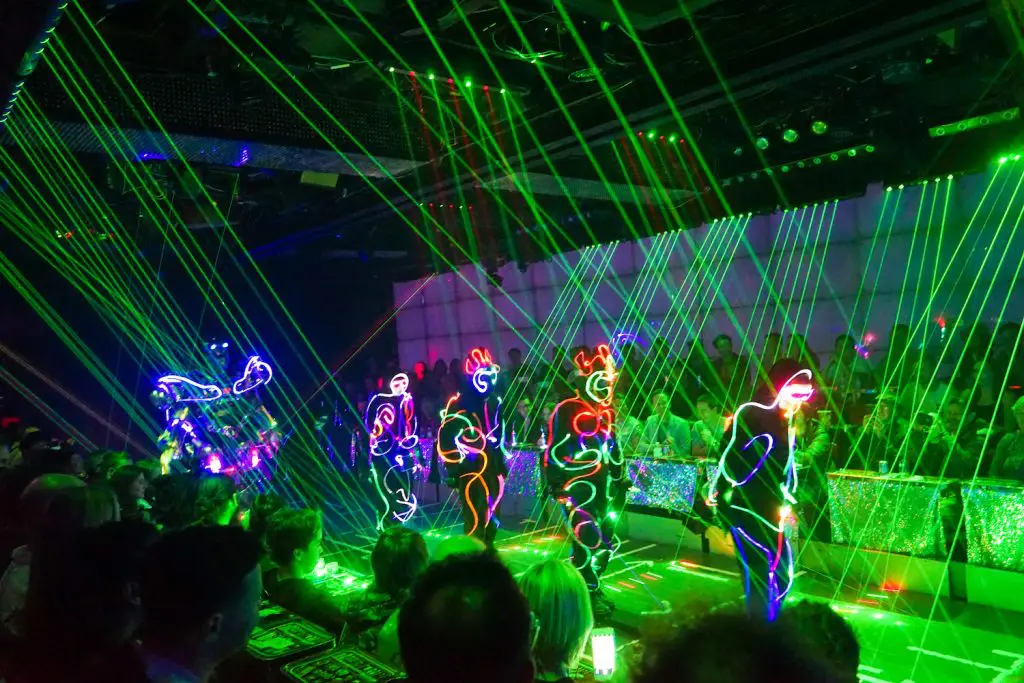 What Can You Expect In The Unique Robot Restaurant In Tokyo?
Our description might make you think that it's not really your thing, but really this is something that everyone will enjoy – whether you're young, older, a fan of anime, wacky creatures, dancing, robots, none or all of the above, you are going to enjoy this.
You can expect to have one of the most bizarre and amazing nights you have ever had! It's impossible not to laugh, gasp and say 'awesome' over and over again.
The performance goes full-throttle and you can fully expect to be transported into the madness. People tend to start off by being completely stunned into silence, but by the end the audience are waving glow sticks like maniacs.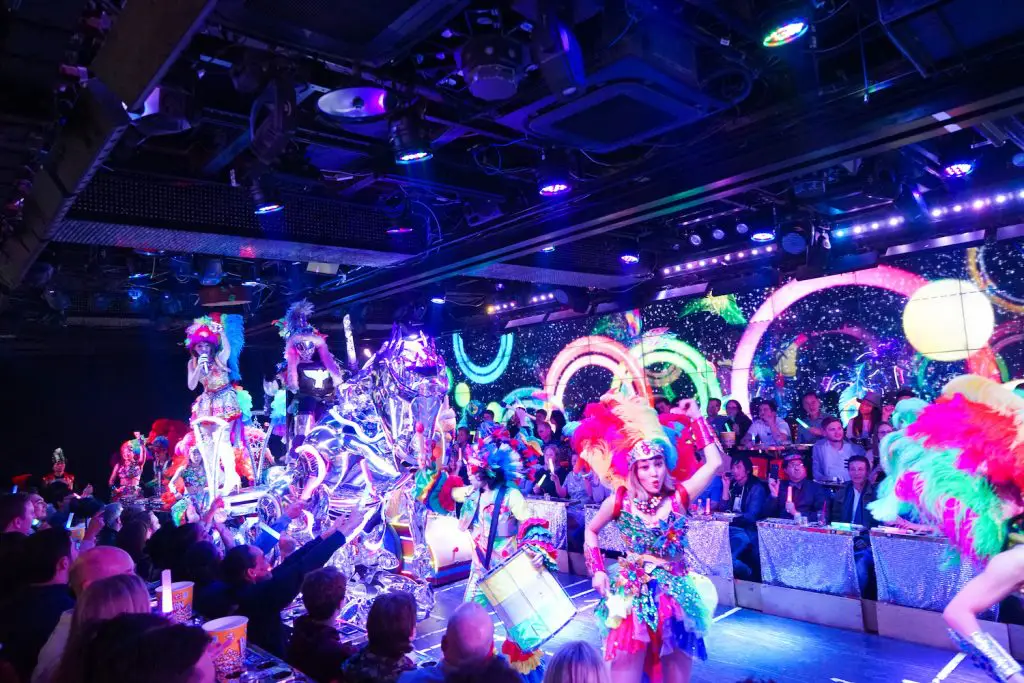 Tokyo's robot evening cabaret show is not all about the robots. You will also see warrior princesses and neon tanks, dinosaurs and animals at war with the robots. Rumor has it that the outcome of these battles differs every time, so there's no predictability to it at all!
The whole thing feels a bit like what you would imagine an acid trip is like; a wild and colorful hallucination, with more energetic dancing.
It absolutely has to be seen to be believed. You might try explaining it to someone and have them say that it doesn't sound like their thing – but it is, they just don't know it yet!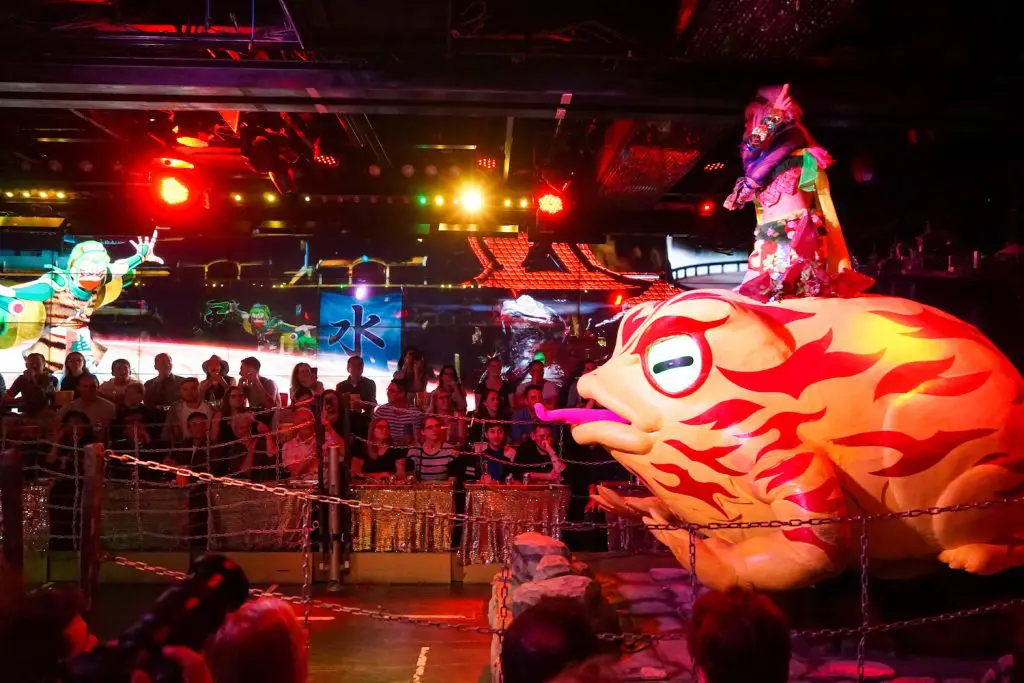 What Juicy Insider Details About The Tokyo Robot Cabaret Show Can We Give?
Tickets for the Crazy Robot Restaurant in Tokyo start around 8000 yen. Yes, it's at the more expensive end of things to do, but it is 100% worth the money. Make sure you book your tickets in advance because they sell out quickly, even with several shows each night.
We checked every possible way to do it, and found booking Robot Show Tokyo Discount Tickets via Klook to be the easiest and the cheapest possible way… Weirdly enough, much cheaper than going direct ??!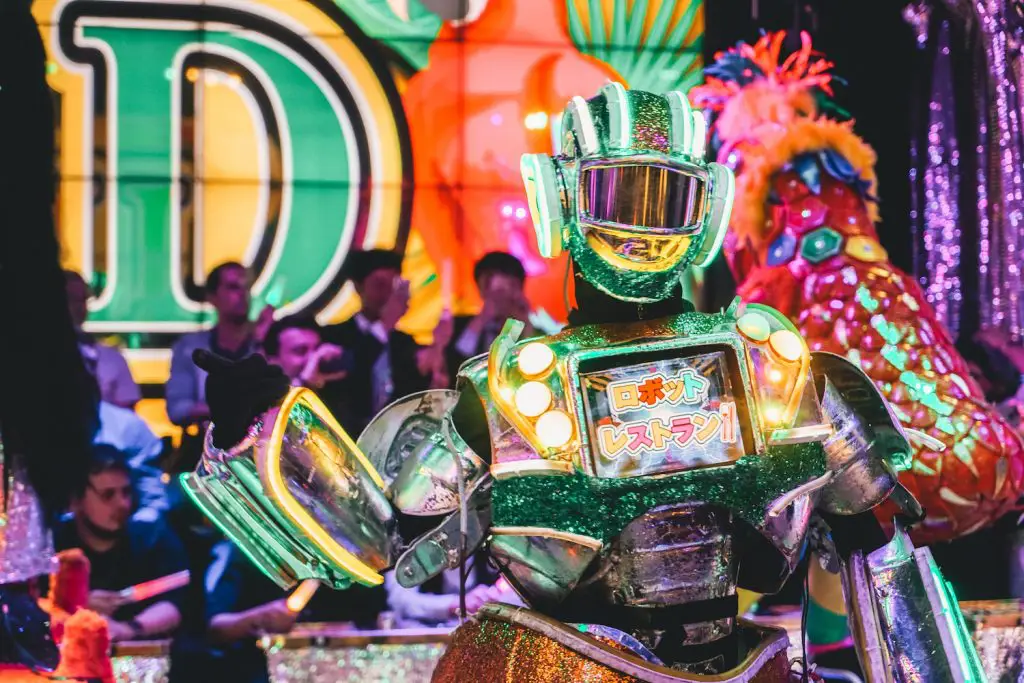 We would recommend getting the drinks deal for 100 yen extra – it's definitely a good deal and saves you the stress of paying for drinks once you're there (trust us – you'll just want to focus on the show, not on counting out your money!).
The First Performance (at 4 pm) Offer is the cheapest possible price and includes two unique gifts: a souvenir worth 500 JPY and pictures with the robots. That's right; you can go home with photographs of you and your travel buddies with some awesome Japanese robots.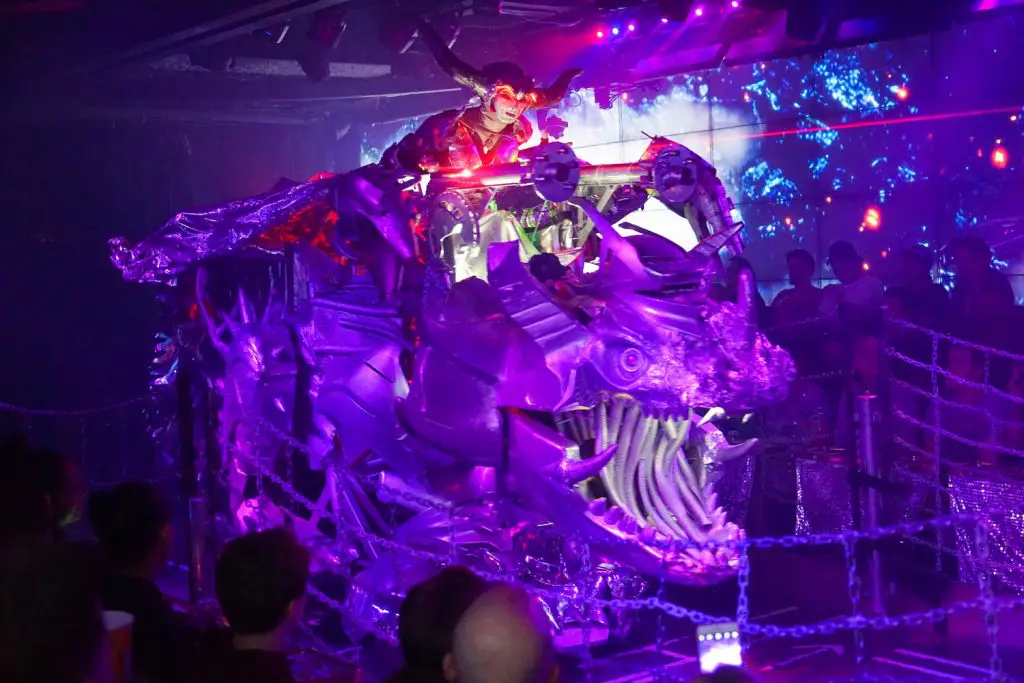 It might be called the Robot Restaurant but if we're being honest, the 'restaurant' part is pushing it a bit. Robot Bar Tokyo might be a more accurate name; while there is food available, it is not plentiful nor is it brilliant.
We would advise getting something to eat in Shinjuku's many other restaurants before heading to the show.
Get there at least 40 minutes before the show starts. This confirms your booking and gives you time to enjoy the psychedelic bar area before the cabaret show begins.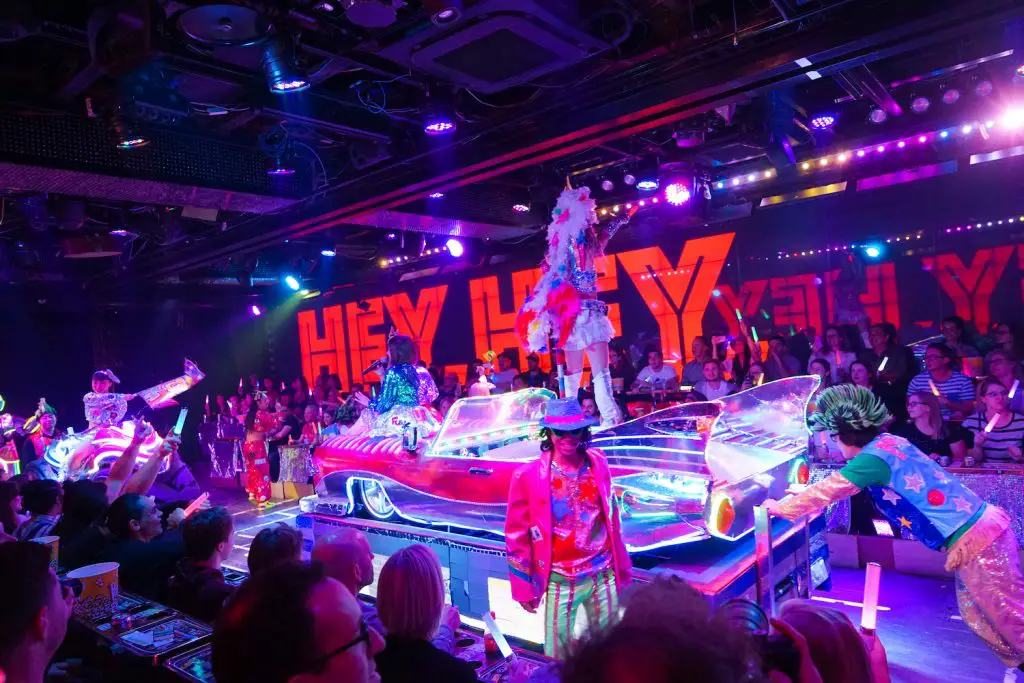 So Why Should You Go To The Just-Plain-Weird Robot Restaurant In Tokyo?
You mean you're not convinced yet?
If you've ever thought it might be interesting to see a cabaret show on speed then the Robot Restaurant Tokyo is the place to go. Or if you want to see a panda riding a cow fight with robots. Or if you enjoy dance shows. Or if you're someone who just likes a good story to tell when they get home from a trip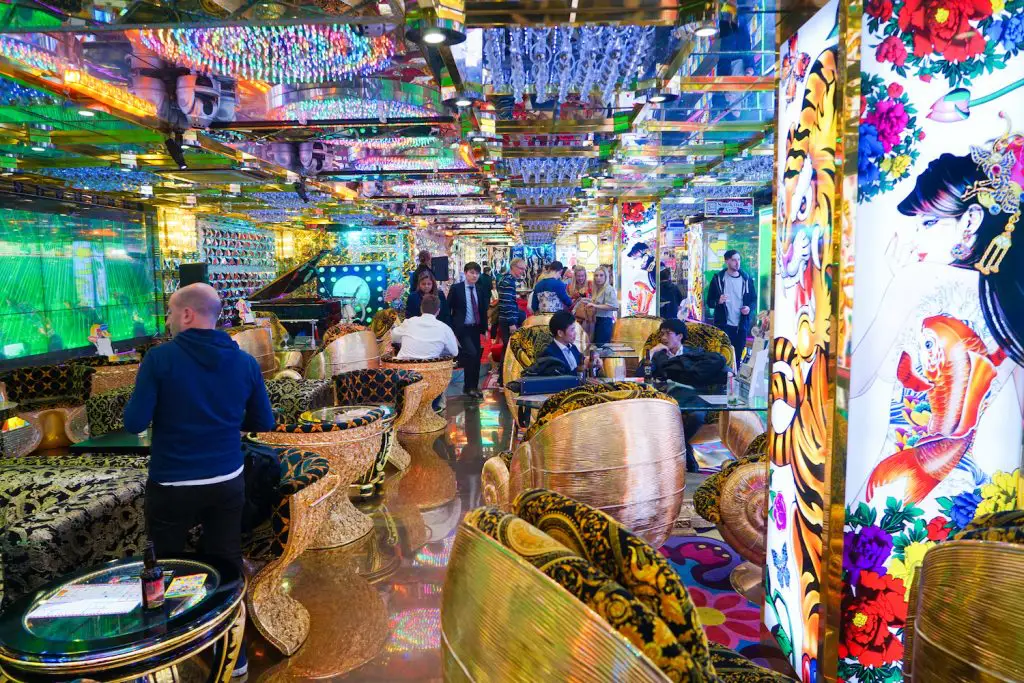 Even the doubters will find themselves caught up in the wild and colorful Tokyo robot cabaret evening; the energy is completely infectious.
At the end of the day, it's just pure, unadulterated fun. Who would say no to that?
Prepare To Have Your Mind Blown At The Tokyo Robot Evening Cabaret Show!