Tokyo is an iconic city: the bustling streets, soaring skyscrapers and futuristic landscapes contrasted with the traditional sights make it an incredible experience for travelers.
And yes, there are just as many things to do in Tokyo at night as during the day!
You might never see everything this wonderful city has to offer (we wouldn't even recommend trying, it's exhausting!) but even if you see less than half of it, you'll have had an amazing time.
If you think Tokyo is weird and wonderful by day, wait until you see it at night.
To help you know where to go when the sun goes down, we've got a list of seven of the best things to do in Tokyo at night. If you are not too tired from all your Tokyo day trips, that is!
---
Before exploring Tokyo, arrange an eSIM to avoid hefty international roaming fees. Staying connected while traveling is essential, and eSIMs have transformed mobile network access for globetrotters.
No need to search for local SIMs at the airport; eSIMs offer a hassle-free experience upon arrival. They save time and money while preventing loss or damage to physical SIMs. To stay connected, consider Airalo or Holafly, the biggest names in global eSIMs.
Airalo offers a wide variety of destinations and smaller data bundles, while Holafly has unlimited data packages and excellent EU data deals. Don't delay; enhance your travel experience with eSIMs for seamless connectivity.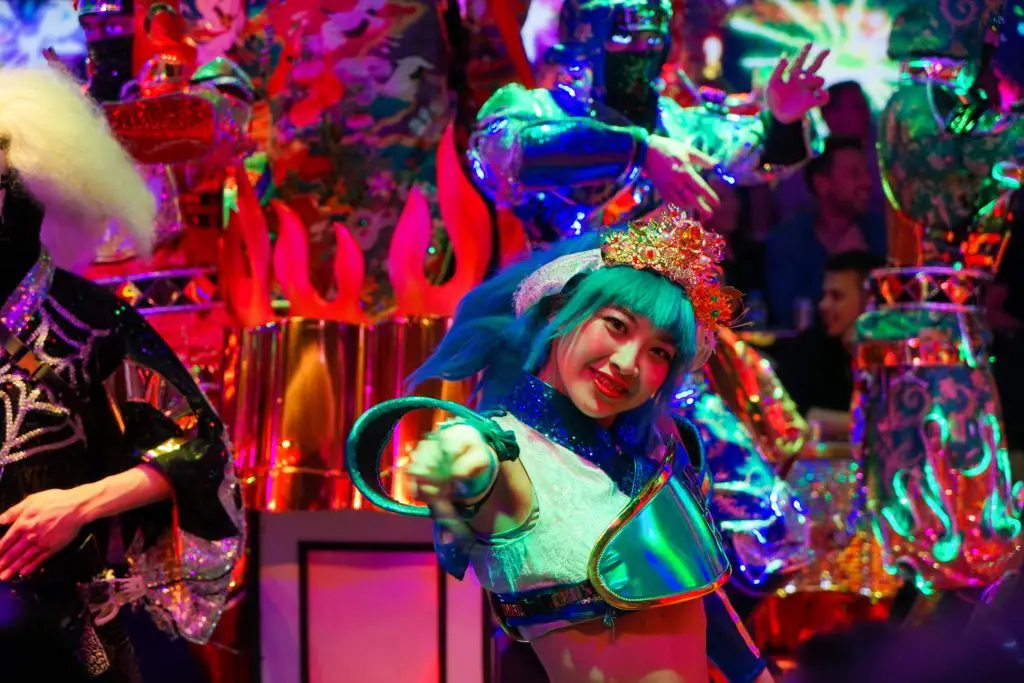 The Best Things To Do In Tokyo At Night That Embrace The Neon Fuelled Madness!🗼
Change Life As You Know By Going To The Robot Restaurant in Tokyo
They say to save the best for last, and boy have I! The Robot Restaurant in Tokyo has got to be the craziest, weirdest, most bizarre and unusual thing to do in Tokyo hand-down. Again, the Robot Restaurant in Tokyo is one of those things you can't really explain but it involves one of the greatest shows on Earth, high-tech lasers, dino-robot battles, fireworks, flashy dancers and more.
If you only do one thing in Tokyo, I beg you to make it this – No matter your age! Book your tickets in advance as there is very limited seating and book the drinks deal for 100 yen extra (500 yen otherwise).
[/sc]
Dance 'Til Dawn In The Shinjuku Party District
For some of us, a city doesn't come alive until the sun has disappeared and the neon lights are on. If you're one of those people who believe the best way to get to know a city is to party in it, then you need to head to the Shinjuku party district.
There are hundreds of clubs, bars and alternative shops lining the streets. You can sing karaoke, eat fine dining, see a sex show, meet other tourists in the Irish bars, two-step to techno; basically, any kind of night out you can imagine, you can have in Shinjuku. Tag along with some locals for a night you'll never forget – and if you are wondering what to expect, read up on these interesting things you might not know about Japan before you go!
If you want to experience Izayaka (Japanese taverns) in Shinjuku, why not try Magical Trip's Tokyo Bar Hopping Nightlife Tour. Then, you won't have to worry about getting in – this is Japan, after all, things work differently here and getting the inside scoop is the best way to enjoy an authentic night out.
Just sign up, relax and then let MagicalTrip guide you to the best Izakaya food and drinks in hidden spots with a friendly local! Delicious, fun, and oh-so-unique!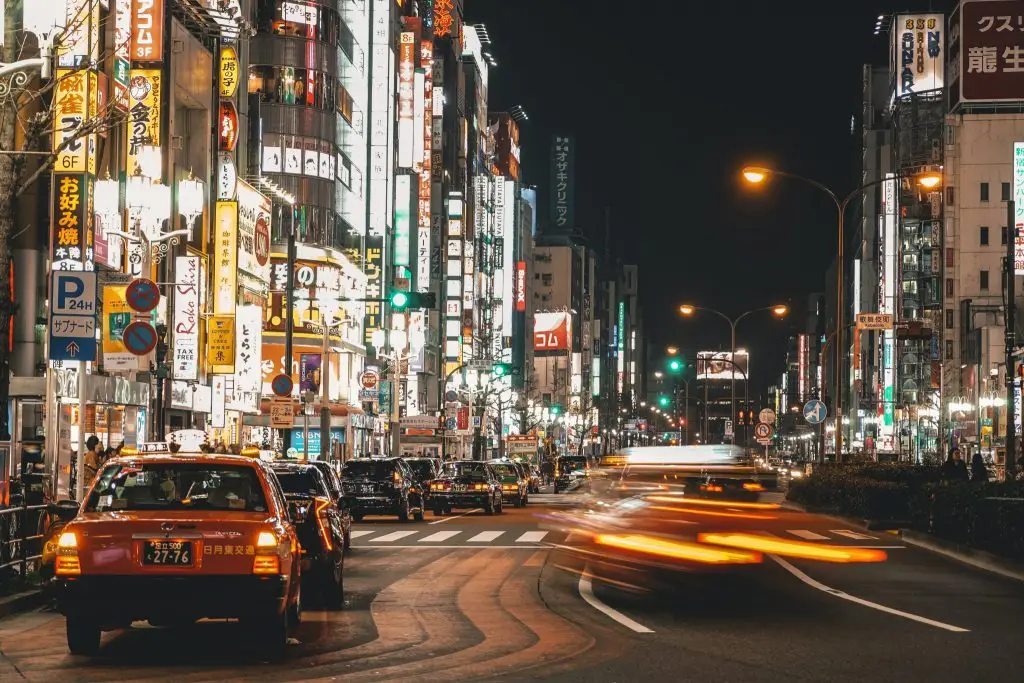 Experience Real Life Mario Kart Racing On The Streets Of Tokyo After Dark
You know the saying that somethings so good it should be illegal? Now how often have you heard that said about a tour??? Well that's exactly what I was saying after my real-life Mario Kart Tokyo tour – hands down my personal favourite thing to do in Tokyo at night!
Yes, you read that right, we're talking about real life Mario Kart racing through the most populated city on earth, adrenaline pumping, wind blowing in your face as you pass by many of the most famous landmarks of Tokyo!
Traverse a big chunk of the central city while children and their parents stop and stare at you – no boring facts, forced souvenir shopping or stuffy museums guaranteed! Read our full review here.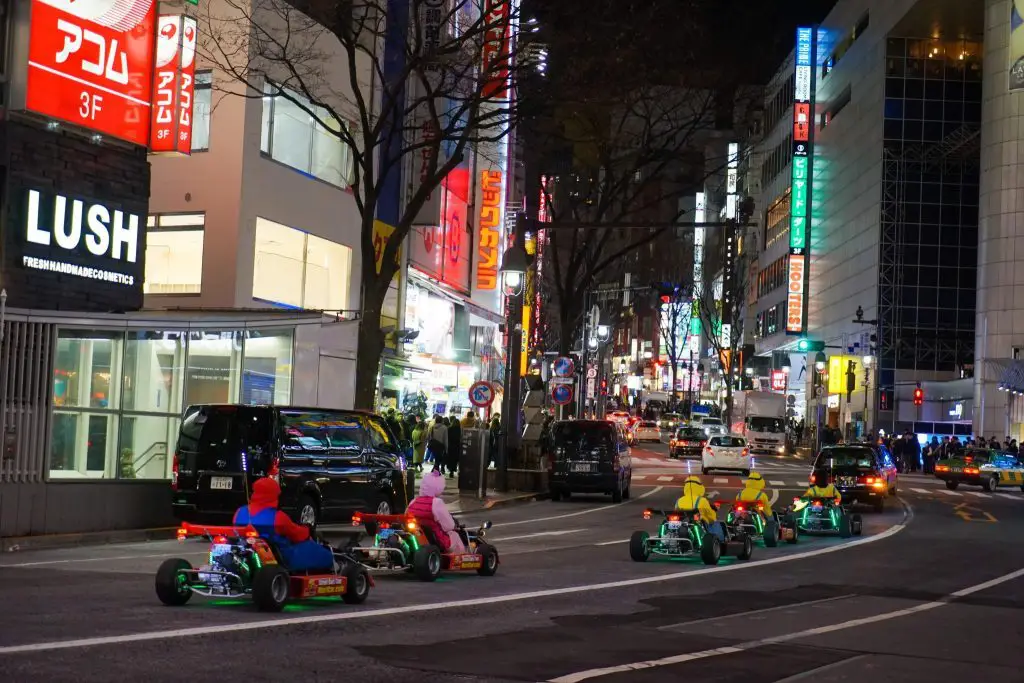 Check Into A Tokyo Love Hotel
OK, so 'love' might be stretching it a bit here, but if you're brave this is definitely something to do! In the spirit of full disclaimer, many of these are exclusively for Japanese clientele and foreigners are often not welcome; also, they can get pretty sleazy.
However, they are expanding their market and you'll definitely be able to find a place for the love hotel experience.
The themes range from hospital to subway – there are obviously plenty of S&M sex dungeon options as well (for the more vanilla among us!). Most of them are short-stay and located on Shibuya's Love Hotel Hill. Yes, it's a real place.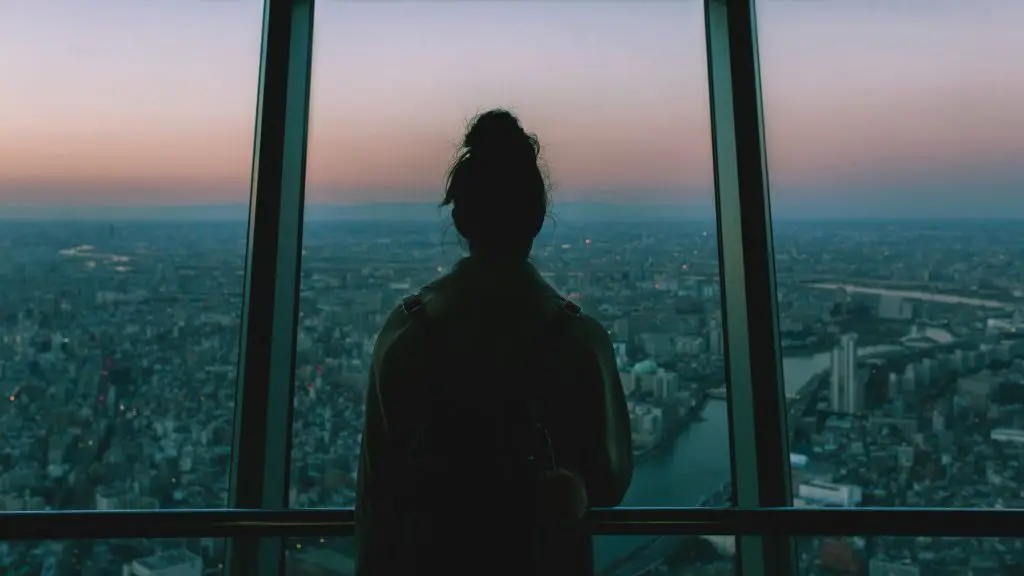 Be Oh-So-Japanese And Sleep In A Pod
Capsule hotels became incredibly popular due to the limited space available and the number of hardworking office staff who just wanted a place to crash between gloriously long days at work. For many of us, sleeping in something the size of a box with people crammed all around you doesn't sound like the most luxurious experience, but we'll try anything once!
Due to the ban on tourists in many of the original capsule hotels, some more upmarket options have opened up aimed more at foreign visitors (i.e. English speaking staff and more relaxed rules), so you have plenty of choice of where to find your tiny pod.
If you are stuck, however, most tourists rave about Ginza Prime Pods.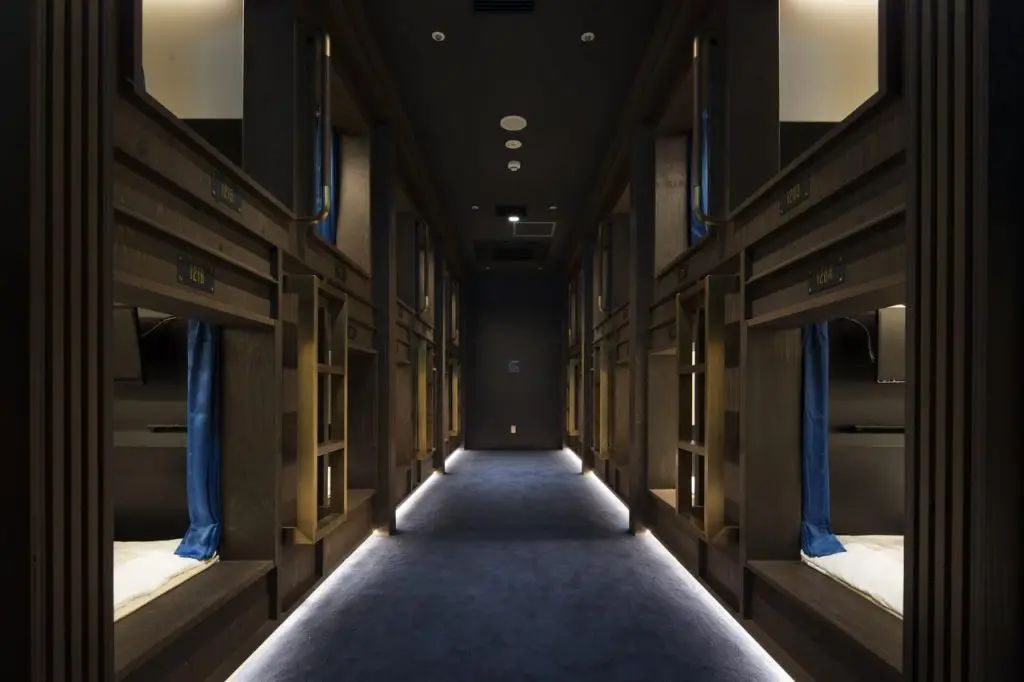 See All The Crazy Neons Of Shibuya
You can still visit Shibuya at night, even if you don't want to head up Love Hotel Hill. Home to the famous crossing, you can also find many of the other iconic images of Tokyo in this area. If you come after dark you can enjoy the bustle of the shoppers and diners.
This is a great thing to do in Tokyo at night if you'd like somewhere less dodgy than Shinjuku and don't just want to be in a pod. Here the neon lights glow over you as you eat good food and have a few drinks while people-watching.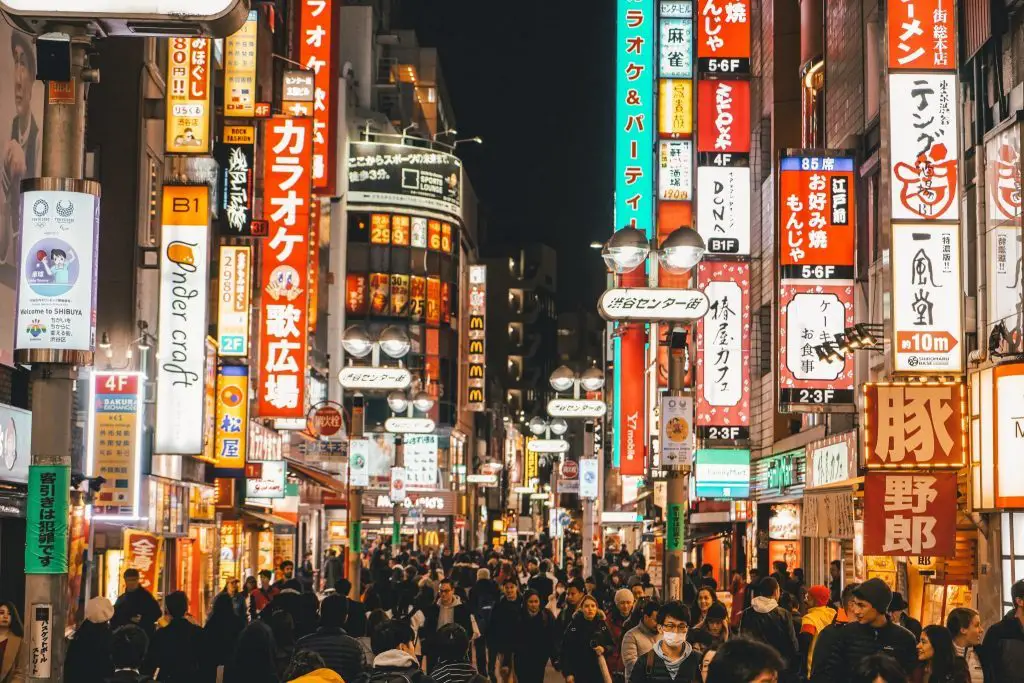 Pace Yourself With All-You-Can-Drink Sake
This is a six-hour journey through the world of sake that takes place every night at the Kurand Sake Market. That's right, six hours of sake drinking – you'd better have a strong constitution. It's incredibly popular with locals (make sure you book far in advance) so you're sure to leave here with new friends who can show you around the city.
You'll be able to choose from 100 different types of sake and compare their relative merits. We would definitely recommend bringing food along to sustain you, as it is not included in the price.
If all-you-can-drink Sake is more than you think you can cope with, try the all-you-can-drink Ashai beer at Tokyo Skytree Town. Crisp cold beer will give you a good taste of Japan as well! Check out prices here.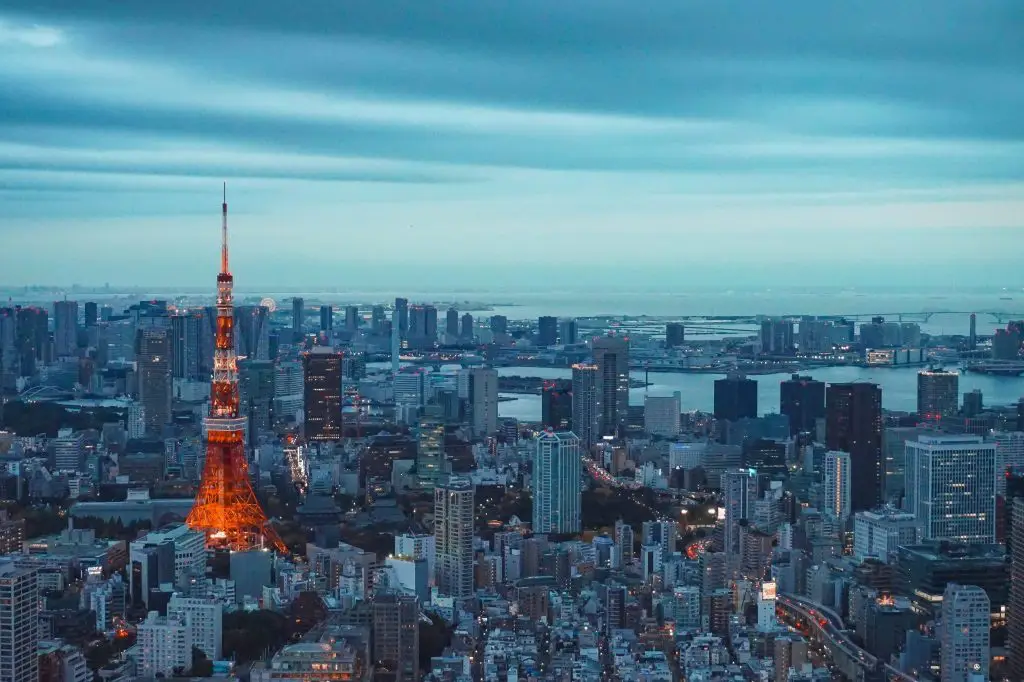 Gaze Upon Tokyo Bay By Night
Life is always more relaxed at sea: see a surprisingly peaceful side of this buzzing city from the decks of a boat on Tokyo Bay. The Symphony ship will sail you on a heart-shaped course around the bay while you drink in the glittering views of the skyline broken only by the spectacle of Tokyo Skytree and Tokyo Tower.
This is a dinner cruise so you'll be able to enjoy live music and a full-course meal while you sail. There are Western and Japanese cuisines to choose from and drinks while you enjoy the city floating by. Take someone special to enjoy this magical sight, one of the best things to do in Tokyo at night.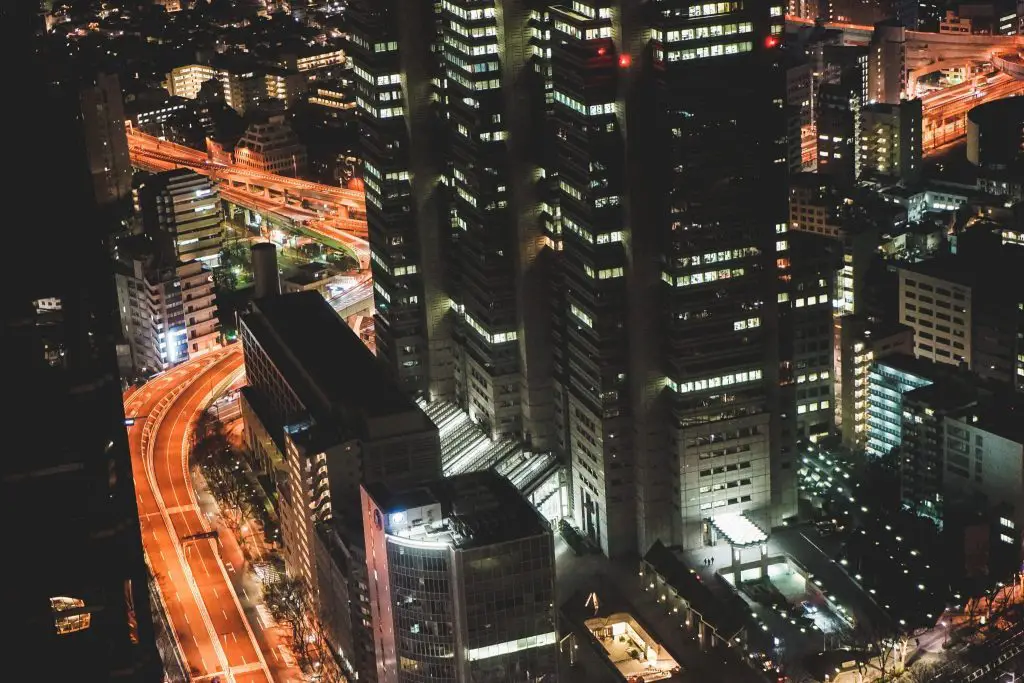 Take A Helicopter Ride Over The City
Gazing out over Tokyo's sparkling skyline at night is something you will never forget. There are times in life where you have to just forget about the price tag and do it because the chance will never come again, and this is one of those things. Just don't look at your bank balance for a while.
We can't lie to you, it isn't cheap, but it's glorious and one of the absolute best things to do in Tokyo at night. Soaring above this inimitable city in a helicopter gives you a real sense of its uniqueness. It's only once in the sky above the city that you fully grasp how huge and multifaceted Tokyo is.
If you're after a completely extraordinary experience, this is it and one that you need to book in advance!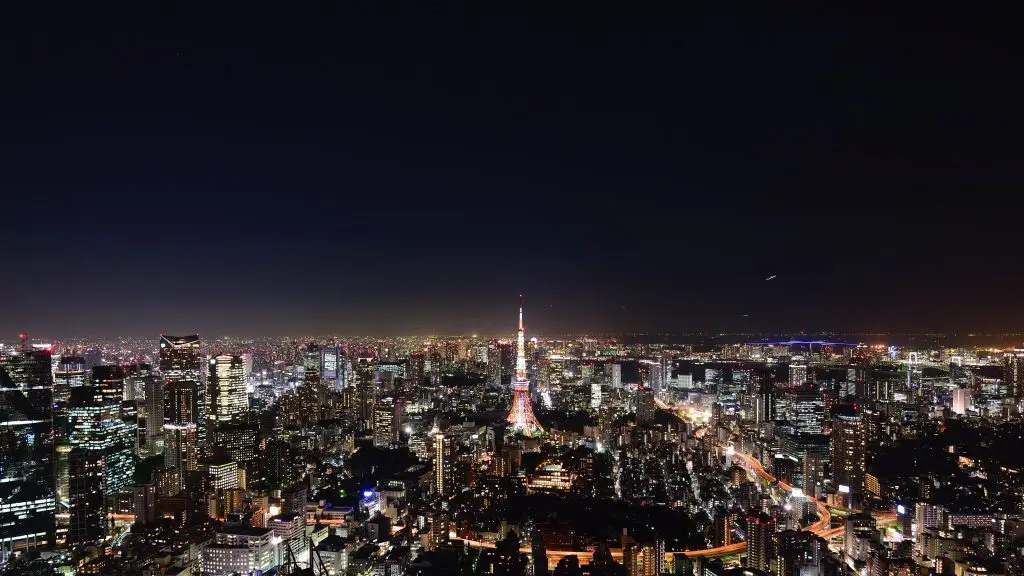 Trust me when I say that this isn't even the half of it, and think of all the things there are to do during the day! Tokyo really is an experience that doesn't end – just make sure you leave yourself enough energy to explore the nightlife.
Staying Connected While Travelling
In today's increasingly connected world, staying online while traveling has become essential for a seamless experience. That's where eSIMs come into play, revolutionizing the way we access mobile networks during our global adventures. Say goodbye to hunting down local SIM cards at the airport; eSIMs provide instant activation the moment you land, sparing you the fortune usually spent on international roaming and allowing you to genuinely travel like a local (without getting hopelessly lost!).
With eSIMs, tasks like restaurant recommendations and reservations, up-to-the-minute public transport instructions, checking opening hours, and accessing further information become a breeze. And, of course, sharing your journey on social media is easier than ever. To stay connected wherever you roam, consider using either Airalo or Holafly. Airalo boasts the most extensive range of destinations worldwide, offering smaller data bundles tailored to your needs, while Holafly provides unlimited data packages and fantastic EU data deals.
So why wait? Embrace the future of travel connectivity with eSIMs and make your next journey effortlessly smooth.
Further Things To Consider Before Any Adventure
Now you're all set and prepared to explore our big wide world, why not sort out everything else out all in one go? If necessary for your travel plans make sure you have brought proper travel insurance, protected your privacy by getting a secure VPN, compared all the top hotel booking sites to find just what you're after, reserved an unbeatable rental car price and - of course - booked the best flight deals!
Or maybe just forget it all and go for a last-minute cruise or effortless tour instead?
Many budget travelers (including me) indulge in worldwide airport lounge access, so we can experience luxury while still slumming it in economy. Naturally, we would never leave home without a more general travel guide since we couldn't possibly cover everything here!
Just add an adventurous attitude and plenty of smiles - they go a long way - and that about covers it all! Now go out, find your own path and don't forget to share your best inspiration stories with me on Facebook, Twitter, and Instagram...I'd love to hear from you!