Taipei, the Capital of tantalizing Taiwan, it's a vibrant metropolis with enough attractions to fill months, if not years. While the towering Taipei 101 skyscraper might be the star attraction, most travelers will tell you that Taipei is so much more about the feel of the city.
With its unique blend of Chinese culture threaded with Japanese and American influence, you're guaranteed to be surprised and delighted at every turn.
If you're only in town for a few short days then this guide of what to do in Taipei for 3 days is the perfect start to uncovering all the top things to see in Taipei while getting a sense of this beautiful – and slightly odd – city!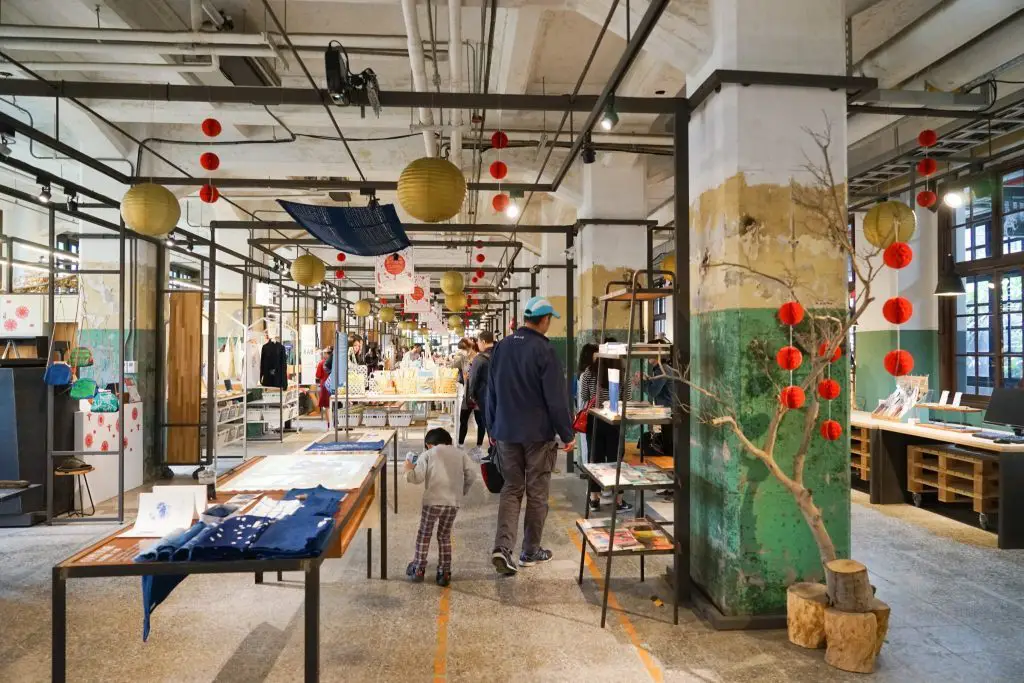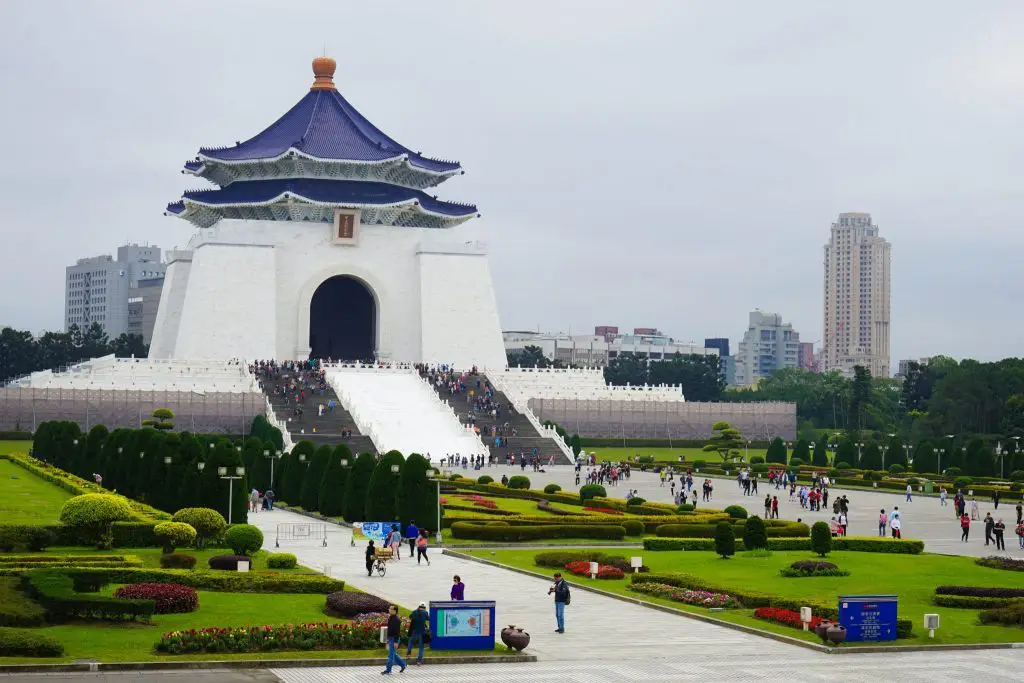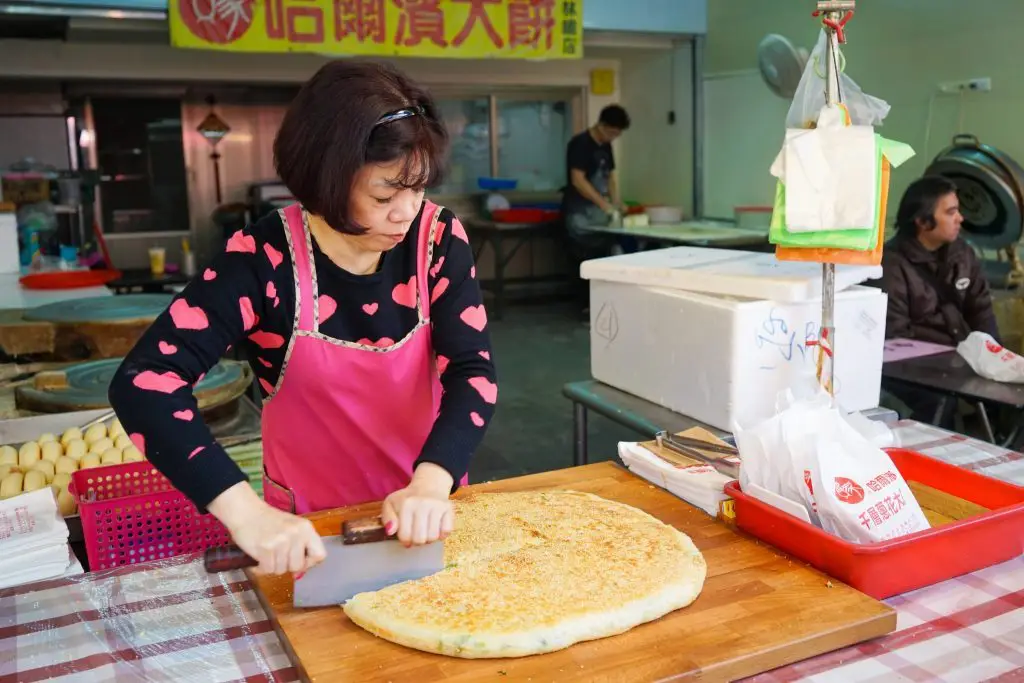 But first – a proviso – Taipei is truly a huge city, and there is no way you are going to see everything in just 3 days. I have provided some more ideas of what to see in Taipei at the end, but what to do in Taipei for 3 days guide is designed for those looking to turn a transit in Taipei into a Taipei stop-over.
I also will try to give you a feel for six distinct districts of Taipei; Songshan, Xinyi, Zhongzheng, Zhongshan, Wanhua and Datong, and all the while packing in the most important – and curious – attractions in Taipei I could!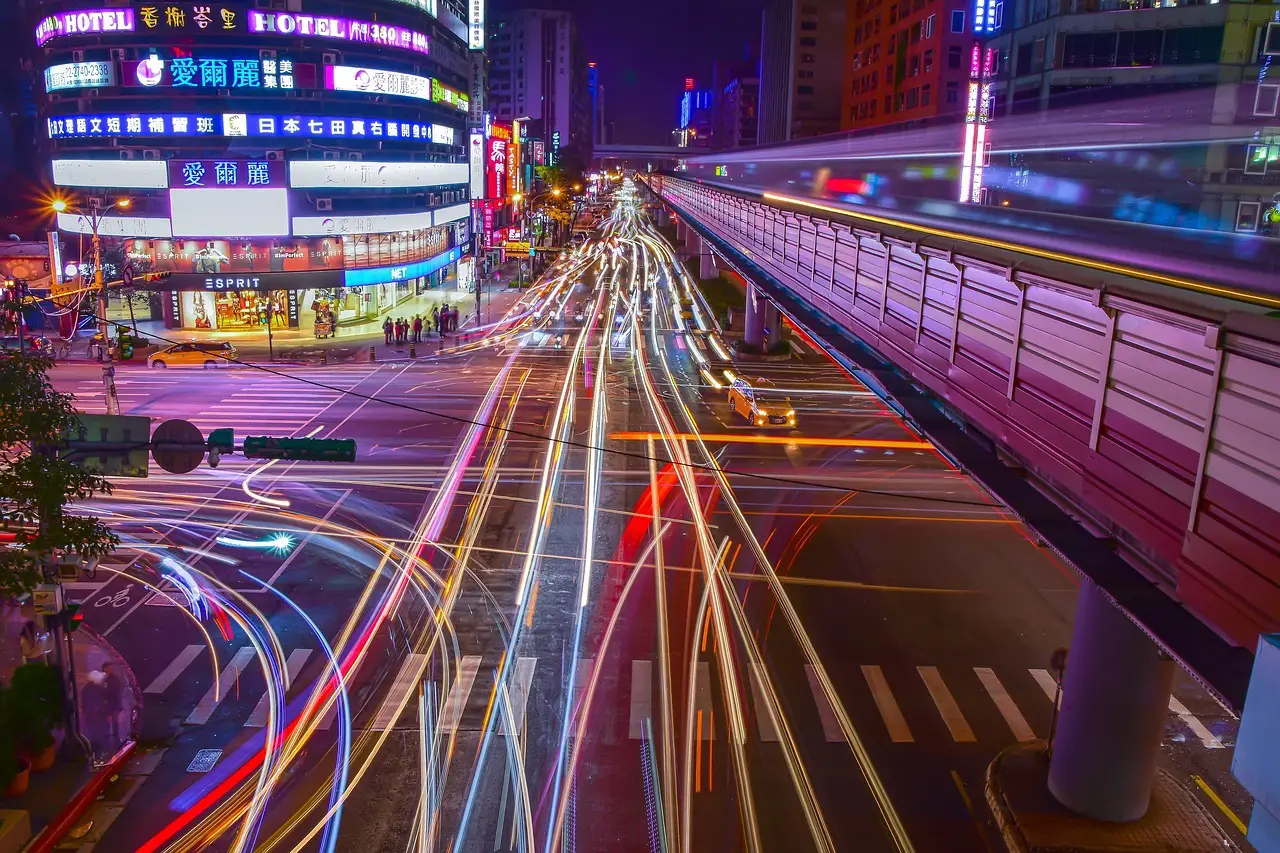 This itinerary for 3 days in Taipei is purposely jam-packed, so feel free to skip things if you like to relax a bit more or simply aren't interested – but I promise if you follow this Taipei itinerary 3 days will be enough to get a good sense of this beautiful and bizarre place.
Taipei is so huge, with no singular central area to stay in – but I loved NK Hostel. I would recommend it as the best place to stay in Taipei due to its price, modern design, location, and variety of pod-style dorm or separate designer private rooms (some with Taipei 101 views!). If you're curious to discover more about NK Hostel and wondering where to stay in Taipei – I will include a mini-review at the end!
You might also want to consider if the Taipei Fun Pass is a good option for you.
Note: For our Taipei itinerary, 3 days is assumed to be 3 full days, but if your flights do not allow, you might have to make some adjustments to the beginning or end. Or just check out these 25 Quintessential Things To Do In Taipei to make your own adventure!
---
Before exploring Taipei, arrange an eSIM to avoid hefty international roaming fees. Staying connected while traveling is essential, and eSIMs have transformed mobile network access for globetrotters.
No need to search for local SIMs at the airport; eSIMs offer a hassle-free experience upon arrival. They save time and money while preventing loss or damage to physical SIMs. To stay connected, consider Airalo or Holafly, the biggest names in global eSIMs.
Airalo offers a wide variety of destinations and smaller data bundles, while Holafly has unlimited data packages and excellent EU data deals. Don't delay; enhance your travel experience with eSIMs for seamless connectivity.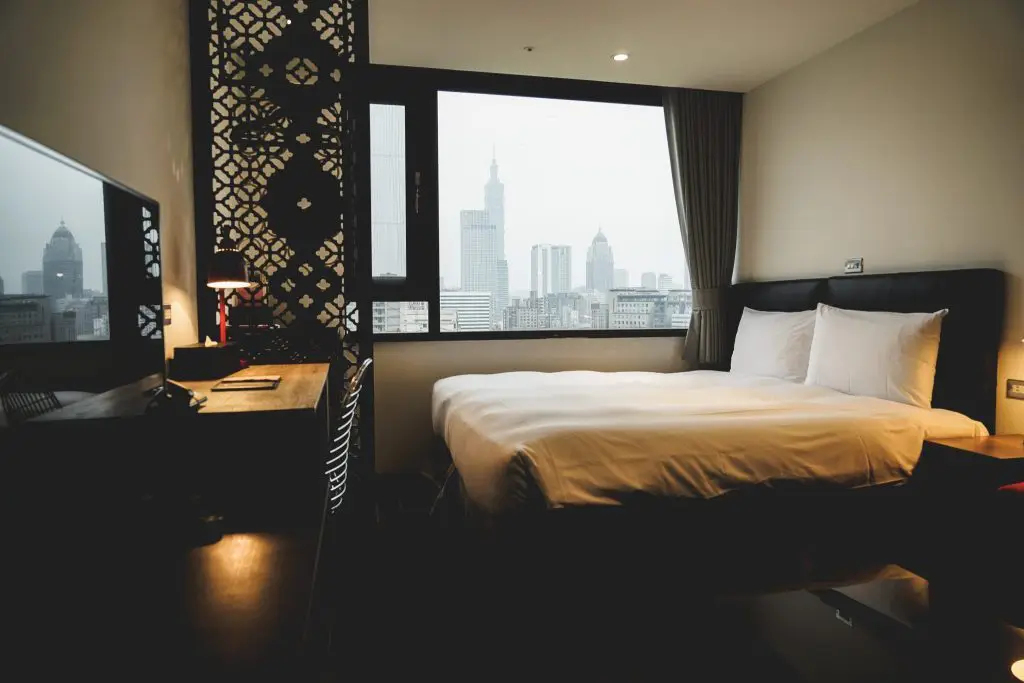 ---
What To Do In Taipei For 3 Days: Our Top Things Do Do And See!
Day One: Things To Do In Songshan & Xinyi
Today, you are going to hit the ground running, exploring the neighborhood surrounding NK Hostel, known as Songshan. Songshan during Japanese rule (1895-1945) served as the primary tea-growing area in northern Taiwan but quickly grew when Chinese Nationalists (Kuomintang), led by Chiang Kai-shek, retreated to Taiwan and made Taipei it's temporary capital.
By 1980 Songshan was the most populous area of the city, and in 1990 Songshan was split into two districts, and the southern half of Songshan District became Xinyi District while the northern kept its original name.
Today Songshan is a booming hub of industry and commerce, home to many high-rise towers and shopping centers such as the Living Mall and Breeze Center – plus plenty of quirky little places if you know where to look.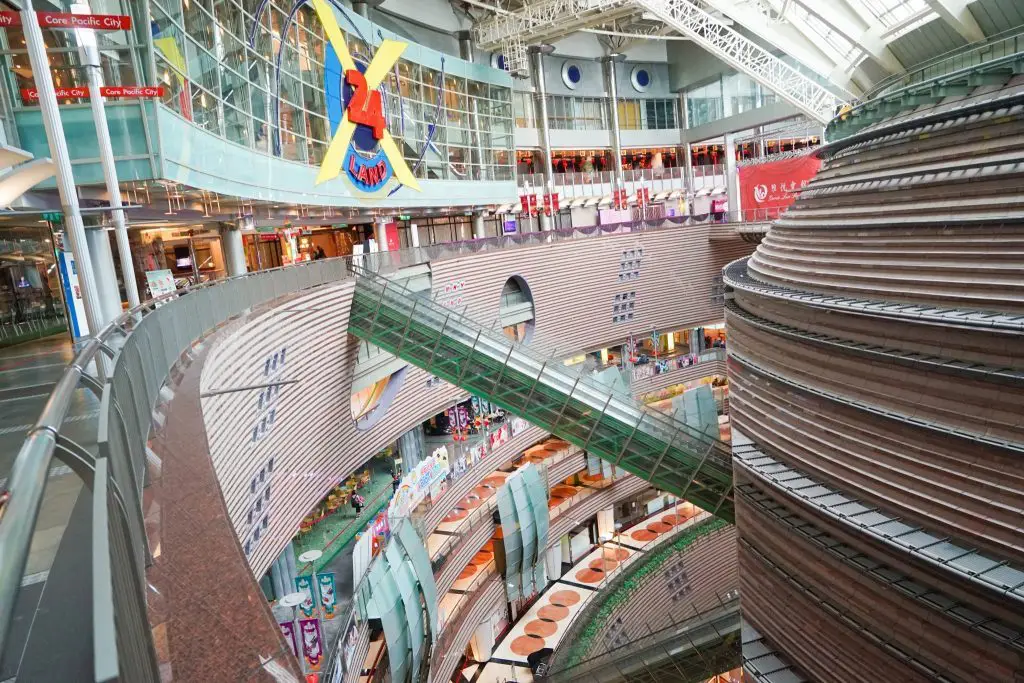 You should start your tour of Songshan early with a visit to Chia Te bakery, the award-winning store selling pineapple cakes and other delicious treats.
World-famous, you need to arrive early or risk being caught in a line that snakes around the block – though if you sleep in, can't be bothered waiting or simply want more deliciousness, they now offer a handy Pineapple Cake Souvenir Set pickup at Taiwan Airport!
Next, take a stroll across the Rainbow Bridge, a modern landmark of Taipei with it's S-shape and views across the Taipei skyline and head for the grand Ciyou Temple, founded by a wandering monk in 1753 and dedicated to the goddess Mazu.
Feel free to wander freely and explore it's six floors filled with intricate works of art, and pay special attention to the roof ridge with its twin dragons and three immortals (representing divine protection with wealth, happiness and longevity).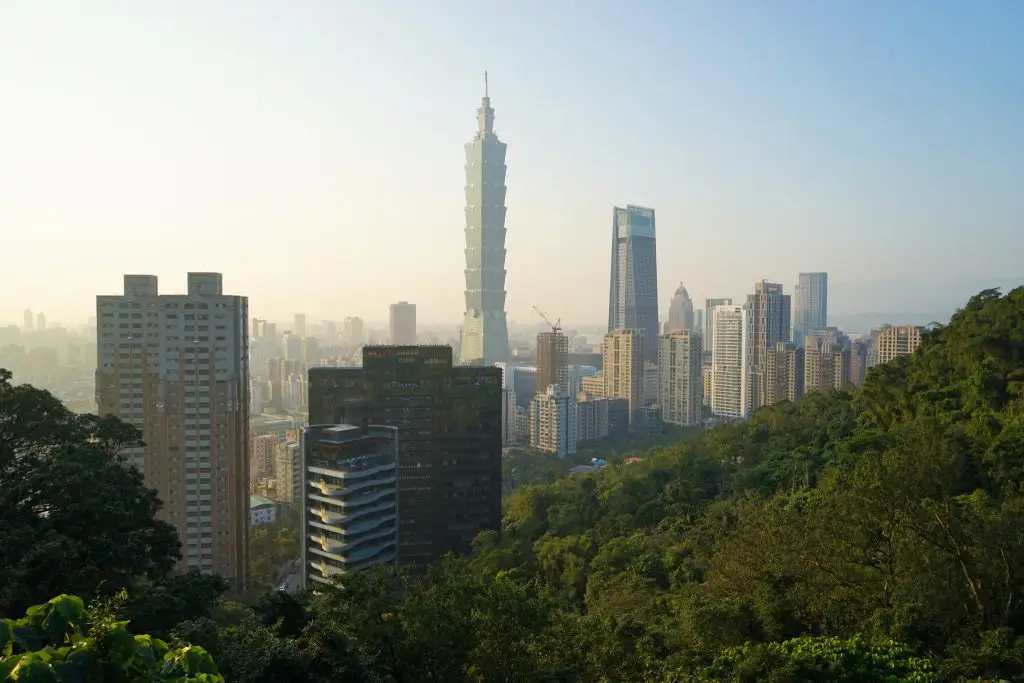 The next stop is the Songshan Culture Park, the recently opened 'Creative Hub of Taipei' housed in a former tobacco factory complex.
Filled with restaurants, boutique shops, art galleries, and intriguing industrial design, you could easily spend 5 hours here – but I really recommend heading next to Xinyi for an introduction to the curious and delightful tastes of Taiwan with Taipei Eats food tour – don't worry, they hit the Culture Park if you don't have time to get here before their tour starts at 11 am.
Hungry and skipping the Taipei food tour? Looking for places to eat in Songshan? Try Careful addiction (小心上癮) for a signature mala broth made with love from over 20 different traditional herbal medicines and vegetables. Or in the evening try Meowvelous Project (貓下去敦北俱樂部 ) for hip Taiwanese fusion food and cocktails.
Don't worry; I have included all these spots in a what to eat in Taipei section of our Taipei top attractions map at the end!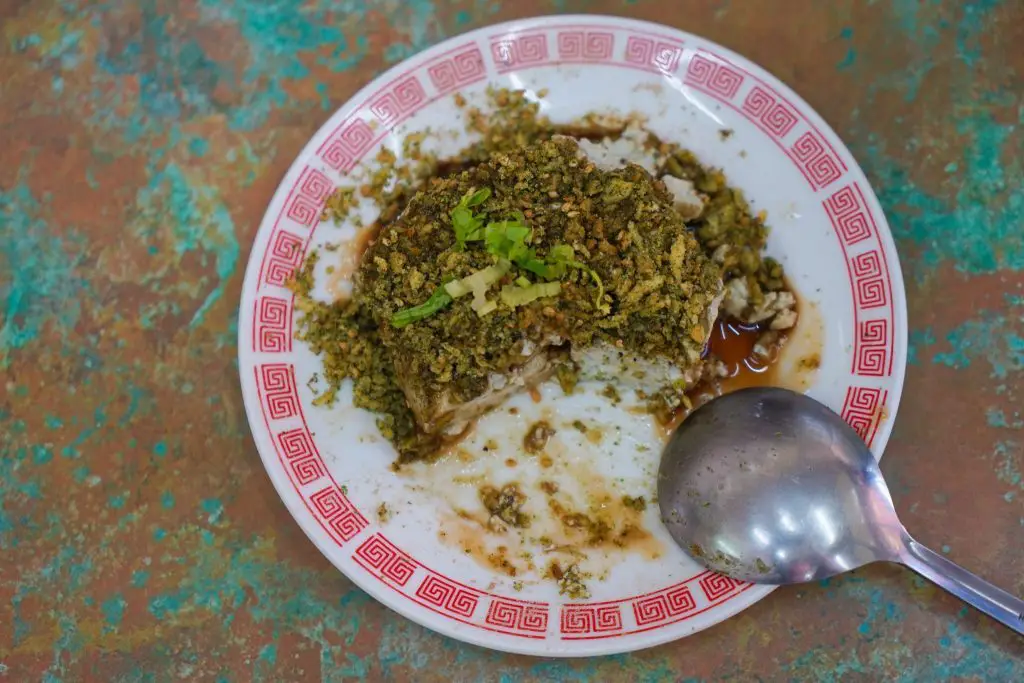 Xinyi is the totally new financial district of Taipei, anchored by the glorious Taipei 101. You would think it's a weird place to begin a food tour – but Taipei Eats are adept at finding all the hidden local spots and authentic Taiwanese foodie hide-outs.
The tour runs rain or shine from 11:00 am to 2:30 pm, and I don't want to give too much away. You will try everything from seasonal tropical fruits in a traditional market to back-alley stinky tofu along with cold sesame noodles and pork belly stuffed Taiwanese burgers.
There is even an opportunity to try the famous betel nut stimulant… The Taipei Eats food tour is a great way to knock off many of the must-try foods in Taipei while spending a few hours with a local who can tell you all about the culture and traditions of Taiwan, it's history and advises you on where to eat for the rest of your stay. There is even a quick stop at the Sun Yat-Sen Memorial Hall and the famous Tim Ho Wan which originated in Hong Kong – so ticks another few sites off the list!
If you're an adventurous eater, this is one food tour in Taipei you cannot miss!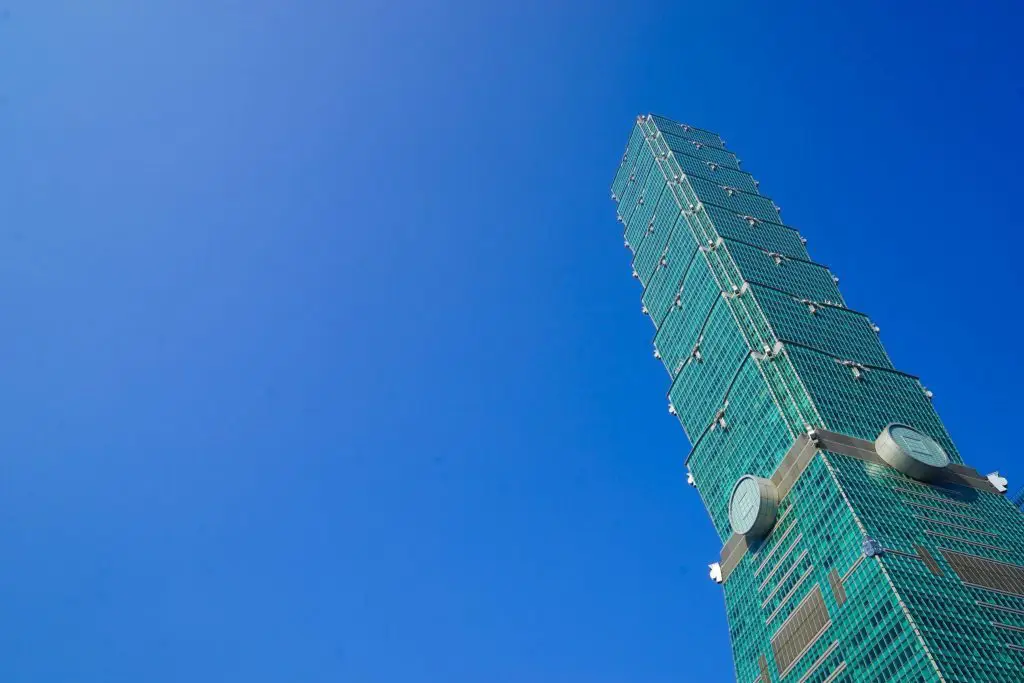 You will finish around 2.30 – 3 pm and I recommend now heading to the Taipei 101 building where you can explore the luxury Taipei 101 mall.
Head up to its observation deck (make sure to buy tickets in advance to save time) or if you are super organized you can cheat and get your hotel in Taipei to try to make a reservation in advance to visit the Starbucks within the tower. It's not quite as high as the observation tower, but it's free, and it is the highest Starbucks in the world – literally one of Taipei's top attractions.
Everything now depends on how long you have left before sunset, but you should try squeeze in a hike up the Elephant Mountain Hiking Trail (or Xiangshan Hiking Trail). It takes around 15-25 minutes to climb up depending on how to fit you are, but you will be rewarded with the best view of Taipei 101 and the surrounding city – it is especially magical when all of the twinkling lights come on!
I'm sure you will be exhausted now but try head back to Songshan for Raohe Street Night Market.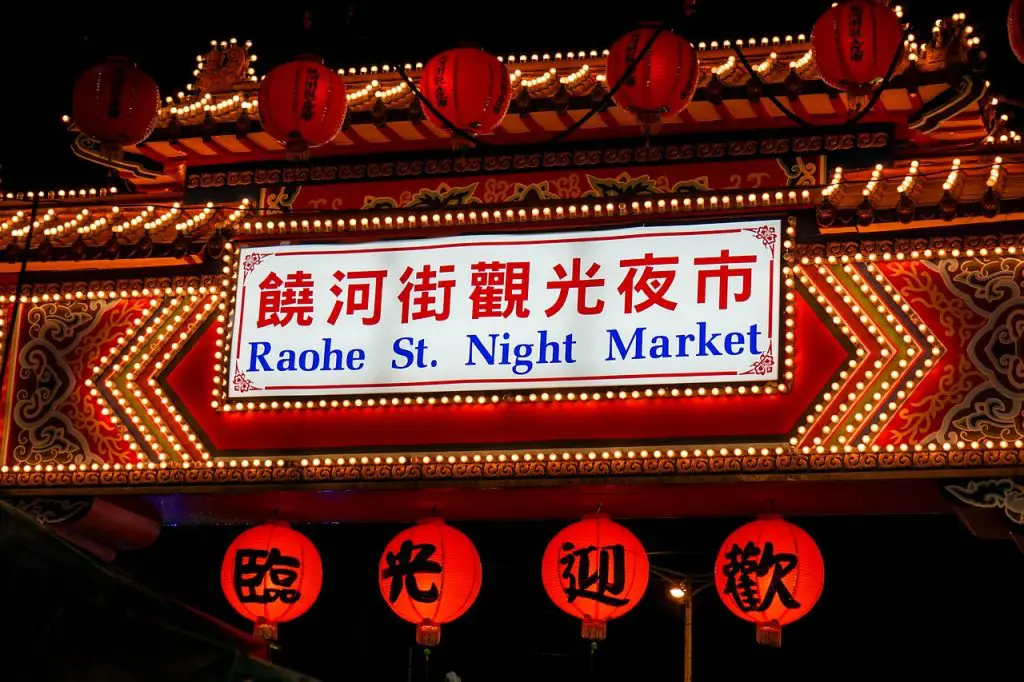 One of the best night markets in Taipei (and the oldest) it is a 600m street packed with interesting night foods and snacks along with quirky shops and stalls – I won't bother making any recommendations on what to eat here, but like many places in Taipei, the longer the line, the better the food.
Hopefully, you have also decided the best place to stay in Taipei is the NK Hostel because then it's just a short walk back to bed from here for a well-early rest to prepare for the next days adventures.
Want to eat in Xinyi? Head to the original Ding Tai Fung, a Taiwanese institution specialising in xiaolongbao (steamed dumplings) or Ice Monster is famous for its shaved mango ice and listed by CNN as one of the top ten places for dessert in the world.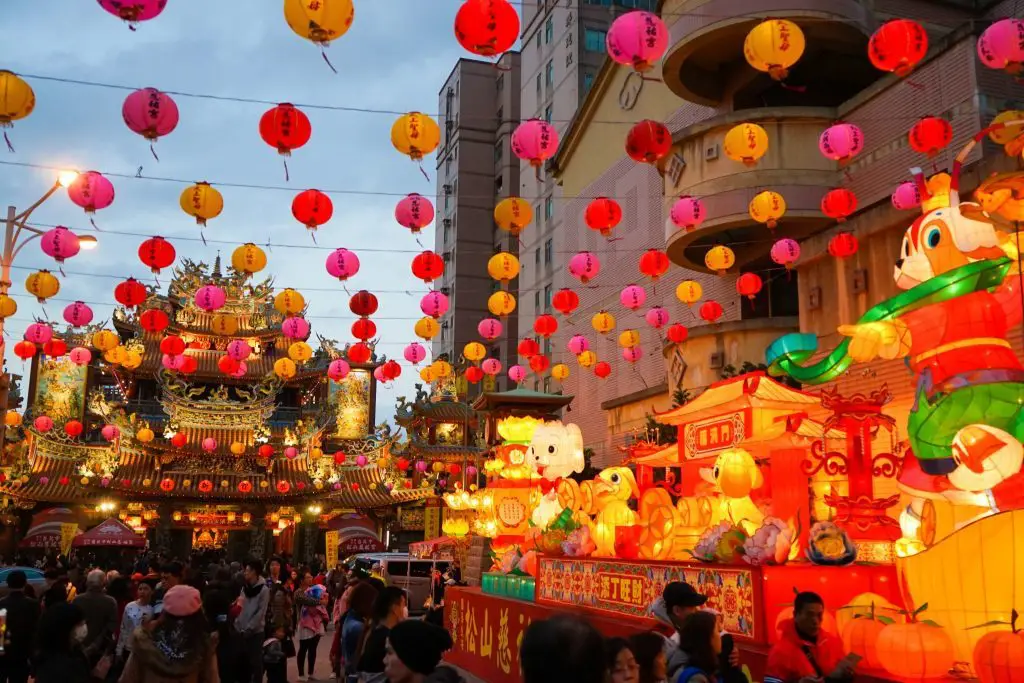 Day Two: Things To Do In Zhongzheng & Zhongshan
Ready for another busy day? Head to Zhongzheng district, where most of the national government buildings of the Republic of China are.
This area could take days to explore on its own – but to ensure you don't get too side-tracked, I have just cherry-picked the best attractions. You're not missing anything by skipping the drab Presidential Office and Parliament – called the Legislative Yuan – but you really should watch this video of Taiwanese politicians fighting( and not for the first time!).
The first stop is the Chiang Kai-shek Memorial Hall, the iconic landmark attraction erected in memory of the former President of the Republic of China. If you are curious to learn more, there is a museum beneath the hall with an exhibition about Chiang's life and career, and information about Taiwan's history, and the ROC's development after fleeing to Taiwan.
If you really are a history buff, then you can't skip the next stop, the National Museum of History, an important center for art and culture showcasing rare Taiwanese historical items or maybe try the National Taiwan Museum focuses on Taiwan's development and has been proclaimed a national treasure.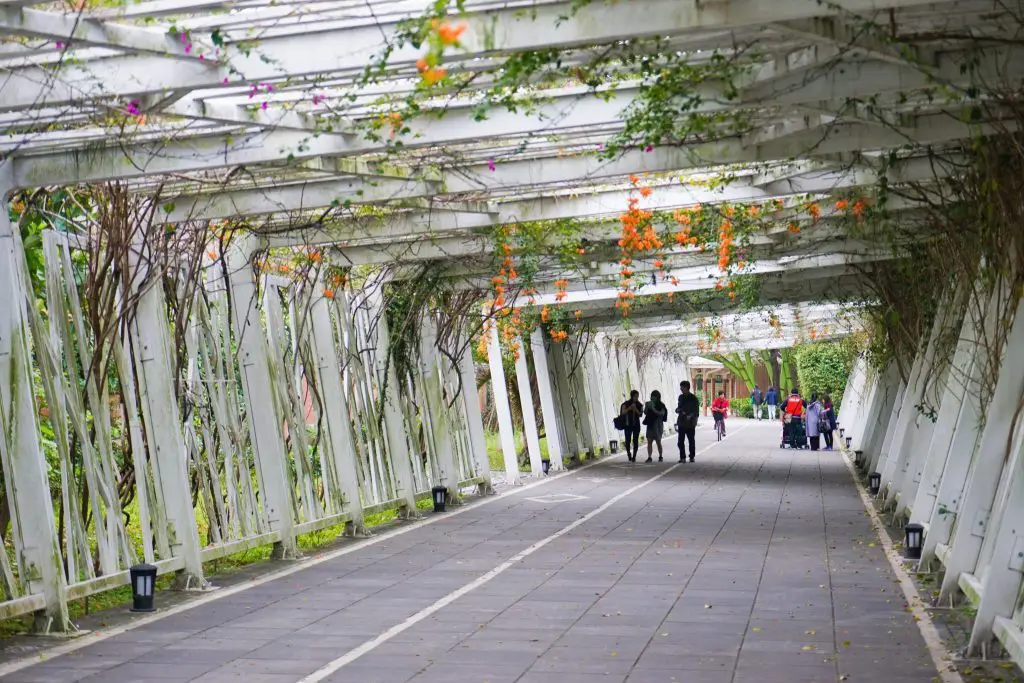 Next stop: the more lively and modern Huashan 1914 Creative Park. Opened in 1914 as Taihoku Winery under Japanese rule, wine continued to be produced here until 1987 when the winery moved due to intense urbanization and pollution issues, and the ground lay derelict.
Slated for demolition, the site was saved by a rouge production here covertly organized by artists and performing groups, eventually resulting in the site's transformation into space for creative talents to develop and showcase their works. If you love the Huashan 1914 Creative Park, you should also swing by the nearby Taipei Artist Village, a maze of artist studios and galleries open to the public for free!
A great place to snack near Chiang Kai-shek Memorial Hall is Jin Feng Lu Rou Fan (金峰滷肉飯) with delicious minced braised pork belly served on rice. Again you can find all of these Taipei top attractions and what to eat in Taipei on a handy Google Map at the end!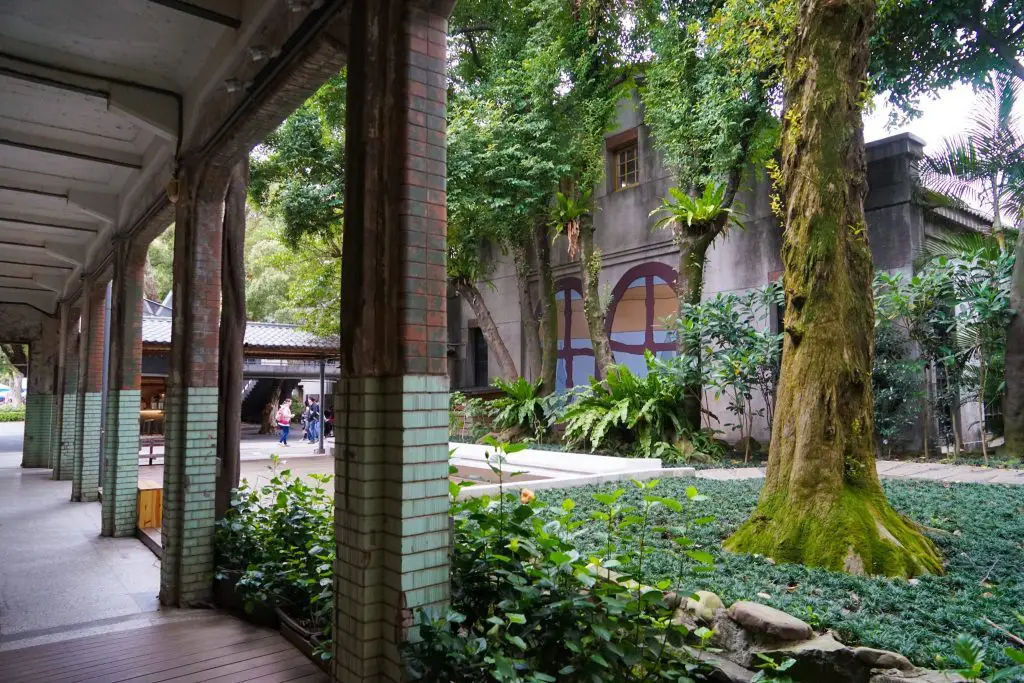 When you're done, it's time to cross over to Zhongshan, an administrative district most renowned for its riverside park and the Zhongshan MRT Station area, with its uber-cool cafes and intriguing boutiques. First, head to the National Revolutionary Martyrs' Shrine, where over 390,000 spirit tablets have been placed for the fallen KMT soldiers from the Chinese Civil War.
If you are thinking of starting a new business or want better luck with your existing company, the nearby Hsing Tian Kong temple is devoted to Guan Yu, the patron god of businessmen. One of the most visited temples in Taipei, it is a beautiful blend of Confucian and Buddhist philosophies – and if that's not enough reason to visit then this is also where you can find the Taipei Fortunetelling Street – which doesn't really need an explanation.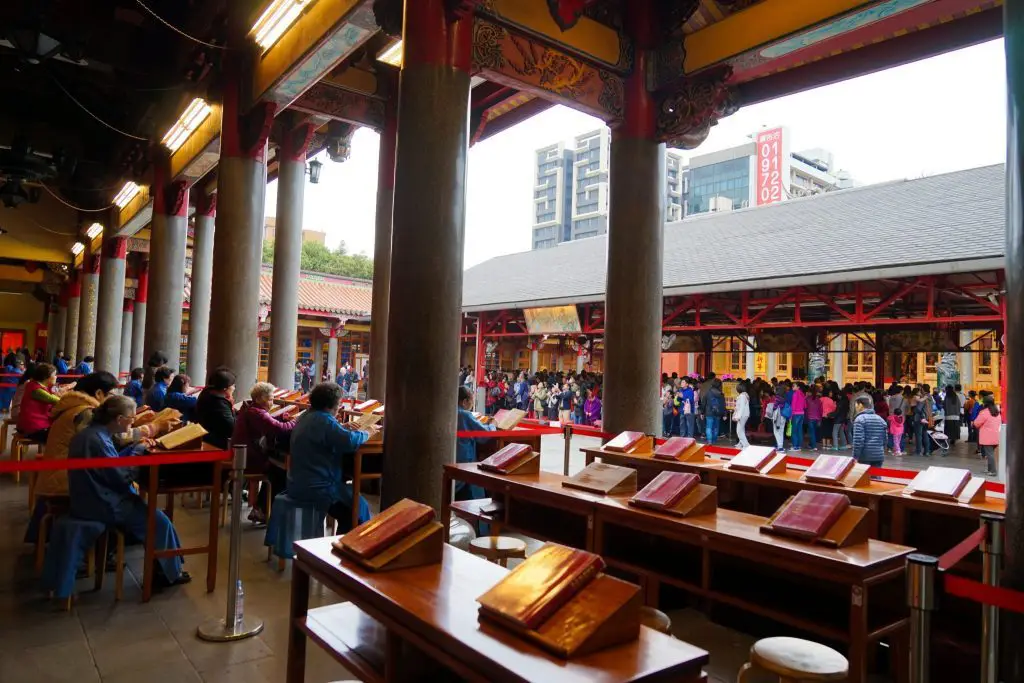 If you haven't had your fill of museums yet the Taipei Fine Arts Museum is nearby. It has some of the largest contemporary art collections in Asia, but otherwise skip straight to the Ten Shang's Tea Co to sample quality tea in a cute environment and learn all about the strong tradition of tea growing in the high mountains of Taiwan.
It will be getting late now, but if you have more energy – or want to get some shopping done – the Miramar Entertainment Park is nearby.
One of the largest shopping malls in Taipei, you can find pretty much every chain you want here, but the star attraction is the rooftop 70 meters tall Taipei Ferris Wheel you can take a ride on for a unique view of Taipei by night. Try sipping some of the best cocktails in Taipei at MUD by amba Taipei Zhongshan or simply head back to your Taipei accommodation for a well-earned sleep!
For dinner in Zhongshan, why not try Mountain and Sea House (山海樓), Taiwanese organic farm-to-table dining with beautiful presentation. For a quick and easy meal, Liang Kee's shredded chicken rice (梁記嘉義雞肉飯) is a popular option with simple bowls of shredded chicken with a house blend sauce and side dishes.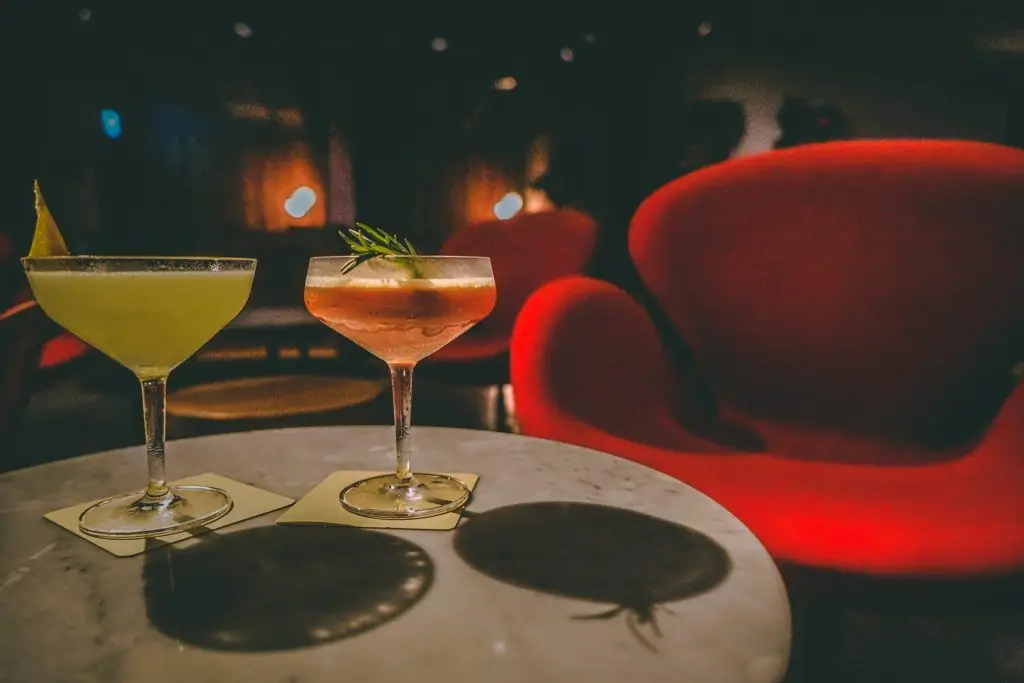 Day Three: Things To Do In Datong and Wanhua
Final day. I bet you're exhausted now if you have been following along – but I know you can do this! First up: Datong, one of the oldest areas of Taipei but has lost a lot of its relevance as the economic heart of the city shifted towards Xinyi. Still, in this historic area of Taipei, there are plenty of tourist attractions. Let's start with the Dalongdong Baoan Temple, a wooden Taiwanese folk religion temple dating back to 1742.
This glorious temple would likely be a UNESCO World Heritage Site, but due to politics, sadly, no UNESCO sites can be inscribed in Taiwan. Still, this doesn't stop you admiring all the stunning detail and hard work that has gone into everything here. Pay close attention to the dragon columns, stone bamboo windows, colored murals, and large gods protecting the gates.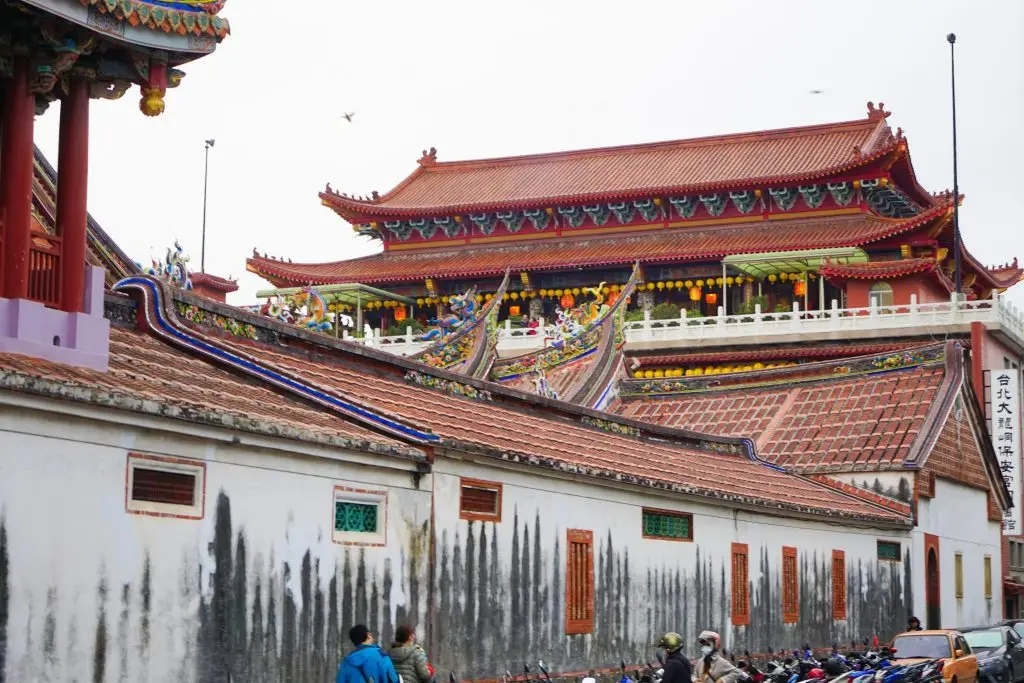 Next up I would suggest depending on your interests either the Ama Museum next-door, examining the use of comfort women during the Japanese rule of Taiwan – or MoCA Taipei (Museum of Contemporary Art Taipei) which is a juxtapositioned presentation of contemporary works of art inside a well-preserved example of Taiwanese colonial architecture.
As we learned in Providence, Eindhoven, and Montreal – just because a city isn't renowned for its arts scene doesn't mean it isn't worth exploring. In fact, as you'll see in Taipei, it often means you can discover world-class art without the hype or lines.
Afterward, head to the most famous tourist attraction in Datong, Dihua Street, where you can wander through traditional Chinese herbal and medicinal stores. Pay special attention to the buildings, and you can even spot some great examples of the Qing dynasty and Japanese colonial architecture, which are pretty uncommon in a city that seems to be always focused on the future.
Skipped breakfast to get to all these Taipei top attractions? Then Si Hay Soy Milk (四海豆漿) in Datong has plenty of traditional Taiwanese breakfast treats, like rice balls, radish cake or soup dumplings.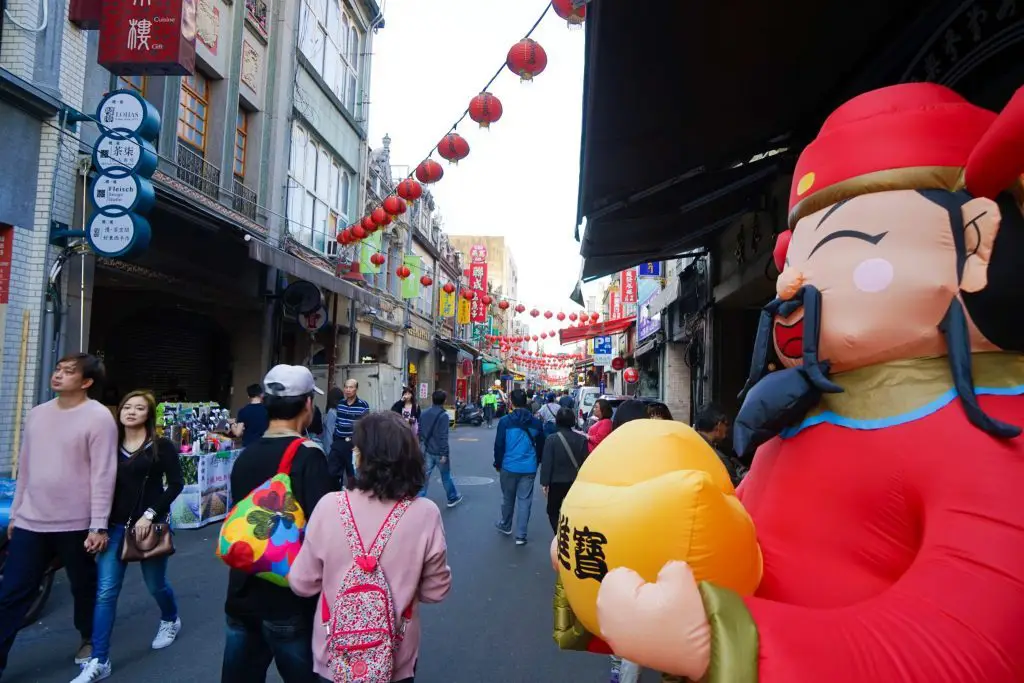 For the rest of the day, head to Wanhua district, actually the oldest district of Taipei, now home to an eccentric collection of historic buildings combined with futuristic fashion and Japanese subculture. The first highlight of Wanhua? The Taipei Cinema Park, a busy park with a colorful graffiti wall, which is a haven for Taiwanese youth to express themselves with dance or skateboarding. Visit over the weekend for maximum effect and spontaneous flea markets.
Continue south-bound to the Lungsham Temple of Manka, the most famous temple in Taiwan and one of the oldest – built in 1738 by settlers from Fujian. The Lungsham Temple was actually bombed by the Americans during 1945 in their Raid on Taipei because the Japanese were thought to be using the temple for weapons storage. However, few signs of this attack are visible today.
If you just can't get enough of temples in the Wanhua district, there is also the Bangka Qingshui Temple and Taipei Tianhou Temple, which are all free to visit and worth at least a quick peek inside.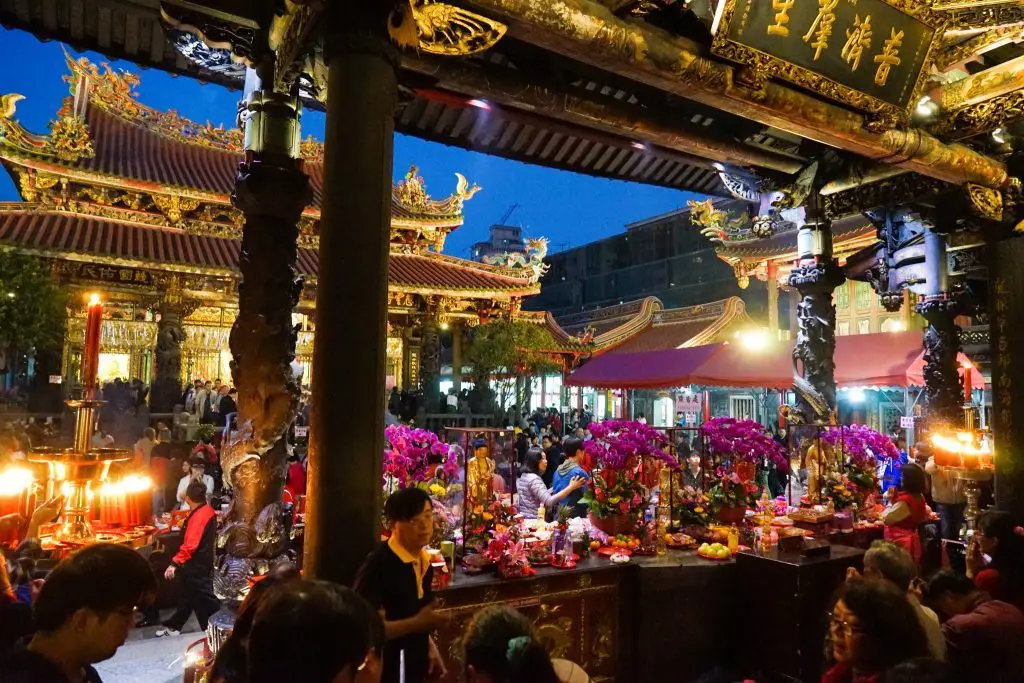 For me, the highlight of Wanhua is the pedestrian shopping haven of Ximending, known as the "Harajuku of Taipei," thanks to its abundance of bizarre teen fashion trends and Japanese subcultures. It's not quite as weird and wild as the real thing in Tokyo, but it does come close.
It's almost impossible not to run into a street artist performance here – but other iconic experience to try out here, including the Modern Toilet Restaurant (which is only slightly less disturbing than it sounds) and KTV, a.k.a karaoke at the famous Party World.
Honestly, you could write a whole separate guide of things to do in Ximending, but just take your time and wander around – you are guaranteed to find plenty of unique and utterly confusing shops and dining experience. And don't miss a stop at the historic Red House (now a theatre for student performances) for a photo.
If you're interested in exploring the gay scene of Taipei, almost everything is focussed in the cafes, bars, and shops immediately surrounding the Red House.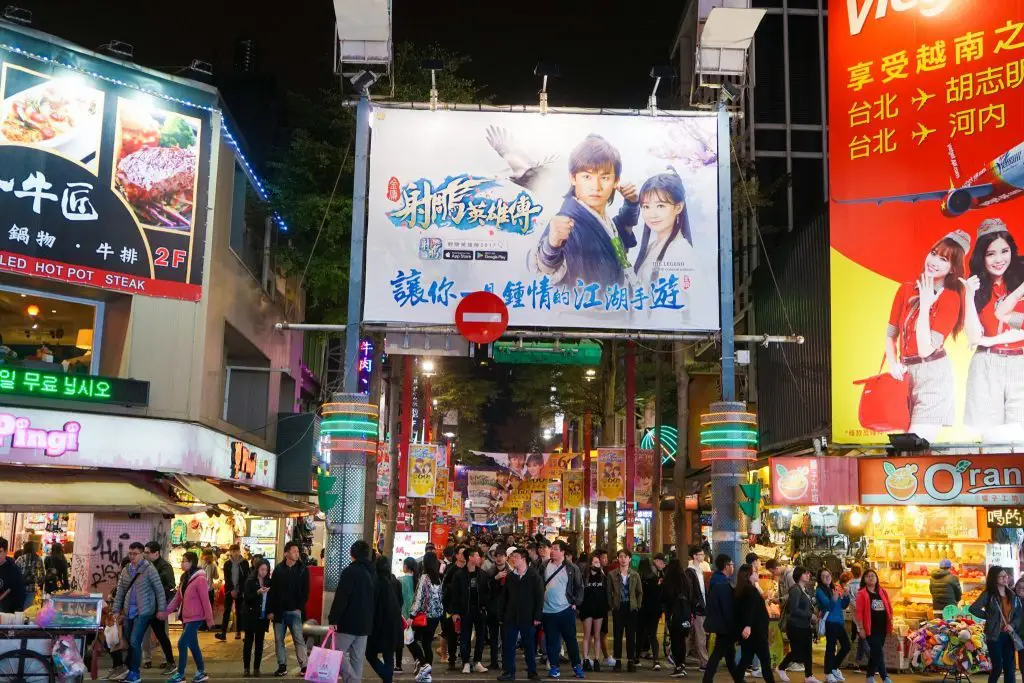 Finally, end the day at Snake Alley, also known as Huaxi Street Night Market. Formally the red light district of Taipei until prostitution was outlawed in 1991 today the Snake Alley Night Market serves traditional Taiwanese street food along with… less traditional options, including snake drinks and food (hence the name), deer penis wine, turtle blood, and more. Vegetarians and vegans might want to stay away – or anyone with a squeamish stomach!
If you still want to keep going and my 3 day Taipei itinerary hasn't completely exhausted, you then power on to the Driftwood Ximending Craft Beer Bar for some locally produced Taiwanese beer on tap, a sociable atmosphere, and some great Happy Hour specials. The staff here are super-knowledge and will help you choose from any of the 30 varieties – and if you want to discover the nightlife in Taipei, this is a good place to start!
Looking for places to eat in Ximending? Chan's oyster vermicelli (陳記專業蚵仔麵線) is the best place to try oyster vermicelli in Taipei but if it's your last night why not go all out at Mala Top Double Soup Hot Pot (馬辣頂級麻辣鴛鴦火鍋)…All you can eat mala hot pot, and unlimited beer, wine, and strangely enough – Haagen Dazs ice-cream!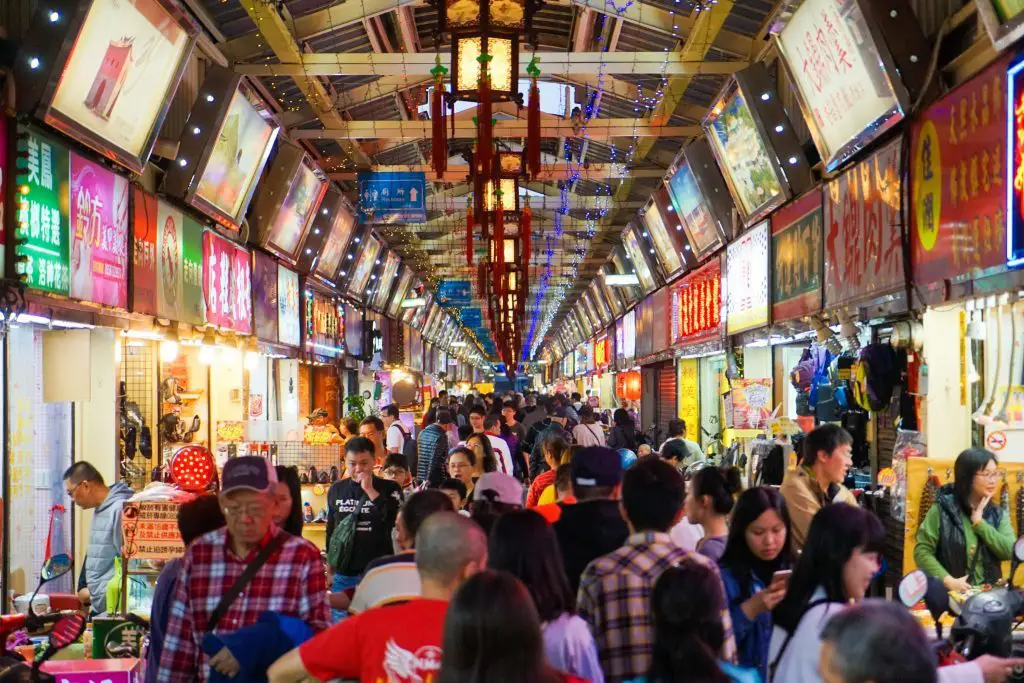 Best Taipei Day Trip Ideas
If you can extend your Taipei itinerary 4 days will allow you to get out of the city – and you really should – the difficulty then becomes with so many options, what are the best Taipei day trips?
While there are so many options (thanks to Taiwan's high-speed rail network you can be anywhere on the island in a just a few hours) I have summarised five of our favorite Taipei day trips so you can choose the best fit for you…but I think you will love each and every one of them!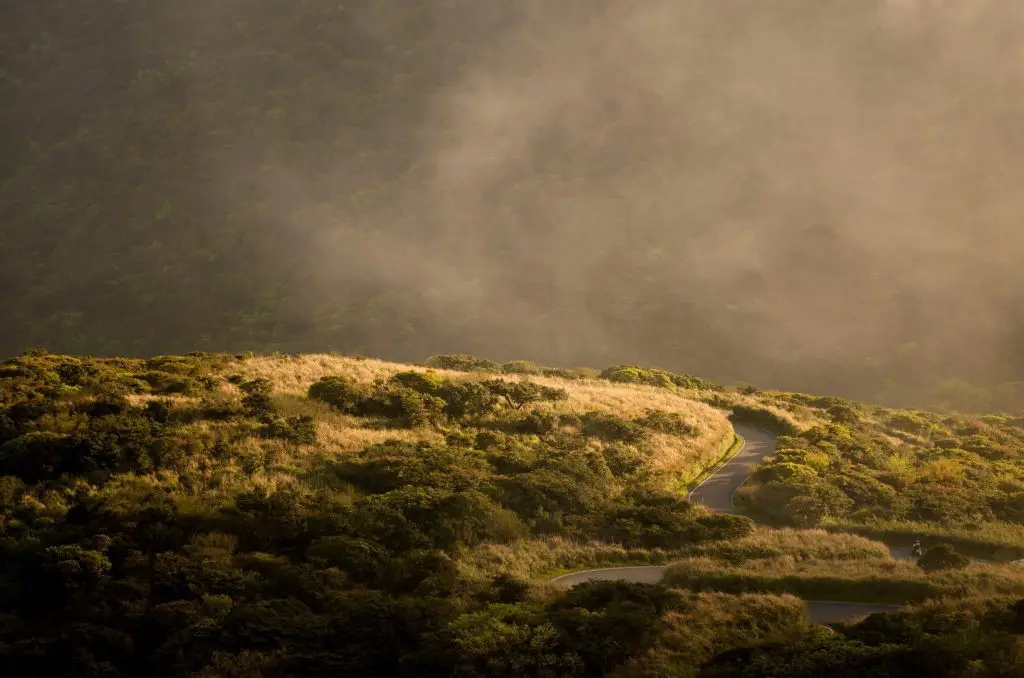 Northern Coast Of Taiwan – A Taipei day trip for geology lovers! Start with a visit to the picturesque harbor city of Keelung and then head to the Yehliu Natural Park with its famous spectacular natural rock formations, including the bizarre "Queen's Head."
Taroko Gorge – One of the seven wonders of Asia, take a trip via train to the coastal city of Hualien to gaze upon the amazing marble cliffs of Taroko Gorge and swing by the Swallow Caves and the Tunnel of 9 Turns.
Yangmingshan National Park – Geothermal activities, beautiful grasslands, and a soak in a hot-spring to cure all that ails you! This is everything you need to recover from a stressful three days in Taipei itinerary.
Thousand Island Lake – Not a futuristic skyscraper in sight! Just a tranquil lake followed by an in-depth look at the tea-making heritage of Taiwan at the Pinglin Tea Plantation. Breath easy again with all that fresh mountain air!
Pingxi, Shifen & Jiufen – A little bit of everything. The Shifen falls, the real-life spirited away town of Jiufen and the adorable town of Pingxi famed for its sky lantern ceremony at night. Our absolute favorite day trip from Taipei!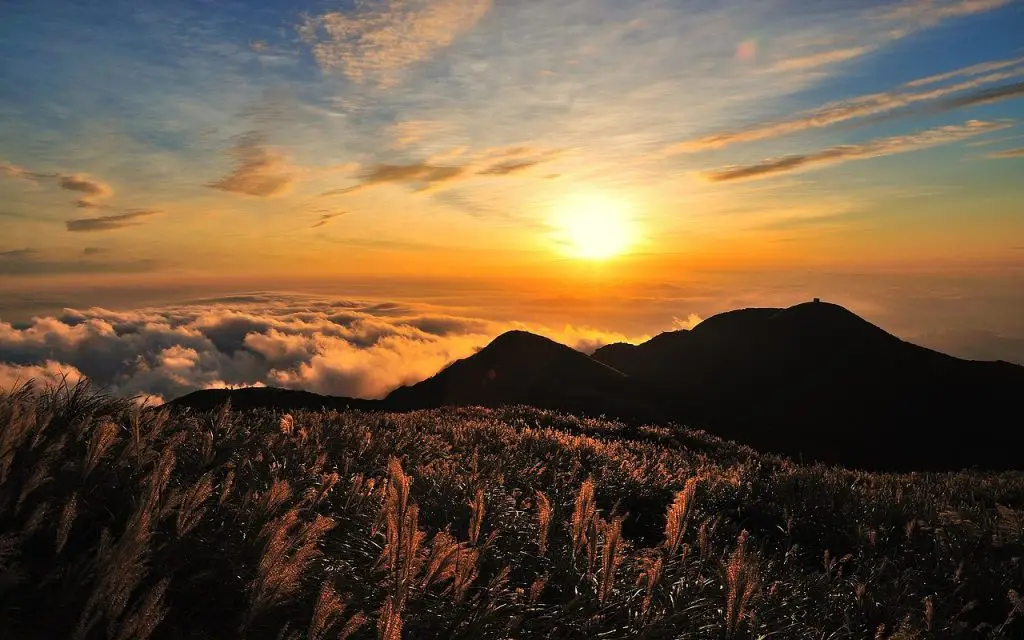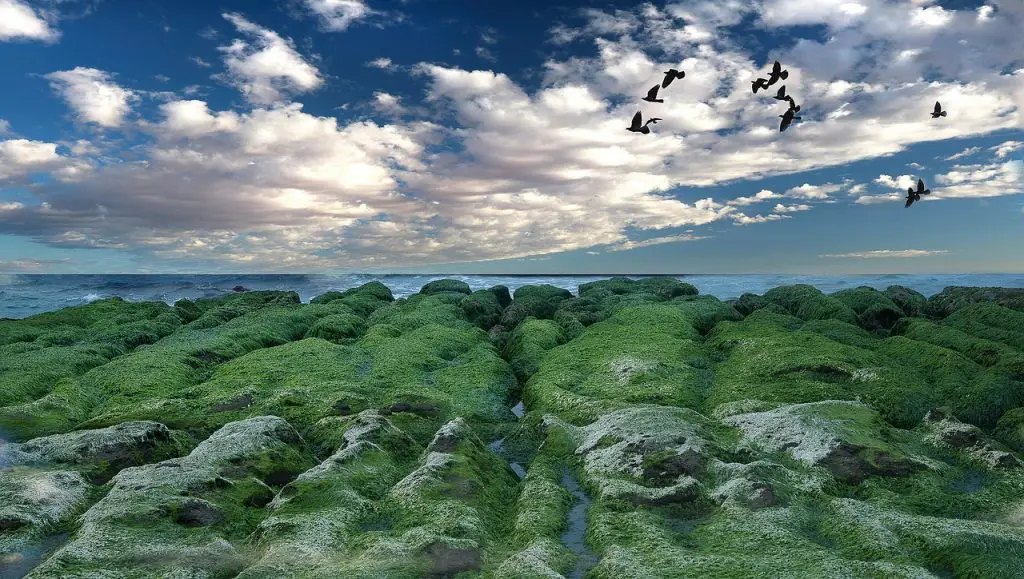 NK Hostel Review: The Best Place To Stay In Taipei For Location, Style & Comfort!
Ok – so if you have got this far, you will probably realize that Taipei is a giant city with no one central location, and as long as you are near a subway line, you can really get anywhere.
This means when deciding on the best place to stay in Taipei, it's going to be about price, style, service, and comfort. For me, NK Hostel was able to provide all of those – and more – as a modern hostel/hotel concept that truly tries to make you feel at home. Only opened two years ago in Songshan, the facilities here are immaculate, and they have a space for everyone.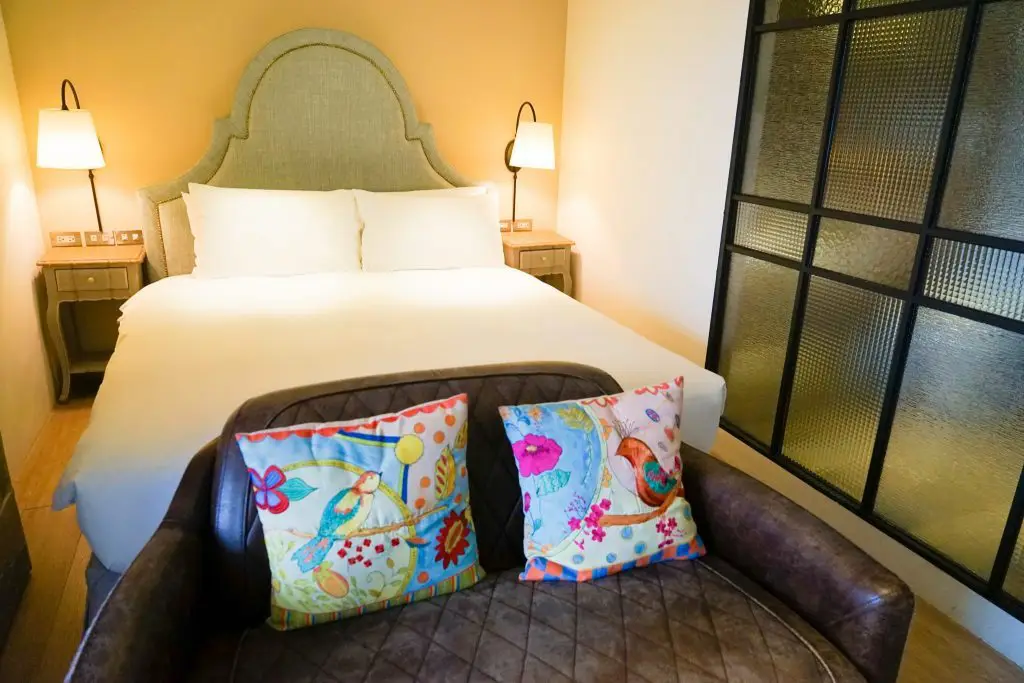 Want a pod-style hostel? NK Hostel has them, complete with an electronic locker, bedside table, and power outlet and views of Taipei 101!
After a bit more privacy?
On the higher levels, NK Hostel offers hotel quality rooms, each with a different theme and fit-out. Some have truly spectacular views of Taipei 101 or out over the iconic Rainbow River bridge.My favorite was the deluxe suite with a terrace and your own private seating area to watch the sunset and enjoy a beer.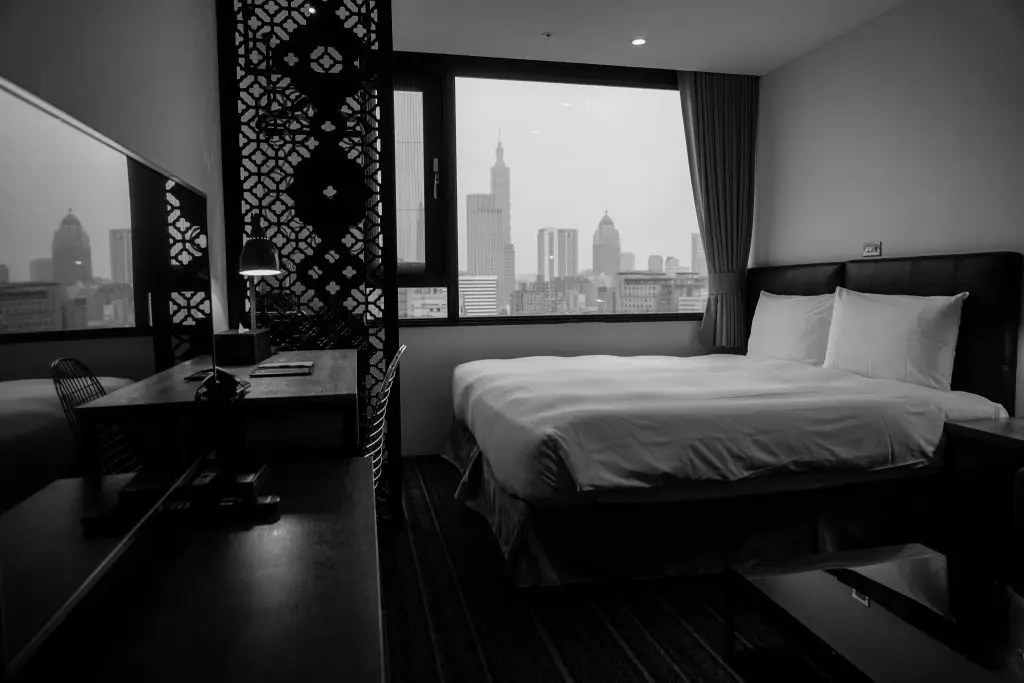 If you're a group, they even have a floor with smaller private dorms for 4-6 guests, or families will love the private room with a large queen bed and two pod-dorms for kids. The modern design and quality showers are a major draw-card for both the private rooms and pod-rooms, as is the free use of an on-site washing room…Handy if you're on a long trip or even if you just want to get a few things clean.
And don't even get me started on the breakfast! It changes every day and has a mixture of traditional Chinese and western offerings, with around ten different things to try…Truly hotel quality, but even those staying in the cheaper dorms, get it included for free in their room rate.
All of this is to say NK Hostel really blew my expectations and re-defined my idea of what a hostel can be. Clearly, a labor of love, a lot of passion and heart has gone into creating this welcoming space with staff who go above and beyond to help you will anything and everything, and to make sure you have the best possible time in Taipei.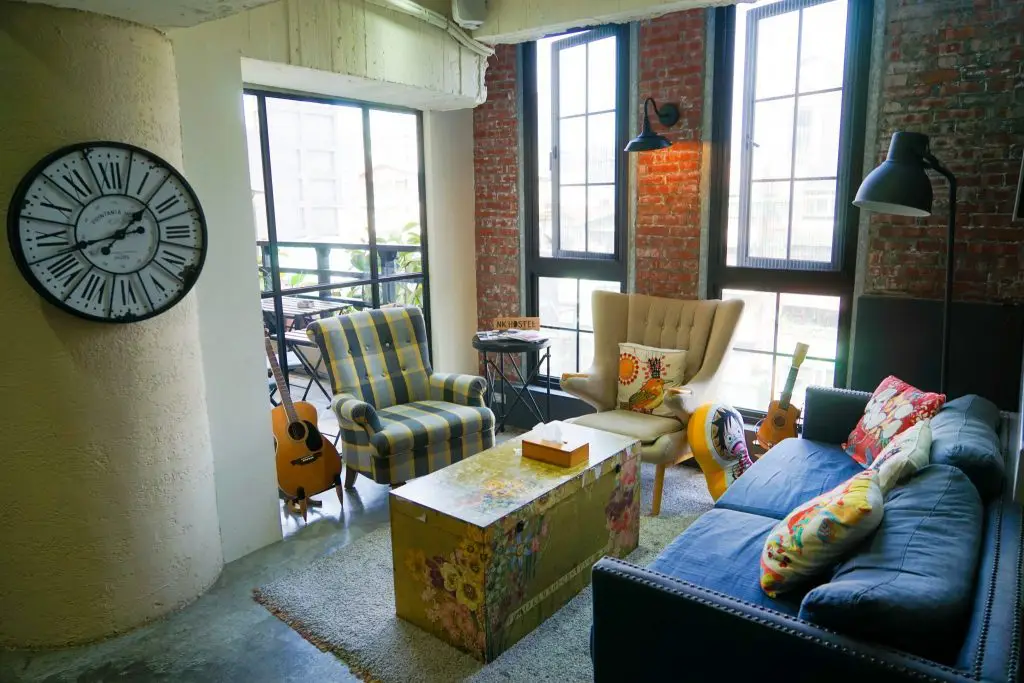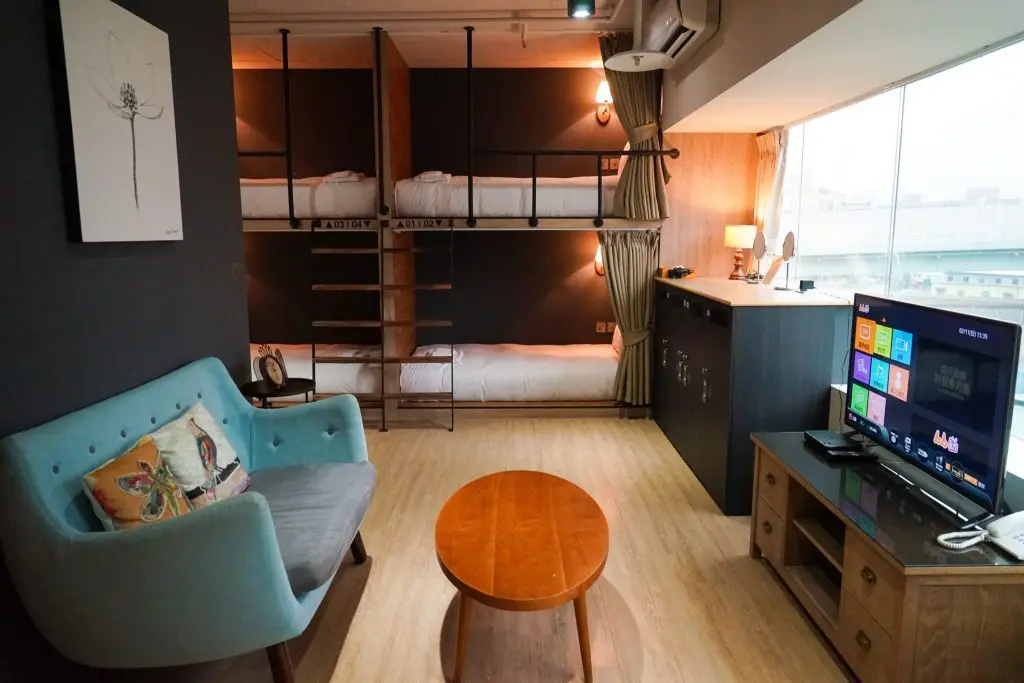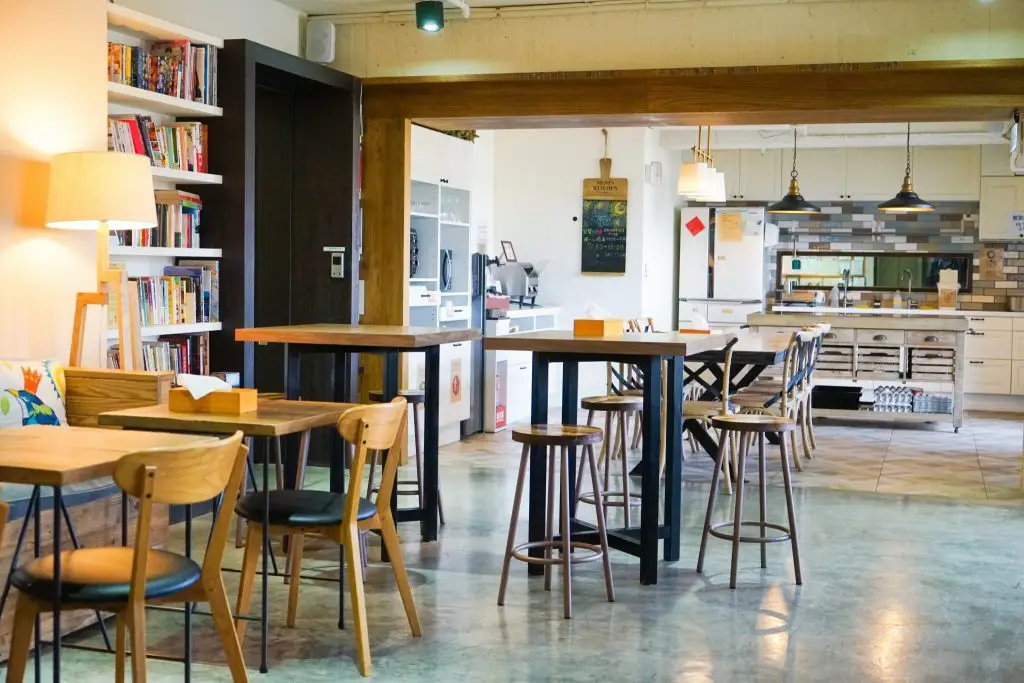 Perfectly suited for this 'what to do in Taipei for three days' itinerary or even a longer stay…if you are a budget traveler looking for a great deal, a family wanting a less conventional room configuration or a couple who desires Taipei 101 views and a bit of luxury without breaking the bank then NK Hostel is going to be the best place to stay in Taipei for you!
However, if hostels are not your style – I totally get it. Luckily, I had plenty of time to try different accommodations options in Taipei and have, but my findings all together in this 'Ultimate Guide Of Where To Stay In Taipei"…
Enjoy!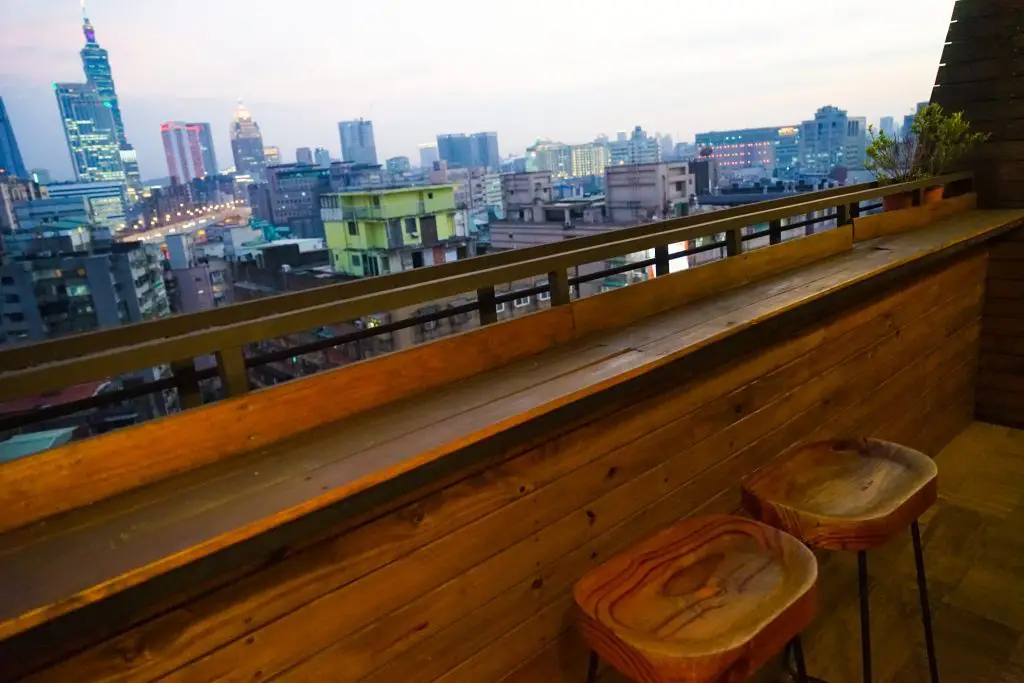 ---
Hopefully, with this Taipei itinerary three days is enough to truly get a feel for the city, to discover the Taipei top attractions and the best view of Taipei 101 while discovering what to eat in Taipei!
Obviously, there is so, so, so much more to see – and if you are thinking of staying longer the Taiwan Lonely Planet is a great tool to discover more of this city and island. If you want to visit other cities in Taiwan then I found Klook offered the cheapest tickets for the Taiwan High-Speed Rail!
I also recommend you purchase some good travel insurance just in case anything goes wrong, even though Taipei is very, very safe – you never know what can happen. Let me know if you have some suggestions for what to do in Taipei for three days in the comments below; I'd love to hear from you!
Finally.. you can save my handy Taiwan top attractions travel map on your phone to guide you on your travels. Hope it helps you as much as it helped me!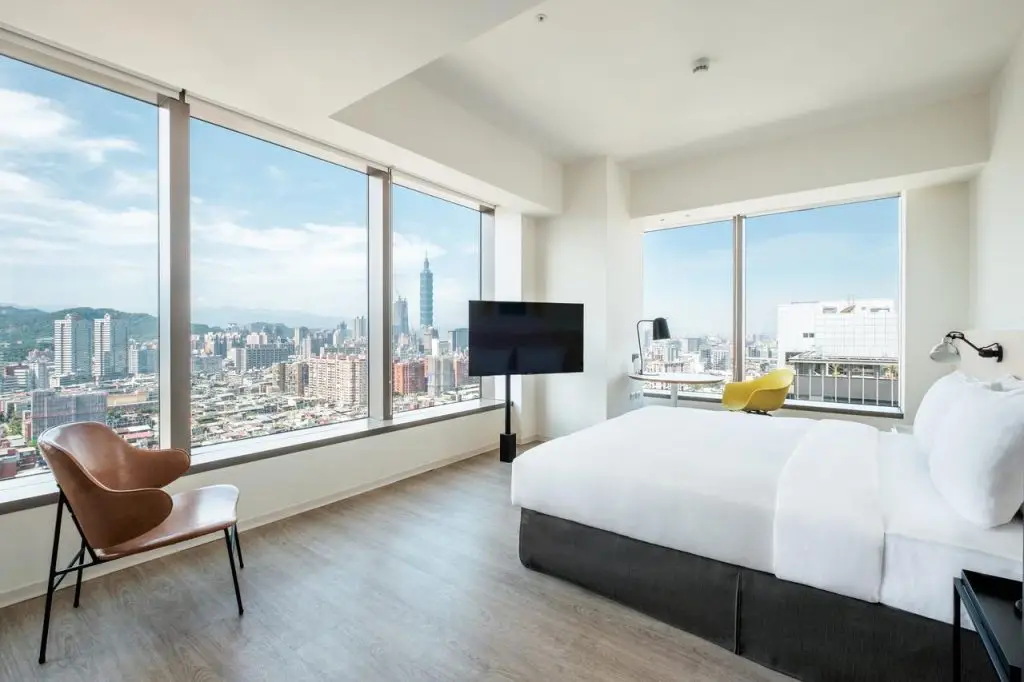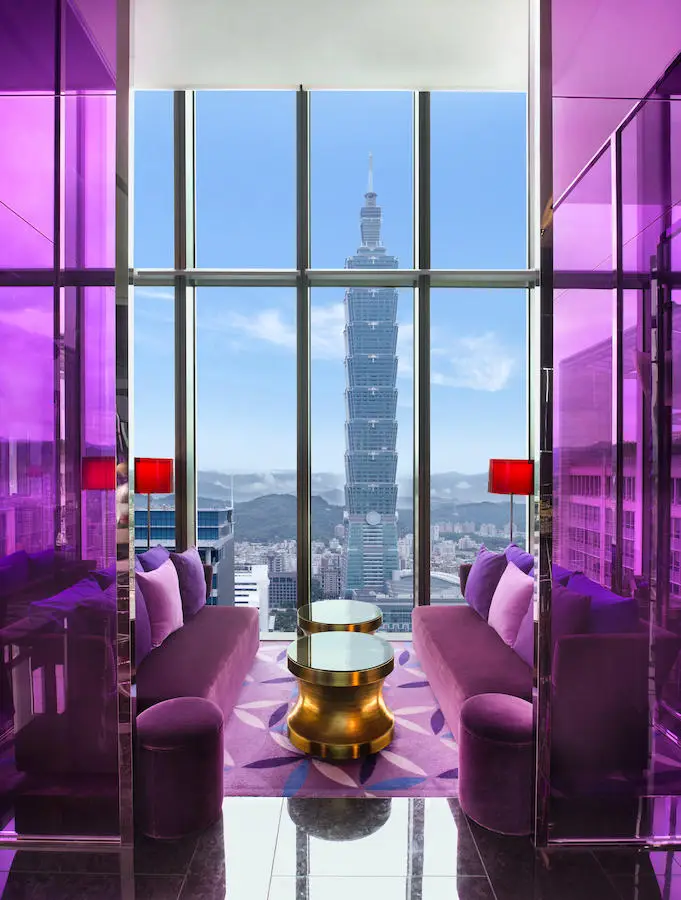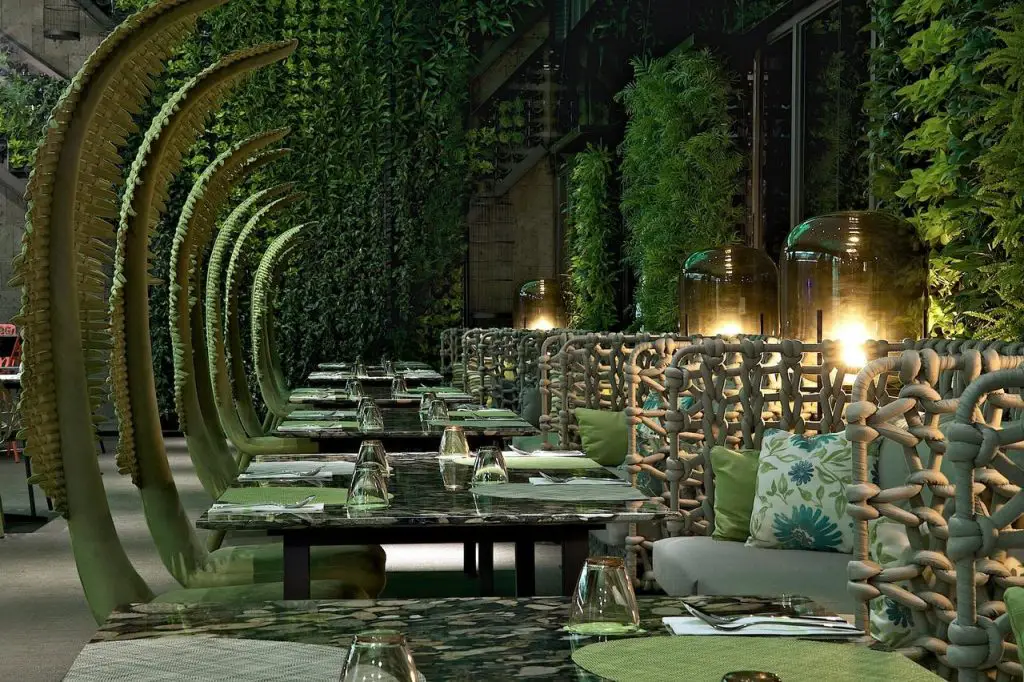 Staying Connected While Travelling
In today's increasingly connected world, staying online while traveling has become essential for a seamless experience. That's where eSIMs come into play, revolutionizing the way we access mobile networks during our global adventures. Say goodbye to hunting down local SIM cards at the airport; eSIMs provide instant activation the moment you land, sparing you the fortune usually spent on international roaming and allowing you to genuinely travel like a local (without getting hopelessly lost!).
With eSIMs, tasks like restaurant recommendations and reservations, up-to-the-minute public transport instructions, checking opening hours, and accessing further information become a breeze. And, of course, sharing your journey on social media is easier than ever. To stay connected wherever you roam, consider using either Airalo or Holafly. Airalo boasts the most extensive range of destinations worldwide, offering smaller data bundles tailored to your needs, while Holafly provides unlimited data packages and fantastic EU data deals.
So why wait? Embrace the future of travel connectivity with eSIMs and make your next journey effortlessly smooth.
Further Things To Consider Before Any Adventure
Now you're all set and prepared to explore our big wide world, why not sort out everything else out all in one go? If necessary for your travel plans make sure you have brought proper travel insurance, protected your privacy by getting a secure VPN, compared all the top hotel booking sites to find just what you're after, reserved an unbeatable rental car price and - of course - booked the best flight deals!
Or maybe just forget it all and go for a last-minute cruise or effortless tour instead?
Many budget travelers (including me) indulge in worldwide airport lounge access, so we can experience luxury while still slumming it in economy. Naturally, we would never leave home without a more general travel guide since we couldn't possibly cover everything here!
Just add an adventurous attitude and plenty of smiles - they go a long way - and that about covers it all! Now go out, find your own path and don't forget to share your best inspiration stories with me on Facebook, Twitter, and Instagram...I'd love to hear from you!