Taipei is one of our new favorite cities to visit – vibrant, quirky and full of history, we love the mix of influences you find here, with aspects of Japan, America, and Southeast Asia present in the architecture, the lifestyle and the food.
Nowhere is this mix of the past and the present as apparent as in Taipei's Songshan District, where skyscrapers housing finance companies loom overnight markets that have been running for decades.
There's a MRT station right in the heart of the area, making it the perfect place to stay to explore all over; although once you've become used to this part of the city, why would you even need to go anywhere else?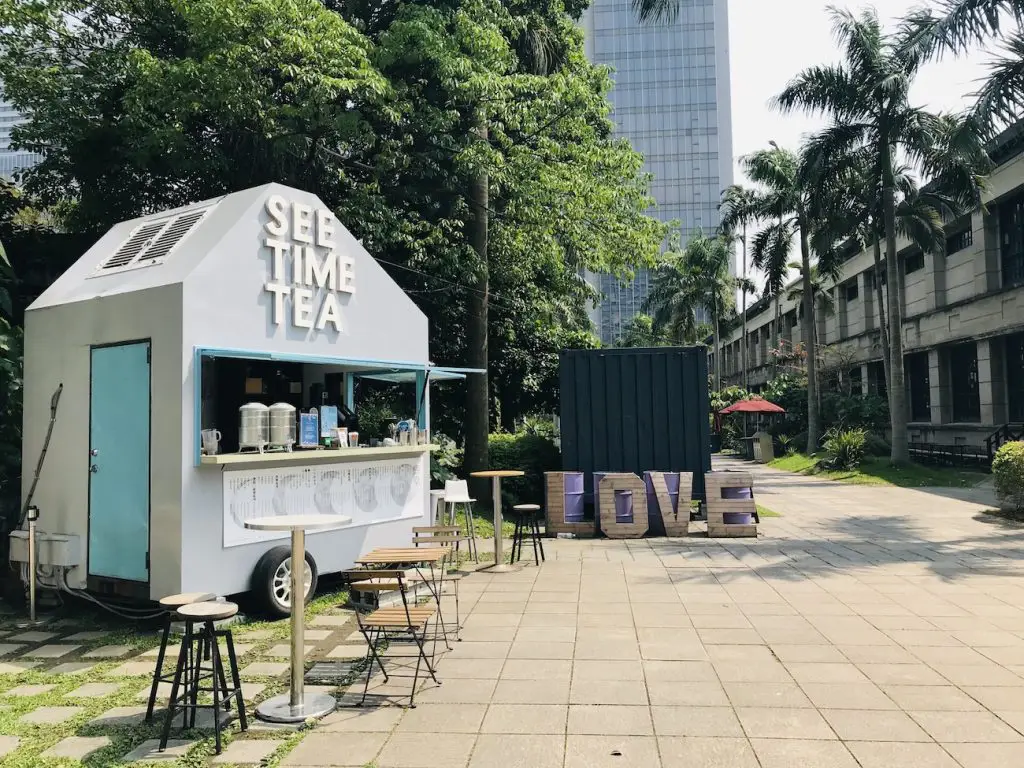 The night markets aren't the only things that make Songshan a great place for shopping, although they are endlessly fascinating. There's also a wholesale garment market where you can spend a whole day and other stylish retail outlets, too. In between shopping you can visit some of Songshan's popular tourist attractions, from temples to museums to an attractive riverside walk.
Getting a hotel here will be the ideal base for your Taipei experience, with all the fun things to do in Songshan on offer. You'll soon be as enraptured by this city as we are. And if you have longer to explore – we also have a useful three-day guide to Taipei which covers even more of this wonderful city!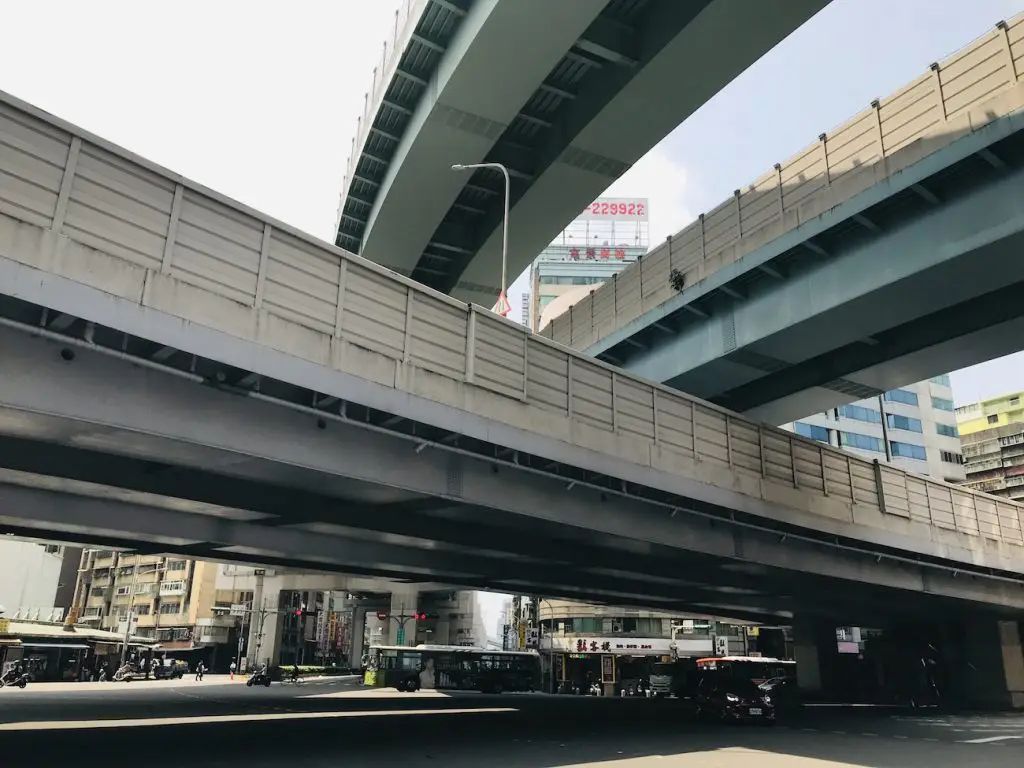 10 Fun Things To Do In Songshan Taipei 🇹🇼
#1. Feast Your Eyes And Taste Buds At Raohe Night Market
One of the oldest night markets in Songshan, Raohe is 600 metres of food-lovers' heaven. It's easy to find (it's on Raohe Street, right outside Songshan Station) and easy to get immersed in. It's not as mammoth as Shilin Night Market, but that's what we love about it; it's friendly, more manageable and still has endless mouth-watering food options. It opens at 5, but go later to ensure everything's open.
As you stroll along the single path a festive atmosphere surrounds you – it's amazing to think this happens every night, not only for special occasions! It's hard to narrow down your food choices, but we'd recommend the delicious Pepper Buns, hot and savoury buns stuffed with minced meat and flavourings.
For veggies, try the famous stinky tofu with crispy cabbage – and everyone can enjoy the freshly-squeezed fruit juice.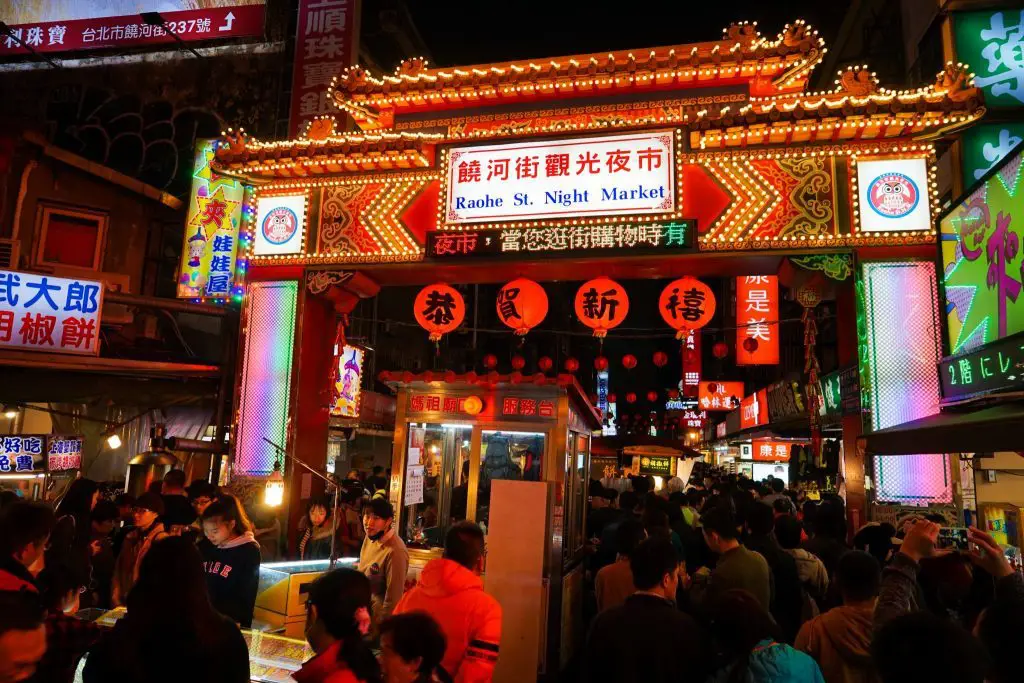 #2. Marvel At Songshan Ciyou Temple
This intricate and colourful temple forms the gate at one end of the Raohe Night Market so you can easily combine a visit to both of them.
The square, 6-storey building was constructed in 1753 and is seen as a perfect example of Chinese architecture in Taiwan. Dedicated to Mazu, goddess of the sea, Ciyou has tons of gorgeous sculptures including dragons on the roof, lions at the main gate and a phoenix or two as well.
The inside of the temple feels very sacred, so even if you're not religious yourself you will feel affected by it. The detail carvings and flickering oil lamps lit by worshippers for protection add to the atmosphere. The huge main hall is quite staggering and you can see why it's such a popular destination for believers and travellers alike.
If you're in Taipei between January and March you might even be lucky enough to witness some of the Xikou Cultural Festival hosted by Ciyou.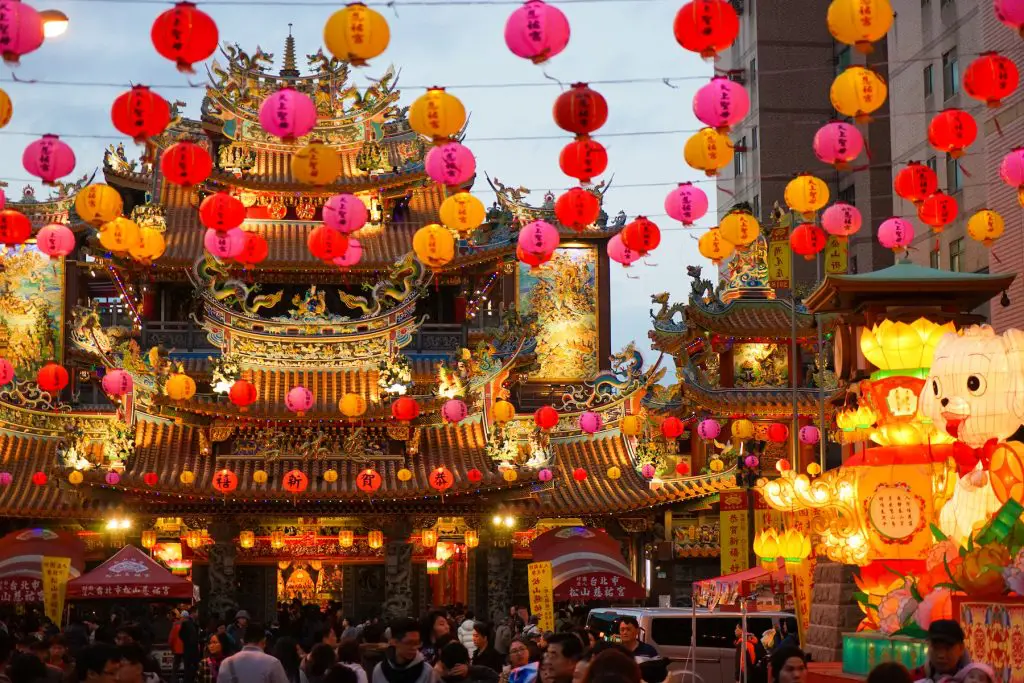 #3. Take A Stroll Over Rainbow Bridge
If we're all being honest, we don't usually associate mega-cities in Asia with nature or walking. However, Taipei bucks that trend and a placid river flows through Songshan providing ample opportunity for romantic riverside walks. To cross this Keelung River you'll find the 167-metre Rainbow Bridge, an elegant suspension bridge that snakes in an S-shape across the river.
Its smooth curves and red-painted wooden railings and steel arch are a modern landmark in Songshan, as well as providing a practical shortcut between the districts main attractions and Neihu. It's particularly attractive after dark, when this feat of engineering is illuminated by neon lights.
Stroll over here before or after a visit to the night market.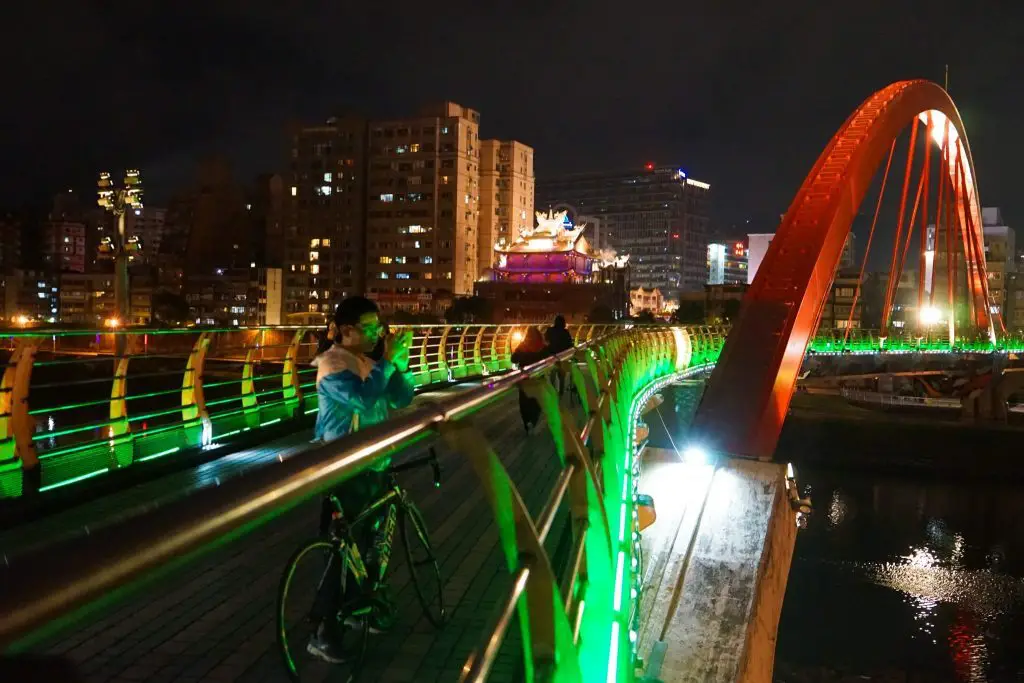 #4. Witness Travel In Action From Songshan Airport Observation Deck
You don't have to be an aircraft obsessive to appreciate Songshan Airport's Observation Deck. The fact that the Minister of Transportation said it was a perfect place for couples to spend a romantic evening merely demonstrates the joy in everyday that you'll find all over Taipei.
Romantic evening or not, you're sure to enjoy the sentiment behind this expansive deck on the third floor of the domestic flight terminal at the airport.
Specially designed chairs are arranged about the area so you can enjoy the plane-spotting in comfort, perhaps with a cup of coffee in hand. Avid travellers know the mysterious hold an airport can have over you, so why not get right to the heart of the action with one of the more unusual things to do in Songshan Taipei?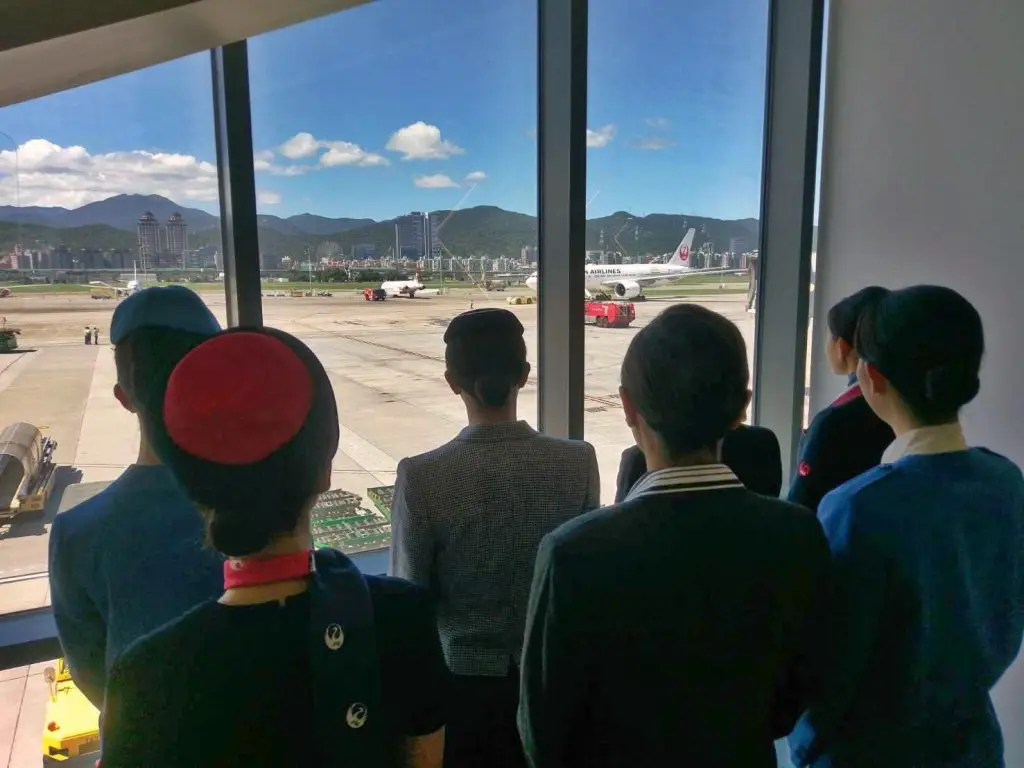 #5. Learn About A Unique History At The Land Reform Museum
We always love a museum that differs from the norm – and the particular focus of Songshan's Land Reform Museum does just that. It was established in 1967 and since then has commemorated the process of land reform that was carried out by a Nationalist government in Taiwan in the 1950s.
It's totally fascinating for any true student of history as you'll get to see an incredibly detailed exhibition that includes lots of documents from campaign literature to charts and graphs. The photographs are particularly interesting as they show a more personal side to the government policy; and if you're lucky, the curator will show you a video detailing more about the changes that took place.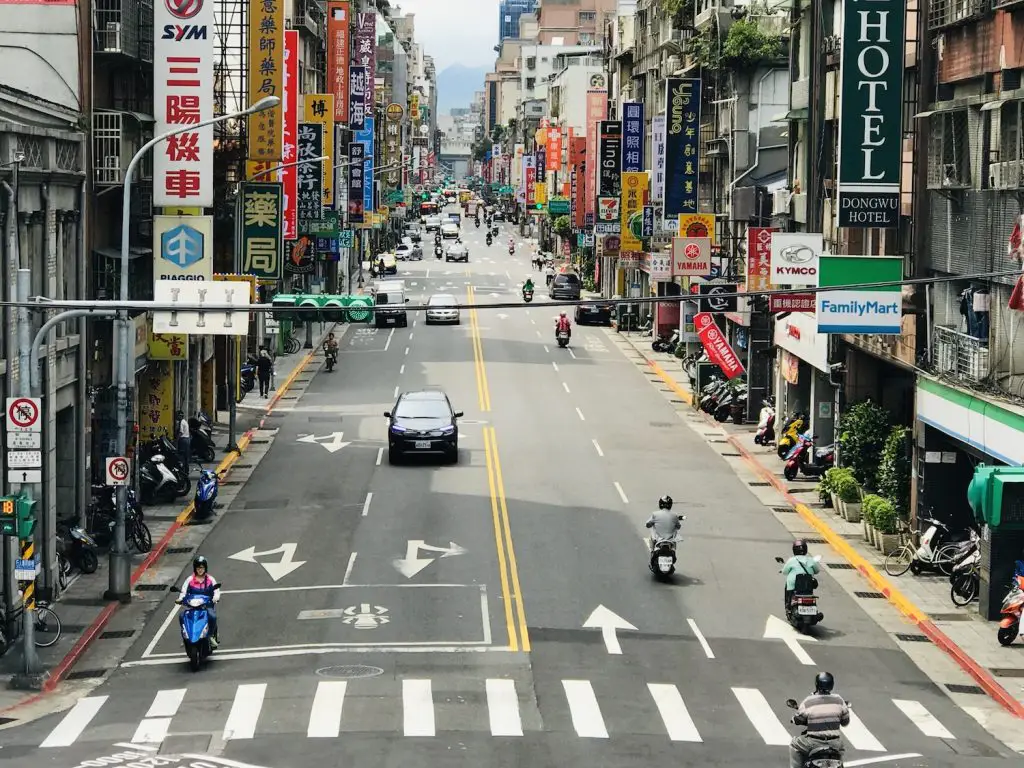 #6. See The Trendy Side At Songshan Cultural and Creative Park
As well as night markets, 'creative parks' are renowned in Taiwan, although visitors to the country might know less about them.
Creative parks are essentially arts centres, where you'll find exhibitions, shops and performances. Songshan Cultural and Creative Park is one of the biggest and a great place to spend a day. It's been established on the site of what was once a tobacco factory and consists of warehouses, a design museum, a library, a creative forum, a restaurant and various shops.
You can take your time exploring the exhibits and shops, which are innovative and varied. It's got lots of pop-up cafes so you can also grab a coffee or an ice-cream and watch the hip locals go by. There is a huge range of products, from furniture and stationery to clothes and art. You'll want to spend hours and hours here – and you should.
This place is so captivating it went on to become one of my Shutterstock top earners!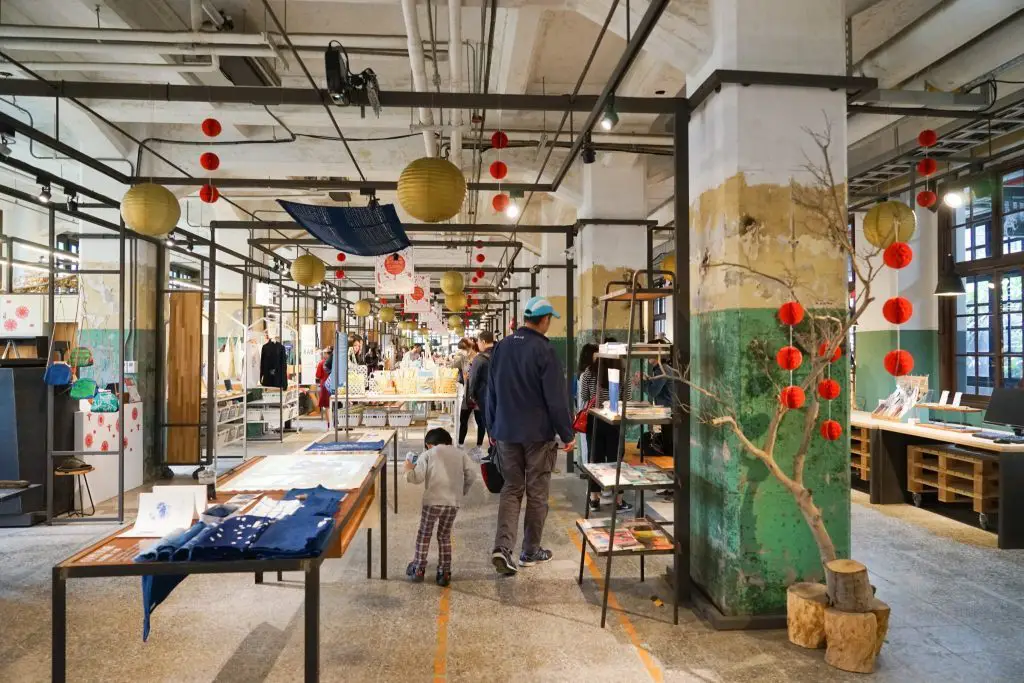 #7. Stay At Chic amba Taipei Songshan
This high-rise hotel boasts incredible views of the city, whether it's Taipei 101, the cityscape or the river. This is the dream place to stay in Songshan. The sleek, minimal rooms are decorated in white, all the better to draw attention to the glorious views. This also means that they are calm oases to relax in at the end of a busy day in the city.
Every room is equipped with all amenities and the staff couldn't be friendlier. Food at the restaurant on the 17th floor is delicious. If you don't fill up at the breakfast buffet then there are lots of places to eat nearby, including the night market.
Enjoy exploring Songshan from this super-elegant base.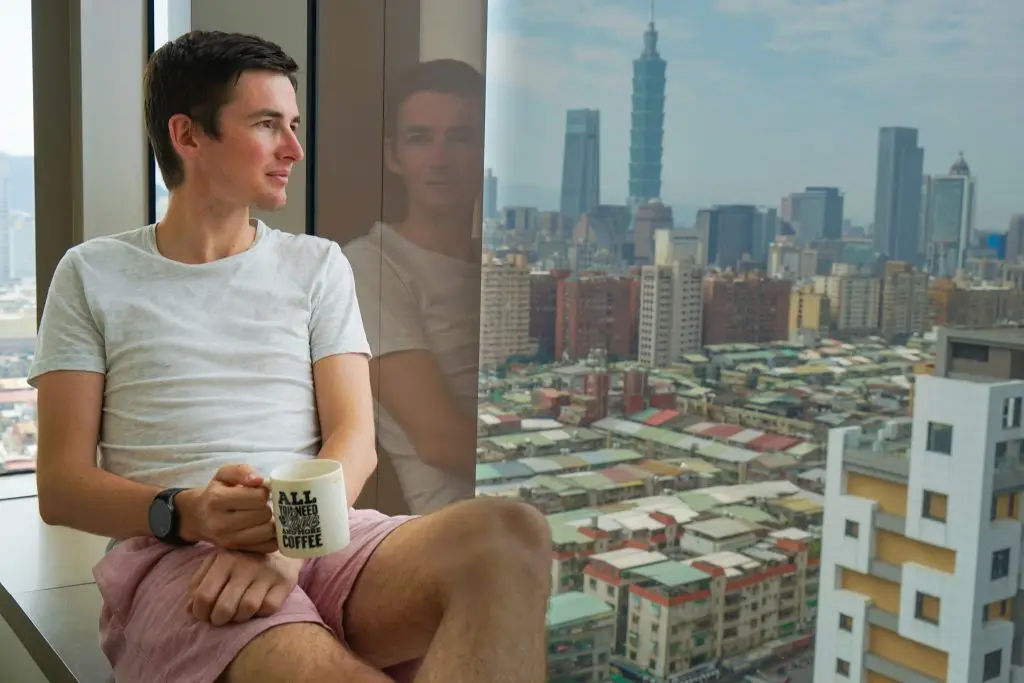 #8. Treat Yourself At The Que Woodfired Grill
You know how we mentioned the restaurant on the 17th floor of amba Songshan above? Well, this is it. So good, it earns its own place on our list of things to do in Songshan. Obviously, the incredible view is a big part of the appeal but the mouthwatering food more than matches it. It's a modern approach to the classic chophouse with steak and seafood the main order of the day.
Tender rib eye steak is cooked to perfection, with simple but tasty vegetables and sauces complementing it. The sides, which include things like smoked salmon Caesar salad and herby fries, keep delivering. And don't get us started on the sumptuous deserts!
Yes, we love Taipei's night markets, but for a sit-down dinner you can't beat Que.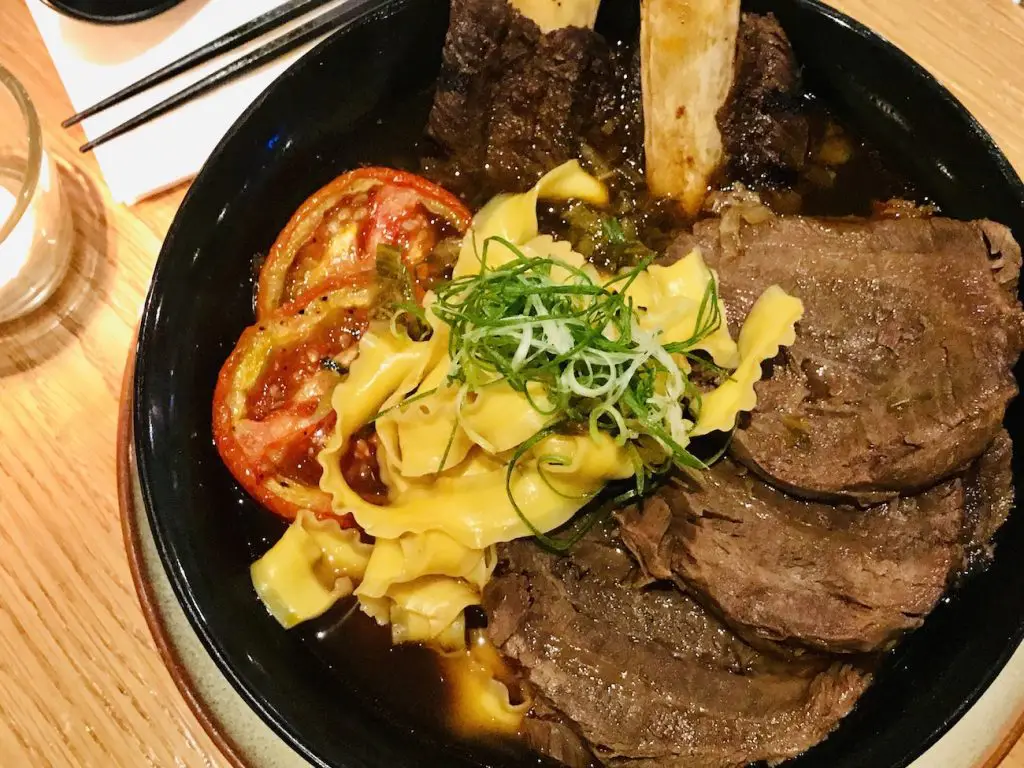 #9. Forgo Plates At the TankQ Café
Brunch off a suitcase? Are you sure? We know it might sound weird, but this is definitely something you have to try while you're in Songshan. TankQ café and bar takes quirky to the next level, with minions made of tires greeting you at the entrance and cutesy toys all over the place. Might as well get playful with your food, huh?
Your 'Western' breakfast will be served in a (hopefully clean) suitcase – meat, fries and toast. You can also try some condensed milk dough balls (goodbye, diet) and enjoy your hot drink in an adorable mug. This is all quintessential Taipei and definitely not something to miss!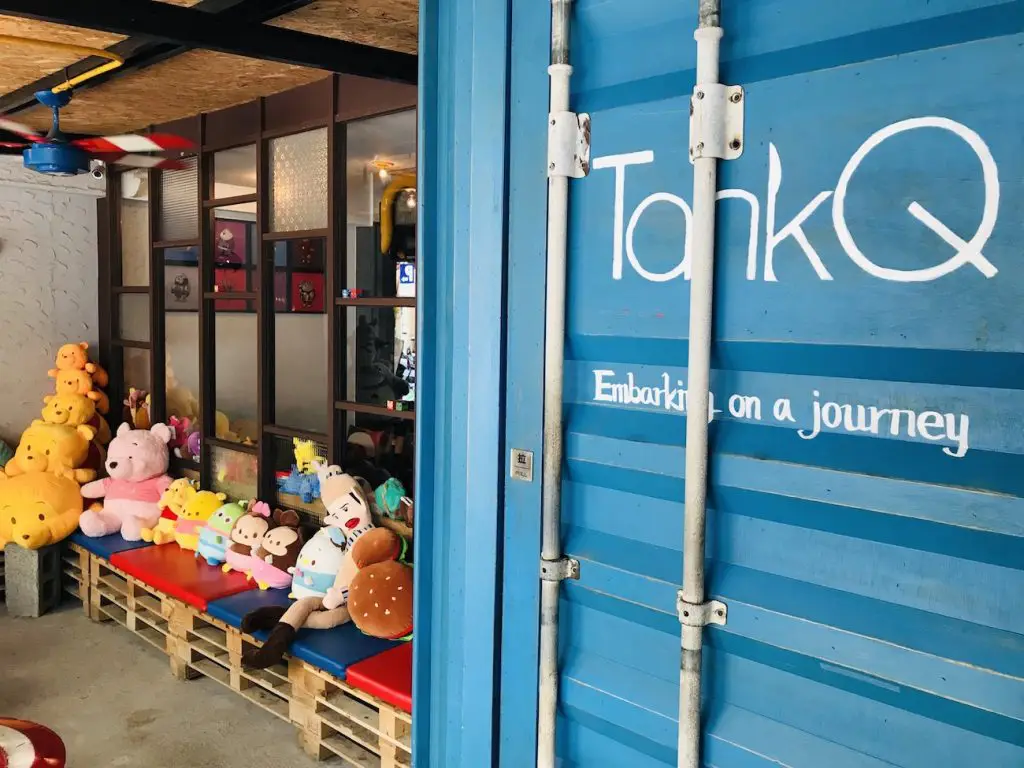 #10. Chow Down On Pineapple Cake At Chia Te Bakery
Chia Te Bakery is one of the prime spots you can enjoy Taipei's signature pineapple cake – buttery pastry wrapped around a sweet, tropical filling. These bite-sized morsels come in various flavours and Chia Te has mastered them all, as well as other Taiwanese delicacies like milk cakes and nougat.
We always recommend Chia Te Bakery because despite its popularity, it maintains a local bakery feel – plus, you can make friends in the queue! If you don't eat all your sweeties immediately, they make great souvenirs.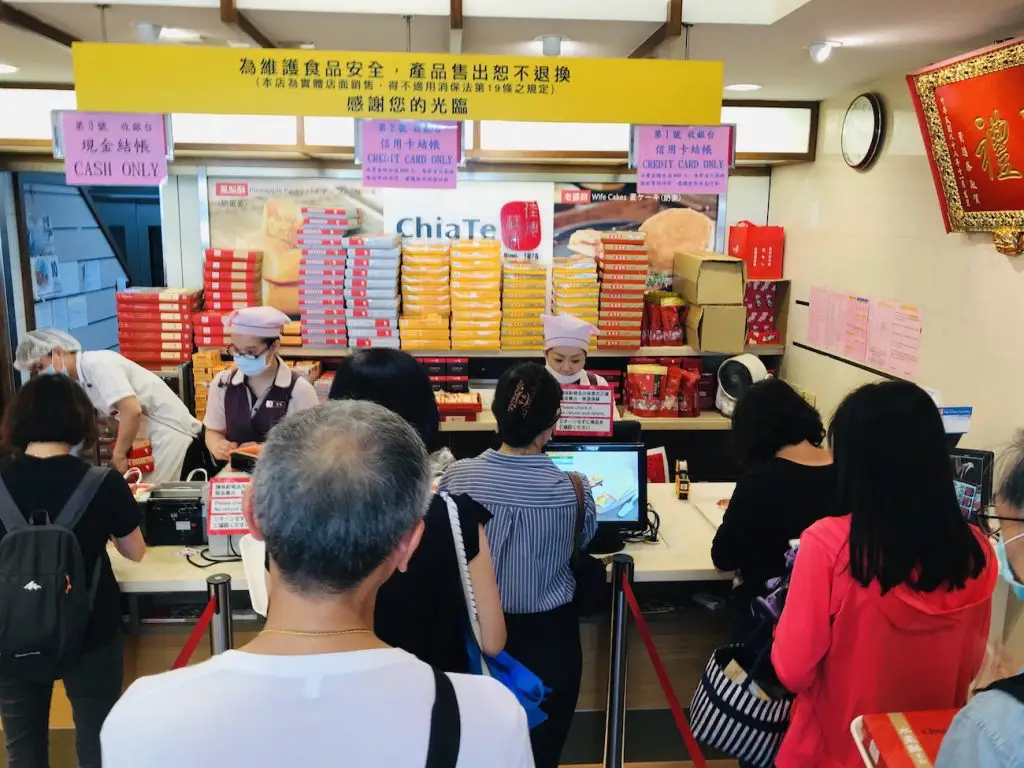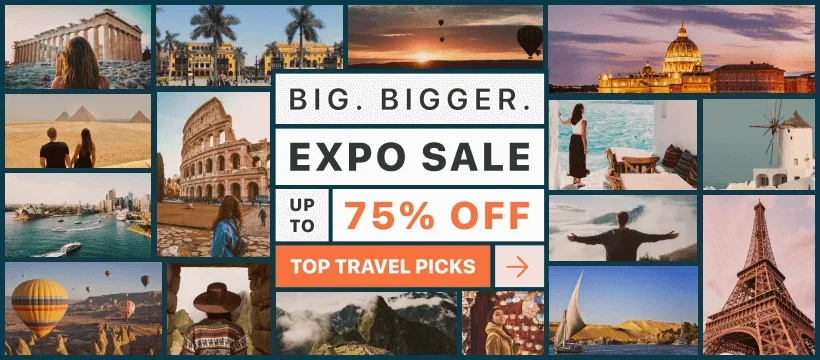 Staying Connected While Travelling
In today's increasingly connected world, staying online while traveling has become essential for a seamless experience. That's where eSIMs come into play, revolutionizing the way we access mobile networks during our global adventures. Say goodbye to hunting down local SIM cards at the airport; eSIMs provide instant activation the moment you land, sparing you the fortune usually spent on international roaming and allowing you to genuinely travel like a local (without getting hopelessly lost!).
With eSIMs, tasks like restaurant recommendations and reservations, up-to-the-minute public transport instructions, checking opening hours, and accessing further information become a breeze. And, of course, sharing your journey on social media is easier than ever. To stay connected wherever you roam, consider using either Airalo or Holafly. Airalo boasts the most extensive range of destinations worldwide, offering smaller data bundles tailored to your needs, while Holafly provides unlimited data packages and fantastic EU data deals.
So why wait? Embrace the future of travel connectivity with eSIMs and make your next journey effortlessly smooth.
Further Things To Consider Before Any Adventure
Now you're all set and prepared to explore our big wide world, why not sort out everything else out all in one go? If necessary for your travel plans make sure you have brought proper travel insurance, protected your privacy by getting a secure VPN, compared all the top hotel booking sites to find just what you're after, reserved an unbeatable rental car price and - of course - booked the best flight deals!
Or maybe just forget it all and go for a last-minute cruise or effortless tour instead?
Many budget travelers (including me) indulge in worldwide airport lounge access, so we can experience luxury while still slumming it in economy. Naturally, we would never leave home without a more general travel guide since we couldn't possibly cover everything here!
Just add an adventurous attitude and plenty of smiles - they go a long way - and that about covers it all! Now go out, find your own path and don't forget to share your best inspiration stories with me on Facebook, Twitter, and Instagram...I'd love to hear from you!