A city as iconic as VEGAS, baby, should need no introduction. Those flashing lights, vast casino floors alive with the clattering of slot machines and the enticing promise of fortune are all familiar to us, even if you've not visited Las Vegas.
But if you haven't visited, why not? Something like this needs to be seen to be believed and whatever your feelings about gambling and luxury hotels, you're certain to have a hell of a good time. This is a 24-hour city where closing your eyes to sleep feels like giving up (if you really need to, you can sleep by the pool in the day!).
Sin City can mean whatever you want it to mean. Indulge in a stay at one of the many luxury hotels, experiencing for yourself what a $1000 price tag can offer. If that seems a bit over budget, firstly, don't worry because you're not alone!
Secondly, there's plenty of other 'sinful' and fun things you can do other than chug champagne in the penthouse suite. There are just so many things to do in Vegas!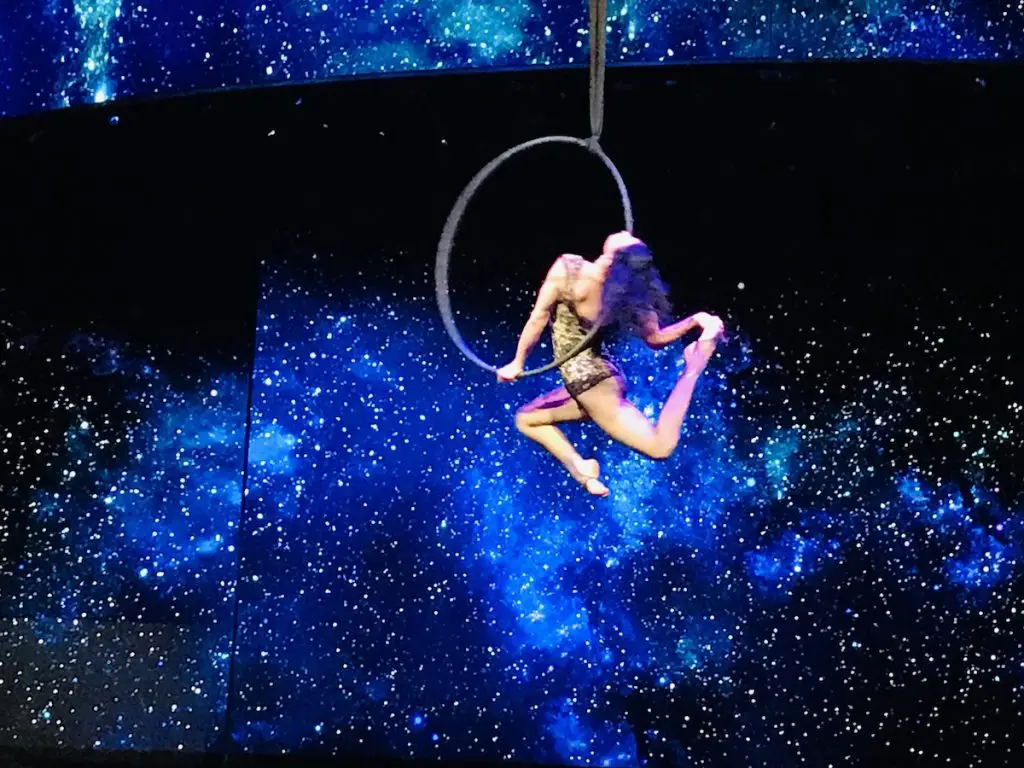 Trying your luck in the casinos is an obvious choice, where you'll be hypnotised by the fervour of activity and will stay longer than you expect because your very next hand will be the winning one. Warning: come to Vegas with friends who will keep you from spending your entire time at the blackjack table!
Luckily, there are plenty of distractions from the gambling, particularly when you think about the incredible shows on offer. Lots of the casinos have seasonal residencies featuring some seriously huge stars, from Celine Dion herself to Elton John to Lady Gaga.
There's the famous Blue Man Group doing their bonkers blue stuff on stage, Cirque du Soleil and the Wow Vegas Show, and a wide range of magicians and performers. If you're looking for an unforgettable romantic experience at a great value, be sure to check out Beatles Love discount tickets.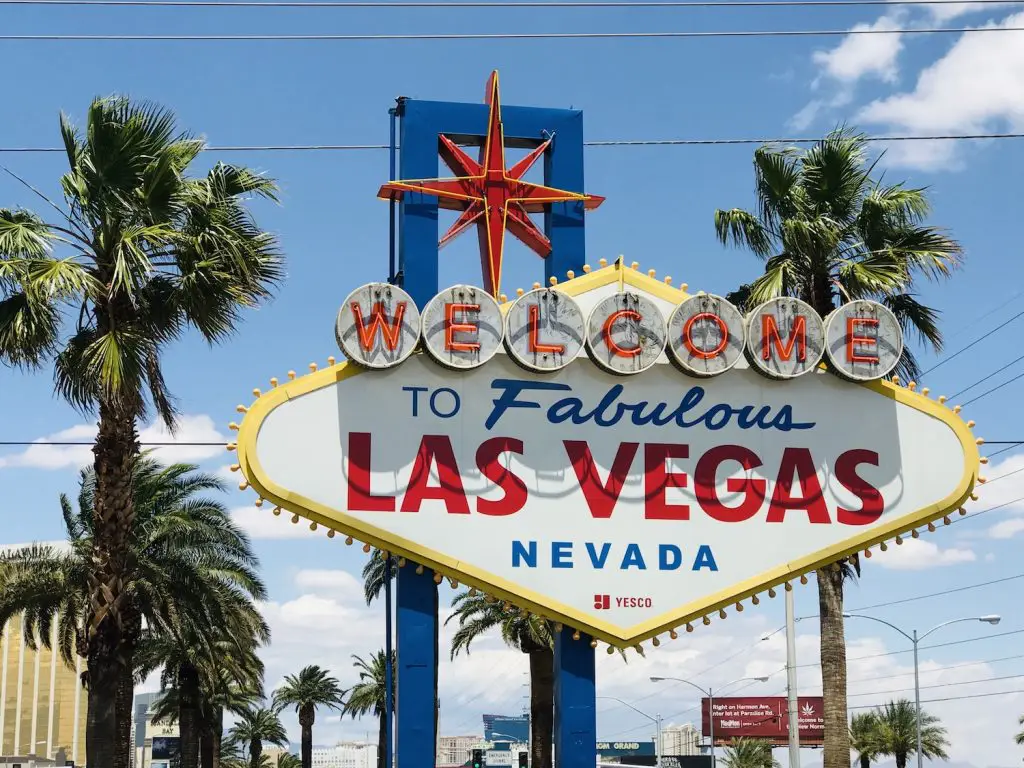 If food is your sin of choice, you're also in the right place. Vegas has gathered some of the top celebrity chefs to the Strip to create high-rated fine-dining restaurants. In a more affordable range, you'll find the typical American food franchises that we all know and love.
Even if you're not staying at Nobu Hotel (someday, right?), the least you'd expect from your hotel is free parking. Unfortunately, lots of Strip resorts have recently started to charge for both valet parking and self-parking, making hotels with parking in Vegas something like gold dust.
You can park at several shopping centres for free, but we thought you'd prefer to know which are the best hotels you can stay at that still have free parking. And if you are looking to hire a car, we also know the best rental car price aggregator to save you even more money…
After all, we're here to make your Vegas trip as easy as possible so you can start enjoying yourself!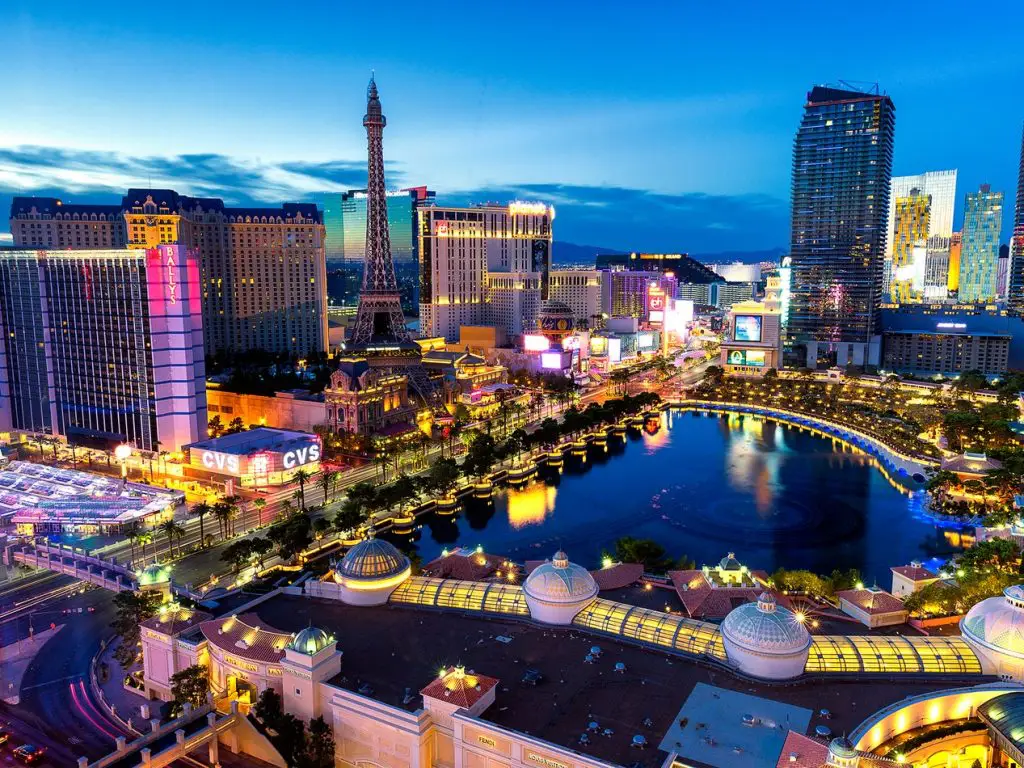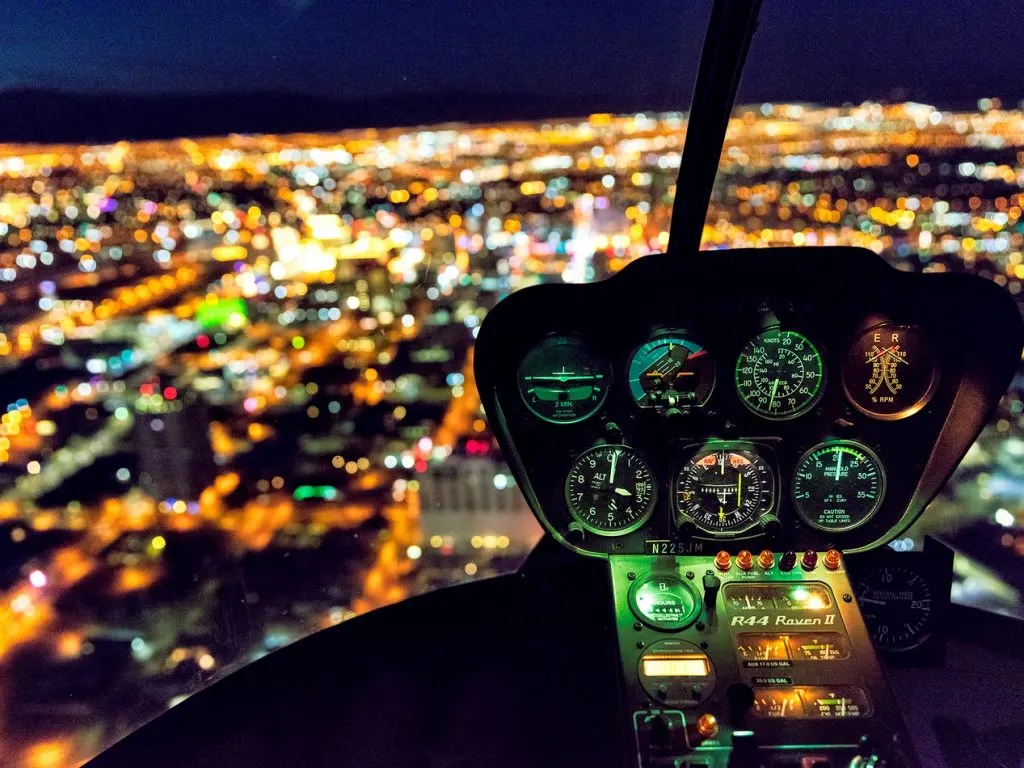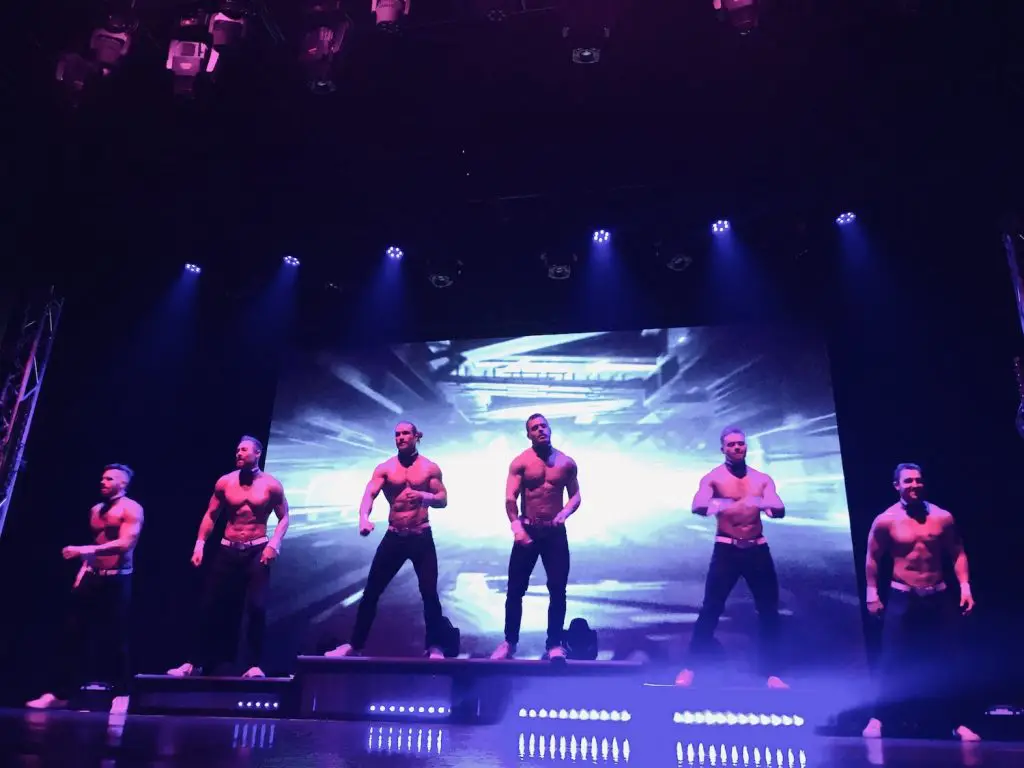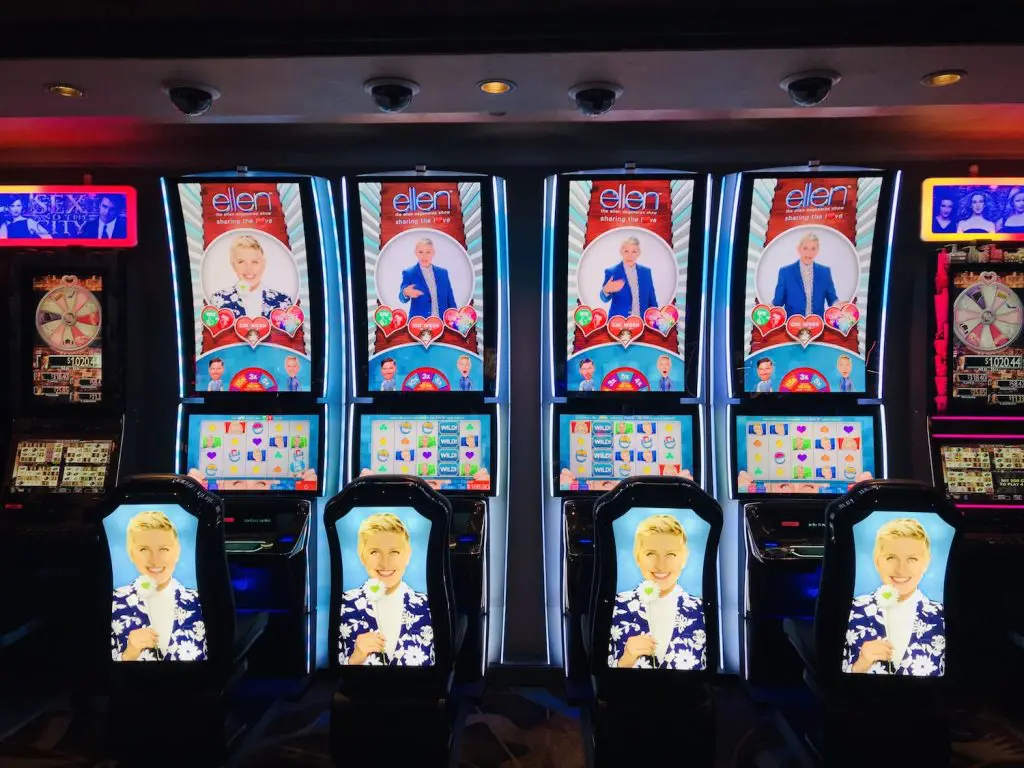 The Top 7 Hotels With Free Parking In Vegas 🚗
The famous Wynn Las Vegas is instantly recognizable by its curved copper façade that rises over the north end of the Strip.
The inside is no less striking than the exterior, with luxe cream and marble décor and gilt-edged staircases a-plenty. It screams indulgence, and you can certainly indulge yourself here with prime amenities like the Spa, the cabanas by the pool and the on-site theatre.
Basically, you feel like a VIP – an impression that's helped by the stellar service. We might have mentioned the great dining options in Vegas, but if you're staying here you might never try them because you'll be so busy sampling the on-site restaurants. The steakhouse with its 'Lake of Dreams' water feature is a high point.
Self-parking here is free, although valet costs – but that's still better than a lot of other places!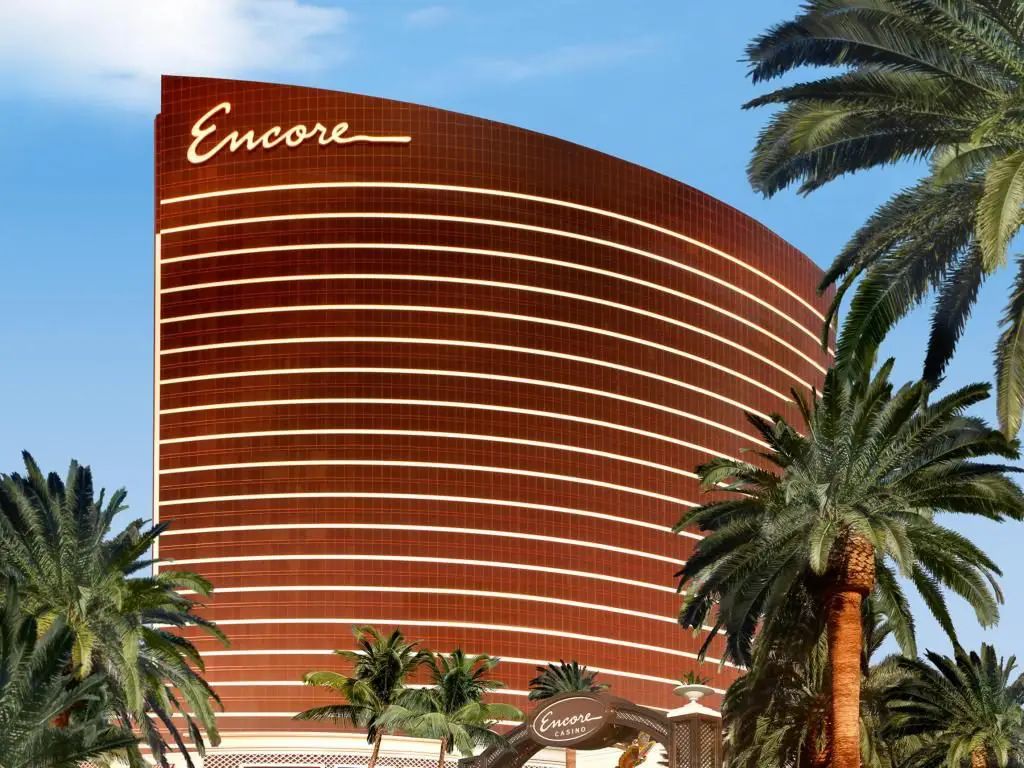 If you'll excuse the rubbish joke, staying at this extravagant hotel and casino really does feel like being on your own fantasy island, with endless things to be discovered.
It's a vast space on the Vegas Strip that offers stunning guest rooms, a party-vibe outdoor pool and Marvel's Avenger S.T.A.T.I.O.N. to introduce you to the Avengers.
The views through the floor-to-ceiling windows are incredible and the rooms are perfect, air-conditioned sanctuaries from the desert heat. Eat at the Italian Steakhouse, Senor Frog's Mexican or their nod to a honky-tonk saloon, complete with mechanical bull. If you want to feel part of Vegas' throbbing pulse, Treasure Island is right there. No charges for parking is the cherry on top of the cake.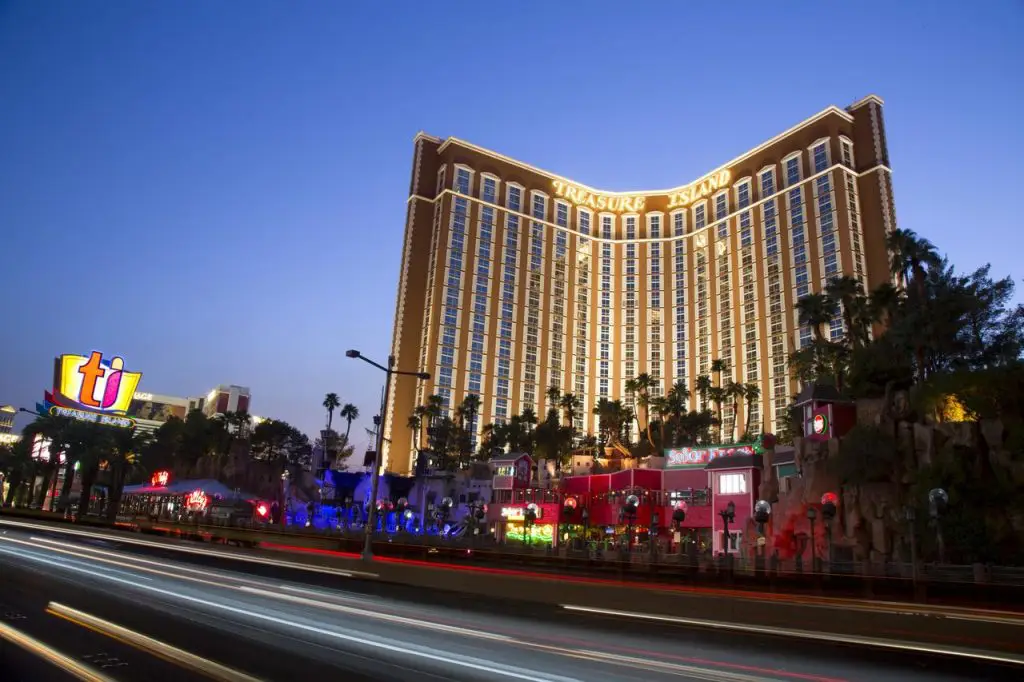 Where do we even start with describing these sister hotels? Well, for starters, they're the only mega-resorts that still don't charge for parking: huge plus in our books. Then there's the phenomenal amenities available, from the 10 outdoor pools, 80 restaurants and bars and the Canyon Ranch Spa Club. Both are sumptuously decorated with unashamed grandeur.
The Venetian is larger and has more of a party atmosphere, so it's a great place to start a night in Vegas, before winding up in the Palazzo listening to live music. The rooms at the Palazzo are out of this world. We loved waking up to views of the city, doing a yoga class and then enjoying the retro vibe at the Aquatic Club pool.
Take time out from relaxing for the famous gondola rides on the Venetian's 'Grand Canal'.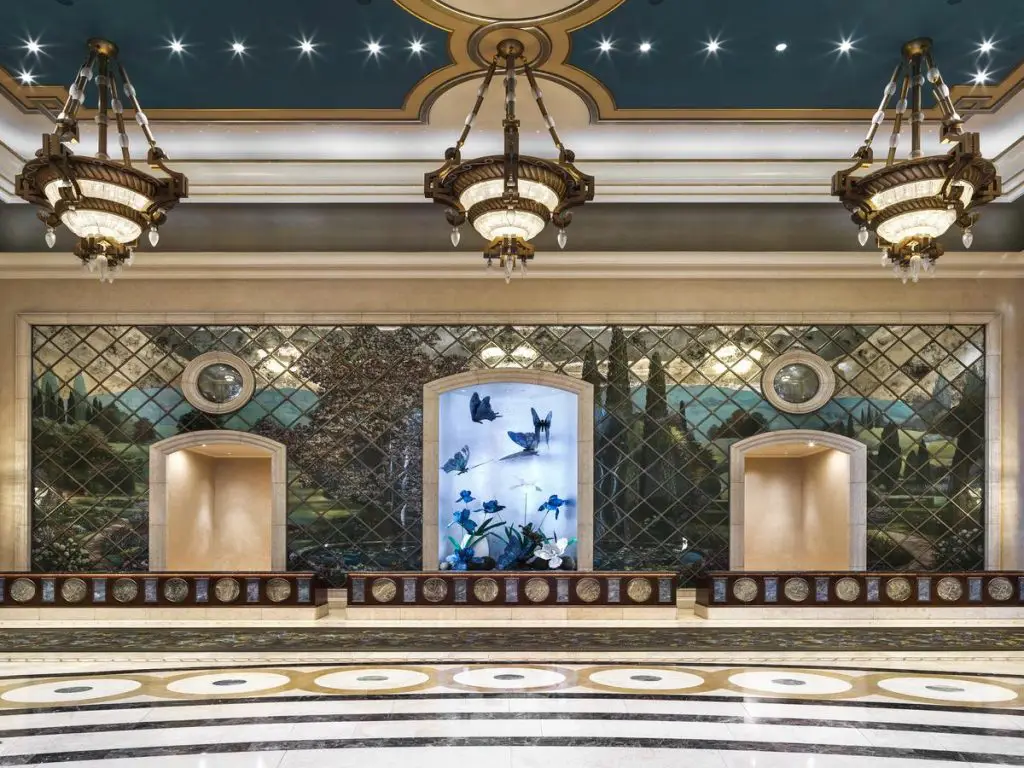 You can hardly miss the Stratosphere, marked as it is by the iconic 350.2-meter observation tower that glows in the evening light and is home to a revolving restaurant.
At the foot of the tower you find the 2,427-room hotel with its enormous casino. These rooms are modern and comfortable with flat screen TVs and good views, perfect for taking a break from your hectic holiday.
The different pools offer different atmospheres, from the extensive family pool on the 8th floor complete with massive hot tubs and cabanas to the adult-only pool on the 25th floor. The Top of the World restaurant in the tower has a futuristic feel that doesn't distract from its tasty food, although the Sunday champagne brunch in the hotel gave it a run for its money.
All parking is free and they show no signs of changing that.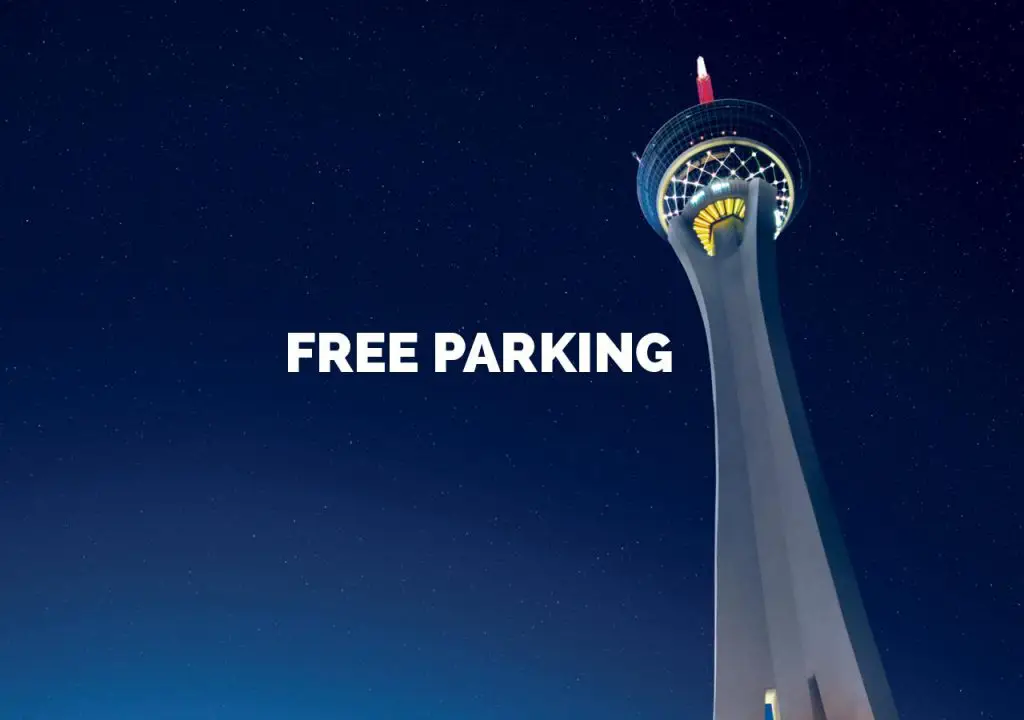 Another resort that's justifiably proud of its free parking status, SLS offers comfortable rooms with quirky and colourful décor – some are modern with geometric designs while others have a regal Louis 14th vibe. We love that SLS has its own style, making it really stand out among the Strip hotels.
As it's further away from the main Strip, you'll find that the casino floor isn't as crowded (so you can really concentrate on your cards!), although you can easily walk to all the main attractions and the monorail station is essentially in the hotel.
The tacos in the on-site restaurant Bazaar are also worth trying at least twice.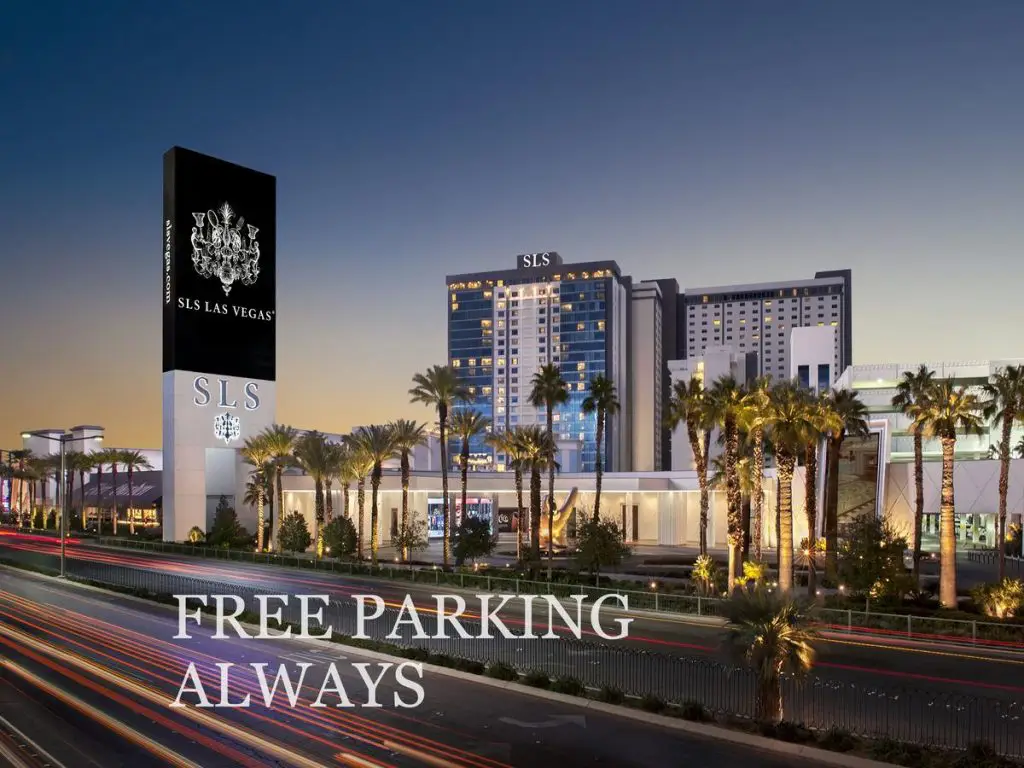 If you're in touch with your inner kid and don't like to pay for parking, shoot down to the fun-loving Circus Circus, a hotel, casino and theme park all rolled into one.
Yup, you read that right – the on-site 'Adventuredome' houses a sizeable rollercoaster as well as lots of entertainment acts. On top of that, the Splash Zone has waterslides, cabanas and hot tubs to help you unwind.
Inside, the rooms are a good size and extremely comfortable. We can't pretend the predominantly brown décor is our favourite style, but the beds are so comfortable we can hardly complain. The Casino has slots and table games a-plenty and you can spend your winnings in the shopping area at the Promenade. It's worth noting that while self-parking is free, valet parking is not.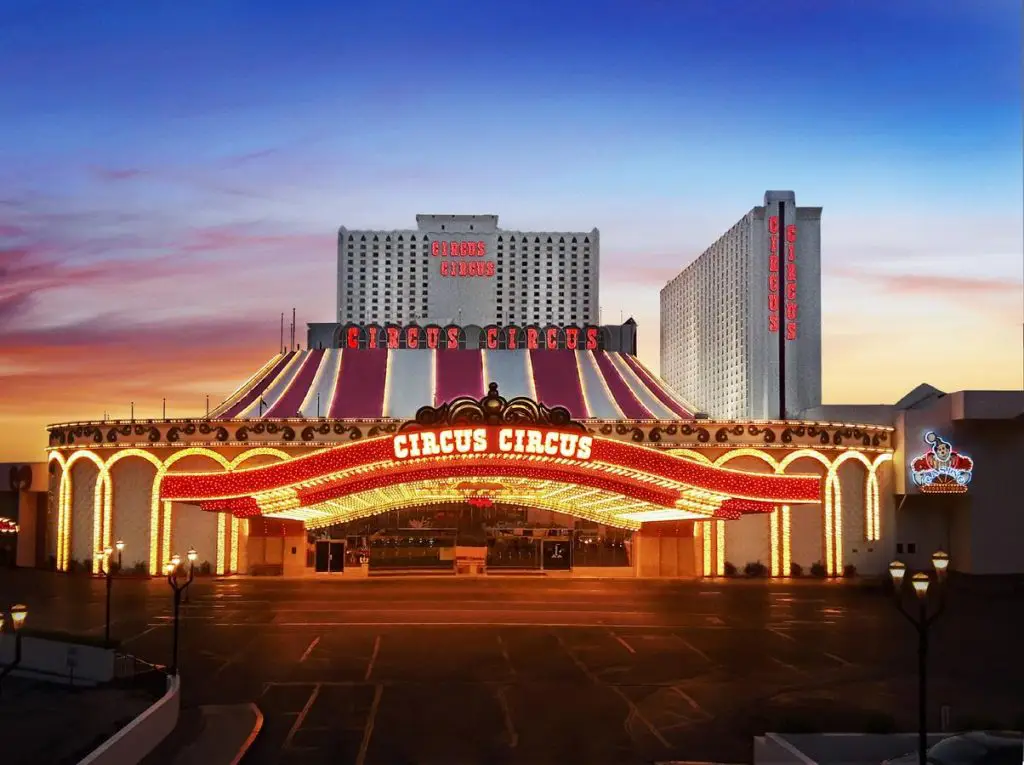 We were a little hesitant about including the Cosmopolitan on our list of hotels with free parking in Vegas, because self-parking is in fact only free for the first hour. Then it costs $7 for up to four hours and $10 for four to 24 hours. However, this is still cheaper than most so it's worth knowing about.
Additionally, it's a modern and design-focused addition to the Vegas Strip with fascinating digital art installations and creative décor (think 'Alice in Wonderland' themed seating area). The rooms are very up-to-the-minute, utilising technology in an effective way. Contemporary designs have created cool and relaxing spaces.
Whether you want to chill by the pool or you like a party atmosphere with your swim, you have your choice with three separate pool areas on offer. Twenty eating options mean that you barely need to leave the resort and the three-level bar called The Chandelier offers delicious cocktails. It brings something a little different from the traditional Vegas resorts, so if you can forgive it the parking charges it's a great place to stay.
Vegas is a place where you don't want to be worrying about boring things like car parking, so one of these hotels will mean you have more headspace for your adventures in the City of Lights.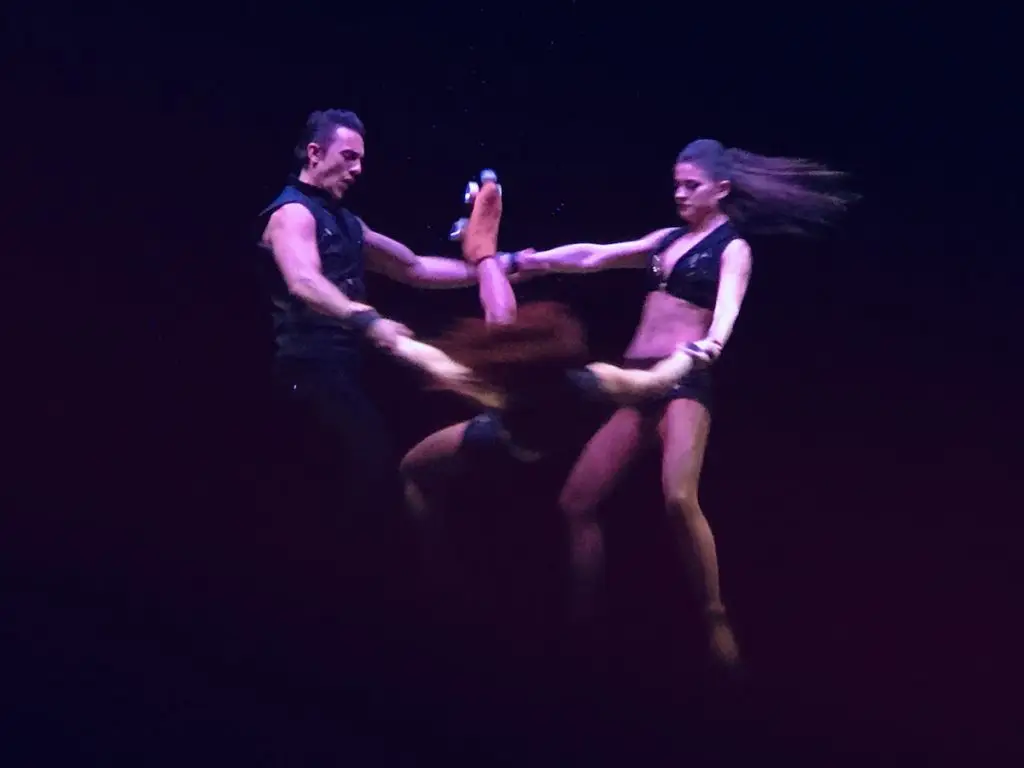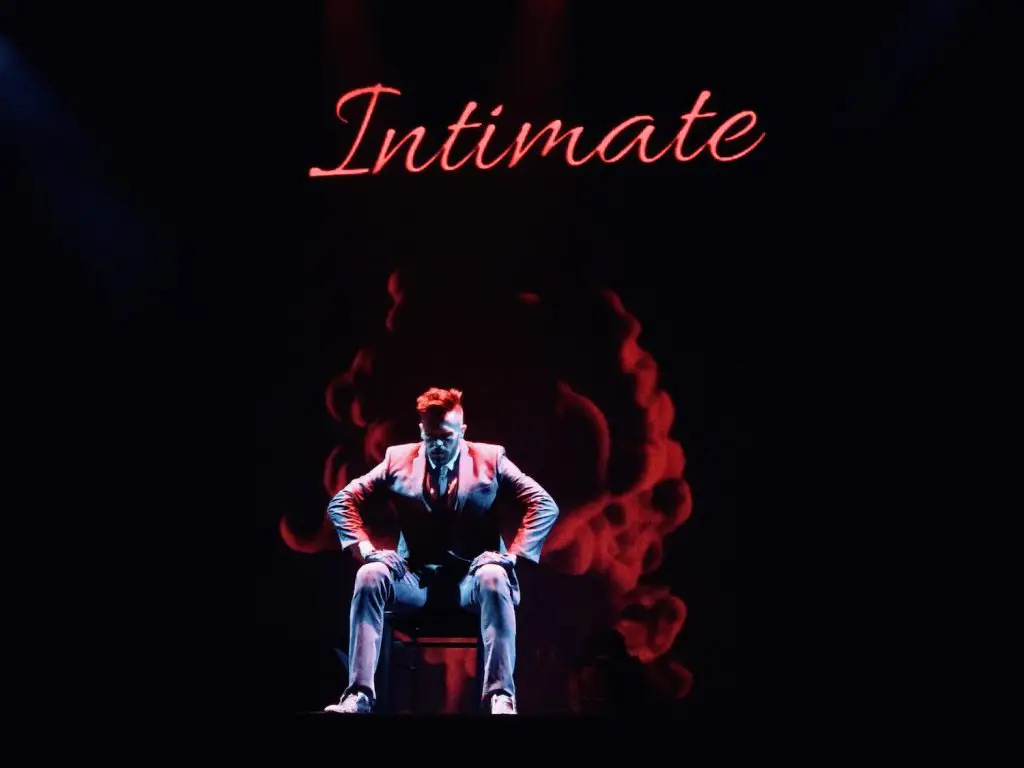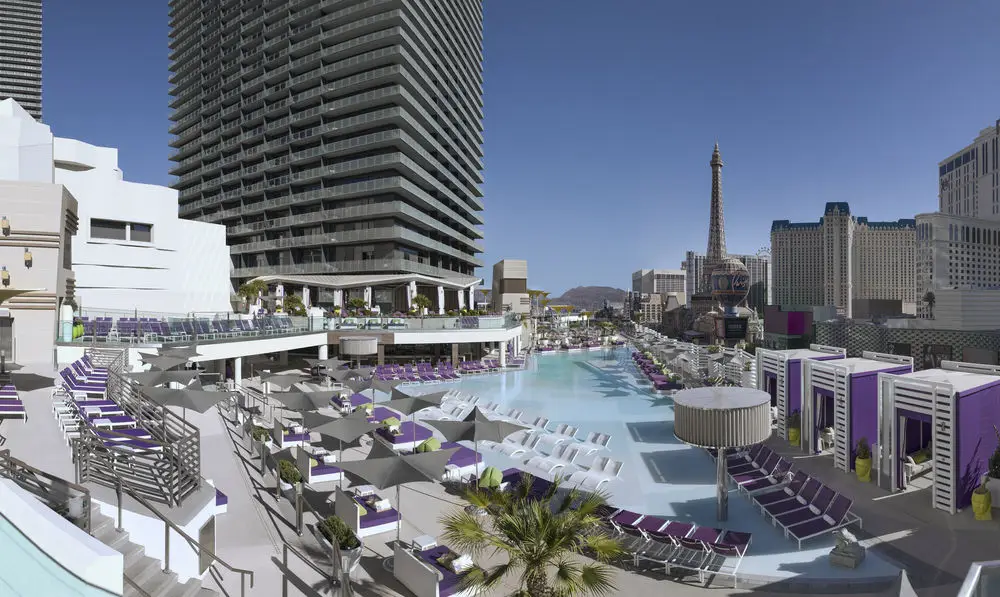 Staying Connected While Travelling
In today's increasingly connected world, staying online while traveling has become essential for a seamless experience. That's where eSIMs come into play, revolutionizing the way we access mobile networks during our global adventures. Say goodbye to hunting down local SIM cards at the airport; eSIMs provide instant activation the moment you land, sparing you the fortune usually spent on international roaming and allowing you to genuinely travel like a local (without getting hopelessly lost!).
With eSIMs, tasks like restaurant recommendations and reservations, up-to-the-minute public transport instructions, checking opening hours, and accessing further information become a breeze. And, of course, sharing your journey on social media is easier than ever. To stay connected wherever you roam, consider using either Airalo or Holafly. Airalo boasts the most extensive range of destinations worldwide, offering smaller data bundles tailored to your needs, while Holafly provides unlimited data packages and fantastic EU data deals.
So why wait? Embrace the future of travel connectivity with eSIMs and make your next journey effortlessly smooth.
Further Things To Consider Before Any Adventure
Now you're all set and prepared to explore our big wide world, why not sort out everything else out all in one go? If necessary for your travel plans make sure you have brought proper travel insurance, protected your privacy by getting a secure VPN, compared all the top hotel booking sites to find just what you're after, reserved an unbeatable rental car price and - of course - booked the best flight deals!
Or maybe just forget it all and go for a last-minute cruise or effortless tour instead?
Many budget travelers (including me) indulge in worldwide airport lounge access, so we can experience luxury while still slumming it in economy. Naturally, we would never leave home without a more general travel guide since we couldn't possibly cover everything here!
Just add an adventurous attitude and plenty of smiles - they go a long way - and that about covers it all! Now go out, find your own path and don't forget to share your best inspiration stories with me on Facebook, Twitter, and Instagram...I'd love to hear from you!