You'll hear a lot of things about Singapore (and many of them are true!) but what we always think doesn't get enough attention is simply how fun it is. Case in point: Sentosa Island.
Away from the glamorous cocktail bars and delicious hawker centers of the main city is this manmade island built for the sole purpose of fun.
It's unashamedly after a good time (no, not that kind!) with beaches, theme parks, sound and light shows and outdoor activities that create a lively atmosphere and a loosening of inhibitions so that everyone wants to play as if they were a kid again!
To get there it's a short 12-minute cable car ride from Vivo City or you can take the metro. There's even a Sentosa Boardwalk if you'd like the exercise. Once you're there you'll find plenty to stop you wanting to ever leave! Let's have a look at some of the best things to do in Sentosa Island – and help you get in touch with your inner child!
Just don't forget to explore the rest of the garden-city while you are here, because trust us: there are so, so, many unique things to do in Singapore you are not going to want to miss…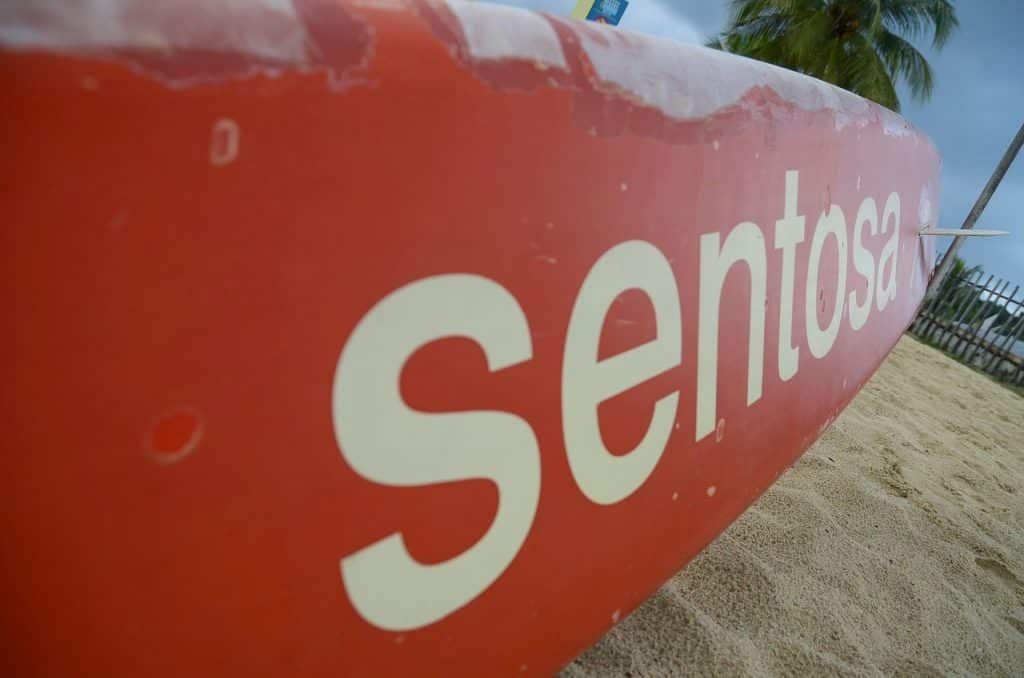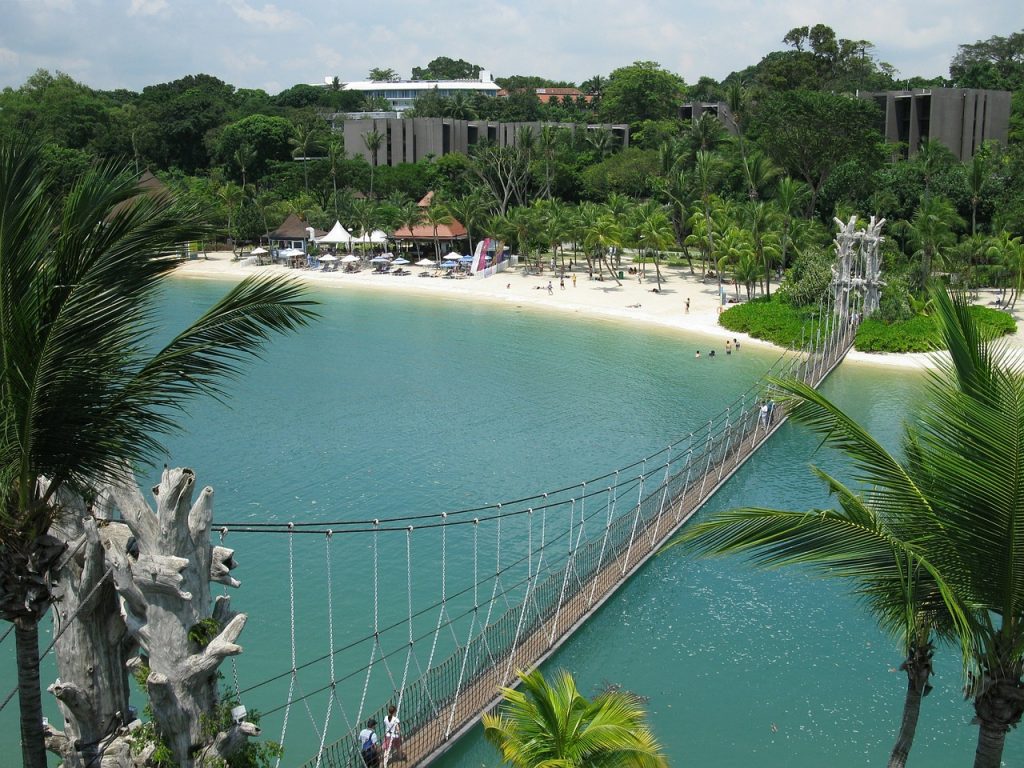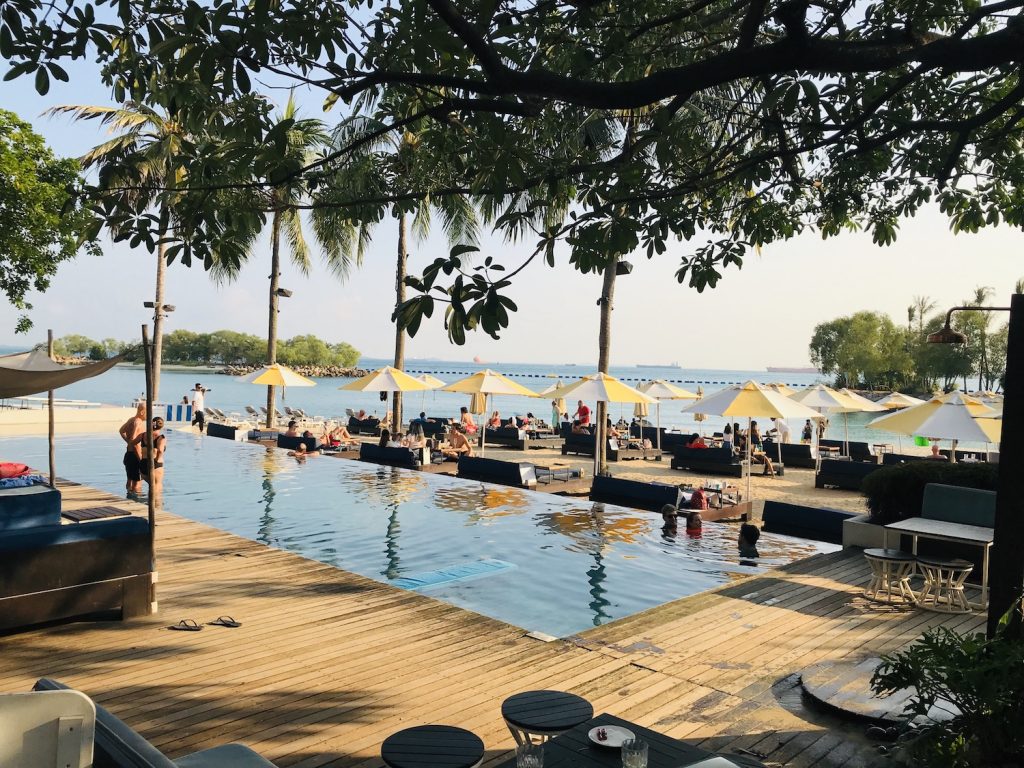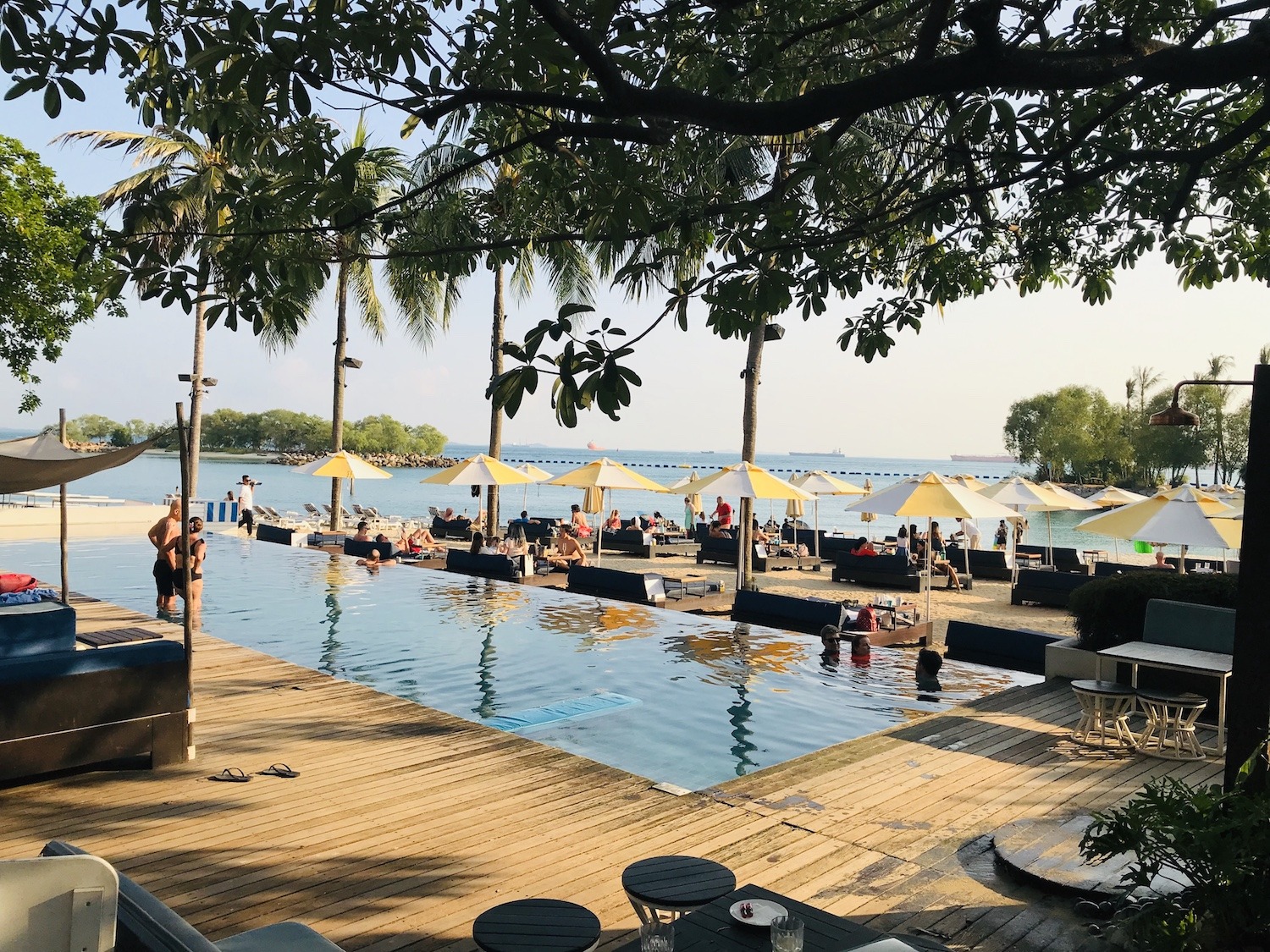 The Absolute Best Things To Do In Sentosa Island In Singapore 🤩
1. Be Young At Heart At Universal Studios Singapore
It's hard to believe that such a huge complex of movie-related entertainment can fit on one small island, but here it is. Universal Studios Singapore invites you to go 'beyond the screen' to immerse yourself in the characters and atmosphere of some of your favourite films.
There are seven zones to explore, from Hollywood to Madagascar, with stops in Ancient Egypt and Sci-Fi city along the way.
There are rides, shows and a whole range of other activities based on films like the Transformers, Jurassic Park and Puss in Boots.
As you'd expect from a cutting-edge city, the rides are pretty spectacular but we have to say that one of our highlights was the Sesame Street show for the feeling of joyful nostalgia it brought us. Book ahead to skip the entry queue.
2. Sip Cocktails At Tanjong Beach Club
We know we spoke about how Sentosa Island is a great place to get in touch with your inner child, but sometimes your outer (and inner) adult just wants a cocktail!
Where better to go than one of the top 50 beach bars in the world? Here you get to soak up the beach vibes and enjoy being away from the busy streets while sipping on delectable cocktails. Don't expect to find typical Singapore street food here, however, this is an eleganza extravaganza darling!
There's a huge pool if you don't want to get in the sea – or simply stretch out on one of the uber-comfy daybeds and watch the sun go down. On weekends they host some pretty spectacular parties with international DJs and beautiful people a-plenty. The food isn't half bad, either.
It's popular with young and trendy locals as well as tourists so who knows – you might end up with a personal guide to Singapore!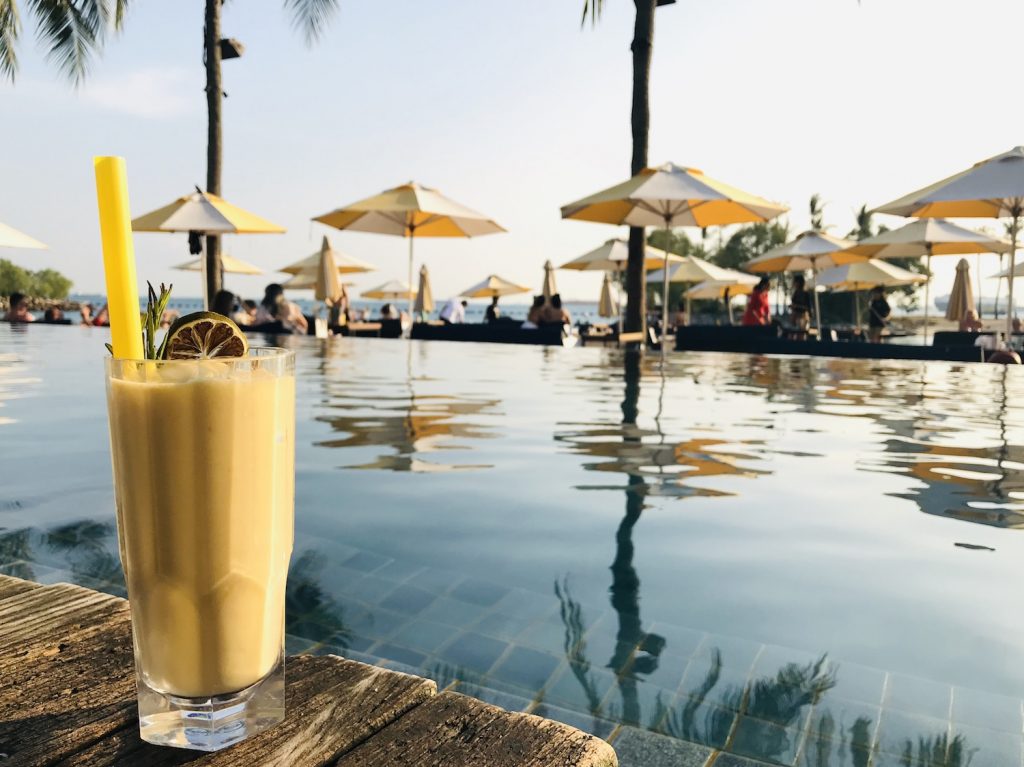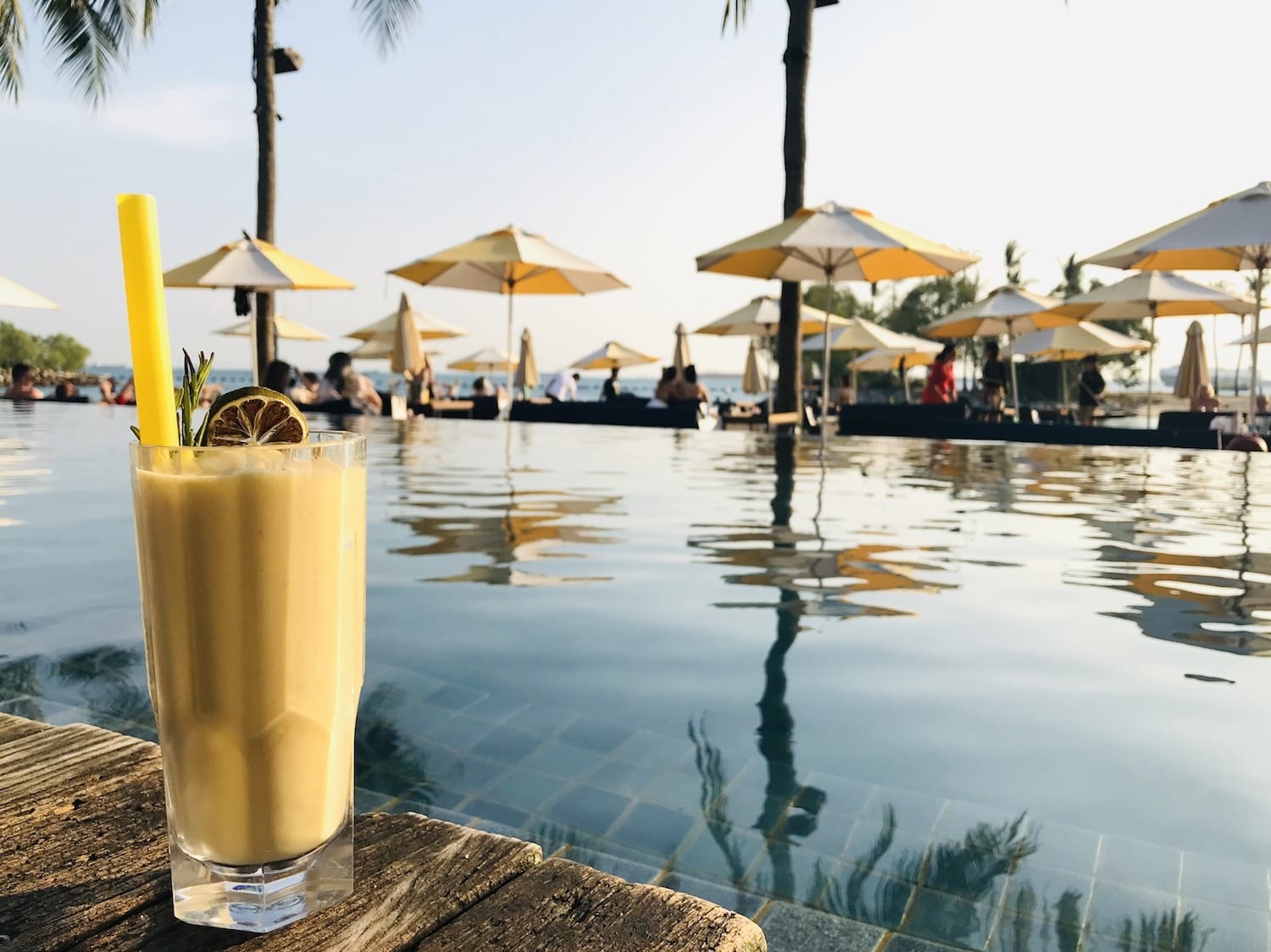 3. Explore Underwater At The S.E.A. Aquarium
The largest aquarium in Southeast Asia, this is one of our favourite things to do on Sentosa Island because it reminds us that the natural world can be every bit as magical as the one created in movies. You could stand in front of the incredible ocean viewing windows for ages, simply marveling at the intricacies of the underwater realm.
If you drag yourself away from there, you'll find over 100,000 marine creatures to get acquainted with, from hammerhead sharks to bottlenose dolphins. As well as the wow-factor areas, we love the Touch Pool where you can get even closer to some of the less dangerous sea creatures they have – no stroking a hammerhead, sorry!
If you like a bit more learning with your sightseeing, there's a great Maritime museum about the seafaring world. As you'd imagine from a historic seaport like Singapore, there are plenty of stories at the S.E.A Aquarium to discover!
4. Get To The Island In Style On The Singapore Cable Car
There's nothing quite like soaring above a huge city and its surroundings, whether it's in a helicopter (if you're feeling flush!) or, in this case, in a cable car with panoramic views. This is the best way to get to Sentosa Island if you want to really drink in the landscape – and it's pretty cost-effective as well.
Along the way you can stop off at the hilltop park of Mount Faber before visiting various spots on Sentosa. There's a new Sentosa line that'll help you see more of the island and you can even see the Cable Car Museum, which is surprisingly interesting. Then hop back on the cable car to enjoy the spectacular sight of all of Sentosa unfolding beneath you.
Get your Singapore Cable Car Skypass in advance and take in stunning, 360-degree sights of Singapore's Southern precinct without the lines, and to save on the full-price tickets.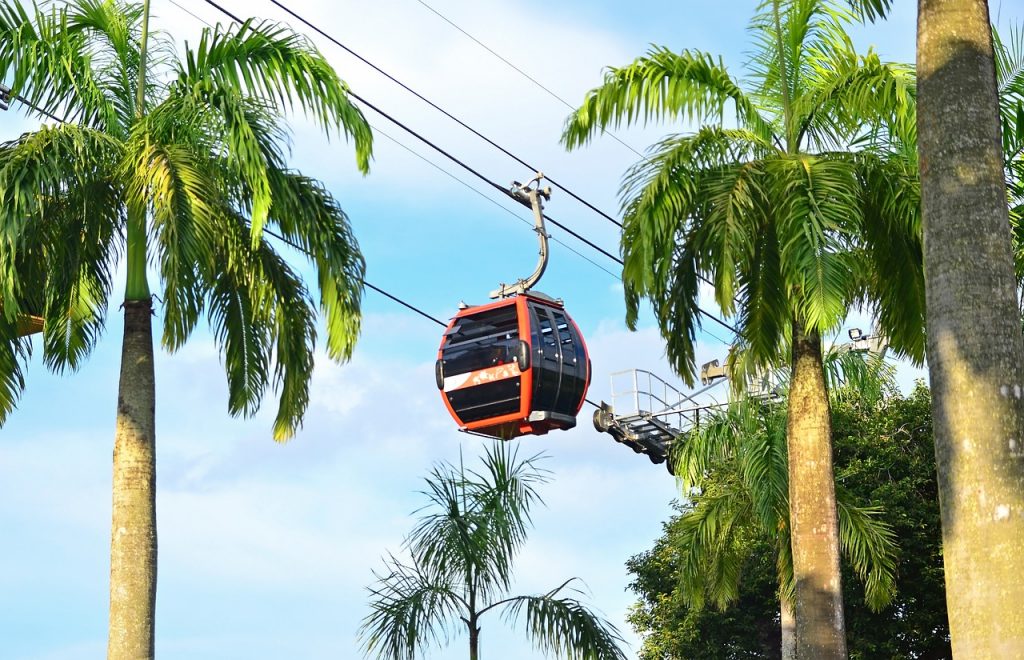 5. Splash About At The Adventure Cove Waterpark
A lot of the things to do in Sentosa Island are water or air-related, as you might expect from an island, and we are totally here for it. There's plenty of opportunities to splash about at this unique waterpark which has something for everyone, whether you prefer a white-knuckle ride or a more relaxing bob in the water.
For the thrill-seekers there are things like platform cliff jumps, Southeast Asia's first hydro-magnetic coaster and flumes in the dark to get that adrenaline rush, but there are also wave pools, a lazy river that takes you on a trip through different scenes and the gorgeous Rainbow Reef where you can snorkel over a coral reef.
When you get tired at Adventure Cove Waterpark there are plenty of places to relax in the sun with a cold drink and watch the other fun-lovers.
6. Wonder At The Wings of Time Sound and Light Show
Don't think that sunset means the end of the day here – one of the best things to do in Sentosa Island actually happens after dark. Yes, we're talking about one of Singapore's amazing sound and light shows, something they have raised to an art form.
Here, the show is set in the open sea, appropriately enough, and involves lasers lights, dancing fountains, pyrotechnics and projection mapping to tell the story.
Despite all the high-tech special effects and larger-than-life displays at the Wings of Time Sound and Light Show, it's a surprisingly moving tale that sweeps you up in the narrative of a mythical creature and his human friends as they journey across the ocean.
Projected onto a water screen, the visuals are mesmerizing, while the musical accompaniment is suitably soaring. It's well worth hanging around on the island to see this magical show.
7. Boost Your Adrenaline With A Sentosa Bungee Jump
Not one for those with vertigo, admittedly, but an amazing experience for anyone who fancies trying something new or just loves bungee jumping.
It's really quite spectacular to look out over Sentosa Island, seeing Siloso beach from high above, before leaping out into a feeling much like flying. We're not sure anything compares to that rush of freedom.
The Sentosa Bungee Jump is a completely safe place to jump, so first-timers can feel in safe hands. The package includes a certificate and t-shirt, just in case your friends back home don't believe you did it! If you want to take it to the next level then you can jump from the roof or experiment with flips or falling backwards.
Enjoy seeing all the beach-goers gaze in awe as you free-fall down towards them!
8. Get A Feel For Flying On The Sentosa Giant Swing
If you want to fly up at giddy heights but prefer doing things as a pair then this is the Sentosa Island activity for you! Located at the same place as the bungee jump, this offers the same incredible views of Siloso Beach and its various sun-worshippers. You'll just be merrily swinging 40 meters above them all with a friend.
If you're feeling competitive then the two of you can even race each other, thanks to the unique technology built into the structure. Reaching speeds of over 100 kilometres an hour, the Sentosa Giant Swing is definitely not one for the faint of heart.
9. Go Swimming At The Beach
Last but of course not least, no trip to Sentosa Island is complete without getting into that gorgeous ocean. It's no secret that the beaches are manmade, using imported sand from nearby Malaysia and Indonesia. That sand is well looked after and clean, making the ideal place to lounge before and after your dip. The water is considerably clearer than it would be off the mainland, as well!
Even if you're not a strong swimmer, this is a good place to splash about. The lagoons were designed with gentle water for swimming and official lifeguards patrol all three beaches. For those with families, Palawan is the best place, with plenty of amenities.
Siloso is more action-packed, with bungee jumpers bobbing around overhead; Tanjong is where you'll find the beach club and courting couples. Wading into the blue water after a busy morning in Singapore's hustle and bustle is a totally relaxing feeling.
When you think about it, it's quite incredible how much is packed onto this tiny island. Any trip to Singapore alone should include a trip to its playground – embrace your childlike side and have fun, before heading back to the big city for more food and cocktails!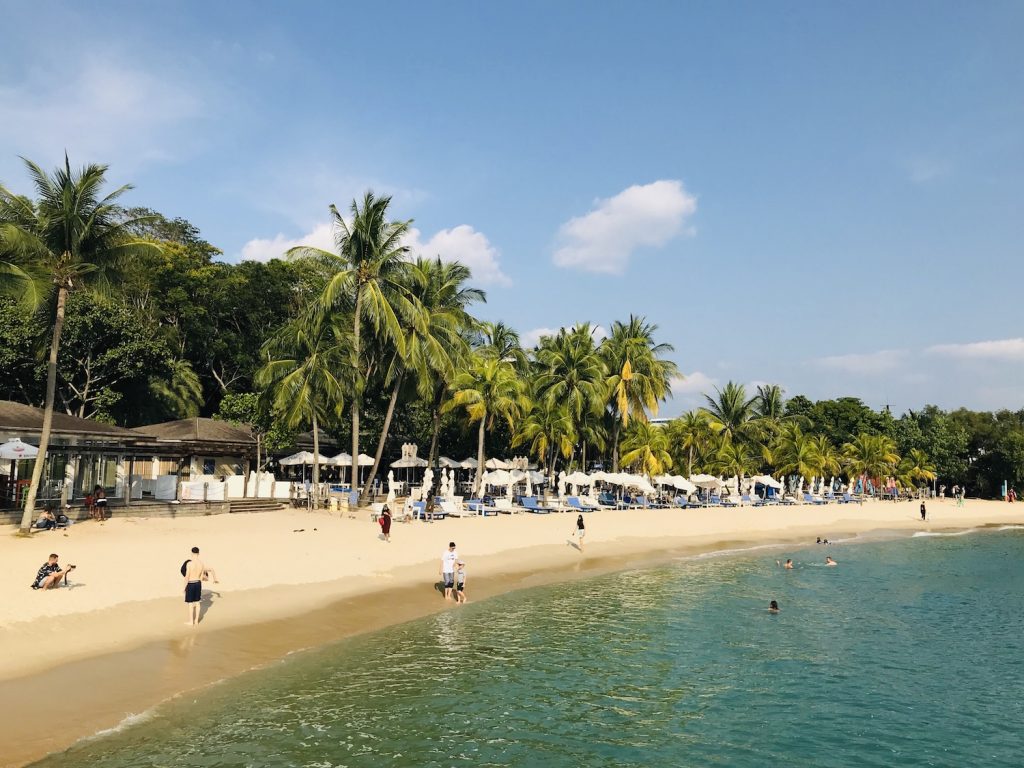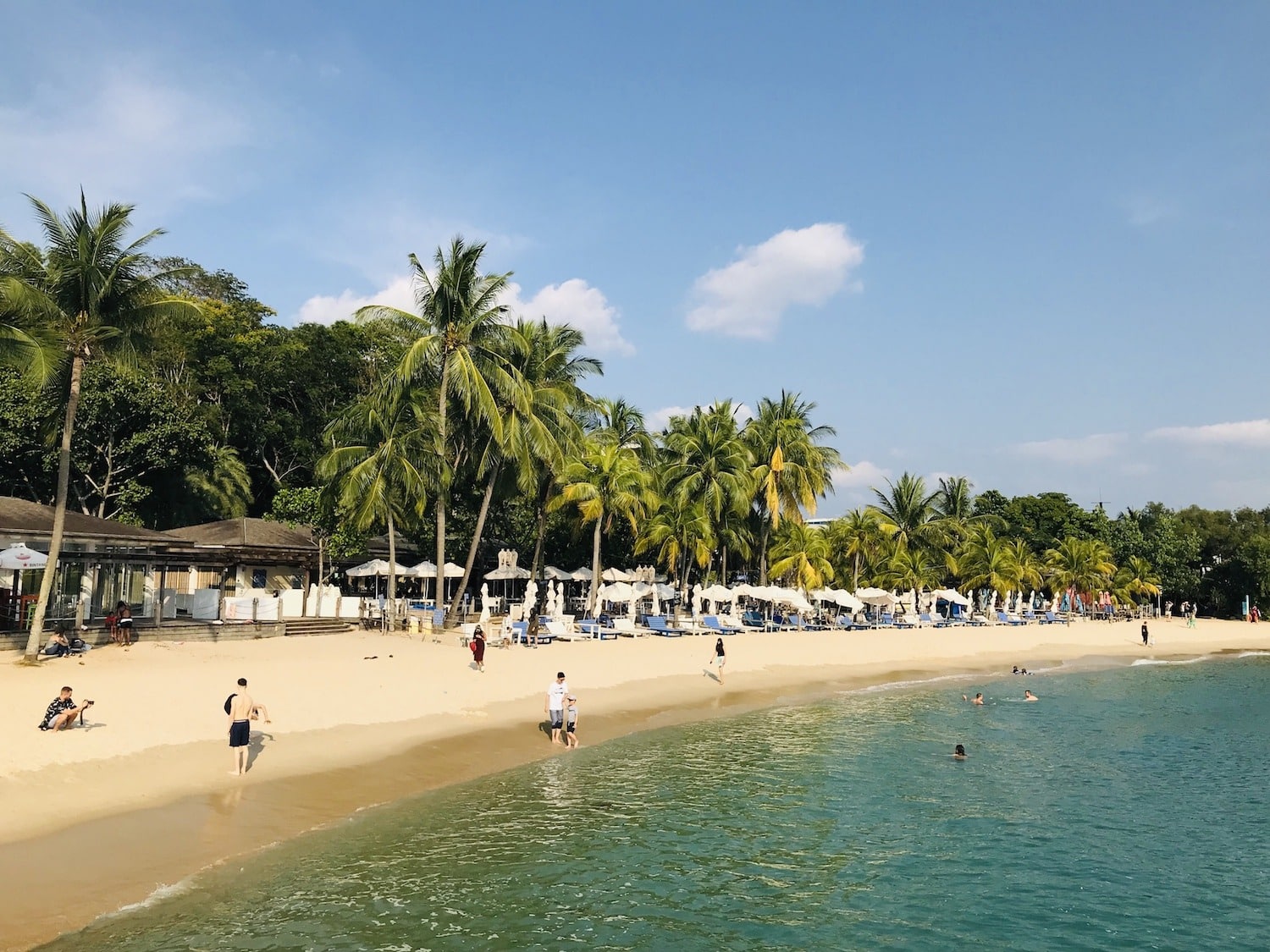 Further Things To Consider Before Any Adventure
Now you're all set and prepared to explore our big wide world, why not sort out everything else out all in one go? If necessary for your travel plans make sure you have brought proper travel insurance, protected your privacy by getting a secure VPN, compared all the top hotel booking sites to find just what you're after, reserved an unbeatable rental car price and - of course - booked the best flight deals!
Or maybe just forget it all and go for a last-minute cruise or effortless tour instead?
Many budget travelers (including me) indulge in worldwide airport lounge access, so we can experience luxury while still slumming it in economy. Naturally, we would never leave home without a more general travel guide since we couldn't possibly cover everything here!
Just add an adventurous attitude and plenty of smiles - they go a long way - and that about covers it all! Now go out, find your own path and don't forget to share your best inspiration stories with me on Facebook, Twitter, and Instagram...I'd love to hear from you!