Turkey is one of the world's most sought-after travel destinations, a diverse nation filled with a rich culture, epic landscapes, incredible food, and history. So much history!
Turkey still retains many treasures from the civilizations of history which have risen, fallen, conquered, or left its territory – including the Byzantine, Seljuk and Ottoman Empire.
Thankfully today, things are a little more subdued since the formation of the Republic of Turkey in 1922 – but the inherited architectural jewels of Ancient Turkey remain for tourists to fawn over. Not to mention plenty of more modern delights and divine natural landscapes.
There are so many places to visit in Turkey; you could spend a lifetime explore its riches and only just scratch the surface. This is why we have developed this cheat sheet to help you with your travels.
But first – what is a landmark?
A landmark is a recognizable natural or artificial feature that typically stands out from its environment and has become a local or national symbol. For modern tourists, a landmark is useful for navigation – in terms of a physical waypoint and trying to help you organize your itinerary.
Getting the off-the-beaten-track is all well and good, but at the end of the day – there are some spots you just have to see when you visit a country. Think about the Apollo Mission Control Center in Texas or the Matterhorn in Switzerland. Place so famous it would be almost inconceivable to skip such spots….and why would you want to?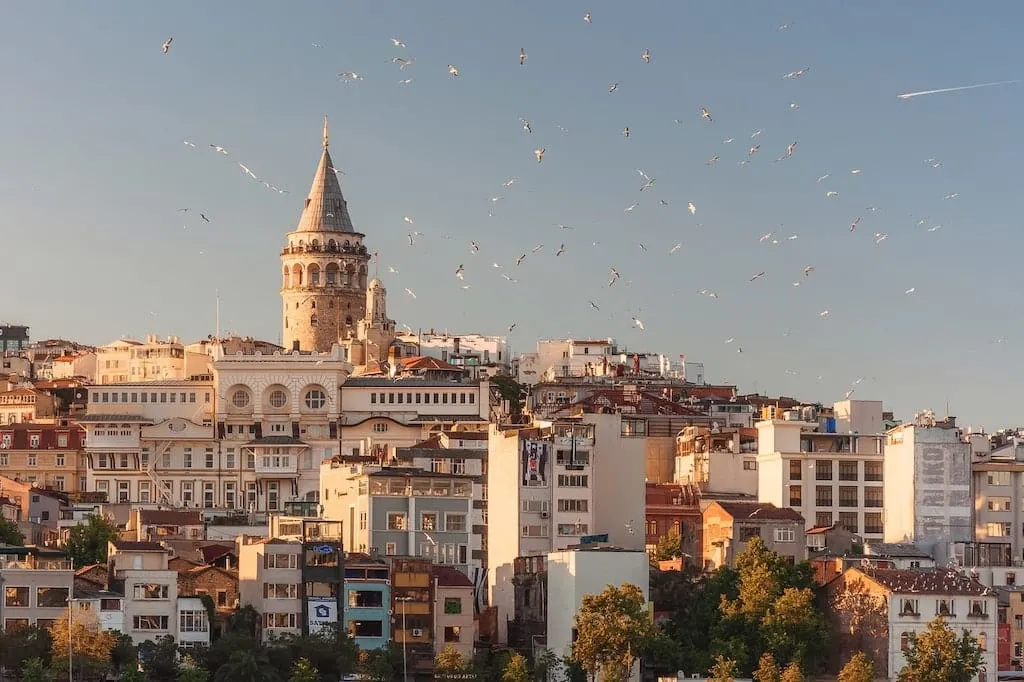 When approaching a trip to the land of bazaars, carpets, and baklava, you will want to tick off as many famous Turkish landmarks as you can – and the best way is to do that is often by flying, hiring a rental car, or taking a tour.
The world's 37th-largest country in terms of area, Turkey has three major coastlines, seven geographical regions and a population of 83 million. It should thus come as no surprise that there is a lot to explore in Turkey…and no list of famous Turkish landmarks could ever be exhaustive.
But, we have tried to get the highlights by putting a call out to our few travel bloggers – and asking them to tell us about their favorite.
This way, you have a reasonable frame of reference to inspire your Turkish travels where you can choose a few that you absolutely cannot miss… or cram as many as possible into one trip.
If you plan it right and have enough time, you might just hit them all — plus discover plenty more of your own highlights of Turkey while you're at it!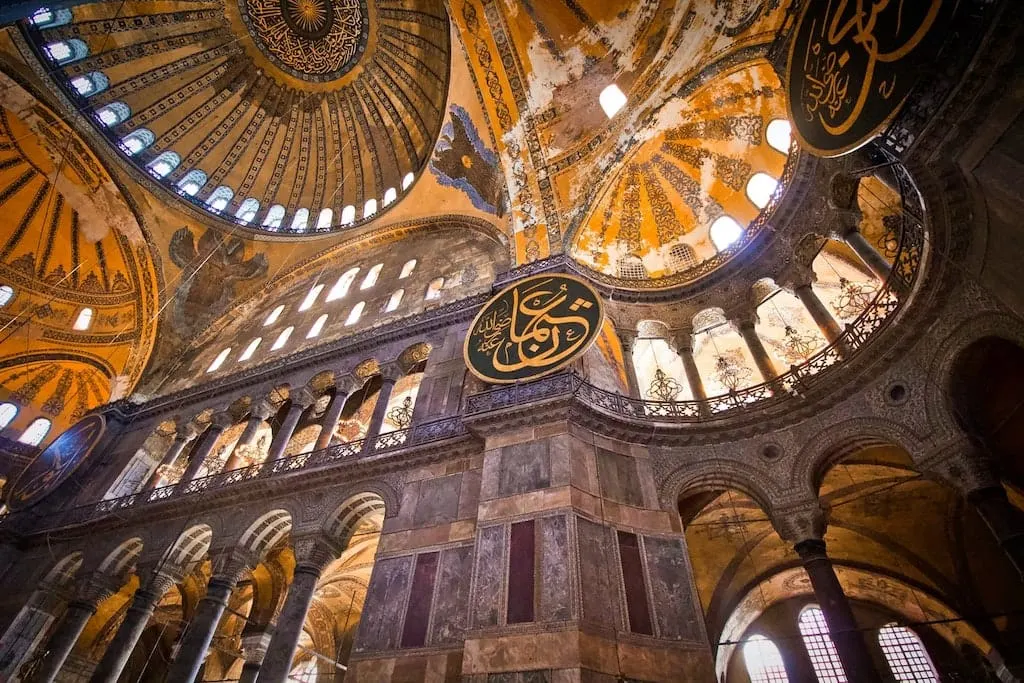 ANZAC Cove
The significance of ANZAC Cove to Australians is difficult to explain to others who may not have grown up learning about the stories from the first World War and the battle of Gallipoli.
Named after the Australian and New Zealand Army Corps, the site is where ANZAC and allied forces invaded the Gallipoli peninsula back in 1915. Over an eight-month period, over 100,000 soldiers died, and 500,000 were injured across both allied and Turkish forces.
While the ultimate goal was to control the Dardanelles and eventually capture Constantinople (modern-day Istanbul), the campaign barely made it past the beaches of the initial landing. On arrival, you will immediately see the steep terrain and thick shrubbery that surround the coastline that would have made fighting incredibly difficult.
Despite the failed campaign, these are events that shaped the national identity of Australia and New Zealand and continue to be celebrated annually to this day on the anniversary of this landing (25th April.
Visiting the sites where the battles took place, and the beaches where so many were killed was a very moving experience for me personally, and I am sure it is a feeling that touches all wander these grounds each day.
You will find large memorials and cemeteries at each of the battlegrounds and also scattered along the waterfront. It is a somber experience where silence and self-reflection take over.
There is one site that for that stuck in my mind was the Ataturk quote on the Ari Burnu Memorial. Reading this shook me out of that Aussie perspective a little and helped me appreciate the Turkish side of things as we explored the rest of the site.
"Those heroes that shed their blood and lost their lives … You are now lying in the soil of a friendly country. Therefore rest in peace. There is no difference between the Johnnies and the Mehmets to us where they lie side by side here in this country of ours … You, the mothers who sent their sons from faraway countries, wipe away your tears; your sons are now lying in our bosom and are in peace. After having lost their lives on this land they have become our sons as well."
For most visitors, I would recommend a day trip to Gallipoli from Istanbul. This will be a long day, but hassle-free, and will mean you have a tour guide to share some deeper history at each stop.
If you were traveling further down the west coast of Turkey, then an overnight stop may be required at either Eceabat or Canakkale. Just note that Canakkale is on the other side of the Dardanelles and is only accessible by ferry.
Explored by James from Teamajtravels.com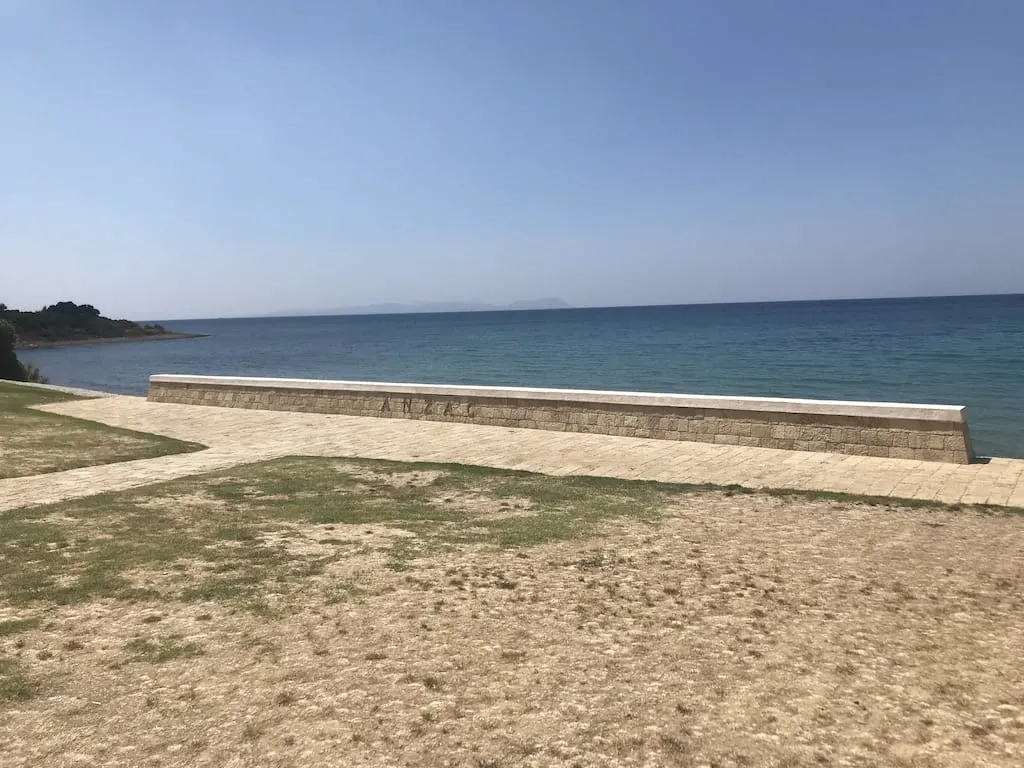 Ataturk Mausoleum
If you happen to travel to the capital of Turkey, one of the things to do in Ankara is to visit the mausoleum of Ataturk called Anitkabir. This famous landmark in Turkey, literally translated as the "memorial tomb," is dedicated to the life and deeds of Mustafa Kemal Ataturk, the founder of the Republic of Turkey. It was even depicted on various banknotes between 1966-1987 and 1997-2009.
The mausoleum is huge, with four main parts: the Ceremonial Plaza, the Road of Lions, the Peace Park, and the Hall of Honor. The entrance of the monument follows a 262-meter-long pedestrian path lined by twelve pairs of lions on both sides. These seated lions represent 24 Oghuz Turkic Tripes, as well as peace and power. The Ceremonial Plaza is the main area to explore the mausoleum. Designed to accommodate around 15,000 people, this 129-meter-long area features 373 Turkish carper patterns.
Ataturk's tomb is in the Hall of Honor, the iconic symbol of Anitkabir, adorned with columns raising at 14.4 meters high. Lastly, the Peace Park is home to around 50,000 decorative flowers, trees, and shrubs donated from about 25 countries.
Anitkabir Ataturk Museum displays his memorabilia starting from his birth certificate to his death. The massive collection of items, books, clothes, paintings, and even his Cadillac of 1936 will leave you speechless. The layout of the museum is well thought of as you follow Ataturk's life and reforms chronologically without missing anything.
Apart from Ataturk, Anitkabir is also home to Turkey's second president Ismet Inonu since 1973. His burial spot faces the mausoleum, rested on the opposing side of the Ceremonial Plaza.
Explored by Baia from Red Fedora Diary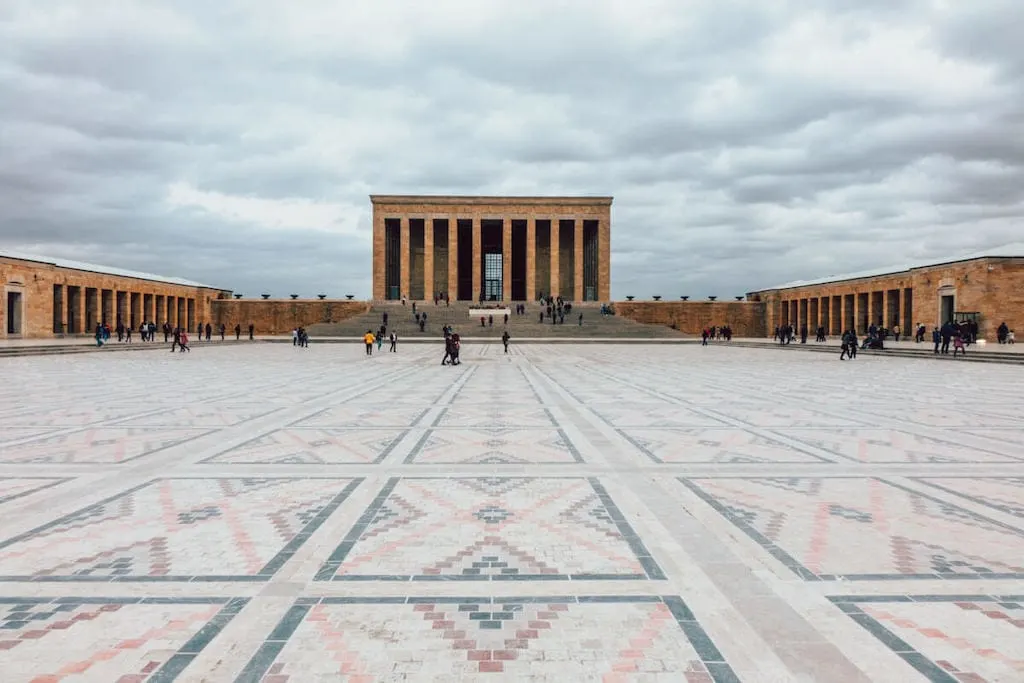 Grand Bazaar
Many people think it is just for shopping, but the most interesting part of this Bazaar or market is that it is 500 years old and an ancient style of market.
The Grand Bazaar is a great place to shop for Turkish souvenirs and handicrafts in Istanbul and has a large covered shopping arena where you can see the ancient style of marketing and business skills and how trade used to flourish even in ancient times. Grand Bazaar depicts the historical market and how traders used to do trading. Istanbul is a bi-continental city; therefore, it was a great trading point between the west and east.
The architecture of Grand Bazaar is very interesting as it is huge, and shops are arranged like a maze and with a display of colorful artworks and local produce of Turkey. Not only shopping but you can admire the tiled walls, roofs, ceilings, pillars here. The shop keeps welcoming you in traditional Turkish manners, and even if shopping isn't your thing, the Grand Bazaar is still a must-visit while touring Istanbul.
The handicrafts, textiles, food products, jewelry sold here give a glimpse of local traditions and lifestyles. It is open from 9:00 A.M. to 7:00 P.M… It is conveniently located in the historical area of Istanbul and can be directly reached through Tram T1 and public buses.
There are many hotels located at walkable distance to Grand Bazaar if you prefer to stay in the historical and ancient area of Istanbul, Turkey.
Suggested by Yukti Agrawal from Travel With Me 247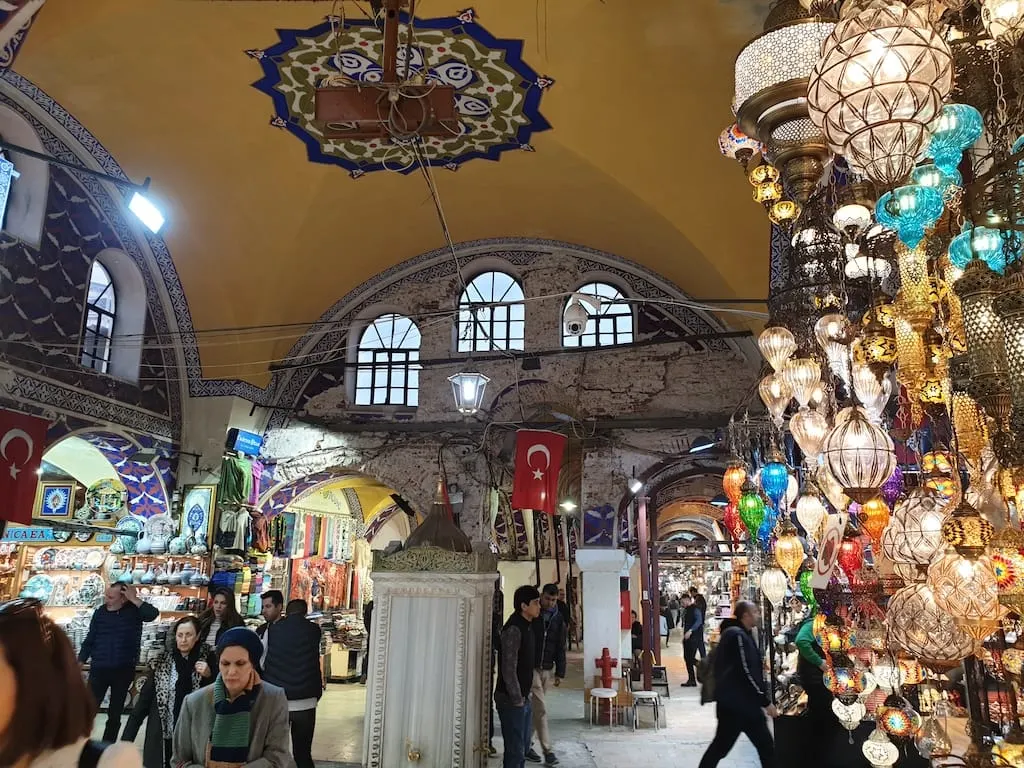 Göreme Fairy Chimneys
The "fairy chimneys" are intriguing rock formations located in the Cappadocia region of Turkey – the town of Göreme specifically has many of these fascinating geological works of art. They are a must-add site to any Cappadocia itinerary!
While the name "fairy chimney" implies something mystical had its hand in their creation, the truth is, they are the result of erosion and are sculpted by wind and floodwaters running down the slopes of the valleys.
During the 4th century, when persecuted Christians fled to Göreme, they even made homes, churches, stables, and storehouses all from these "fairy chimneys." This is because the rock is so soft and easy to carve.
Now, these dwellings serve as a fascinating tourist destination, and some of the homes have even been converted into boutique hotels. The Sultan Cave Suites is a particularly famous hotel for its cave rooms and its rooftop terrace, which overlooks the fairy chimneys of Göreme. You can also watch hot air balloons magically ascend across Göreme every morning from this terrace– weather permitting.
There are many ways to see and experience the fairy chimneys in Cappadocia! You can easily see many fairy chimneys within walking distance of the hotels in Göreme. There are also tours that take you through the different chimney-filled valleys – such as quad tours and horseback riding tours. The most famous experience, though, is to take a hot air balloon ride above the fairy chimneys at sunrise.
Another option to see a wide variety of fairy chimneys is to do the "Red Tour," – which is a tour of the Northern part of Cappadocia. (There are three main tours to take in Cappadocia – Red Tour, Green Tour, and Blue Tour.)
Explored by Lindsey of Have Clothes, Will Travel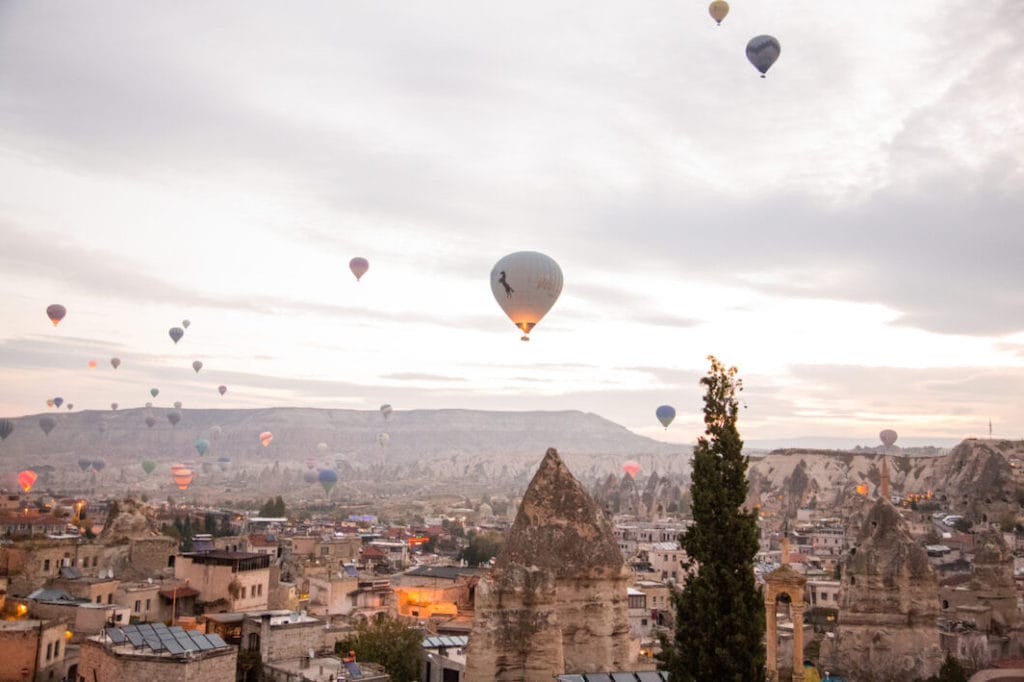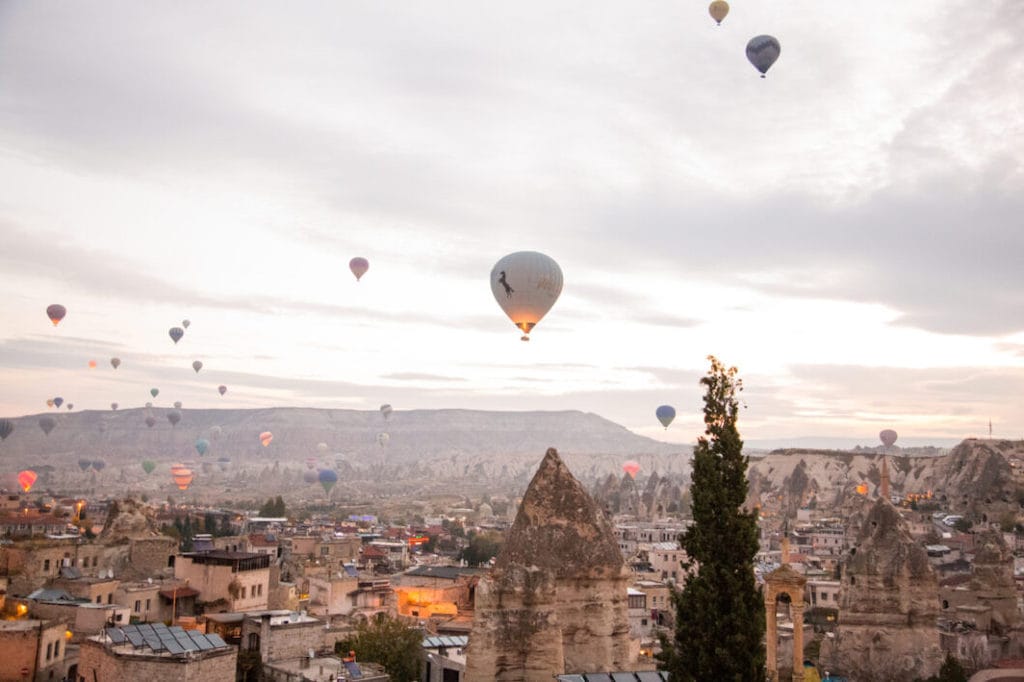 Hagia Sophia
The Hagia Sophia, also called Church of the Holy Wisdom or Church of the Divine Wisdom, is an influential Byzantine structure in Istanbul and one of the world's most famous landmarks.
Established under the guidance of Byzantine Emperor Justinian I (532–537) as a Christian church in the 6th century C.E., the building was converted to a mosque, then a museum, and then a mosque in the following centuries.The construction has frequently represented the set of predominant beliefs and practices of the city in that era, with the engravings and minarets of Islam and also the luxurious mosaics of Christianity.
Hagia Sophia was constructed in an extremely short period of about seven years and was finished in 537 CE. Uncommon for the time, the building's architects Anthemius of Tralles and Isidorus of Miletus are still well-known, as are the adept use of mechanics and mathematical concepts.
The Hagia Sophia incorporates in an entirely unconventional way a linear basilica and a central structure, a wide 105-ft dome with curved arch support and two smaller domes, one on each side in the axial direction. The unique structure is nearly square in form, and the Byzantine style inspired many buildings in the following centuries, including the Panagia Ekatontapiliani landmark of Greece and many other mosques in Istanbul.
The original mosaics depicting Jesus, his mother Mary, Christian saints, and angels were either destroyed or plastered over following the Fall of Constantinople to the Ottoman Empire in 1453, and the building was converted to a mosque by Mehmed the Conqueror. This conversion rather than destruction speaks to the sheer wonder of the building. It was Istanbul's main Mosque from its original conversion until 1616 when the nearby Sultan Ahmed Mosque, also called the Blue Mosque, was established.
The complex endured as a mosque until 1931 when it was shut for four years to the public. Then in 1935, it opened as a museum run by the secular Republic of Turkey, although in 2020, it has since been reclassified as a mosque in a move that invoking rebuke from the Turkish opposition, UNESCO, the World Council of Churches, the International Association of Byzantine Studies, and many global leaders.
While this move is reflective of a broader shift towards creating a fundamentalist religious state in Turkey, for now, Gay Istanbul and Turkey, in general, remain relatively open to queer visitors. How long secularism and liberal democracy can survive here, however, is unknown.
Explored by Jack from Queer In The World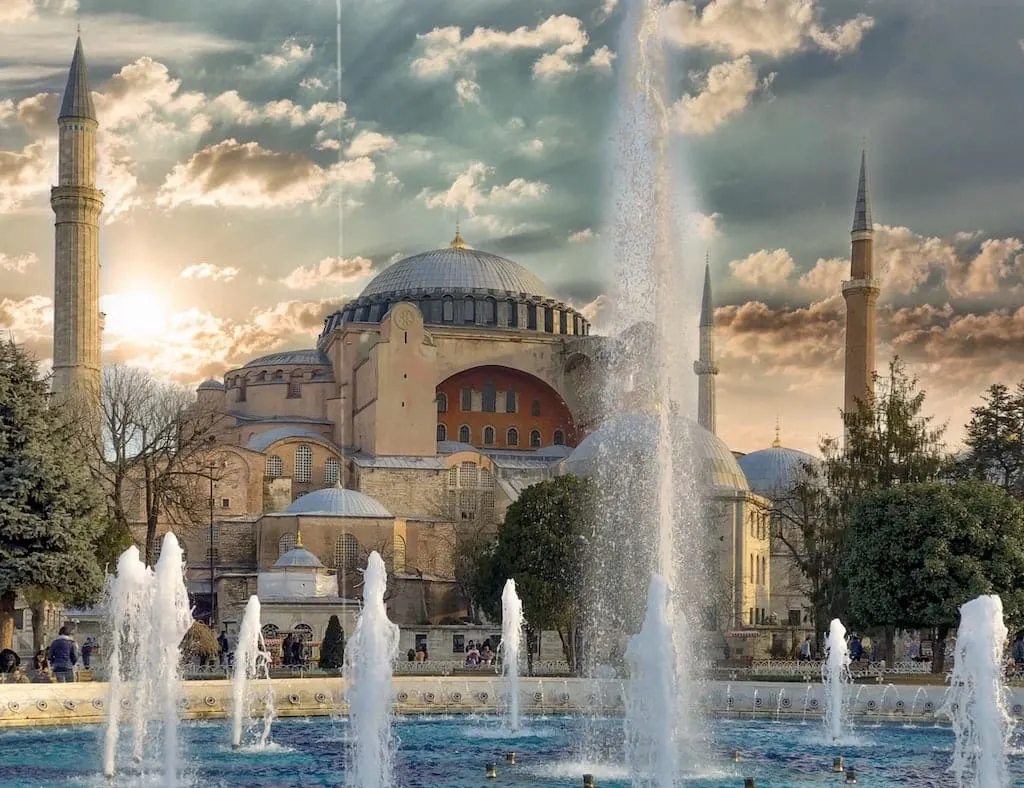 Kaputas Beach
Turkey is full of beautiful beaches, but one of the most famous is Kaputas Beach. Situated on the Mediterranean coast, Kaputas is one of the most picturesque beaches in Turkey.
It was formed by a gorge that opens open up into a stretch of sand. The water surrounding it is a vibrant turquoise color and perfect for swimming in. It's a great way to cool off from the summer heat. There are facilities at the beach, including washrooms and a beach restaurant. For a few dollars, you can rent a chair and sun umbrella, which are already set up along the beach.
The best way to visit Kaputas beach by car, as the road along the coast, makes a gorgeous road trip. If you're driving, it's a good idea to get there early as the beach is popular and parking space is limited. If you don't have your own car, you can take one of the mini-busses from the bus station in Kas. The bus will drop you off at the parking lot.
The top is the best place to get photos of the beach, and from there is a big staircase to descend down to the beach. Kaputas beach is a great place to spend the day while visiting Turkey!
Explored by Lora from Explore with Lora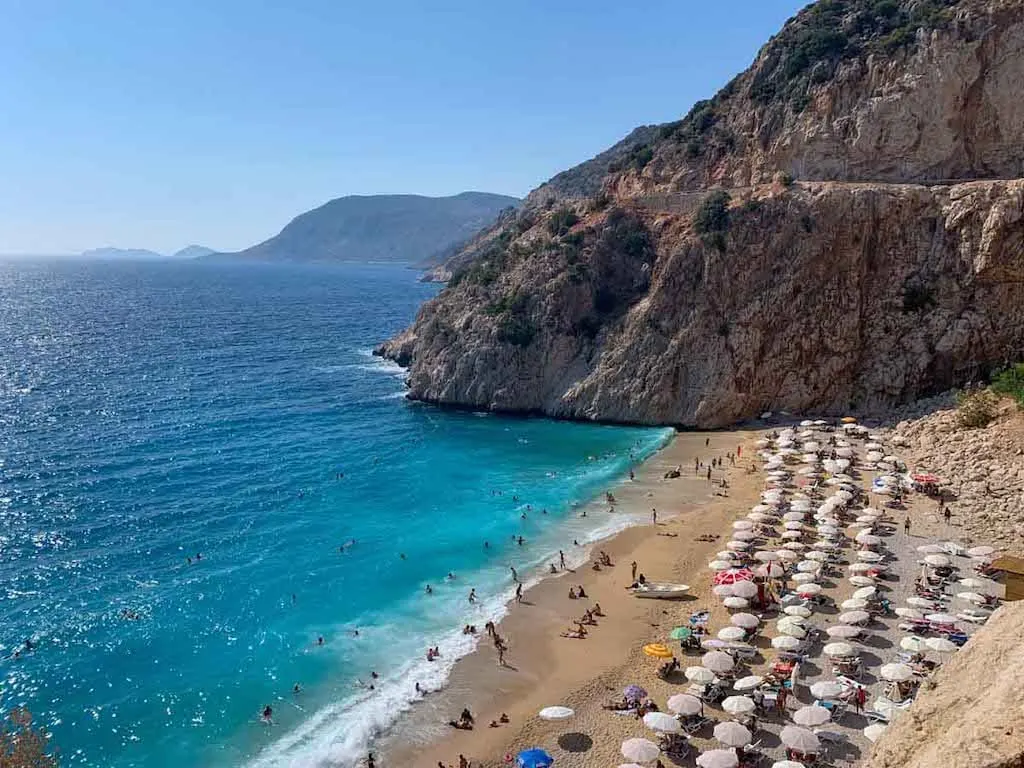 Manavgat Waterfalls is not the first thing that comes to mind when one thinks of Turkey. But this is certainly one of the must-visit attractions if you are traveling in the Antalya region. The waterfalls and its delta is known to convey the richness of nature, making for great photography and a couple of hours of relaxation in the lap of nature.
Manavgat Waterfalls is located 80kms from Antalya, near the ancient city of Side. The waterfalls are formed from the slopes of Mount Seytan, which is part of Taurus Mountain. The waters run through narrow channels of mountains, forests, and canyon, forming an artificial lake in the Olympinar Dam. From there, the water continues to flow yet another 4 km before creating the magnificent Manavgat waterfalls.
Although the height of the waterfalls is not that impressive, its broad width and entire landscape make it a compelling choice in the region.
Manavgat waterfall is also a great choice for a picnic, and while it is possible to swim in the river, you should know in the advance that the waters are icy cold. Still, how often do you get the chance to swim in a famous landmark of Turkey? There is also a tea garden and plenty of shade and viewing points around the waterfalls. Alternatively, you can choose to take a three-hour boat cruise, which takes you through the Manavgat river, visiting the waterfalls. Or simply soak in the sunshine and enjoy the nature around.
Although there's a choice to take a tour to the waterfalls, we felt it was a bit pricy, and we enjoyed the time we had at the waterfalls since we chose to go independently. There is ample paid car parking available and a paid toilet facility (not very clean) on site.
The site is completely commercialized with some souvenir shops around the waterfalls, but they tend to be overly priced. Also, beware of the photographers who have captive parrots, and we request the readers to completely avoid them.
Explored by Anu from Country Hopping Couple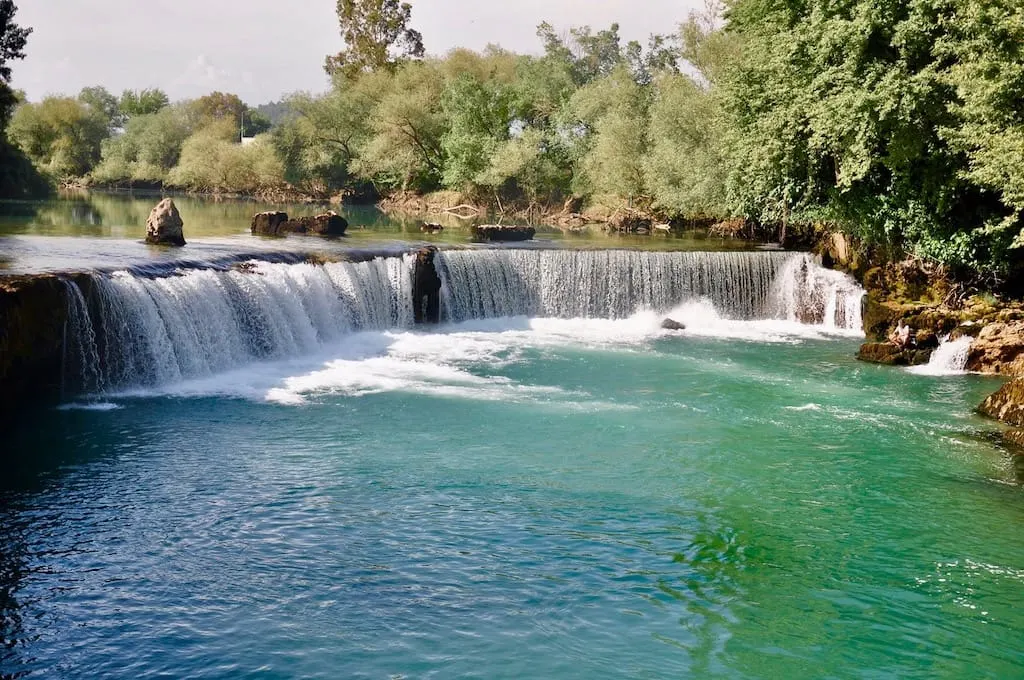 Pamukkale
Located in south-western Turkey, Pamukkale is a natural wonder famous for its bright white travertines. Known as Turkey's 'Cotton Castle,' the travertines, or terraces, were formed by centuries of mineral-rich water flowing over its cliffs.
The stunning terraces are filled with aquamarine pools, which are not only fun to splash around in but are said to be good for you as well. Make sure you wear your bathing costume under your clothes, and a pair of sandals that are easy to slip on and off as shoes are not allowed on the travertines.
One of the things that make Pamukkale special, and a highlight for me, is that the travertines sit below Hierapolis, an ancient Roman city. Founded in 190 B.C., this UNESCO World Heritage site covers more than 2 kilometers and features a necropolis with tombs, a well-preserved theatre, and the not-to-be-missed Cleopatra's Pool. This thermal pool is perfect for soaking in after climbing the travertines. The really fun part is that you get to swim amongst ancient columns that fell into the pool centuries ago during an earthquake.
Pamukkale is unlike anywhere else in the world, and people have been coming to bathe in the thermal pools for a thousand years. Today it's no different, with visitors arriving from all over the world to see this natural marvel. Most people visit on a day trip from Denizli, but I recommend staying overnight in the Pamukkale village so that you can watch the sunset over the travertines. It's not to be missed!
Explored by Audrey Chalmers from Gumnuts Abroad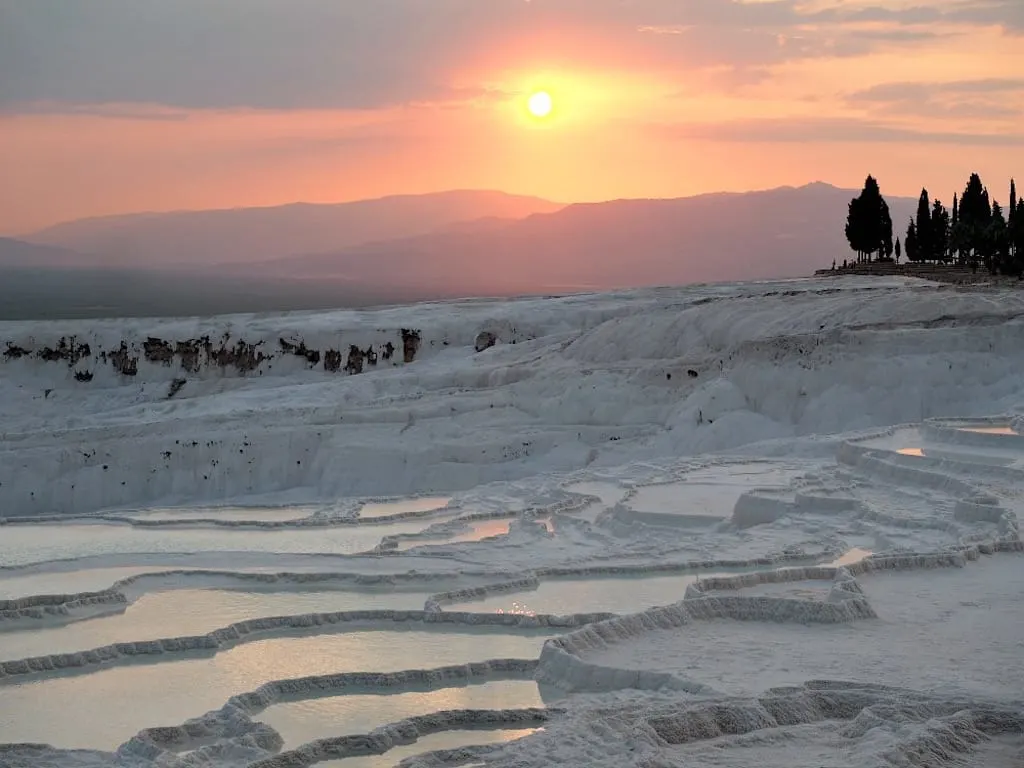 Ruins Of Aphrodisias
If you are into historic UNESCO sites, then a visit to Aphrodisias in Anatolia is a must. This well preserved and intact UNESCO site is filled with stunning ruins in this small Greek city that are dedicated to the god Aphrodite, the Greek goddess of love.
Started originally as a Hellenistic city, it transitioned into a Roman occupation with quarries nearby to create these monumental architectural wonders. You can sign up for a guided tour or do your own DIY tour with placards and information that is easy to follow and read in English.
The ruined temple of Aphrodite has been repurposed into a basilica and includes many Christian memorabilia like crosses and large Christian insignia scattered around the ruin. You can visit the wonderful adjoining museum, which contains many of the intact sculptures and other well-preserved artifacts worth seeing in person.
Because of its remote location, Aphrodisias has survived many centuries without being disturbed with a lot of magnificent sculptures, artifacts, and gorgeous buildings and other historical sites to visit around the entire complex. You'll love visiting Aphrodisias for it's more extensive ruins compared to the other historic site at Ephesus on the western shores of Turkey at Selcuk.
Explored by Noel from This Hawaii Life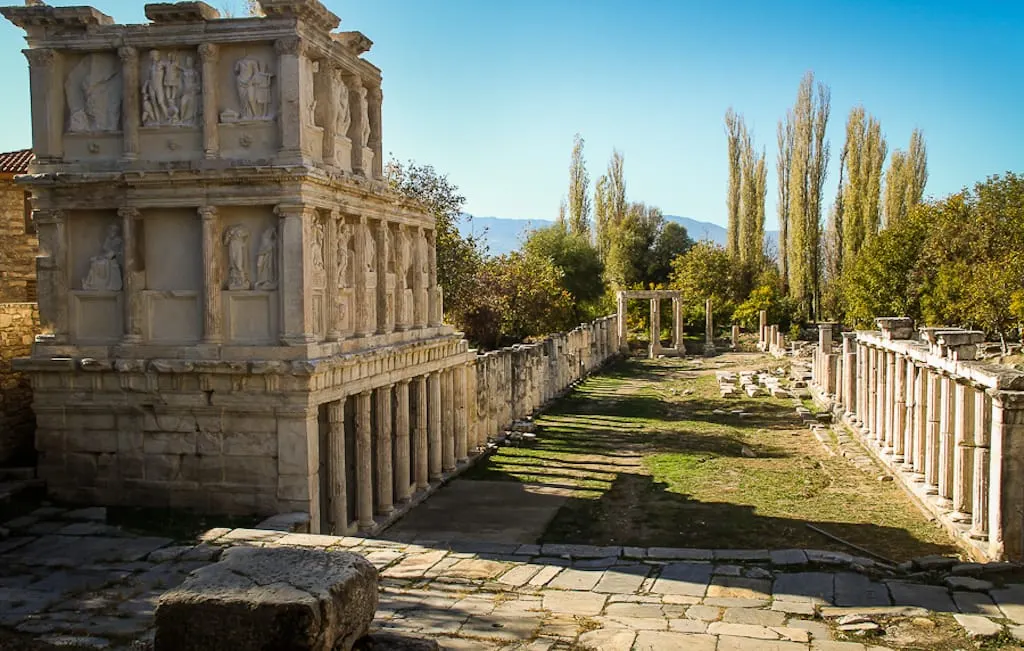 Sultan Ahmed Mosque
Sultan Ahmed Mosque, or commonly known as the Blue Mosque, is a landmark of Turkey's largest city, Istanbul. Located in the city's historic center at the Golden Horn, Blue Mosque and Hagia Sophia are two striking buildings that dominate Istanbul's skyline, facing each other in two distinctively different colors.
Despite their similarities, the Blu Mosque is about 1,000 years younger than Hagia Sophia. The Mosque was initiated by Sultan Ahmed I, at his age of 19. The Mosque took merely about seven years to build and completed in 1616; Ironically, Sultan Ahmed passed one year after at his age of 27.
While visitors may get a hint of blue based on the look of the exterior, it's probably called the blue Mosque based on the impressive 20,000 blue tiles that lined its high ceiling on the inside. The tiles create flowers, trees, and geometric patterns, and it is a manifesto of the 16thcentury Iznik design.
The Mosque still functions as a mosque until today, and what makes the Mosque stands out among others is the number of minarets that are built. Traditionally, mosques have one, two, or four minarets, and the Blue Mosque is a rare example that has six minarets built around its giant dome. Interestingly, it might have been a misunderstanding that when the Sultan ordered to build gold (altin) minarets, the architect made a mistake and thought there were to build six (alti) minarets.
At that time, it stirred up controversy because the Haram Mosque in Mecca, the holiest Mosque in the world, also has six minarets, and Sultan had to send his architect to Mecca and add a seventh minaret to the Haram Mosque in order to settle the issue.
Explored by Kenny from Knycx Journeying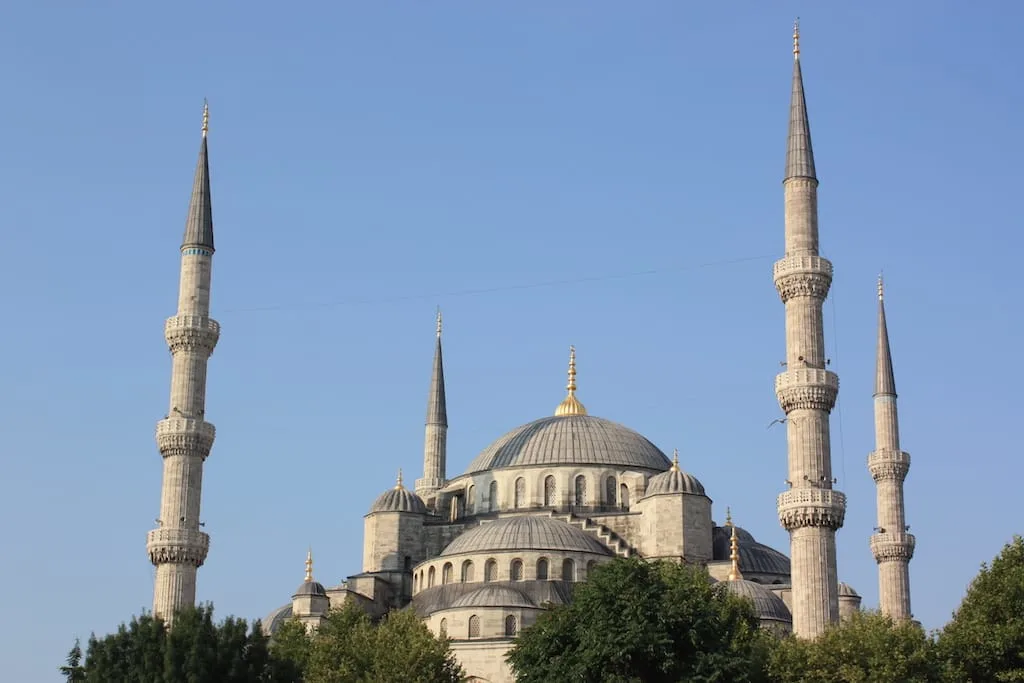 The Grand Hellenistic Theater Of Ephesus
Ephesus is a Greco – Roman city that dates back to the 10th Century BC. The Great Theater of Ephesus was originally built during the Hellenistic Period (323 BC – 31 B.C.) and was remodeled several times during the Roman Period (27 BC – 476 AD).
Some believe this theater dates back to 10th Century BC, but there is no archeological proof that it existed before 100 BC. The Great Theater of Ephesus was used as a public forum for all types of events; religious events, political events, concerts, and even gladiator fights. It took 60 years to build the theater, and it is so well preserved that events and concerts still take place there today.
The Great Theater is built into the mountainside of Mt. Pion and has a capacity of 25,000 seats, making it the largest theater in Asia Minor. For many biblical scholars, this theater is a sacred destination due to its biblical significance. The Great Theater is mentioned several times in the Bible as it is where Paul preached against the pagans and it was the site of a riot against Paul in 56 A.D. Ephesus sits near the Aegean Sea and is most easily accessed by flying into Izmir, Turkey, and driving 45 minutes to Ephesus.
The many walking tours of Ephesus include stops at this incredible theater, as well as other historic landmarks, including the Celsus Library. Walking the streets of Ephesus feels like being transported back in time.
Explored by Rachel & Clark from Seeking Our Someday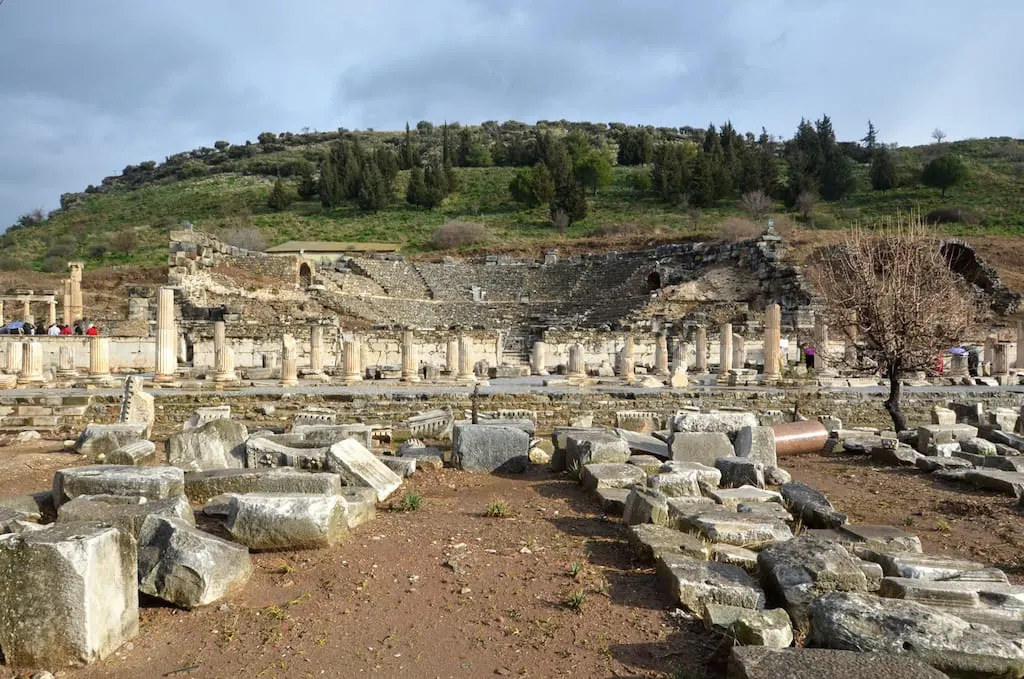 The Mausoleum Of Mevlana Rumi
Jalal ud Din Muhammad Rumi or Mevlana Rumi is the wizard of ancient romance, and his poetry has a grip over Sufism that has no parallel. His work has been translated into almost all major world languages. He has inspired every culture in the Middle East and South Asia.
His mausoleum is the most visited shrine in all of Turkey, with millions flocking to experience his presence in their hearts. It is the second most visited site in the country after Topkapi palace.
This magical mausoleum is located in Konya, which can be easily reached via bus or train from different parts of the country. From Istanbul, you can take a train that will bring you to Antalya through the beautiful vastness of Antalya. From Izmir, you can take a night train. Buses are equally frequent and convenient and cheaper.
Konya is perhaps the most culturally conservative city in Turkey, but the locals are used to tourists and crazies who come in droves to find a little plait of peace in their hearts at the feet of Rumi.This is not only the place where Rumi departed but also where he met his spiritual teacher, Shams Tabrezi. You might not know who he is, but if you have read Rumi's poetry, he dances through those words in your mind.
In Konya, you don't need a lot of directions to get to the mausoleum; every child, man, and woman can guide you with their eyes closed without any language barrier just say the magic words 'Mevlana Rumi.'
It is not just another beautiful building with Turkish style domed architecture and a bonanza of colors that take you to the world of beauty Rumi so beautifully described; it is a place where your heart sits in the stillness while dancing around the notions of love and humanity. Just like the whirling dervishes during Samaa (a meditative practice during which dervishes' whirl to get in a state of meditative trance).
The two main domes are surrounded by smaller domes, and the minaret has a smaller cousin in turquoise, which is another cylindrical dome (a bit like the orthodox cathedral domes). There are a few graves inside, but the main and most prominent grave belongs to Mevlana Rumi with his verses written all around him.
Every year from 10th to 17th December, an annual festival takes place in Konya with whirling dervishes to celebrate the meeting of Rumi with his Lover.
The entrance to the mausoleum is free, but you must dress appropriately, and if you are coming for the annual festivals of dervishes, you should book months in advance or pay a very hefty place for any room. Visiting Rumi without the text of Masnavi (his poetic work) is a sin; grab your copy or read online beforehand. You will appreciate the ideas that still reverberate through millions of hearts through Rumi's words.
I leave you with my favorite verse of Rumi, "Don't be satisfied with stories, how things have gone with others. Unfold your own myth".
Explored by Ucman Scher from Brownboytravels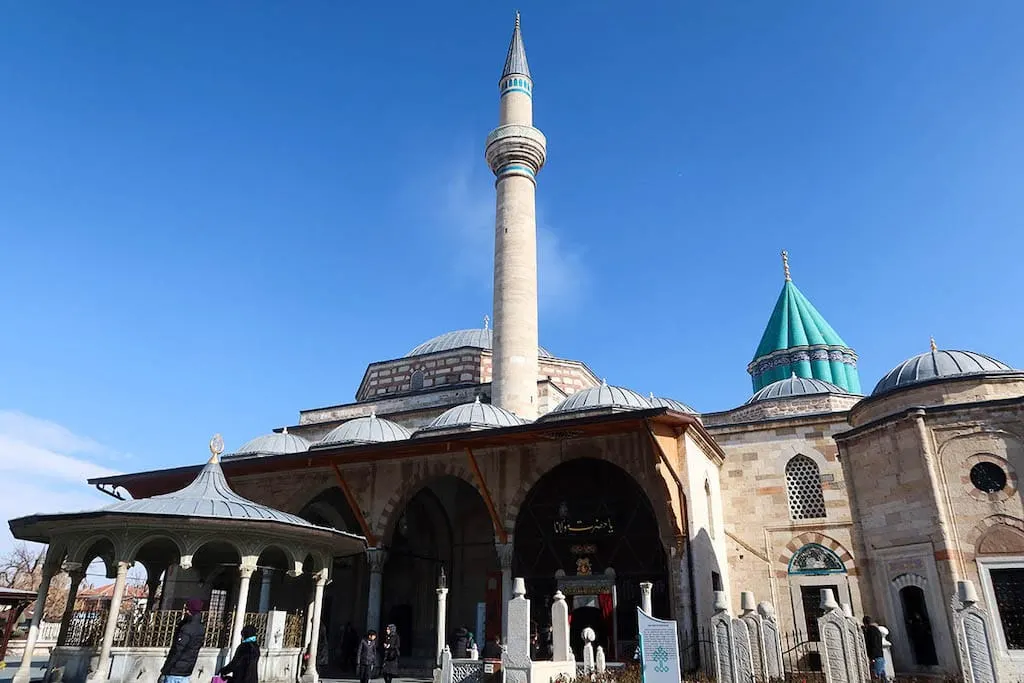 Topkapi Palace
One of the most famous landmarks in Turkey is the Topkapi Palace. This dwelling is now a museum, but was once the main residence and headquarters of the Ottoman Sultans that ruled the large and wealthy Ottoman empire.
The construction of the palace already started in 1459, but the current structure is the result of continuous expansions and renovations. It survived a major earthquake in 1509 and a large fire in 1665 when the Topkapi palace was in its glory days.
The complex includes no less than four main courtyards, gardens, pavilions, and impressive gates. Furthermore, there is a separate harem for the female members of the Sultans family, a large palace kitchen, and an audience chamber. There are hundreds of rooms, and most of them are beautifully decorated with colorful tile works.
The museum only includes the most important and most beautiful rooms. Nevertheless, a visit to the Topkapi palace could easily take half of your day. Time flies once you wander through the courtyards, enjoy the beautiful views over the Bosporus, and explore the treasury with things like traditional clothing, weaponry, ancient miniatures, and important manuscripts.
Its beauty and historical importance make this a must-visit on any Istanbul itinerary. The Topkapi Palace is located in the Faith district of Istanbul, close to other famous landmarks of Turkey, such as the Blue Mosque and Hagia Sophia. In fact, it forms a part of the UNESCO historic areas of Istanbul.
The Topkapi Palace is within walking distance from the Sultanahmet tram station. If you plan to visit other museums as well, you might consider buying the Istanbul museum pass to save on the cost of entrance fees and to skip the long waiting lines to buy tickets.
Explored by Ellis from Backpack Adventures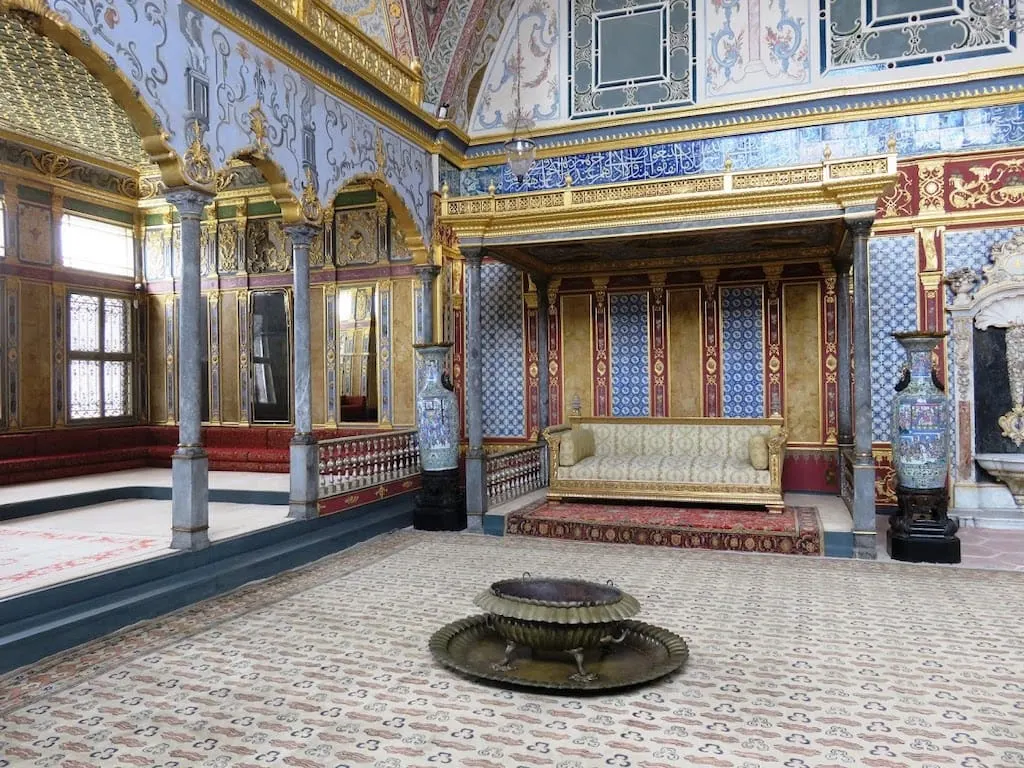 Uchisar Castle
Cappadocia, an area of Turkey that is famed for its otherworldly rock formations, is one of the most popular places to visit in the country.
Most tourists know about the hot air balloon rides and fairy chimneys that are iconic of the destination, but another attraction to not miss is the imposing Uchisar Castle. This is the highest point in Cappadocia, and will give you the best viewpoint of the surrounding area!
This castle is fascinating, as it has been developed from natural rock, but was used for traditional castle purposes from the 15th century. Throughout the centuries, armies guarded Cappadocia against the enemy from the top of this castle. It was also an important trading post on one of the Silk Routes.
Nowadays, many of Uchisar Castle's rooms are used as pigeon houses. Farmers collect the droppings of pigeons that dwell in these houses and use them as a natural fertilizer. As a tourist, you'll be able to walk up the main stairs and onto the roof of the castle, where you can enjoy the best view in Cappadocia; the fairy chimneys sprawled out beneath you with a backdrop of the imposing Mount Erciyes.
Uchisar is a small village with plenty of places to eat and is a short bus ride or hike from Göreme. I'd recommend doing the hike if you can; the views are spectacular. While the landscape is magical at any time of year, if you're visiting Turkey in winter, you'll be graced with an enchanting snowy landscape that only adds to the awe of Cappadocia.
By Claire from Claire's Footsteps
Van Lake
On the east side of Turkey, not far from Iran's border, Lake Van lies at an altitude of 1720m. This the largest lake in Turkey and the second biggest lake in the Middle East. Armenians who used to live here (before the genocide) described the beauty of this area in one simple sentence: "Van in this life, paradise in the next."
By going around the lake, you can visit some of several ancient Urartian sites, or you can take a ferry to one on the islands.
Çarpanak Island, where is home to flocks of seagulls, is a perfect destination for nature lovers and photographers. This island, like many other places around the lake, was once inhabited by Armenians and is still home to the burnt Armenian monastery Ktutsis. The monastery is closed to visitors.
To visit a very beautiful Armenian monastery, you can go to Akdamar Island, probably the most visited islands on the lake. The church is still open, and if you are lucky, you can see the traditional wedding ceremony in the church.
Akdamar Island is a great place for a day trip where you can dip your toes into the water and admire the history. There are a couple of restaurants and walking trails around the island.
There is almost zero direct flight from European cities to Van, but there are frequent daily flights from many Turkish cities, including Istanbul. There are various affordable accommodations and hotels in the City of Van, the most important city in the east.
Explored by Mansoureh Farahani from Travel With Mansoureh