Thailand is one of the world's most sought-after travel destinations, a land of smiles filled with golden beaches, epic temples, incredible history, and food. So much food!
Thailand still retains many treasures from its long and proud history, having been one of the only countries in the region that was never colonized – the French and the British "decided" it would be a neutral territory to avoid conflicts between their colonies in the region.
The result is that, thankfully, many of the inherited architectural jewels of Ancient Thailand remain for both locals and tourists alike to fawn over. Not to mention plenty of more modern delights and divine natural landscapes that include everything from dense mountain jungle to coral reefs.
There are so many places to visit in Thailand; you could spend a lifetime explore its riches and only just scratch the surface. It can all be a little overwhelming – which is why we have developed this cheat sheet to help you with your travels.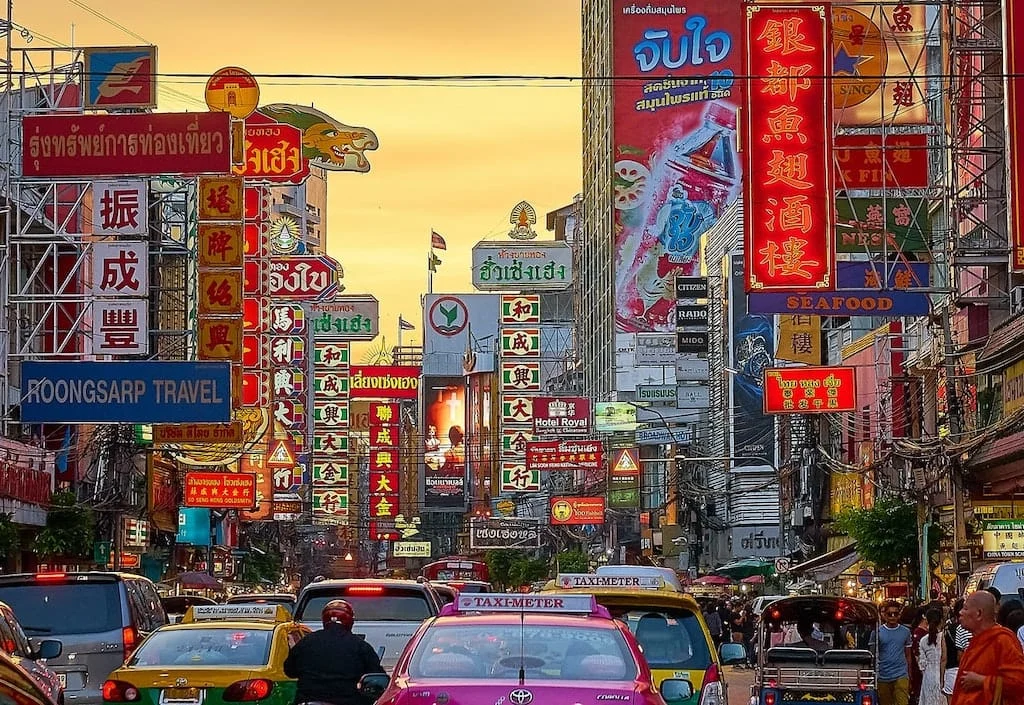 But first – what is a landmark?
A landmark is a recognizable natural or artificial feature that typically stands out from its environment and has become a local or national symbol. For modern tourists, a landmark is useful for navigation – in terms of a physical waypoint and trying to help you organize your itinerary.
Getting the off-the-beaten-track is all well and good, but at the end of the day – there are some spots you just have to see when you visit a country. Think about the Hagia Sophia in Turkey or Cuernos del Paine in Chile. Places so famous it would be almost inconceivable to skip such spots….and why would you want to?
When approaching a trip to the land of tuk-tuks, street food, and floating markets, you will want to tick off as many famous Thai landmarks as you can – and the best way is to do that is often by flying between hotspots, catching a boat/boat, or taking a tour.
With over 1400 islands, twin coastlines, high mountains, and a rich, fertile floodplain, there is a lot of interesting areas to explore in Thailand. And with such diversity, it should be noted that no list of famous Thai landmarks could ever be exhaustive. Still, we have tried to get the highlights together by putting a call out to our few travel bloggers – and asking them to tell us about their favorite spots.
This way, you have a reasonable frame of reference to inspire your Thai travels where you can choose a few landmarks that you absolutely cannot miss… or cram as many as possible into one trip (if that is more your style).
If you plan it right and have enough time, you might just hit them all — plus discover plenty more of your own highlights of Thailand while you're at it!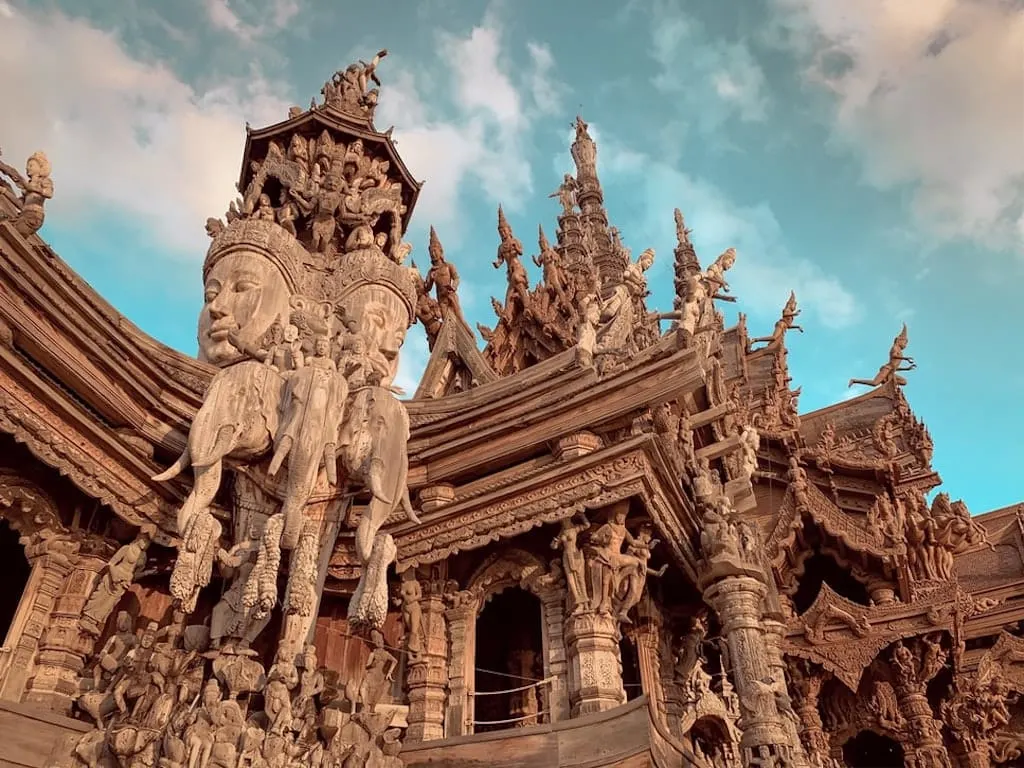 25 Famous Landmarks Of Thailand To Plan Your Travels Around! 🇹🇭
Damnoen Saduak Floating Market
Damnoen Saduak Floating Market is one of the most iconic places in Bangkok and definitely one of the most famous landmarks in Thailand.
Getting to the floating market is not so easy as it's located quite far away from Bangkok (you need to drive around 1.5 hours from the city to reach it). If you have your own scooter or car, you can visit it on your own. However, if you want to avoid the crazy Bangkok traffic, it's best to opt for an organized tour.
Tours usually start from 7 AM, and it is recommended to go with the first round as the market gets busier later, and this way, you can avoid the scorching midday heat as well. Since the market floats on the river, you need to hop inside a long-tail boat to be able to access it. If you're going with a tour, the participants will be divided into small groups, and 6-8 people will share a boat, but if you go on your own, you can rent a private boat as well.
During the boat ride, you will see many floating stalls selling all sorts of products, and there are even some merchants trading from their own boat. If you want, you have the option to buy some souvenirs or try some local foods, such as mango sticky rice or coconut ice cream, but shopping is not mandatory.
Most tours have the option to combine the visit to Damnoen Saduak Floating Market with Maeklong Railway Market, and since they are close to each other, it's worth setting aside at least half a day from your Bangkok itinerary to visit these unique markets.
Explored by Krisztina Harsanyi from She Wanders Abroad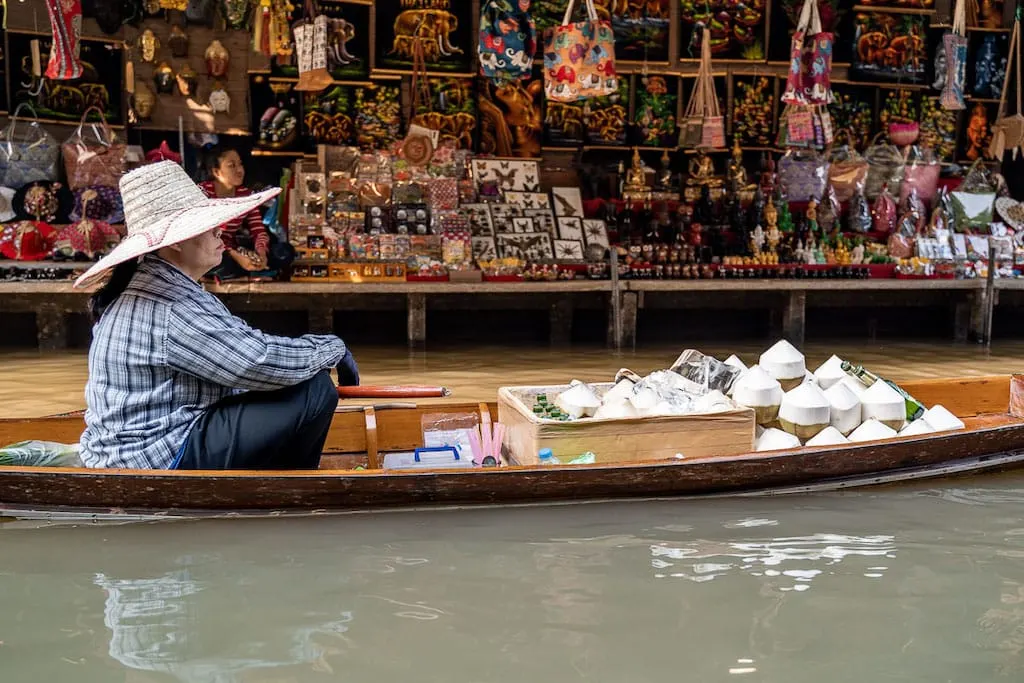 Sukhothai Historical Park
If you are looking for one of Thailand's best-kept secrets, then a visit to Sukhothai Historical Park is definitely a must. Located about halfway between Bangkok and Chiang Mai, Sukhothai was the ancient capital of Thailand for over 200 years back in the 13th century. The historic town of Sukhothai and its surrounding region were designated a UNESCO World Heritage site in 1991.
Spanning over 70 square kilometers (27 square miles), Sukhothai Historical Park is dotted with over 190 historical ruins, 700-year old temples, serene ponds, and massive Buddha statues. Divided into five zones, each individual zone of the ruins requires a 100 Baht admission fee. The best way to explore the park is by renting a bicycle or borrowing from the guesthouse you're staying at. This gives you the chance to explore at your own pace and not get too exhausted if visiting on foot.
The most visited area of the park, the central zone, stands Wat Mahathat, which is considered the most important temple in Sukhothai. You will find a giant seated Buddha behind rows of half-collapsed columns. Other highlights of the park include Wat Si Chum, Wat Sa Si, Wat Phra Phai Luang, Wat Sorasak, Wat Chetuphon, and Wat Saphan Hin.
When visiting the town of Sukhothai, make sure to try a bowl of Sukhothai noodles as well as other authentic Thai dishes by visiting the local market in the new city. To reach Sukhothai from Chiang Mai, you can either take a 5.5-hour bus ride or a train for roughly the same amount of time. If coming from Bangkok, you have several options to choose from. You can fly to Sukhothai airport, which takes 1.5 hours, or go by train (plus 1.5-hour bus ride), which takes about 6.5 hours total and lastly by bus for about 8 hours.
Visiting Sukhothai Historical Park is like a journey going back in time and something you don't want to miss!
Explored by Kristel and Gabriel Glasier from Chef Travel Guide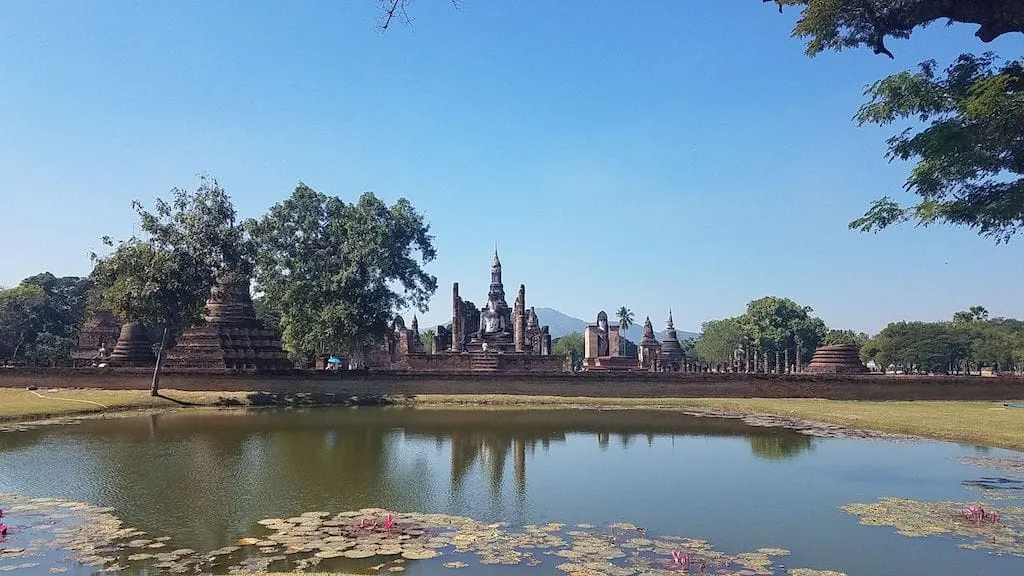 Hellfire Pass
There are few places in the world that draw fear at the very sound of their name. Auschwitz, The Killing Fields, and Hellfire Pass are only a few, but their mark on history is one that is not easily forgotten. Hellfire Pass is a name that nearly all Australians learn in High School in our Australian history classes. We are taught about the atrocities that happened there and the sheer fight that the POW's showed in the face of truly horrific circumstances.
Hellfire Pass or Konyu Cutting to the Japanese in Kanchanaburi Thailand is a section of the Thai-Burma railway that was hand made by forced labor from Allied prisoners of war in World War II. It is otherwise known as the Death Railway. Weaving its way through the harsh Thai landscape, it is extremely hard to imagine what the workers on this railway went through every day as they built this impossible railway, sometimes with nothing by their bare hands.
Hellfire Pass gets its name from the men who saw it, from the men who were forced to build it. The prisoners of war described looking down at their fellow prisoners working by firelight in the night like a scene from Hell itself.
Just outside of Kanchanaburi at the Hellfire Pass site, the Australian Government, in conjunction with the Thai Government have built a museum and information center where people can go to learn the history that happened in this part of Thailand. The museum has videos from survivors who explain what the conditions were like, as well as pictures taken during World War II.
It also incorporates the impact the railway also had on the local Thai people who lived in the area, which is something we had not learned about. You can visit the museum before taking the path down to the cutting in the rock. It is a short walk from the museum down some stairs and through the thick Thai forest.
It is hard to imagine what it would have been like for the men working to complete this impossible railway. The heat, the insects that never seem to go away, the rain when it was the monsoon season, and the abundant loss of life all around you is something we will never comprehend.
You can make the day trip from Bangkok in a small group guided tour that will get you to Kanchanaburi and then out to the site. This tour will allow you time in the museum, and then some do incorporate riding the train along the railway back into Kanchanaburi, or you can stay in the town itself for a couple of days. Whatever you chose, Hellfire Pass is an emotional journey and one that will leave you asking why.
Explored by Bec from Wyld Family Travel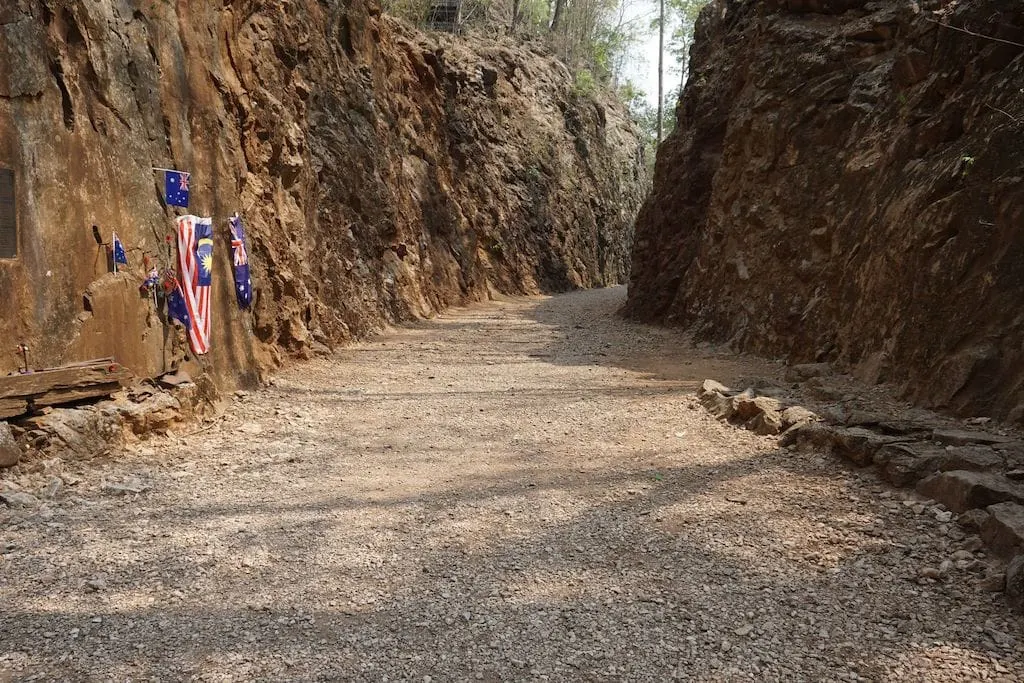 Ayutthaya Temples
One of the most prominent images of Thailand is a Buddha Head embedded in the roots of a tree. A quick search would lead you to Wat Mahathat in Ayutthaya, a prominent UNESCO spot near Bangkok. Filled with ruins from the once-glorious Kingdom of Ayutthaya, the Thailand of today is believed to have its origins in these temples.
The sheer size of the Wat Mahathat or the 'Temple of the Great Relic' is a testament to its importance. In the 18th century, the neighboring Burmese carried out raids on Ayutthaya, destroying its temples and forcing its people out. Wat Mahathat was not spared either, with the attackers chopping the heads off of Buddha idols and statues.
Call it a miracle or a coincidence, one large sandstone head of the Buddha was dropped by the attackers near the roots of a Banyan tree. With time, the head got entangled in the roots, blending in with its surroundings to create this iconic setting.
Some other temples worth visiting when you are here are the Wat Sena Senaram, Wat Phra Si Sanphet with its massive temple complex, Wat Ratchaburana with its surviving mural paintings, Wat Chaiwatthanaram with its majestic spires by the riverbank, and Wat Lokhayasutaram with its huge reclining Buddha. Ayutthaya makes for a great change of pace compared to the more noisy and lively spots of Thailand, such as Phuket or Pattaya, and should be on your Thailand itinerary for sure.
Ayutthaya can be reached easily from Bangkok via road, train, or even boat. Regular buses and mini taxis ply on the route from Bangkok. Once there, you can hire a Tuk-Tuk or a scooter to roam around. Remember to carry a ton of water as you would require it for sure when roaming the huge temple complexes.
Explored by Tanushree & Yaswanth from Unbound Outbound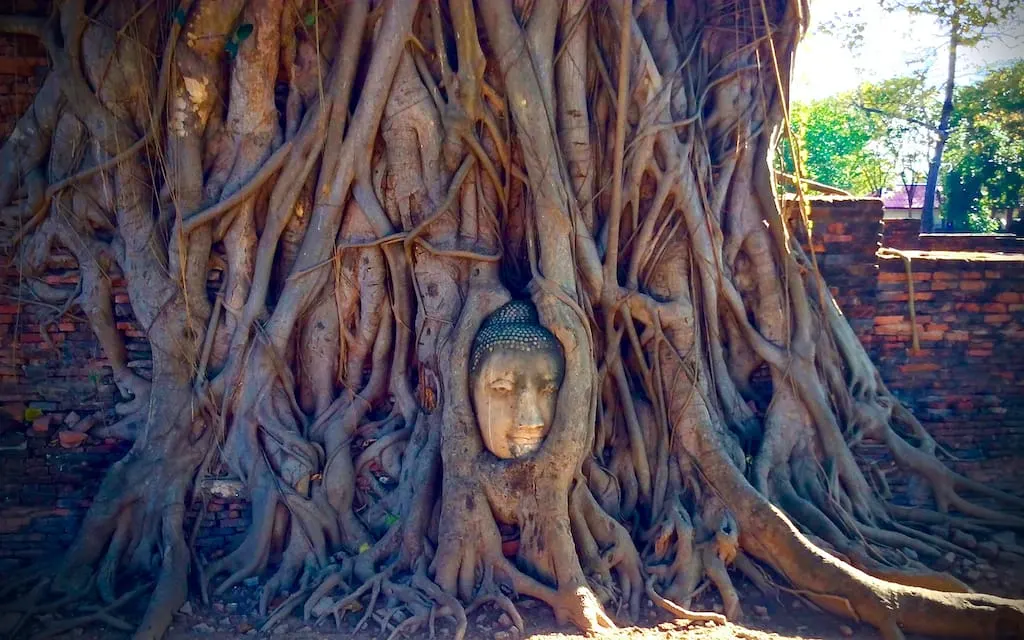 James Bond Island
Although Phuket's legendary island is a remarkable and fascinating holiday destination in its own right, one of the biggest draws for people traveling here is to indulge in some island hopping via long-tail boat – and one of the most popular destinations is the famous James Bond Island.
Positioned off Phang Nga Bay in Southern Thailand, this small island of limestone karst towers became a star in its own right when it was adopted as the place of Scaramanga's covert lair in the 007 James Bond movie 'The Man with the Golden Gun'! It has since become a landmark of Thailand, making the surrounding Ao Phang Nga National Park world-famous and one of our favorite James Bond filming locations worldwide.
The isle is one of the most famous of 100 odd islands in Phang Nga Bay, covering 400 square kilometers. The picturesque setting gives you a great visual prospect for Instagram gold, mostly due to the almost impossible rock structure, thick on the top and tapered on the bottom, carved from inside with a small cave. Thick trees, colorful marine animals, and dense mangroves are additional attractions in the area.
The experience of reaching the island is impressive, as boats weaving through the azure waters under grand towering calcareous arches. They are typically combined with a visit to the fishing village of Koh Panyee and some leisurely kayaking.
Explored by Jack from Queer In The World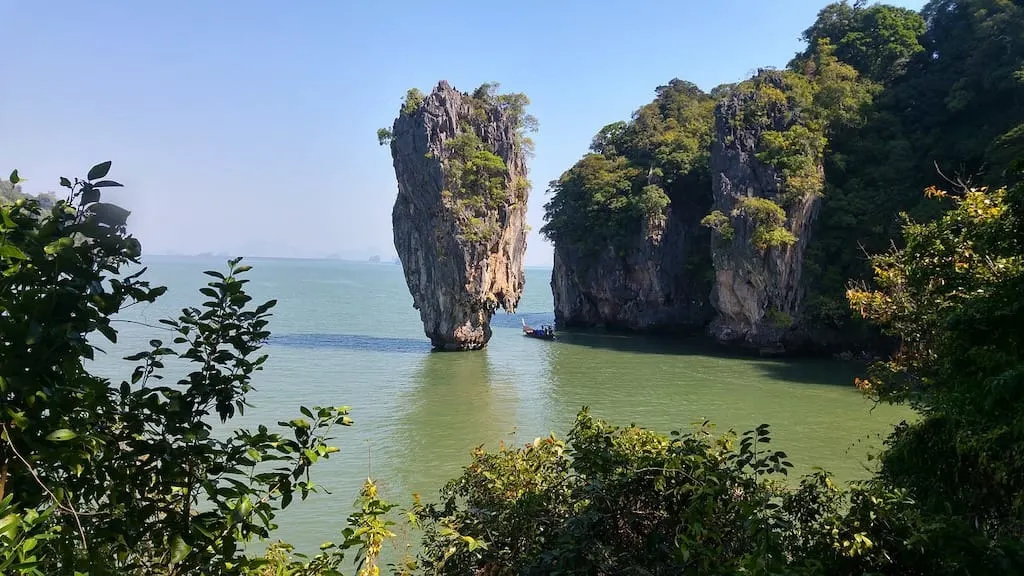 Wat Tham Suea (Tiger Cave Temple)
The impressive Tiger Cave Temple is located on top of a mountain in northern Krabi, Thailand. Also known as Wat Tham Suea, this sacred place features a gleaming golden buddha statue and offers impressive panoramic views of the surrounding rainforest and limestone cliffs. The only catch? To get here, you'll need to climb 1260 steep steps!
When you arrive at the Tiger Cave Temple compound, you'll see statues and garden areas around the base of the mountain. There is also a convenience store where you can buy water and snacks. The hike up to the temple is rigorous, so it's important to carry water to prevent dehydration.
The hike begins at a grand set of stairs that will take you up the mountain to the temple. When you reach the top, there's a place to leave your shoes and refill your water bottle before entering the temple compound. Inside, spend some time soaking in the views, walking around the buddha statue, and enjoying the noticeable silence.
The Tiger Cave temple is free to visit. You can get there by taking a songthaew from Ao Nang or Krabi town. You can also visit as part of a tour. Local tour companies offer a package where you go to the Tiger Cave Temple, Hot Springs, and Emerald Pool in one day.
Remember to wear sunscreen and carry water with you while visiting the Tiger Cave Temple. If you can, it's best to visit early in the morning while the sun isn't as strong for better hiking conditions.
Explored by Nicola Rae from See Nic Wander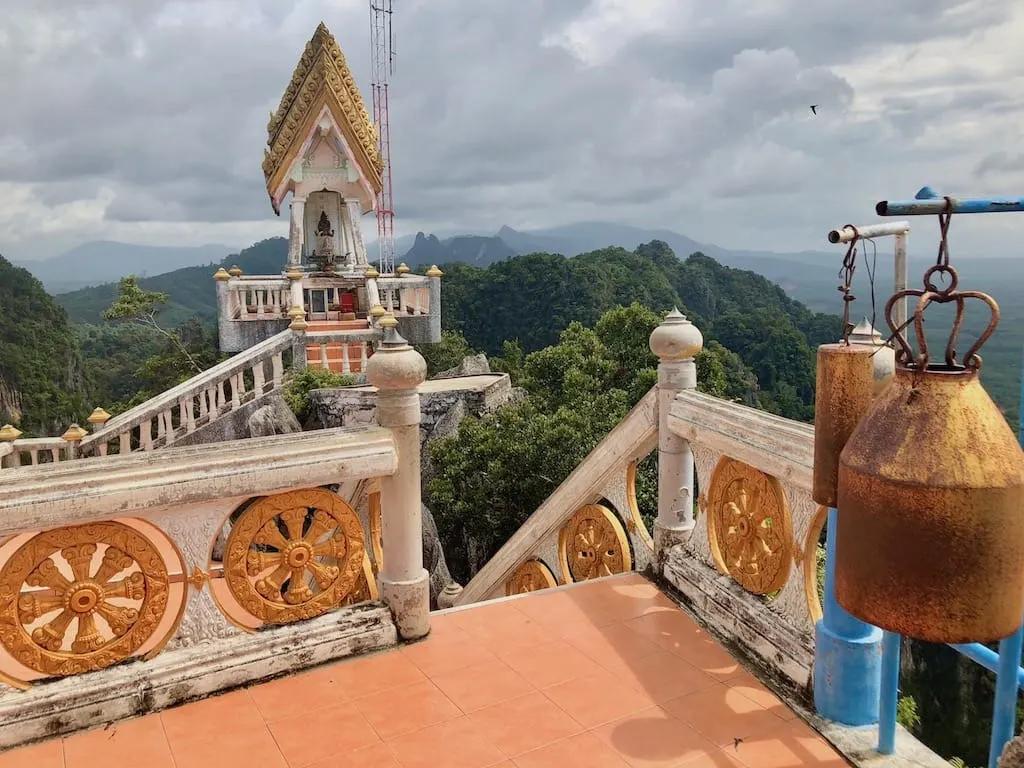 Khao Yai National Park
Khao Yai is easily the best national park in Thailand for spotting some amazing Southeast Asian wildlife. The park protects one of the largest primarily intact monsoon forests in Southeast Asia, which earned it the status of a UNESCO World Heritage site. At 2168 square kilometers, Khao Yai is the third largest National Park in Thailand.
Spend a day, or better two in Khao Yai, and you'll have a good chance of seeing Asian elephants, endangered white-handed gibbons, magnificent great hornbills, sambar and barking deer, pig-tailed macaques, giant squirrels, Golden jackals, a dizzying variety of bird species and a few reptiles.
And the best thing is, Khao Yai is easy to visit from Bangkok. You can book a day tour to Khao Yai at most travel agents in the city. If you would like to spend a couple of days exploring the park, make your way to Pak Chong in Nakhon Ratchasima Province and stay in one of the guesthouses just outside the park. Green Leaf guesthouse has always been my favorite, and Mr. Nine, who runs it, is rumored to be the best nature guide at Khao Yai.
There are two types of tours in Khao Yai and if you have the time, try to take both. The full-day tour in the park lets you see the most wildlife plus the waterfall that appeared in The Beach movie. The half-day tour takes you to see an incredible wildlife spectacle – two million Wrinkle-lipped bats emerging from their roosting cave at dusk and spill over the countryside.
Explored by Margarita from The Wildlife Diaries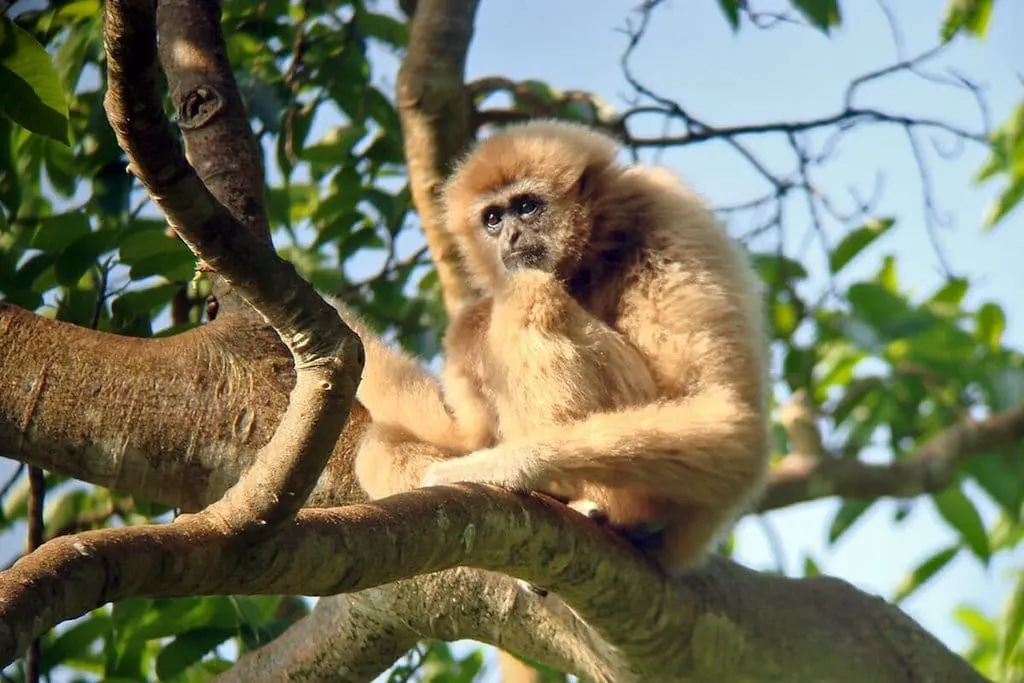 Siam Center
The Siam Center was first opened in 1973 and was one of the first shopping malls in South-East Asia, located near the Siam BTS Station in Bangkok, Thailand.
Today, renovated and rebranded as Siam Center The Ideaopolis, this mall is some to over 200 international and Thai brands and is still highly respected as a modern landmark of Thailand. A place where the elite of Thai society, along with wealthy tourists mingle, no expense has been spared in creating a monument to capitalism where art, fashion, technology, lifestyle, and entertainment fuse together.
You'll find hi-tech stores, glitzy gimmicks, and big brands along with interesting art exhibitions and local high-end designers. There is an animated Muay Thai boxing ring display, a giant fish tank, plenty of great food and drink outlets, and a 4D movie theater for those less interested in maxing out their credit card.
If you are looking to escape Bangkok's humidity for a few hours or looking for the latest fashion to wear out and explore the Bangkok gay scene by night, then the Siam center is the place to go.
Explored by Jack from Queer In the World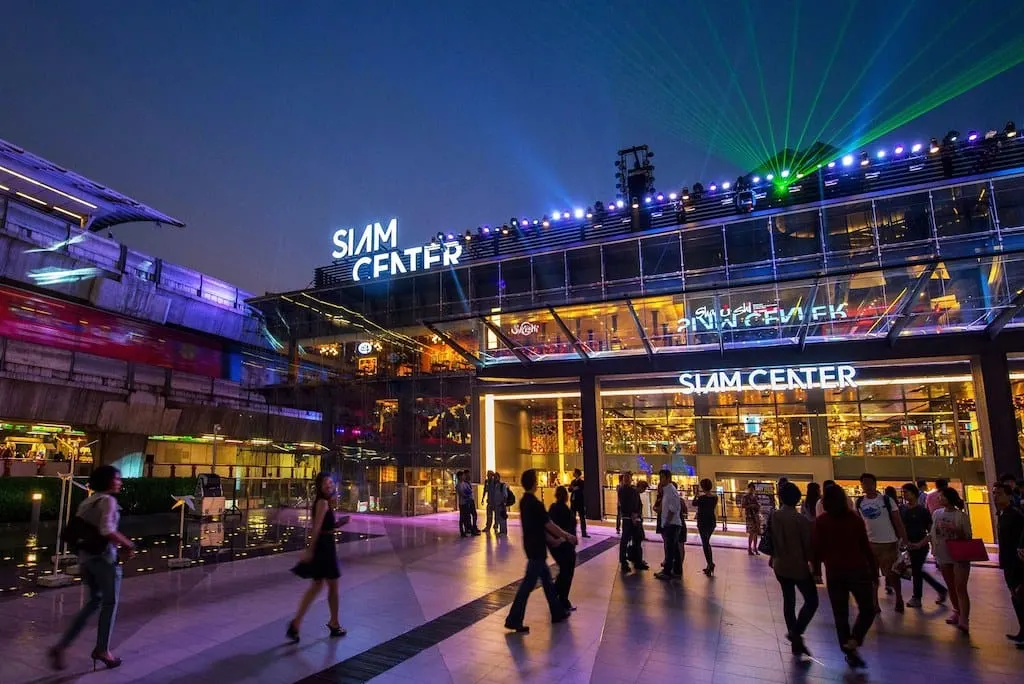 Wat Rong Khun (White Temple)
Wat Rong Khun, also known as the White Temple, is without a doubt, one of the most famous landmarks in Thailand. With its distinctive color, architecture, and decorations, it stands out from all other temples in Thailand.
The White Temple is located in Chiang Rai, in the north of Thailand. It's open every day from 8 AM to 6 PM, and the entrance fee is 50 THB per person. You can easily get there from the center of Chiang Rai with a Grab; the journey will be around 100 THB.
Wat Rong Khun is a Buddhist temple. It has some traditional characteristics of other Thai and Buddhist temples; however, it also has a lot of differences, starting with the lack of color. The temple also has some very unique decorations, such as the kinnara statues guarding the entrance of the temple or the hands reaching out from under the bridge.
My top tip for visiting Wat Rong Khun is to go in the afternoon. Being there at 8 AM won't help you beat the crowds since many people visit Chiang Rai on a day trip from Chiang Mai, and the White Temple is scheduled as the first stop on pretty much all of these tours.
Instead, visiting in the afternoon, just before it closes, and you'll not only get to enjoy the temple without the big crowds, but you will also see an incredible sunset. The sunsets right behind the temple, and you can snap some gorgeous photos without people walking around the temple.
If you're planning a trip to Thailand and want to see an iconic and unique temple, make sure to add Wat Song Khun to your itinerary.
Explored by Greta from Greta's Travels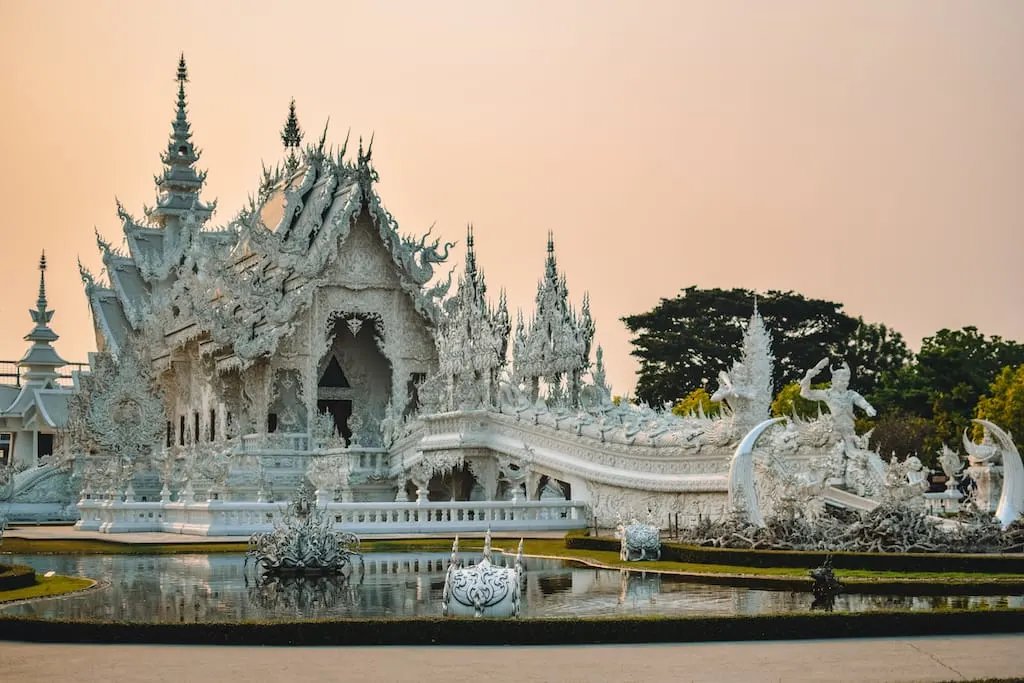 Phanom Rung Temple
The north-eastern region of Thailand, often better known as Isaan, is a lesser-known region of the Kingdom where you can often travel for tens or hundreds of miles without seeing much more than field after field. And landmarks are few and far apart in this part of Thailand. However, there are some rather fascinating sites following the borders of Cambodia and along what is known as the ancient 'Khmer Highway' leads from next door in Cambodia and connects to more revered Khmer temples such as Angkor Wat.
The largest Khmer Temple on the Thai side would be Phanomrung, located roughly 364km from Bangkok at the Phanom Rung Historical Park in Buriram. This ancient Khmer temple is dedicated to the Hindu God of Shiva, and it dates back to the days before Buddhism dominated the region. It also hosts a rather spectacular festival (The Phanomrung Festival) where each year locals celebrate the phenomenon where the sunrise aligns with the upper sanctuary of the revered temple.
The site itself is located on top of a now-extinct volcano overlooking the borders of neighboring Cambodia, and some of the more fascinating features include a walkway of stone pillars, a stairway bridge guarded by of 'Naga' serpents, leading to the top sanctuary of the ruins.
There is very little surrounding other than ancient trees and bamboo forests before it connects to the next part of the ancient highway at Prasat Muang Tham, which is found on lower, flatter lands and was used to collect water in "Ba Rai" man-made reservoirs to supply water to the nearby villages. To reach the area, it is best to travel to the small town of Nang Rong before organizing travel locally.
Explored by Allan Wilson from Live Less Ordinary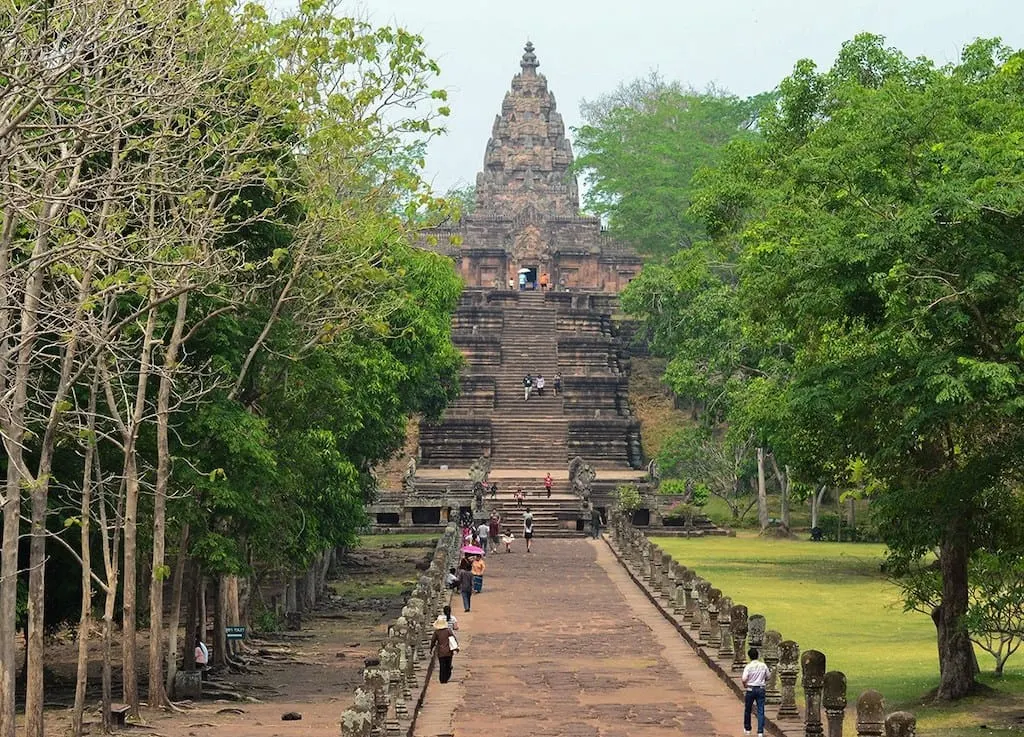 Na Muang Waterfall
The Na Muang Waterfalls are the largest and most spectacular cascades on Koh Samui. Their name, which means purple in Thai, refers to the unusual but beautiful purple shade of their rocks.
Located in the center of the island amidst lush scenery, the two Na Muang Waterfalls are at their maximum during the rainy season, from October to December, when you can admire the falls in their full splendor. But they're still very much worth visiting on the dry season as I did!
Most tours of Koh Samui include a stop here. Alternatively, you can easily get to the Na Muang Park by scooter or hiking off the main ring road between Lamai and Nathon beaches. On your way up, make sure to have a look at the spirit houses and spirit trees along the way – miniature temples and ornamented trees that provide shelter to the spirits of the land and are usually surrounded by offerings such as drinks and flowers.
From the parking lot, you'll first reach the big and striking Na Muang 1, with a wonderful natural pool at its feet where you can swim and cool off. If you're feeling adventurous, a further 30-minute hike along a slightly more challenging path will get you to the smaller but also lovely Na Muang 2. Appropriate hiking shoes are recommended if you're planning to explore Na Muang 2, though.
You can also bring food and drinks, or buy some snacks from the stalls at the entrance of the park, and enjoy a relaxing picnic amongst nature.
Access to the park and both waterfalls is free of charge.
Explored by Vanda from The Yogi Wanderer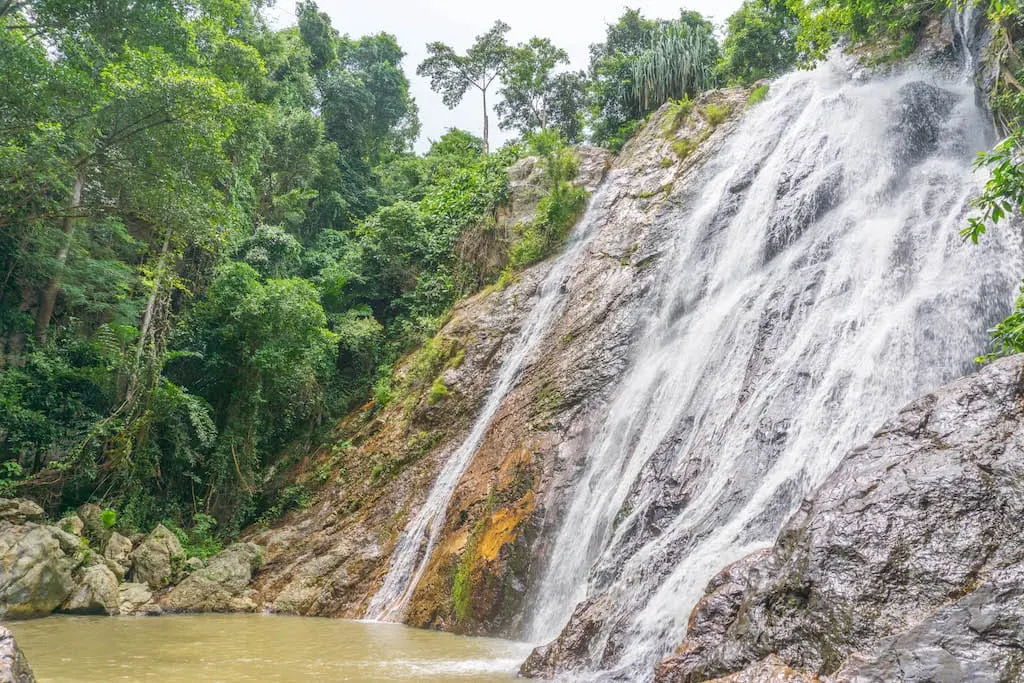 Wat Rong Suea Ten (Blue Temple)
Located a few kilometers north of Chiang Rai is the beautiful and unique Wat Rong Suea Ten or Blue Temple, as it is more commonly referred to. Its name translates to Tiger Temple, owing to the tigers that once roamed this part of Thailand. Construction was only completed in 2016. However, it has already become a recognizable Thailand landmark and an essential stop on any Chiang Rai itinerary.
While the temple is known as the Blue Temple, it is spectacularly decorated with a myriad of vibrant colors ranging from sapphire blues to emerald greens and deep indigo, all accentuated with opulent gold. Intricate carvings and artwork adorn both the exterior and interior of this lavish temple. All around the temple, there are many statues depicting various elements of Thai folklore and Buddhist mythology, with mesmerizing attention to detail.
There are many noticeable similarities between the Blue Temple and the more famous White Temple. This is due to the Blue Temple being designed by Putha Kabkaew, a student of the artist that designed the White Temple, Chalermchai Kositpipat. While the Blue Temple doesn't have any of the more obscure, darker imagery that the White Temple is renowned for, it does have a similar contemporary style.
It is becoming an increasingly popular attraction and is worth visiting either early in the morning or later in the afternoon to avoid large crowds. You'll find a number of vendors around the temple selling food and drinks at a reasonable price. The coconut ice cream here is particularly good and makes for the perfect refreshing snack!
Explored by Sophie and Adam of We Dream Of Travel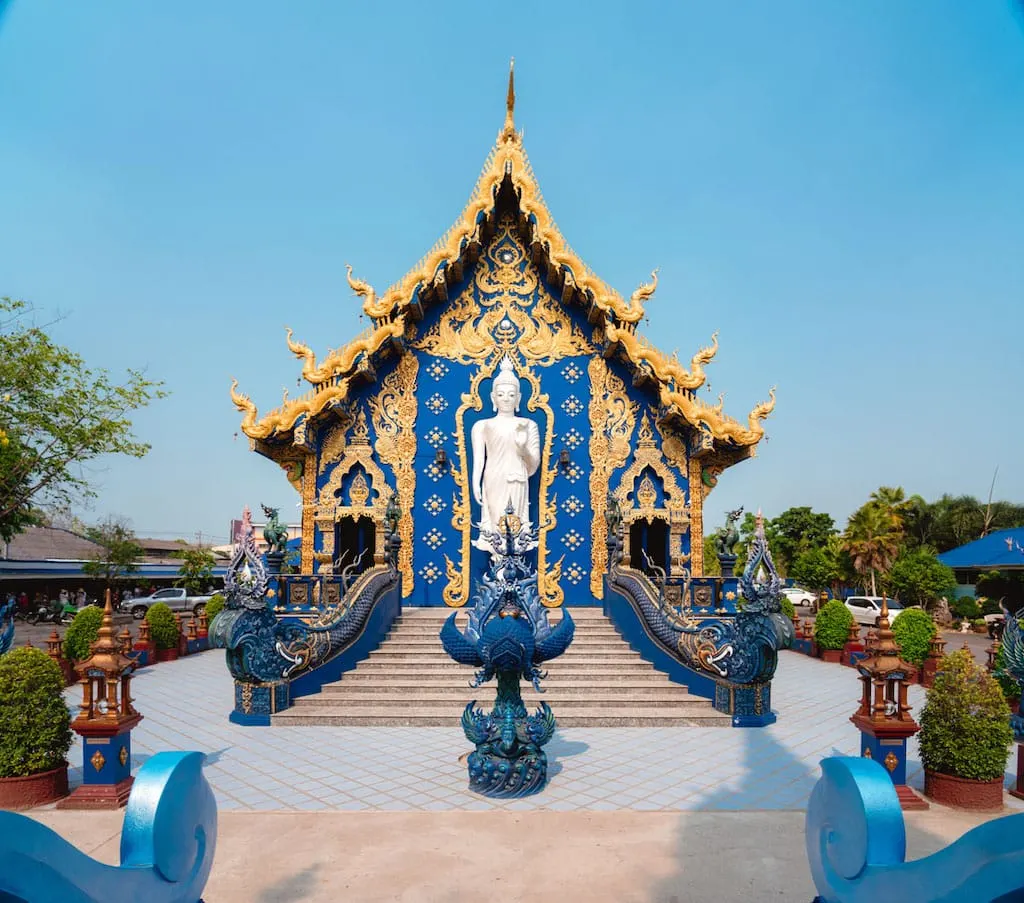 Koh Phangan (Bottle Beach)
Bottle Beach belongs to one of the most pristine and beautiful beaches of Koh Phangan, an island adjacent to the more famous Koh Samui.
It has everything you'd hope for in a tropical beach – a calm setting in a protected bay enclosed in a lush jungle, plenty of swaying coconut palms, and a low amount of people. While Koh Phangan is a popular island to travel to, especially because of its world-known fame when it comes to Full Moon parties, its beaches attract perhaps even more visitors.
The Bottle Beach is one of a few that are hard to reach, and it's also why it keeps the aura of being so pristine and paradise-like. To get to the beach, you either need to take a boat from the fishing village of Chaloklum (about 15 minutes) or hike. No proper roads lead there, so the only option to get there on foot is to cross the jungle.
There are two hiking routes to Bottle Beach – a 'jungle one,' which is shorter, takes about 1 – 1.5 hours to finish, and basically just crosses a hilly jungle terrain. The longer, 'coastal trail' takes you on a winding path closer to the coast and still through a jungle too. It takes up to 3 hours to finish it. I hiked them both and liked both equally!
I think the best way is to hike to Bottle Beach and then take the boat back. Spending a few hours at the beach is a lovely thing to do. There are in total four small resorts located on the beach, and each has their own restaurant too.
Explored by Veronika Primm of Travel Geekery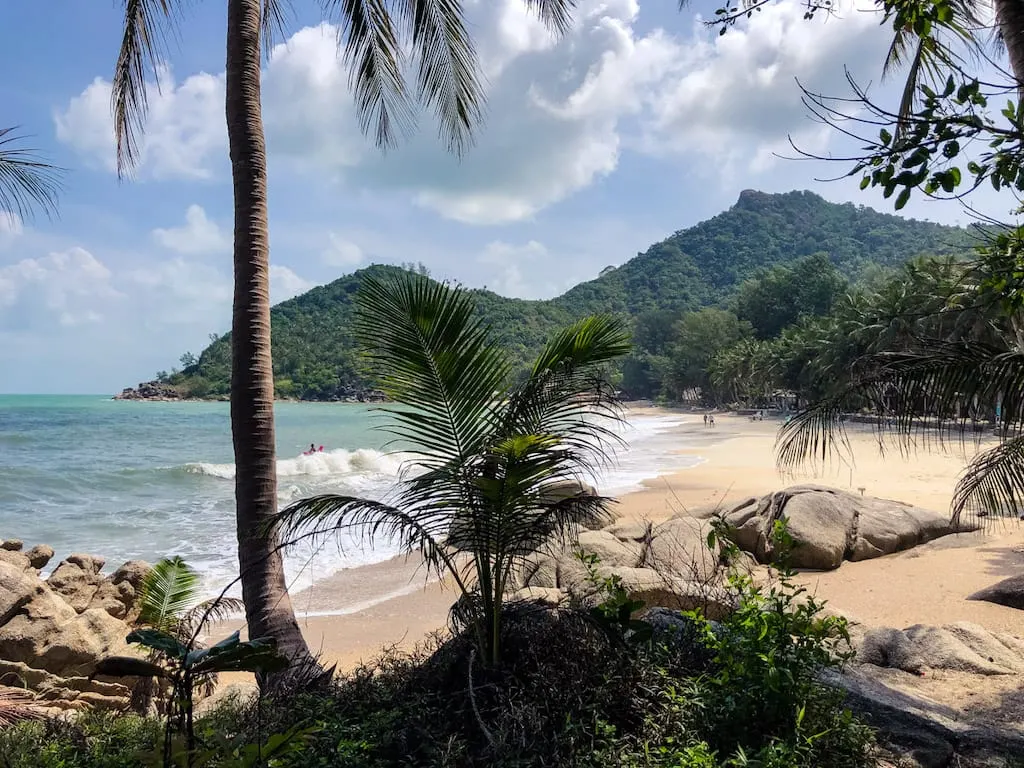 Wat Arun
Wat Arun, also known as The Temple of Dawn, is considered to be one of the most stunning temples in Bangkok. It is located in Bangkok Yai district, on the west bank of the Chao Phraya River. Its location makes the temple so wonderful at any time of the day.
Wat Arun's story is dated back to the Siamese Ayutthaya Kingdom (14th through 18th centuries). Taksin, a local general, lead reunification of the Siamese people and founded the Thonburi Kingdom (1768-1782), then rebuilt Wat Makok. The temple location was the same location as Wat Makok (within the village of Bang Makok). Then he renamed it Wat Jaeng, Temple of Dawn.
After Taksin was overthrown in a rebellion lead by Thongduang (royal name of Rama I), one of Taksin's former generals. He then established the Chakri Dynasty, which rules Thailand until this day. Rama relocated his palace to the opposite side of the river and abandoned the temple.
Rama's successor, Rama II, decided to restore the abandoned temple. He also renamed it Wat Arun, keeping the theme of dawn but connecting it with the homeland of Buddhism, India. The temple was finished by Rama III around 1847. Today, Wat Arun is one of the most iconic structures in Thailand.
Wat Arun opens daily from 8:30 AM until 6:00 PM. You can go to the temple by River Boat, Taxi, or even Tuktuk. When visiting the temple, make sure to wear over the knee and with sleeves clothes. Always remember to follow the rules and pay respect to the temple.
Explored by Roneth from The Fickle Feet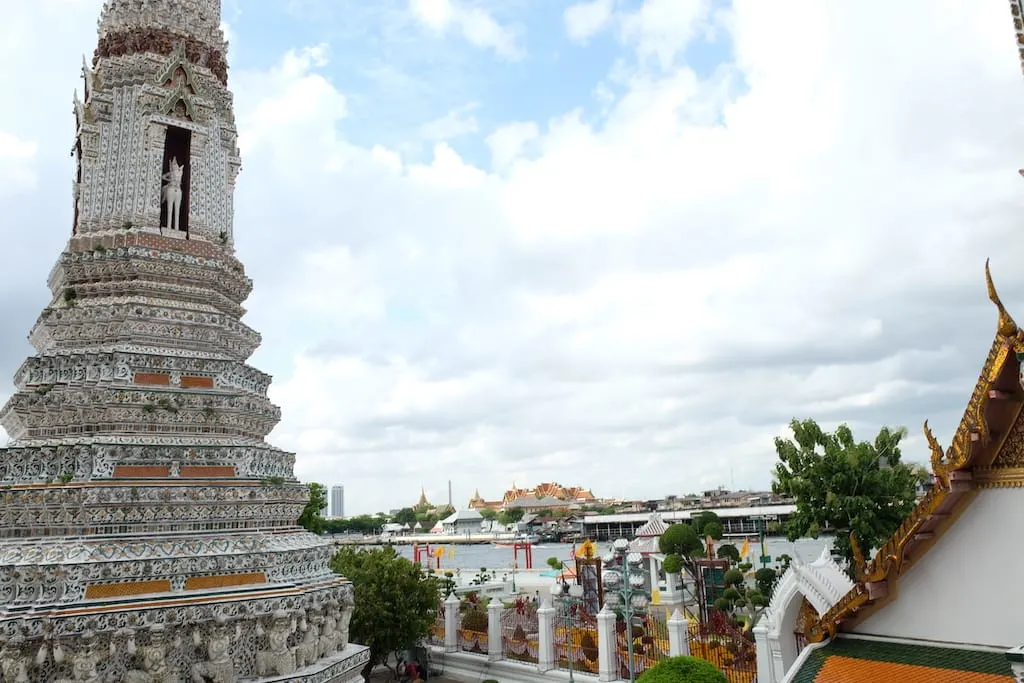 Cheow Lan Lake In Khao Sok National Park
When backpackers venture to the south of Thailand, they will often spend all their time hopping around the paradyllic islands with their white sands and blue seas. Whilst these are, of course, amazing, southern Thailand offers a true bucket list experience that isn't anywhere near the coast. Hidden in the beautiful Khao Sok National Park in the Surat Thani province of the country is the incredible Cheow Lan Lake.
This 185 sq. km artificial lake was formed in 1982, but the surrounding area remains relatively untouched, meaning it boats a magical range of biodiversity. In fact, Khao Sok National Park is home to 5% of the world's species and is renowned for being one of the oldest rainforests in the world at over 300 million years old.
The beautiful turquoise color of the Cheow Lan makes this an unmissable spot in Thailand and should be on any backpacker's bucket list. One of the best ways to explore the lake is by an overnight excursion, straightforwardly booked through your Khao Sok hostel.
Coco Khao Sok Hostel offers an overnight trip to the lake for 2500THB (approx. £61 – 2019 prices), which includes the 300THB national park fee. Accommodation for this trip is floating bungalows on the lake – very basic with just a mattress and mosquito net. Meals are included as well as long-tail boat rides, a jungle trek, kayaking, and swimming.
One of the most poignant activities is caving through Pra Kay Petch Cave to marvel at the mesmerizing stalagmites and stalactites. The sunset and sunrise boat tours during your trip invite you to enjoy the wildlife in the surrounding jungles. Nothing quite beats sitting in a secluded lake, watching the sunset, and listening to the distant whooping of gibbons.
Cheow Lan Lake should undoubtedly be the top of anyone's Thailand and Southeast Asia bucket list!
Explored by Emma from The World by Emstagram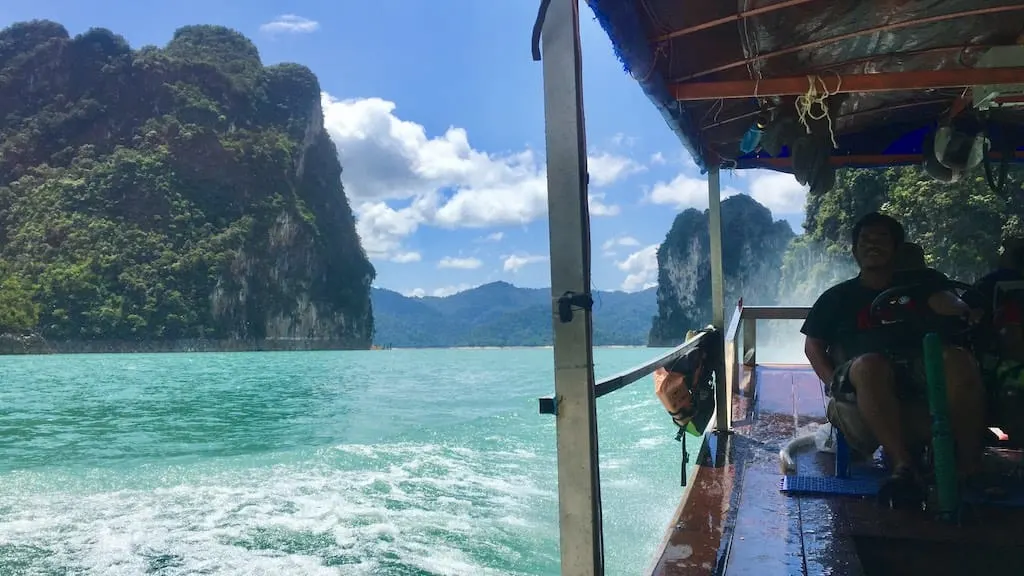 Pai Canyon
Pai Canyon is one of the most beautiful sunsets you'll find in the world. Also known as Kong Lan, you'll find the "canyon" about 2-3 hours north of Chiang Mai and 5 miles from Pai village.
Comprising a snaking network of spines and trails, some having drops offs of 100 feet on either side, this place isn't for the faint-hearted. You'll often find backpackers scrambling around the depths of the canyon at all times of day, but it's advised that you avoid the blazing sun by going before 10 AM or after 5 PM, especially during the hottest times of the year.
The canyon itself isn't all that large, and it doesn't take too long to explore, but the beauty of the area is best enjoyed at a relaxed pace, and sitting watching the sunset if you arrive later in the day. If you decide to visit to watch the sunset, it's best to get there a little early because it can get a bit busy, and you don't want to be scrambling with the crowds.
Getting to Pai Canyon is reasonably easy if you rent a scooter from the town. Just take Highway 1095 south towards Chiang Mai for 5 miles, and you'll find parking on the right-hand side of the road just after you pass Love Strawberry cafe.
If you're not too confident with driving in Thailand, you can organize a tour in town, usually consisting of a few other sites around Pai. Or you can barter with a Songthaew. If you're in Thailand, I'm sure you understand how they work by now.
Explored by Nick from Illness to Ultra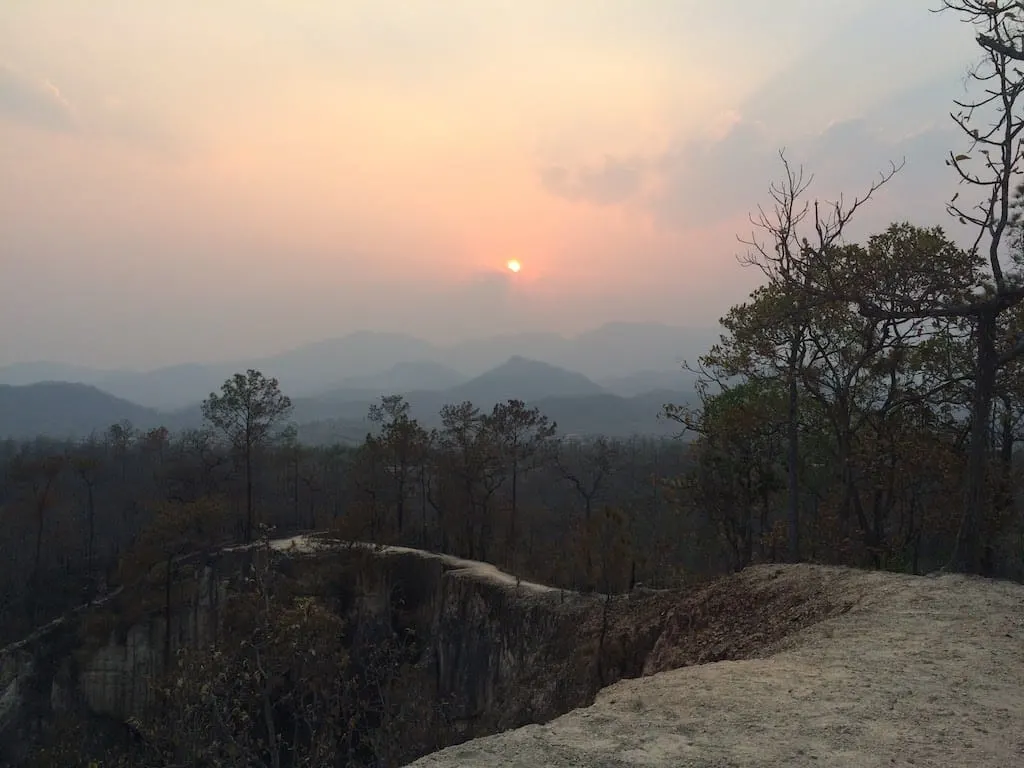 Hong Island
Hong Island is located in the Krabi province, in the south of Thailand. The island is blessed with impressive limestone cliffs, white sand beaches backed with a line of palm trees, and blue turquoise water- that makes this island one of the most beautiful places in Thailand. The island is accessible from both Krabi and Phuket. Most people prefer to visit Hong island from Krabi that takes around 20 minutes by speed boat or 45 minutes by long-tail boat.
If you love snorkeling, Hong Island is just right for you. You will see a wide range of colorful fish because of the crystal-clear water. The whole scenery is just picture perfect and for those who like to take pictures. If you are looking for a relaxing honeymoon in Thailand, you must not miss this island tour.
While visiting Hong Island, you shouldn't miss Hong Lagoon, which is another popular attraction of the Hong Island tour. The boat enters through a small opening in the rocks, and inside the lagoon, you will get surprised with a unique landscape of turquoise water and limestone cliffs.
The backdrop of the limestone cliffs, the stunning white powdery beach, and the turquoise waters make this place heaven on earth. The amazing combination of crystal-clear water and cliffs makes you able to take stunning pictures even without professional gear. There are a few local shops on the island and a lot to admire. It is really a relaxing place worth much more attention.
Explored by Trijit Mallick from BudgetTravelBuff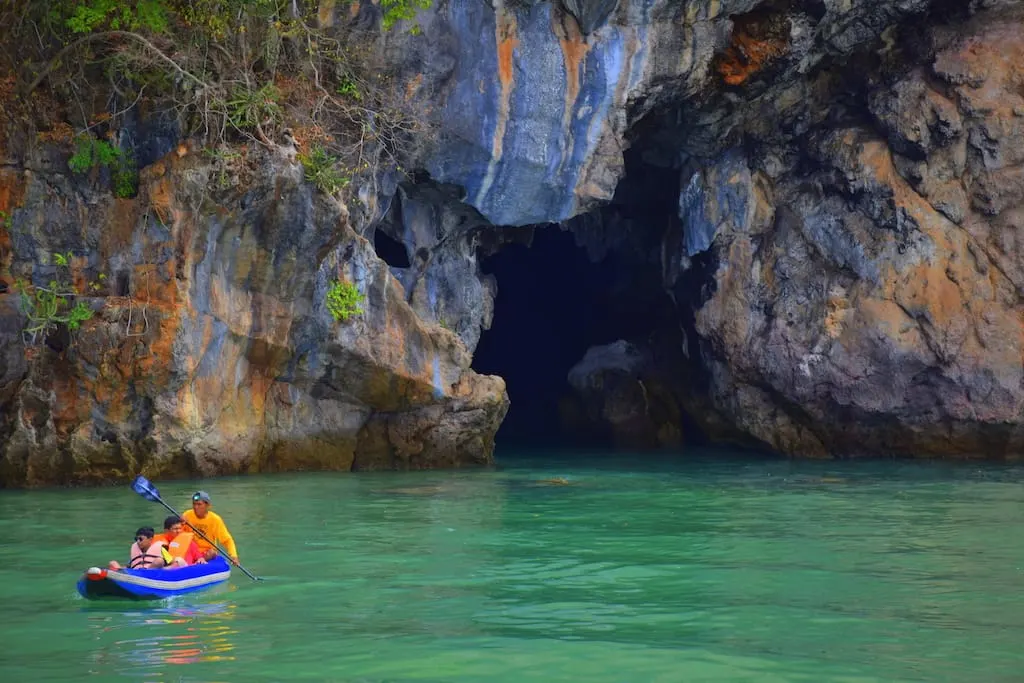 The Bridge On The River Kwai In Kanchanaburi
The Bridge on the River Kwai is a horrific tale of history from World War II. The bridge is the most notable structure of the Thai-Burma railway link, popularly known as the Death Railway.
In the late 1800s, the British surveyed to build a railway line between Thailand and Burma. The proposal was later dropped due to the rugged terrain and cost involved. During World War II, Japanese forces seized control over most of South East Asia. The Japanese decided to build the railway line by using thousands of allied prisoners of war and forced laborers.
The railway line, which was expected to take five years to complete, was finished in just one and a half years. Starvation, overwork, harsh weather, brutality, and disease killed many prisoners of war and forced labor. It's estimated that over 12,000 prisoners of war and 90,000 forced labor died during the construction of the railway line.
Today, the Bridge on the River Kwai is a popular tourist attraction. A must-see historical structure when visiting Thailand. The bridge was popularized by the 1957 movie The Bridge on the River Kwai. Even though the movie popularized the bridge, it was criticized for not depicting the events accurately.
The bridge is located in Kanchanaburi, about 3 hours away from Bangkok. Several buses leave to Kanchanaburi every day from the Chatuchak bus terminal in Bangkok. But, the most interesting way to travel to Kanchanaburi is by train. The train runs on the railway line that was a part of the original Thai-Burma link. The train to Kanchanaburi leaves twice a day from Thon Buri station in Bangkok.
The train goes beyond Kanchanburi to Nam Tok while passing over the bridge. Even though you can walk on the bridge, crossing the bridge on the train is a unique experience.
There are many war cemeteries located around Kanchanaburi. The most notable one is the Kanchanaburi War Cemetery, located right in the town near the railway station. It contains over 7,000 graves of prisoners of war from Australia, England, Dutch, and India that died during the railway construction.
Explored by Thirumal Motati from Visa Traveler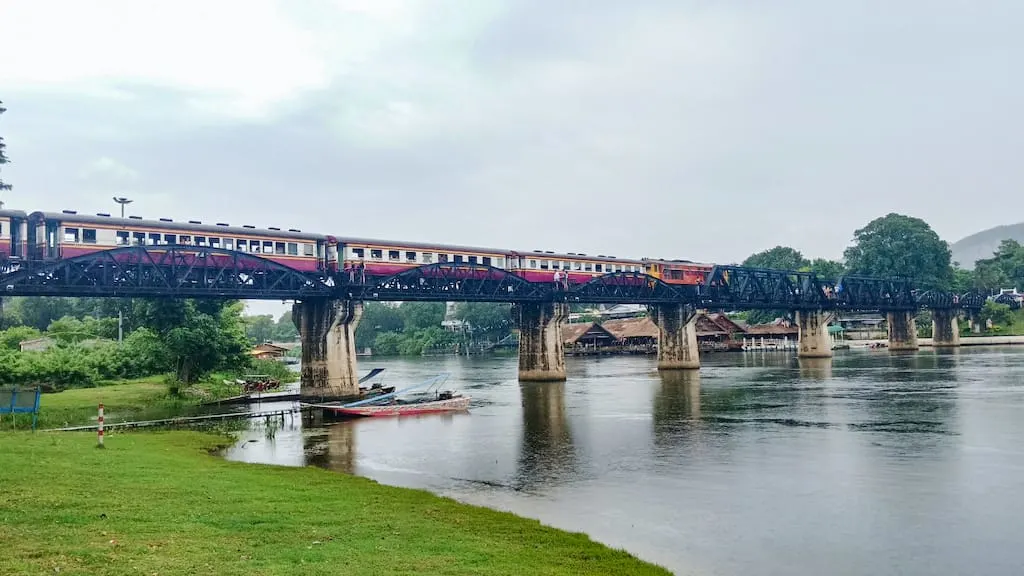 Buddha Park In Nong Khai
The main reason travelers visit Nong Khai is to cross the Thai Lao border. And few of them know what gem the city hides. Nong Khai's Buddha Park is one of the less famous landmarks in Thailand.
Sala Keoku in Thai, the park, is home to massive and bizarre sculptures inspired by Buddhism and Hinduism. There's a similar park in Vientiane, the capital of Laos. Both of them are created by a Lao citizen Luang Pu. He made the first one in Laos and the second after he escaped to Thailand due to a political matter.
However, the one in Thailand has more extravagant fantasy and bigger sculptures. Some of them even reach 25-meter height, particularly the one showcasing meditating Buddha under the seven-headed snake, which serves as his protector. With fewer tourists, you can visit this beautiful place in Thailand at your own pace and admire each sculpture in detail.
The most striking and memorable monument is the Wheel of Life, representing the life and death of a human, which then lasts permanently unless he/she enters the Nirvana and succeeds to leave that vicious circle.
Getting to the park is only available via hiring a tuk-tuk. Unfortunately, there is no public transportation to the park. Alternatively, you can rent a bicycle in town and bike towards the park. Do note, though, if you hire a tuk-tuk, the driver will be kind enough to wait for you or come back at the set time to take you back.
Explored by Baia Dzagnidze from Red Fedora Diary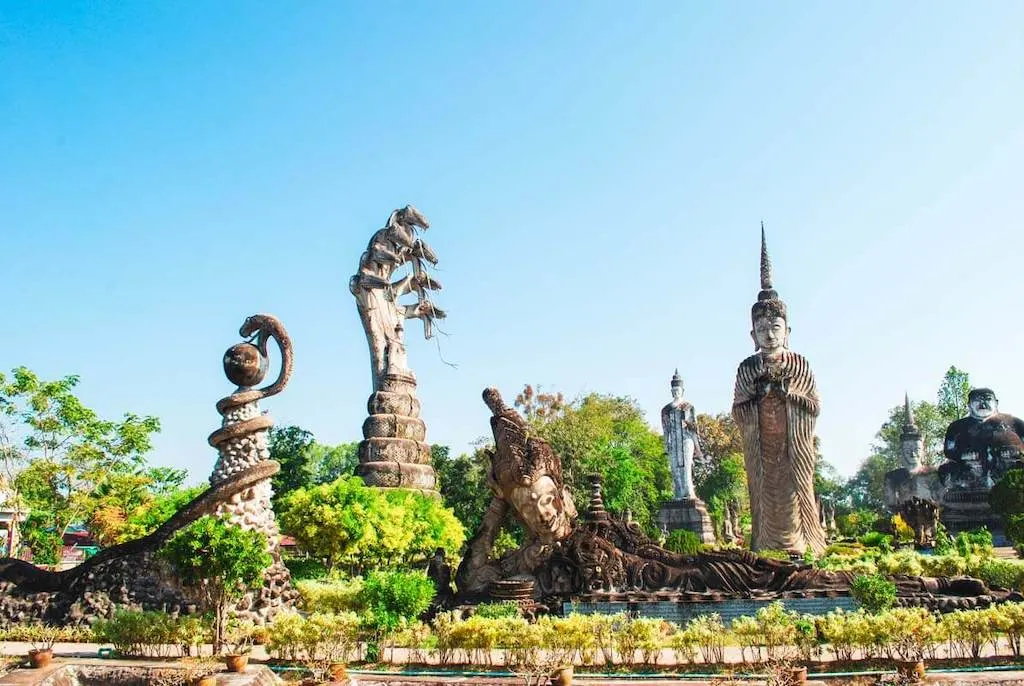 Erawan Waterfalls
Kanchanaburi is a town located near the western border of Thailand, next to Myanmar in an area rich in lush green jungle, with the River Kwai running through it. Things to do here include river rafting, jungle treks, elephant sanctuaries, and the Erawan National Park.
Erawan National Park is best known for numerous caves and an impressive seven-tiered waterfall. This is one of the most beautiful waterfalls I've seen in all of Thailand, because the water flows over seven different tiers of rocks and cliffs.
Essentially, you get to enjoy seven different waterfalls and wading pools within the one stretch of water. Every tier showcases its own unique shape and character, with varying heights of falls and small or large pools at the base.
The pools themselves under the waterfalls are a stunning milky blue and are home to tons of small fish who will definitely come to meet you as you swim. You will feel them on your feet and legs as they search for something to eat!
Erawan National Park covers over 500 kilometers of land, and the lush green forest covers over 80% of the park. Erawan Waterfall is located in the Tenasserim Hills and does require an entrance fee. The hike is fairly easy but does get steep in some places. Also, the humidity makes it slightly more, so start early in the day if possible.
Erawan Waterfall is a beautiful place full of caves, waterfalls, and lush hikes to spend a day or more exploring.
Explored by Monica from This Rare Earth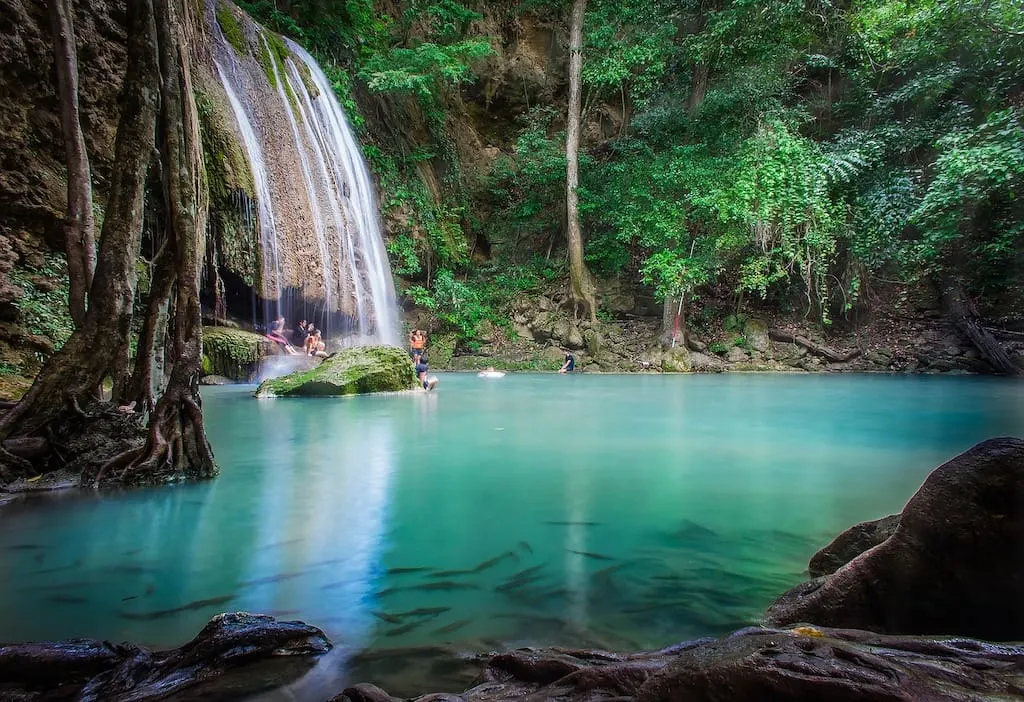 Wat Phra Doi Suthep (Gold Temple)
Probably one of the most inspiring attractions in Thailand is located in the city of Chiang Mai and called the golden mount temple or Wat Phra Doi Suthep. Located in the mountain areas above the city and just a short drive away, the temple sits on a bluff with gorgeous views of the valley and city below.
The Buddhist temple was built in 1367 and was abandoned and rebuilt several times. The entrance to the temple complex is guarded with intricated glass adorned snakes with a long staircase leading to the entrance. Once inside, you can enter all the various temples and golden center areas where an important Buddha relic is stored in a chedi or an Asian styled stupa where relics are stored.
The elaborate temple grounds contain many temples and places to get your fortune, ring bells, or just observe the many spiritual rituals that happen around the temple. The views from the observation points are quite spectacular, and you'll enjoy walking all around the complex grounds.
While visiting the Temple and other attractions in Chiang Mai, there are many other places to visit in Northern Thailand, from temples, small towns, the hill tribe areas to adventure experiences in the area. You'll love visiting this unique and exotic region of Northern Thailand away from the busy urban or beach areas in the south of the country.
Explored by Noel from This Hawaii Life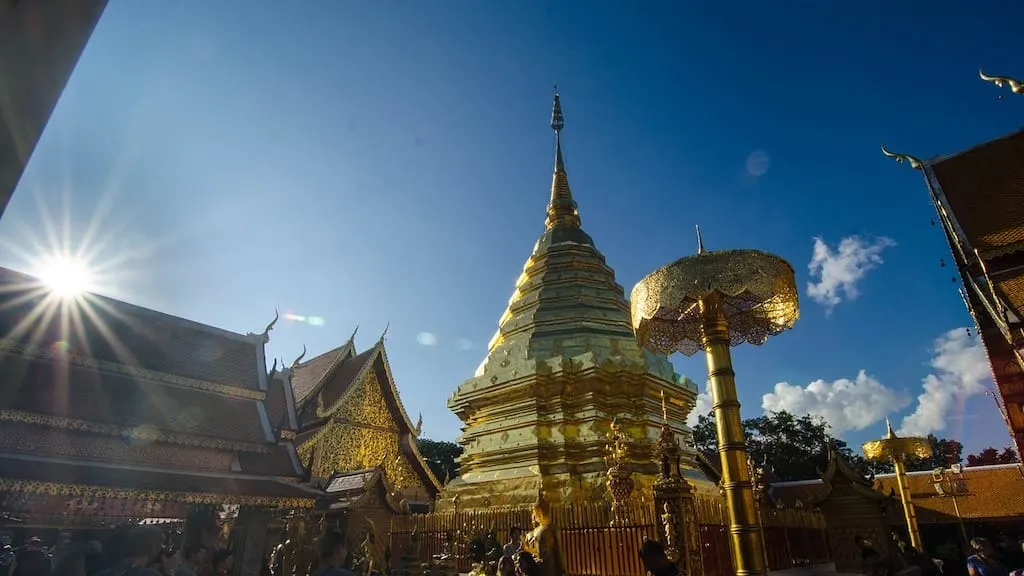 Chatuchak Weekend Market
Not only is the Chatuchak Weekend Market the largest outdoor market in Bangkok, but it is also the largest market in Asia. When you first arrive, you won't know where to look or go first. There is so much to see, from clothes to food to household goods.
The good thing is it is not an unorganized mess. Each section sells specific things and can be found on a map. So if you are looking for a whole new wardrobe, you can head to sections 2-6.
Prices range from inexpensive to expensive, depending on what you are purchasing. You can also barter, but some items are so cheap, you may not need to. Just make sure that you can carry all your purchases back to your hotel with you!
Make sure to take a shopping break to eat at one of the many street food stalls. You can get the standard Pad Thai or try the honey pork skewers. Don't forget to get dessert! There are dessert stalls all over, and one of the best things on a hot day was the flavored ice.
If you are in Bangkok for a longer period of time and want to enjoy fresh flowers, there is a flower market during the week from Tuesday to Thursday. Some of the weekend stalls will also be open those days.
Being in the market can be hot and tiring, so be sure to take advantage of the inexpensive foot massages offered throughout the market. You will be in massage heaven!
As it is called the Chatuchak Weekend Market, it is mostly open Friday, Saturday, and Sunday. Some vendors will also only be open on Saturday and Sunday. You can reach the market by taking either the BTS Skytrain to Mo Chit station or the MRT subway to Chatuchak Park station.
Explored by Tiffany Schureman from A Girl and Her Passport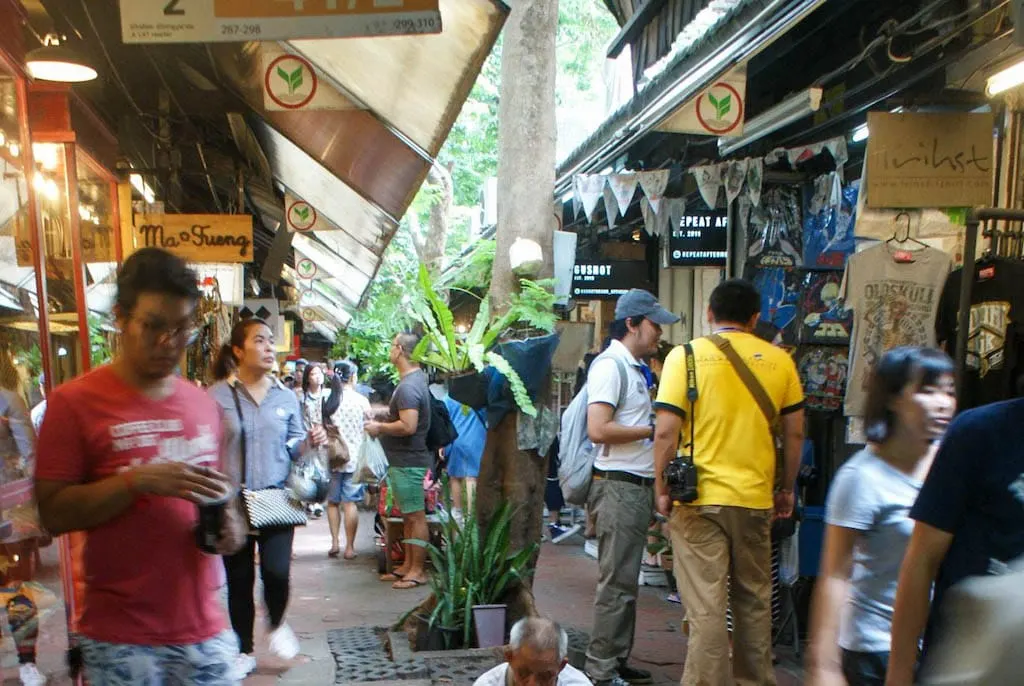 Maya Beach In Koh Phi Phi
Spectacular Maya beach is one of the most famous beaches in the world and a must-see natural landmark of Thailand.
Iconic Maya beach is the place where Hollywood' The Beach' blockbuster movie with Leonardo DiCaprio was filmed. Perfectly soft and white sandy Maya beach lies in turquoise and limestone karst-framed Maya Bay on paradise-like Koh Phi Phi Leh island. Exotic Koh Phi Phi Leh island is an uninhabited island that lies about 2 km from inhibited but also incredibly scenic Koh Phi Phi Don island.
Therefore, most of the visitors choose to stay on Koh Phi Phi Don and take a trip to Koh Phi Phi Leh. Heavenly Koh Phi Phi islands (Koh Phi Phi Don and Koh Phi Phi Leh) are a part of the amazing Hat Noppharat Tara – Mu Ko Phi Phi National Park in Krabi Province in southern Thailand. Needless to say, visiting the magnificent Koh Phi Phi islands, and witnessing striking Maya Bay, and majestic Maya beach are some of the best things to do in Thailand.
Maya Beach can easily be visited from Phuket and Krabi in a day trip by a speed boat or traditional Thai long-tail boat. Most of the visitors opt to stay on the tropical heaven of Koh Phi Phi Don and to take a long-tail boat or speed boat tour to Koh Phi Phi Leh. But the ultimate experience is granted taking a private charter speed boat or a private traditional Thai long-tail boat and escaping the crowds. Or for more adventurous ones, renting a kayak and cruising around the glorious Koh Phi Phi islands are go-for.
Sadly, world fame brought over-tourism to Maya Bay, damaging the natural ecosystem. Hence, Maya Beach is temporarily closed for tourists until mid-2021, when the growth of new corals, rehabilitation of the reefs, and final recovery of the ecosystem is expected.
If you want to see how a true tropical paradise and one of the most beautiful beaches in the world look like, keep an eye on the reopening dates of Maya Bay and Maya beach! Maya beach, Maya Bay, and Koh Phi Phi islands are must-see in Thailand!
Explored by Milijana Gabrić from World Travel Connector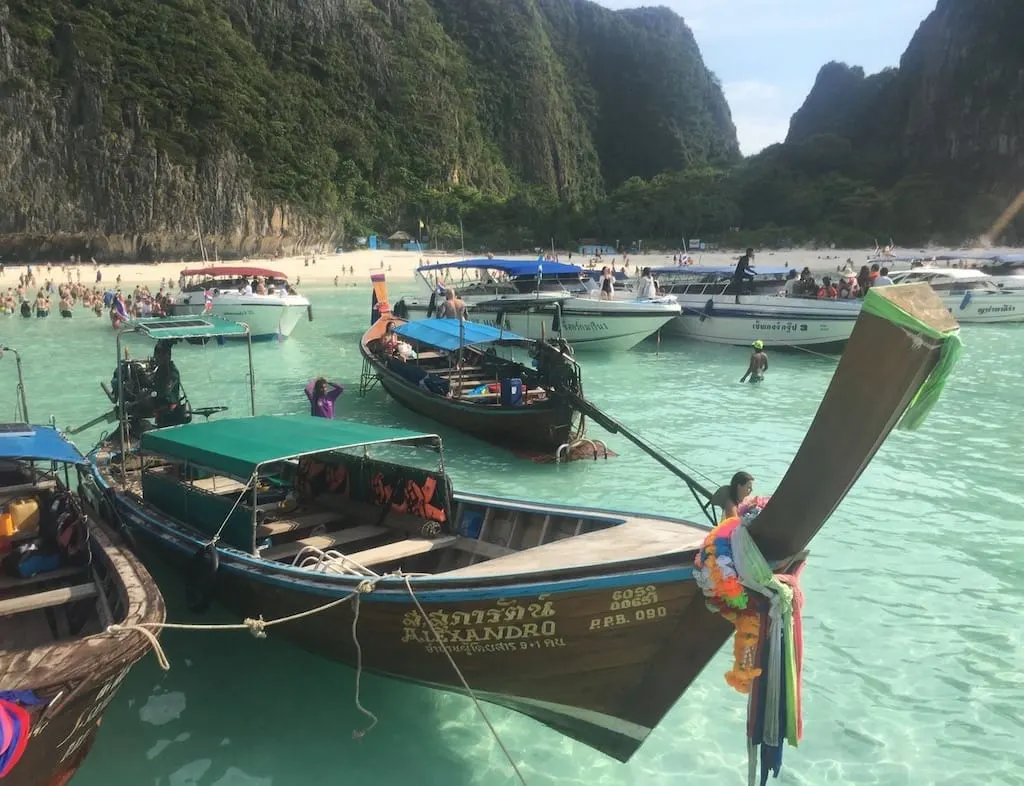 Grand Palace
The Grand Palace complex in Bangkok is ubiquitous to the city: a marvelous, sparkling set of buildings that served as the official residence for the Thai royal family from 1782 until 1925. Each building is sure to dazzle you– the attention to detail and the intricacy of the hand-carved mosaics; the mother-of-pearl doors and gilded columns; and the Emerald Buddha, considered the Protector of Thailand– are simply astounding.
To arrive, it's easy to take a Grab (Southeast Asia's ride-share app) or the BTS to the Saphan Taksin station, followed by the Chao Phraya River ferry to the Maharaj Pier stop. Tickets cost 500 baht for foreigners (about $15 USD) and include access to the outside of the complex, as well as the Wat Phra Kaew temple (home to the Emerald Buddha) and the Queen Sirikit Museum of Textiles. It is easy to buy your ticket at the entrance, but you can also purchase them online up to a month in advance here.
For an additional 200 baht, you can purchase an audio guide, available in 8 languages. Note that, similarly to the rest of the country and much of the region, appropriate attire is required to enter, and this is strictly enforced. Be mindful of what you choose to wear: shorts, sleeveless or cropped shirts, any clothing with depictions of the Buddha, or pants with holes in them are not allowed. We saw several people turned away at the entrance when we visited.
One last tip: as is the case for many popular tourist destinations in Asia and beyond, it is essential to arrive here early in order to make the most of your visit. We arrived at 7:45 for the 8:30 AM open time, and the line was already several blocks long. Due to the size of the complex, the line moves very quickly. However, you'll best enjoy the area (and get the best photos!) if you beat the crowds. If you can't go until the afternoon, the complex is open until 3:30 PM.
If you have a bit more time, be sure to pair your visit to the Grand Palace with the temples Wat Pho and Wat Mahathat, both nearby!
Explored by Tegan from Why Not Walk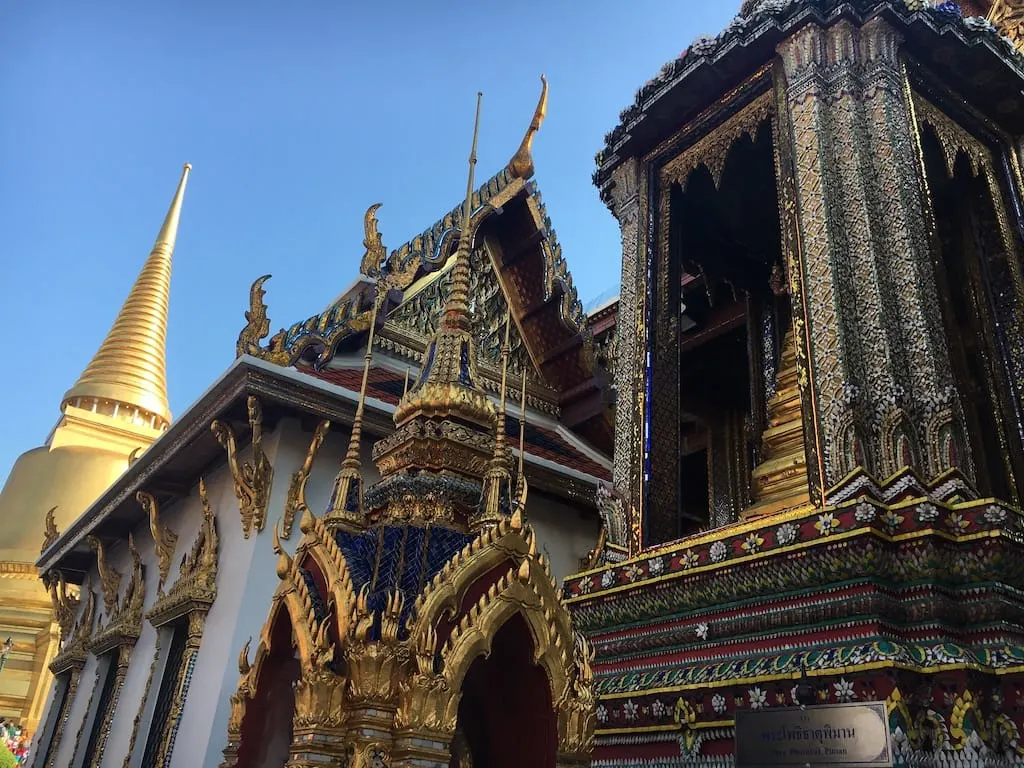 Wat Phra Yai (Big Buddha Temple)
Thailand is the land of Buddha statues, so it's not surprising most visitors flock to the Grand Palace in Bangkok to see another famous landmark in Thailand, the Emerald Buddha, but there's another buddha worth visiting too – Koh Samui's Big Buddha. It is one of the island's star attractions after all! Located on the north-eastern side of Koh Samui between Bophut and Choeng Mon, the Big Buddha sits on a small island called Koh Fan and is a tranquil place to wander around.
Soaring 12 meters (40 feet) high, it towers about the surrounding countryside and is part of a temple called Wat Phra Yai. The Big Buddha was constructed in 1972 and is decorated with the Buddhist wheel of life and dragon. One of the unique things about this Buddha is its pose, with its left palm resting on its lap and right hand facing down. The Mara posture represents Buddha's path to enlightenment and his success in avoiding temptations.
The complex has a couple of other Buddha images and stalls that sell religious icons. As a working temple, it's fabulous to see the Buddhist devotees paying homage by lighting incense and offering flowers and fruit. If you can make it, visit when the sun is setting for stunning photographs.
However, even if you can't get there at the end of the day, it's still worth going but keep in mind that there are steps to climb to get to the Big Buddha, and it can get pretty steam during the middle of the day.
Explored by Christina from Travel2next.com