Colombia is a case of "don't believe everything in the news." While it had its fair share of internal strife and the legacy of one Pablo Escobar, Colombia had made the more notorious parts safer for visitors to see past its former dodgy reputation. Who knew a Disney movie could do that?
But of course, if Rome was not built in a day, so was Colombia's reinvention of its less palatable reputation. In Medellin, where Escobar and turf wars and gangs once ruled, murals and street art now welcome tourists excited to ride the Metrocable to see what's beneath their feet. And that took decades to do.
Because of the stories that made their way to international media, few visitors realize Colombia has not one but two coasts facing two bodies of water: the Caribbean Sea to the north and the vast Pacific Ocean to the west, with only the thin strip of Panama in between. Even better, the more accessible island chains that are as idyllic as their Caribbean counterparts are less than two hours boat ride from Cartagena, another of Colombia's tourism treasures.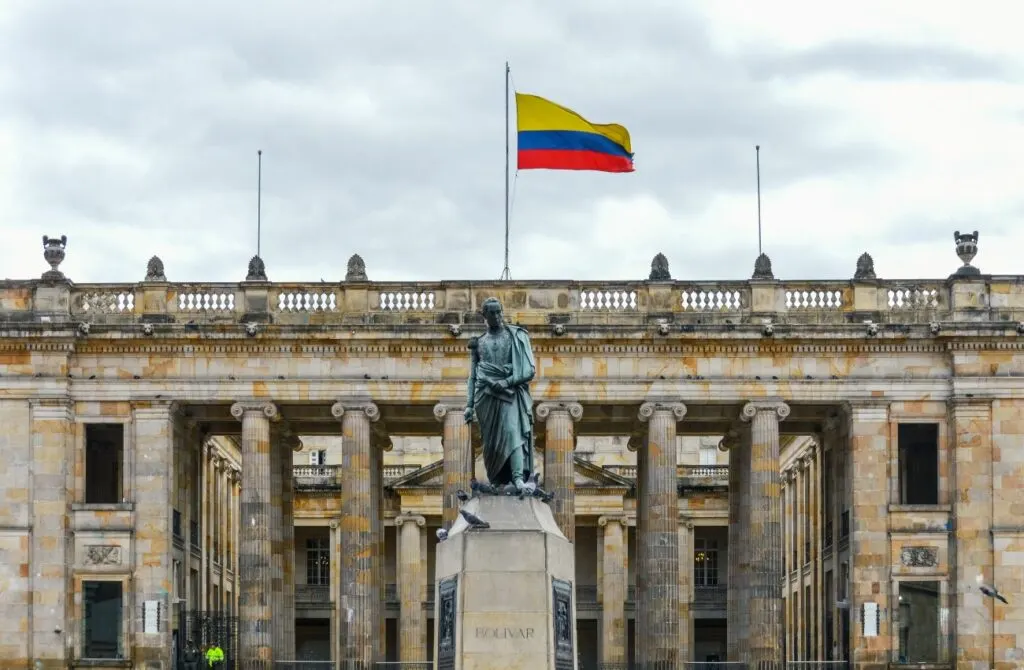 In the colonial past, Colombia's exports were gold and silver. Precious metals mined elsewhere in South America made their way to Cartagena to be stored and later shipped to Mother Spain. The Spanish built a fort to stave off pirate attacks.
And that's not counting the metals the indigenous peoples once possessed. Whatever remains of their treasures is still enormous – about a museum's worth. Visit the Museo del Oro in Bogota, and the thousands of gold artifacts there – breastplates, funerary masks, jewelry – will mesmerize.
No visit to Colombia would be complete without sampling its Arabica or Colombiana. If you want to get to the source, let the operators handle the logistics to connect you from anywhere in Colombia to Salento, the country's coffee cradle. Several 'estancias' here offer farm tours, coffee tastings, and even a chance to work up a sweat on one of the nearby jungle trails.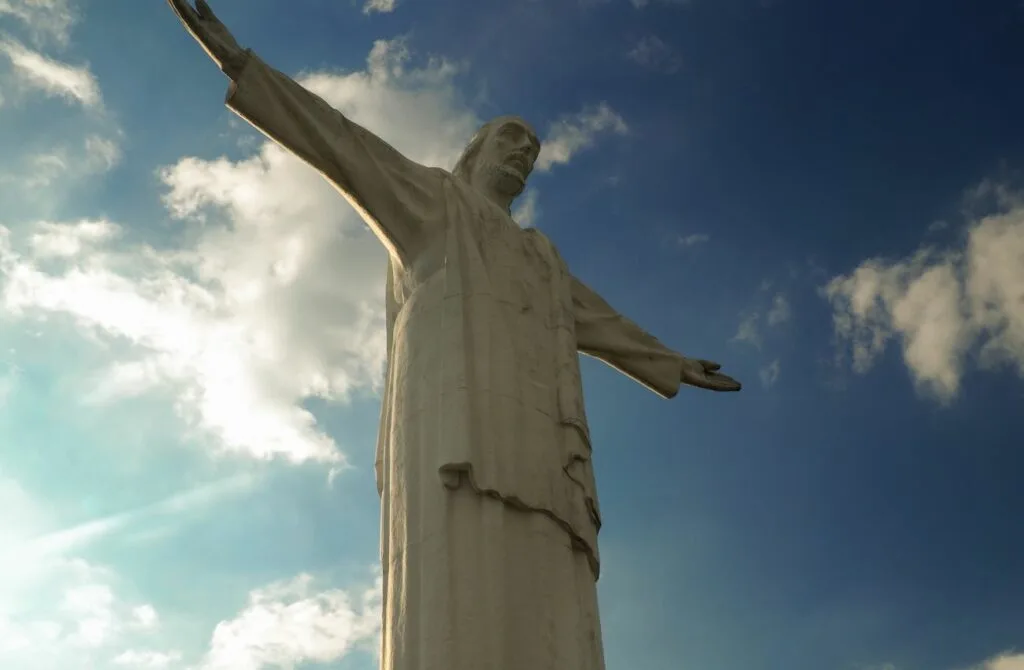 Like most countries in South America, public transport here, especially servicing the countryside, can get cramped and often leave only when full. Unless you want to share a 'colectivo' (minivan) seat with a chicken, you may want to take advantage of the more comfortable and faster transport options arranged by tour operators to get you from A to B fast and with as little drama as possible.
(Especially when you have less than a week to spare, public buses may take up to 10 hours to connect Medellin to Bogota, an experience you may have to endure rather than enjoy).
Things on the political front seem quieter now, but you'd still want to ensure your safety. The benefit of working with group tour operators instead of going at it independently is that you have a safety net in case things go south. You have someone to worry about how to keep you safe while you figure out how to have the time of your life.
Choose one of the tours below, and see where else it will take you.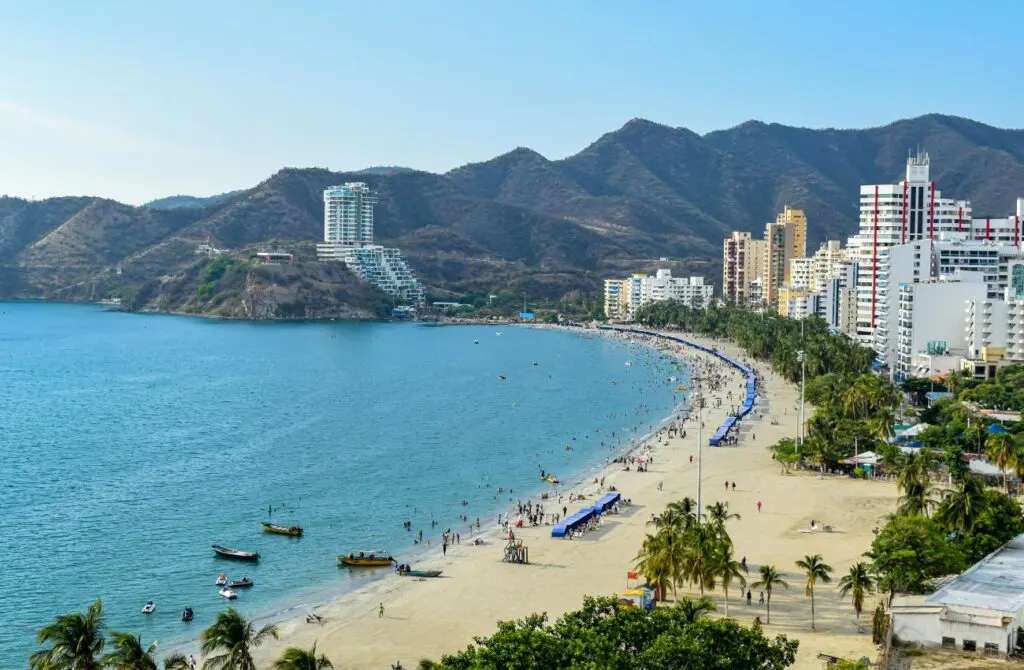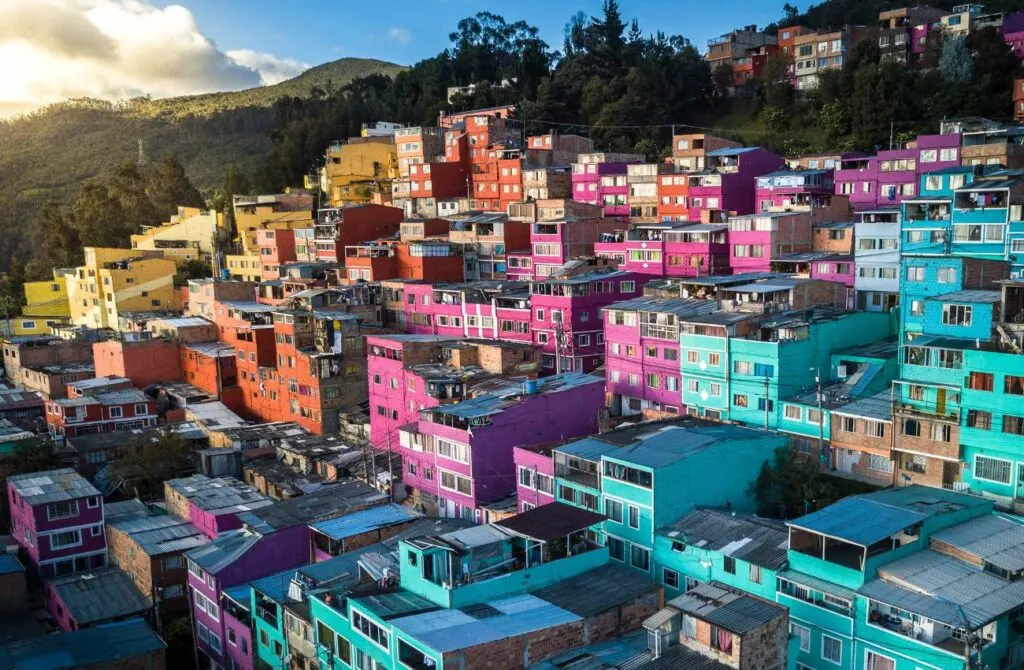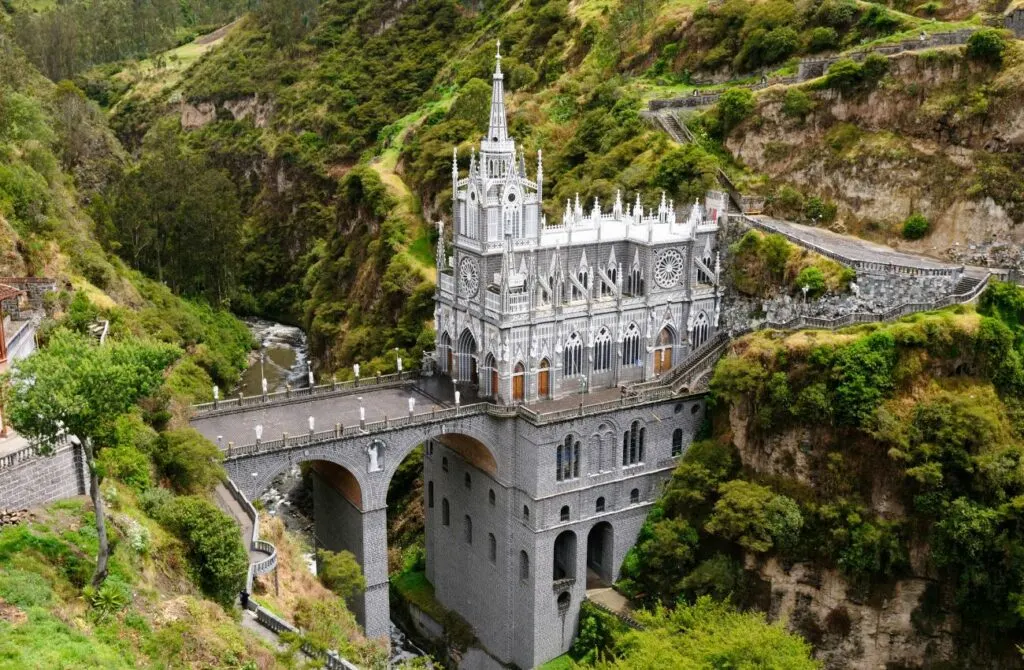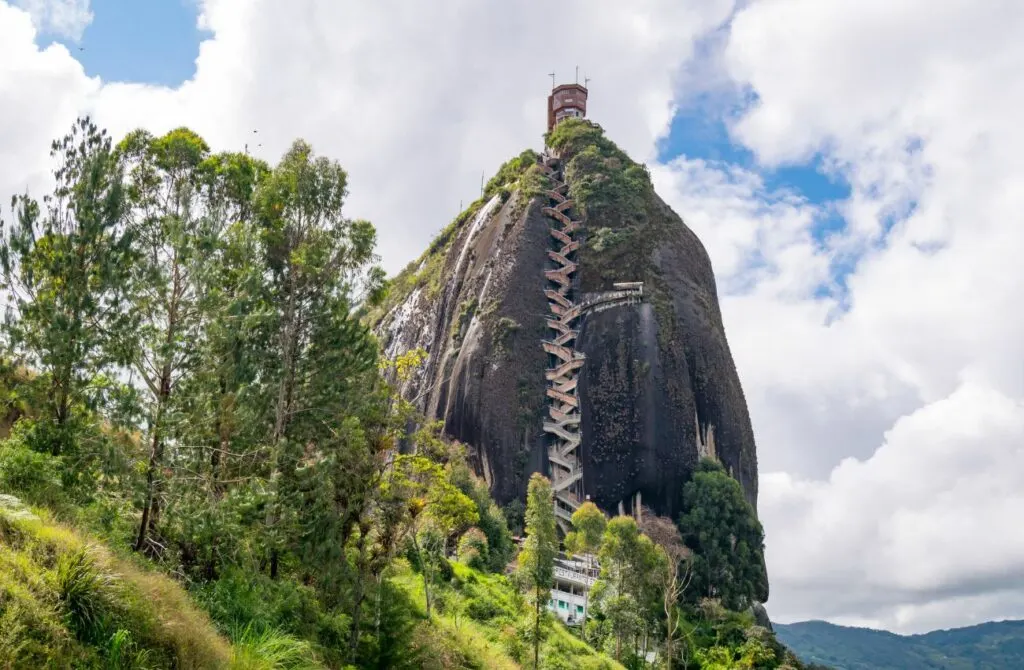 Location: Capital
Itinerary: Bogota
Group Size: 50
Age Range: 1 to 80
Physical Activity: Low
Operator: Receptivo Aborigen Tours
Length: 3 days
What to Expect
Big group guided tour of the Colombian capital to see, among other things, its literal cache of golden treasures.
Museu del Oro
Monserrate Hills
What the Experience Is Like
This 3-day City Tour will take you around the Colombian capital on Day 2, plus a visit to the Gold Museum, which houses a dazzling collection of pre-Hispanic goldwork. Take in panoramic city views, as well as other parts of Colombia on clear days, from the Monserrate Hills (3000+MASL), a sacred site for Colombians since ancient times.
Expect two nights' accommodation in a standard room with 2 breakfasts.
Building on its 30 years of experience as a travel service agency and a destination management company, Receptivo Aborigen Tours takes advantage of its network and experience in the hospitality industry to provide multi-sensory tours around South America, especially around Argentina.
In a nutshell
Enjoy Bogotá – 3 days is a quick introduction to Colombia through its treasure trove of a capital, Bogota.

Location: Northern Coast
Itinerary: Cartagena
Group Size: 30
Age Range: 1 to 99
Physical Activity:
Operator: Signature Tours
Length: 5 days
What to Expect
Big group, fully guided tour of one of the oldest and richest Spanish settlements in Colombia.
Walled Town
Caribbean Islands
Gabriel Garcia Marquez walking tour
What the Experience Is Like
Arrive at the international airport in Cartagena and transfer to your hotel. Enjoy the rest of the day at your Leisure. Embark on a half-day tour of Cartagena, starting with a visit to the San Felipe fort built by the Spanish to protect the city from pirate attacks.
Gold and silver from the mines of Peru and Bolivia were stored here before they were shipped to Spain. Stroll through the colonial Old Town, see historic buildings and churches, and admire the sunset from the city walls.
Venture out into the warm Caribbean waters of the Rosario archipelago, an hour away from the mainland. Dip in the azure waters of the Encanto Islands, where you may dive with a tank or snorkel to see colorful fish. Cap off with a walking tour to places that inspired Gabriel Garcia Marquez's literary works.
Four nights' accommodation in a 3-star hotel with breakfast at the hotel and lunch during excursions on Days 3 and 4. Vegetarian food options are available on request. The boat trip to the Rosario islands is shared with up to 30 people.
Signature Tours runs this Cartagena explorer. Building on four generations of experience and network in the industry, Signature Tours can get the best private guides and design carefully crafted itineraries to provide travelers with unforgettable trips and once-in-a-lifetime experiences.
In a nutshell
Discover Cartagena – 5 Days is one part history, one part literature; add Caribbean water and serve.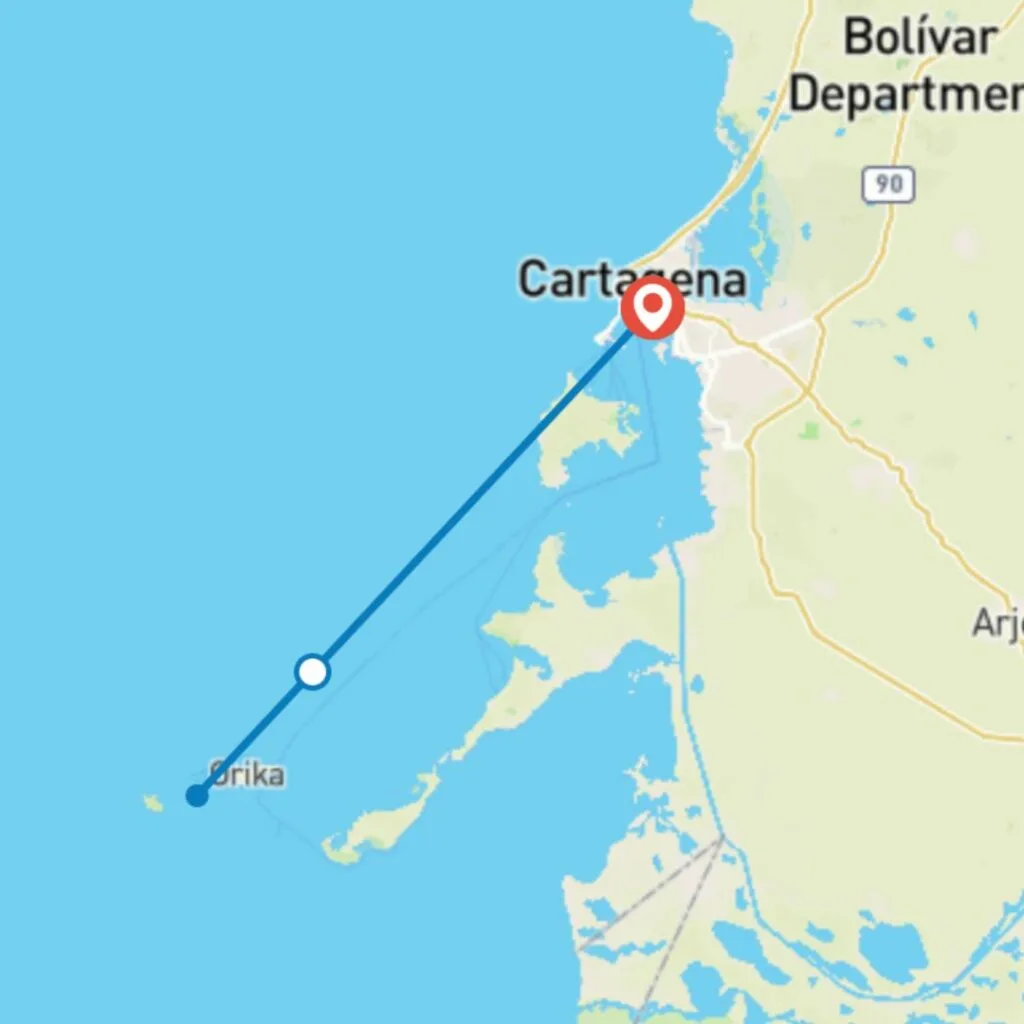 Location: Northern Coast to Central Colombia
Itinerary: Medellin – Cartagena
Group Size: 2
Age Range: 18 to 80
Physical Activity: The Colombian Trip
Operator:
Length: 6 days
What to Expect
A private, fully guided tour of central Colombia from mountain to coast – with just a touch of notoriety.
Commune 13
Guatape
Old Town of Cartagena
Caribbean islands
What the Experience is Like
Arrive in Medellin and transfer to your hotel. Breathe in the lush landscape and the surrounding mountains on your way to the hotel. Start your city tour with a visit to Comuna Trece or Commune 13 to see how it transformed from one of the most dangerous parts of the city to a thriving commune of the street art scene. Admire the murals and graffiti art as the Metrocable flies past to take you to a lookout point from where to contemplate the lay of the land.
See the Rock of Guatape, with an option to climb its 649 steps to take in the panoramic view from the top. Admire its colorful 'zocalo' or murals that adorn the buildings as you stroll around the 'pueblo.'
From Medellin, fly to Cartagena, once the Spanish fortress where gold was shipped from the New World to Spain. Marvel at its stone rampart, which repulsed many pirate attacks, its colonial houses lining narrow cobbled stone streets, its basilica and monastery, and the castle of San Felipe de Barajas.
(Look for the white flags in the murals and graffiti of Medellin's street art. Find out why in this Colombia is Magical Realism: Private Tour Medellín & Cartagena).
Round out your Colombian holiday basking on white sand beaches and in warm Caribbean waters on your trip to Rosario Islands, an archipelago of 27 Islands just an hour away off the coast of Cartagena.
Expect five nights' accommodation in 4-star hotels with five breakfasts and three lunches. A one-way domestic flight from Medellin to Cartagena is included. The tour guide is bilingual.

United States-based boutique travel agency The Colombian Trip takes pride in offering custom-crafted journeys that also allow their guests "flexibility to explore on your own terms." On tours, they employ experts in their fields and vetted guides that ensure passenger safety and comfort at all times.
In a nutshell
Add a splash of Caribbean in this weeklong holiday on a Private Tour of Medellín & Cartagena.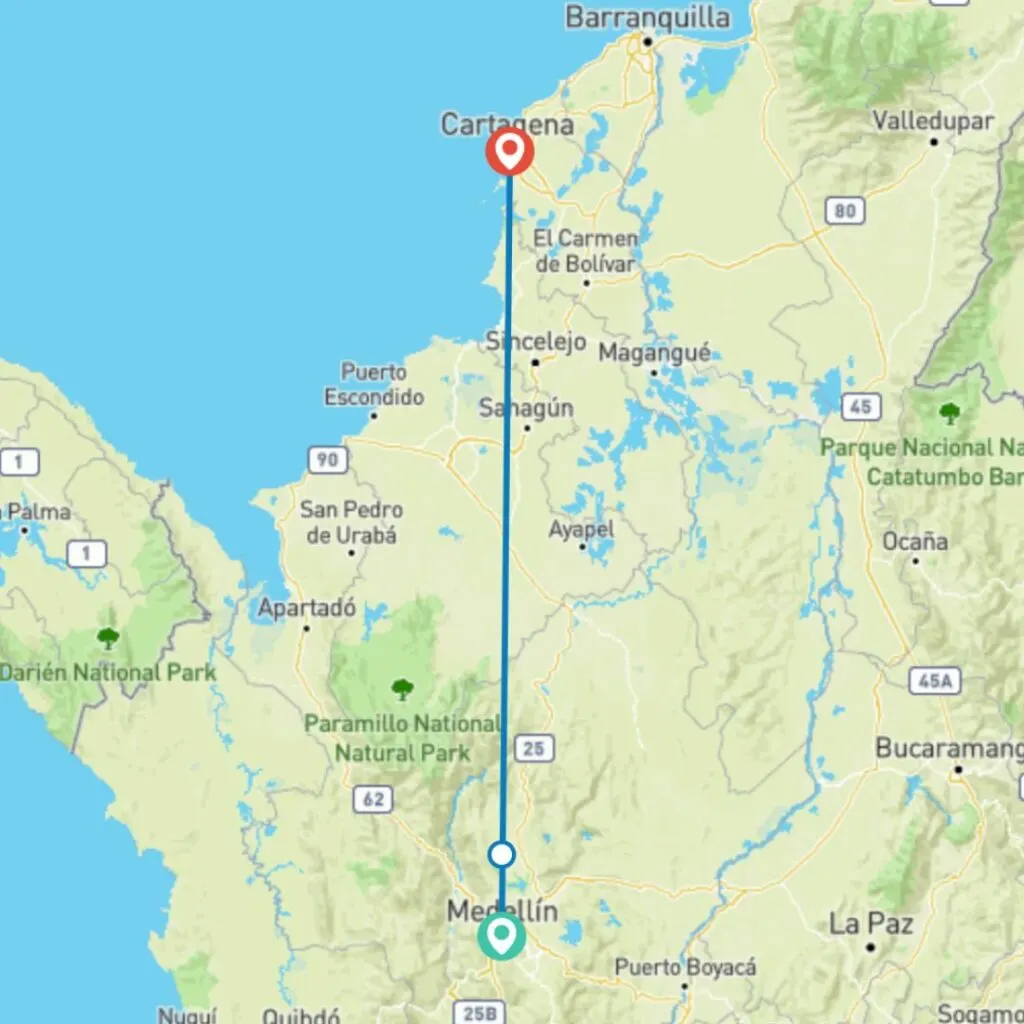 Location: Central Colombia
Itinerary: Bogota – Cano Cristales
Group Size: 6
Age Range: 7 to 70
Physical Activity: Low
Operator: GUIDEcuador Travel
Length: 3 days
What to Expect
Private, fully guided tour of the most beautiful 'liquid rainbow' on earth.
Caño Cristales
Caño Cristalitos
Caño Piedra
What the Experience is Like
From Bogota, fly to La Macarena and settle in at your hotel. Hop on a boat ride on the Guayabero River to get to Caño Cristalitos, a natural spa with smaller and equally clearer pools. Enjoy another boat ride on the Guayabero River and drive up to the Caño Cristales on a 4WD vehicle. Feast your eyes on the colorful algae that made the river popular. Take a dip in the natural pools of crystalline water, admire the waterfalls, and sit down for a well-earned lunch.
Round out the tour with a drive through the savannah-like scenery of La Macarena on the way to Caño Piedra, the mini and more accessible version of Caño Cristales. The trip ends with a flight back to Bogota.
Enjoy twin or double accommodation in a standard hotel with two breakfasts, two lunches and two dinners. Snacks and hydration are offered during the tour. Vegetarian, vegan, Halal and Jain food options are available on request. Health insurance for the Caño Cristales tour is included. Domestic flights are not included. The tour is operated in English and Spanish.
Headquartered in Quito, Ecuador, highly rated and oft-featured GUIDEcuador Travel specializes in offering well-balanced tours to destinations that are both well-known and off-the-beaten so guests get a fuller experience of the places they visit. They especially take pride in providing expert tour guides that are certified by the Ministries of Tourism of Ecuador, Peru and Colombia.
In a nutshell
Perhaps you were enchanted by that "river of five colors" you saw in that Disney movie? See its real-life inspiration in this Caño Cristales 3 days tour from Bogota.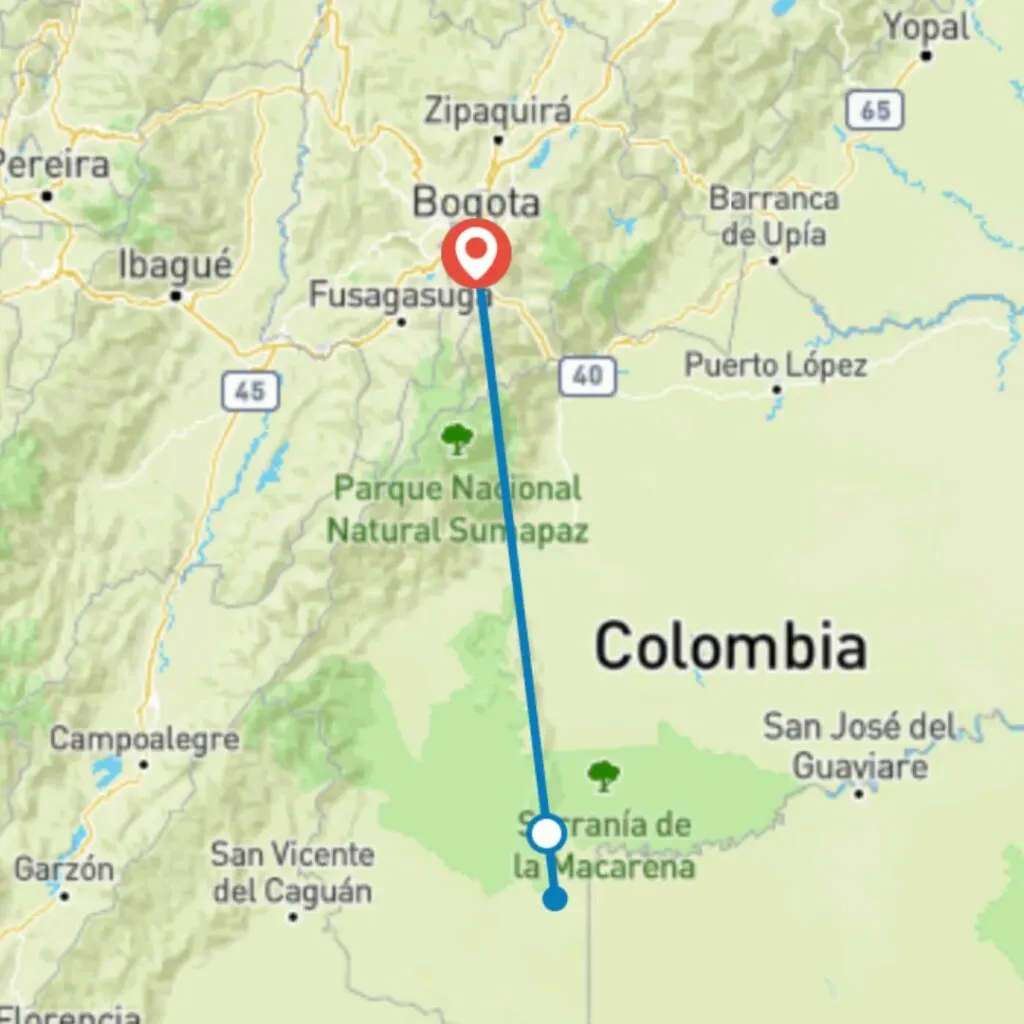 Location: Northern and Central Colombia
Itinerary: Medellin – Minca – Cartagena
Group Size: 20
Age Range: 18 to 39
Physical Activity: Medium
Operator: TruTravels
Length: 12 days
What to Expect
Big group, fully guided tour of Colombia's headline attractions from Colombian jungle to coast – with a Caribbean twist.
Commune 13
River tubing
Cartagena
Isla de Sucre
What the Experience Is Like
Settle in at your accommodation and meet new friends before going on a city tour of Medellin on Day 2. Visit Commune 13 to see how it transformed from a neighborhood with a notorious reputation to a place of colorful street art and neighborhood escalators. Breathe in the surrounding scenery on top of El Peñol Rock before visiting Guatape, Colombia's town of colorful 'zocalos' (window panels).
Leaving Medellin, fly into Santa Marta, your base for the next two nights. Venture deep into Minca on board local Jeeps, and soak up the surrounding jungle rich with wildlife and waterfalls. Dip into the refreshing waters while sipping cocktails at the river bar. Float on a tire tube in Rio Buritaca or stroll along the beach. Enjoy beers and bonfires tonight.
Drive down to the coast, enjoying the ride along the way in time for a marvelous sunset and well-deserved drinks in Cartagena. Hop on a boat out to Isla Baru just an hour offshore. Wake up with a Caribbean view amid a mangrove forest. Enjoy the day at your own leisure, either swimming, hiking, kayaking, or simply taking in your surroundings. Encounter marine life at Isla de Sucre after a private boat tour to the island's crystal clear waters.
(Colombia Uncovered is what it says on the label: the country's headline attractions, with enough space for parties in between.)
Leaving the island, head back to the Cartagena mainland before rounding out your tour with a walk around the Old Town, admiring the Walled City and its headline attractions like its colonial houses, monastery, basilica and the castle used by the Spanish to fend off attacks. Cap off your Colombian adventure with a cocktail in hand as your gaze follows the setting sun.
Enjoy 11 nights' accommodation in a combination of 3-star hotels and hostels, with three breakfasts and one lunch. Vegetarian food option is available on request. Airport pick-up is available up to 2 days before the tour.
UK-based TruTravels was started by two friends in their 20's in 2012, the same demographic they market to. They take pride in designing bucket list activities included in tour packages that have easy-to-manage payment plans and flexible date changes to ensure their guests have "life-changing experiences and game-changing travel."
In a nutshell
If time and dime are no object, this epic Colombia Uncovered adventure will take you to the top spots without skipping the essential – it's party time!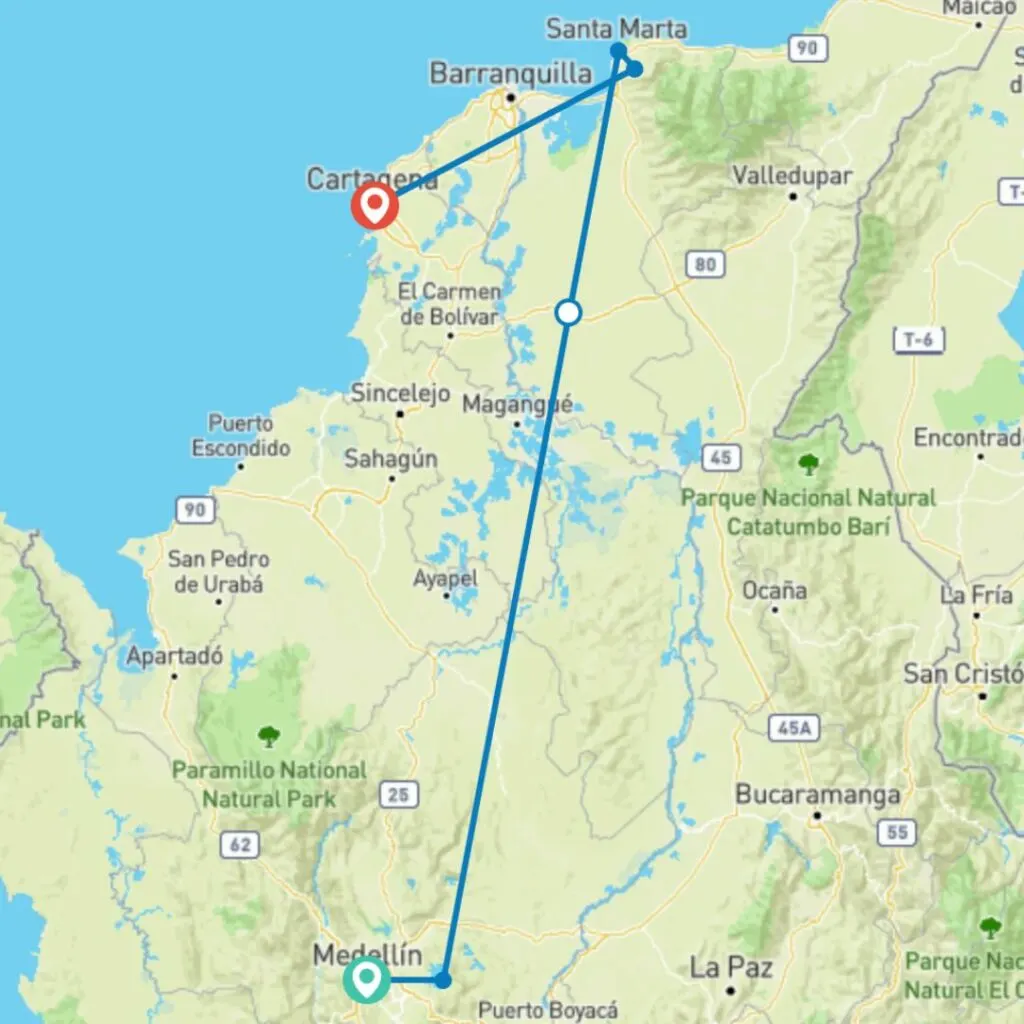 Location:
Itinerary:
Group Size: 10
Age Range: 16 to 99
Physical Activity: Active to Adventurous
Operator: OneSeed Expeditions
Length: 8 days
What to Expect
Small group, fully guided hike to Colombia's Lost City through dense jungle.
Five-mile treks a day
2600+ MASL
Archaeological site
What the Experience is Like
On arrival in Bogota, transfer to your accommodation and explore the city at your own pace before the welcome dinner. Leaving Bogota, fly into Santa Marta, Colombia's oldest city and premier Caribbean beach town.
Drive to the trailhead where your Lost City adventure begins, taking in the sights and sounds of the jungle on your hike to the first camp. Lace-up for a trek through the indigenous town of Mutanshi on your way to Camp 2. Take a refreshing dip in the cool, clear river along the way.
(Did you know? This Hidden Colombia trek takes you to ancient ruins that predated Machu Picchu by several centuries.)
Trace the ancient trail to Camp 3 on your way to the Lost City, crossing the river several times on your ascent. Weather permitting, make an attempt to the peak if you can muster the 1,200 steps. At the top, look around the ruins and imagine what the city might have been like in 800 A.D.
Retrace the trail back to Camp 2. Along the way, listen to the chirping of the parakeets, wade in the cool water, and cross several suspension bridges. Leaving camp 2, descend to Mamey under the lush canopy, and board the van waiting to take you back to Santa Marta. Sit down to a well-deserved farewell dinner before leaving the following day.
Accommodation for 7 nights includes two nights in Bogota, one night in Santa Marta, and four nights camping under basic shelter. All breakfasts, lunches, and dinners on the trek are included, as well as the welcome and farewell dinners. Vegetarian, vegan, Halal and kosher food options are available on request. Domestic round-trip tickets from Bogota to Santa Marta are included. All trekking permits and entry fees are covered.
This Lost City expedition is run by OneSeed Expeditions. Headquartered in Denver, Colorado, OneSeed specializes in offering trekking and multi-sport adventures around the world. To support its goal to "invest in people," OneSeed hires local guides, supports local entrepreneurs and economies, respects local communities, and practices "leave no trace principles" to protect the environment.
In a nutshell
Hidden Colombia takes you away from the usual tourist circuit and right smack into a civilization that vanished more than a thousand years ago if you have the leg power to do it.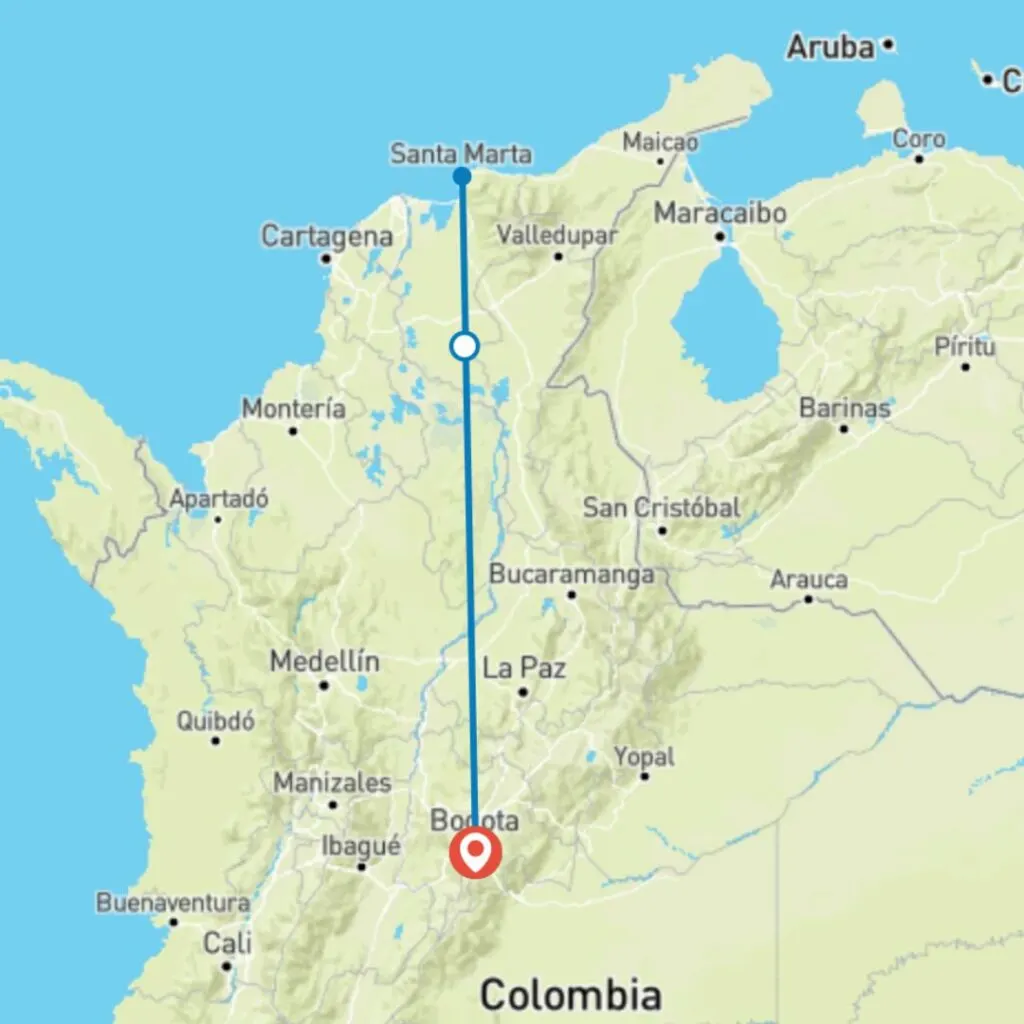 Location: Northern and Central Colombia
Itinerary: Bogota – Cartagena
Group Size: 12
Age Range: 15 to 99
Physical Activity: Active
Operator: Intrepid Travel
Length: 9 days
What to Expect
Small group, fully guided tour through one of Colombia's coffee regions, bookended by partially guided city tours.
Bogota orientation walk
Cocora Valley hike
Coffee plantation tour and tasting
Medellin cable car ride
Cartagena self-guided city tour
What the Experience Is Like
Get to know the Colombian capital on an orientation walk of Candelaria before the formal welcome meeting at 6:00 PM. Continue on your city tour with a visit to the local market for a curious look at the exotic fruits. Leaving the capital, fly into the coffee-growing region of Salento for a stroll through its charming streets lined with the distinctive 'paisa' architecture typical of the region.
Embark on a local jeep ride to the Cocora Valley, taking in the sights as you amble under towering wax palm trees. The more adventurous may want to hike to the Acaime Reserve, the feeding ground of hummingbirds.
Otherwise, explore the Cocora Valley at your own pace before heading back to town. Travel into Colombia's coffee region, which will be your base for the next two nights. Join a guided tour of the coffee plantation to see the journey of the bean to cup, rounding out the experience with a tasting.
Leaving the coffee-growing region, take a public bus going to Medellin. Go on an orientation walk, take a cable car ride up to Santa Elena to admire the lay of the land, and learn how a 'barrio' transformed into a safer environment. Enjoy some time in one of the lively salsa bars and see more of Medellin at your own pace.
(Understand why Colombia is one of the largest coffee producers in the world in this Cafe Colombia tour.)
Fly to Cartagena, one of the oldest Spanish settlements in Colombia. Understand how the Walled Fort, listed as a UNESCO site, deterred pirate attacks who wanted a share of Cartagena's gold and silver for shipment to Spain. Head out to town for a mud bath or to Playa Blanca to bask in Colombia's Caribbean charm before saying goodbye.
Expect six nights' accommodation in standard hotels and two nights' accommodation in a coffee estate. Day rooms may be shared with other guests until all rooms are available for check-in. Enjoy 8 breakfasts, 2 lunches and 2 dinners. Vegetarian, vegan, Halal and kosher food options are available on request. Transportation is a combination of private vehicles, local buses, and planes. (Only domestic tickets are included.)
With over 30 years of travel industry experience, Australia-based Intrepid Travel specializes in offering small group tours to ensure their trips respect local cultures, are ethical and gender-sensitive, and are environmentally sustainable.
In a nutshell
This Cafe Colombia tour is specially designed for coffee lovers who equally like culture and a cosmopolitan vibe.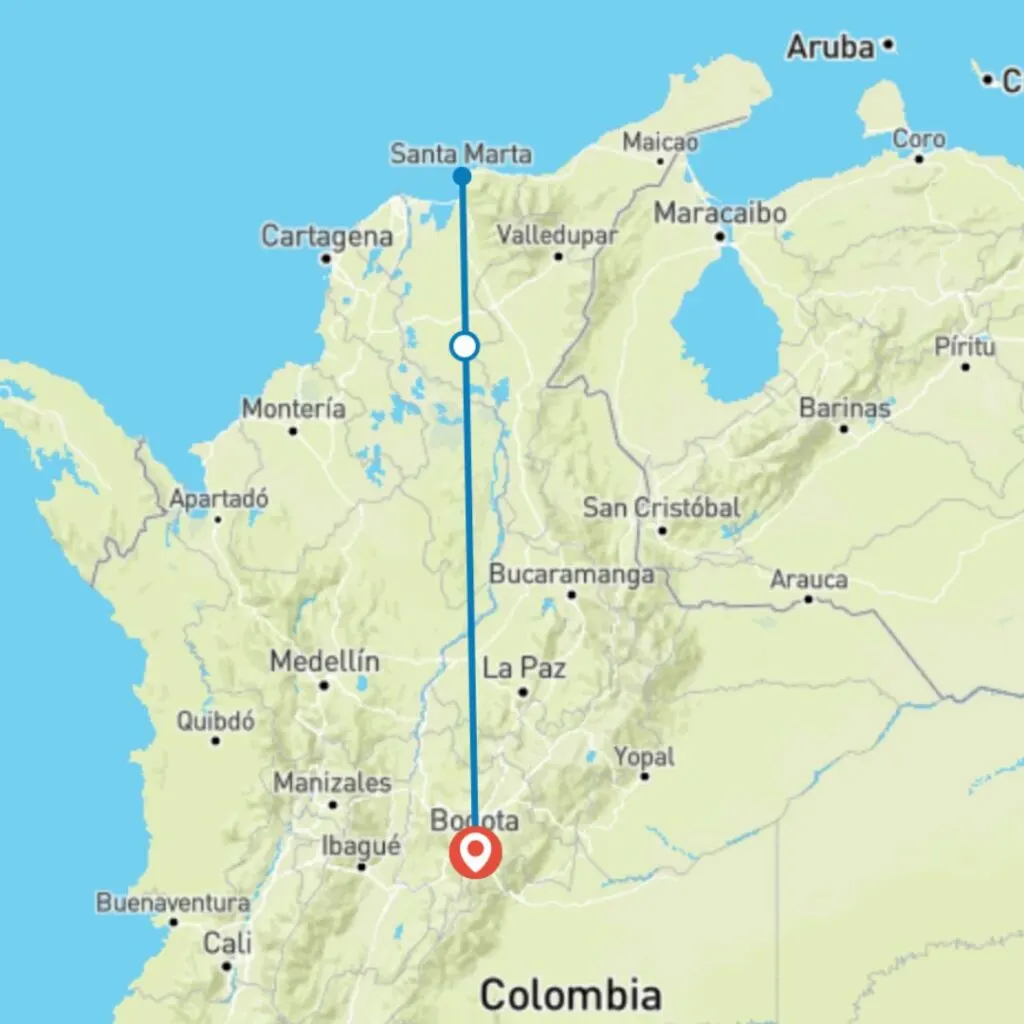 Location:
Itinerary:
Group Size: 16
Age Range: 12 to 90
Physical Activity: Active
Operator: G Adventures
Length: 9 days
What to Expect
Big group, fully guided tour of Colombia's "coffee cradle" with a stay in a "hacienda."
Self-guided city tours
Coffee farm tour
Hacienda stay
What the Experience is Like
Meet your chief experience officer and group in a welcome meeting tonight in Bogota. Explore the local market before flying into Armenia, one of Colombia's coffee-growing regions, and your base for the next two nights. Explore the town before joining a coffee farm tour in the Calarca area.
Lace-up for a hike through the Cocora Valley before heading out to Salento, another coffee-growing region, where a full coffee experience awaits. Leaving Salento, drive to Medellin and go on an optional city tour on arrival.
Learn how the city rebuilt its notorious reputation to become city safer for visitors. Enjoy the rest of the day discovering Medellin at your own leisure. Admire Medellin and the surrounding mountains from on high on an optional cable car ride.
(This Colombia Express tour combines the charms of Colombia's capital, colonial city and coffee region and an incredible story of reinvention.)
Continue on to Cartagena, arriving in time for sightseeing around the Old Walled city bathed in the setting sun. Tonight, opt for a dinner and a night out in one of the oldest Spanish settlements in Colombia before saying goodbye.
Expect 6 nights' accommodation in a hotel and two nights' accommodation in a 'hacienda' hostel. Eight breakfasts and one lunch will be served. Vegetarian, vegan, Halal and kosher food options are available on request. All internal flights are included. Transport is a combination of walking, private vehicle, 4WD vehicle, public bus, and planes.

G Adventures is a highly-rated travel company who specializes in offering small-group adventures for nearly three decades. They encourage travelers to "Dream big. Travel small." allowing solo travelers to join the safety – and fun – of having like-minded company small enough to create stronger connections to each other and to the people and places they visit.
In a nutshell
Medellin and Colombia's coffee cradle are front and center in this Colombia Express tour, with the capital and the old-world charm of Cartagena bookending the holiday.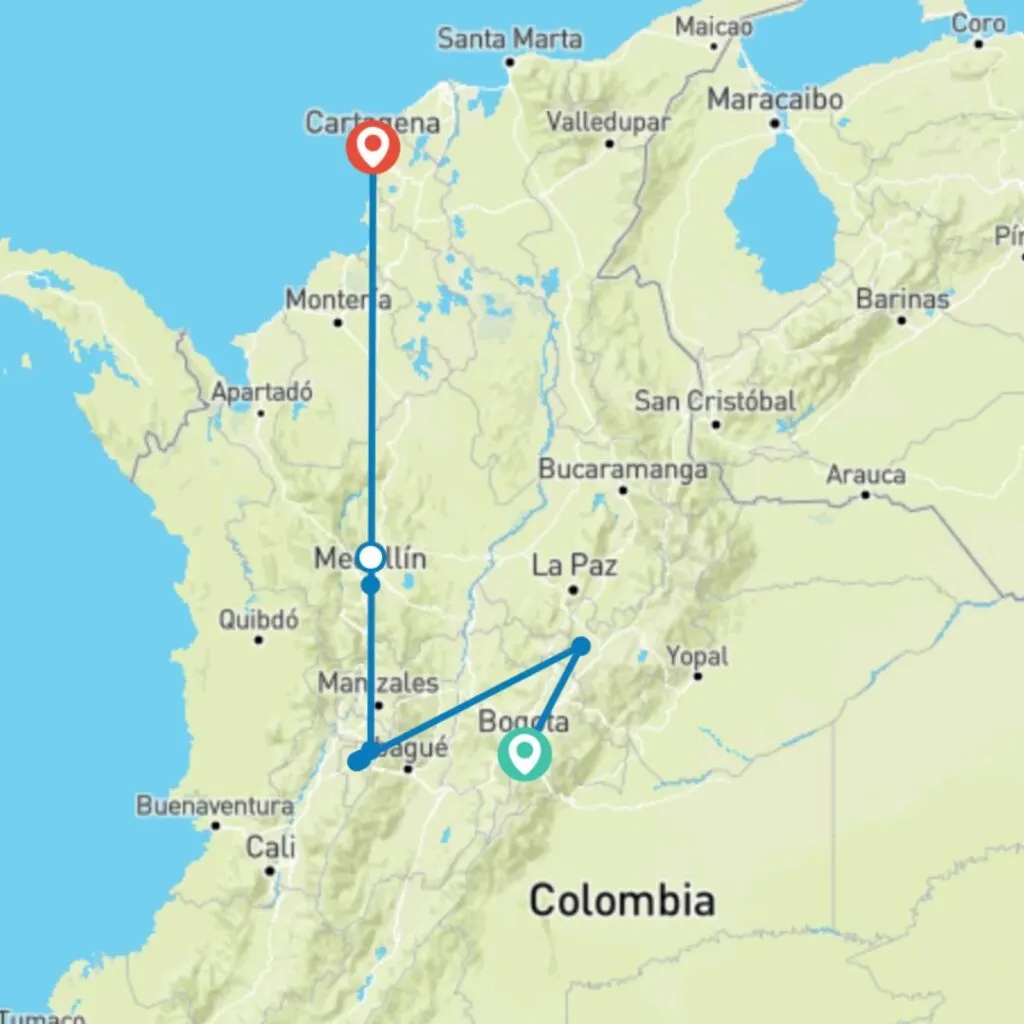 If none of these tours work for you in Colombia, please do not worry. There is a wide variety of tour options in the country, and we are confident that there will be something that fits your needs and interests.
Take a look at all the group tours in Colombia now, which you can sort by private or group, maximum sizing, budget, dates and much (much more). The team at TourRadar is also always more than happy to answer any questions, provide further information or assist in any way in finding the perfect tour for you.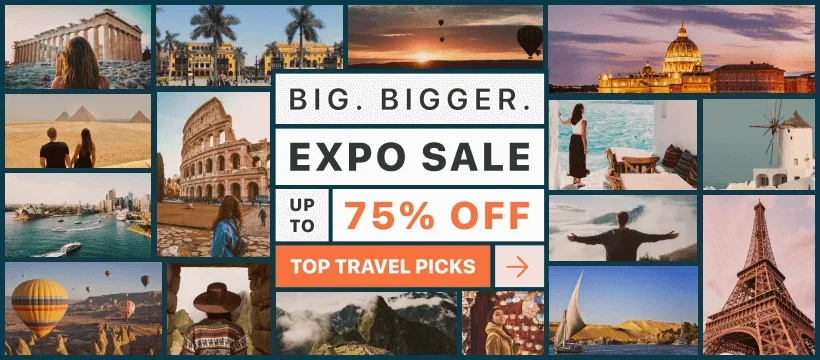 Staying Connected While Travelling
In today's increasingly connected world, staying online while traveling has become essential for a seamless experience. That's where eSIMs come into play, revolutionizing the way we access mobile networks during our global adventures. Say goodbye to hunting down local SIM cards at the airport; eSIMs provide instant activation the moment you land, sparing you the fortune usually spent on international roaming and allowing you to genuinely travel like a local (without getting hopelessly lost!).
With eSIMs, tasks like restaurant recommendations and reservations, up-to-the-minute public transport instructions, checking opening hours, and accessing further information become a breeze. And, of course, sharing your journey on social media is easier than ever. To stay connected wherever you roam, consider using either Airalo or Holafly. Airalo boasts the most extensive range of destinations worldwide, offering smaller data bundles tailored to your needs, while Holafly provides unlimited data packages and fantastic EU data deals.
So why wait? Embrace the future of travel connectivity with eSIMs and make your next journey effortlessly smooth.
Further Things To Consider Before Any Adventure
Now you're all set and prepared to explore our big wide world, why not sort out everything else out all in one go? If necessary for your travel plans make sure you have brought proper travel insurance, protected your privacy by getting a secure VPN, compared all the top hotel booking sites to find just what you're after, reserved an unbeatable rental car price and - of course - booked the best flight deals!
Or maybe just forget it all and go for a last-minute cruise or effortless tour instead?
Many budget travelers (including me) indulge in worldwide airport lounge access, so we can experience luxury while still slumming it in economy. Naturally, we would never leave home without a more general travel guide since we couldn't possibly cover everything here!
Just add an adventurous attitude and plenty of smiles - they go a long way - and that about covers it all! Now go out, find your own path and don't forget to share your best inspiration stories with me on Facebook, Twitter, and Instagram...I'd love to hear from you!