Bulgaria is the jewel of the Balkan States, quite literally. After all, what is believed to be the oldest processed gold in the world was unearthed on the Black Sea coast of Varna, now Bulgaria's thriving seaside resort.
Get an eyeful of the 3,000 bangles, necklaces and earrings and other golden objects, as well as copper and flint tools dating back to the Paleolithic age, on display at the Varna Archaeological Museum.
Bulgaria also boasts a cache of avian wonders hidden in the imposing rock faces of the Rodopi Mountains. Keep your eyes peeled for the distinctive red-and-white markings of the elusive wallcreeper that call the beautifully rugged Trigrad Gorge home. Join a guided tour for an invigorating hike through stunning mountain vistas and landscapes.
The equine-loving crowd would be pleased to know there's something in store for them, too. In the Stara Planina mountain area in north central Bulgaria, the trails are not only ideal for bipedal but for four-legged trotters as well.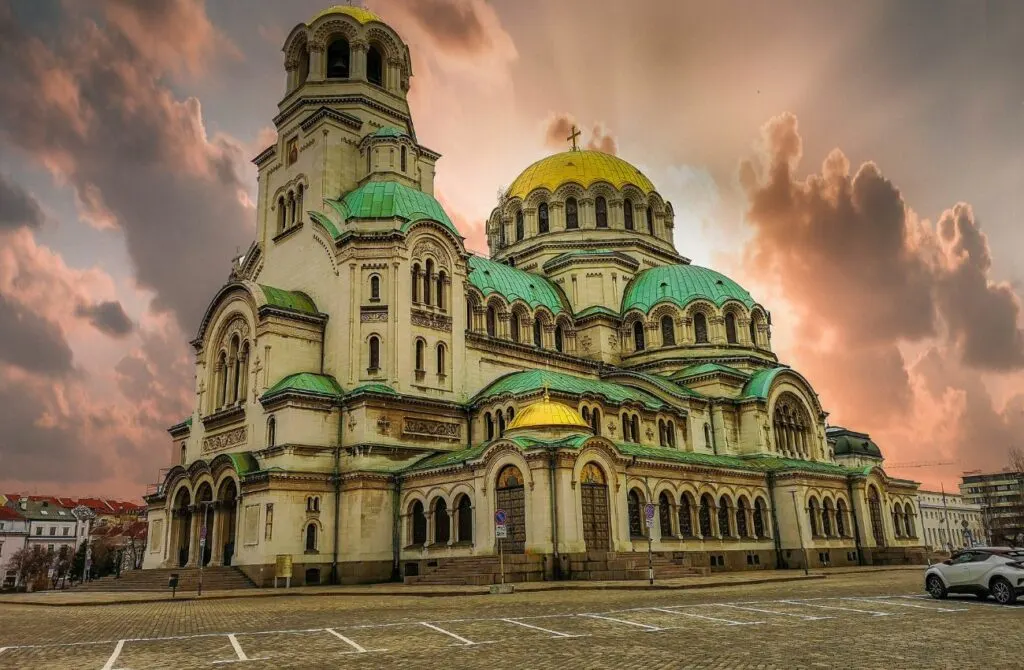 Because this area is relatively isolated and sparsely populated, the locals have kept their traditions and way of life relatively intact for centuries, a boon for travelers looking for both an immersive cultural experience and active adventure.
Bulgaria has an impressive clutch of UNESCO World Heritage Sites, and you can walk back in time on visits to centuries-old monasteries housing impressive murals and iconostases, and to Thracian tombs in a remarkable state of preservation.
The Thracians were a group of tribes who occupied the southeastern part of the Balkan Peninsula before the Roman invasion and are thought to influence Greek and Roman cultures. Follow in their footsteps on a guided tour of Thracian tombs and burial complexes scattered in central and southern Bulgaria.
The Romans left their mark most prominently in Plovdiv where the 6,000-seater amphitheater stills stand. A guided tour will take you there to a strategic spot from where you can take in panoramic city views.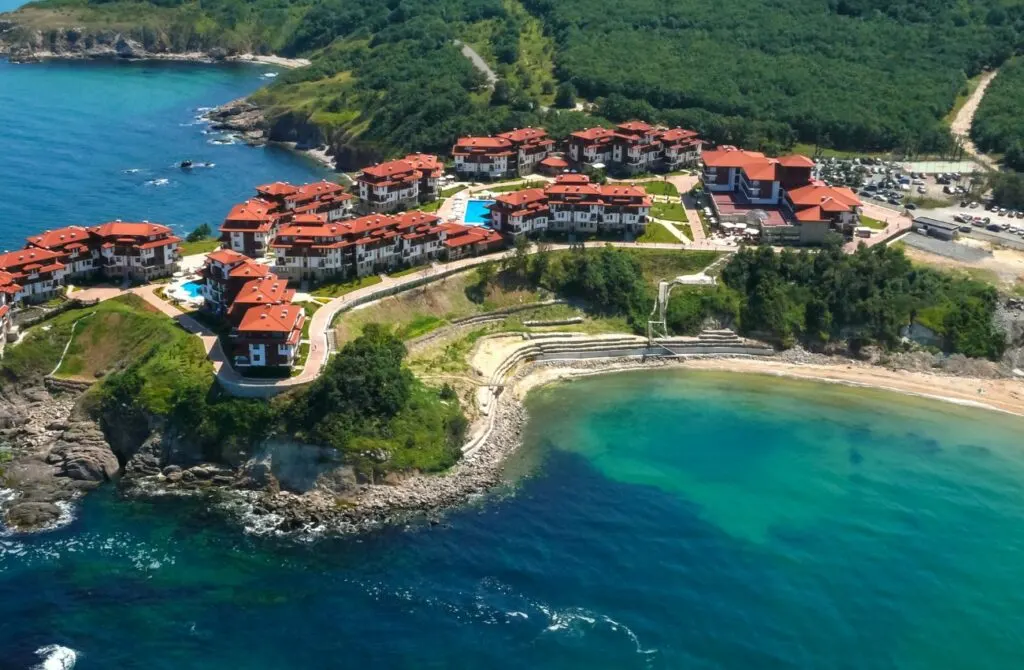 If you want to push your adventures further back in time, a visit to Veliko Tarnovo in north central Bulgaria may be in order. The town itself was built on the foundations of a Neolithic settlement some 6,500 years ago. These days, its most prominent landmark is the Tsarevets Fortress, the former seat of the medieval tsars.
Like other European destinations, Bulgaria boasts an impressive collection of impeccably preserved reminders of the past. Not like many European destinations, Bulgaria is lined with more than 200 miles of Black Sea coastline with enticing balmy waters, sandy beaches and charming seaside towns where you can wine, dine and recline.
So if you want the past and present to collide like waves gently lapping on a sandy shore, a holiday in Bulgaria may just be what you need. Work with a tour operator with travel planning expertise, insider knowledge, and an industry network so you can enjoy more of the ancient wonders around you.
Where to start? Choose from one of the tours below, and follow where the (Roman) road takes you.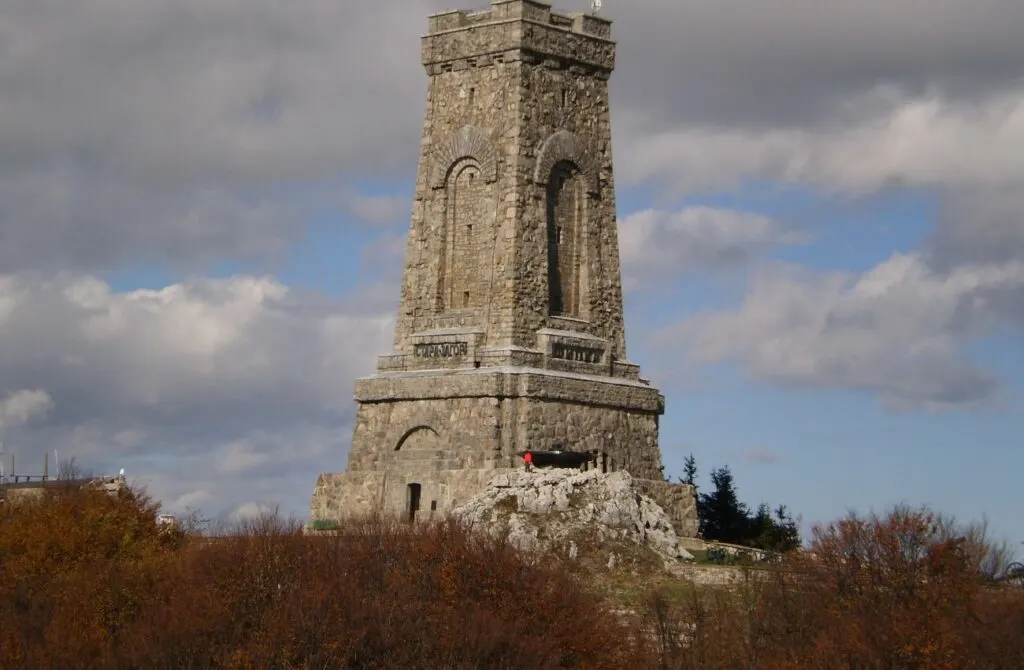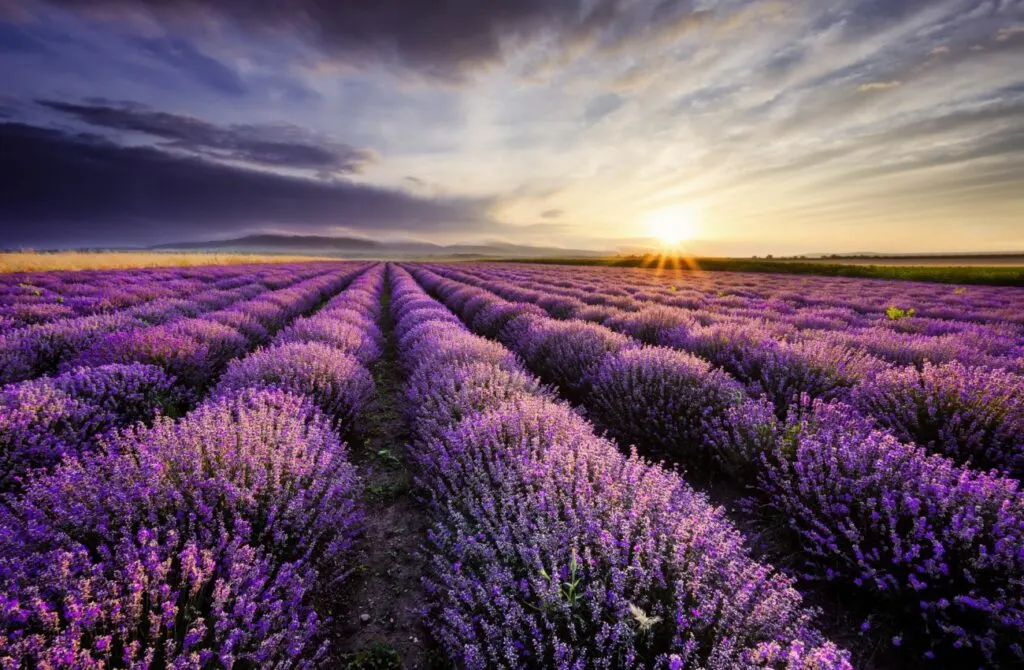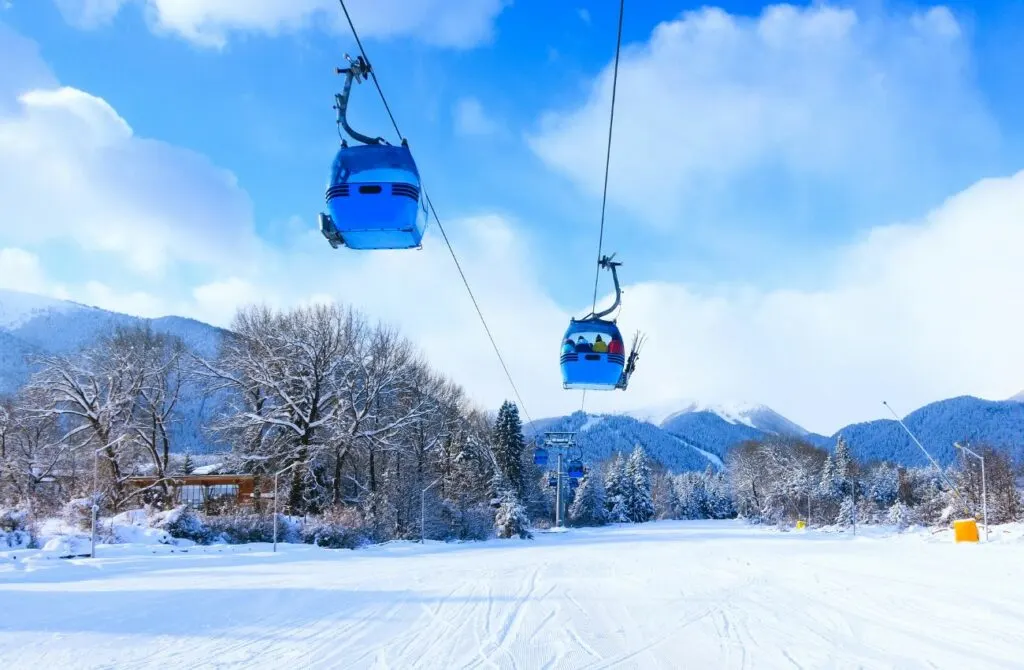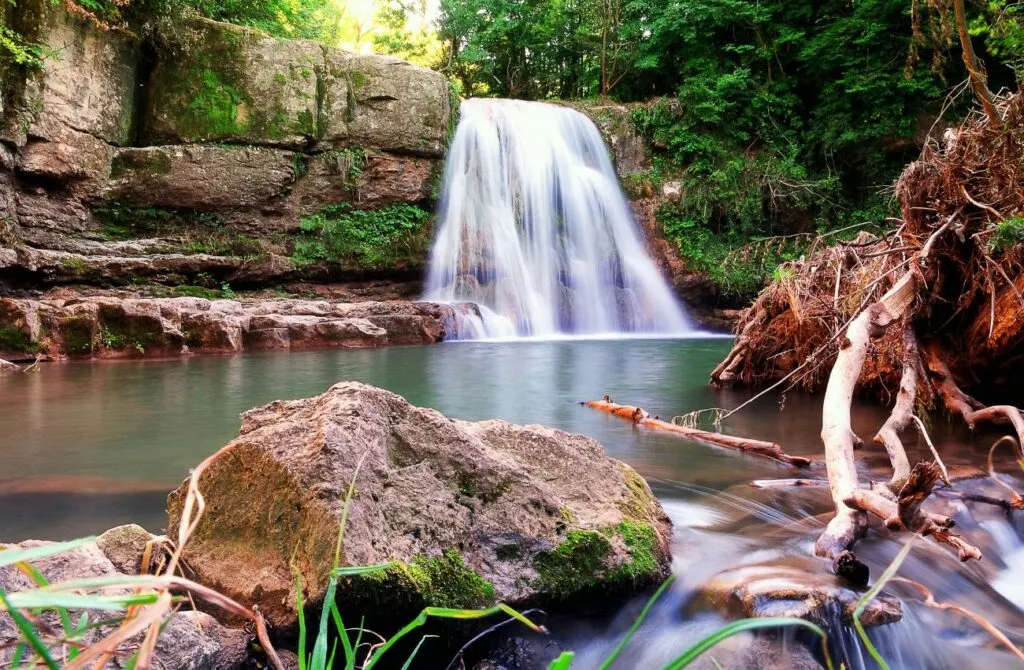 Location: Sofia
Itinerary: Sofia
Group Size: 40
Age Range: 2 to 99
Physical Activity: Low
Operator: Destination Services Bulgaria
Length: 4 days
What to Expect
Partially-guided big group taster tour of the Bulgarian capital and nearby UNESCO World Heritage sites.
Sofia highlights
Rila Monastery
Optional day trip to Plovdiv
What the Experience is Like
Stroll around the capital at your own pace on early arrival. Marvel at the gold-plated cupola and rich interior of St. Alexander Nevski Orthodox Cathedral, the biggest in Bulgaria.
Admire the arcaded balconies and the richly illustrated frescoes of the millennium-old Rila Monastery framed by a pine-clad mountain of the same name. Drive back to Sofia to visit another UNESCO-listed site, the 10th-century Boyana Church and its 13th-century frescoes.
(Do you want to combine history, architecture and mountain views in one go? This 4-day tour starting and ending in Sofia will take you there.)
Explore Sofia's headline attractions on Day 3 at your own pace. Visit the museums with a combined collection of more than half a million artifacts. Or book an optional tour to Plovdiv to walk on its cobbled-stone streets, see its fortifications and ornamented mosques, or sit in the Roman Amphitheatre to survey the city from a high perch.
Expect three nights' accommodation with three breakfasts. Arrival and departure transfers and shared transportation on Day 2 tour are included. Entrance fees are at your own expense.
This taster tour is run by Destination Services Bulgaria, a Spain-based operator with 25 years of experience offering tours of various lengths, activity levels and group sizes.
In a nutshell
If you're short on time but want to see big attractions, this 4-Day Bulgaria at a glance: Sofia City Break would fit nicely into your budget and schedule.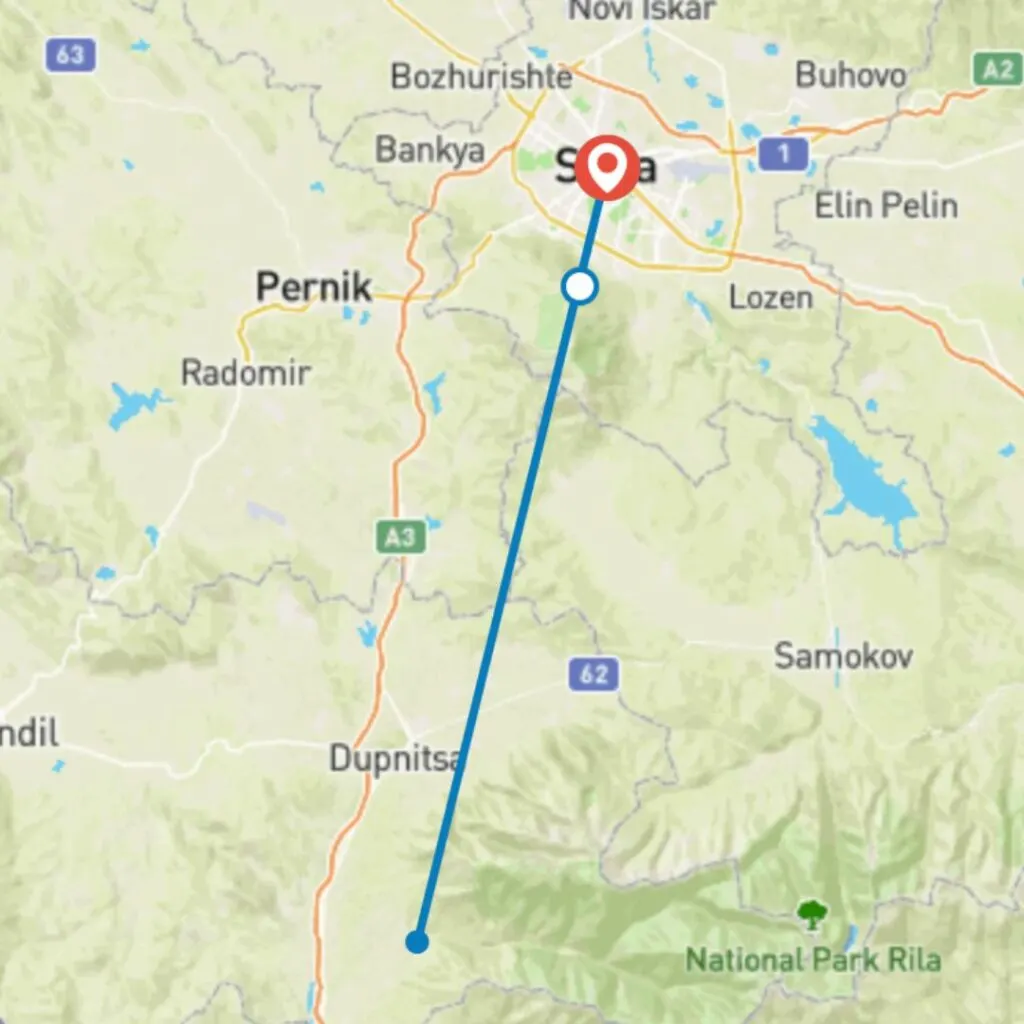 Location: Southern Bulgaria
Itinerary: Plovdiv
Group Size: 10
Age Range: 5 to 70
Physical Activity: Low
Operator: Enjoy Plovdiv
Length: 5 days
What to Expect
Partially-guided, small group time travel tour back to ancient Thrace.
Ancient Roman Theatre
Kazanlak Thracian tomb
Starosel Temple Complex
Perperikon Complex
Sanctuary of Tatul
What the Experience is Like
Explore Plovdiv's major landmarks and attractions headlined by the Ancient Roman Theatre of Philipoppol from where you can survey the lay of the land.
Venture out to Kazanlak to see the UNESCO-listed Thracian tomb dating back to the 4th – 3rd century BC. On the drive back to Plovdiv, get a chance to visit the Rose ethnographic complex and a rose oil distillery.
Follow the Thracian trail to the Starosel Thracian Temple Complex for a look around its under-hill temple and royal burial sites. Continue on to Hisarya mineral water resort where remains of Roman structures stand to this day.
(Did you know that ancient Thracians were reputed to be mercenaries? Learn more about their ancient secrets on this 5-day tour into the heart of Thracian culture.)
Marvel at the megalithic Complex of Perperikon dating back to 8,000 BC and the Thracian Sanctuary of Tatul dating back to the end of the 5th century BC. Round out your tour with a visit to the rock plateau of Belintash thought to be a Thracian cult site.
Take in the views of the Rodopi (also Rhodope) Mountains before making a stop at the UNESCO-listed Bachkovo monastery, one of the oldest in the Balkan Peninsula, before driving back to Plovdiv.
Expect double-room accommodation in a 3-star hotel and overnight accommodation in a resort. All breakfasts, entrance fees to listed sites and mountain guides are included.
This Thracian-themed journey is organized by Enjoy Plovdiv, a Bulgarian tour operator specializing in offering outdoor activities and cultural trips to get you "into the spirit of Plovdiv." They pride themselves on creating itineraries that are well-crafted yet flexible enough to allow spontaneity.
In a nutshell
If you are a fan of ancient cultures and archaeology, this 5-Day tour On the Traces of the Thracians will leave you spellbound.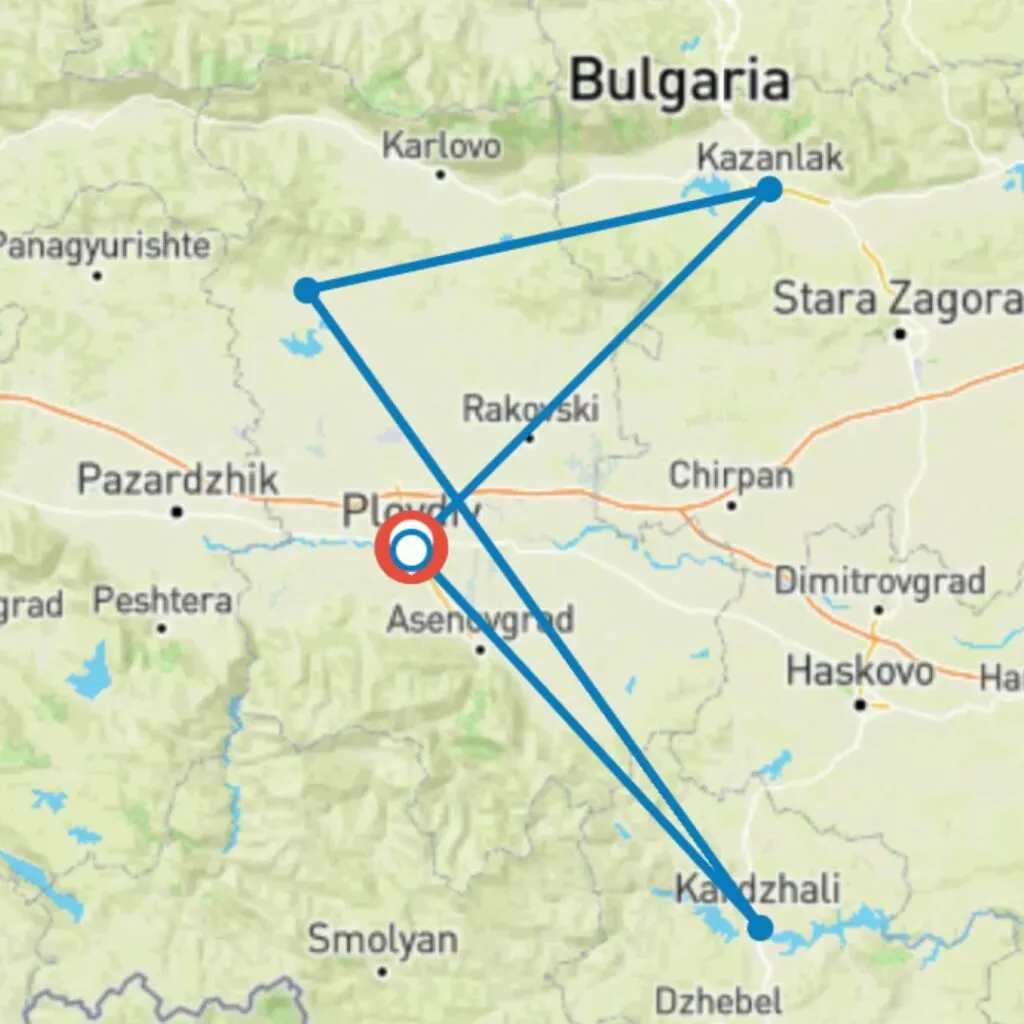 Location: Rodopi Mountains
Itinerary: Trigrad
Group Size: 8
Age Range: 10 to 70
Physical Activity: Medium
Operator: Traventuria
Length: 3 days
What to Expect
Fully guided, small-group birding excursion in the marble rock canyon of Rodopi Mountains.
What the Experience is Like
Arrive at Sofia Airport for transfer to the lodge by Trigrad Gorge about four hours away. Early arrival gets you the chance to enjoy some birding en route at Besaparski Hills in the Rodopi Mountains. Gear up for a full-day birding excursion on Day 2 in search of wallcreepers (Tichodroma muraria) clinging to the gorge's steep cliff faces. They are elusive but easy to spot: Their distinctive red-and-white wing markings resemble a giant butterfly's.
(Is that a bird? Or a butterfly? Find out on this short but sweet birding expedition in the Trigrad canyon.)
Continue on to Plovdiv for an overnight stay. If time permits, spend the rest of the day spotting other bird species abundant in the area. Head back to Sofia where the tour ends.
As the only adventure company in Bulgaria, Traventuria specializes in offering adventure, nature and culture tours. It partners with the Bulgarian Biodiversity Foundation to ensure its nature tours are minimum-impact and high-value. Expect hotel and guesthouse accommodation on this fully guided tour.
In a nutshell
This 3-day Wallcreeper Birdwatching Tour is perfect for birders of all colors and stripes.
Location: Pirin Mountains
Itinerary: Bansko
Group Size: 15
Age Range: 18 to 70
Physical Activity: Adventurous
Operator: Oxygen Tours
Length: 5 days
What to Expect
A guided ski holiday on well-groomed tree-lined pistes in southwest Bulgaria.
▪ Miles of wide, tree-lined slopes
▪ Optional soak in mineral springs
What the Experience is Like
Arrive at the Sofia Airport for transfer to Bansko ski resort. Gear up for three days of ski holiday on almost 50 miles of pistes suitable for all levels. Take advantage of free shuttle buses to get you to and from the ski resort. In the evenings, join optional trips to Banya, a nearby village founded by the Thracians who loved its numerous mineral springs. Depart Sofia on Day 5 for your onward travel.
(If you like a snow-sure adventure in Bulgaria, try this 5-day ski holiday in the Pirin Mountains.)
Enjoy four nights of 4-star hotel accommodation in Bansko with included breakfasts and dinners. Member discount card is issued for ski and snowboard rentals, restaurants and coffee shops. Use of the hotel spa area (swimming pool, steam bath and sauna) is free.
Oxygen Tours is an Athens-based tour company specializing in adventure holidays while also offering authentic local experiences through food and culinary tours and agrotourism. They pride themselves in offering small group and private tours to ensure last-minute changes don't get in the way of their guests' travel experience.
In a nutshell
Love the thrill of a downhill run? Treat yourself to a ski holiday on one of Bulgaria's scenic slopes with a good snow-sure record.
Location: Bulgaria – Romania
Itinerary: Sofia, Bucharest
Group Size: 50
Age Range: 1 to 99
Physical Activity: Low
Operator: Europamundo
Length: 5 days
What to Expect
Large group, fully guided tour of Bulgaria's ancient treasures and Romania's capital on a long-enough itinerary to whet your appetite for more.
Sofia
Bachkovo Monastery
Kazanlak Thracian Tomb
Basarbovski Monastery
Veliko Tarnovo
Bucharest
Parliament Palace
What the Experience is Like
Arrive in Sofia and go on a city tour visiting religious sites and contemplating Stalinist architecture. Visit the 11th-century Bachkovo Monastery on the second day before driving on to Plovdiv to see its Roman Amphitheatre.
Drive past Balkan mountain scenery on the way to Kazanlak famous for its roses and the replica of a Thracian Tomb. Explore its historic and ethnographic sites on the way to the medieval town center of Veliko Tarnovo, Bulgaria's former capital.
(Do you want to see two European capitals with visits to a handful of ancient treasures along the way? Then this 5-day Sofia to Bucharest tour is for you.)
Visit Basarbovski Monastery, a place of pilgrimage dug out of rock, before crossing the border and the Danube River to Romania. Go on a city tour to see its ancient quarter and its best example of Stalinist architecture, the colossal Palace of the Parliament. Enjoy free time before dinner.
Enjoy four-night of accommodations in a 4-star hotel. Some meals are included. Basic insurance cover is included, taking effect on arriving at Sofia and expiring when company-arranged tours have ended.
This capital-to-capital tour is organized by Europamundo, a brand managed by one of the largest tour operators in the world with more than 100 years of experience in the travel industry. Europamundo prides itself as the only coach tour operator company in the world affiliated with the UN World Tourism Organization. The UNWTO promotes responsible, sustainable and universally accessible tourism.
In a nutshell
From Sofia to Bucharest is a low-effort, high-value holiday as you coast from capital to capital with plenty of ancient attractions along the way.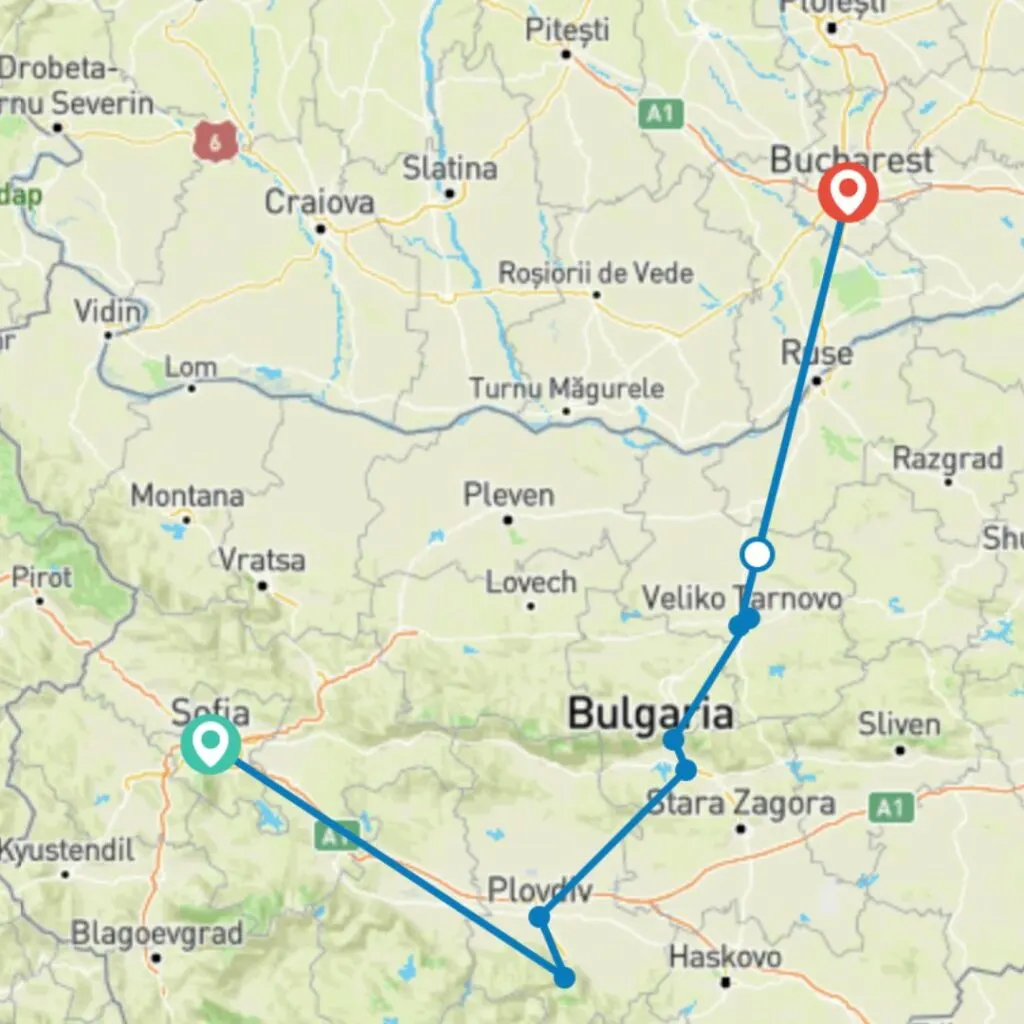 Location: Central Bulgaria to Black Sea
Itinerary: Sofia-Plovdiv-Varna-Veliko Tarnovo
Group Size: 18
Age Range: 16 to 85
Physical Activity: Medium
Operator: Explore!
Length: 9 days
What to Expect
Medium-sized, fully guided group tour to the ancient and UNESCO-listed treasures of Bulgaria with a dash of active adventure and a taste of the Black Sea.
Sofia
Rila Monastery
Rodopi Mountains
Plovdiv
Black Sea
Thracian Tomb
What the Experience is Like
Arrive at Sofia Airport and meet with the tour leader at the hotel reception. Discover Sofia's top attractions on early arrival. Enjoy a guided walking tour of historical buildings like the Neo-Byzantine Alexander Nevsky Cathedral and the UNESCO-listed Rila Monastery with its eye-catching frescoes. Drive on to Bansko at the foothills of the Pirin Mountains and stroll its winding cobbled streets.
Continue on to the mountain village of Dobarsko to visit its UNESCO-listed church adorned with icons and frescoes. There's an opportunity to witness local customs and watch traditional folk performances and taste the local cuisine.
Head back to Bansko and hop on the Rhodope Narrow Gauge Railway for a ride through striking mountain vistas and river gorges. Continue on to Plovdiv for a guided tour of its well-preserved Roman Amphitheatre and other highlights. Enjoy free time in the afternoon.
(Do you have the time and dime for an in-depth cultural and historical journey to the best sights Bulgaria has to offer? Then this 9-day capital-to-coast tour is perfect for you.)
Survey the fragrant fields of the Rose Valley, the source of rosa damascene. Visit a rose oil distillery to learn more about rose oil production. Explore the highlight of the area, the UNESCO-listed Thracian Tomb of Kazanluk, and the historic Shipka Memorial Church dedicated to fallen Russian soldiers who fought the Ottoman Empire.
Explore the ancient city of Nessebar on the Black Sea coast at your own pace. Discover ruins dating from the Hellenistic period and the remains of a Byzantine fortress. See the park monument dedicated to Bulgarian-Soviet Friendship and enjoy city views from the top. Continue on to Varna to stay the night.
On the way to the ancient town of Veliko Tarnovo, admire the massive Cubist-style outdoor installations of past Bulgarian kings and the church frescoes in Arbanasi Village dating from the 17th century. Round out your tour with a guided walk around the medieval cobbled lanes, fortified walls, and the soaring fortress of Veliko Tarnovo before driving back to Sofia for your final night.
Enjoy 8 nights' accommodation in a standard hotel with 8 breakfasts. Explore! prides itself in offering guests tours that are a "mix of famous sights and hidden gems" for those "unscripted moments of joy." Part of the tour experience to immerse guests in local customs and traditions is providing a variety of local transport, which includes bus and train rides on this tour package. Explore! has over 40 years of experience and presence in 100 countries.
In a nutshell
Ancient treasures and headline attractions from the capital to coast on this 9-Day Best of Bulgaria tour.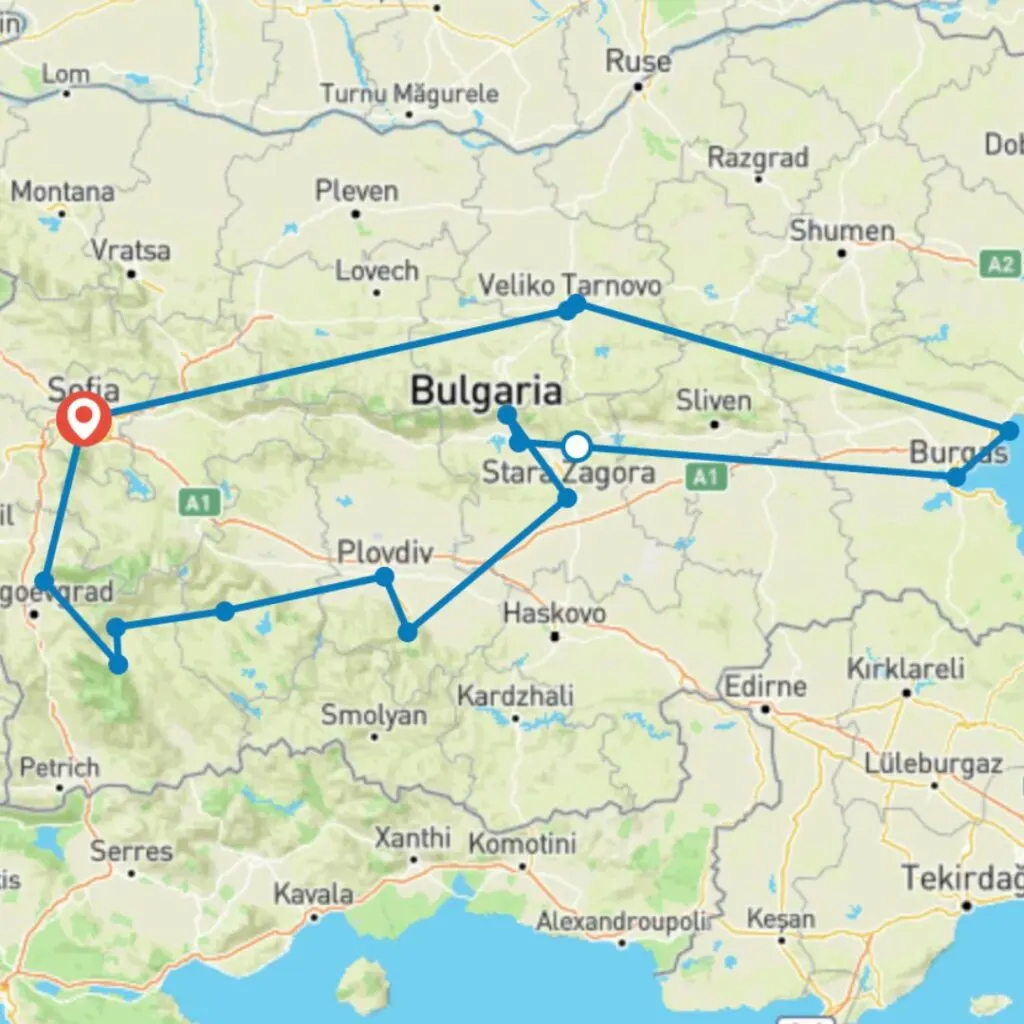 Location: Rodopi Mountains
Itinerary: Sofia – Trigrad Karst Plateau – Mt. Durdaga
Group Size: 16
Age Range: 16 to 99
Physical Activity: Active to Adventurous
Operator: Exodus Travels
Length: 8 days
What to Expect
Medium-sized group, fully guided nature and hiking adventure in the Rodopi Mountains.
Devil's Throat Cave
Trigrad Gorge
Mt. Durdaga
Wildlife
What the Experience is Like
Arrive at Sofia Airport and transfer to Yagodina Village, your base for the next six nights. Trace an ancient Roman road through meadows, forests and fields from the village of Zmeitsa to a steep drop in Buinovo Gorge. Drive to Trigrad Gorge for a morning of spying on the crimson-winged wallcreeper and other avian residents found in the gorge's steep marble rock faces.
Thread your way through a maze of traditional trails and tracks, taking in the changing landscapes and vistas of the rugged Trigrad karst plateau. Follow where the Trigrad River falls into an underground chamber locally known as the Devil's Throat Cave.
(Curious to see in action the underground mechanism that powers the roaring Devil's Throat Cave? Then pack up your gear and join this trek into Bulgaria: Rodopi Mountains.)
Hop on a bus for a ride up the Rodopi Mountains. Hike along the main ridge on the way to the summits of Mount Golyam Perelik and Mt. Golyam Snezhnik (both (2000+MASL). Descend into the forest on the way to a small village. Enjoy a nature walk to the site of an ancient Thracian sanctuary, keeping your eyes peeled for wolves and deer.
Hike the Mt. Durdaga circuit through forests, meadows and wildflower trails that are foraging areas for wild boards and brown bears. Round out your weeklong hike with a nature walk on a section of a Roman road running through a forest trail and ending at a river where your transport back to Devin awaits.
On arrival, embark on another nature walk through the prime butterfly area. Cap off with a well-earned picnic lunch by the river before heading back to Sofia for a final night before departure.
Stay for six nights at a locally owned family hotel in twin-sharing and single rooms with WiFi. Village accommodation comes with meals made from home-produced or locally sourced ingredients. Enjoy 4-star hotel accommodation in Sofia on your final night. Vegetarian and vegan meal options are available on request.
This weeklong adventure into the heart of the Rodopi Mountains is run by Exodus Travels, a multi-awarded travel company with more than 40 years of experience specializing in adventure, wildlife and nature holidays.
In a nutshell
Lace-up your boots for a weeklong trek into the heart of the ruggedly beautiful Rodopi Mountains, spotting wildlife, tasting local cuisine, and learning a bit of history along the way.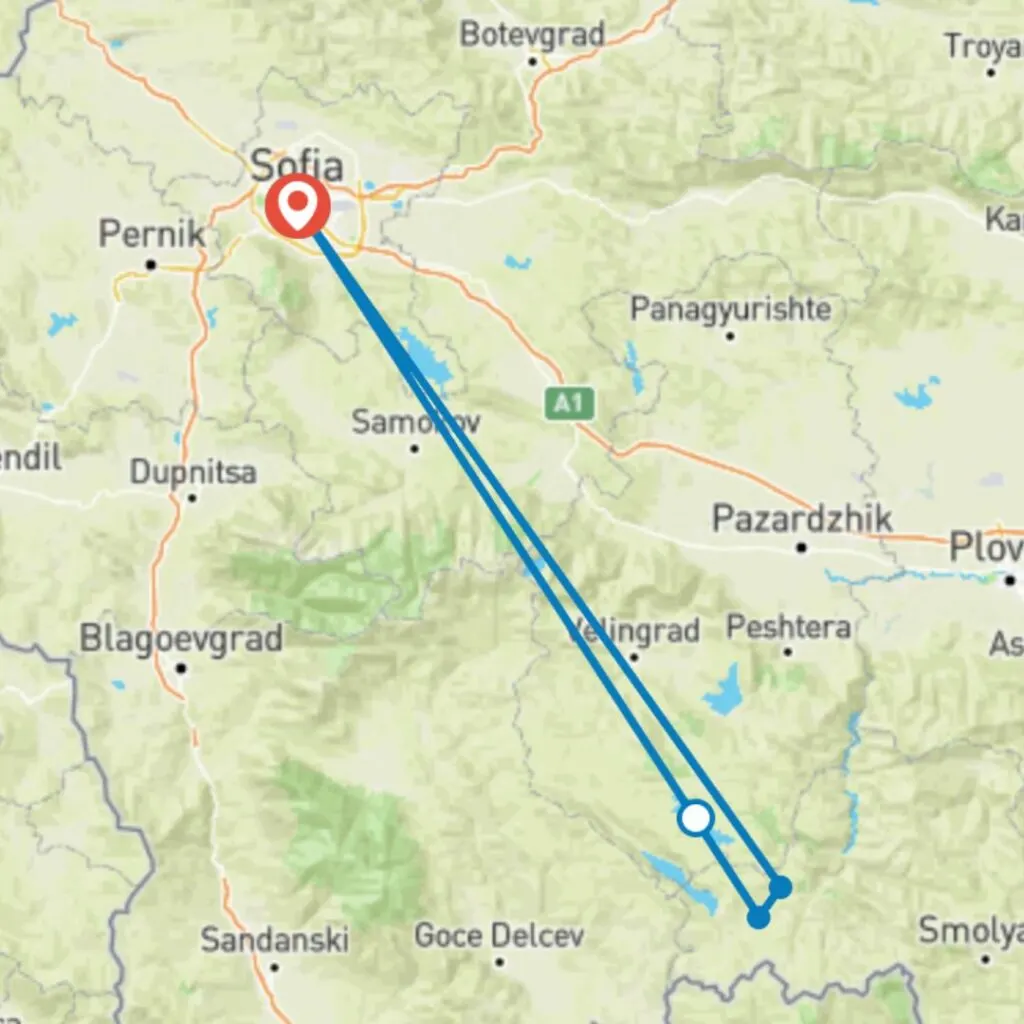 Location: Stara Planina
Itinerary: Teteven Balkan Area
Group Size: 6
Age Range: 10 to 70
Physical Activity: Adventurous
Operator: Penguin Travel
Length: 8 days
What to Expect
Small-group, fully guided active tour with four-legged friends with the opportunity to sample local cuisine and delve into local culture.
5-6 hour ride a day
Village guest house accommodation
Local culture and cuisine
Mountain vistas and wildlife
What the Experience is Like
Arrive in Sofia and settle in. Drive to Golyam Izvor on Day 2 through meadows and mixed forest on the road to the 13th-century Glozhene Monastery perched on high cliffs amidst an ancient beech forest. After spending a night in this village, saddle up for a gallop in the village's open planes, enjoying views over the valley.
Continue on horseback to Brusen through a small river, a Roma village and a pine forest, enjoying long gallops and a picnic lunch amidst the woodlands. Optional tour to a monastery and waterfall a half-hour drive away if physical condition allows.
Ride uphill through mixed forests and an unwooded ridge before descending to the village of Cherni Vit (renowned for its green cheese) where you stay the night. The optional trip by car to visit Saeva Dupka cave to admire its rocky corridors and halls.
(Do you know that the Karakachan comes from a primitive breed? Get on the saddle and see how well-suited it is on the slopes of Stara Planina on this 8-day Balkan Village Trek.)
Saddle up again for a 5-hour ride to Boatin Reserve, home to dwarf pine and beech forests in central Stara Planina, the mountain range that physically divides Bulgaria from Serbia. Explore Teteven in the afternoon with an optional trip by car to the hot mineral springs of Chiflik perfect for soothing aching muscles.
Drive back to Cherni Vit village for another 5-6 hour ride on one of the many ridges to survey the scenery. Transfer to Sofia for a final night of accommodation before departure the next day.
Expect to stay in a standard hotel for three nights (two in Sofia and one in Teteven) and in a guest house for four nights. Enjoy 7 breakfasts, 6 lunches and 4 dinners. Local guides, saddled horses, luggage transport and entrance fees to non-optional sites are included. Horses are typically cross-bred East-Bulgarian and Karakachan. Saddles used are Western and military. The average ride is 5-6 hours a day.
This equestrian adventure is organized by Penguin Travel operating out of Sofia and Plovdiv for the Balkan market. Over the last 30 years, it has endeavored to organize trips for individual travelers and small groups to ensure the most flexible itineraries possible and to encourage maximum interaction with the local communities and surrounding landscapes.
In a nutshell
Calling all equestrians who love culture trips! This 8-Day Balkan Village Trek is the Bulgarian adventure holiday you need.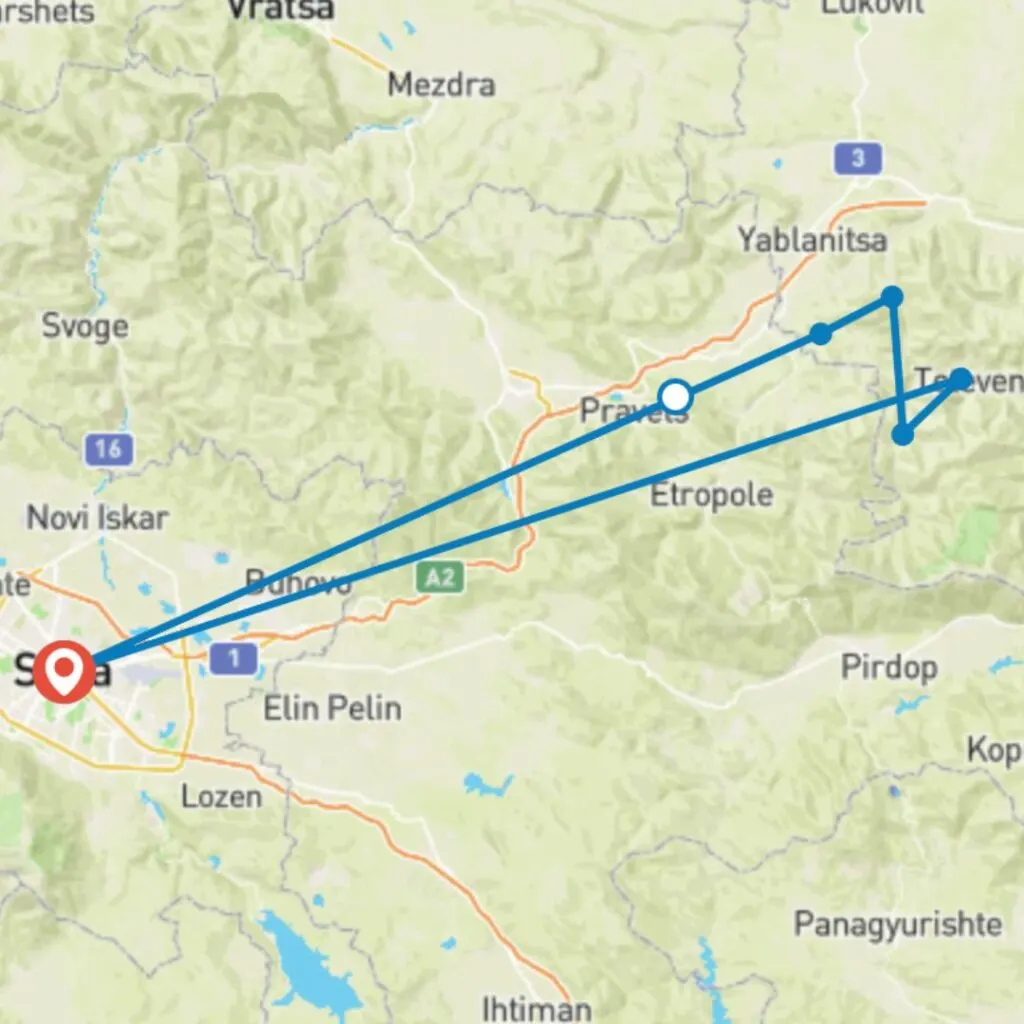 If none of these tours work for you in Bulgaria, please do not worry. There is a wide variety of tour options in the country, and we are confident that there will be something that fits your needs and interests.
Take a look at all the group tours in Bulgaria now, which you can sort by private or group, maximum sizing, budget, dates and much (much more). The team at TourRadar is also always more than happy to answer any questions, provide further information or assist in any way in finding the perfect tour for you.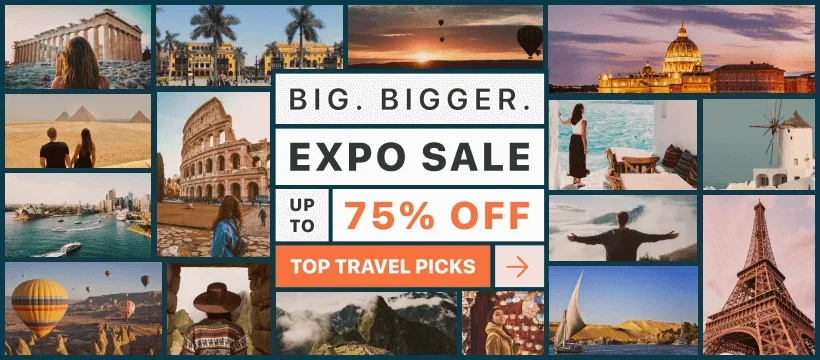 Staying Connected While Travelling
In today's increasingly connected world, staying online while traveling has become essential for a seamless experience. That's where eSIMs come into play, revolutionizing the way we access mobile networks during our global adventures. Say goodbye to hunting down local SIM cards at the airport; eSIMs provide instant activation the moment you land, sparing you the fortune usually spent on international roaming and allowing you to genuinely travel like a local (without getting hopelessly lost!).
With eSIMs, tasks like restaurant recommendations and reservations, up-to-the-minute public transport instructions, checking opening hours, and accessing further information become a breeze. And, of course, sharing your journey on social media is easier than ever. To stay connected wherever you roam, consider using either Airalo or Holafly. Airalo boasts the most extensive range of destinations worldwide, offering smaller data bundles tailored to your needs, while Holafly provides unlimited data packages and fantastic EU data deals.
So why wait? Embrace the future of travel connectivity with eSIMs and make your next journey effortlessly smooth.
Further Things To Consider Before Any Adventure
Now you're all set and prepared to explore our big wide world, why not sort out everything else out all in one go? If necessary for your travel plans make sure you have brought proper travel insurance, protected your privacy by getting a secure VPN, compared all the top hotel booking sites to find just what you're after, reserved an unbeatable rental car price and - of course - booked the best flight deals!
Or maybe just forget it all and go for a last-minute cruise or effortless tour instead?
Many budget travelers (including me) indulge in worldwide airport lounge access, so we can experience luxury while still slumming it in economy. Naturally, we would never leave home without a more general travel guide since we couldn't possibly cover everything here!
Just add an adventurous attitude and plenty of smiles - they go a long way - and that about covers it all! Now go out, find your own path and don't forget to share your best inspiration stories with me on Facebook, Twitter, and Instagram...I'd love to hear from you!