Las Vegas, the entertainment capital of the world, is famous not only for its dazzling casinos and luxurious hotels but also for its spectacular music festivals. Every year, thousands of music enthusiasts flock to Sin City to attend some of the most remarkable and unforgettable music events. This is our round-up of our take on the best music festivals in Las Vegas
One such festival worth attending is Life is Beautiful. Spanning three days in September, this vibrant event takes over 18 blocks of Downtown Las Vegas, east of the Fremont Street Experience. Life is Beautiful has seen previous years' line-ups featuring world-renowned artists such as Billie Eilish, Post Malone, and Chance the Rapper, attracting crowds of diverse music lovers. The festival's unique aspect lies in its incorporation of music, art, and culinary experiences, providing attendees with a rich, immersive experience that sets it apart from the rest.
If you're a fan of unforgettable live performances and a lively festival atmosphere, Life is Beautiful should definitely be on your Las Vegas music festival bucket list – not that that Las Vegas is short of bucket list attractions in general!
Another downtown Las Vegas gem is the When We Were Young Music Festival, which caters to those who relish the nostalgic tunes of the pop-punk genre. Artists like Green Day, Blink 182, and 5 Seconds of Summer have graced its stages in the past, drawing crowds who come to sing along to their favorite anthems and reconnect with the music of their youth. Accompanied by various food and drink options, the festival creates a unique atmosphere that takes attendees on a trip down memory lane, making it an event you won't want to miss.
Whether you're a dedicated music aficionado or simply looking to enjoy a memorable weekend, Las Vegas hosts a plethora of exceptional music festivals that cater to diverse tastes and interests. So why not pack your bags, gather your friends, and immerse yourself in the melodic wonder of these unforgettable Sin City events?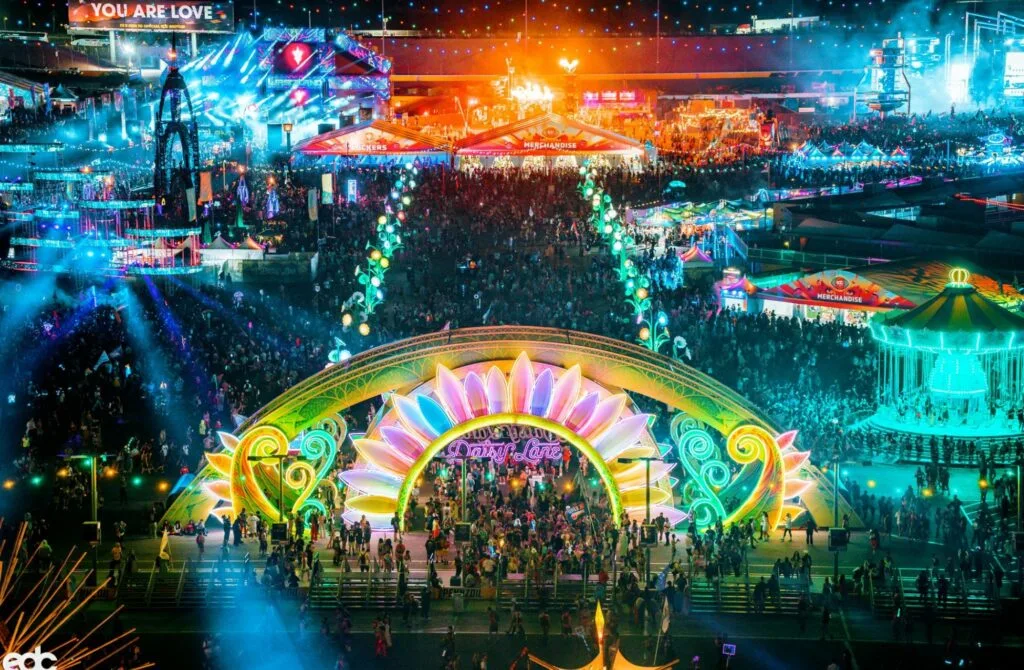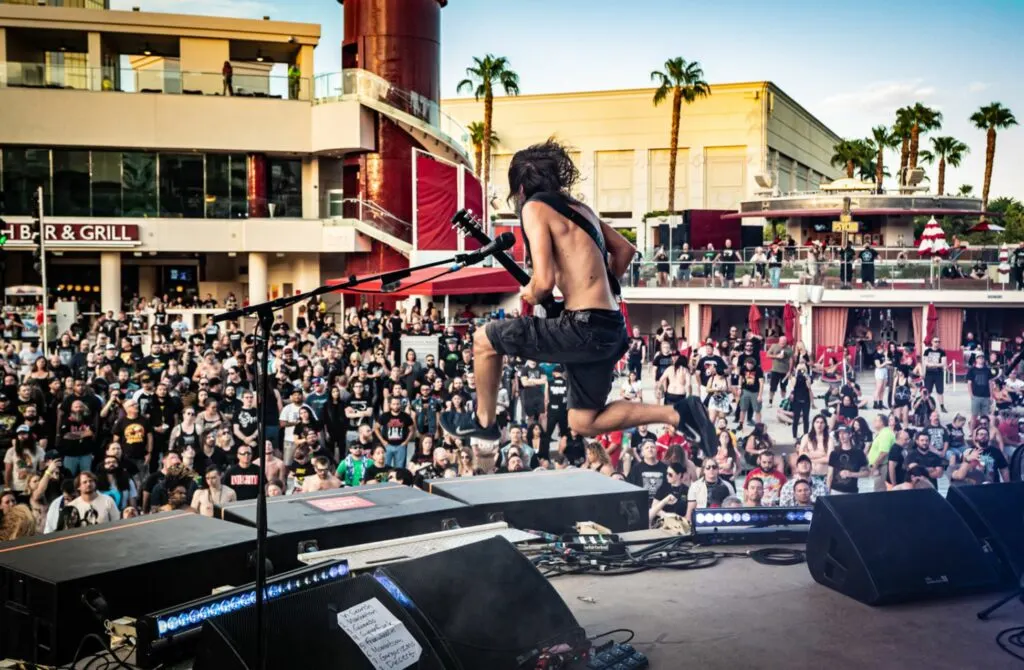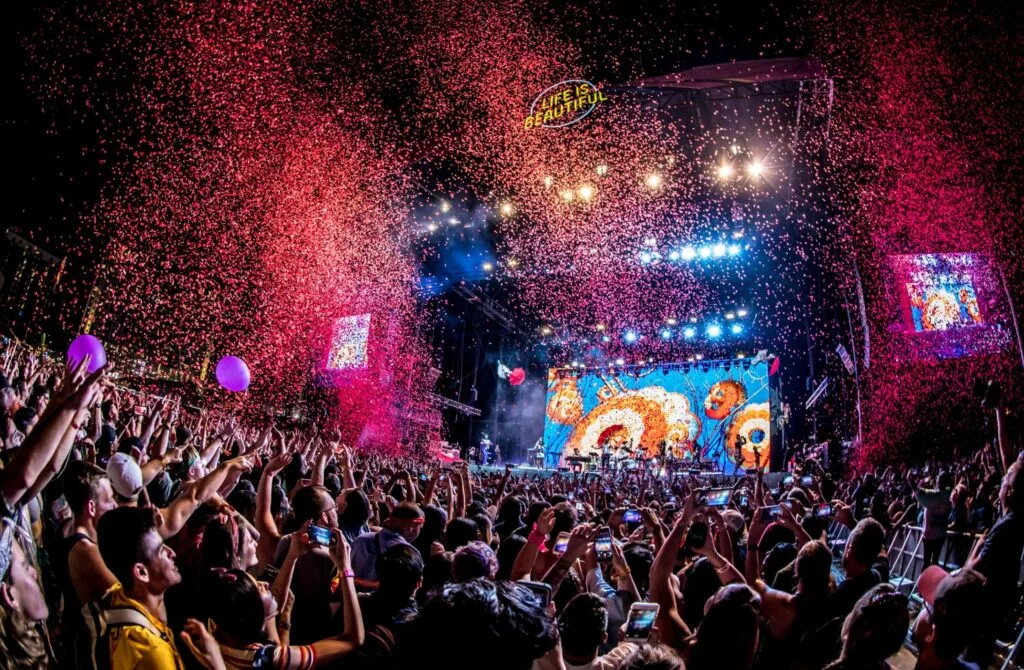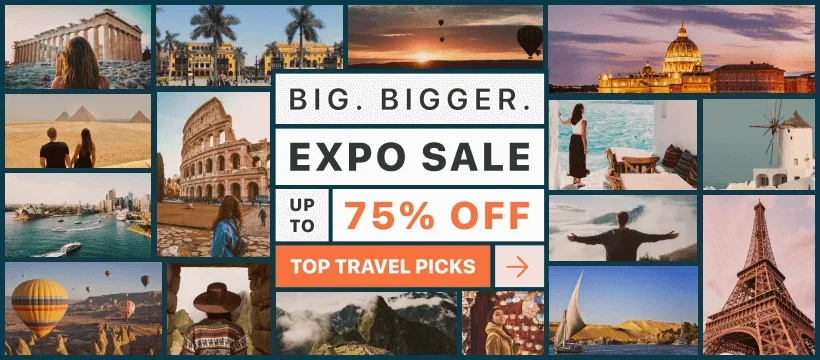 Dance Festivals In Las Vegas
The Electric Daisy Carnival (EDC) is a premier electronic dance music (EDM) festival that takes place annually at the Las Vegas Festival Grounds. This event typically occurs over a weekend in May, spanning three days and nights, and attracts a massive attendance of up to 400,000 music lovers. Known for its incredible lineup of world-renowned DJs, stunning visual displays, and interactive art installations, EDC has earned a reputation as one of the best and most unique dance festivals in the world.
EDC hosts several stages, each showcasing different electronic genres, enhancing the attendee's experience with state-of-the-art sound systems and awe-inspiring production. In previous years, famous DJs such as Tiësto, Armin van Buuren, Martin Garrix, and The Chainsmokers have performed, creating an unforgettable experience for festival-goers. With a vibe akin to a massive outdoor rave, the energy and excitement at EDC are palpable as soon as you enter the grounds.
Apart from the incredible music, EDC offers other unique attractions, such as:
Interactive Art Installations: EDC is known for its visually striking and immersive art installations that festival-goers can explore and interact with.
Carnival Rides: True to its name, Electric Daisy Carnival features a variety of thrilling amusement park rides, providing an adrenaline-pumping experience for attendees.
Theatrical Performers: EDC's grounds are filled with vibrant and imaginative performers, from dancers to stilt walkers, adding a magical touch to the event.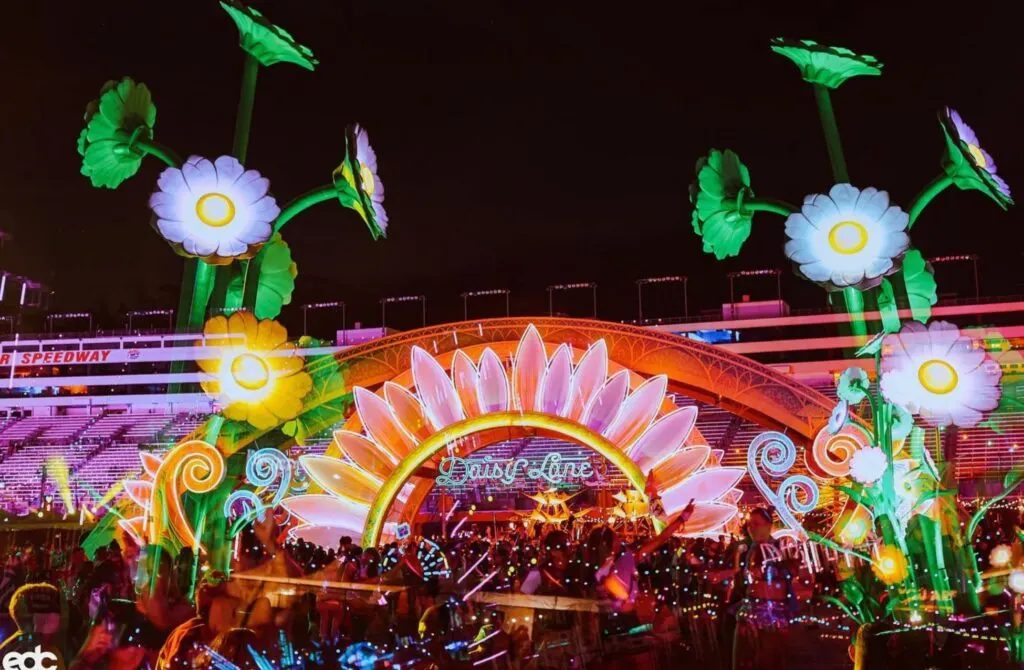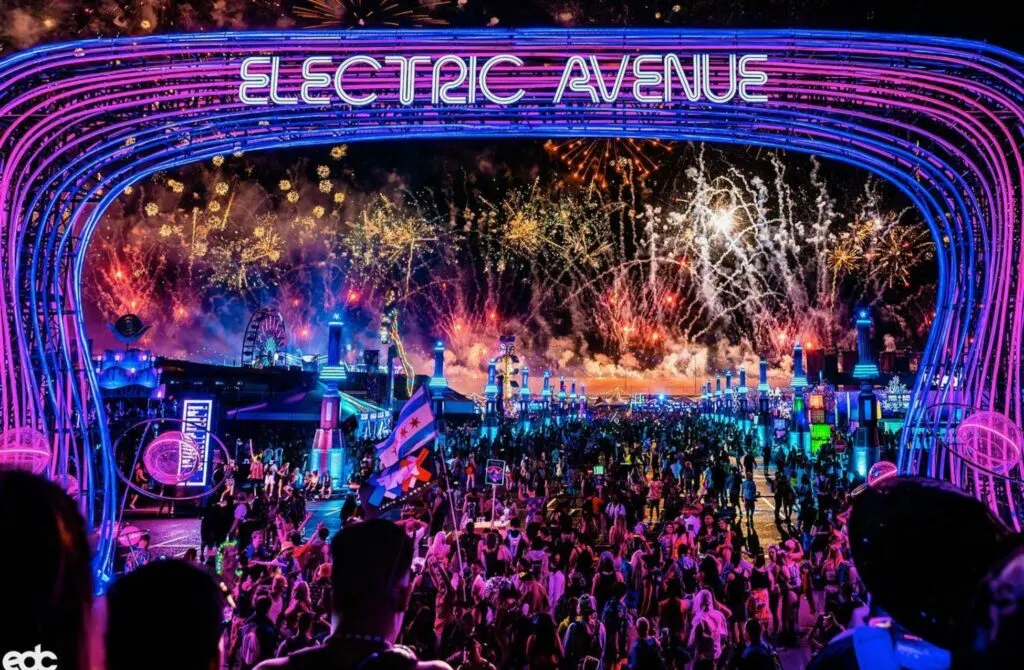 What sets EDC apart from other music festivals in Las Vegas is its strong emphasis on the festival's atmosphere and experience. At EDC, endless opportunities for entertainment and self-expression await beyond the stages. Attendees often dress extravagantly or wear costumes, embracing the festival's motto of "All Are Welcome Here."
Moreover, Las Vegas's world-class casinos and luxurious hotels provide the perfect backdrop to extend the fun and excitement beyond EDC's festival grounds. Guests can continue partying in upscale nightclubs, indulge in fine dining, or experience a wealth of other attractions that the city has to offer.
In conclusion, the Electric Daisy Carnival is a must-attend event for any electronic music lover or anyone seeking an unforgettable and unique dance festival experience. Its unparalleled musical lineup, breathtaking production, and vibrant atmosphere create an immersive wonderland where attendees can freely express themselves and become entranced by the melodies and visual spectacles that surround them.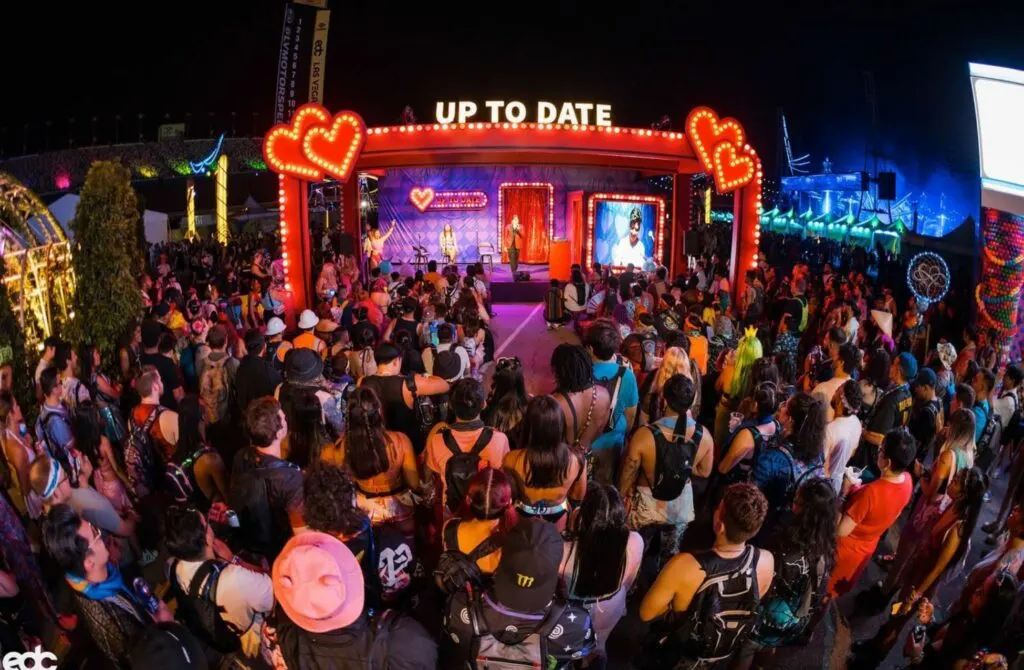 Rock Festivals In Las Vegas
Psycho Las Vegas is a highly anticipated music festival that takes place annually in the bustling city of Las Vegas. This multi-day event, usually held in August, boasts an impressive lineup of heavy metal, psychedelic rock, and doom metal bands. In the past, Psycho Las Vegas has been hosted at T-Mobile Arena, providing an electric atmosphere for festival-goers.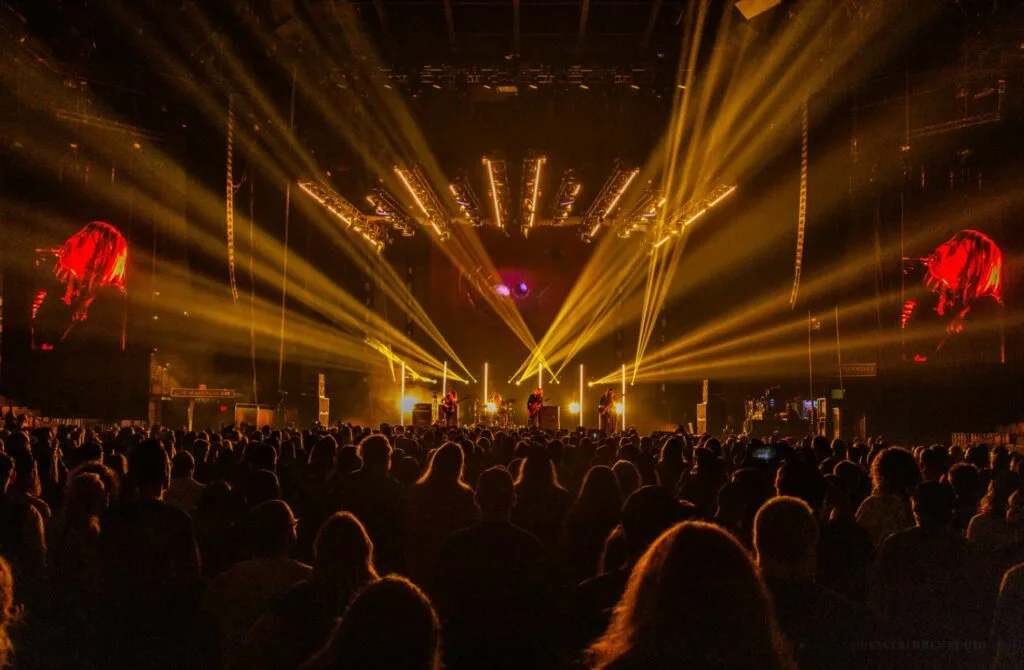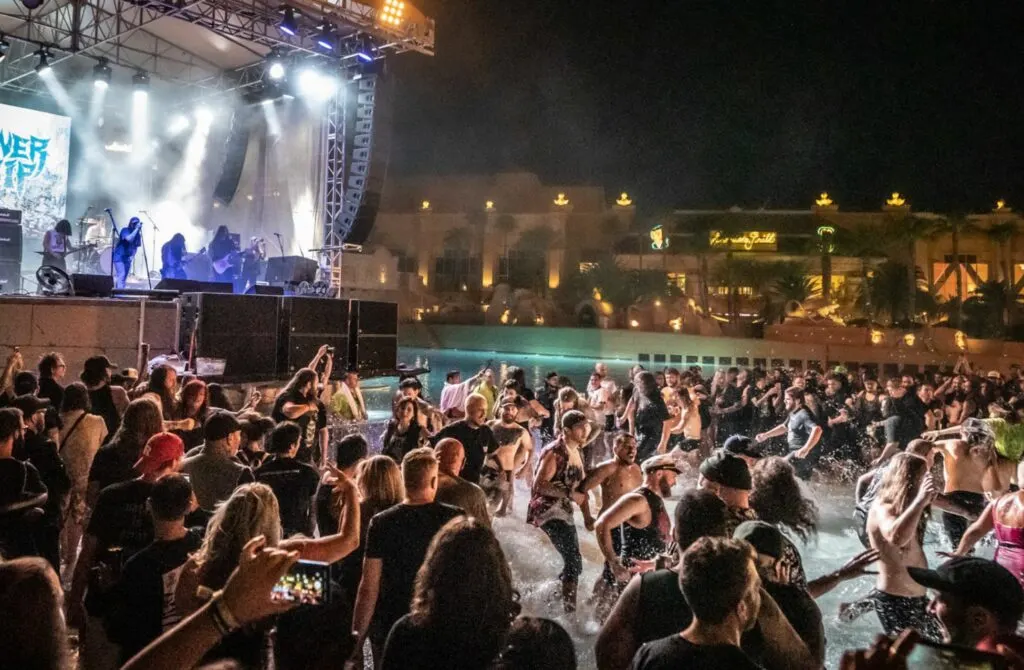 With a typical attendance in the thousands, Psycho Las Vegas is an unmissable event for fans of heavy music. Notably, previous years have featured headlining acts such as My Chemical Romance, AFI, and The Used, ensuring a diverse and high-energy experience for attendees. What makes this festival so unique is its blend of genres, creating an unparalleled experience for rock and metal enthusiasts.
In addition to the incredible live performances, Psycho Las Vegas offers a variety of activities and amenities, like art installations, meet-and-greets, and dining options. This immersive environment contributes to the overall appeal of this one-of-a-kind event, making it a must-attend festival for anyone seeking a thrilling and memorable experience in Las Vegas.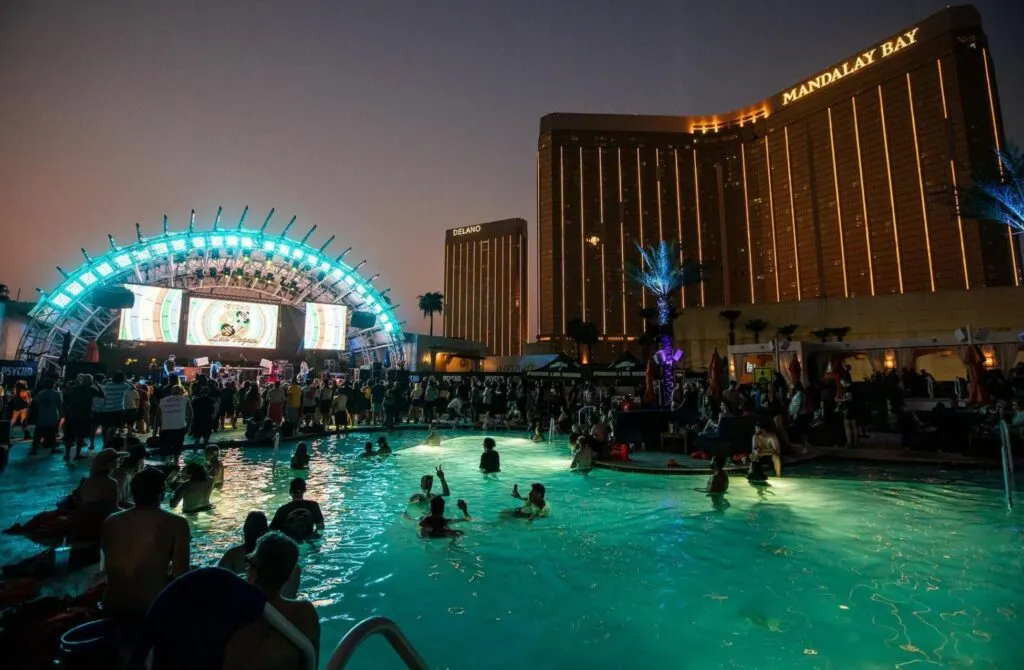 Another dynamic rock festival to check out in Las Vegas is the Punk Rock Bowling & Music Festival. Held over three days in May, this event combines the worlds of punk rock music and bowling for a truly unique experience. The festival is held at various downtown locations, making it accessible for locals and visitors alike.
The Punk Rock Bowling & Music Festival is a spirited gathering that attracts a diverse crowd, ranging from casual fans to die-hard punk rockers. Previous years have included powerhouse acts like Taking Back Sunday, Dashboard Confessional, and A Day to Remember, providing fans with high-energy performances and unforgettable memories.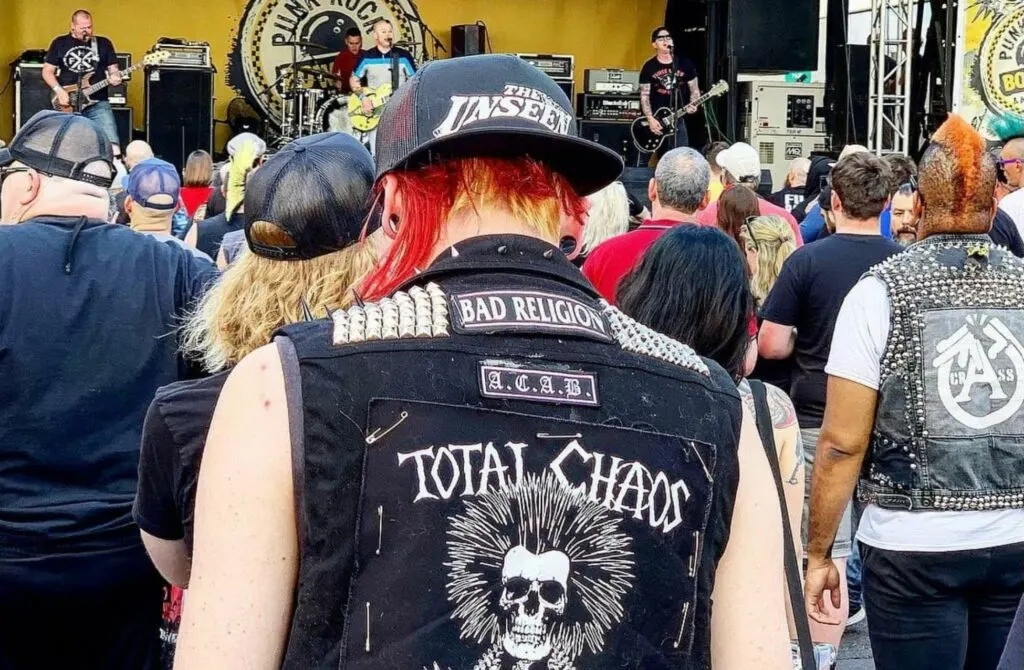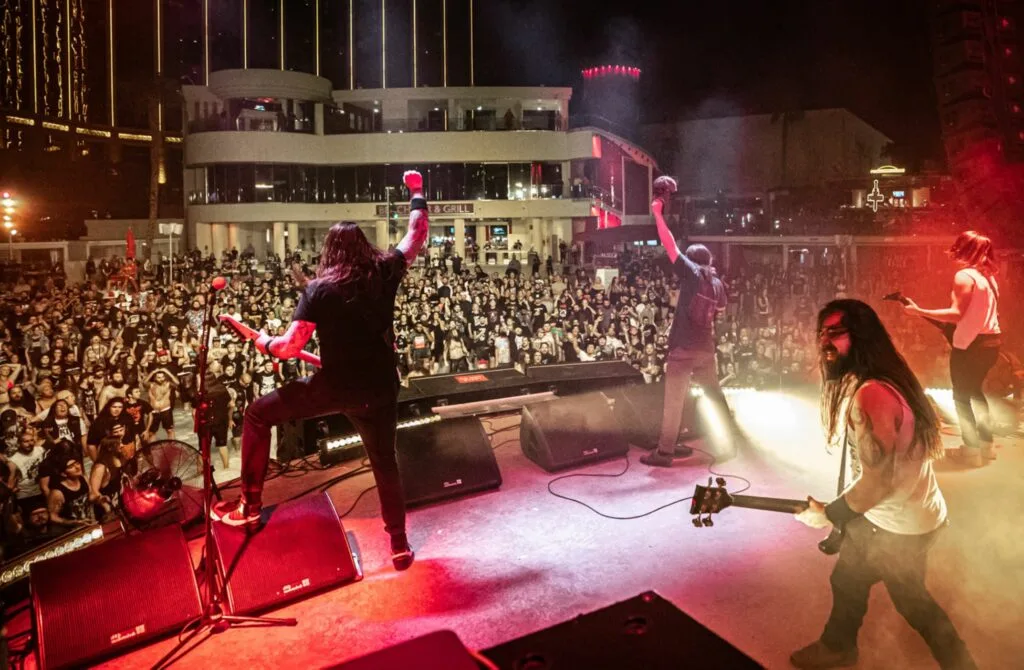 One of the standout features of this festival is its incorporation of bowling tournaments, which adds an exciting twist and allows attendees to participate in a friendly competition while enjoying top-tier musical acts. Between rocking out to your favorite punk bands and bowling for glory, there's never a dull moment at the Punk Rock Bowling & Music Festival.
In summary, both Psycho Las Vegas and Punk Rock Bowling & Music Festival offer unique and exhilarating experiences for rock music fans. With lineups featuring prominent bands, electrifying atmospheres, and plenty of additional activities to enjoy, there's no question that these two events should be at the top of any rock enthusiast's Las Vegas festival list.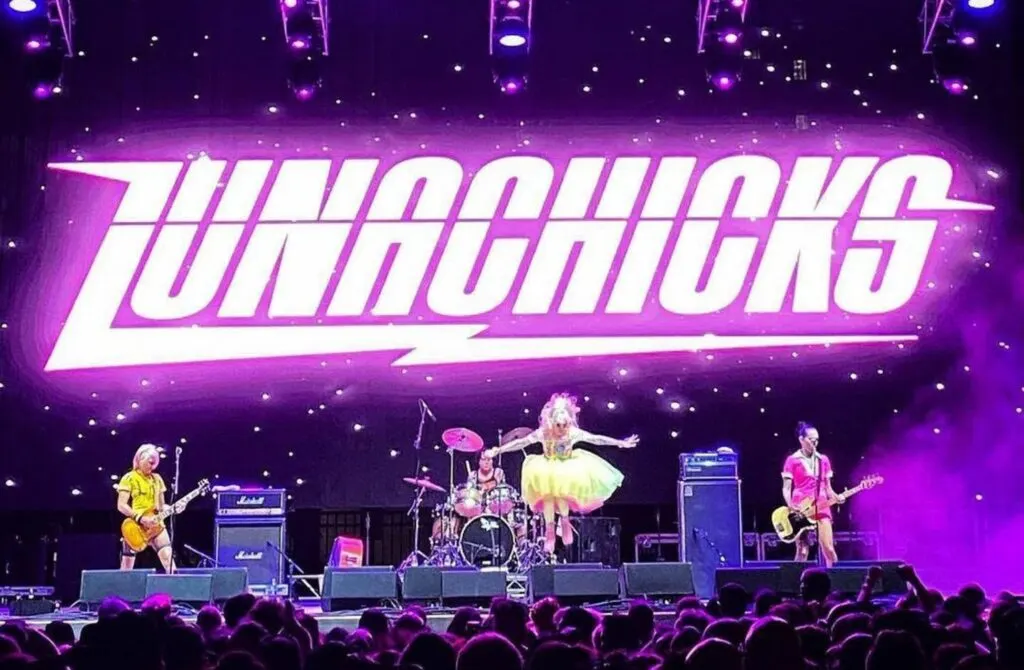 Jazz Festivals In Las Vegas
The Big Blues Bender is a much-anticipated jazz festival in Las Vegas, known for its incredible line-up of world-class jazz and blues musicians. This annual event typically takes place in September, drawing hundreds of avid jazz enthusiasts from around the globe. Spanning over four days, the festival delivers a unique, immersive experience for both performers and fans alike.
Taking place at the Westgate Las Vegas Resort & Casino, the Big Blues Bender offers multiple stages for a diverse range of musical acts. In previous years, the festival has boasted legendary artists such as Buddy Guy, Tab Benoit, and Kenny Wayne Shepherd. At the Big Blues Bender, attendees not only enjoy spectacular live music, but they also have the chance to participate in workshops led by professional artists, providing a unique opportunity to learn from the masters in an intimate setting.
Another notable festival is the Las Vegas Bender Jamboree, which also brings together fans of jazz, blues, and Americana music. The Bender Jamboree, though catering to an overlapping audience, is distinct from the Big Blues Bender in terms of its atmosphere and line-up. This festival typically occurs in April and transforms a Las Vegas hotel into a musical oasis, complete with multiple stages and even late-night shows for fans who just can't get enough of the phenomenal performances.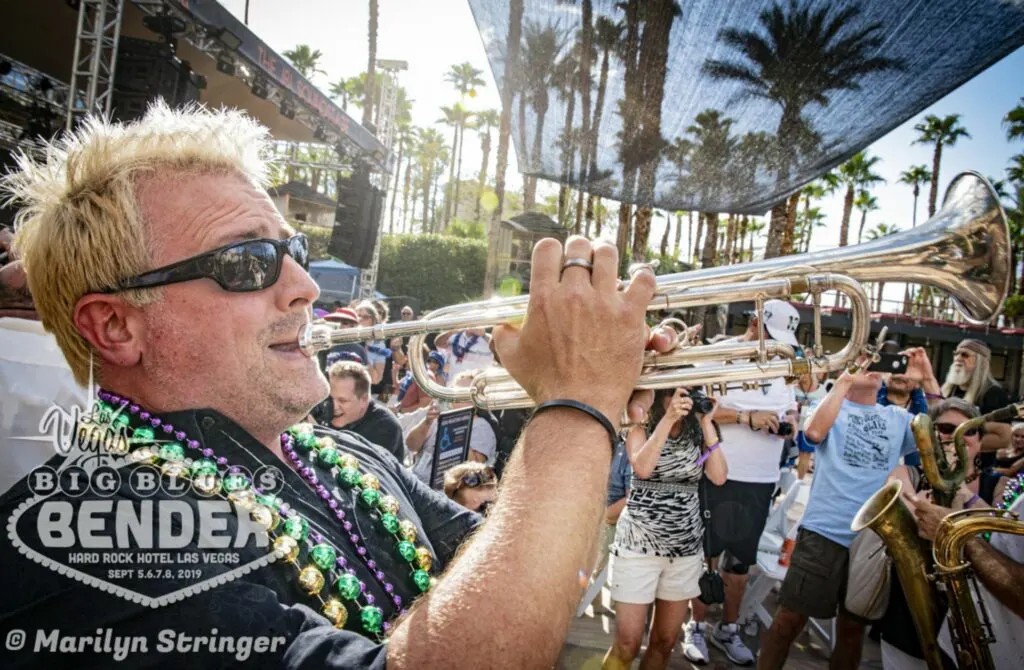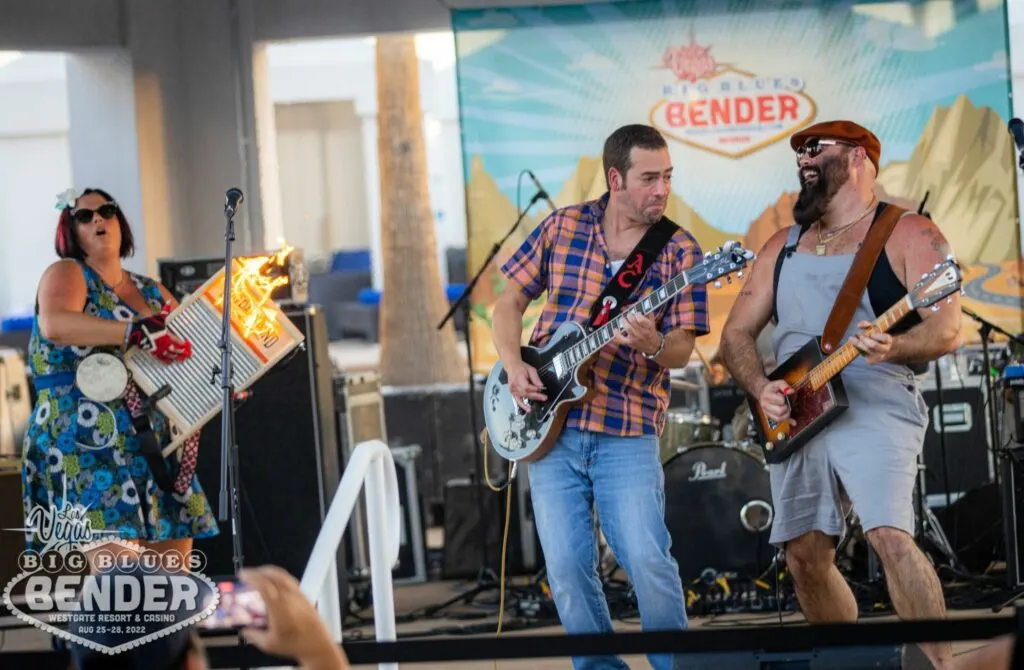 What sets the Big Blues Bender apart from other jazz festivals is its commitment to creating a truly unforgettable experience for attendees. The festival offers various ticket packages that cater to different levels of music fanatics who want to fully immerse themselves in the event. These packages grant access to artist meet-and-greets, exclusive performances, and even comfortable accommodations at the Westgate Las Vegas Resort & Casino, ensuring guests can stay close to the action throughout the duration of the event.
If you are a jazz enthusiast looking to experience the magic of Las Vegas' music scene, the Big Blues Bender is the perfect festival for you. With an impressive line-up of revered musicians, engaging workshops, and exclusive performances, this event promises to be an unforgettable experience. The excitement and passion for jazz music you will find at the Big Blues Bender is undeniably exhilarating and sure to create life-long memories.
So, why not plan to attend the Big Blues Bender next time it comes to Las Vegas? Mark your calendars now and prepare to be captivated by the exceptional talent and vibrant atmosphere this remarkable festival has to offer.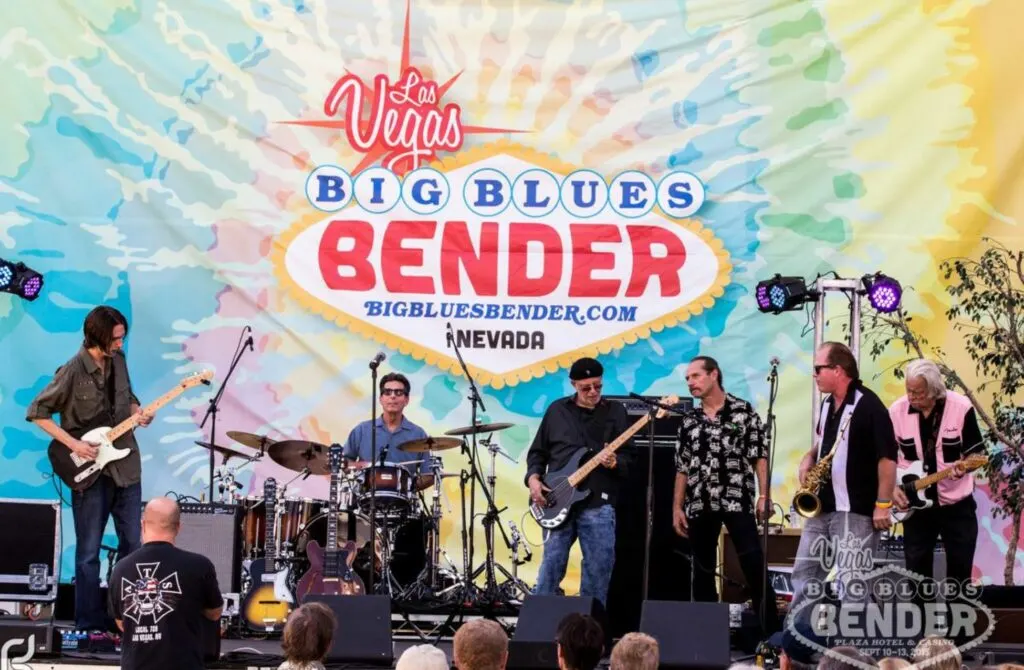 Pop Festivals In Las Vegas
The iHeart Radio Music Festival is a must-attend event for pop music enthusiasts visiting Las Vegas. This festival takes place annually in September and attracts thousands of music lovers from all over the world. The tantalizing lineup of the iHeart Radio Music Festival has earned it a reputation as one of the most anticipated musical events of the year.
This two-day event brings together some of the biggest names in the pop music industry. Past performances include chart-toppers like Usher, Imagine Dragons, and Lorde. The festival also features rising stars such as Jack Harlow and Omar Apollo, ensuring a diverse and exciting experience for attendees.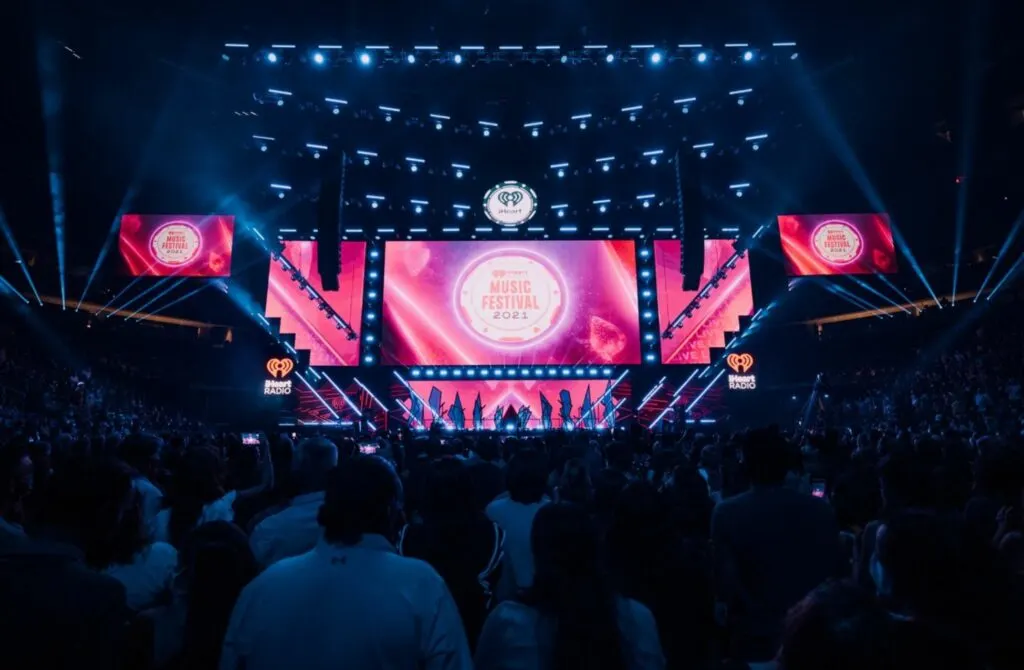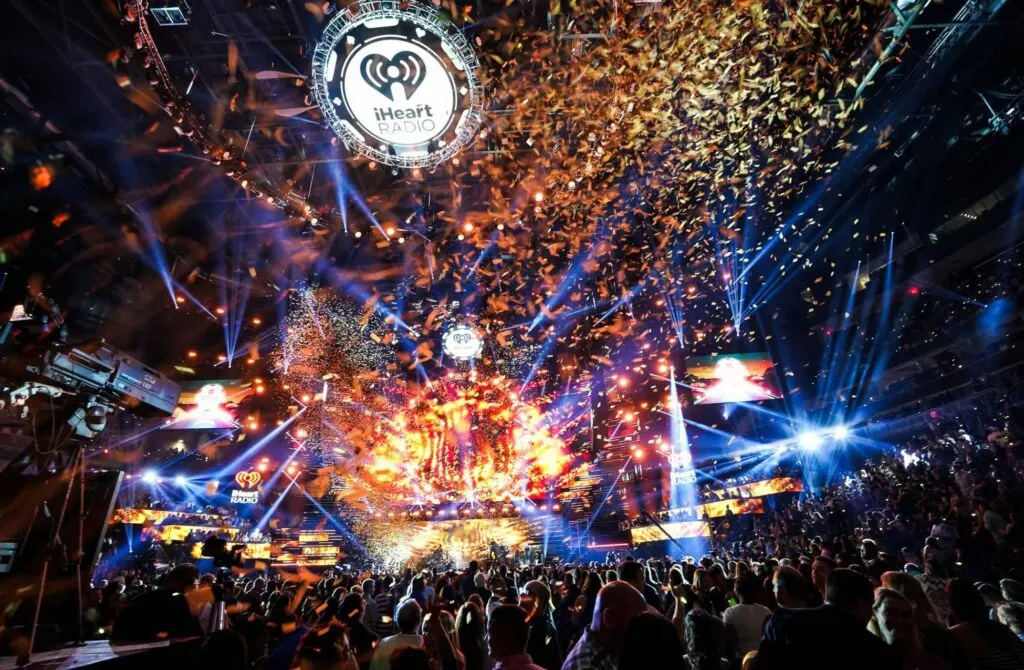 Held at the T-Mobile Arena in Las Vegas, the venue plays a significant role in making the iHeart Radio Music Festival a memorable experience. With its state-of-the-art facilities and remarkable acoustics, the T-Mobile Arena can accommodate more than 20,000 attendees, elevating the festival's atmosphere to an electrifying level.
The iHeart Radio Music Festival sets itself apart by featuring not only live performances by top artists but also immersive and interactive experiences for the audience. Festivalgoers can enjoy exclusive behind-the-scenes access, artist meet and greets, and other surprises throughout the event. This unique blend of music, entertainment, and engagement makes the iHeart Radio Music Festival an unforgettable experience.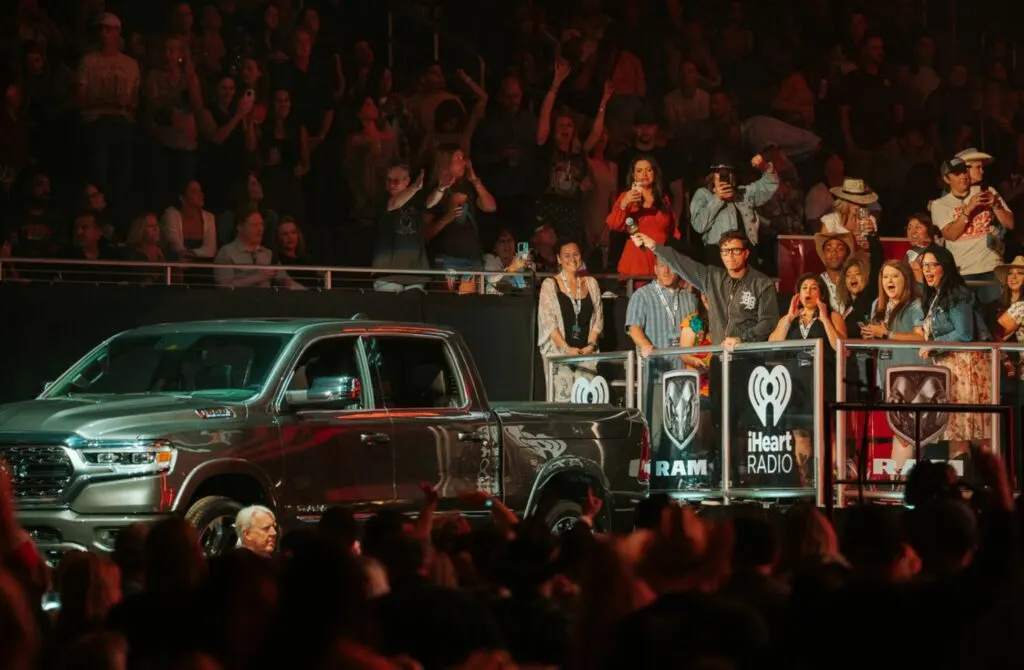 Another unmissable pop festival in Las Vegas is Life is Beautiful. This annual event, held over a weekend in September, is the perfect combination of music, food, and art, making it a memorable experience for all attendees. Located in Downtown Las Vegas, Life is Beautiful transforms 18 blocks of the city into a lively and vibrant festival ground.
Since its inception, Life is Beautiful has brought together an impressive lineup of pop artists, covering a wide range of musical styles. Past headliners include Kendrick Lamar, The Killers, and Odesza, with diverse and up-and-coming acts like Jack Harlow and Omar Apollo also gracing the stage. This eclectic mix of musical talent ensures a one-of-a-kind experience for festivalgoers.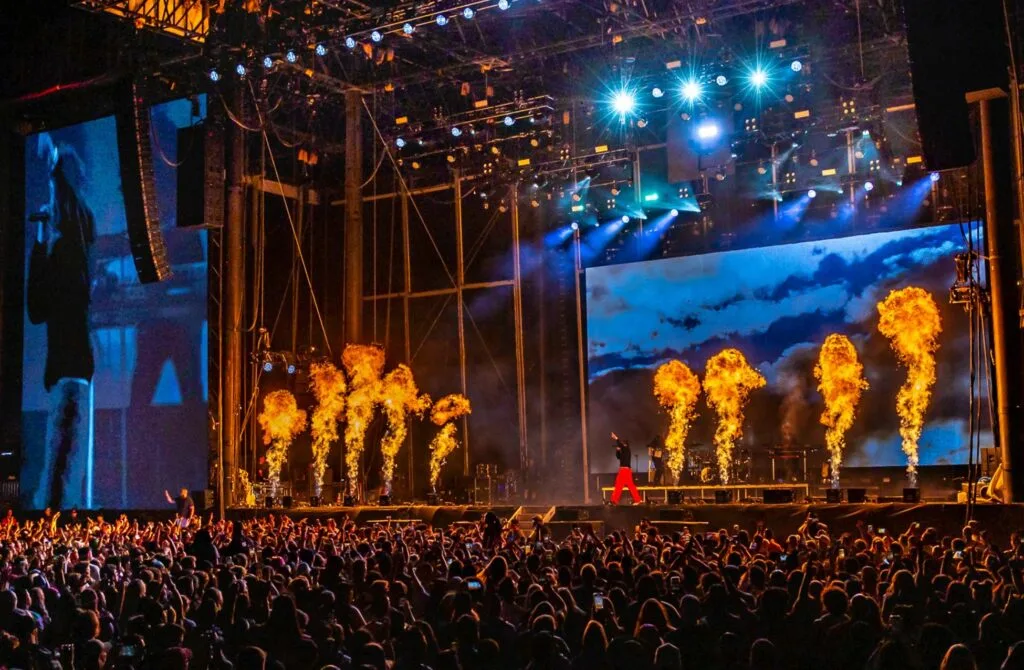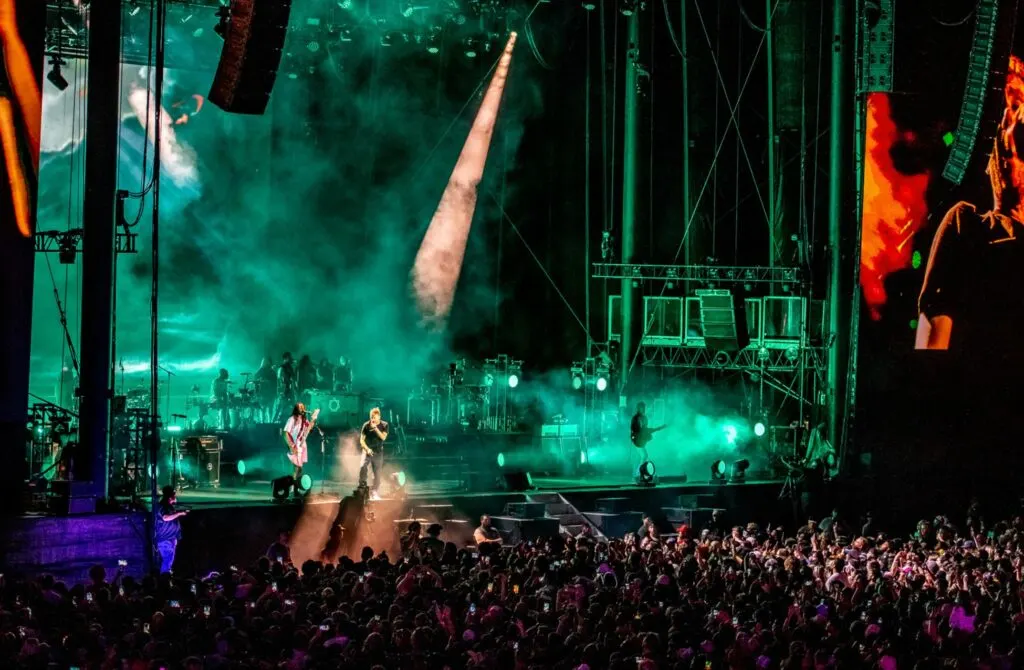 What sets Life is Beautiful apart:
Seven stages featuring live music performances
More than 70 local and international food vendors
Captivating visual art installations
Inspirational speakers and panel discussions
Life is Beautiful is not your average music festival – it's an immersive and transformative event that encourages attendees to celebrate life, creativity, and human connection. The festival's dedication to creating unforgettable experiences, backed by a stellar lineup of artists and attractions, makes it an essential addition to any Las Vegas itinerary.
Whether you're a pop music aficionado or a casual fan looking for an unforgettable weekend, Life is Beautiful is a festival that you simply cannot miss.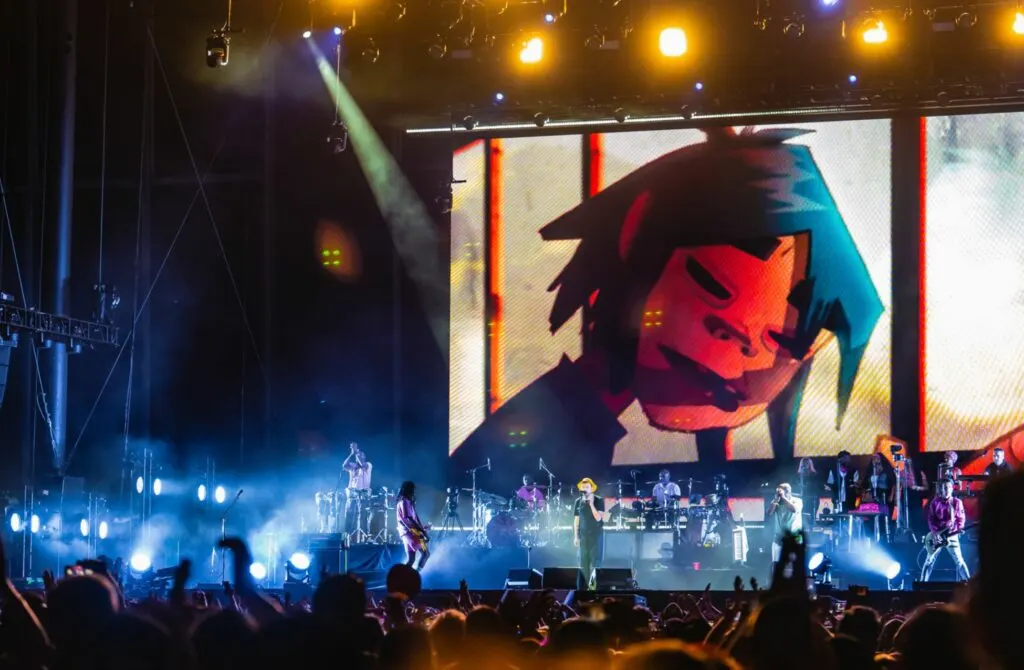 Alternative Festivals In Las Vegas
When We Were Young Festival is a must-attend event for fans of alternative music. This unique festival takes place in Las Vegas, showcasing a lineup including some of the most iconic artists of the past decade. With its highly anticipated lineup, great location, and unforgettable atmosphere, When We Were Young Festival has become a prominent fixture in the Las Vegas music scene.
The festival typically spans over a weekend, providing two full days of music. It held at the Las Vegas Festival Grounds, offering ample space for concert-goers to enjoy the event. In previous years, the festival attracted thousands of attendees, who come together to celebrate their love for alternative music and create lasting memories.
Some of the most popular acts from previous years have included Paramore, Dashboard Confessional, A Day To Remember, and many more. The diverse lineup offers a little something for everyone, be it punk, emo, pop-punk, or any other sub-genre of alternative music. Each year, attendees eagerly anticipate the announcement of the lineup, knowing they'll be in for a treat.
What sets When We Were Young Festival apart from other music events in the area is its particular focus on nostalgia and the alternative acts that shaped the music scene of the 2000s. Fans can come together and sing along to their favorite songs from their formative years, making the event a one-of-a-kind experience.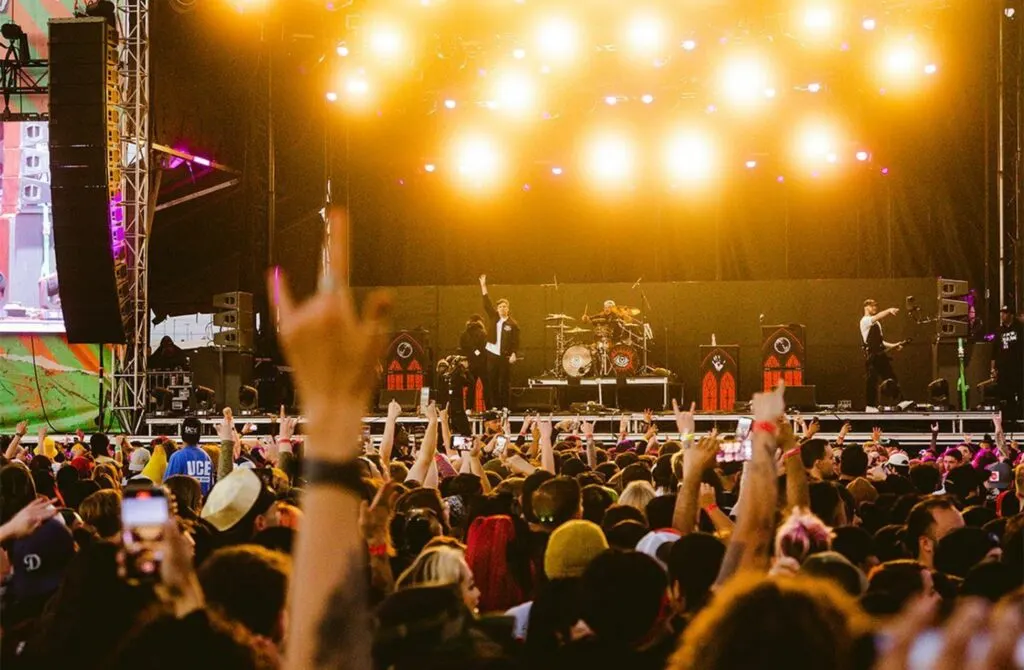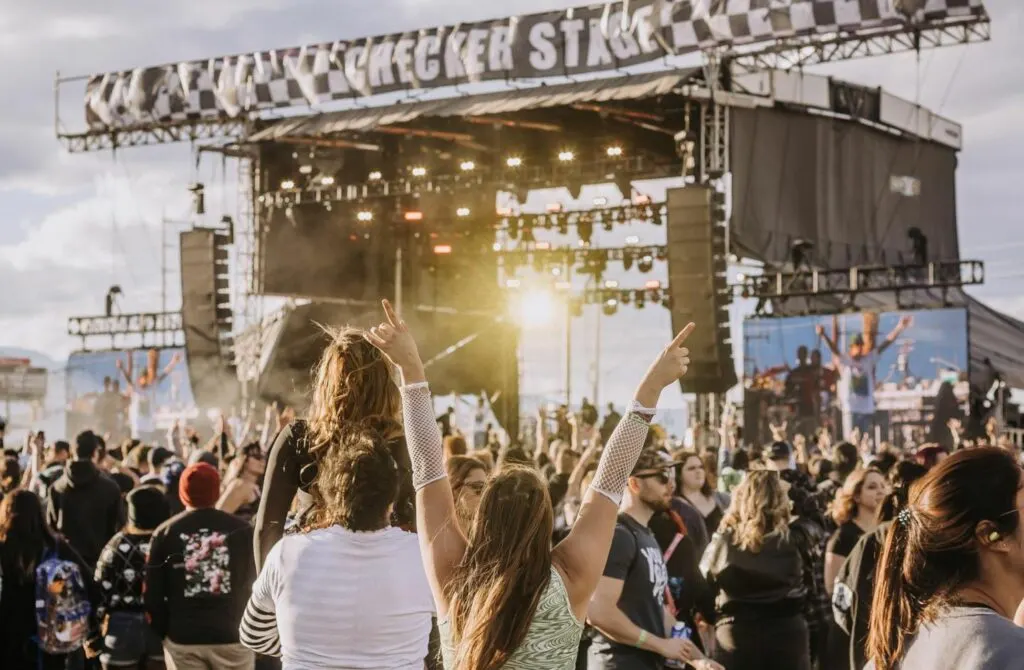 The unique atmosphere and positive vibe of the festival make it an excellent choice for both first-time and returning attendees. With an excellent selection of food and drink vendors available, music enthusiasts can relax and refuel between sets. The festival organizers also prioritize safety and security, ensuring all attendees can have a worry-free weekend.
To truly make the most of your time at When We Were Young Festival, be sure to arrive early and plan out your schedule. With multiple stages showcasing different acts throughout the day, having a game plan can help you catch as many performances as possible. Don't forget to bring a comfortable pair of shoes and sunscreen for long days of dancing in the sun.
In a nutshell, When We Were Young Festival offers a rare opportunity for alternative music aficionados to come together and revel in the music that defined their youth. With its impressive lineup and unbeatable atmosphere, there's no doubt this festival should be on the radar of those visiting or living in Las Vegas.
Don't miss the opportunity to be a part of this unique musical experience that celebrates the creative expressions of the past, and be sure to mark your calendar for the upcoming edition!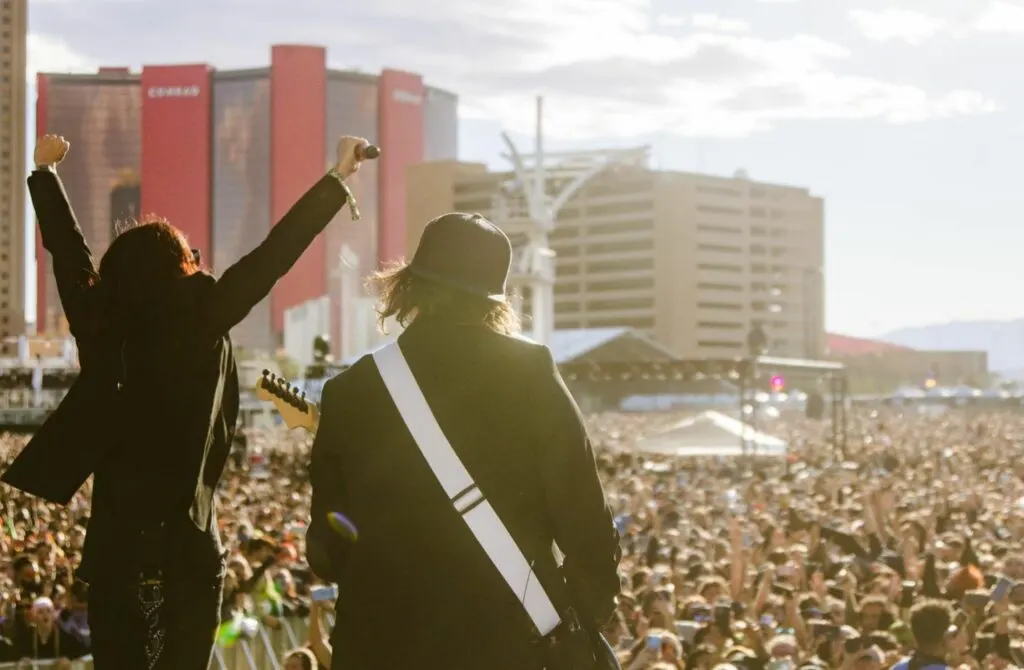 Reggae Festivals In Las Vegas
Las Vegas, also known as Sin City, is not only famous for its casinos and nightlife but also hosts a variety of music festivals throughout the year. Among these events, reggae festivals stand out as vibrant celebrations of Caribbean culture and music, drawing in thousands of attendees. One such event that takes place in the heart of the city is Reggae Rise Up Las Vegas.
Reggae Rise Up Las Vegas is a highly anticipated annual festival that promotes the best of reggae music, food, and culture in Sin City. It is organized by Reggae Rise Up, the top festival and concert production and promotion company in North America. The event usually takes place in October, turning the Downtown Las Vegas Events Center into a reggae haven for enthusiasts.
With a strong lineup each year, the festival has featured big-name artists such as Slightly Stoopid, Dirty Heads, SOJA, and Iration in the past, showcasing a mix of established and emerging talent. Reggae Rise Up Las Vegas is not just about the music; it also offers attendees a chance to experience Caribbean-inspired cuisine, colorful arts and crafts, and cheerfully laid-back vibes.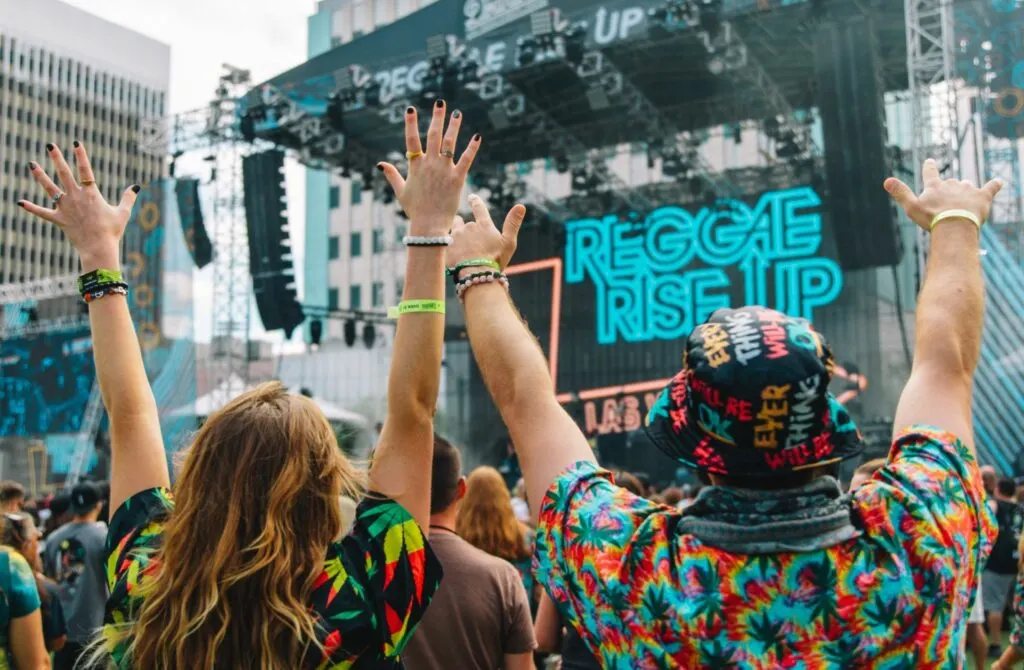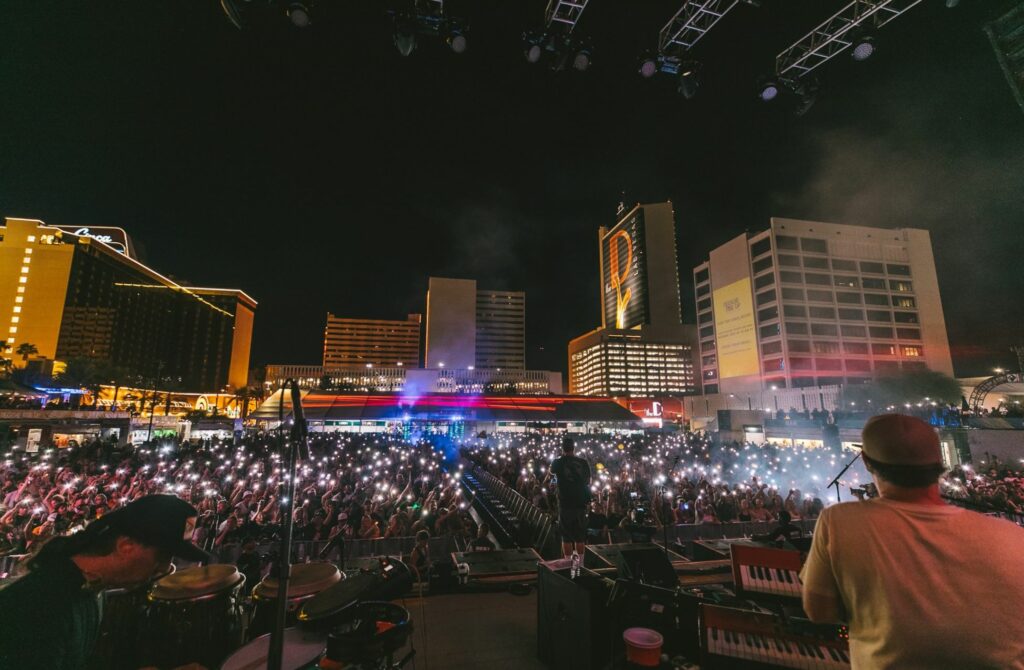 The festival typically lasts for three days, giving reggae fans ample time to enjoy the various acts while also exploring the rest of what Las Vegas has to offer. The event attracts a diverse audience, and the attendance numbers have grown consistently over the years. Visitors can expect a lively atmosphere, friendly people, and a memorable time at Reggae Rise Up Las Vegas.
What sets this festival apart is its commitment to curating an unforgettable experience, with top-notch production values and a dedication to promoting the reggae lifestyle. The festival also fosters a sense of community among its attendees, with many returning year after year to reunite with friends and share their love for the genre.
If you are a reggae lover, attending Reggae Rise Up Las Vegas should definitely be on your bucket list. Its central location in downtown Las Vegas makes it easily accessible, and the weather in October is perfect for enjoying outdoor music events. So, mark your calendars and get ready to immerse yourself in the rich sounds, tastes, and spirit of reggae with fellow enthusiasts in the heart of Sin City.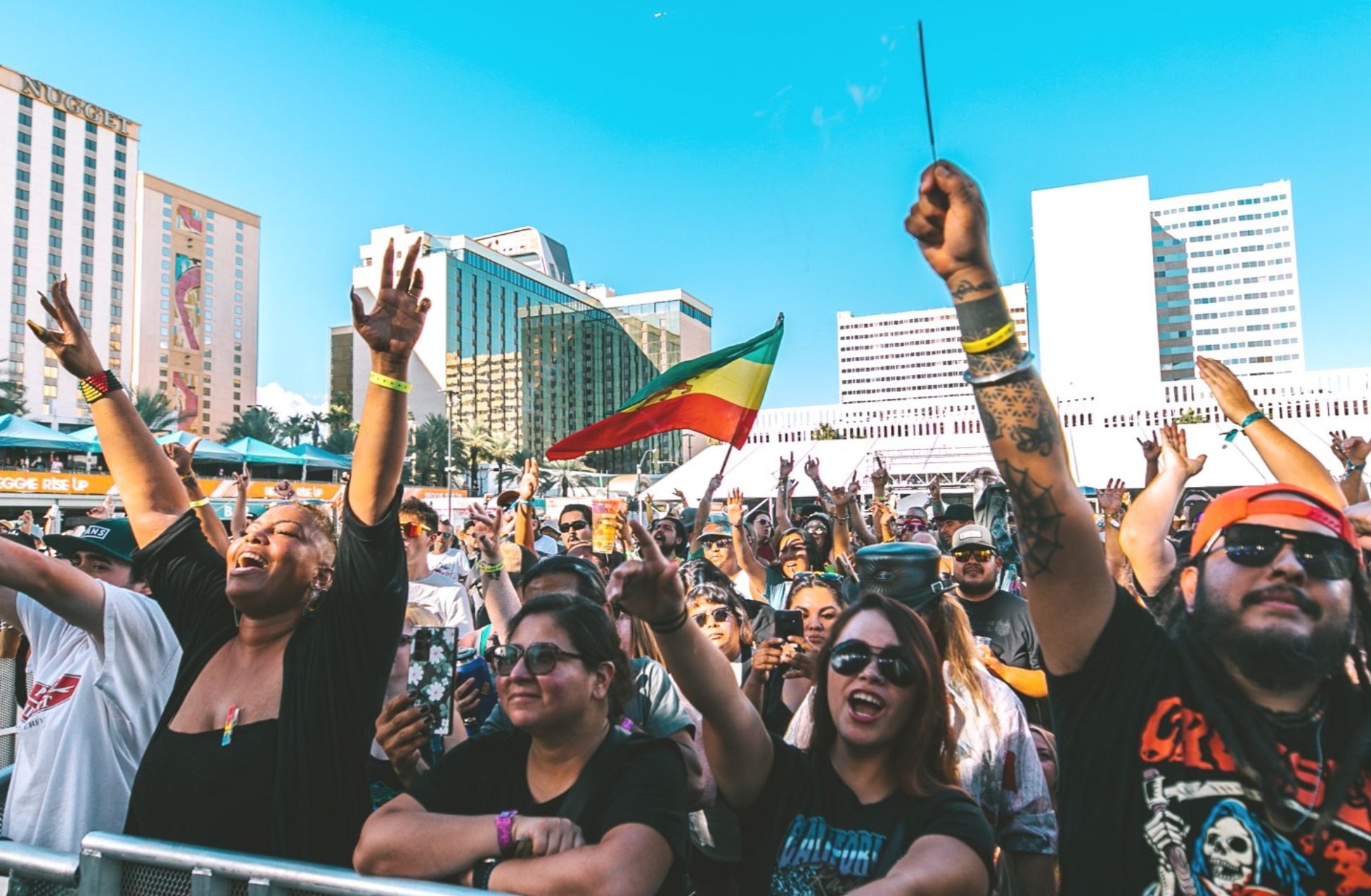 Metal Festivals In Las Vegas
Las Rageous Festival is a premier metal event in Las Vegas, typically taking place annually with the goal of delivering top-quality metal acts to the heart of Sin City. This festival not only attracts metal enthusiasts from across the globe but also showcases some of the best talent in the genre.
The location of Las Rageous Festival adds a unique twist to the metal scene, providing an unforgettable experience for attendees. Set against the iconic Las Vegas skyline, this festival offers both a visually stunning backdrop and an electrifying atmosphere for metal fans.
While the festival's lineup varies from year to year, it consistently draws big-name acts from the world of metal. In previous editions, Las Rageous Festival has seen performances by iconic metal bands such as Mercyful Fate, Emperor, and Alesso. Their presence on stage always ensures a memorable show that keeps attendees coming back for more.
Las Rageous Festival usually spans over two days, giving festival-goers ample time to enjoy everything the event has to offer. With this duration, attendees have the opportunity to explore the festival's numerous stages and catch as many live performances as they wish, making it an all-encompassing experience for any dedicated metal fan.
Aside from the amazing lineup of performers, several factors make Las Rageous Festival a unique experience: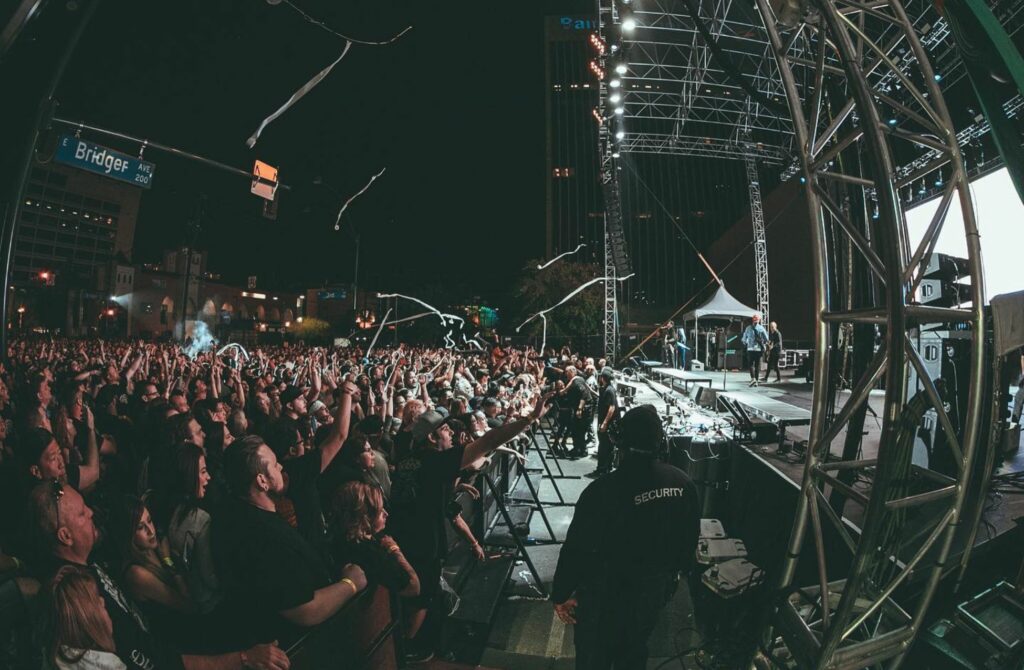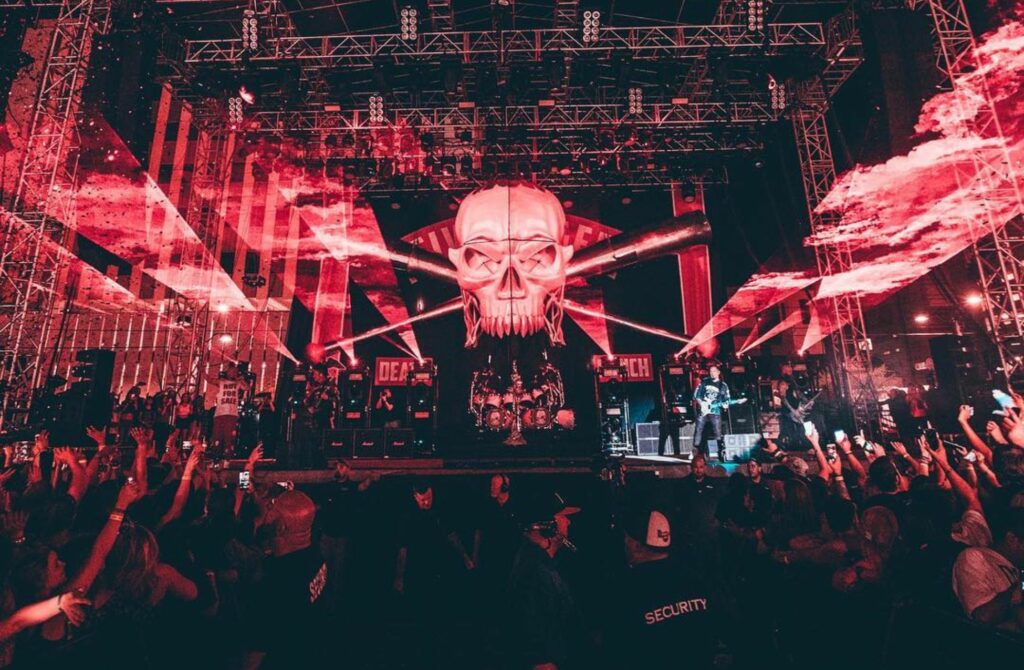 Location: Las Vegas is known for its vibrant, 24-hour energy, which complements the adrenaline-pumping excitement of a metal festival perfectly.
Attendance: The festival attracts thousands of metal enthusiasts, creating a lively atmosphere where you can meet new friends and bond over shared musical passions.
Stages: Multiple stages at Las Rageous Festival ensure that there's always something happening, giving attendees the chance to explore a diverse range of metal sub-genres and bands.
In previous editions of the festival, the following artists have performed:
Mercyful Fate: Considered one of the most influential bands in heavy metal, Mercyful Fate always delivers an outstanding performance with their unique blend of progressive and black metal elements.
Emperor: Hailing from Norway, Emperor has made a name for themselves in the metal scene, known for their innovative approach to black metal and their jaw-dropping live shows.
Alesso: This Swedish DJ and electronic musician might be an unusual addition to the metal lineup, but his energetic sets have been known to appeal to metal fans looking to experience different genres during the event.
With its unbeatable location, incredible lineup, and passionate audience, Las Rageous Festival is a must-attend event for any metal music lover. This festival offers a unique experience in a city like no other, and visitors are certainly in for a treat when they make their way to Las Vegas for this unforgettable event.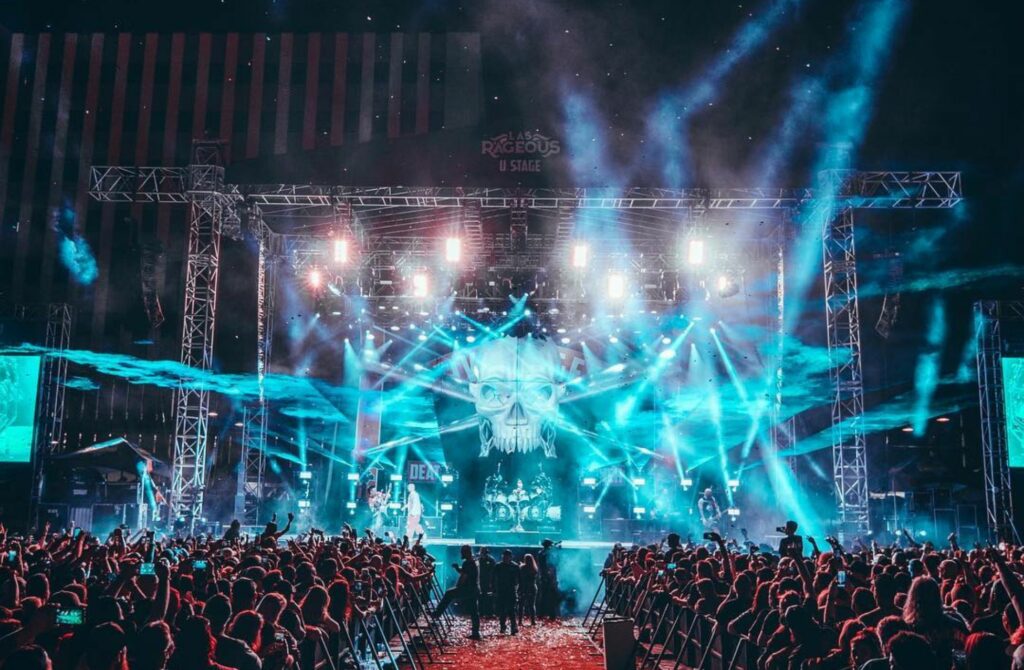 Hip Hop and R&B Festivals In Las Vegas
Las Vegas boasts a vibrant music scene with festivals offering the best of hip hop and R&B performances. Among these, one of the most exciting and distinguished events is the Day N Vegas festival. This section will provide you with all the information about Day N Vegas to make your next trip to Sin City unforgettable.
Day N Vegas is a remarkable hip hop and R&B festival held annually in Las Vegas, attracting some of the hottest talents in the industry, drawing thousands of music lovers from all over the world. It typically takes place around November, lasting for three action-filled days, and offering an outstanding lineup of acts.
In its previous editions, Day N Vegas has featured incredible artists, such as the Wu-Tang Clan, Migos, Calvin Harris, among others. Lil Jon, the legendary Atlanta rapper, hosted the event. Enthusiasts of the Wu-Tang Clan, who are considered an essential group in hip-hop history, were thrilled to witness Raekwon, GZA, Ghostface Killah, and other members of the crew perform live.
With a rich history of live entertainment, Day N Vegas strives to make each edition unique, complete with astonishing performances, unrivaled energy, and memorable experiences. The festival is held at the Las Vegas Festival Grounds, a spacious venue providing room for massive crowds and immersive festival vibes.
The typical attendance for Day N Vegas is in the tens of thousands, making it one of the most significant hip-hop/R&B festivals in the area. With such a diverse variety of attendees, the event has become an essential destination for music lovers worldwide.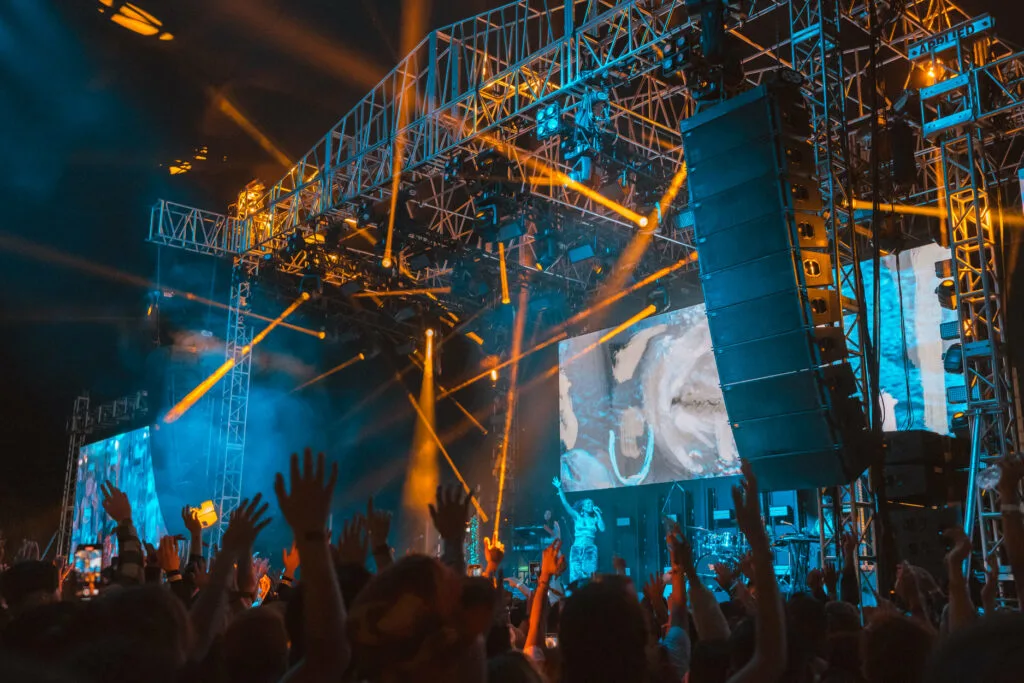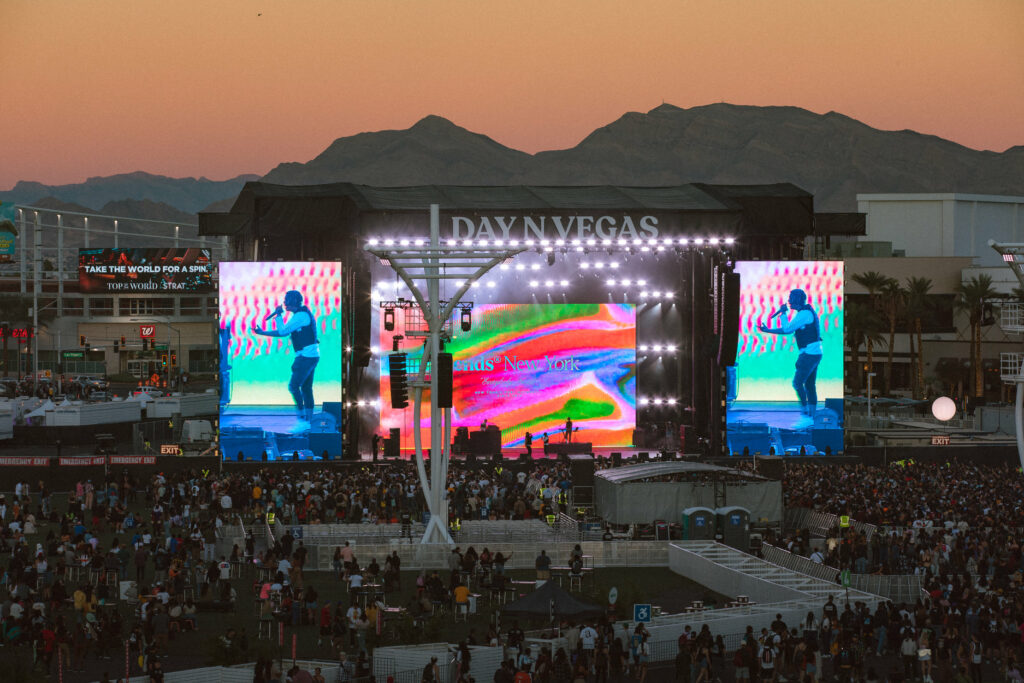 The uniqueness of Day N Vegas stems from its dedication to promoting the best of the hip-hop and R&B music world. The festival stands out by showcasing different styles and eras within these genres, from old-school legends like the Wu-Tang Clan to modern chart-toppers like Migos.
Visitors can expect to relish numerous performances, spanning from classic R&B tunes to exhilarating rap verses. Music enthusiasts who love to discover emerging artists or pay homage to their all-time favorites should not miss out on this fantastic festival.
Apart from the riveting performances and the mind-blowing lineup of acts, Day N Vegas also boasts a wide array of engaging attractions, including art installations, interactive activities, food trucks, and other concessions to keep festival-goers entertained.
So, if you are looking for top-notch live entertainment and want to experience the best of hip hop and R&B music, plan your trip to Las Vegas during the Day N Vegas festival. With its stellar lineup, fantastic atmosphere, and unforgettable memories, this event is worth making part of your musical journey.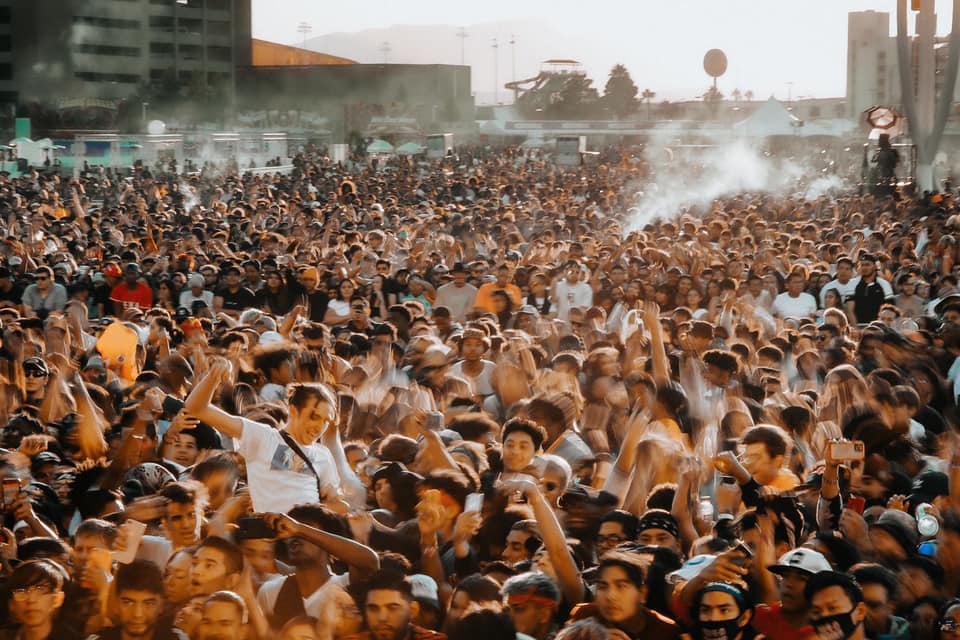 Electronic Festivals In Las Vegas
Las Vegas is known for its vibrant nightlife and world-class music events. One of the most exciting music festivals in the city is the Exodus Festival, which showcases the best electronic music acts in an unforgettable experience.
The Exodus Festival is an annual event that takes place during the summer in Las Vegas. The festival is typically organized over four days and attracts more than thousands of electronic music enthusiasts from all over the world. Attendees can expect a fantastic lineup featuring top artists like The Chainsmokers, Diplo, Kaskade, Arctic Monkeys, and Kygo. With its unique blend of pool parties, stunning lights, and thrilling performances by renowned DJs and musicians, this event is truly unmissable for any electronic music fan.
The festival is hosted at various venues along the famous Las Vegas Strip, creating an immersive and exciting atmosphere for all attendees. It incorporates several day and night parties, with a special focus on top nightclubs and luxurious pool parties. This seamless blend of music and entertainment ensures that there is never a dull moment during the Exodus Festival.
The lineup of the festival does not disappoint, as world-renowned DJs and musicians are known for gracing the stage in previous years. Acts like The Chainsmokers, Diplo, Kaskade, Arctic Monkeys, and Kygo have previously performed to enthusiastic crowds at this event, which testifies to its prestige in the electronic music industry. The combination of legendary artists and exciting up-and-coming acts means that the audience can discover new electronic music gems while still enjoying the sounds of their favorite artists.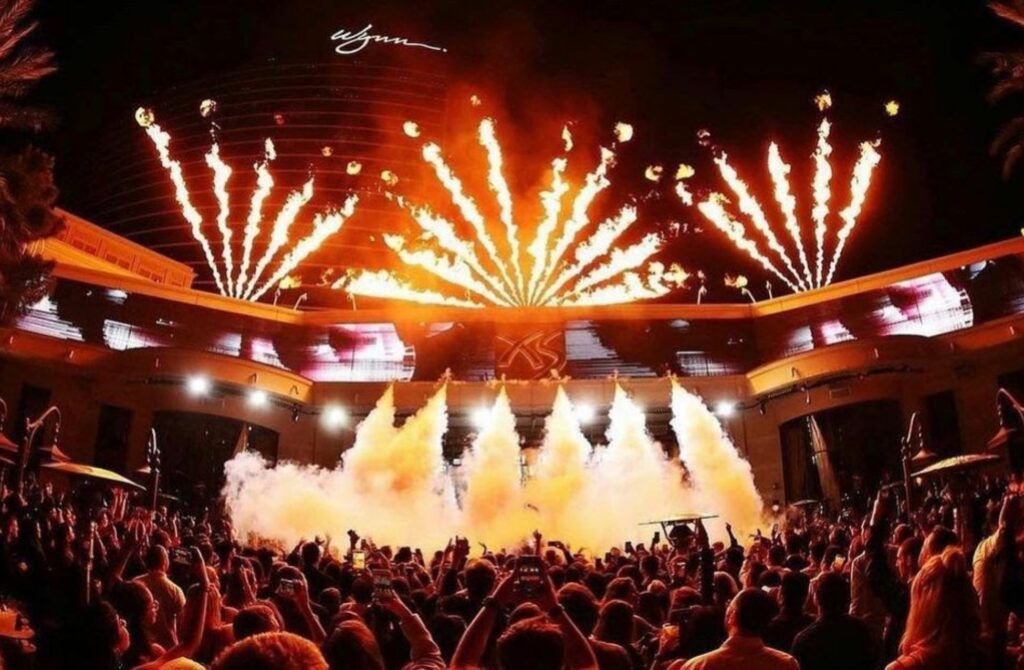 One of the unique aspects of the Exodus Festival is the integration of luxurious pool parties with heart-pumping music. During the day, festival-goers can cool off and relax in the pool while enjoying stunning performances by popular DJs. Under the glinting sun by day and the shimmering lights by night, the Exodus Festival is known for creating a party atmosphere like no other. With world-class nightclubs and top-notch performances, this event ensures that music fans will have an unforgettable experience in Sin City.
In summary, the Exodus Festival in Las Vegas offers a truly unique and unforgettable experience for electronic music fans. With its fantastic lineup, luxurious pool parties, and thrilling performances at iconic nightclubs, this summer event is unmissable. Those who attend can expect an exciting and immersive atmosphere, as the festival is curated to ensure that there is never a dull moment for the audience. So, if you're planning your next trip to Las Vegas, make sure to include the Exodus Festival in your itinerary; you won't want to miss out on this fantastic event.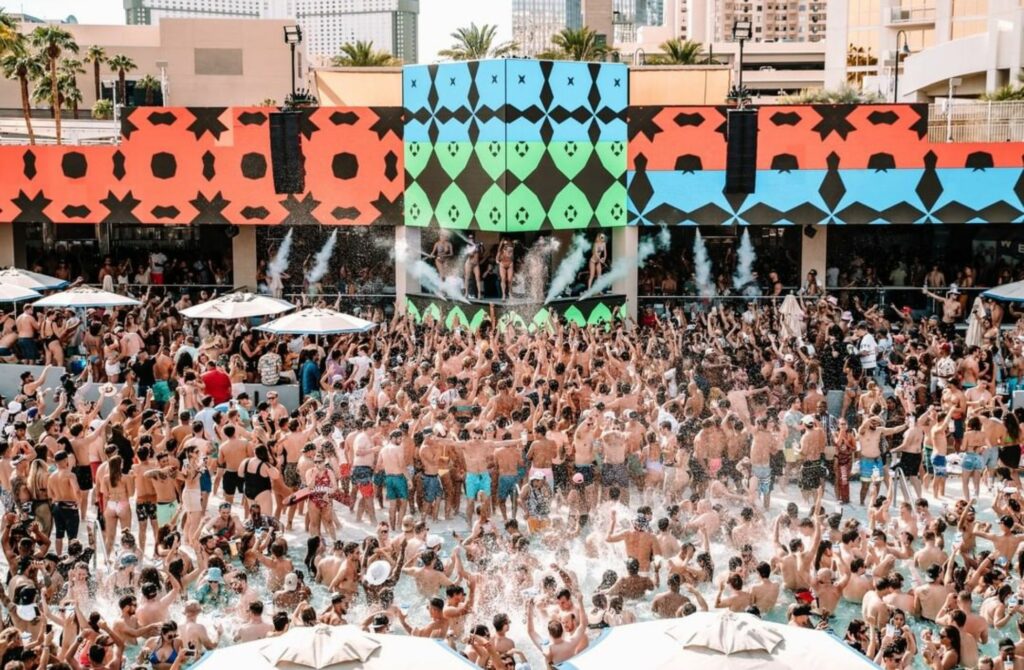 Miscellaneous Festivals In Las Vegas
The Viva Las Vegas Rockabilly Weekender is an annual event that takes place in the vibrant heart of Downtown Las Vegas. This energetic festival is typically held in April and spans across four fun-filled days. With crowds of over 20,000, the Viva Las Vegas Rockabilly Weekender has become a must-attend event for fans of rockabilly, retro culture, and classic cars.
One of the key aspects that sets this festival apart is its diverse lineup of live music, featuring both local and international acts who bring rockabilly, swing, and 1950s-style rock 'n' roll to the stage. Previous years have welcomed renowned performers such as Jerry Lee Lewis, Wanda Jackson, and Dick Dale.
In addition to the fantastic music, the festival also showcases: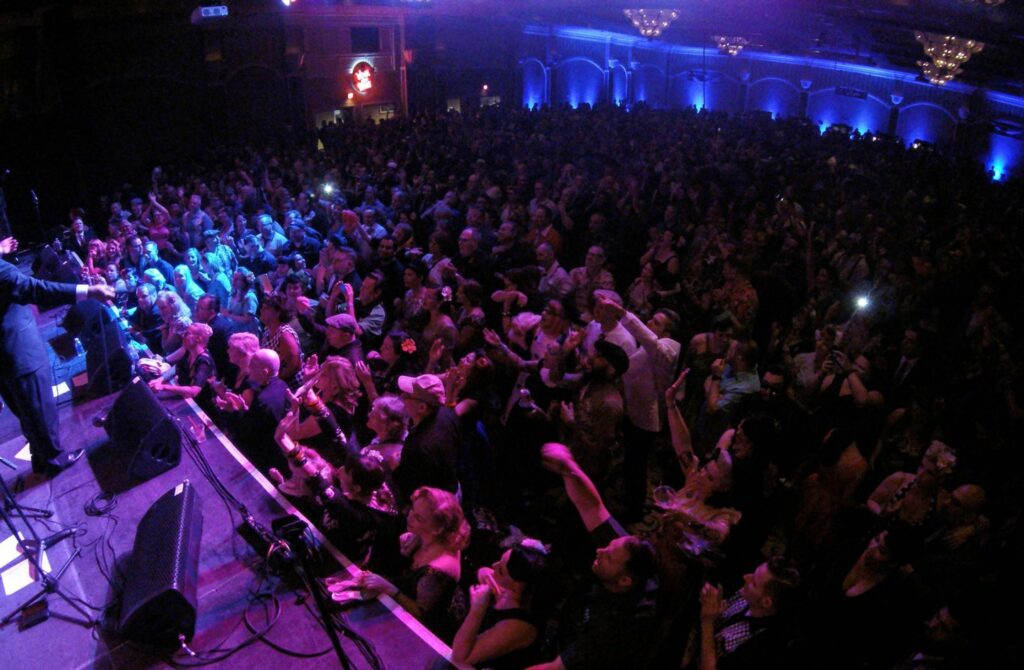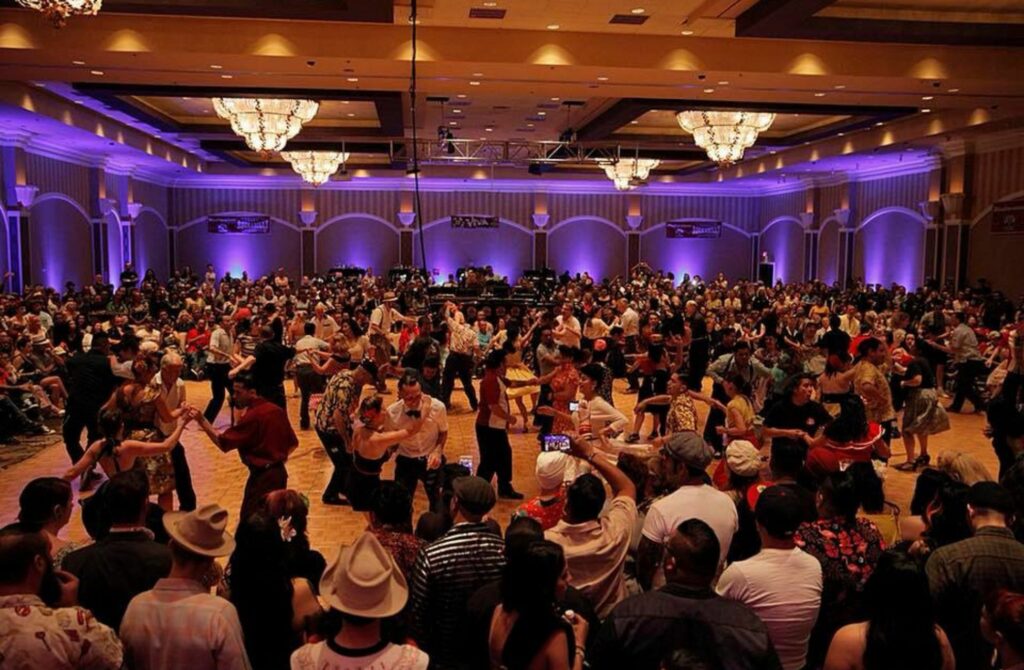 Classic Car Show: A collection of pre-1963 automobiles, including hot rods, customs, and vintage vehicles.
Burlesque Showcase: International burlesque performers showcasing their talents in a glamorous and tantalizing display.
Tiki Pool Party: A refreshing respite from the desert heat, where guests enjoy poolside DJ sets, vintage swimwear contests, and lively dance lessons.
The Viva Las Vegas Rockabilly Weekender is not just another music festival; it's a full-blown celebration of vintage culture that transports attendees to a bygone era of glamour, excitement, and nostalgia. If you're a fan of good music, vibrant fashion, and retro vibes, this festival should undoubtedly be on your radar.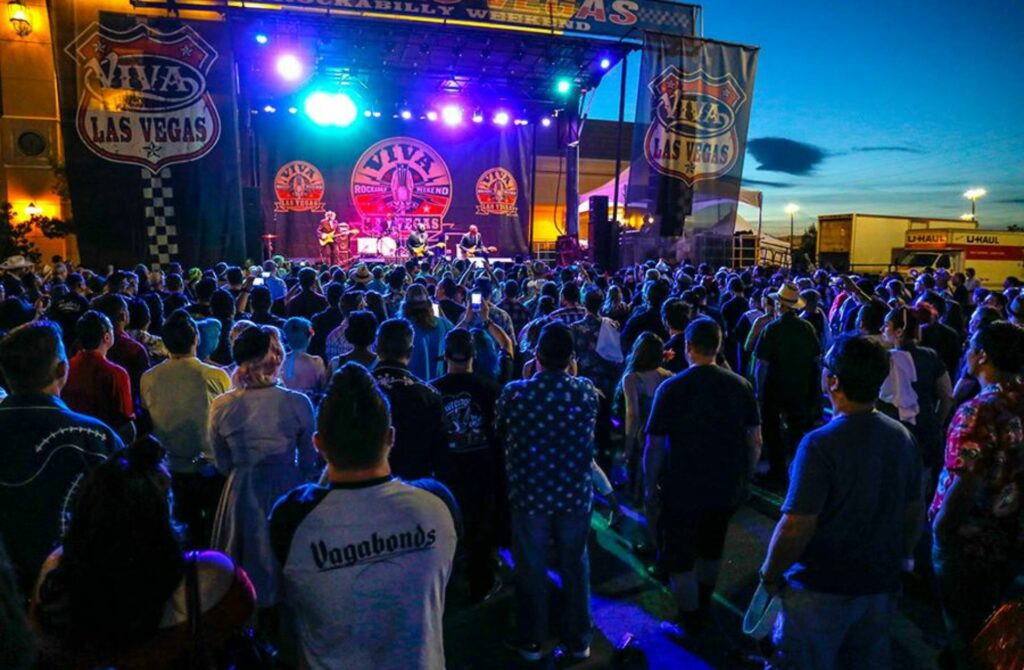 The Rise Lantern Festival is a breathtaking, one-of-a-kind event held annually in the Mojave Desert, just outside of Las Vegas Boulevard. Typically taking place in October, the festival lasts for a single magical evening that leaves a lasting impression on all who attend.
Drawing in a crowd of thousands, the Rise Lantern Festival is a celebration of hope, unity, and new beginnings. As dusk turns to night, participants gather to personalize their biodegradable lanterns with messages of love, inspiration, and dreams for the future.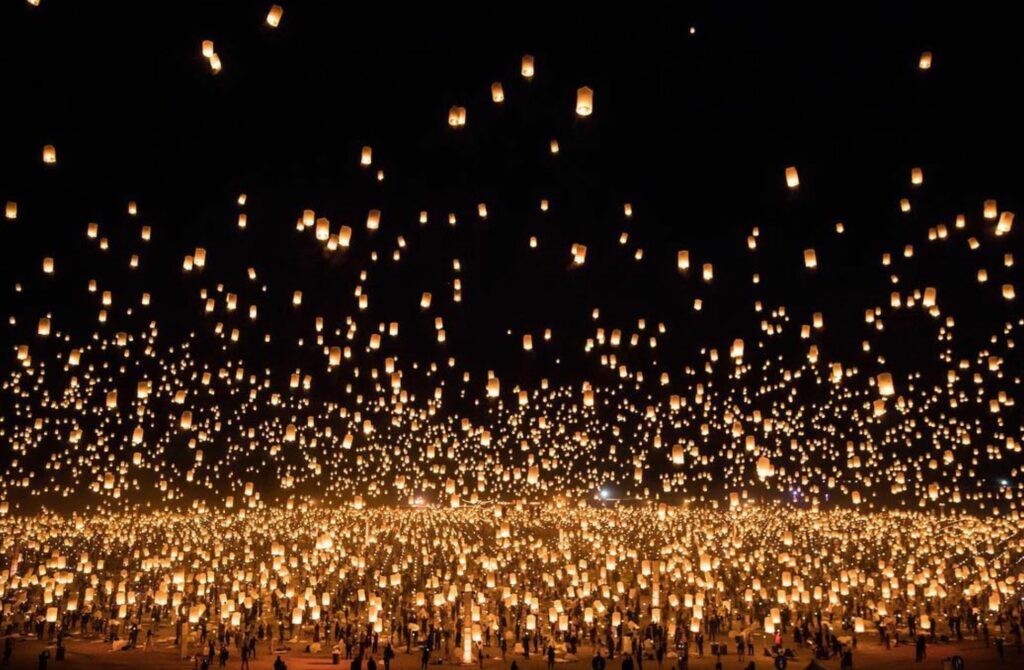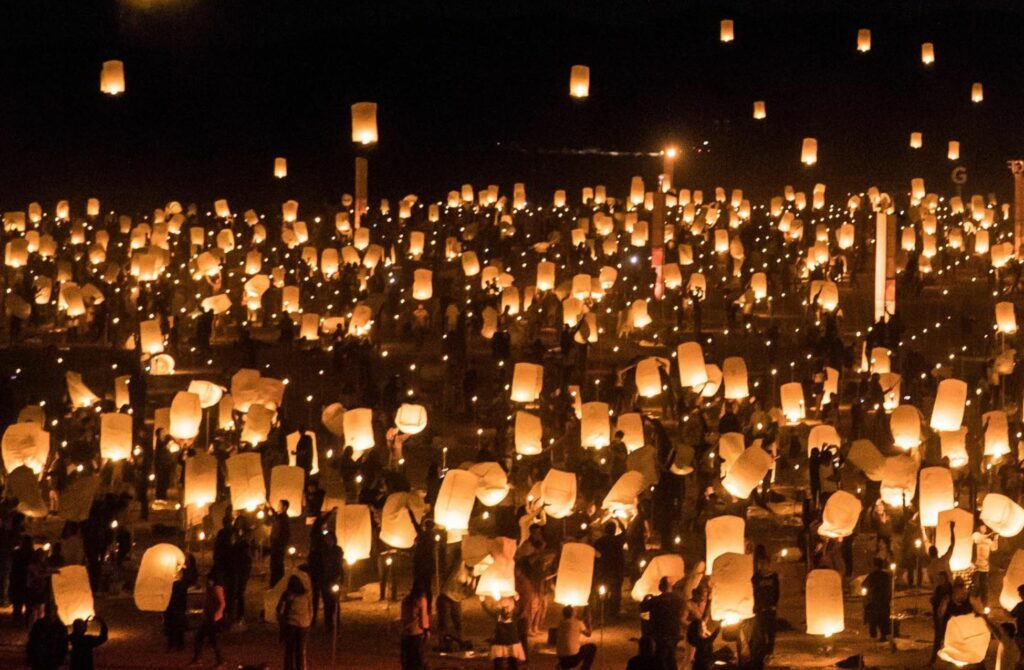 When the time comes, everyone simultaneously releases their illuminated lanterns into the night sky, creating a mesmerizing spectacle of twinkling lights that rise and merge with the stars. This enchanting experience is accompanied by live music performances that add to the festival's serene and uplifting atmosphere.
An essential aspect of the Rise Lantern Festival is its commitment to sustainability and environmental responsibility. All lanterns used at the event are made from eco-friendly materials designed to break down quickly and leave no long-lasting impact on the beautiful desert surroundings.
The Rise Lantern Festival offers a once-in-a-lifetime experience, uniquely combining an ethereal night of illumination with the thrill of live music. Its unforgettable atmosphere of unity, celebration, and hope is truly something that everyone should experience at least once in their lives.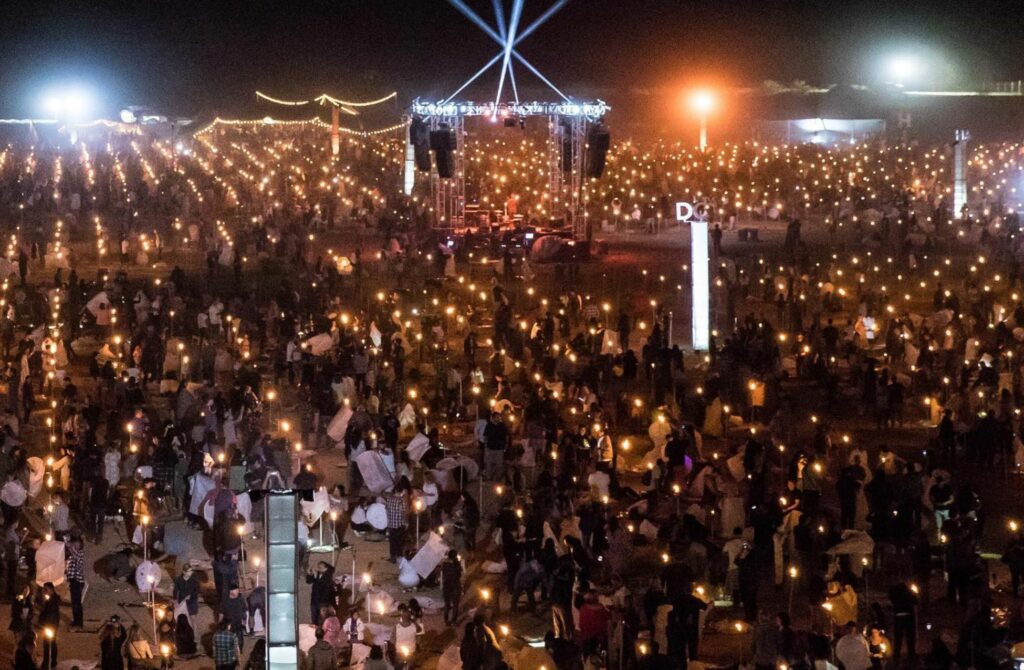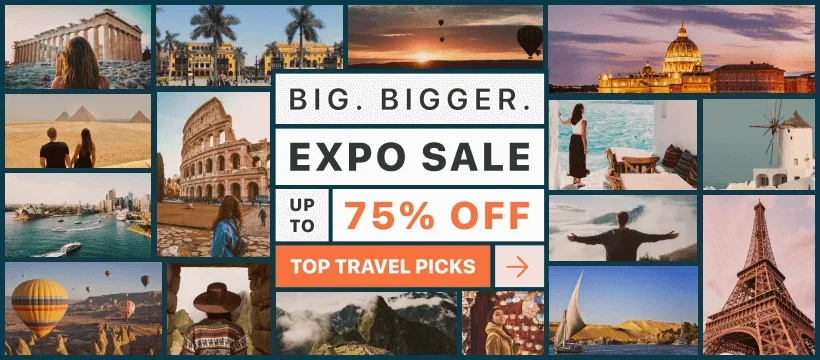 Staying Connected While Travelling
In today's increasingly connected world, staying online while traveling has become essential for a seamless experience. That's where eSIMs come into play, revolutionizing the way we access mobile networks during our global adventures. Say goodbye to hunting down local SIM cards at the airport; eSIMs provide instant activation the moment you land, sparing you the fortune usually spent on international roaming and allowing you to genuinely travel like a local (without getting hopelessly lost!).
With eSIMs, tasks like restaurant recommendations and reservations, up-to-the-minute public transport instructions, checking opening hours, and accessing further information become a breeze. And, of course, sharing your journey on social media is easier than ever. To stay connected wherever you roam, consider using either Airalo or Holafly. Airalo boasts the most extensive range of destinations worldwide, offering smaller data bundles tailored to your needs, while Holafly provides unlimited data packages and fantastic EU data deals.
So why wait? Embrace the future of travel connectivity with eSIMs and make your next journey effortlessly smooth.
Further Things To Consider Before Any Adventure
Now you're all set and prepared to explore our big wide world, why not sort out everything else out all in one go? If necessary for your travel plans make sure you have brought proper travel insurance, protected your privacy by getting a secure VPN, compared all the top hotel booking sites to find just what you're after, reserved an unbeatable rental car price and - of course - booked the best flight deals!
Or maybe just forget it all and go for a last-minute cruise or effortless tour instead?
Many budget travelers (including me) indulge in worldwide airport lounge access, so we can experience luxury while still slumming it in economy. Naturally, we would never leave home without a more general travel guide since we couldn't possibly cover everything here!
Just add an adventurous attitude and plenty of smiles - they go a long way - and that about covers it all! Now go out, find your own path and don't forget to share your best inspiration stories with me on Facebook, Twitter, and Instagram...I'd love to hear from you!