Austin Texas is a place you just can't help falling in love with – A truly unique city populated by an eclectic mix of cowboys, politicians, hippies and hipsters who all contribute to creating a distinctive urban space.
Where you can watch a risqué drag show, pop next door to ride a mechanical bull at a Honky Tonk, taste the best BBQ you have ever had in your life at Franklin BBQ or delight in vegan Korean-Mexican fusion food trucks … Just to name a few!
Yes, Austin is undoubtedly the Capital of Weird – a city which for the most part has eschewed big box stores, chains and corporations in favour of their own unique spirit and home-grown talent which is why on a recent visit I was so excited to stay at the Park Lane Guest House Austin.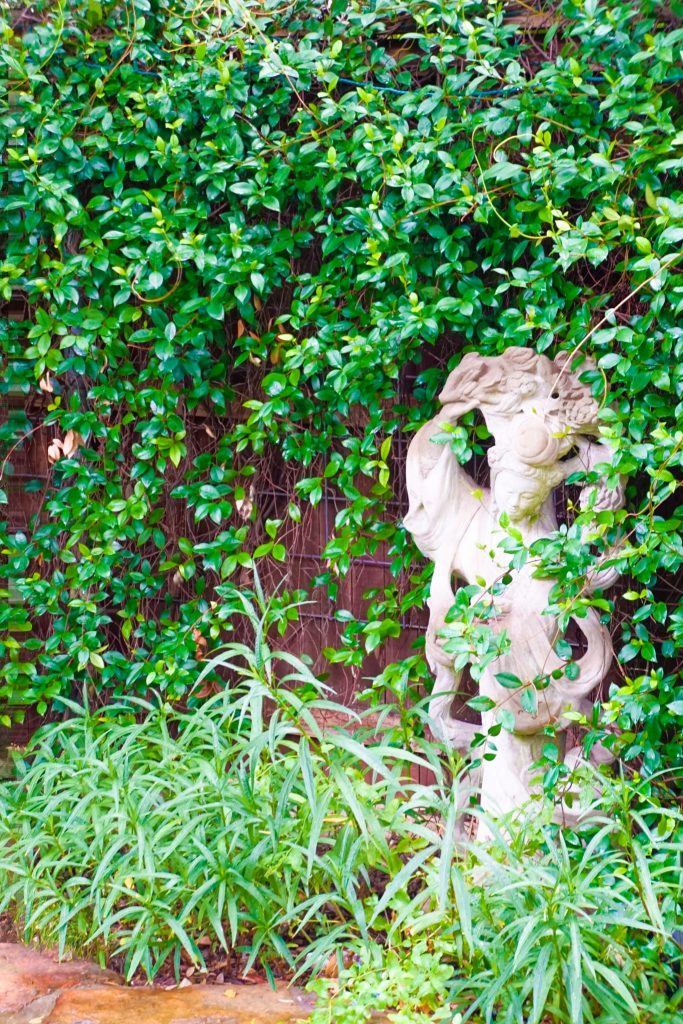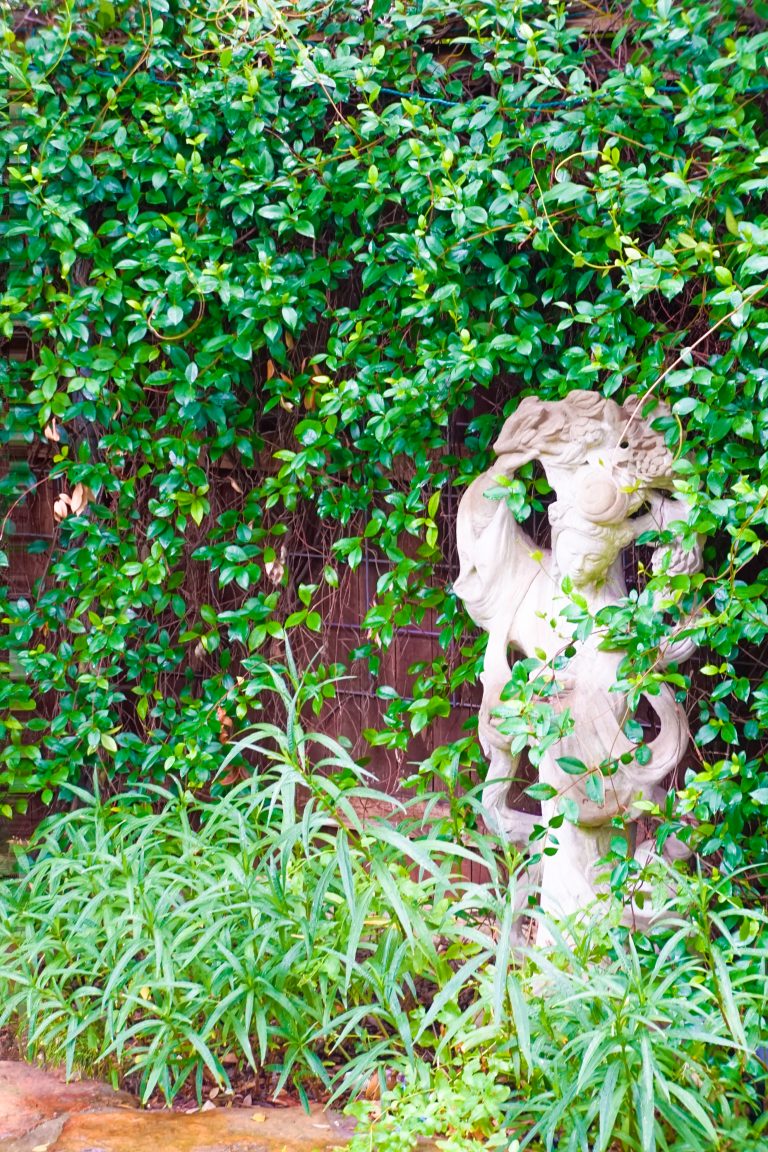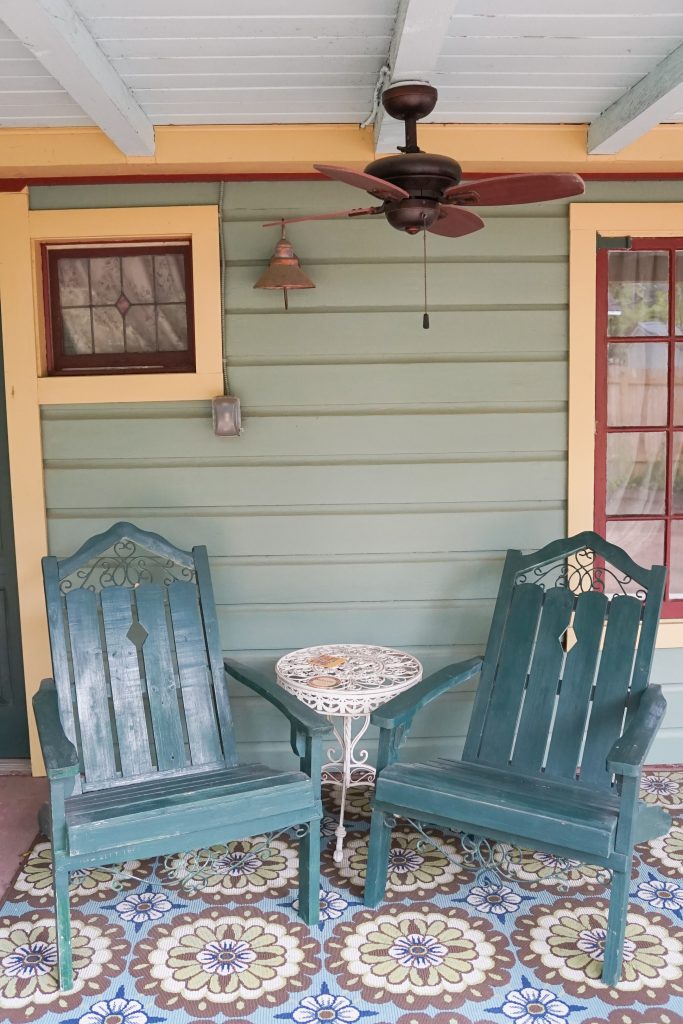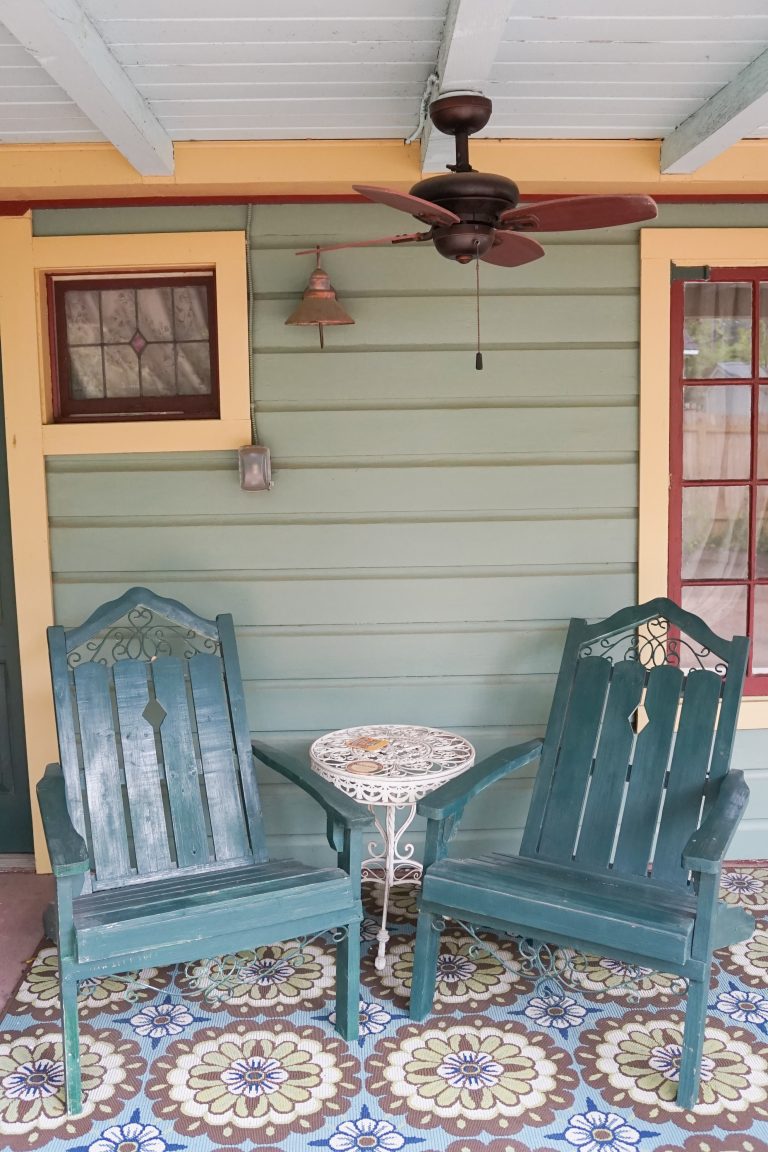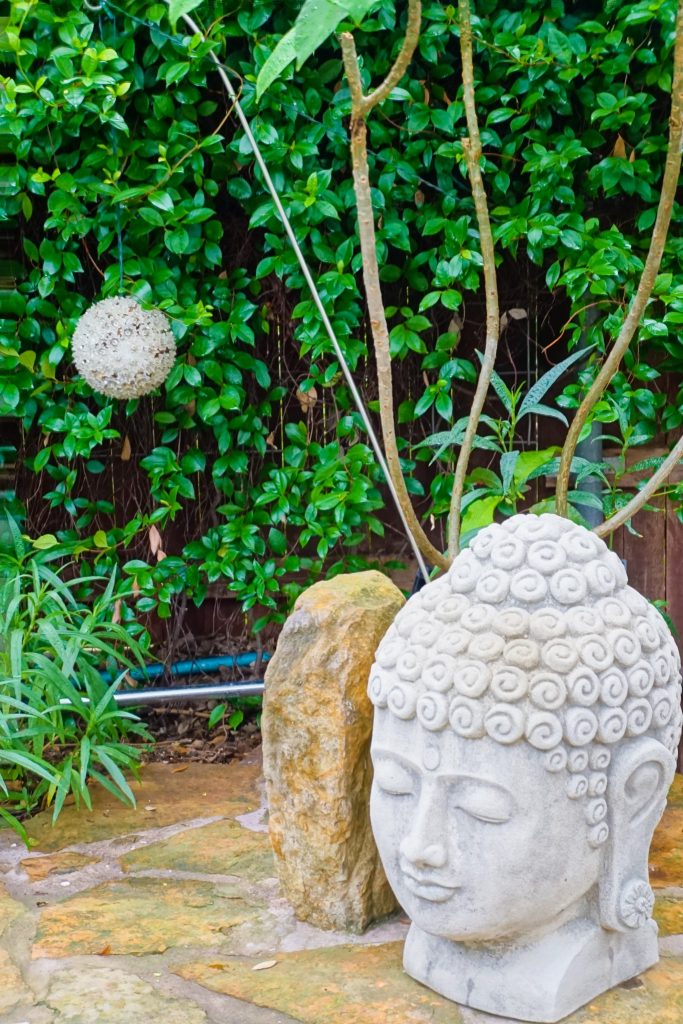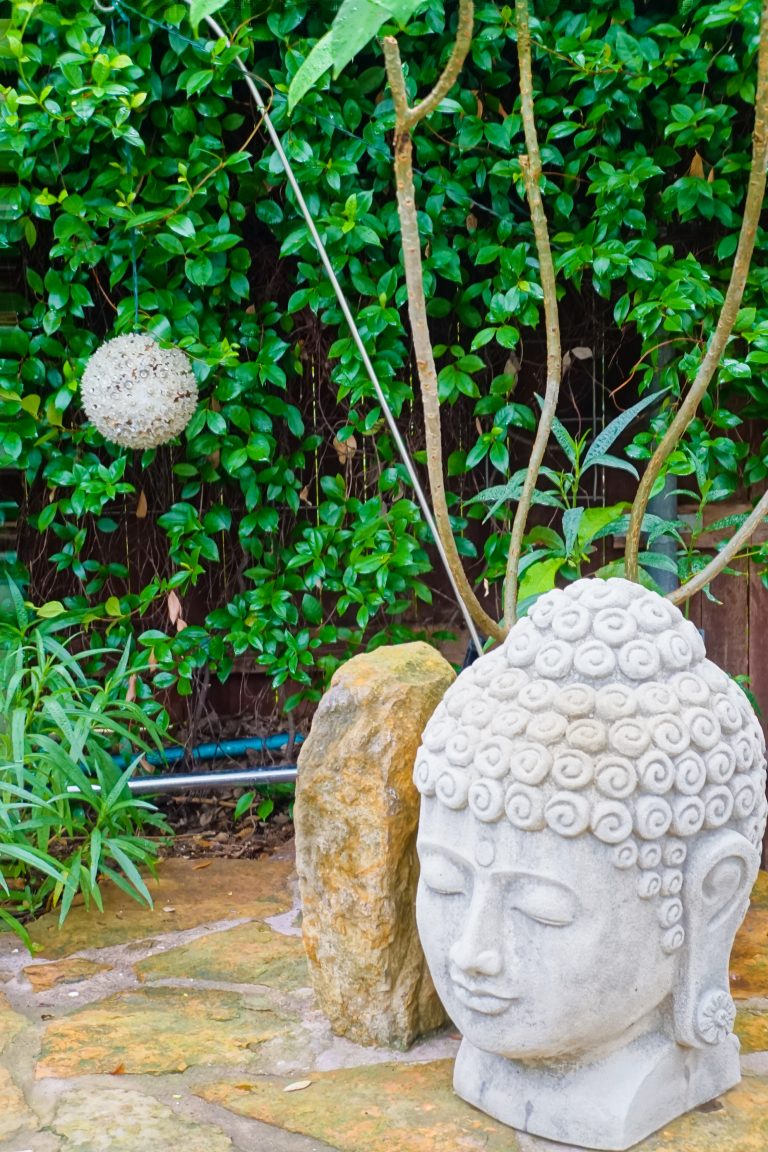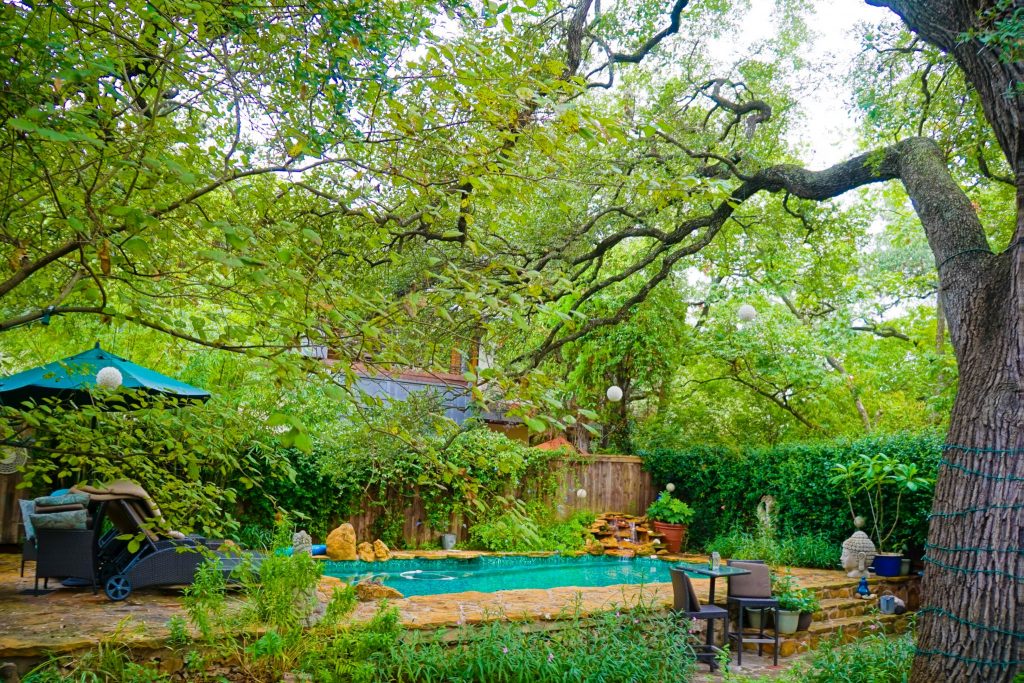 The Park Lane Guest House is an urban eco-oasis just minutes from all the cities main sites – yet a million miles away from the post-modern shrines to Capitalism and gigantism, also known as generic brand name hotels, that have sprung up almost overnight (and out-of-context) to cater to the booming tourism in Austin.
Sadly, these operations threaten to destroy the very appeal of Austin – a big city with a small-town heart – but luckily the Park Lane Guest House Austin, with its small boutique offering and 20 years + of operations, offers the perfect solution for travellers who want to experience Austin in its entirety, to relax in tranquil surroundings, and yes – To help keep Austin just a bit weird!
Read on to find out what makes a stay here at the Park Lane Guest House so unique and impossible to resist.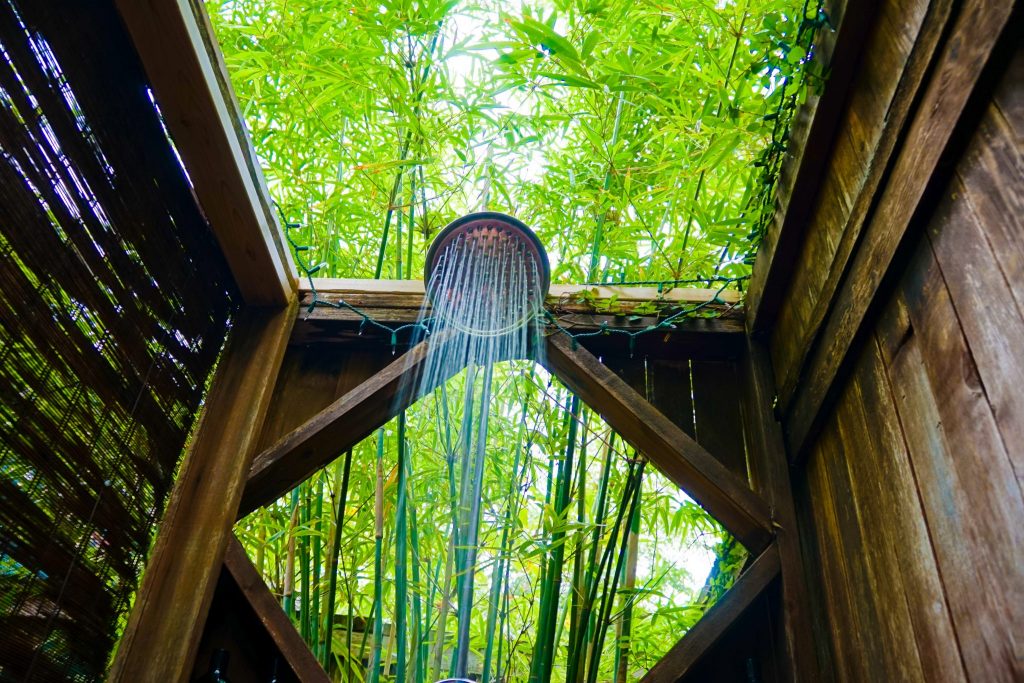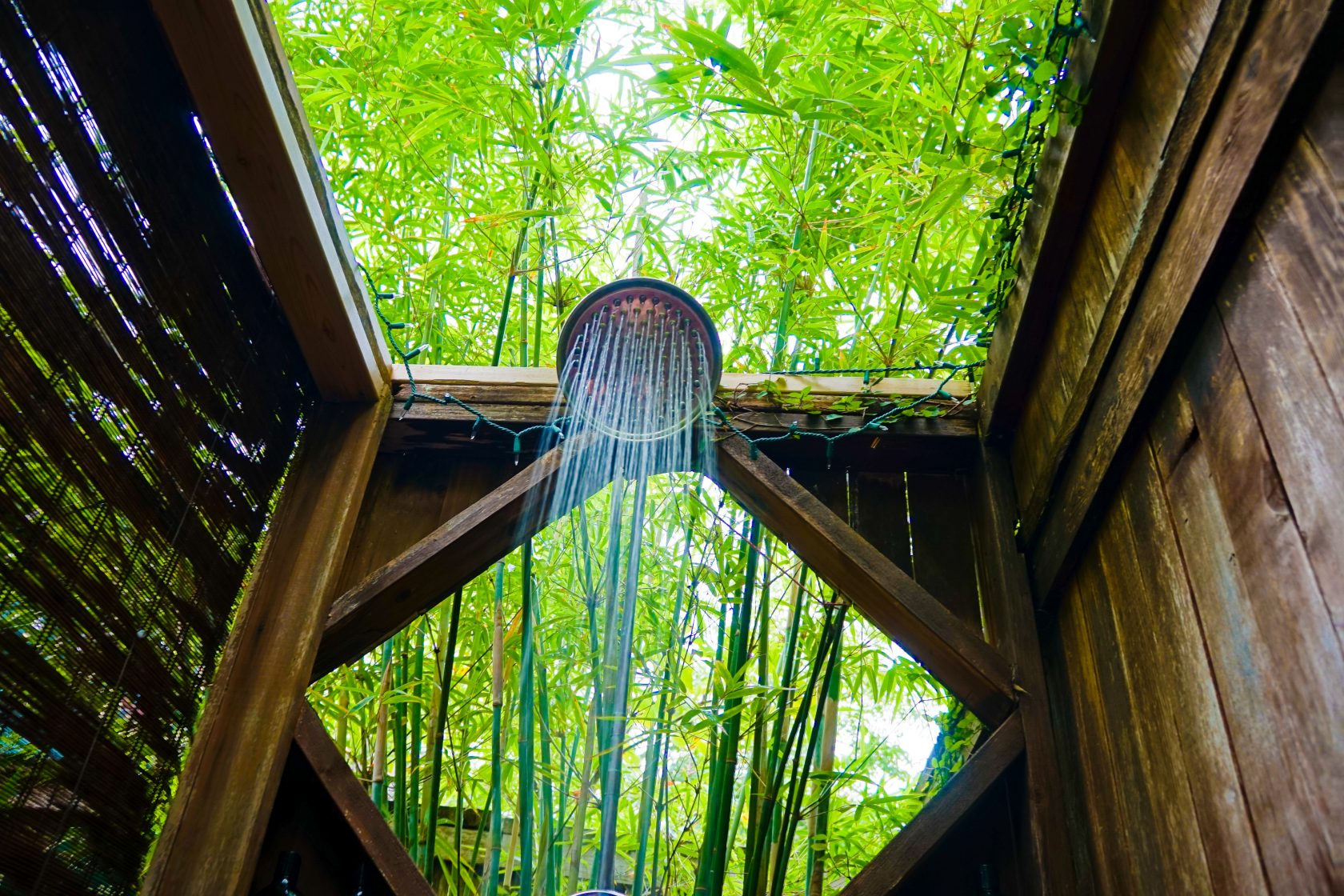 Park Lane Guest House Austin: An Eco-Oasis To Rest Your Mind, Body & Soul!
Located in Travis Heights, a quiet leafy neighbourhood in Texas's historic SoCo (South Congress) district, the Park Lane Guest House feels completely removed from the concrete jungle of Downtown Austin.
However, in reality, it is actually only a short 20 min walk – complete with a stunning landmark bridge crossing and stellar views of the skyline – from the city centre. More importantly however is the 1949 guest house is only two blocks from South Congress Avenue, the thriving foodie mecca of Austin with host to many of the cities most innovative eateries and live performance gigs, food trucks and more – without all the tourists or inflated pricing.
And herein lies what I think is key to the Park Lane Guest House proposition: A truly authentic Austin experience and opportunity to live like a local. With only four rooms, each with ample privacy and living space, and of course long-time local hosts Shakti and Devkrin Khalsa, you instantly feel like you are part of the community.
Whether you are walking to a gig at the nearby Continental Club, relaxing in their natural pool under the shade of the huge Live Oak tree (a unique tree only found in this region of Texas) or hiring bikes and exploring all that this beautiful city has to offer – this dynamic space and duo will have you feeling like a local.
…because this is not ordinary hotel experience!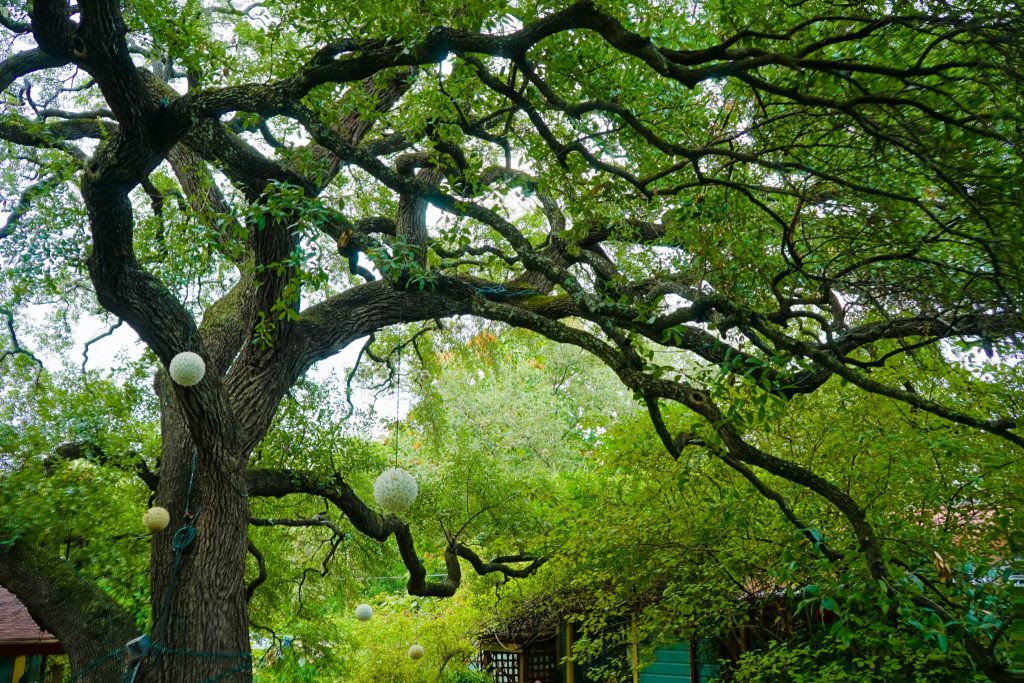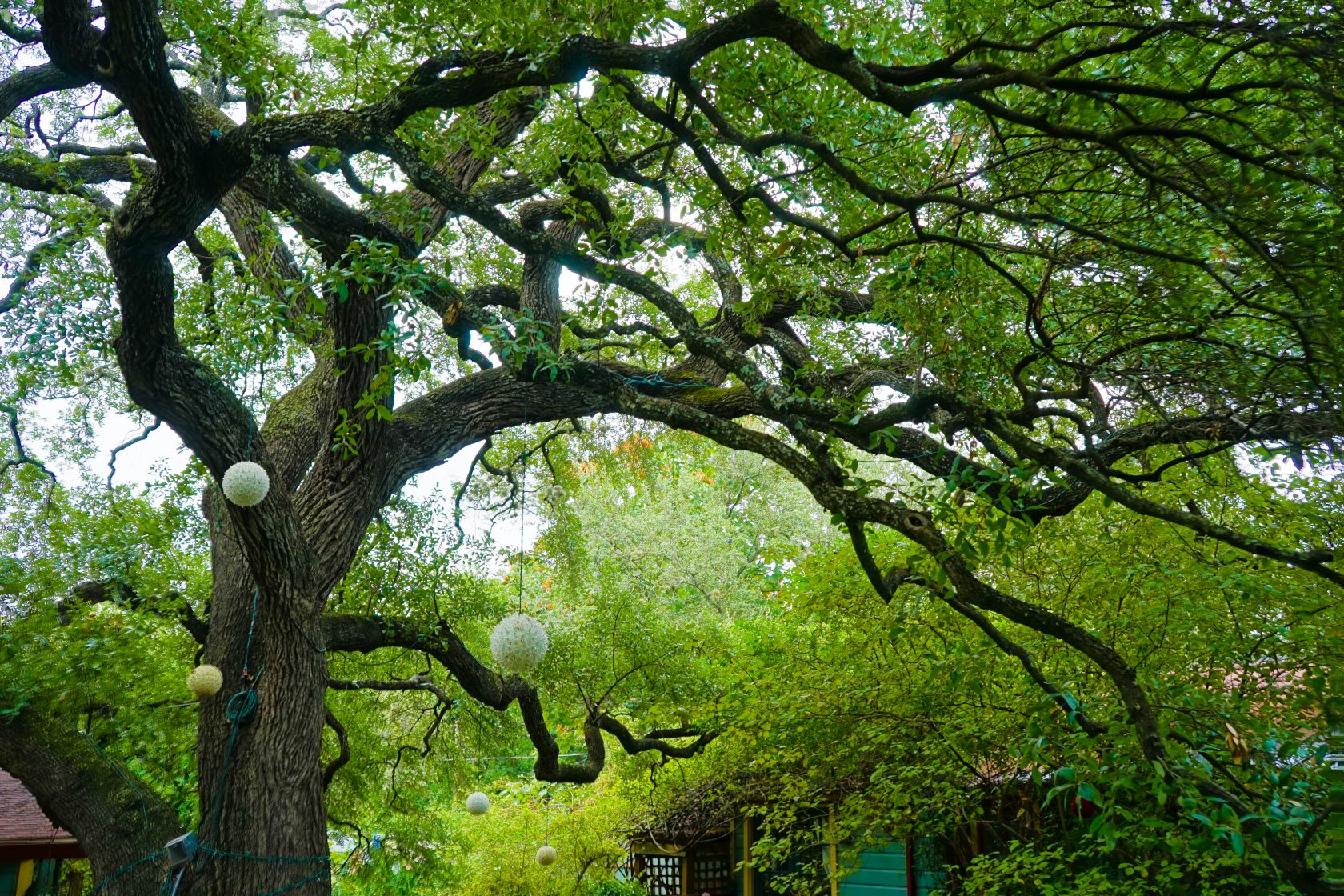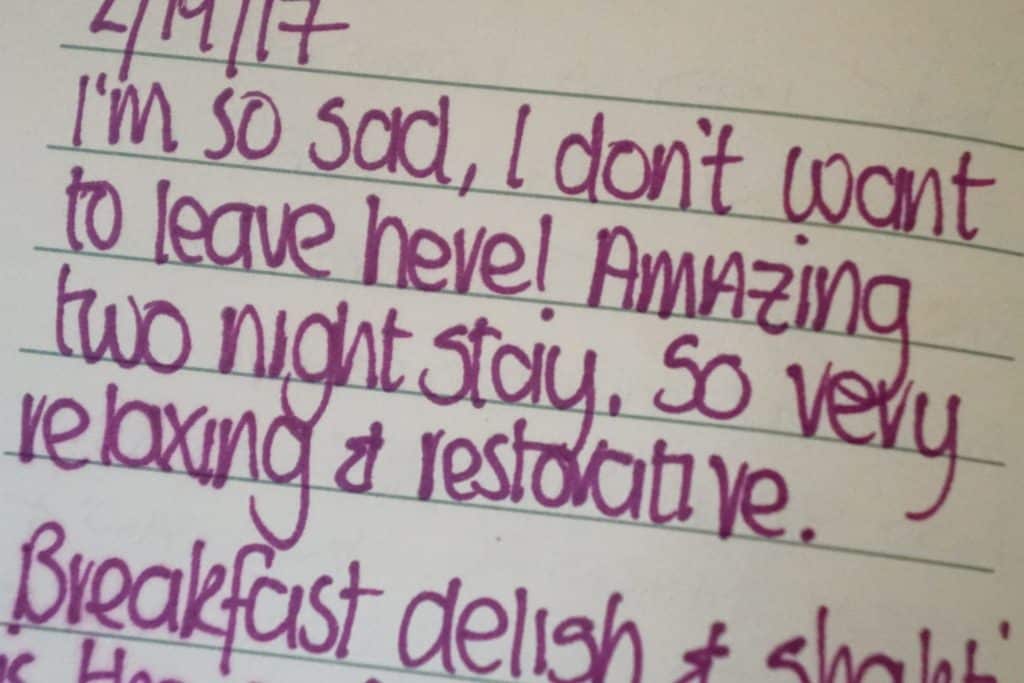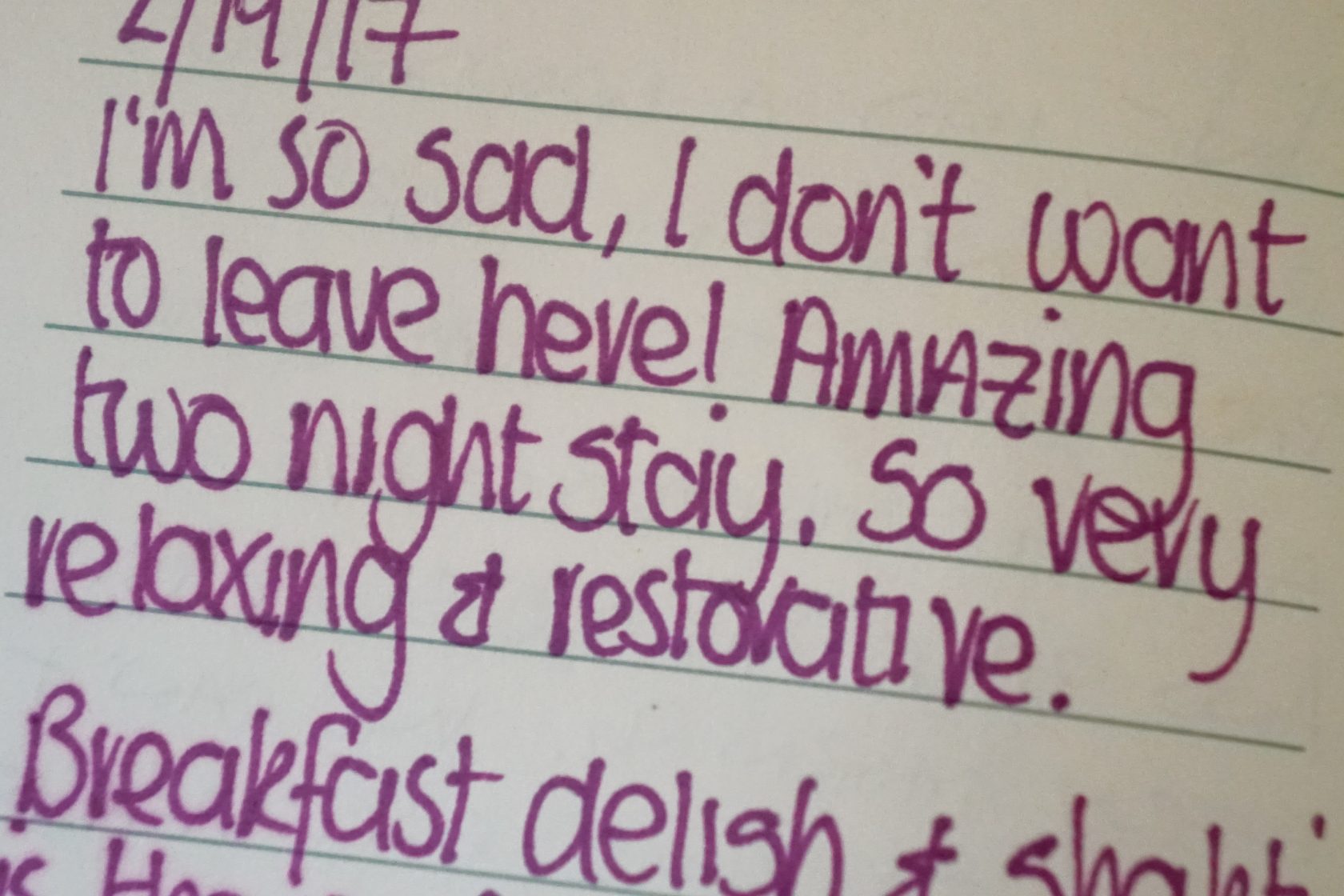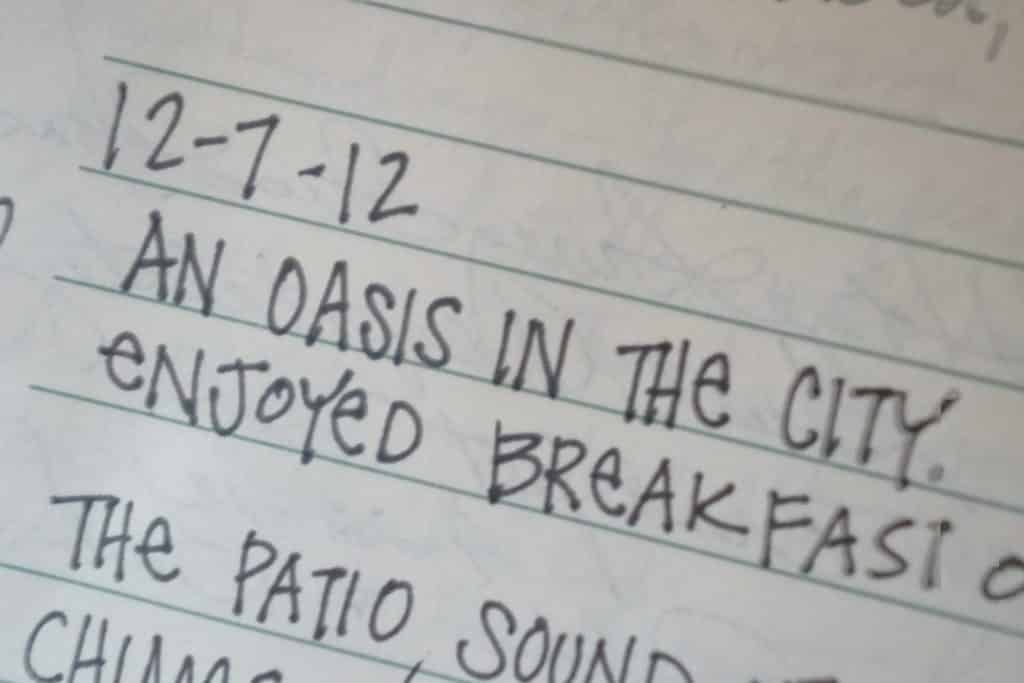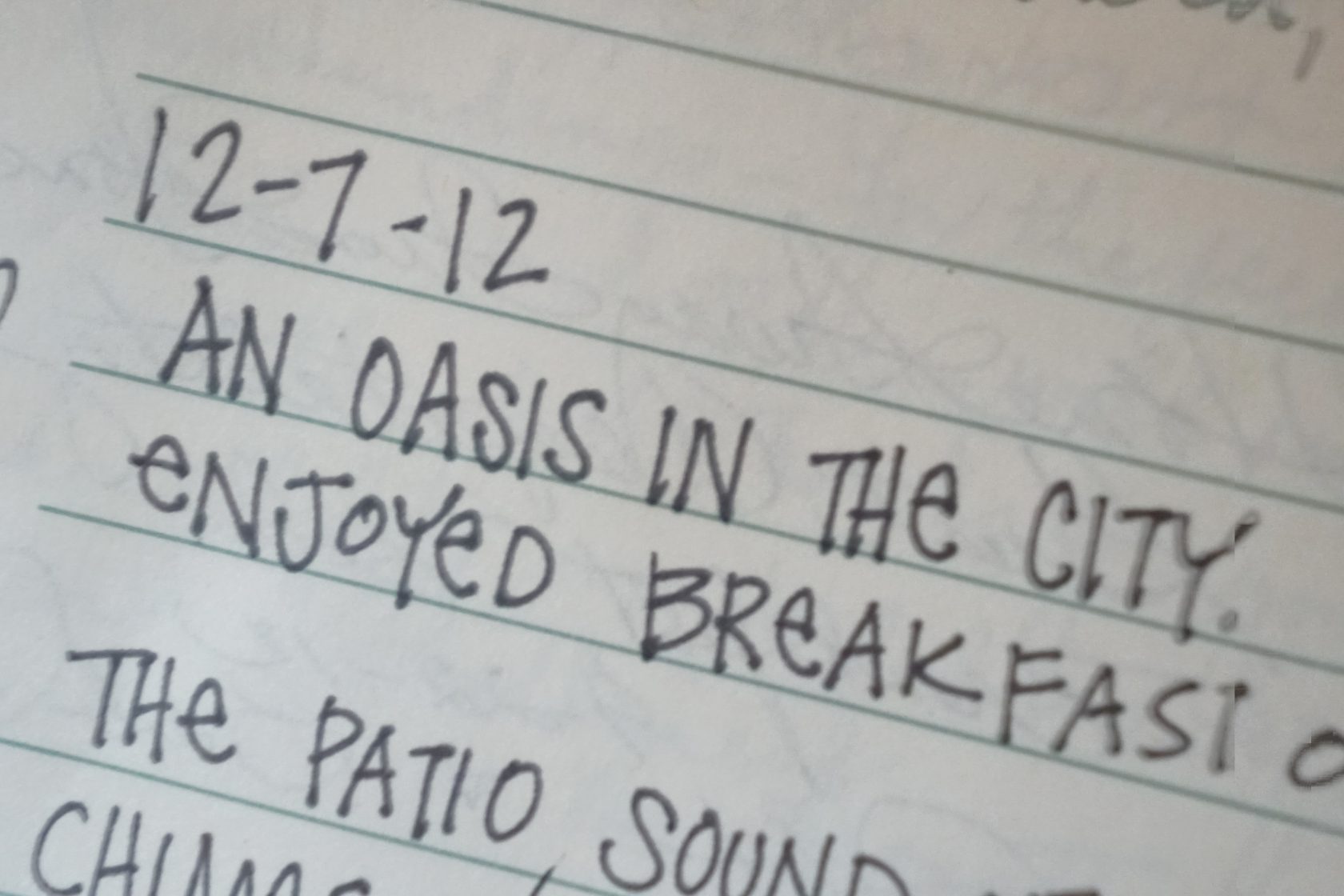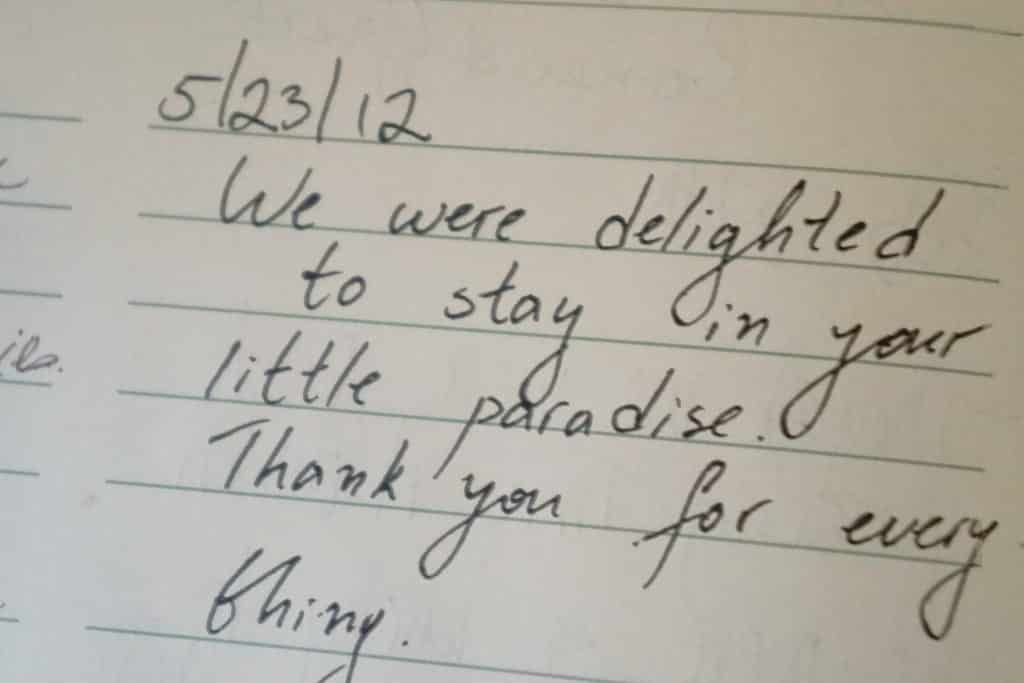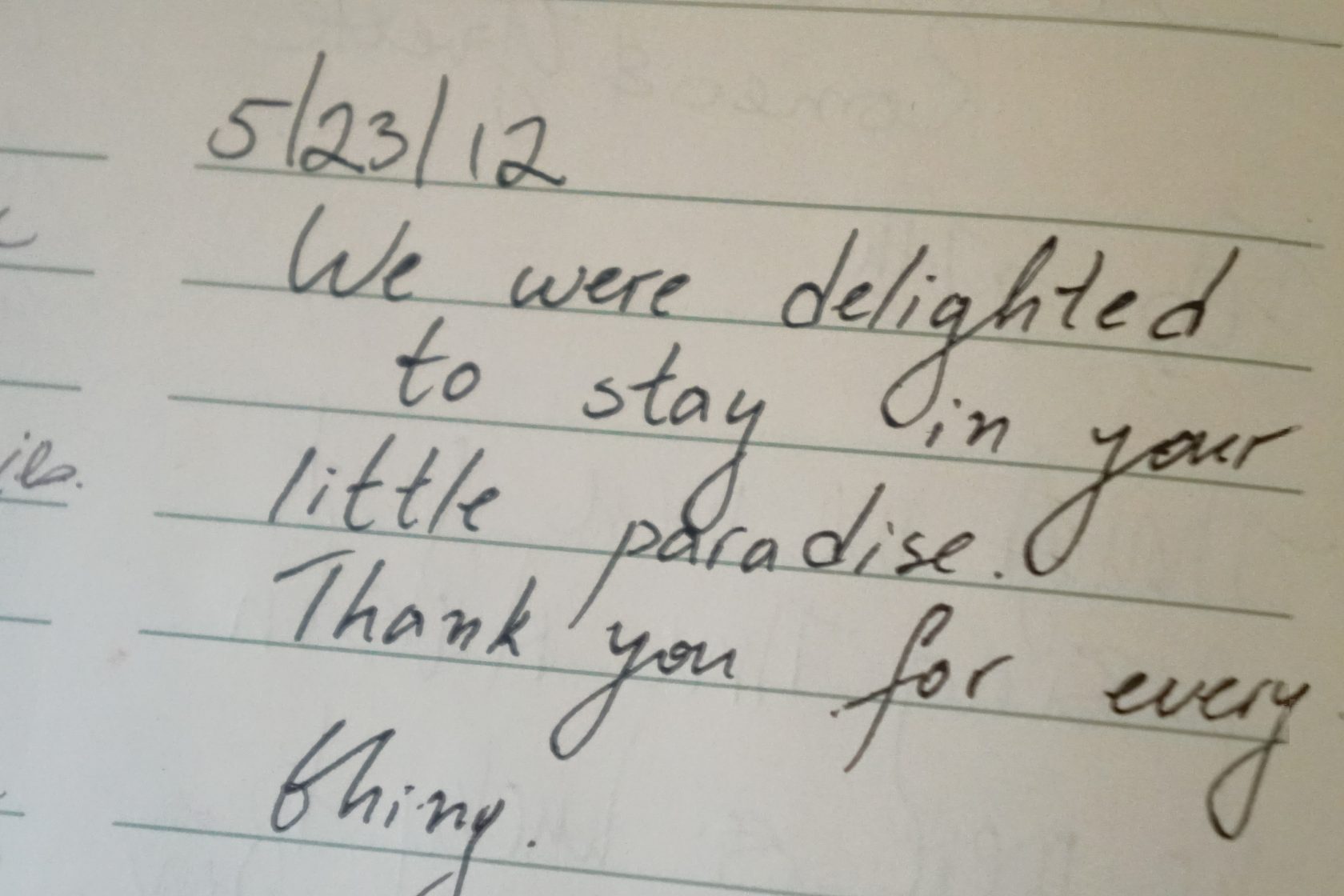 The Concept Behind The Park Lane Guest House Austin
The owners goal's for Park Lane Guest House have always been simple, to allow guests to relax, recharge, indulge and enjoy.
How guests wish to do that is up to them but Shakti is always there to help this along whether it is with her amazing vegetarian, organic breakfast delivered to your door each morning, her encyclopaedic local knowledge or warm, welcoming outlook the main goal is always for the guests to enjoy themselves.
Shakti is also on hand to make sure guests get the most feel for Austin, especially local Austin as she shows me how I can stay local, eat local and even shop local – all without stepping foot in the Downtown.
Personal service you're sure never to get at a larger hotel.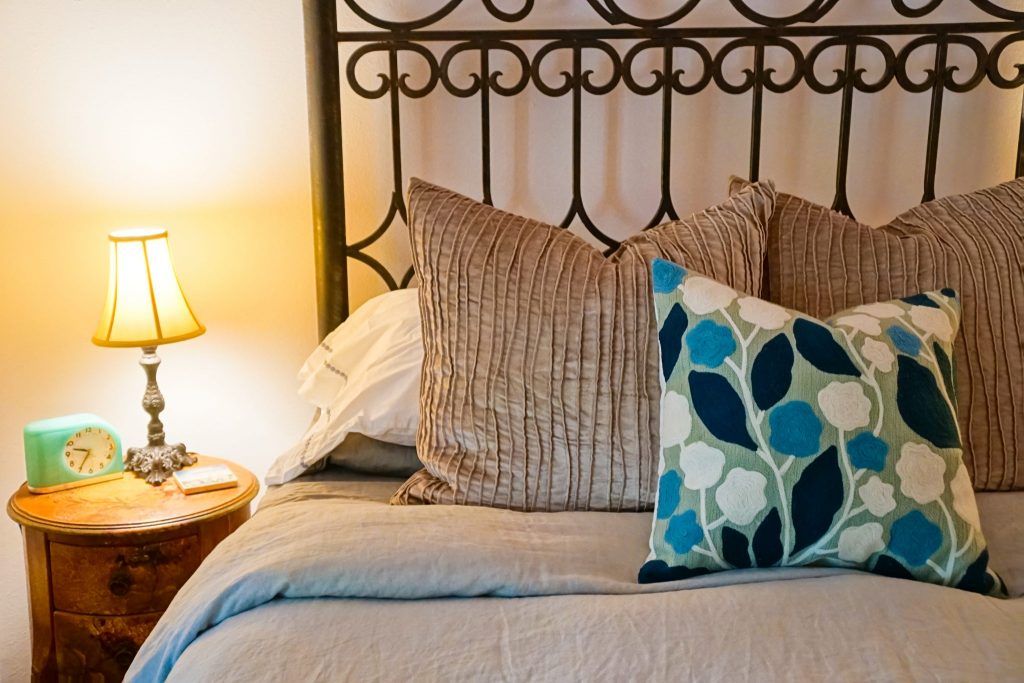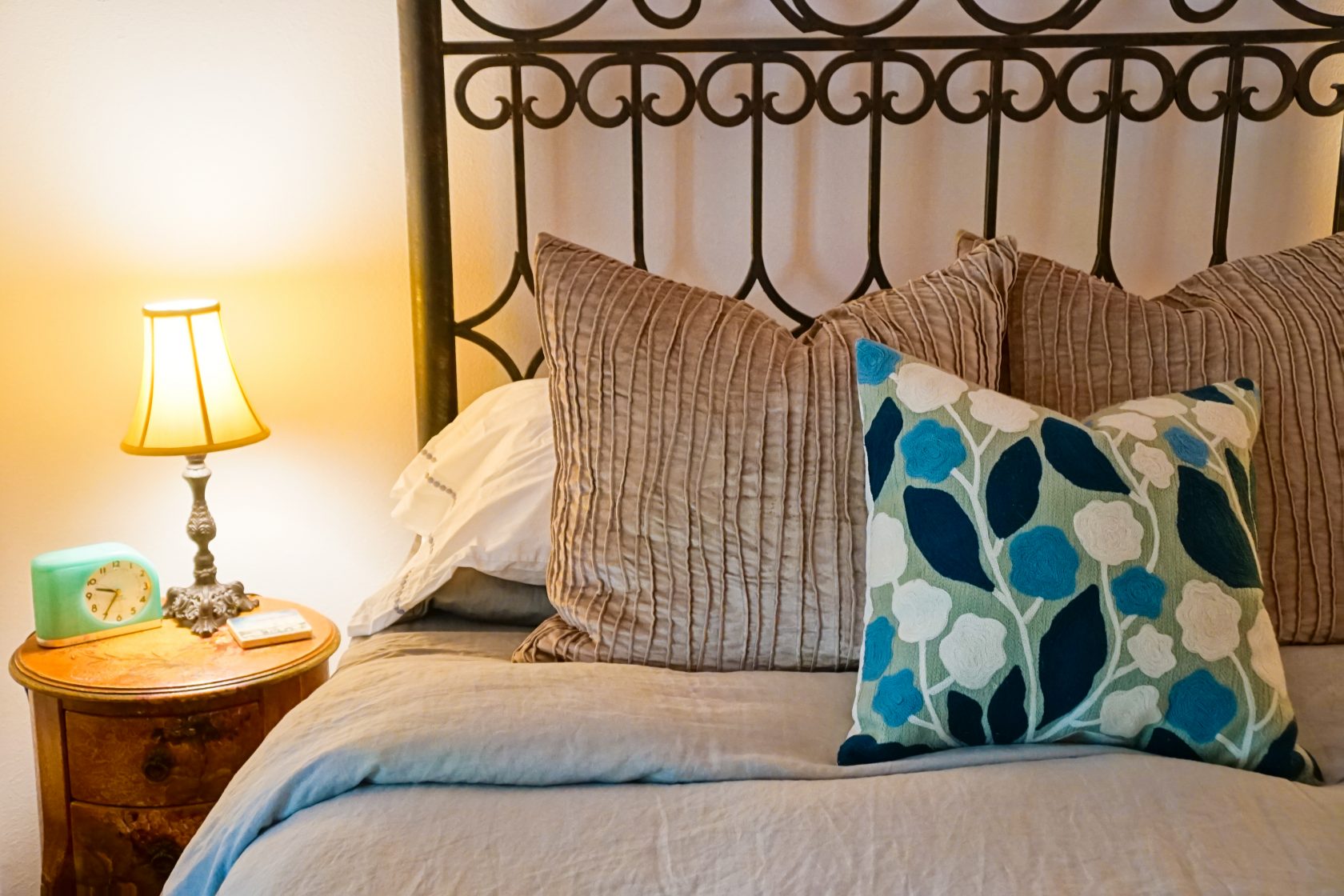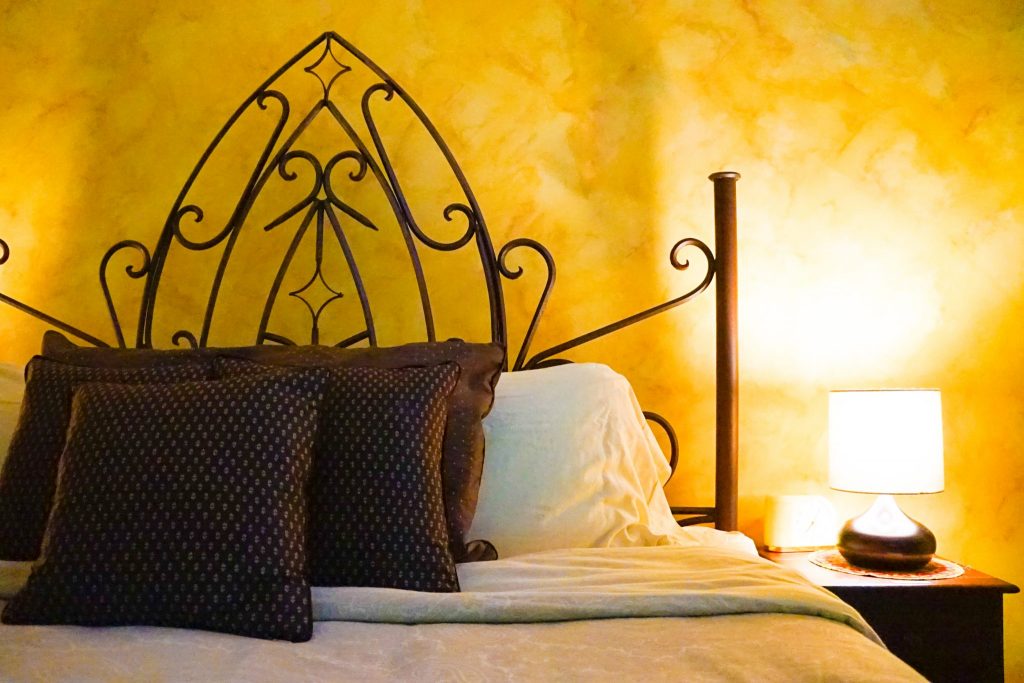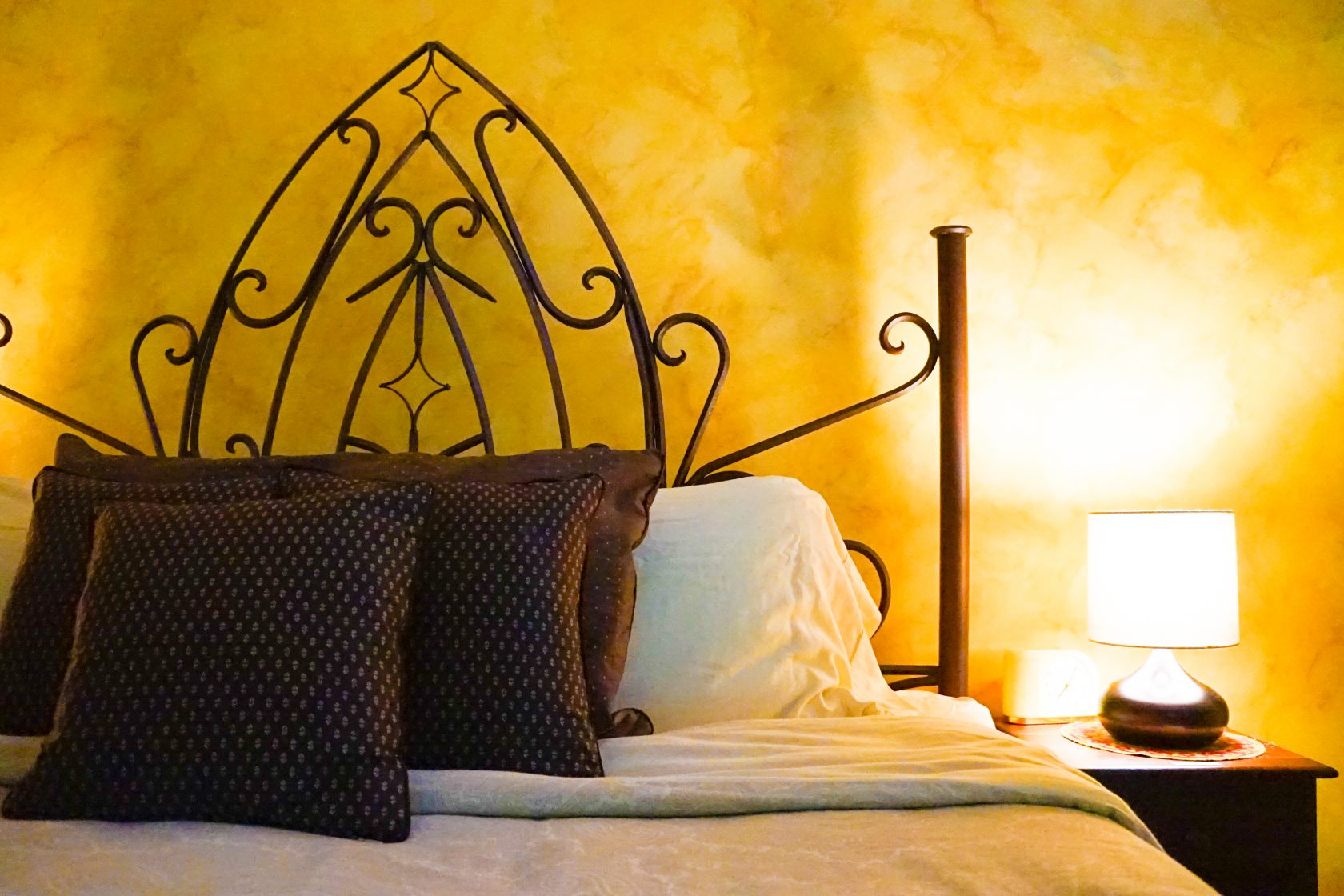 Wholesome natural living and environmental responsibility is also a clear concept here, with urban free range chickens, organic amenities and cleaning products throughout, filtered water, solar power, fair trade coffee and more. There are even bicycles to hire and a free electric vehicle charging station.
Over their 20 years in operation you can see that they have put a lot of thought into becoming a eco-oasis in the city – this is what every hotel should be doing, and it's great to see an urban hotel so focussed on sustainable business practises without affecting the guest experiences.
In fact while I stayed during Hurricane Harvey much of the city lost power for a time, but thanks to their solar water heaters I was still able to enjoy a hot shower the next morning!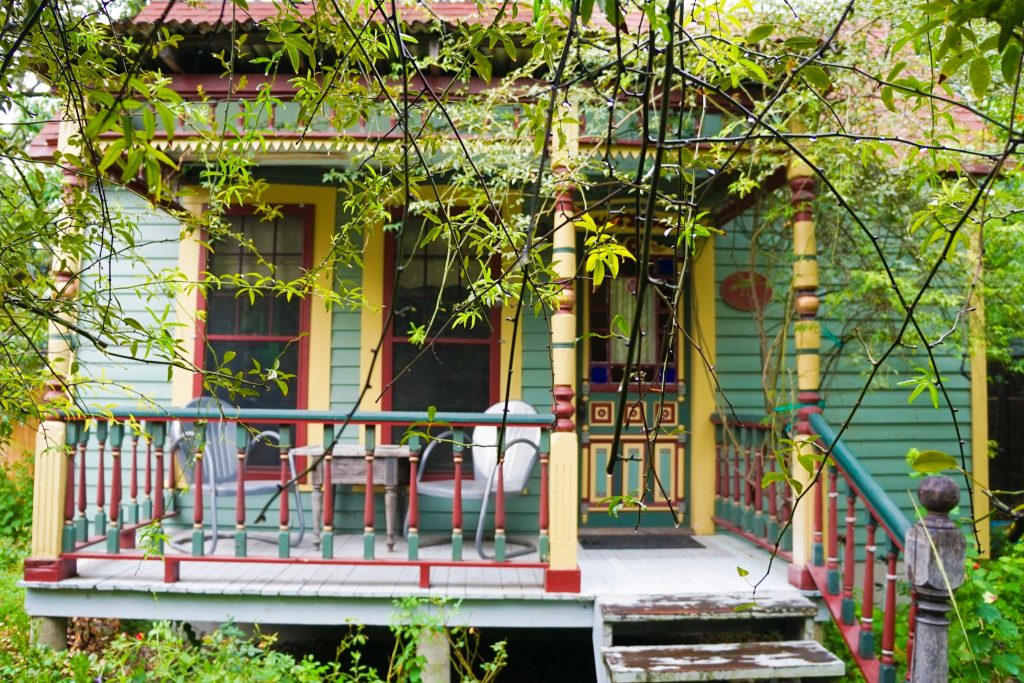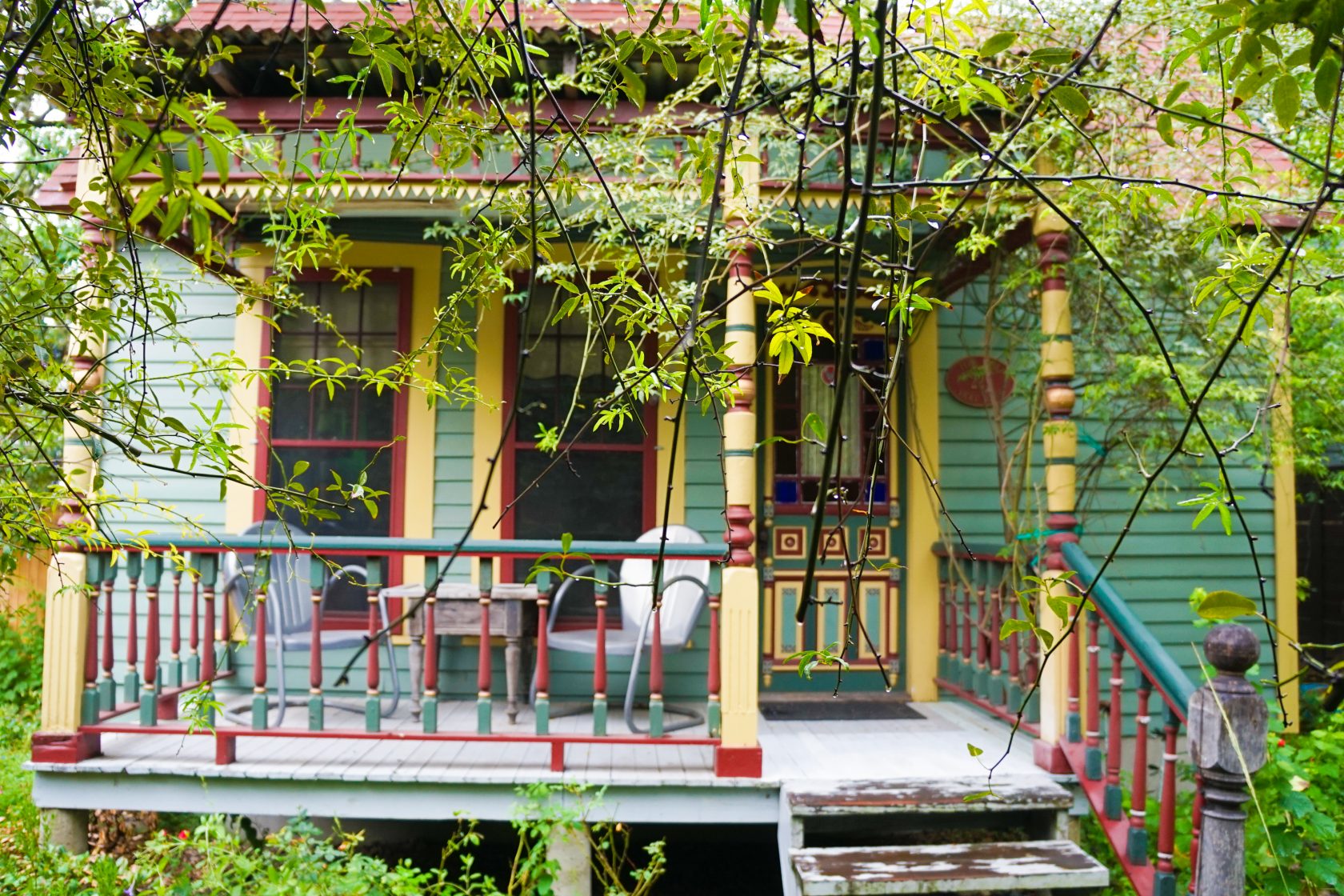 The Rooms of The Park Lane Guest House Austin
There are four different room options available at the Park Lane Guest House Austin – though all offer daily breakfast, pool access and organic amenities.
There is the option to hire multiple rooms to fit larger parties but given the limited capacity and their popularity I would recommend booking far in advance for this option. Small pets are welcome for $25 per day making this one of the best pet friendly hotels in Austin Texas.
Just let them know when booking!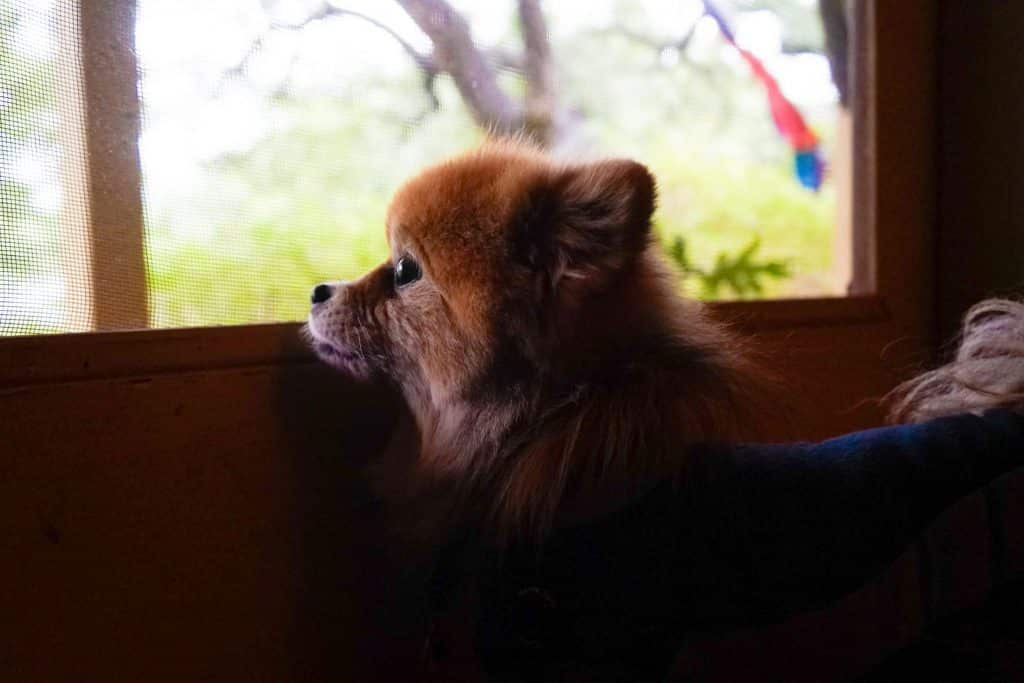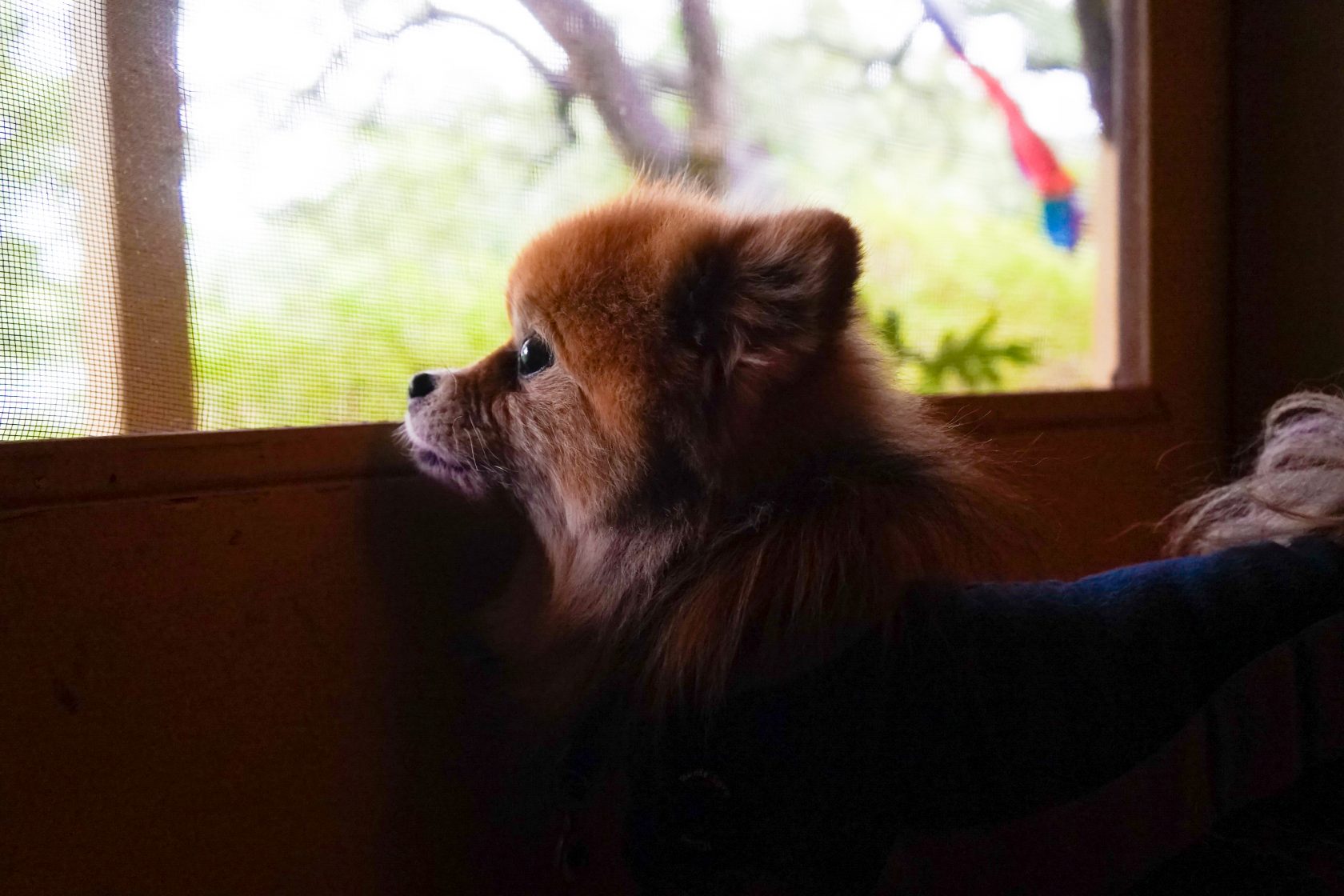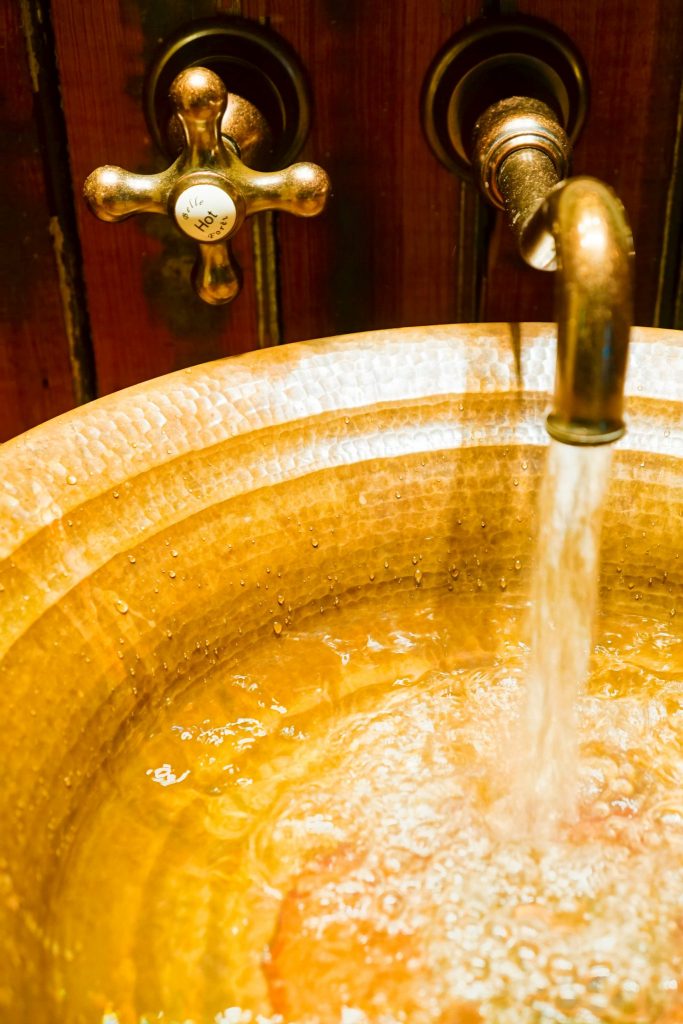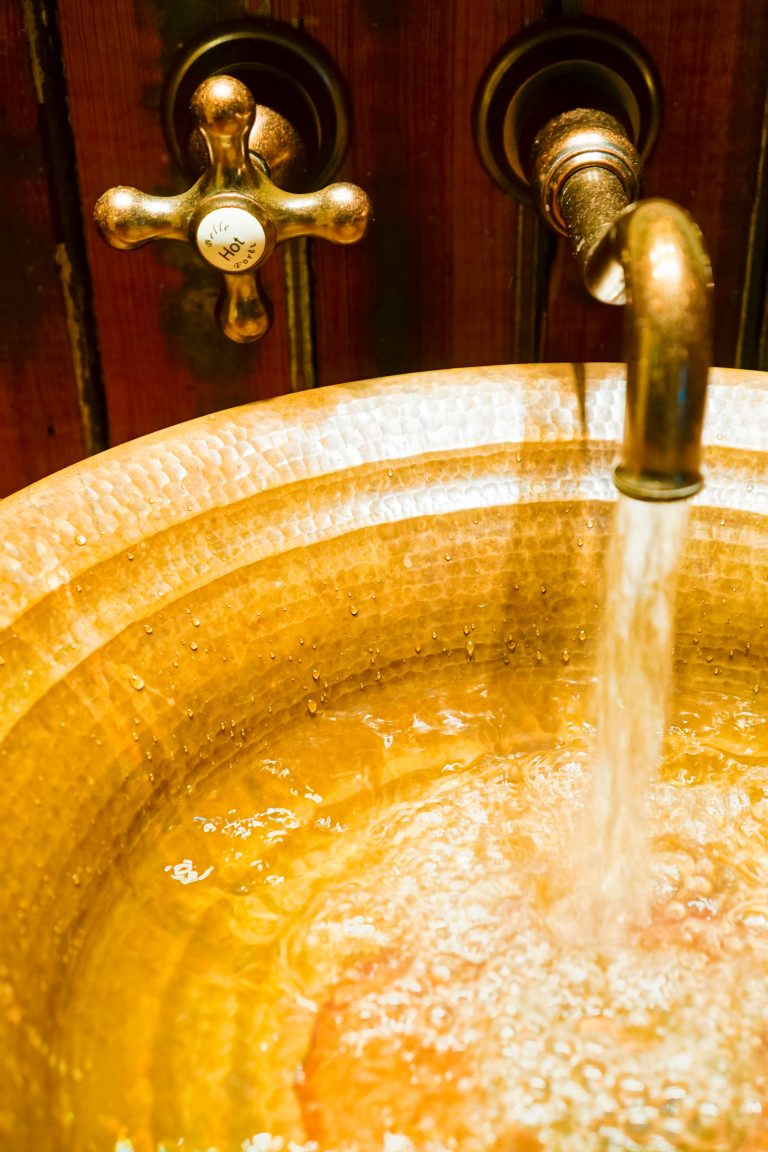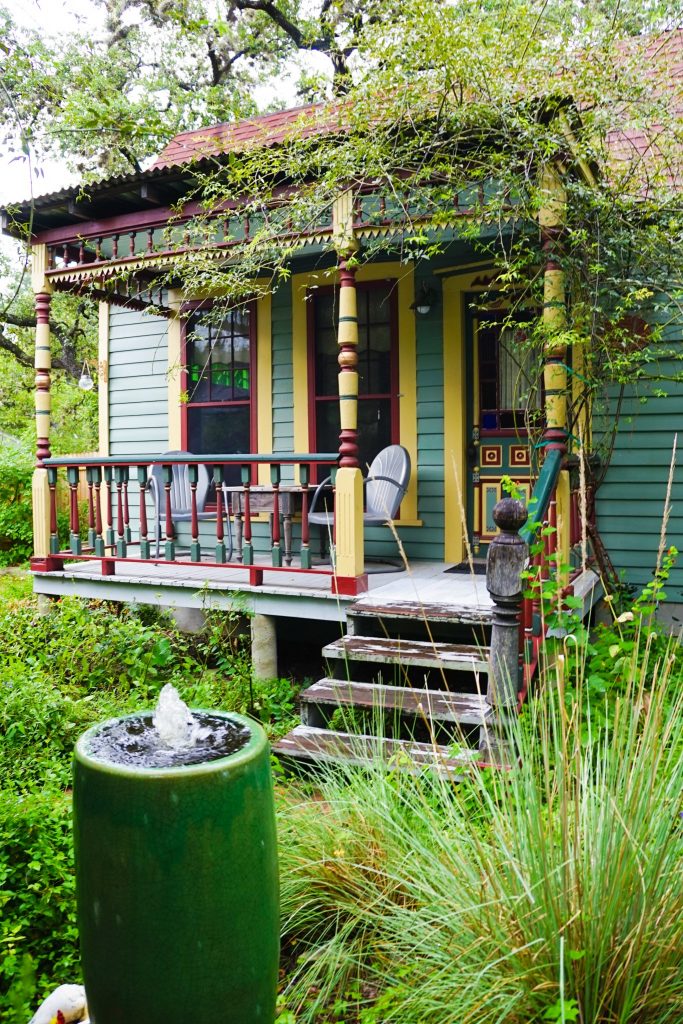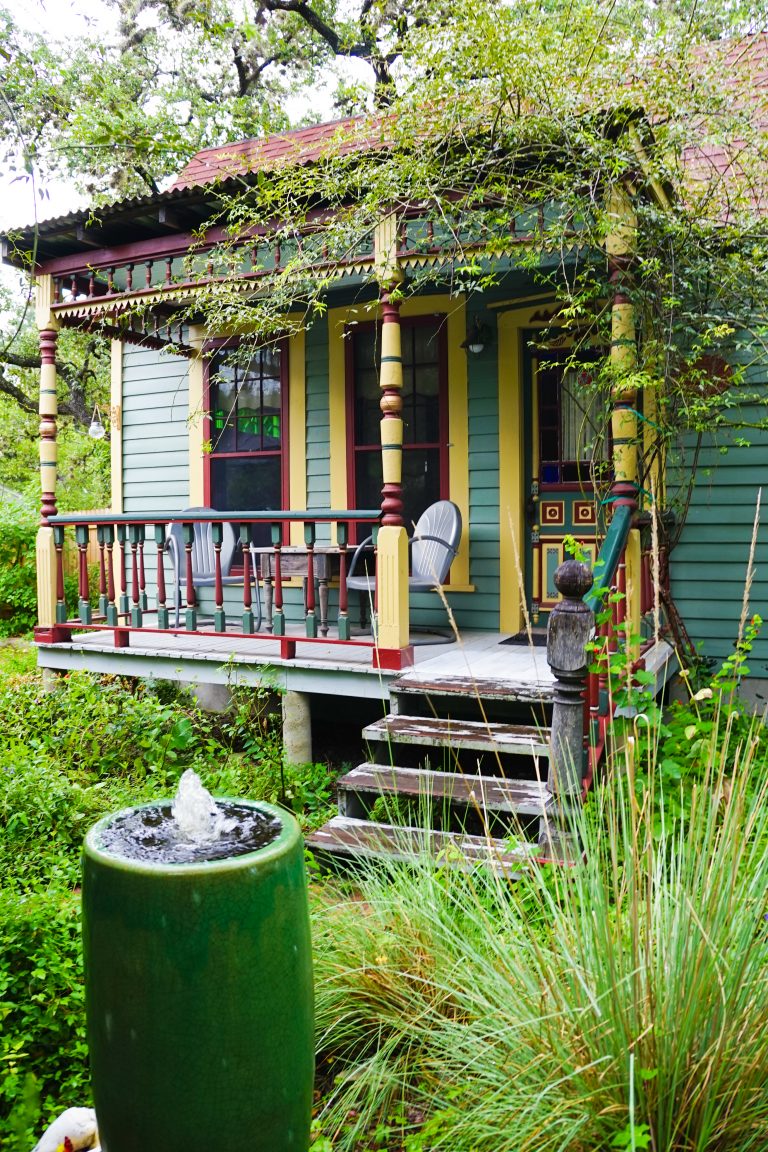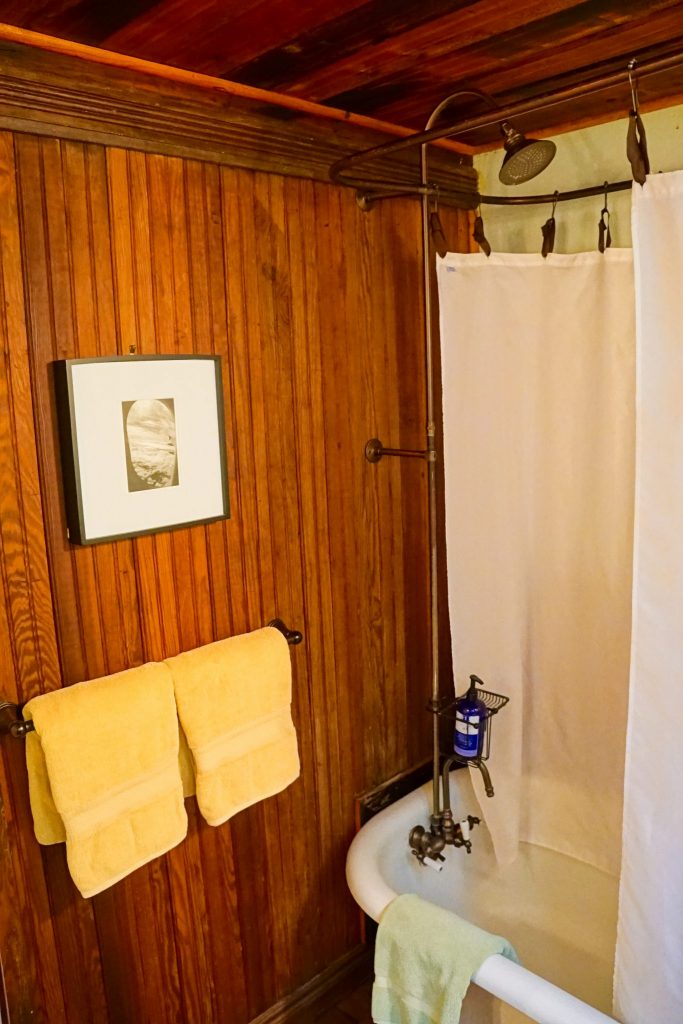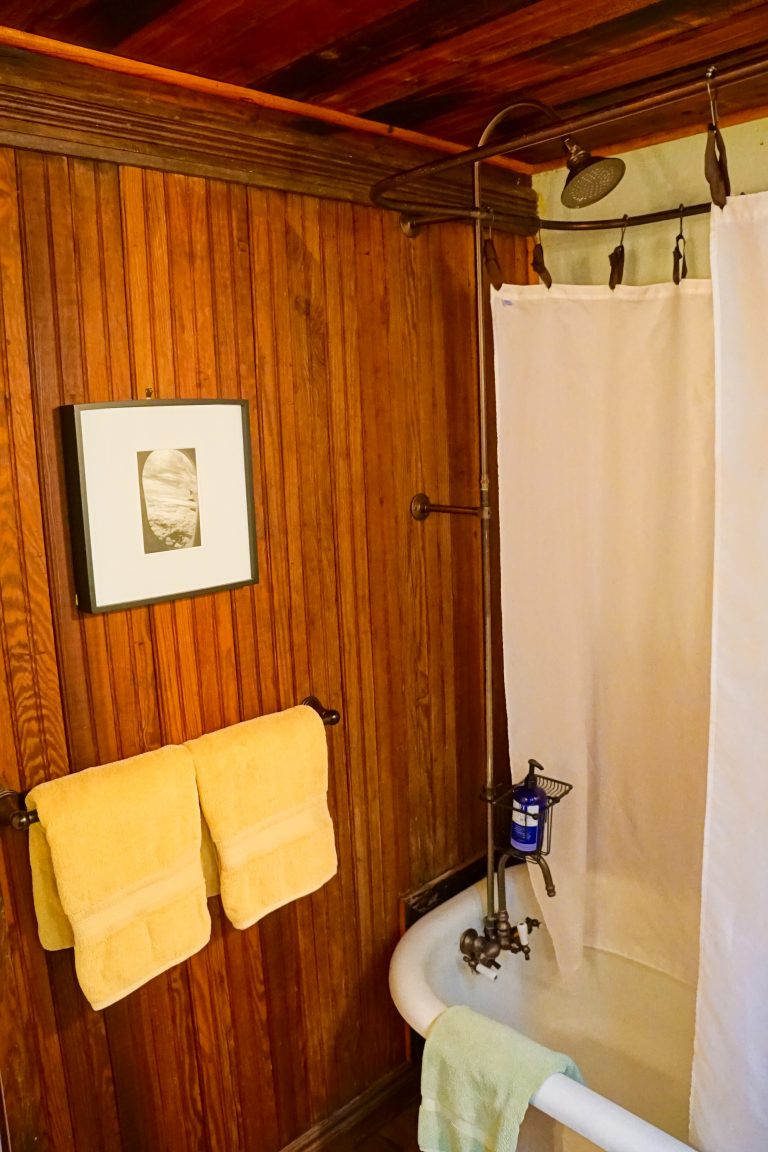 The Vicky House is the smallest of the cottages and is a Victorian tiny-house built from reclaimed building materials. One of a kind, it has a sleeping loft with plush King bed, antique pedestal tub and a living room sleeper for an extra guest if you don't mind getting cosy!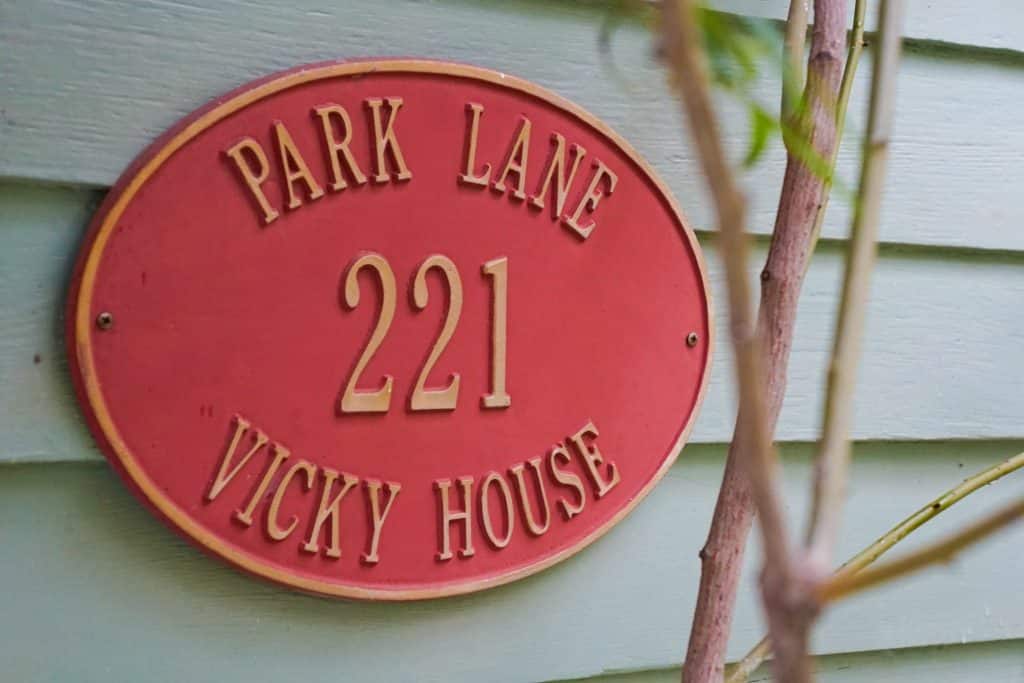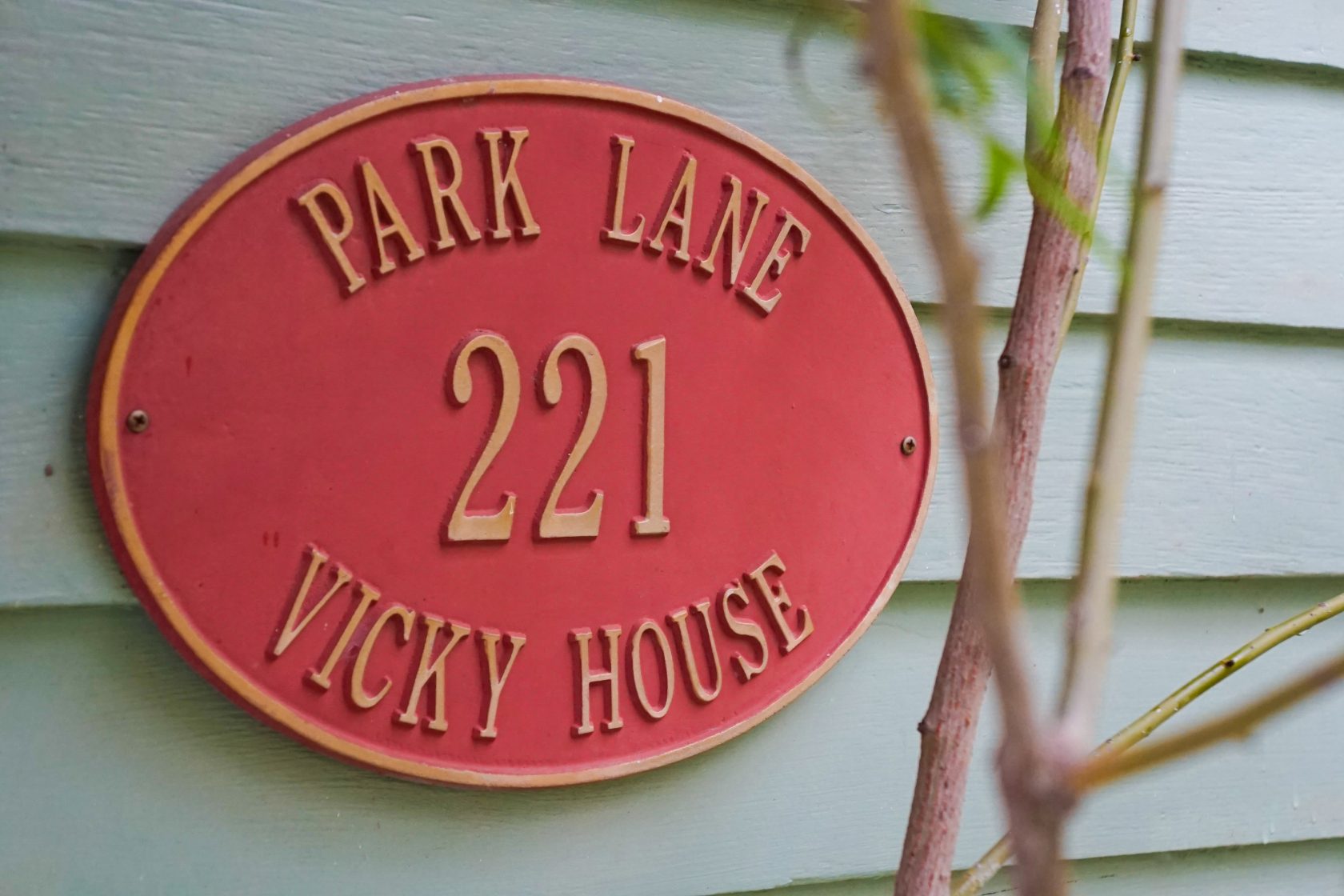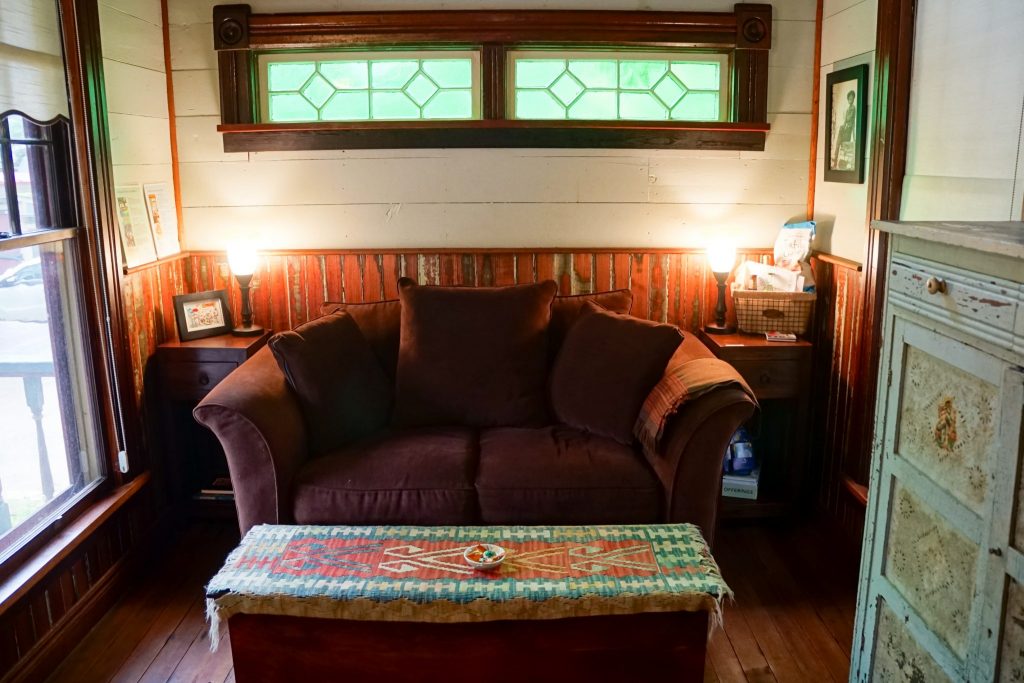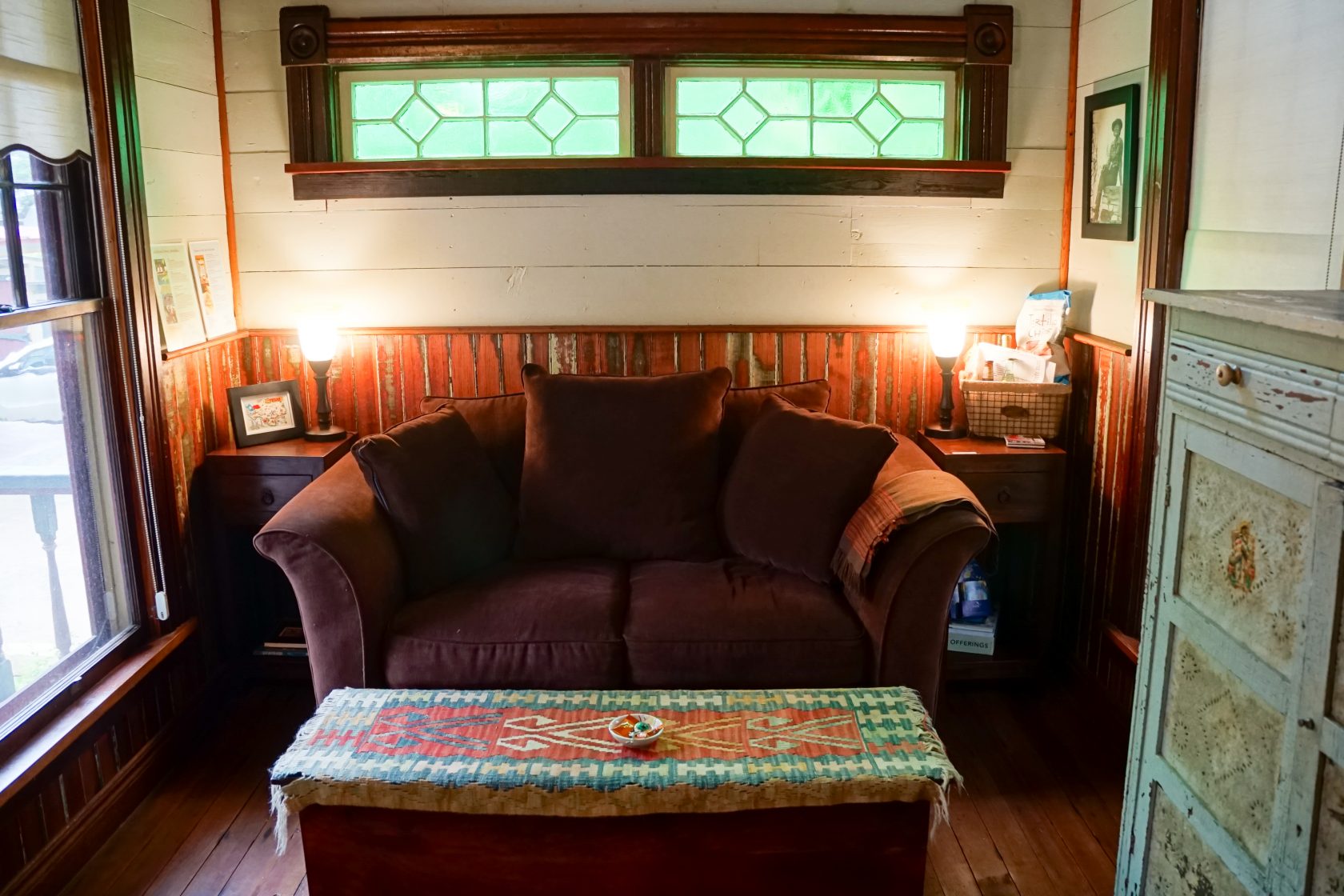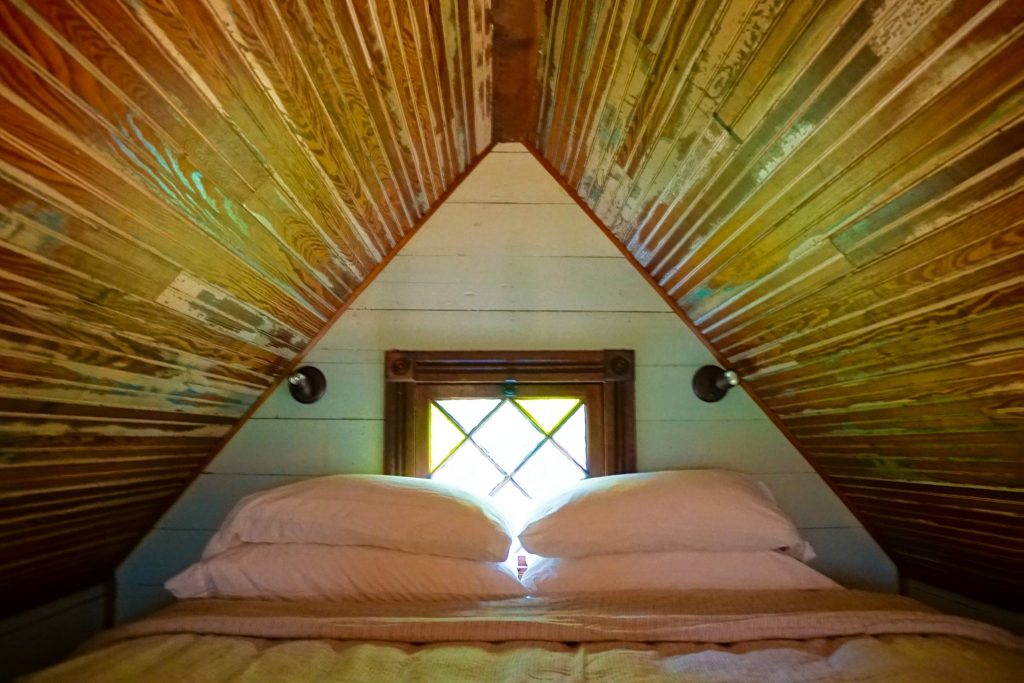 The Carriage House is the medium-sized cottage and the most romantic with a wrought iron organic bed, easy poolside access, an en-suite with a claw foot tub and a hand-held shower (though the hidden the outdoor shower near the pool is also very appealing!).
A bar style kitchen with organic tea and coffee options also is a nice touch.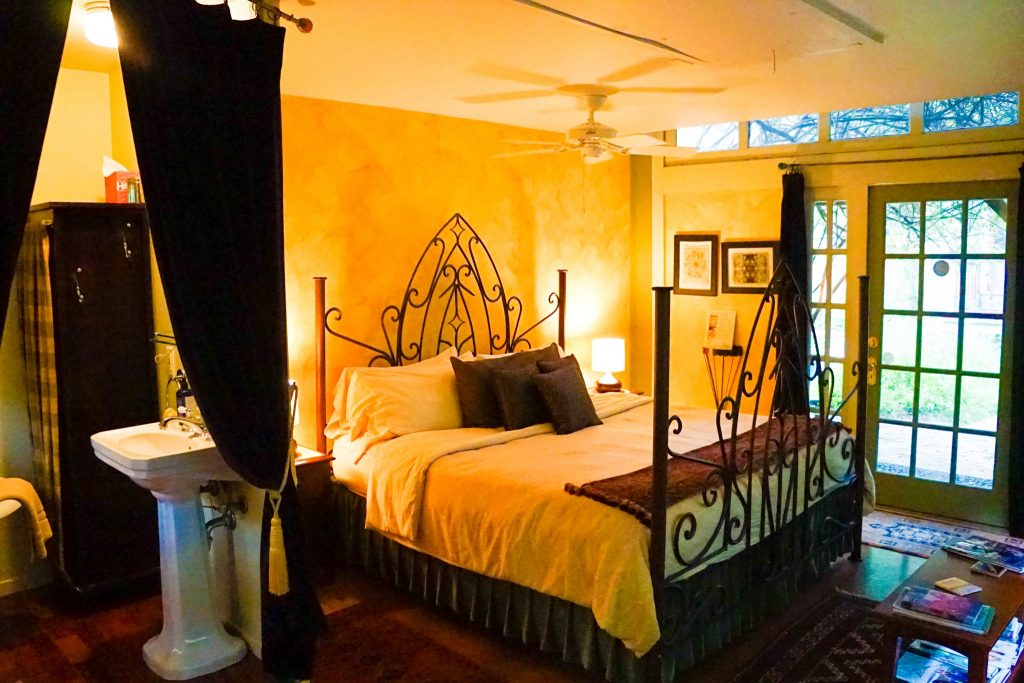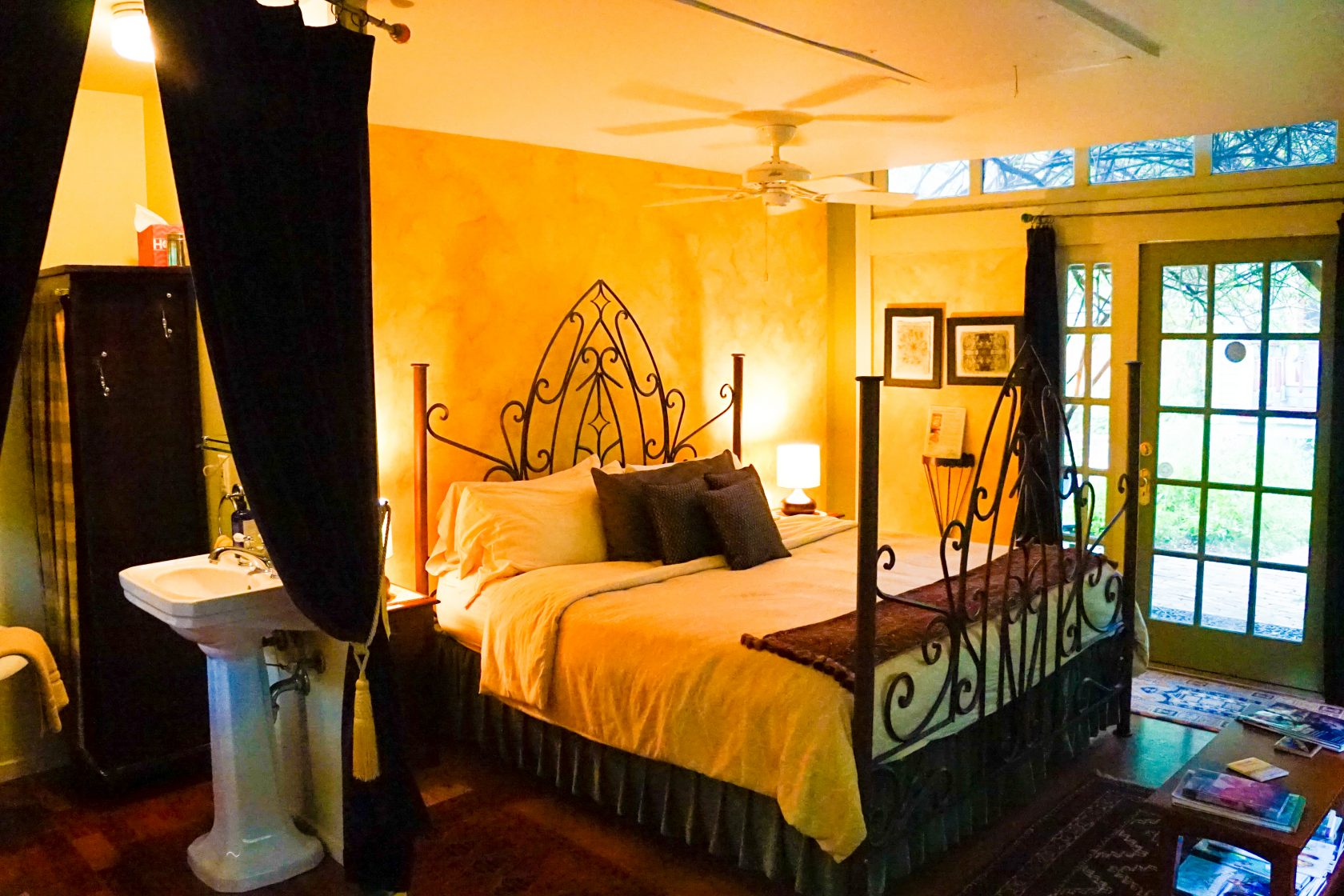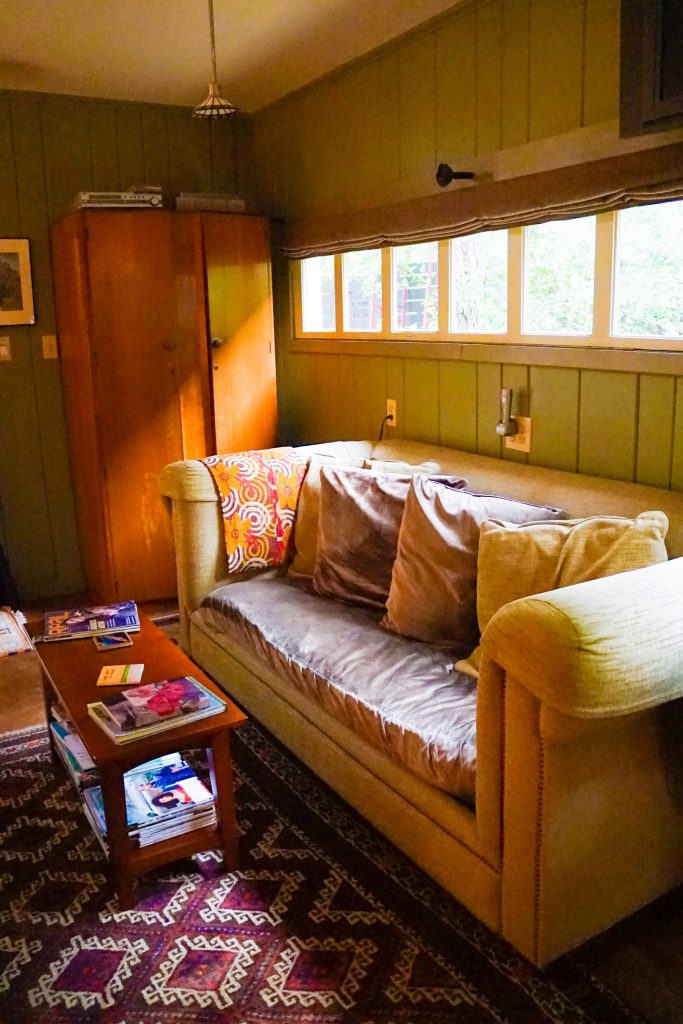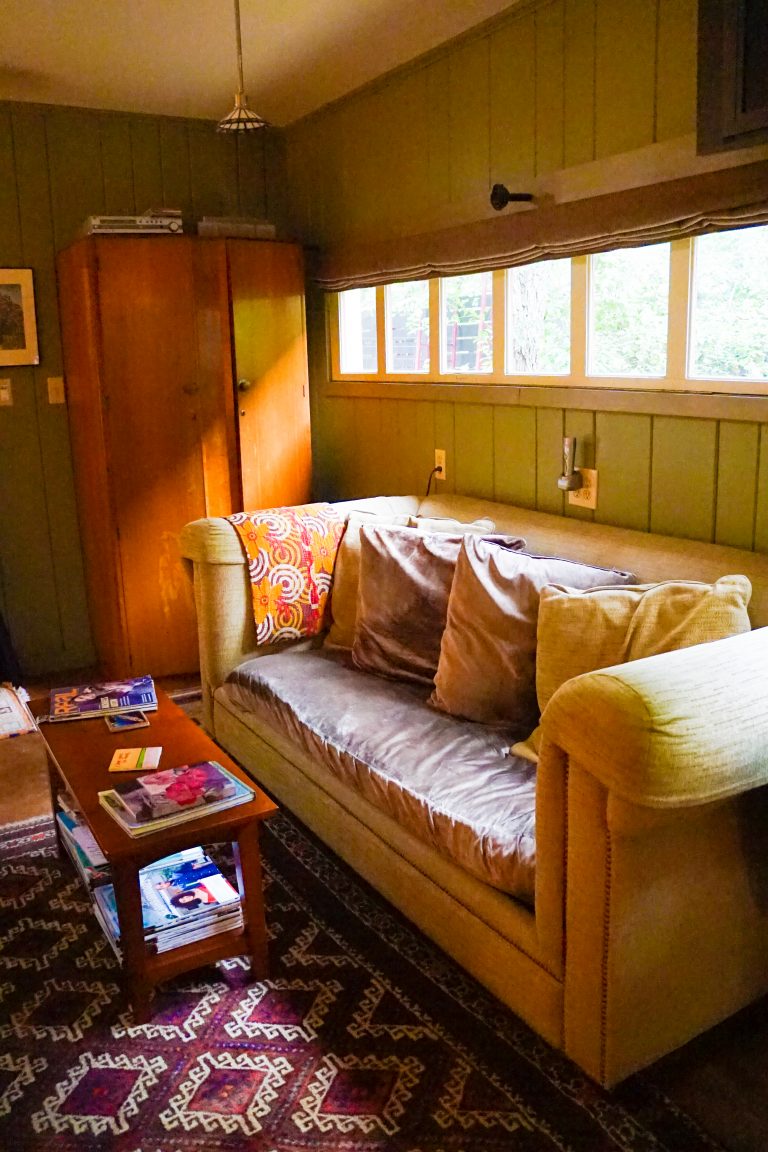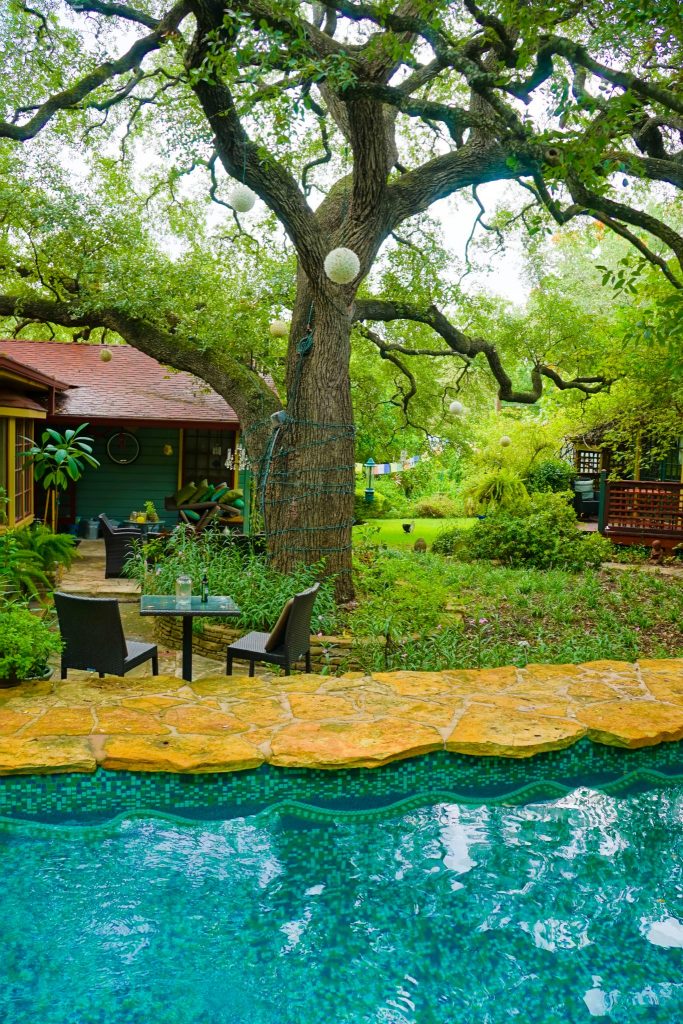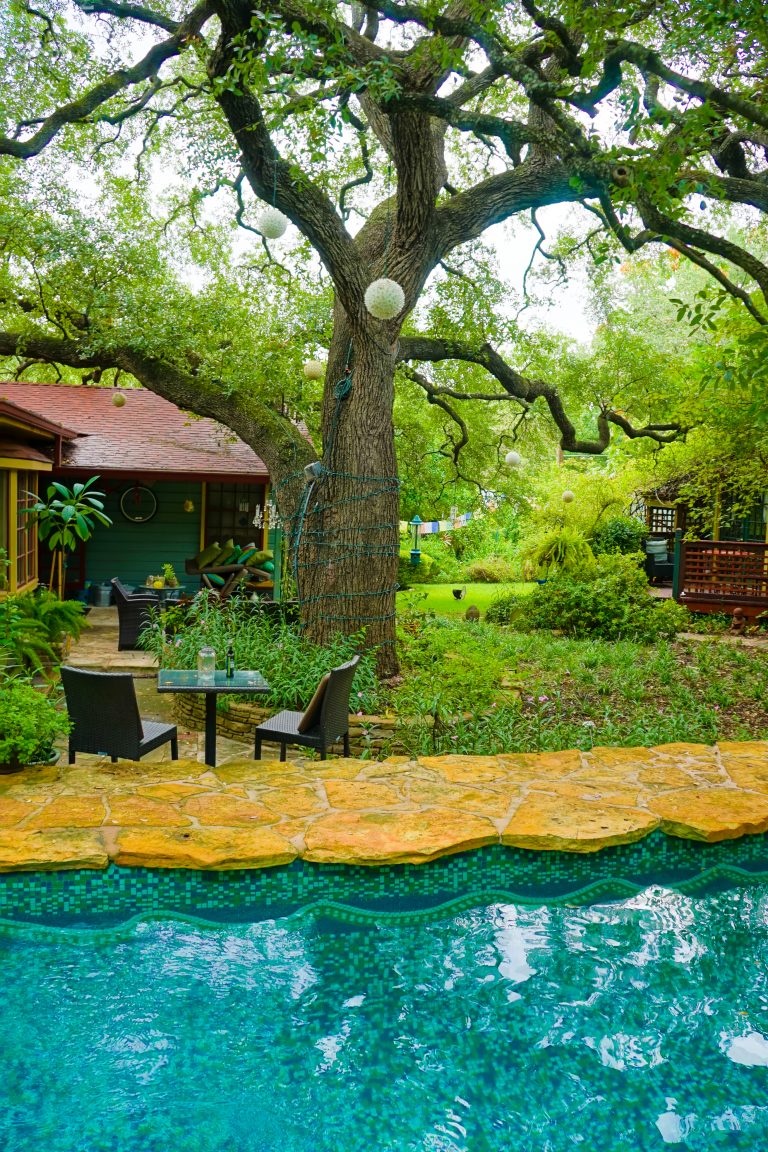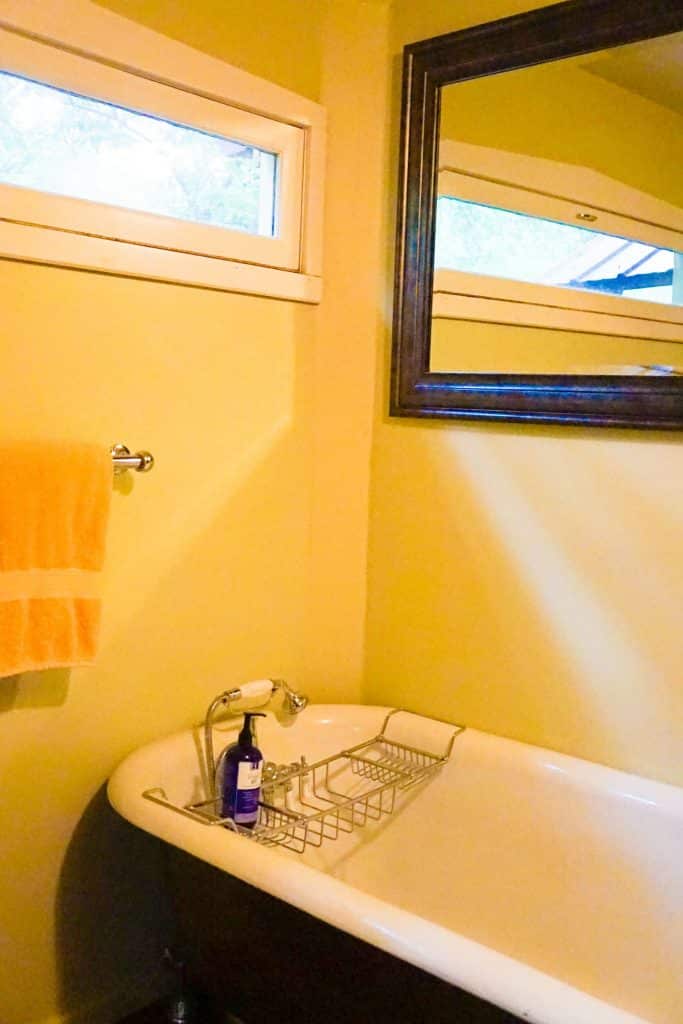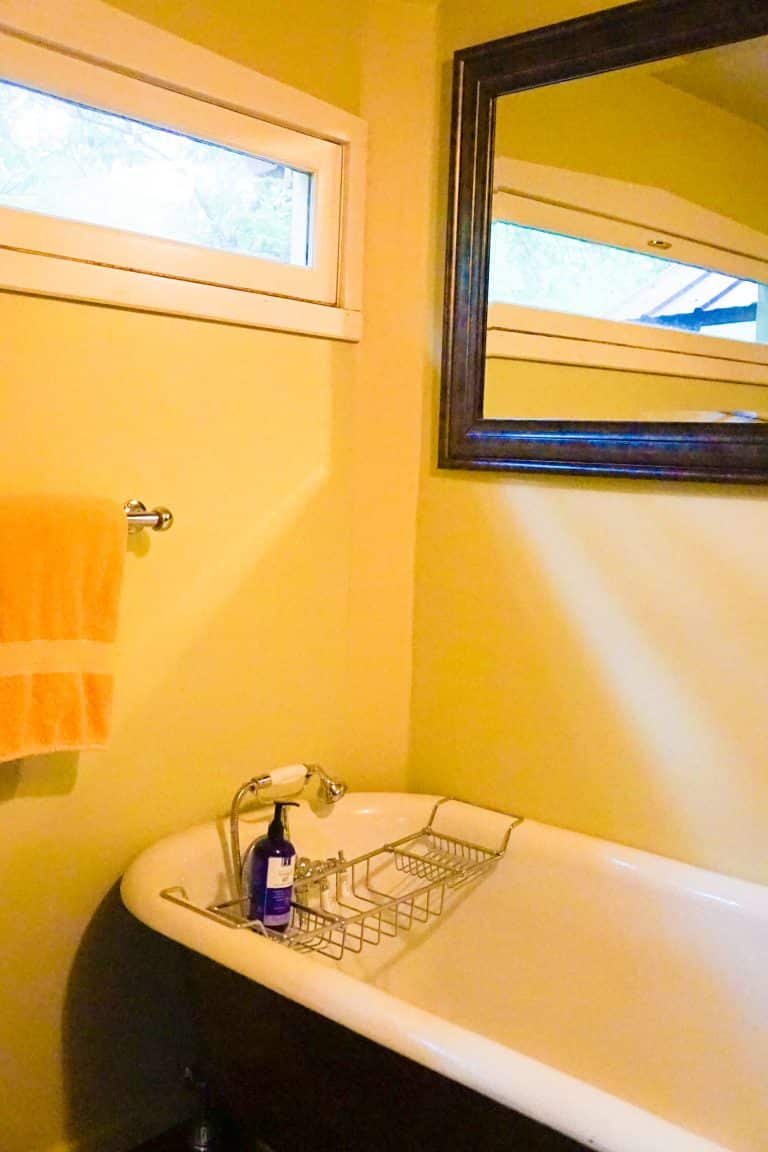 The Garden Cottage is the largest of the offerings here and features antique pine floors, Persian carpets and stained glass windows. It has a large living room and can sleep four guests including the 2 modern sleeper sofas.
It also has a well stocked kitchenette and my favourite – a double shower – for an added touch of rustic luxury.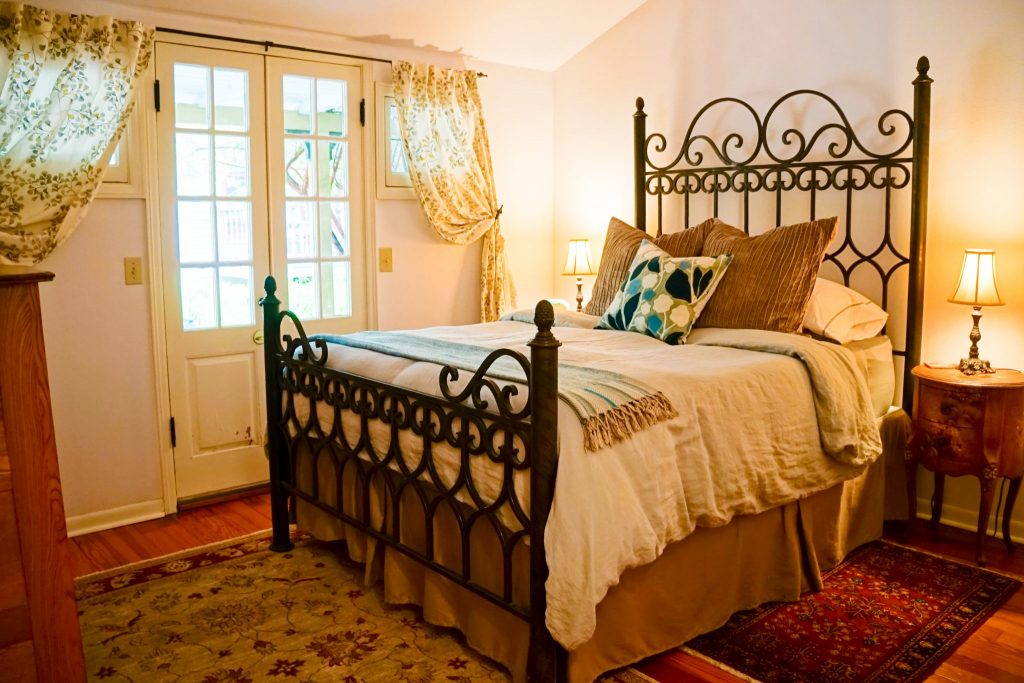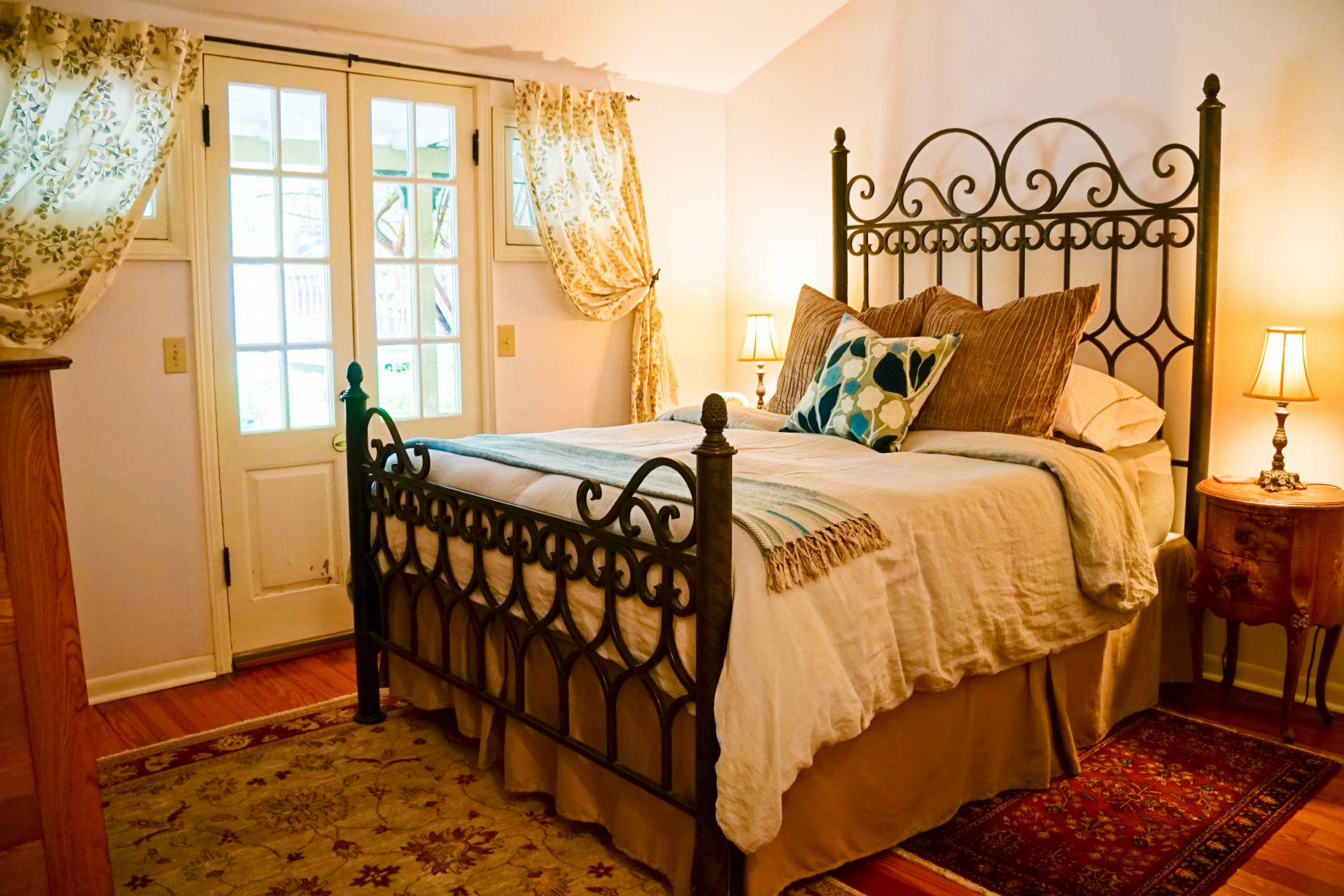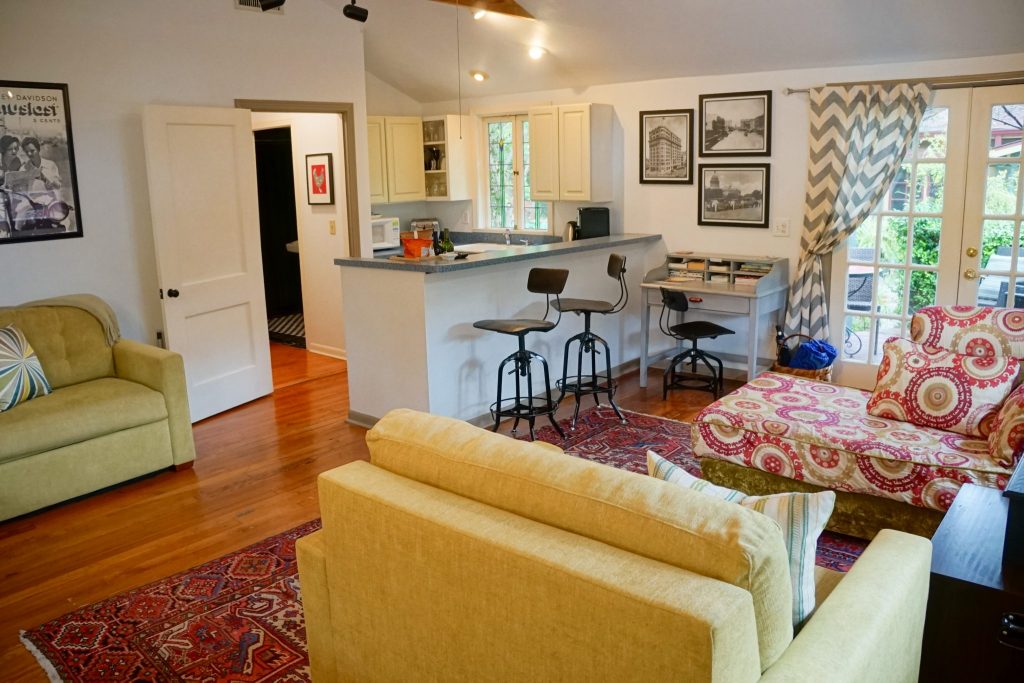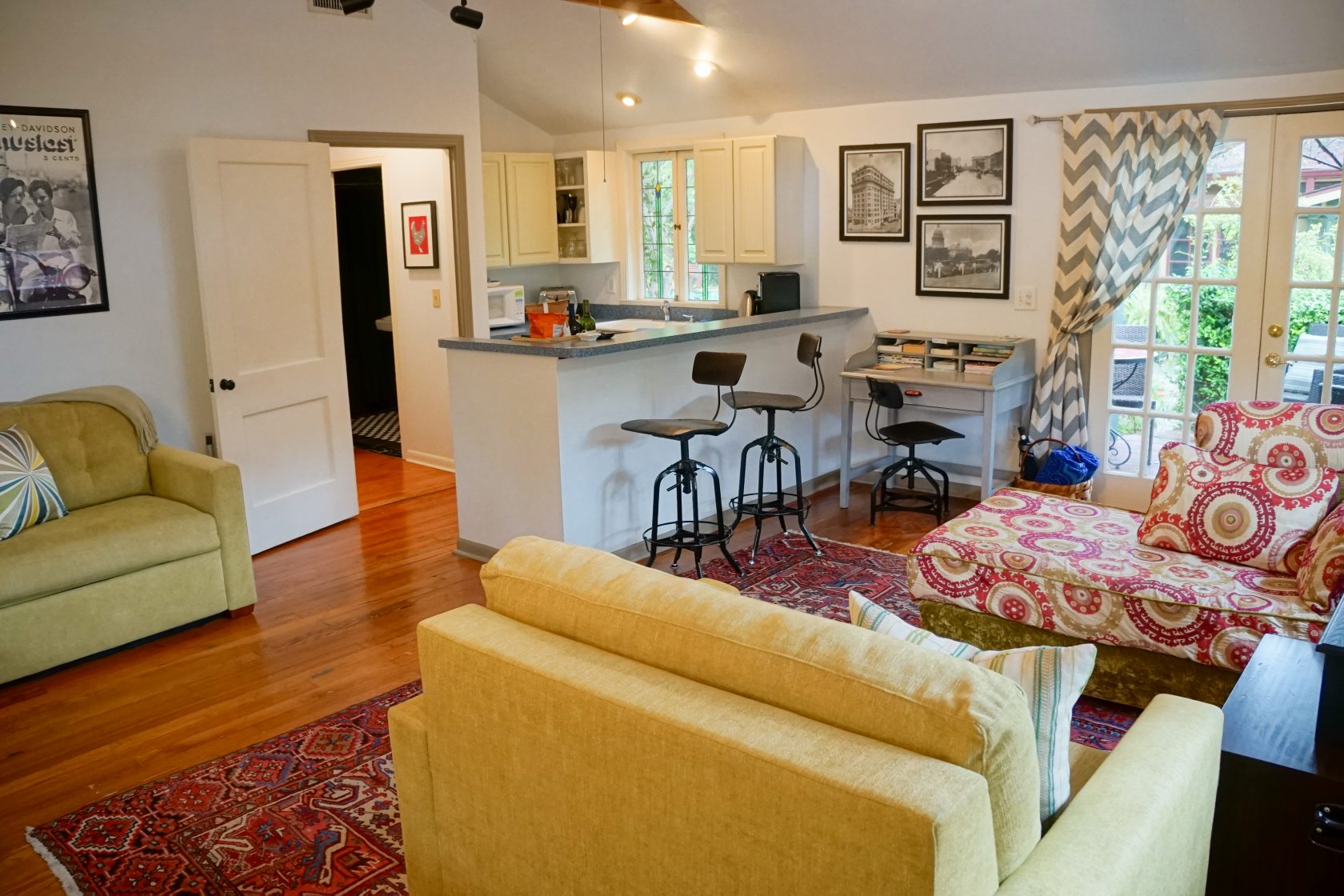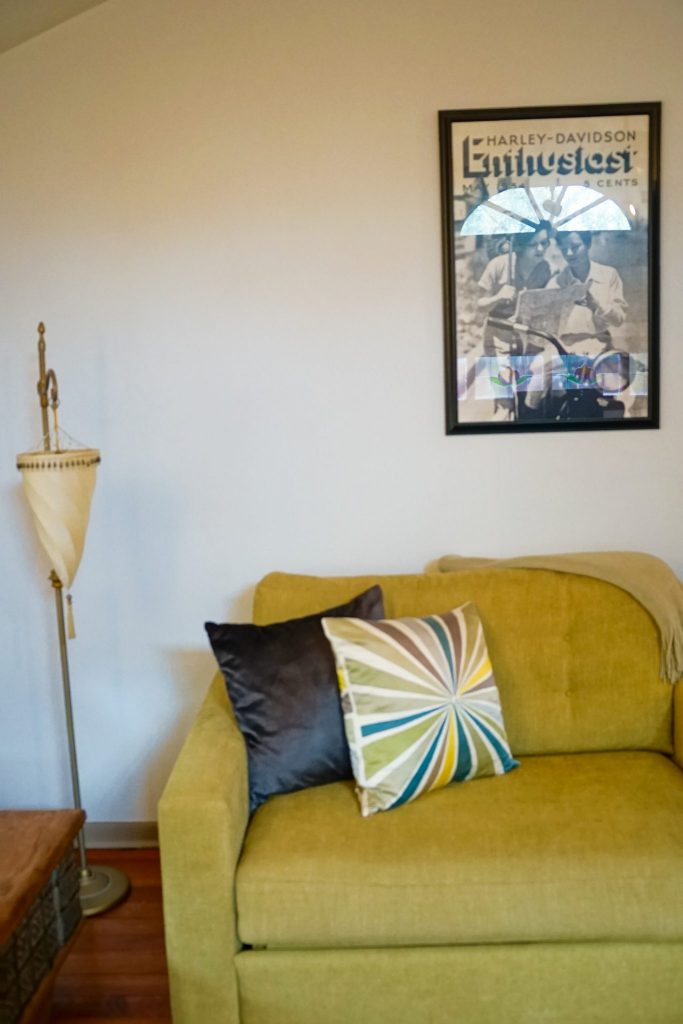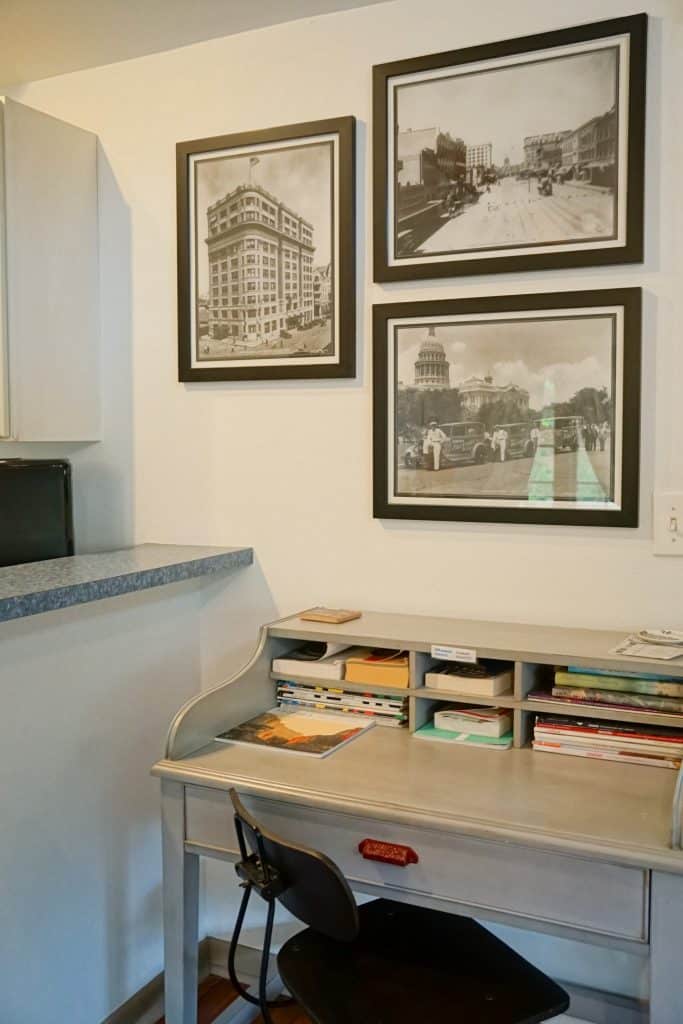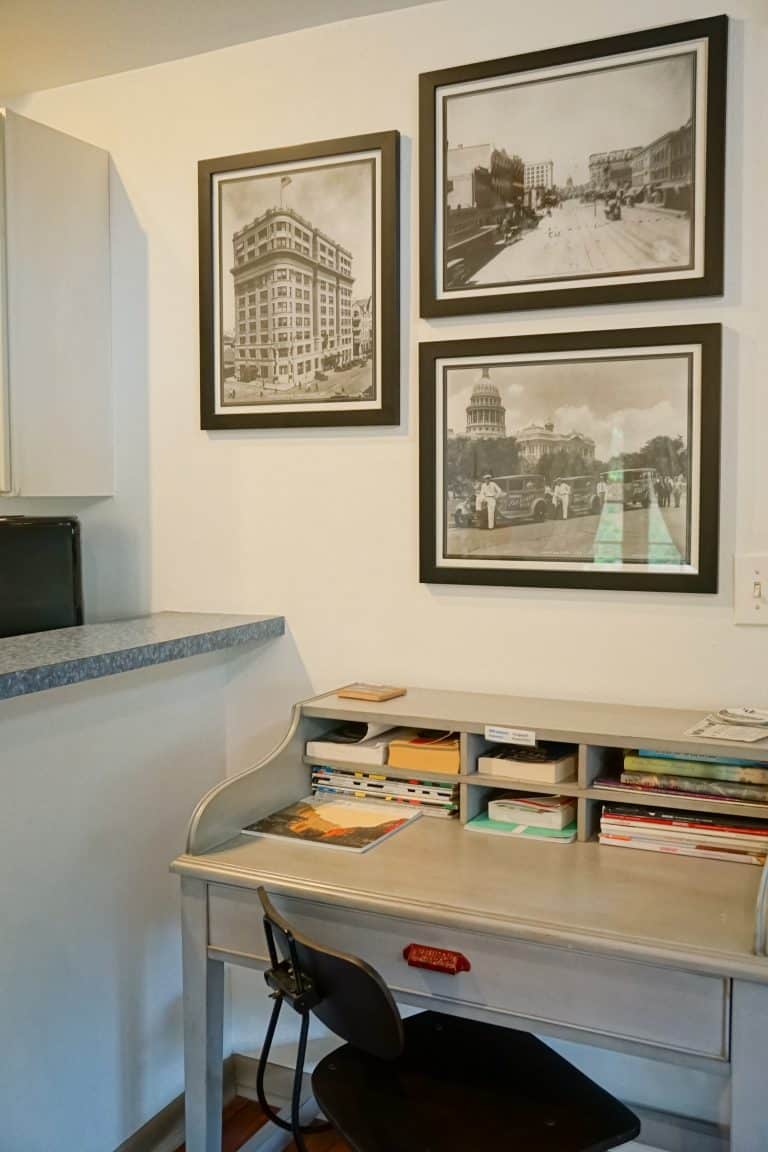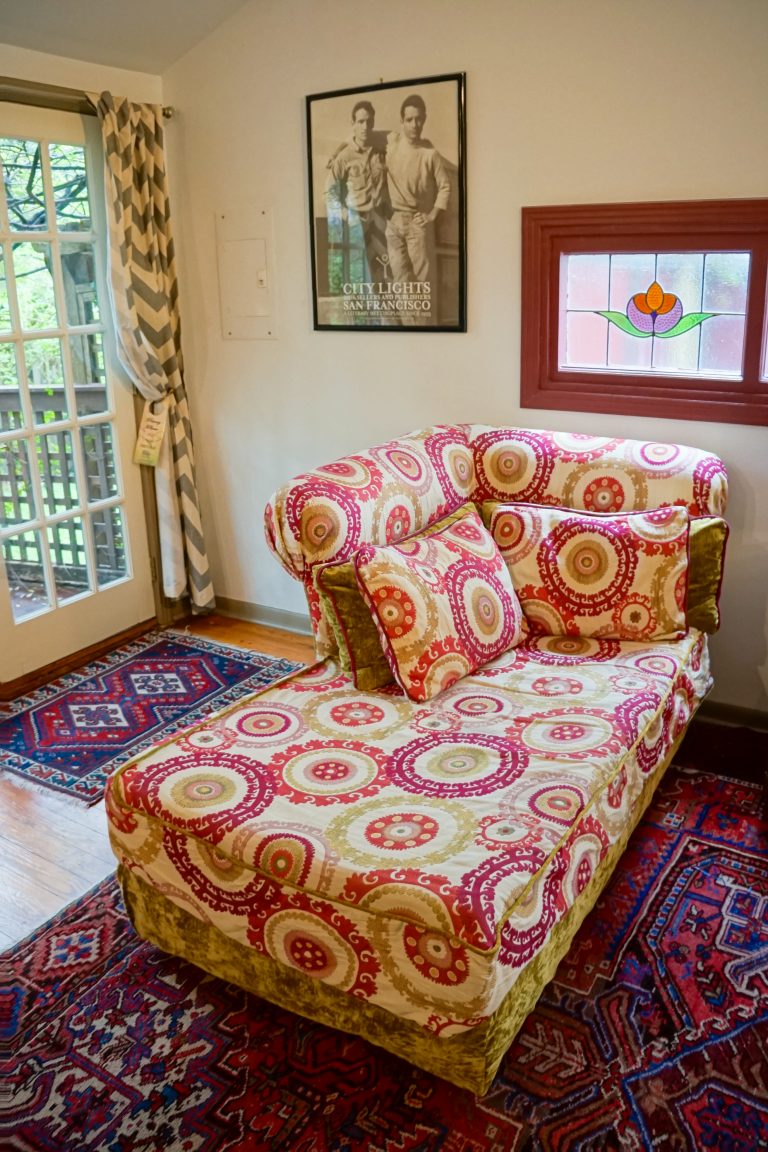 The SoCo is the only room part of the main house – thought it does have its own private keyed entry hall and en suite bathroom. The smallest space, although still with plenty of room, it may be suited more to a solo traveller and has more entry-level pricing to suit.
Breakfast is still included and can be served poolside, in the dining room or at the breakfast bar.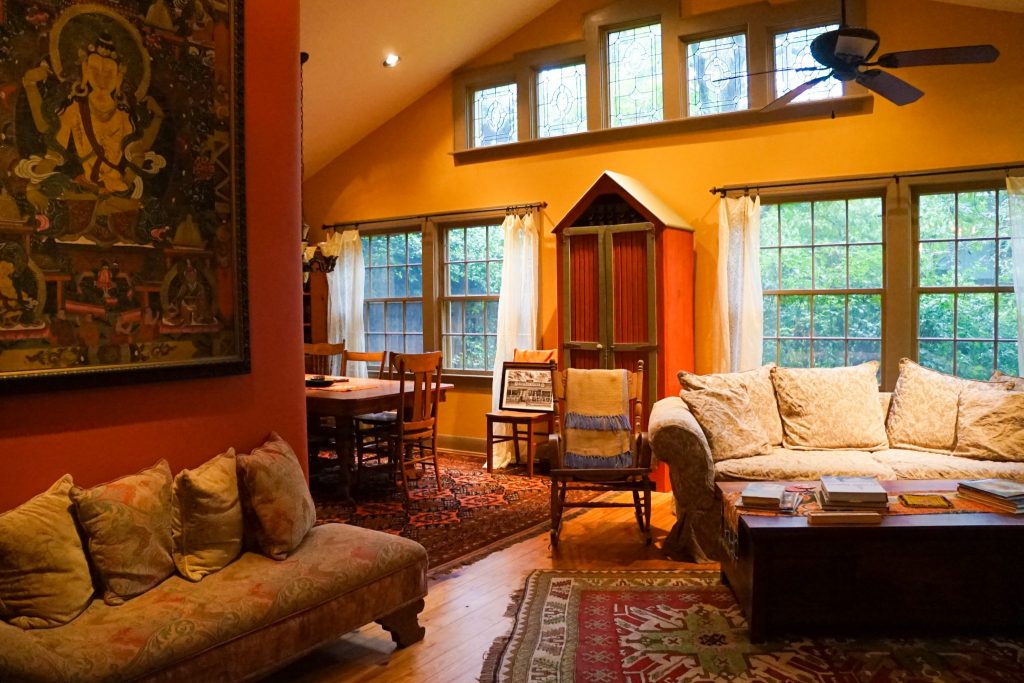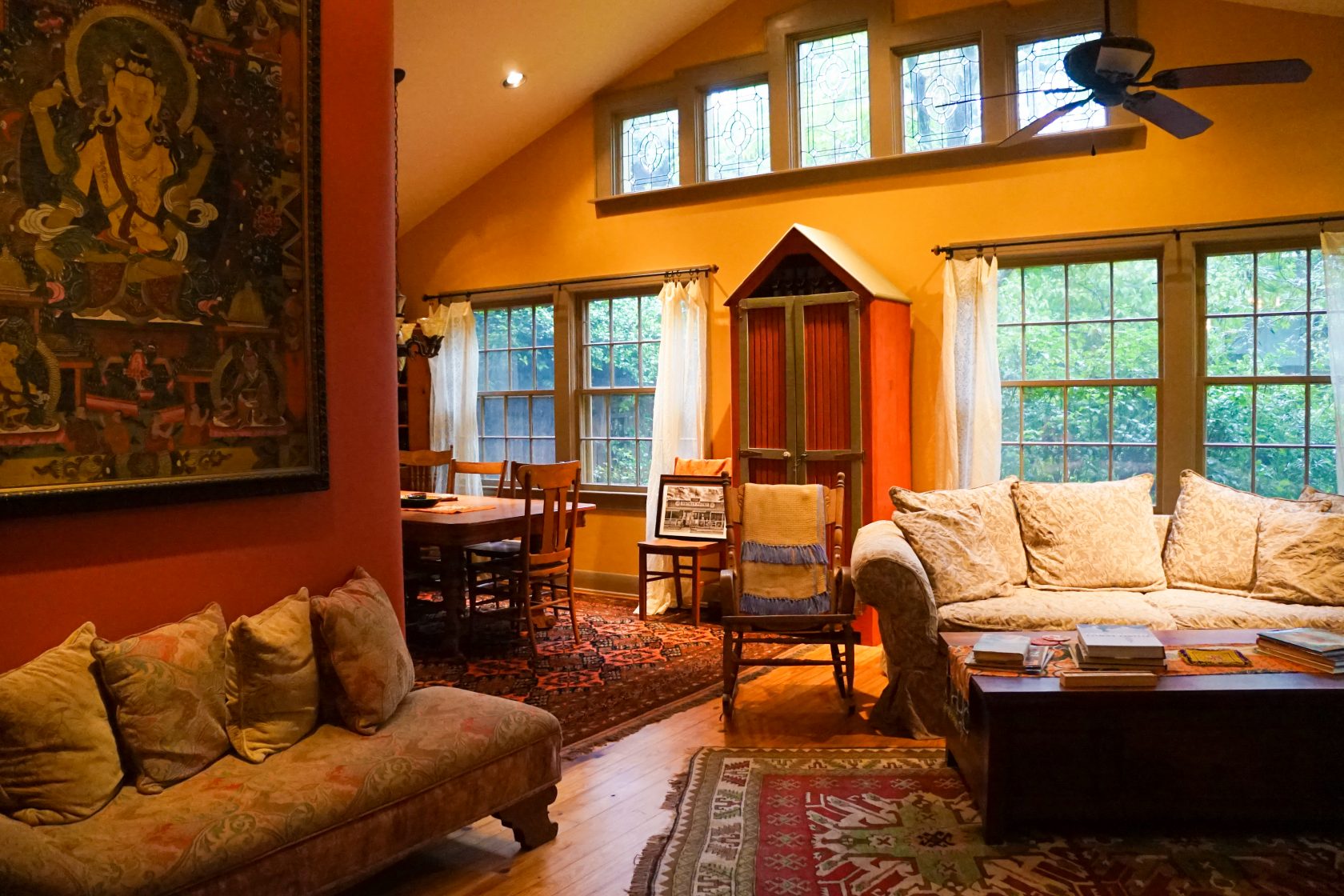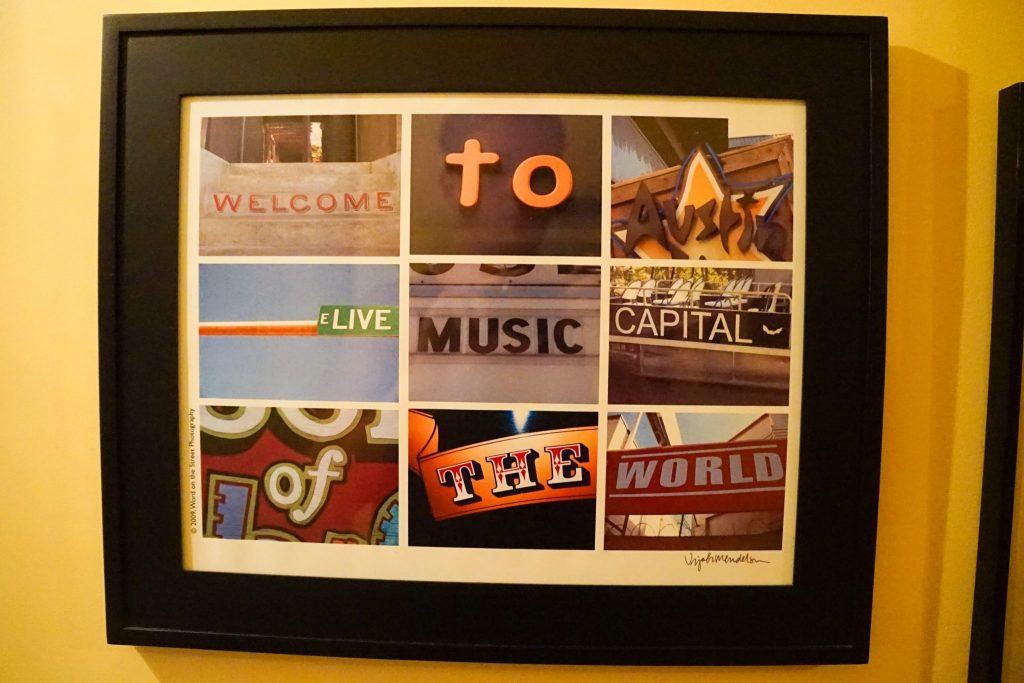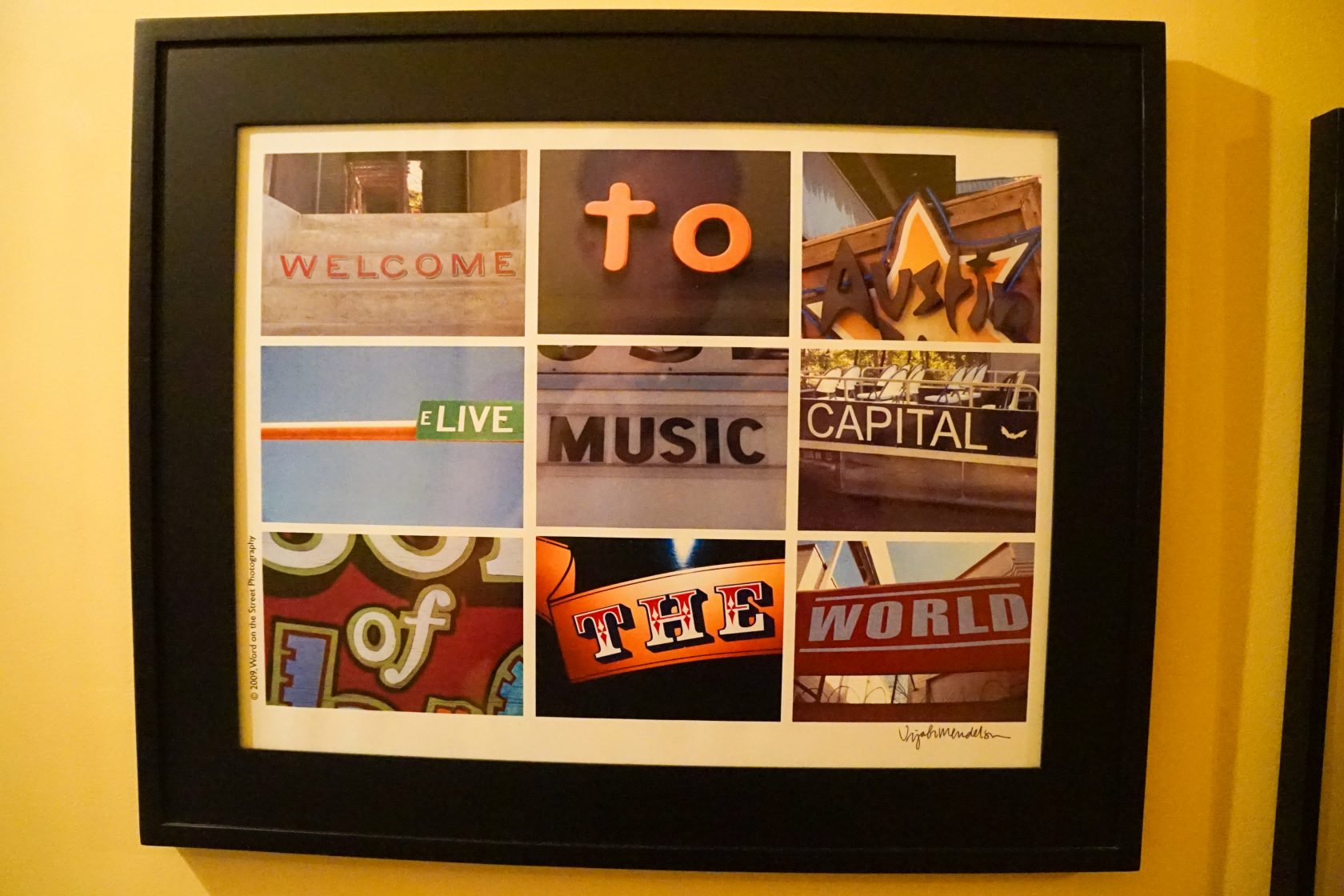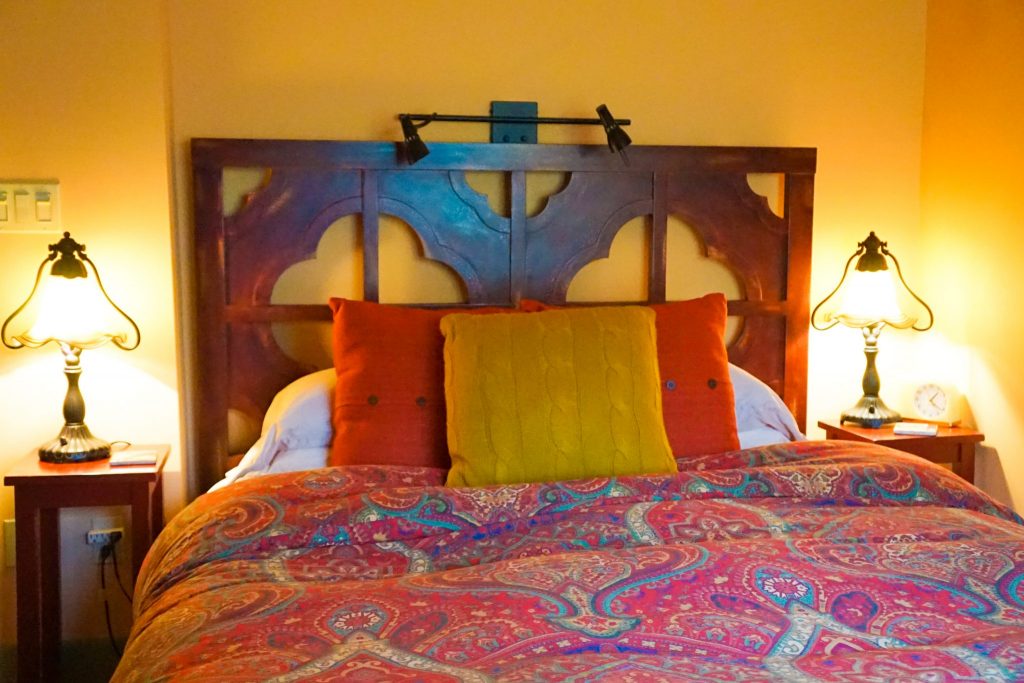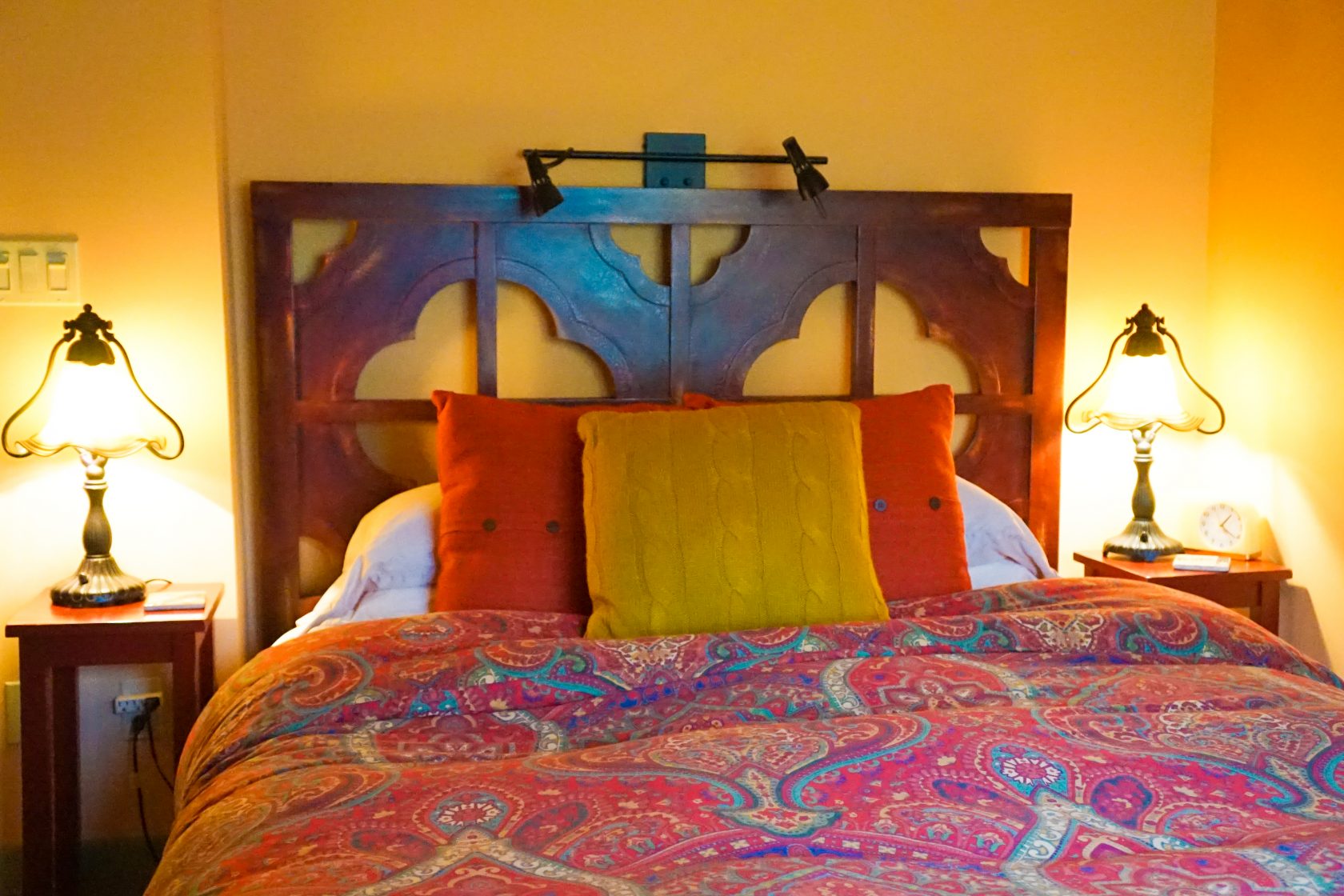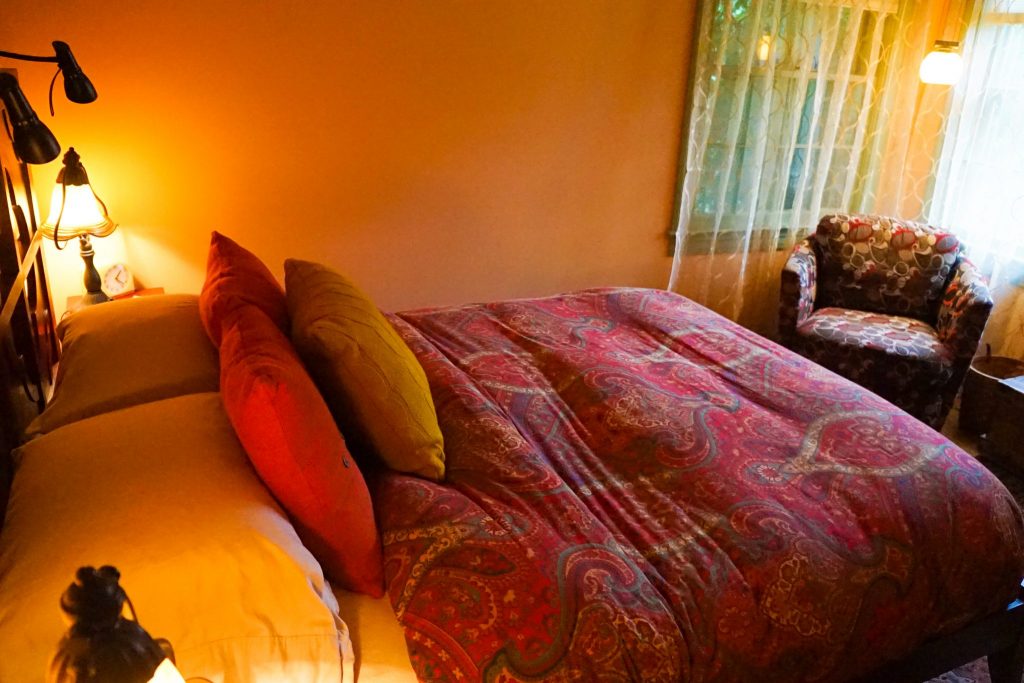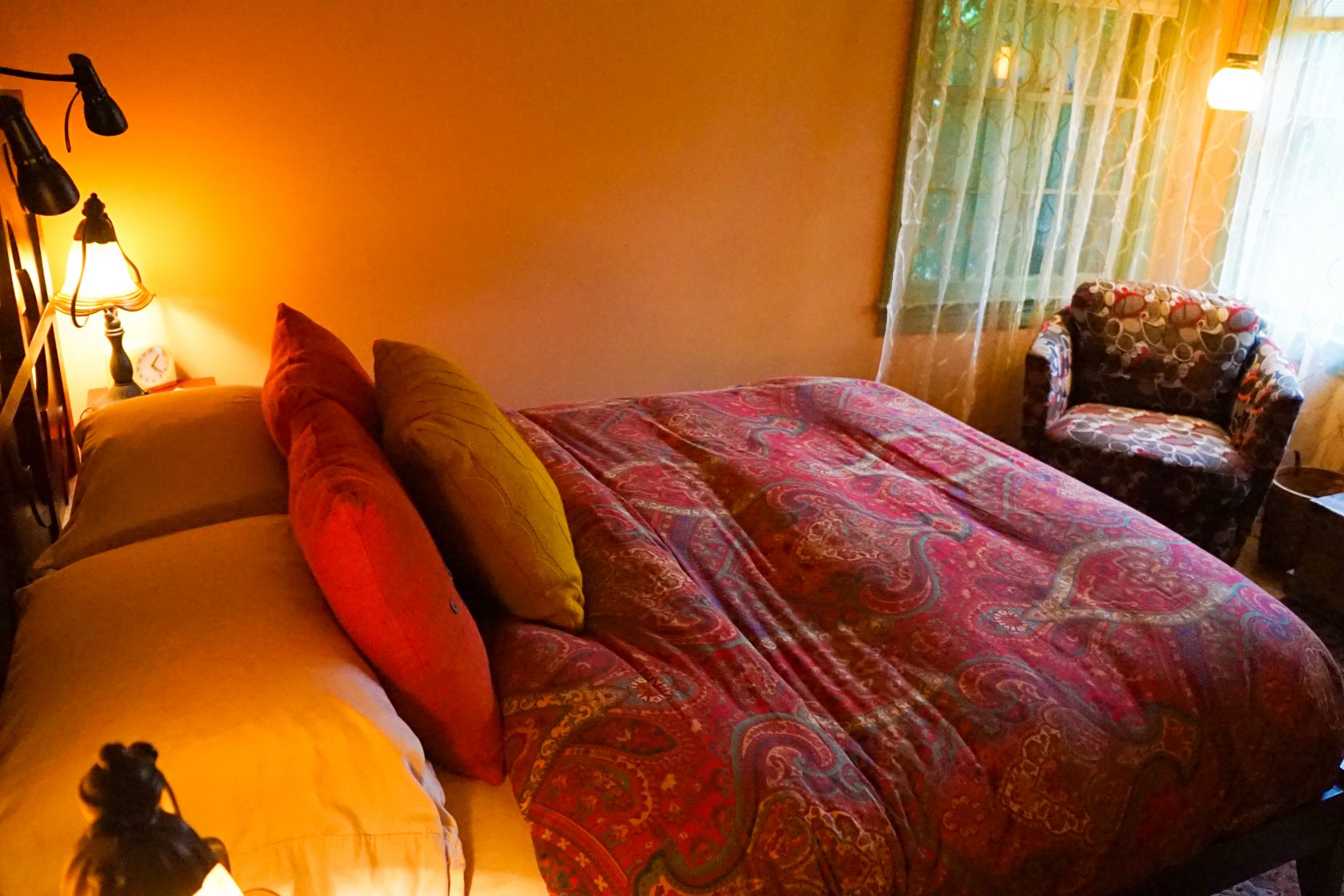 The Amenities On Offer At The Park Lane Guest House Austin
Of course with a small Bed and Breakfast of this size you might expect a lack of amenities but the Park Lane Guest House does not disappoint and has everything on offer for your stay.
From all organic toiletries, in-room coffee makers and organic coffee, exceptionally fast WiFi with no connection problems and an outdoor natural pool….And that's just the start! Though for my money, lying in the pool escaping the oppressive midday heat in Texas is all I need… However here is the full list to get you excited:
Complimentary daily organic breakfast delivered straight to your door.
Complimentary off-street parking + electric vehicle charging.
Complimentary daily maid service.
Complimentary luggage storage on the day of check-in and check-out.
Complimentary organic brand-name toiletries.
Complimentary in-room coffee maker + organic coffee.
Complimentary high-speed WiFi.
Complimentary use of high-quality organic shower robes.
Sun terrace and natural outdoor pool.
Express check-in and check-out.
Air conditioning.
Totally Non-Smoking.
Massages available.
Bicycle Hire.
Pet Friendly Hotel in Austin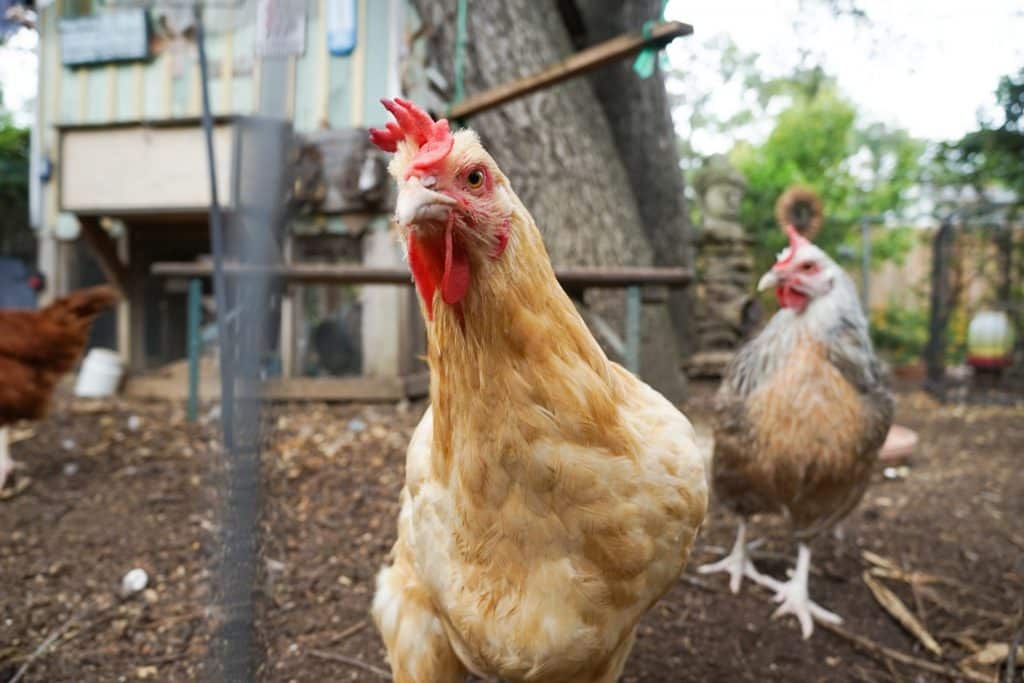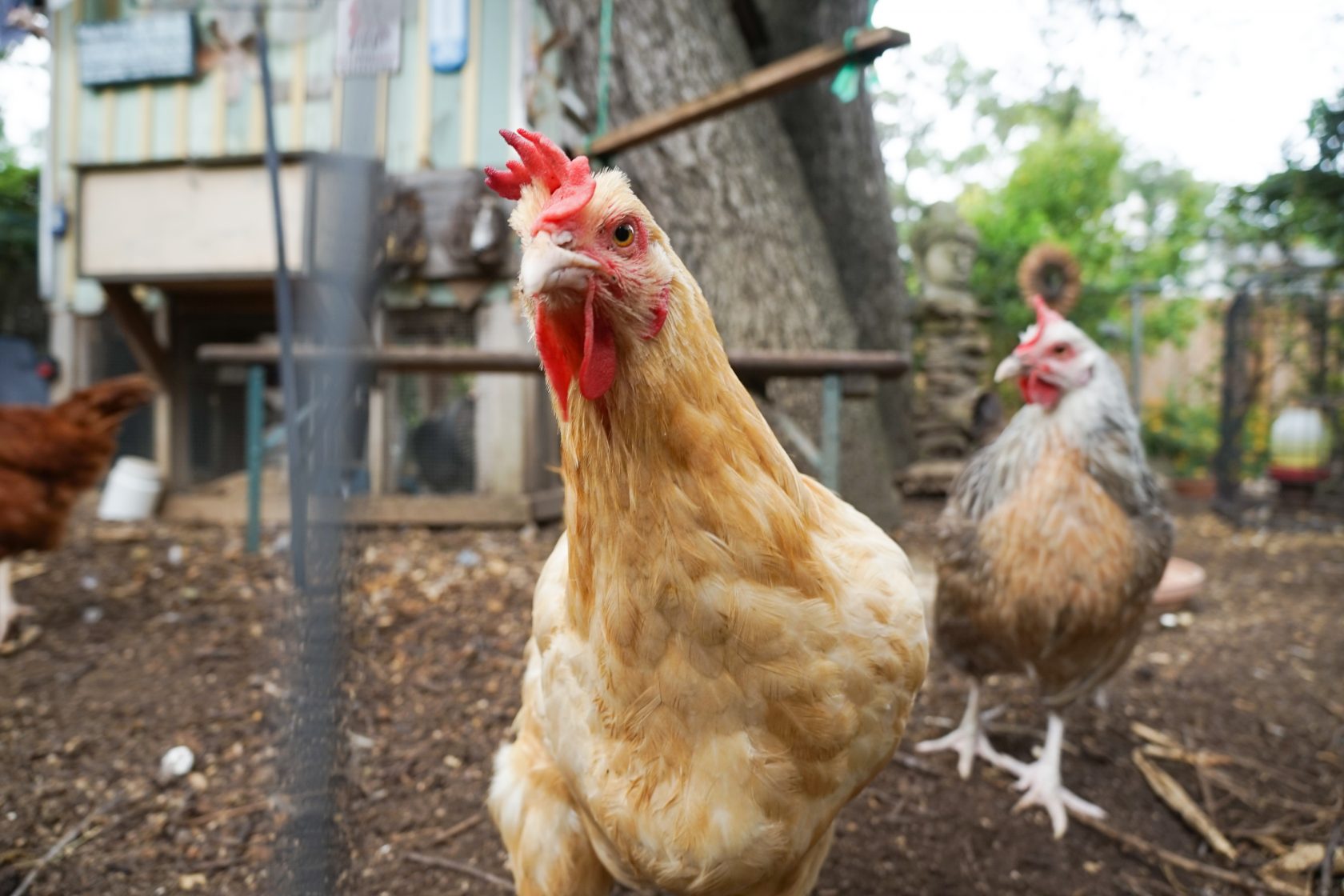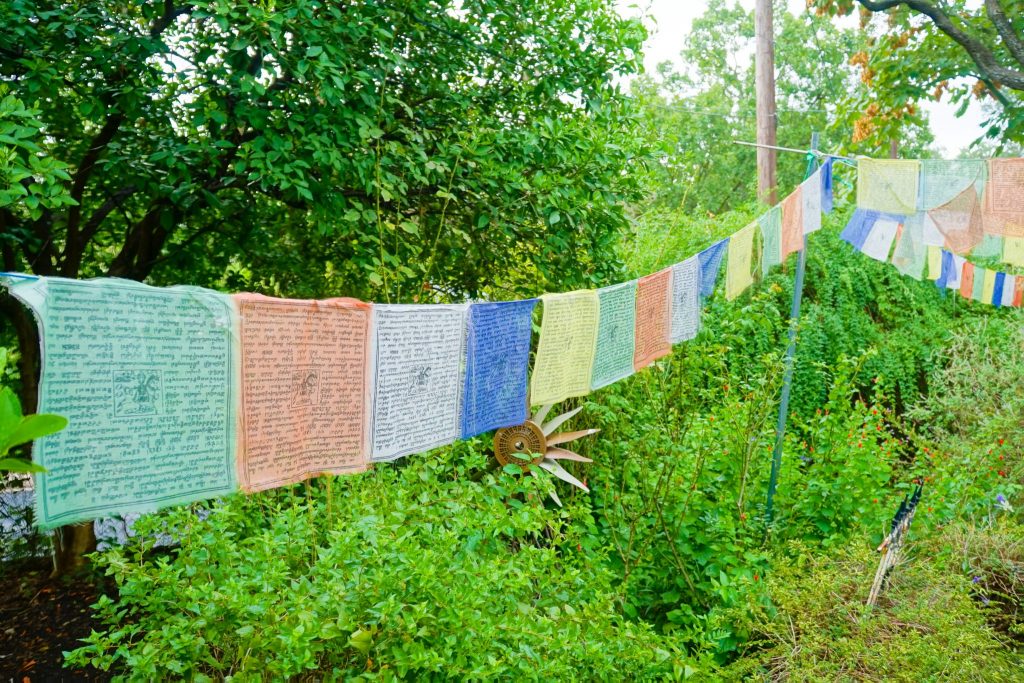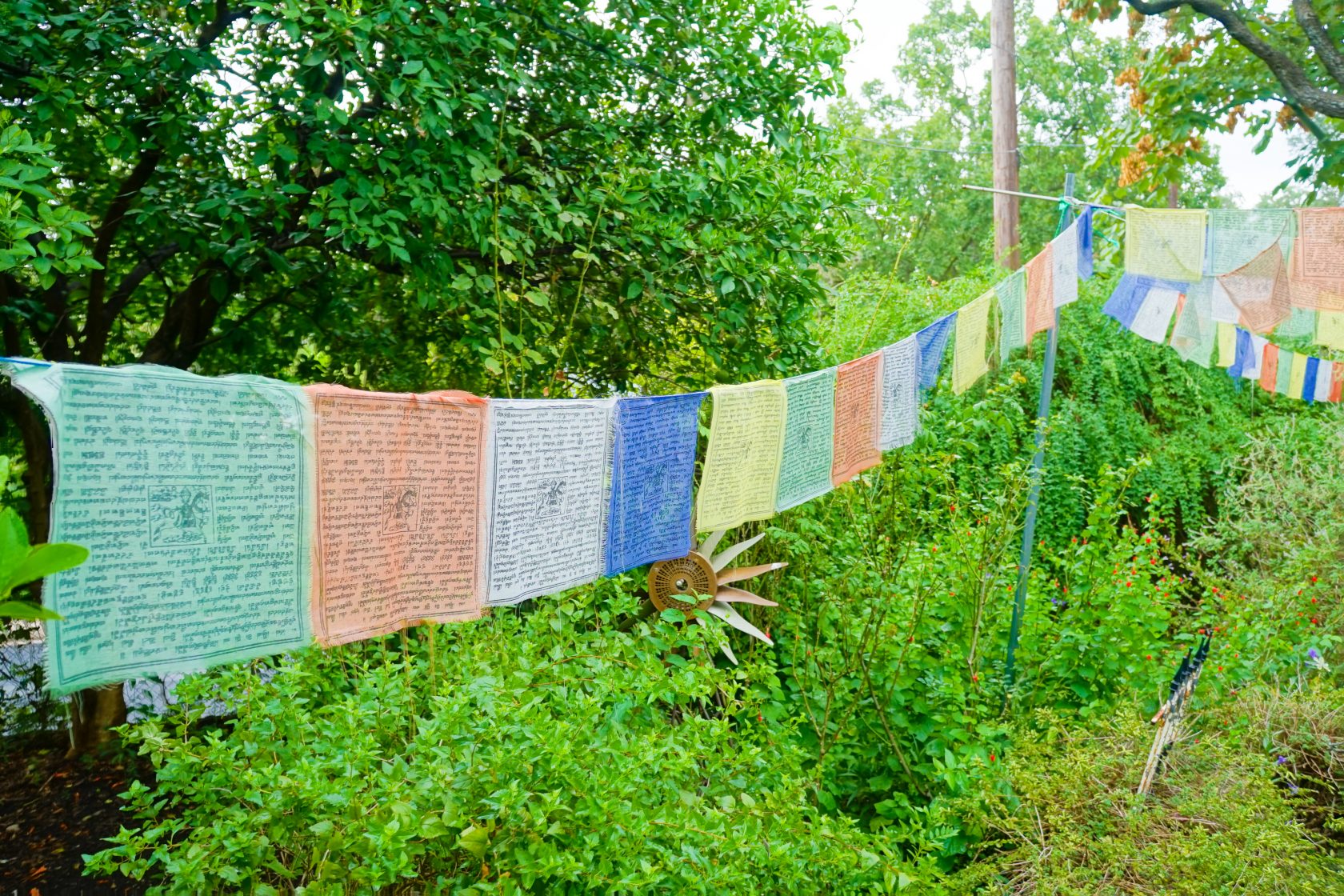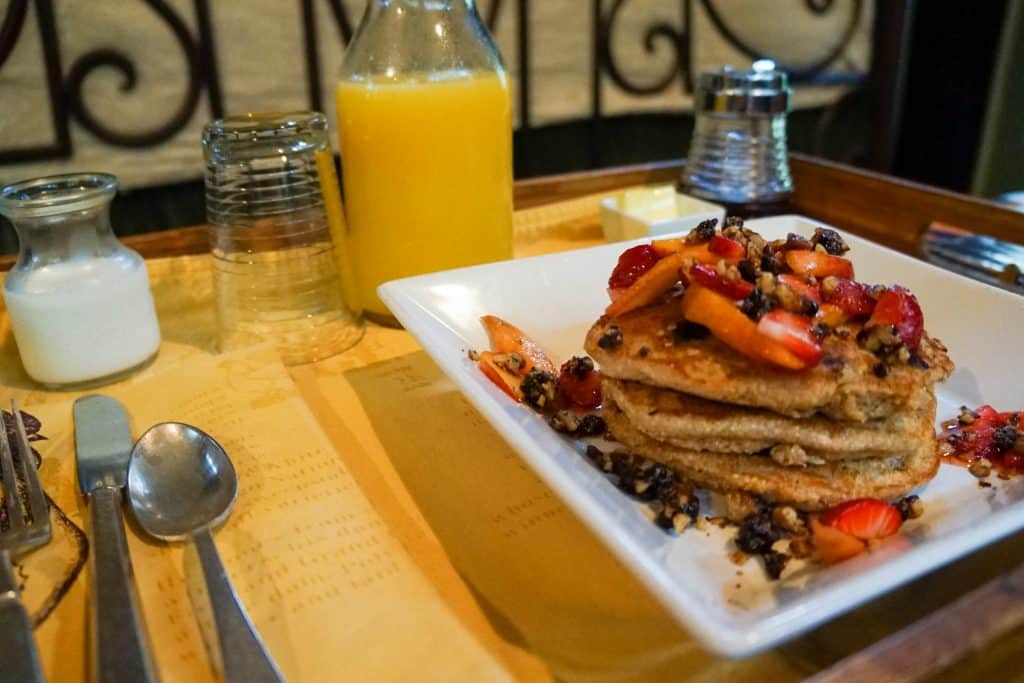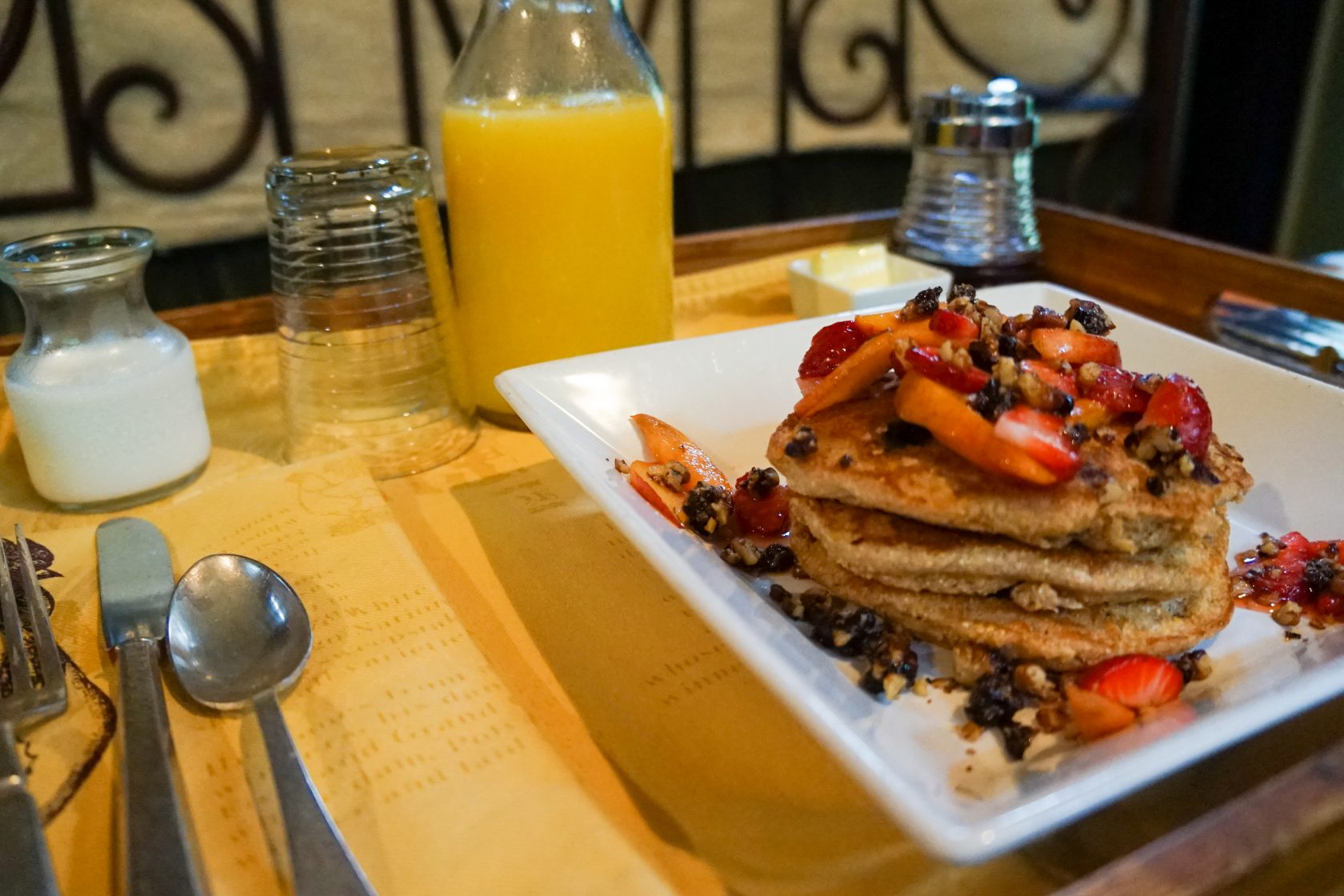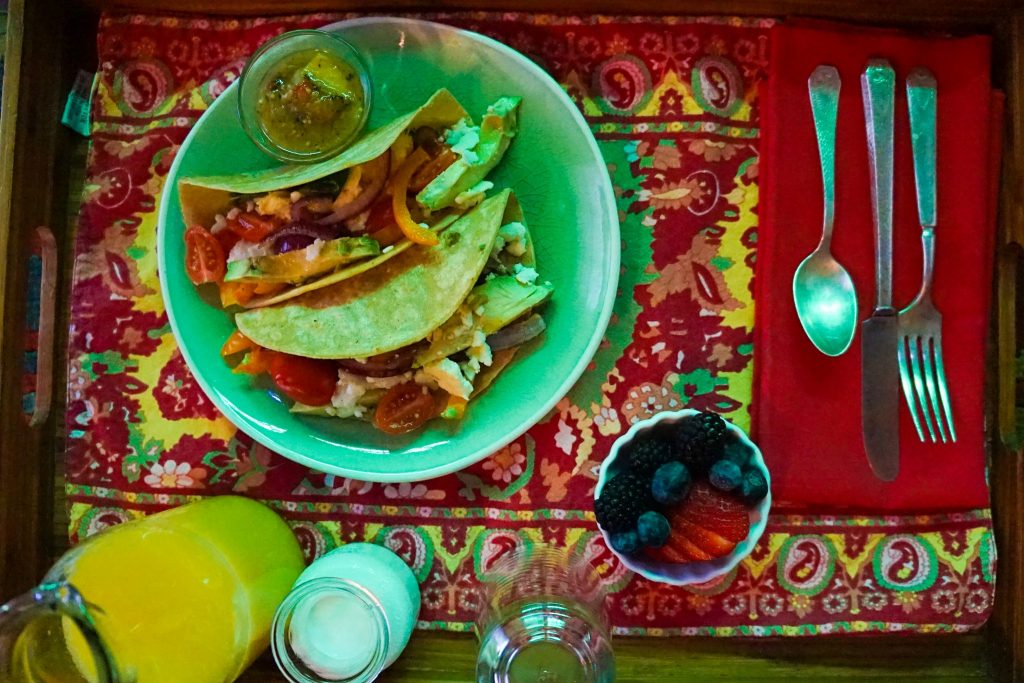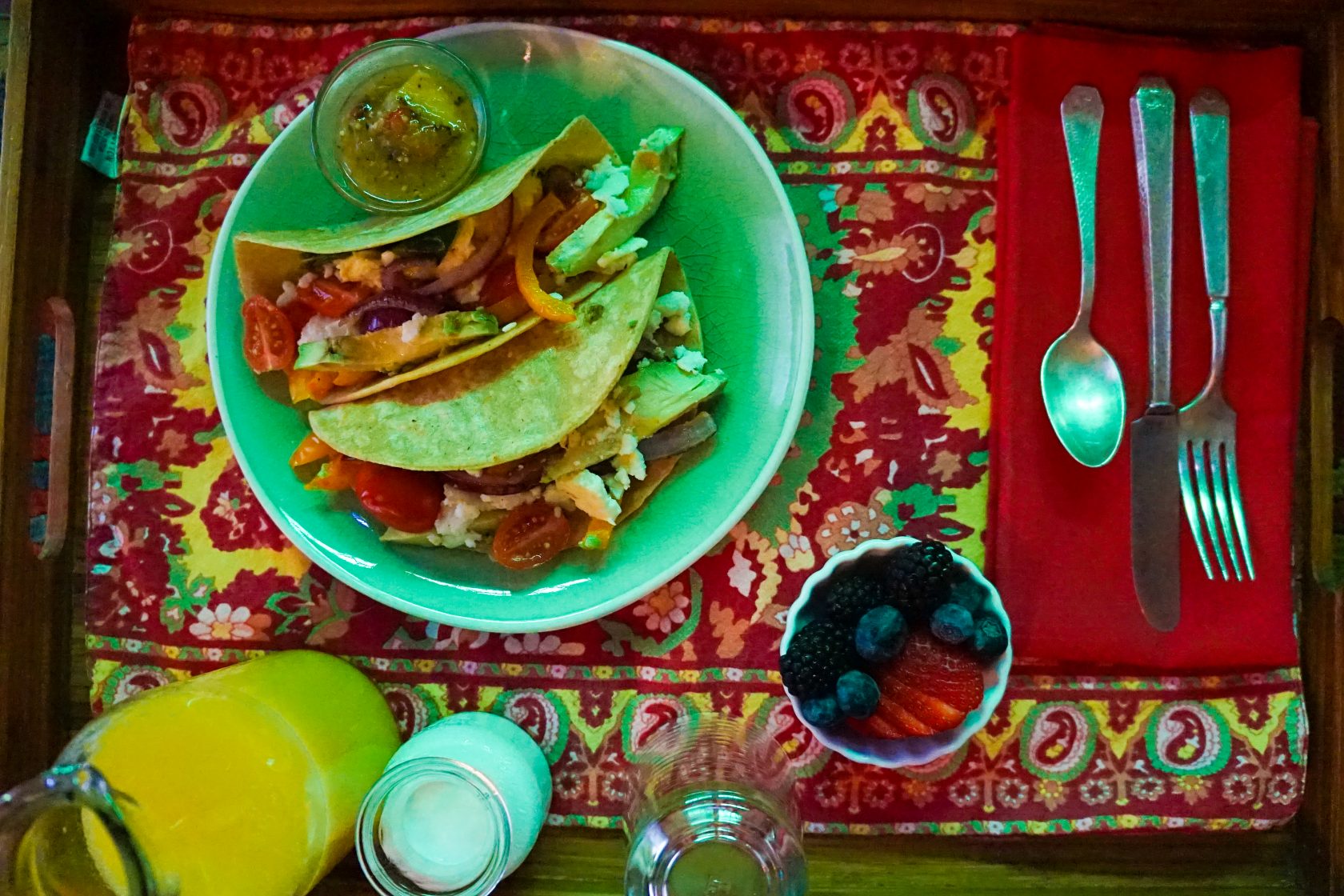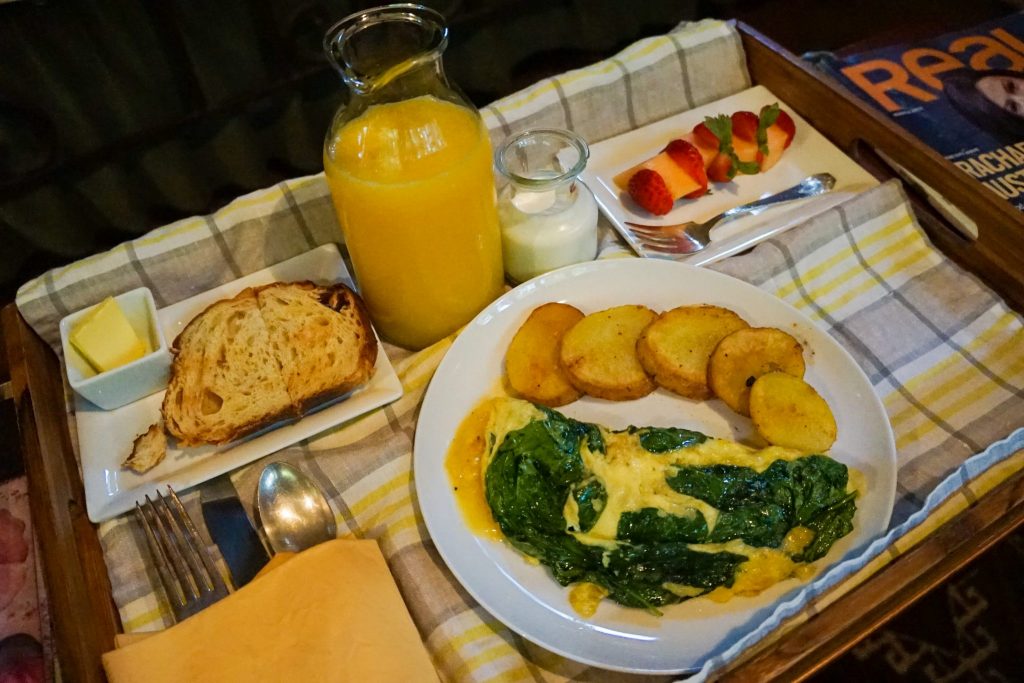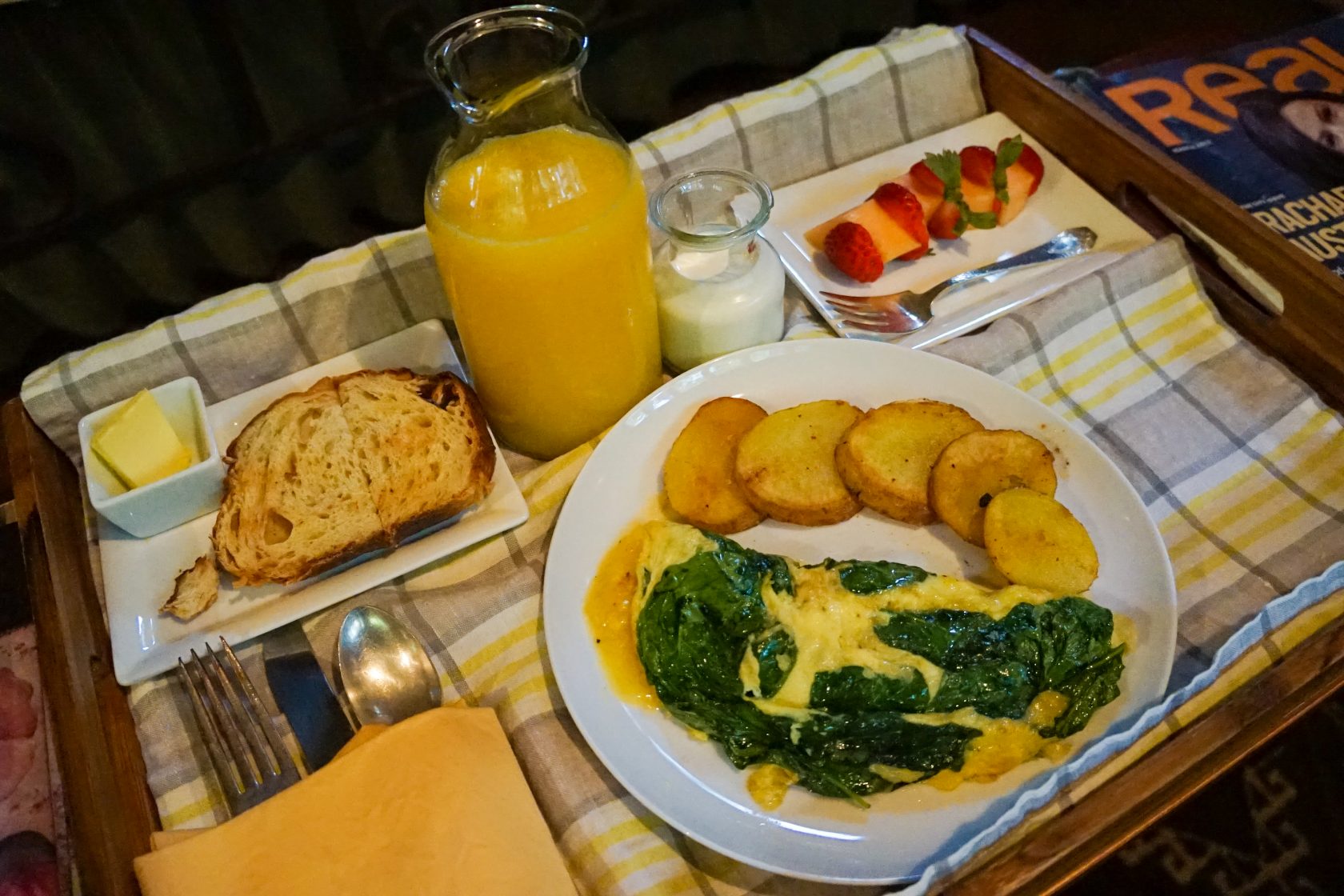 Exploring The Surroundings Area Of South Congress
SoCo Austin (South Congress) used to be known for seedy streets, failed businesses and hotels by the hour, however over the past decade has been transformed into one of the most desirable locations in all of Austin – and a great place to see Austin Texas gay life on full display.
From the sweeping view of downtown Austin from the South Congress Avenue, to the Town Lake Hike and Bike Trail there is a lot on offer here. Just a few minutes stroll from Park Lane Guest House you can find many boutique, quint-essentially Austin 'funk' stores, trendy cafés, restaurants, bars, coffee shops and yes – live music venues.
On the of the best of these is the infamous Continental Club, where many famous performers careers have been launched, and is only a 4 minute walk from your door. Plenty of thrift shops are found here including the fabulous Uncommon Objects filled with more kitsch than you could ever need.
For food you are literally spoiled for options and most of the cities premier spots are located here, but I would be remiss not to recommend Home Slice Pizza, Torchy's Tacos and Lucky Robot (the Tokyo Brunch on the weekend is AMAZING!).
An extremely local area, lace up your walking shoes – or hire a bike – and take the time to explore. Who knows what you will find!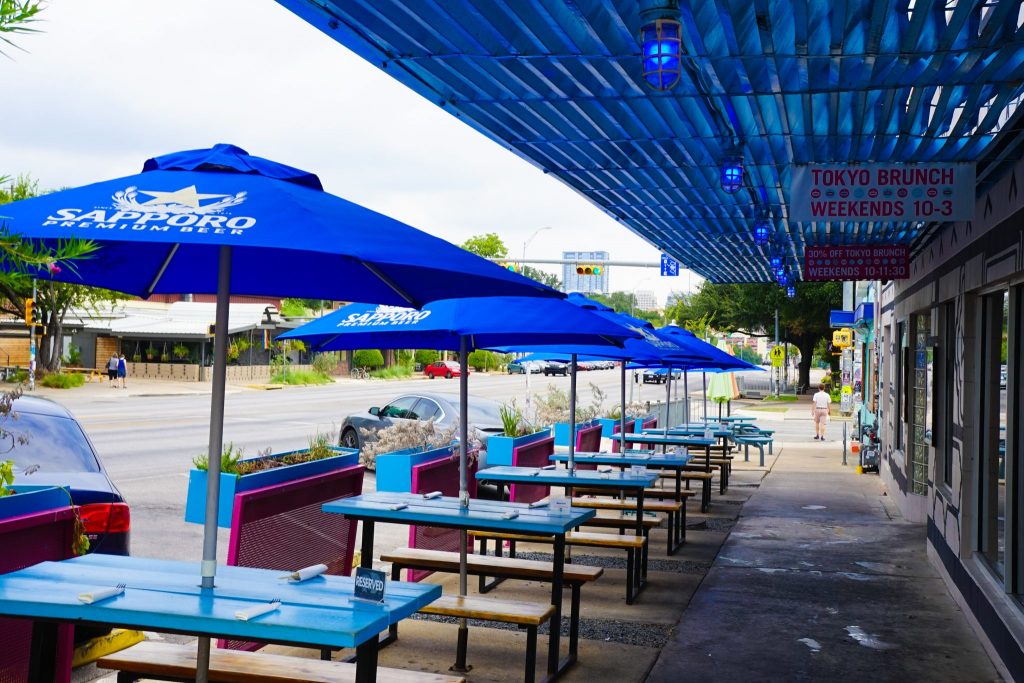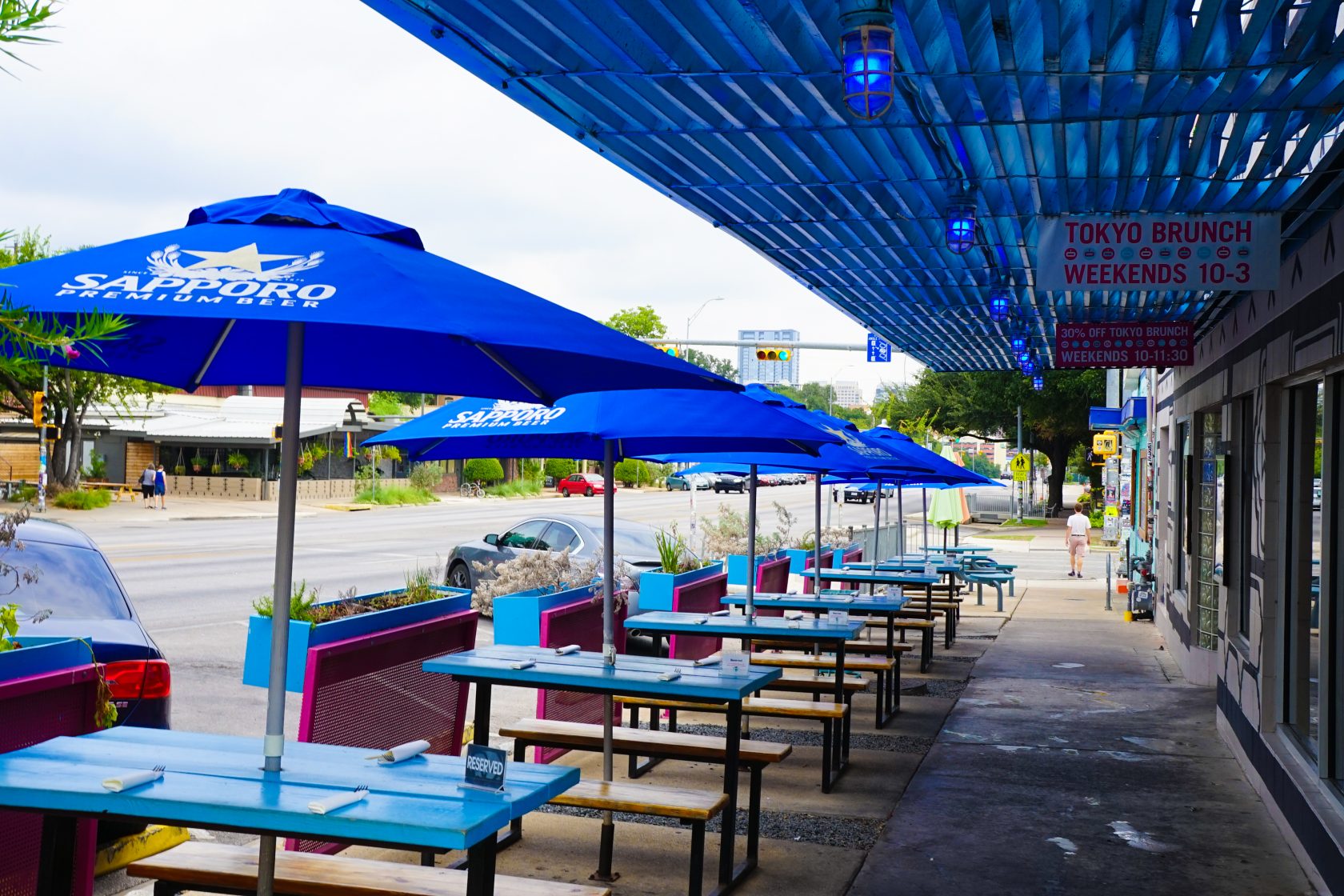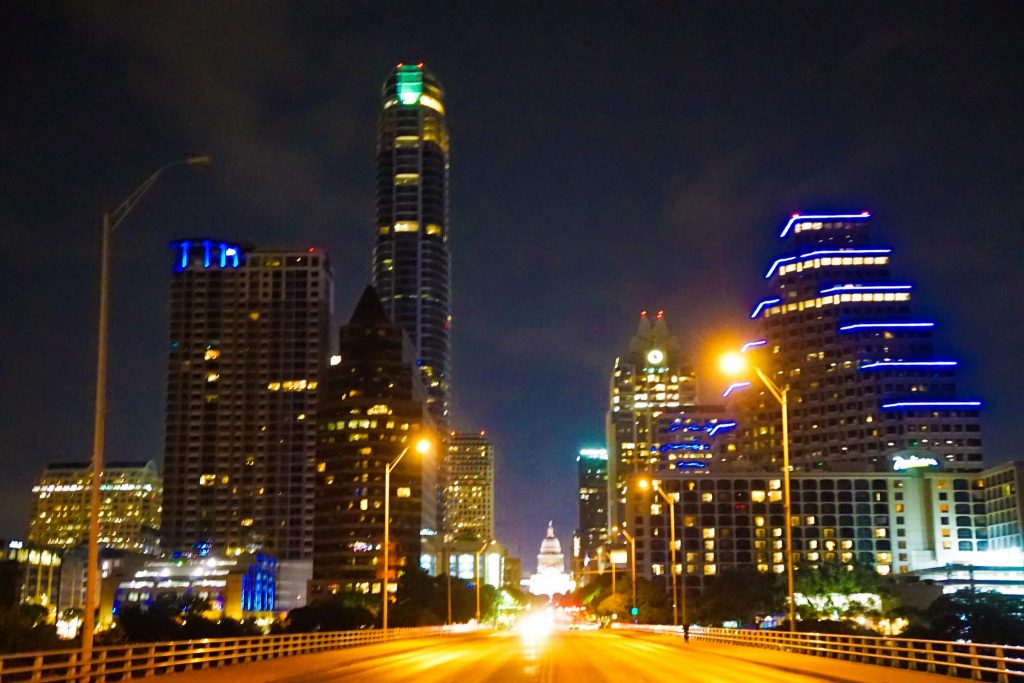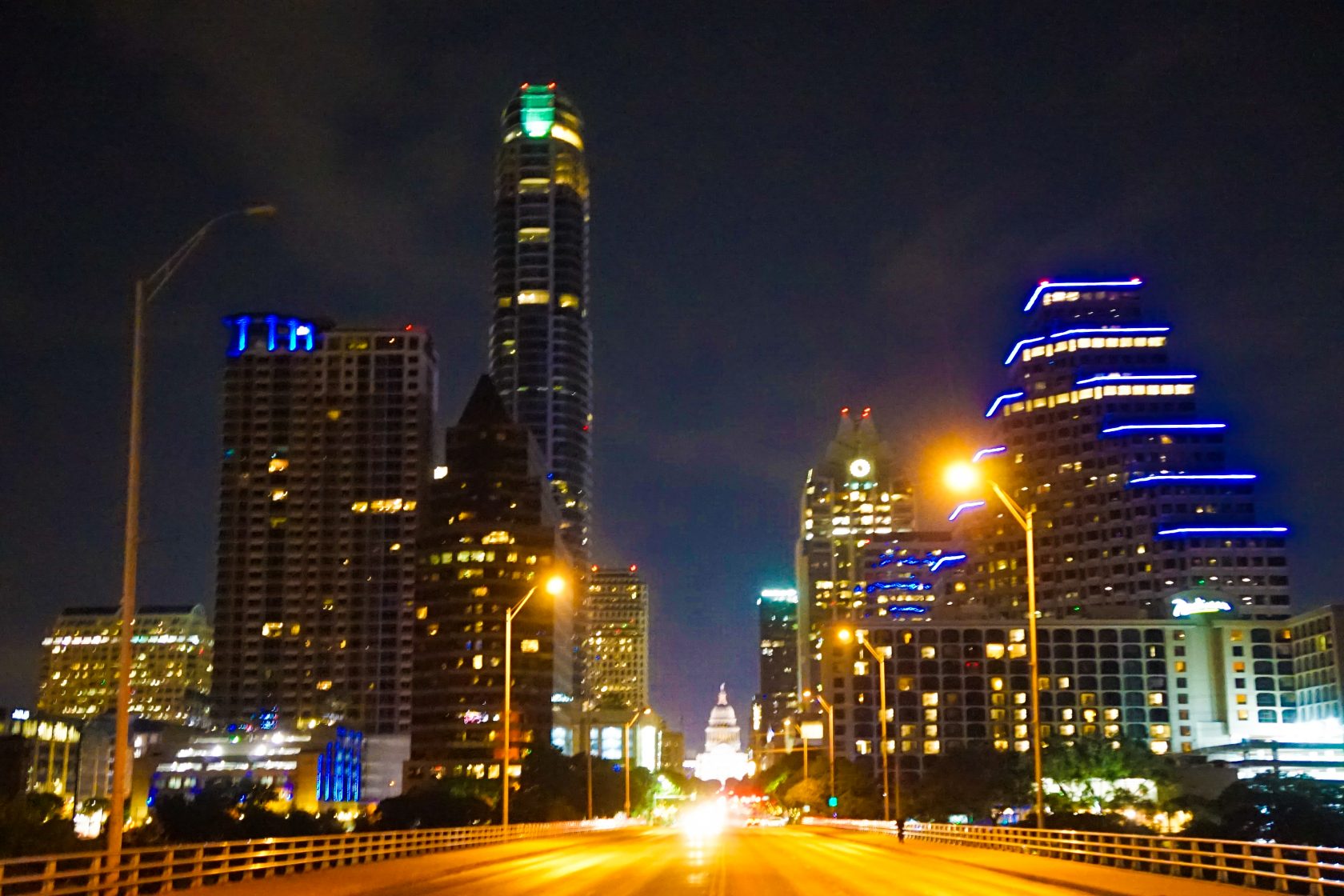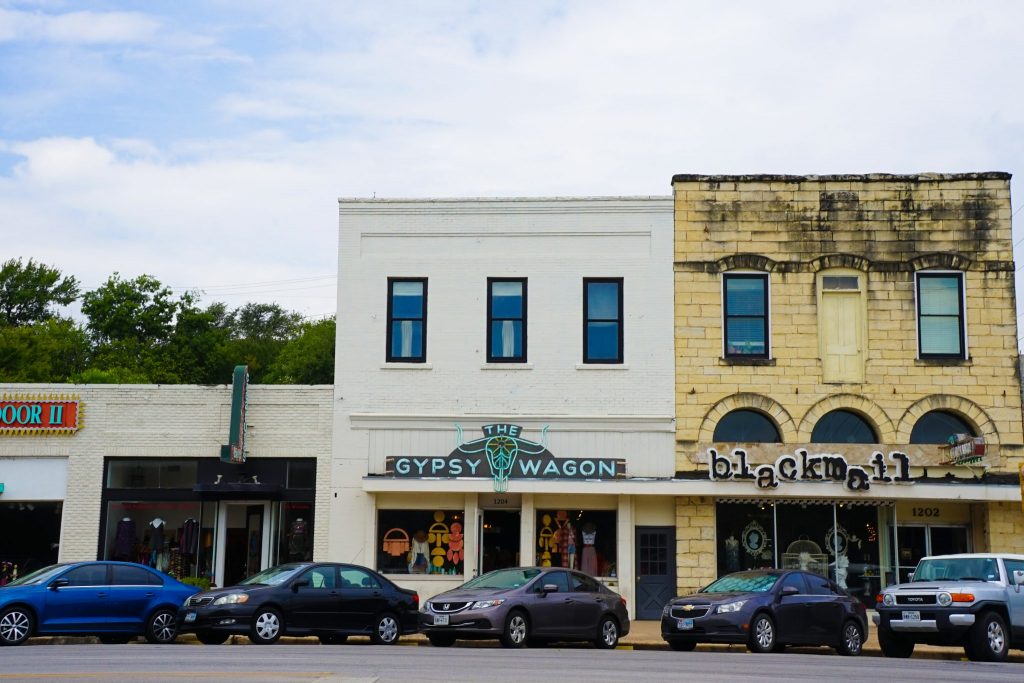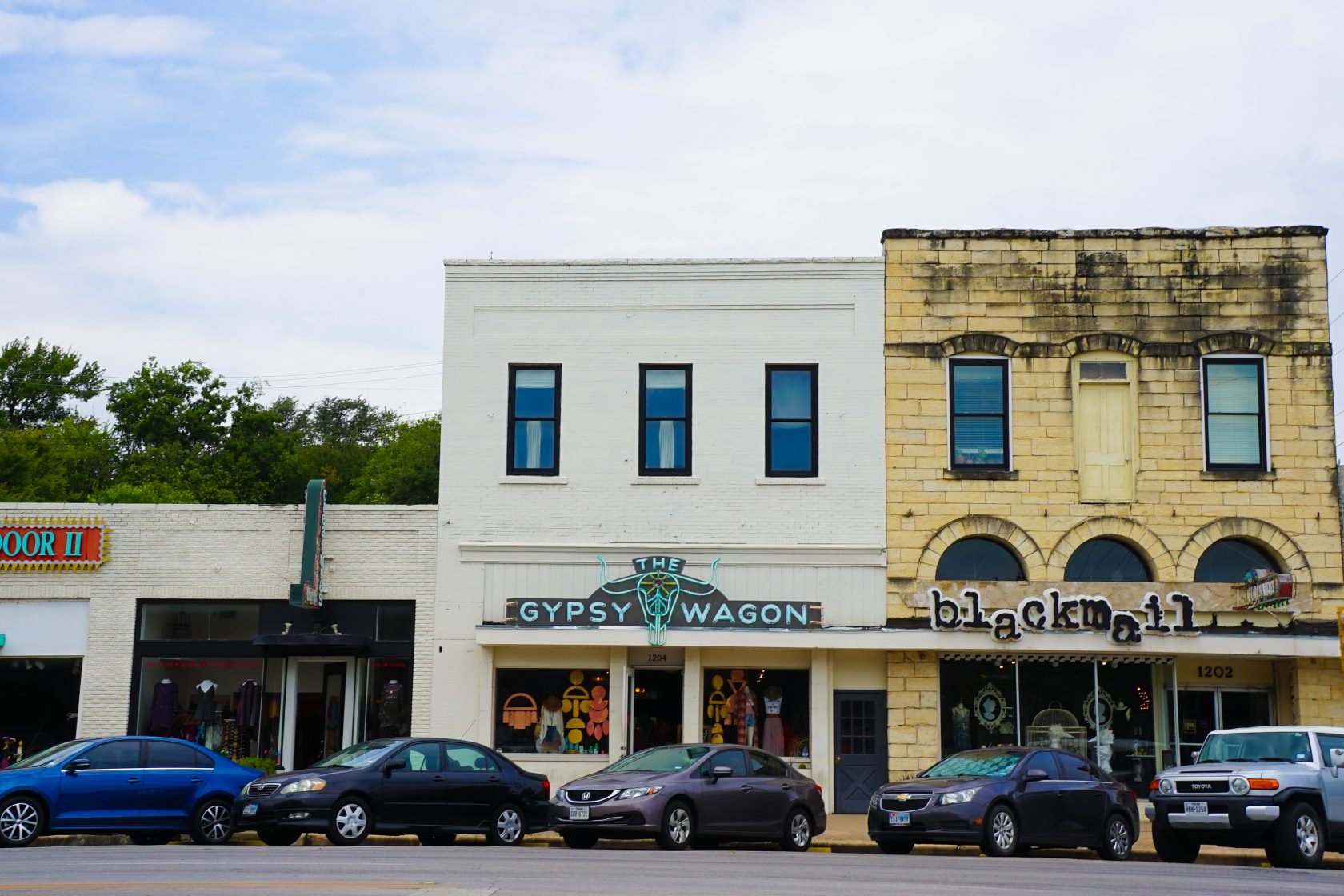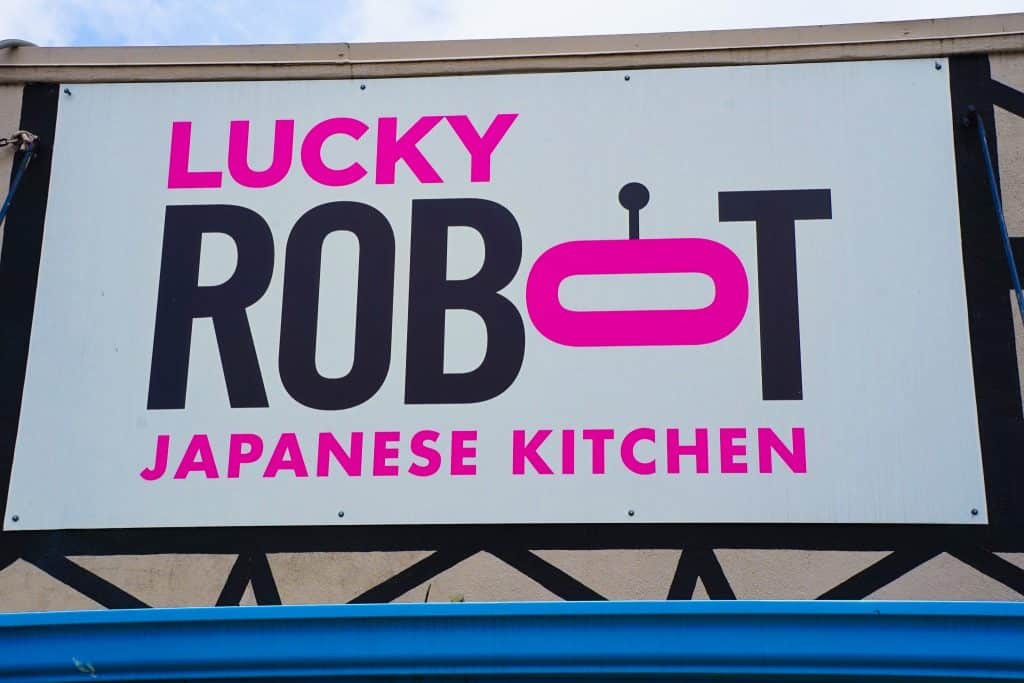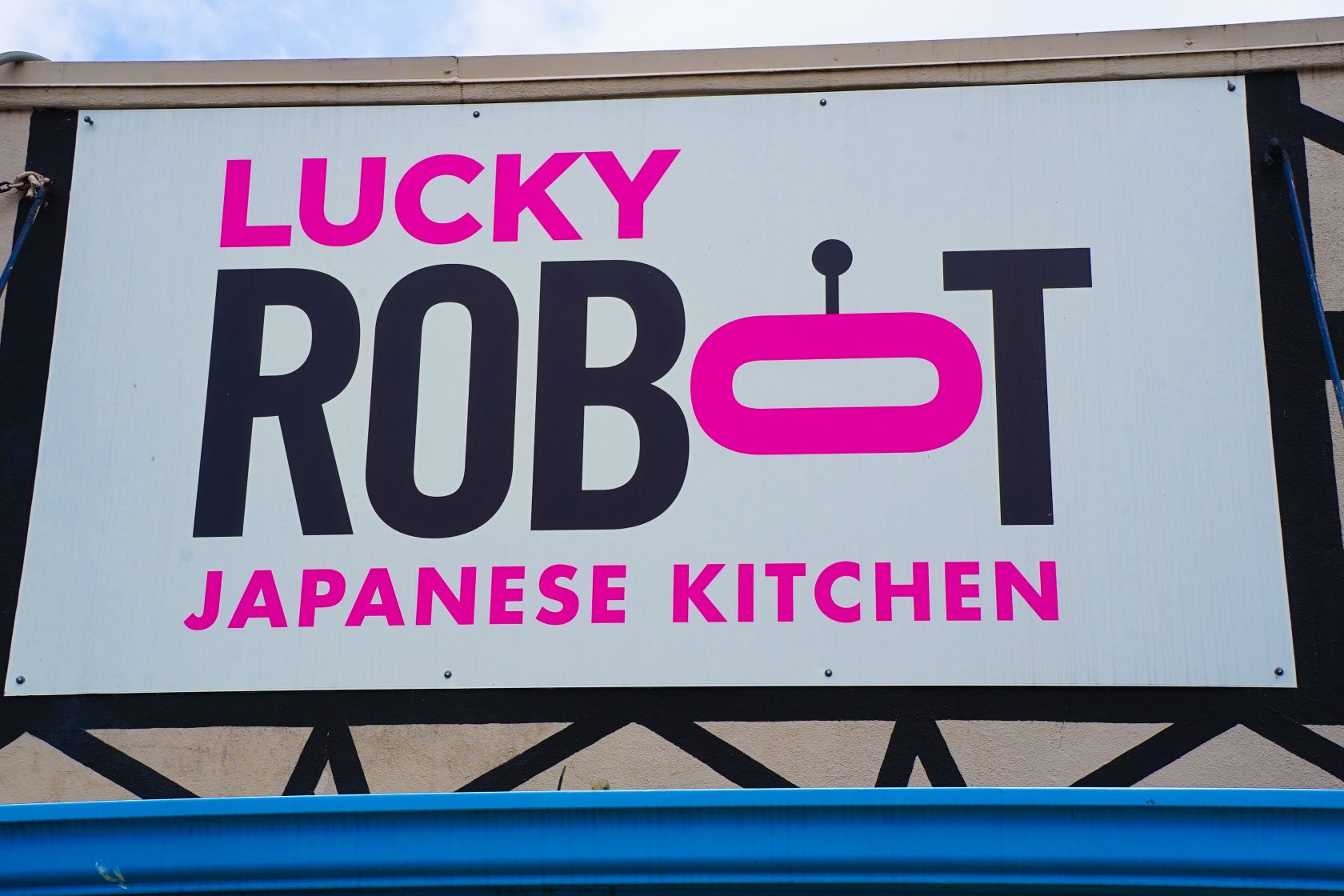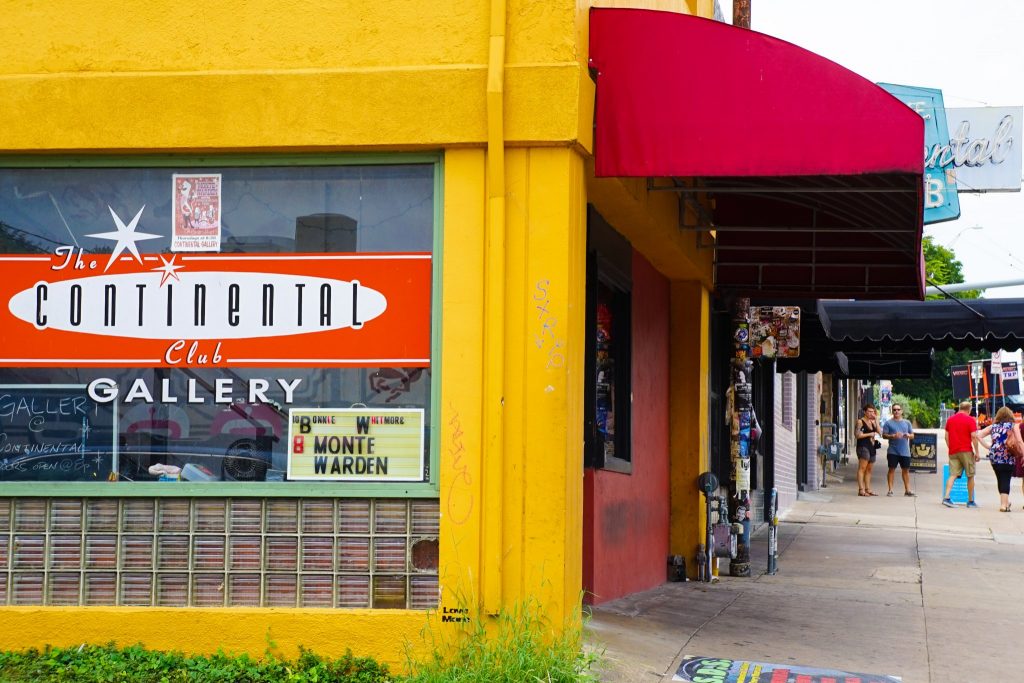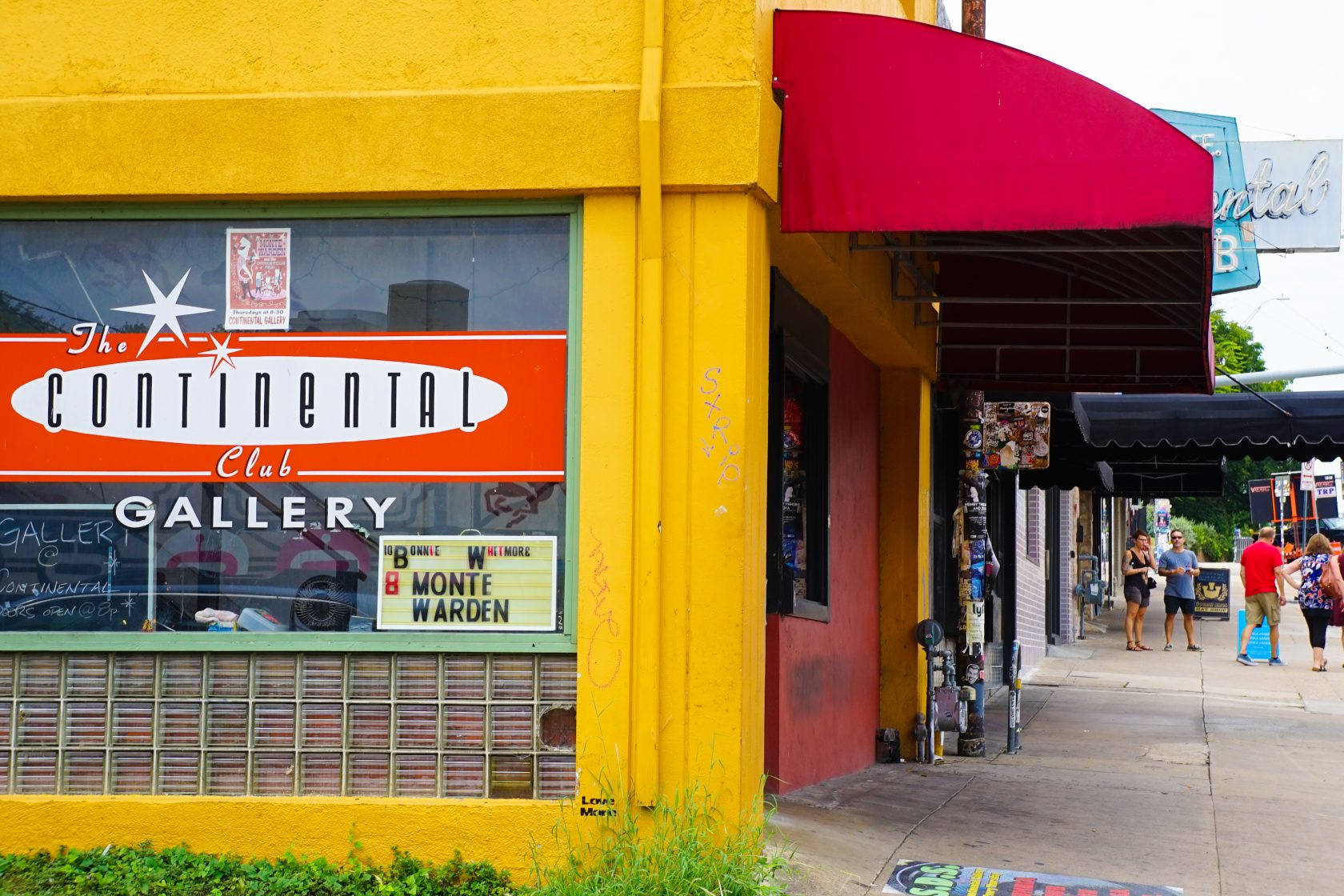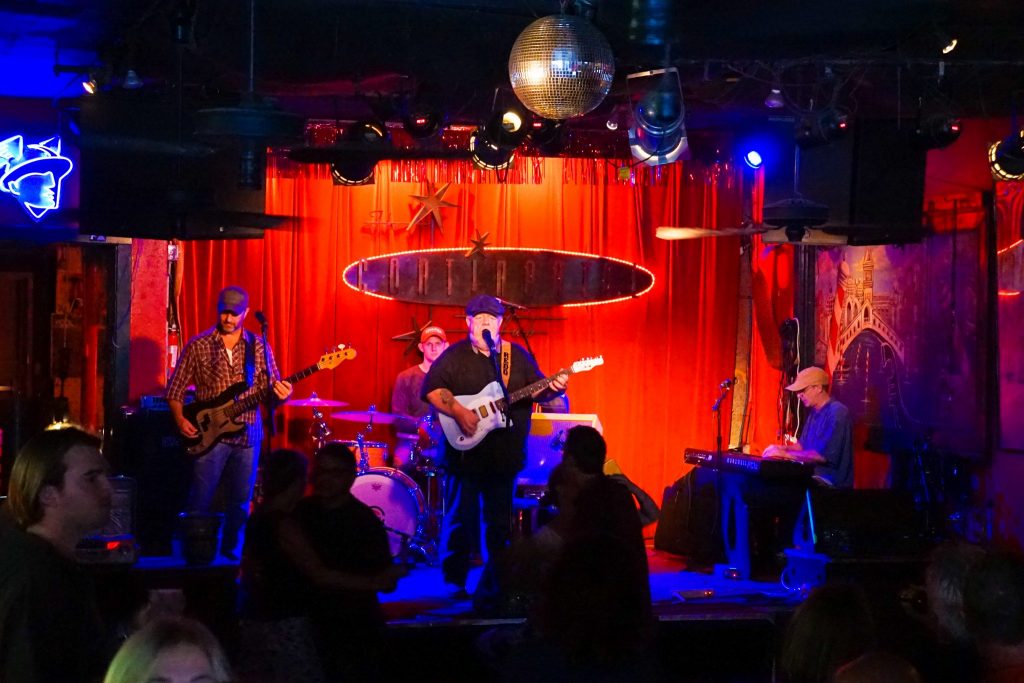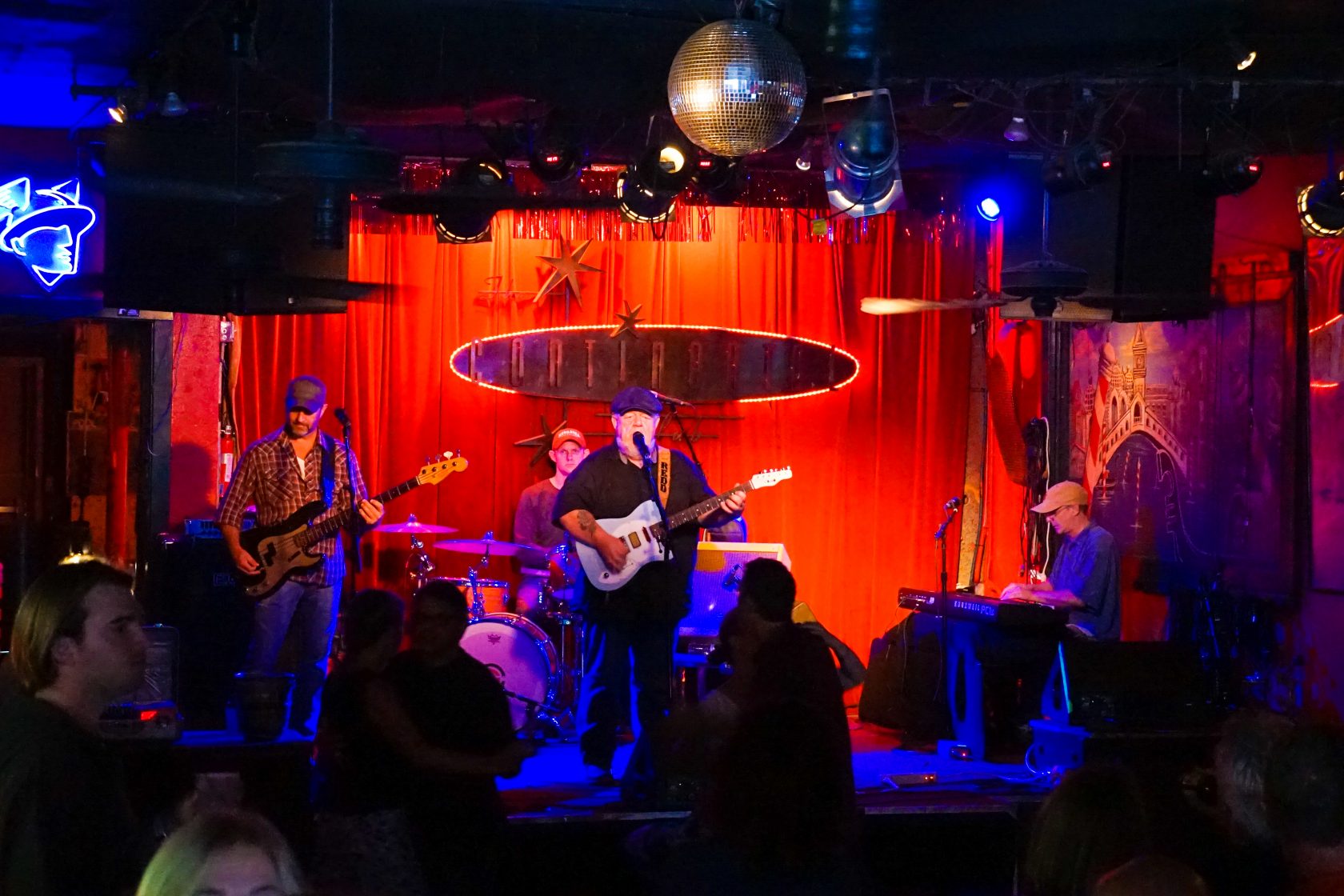 ---
The Park Lane Guest House offers an increasingly rare proposition in Austin: the chance to try enjoy the best of local life here.
As Austin continues to boom, the Park Lane Guest House will continue to pride itself on providing an eco-oasis for guests to relax in while showing them the best of Austin has to offer.
From the generously appointed rooms, refreshing natural pool, delicious organic breakfasts and comfortable beds everything about my stay here was perfect – well except for the once in 1,000 year Hurricane Harvey – and made all the more special by the knowledgeable hosts and local interactions I was able to have in the SoCo district.
When I return to Austin soon (and I mean soon!) I know I will be getting straight back in touch with Shakti and Devkrin to secure my stay in their little patch of urban paradise!
Further Things To Consider Before Any Adventure
Now you're all set and prepared to explore our big wide world, why not sort out everything else out all in one go? If necessary for your travel plans make sure you have brought proper travel insurance, protected your privacy by getting a secure VPN, compared all the top hotel booking sites to find just what you're after, reserved an unbeatable rental car price and - of course - booked the best flight deals!
Or maybe just forget it all and go for a last-minute cruise or effortless tour instead?
Many budget travelers (including me) indulge in worldwide airport lounge access, so we can experience luxury while still slumming it in economy. Naturally, we would never leave home without a more general travel guide since we couldn't possibly cover everything here!
Just add an adventurous attitude and plenty of smiles - they go a long way - and that about covers it all! Now go out, find your own path and don't forget to share your best inspiration stories with me on Facebook, Twitter, and Instagram...I'd love to hear from you!