Heading to Sabah to explore the exotic wilderness of Bornean Rainforest? Well, chances are you will be flying into Kota Kinabalu (commonly called K.K) the Malaysian states capital and gateway to Kinabalu National Park while only a bus trip from Kinabatangan River and Mabul / Sipidan!
But before you discard Kota Kinabalu as just another generic Asian city and skip town at the first available chance be sure to take a day to check out the Kota Kinabalu Beaches in the Tunku Abdul Rahman Marine Park – a gorgeous set of white sandy beach islands smothered in lush tropical forest and dropped in a sea of turquoise water!
We know, we know … there are better spots in Asia for beaches, but those cheap flights with Air Asia and Malindo Air from nearby Singapore just can't be ignored sometimes…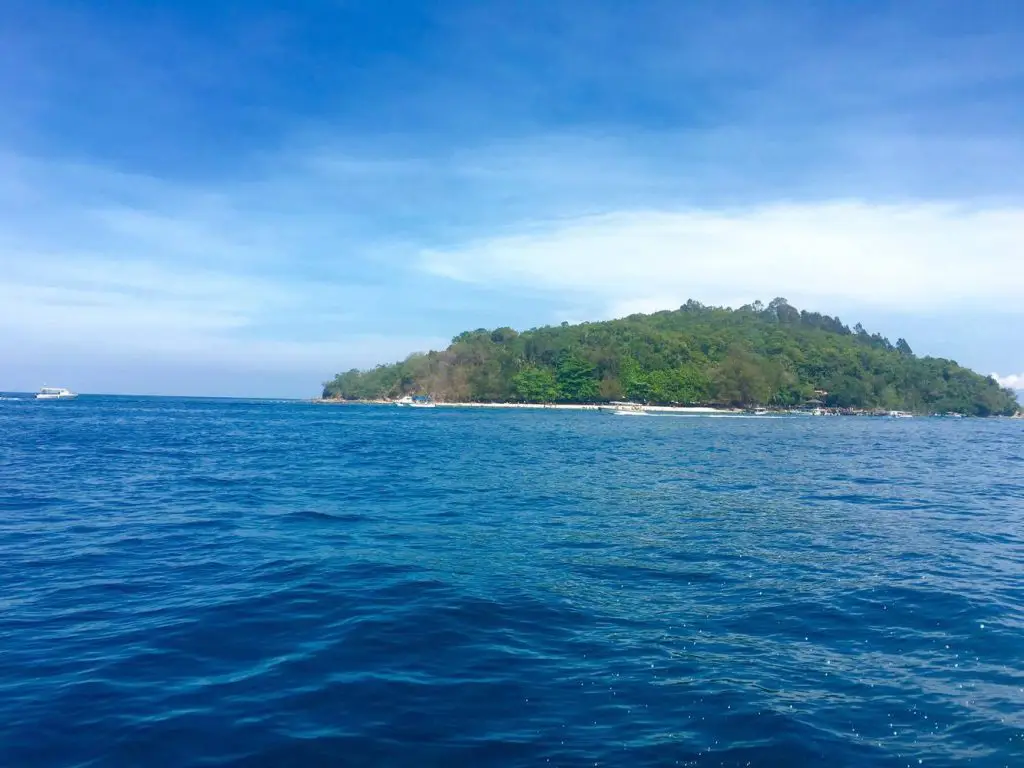 How To See The Best Kota Kinabalu Beaches in Only One Day! 🏖
I only had a day here and while the islands can be dived I was on a bit of a budget and just wanted to lay in the sun and perhaps snorkel and see a few fish. It's really super easy to get here, no need to buy some over-priced package tour … Just head down to the Jesselton Pier in the downtown and go to one of the many ticketing counters.
Don't deal with unscrupulous sellers outside, the prices are fixed- Budget travel in Borneo is easy, if you know what you are doing! A boat return to one island was 23 RM in 2016 while we opted for two islands at 33 RM – plus 6% tax. You also have to pay a 7.63 RM jetty fee and a 1 RM conservation fee which covers all the islands.
If you're into snorkeling you can hire snorkels + mask now which is 10 RM and better than hiring on the islands (as you can only use on one) and if your heading to Brunei or Labuan after (like I was) sort your tickets early at counter 3!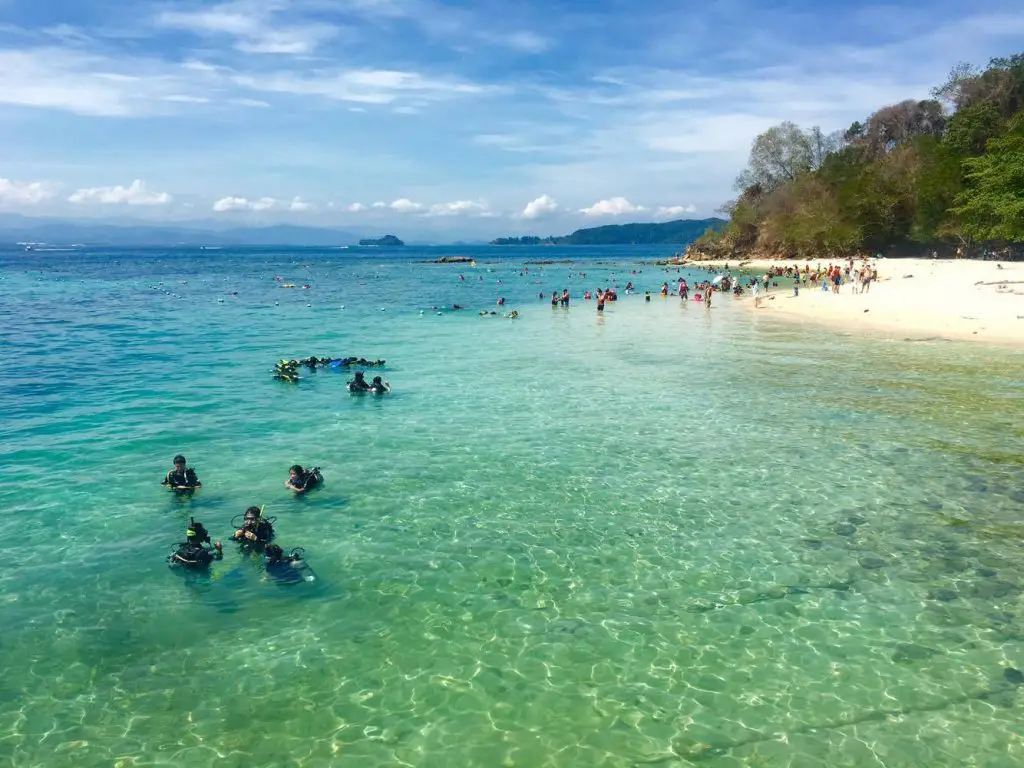 Yes, the Kota Kinabalu Beaches just 15 minutes from the big city really are this clear!
All the islands have bathroom, showers, tables and food stalls so don't let that influence your choice.
There are photos of all the Kota Kinabalu Beaches in the ticketing area which maybe help but otherwise, in order from developed to least developed of the Kota Kinabalu Beaches, there is Manukan, Sapi, Gaya, Mamutik and Sulug.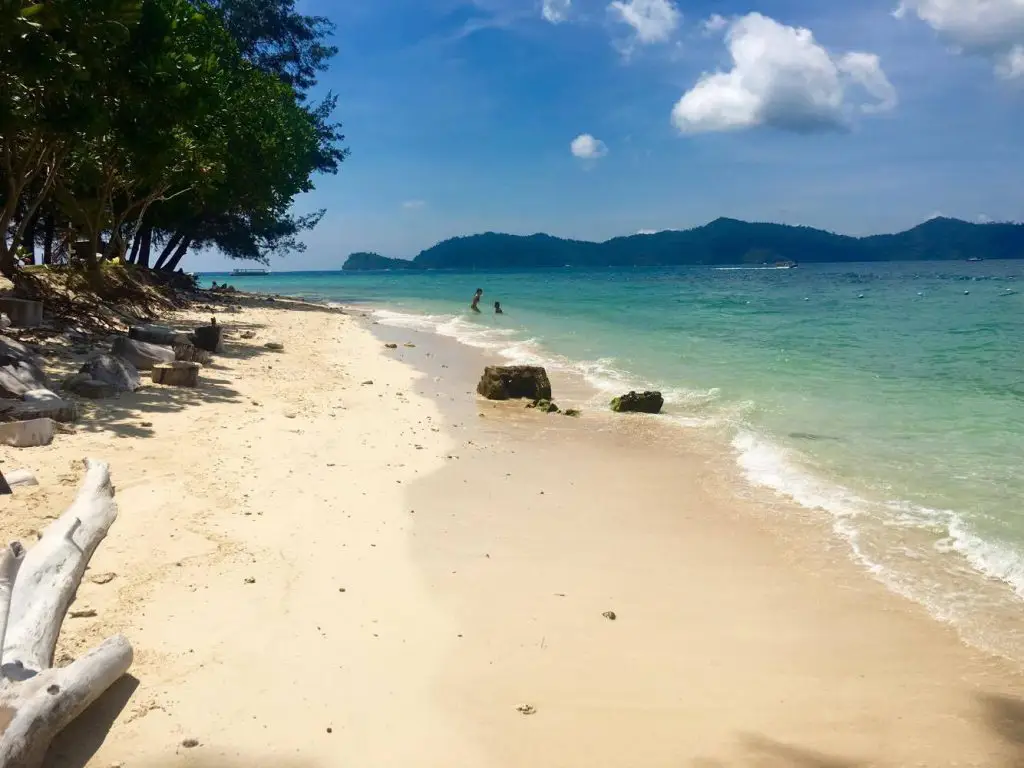 Gaya seems rather difficult to get to without a private boat however and Sulug seems to not even have a jetty so we opted for Sapi and Mamutik. I should first say our experiences were on Malaysian Labour Day so was very crowded, but still enjoyable. Much better to try to go mid-week I would say…
Sapi we had two hours at which was enough as the island has a rather small beach and not much shade… It was probably as busy as the other islands but you really notice it here. We went for a snorkel and saw clownfish and a few parrotfish but don't expect much here in terms of wildlife, corals were trampled long ago and now only quite jagged ones are left.
Still the water was clear and warm so a worthwhile dip then we people watched on the beach till our transfer boat came. Boats seems to come everyone hour, don't worry about the confusion and chaos… There is a method to the madness (as in most of Asia) it seems, though rather indiscernible – just show someone your ticket and wait patiently.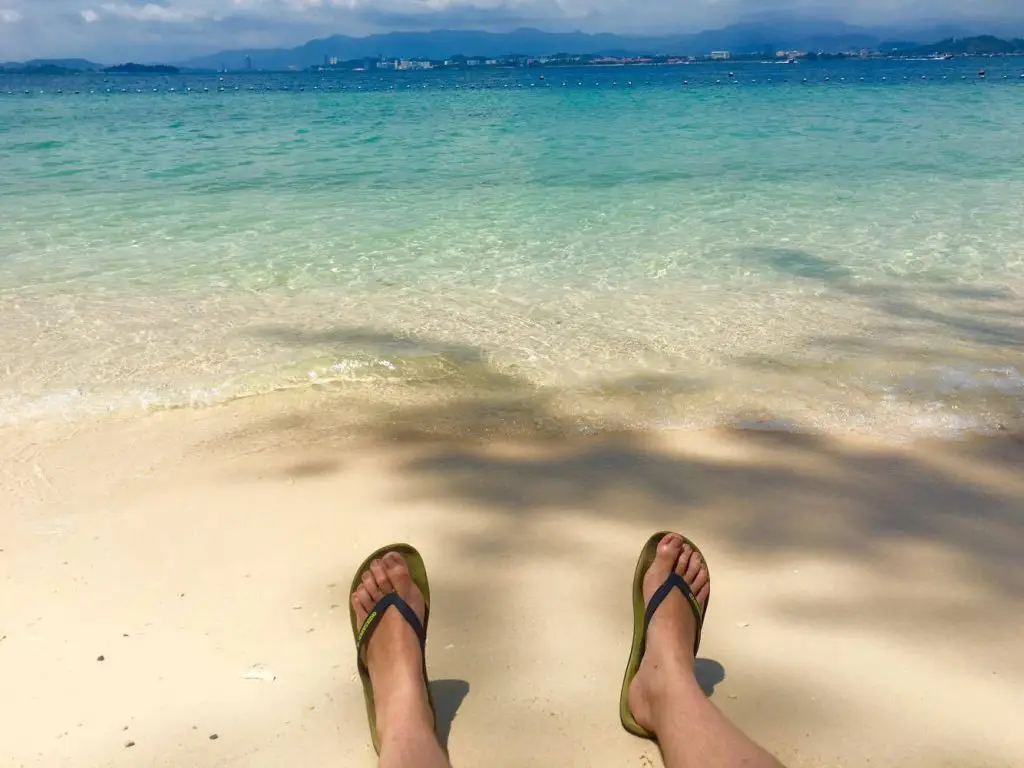 For the best Kota Kinabalu Beaches, I would probably recommend Manukan over Sapi as while it is busier it has a long tree-lined beach so plenty of space to spread out, but my favorite by far was Mamutik…
Undeveloped, quiet away from the jetty and both shallow and deep water. Plenty of shade, a cute co-op food shop for a hot meal at reasonable prices (by western standards) and a generally quiet vibe! Just bring your towel and swim shorts – essentials on any South East Asia packing list -, and reef-safe sunscreen and your good to go!
Better still, a long white strip means the holiday weekend hordes were more dispersed!
We left at 9:30 spent about 2 hours at Sapi and then 4 hours at Mamutik, returning at 4:30 on the last ferry nice and relaxed. A great way to start or end a Borneo getaway that is often overlooked by many derisive Western travelers who told me K.K has nothing.
As a bonus, tip check out the Le Méridien Kota Kinabalu terrace [on Level 2 FYI – just walk straight up] after a quick spruce up to enjoy the absolutely out of this world sunsets that K.K has (and two for one cocktail!) Seriously mind-blowing! And cap it all off with the famous K.K / Phillipino night markets which made right across the road – Delicious!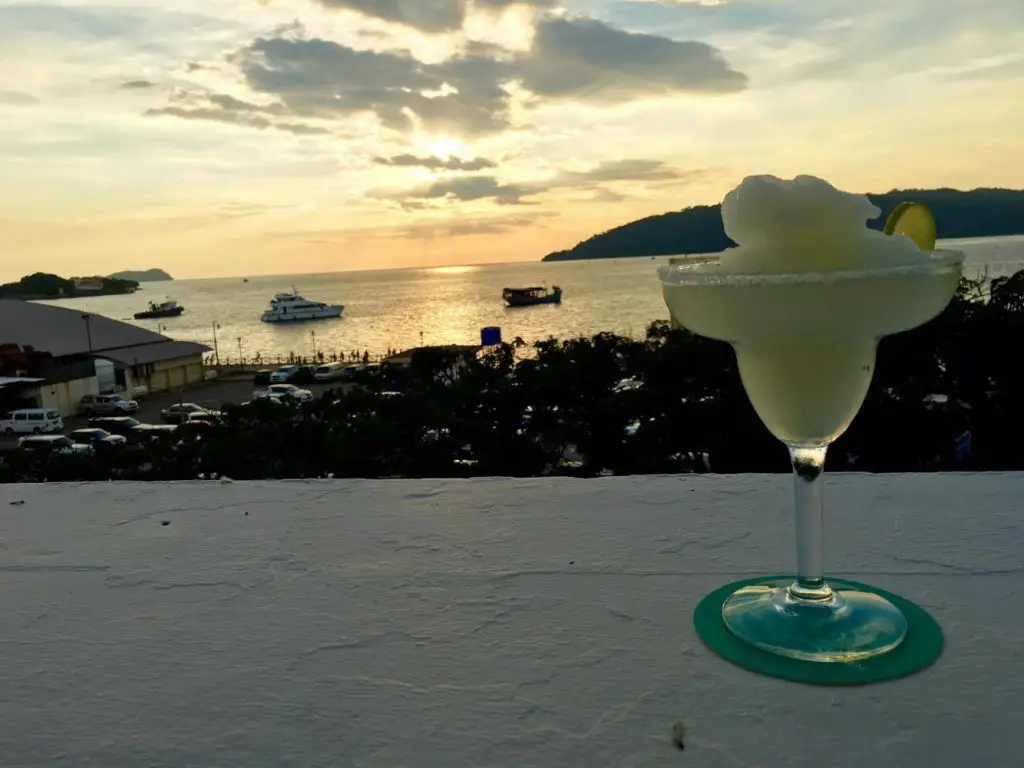 And really – What better way could there be to finish the day! 2 Drinks for 28 RM, and free snacks and a front row set!! Worth every penny! P.S: For more Sabah / Borneo travel hints and tips read my blogs on Sipidan / Mabul, Brunei Diving and a Kinabatangan Jungle Stay!
Or if you have longer in Malaysia check out this post for a 12 day budget for Malaysia! And don't forget to take a look at the best accommodation in Kota Kinabalu, from hostels to luxury hotels and everything in between…Go on, take a peek!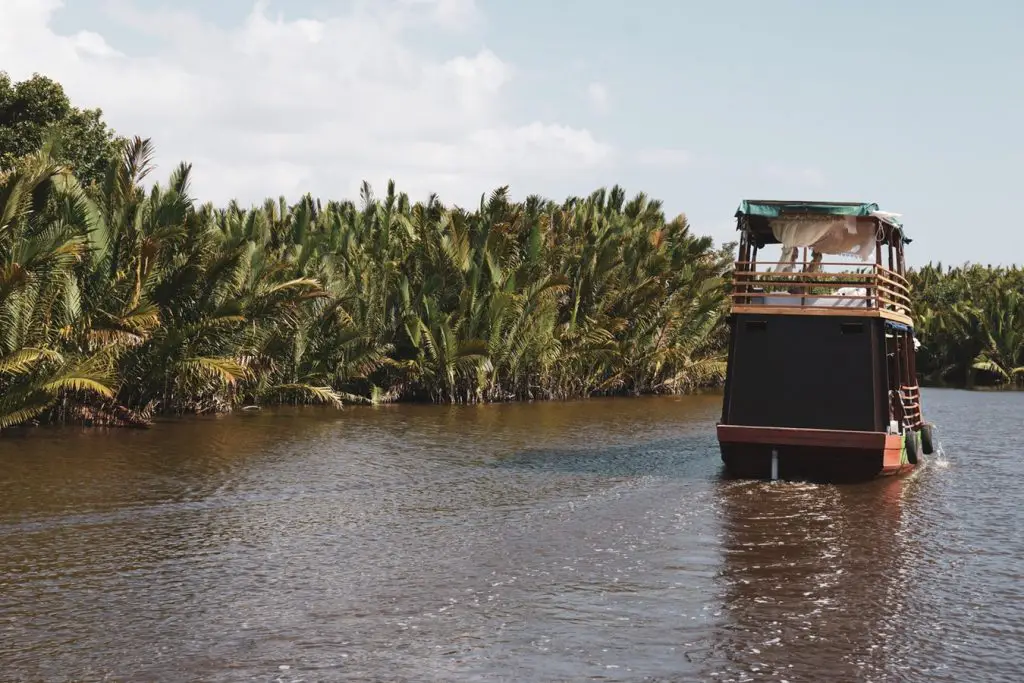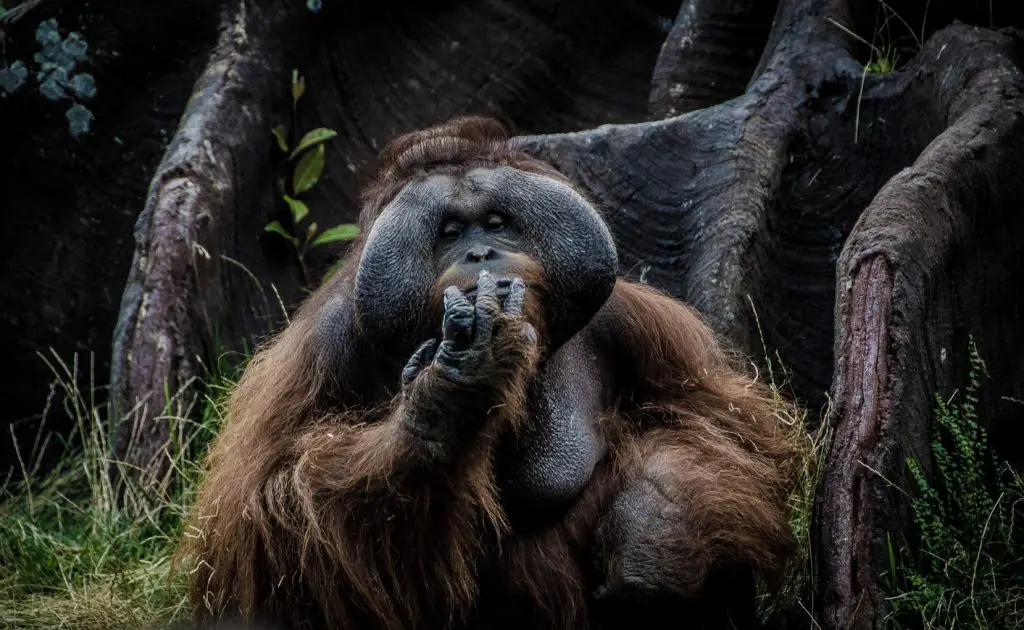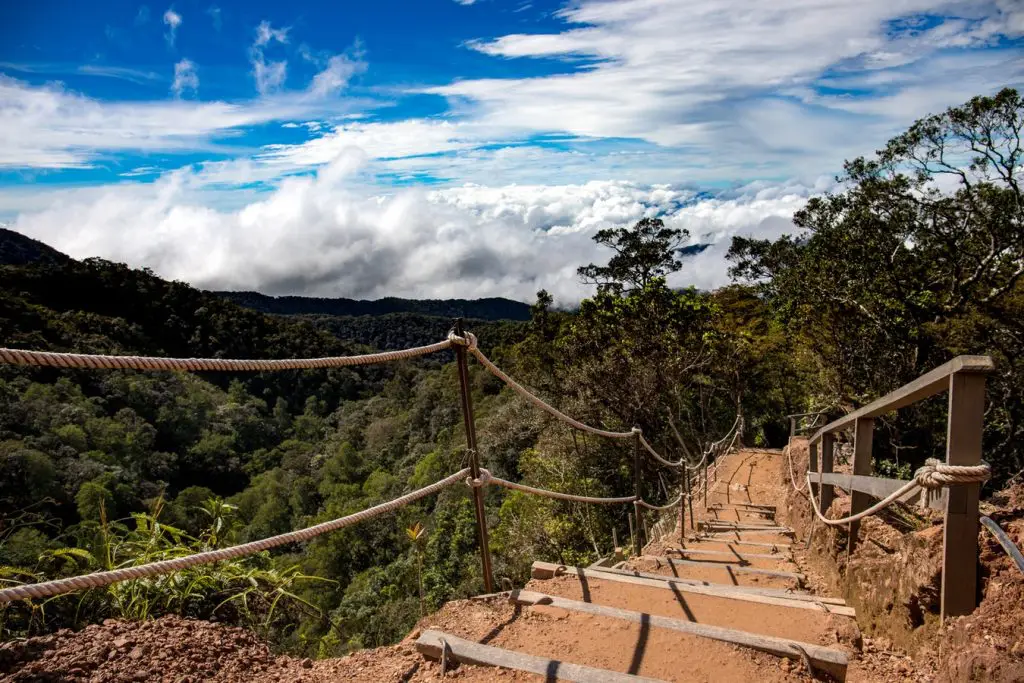 Staying Connected While Travelling
In today's increasingly connected world, staying online while traveling has become essential for a seamless experience. That's where eSIMs come into play, revolutionizing the way we access mobile networks during our global adventures. Say goodbye to hunting down local SIM cards at the airport; eSIMs provide instant activation the moment you land, sparing you the fortune usually spent on international roaming and allowing you to genuinely travel like a local (without getting hopelessly lost!).
With eSIMs, tasks like restaurant recommendations and reservations, up-to-the-minute public transport instructions, checking opening hours, and accessing further information become a breeze. And, of course, sharing your journey on social media is easier than ever. To stay connected wherever you roam, consider using either Airalo or Holafly. Airalo boasts the most extensive range of destinations worldwide, offering smaller data bundles tailored to your needs, while Holafly provides unlimited data packages and fantastic EU data deals.
So why wait? Embrace the future of travel connectivity with eSIMs and make your next journey effortlessly smooth.
Further Things To Consider Before Any Adventure
Now you're all set and prepared to explore our big wide world, why not sort out everything else out all in one go? If necessary for your travel plans make sure you have brought proper travel insurance, protected your privacy by getting a secure VPN, compared all the top hotel booking sites to find just what you're after, reserved an unbeatable rental car price and - of course - booked the best flight deals!
Or maybe just forget it all and go for a last-minute cruise or effortless tour instead?
Many budget travelers (including me) indulge in worldwide airport lounge access, so we can experience luxury while still slumming it in economy. Naturally, we would never leave home without a more general travel guide since we couldn't possibly cover everything here!
Just add an adventurous attitude and plenty of smiles - they go a long way - and that about covers it all! Now go out, find your own path and don't forget to share your best inspiration stories with me on Facebook, Twitter, and Instagram...I'd love to hear from you!