Have you ever wondered where is Sipadan Island? That incredible, almost mythical diving you will have undoubtedly heard off in the Coral Triangle' off northeastern Malaysian Borneo…..Well let me educate you!
Sipadan is the only oceanic island in Malaysia, rising 2,000 feet or 600m from the seabed. It is located east of Tawau (Borneo), in the Celebes sea. It was formed by living corals growing on top of an extinct volcanic cone that took hundreds of thousands of years to develop.Sipadan is located at the heart of the Indo-Pacific basin, the centre of one of the richest marine habitats in the world. More than 3,000 species of fish and hundreds of coral species have been classified in this ecosystem.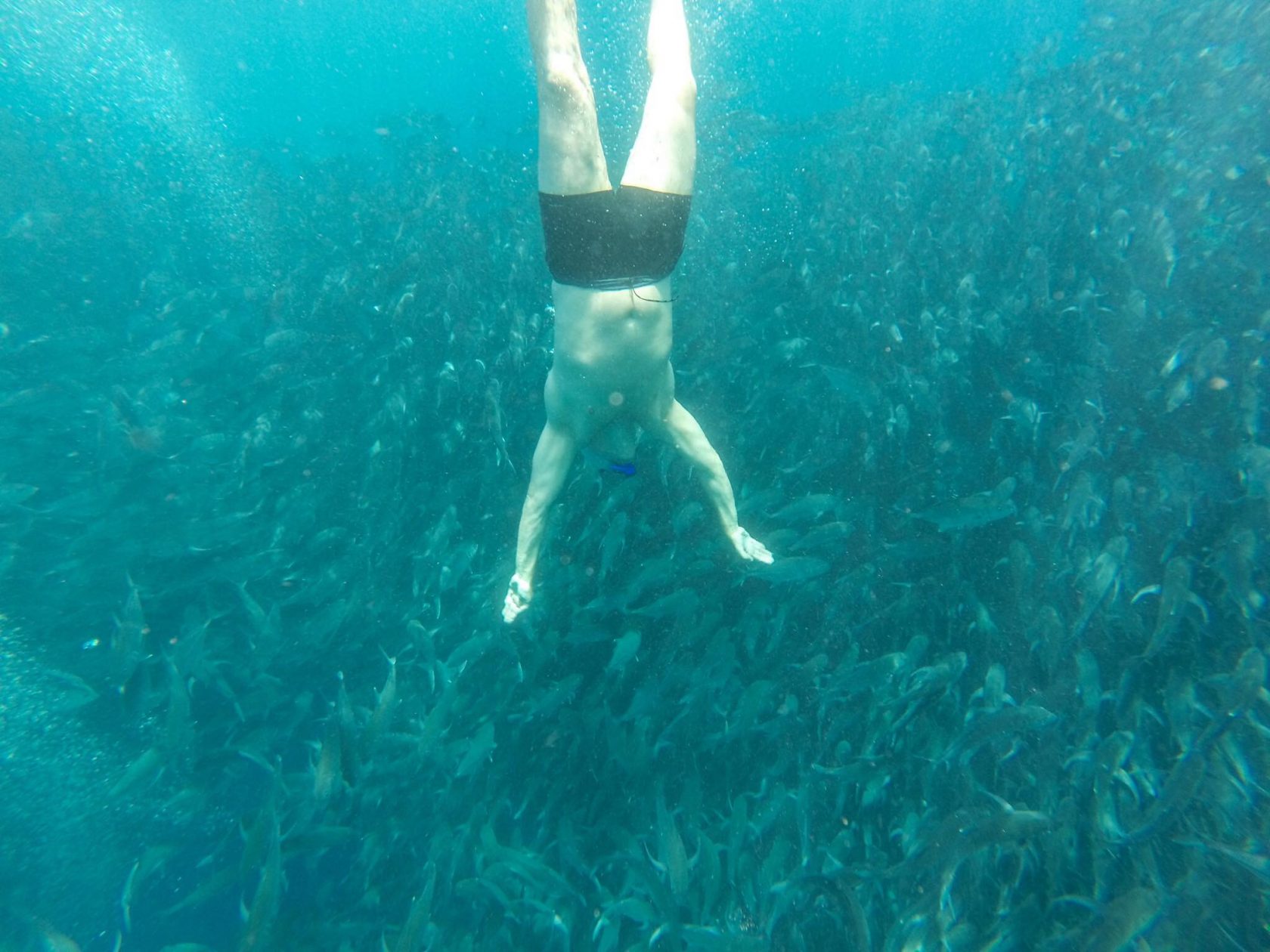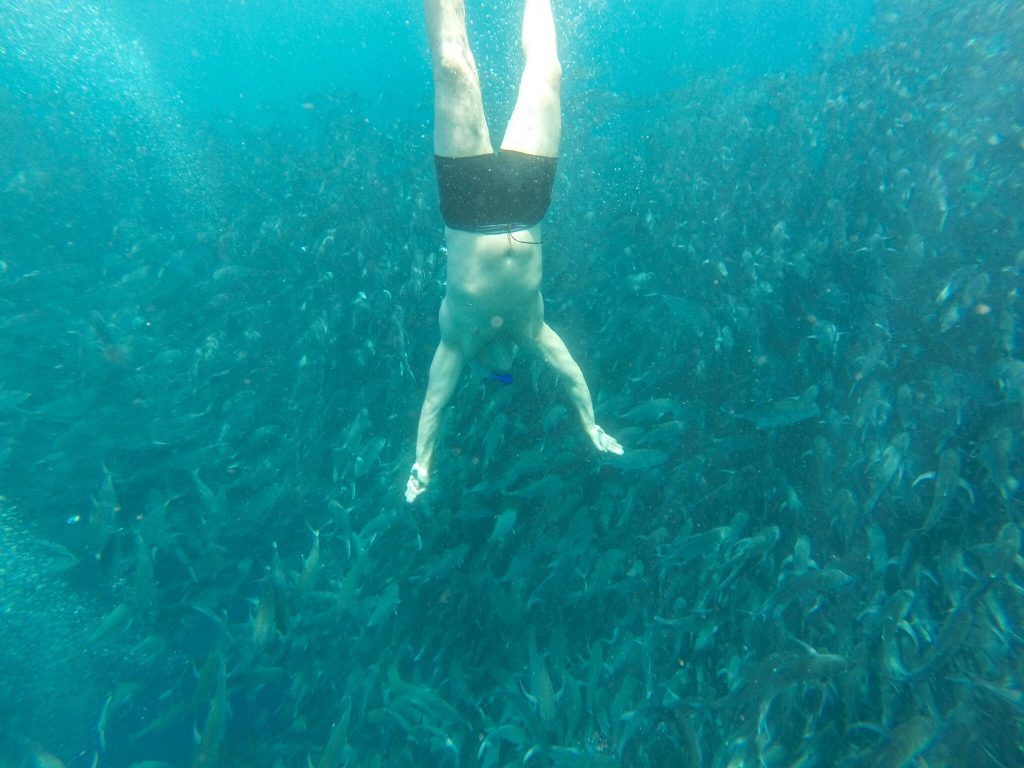 I'm going to assume have already considered diving Sipidan Island, one of the diving places in Sabah and all of Malaysia, and that's what brought you here! And if your anything like me before I went you will be confused by the lack of real information other than that offered by commercial operators. So I'm going to help you out with a guide to diving Sipidan Island and Mabul , isn't that great! And if by chance you haven't heard of this place (perhaps being a non-diver? or an alien?) now is your chance to get clued in! I'll cover more info on the island and how it works plus some insiders tips but first off, and most key: HOW WAS THE DIVING!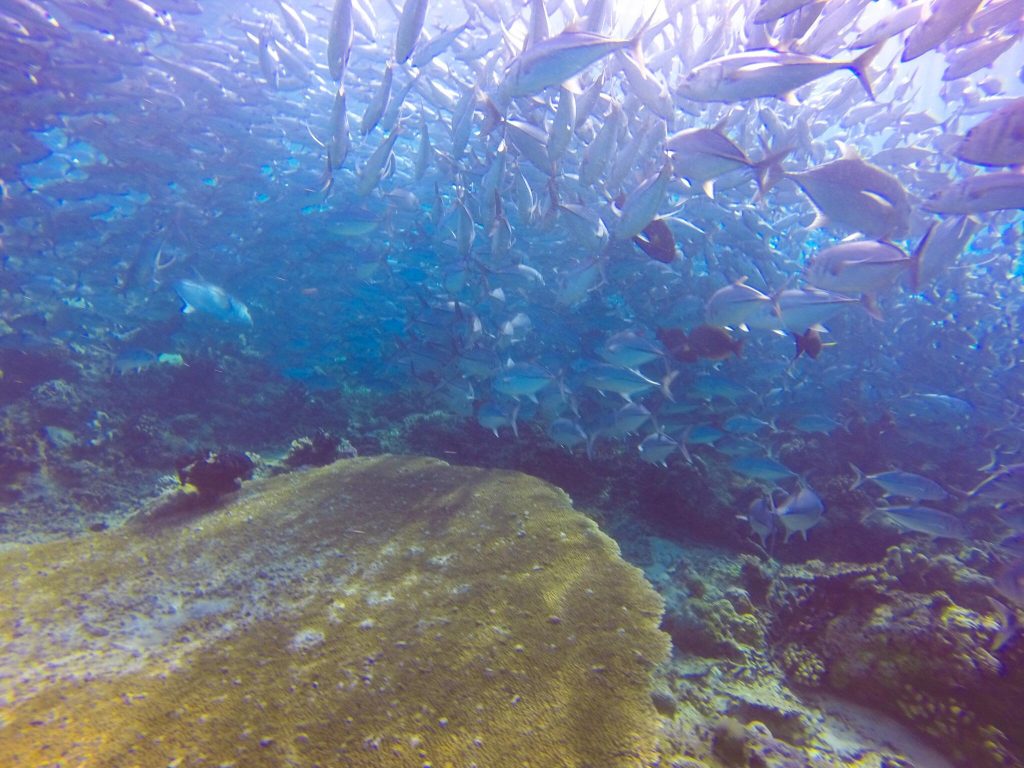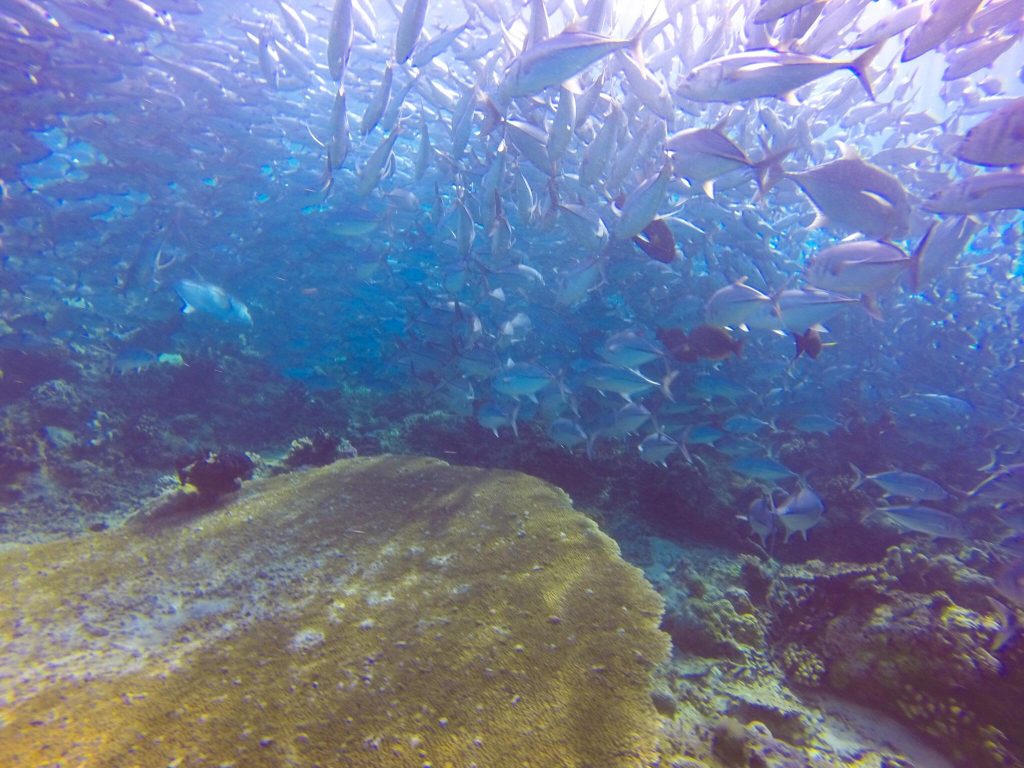 In a word….F$%KING SWEET!!!
Like most divers I think all dives are a good dive, and almost any place has something of interest or unique. Sipidan however, is not just any dive and is well-deservedly famed for being one of the best sites in the world! I personally don't think you can have any one best, or even a few bests [and it's all a bit subjective] but without a doubt it is crazy here…While it is lacking the big pelagic species like Manta (read about that one time when … I became one with my Manta family!!) and Whale Sharks it more that makes up for it with gorgeous drop offs and wall diving teeming with life everywhere you look! Claims to fame include a huge resident school of jack fish, bump head fish and barracuda, grey reef and white tips sharks and more turtles than you can shake a stick at… Seriously they are everywhere! While your pretty much guaranteed to all of the above
0%
on a days dive there are also other plenty of species you can get lucky with here such as leopard sharks, hammerheads, eagle rays…Just keep one eye out to the blue!
Looking for accomodation near Sipidan Island… Check out the best deal on Mabul hotels now! Anything from Mabul Backpackers to Luxury Over-Water bungalows! Many with free cancellation as well for if things change!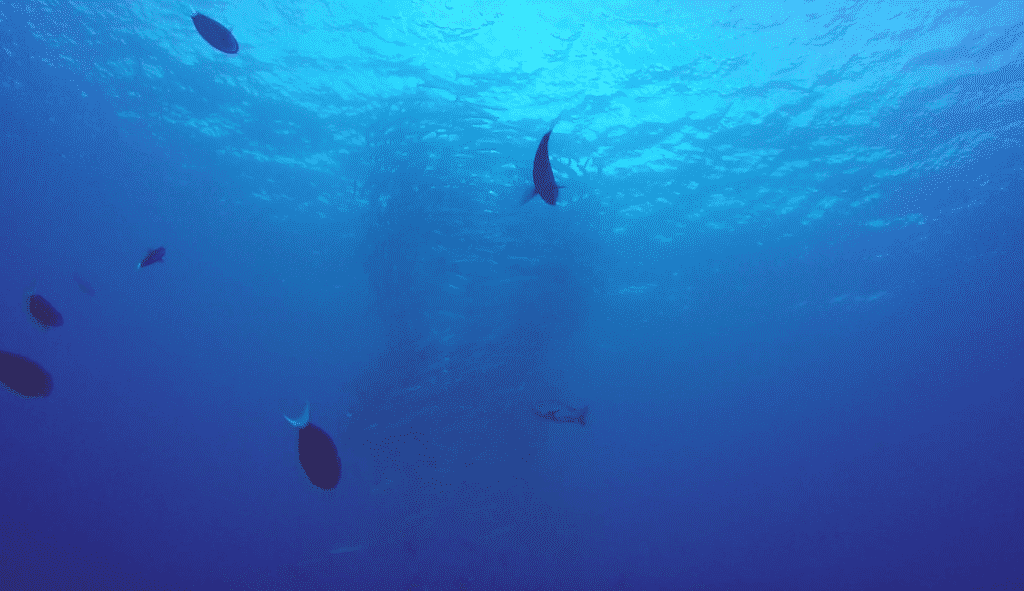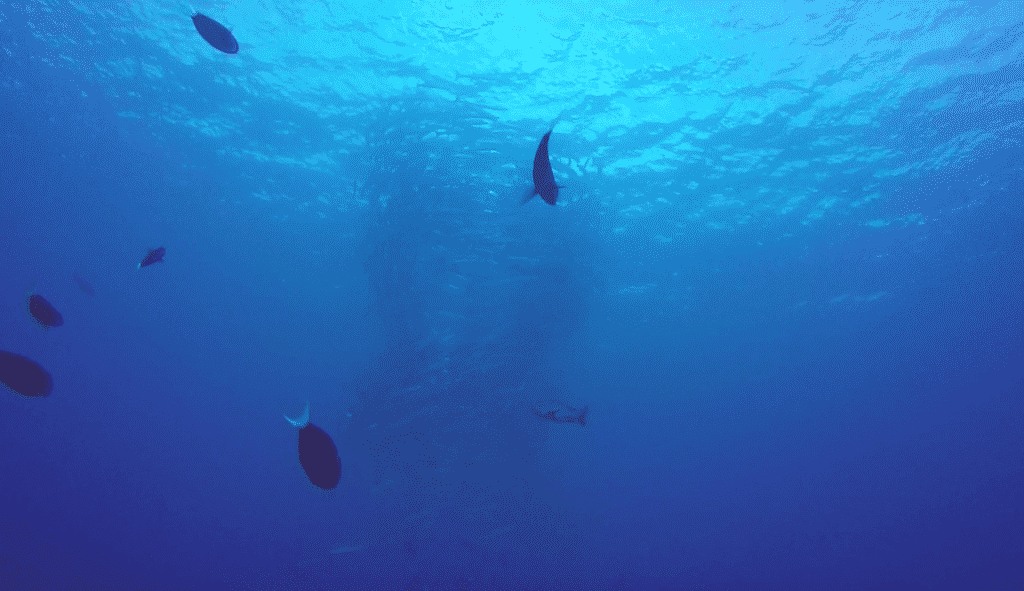 Ooh, Barracuda! -- So sexy. The only tornado I ever want to be in!
Diving Sipidan Island really is a underwater garden of Eden which I think is justifiably famous purely for the ease of seeing all these things at one. Mabul on the other hand is all about getting down and dirty -- Muck Diving that is -- and did not disappoint at all. While rather over-fished and polluted in its lagoon the shallow drop-off offers a astonishing amount of macro species -- nudies and flatworms everywhere, octopus, cuttlefish, ghost shrimp, and , well, almost every fish you can think off if you look hard enough. Every coral outcrop you looked in had something new and strange, as did the sandy bottom if you looked hard enough… An amazing contrast to Sipidan!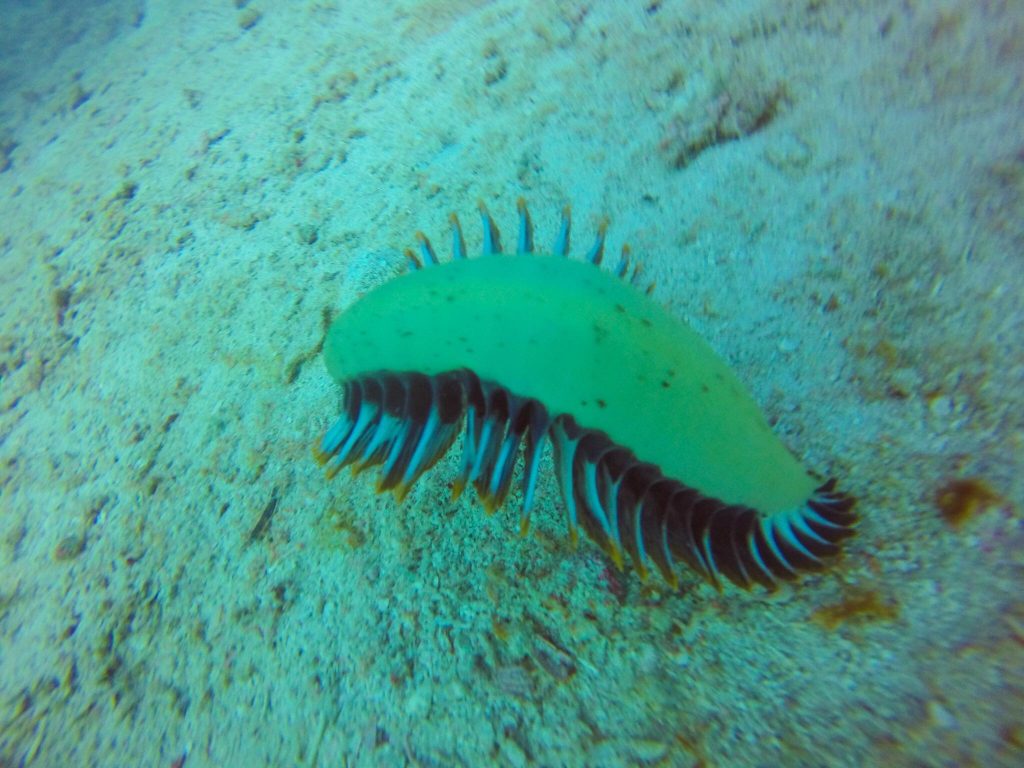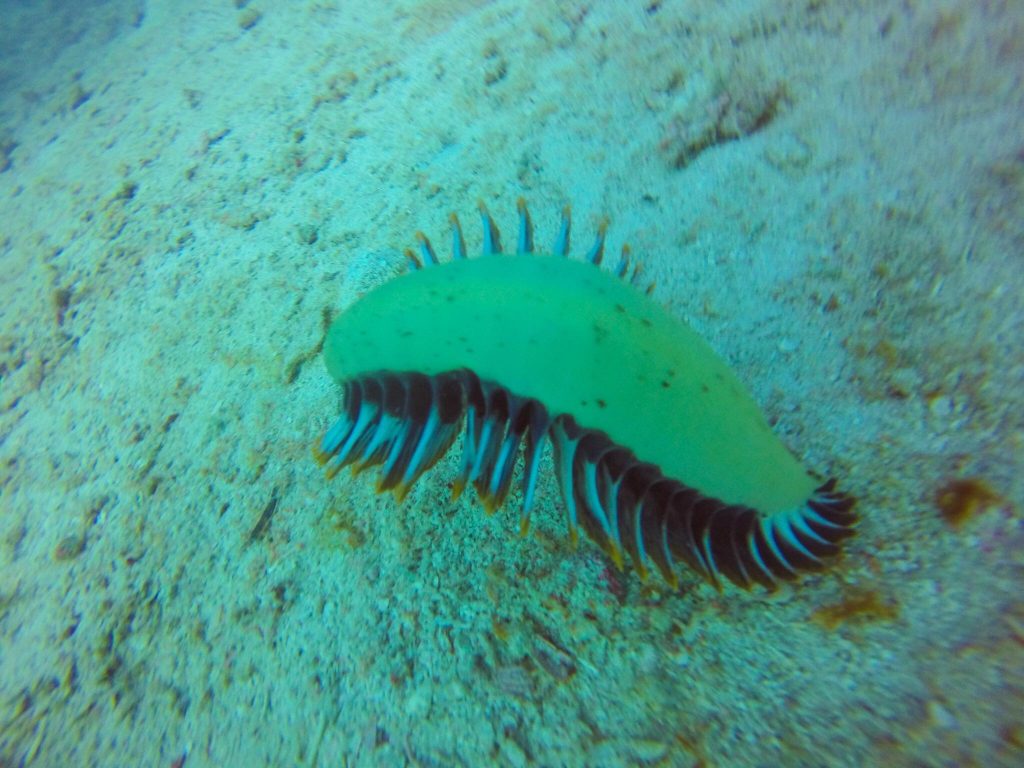 Weird and crazy? Expect it all -- This is apparently a Sea Pen, a member of the soft corals. Who knew?
So now you feel soothed in your choice of Sipidan / Mabul -- easily one of the diving places in Malaysia! First thing you should do is get a permit to dive Sipidan! A crazy amount of people just wing it, but seriously don't, just don't. We were there in low-ish season, thought the Sipadan diving season is year-round, and they were all sold out a month in advance (Sipidan is limited to a strict 140 divers per day). If your a couple forget even trying to get one once they are sold out but if your single try your luck at Billabong once your on the island as they are the only place they seems to have last minute permits. Three guys we meet all scoured the island and were about to give up but luckily scored them here at the last minute -- I think it is because they don't as for a deposit to reserve them and end up with a lot of cancellations. You will have to go under another name but hey, who cares, your going to Sipidan!! But truly better to book in advance.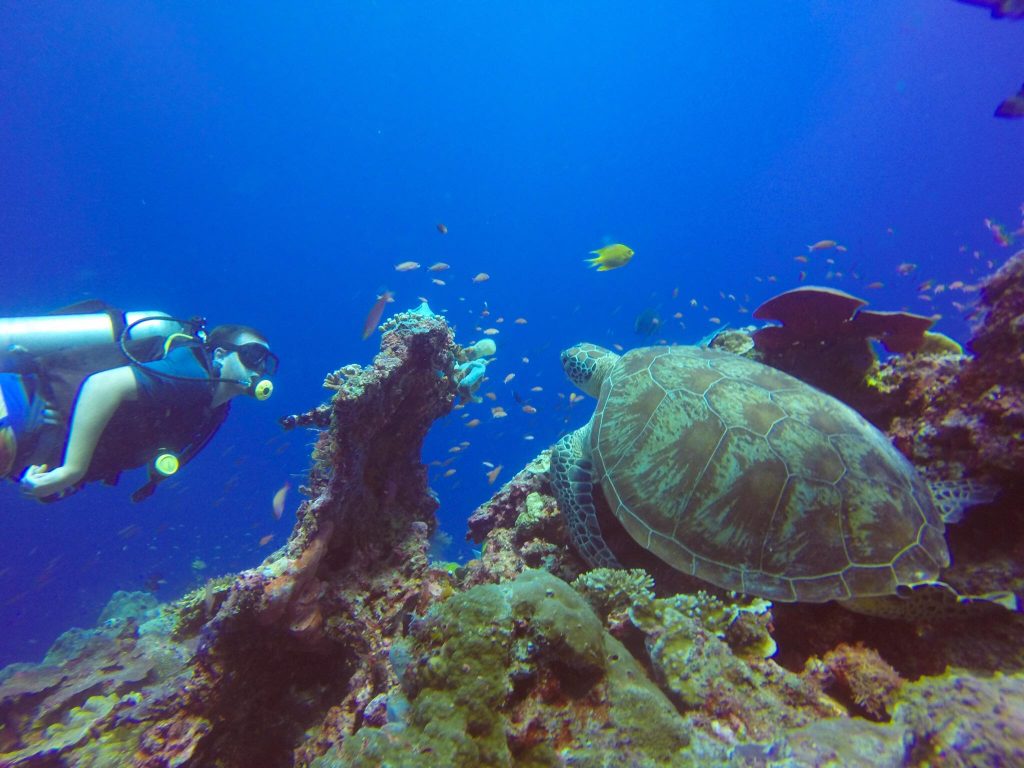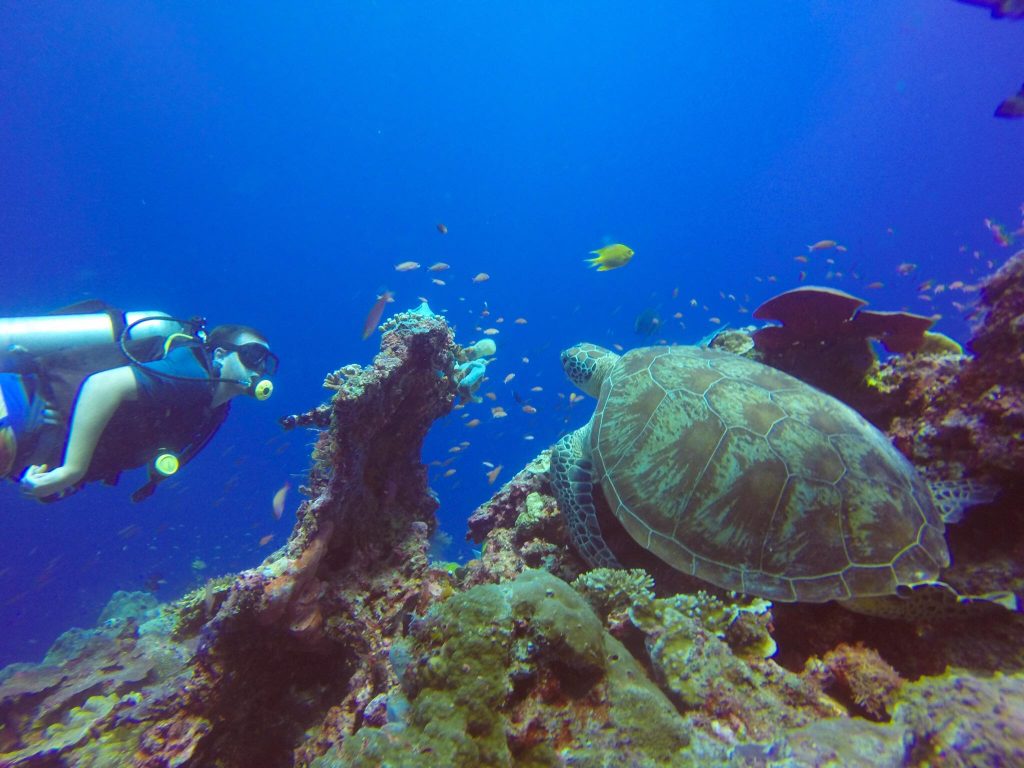 I mean Turtles do book up after all, and trust me …You do not want to miss out when diving Sipidan Island!
Mabul Island is really the only options in terms of a 'Sipidan Dive Resort, besides staying at SeaAdventures, an oil rig offshore or Kapalai, a super exclusive nearby island. Semporna should not even be considered as a Sipidan resort as it is a hideous dump that is best avoided like the plague. We actually recently heard about a weird other option called Sipidan Mangrove so might be worth looking there too for something a bit different… Anyway Mabul is the main place to be since Sipidan was closed about 10 years ago, and today Mabul island accommodation is a mix of Mabul backpackers (expect very budget accommodation) and super high end overwater bungalows where you can dive straight from the beach.
---
If you like this, you might also like:
---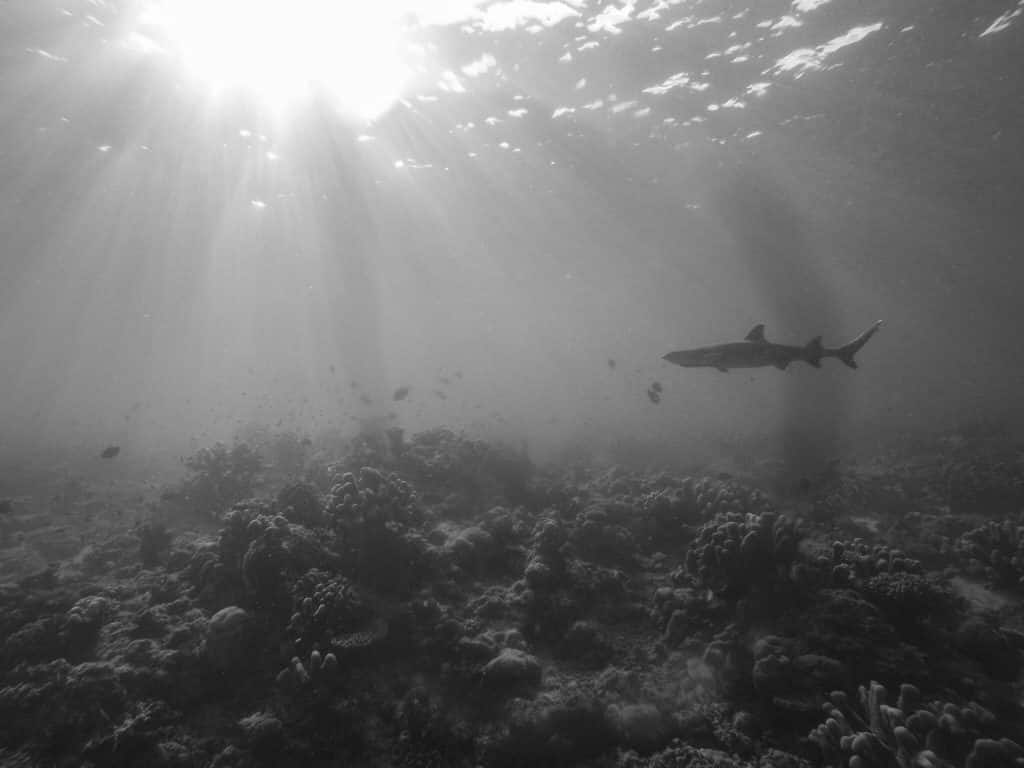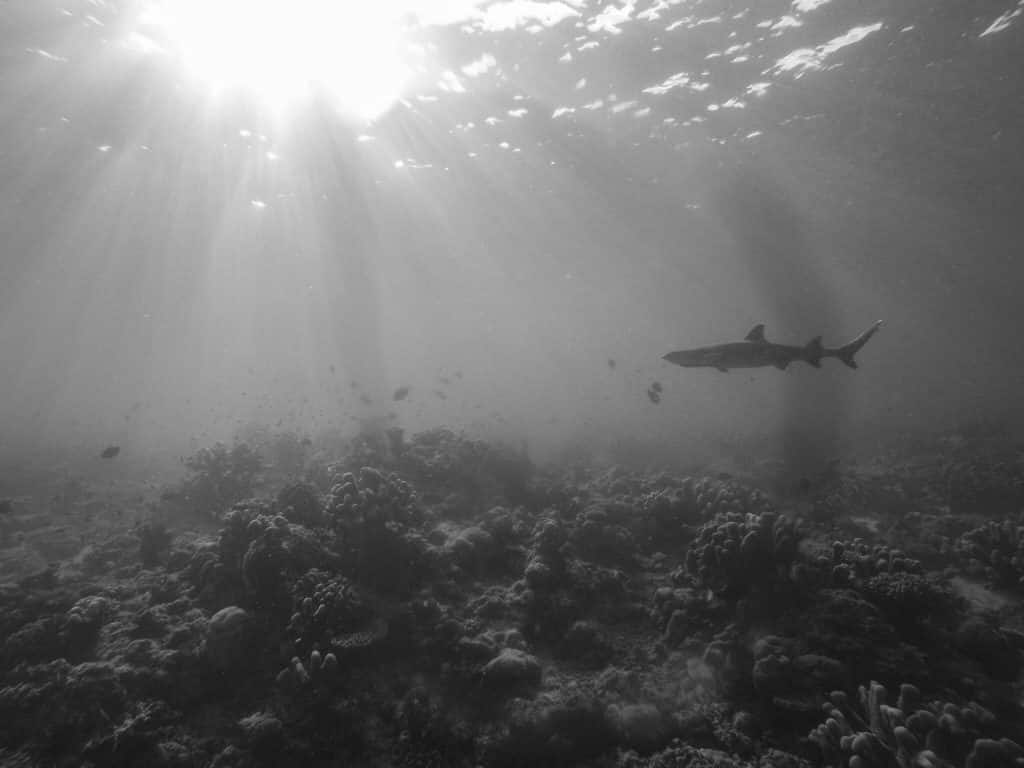 Easier for you to get eaten that is … HAHAHAHA
We stayed at Billabong as was one of the cheapest and allowed us to dive 2 days in Sipidan and only one in Mabul. Most operators wanted minimum 3 days Mabul for 1 Sipidan with extra Sipidan on request aka if people cancel last minute which is unlikely… Billabong had a nice overwater basic chalet set up with a communal eating area over the water with a great breeze to cool down. I probably wouldn't recommend it as largely caters to Chinese and Malaysian tourists so isn't great for meeting people but the dive guides were professional and everything ran smoothly. One place we really liked was Scuba Junkie, and if their quote is competitive maybe head there as they have WiFi and 24/7 power (you will be super hot otherwise!). A great chill-out communal zone and were really conservation minded. I'll probably stay here next time!
Unfortunately however due to boat times you are probably going to have to stay in Semporna one night before hand. Check out the best prices for Semporna hotels now (and be sure to read reviews carefully as it really is a mixed bag!)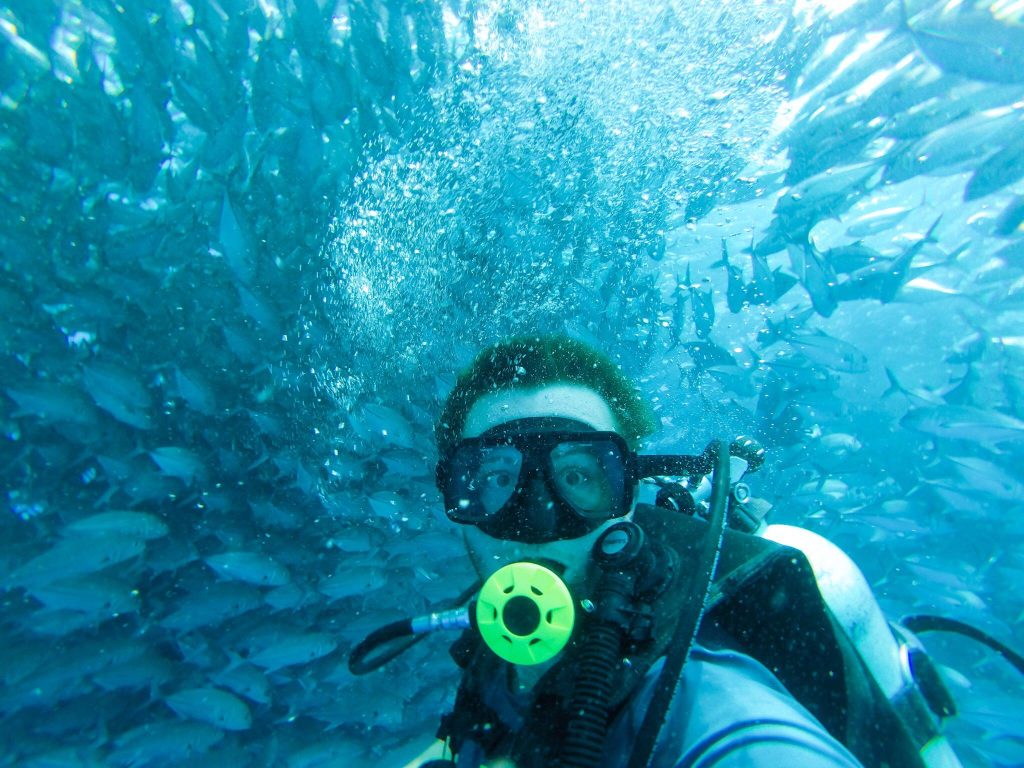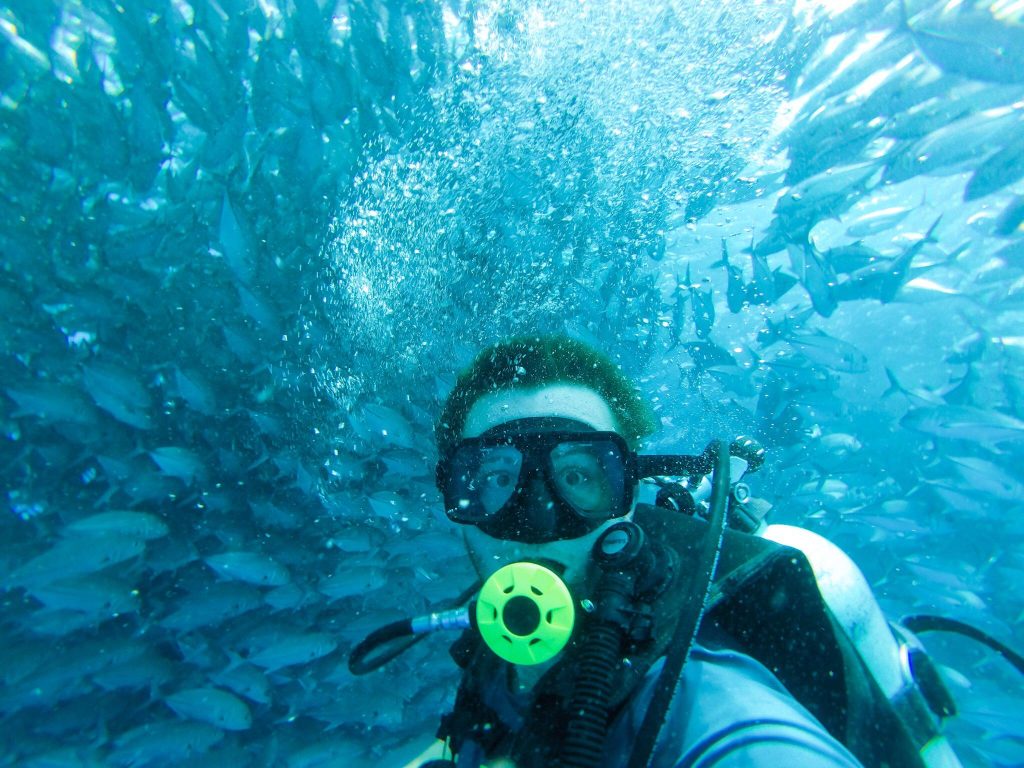 I'll sleep with these fishes if I have to! Actually that is my preferred option…
On the island no matter where you stay be sure to check out the bakery on the 'main street' near Scuba Jeff… 50c per bun and they are delicious, the coconut is amazing! Lots of local shops sell basic everyday items so don't worry about stocking up unless it's specific -- one lady even sells SIM cards which was handy! There is also one restaurant at Borneo Divers which was pizza and burgers for if you get bored of your included meals (largely rice, meat and veg) but they have weird hours and sometimes just run out or close. The same place also has a small air conditioned shop selling souvenirs and ice-cream, the only place on the island, so is worth working in to your round island trip! For swimming the best place by far is the House Reef at Arung Hayat, just head down the long gangway and no one will question you. It's on the edge of the lagoon and very clean, also perfectly for snorkelling. The resort is also perfect for watching sunrise and the area around it and the beach has plenty of monitor lizards in the morning sun bathing is try and catch them!
Watch the below video for better footage and an idea of what your getting yourself into!
Scuba Diving: Sipidan / Mabul in Borneo 2016 - GOPRO HERO
---
P.S: For more Sabah / Borneo travel hints and tips read my blogs on Kota Kinabalu Beaches, Brunei Diving and a Kinabatangan Jungle Stay! Let me know in the comments below your experience with diving Sipidan Island with different dive operators and in a different S
ipadan diving season

as quality can change often between resorts and Mabul backpackers ! Have fun at one of the best diving places in Malaysia!
Be sure to not make the same mistake I did however and book your accomodation in Semporna and in Mabul Island in advance. In a place where space is limited and tourism is growing, you can be sure the best places are booked out well in advance!
Further Things To Consider Before Any Adventure
Now you're all set and prepared to explore our big wide world, why not sort out everything else out all in one go? If necessary for your travel plans make sure you have brought proper travel insurance, protected your privacy by getting a secure VPN, compared all the top hotel booking sites to find just what you're after, reserved an unbeatable rental car price and - of course - booked the best flight deals!
Or maybe just forget it all and go for a last minute cruise or effortless tour instead?
Many budget travelers (including me) indulge in worldwide airport lounge access, so we can experience luxury while still slumming it in economy. Naturally, we would never leave home without a more a more general travel guide since we couldn't possibly cover everything here!
Just add an adventurous attitude and plenty of smiles - they go a long way - and that about covers it all! Now go out, find your own path and don't forget to share your best inspiration stories with me on Facebook, Twitter, and Instagram...I'd love to hear from you!