The sun begins to set and the sky is painted with hues of orange and blue. The faint outline of stars become visible and with lightning bursts from the cloud rolling in it looks like the show might be over.
Oh well, I thought – We had a good run! Suddenly the ground trembles beneath me and the air is filled with a deeply satisfying rumble.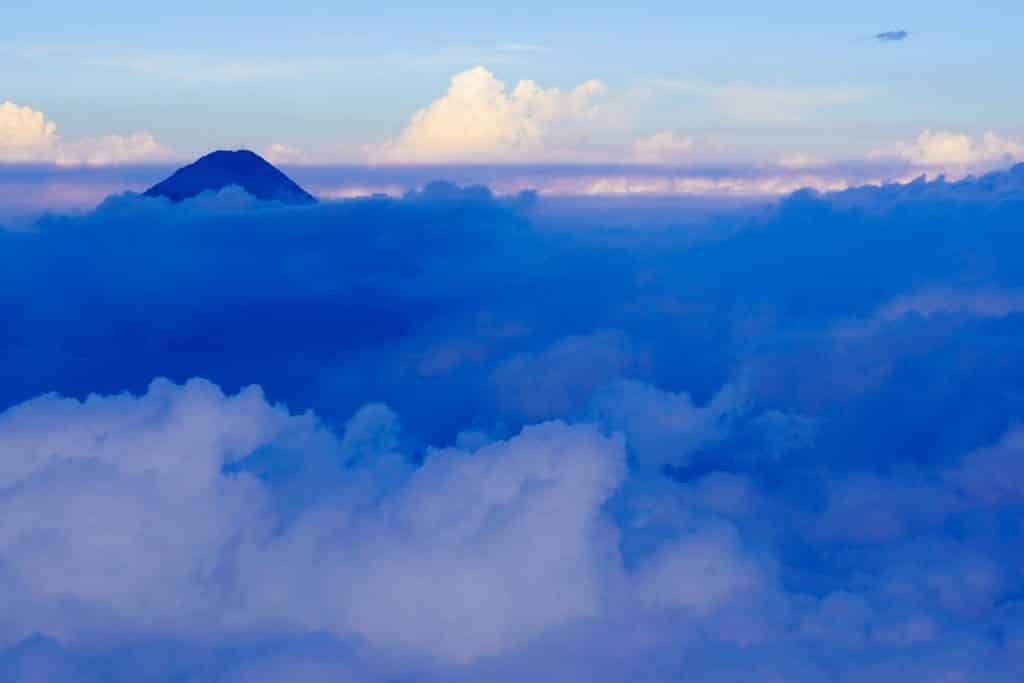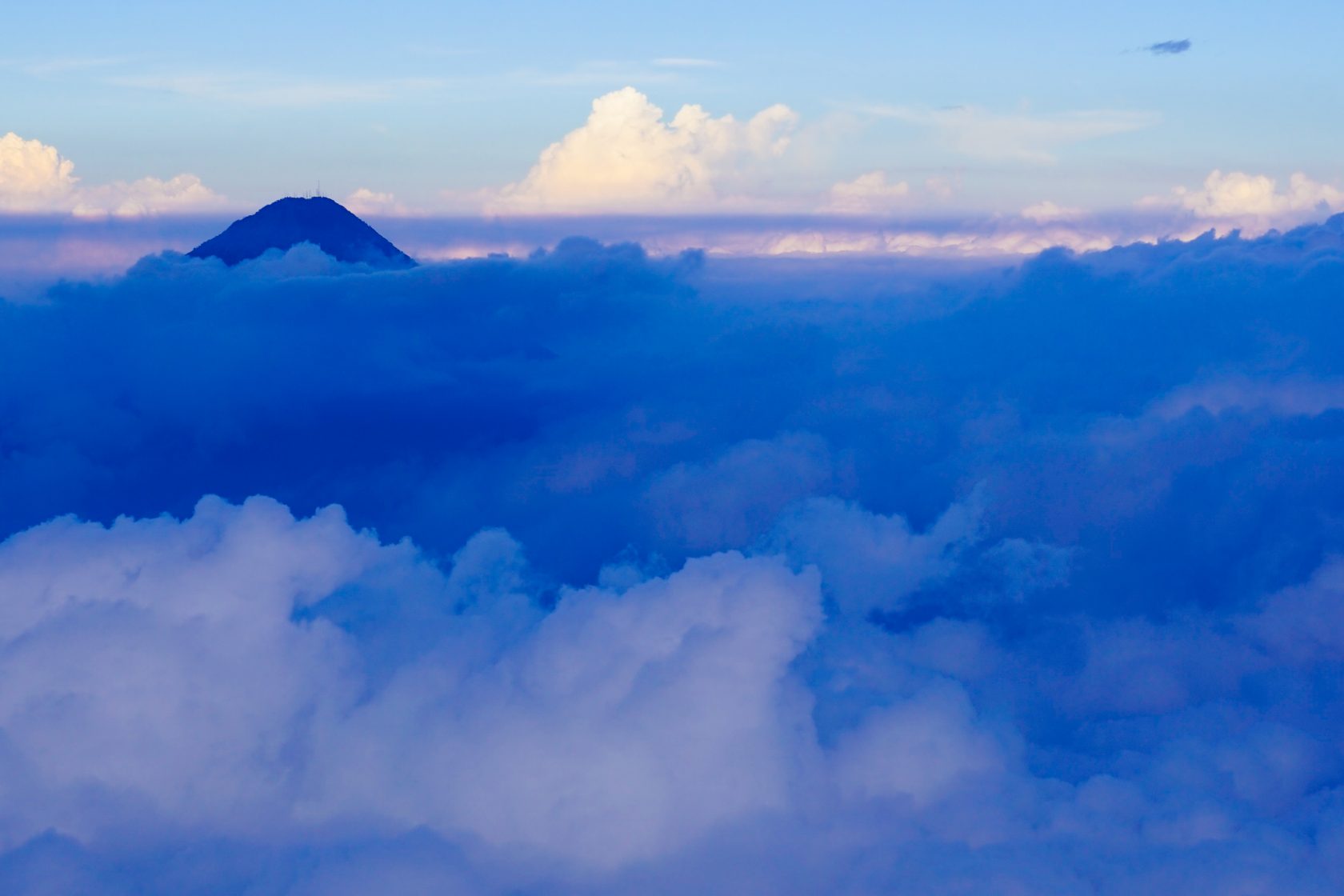 My eyes immediately dart to Fuego and never one to disappoint – we are treated to the mother of all sunset eruptions with ash, boulders, and lava being hurdled every which way.
After a day filled with eruptions, we could finally make out the glowing red lava being hurled down Fuego's barren side as the sun disappeared below the horizon.
And that was only the beginning of the show in which Fuego Volcano, the most active volcano in Guatemala and Central America was a key performer!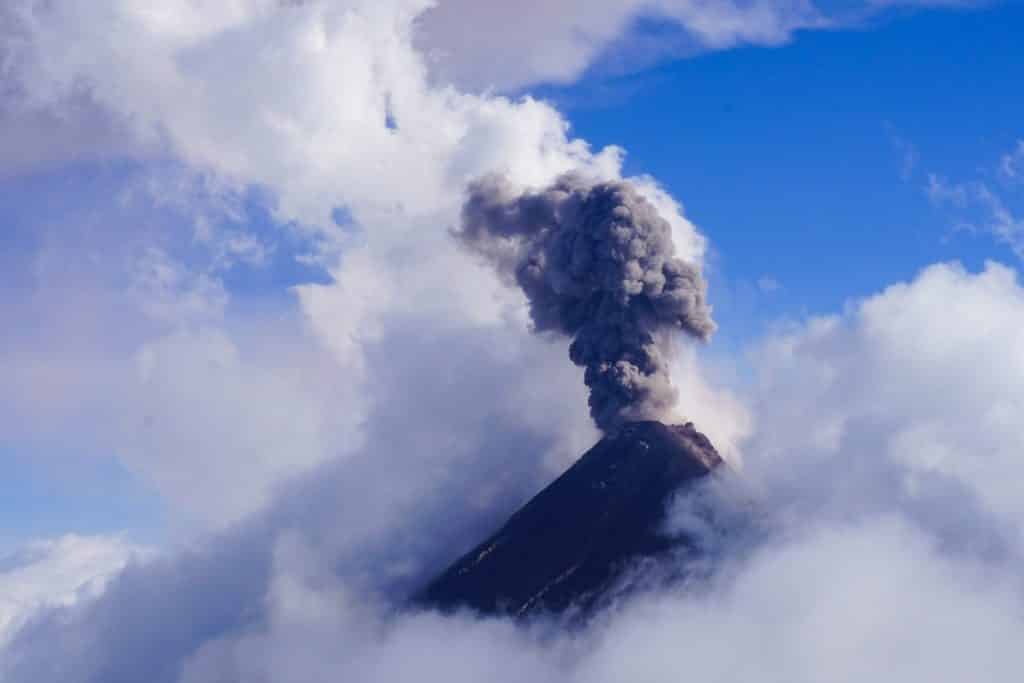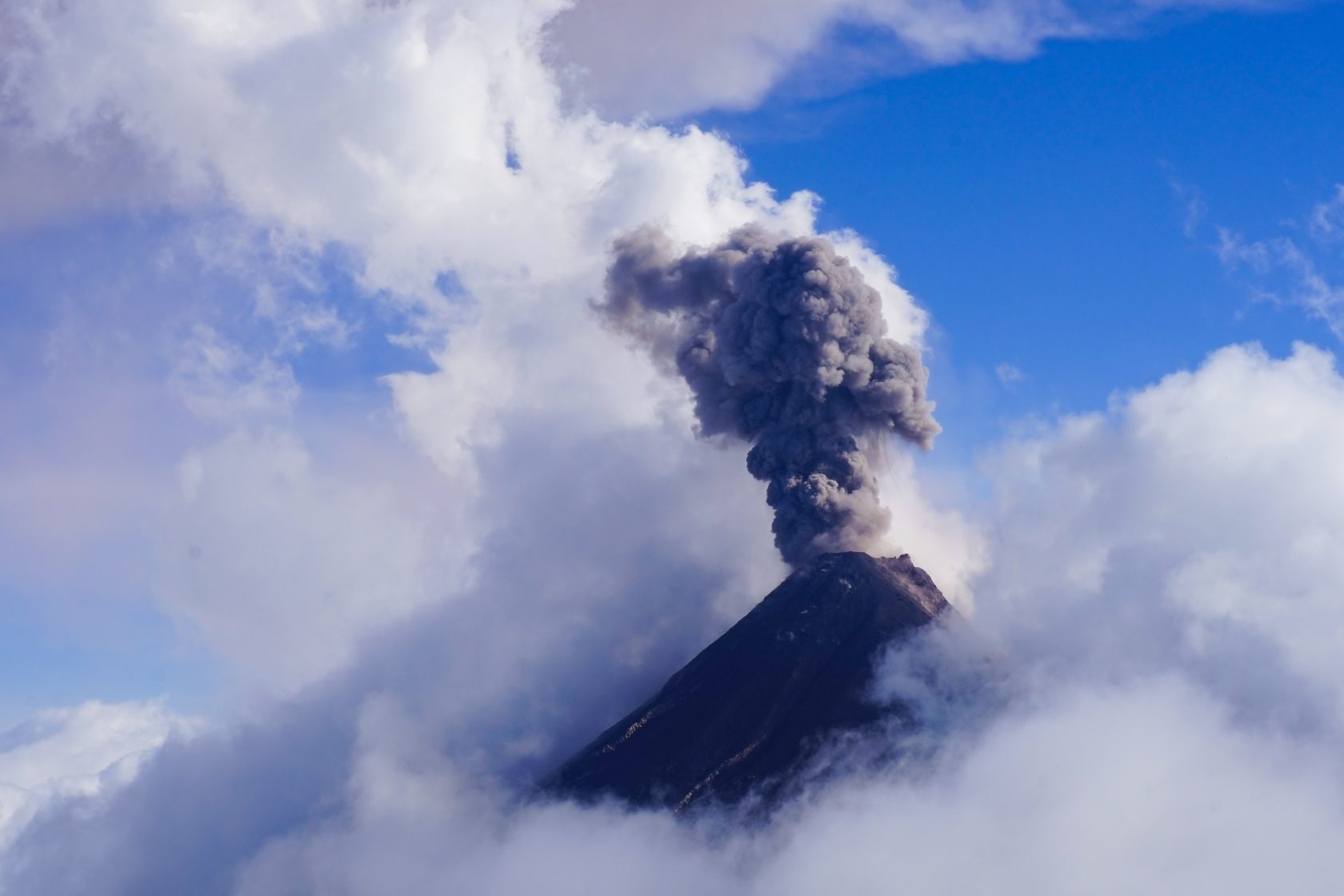 How To Hike Acatenango: The Most Active Volcano in Guatemala! 🌋
This is just a taste of why you should climb Acatenango, the sister volcano of the more active Fuego when in Antigua Guatemala – for the experience of a lifetime, unforgettable memories and the chance to awe at natures chaotic majesty.
After a lot of research and talking around town, I opted for an overnight tour of Acatenango with Ox Expeditions – one of the most reputable providers in town – and I was not disappointed. Sure to inspire wanderlust, read on to find out why this is the number one volcano you should climb in Central America!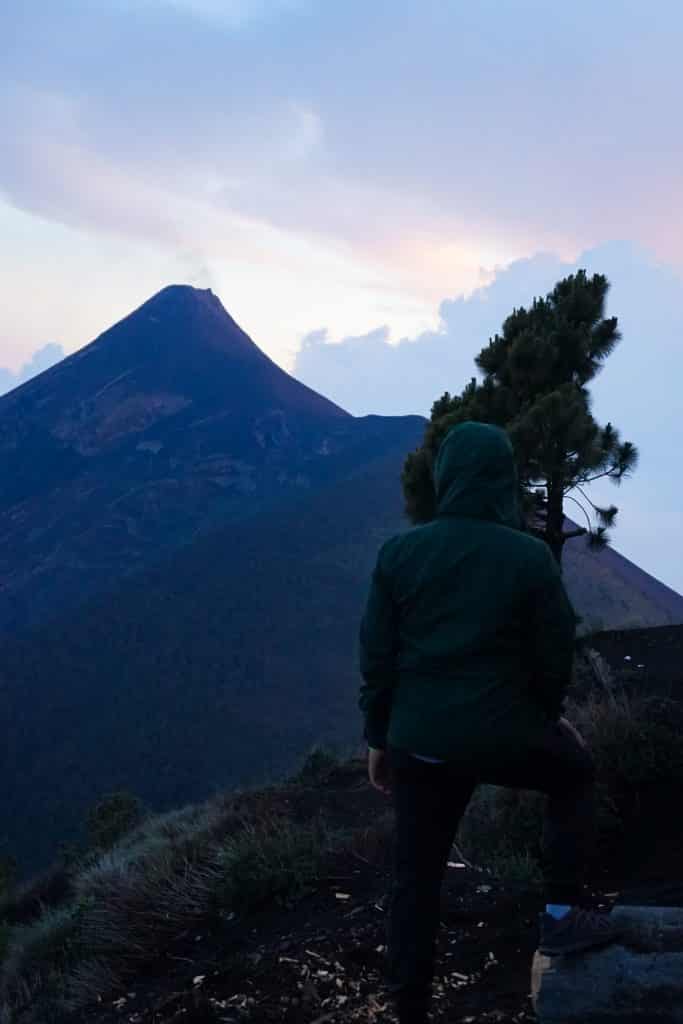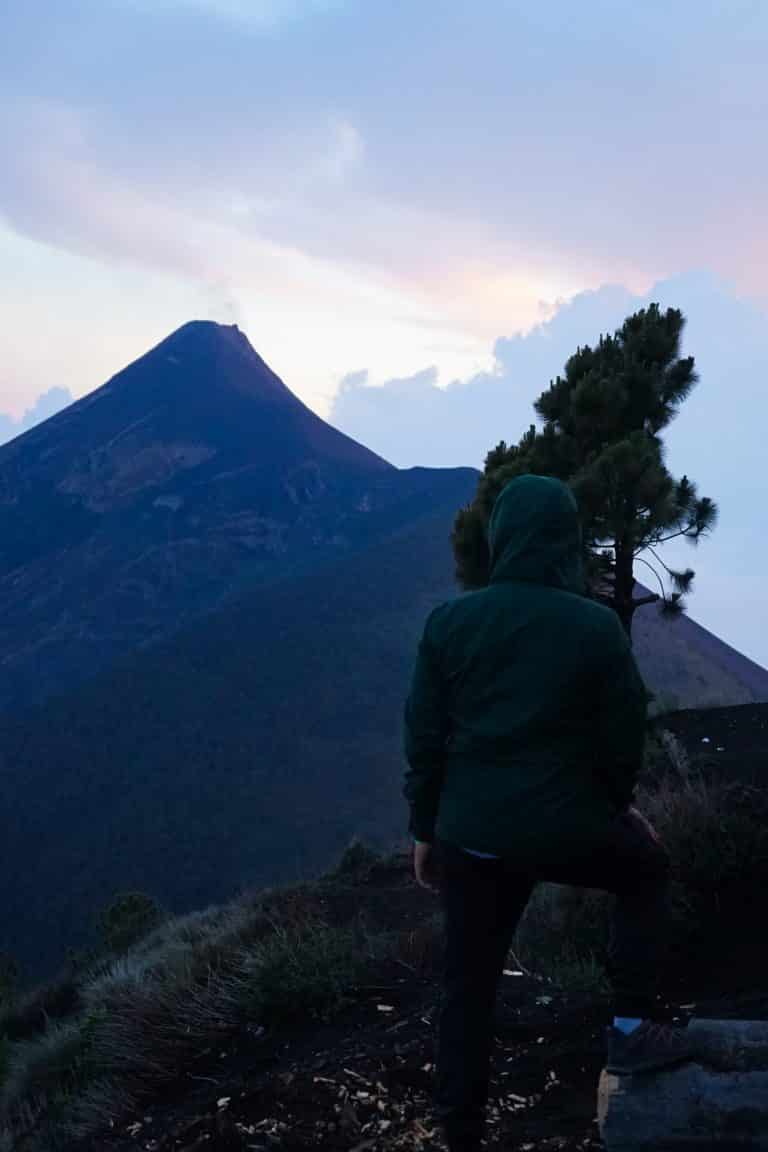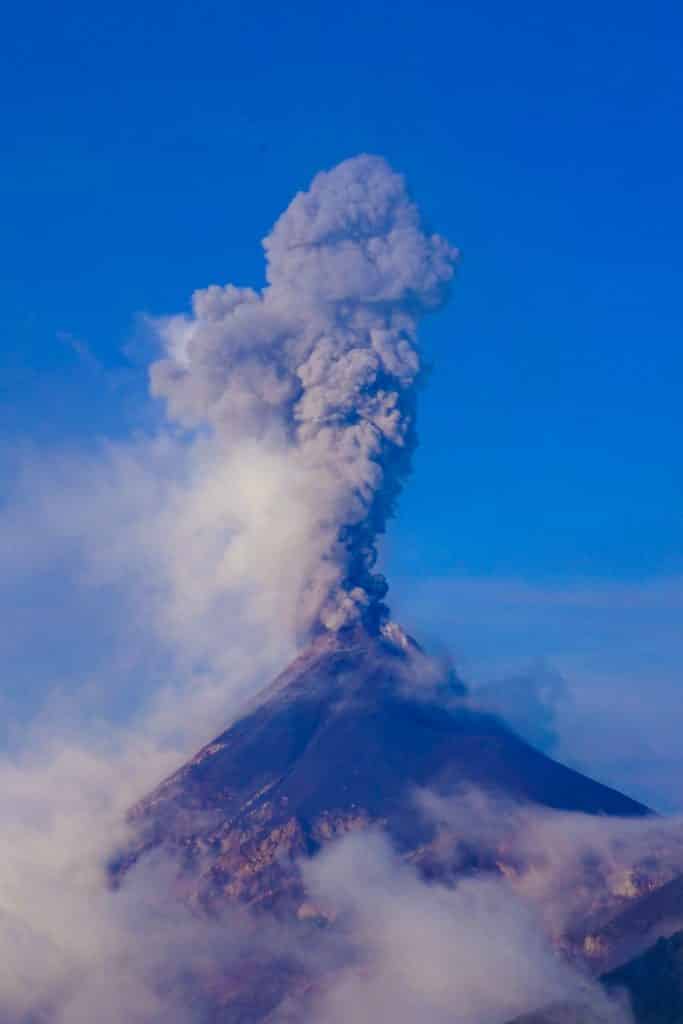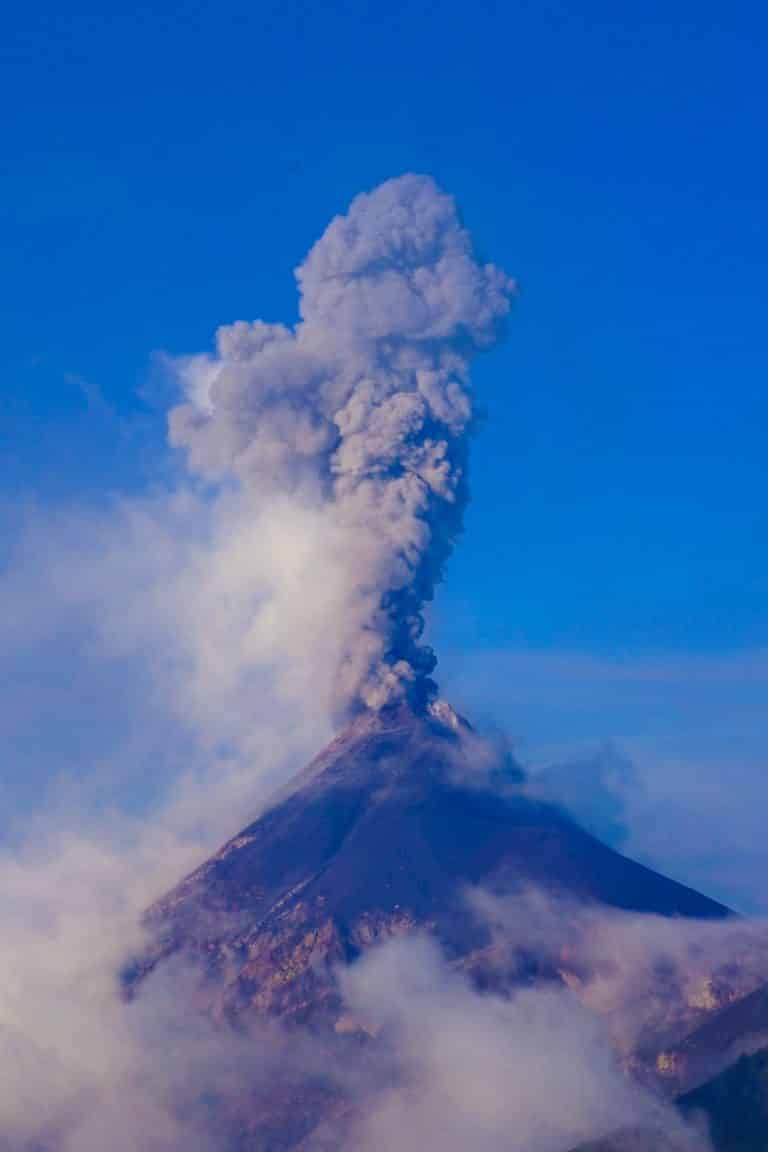 Whatever the question a Guatemala volcano hike is always the answer!! Easily one of the top things to do in Antigua Guatemala!
Acatenango is a stratovolcano (topping out at 3976m) found in Guatemala, close to the historic UNESCO listed city of Antigua, and is joined with it's slightly smaller sister – Volcán de Fuego ('The Volcano of Fire') (topping out at 3763m).
Acatenango Volcano is by far the more benign of the two, having last erupted in December 1972 – however volcanologist's predict if Acatenango were to have an explosive eruption (of which it has had 3 in the past 8,000 years) it has the potential to produce massive debris avalanches which could cover large areas of Guatemala's coastal plain and potentially put at risk the lives of 100,000 people….So let's hope she stays asleep!
By comparison Volcan de Fuego is famous for being continuously active at a low level or having an 'angry disposition', having been erupting frequently at least since the Spanish conquest. Smoke, ash and lava flows are issued daily but larger eruptions are rare – making it perfect for an adventurous trip that you are sure to never forget!
This also means you can guarantee a Fuego volcano eruption in Guatemala today – and every other day!
Haven't looked at accomodation in Antigua for before or after your adventure yet? Don't worry I've got all the best deals and price right here, and by booking in advance you can get the best price, location, service – and often with free cancellation incase the weather …or your plans, change!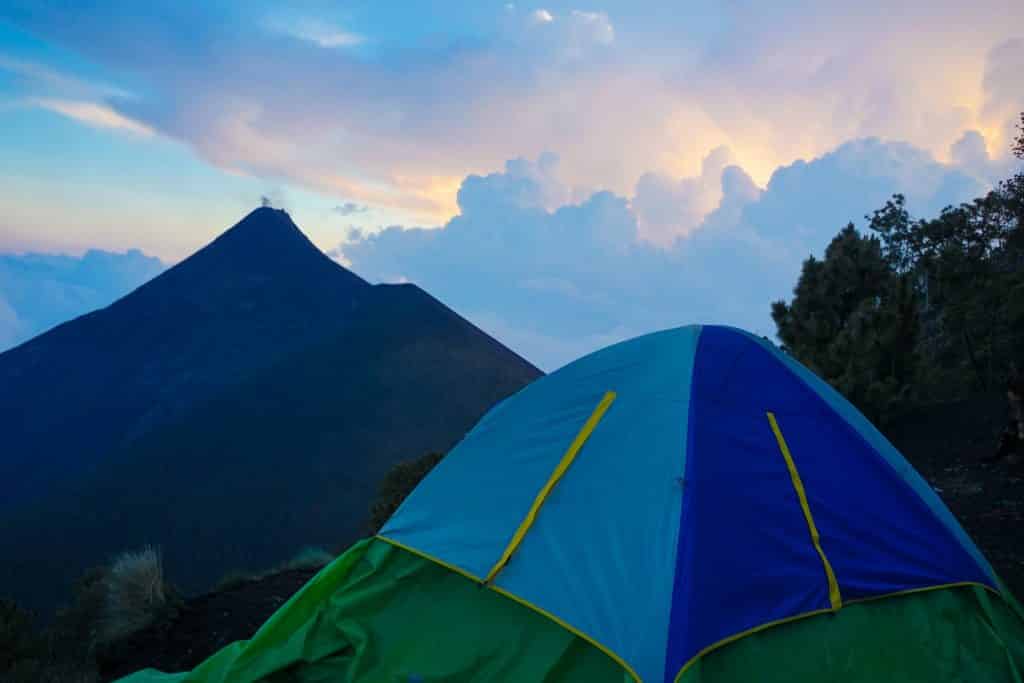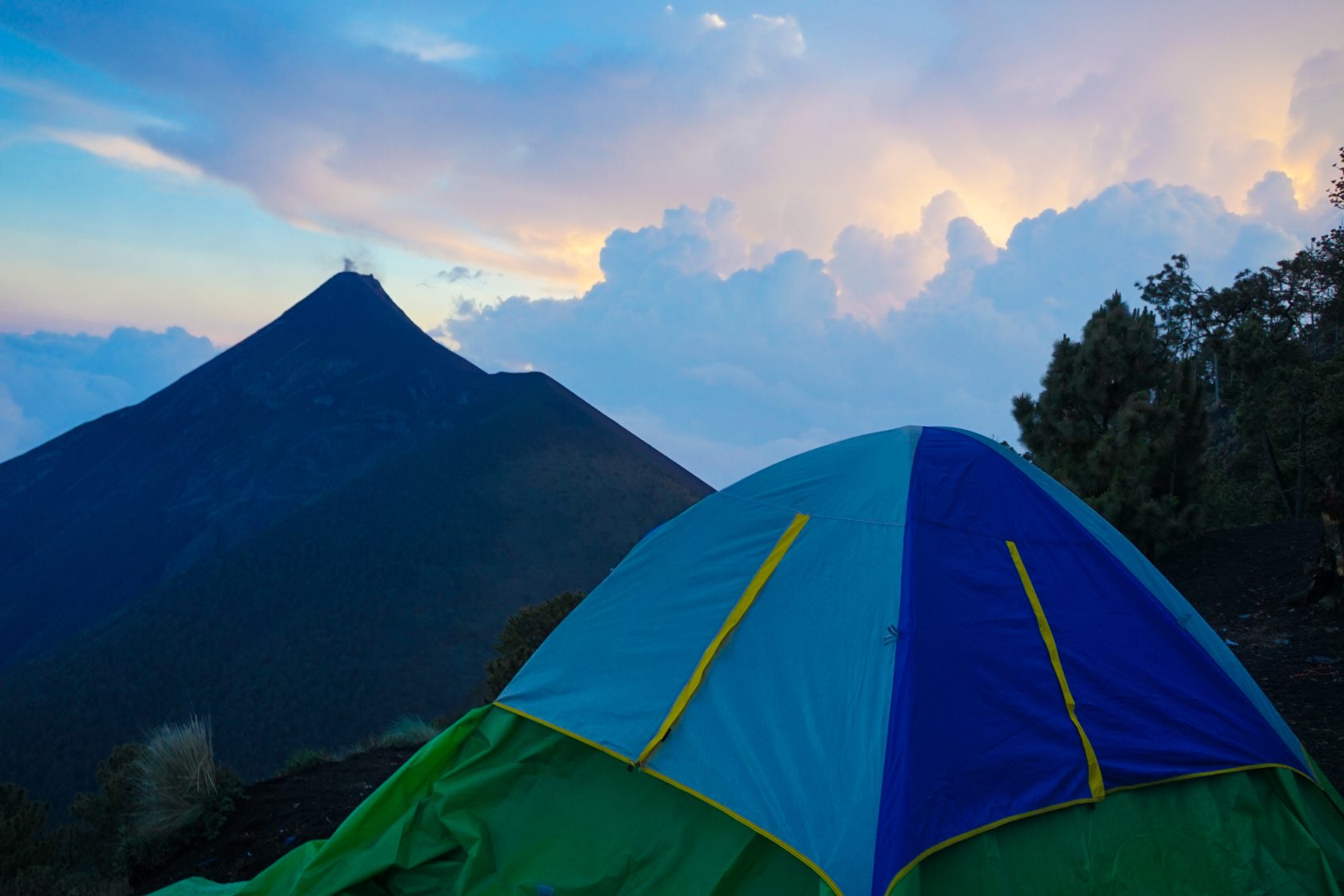 Our trip up Fuego began at the spritely time of 6am – but because Ox had a pre-departure meeting the evening before we were all aware of what we were in for, physically and mentally prepared – and just had to quickly pack our backpacks with the gear for overnighting up the Volcano.
The benefit of all this organisation and early departing was that we got to the Volcano well before anyone other tours and were able to get underway at full steam. If you're fast, it's perfect as you have more time at the top with no one else up there. If you're the slow and steady type like me, it means you are not anxious or stressed about arriving late or getting in your head as all the other groups pass you.
Either way all OX's guides speak English and ours, the Texan called Miles who was also the only Gringo Guide on the mountain, was perfect at adapting to our speed, anticipating our need for break stops and just generally great at encouraging us to get through what is in effect 4-6 hours of hellish conditions….only made worth while by the heavenly vista you are rewarded with at the top.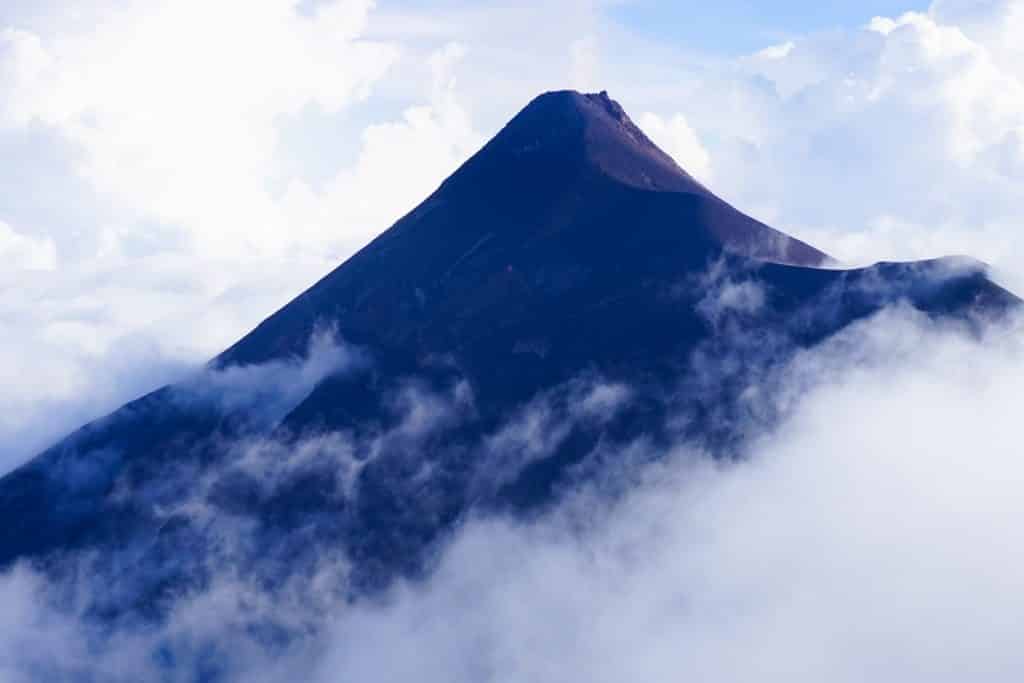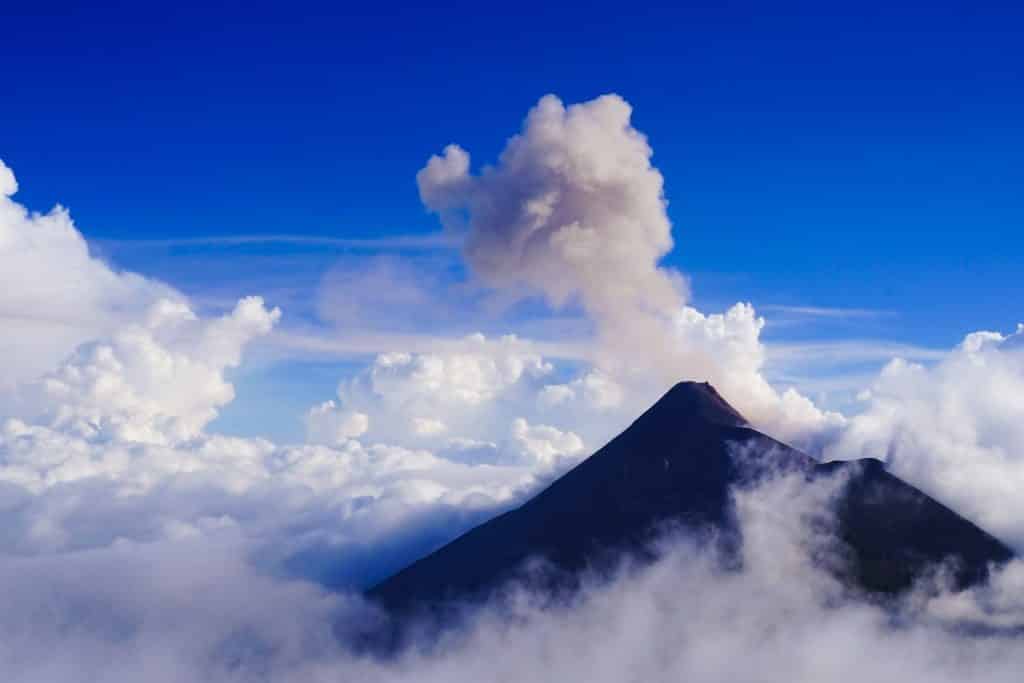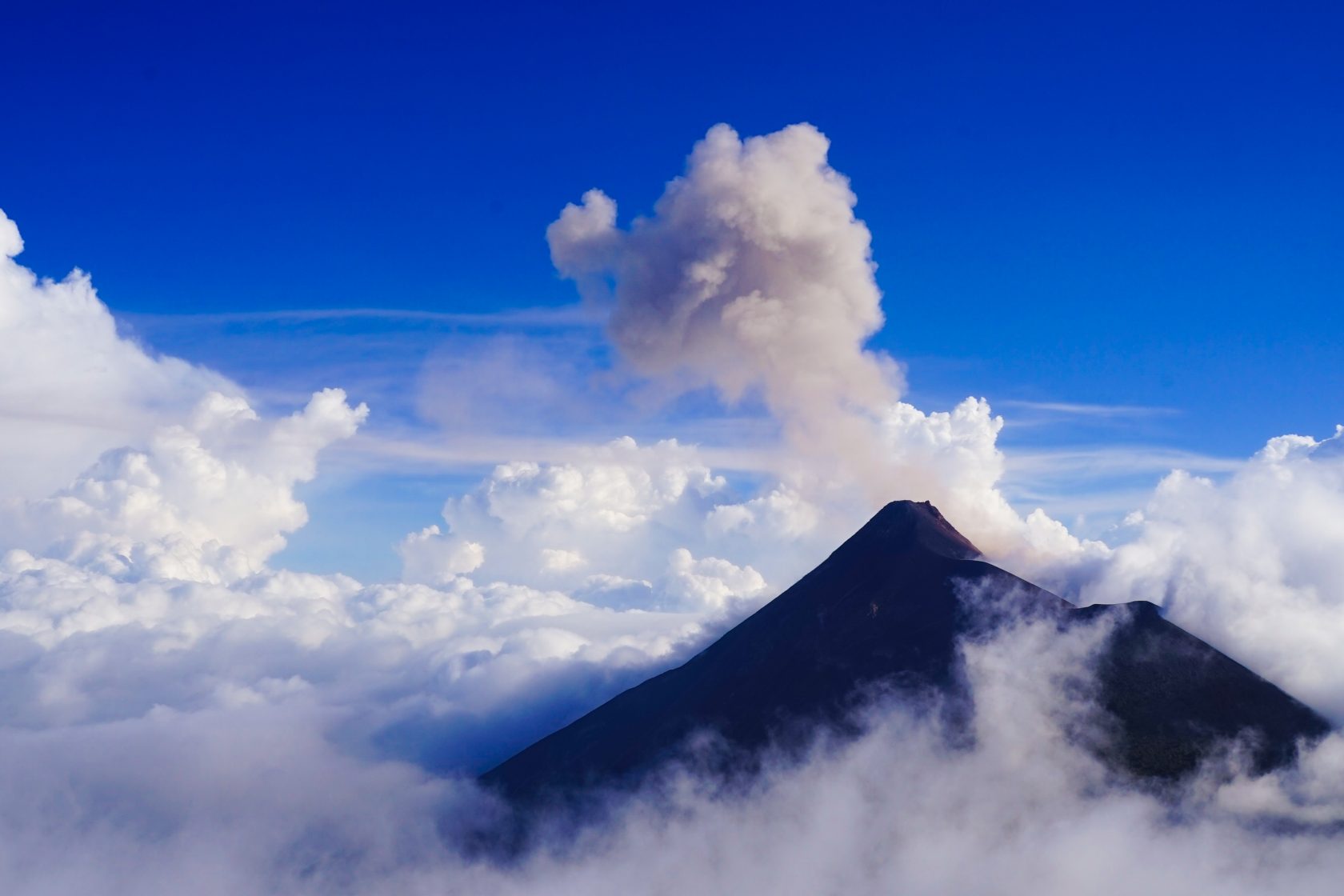 The key thing to remember about climbing Acatenango is that the first hour is the worst. Trust me, if you can get through that it's rather smooth sailing the rest of the way to compare. Going up you cross 4 different biomes – starting in lush farmland, moving into cloud forest, then hitting a alpine forest and finishing with windswept mountain shrubbery.
However beautiful you think it is will largely depend on your level of fitness though – I was in no mood to get my camera out on the way up, except at a few coffee and drink stops where I completely died.
Thank the volcano gods Miles was there with his infectious optimism and good natured Texan humour to keep us going – plus a few dogs on the path willed me on.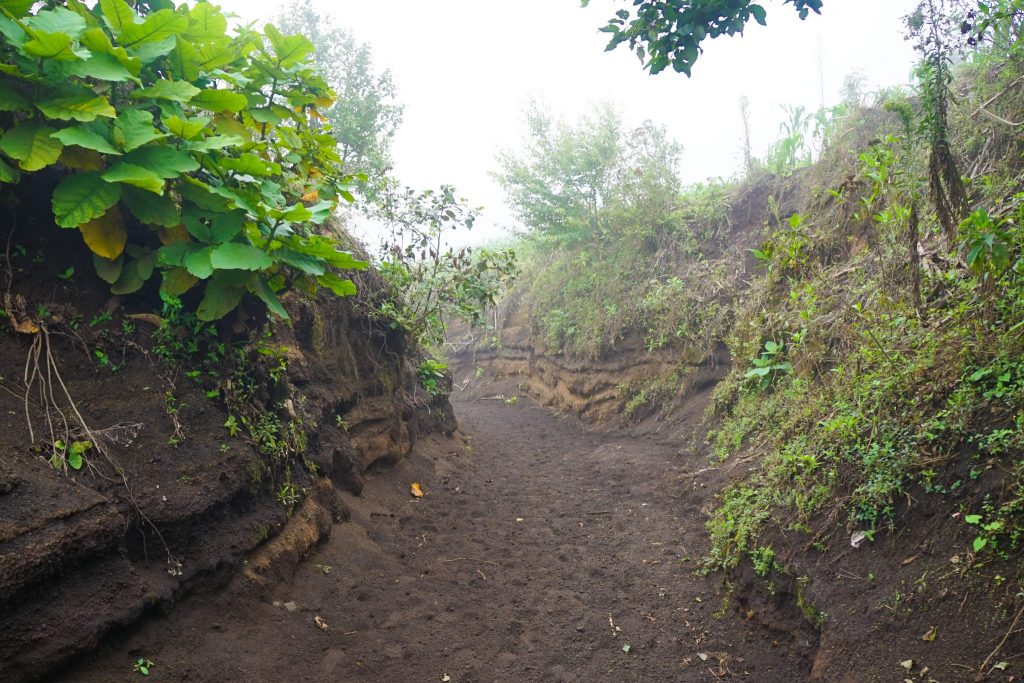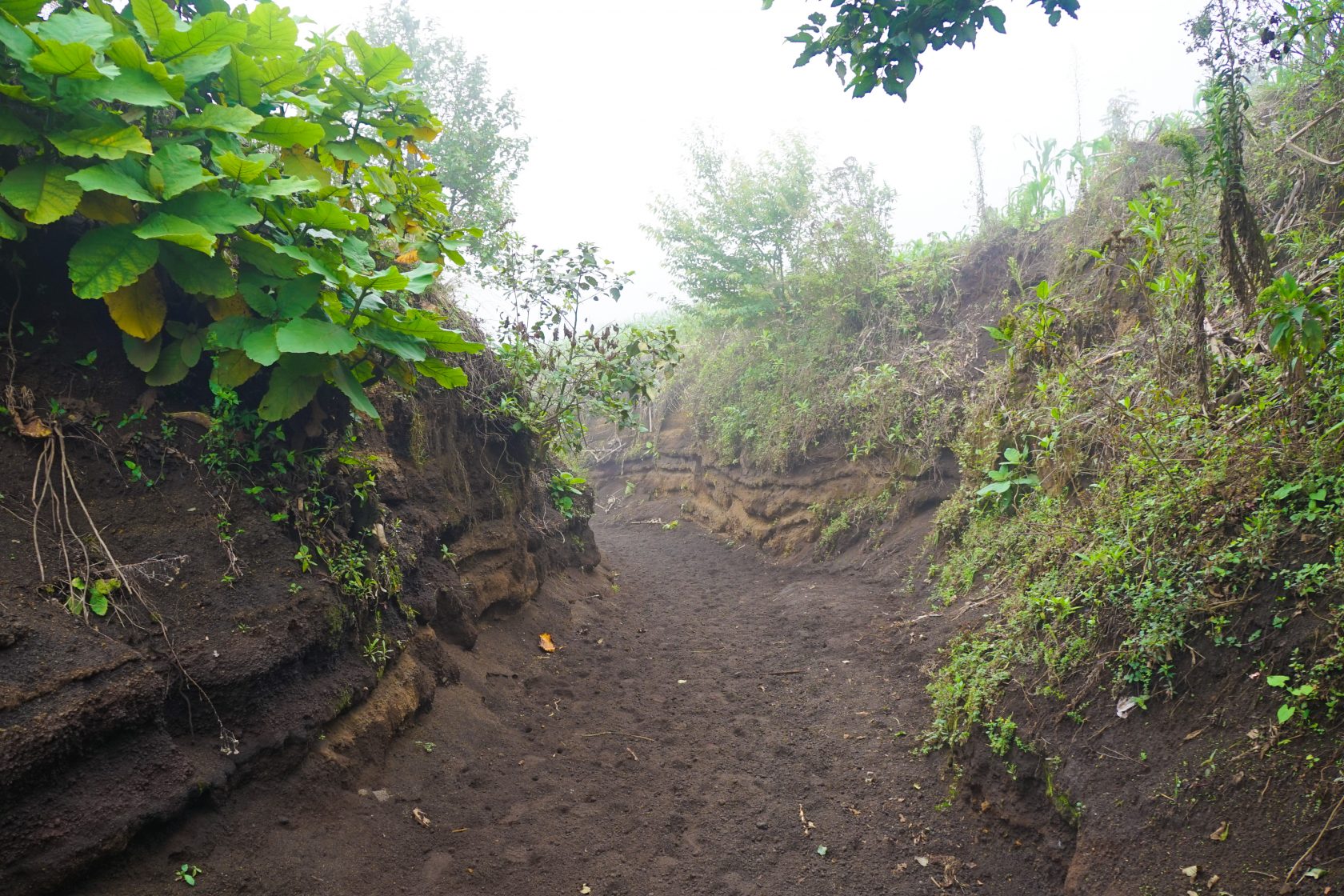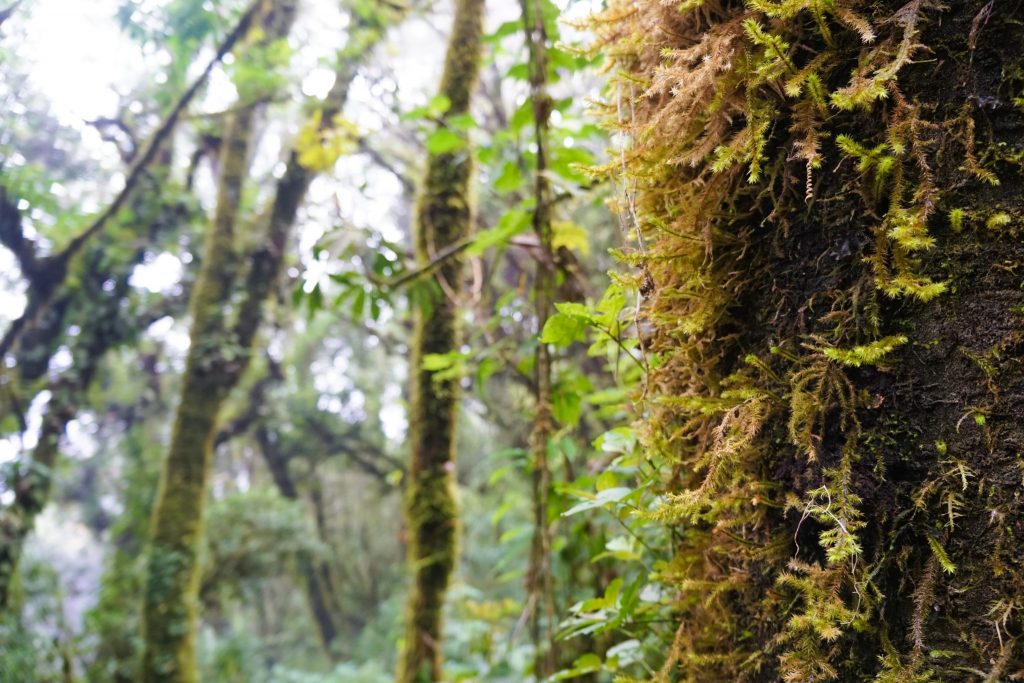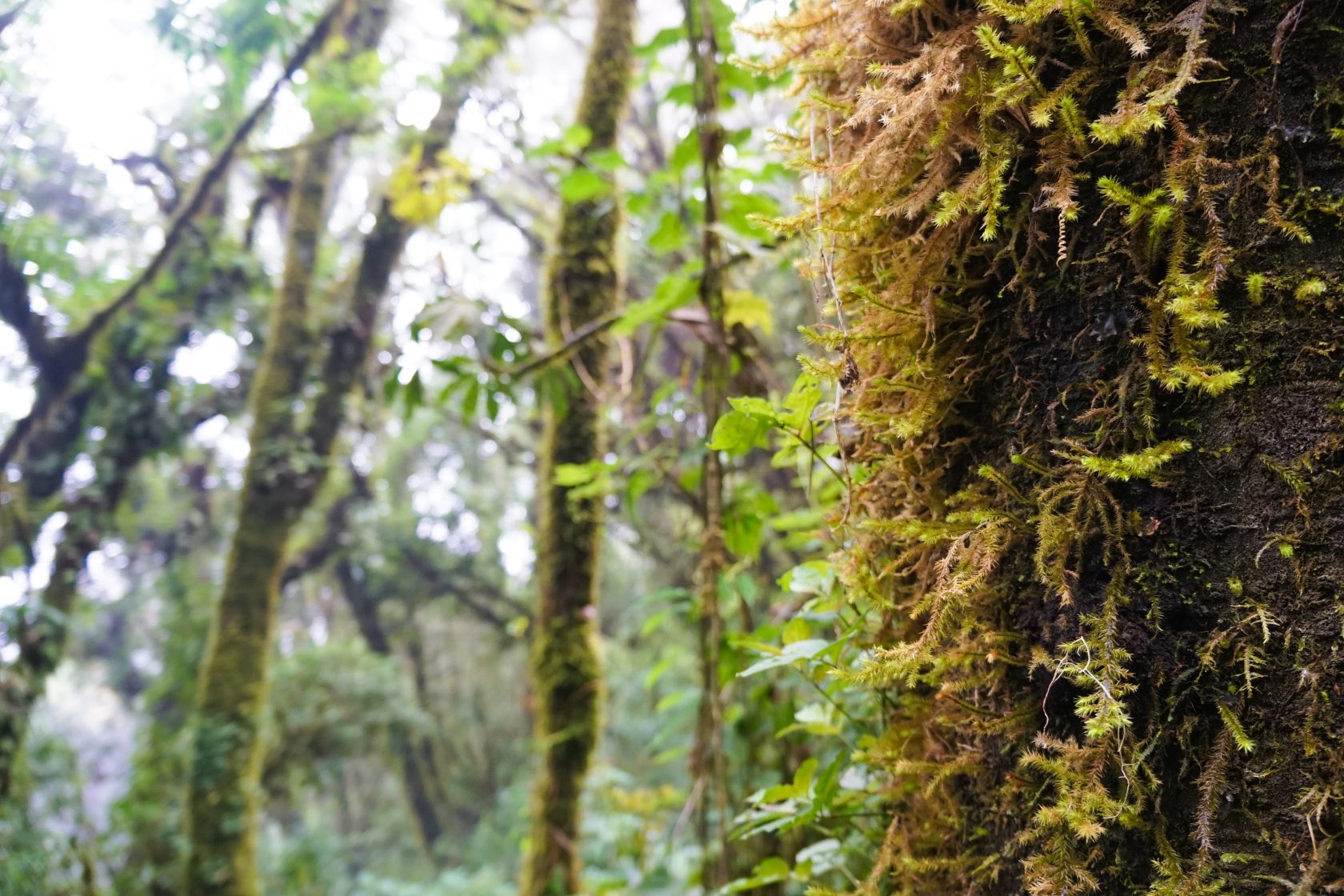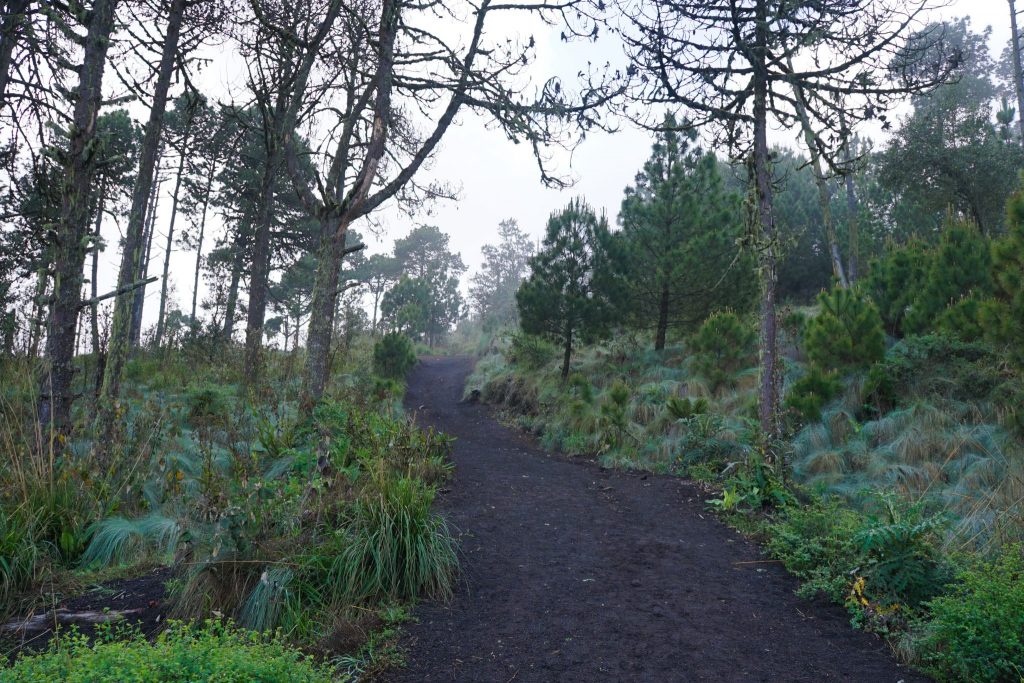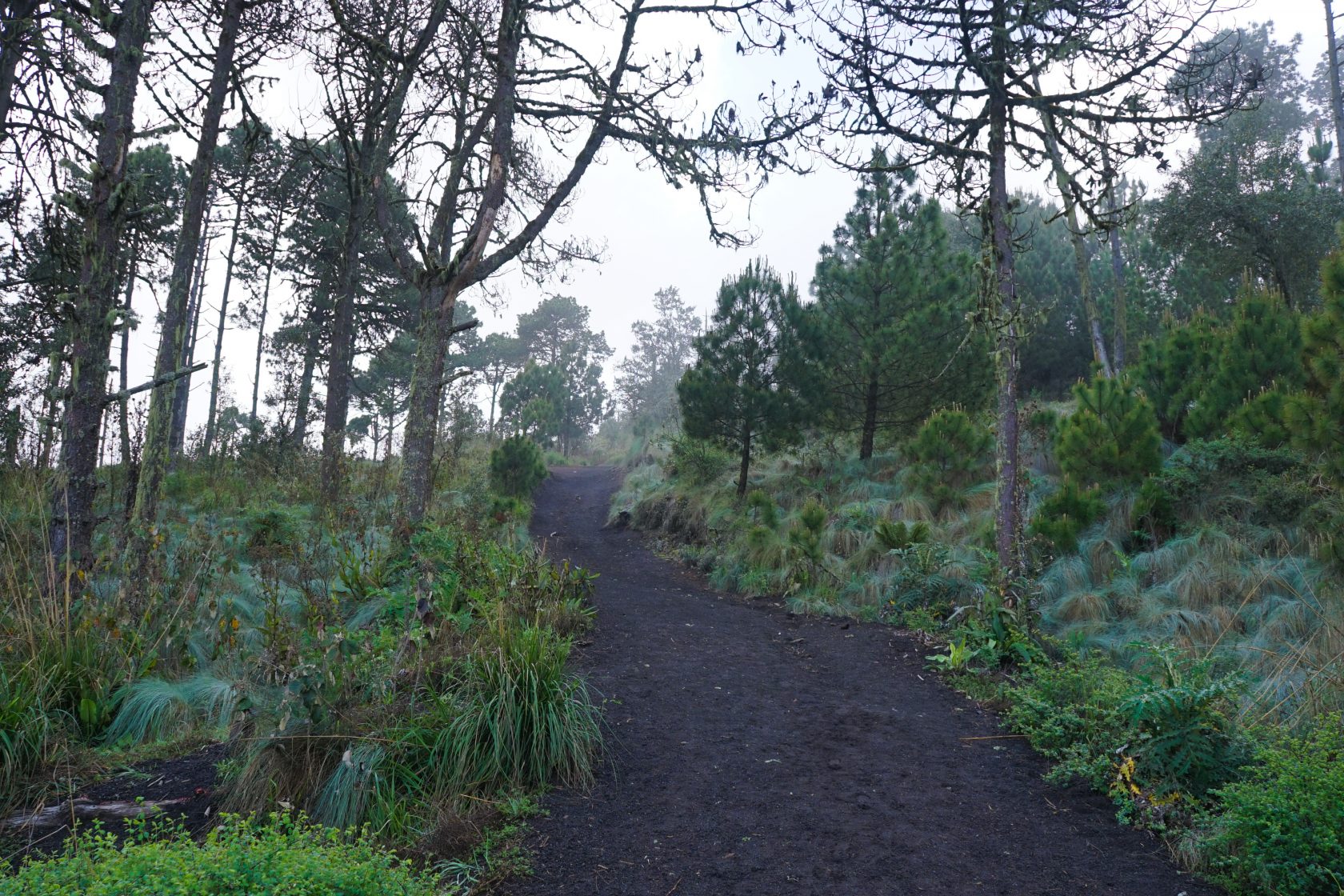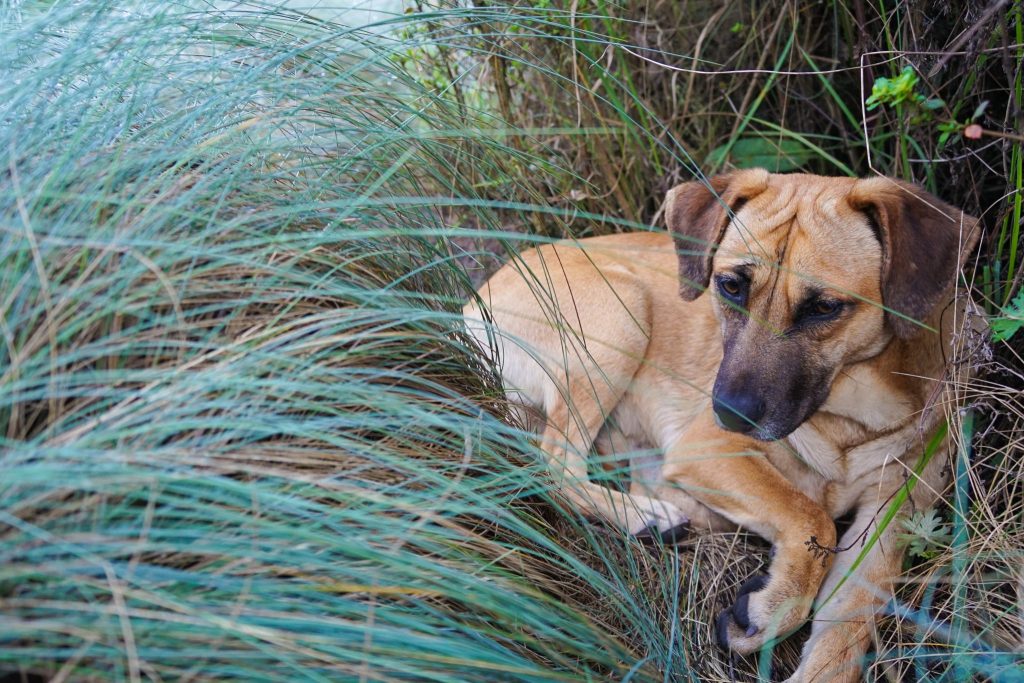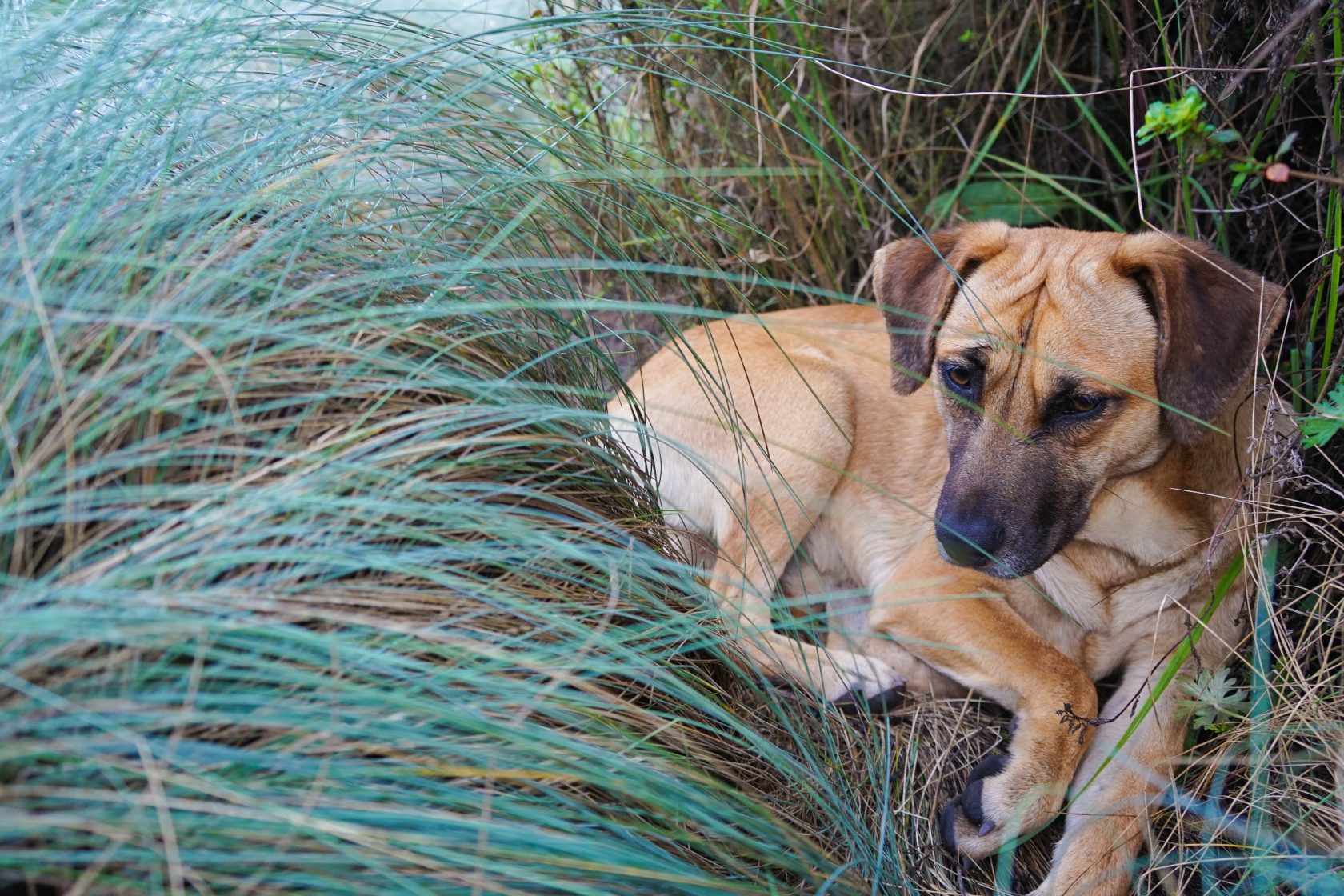 No one says any Guatemala Volcano Hike would be easy – And the Acatenango volcano hike is perhaps the worst of the worst! But when you get to see your first Guatemala Volcano eruption …it's all worth it!
We arrived at camp around 2pm and it was phenomenal – the clouds cleared within a few minutes and we were alone, just us and the eruption Fuego for the next hour. The benefits of leaving early were now very clear to us! Each tour company has their own campsite here and Miles went to work setting up our tent for the night and starting a fire to keep us from dying in the cold.
Luckily we had all taken advantage of OX's huge free-to-borrow wardrobe before we left so we were happily decked out in warm down jackets, gloves, beanies and pants – a service offered with an additional rental fee for each item by other providers in town.
Our campsite had the perfect unblemished view of Fuego so we settled in by the fire to watch her erupt at least 8 times before sunset …. and then the real show started!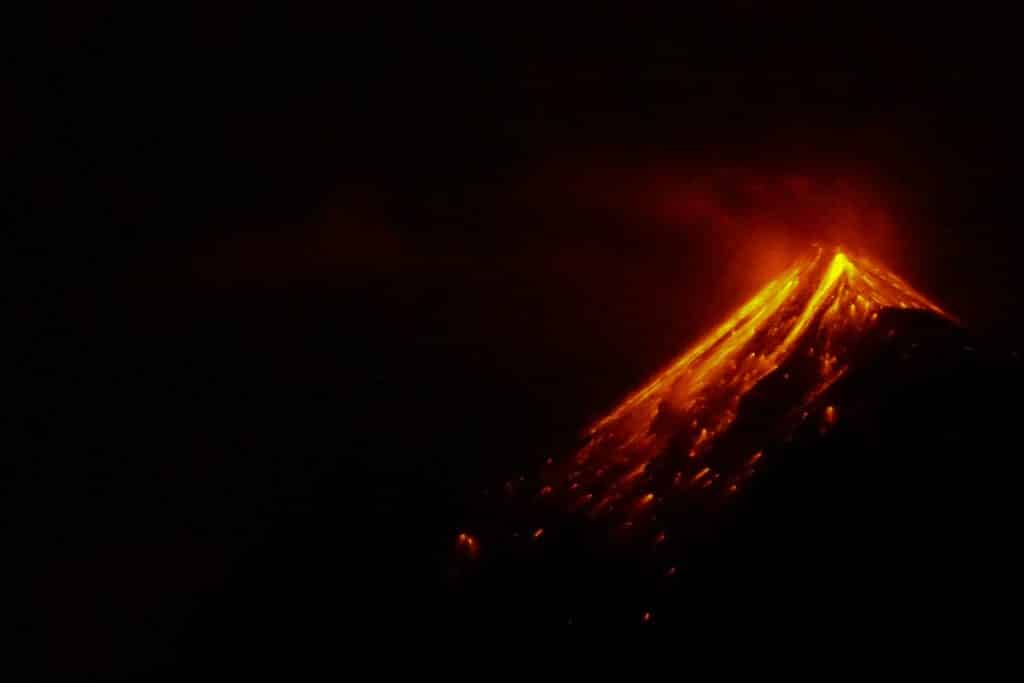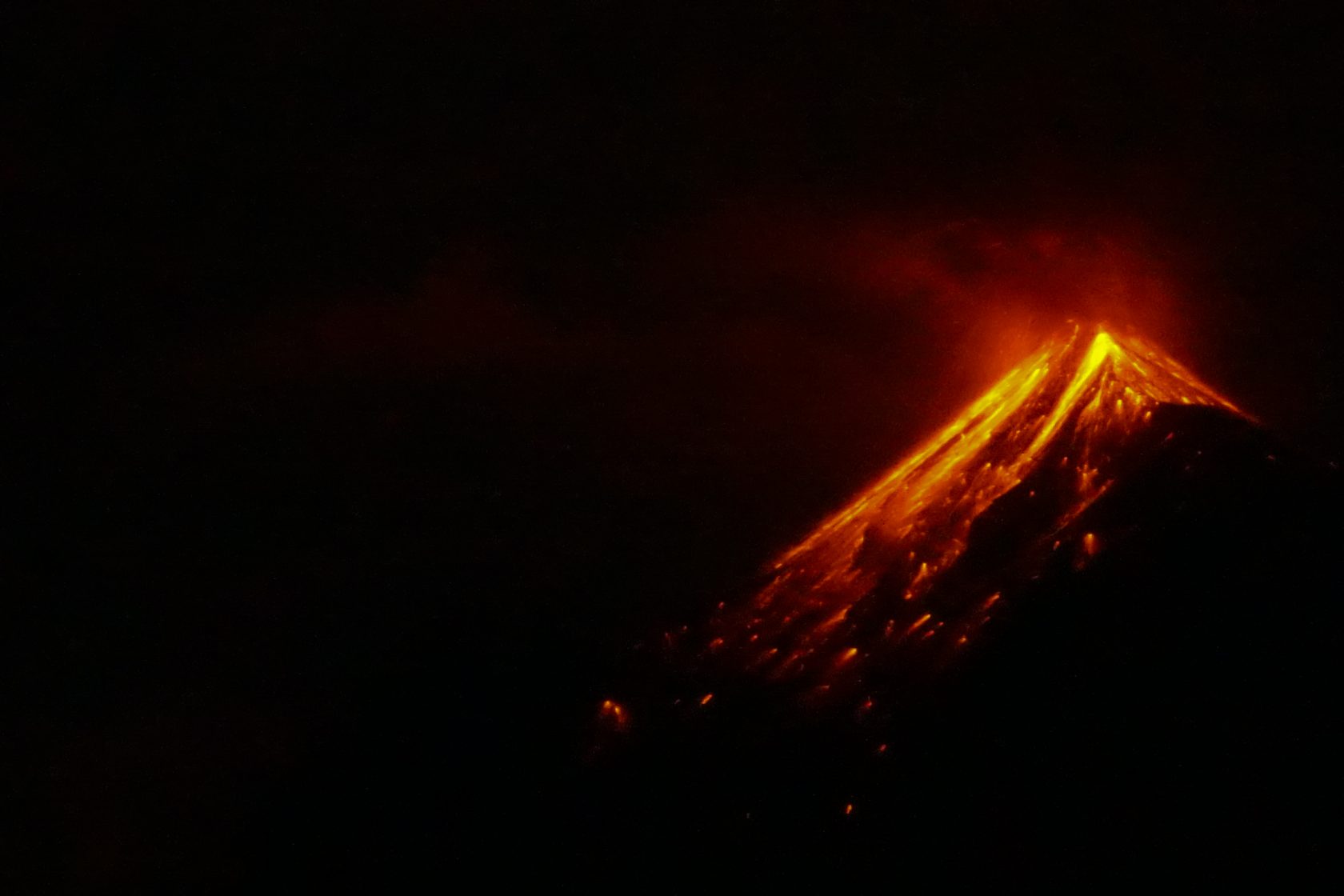 Yes – the Volcano of Fire is the most active volcano in Central America for good reason!
While each eruption produced lava, it can only be seen in the dark so come nightfall we were treated to one of nature's best shows as the volcano blew itself apart, lighting up the sky, lava bombs streaking through the air and lightning forking out of its billowing ash cloud. It was intense. It was incredible. It was INSANE! I couldn't take my eyes off it, I was in love with Fuego and never wanted to leave.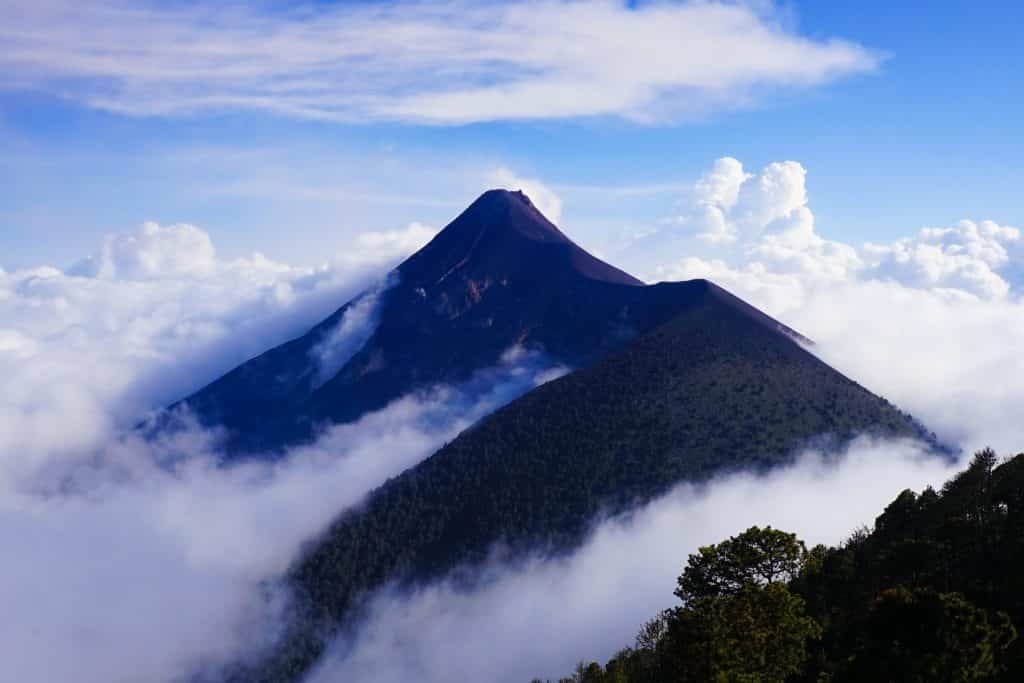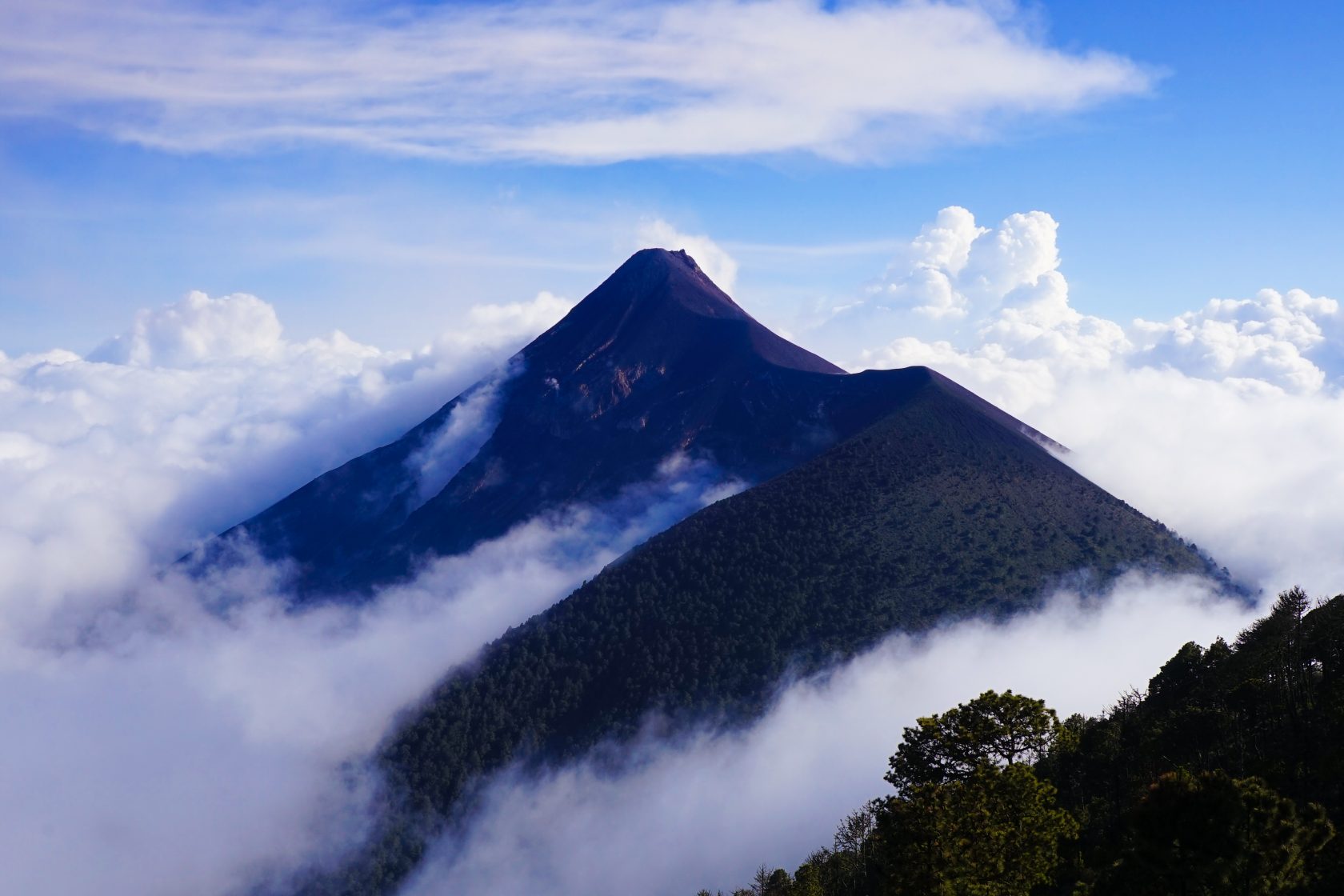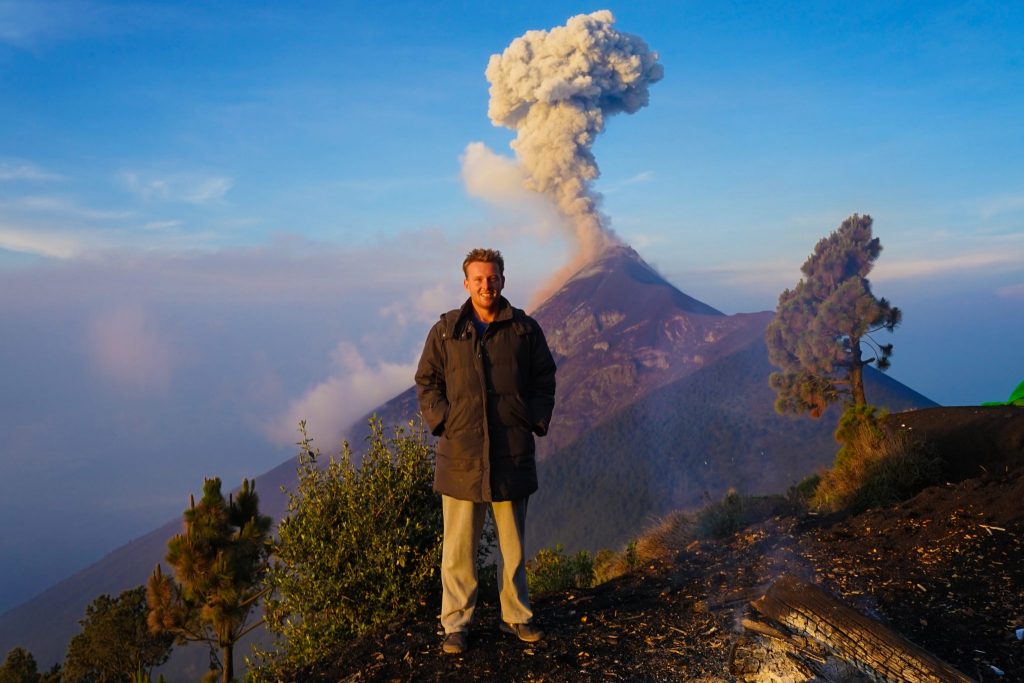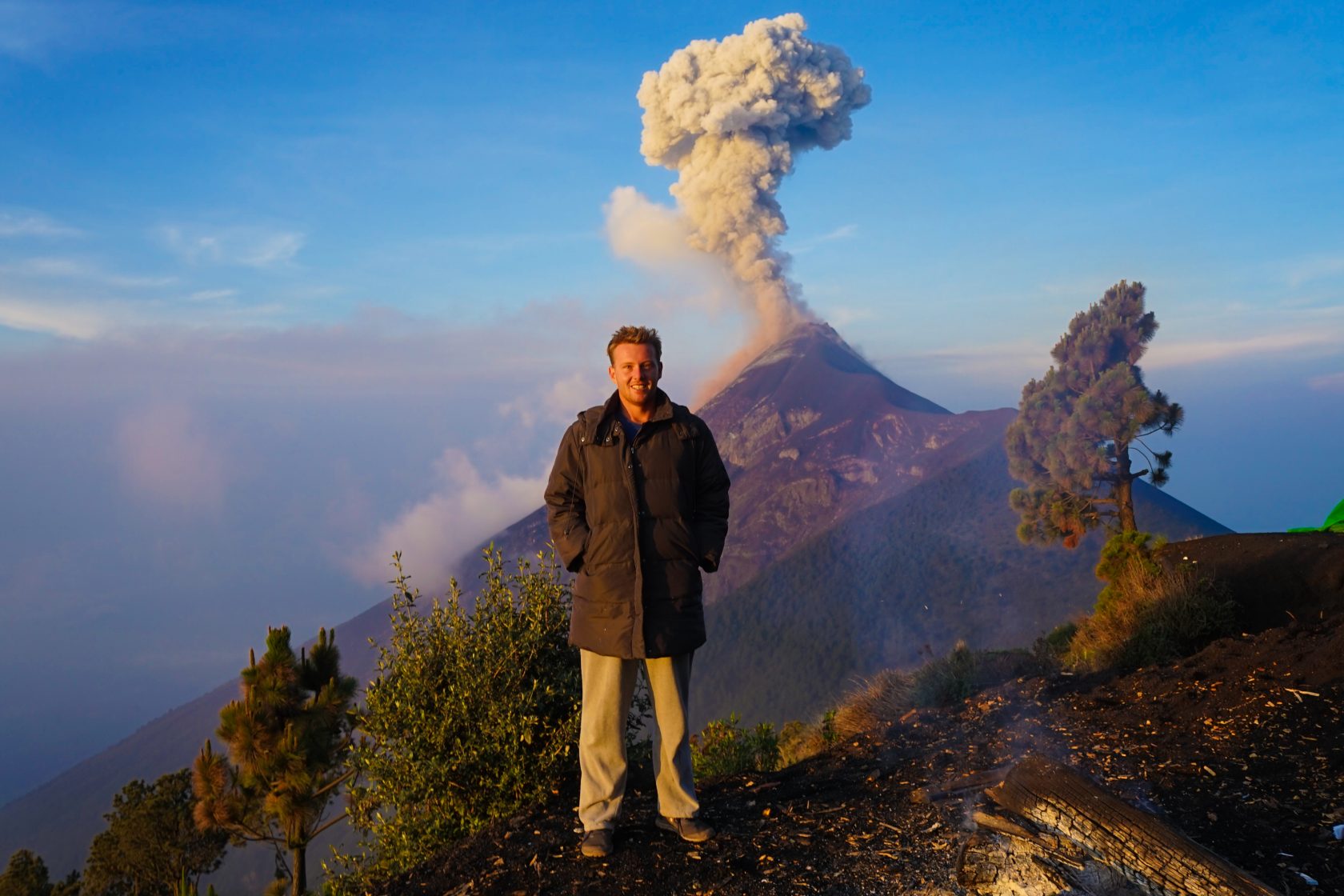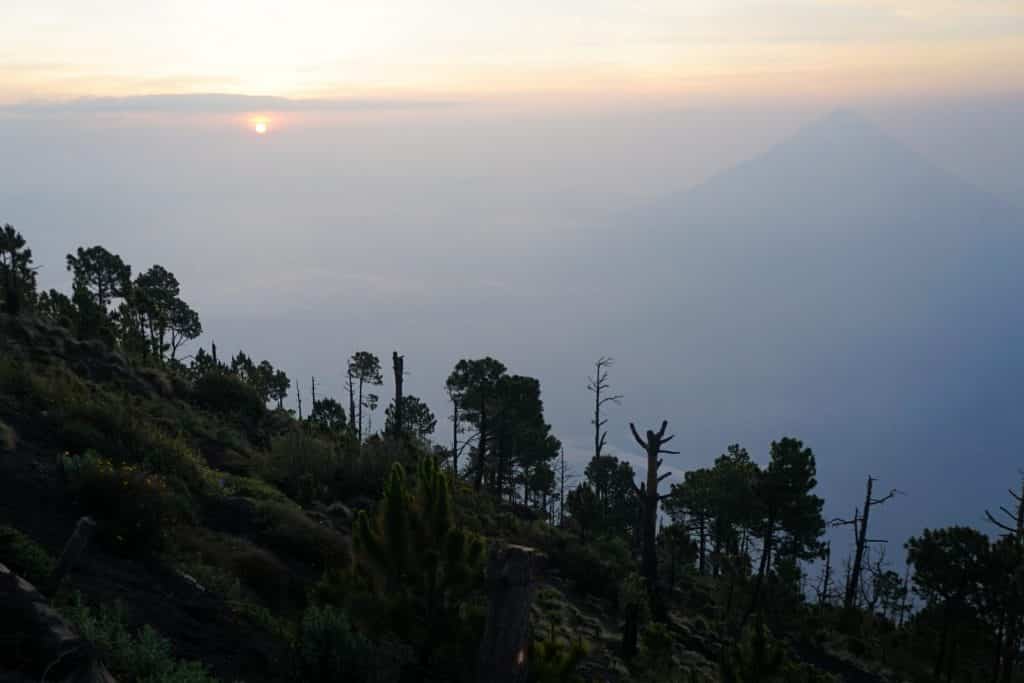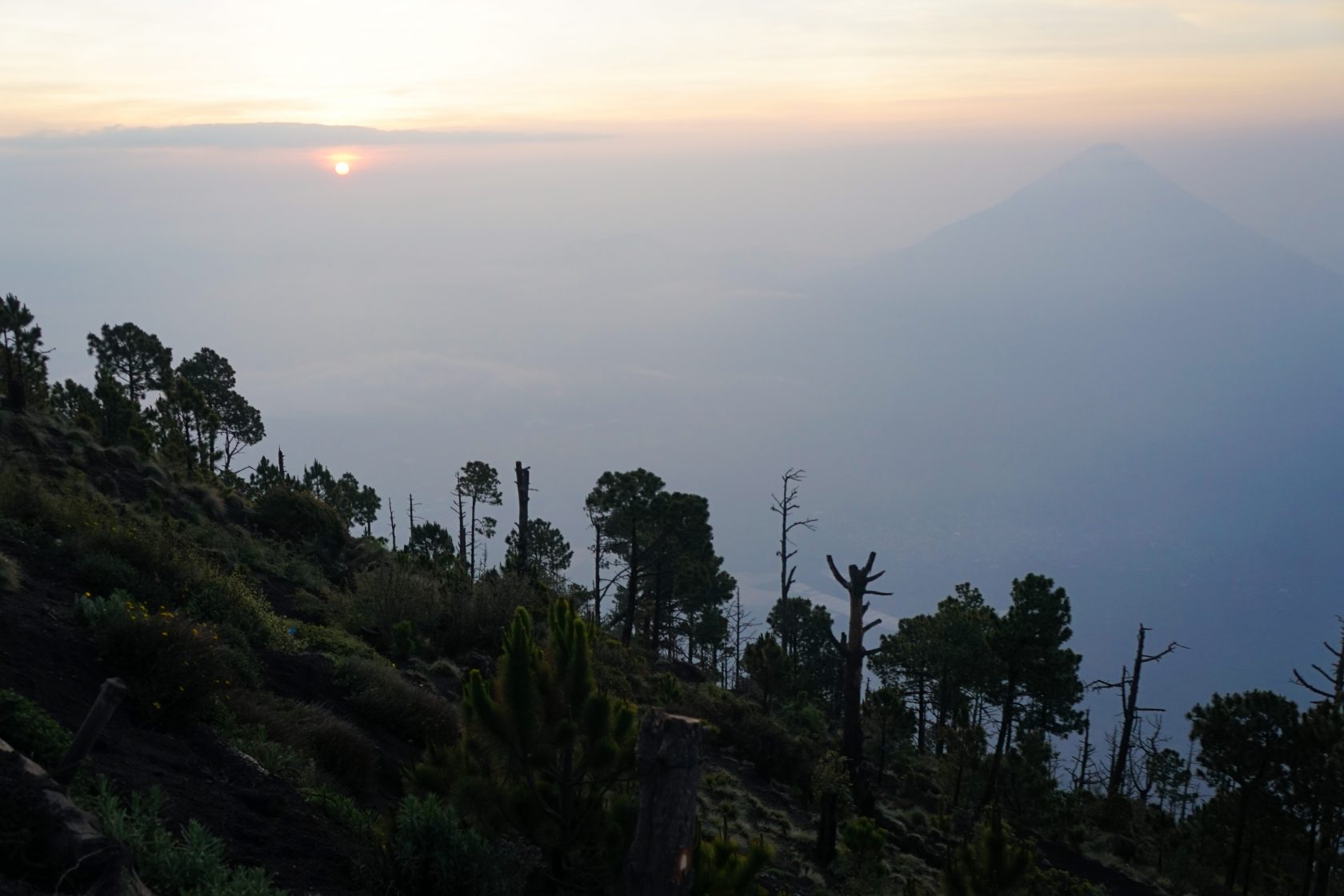 In the odd moments that Volcan Fuego decided to take a break we drank wine, consumed delicious pasta with fresh sauce and roasted marshmallows over the fire – I headed over to a nearby group to chat with some new found friends we had made and found them huddled in the cold with pot noodles and a dwindling supply of water.
Let's just say you get what you pay for and while OxExpeditions doesn't try or claim to be the cheapest in town, they definitely go the extra mile to make the entire experience incredible and to add to the majesty of nature.
Sure, the highlight for everybody on the mountain that night was the mind-blowing eruptions – but we also roasted marshmallows on a fire, stuffed ourselves full of pasta and enjoyed a light buzz off the wine …. while being the only group with an English speaking guide!
I never wanted the night to end – but with a 4am wake-up call we decided to retreat to our cozy tent and to catch some zzzz's against the backdrop of the volcanoes periodic roar!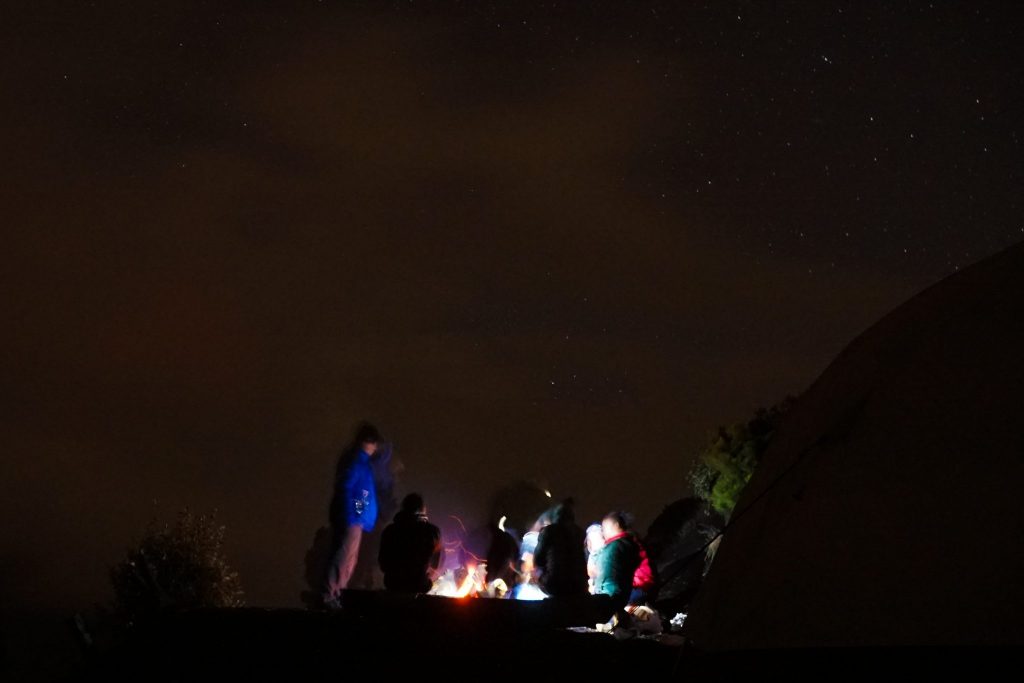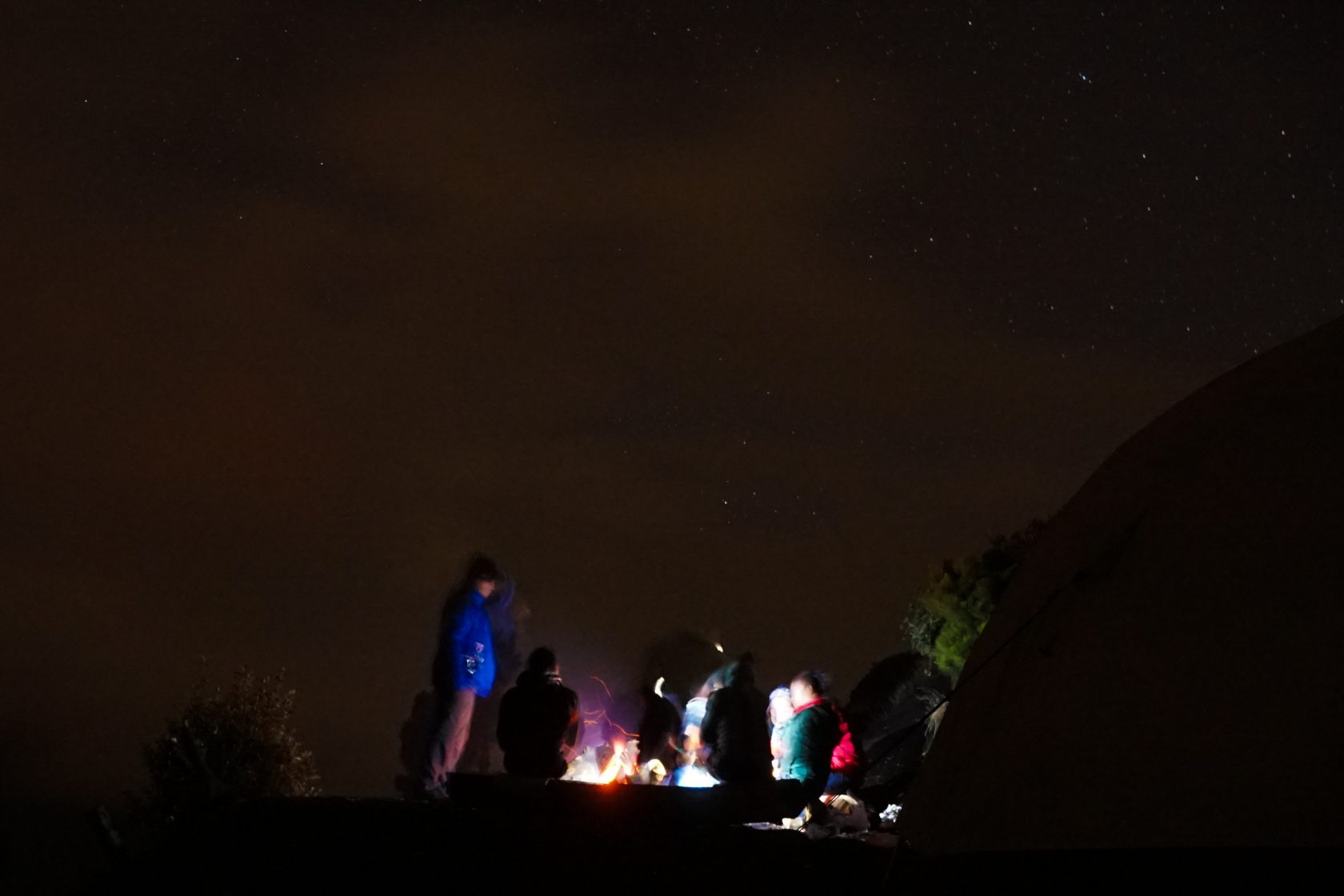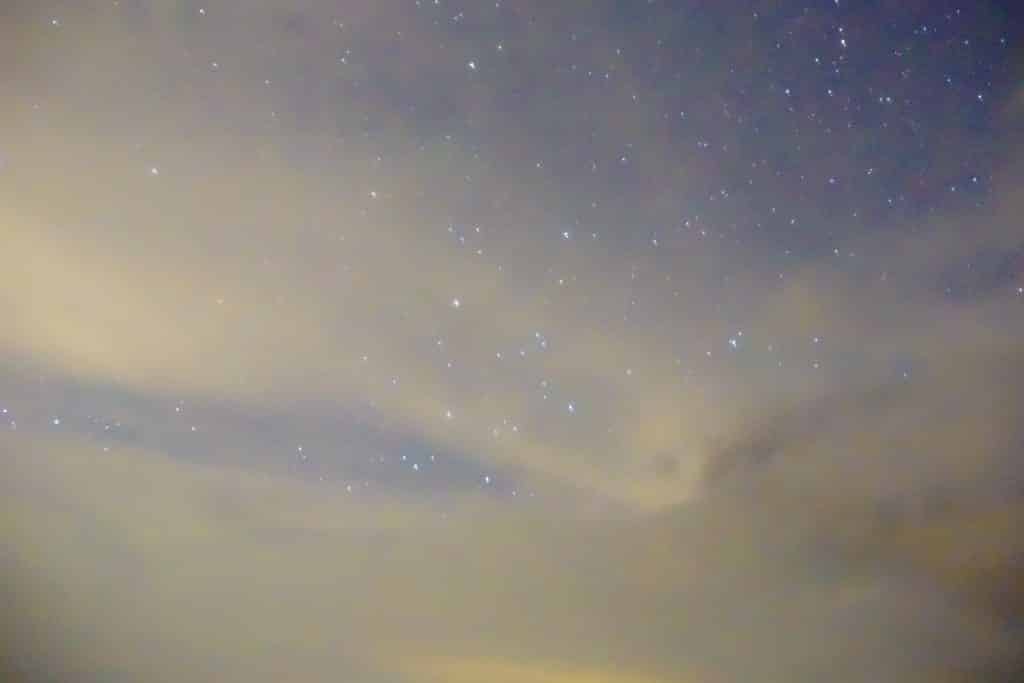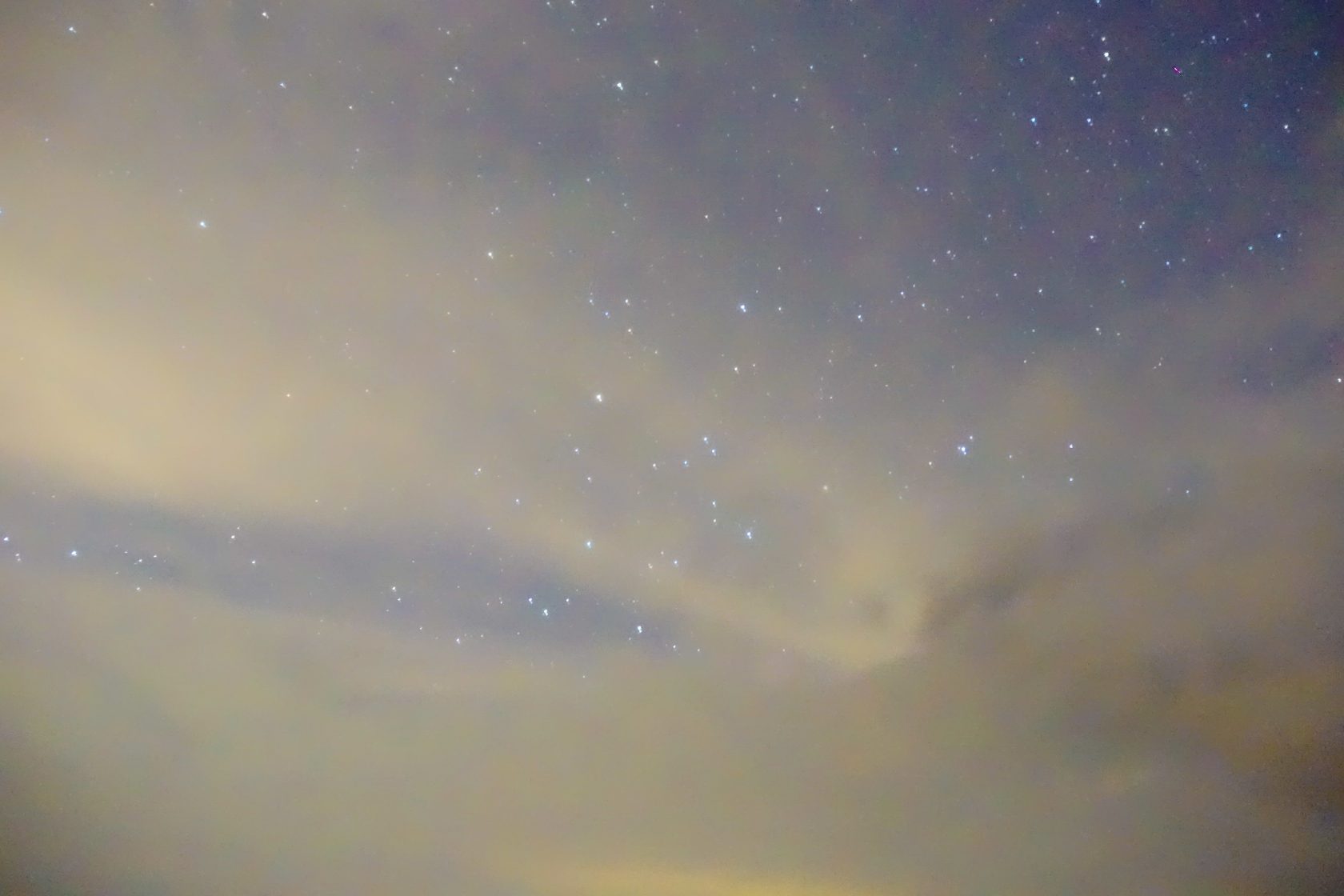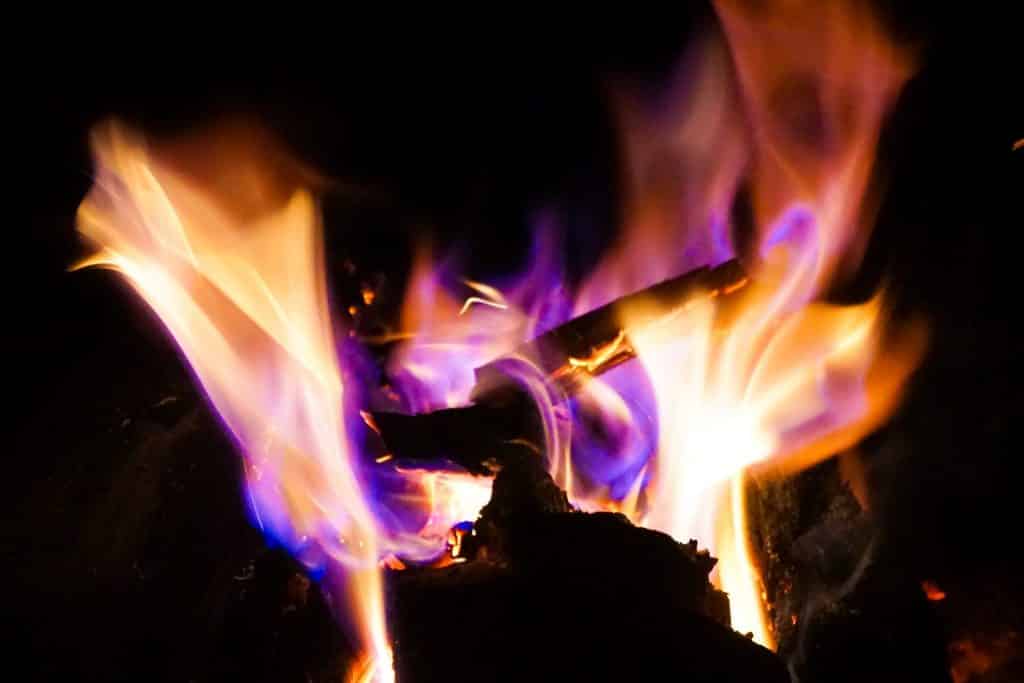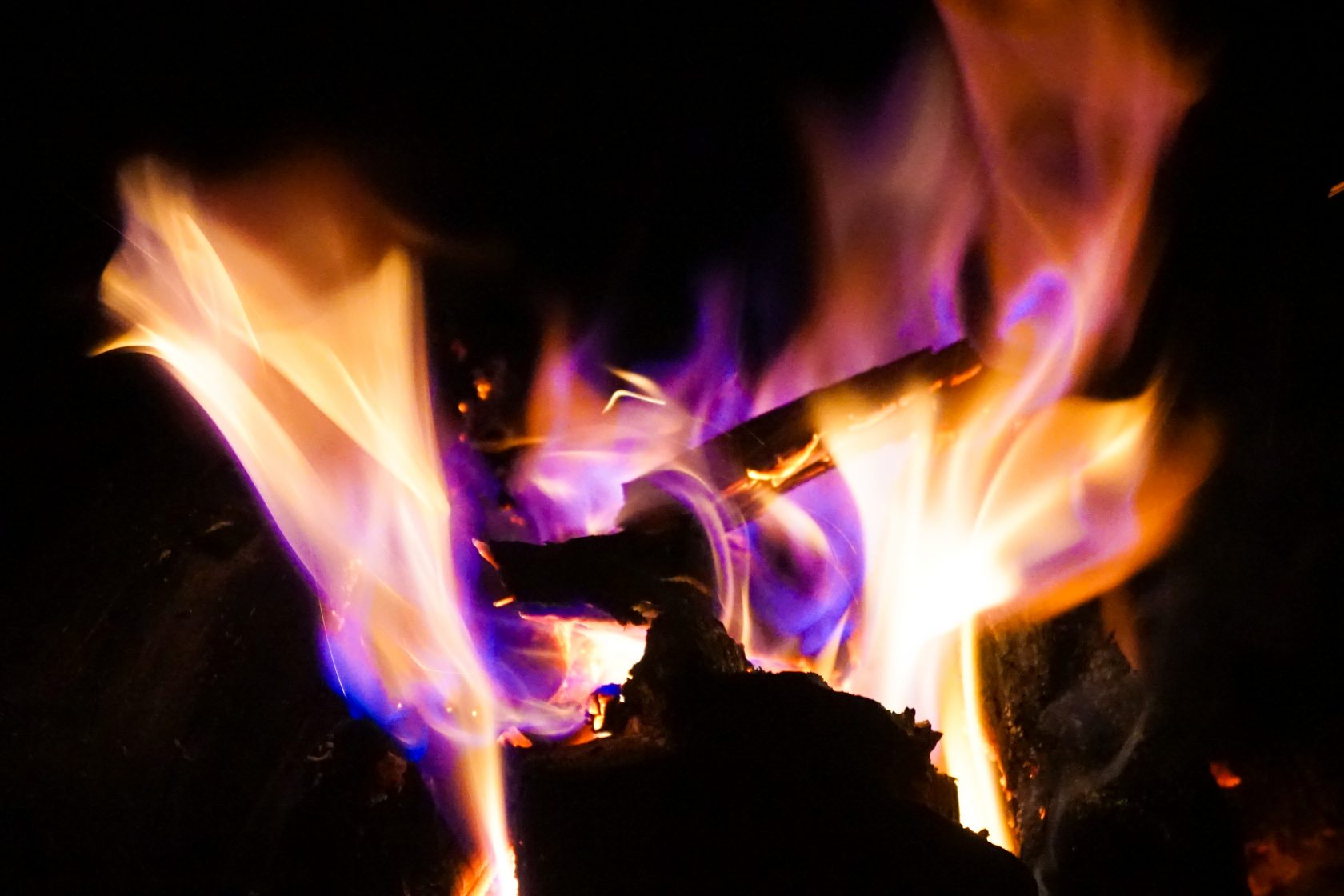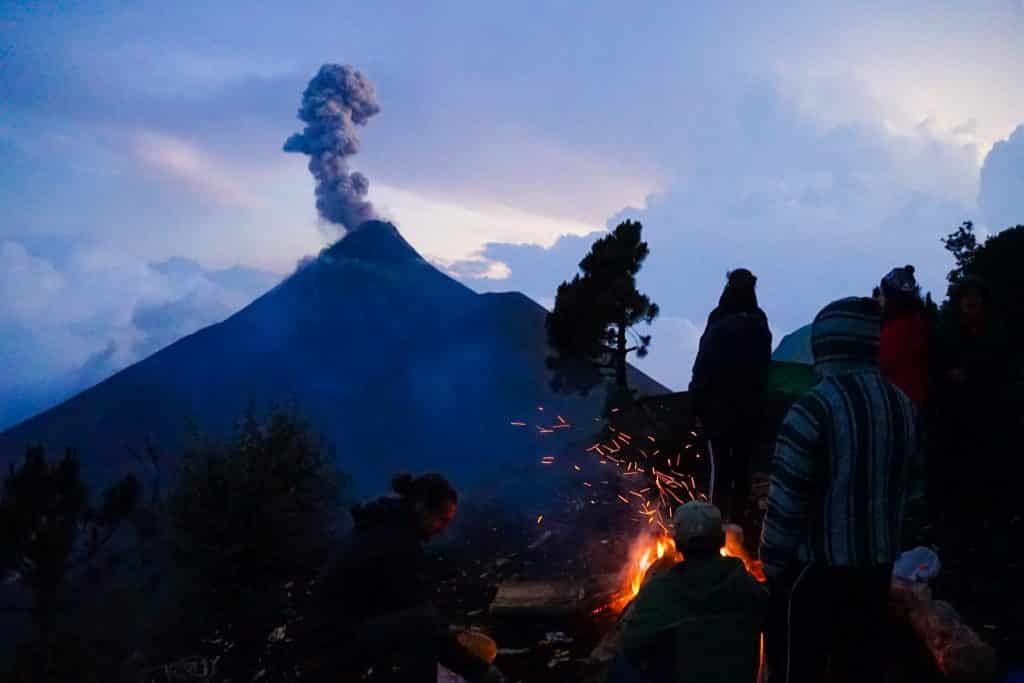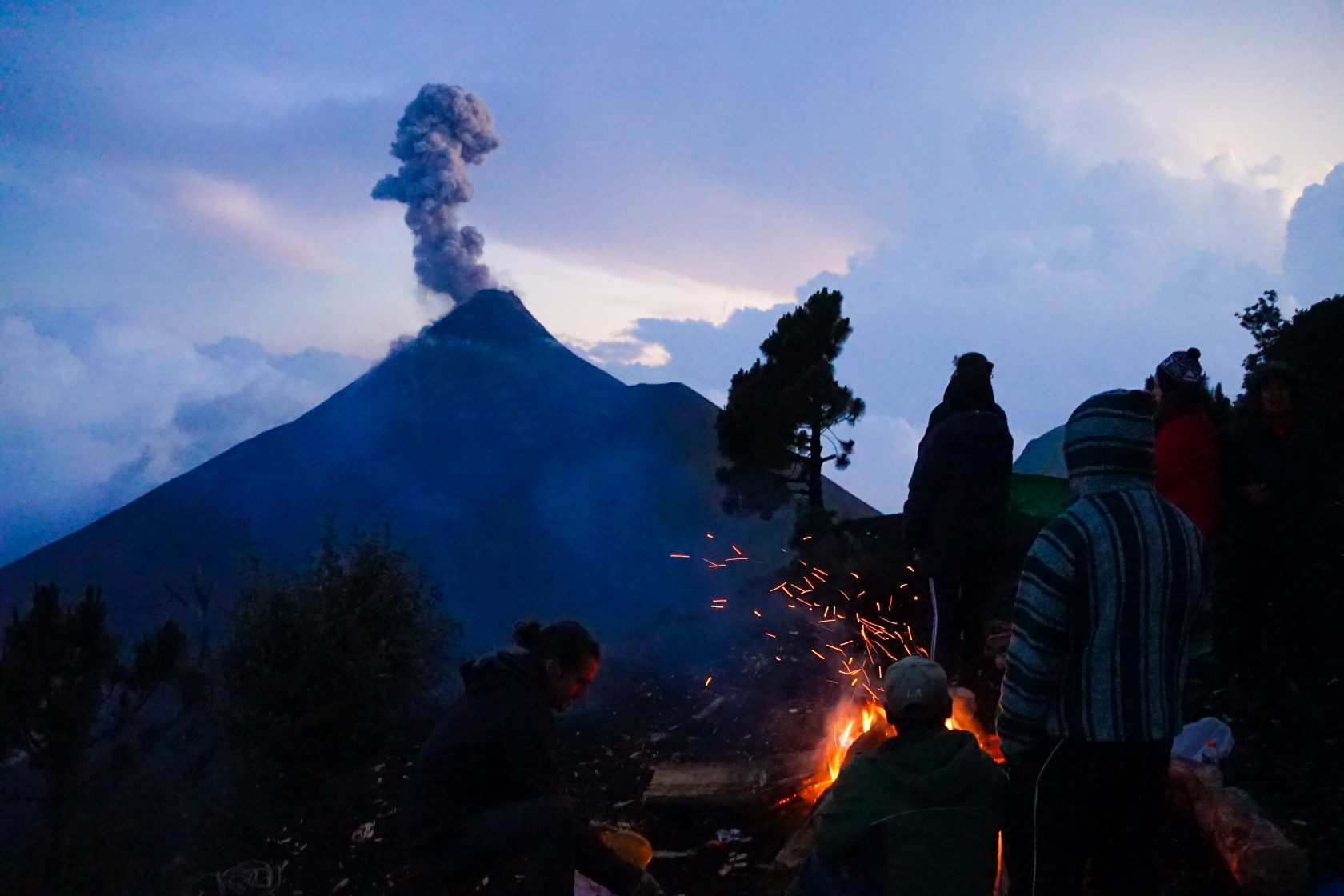 The next morning, well before sunrise, we started our final climb to Mount Acetetango to greet the new day but unfortunately the effects of altitude made the going pretty difficult for me and I decided to turn back 20 minutes into the 1.5 hour uphill slog.
It was the right decision for me, and turns out a pretty serendipitous one as Fuego had one hell of a morning eruption which I got to witness from the peace and tranquility of our camp while all the other groups were struggling to get to the top.
Banana bread with cream cheese in one hand, coffee in the other, laid out on a mat with the embers of last nights fire watching Fuego do her thing – well, lets just say it's the first time in my life I have considered become a morning person!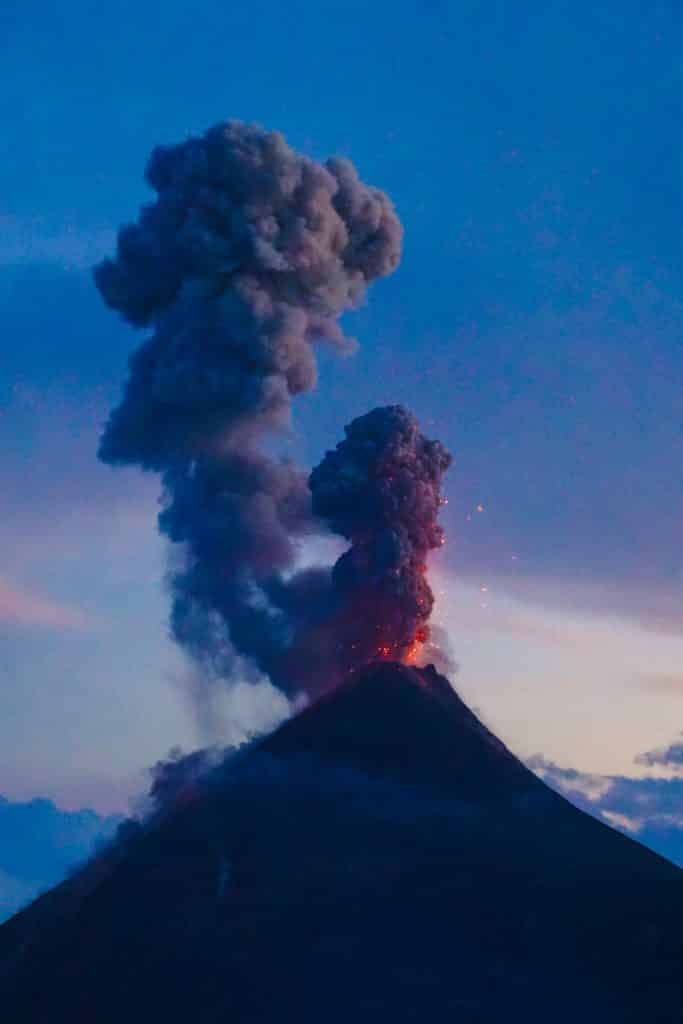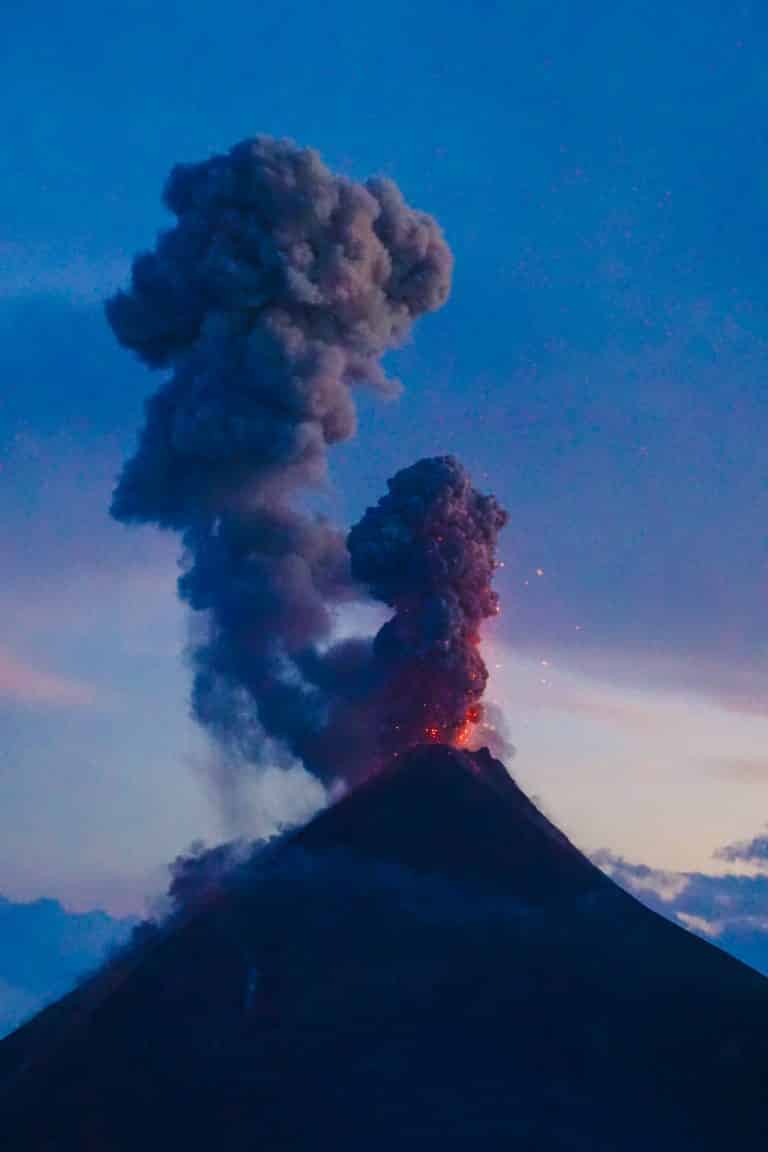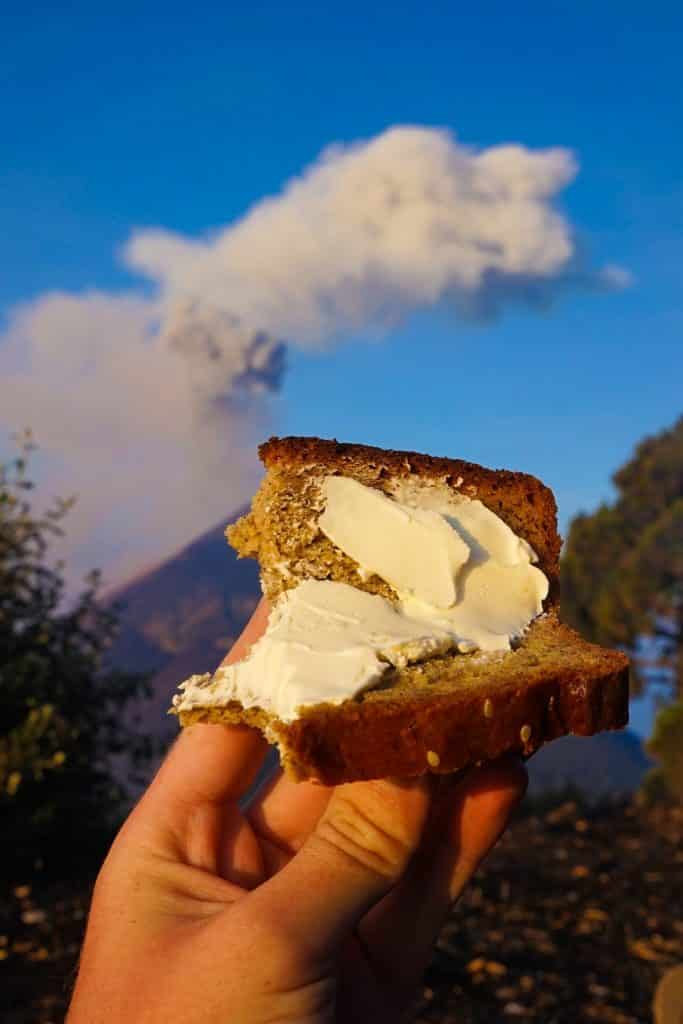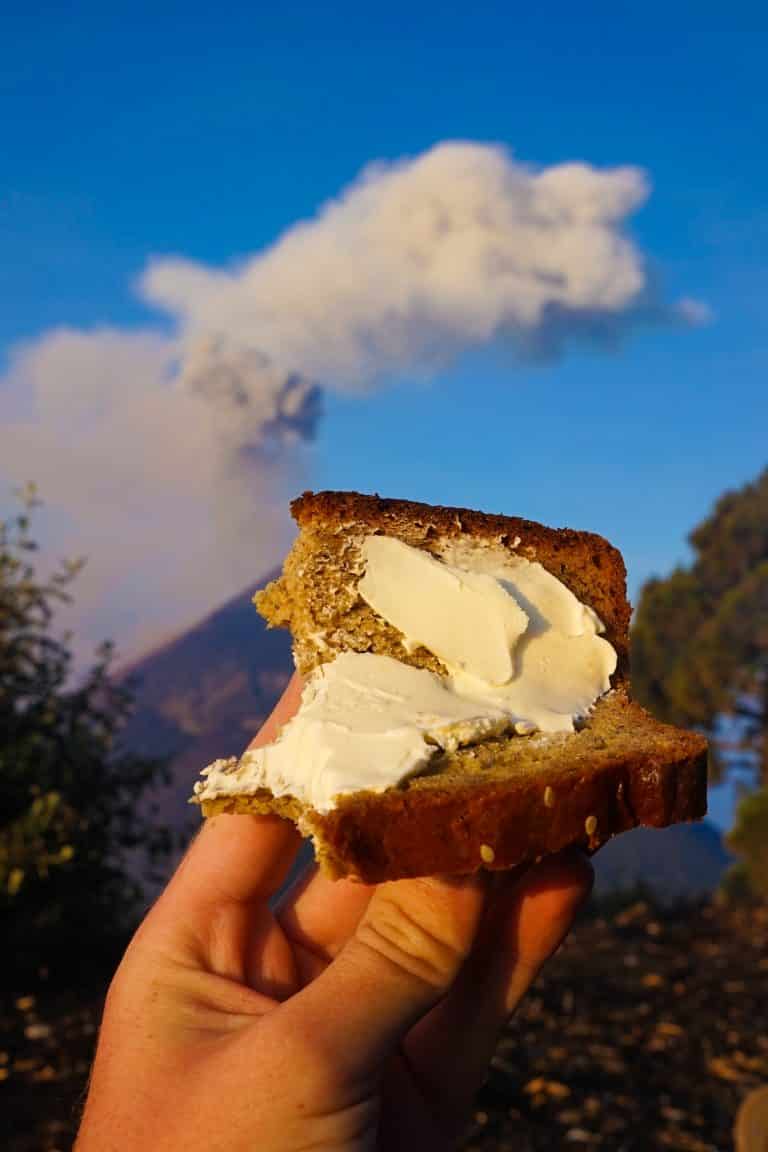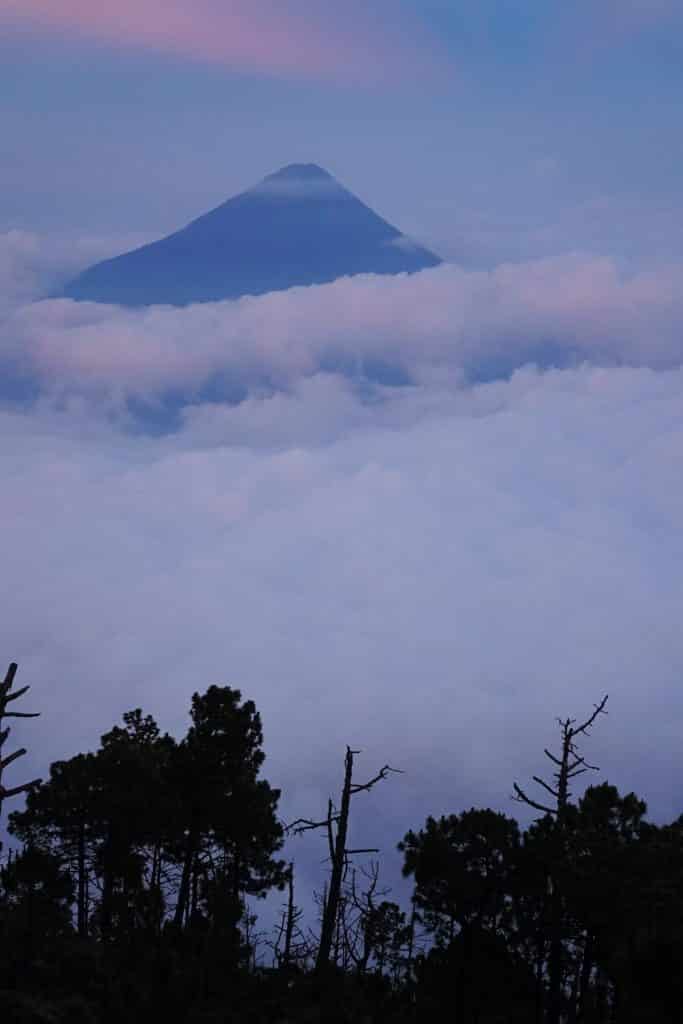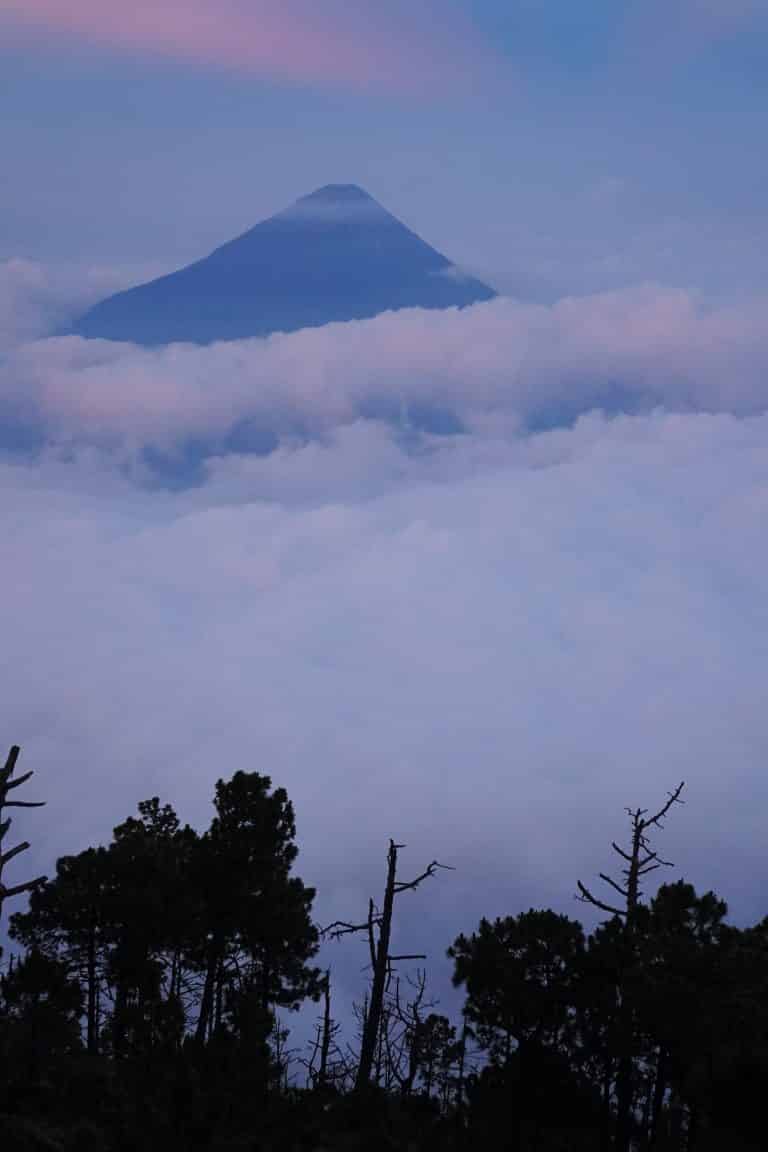 After breakfast at around 8am Miles packed up the camp and we started to make our descent as the morning mist hid Fuego from view. We had managed almost 18 hours up there with uninterrupted views throughout – in the so-called rainy season – and so I think we had just timed it perfectly.
Sadly I know other groups may not be as lucky, but considering we started the trek in torrential rain I would say to those wondering 'should I climb Acatenango' – ignore the weather reports as it's as changeable as it is unpredictable, and what is true in Antigua is likely not for the summit.
In every adventure there is an element of risk and the chance you might not see Fuego, however slim, should not stop you from at least trying. And when you see it, you will completely understand why and the risk, the pain of the hike and the bitter cold all become worth it.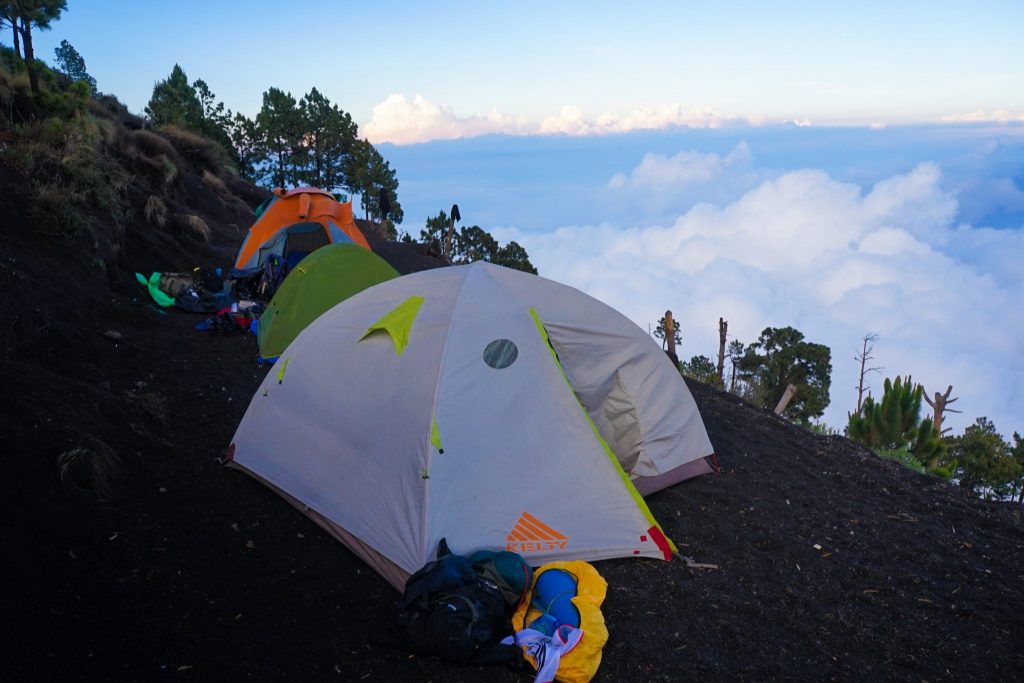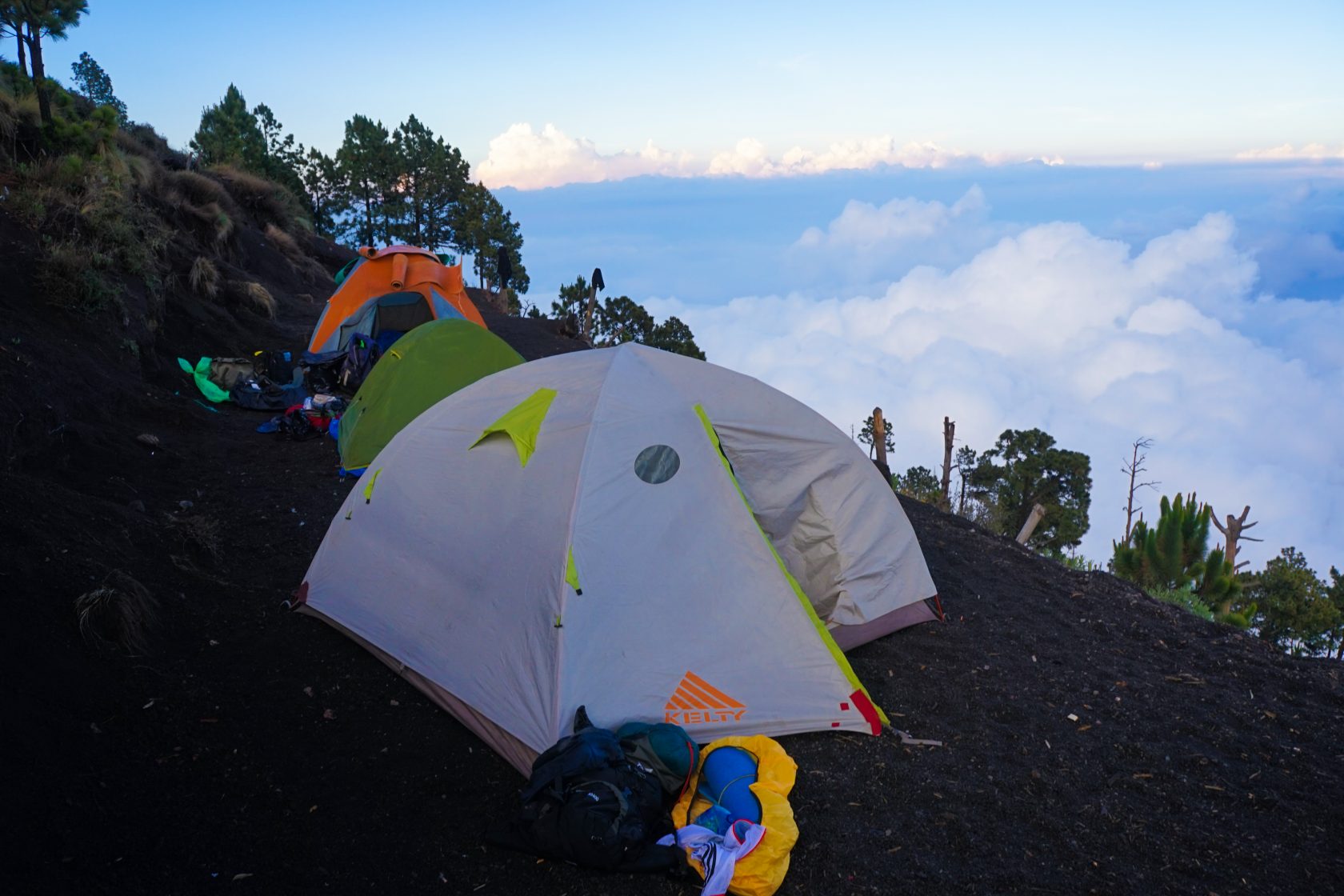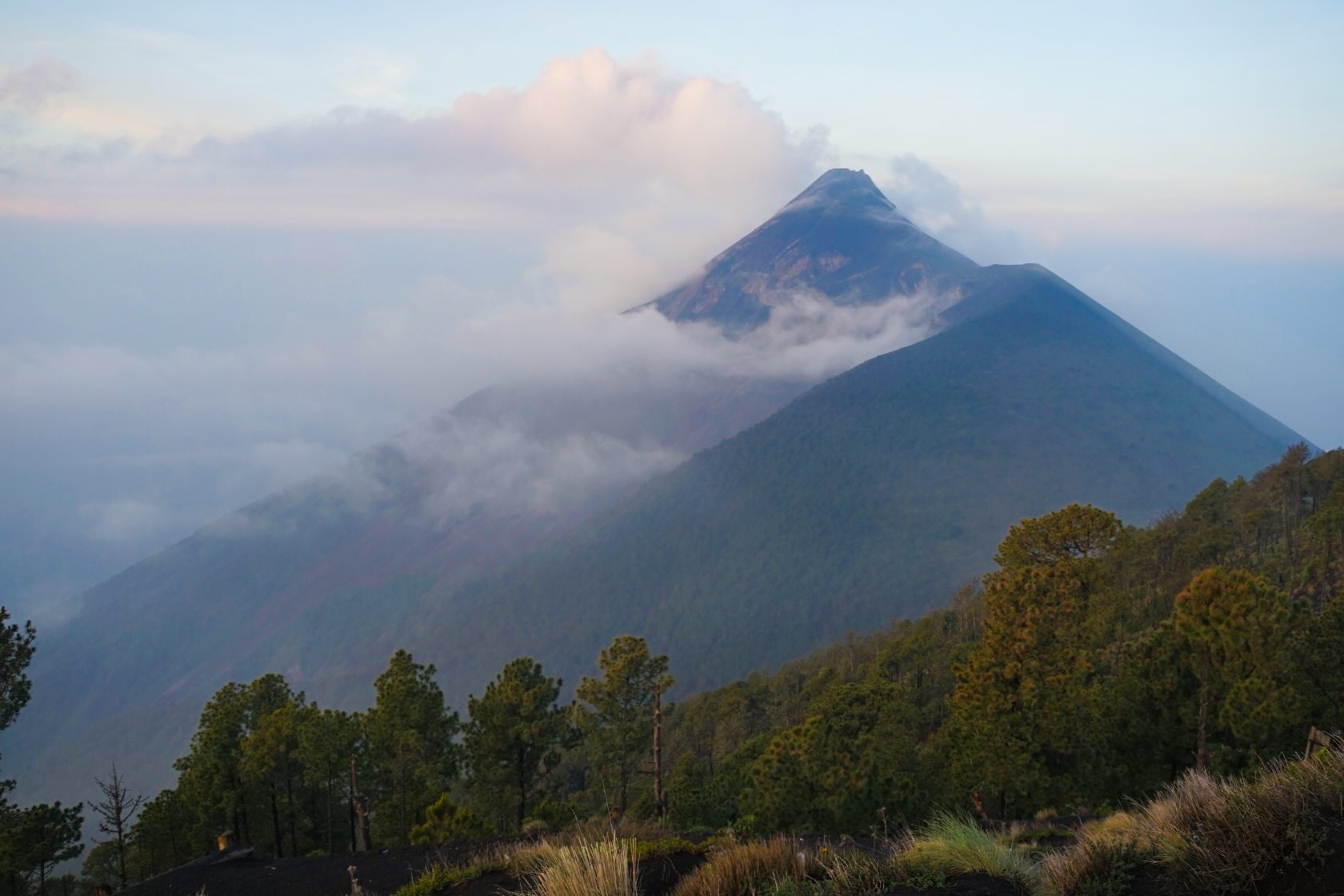 As for Ox Expeditions I highly recommend you pony up the extra cash – around 25% above the most budget tours – and really enjoy the experience.
I felt sorry for some of the other groups (and definitely felt their envy!) and truly believe we had a far greater experience for a little extra cost. The free-to-borrow clothes, great food, professional Western mindset and safety briefing made everything easier and elevated the entire experience.
I cannot stress the safety component of this enough as six tourists did recently die on Acatenango (January 2017) due to exposure. Many other local tour organisers tend to underestimate the risks of the volcano and you do not want to be caught out with substandard service or equipment in freezing temperatures.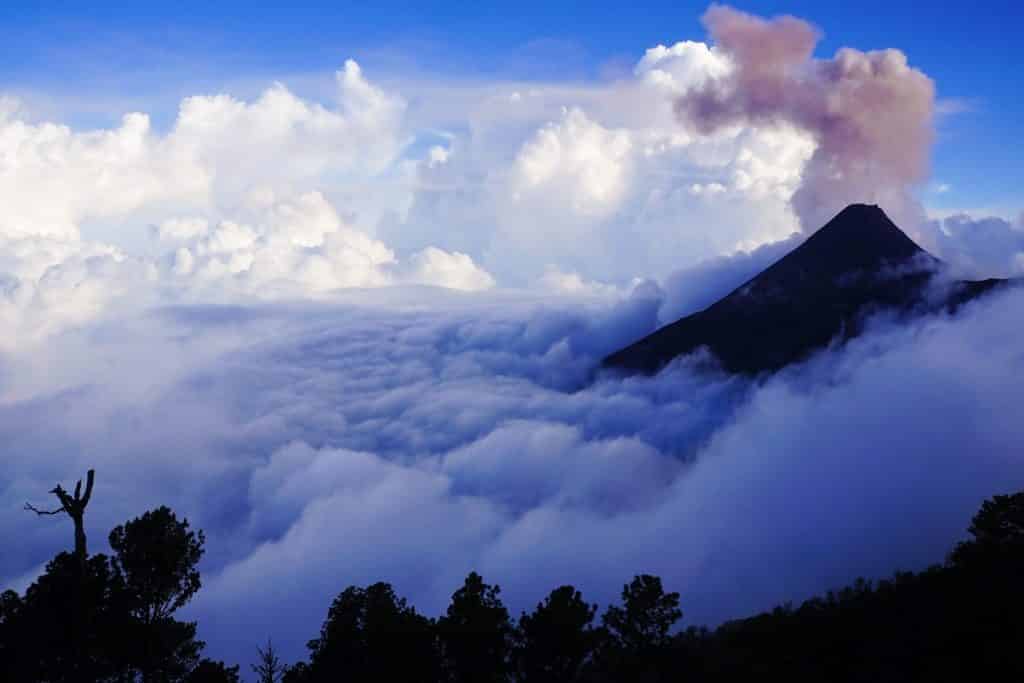 However with proper care and attention this should not be an issue and so I recommend the overnight Acatenango tour over the one day Acatenango climb option with any volcano tours in Guatemala.
This is because unless you seriously have no other choice as it's an intense, grueling slog up and down Acatenango in the same day, and you will have limited top time to wait for the weather to clear or to see an eruption. If you have less time, or just can't get enough of Volcano's Ox Expeditions also had a wide range of other volcano and adrenaline related tours which could fit the bill – I wish I had done Pacaya now!
Oh – and if you are looking for somewhere cheap and cheerful to unwind after (or to roll out of bed at 6am!) Ox also have an adventure hostel at their office so you can hang out with your group a bit longer when you get back and not have to worry about anything except showering and sleeping!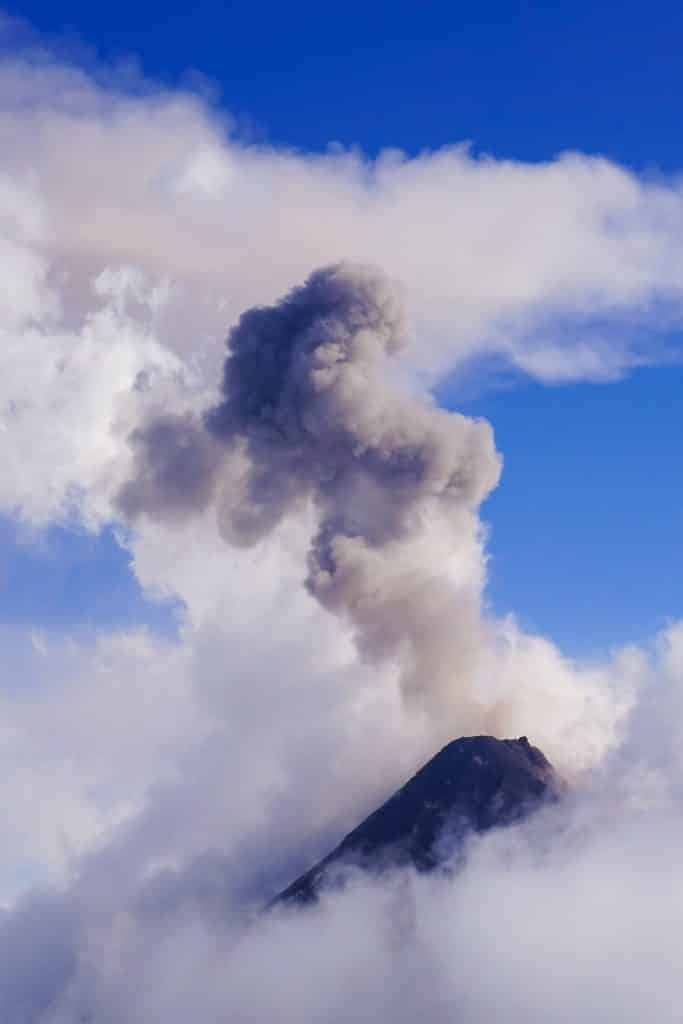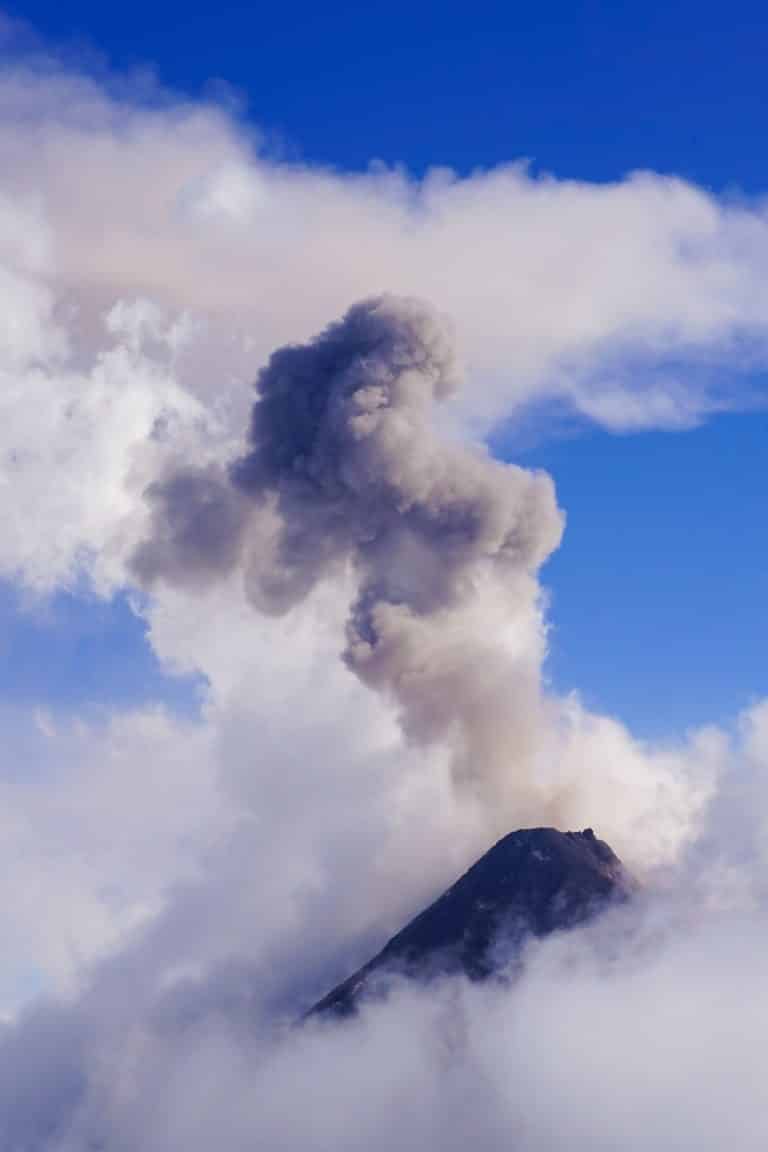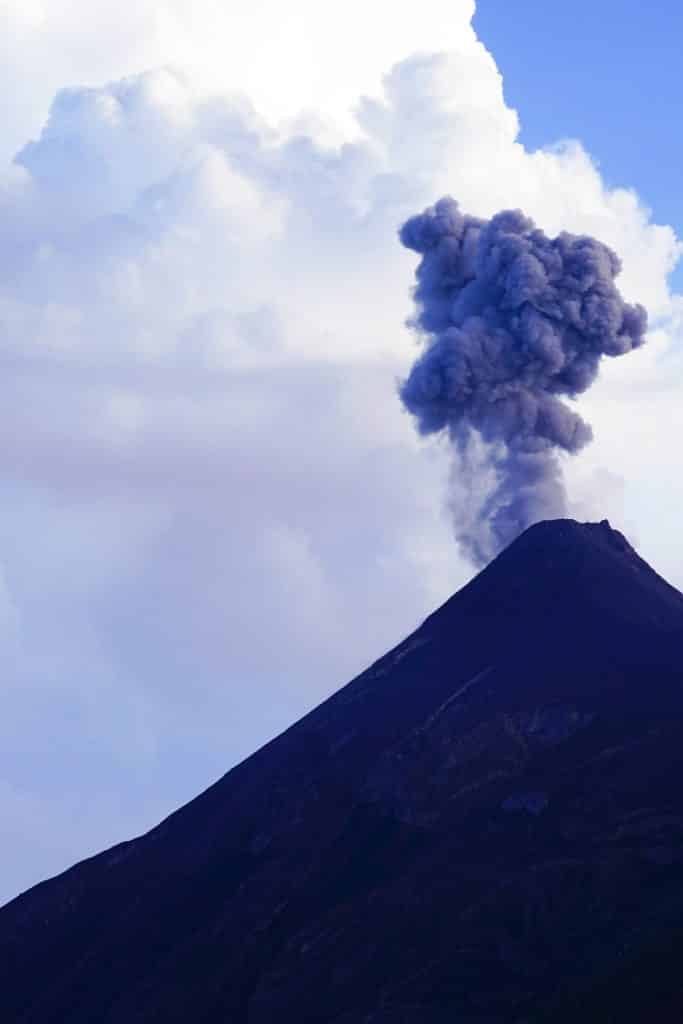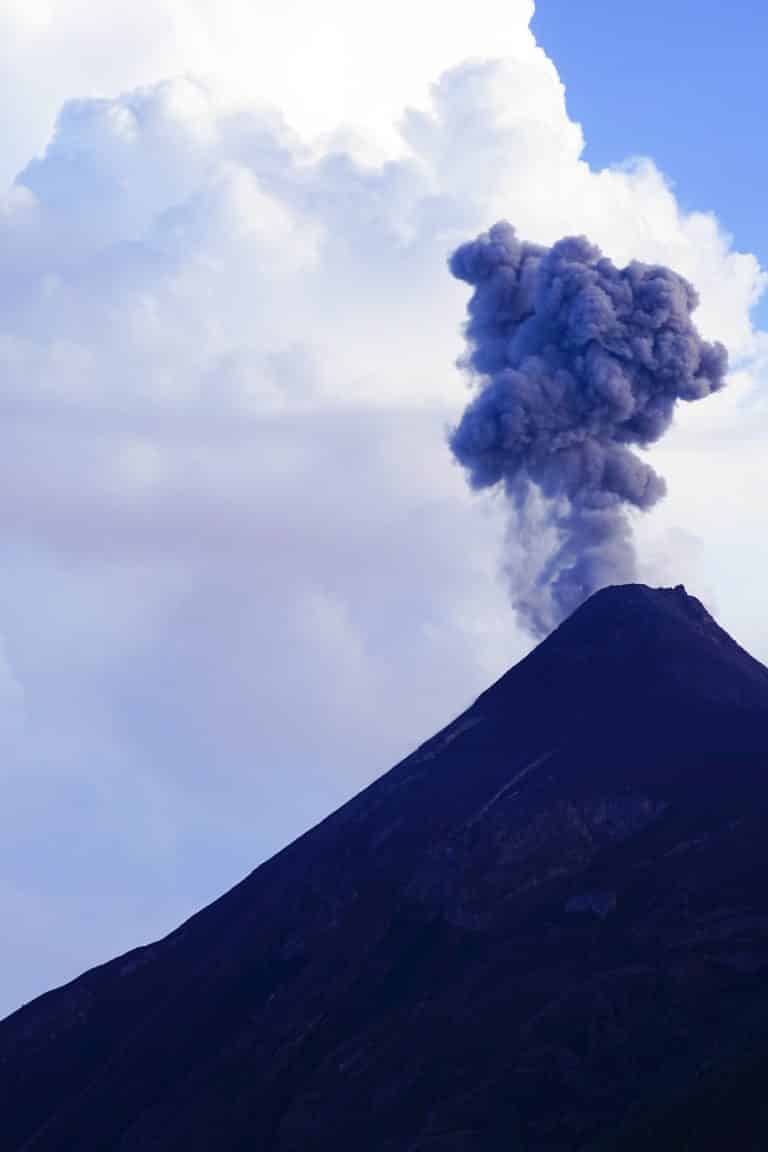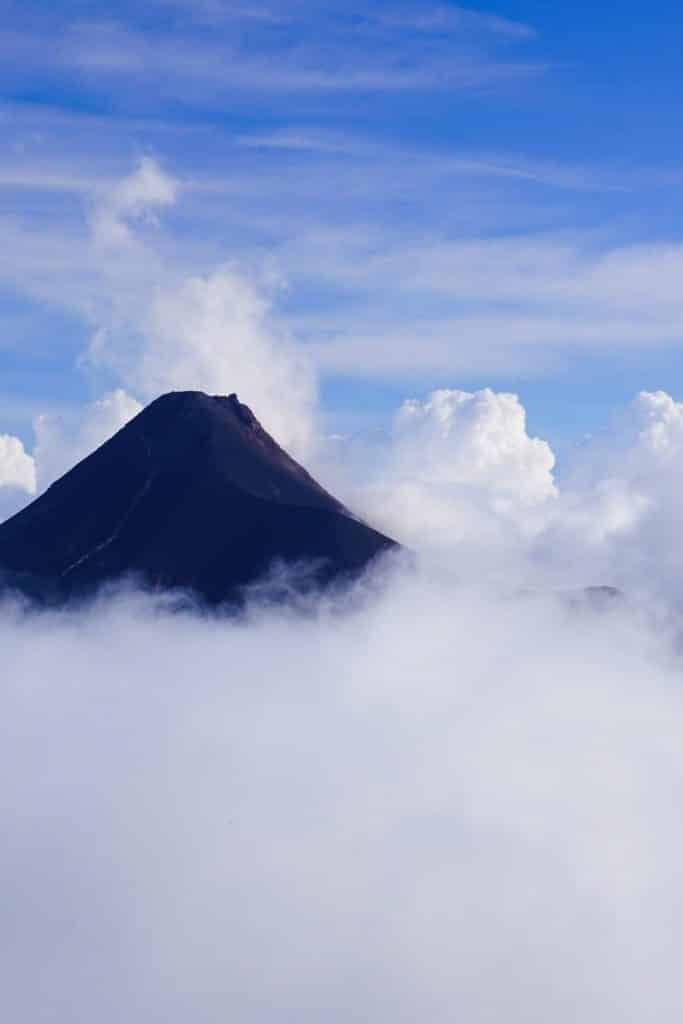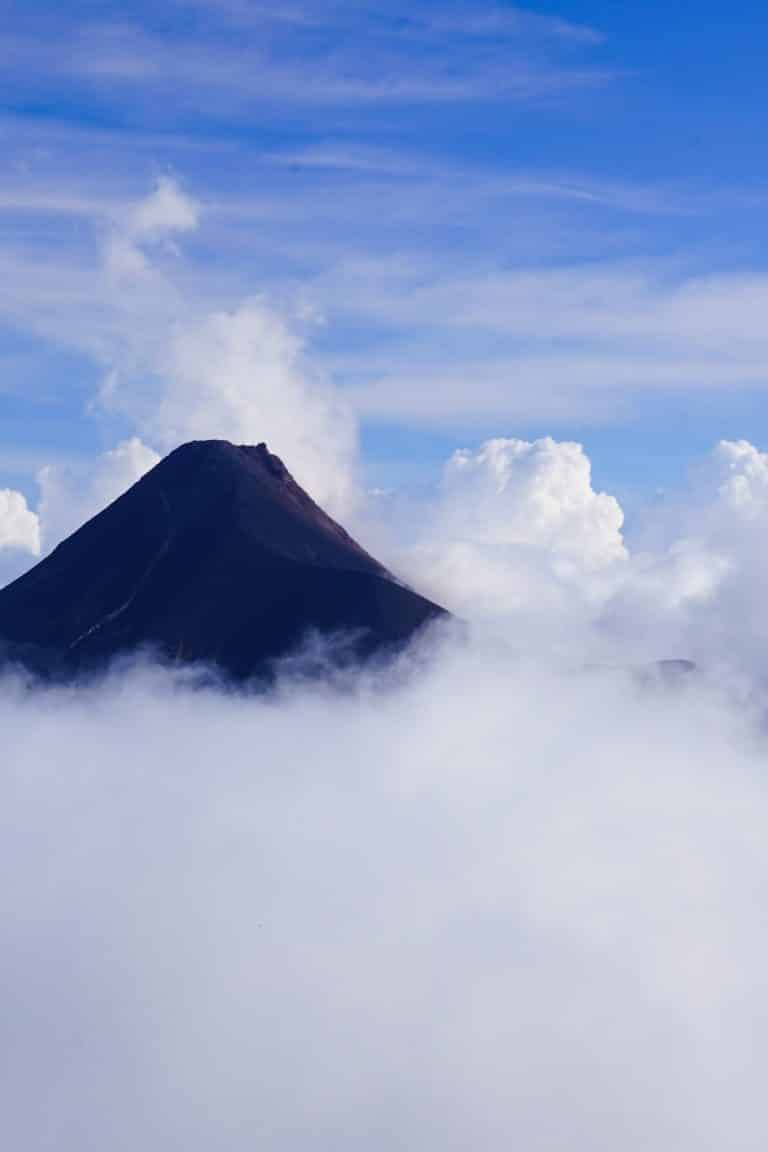 ---
Climbing Acatenango from Antigua Guatemala and seeing Fuego Volcano – the most active volcano in Central America – erupt was an epic adventure and should definitely be on your Central America Bucket List.
Not only is it one of the few places in the world where you can see a volcano erupting, but you also get to view the stars, make new friends and summit one of Central America's tallest volcanoes. Not bad for one tour right!
Talk to Ox Expeditions for all your Antigua Guatemala volcano tours – You will not regret it!
Further Things To Consider Before Any Adventure
Now you're all set and prepared to explore our big wide world, why not sort out everything else out all in one go? If necessary for your travel plans make sure you have brought proper travel insurance, protected your privacy by getting a secure VPN, compared all the top hotel booking sites to find just what you're after, reserved an unbeatable rental car price and - of course - booked the best flight deals!
Or maybe just forget it all and go for a last-minute cruise or effortless tour instead?
Many budget travelers (including me) indulge in worldwide airport lounge access, so we can experience luxury while still slumming it in economy. Naturally, we would never leave home without a more general travel guide since we couldn't possibly cover everything here!
Just add an adventurous attitude and plenty of smiles - they go a long way - and that about covers it all! Now go out, find your own path and don't forget to share your best inspiration stories with me on Facebook, Twitter, and Instagram...I'd love to hear from you!