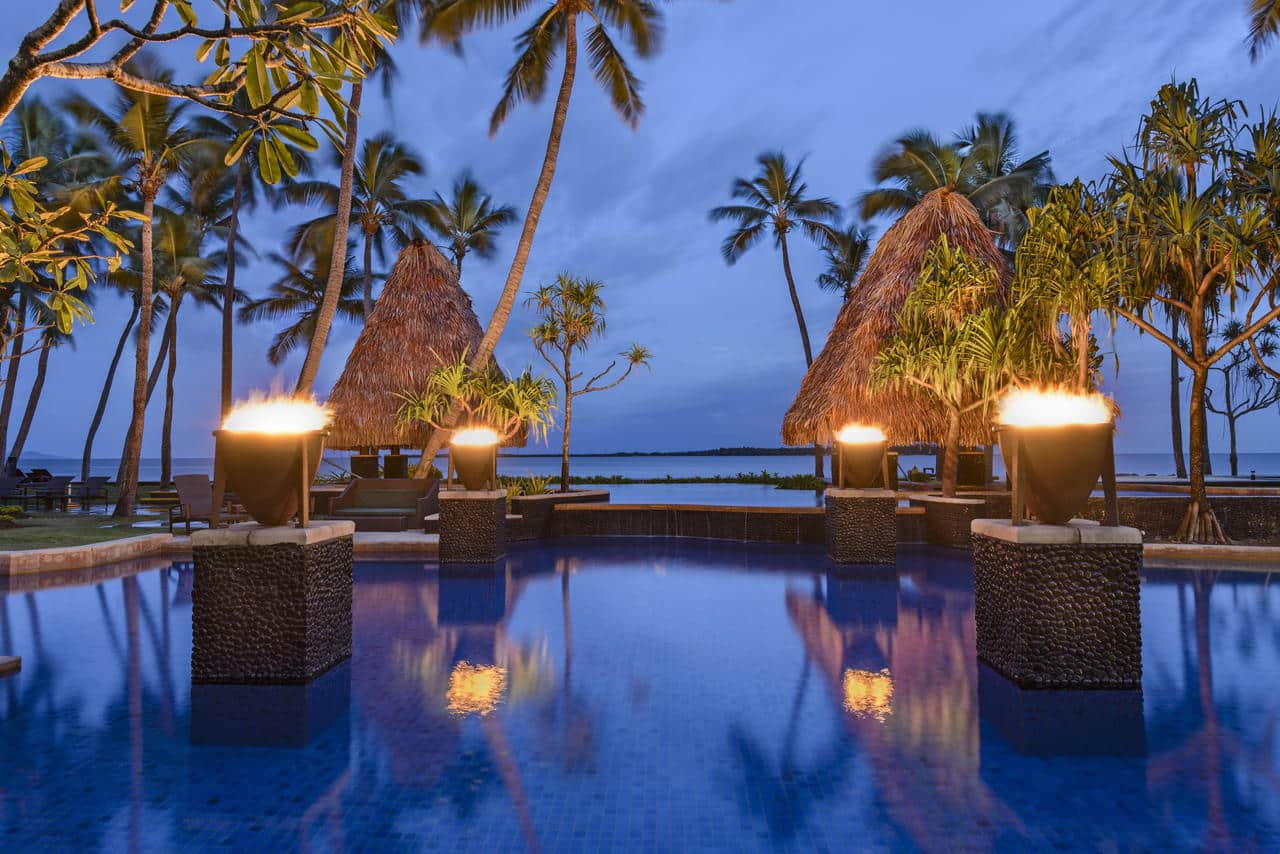 It's hard not to believe that Fiji is one of the closest places to heaven on earth. The lush foliage gently blowing in the sea breeze, the waves lapping at sandy shores, cocktails on the beach… I mean, it's pretty perfect.
With 333 islands on this archipelago to choose from, it can be tough to narrow it down. Each place has a different feel so it's worth doing a bit of research before you choose your location.
If you love secluded luxury, then we'd suggest a trip to the tiny and gorgeous Denarau Island. The 2.55 square kilometre island is connected to the mainland by a small bridge and is easily accessible from Nadi and its international airport. This convenience combined with the great facilities and elegant resorts make it the perfect escapist holiday location.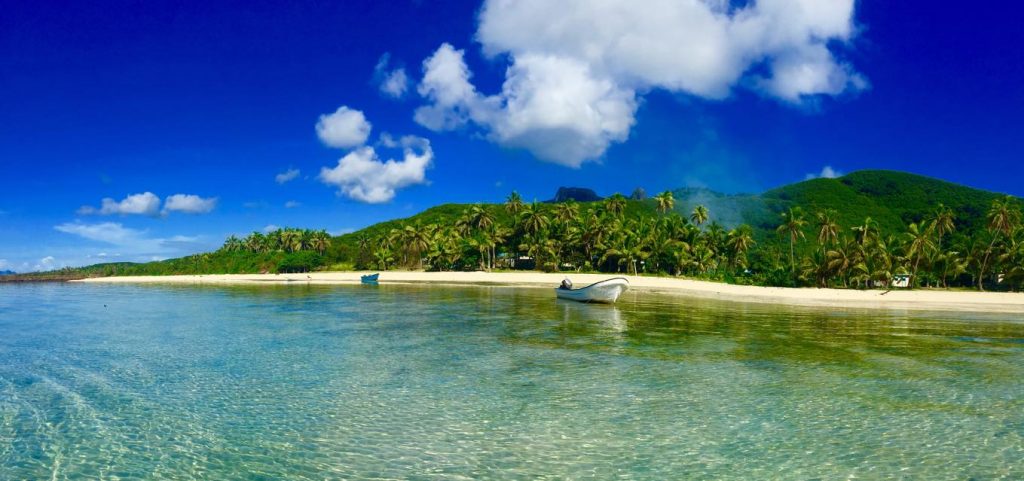 There's something to do here for everyone, whether you just want to chill on a sun lounger or are interested in something a little more active. The excellent golf course, where international tournaments sometimes take place, is a great location to tee off or take a lesson. There's a waterpark if you're travelling with a family (or are in touch with your inner child!).
For those of you who love learning new things about the place you're visiting, there's a fantastic cooking school on Denarau Island where you can learn to make Fijian and Indo-Fijian dishes. It's a really unique thing to do and a great way to meet people as well. Of course, if you prefer the eating side of meal preparation then you could visit one of the restaurants around the island or at one of the Denarau Island hotels.
There's all this plus the opportunity to take part in water sports, go shopping, spend a day in the spa, enjoy a sunset cruise or head out to the Yasawa Islands. If this hasn't convinced you yet, just take a look at some of the best Denarau Island hotels you can choose from.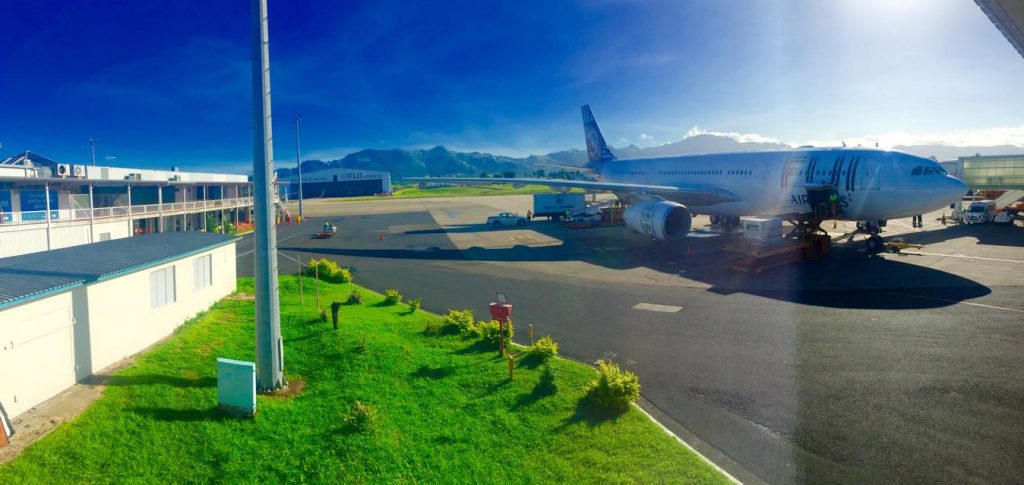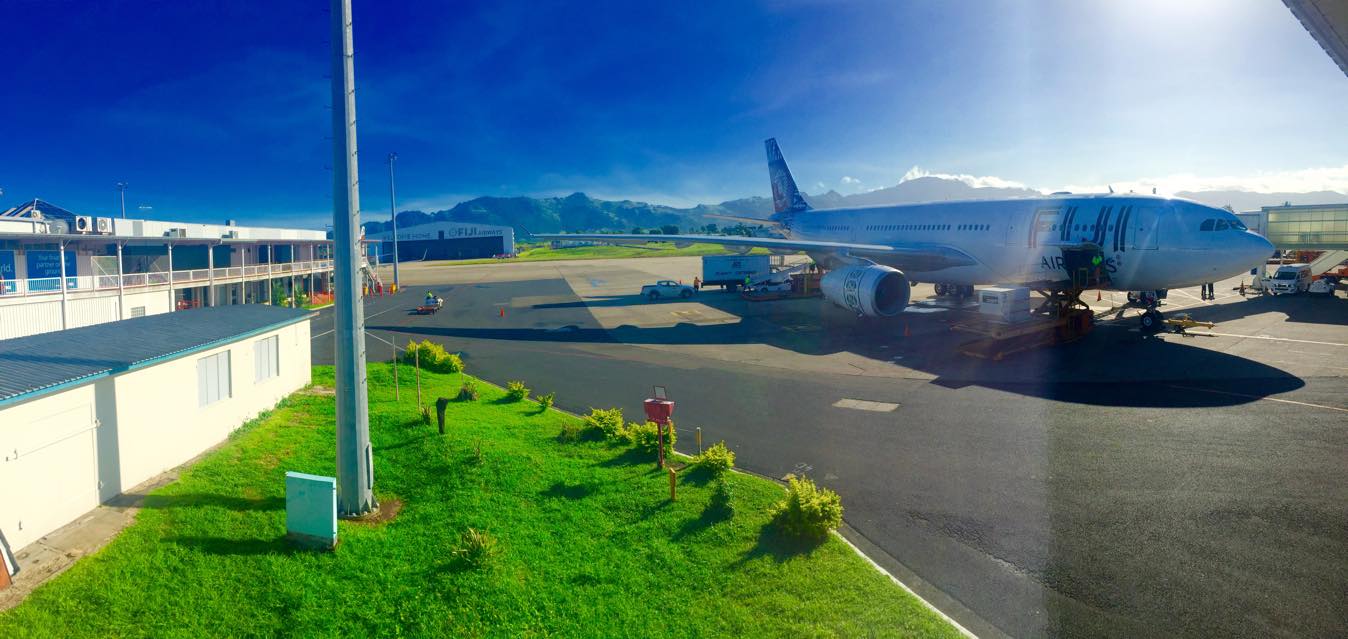 Fiji Travel: The Best Denarau Island Hotels – Options To Suit All Tastes 🌴
Absolutely one of the most luxury options on Denarau Island, this expansive resort includes six swimming pools, the island's golf course and 10 tennis courts. Yup, it's massive! And on top of all of this, they share facilities with the Sheraton property nearby, so you'll never be bored.
It's set right on the beach and everything you need is on-site; if you do want to head out and about, guests have use of the bus service and it's only a 10 minute drive from Nadi Town. Why you'd want to leave is beyond us, though – with all the leisure facilities they have, plus three on-site restaurants, there's more than enough to keep you occupied here.
Choose from a range of suites and rooms, with garden views or ocean views. We think it's particularly good for families as your kids will be able to splash around in the pool, the food is good for all tastes and the staff are simply amazing. It's hard to find such friendly service elsewhere, which is one of the things that make this resort stand out.
[one_third]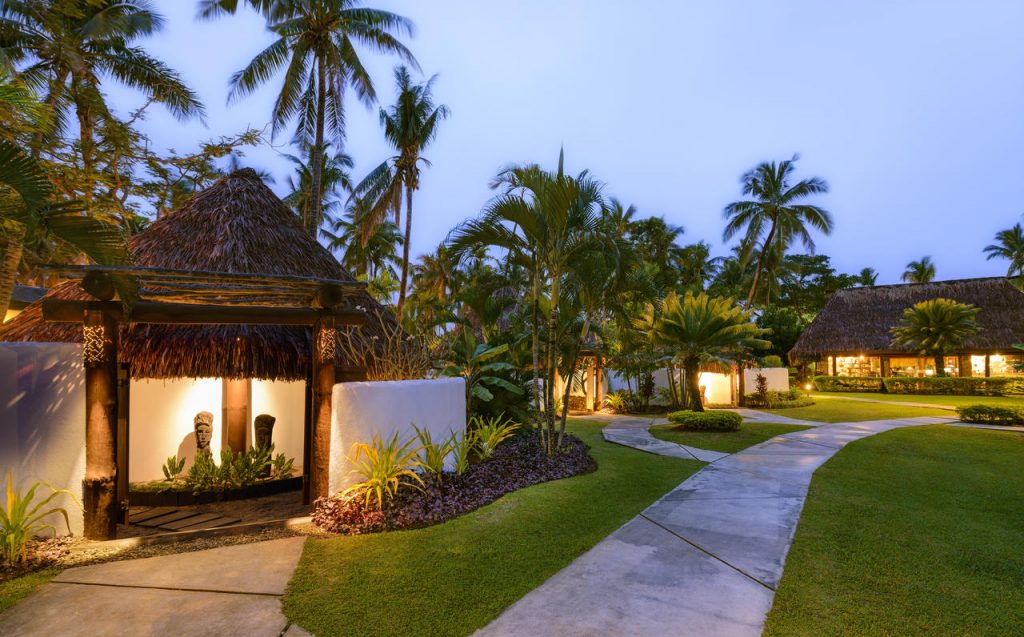 [/one_third][one_third]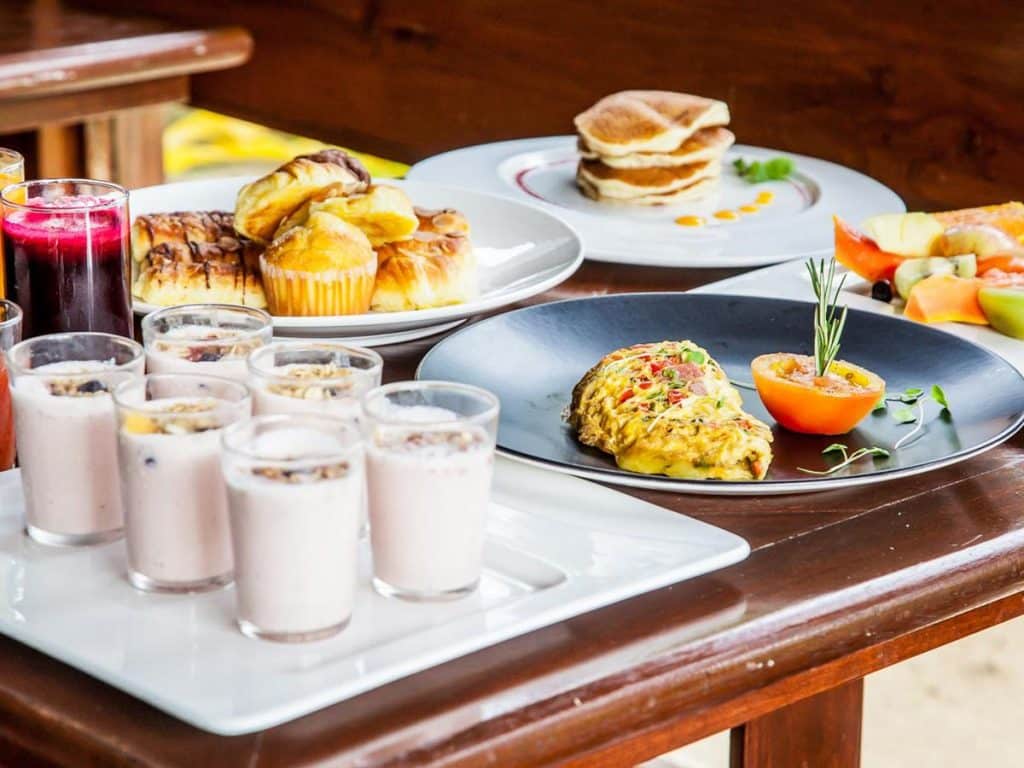 [/one_third][one_third]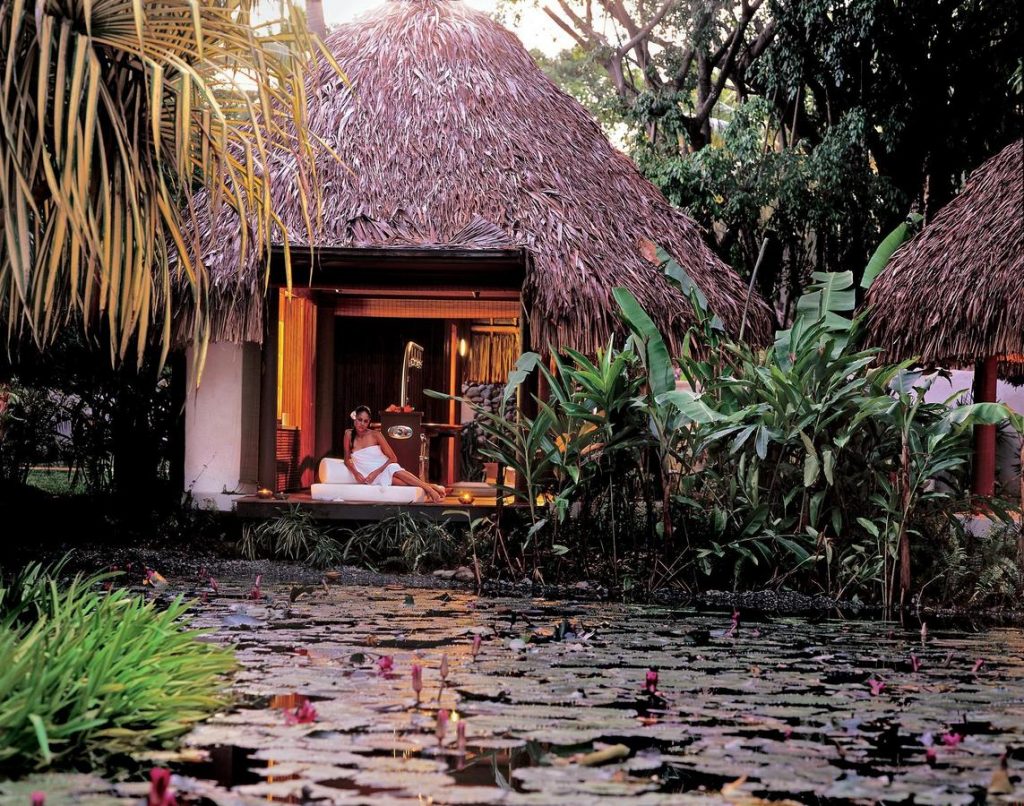 [/one_third]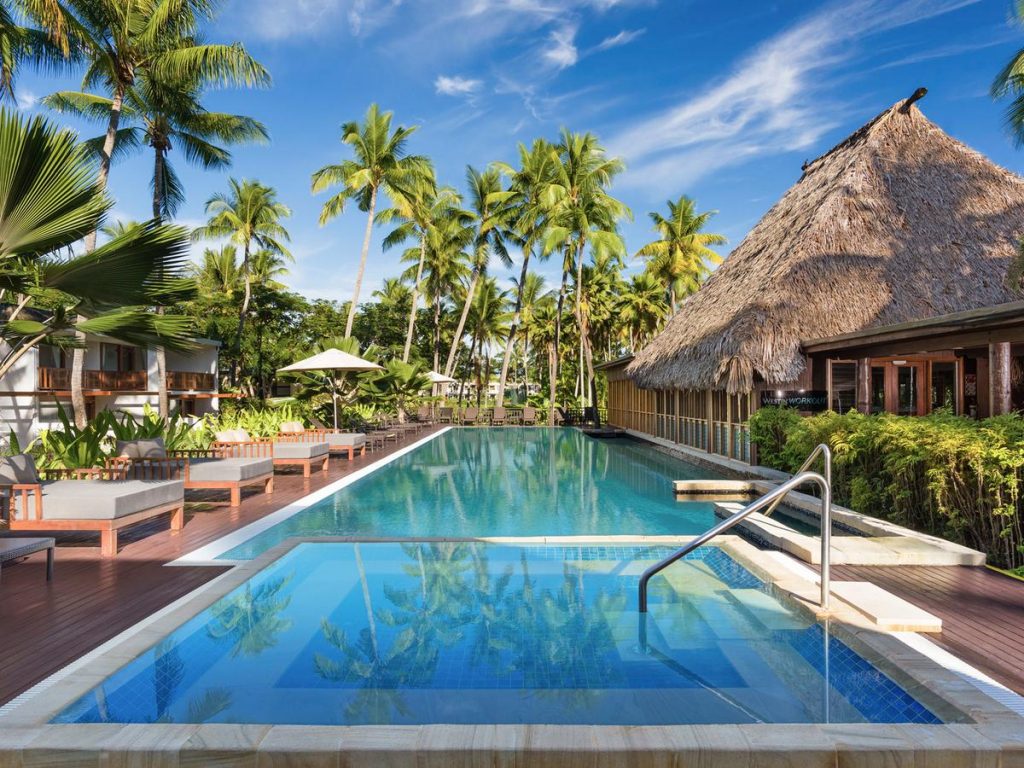 10 acres of stunning beach land on the border of the golf course is home to one of the finest Denarau Island hotels: the Radisson Blu. A lagoon-style swimming pool is the centrepiece to this 270 room resort which is perfect for families and couples alike.
As you would expect from a Radisson hotel, there are excellent facilities – aside from the gorgeous swimming pool you have five restaurants, a kids club, a spa with massage service and a range of outdoors activities on offer. The gardens, with an attractive waterfall, are also lovely to wander around in.
There's a huge range of rooms, from one-and-two bedroom suites to superior lagoon view. They are all elegantly designed with nice touches of colour and are kept impeccably clean. It might be a chain, but the atmosphere and service feel personal.
[one_third]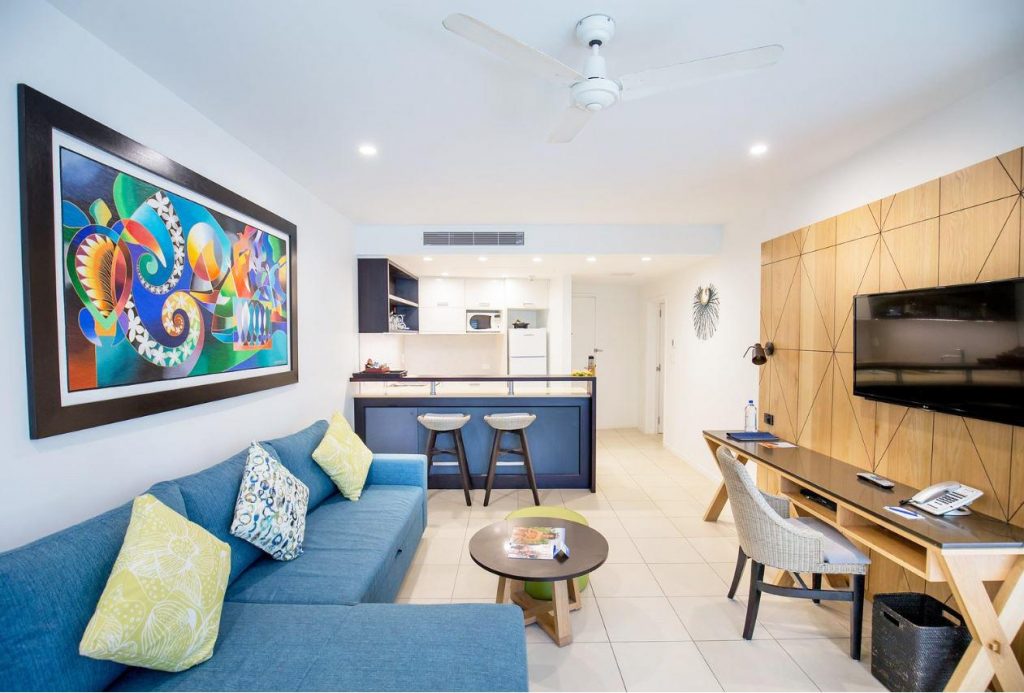 [/one_third][one_third]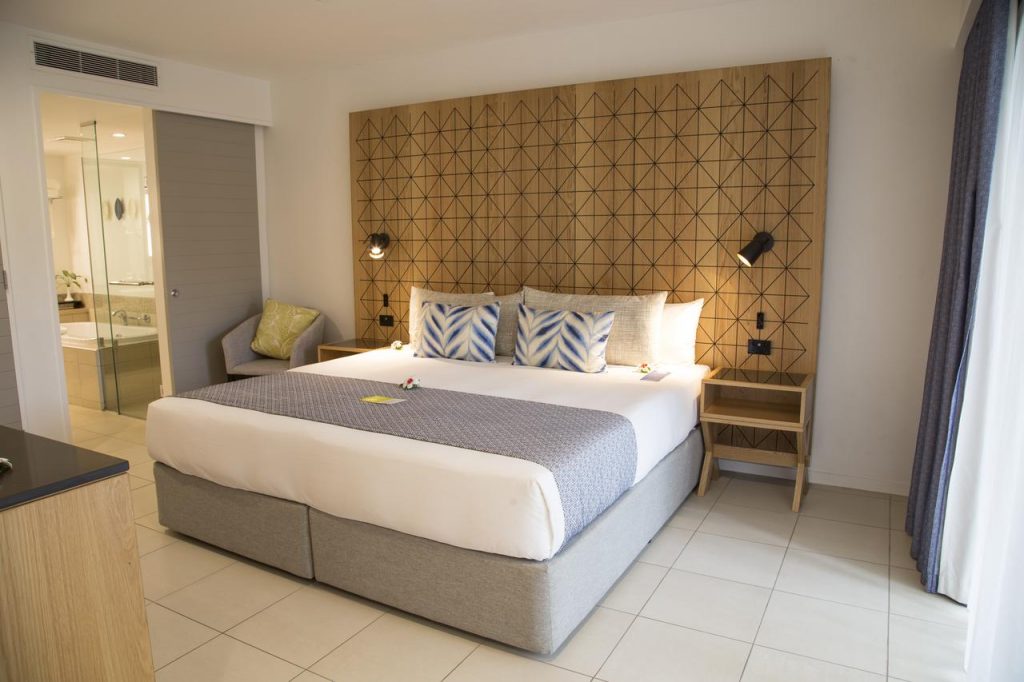 [/one_third][one_third]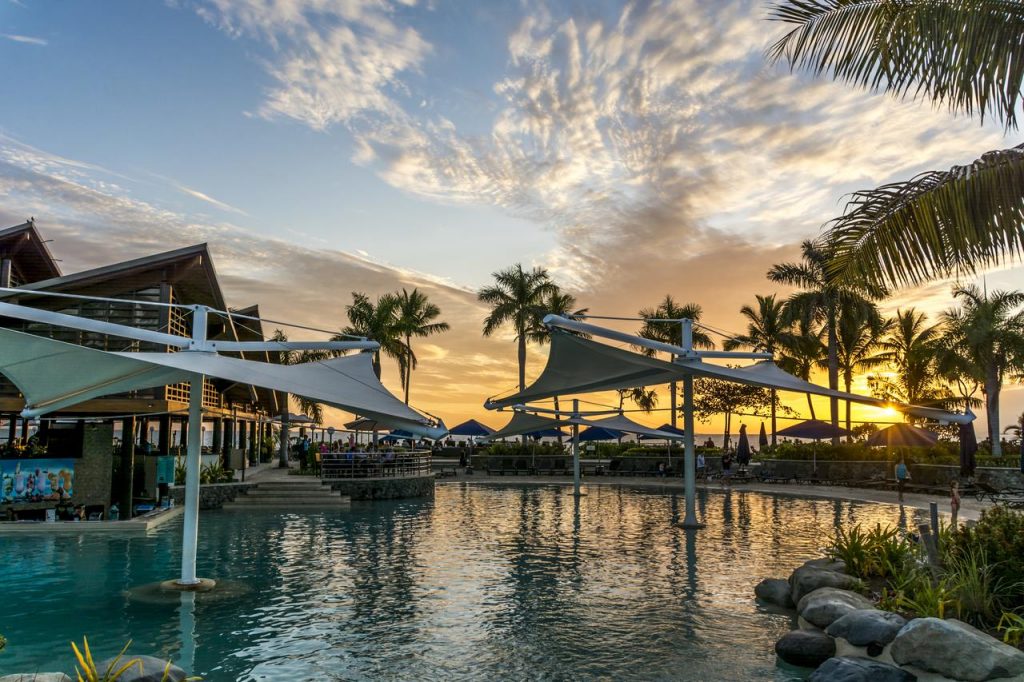 [/one_third]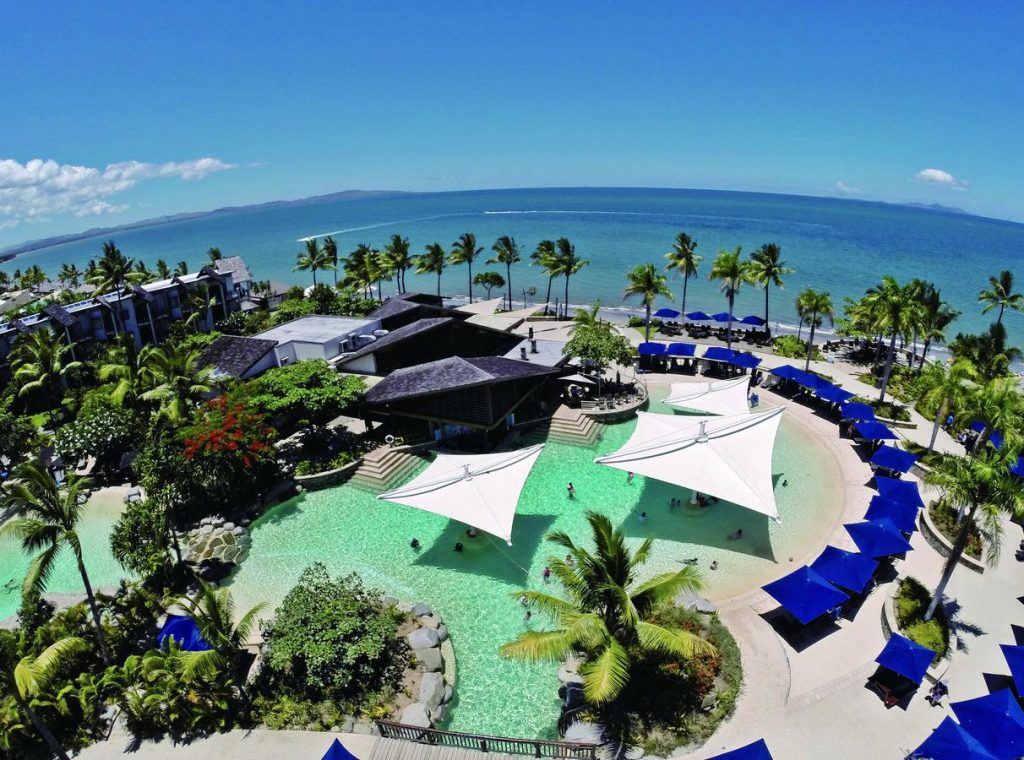 This sprawling resort might be along a beach shared with other Denarau Island hotels, but the lush foliage that surrounds it makes it feel secluded and intimate. You'll love strolling through the grounds being greeted by the super-friendly staff, knowing that you have days ahead of you to enjoy the lagoon pool and other facilities.
Most of the 296 rooms have a view of the ocean and all are extremely well-equipped with TVs, air-conditioning and private balconies. Have a lazy morning at the delicious breakfast buffet before taking part in the snorkelling on offer; or to continue the chill-out, head to the spa with its massage pavilion and open-air shower.
There are three restaurants to enjoy and the environment is great for kids. If you are travelling as a couple or with friends, you could also get included access to the adult-only beach club for a little more peace and quiet near the water!
[one_third]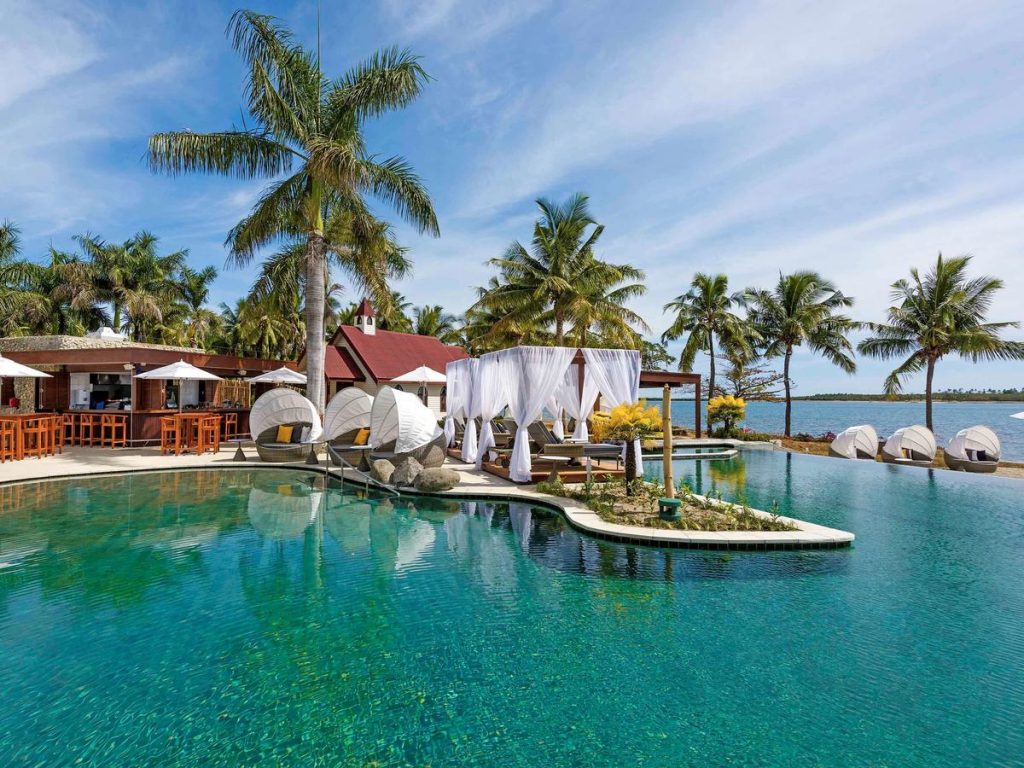 [/one_third][one_third]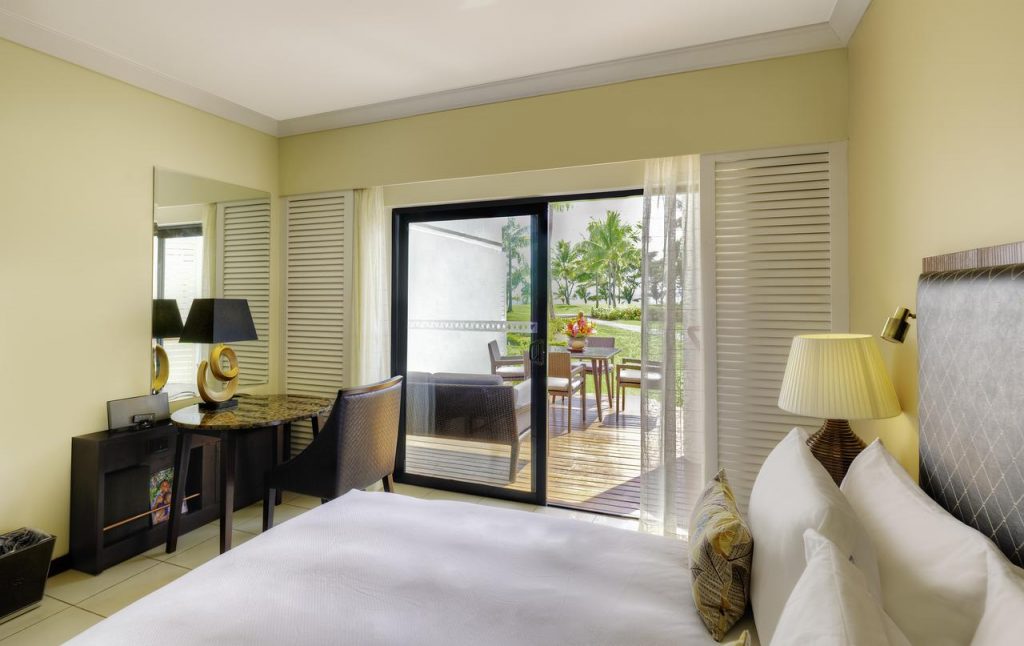 [/one_third][one_third]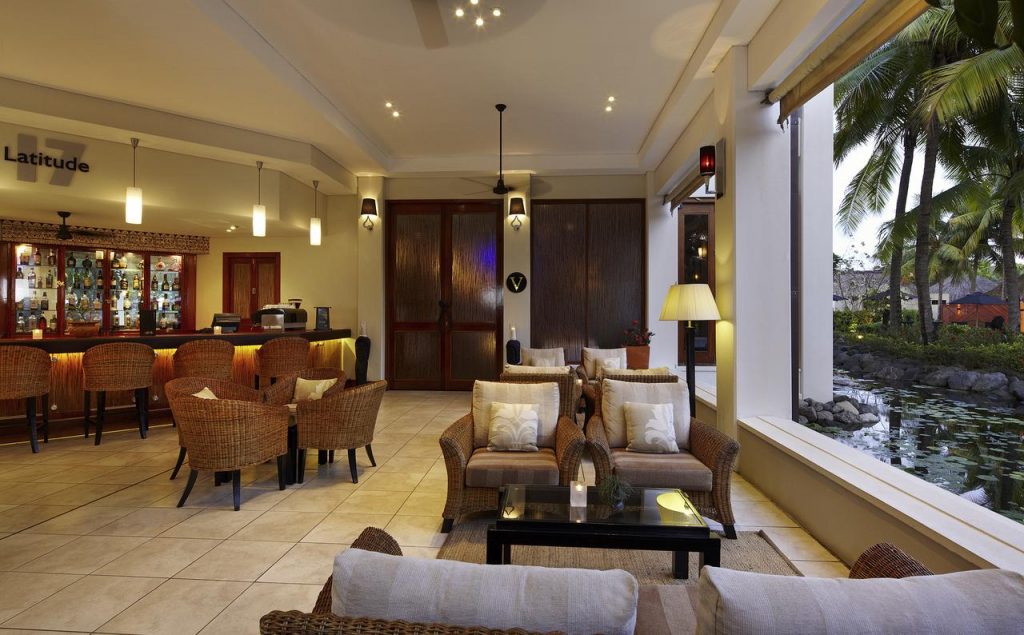 [/one_third]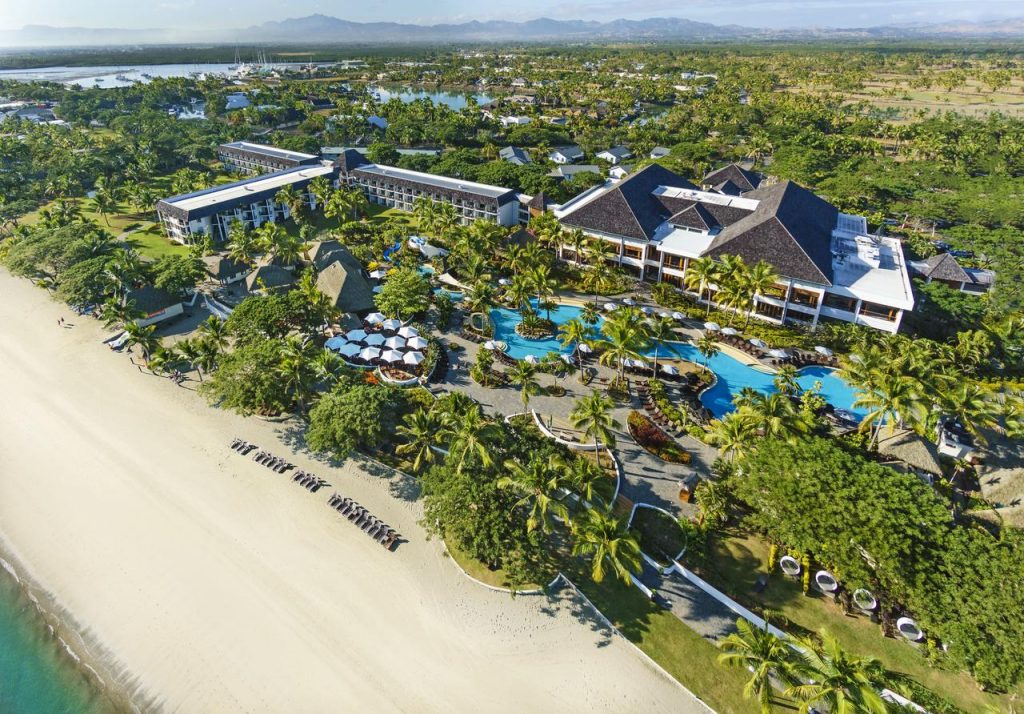 Another day on Denarau Island, another fabulous luxury resort, this time the Hilton. It's got everything you'd hope for from a Hilton resort, from two and a half kilometres of stunning beach, bright and elegant rooms, and views of the ocean everywhere you go.
Something that really makes this resort stand out is the KORO adults-only area where you'll find restaurants on the beach, a bar and outdoor pools and a day spa. It's a really nice touch, allowing people who want a more grown-up vibe the opportunity to have the holiday they dream of without shutting out families. All kids get free access to the kids club, so parents get some alone time as well.
If you feel like splashing out, we'd totally recommend the breathtaking penthouse suites; although all rooms are surprisingly spacious and very well-equipped (it's actually hard to leave them sometimes!). Friendly staff and yummy food are the icing on the cake!
[one_third]
[/one_third][one_third]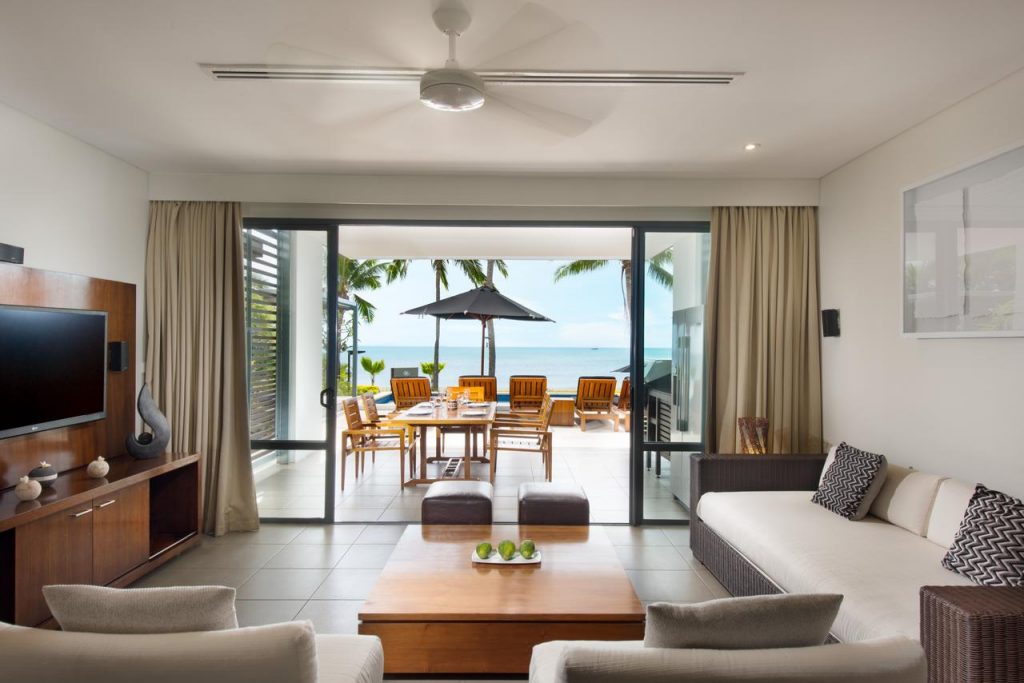 [/one_third][one_third]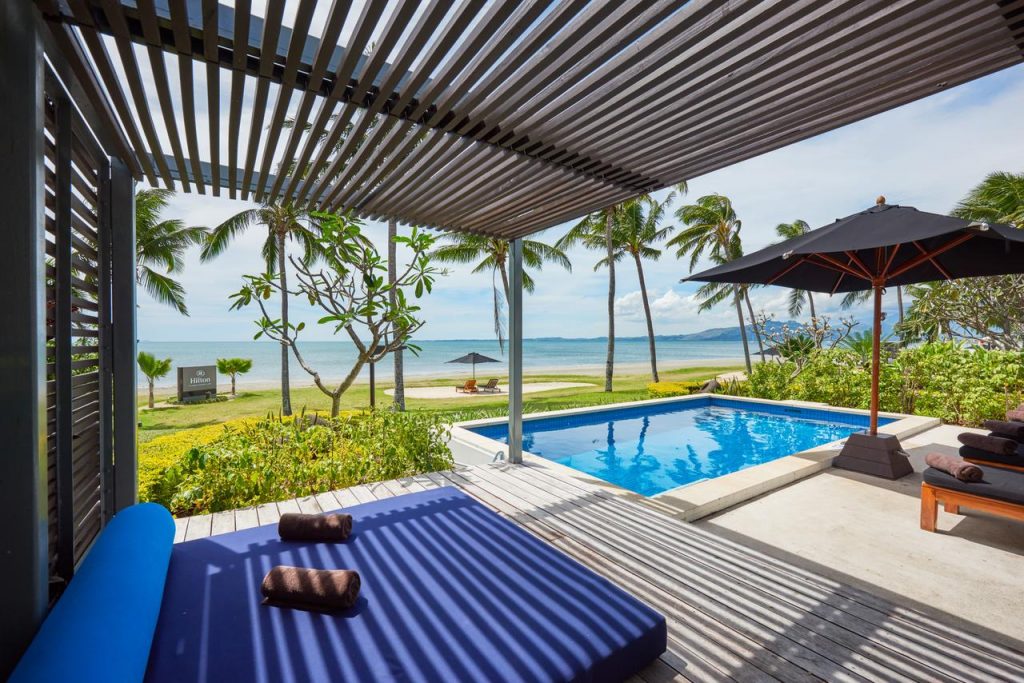 [/one_third]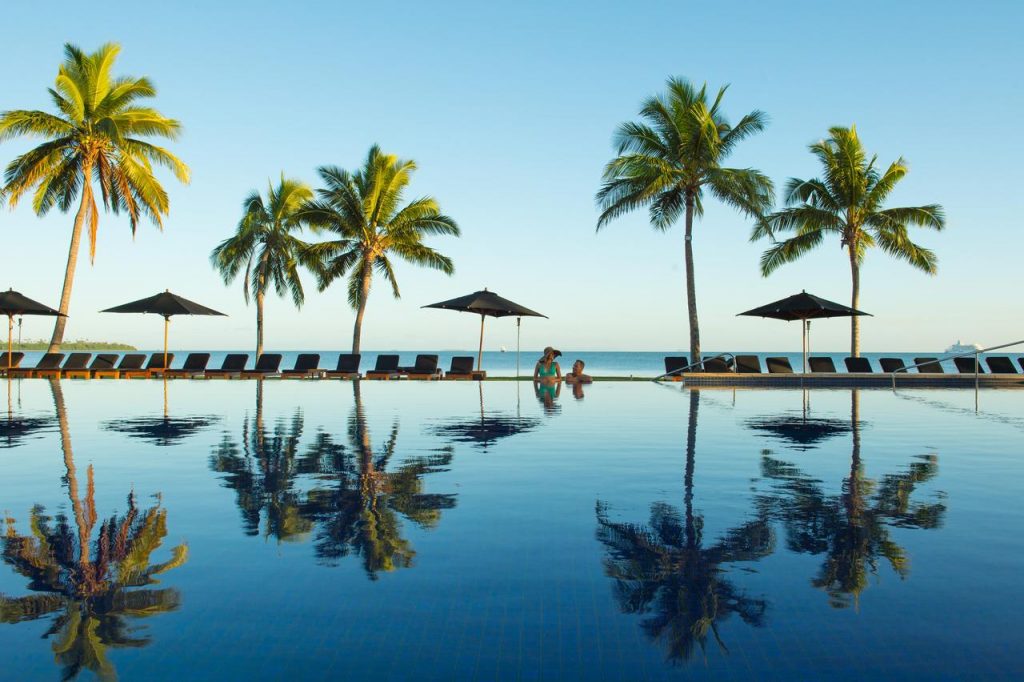 Opposite Port Denarau Marina you'll find these well-appointed executive apartments that have everything you could want for a great island stay. We love the privacy of self-catering accommodation and the sleek, elegant décor in these apartments.
Of course, you don't have to cook in them! There are restaurants and cafes 5 minutes' walk away, as well as the on-site restaurant, and you could always spend a day at one of the resorts. It's great to have the choice, though, and these are definitely more budget-friendly, especially for families.
The flats are always sparkling clean and if anything isn't right, the team who work here are super helpful and friendly. There's an outdoor pool next to the café where you can spend mornings splashing around before exploring. It's definitely one of the best locations on Denarau for access to everything the island has to offer.
As you can see, the resorts on Denarau itself aren't always the cheapest options, gorgeous as they are. If you want to spend time on Denarau but need more purse-friendly accommodation, how about stating in Nadi? It's a short drive away and there are some great places to stay there, too.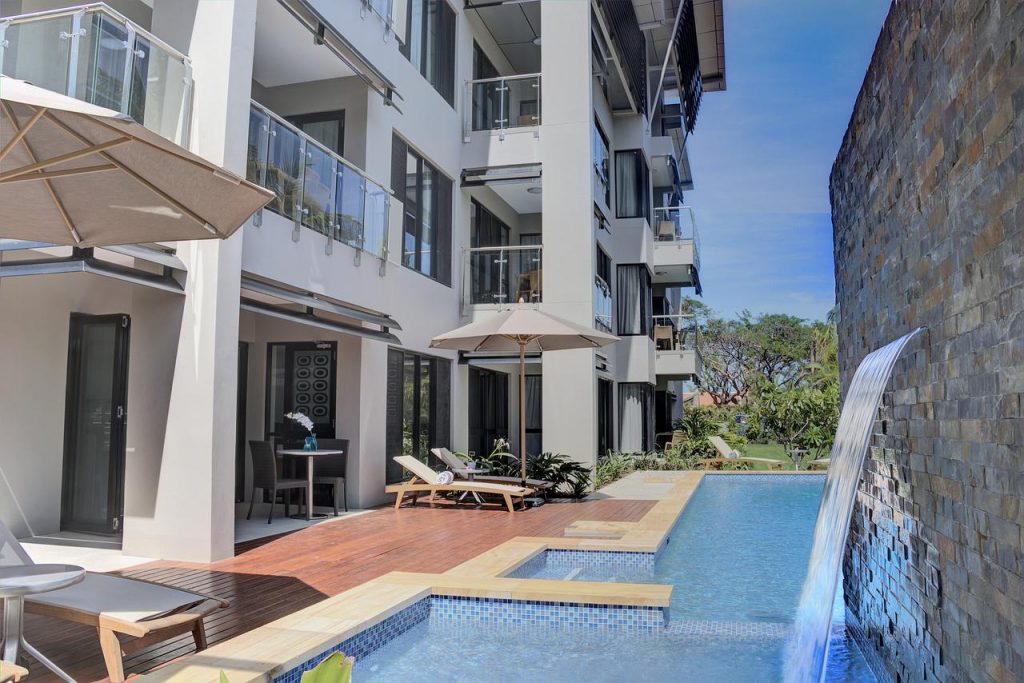 With an attractive wooden deck around an outdoor pool and comfy hammocks to lounge around outside in, this is one of the best nearby Denarau Island hotels if you're on a budget. It's pleasant, clean, has plenty of greenery around it and amazing people working here – what more could you want, really?
You have a choice between staying in one of the 8 or 10-bed dorm rooms or opting for a double bedroom (with or without private bathroom) so it's perfect for couples, solo travellers or groups of friends. All rooms have air-conditioning.
While it might be basic, it's great value for money and for a little bit of luxury you can head to a resort for a day! Alternatively, make the most of the tours on offer from Bluewater.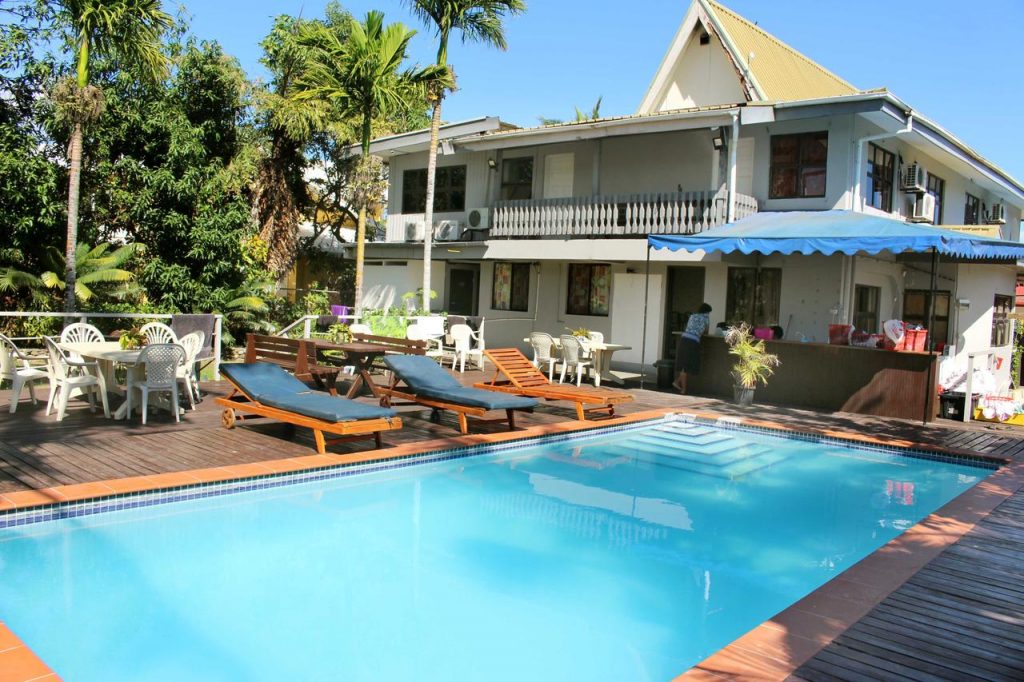 A mere 10-minute drive from the international airport and Port Denarau, this hotel perfectly bridges the gap between budget and luxury, offering affordable accommodation with spectacular views from the rooftop infinity pool.
Here, you can stretch out on a lounger and sip a cocktail before heading for dinner at the on-site restaurant. Your room is large, modern and well-equipped; you'll also probably have a great view over the forest or sea. Choose from king rooms, twin rooms, suites and superior suites to have the stay that suits you best.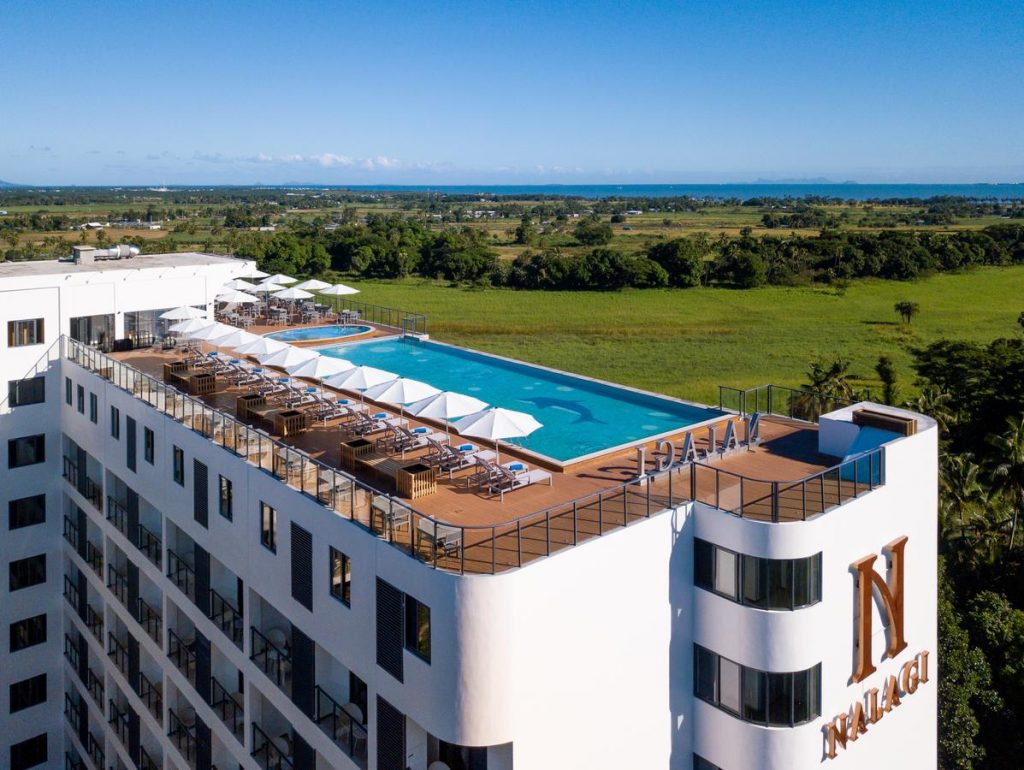 This charming hostel on the beach is cheap and cheerful, perfect for travellers who want to spend most of their time exploring the area or chilling by the water. It's certainly not wall-to-wall glamour, here, but the private rooms are pretty and the dorms (4-bed, 16-bed or 34-bed) are clean and serviceable.
The selling point is the beachfront area where you can relax on loungers on the deck, chill out in the pool or make new friends over a drink at the bar. There's entertainment every night, which creates a community spirit, and a dive shop on-site if you want to try your hand at diving.
Wherever you choose to stay, you won't forget your Denarau Island experience!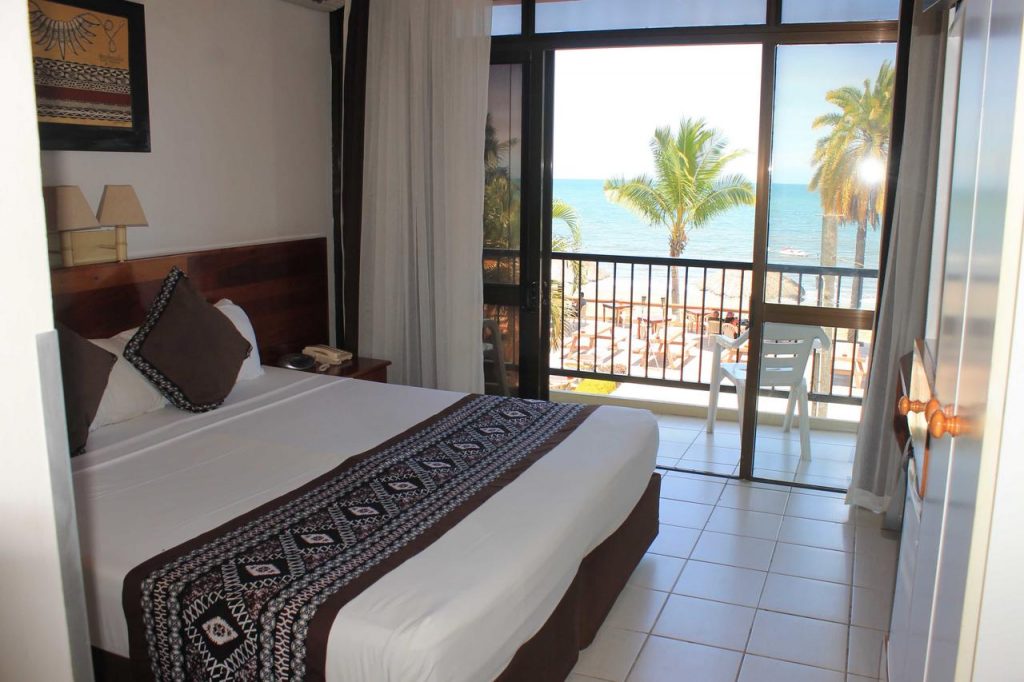 [button title="Isn't Fiji Stunning?! Wantt To See And Do It All?…Why Not Head Out On One Of These Fabulous Fiji Tour Itineraries To Make Sure You Don't Miss Any Of The Top Highlights…🤩 " link="http://inspiredbymaps.com/go/fiji-all-tours/" target="_blank" align="center" icon="" icon_position="right" color="#4f8093″ font_color="#ffffff" size="2″ full_width="" class="" download="" rel="" onclick=""]
Further Things To Consider Before Any Adventure
Now you're all set and prepared to explore our big wide world, why not sort out everything else out all in one go? If necessary for your travel plans make sure you have brought proper travel insurance, protected your privacy by getting a secure VPN, compared all the top hotel booking sites to find just what you're after, reserved an unbeatable rental car price and - of course - booked the best flight deals!
Or maybe just forget it all and go for a last-minute cruise or effortless tour instead?
Many budget travelers (including me) indulge in worldwide airport lounge access, so we can experience luxury while still slumming it in economy. Naturally, we would never leave home without a more general travel guide since we couldn't possibly cover everything here!
Just add an adventurous attitude and plenty of smiles - they go a long way - and that about covers it all! Now go out, find your own path and don't forget to share your best inspiration stories with me on Facebook, Twitter, and Instagram...I'd love to hear from you!