Ruakaka, a small coastal town on the shores of Bream Bay in Northland, is best known for its beach and when you see it, you'll know why.
A vast (13 kilometer!) expanse of soft, white sand with the warm waters from Polynesia gently lapping at its shores, this beach has spectacular views and brings a sense of freedom.
Here you can walk along the water for kilometres, stop and build a sandcastle; there's great swimming and it's a safe place to learn to surf. Children will love the playground and splashing around in the shallows. Adventurous teens and adults will enjoy fishing, diving, kayaking and kite-surfing; you can do it all here!
If you feel like a longer walk, there are several paths to choose from, including a section of the Bream Bay Walk.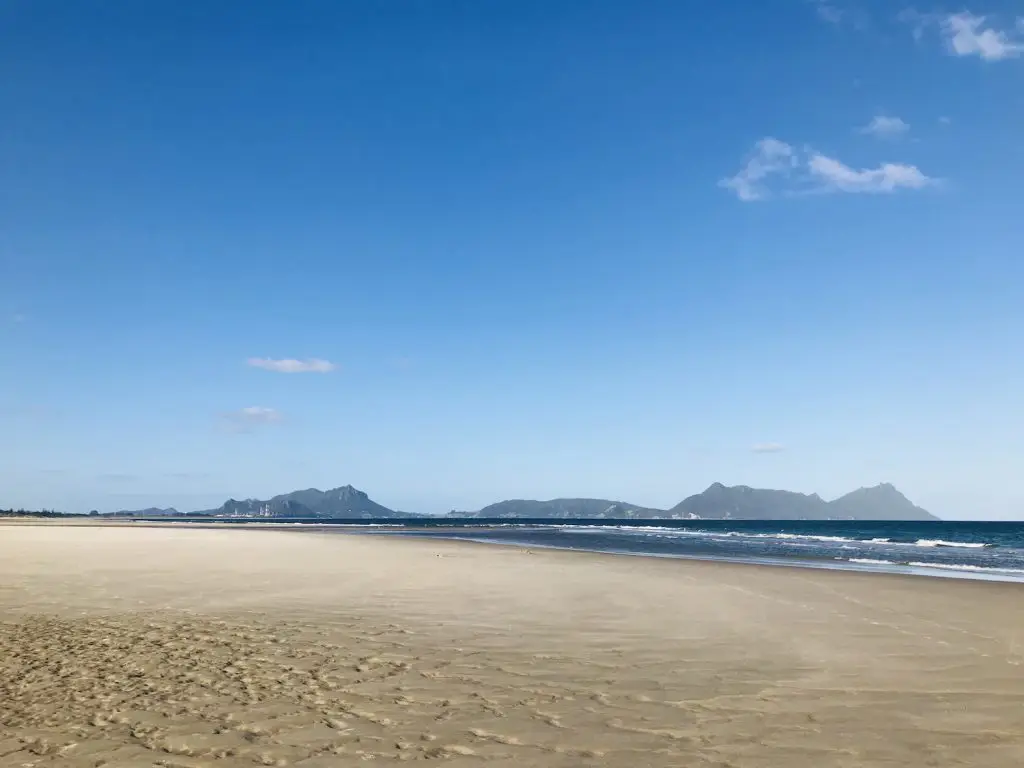 The town itself is a relaxed, lazy place with friendly locals and some surprisingly great coffee places (always a major plus in our books). There's a shopping centre where you can wander around and some fascinating independent stores, including one that specialises in recycling trash. As well as the good coffee shops, there are a few bars and cafes where you can enjoy an ice-cold beer or some tasty food in between walks.
For such a small town, Ruakaka also puts on some fun events throughout the year. The Racecourse throws several annual events, there are fishing competitions and school galas and a market every month.
There's even a museum – Port Marsden Oil Refinery Visitors Centre – which takes an unexpectedly fascinating look at the history of the town's biggest employer (some might argue the town's reason for being there at all!).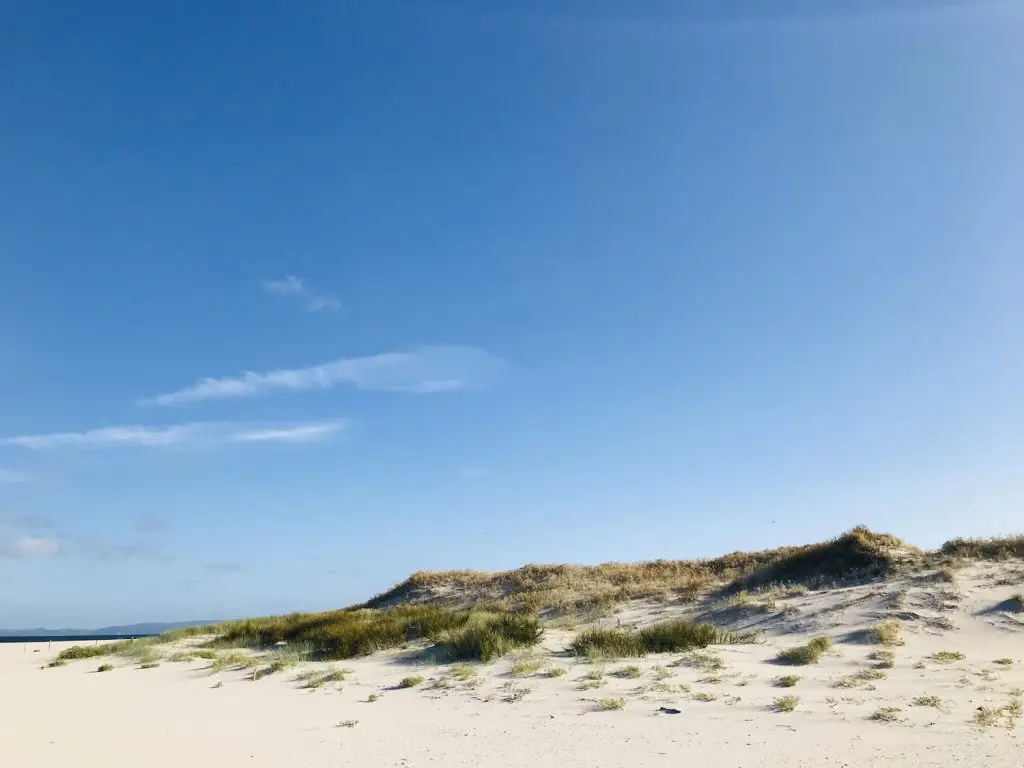 This is a quintessentially New Zealand seaside town, and we love it for that. Day trips to the nearby Waipu Caves or Piroa Falls provide fun punctuation points to your trips, but what you'll remember most is the leisurely days by the water, spending quality time with friends, family or your other half. After all, that's the main thing you go on holiday for – and this is the perfect place to do it.
There are some lovely choices for Ruakaka accommodation, but we're not going to lie to you; there aren't many of them. The great thing about this area is, however, that nothing's ever that far away, and wherever you stay is going to be somewhat idyllic (this is New Zealand, after all!). But there is plenty more accommodation in Northland if none of these are available…
While you get looking at car rental options or flights, let us help you out with where to stay in Ruakaka with these lovely suggestions.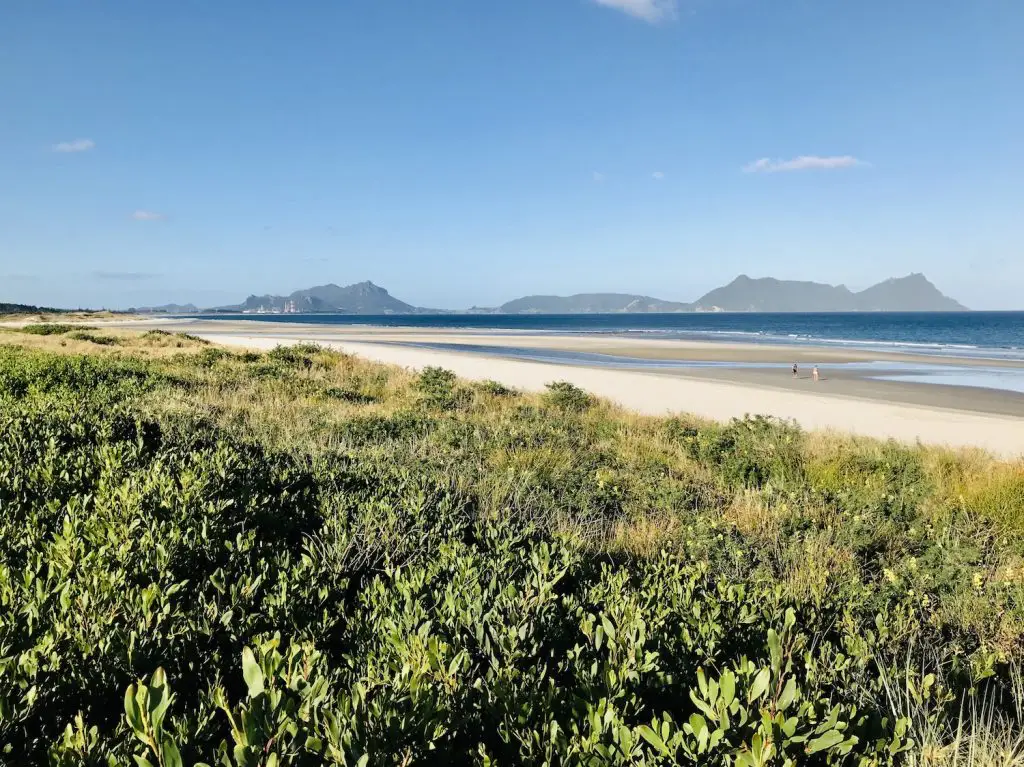 NZ Travel: The Best Ruakaka Accommodation Options To Suit All Tastes! 🇳🇿
Luckily, both your Ruakaka accommodation options are good value for money and right on the beach. The first of them, this bright and spacious Bed and Breakfast, has an expansive garden with plenty of places to relax both in the sun and in the shade. Each room has a terrace with views over the lawn – a great place to kick back after a hard day on the beach!
Depending on who you're travelling with, you can choose from a queen room with a double bed and a single bed, or a family room with a double, single and sofa bed. It's a lovely place for couples and families alike, with the warm and friendly hosts offering everyone a great welcome. The rooms also have a kitchenette with a microwave if you want to fix yourself a snack.
It's a short walk to the beach and the hosts will lend you body boards and other beach equipment, as well as directing you to the best spots. It might not be glamorous, but trust us, you'll feel so comfortable here that you'll want to stay for even longer than planned.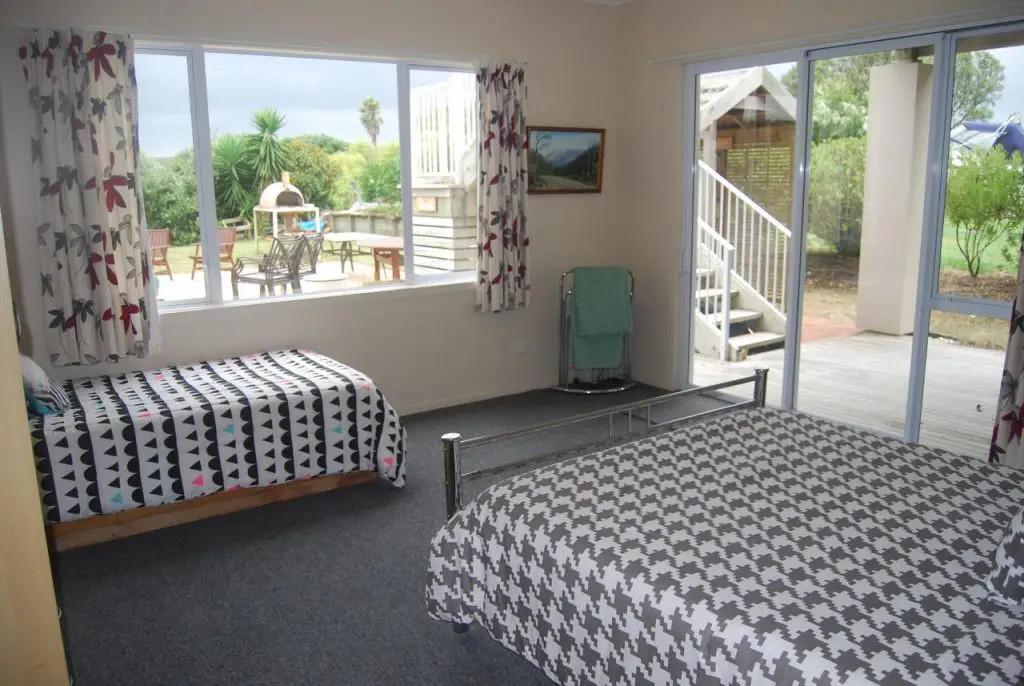 This is another lovely accommodation option where the beach is right on your doorstep. 11 of the 18 self-contained studios and apartments have views out over Bream Bay and it's a breathtaking thing to wake up to every morning. It's a pricier option than the Sandcastle, but ideal if you want to spend as much time as possible on the sands and enjoy more privacy on holiday.
The two bedroom unit is great for families or groups of friends; while if you're on a romantic break, the premier studio has incredible 180 degree views. All rooms come fully equipped with kitchen facilities, Sky TV and private bathrooms. The beds are super-comfy as well; great when you're exhausted after a day's swimming or kite-surfing!
While the word 'motel' often brings less-than-perfect images to mind, this place will totally subvert those expectations with its cleanliness, bright rooms and stylish décor. The service is great and children would love the playground. This place will have you thinking about a permanent move, and is a welcome change from the big smoke of Auckland…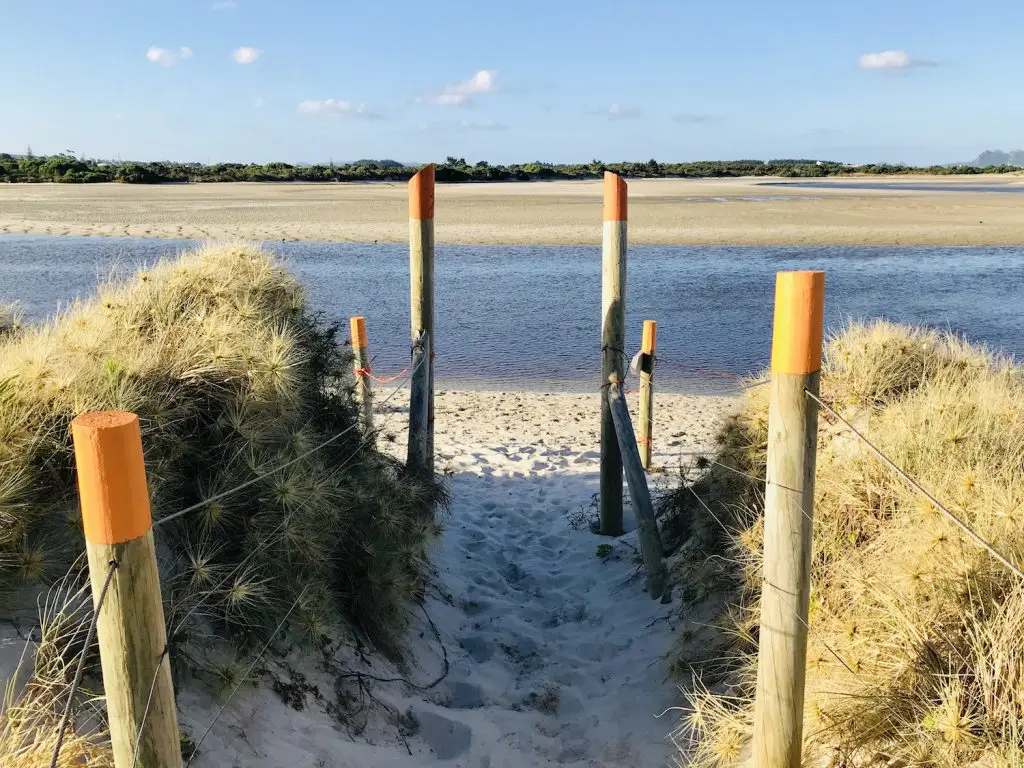 This is a great alternative option for Ruakaka accommodation and one that we'd recommend trying if you feel like doing something different. A bach in New Zealand is a modest holiday home or beach house (don't say you never learn stuff from us!) and this website is a way to get to stay in one, just like a holidaying New Zealander.
Using this trustworthy resource you can browse locals' homes; choose your favorite then send an enquiry directly to the property owner or manager. With this much gorgeous coastline in one country, it'll come as no surprise that there are plenty of options for you. Whether you're looking for a four-bedroom family home or a cute cottage on the dunes, VRBO has you covered.
It's surprisingly affordable and means you can live like a true Kiwi, creating fabulous memories of days at the beach with family or friends. If there's ever a place to rent your own bach, it's Ruakaka, kingdom of beach days.
Of course you don't have to stay right on Ruakaka to get a chance to experience it. In fact, staying in one of the nearby villages might be even more convenient – just hop in a car and you'll be on this glorious beach in no time.
From the mountainside to the seaside, this lovely apartment is perfect for a family of water babies. You overlook Whangarei Harbour and can make the most of all the nearby water sports providers. Ruakaka is only a few minutes' drive away, as it Waipu beach.
The hosts are welcoming and helpful, always on hand to help with any questions or offer advice. The apartment is clean, comfortable and well-equipped. There's even a garden where you can barbecue overlooking the sea.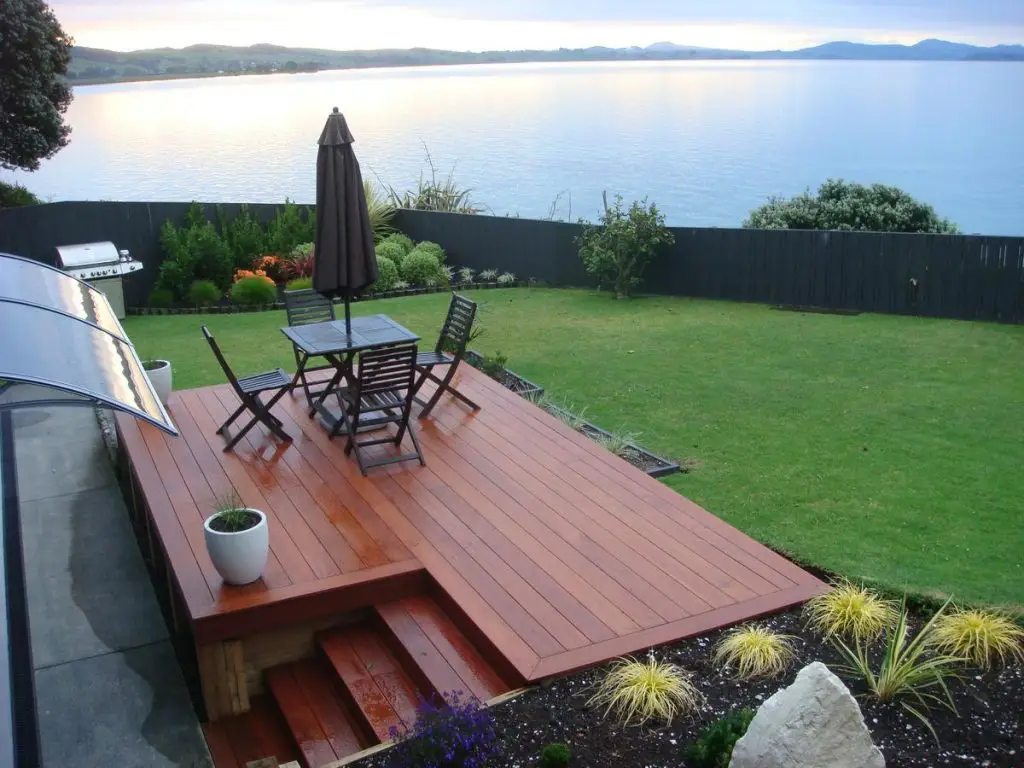 What we love about the choices for nearby Ruakaka accommodation is how many of these gorgeous self-contained apartments there are on offer. The Fish and Jandal in McLeod Bay is one of the best, with a stunning location, decking and a bright, spacious interior.
Cook dinner in the fully equipped kitchen or walk to the nearby café. Spend your days walking the nearby paths, swimming, kayaking or fishing. Breakfast and other treats are also provided, a lovely touch from these charming hosts.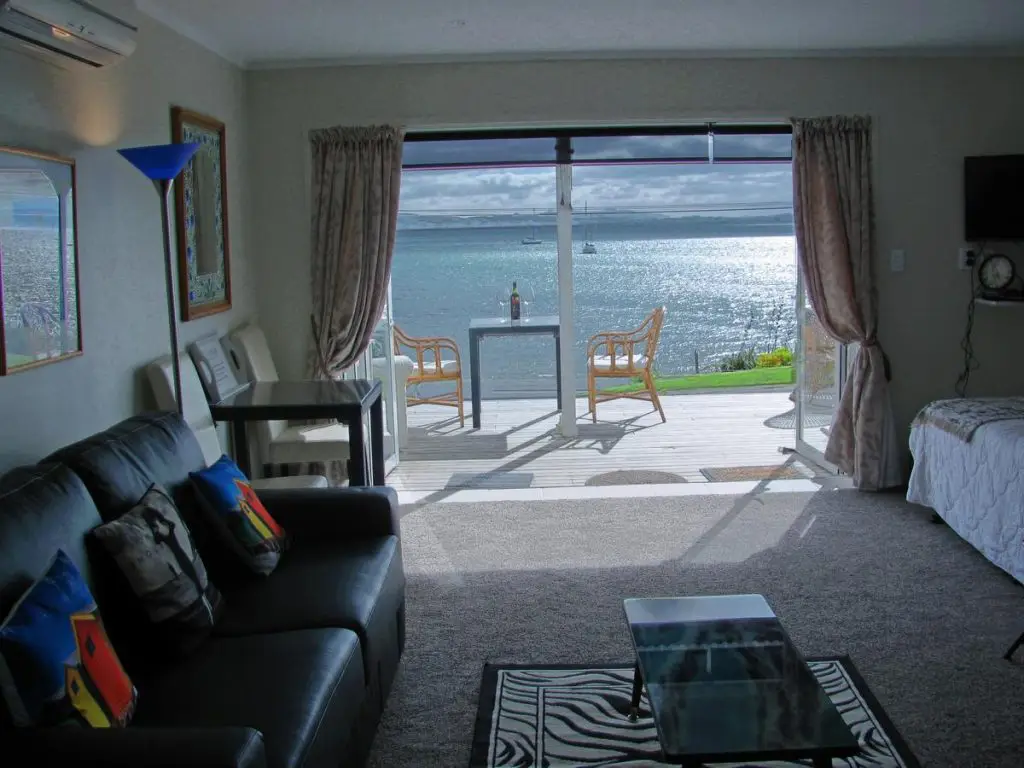 If you are not bothered about having self-catering accommodation then you should check out this pretty bed and breakfast set on a hill in Waipu with great views over the surrounding slopes down to the sea. Ruakaka beach is less than 10 minutes' drive away and it's a pleasure to come back to these spacious rooms after a long day on the beach.
You can enjoy the surrounding gardens, a tasty breakfast and pleasant chats with the hosts. It helps that the beds are huge and incredibly comfortable as well! A great place for couples or even travellers on their own.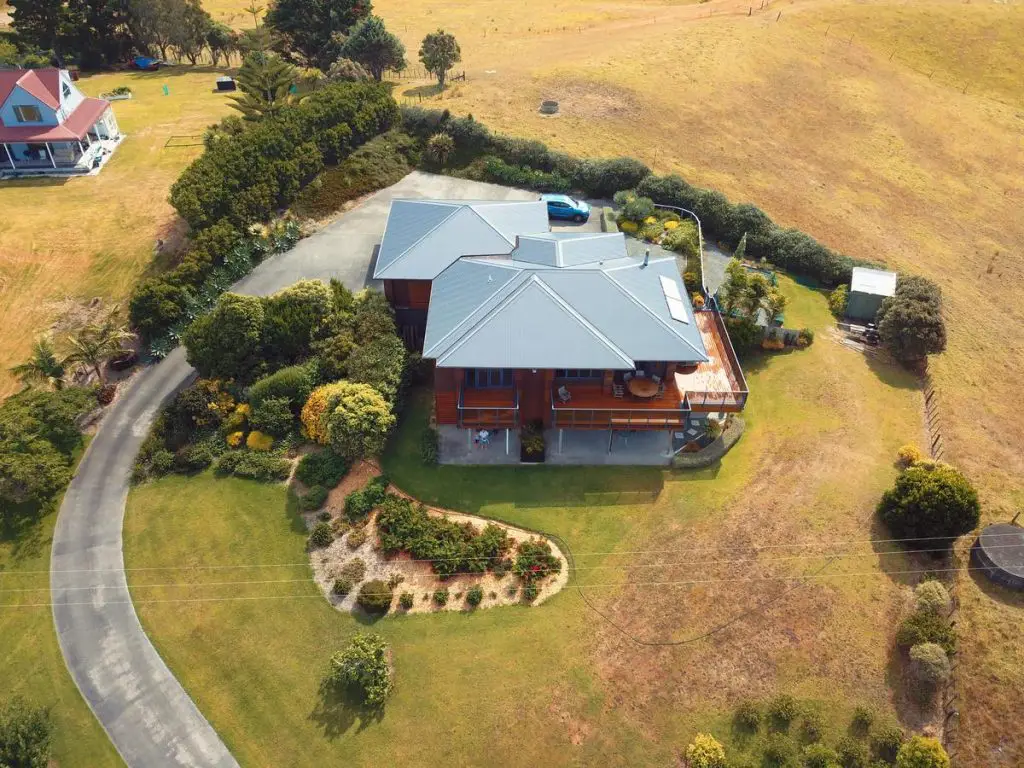 This Waipu option is a little closer to the beach and you can enjoy sea views from every room. Choose a two-bedroom suite if you're there with your family; alternatively you can get a double room with a balcony for those romantic drinks at sunset. Kids will enjoy the pool and playing with the friendly dog.
It's great value and the owners have put a lot of care into the accommodation; as can be seen in the fresh-baked bread provided every morning. Wake up in the morning with a cup of coffee in the window seat before driving over to Ruakaka or walking to Waipu beach.
Less than an hour away in the beautiful Whangarei Heads area you'll find this beautiful property, a custom-built two bedroom house on the slopes of Kauri Mountain. The views from the terraces and through the floor-to-ceiling windows are simply spectacular.
Enjoy breakfast on the east terrace and watch the sun go down from the western deck. In between you can enjoy the fantastic local walks or drive over to Kauri Mount Beach or Ruakaka. The villa sleeps five comfortably and the price between you will be very reasonable. It's a lovely option for a family or a group of friends.
This is one of the most beautiful stretches of coastline in New Zealand, so hopefully, you'll enjoy experiencing it from one of these great accommodation choices.