Chicago, the Windy City, is an enticing tapestry of architectural brilliance, vibrant cultural offerings, and culinary delights. As you map out your journey, choosing the best hotels in Chicago forms a crucial element of an unforgettable sojourn.
Here, accommodations do more than just offer a bed; they enrich your experience, placing you in the heart of the city's vibrancy.
Imagine lodging at a 4.5-star establishment in the scenic Rosemont area, a stone's throw from the city center. This hotel caters to both business and leisure travelers with its contemporary guest rooms and suites that balance style and comfort.
Offering free Wi-Fi, efficient workspaces, and high-quality bath essentials, it addresses every practical need. Amenities extend to a fitness center, an on-site art gallery, and three signature restaurants, catering to your every desire.
Whether you're staying in to relax or stepping out to explore the city, you can also draw inspiration from movies set in Chicago, which showcase the city's vibrant culture and iconic landmarks.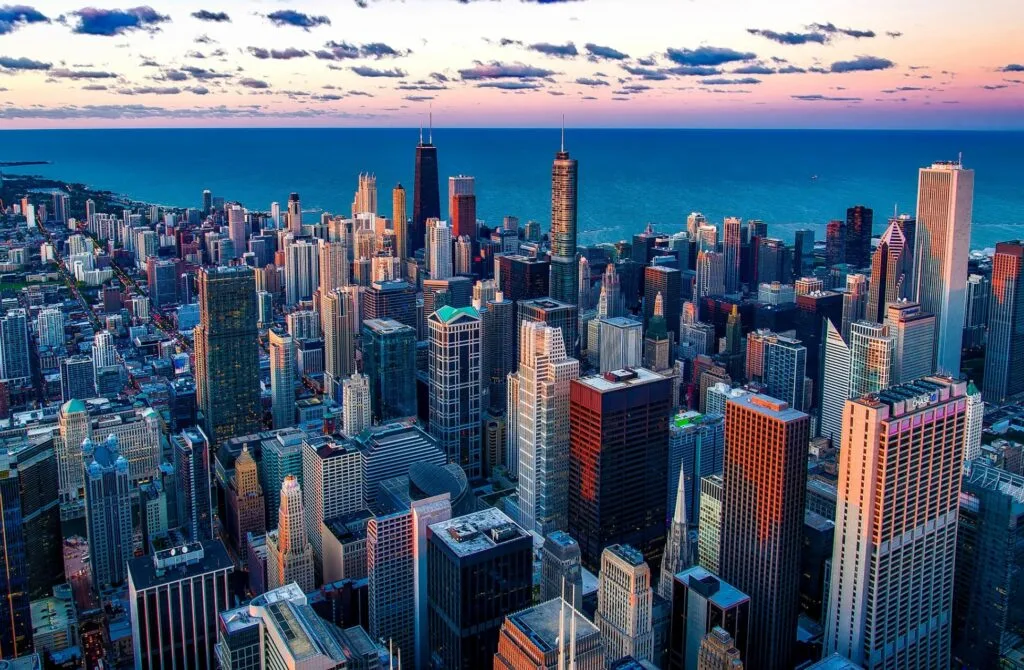 Consider a stay in the trendy Wicker Park neighborhood, in a property that marries the grace of historical architecture with the pulse of the city. This hotel pairs a cool, industrial aesthetic with vintage charm across its 89 guest rooms.
Decor highlights the harmony of wood, chrome, and frosted glass, paying homage to its Art Deco roots. With Chicago's skyline as a backdrop, guests can savor American cuisine at the in-house café, take a dip in the rooftop pool, or unwind at the rooftop bar.
Its prime location is a gateway to renowned shopping districts, art galleries, and a bustling nightlife scene.
Finally, picture yourself amidst the iconic skyline, in a 5-star hotel that epitomizes sophistication. Here, each of the guest rooms and suites overlook the city through floor-to-ceiling windows and boast lavish furnishings with bespoke Art Deco accents.
Guests can pamper themselves at the world-class spa, train in the fitness studio, or relax in the temperature-controlled indoor pool. Dine at a two Michelin-starred restaurant or enjoy high tea at an elegant pavilion.
In the heart of Chicago, notable attractions such as the Museum of Contemporary Art and the Magnificent Mile are at your fingertips.
Immerse yourself in Chicago's enchanting charm with these standout accommodations that blend luxury, location, and cultural immersion. Walk the city's alluring streets and savor the harmonious fusion of history, culture, and modernity that Chicago offers.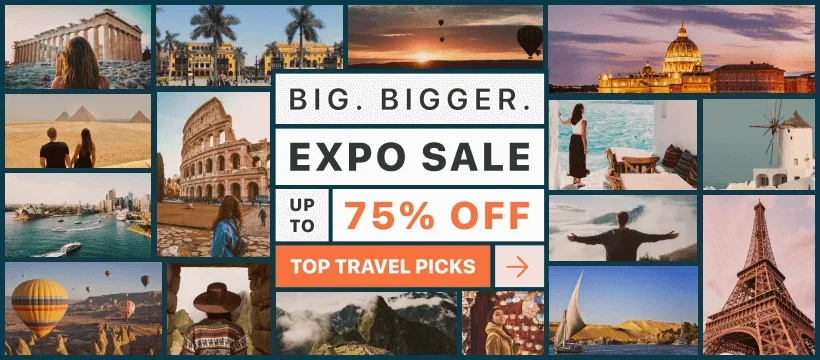 Luxury Hotels In Chicago
Chicago boasts an impressive selection of luxury hotels that are sure to delight discerning travelers. These prestigious establishments offer unparalleled hospitality, stunning design, and first-class amenities.
Each hotel provides an unforgettable experience in its own unique way, catering to guests who appreciate the finer things in life.
The Langham, Chicago is an exceptional luxury hotel located in the heart of downtown, near the Magnificent Mile and Millennium Park. This elegant hotel offers breathtaking views of Lake Michigan and the Chicago skyline.
The Langham features an exquisite art deco-inspired design, capturing the essence of the city's rich architectural history. Guests can expect unparalleled hospitality, with top-notch facilities such as an award-winning spa, a state-of-the-art fitness center, and a world-class restaurant.
The Langham's spacious, luxuriously-appointed rooms boast floor-to-ceiling windows, allowing guests to take in the magnificent views of the city and lake.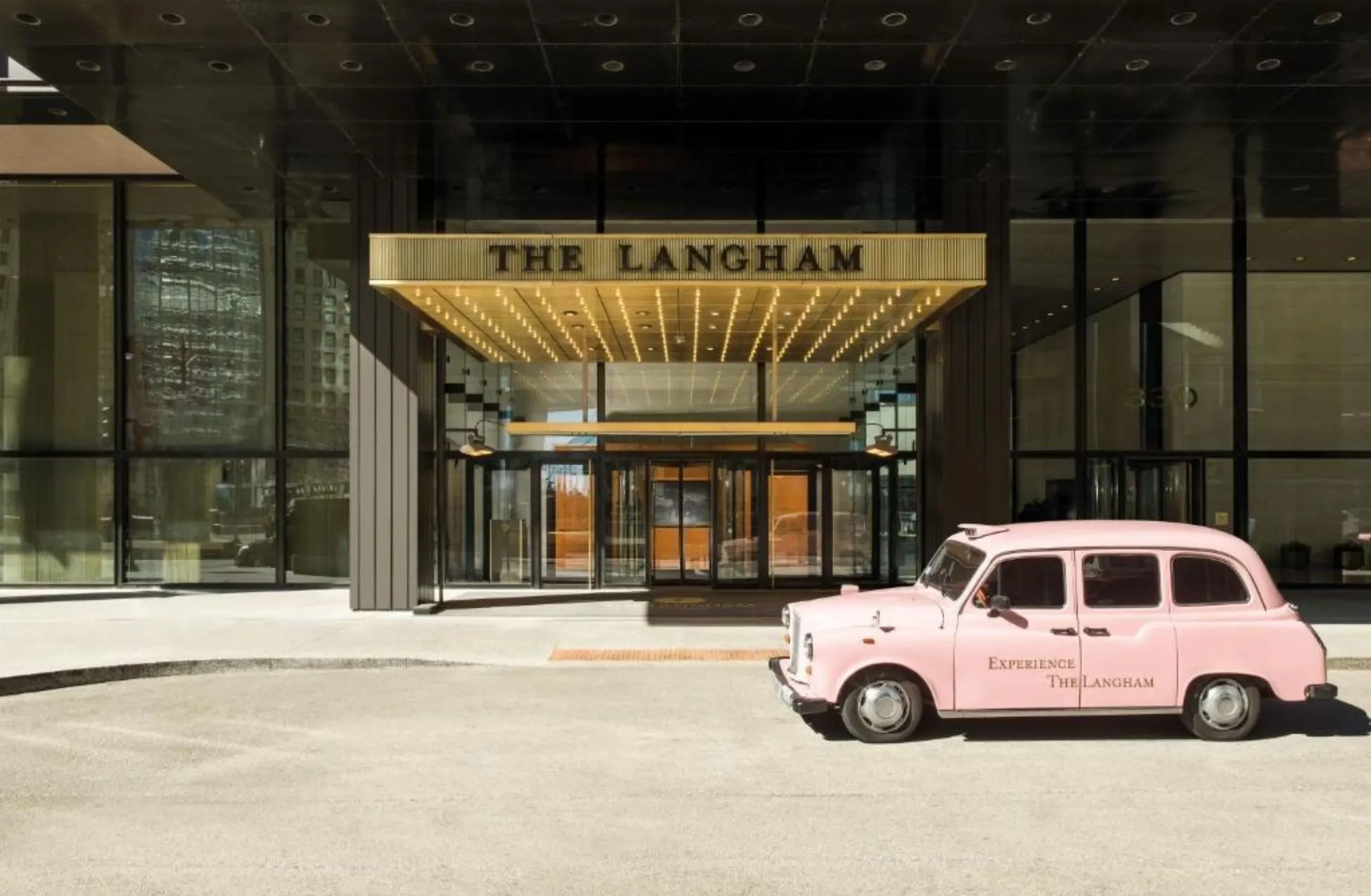 The Peninsula Chicago, situated in the upscale Gold Coast neighborhood, is another opulent choice for luxury-seeking travelers. Just steps away from the Magnificent Mile on Michigan Avenue, this prestigious hotel offers a prime location for those looking to explore Chicago's best shopping and dining options.
The Peninsula is renowned for its world-class hospitality, offering guests a wealth of outstanding amenities, including a rooftop terrace, indoor pool, and lavish spa. The hotel's stylish rooms feature sophisticated design, with luxurious furnishings and state-of-the-art technology to ensure a comfortable, sumptuous stay.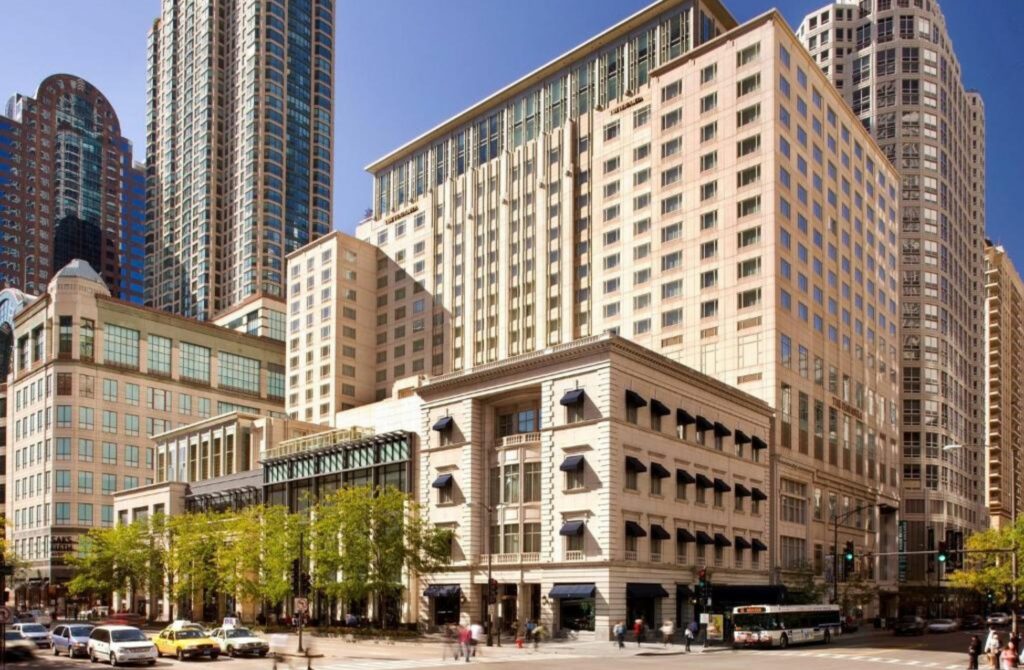 Viceroy Chicago is a remarkable gem nestled in the vibrant Gold Coast neighborhood. This luxury hotel boasts a modern, sleek design that perfectly complements its historic surroundings.
Guests will appreciate the hotel's close proximity to downtown and Lake Michigan, making it an excellent choice for both leisure and business travelers. The Viceroy features a range of luxurious amenities, including a rooftop bar boasting unmatched views of the Chicago skyline.
Each spacious room is designed with contemporary elegance, showcasing floor-to-ceiling windows, plush bedding, and lavish bathrooms.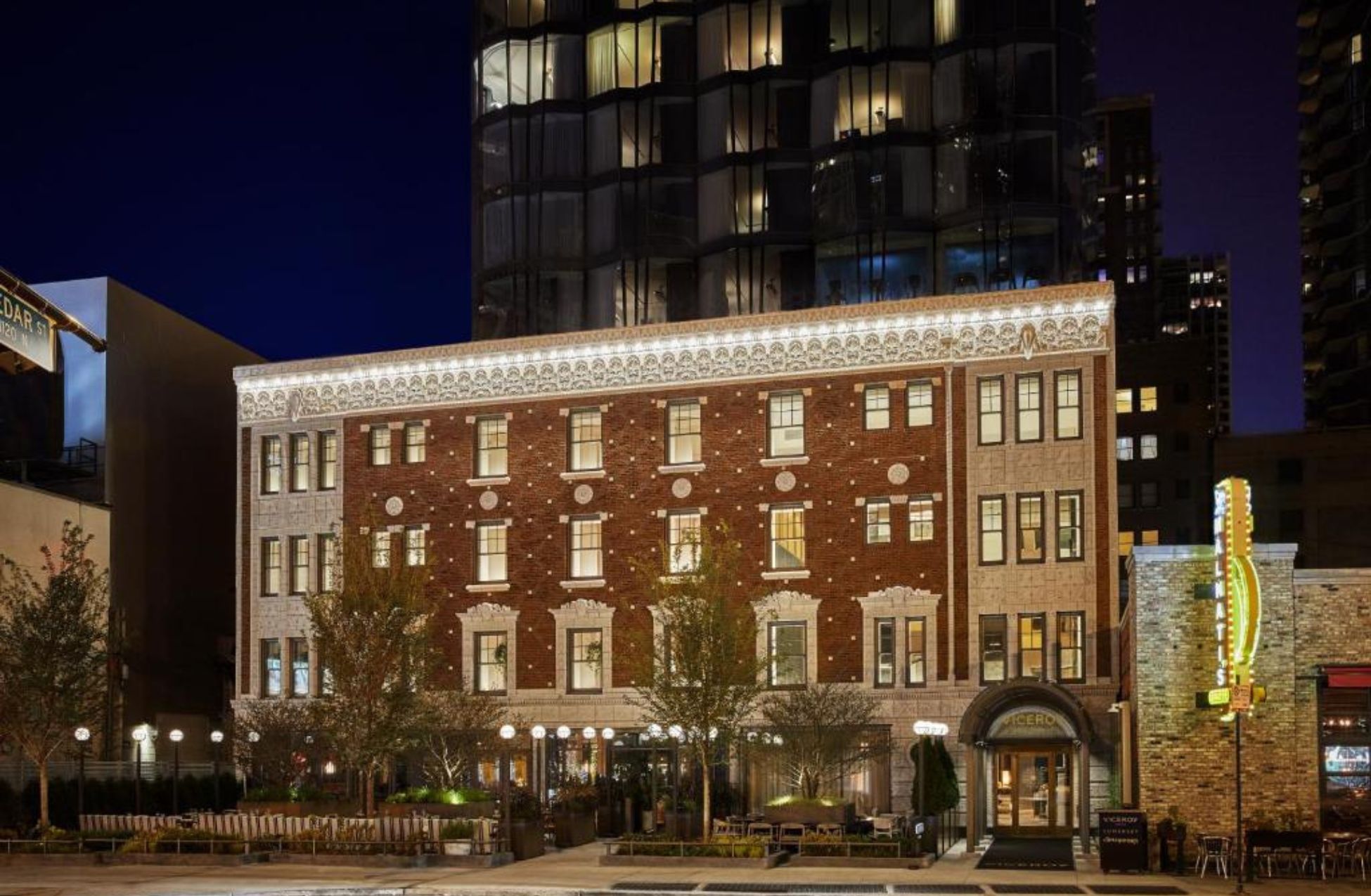 The Gwen, A Luxury Collection Hotel, is situated on the historic Magnificent Mile, offering an unparalleled location for those looking to be at the center of Chicago's bustling energy. This stylish hotel pays homage to Chicago's rich architectural history with its stunning art deco design.
The Gwen provides first-class hospitality and amenities, including a sophisticated rooftop terrace, well-equipped fitness center, and exceptional dining options within the hotel.
The guest rooms are tastefully decorated, featuring opulent touches such as marble bathrooms, luxurious linens, and contemporary artwork.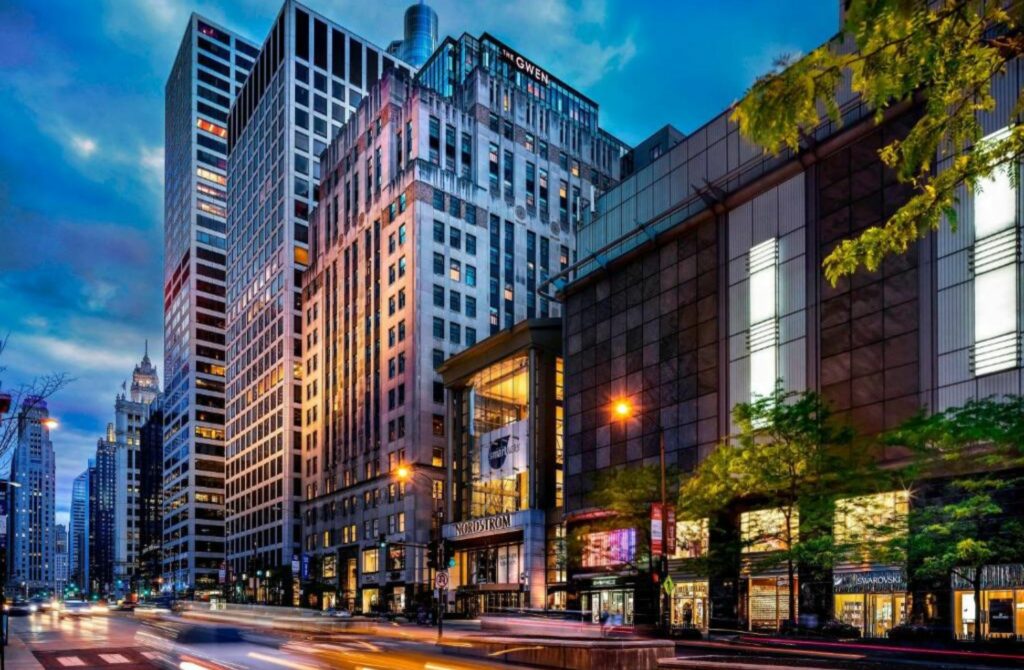 These luxury hotels in Chicago undoubtedly set the standard for extravagant accommodations, ensuring a truly unforgettable stay. With their prime locations, stellar amenities, and sumptuous designs, these hotels are guaranteed to leave an indelible impression on even the most discerning of travelers.
Mid-Range Hotels In Chicago
Chicago, the Windy City, is teeming with a variety of hotels that cater to different budgets and preferences. From chic boutique hotels to luxurious skyscrapers, the city's vibrant landscape has it all. In this section, we will explore some of the best mid-range hotels in the heart of downtown Chicago.
Each of these hotels boasts exceptional service, stunning architecture, and enticing dining options.
Additionally, when you're not busy indulging in the lavish comforts of these hotels, you can draw inspiration from movies set in the US or American war movies, adding a touch of cinematic fascination to your Chicago adventure.
One standout mid-range hotel is the Chicago Athletic Association Hotel. Located in a historic building near the Art Institute and Michigan Avenue, this splendid hotel offers guests a blend of vintage charm and modern amenities.
The guest rooms are fabulously appointed with elegant furnishings reminiscent of the original club, while the service is attentive and accommodating.
Guests will find themselves immersed in a world of refined luxury, as they indulge in the hotel's array of fine dining establishments and bars, such as Cindy's, a rooftop lounge with panoramic views of the city skyline. Fitness enthusiasts will also revel in the hotel's state-of-the-art gym and athletic facilities.
Nestled in the trendy River North district, the Freehand Chicago is a fantastic option for travelers seeking a unique experience. This boutique hotel boasts an eclectic design, merging contemporary elements with classic Chicago architecture.
Inspired by the work of legendary architect Ludwig Mies van der Rohe, the Freehand Chicago offers an extensive range of accommodations, from cozy private guest rooms adorned with handcrafted artwork to shared dormitory-style rooms for those in pursuit of a more sociable stay.
Guests can savor mouthwatering cuisine and expertly crafted cocktails at the Broken Shaker, the hotel's in-house bar known for its convivial atmosphere.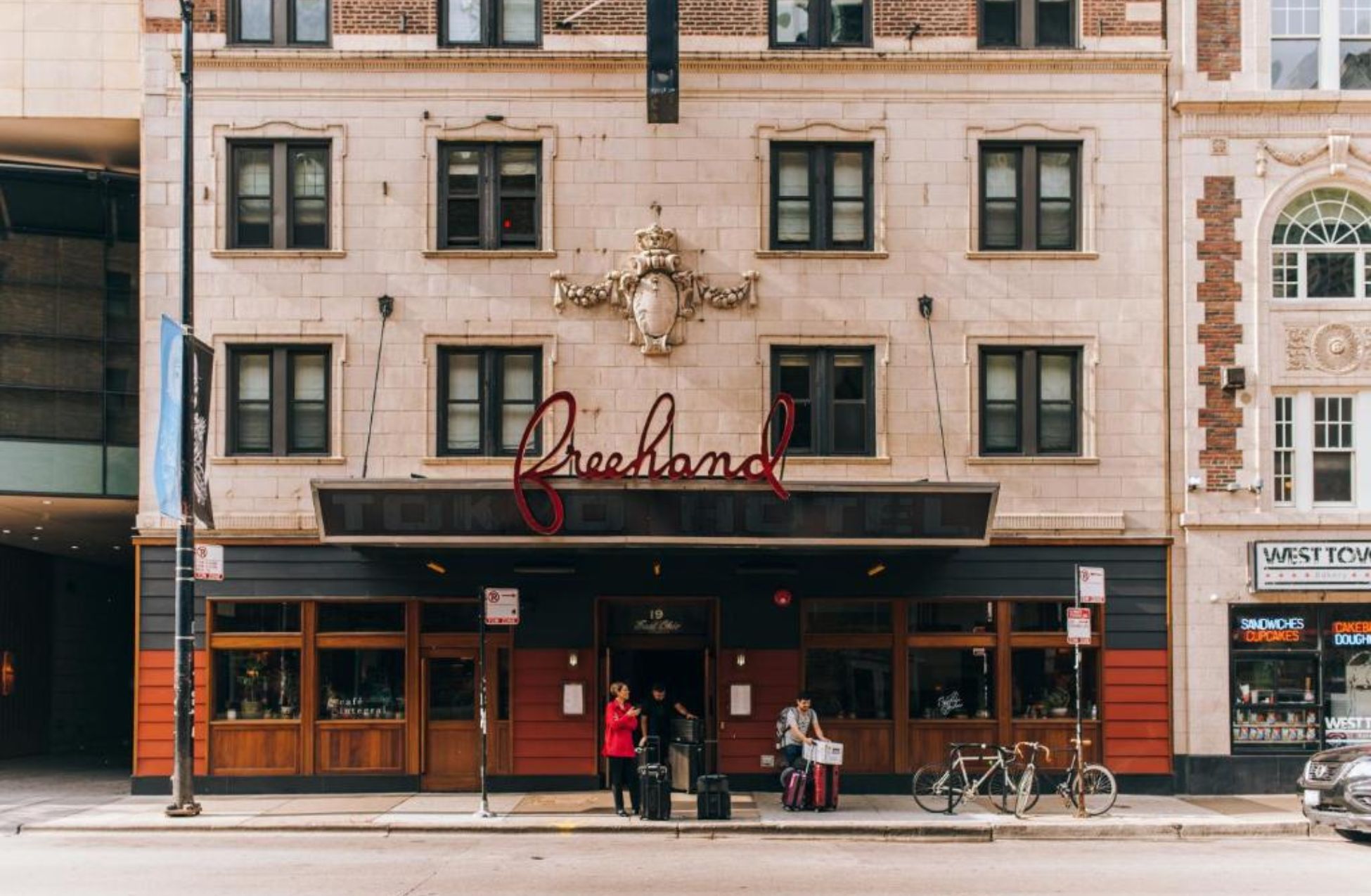 In close proximity to the bustling West Loop area, you will find the luxurious yet highly accessible Devereaux. This hotel offers a serene retreat amidst the exhilarating city of Chicago.
Each guest room is thoughtfully designed, evoking a sense of warmth and sophistication, featuring modern amenities catering to the needs of every traveler. One of the hotel's main attractions is its enchanting rooftop bar, where guests can unwind in style while sipping on exquisite cocktails and soak in awe-inspiring views of the cityscape.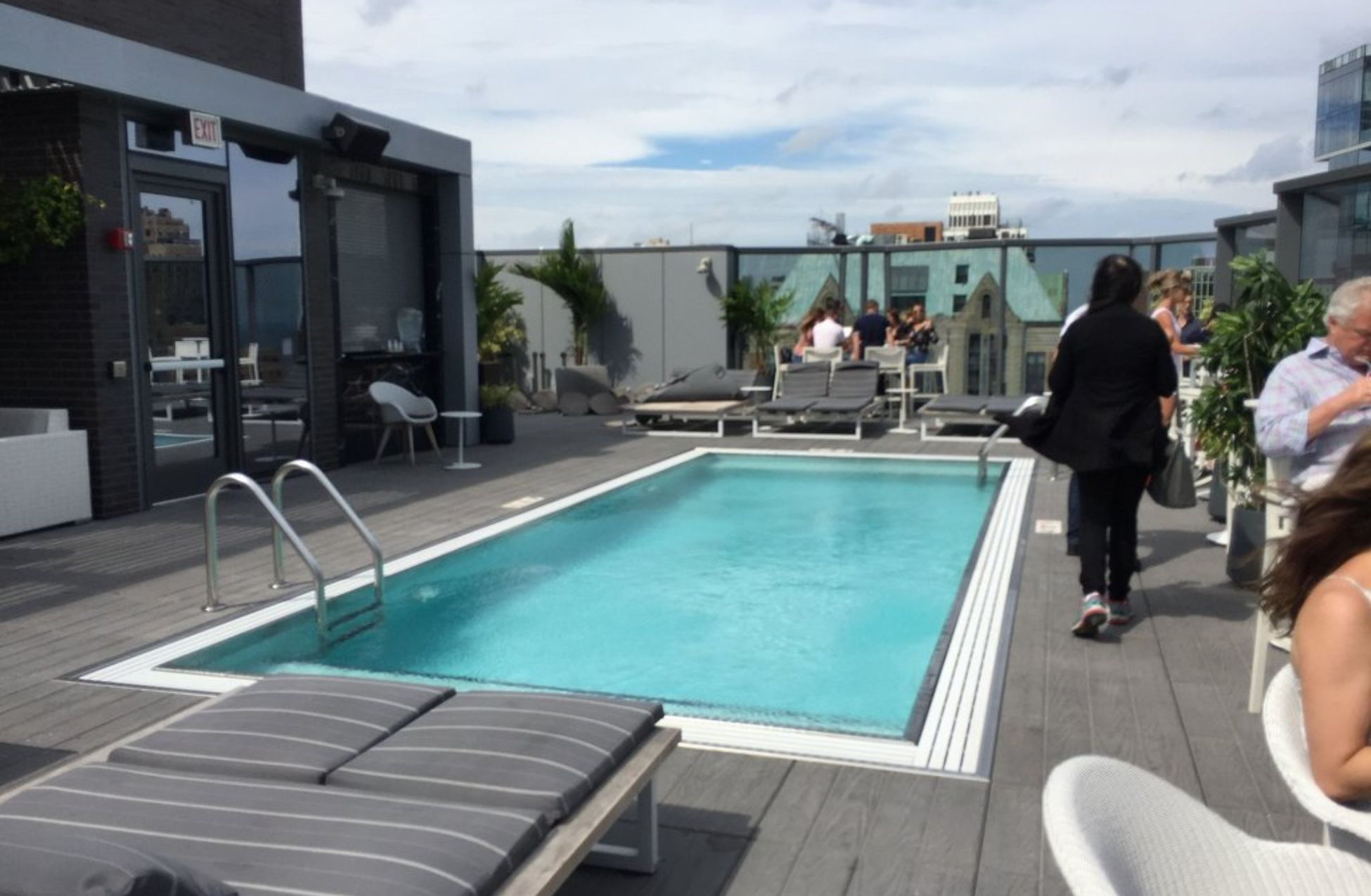 Immerse yourself in the excitement and allure of the iconic Windy City by booking a stay at one of these superb mid-range hotels. Each of these accommodations encapsulates the spirit of Chicago, ensuring that every traveler's experience is both enchanting and memorable.
Boutique Hotels In Chicago
Thompson Chicago is an epitome of style and luxury, located in the heart of the prestigious Gold Coast neighborhood. The hotel showcases a fascinating design that combines classic and contemporary elements, making it an ideal choice for discerning travelers who appreciate innovation and architectural marvels.
From the moment you step into its elegant lobby, you'll be surrounded by a world of opulence and chic ambiance. Marvel at the sleek, minimalistic design and be pampered with unmatched hospitality that only Thompson Chicago can provide.
A stone's throw from Magnificent Mile, this hotel offers a luxurious retreat amidst the bustling city, perfect for enjoying the finest shopping, dining, and entertainment venues in downtown Chicago.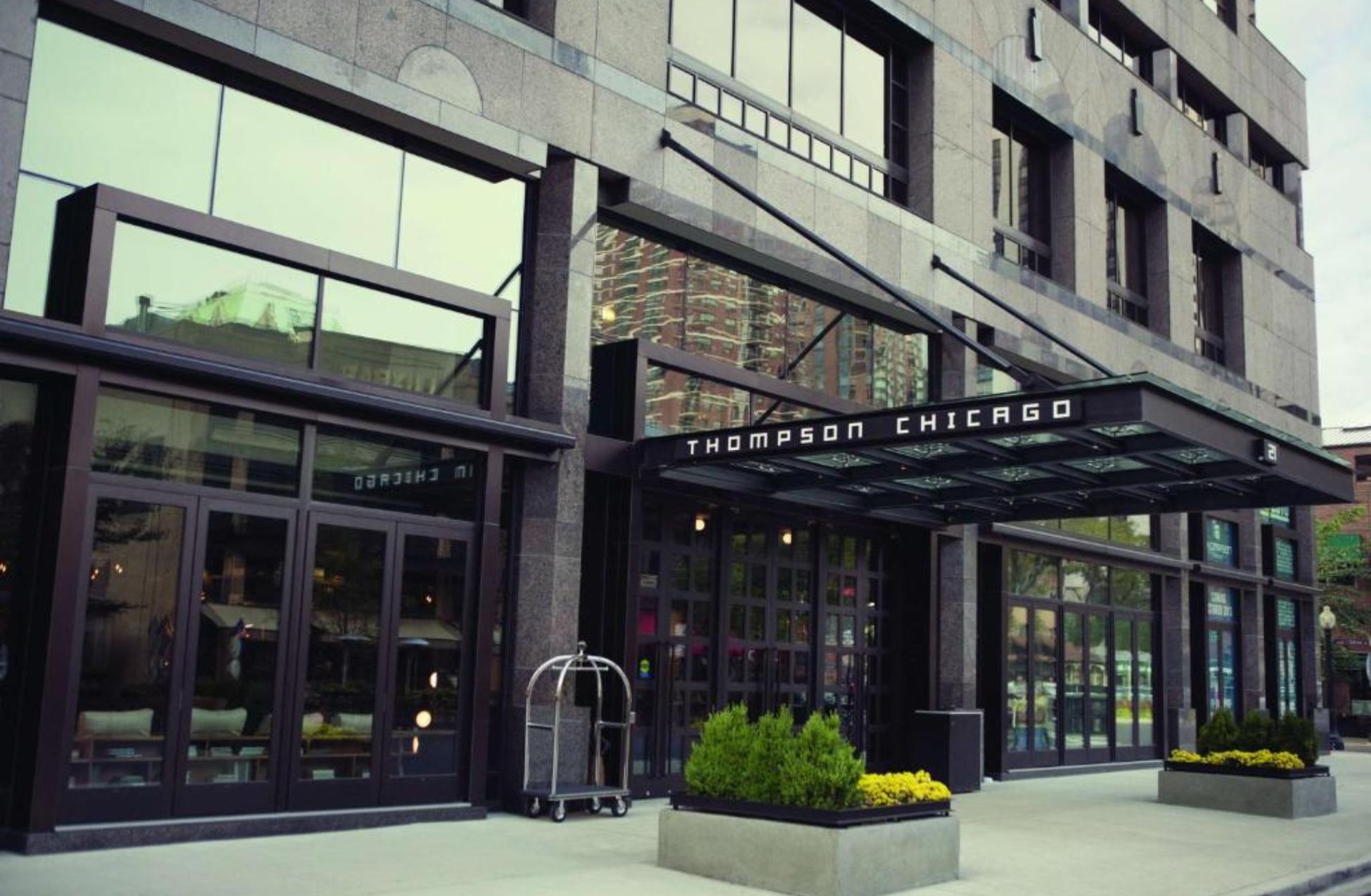 Nestled in the iconic Lincoln Park area, The Talbott Hotel boasts a timeless charm and unparalleled sophistication that can easily captivate your senses. As you enter this historic boutique hotel, you will be transported back in time to an era of glamour and refinement.
Indulge in sumptuous Italian cuisine at its on-site restaurant, Nico, and unwind at the end of the day with a signature cocktail at the swanky Z Bar.
The Talbott Hotel's prime location allows you to submerge yourself in the vibrant culture of Chicago, exploring nearby attractions such as the legendary Magnificent Mile, esteemed art galleries, and fashionable boutiques.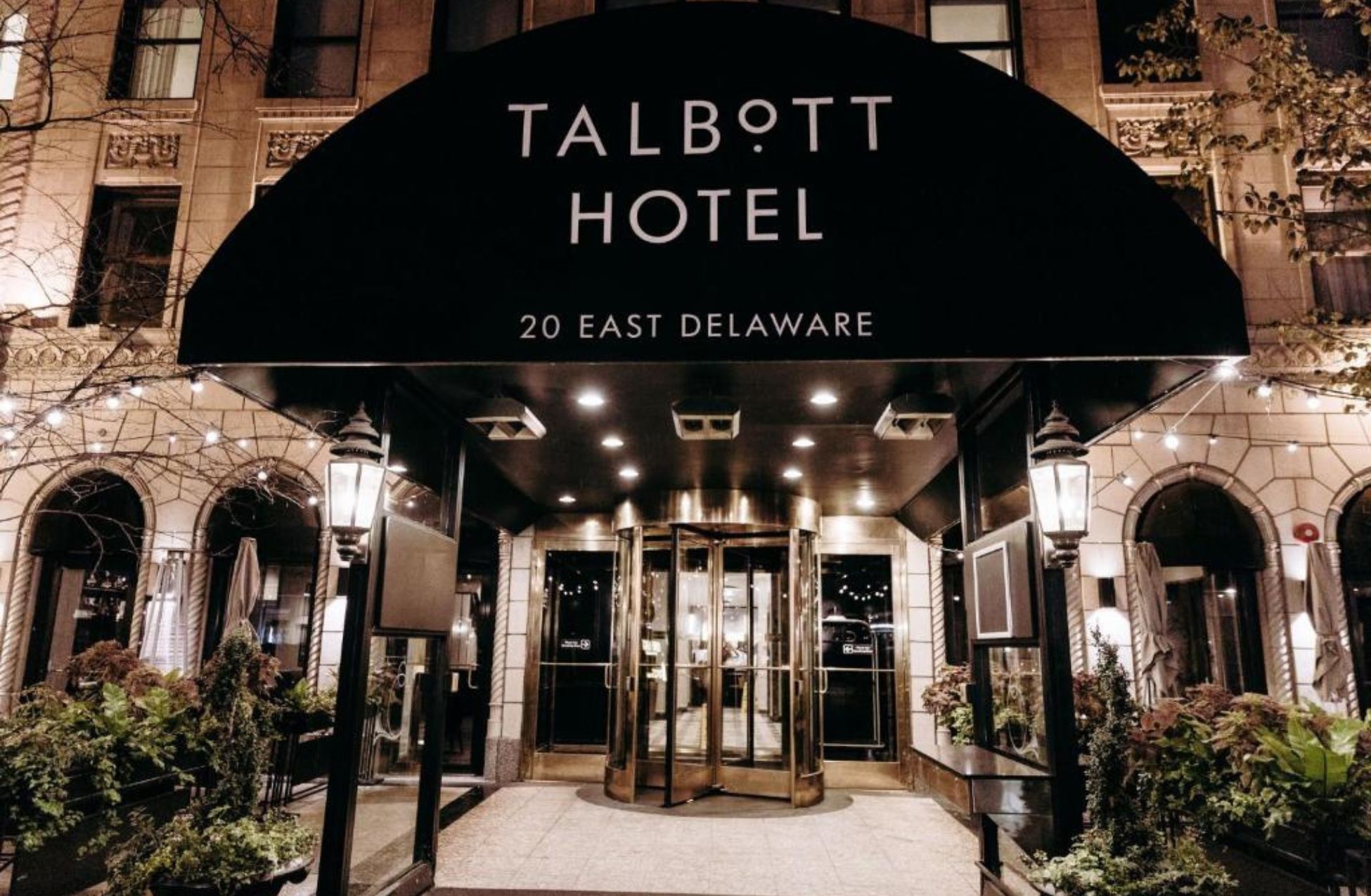 An ode to old-world grandeur and Art Deco opulence, The Blackstone offers a charming retreat in the heart of downtown Chicago. This architectural masterpiece boasts luxurious rooms adorned with ornate details, plush furnishings, and breathtaking views of Lake Michigan or Grant Park.
Experience unparalleled hospitality at The Blackstone, where you can enjoy an array of curated amenities, such as the on-site fine dining restaurant and an extensive collection of contemporary art.
Just steps away from the hotel, you can immerse yourself in the vibrant atmosphere of the city, exploring nearby shopping venues, fantastic restaurants, and captivating cultural attractions.
With a lineage of illustrious guests, The Blackstone is indeed a timeless gem that promises an exceptional and unforgettable Chicago experience.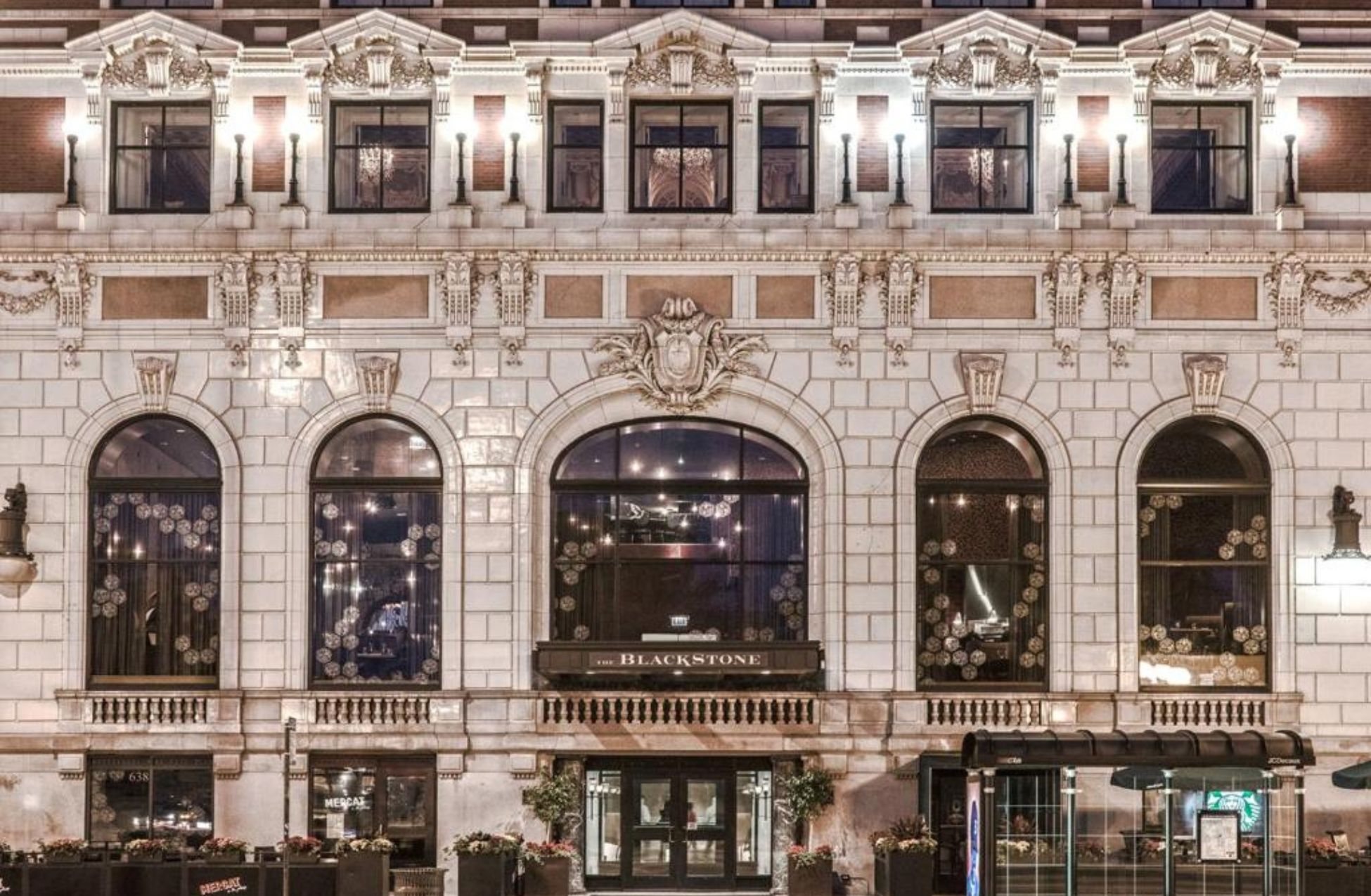 These boutique hotels in Chicago offer a unique and stylish retreat for the discerning traveler. Embrace their grandeur and let yourself be swept away by their unmatched elegance, world-class hospitality, and prime locations right in the heart of the Windy City.
Budget Hotels In Chicago
Nestled within the vibrant city of Chicago, budget-conscious travelers will find an array of affordable yet luxurious accommodations waiting to be discovered.
Featuring impeccable amenities, close proximity to main attractions, and mouthwatering dining options, these budget hotels are perfect for both leisure and business trips. With an inspired design and distinct character, these hotels capture the essence of the "Windy City."
Sable At Navy Pier Chicago, Curio Collection By Hilton is a hidden gem located on the iconic Navy Pier. This magnificent hotel offers a truly unique experience, offering an unbeatable location with unparalleled views of Chicago's stunning skyline and shimmering Lake Michigan.
As you step into the elegantly-appointed lobby, you'll be instantly captivated by the modern decor and welcoming atmosphere. Guests can indulge in delectable food from the on-site restaurant while admiring the breathtaking cityscape.
Amenities at the Sable At Navy Pier Chicago are top-notch, offering everything travelers might need to make their stay comfortable and memorable. The hotel features a state-of-the-art fitness center, a rejuvenating spa for those seeking relaxation, and sophisticated meeting spaces perfect for business travelers.
The spacious suites are thoughtfully designed with chic furniture, comfy beds, and modern technology, ensuring a fabulous retreat after a day exploring the bustling city.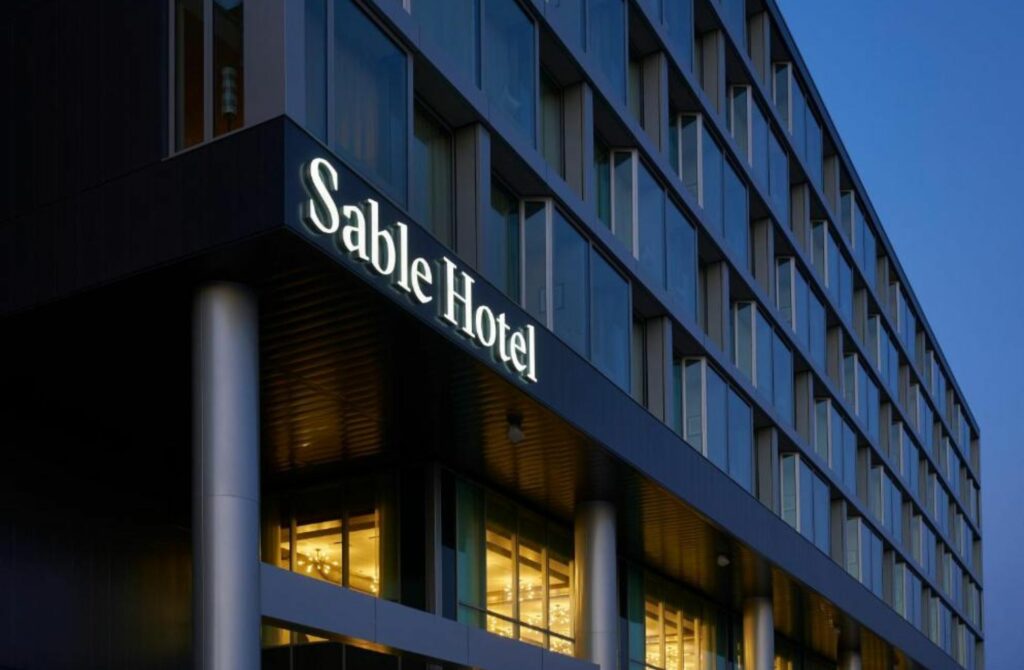 The Robey is an architectural jewel nestled in the heart of the trendy Wicker Park neighborhood. Housed in a historic art deco building, this boutique hotel exudes elegance with its stunning design details, such as the original terrazzo floors and floor-to-ceiling windows.
Soaking up the artistic spirit of the surrounding area, The Robey offers enchanting travel experiences to its guests through the curated art collections displayed throughout the hotel.
Location is everything, and The Robey is perfectly situated for guests to explore nearby attractions and tempt their taste buds with the diverse culinary scene around the hotel.
The in-house restaurant serves mouthwatering creations inspired by American and global flavors, ensuring a sumptuous dining experience. The rooftop lounge, with panoramic views of the skyline, offers an unforgettable setting to enjoy a perfectly-mixed cocktail or mingle with fellow travelers.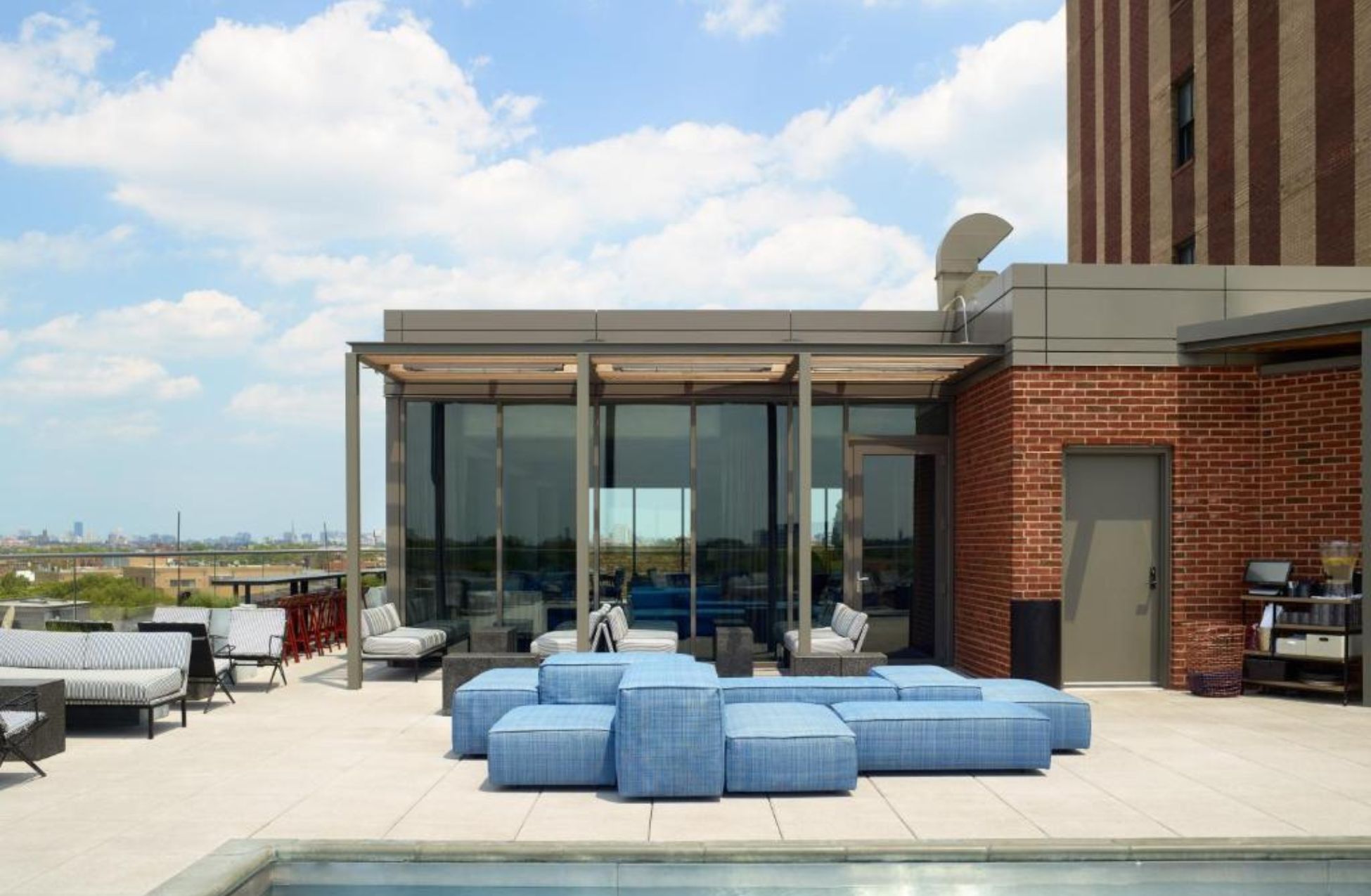 McCormick Place Cityview 2BR-2BA is an exquisite apartment-style hotel situated in the vibrant South Loop neighborhood. Offering larger accommodations complete with full-size kitchens and separate living areas, this stylish hotel caters to travelers seeking extra space and all the comforts of home during their stay.
Business travelers will appreciate the close proximity to the McCormick Place Convention Center, while leisure seekers will find quick access to top attractions like the Art Institute of Chicago or Millennium Park.
This hotel boasts balconies with sweeping city views – a rare luxury for such an affordable price. The contemporary design features chic furniture and modern amenities, providing a cozy escape from the bustling city streets outside.
The state-of-the-art fitness center and on-site parking are just a few of the practical perks that help make the McCormick Place Cityview 2BR-2BA a popular choice among travelers seeking a stylish, budget-friendly choice in Chicago.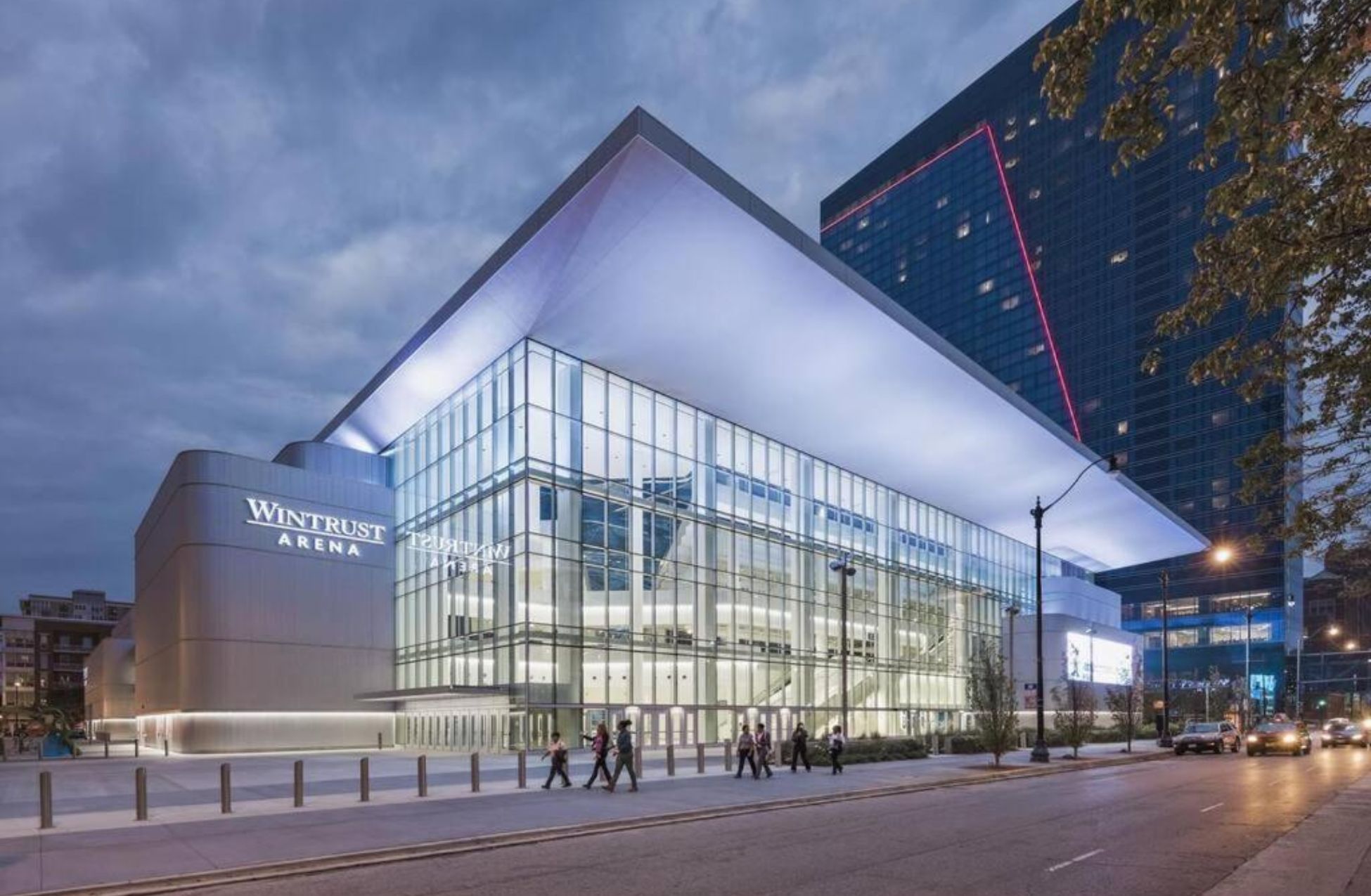 With these exquisite hotels at your fingertips, there's no need to compromise on comfort, style, or location while visiting the lively city of Chicago.
Affordable and chic, these accommodations offer an unparalleled level of luxury and service to travelers who dare to explore the extraordinary islands of the city on a budget. Let the wonders of Chicago captivate you, and cherish every moment of your unforgettable journey.
Hotel With A View In Chicago
Venture towards the Loop and West Loop where the prestigious Four Seasons Chicago resides, effortlessly showcasing the city's stunning architecture and enchanting winter landscapes.
Neighboring the historic Water Tower, this exceptional hotel provides remarkable vistas, encompassing Lake Michigan and the enchanting Chicago skyline. Its sophisticated design, coupled with divine culinary offerings, and a lavish spa makes for an exceptional stay.
The Four Seasons Chicago is a jewel in the heart of the city, combining opulence, comfort, and service in perfect harmony.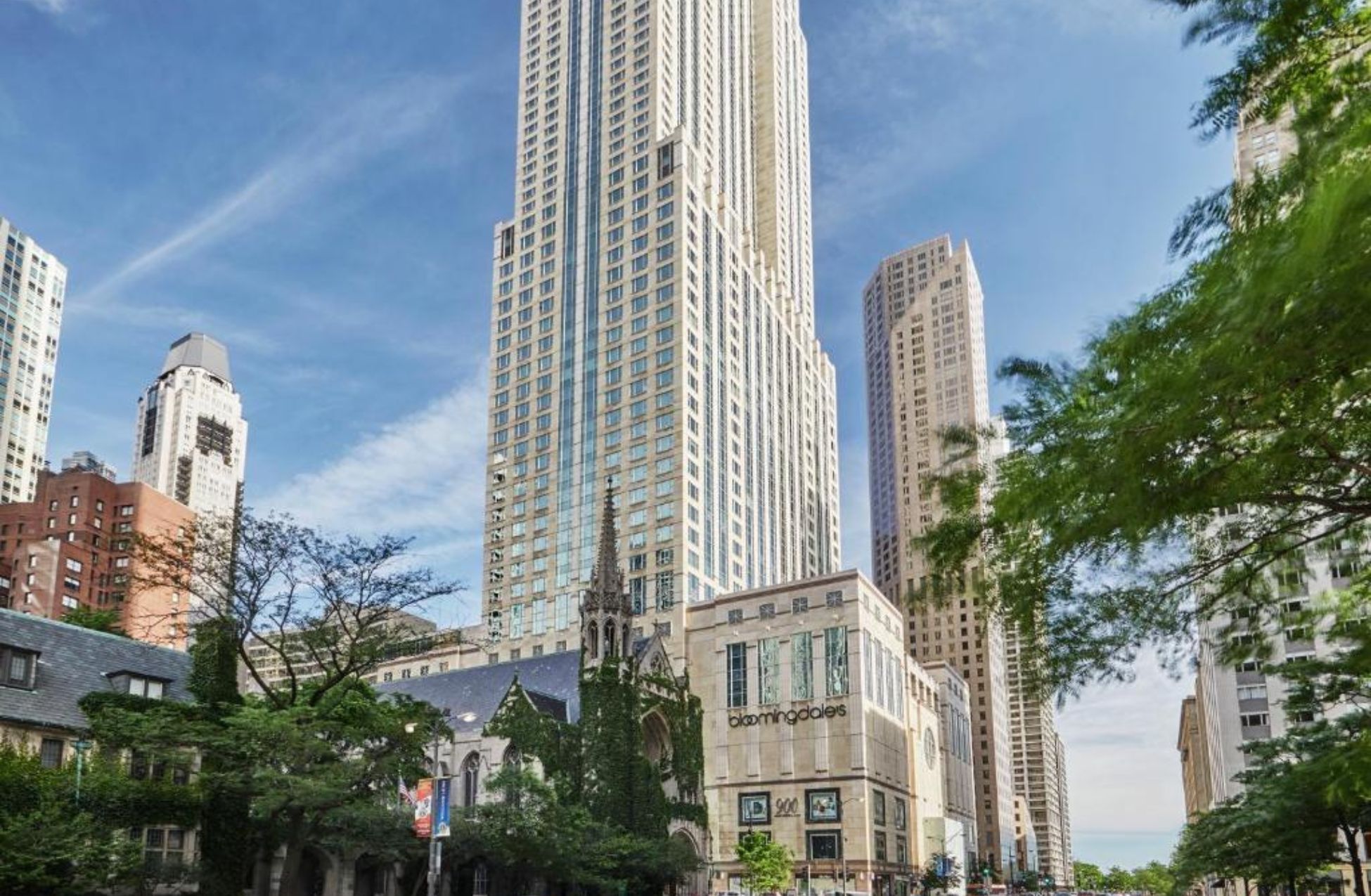 In summary, this exceptional hotel provide discerning travelers with impeccable service, top-notch amenities, and an exquisite dining experience, all enveloped in a breathtaking backdrop of the Chicago skyline.
It radiates sophistication, glamour, and charm, epitomizing the vibrant spirit of the city itself. Don't hesitate, and book your stay to this stunning establishment today, for an enthralling and unforgettable Chicago experience.
Hotel With A Pool In Chicago
The magnificent city of Chicago offers a luxurious hotel that provide not only hospitality but also fantastic pool facilities to enjoy the stunning skyline views. Located in the heart of downtown and on the Magnificent Mile, the following hotel offer travelers an experience of elegance, style, and relaxation.
Nestled in Chicago's iconic Magnificent Mile neighborhood, the Sofitel Chicago Magnificent Mile is an architectural gem with chic and contemporary design elements that complement the city's unique skyline.
Guests are treated to stunning views from their well-appointed rooms, where modern furnishings and luxurious amenities add sophistication and elegance to each stay.
Weather permitting, the hotel's outdoor pool allows guests to enjoy an invigorating swim while taking in the unparalleled views of some of Chicago's most famous landmarks. With its close proximity to upscale shopping and dining destinations, the Sofitel is a stylish and convenient hotel choice for Chicago-bound travelers.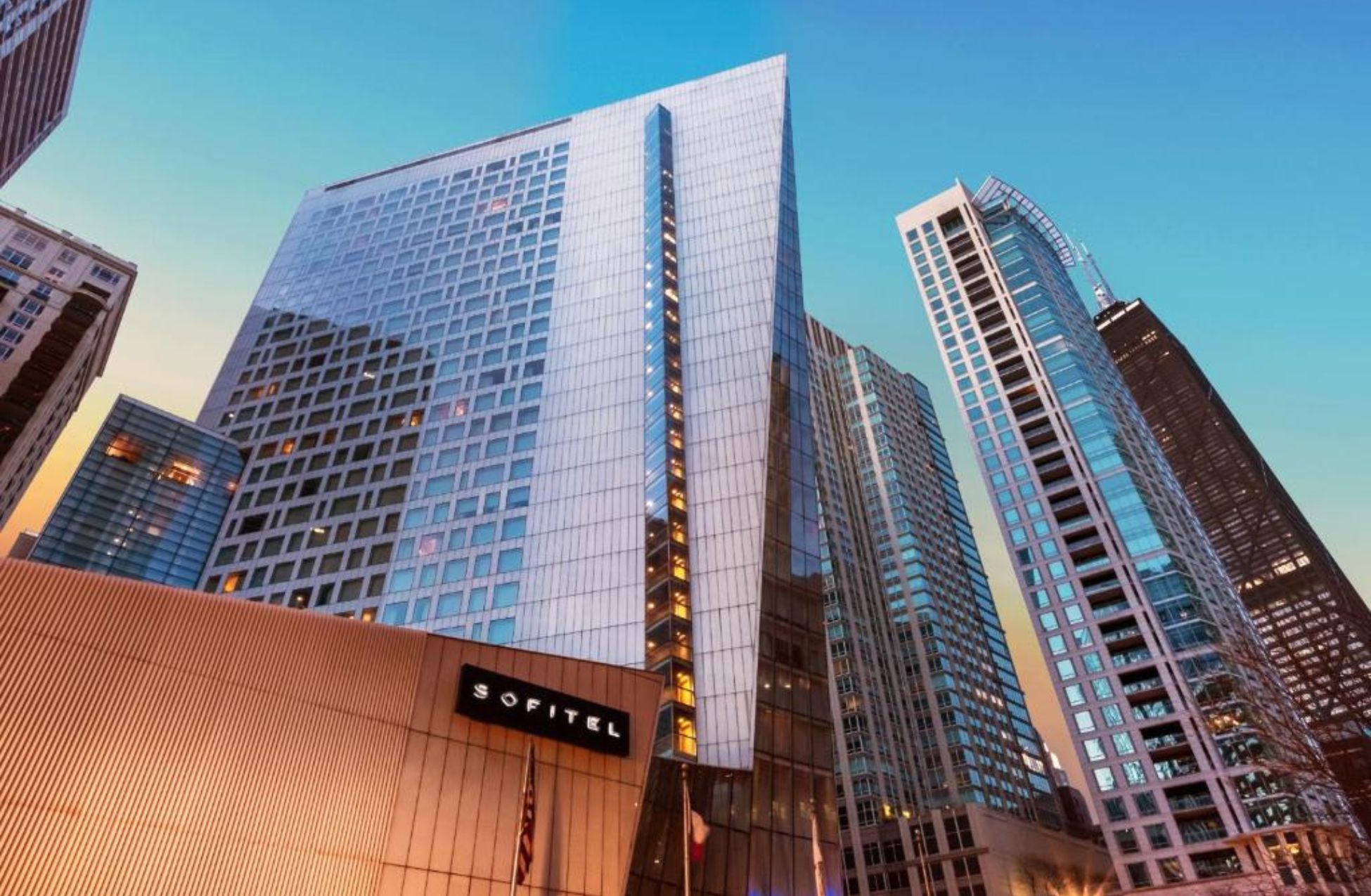 These hotels offer unparalleled hospitality, amenities, and pool facilities that will elevate any stay in Chicago. Each of these magnificent hotels provides guests with a unique blend of comfort, style, and an extraordinary dedication to service, promising a stay that will be both invigorating and unforgettable.
Hotels With Free Parking In Chicago
Chicago, the windy city, offers a remarkable assortment of hotels with free parking, perfect for travelers who prefer the convenience of doing their own driving. These properties boast fantastic amenities, world-class dining options, and strategic locations that will make your Chicago experience even more unforgettable.
The DoubleTree By Hilton Hotel is an elegant oasis where comfort and luxury meet convenience. Nestled in close proximity to the North Shore Center for the Performing Arts, this hotel is an excellent choice for those looking for top-notch entertainment options.
The hotel features a stunning rooftop ballroom with skyline views that will leave you mesmerized. Its seasonal outdoor and indoor pools are perfect for rejuvenating after a long day of exploring the city, while the on-site restaurant, Jameson's Charhouse, offers a delectable dining experience.
As a bonus, the DoubleTree by Hilton Hotel provides free self-parking for its guests, giving you the freedom to explore Chicago without the hassle of finding parking.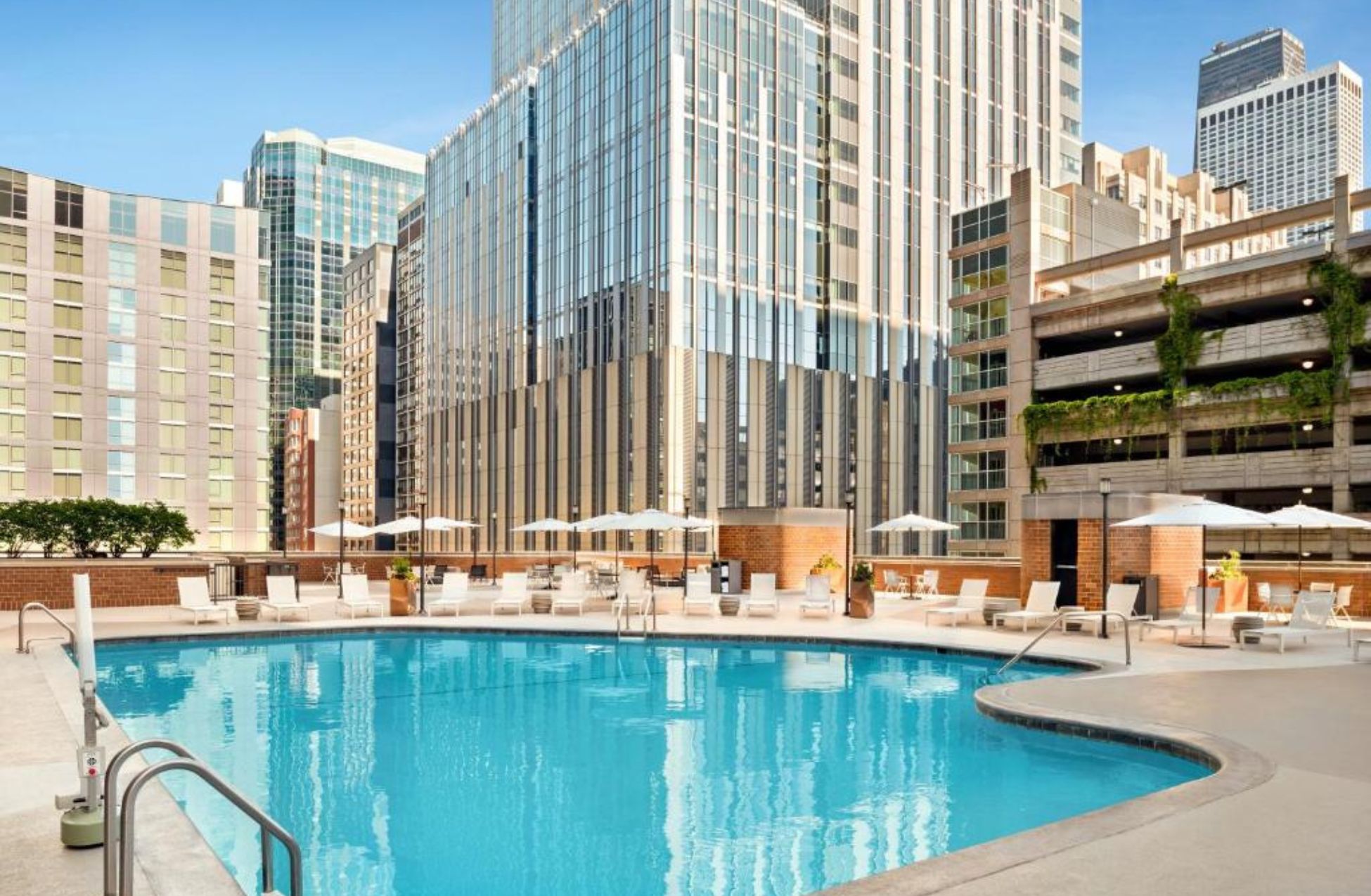 Another hotel that guarantees a remarkable stay in the heart of the city is the Holiday Inn Chicago – Midway Airport. This hotel's prime location along the renowned Magnificent Mile makes it an ideal choice for savvy travelers looking to enjoy the best of what Chicago has to offer.
In addition to free parking, the Holiday Inn provides easy access to numerous attractions, corporate centers, city landmarks, and lush parks. With its modern suites and impressive lobby, the hotel exudes an elegant charm that is sure to make an impression.
The guest facilities are equally impressive, from the well-equipped business center to the top-notch fitness center.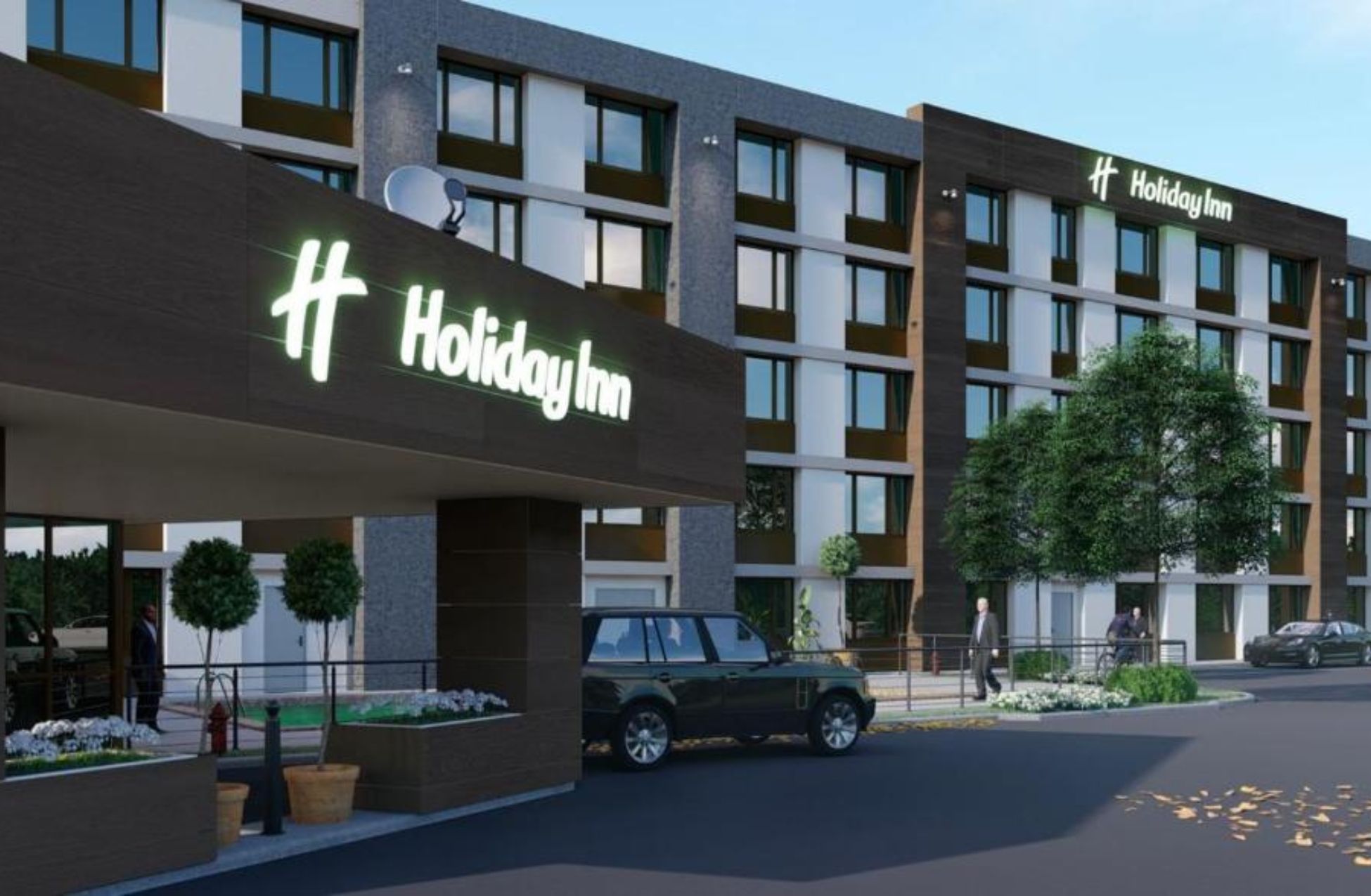 For the discerning traveler seeking a truly unique experience, the Island Suites is a breath of fresh air. Located in a secluded cove just off Chicago's bustling shores, each suite is housed on a picturesque private island, offering unrivaled tranquility without sacrificing the proximity to the city's exhilarating attractions.
The hotel's contemporary design, adorned with tasteful artwork and luxurious furnishings, perfectly complements the serene natural beauty of the waterfront setting.
Complimentary boat shuttles ensure that guests can effortlessly explore the city at their leisure, while the free parking allows them the flexibility to venture further afield to visit nearby landmarks like the Great Lakes Naval Training Center or the idyllic Lake Michigan shoreline.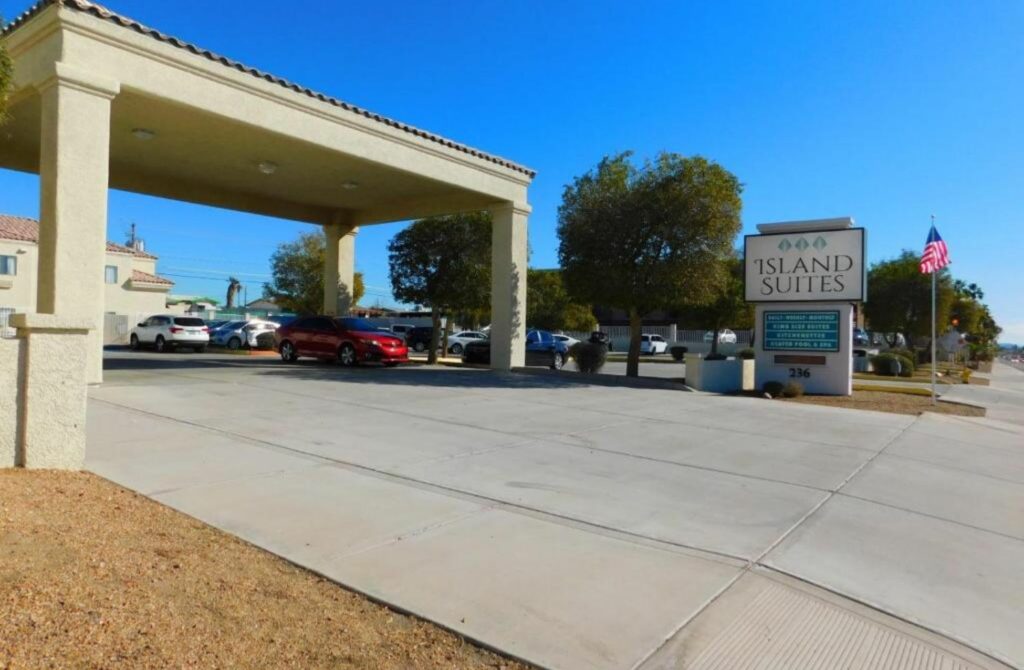 These exceptional Chicago hotels offer not only free parking but also top-tier amenities and convenient access to the city's myriad wonders. Experience the excitement of Chicago while enjoying the comfort and luxury of these outstanding properties, promising a memorable and enriching travel experience in the Windy City.