Detroit, an emblem of America's industrial heart and an unsung cultural beacon, pulses with renewed energy. As you immerse yourself in its vibrant tapestry, the best hotels in Detroit stand ready to make your experience unforgettable.
They serve as your personal sanctuaries, reflecting the city's resilient spirit and evolving sophistication.
The city's rhythm is intoxicating. Detroit teems with richly layered stories, from roaring motors to the soulful strains of Motown. As much a part of the city as the soundscape are the select accommodations. The best hotels in Detroit embody the city's character, marrying historic elegance with modern comfort in a way that only Detroit can.
And if you're a fan of cinema, you'll be thrilled to know that Detroit has been a captivating setting for many films. Explore our curated list of movies set in Detroit, which will allow you to dive even deeper into the city's vibrant tapestry of culture and history.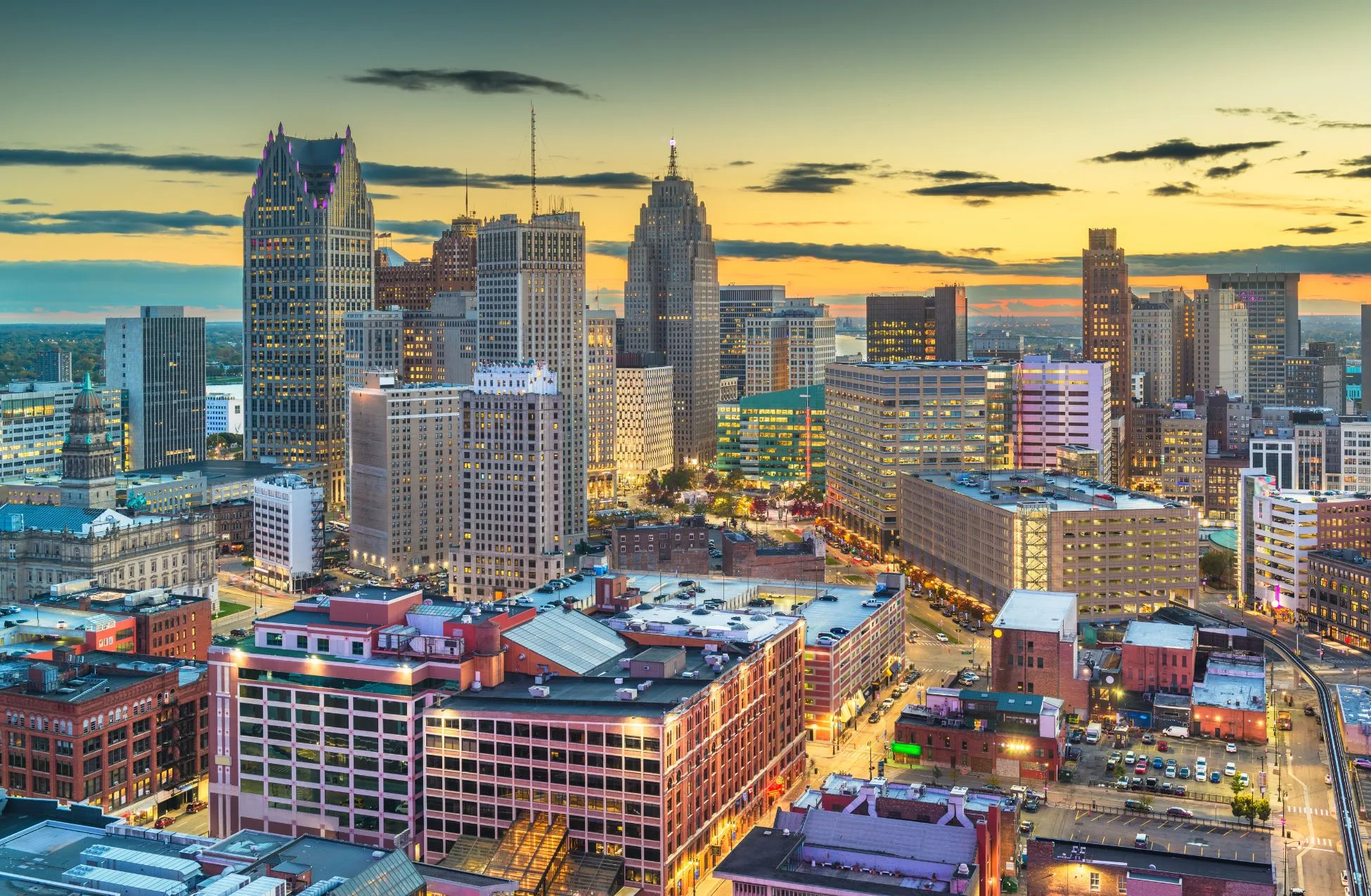 Immerse yourself in the hum of the city by day. Stand awestruck by the Detroit Institute of Arts' famed collections, catch a game at Comerica Park, or surrender to the pulse of music in a city that never lost its groove. These experiences, though rich, are but half the story. The right accommodation amplifies the city's allure, serving as the portal to the soul of Detroit.
Picture returning from a day of exploration to a haven where every detail whispers of Detroit's grandeur and grit. Each room you retreat into is a tribute to the city's craftsmanship, blending custom furnishings with curated art, while thoughtful amenities promise unadulterated comfort.
This is the promise held by Detroit's premier hotels – they are more than just places to rest; they are experiences waiting to unfold.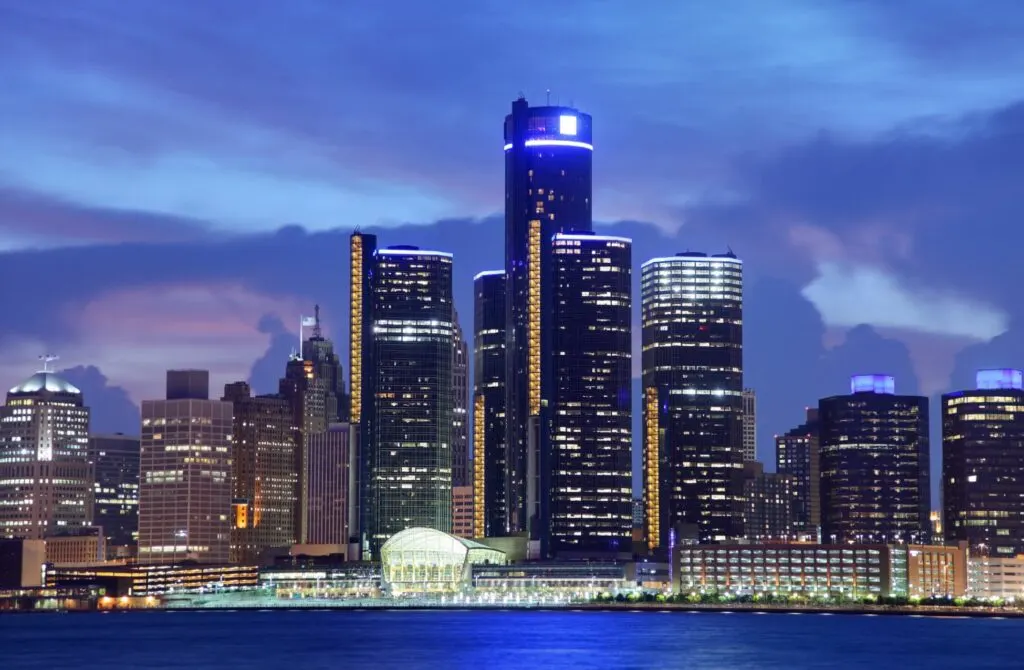 By night, the city's rhythm transitions from a robust beat to a slow, seductive thrum. The finest hotels embrace this shift, offering more than just sleep. Picture the clink of glasses in a lively beer hall, the sizzle of Detroit's burgeoning culinary scene at your fingertips, or simply a moment of tranquility in a beautifully preserved garden terrace.
From historic landmarks repurposed into luxury accommodations, to modern retreats that echo the city's contemporary rebirth, Detroit's top hotels magnify every facet of the city. A memorable experience of Detroit is not complete without an extraordinary place to stay. In these havens, you won't just be visiting Detroit – you'll be living it.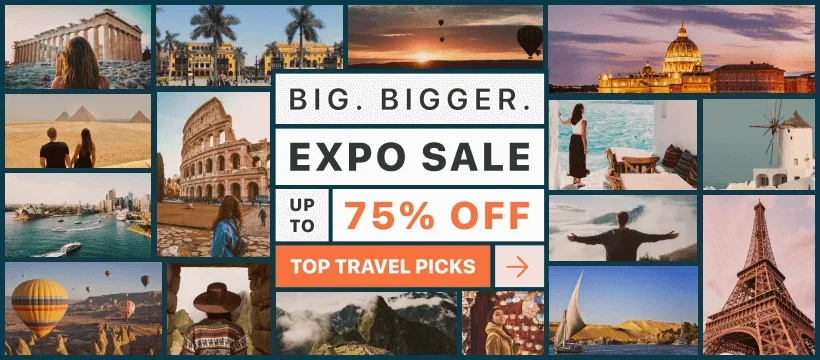 Luxury Hotels In Detroit
Detroit, known for its rich automotive history and vibrant music scene, is also home to some magnificent luxury hotels, perfect for those seeking upscale accommodations. Each of these hotels offers an unmatched experience complete with exceptional services, modern amenities, captivating design, and easy access to popular attractions.
Whether you're planning to explore the city's iconic landmarks, delve into its cultural offerings, or immerse yourself in the lively music festivals around the United States, these luxury hotels provide a luxurious haven for you to relax and rejuvenate in style.
The Westin Book Cadillac Detroit has made a grand comeback after a $200 million restoration, successfully combining historic elegance with contemporary style. This iconic hotel, located in the heart of downtown Detroit, is a luxurious haven offering easy access to the city's vibrant arts, entertainment, and sports scenes.
Its proximity to the Detroit Opera House and other notable attractions make it a prime choice for discerning travelers. When it comes to elegance and quality, the Westin Book Cadillac Detroit has it all, from its tastefully appointed guest rooms to its extensive conference facilities, renowned restaurants, and a state-of-the-art fitness center.
In addition, the hotel's original Italian Renaissance architecture lends a sense of grandeur that is unparalleled elsewhere in the city.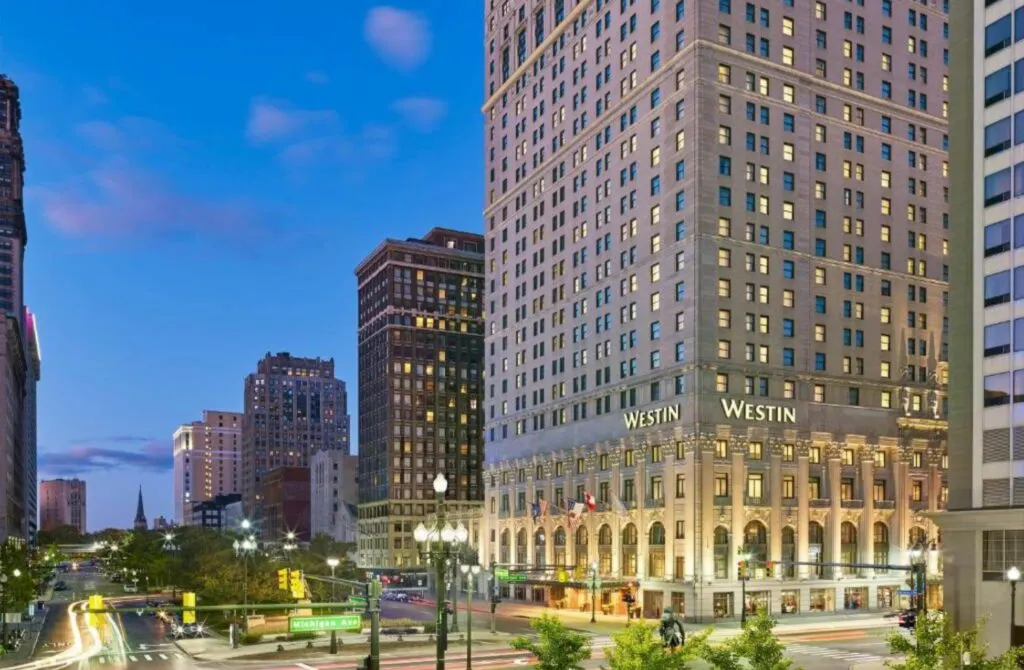 Another gem in the city's luxury hotel scene is the stunning MGM Grand Detroit, which has proven itself as the pinnacle of entertainment and hospitality in Detroit. This sophisticated property caters to guests seeking world-class accommodations, top-notch dining experiences, and exceptional amenities.
The MGM Grand Detroit boasts extravagantly appointed guest rooms and suites complemented by a full-service spa, diverse restaurants, and a fabulous casino that allows guests to indulge in exciting gaming action.
Nestled in a prime location near downtown Detroit, staying at the MGM Grand Detroit guarantees a thrilling and memorable experience, immersing guests in pure opulence and dazzling elegance.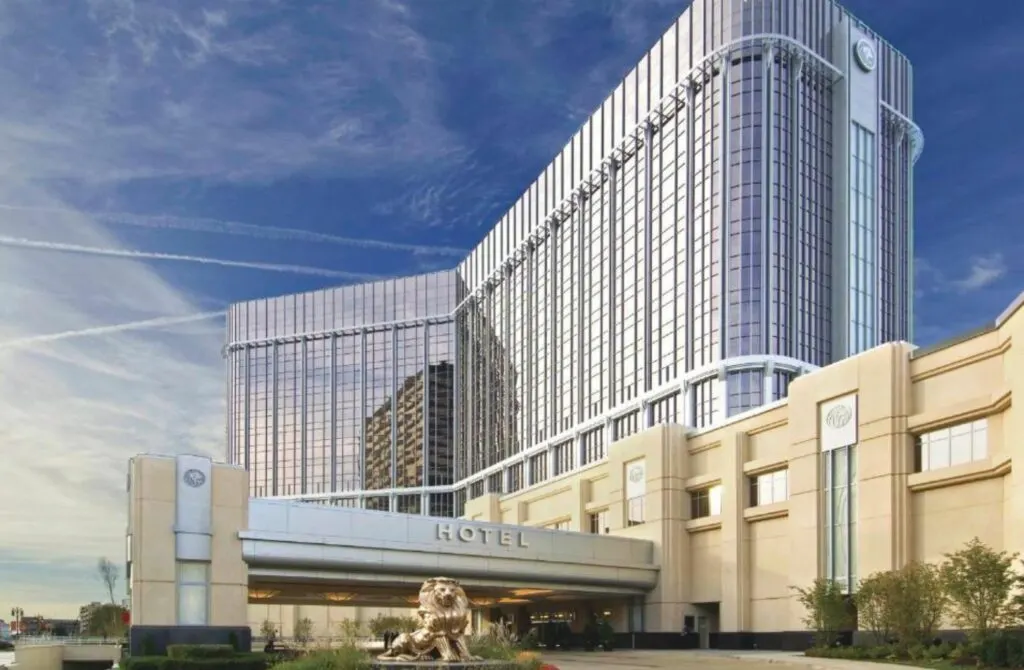 For those in search of a luxurious stay away from the hustle and bustle of the city center, the leafy suburb of Dearborn comes to the rescue with the idyllic, five-star The Dearborn Inn, A Marriott Hotel.
Built in 1931 by Henry Ford himself, the historic inn offers guests a serene and enchanting setting while still being close to downtown Detroit and the noteworthy Henry Ford Museum and Greenfield Village. The hotel's elegant accommodations, surrounded by beautiful gardens and stately architecture, cater to both leisure and business travelers.
With its deluxe amenities, including a fitness center, heated outdoor pool, and an on-site restaurant, The Dearborn Inn transports visitors into a world of comfort and refinement.
Travelers with a penchant for both luxury and convenience will find their perfect match at The Westin Detroit Metropolitan Airport. Situated within the McNamara Terminal, this lavish property combines sumptuous accommodations and unrivaled convenience for travelers using the Detroit Metropolitan Wayne County Airport.
The hotel's noise-proof windows ensure each guest can enjoy a tranquil and rejuvenating experience, while the Westin's signature Heavenly Bed and in-room spa services make for unparalleled comfort.
Furthermore, The Westin Detroit Metropolitan Airport offers a well-appointed fitness center, exquisite dining options, and personalized services tailored to meet the needs of globetrotting guests.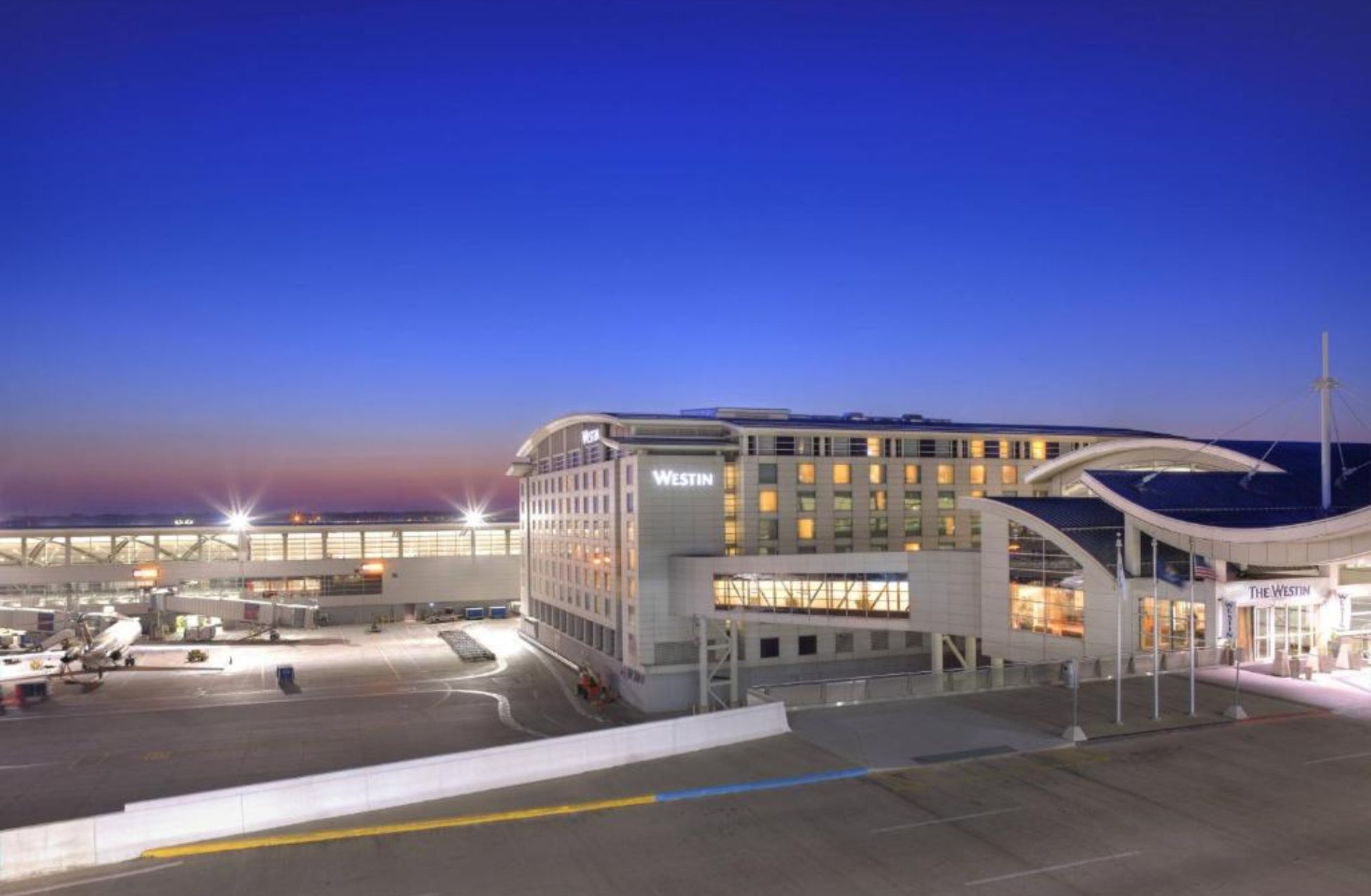 Mid-Range Hotels In Detroit
Detroit offers a wide range of luxurious yet affordable mid-range hotels that will take your breath away. The city's architectural splendor, rich history, and vibrant culture are beautifully reflected in its hotel scene. Allow me to take you on a journey around the 3 to 4-star hotels that keep guests raving, featuring everything from exquisite design to top-notch amenities!
Next, let me introduce you to the fabulous Aloft Detroit at The David Whitney, a 3-star marvel that offers a contemporary oasis in the bustling city. Housed in the iconic David Whitney Building, this hotel boasts an impressive atrium lobby where urban chic intertwines with Detroit's storied past.
Modern guest rooms, designed with vibrant colors and sleek furnishings, create a home away from home atmosphere in the heart of downtown Detroit. Enjoy a satisfying workout at the Re Gym, or unwind at the hotel's bar with an expertly curated selection of drinks.
Craving a delicious meal? The on-site restaurant tantalizes your taste buds and caters to all your culinary desires. Of course, you can't forget the comfort of staying connected to work or loved ones through free WiFi and an outstanding level of customer service.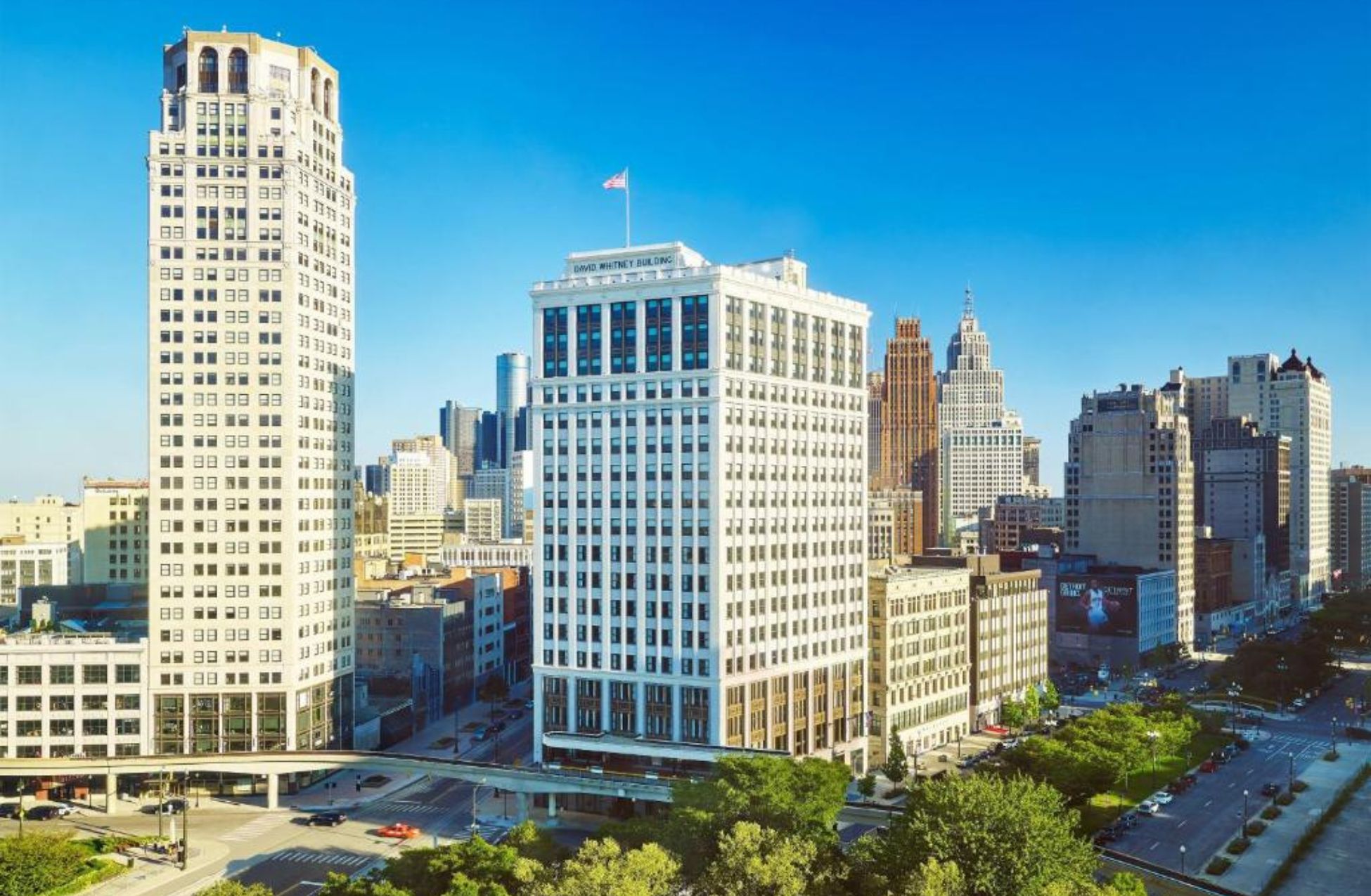 Continuing on our exciting Detroit hotel journey, we arrive at the chic Hotel Indigo Detroit Downtown. Nestled within striking distance of downtown Detroit's landmarks, this 3-star hotel exudes elegance, charm, and sophistication at every turn.
The eclectic design of the lobby welcomes you with open arms, featuring vibrant hues and bold patterns, setting the stage for an unforgettable experience. Indulge in the luxuries of their spacious guest rooms, offering amenities, including the essential free WiFi and a praise-worthy Fitness Center.
The unique, stylish ambiance of the on-site restaurant will captivate your senses as you dine on delectable cuisine created by innovative chefs. At Hotel Indigo Detroit Downtown, the excellent customer service is just icing on the cake, making your stay even more extraordinary.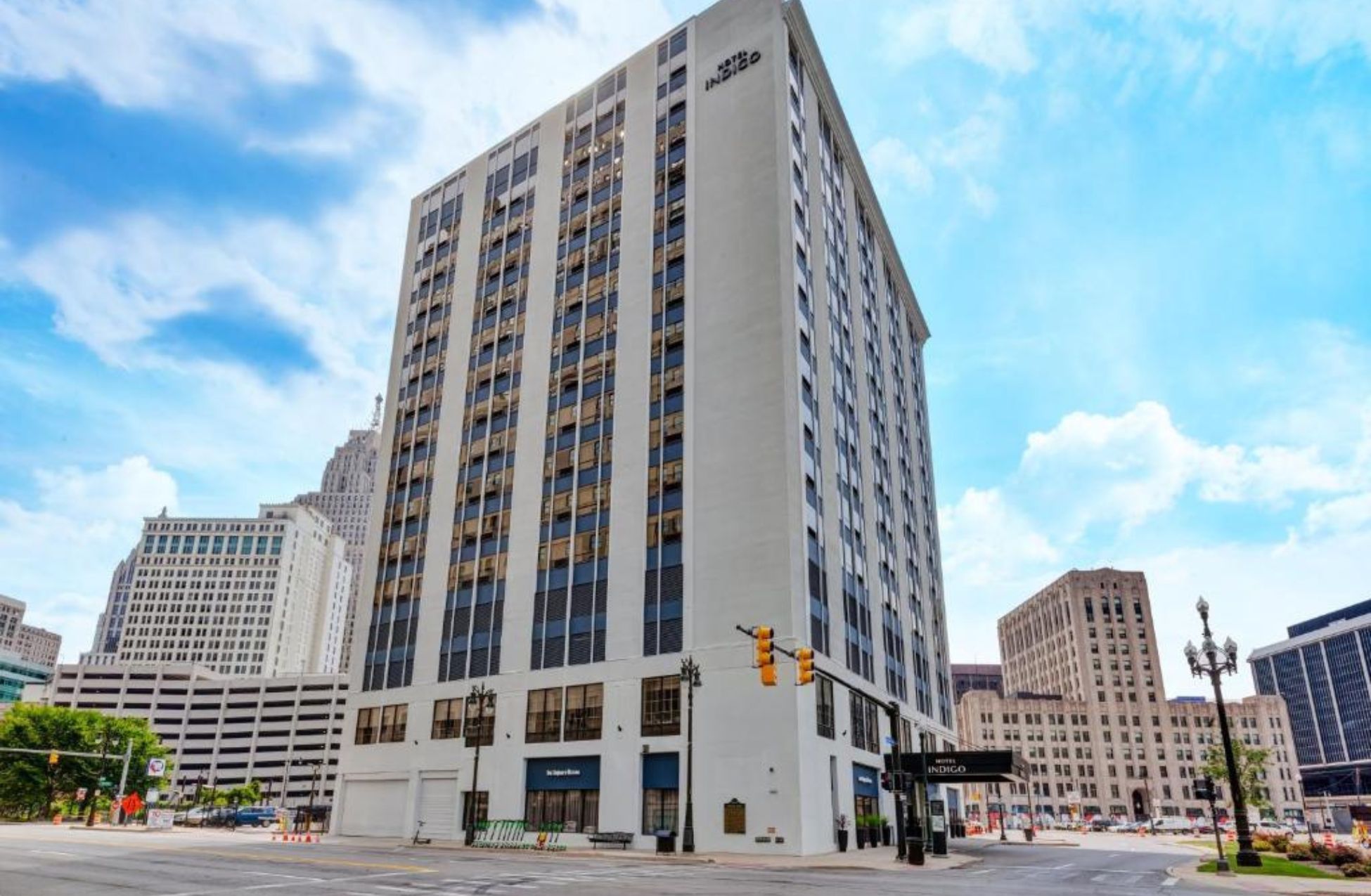 These splendid mid-range hotels in Detroit demonstrate that you don't have to compromise comfort or opulence to stay within your budget. Each one offers a unique experience tailor-made for an unforgettable visit.
With unrivaled locations, mesmerizing design, sought-after amenities, and exceptional customer service, there's no better time than now to plan your enchanting Detroit escape.
Boutique Hotels In Detroit
Detroit, Michigan, a city rich in history and culture, offers a myriad of exquisite boutique hotels for travelers who crave a distinct and luxurious experience. Among these gems, three boutique hotels particularly stand out due to their unique blend of historic elegance, contemporary design, and impeccable service.
As you immerse yourself in the vibrant atmosphere of Detroit, known for its iconic landmarks and vibrant neighborhoods, it's worth noting that the city has also served as a captivating backdrop for numerous movies set in the United States of America.
Explore our curated list of films set in Detroit and other parts of the country, and let these cinematic journeys add another layer of fascination to your visit.
Shinola Hotel emanates true luxury and sophistication, situated right in the heart of Detroit. This stunning hotel showcases its exclusive collaboration with Shinola, a prominent Detroit-based brand renowned for their craftsmanship and attention to detail.
The hotel's interior design masterfully blends timeless classic elegance with contemporary aesthetics, creating a deluxe ambiance that leaves every guest feeling pampered and inspired. Each of the 129 elegantly appointed guestrooms exudes style, comfort, and an unmistakably Detroit soul.
Stunning amenities include a curated shopping experience, extraordinary dining options, such as celebrated chef Thomas Lents' tantalizing cuisine, and an expansive rooftop terrace with breathtaking city views. The Shinola Hotel's exceptional location offers easy access to Detroit's top attractions, making it the ultimate choice for travelers seeking luxury in downtown Detroit.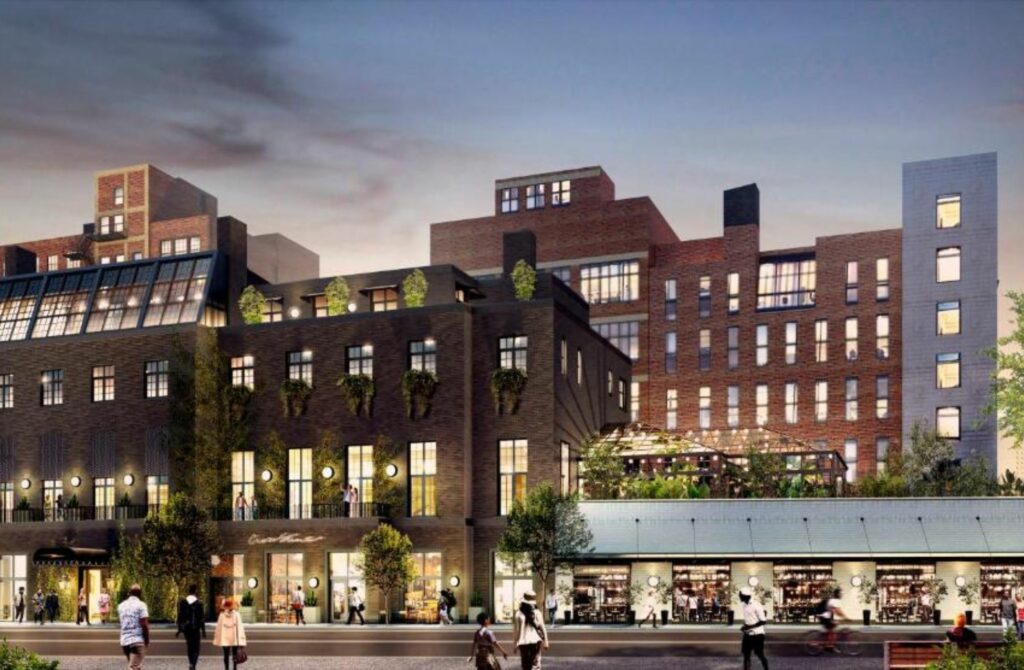 Nestled within the heart of the bustling city, the iconic Siren Hotel promises an unforgettable stay for its guests. Housed in the historic Wurlitzer building, this architectural masterpiece has been meticulously restored, embracing its 20th-century charm while incorporating contemporary design elements throughout.
The hotel features 106 sumptuously designed guestrooms, each adorned with custom furnishings and thoughtfully curated amenities that ensure a truly extraordinary experience. The Siren's one-of-a-kind artistic ambiance extends beyond its accommodations, luring guests to explore its exceptional dining and entertainment venues.
The Candy Bar, an intimate and enchanting cocktail lounge, and the intimate eight-seat tasting menu restaurant Albena create an atmosphere that is both captivating and indulgent. The Siren Hotel's privileged location makes it an ideal destination for exploring Detroit's vibrant cultural scene.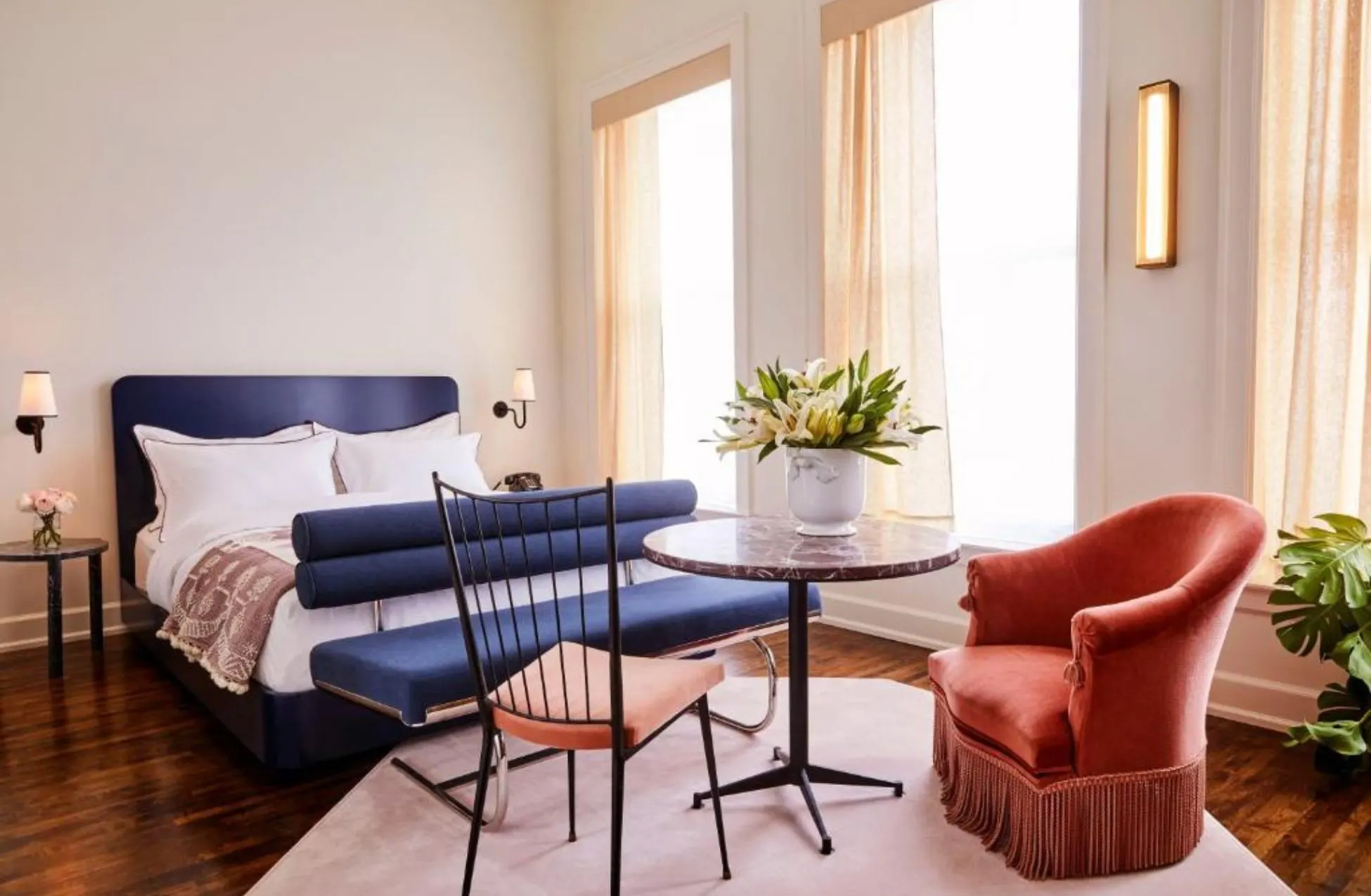 Last but certainly not least is the undeniably stylish and trendy Trumbull and Porter Hotel. Nestled in the heart of Detroit's historic Corktown neighborhood, this boutique hotel exudes a compelling blend of industrial chic and warm, welcoming hospitality.
Each of its 144 guestrooms showcases custom art, locally crafted furniture, and innovative amenities, creating a stunning fusion of contemporary design and vintage-inspired charm. After a long day of exploring the city's rich history, guests can unwind in the hotel's courtyard beer garden or treat themselves to a mouthwatering meal at the renowned Red Dunn Kitchen.
Providing a convenient location, exceptional hospitality, and an unmistakable Detroit spirit, the Trumbull and Porter Hotel is undoubtedly a premier choice for travelers seeking a distinct and memorable stay in this charismatic city.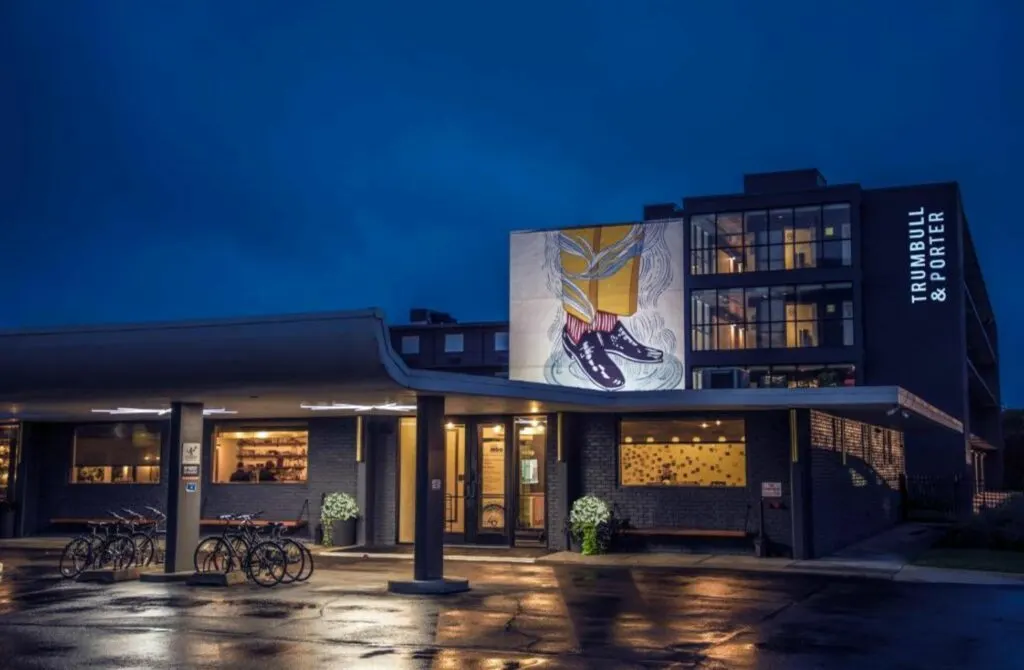 Budget Hotels In Detroit
Nestled in the heart of Detroit, the Sonder Gabriel Richard Downtown offers an exquisite blend of modern design and classic charm. From its prime location, guests can explore the vibrant city without burning a hole in their pockets. With an impressive array of amenities and stellar customer service, this hotel is an outstanding choice for the budget-conscious traveler.
One of the key features that sets this property apart is its commitment to providing guests with convenient free parking. The warm and inviting rooms also boast a security guard on duty, ensuring a safe and comfortable stay.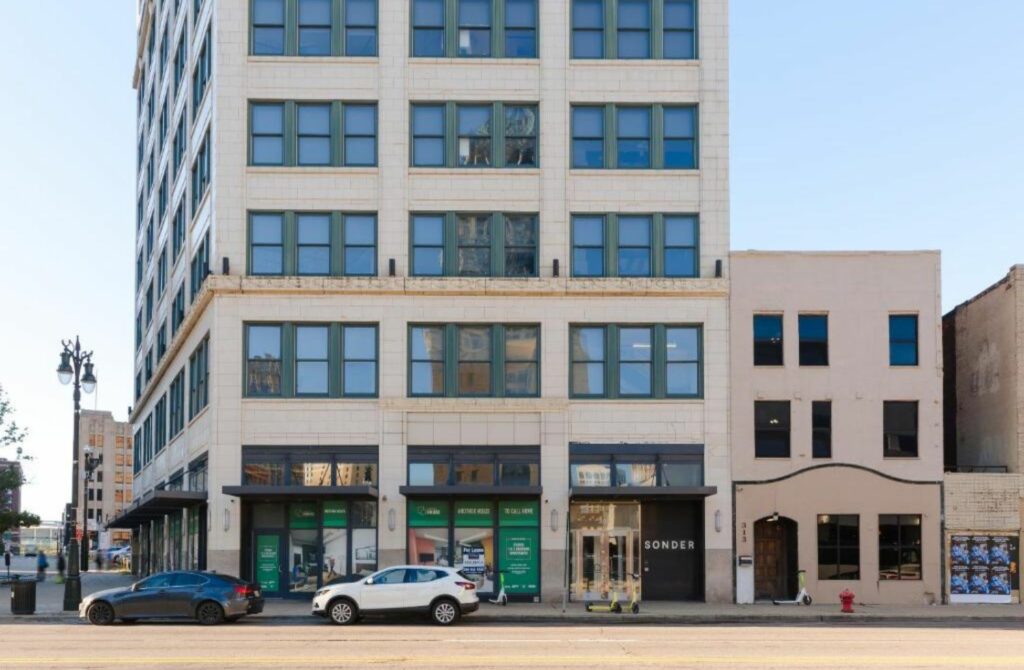 Another excellent option for those looking to save on their trip to Detroit is the Spacious Luxe Loft Near Downtown. This chic loft-style accommodation boasts an artistic flair that merges seamlessly with the city's dynamic atmosphere. Guests can expect a plethora of contemporary amenities, including free parking that adds a touch of convenience to their stay.
The property's location allows easy access to local attractions and gastronomic delights. Scored exceptionally by past visitors, the loft's impeccable design and prime positioning make it difficult to resist.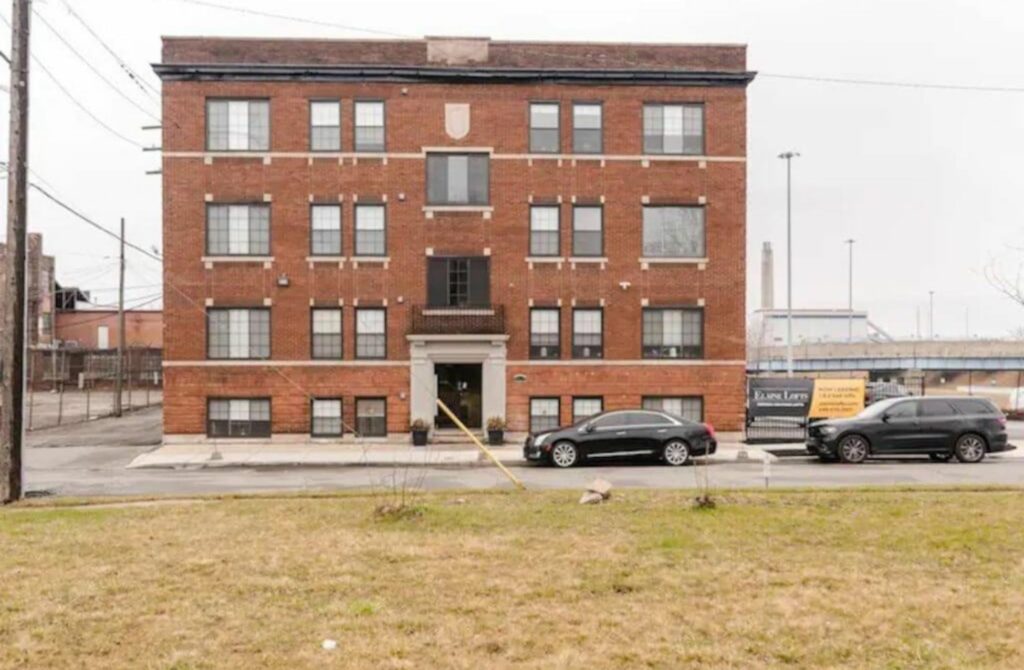 For an exceptional blend of value and comfort, don't miss the Fort Pontchartrain Detroit, a Wyndham Hotel. Situated in the bustling downtown area, guests will be delighted to find themselves within walking distance from iconic landmarks, fabulous restaurants, and mesmerizing entertainment options.
After a day of exploring, the hotel's well-appointed rooms greet arriving guests with an oasis of tranquility. The Wyndham Hotel shines as one of the top picks among budget hotels in Detroit, thanks to its review score that stands as a testament to its dedication to customer satisfaction.
Free Wi-Fi is available throughout the property, keeping travelers connected as they enjoy their Motor City adventures.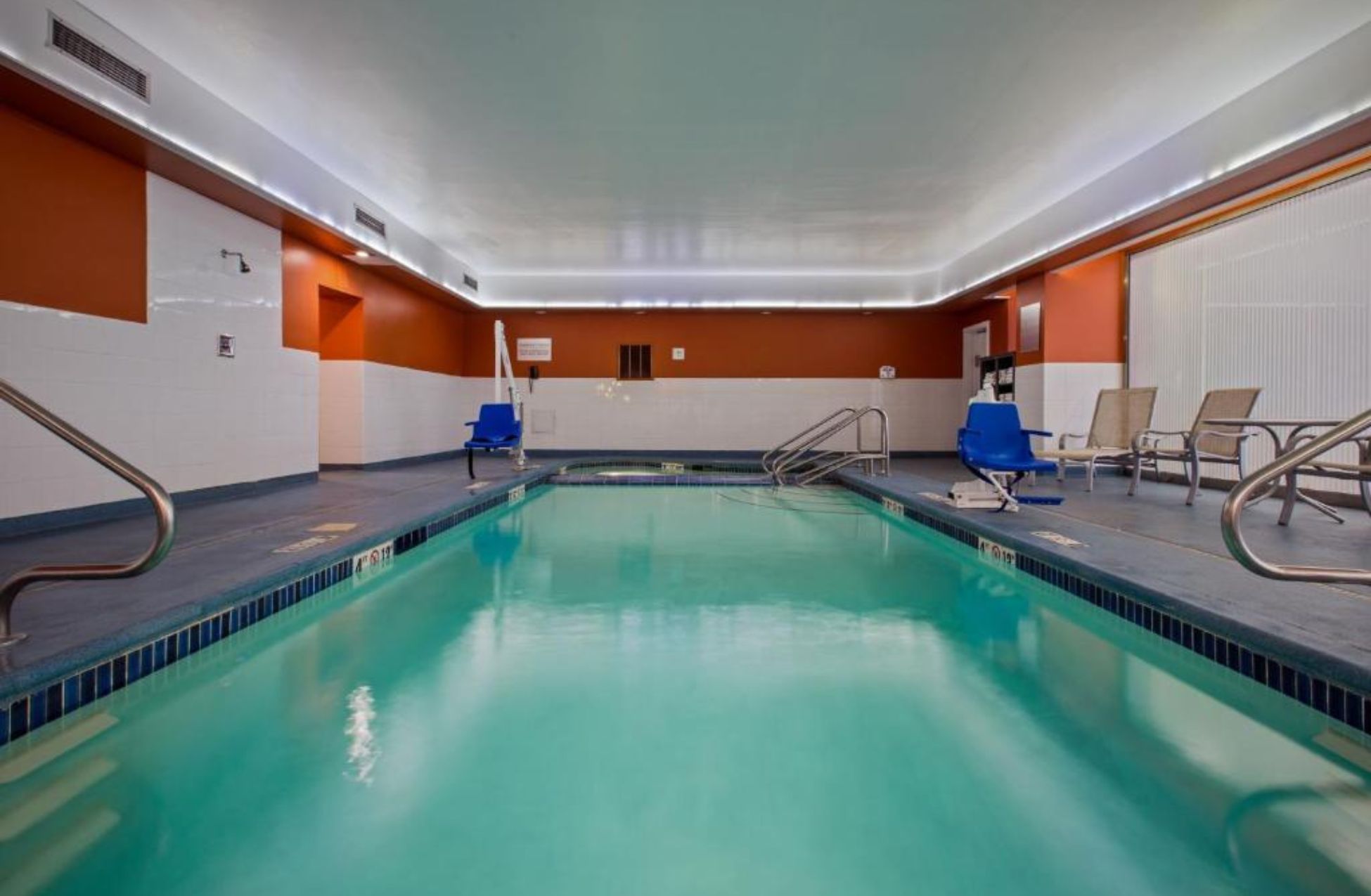 Last but not least, the Rivertown Inn & Suites Downtown Detroit captures the industrial soul of the city while enveloping guests in stylish spaces blended with modern comfort. Guests can embark on a cost-effective adventure without skimping on quality.
The charismatic hotel offers free Wi-Fi, making it a haven for those itching to share their Detroit experience on social media. Its strategic location in the Rivertown Inn & Suites Downtown Detroit provides a thrilling immersion into the city's robust art and music scenes.
Paired with free parking and awe-inspiring surroundings, guests will undoubtedly find a sanctuary of relaxation amidst the electrifying city terrain.
Each of these budget-friendly hotels delivers a unique and noteworthy experience for guests seeking a taste of Detroit's magic. By providing a fantastic array of amenities, creature comforts, and remarkable design, these accommodations exude the excited spirit of Detroit while remaining very affordable.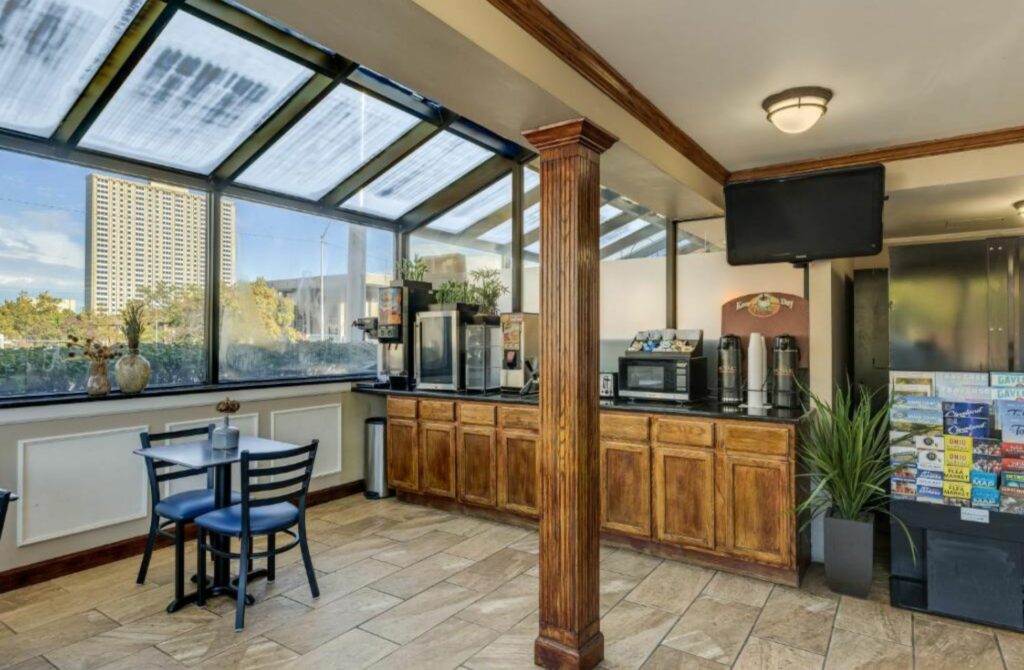 Hotel With A View In Detroit
Another remarkable hotel making our list is the Courtyard Downtown, receiving an 8.4/10 rating. With picturesque views of the Detroit River and the city's skyline, it is impossible not to be enchanted by this hotel's prime location.
Enjoy easy access to the vibrant Corktown neighborhood, thriving Greektown, and notable attractions like the Motown Museum and Fisher Theatre. A diverse array of world-class restaurants and bars add an exciting dimension to your stay, as does the striking architectural landscape that encompasses the hotel.
The Courtyard Downtown is a sophisticated choice for travelers seeking a hotel that goes above and beyond, enriching the heart and soul of your Detroit experience.