Set against the stunning backdrop of New Zealand's largest lake, Taupo is a haven for travelers seeking both adventure and tranquility. But finding the best hotels in Taupo can make the difference between a memorable trip and an extraordinary one.
In Taupo, the right accommodation doesn't just provide a place to rest; it enhances every facet of your journey, merging comfort with the natural wonder that defines the region.
Taupo's heart beats with nature's rhythm. Towering volcanoes stand sentinel around Lake Taupo, while the tranquil waters mirror the sky. These landscapes aren't just for viewing; they are playgrounds for the adventurous.
Here, you can explore a variety of activities in New Zealand that cater to every type of adventurer. Hike through ancient forests, paddle across the clear lake, or even take the plunge with a bungee jump. The thrills are as vast as the vistas, offering an array of things to do in New Zealand for those seeking unforgettable experiences.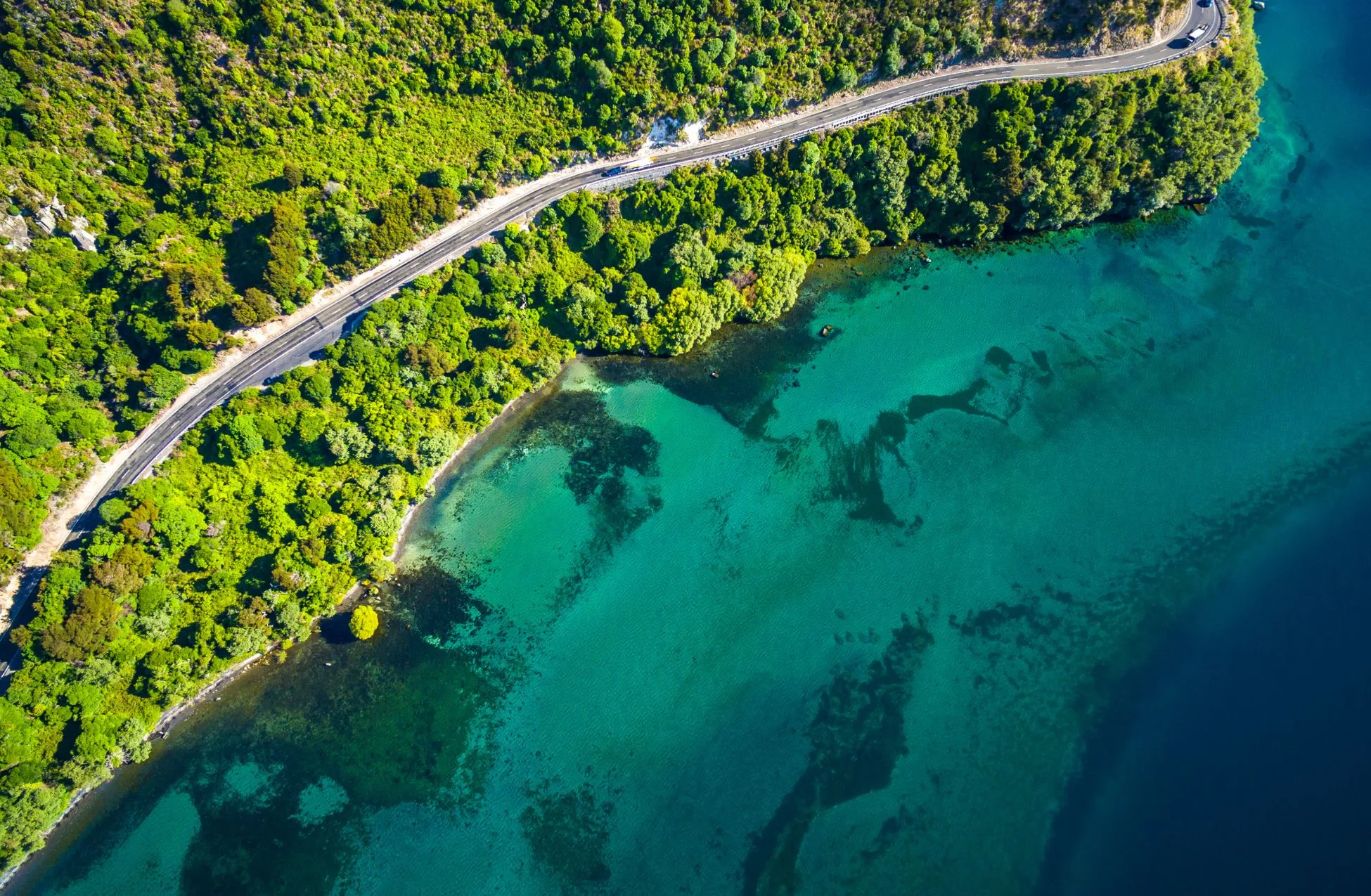 Yet Taupo isn't only about adrenaline. It's a place to connect with the earth. The region's geothermal activity has shaped not only the land but the culture. Steam rises from hidden springs, and mud pools bubble mysteriously.
These natural phenomena offer unique spa experiences, where you can soak in mineral-rich waters, feeling the earth's warmth soothe your body and soul.
Food in Taupo is a celebration of local bounty. Whether it's trout freshly caught from the lake or produce harvested from nearby fields, dining here is a culinary exploration. From fine restaurants to casual cafés, flavors are fresh, genuine, and crafted with love.
Art and culture weave through the city as well. Local artisans turn natural materials into beautiful pieces, and galleries showcase the creativity that thrives in this inspiring setting. Maori culture, integral to New Zealand's identity, resonates here too, offering opportunities to engage with traditions that stretch back centuries.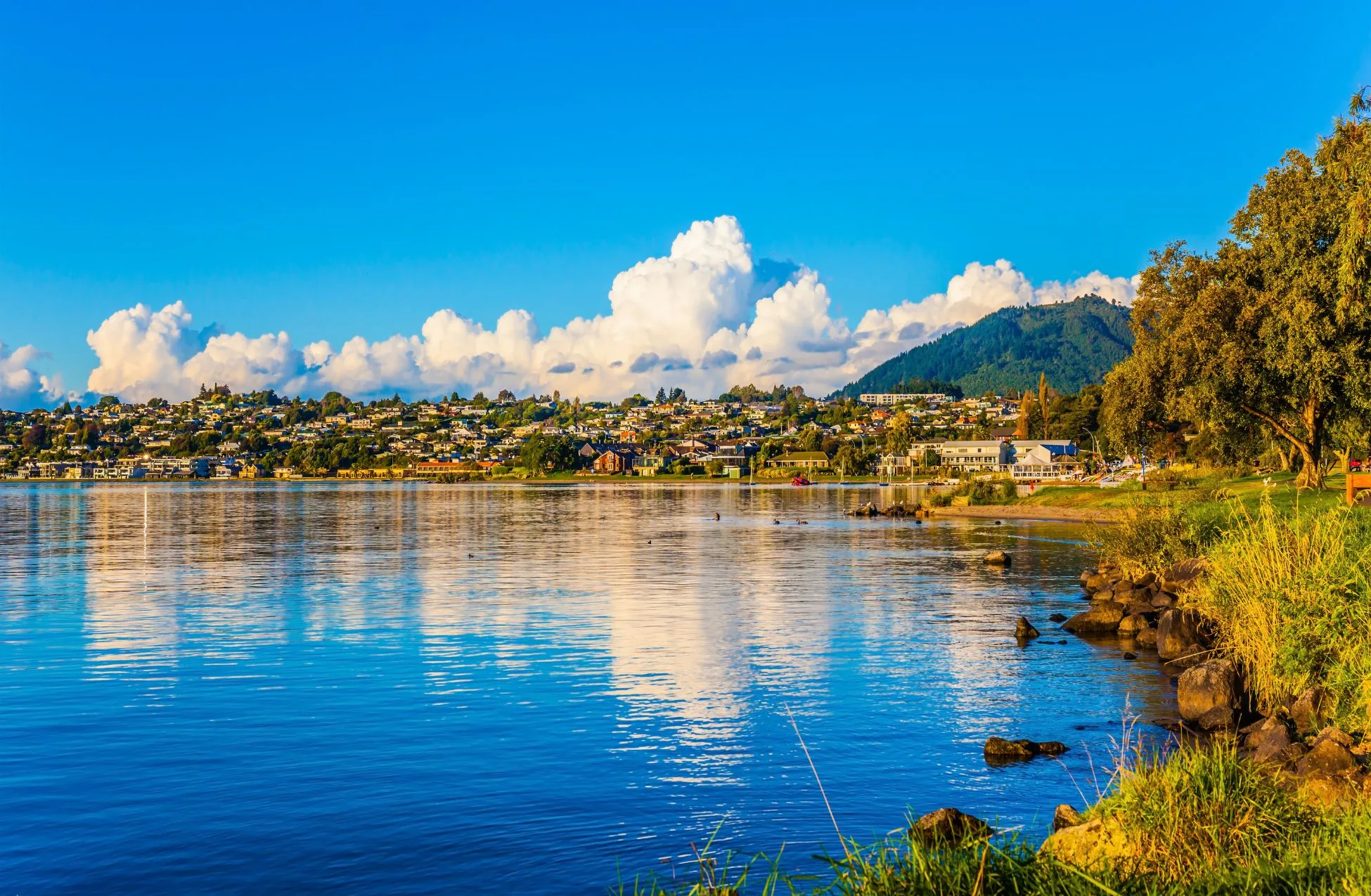 Accommodation in Taupo isn't just a detail; it's an essential part of your experience. The best hotels in Taupo understand the land and the people. They offer more than a room; they offer a connection. Whether it's a view that takes your breath away, a meal that delights your palate, or a spa that offers true relaxation, the right place to stay can turn a trip into a treasure.
So, as you plan your visit to this remarkable destination, recognize that Taupo isn't merely a dot on the map. It's an immersion, a blending of natural wonders and cultural richness, a juxtaposition of thrill and tranquility.
And selecting the perfect lodging will unveil it all, revealing not just a hotel room but a gateway to a realm where every instance is suffused with the very essence of New Zealand's astounding magnificence.
Moreover, the array of movies shot in New Zealand stand as a testament to the breathtaking landscapes that have captured the hearts of both filmmakers and travelers alike.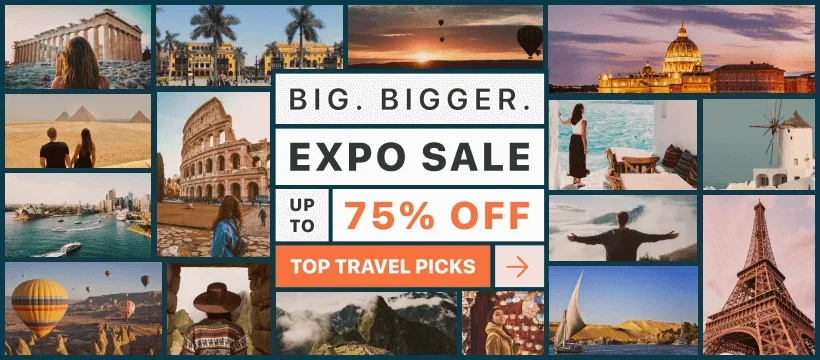 Luxury Hotels In Taupo
Nestled on the pristine shores of Lake Taupo, the Hilton Lake Taupo is an exquisite 5-star property that offers guests an unforgettable stay in the lap of luxury. Boasting a superb location, this upscale establishment is the perfect spot to unwind and soak in mesmerizing panoramic vistas of New Zealand's largest freshwater lake and the picturesque surroundings.
The stylish guestrooms are elegantly appointed and feature all the conveniences expected from a world-class hotel, including complimentary Wi-Fi, a fully-equipped kitchenette, and opulent bedding to ensure a restful night's sleep.
Fitness enthusiasts will appreciate the hotel's state-of-the-art gym, while those looking to indulge in moments of pure relaxation can slip away to the outdoor swimming pool for a leisurely dip under the clear blue skies.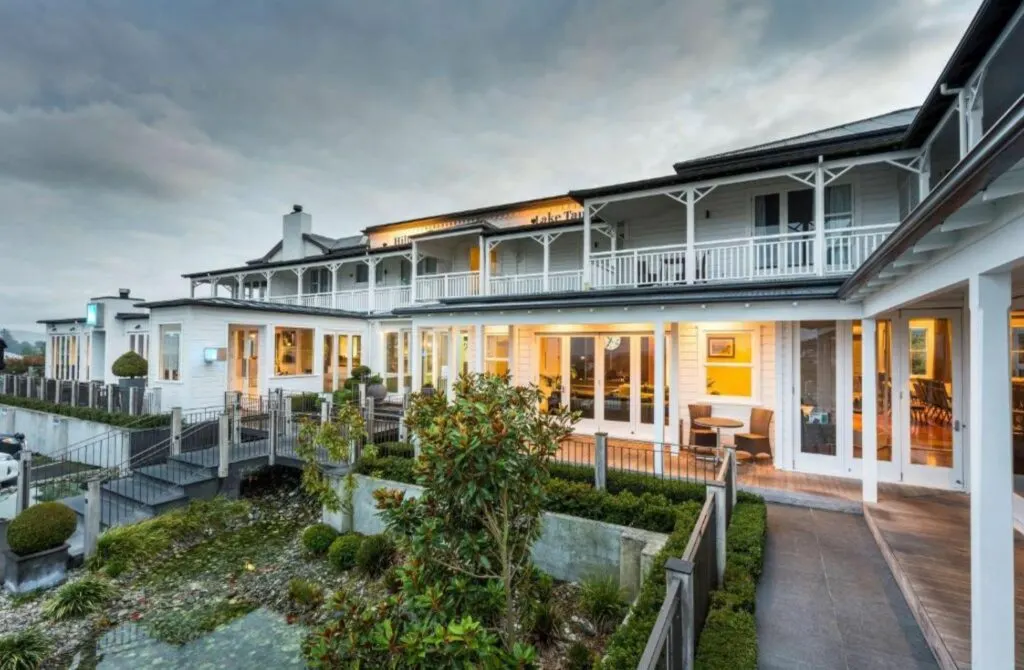 A refined gem tucked away in the serene valley of Wairakei, the Wairakei Resort Taupo allows guests to immerse themselves in a tranquil wonderland cocooned by lush, verdant landscapes. This 4-star property exudes a sense of warmth and sophistication, seamlessly integrating old-world charm with modern elegance.
Each beautifully-appointed guestroom is thoughtfully designed to provide visitors with utmost comfort, equipped with inviting beds, plush furnishings, and a host of amenities that cater to their every desire. Guests can enjoy complimentary Wi-Fi access, free parking, and exciting outdoor activities that abound in the vicinity.
Be it a rejuvenating thermal soak or a thrilling hike to Huka Falls, the Wairakei Resort Taupo is an ideal sanctuary to create lasting memories amid nature's splendor.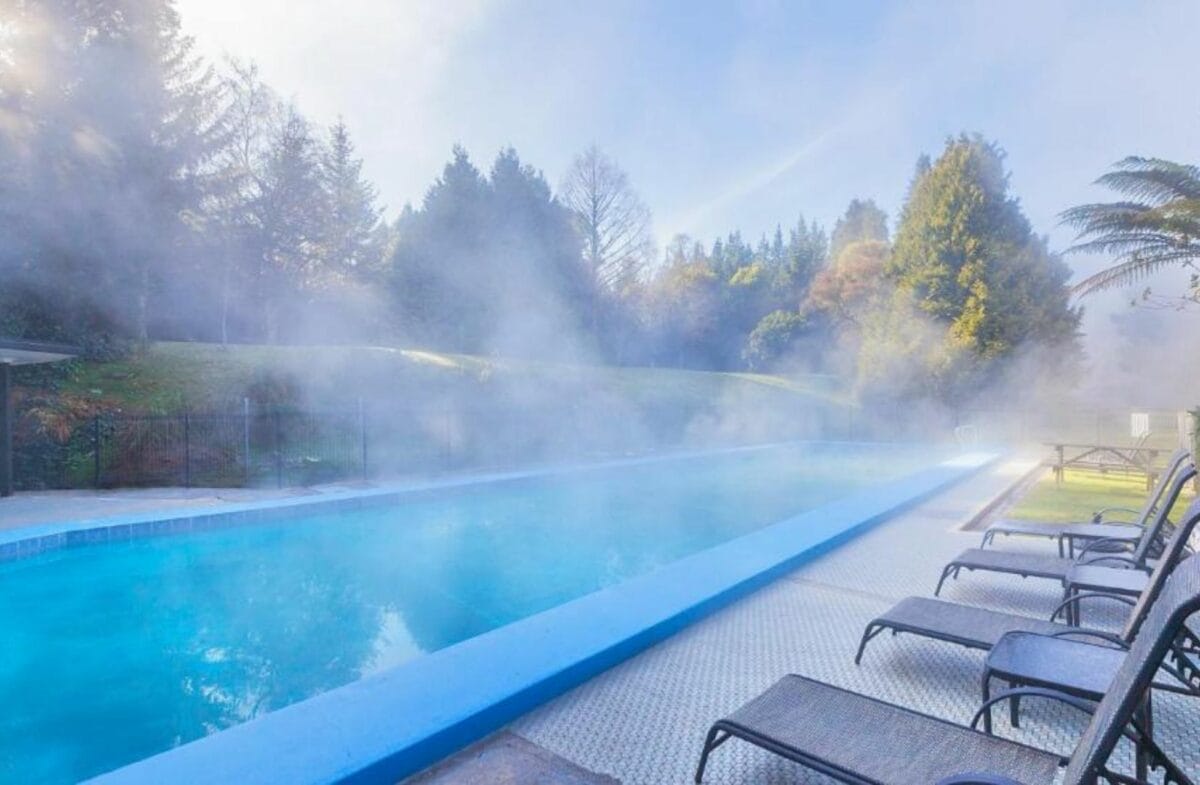 Perched on the edge of the spectacular water body that is Lake Taupo, the Cascades Lakefront Motel invites discerning travelers to indulge in an unforgettable stay characterized by sumptuous luxury and breathtaking surroundings.
Designed by renowned architects, this boutique property seamlessly blends modern design sensibilities with an innate respect for the jaw-dropping natural beauty that envelops it.
Each of the motel's delightfully appointed deluxe rooms open up to an awe-inspiring panorama of the tranquil lake, inviting mesmerizing sunrises and sunsets that are sure to take your breath away.
As you enjoy the serenity of the lakefront lodgings, indulge in the plethora of top-notch amenities available at your disposal, including an array of sumptuous dining options meticulously crafted to tantalize your taste buds, a relaxing outdoor pool to wash away the day's adventures, and free high-speed Wi-Fi to keep you connected with your regular life.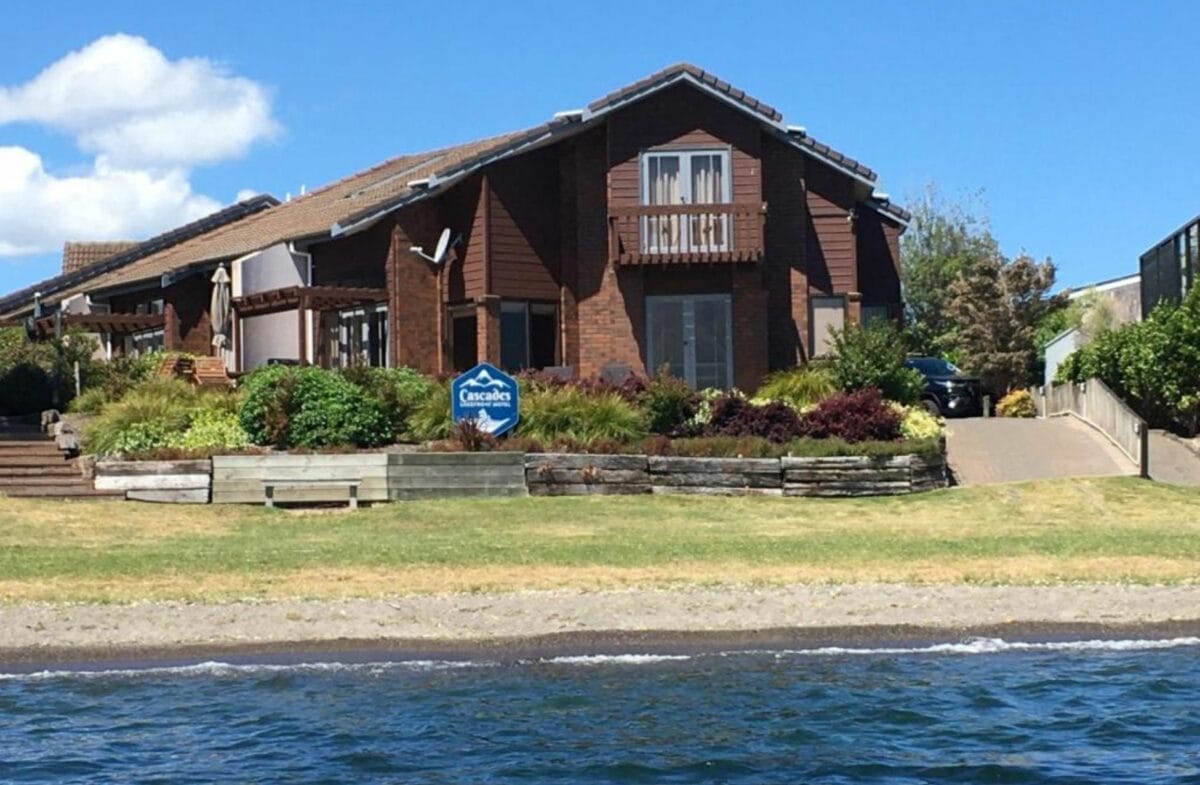 These luxurious hideaways, tucked away in the enchanting environs of Taupo, are the apotheosis of refinement and offer a sublime escape from the monotony of daily life, all while being conveniently situated near the UNESCO World Heritage Sites in New Zealand.
From their impeccable designs to their unmatched hospitality and world-class amenities, these establishments truly stand out as fascinating gems that offer unparalleled experiences in New Zealand's lap of luxury.
Mid-Range Hotels In Taupo
Emotel, an oasis of comfort and charm, is positioned stunningly close to the famous freshwater Trout-filled lake. The cozy establishment boasts an impressive array of amenities, including free Wi-Fi and breathtaking lake views from the balcony.
Guests can unwind in the luxurious spa bath after spending their day exploring the myriad of things to do in the enchanting Taupo region. Emotel emanates elegance, offering well-appointed self-catering options for travelers seeking a perfect blend of convenience and style.
This mid-range gem stands out from other Taupo hotels with its alluring design and exceptional service.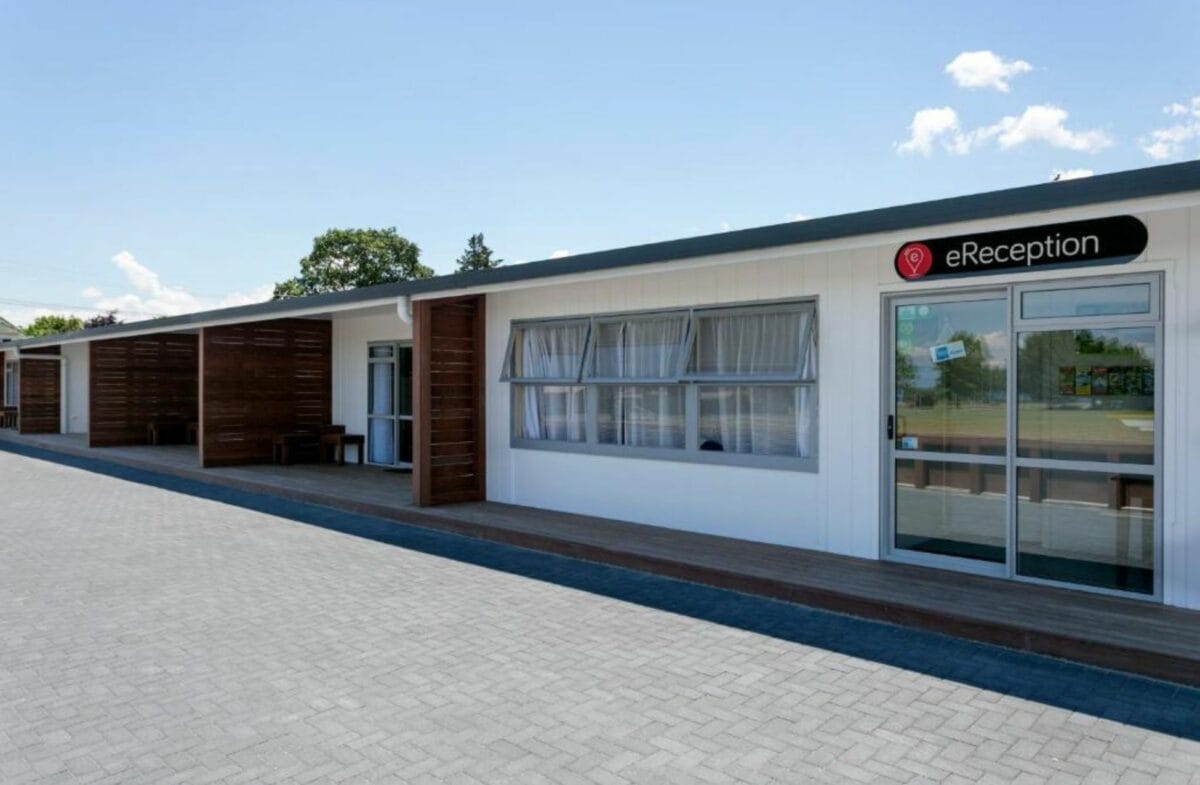 Next, let the enchantment of Turangi Leisure Lodge sweep you off your feet. Nestled in the heart of Taupo, this captivating mid-range sanctuary is but a stone's throw away from the iconic Craters of the Moon geological marvel.
Turangi Leisure Lodge is the epitome of comfort and sophistication, offering the perfect home-away-from-home experience for discerning travelers. This pet-friendly haven ensures that no family member is left behind, while the dedicated staff at the Accent on Taupo Motor Lodge ensure a memorable stay.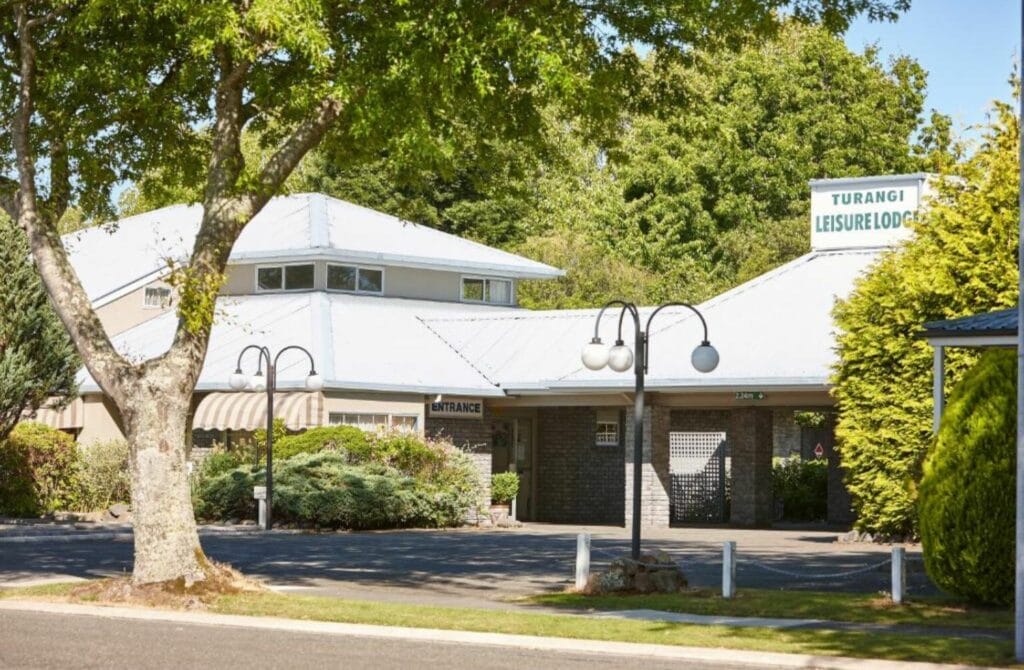 Bella Vista Motel Taupo, the embodiment of elegance and charm, entices lovebirds with dreamy romantic hotels in Taupo. Bella Vista's unique selling points are undeniable: the resort offers an unforgettable experience for couples, complete with serene lake views and a tranquil atmosphere.
A visit to the Anchorage Resort Taupo guarantees enchantment as you indulge in the luxury hotel's spa facilities, the perfect respite after a day of cycling or exploring the bewitching wonders Taupo has to offer. In addition, Lakeland Resort Taupo mesmerizes its patrons with its soul-stirring design and attention to detail.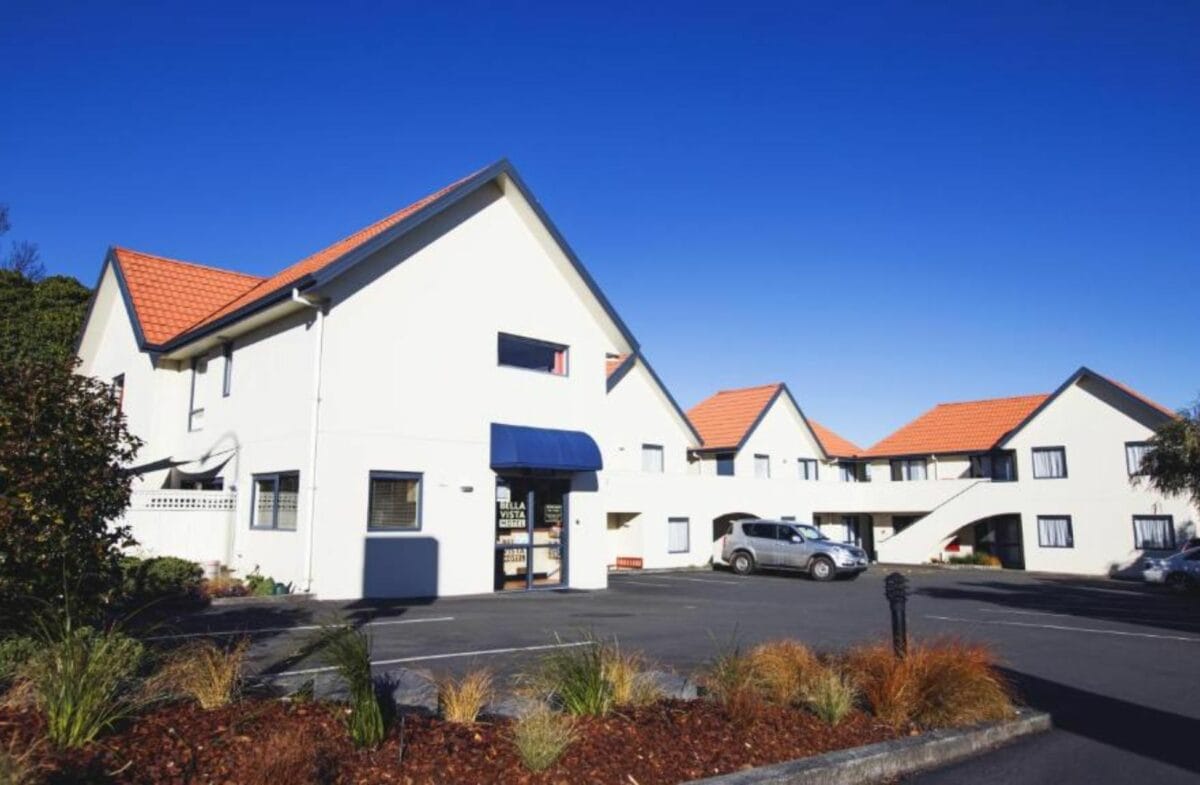 Taupo's mid-range accommodation offerings showcase an exquisite array of unique establishments, each promising a memorable experience.
With a focus on exceptional service, picturesque surroundings, and stellar amenities, these mid-range hotels cater to the discerning traveler seeking a magical sojourn in the heart of New Zealand's Lake Taupo region. So, let the allure of Taupo's enchanting mid-range accommodations captivate your senses and elevate your vacation experience to new heights.
Budget Hotels In Taupo
Nestled amidst the breathtaking landscapes of Taupo, New Zealand, you'll find a fantastic selection of budget hotels that offer exceptional value without sacrificing comfort and style.
With locations close to Town Centre, Taupo Airport, Tongariro National Park, and an array of invigorating outdoor activities like sailing and exploring the Craters of the Moon, these hotels are your perfect base for an unforgettable getaway.
Hilltop Whakaipo Estate is a true gem in Taupo, offering panoramic lake and mountain views from its elevated vantage point. The moment you step into this charming retreat, you'll be captivated by the warm, rustic design and welcoming atmosphere. Enjoy comfortable rooms that are elegantly furnished and equipped with free Wi-Fi and stylish ensuite bathrooms.
An array of delightful amenities awaits you, such as an outdoor pool, a well-equipped gym, and a cosy living area with a fireplace for those chilly evenings. With a location just a short drive from Taupo Town Centre and the picturesque Acacia Bay, you're never far from the best attractions Taupo has to offer.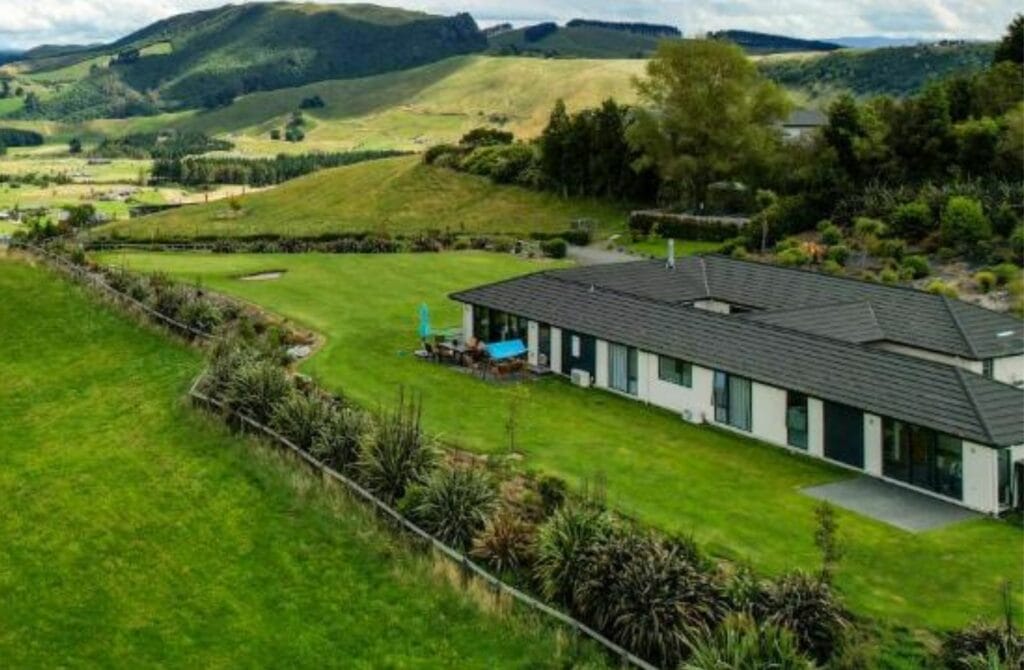 Unveiling Lake Luxe, a chic and contemporary haven that boasts stunning lake views and offers a serene escape from the bustling Taupo. Immerse yourself in the luminous, inviting ambience of its lake-facing rooms, complete with a balcony and modern amenities like Wi-Fi and a kettle for those moments you crave a warm cup of tea.
Moreover, Lake Luxe is not just a sight for sore eyes; it provides utmost convenience with its proximity to Orakei Korako – The Hidden Valley, as well as being within a short drive from the Taupo Museum and Town Centre.
Embrace the delight of lounging by the picturesque shorelines or engage in adrenaline-pumping watersports, all easily accessible from this trendy abode.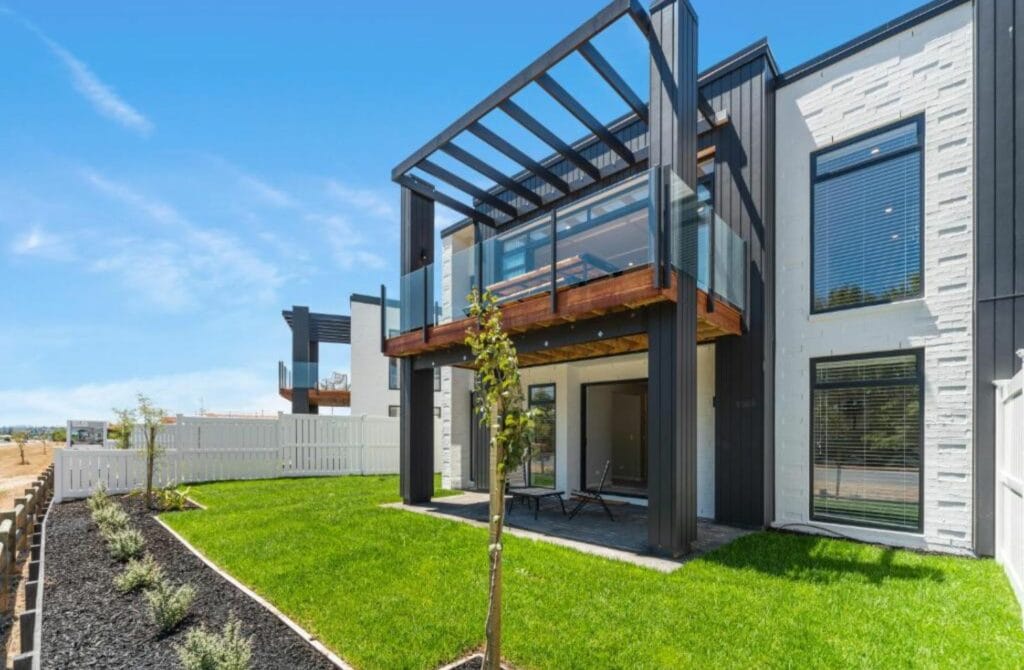 In summary, these three budget hotels in Taupo, New Zealand, cater to travellers seeking exceptional value without sacrificing the comforts that make a holiday truly memorable. Rest assured, each hotel is adorned with remarkable design, laden with luxurious amenities, and conveniently located near Taupo's most sought-after attractions.
Get ready to embark on a truly unforgettable journey and embrace these fabulous budget-friendly stays in Taupo!
Hotel With Pools In Taupo
Gables Lakefront Motel is a gorgeous family-friendly hotel located on the shores of magnificent Lake Taupo. This splendid 4-star property is the perfect destination for families seeking an unforgettable vacation amidst the natural splendor of New Zealand.
Gables Lakefront Motel's captivating outdoor swimming pool offers an idyllic retreat for guests of all ages, with crystal-clear waters and mesmerizing lake views providing a unique and invigorating aquatic experience.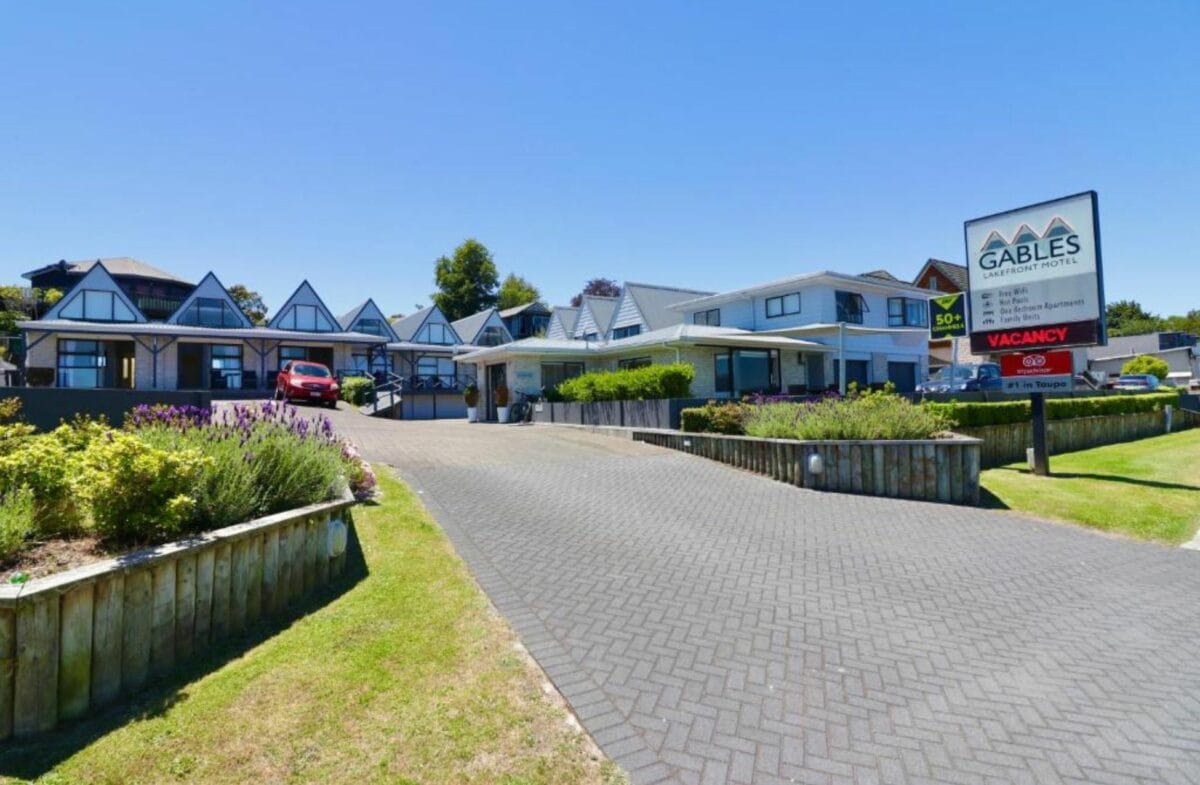 Following a refreshing dip in the pool, retreat to this hotel's stylish and contemporary rooms, each featuring a well-appointed kitchenette and an impressive array of modern amenities, ensuring a luxurious stay for every guest.
With its close proximity to both the vibrant town center and a myriad of outdoor activities, Gables Lakefront Motel offers the perfect blend of relaxation and adventure for a truly memorable family vacation.
Hotels With Free Parking In Taupo
Huka Lodge brings you closer to nature with its ultra-luxurious retreat, situated close to the iconic Huka Falls. As you enter the stunning property, you'll be mesmerized by the perfect harmony of modern comforts and rustic design that create a rich experience to cherish for a lifetime.
Luxurious private suites and cottages, complemented by lush gardens, blend seamlessly with the breathtaking surroundings, ensuring an unforgettable visit to Taupo. With a unique focus on exquisite gastronomy, Huka Lodge's breakfast menu will tease your taste buds with locally-sourced ingredients and innovative creations.
An invigorating itinerary that includes trout fishing, visits to nearby attractions like Beach, Huka Falls Tracks or simply luxuriating in the sanctuary of your plush accommodations make for a perfectly tailored experience.
The free parking provided by Huka Lodge certainly adds to the appeal of its exceptional services and offerings, allowing you to explore the captivating surroundings with sheer ease.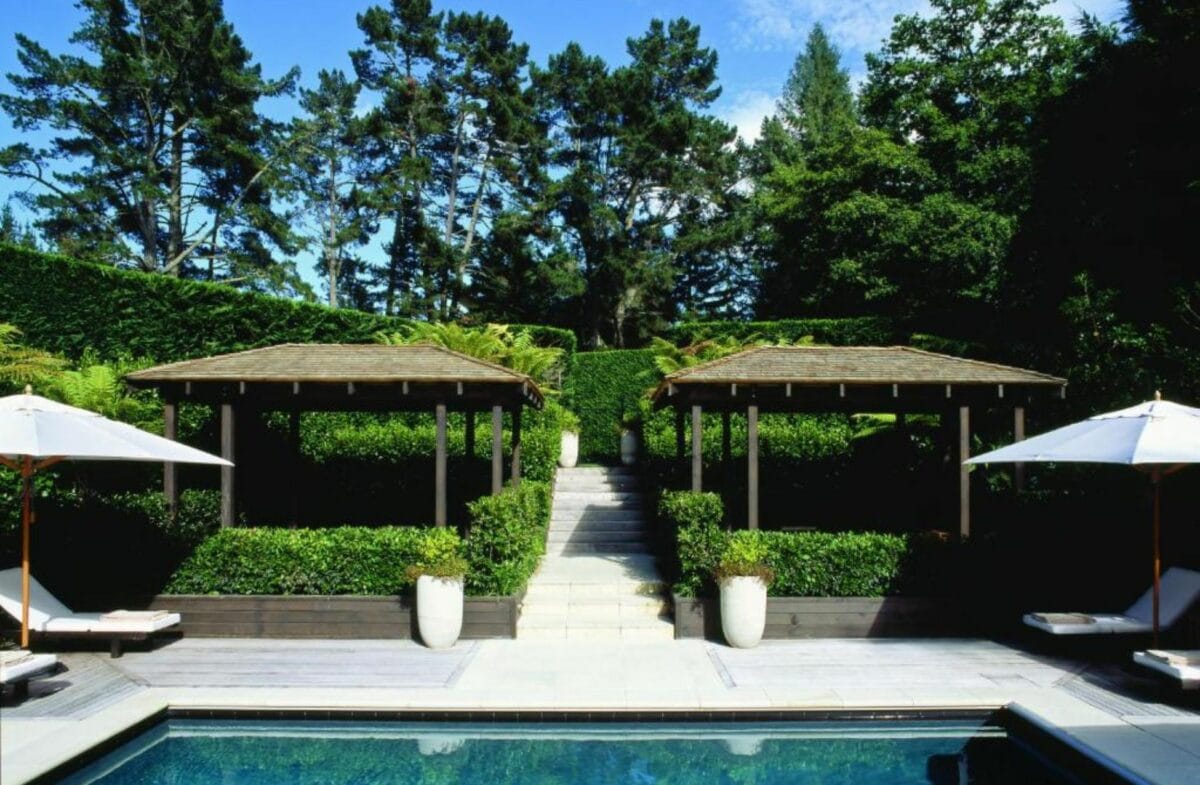 Lakeland Resort Taupo offers a surreal visual sojourn into an oasis of tranquility embodied by elegant design, verdant gardens, and the sparkling lake Taupo. Proudly boasting a wide range of accommodations, from 1-Star to Wonderful: 9+ ratings, guests are assured of a personalized experience tailored to their preferences and budget.
An enticing breakfast spread, featuring both local and international fare, awaits you each morning, energizing you for the day's adventures.
A plethora of amenities ensures an unparalleled stay. Unwind by the outdoor swimming pool, or fully equip yourself in your chic suite with a well-furnished kitchenette and indulge in delectable self-catered meals. Spend your days exploring Taupo's attractions, from Huka Falls Tracks to the picturesque beach — all easily accessible from the resort's prime location.
To complete your delightful journey, Lakeland Resort Taupo offers free parking for all guests which simplifies the travel logistics, allowing for a hassle-free experience.