Thinking about a trip to Kerikeri? Great Choice! The town in Northland, New Zealand, is a stunning location where you'll have a wonderful cultural and historical experience. Travelers have raved about the unforgettable food, wine, and activities to enjoy, so you just need to get your accommodations in order to ensure you have a smashing time!
If you're like me, the hotel, resort, or inn you stay at greatly impacts your trip. The good news is that before my travels to the region, I spent a lot of time curating the best accommodations in Kerikeri, New Zealand. Pick any of these options, and you're bound to have an experience of a lifetime.
Let's go check them out!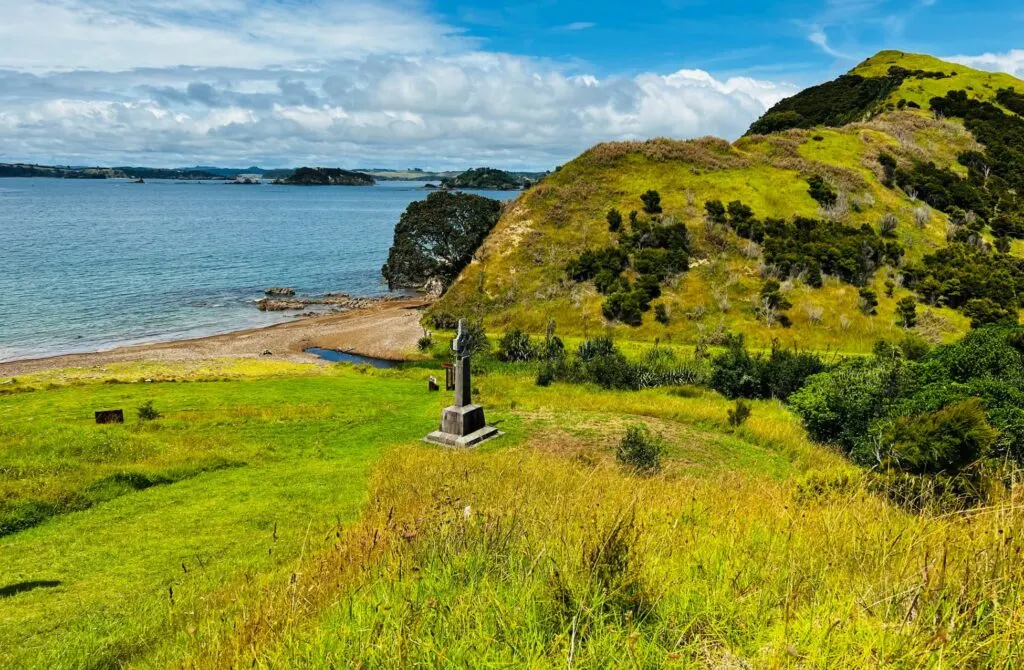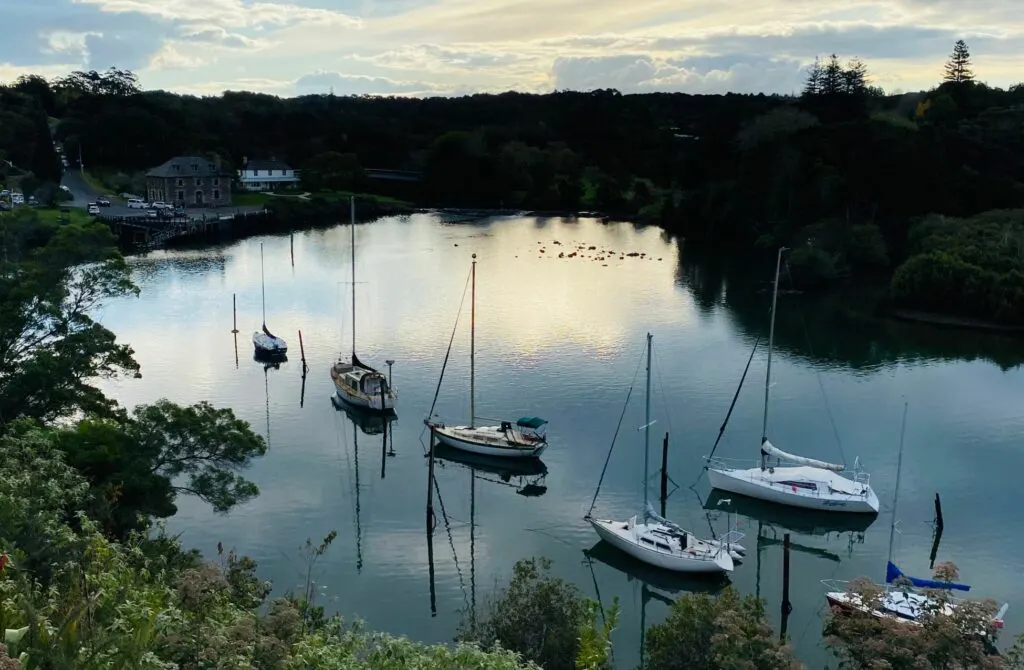 [
Action-packed getaway or a serene stay, Jack's Lookout is what memories are made of.
Positioned only 15 minutes from historic Kerikeri in the peaceful seaside neighborhood of Rangitane, this funky retro bach is one of the best Kerikeri accommodation options and certainly one of the most unique. It has the perfect mix of scenery and seclusion while still being close enough to experience and explore the best gems of the Winterless North.
You'll have an entire home and garden to relax in, surrounded by lush trees and an abundance of bird life – Tūī's in the morning, Kererū in the afternoon, and Kiwi at night. The spacious lounge can comfortably host six and opens onto a large deck overlooking the stunning Kerikeri inlet, where you can wave at the boats sailing by and watch the birdlife swooping above and below.
A hidden pathway leads you below the canopy – roam the lower garden, wander the foreshore of the inlet, or even take a dip. You might be lucky enough to spot a kiwi at night, or you can always visit Aroha Island Eco Park a few minutes down the road to see their kiwi display.
If you're looking to entertain the night away, the fully equipped kitchen and BBQ have you covered, with an eclectic selection of board games to amuse both young and young at heart. For winter stays, you'll love snuggling up next to the cozy fire, browsing the bookshelf, or reminiscing to one of the vinyl tunes.
Parking is also available for your boat (if you are lucky enough to have one), with the Rangitane boat ramp just 300 meters away, should you wish to explore the Te Pēwhairangi (Bay of Islands) Marine Mammal Sanctuary further. Or why not grab your fishing rod at high tide and head down to the garden to try your luck?
Whether you're holidaying with friends, getting away with the family, or spending quality time with your loved one, or yourself, you will be sure to look back on Jack's lookout with the fondest of memories.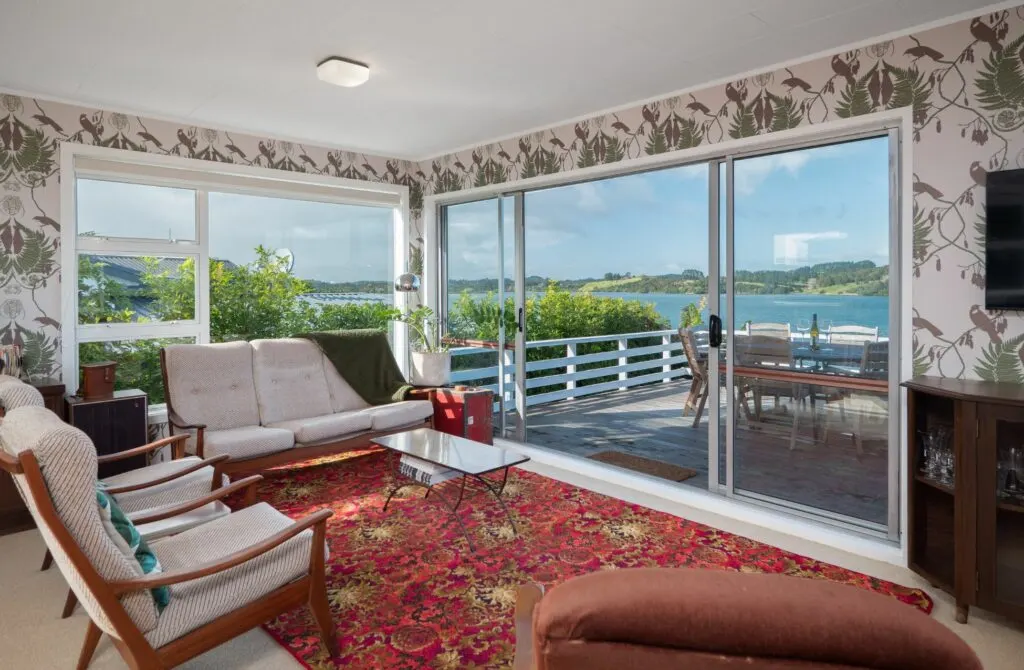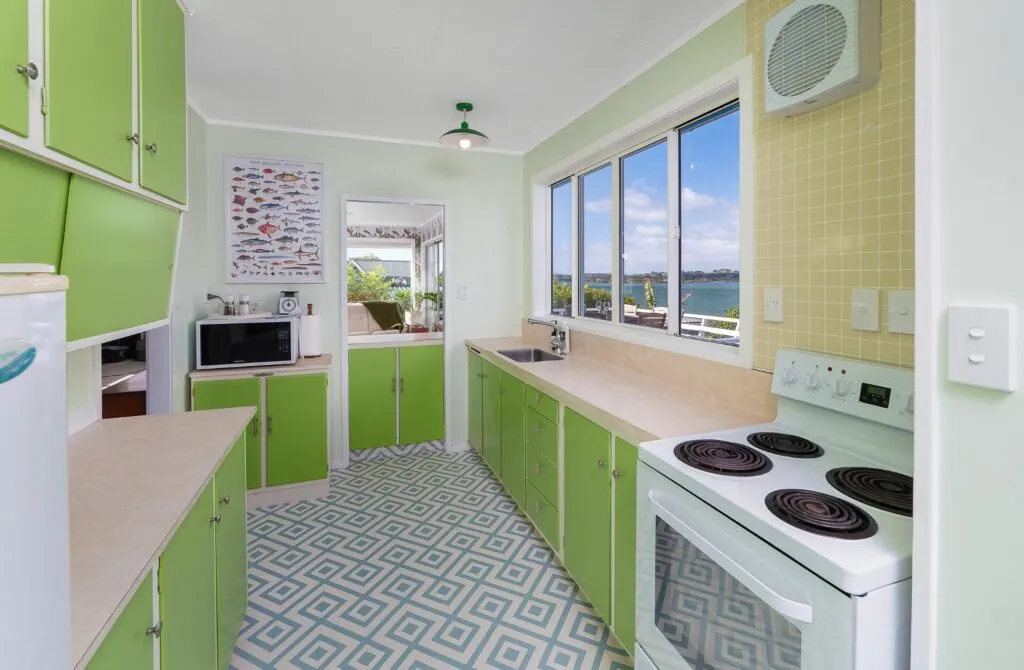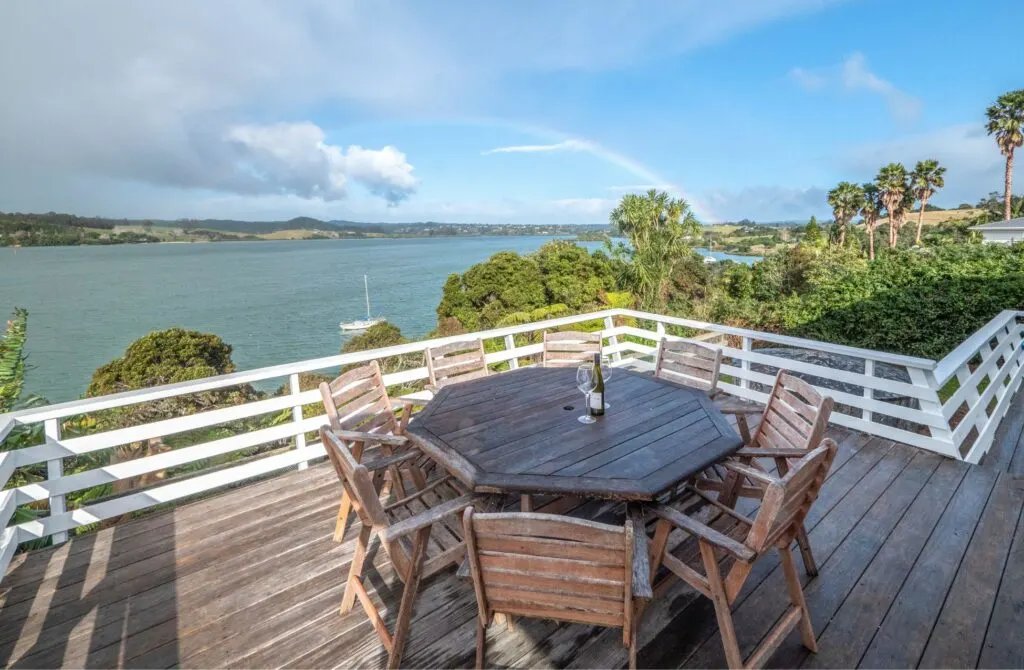 When you stay at the Avalon Resort it's impossible not to fall in love with the gorgeous scenery around you. The property is positioned in a small valley and has lush water gardens fed by clear natural springs. The springs supply all the resort's water needs, so you'll be able to see exactly where your water's coming from.
On the short walk to your accommodation, you'll pass duck ponds, a paddock with chickens, and a citrus fruit orchard. The resort's beautiful setting is reason enough to book your stay there, but it keeps getting better!
You'll have two accommodation options: a self-contained cottage or a studio apartment. The boutique cottages can fit up to four people on the King bed and pull-out sofas. It's a great option for couples traveling with children or anyone who wants a little more space to stretch out. The kitchen comes equipped with an oven, stove, fridge, dishwasher, and microwave. Each cottage has its very own balcony where you can have your morning coffee and home-cooked meals!
For those who don't need so much space, the stylish studio apartments will be a great place to call home base! They come with kitchenettes where you can cook meals, cozy queen mattresses, and private decks. Two studio apartments are attached to each other, so groups or families traveling together can book them out as one unit!
The Avalon Resort is chock full of wonderful amenities for guests. Make sure to pack your swimsuit because there's a natural freshwater pool waiting for you on the property. If you're looking for something more adventurous, pick up a couple of kayaks from the main office and go explore the river. At the end of the day, you can unwind in the on-site hot tub and sauna.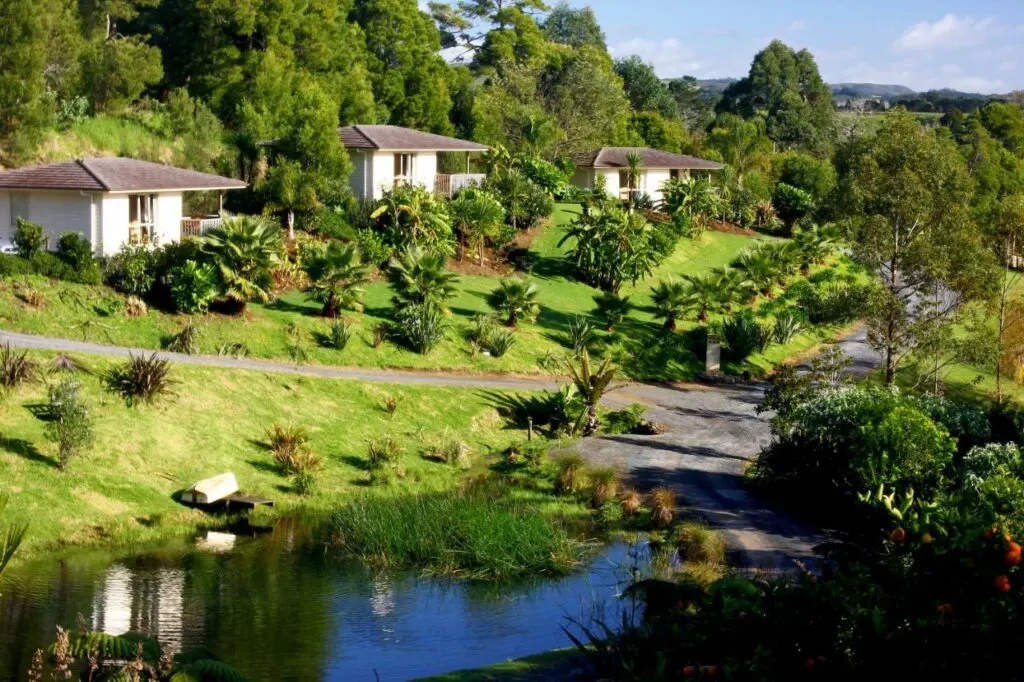 We all know how important the location of the accommodation is. At Stay Kerikeri, you'll be just 200 meters from the town center and won't miss out on any of the action! It's an ideal jump-off point to see all the main attractions in Northland and the Bay of Islands. The owners perfectly describe their offered apartments and studios as something between a boutique hotel and Airbnb.
Whether you're traveling alone or with a big group, Stay Kerikeri has accommodations for everyone! There are two-bedroom apartments, one-bedroom apartments, executive studios, and petite studios.
Each unit has a unique style, but whichever one you choose, you are guaranteed to be more than comfortable on the plush mattresses and relaxing hangout areas. The apartments and executive studios include full-size kitchens, while the petite studio offers a practical kitchenette. Hit the local markets, come back to Stay Kerikeri, and whip a delicious meal!
The property was refurbished in 2017, so you can expect everything to be new and working. Just outside your unit, you can walk down to the subtropical gardens, where there's a lovely swimming pool and barbeque area. After days of traveling, you're bound to wind up with a bag full of soiled clothes, but not to worry! Stay Kerikeri has an on-site laundry facility that is complimentary for guests–thank you very much!
So, if you need accommodation for your whole stay or just one night, this property should, without a doubt, be on your list.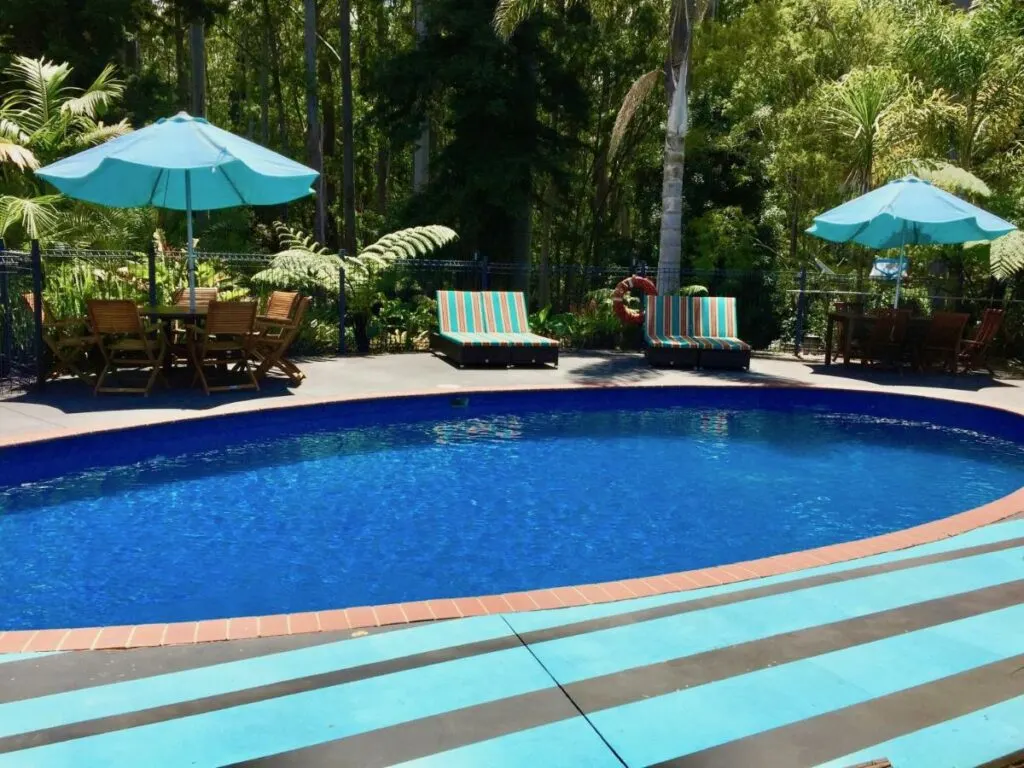 Wharepuke Subtropical Accommodation is where comfort meets art. The Booth family has owned the lush property since 1938, but it wasn't until 2003 that the original owner's granddaughter and her husband started to set up the accommodation and art area. Today, it's a wonderful place to stay and has some of the most unique amenities in the area.
Wharepuke offers five self-contained cottages that are located on two hectares of subtropical gardens. Each unit is decorated with original artwork that adds a nice personal touch. The kitchenettes include a small burner, fridge, and other necessities.
The cottages open up to a large personal deck where you'll have beautiful views of the award-winning gardens. While the sleeping accommodations are great for couples and small families, the amenities steal the show!
When you're ready to have a mouthwatering meal, head over to the on-site MĀHA restaurant. The chef whips up sensational dishes made with fresh and local products. It's been repeatedly voted one of the best eateries in the area. When you're staying at Wharepuke Subtropical Accommodation, it's a must-hit spot!
There's even an art gallery on the property that features local and international artwork. Artists often come to the gallery to discuss their projects. It's a great way to get a feel of the local art scene and learn a thing or two about Kerikeri. If you really want to get into it, you and a group of friends can schedule a printmaking workshop. When you've seen all that the gallery has to offer, take a stroll through the sculpture garden that continuously features new pieces!
Wharepuke Subtropical Accommodation is the perfect place to stay for those interested in being immersed in nature and art!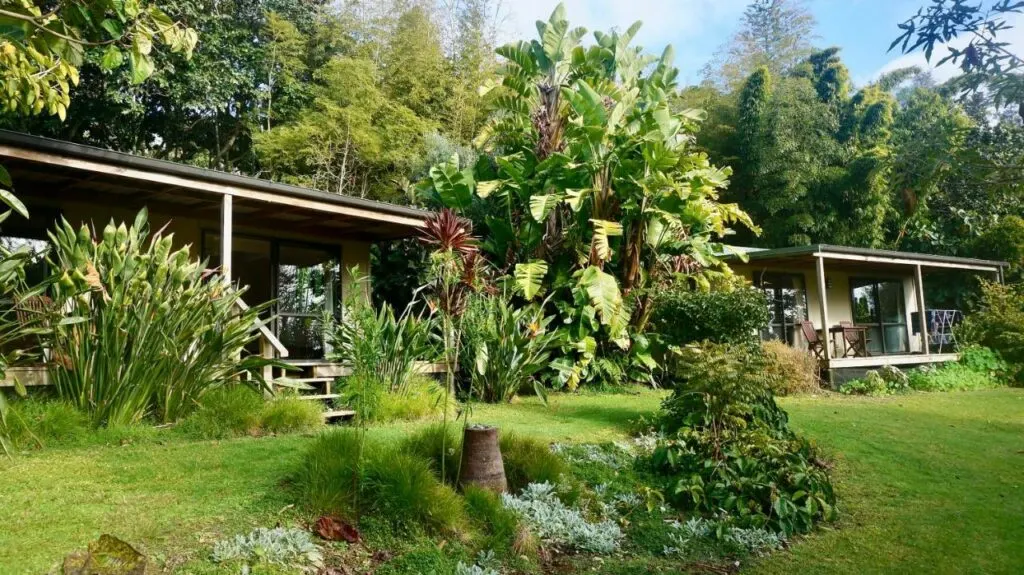 Looking for a place in Kerikeri that checks all the boxes? Then look no further! Stone Store Lodge is nestled in the tropical bush and is just a–no pun intended–stone's throw away from the top attractions. You'll be within walking distance from the town center, the Kerikeri inlet, must-try restaurants, and the historic Stone Store.
There are open, modern rooms that can fit between one and three people depending on the option you choose. Each room has a minibar, personal bathroom, balcony, and flatscreen TV that attaches to a large common space. The shared area has a fully stocked kitchen, reading nook, courtyard, and much more.
Each morning, you'll wake to a help-yourself continental breakfast that will make it easy to get out of bed in the morning. If you love the accommodation but don't want to share a common area with strangers, you can book the whole lodge for yourself–now that's living!
When you're visiting Kerikeri for the first time, organizing your itinerary can be a bit stressful. Luckily for you, the staff at Stone Store Lodge is there to give you all the best recommendations and activities off the beaten path. From horseback riding to helicopter rides, the lodge has suggestions for everyone!
Oh, and don't forget that you'll be right next to four outstanding golf courses. From your accommodation, you can book tee times and rent golf carts! Make sure to ask the staff about gift vouchers!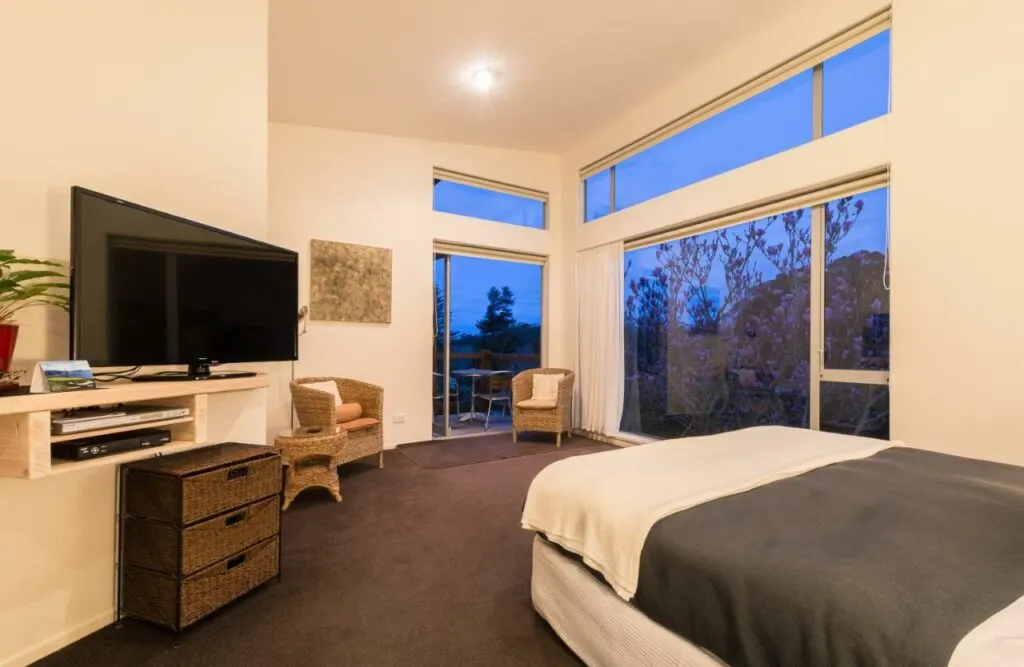 Don't let the word motel fool you. The Kerikeri Court Motel is the perfect accommodation for anyone who wants to be in the town center and within walking distance of top-notch cafes, bars, and restaurants. The Kerikeri Court Motel might not be tucked away in a tropical garden like other properties, but the central location will immerse you in everything the area has to offer!
At the Kerikeri Court Motel, you can choose from standard and premium units that have either one or two bedrooms. The units themselves feel like apartments where you'll have plenty of space to spread out and kick back after a day of traveling.
The motel's largest room option can sleep up to six people, so bring the whole gang along! In the mornings, you can brew up a coffee in the kitchenette and enjoy the fresh air on your private patio. Prices are affordable, and the motel even offers special room rates for golfers.
Hopefully, you packed your swimsuit because the Kerikeri Court Motel has a relaxing outdoor pool. On sunny days, there's nothing quite like hanging out poolside with a drink in hand. When you've dried off, head into the on-site café that serves tasty coffee, baked goodies, and traditional breakfasts and lunches.
Tours can be booked at reception. Make sure to ask the staff for local recommendations!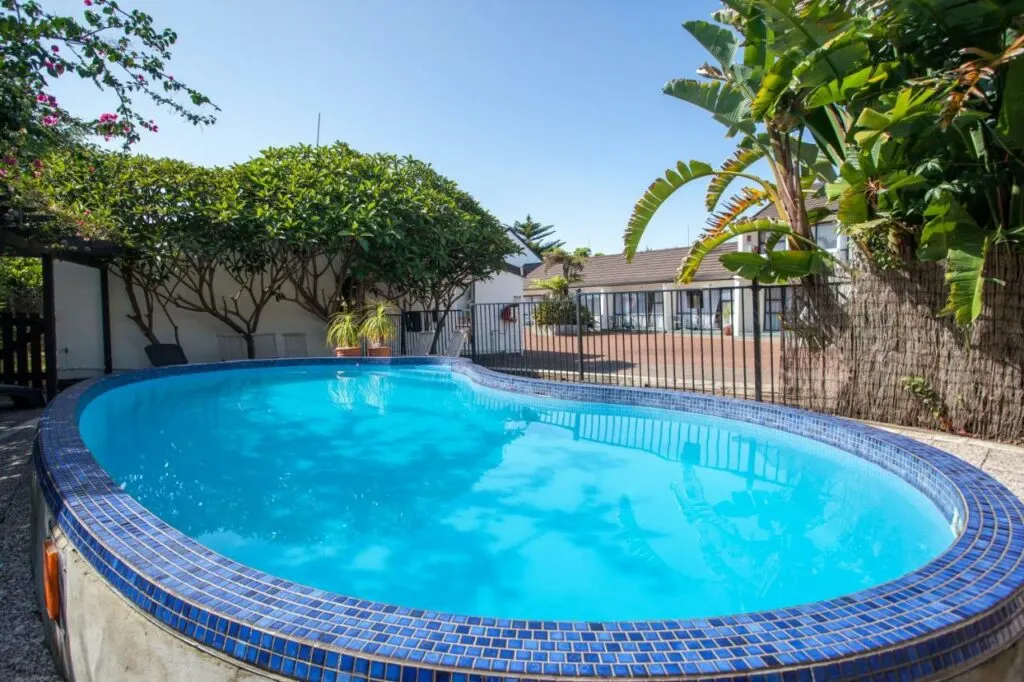 Final Thoughts On The Best Kerikeri Accommodation Options
Kerikeri doesn't move at the same pace as Auckland, but there are enough activities and sights to keep you busy for days and days. It is also a great base for exploring so many other Northland attractions – or as a pit stop on your Far North road trip…
When you're planning your trip, accommodation is everything. The town is home to exceptional options that fit all travel styles and budgets. I hope this list of the best accommodations in Kerikeri helped you find the perfect location for your trip. Safe travels!
Staying Connected While Travelling
In today's increasingly connected world, staying online while traveling has become essential for a seamless experience. That's where eSIMs come into play, revolutionizing the way we access mobile networks during our global adventures. Say goodbye to hunting down local SIM cards at the airport; eSIMs provide instant activation the moment you land, sparing you the fortune usually spent on international roaming and allowing you to genuinely travel like a local (without getting hopelessly lost!).
With eSIMs, tasks like restaurant recommendations and reservations, up-to-the-minute public transport instructions, checking opening hours, and accessing further information become a breeze. And, of course, sharing your journey on social media is easier than ever. To stay connected wherever you roam, consider using either Airalo or Holafly. Airalo boasts the most extensive range of destinations worldwide, offering smaller data bundles tailored to your needs, while Holafly provides unlimited data packages and fantastic EU data deals.
So why wait? Embrace the future of travel connectivity with eSIMs and make your next journey effortlessly smooth.
Further Things To Consider Before Any Adventure
Now you're all set and prepared to explore our big wide world, why not sort out everything else out all in one go? If necessary for your travel plans make sure you have brought proper travel insurance, protected your privacy by getting a secure VPN, compared all the top hotel booking sites to find just what you're after, reserved an unbeatable rental car price and - of course - booked the best flight deals!
Or maybe just forget it all and go for a last-minute cruise or effortless tour instead?
Many budget travelers (including me) indulge in worldwide airport lounge access, so we can experience luxury while still slumming it in economy. Naturally, we would never leave home without a more general travel guide since we couldn't possibly cover everything here!
Just add an adventurous attitude and plenty of smiles - they go a long way - and that about covers it all! Now go out, find your own path and don't forget to share your best inspiration stories with me on Facebook, Twitter, and Instagram...I'd love to hear from you!