The Far North of New Zealand is the northernmost district in New Zealand and is a marvelous travel destination full of countless wonders – both cultural and natural. Covering the Bay of Islands and the Hokianga but to Cape Reigna, here you'll find endless adventures, activities, and culinary experiences. No matter where you choose to go in the Far North, you're in for a trip you will never (ever) forget…
But where should you stay?
The area is home to outstanding lodging options with gorgeous views and prime locations. In this article, we're going to go through the best accommodation in the Far North to make sure you have the most memorable stay possible!
So, let's hit it!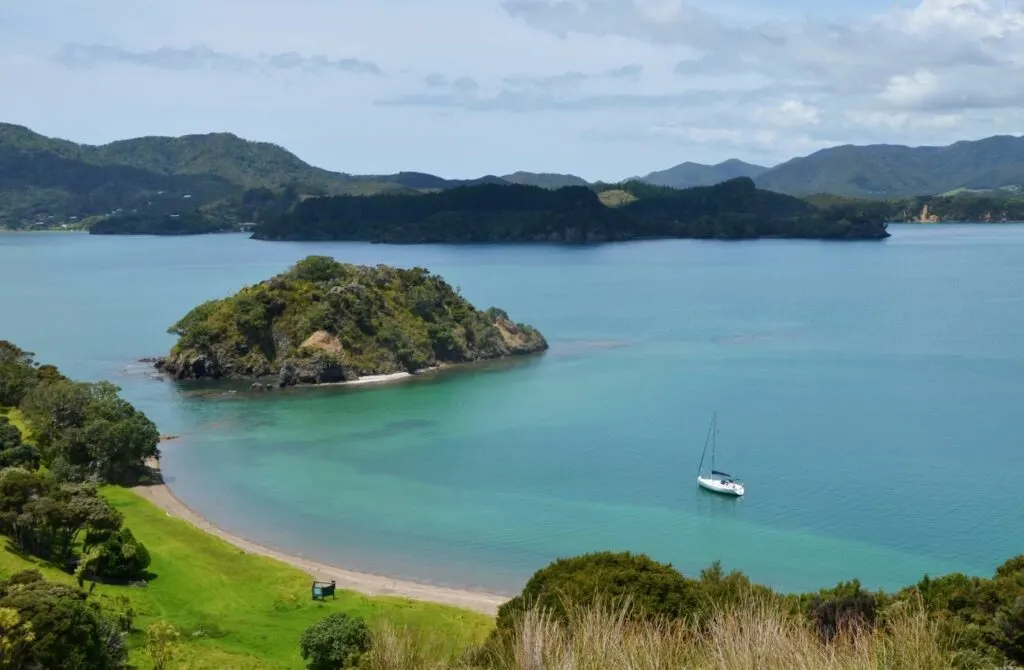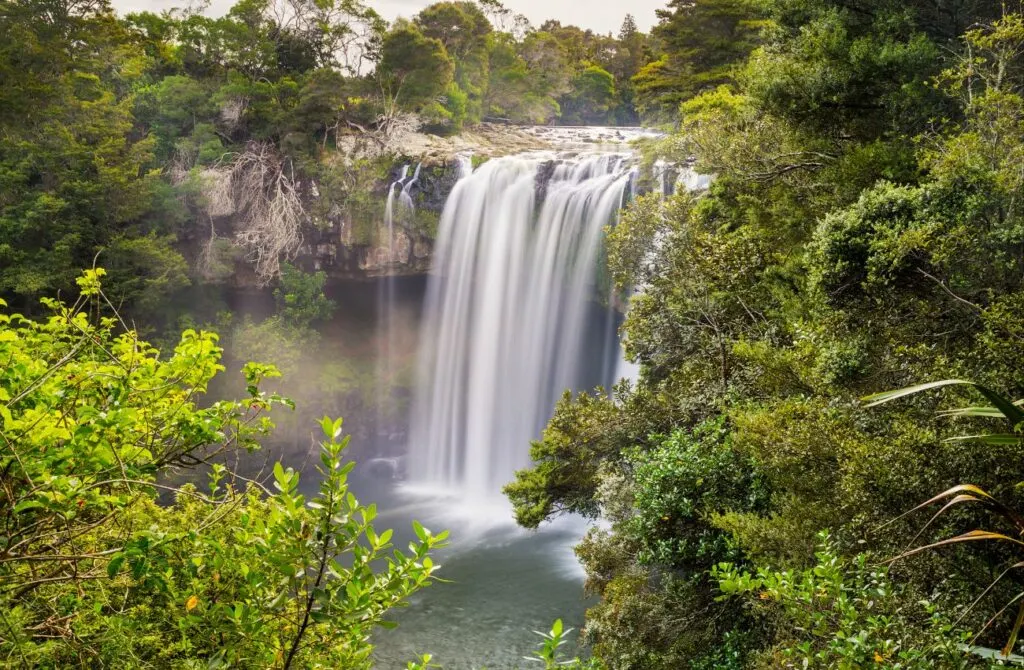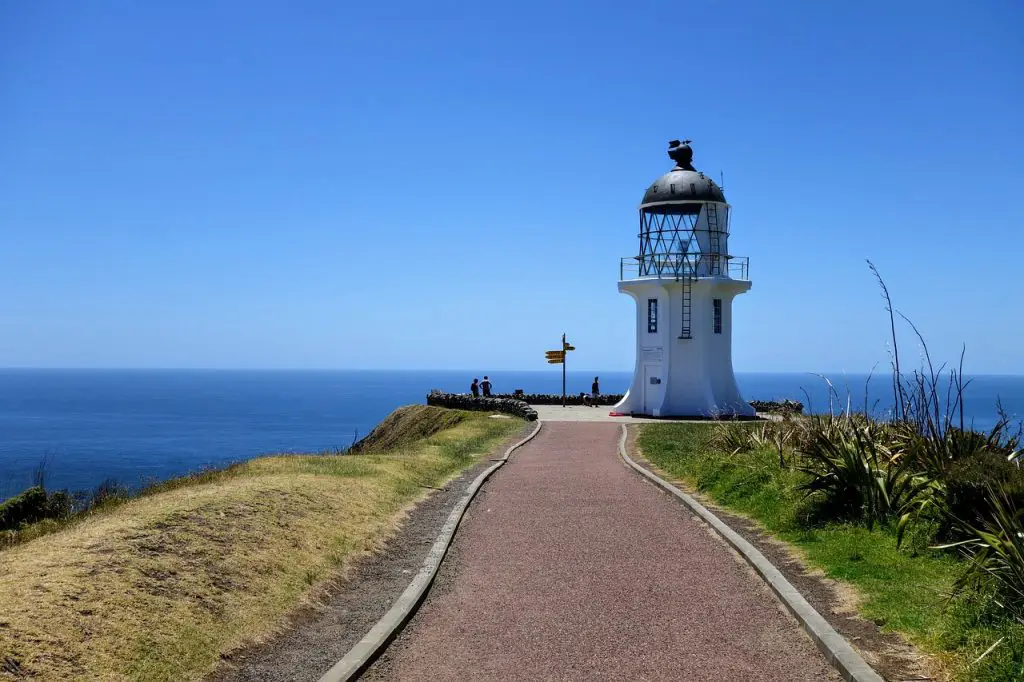 Action-packed getaway or a serene stay, Jack's Lookout is what memories are made of.
Positioned only 15 minutes from historic Kerikeri in the peaceful seaside neighborhood of Rangitane, this funky retro bach is one of the best accommodations in the Far North and certainly one of the most unique. It has the perfect mix of scenery and seclusion while still being close enough to experience and explore the best gems of the Winterless North.
You'll have an entire home and garden to relax in, surrounded by lush trees and an abundance of bird life – Tūī's in the morning, Kererū in the afternoon, and Kiwi at night. The spacious lounge can comfortably host six and opens onto a large deck overlooking the stunning Kerikeri inlet, where you can wave at the boats sailing by and watch the birdlife swooping above and below.
A hidden pathway leads you below the canopy – roam the lower garden, wander the foreshore of the inlet, or even take a dip. You might be lucky enough to spot a kiwi at night, or you can always visit Aroha Island Eco Park a few minutes down the road to see their kiwi display.
If you're looking to entertain the night away, the fully equipped kitchen and BBQ have you covered, with an eclectic selection of board games to amuse both young and young at heart. For winter stays, you'll love snuggling up next to the cozy fire, browsing the bookshelf, or reminiscing to one of the vinyl tunes.
Parking is also available for your boat (if you are lucky enough to have one), with the Rangitane boat ramp just 300 meters away, should you wish to explore the Te Pēwhairangi (Bay of Islands) Marine Mammal Sanctuary further. Or why not grab your fishing rod at high tide and head down to the garden to try your luck?
Whether you're holidaying with friends, getting away with the family, or spending quality time with your loved one, or yourself, you will be sure to look back on Jack's lookout with the fondest of memories.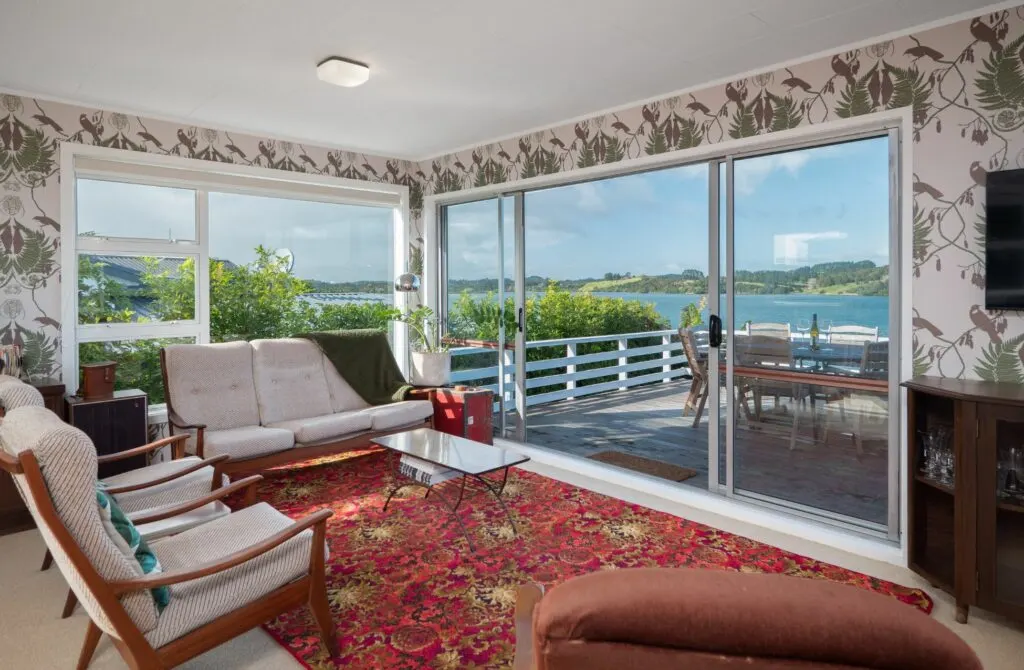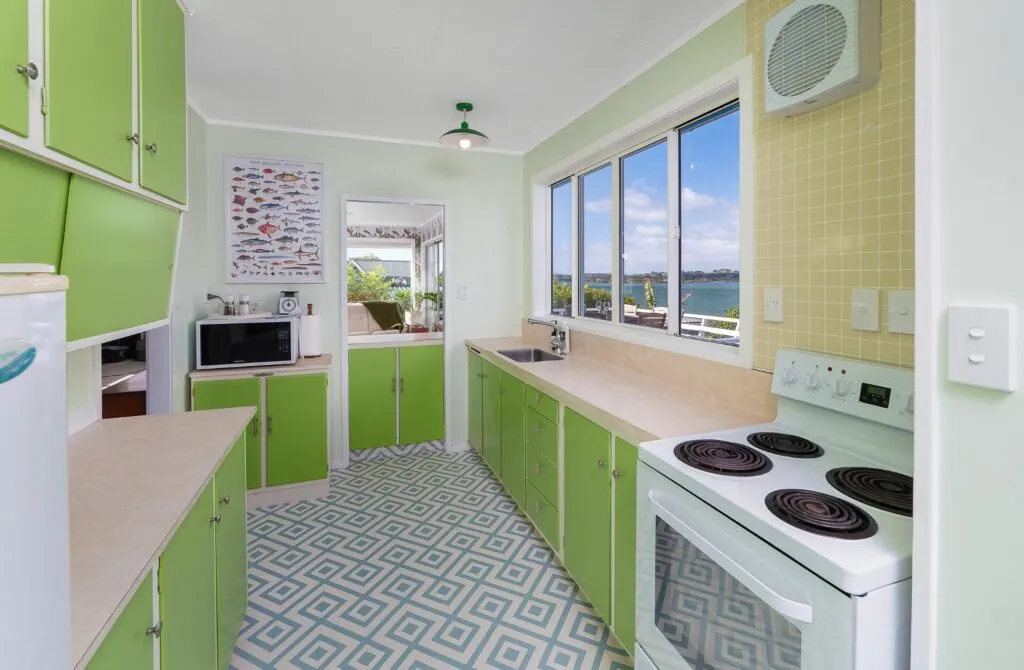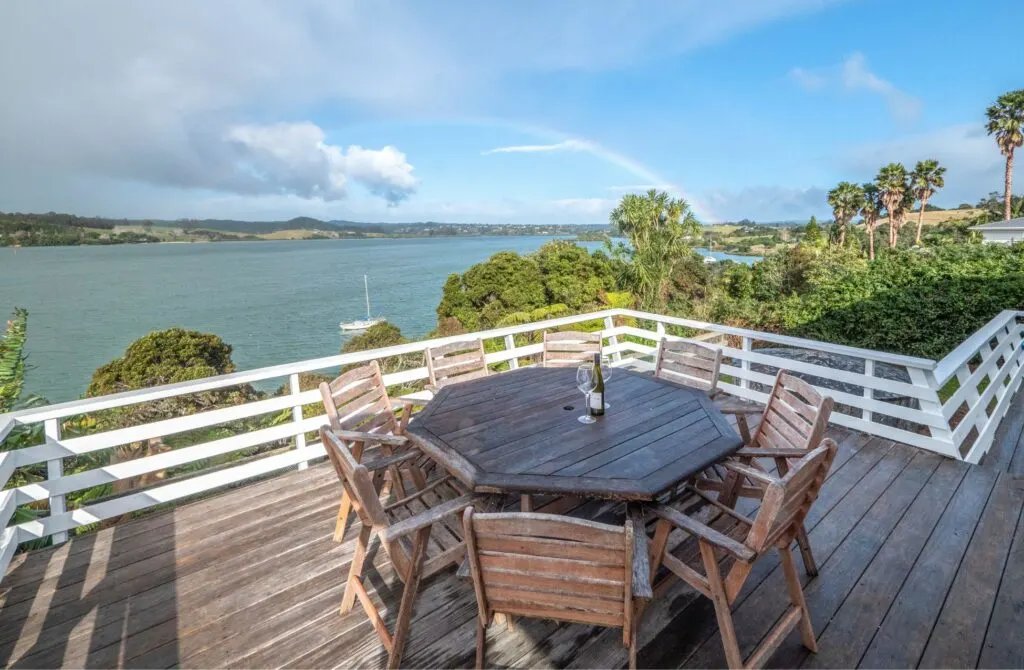 On the rugged and wild east coast, The Heads Hokianga is a top-notch 4-star hotel and one of the best accommodations the Far North has to offer… The premise is right along the water and is a great location to get away from it all. You'll be in close range to the best places to explore in the area, like the Omapere settlement, Waipoua Forest, and a more than 2,000-year-old tree called Tane Mahuta.
The Heads Hokianga is made up of just 43 rooms and suites–there's also one luxury villa at the property. The terrific options are all roomy and have a balcony or patio. If you want a view of the ocean and dunes, make sure to choose one of the beachfront selections. Start each morning by brewing up a coffee from your room and enjoying the peaceful scenery around you.
The food and drinks at the hotel bar and restaurant are as memorable as the spectacular views. It's a wonderful place to chow down on local cuisine with a picturesque backdrop. There's a breakfast, dinner, and bar snacks menu, and you're guaranteed a top-tier dining experience. When you've finished eating, try your hand at a game of pool in the bar.
The Heads Hokianga is an excellent location to experience a unique part of the Far North district!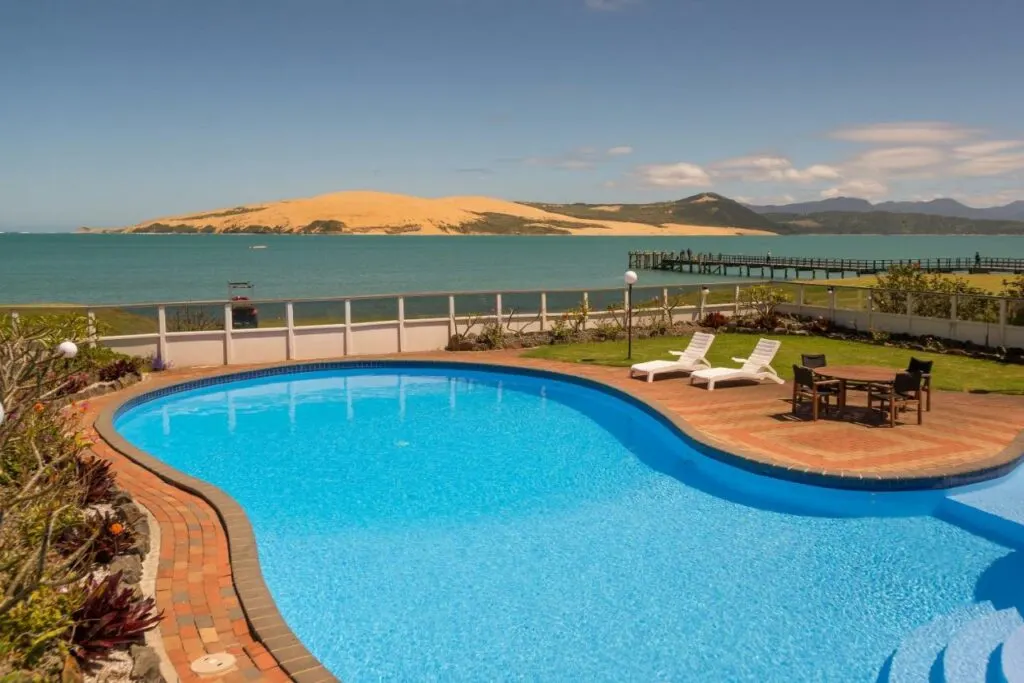 Wharepuke Subtropical Accommodation in Kerikeri where comfort meets art. The Booth family has owned the lush property since 1938, but it wasn't until 2003 that the original owner's granddaughter and her husband started to set up the accommodation and art area. Today, it's a wonderful place to stay and has some of the most unique amenities in the area.
Wharepuke offers five self-contained cottages that are located on two hectares of subtropical gardens. Each unit is decorated with original artwork that adds a nice personal touch. The kitchenettes include a small burner, fridge, and other necessities.
The cottages open up to a large personal deck where you'll have beautiful views of the award-winning gardens. While the sleeping accommodations are great for couples and small families, the amenities steal the show!
When you're ready to have a mouthwatering meal, head over to the on-site MĀHA restaurant. The chef whips up sensational dishes made with fresh and local products. It's been repeatedly voted one of the best eateries in the area. When you're staying at Wharepuke Subtropical Accommodation, it's a must-hit spot!
There's even an art gallery on the property that features local and international artwork. Artists often come to the gallery to discuss their projects. It's a great way to get a feel of the local art scene and learn a thing or two about Kerikeri. If you really want to get into it, you and a group of friends can schedule a printmaking workshop. When you've seen all that the gallery has to offer, take a stroll through the sculpture garden that continuously features new pieces!
Wharepuke Subtropical Accommodation is the perfect place to stay for those interested in being immersed in nature and art!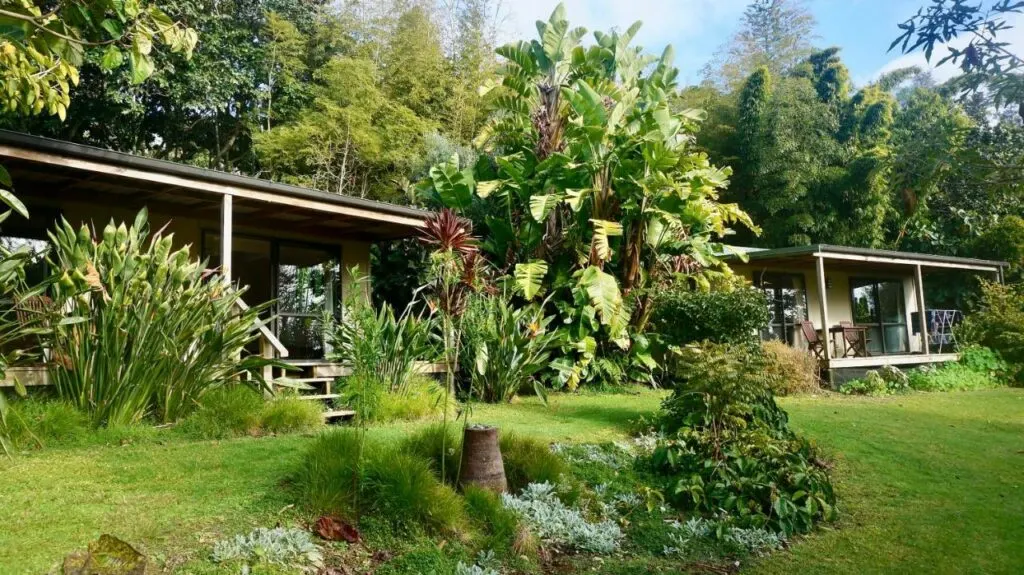 Hotel rooms are nice but having the convenience of a fully equipped apartment gives you a sense of control over your stay. At the Blue Pacific Apartments, you'll be on a beachfront property with unmatched views of the ocean. With private beach access, you're set to jet for swimming, paddle boarding, and kayaking at the beach; or you can just kick back in the sand and enjoy the shining sun.
The luxury apartments have everything you need to have a comfortable stay. There are units with up to three bedrooms, and they make great accommodations for big groups or couples traveling with children. From your room, you'll have one of the best possible views of the Bay of Islands. Each apartment comes with a deck to enjoy the scenery, and select options even have private Jacuzzis.
Blue Pacific Apartments is a great home base to hit all the attractions and tours in the area. Golfers will be happy to know that the Waitangi Golf Club is just 1 km away. Amazing dolphin and whale watching or island tours can be organized directly from reception. No matter what you choose to do, don't forget to chow down on the continental breakfast before heading out for a day of adventure.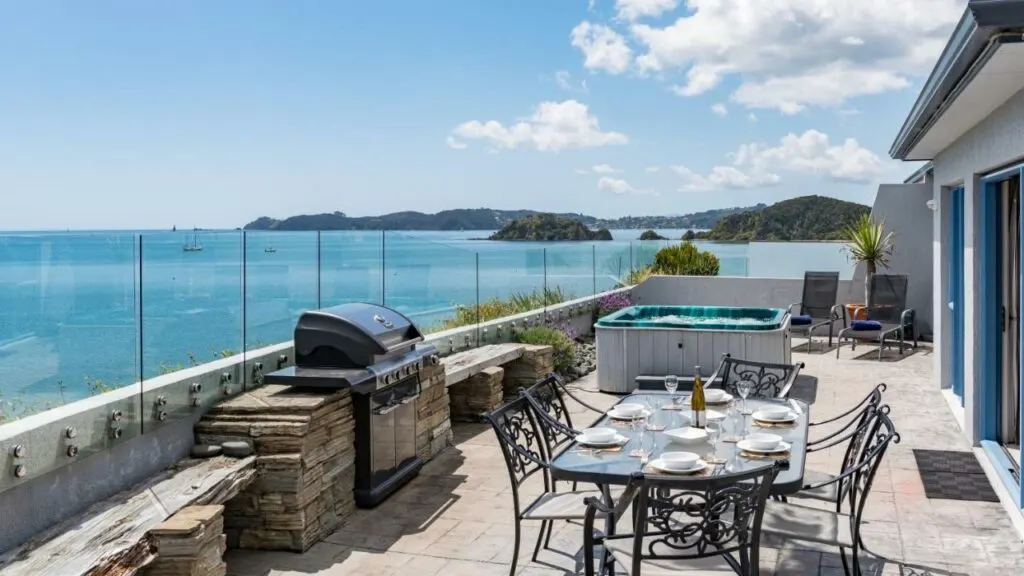 When you're in the Ahipara area, staying at Mukies Apartments is an easy choice. The complex includes three inviting, self-contained apartments. It's a great option for families or travelers who don't want to feel confined to a single hotel room. Each unit can comfortably sleep four people, and you'll all have a bit of space to yourselves.

In the mornings, you'll wake up to phenomenal views of Ahipara Bay. Make a coffee and head out onto the terrace, where you can drink in the sun and get ready for a day of adventure. Hit the local markets and stock up on ingredients because your unit will have an oven, stove, microwave, and outside BBQ. Dinner and drinks on the sun terrace will be a highlight of your trip!
Ahipara is home to epic activities and adventures. Relax at one of the pristine beaches, trek through the forest, go horseback riding, or rent quads offroad on the beach. It's up to you to decide how adventurous or relaxing your trip is, but there's something for everyone, and you won't be disappointed!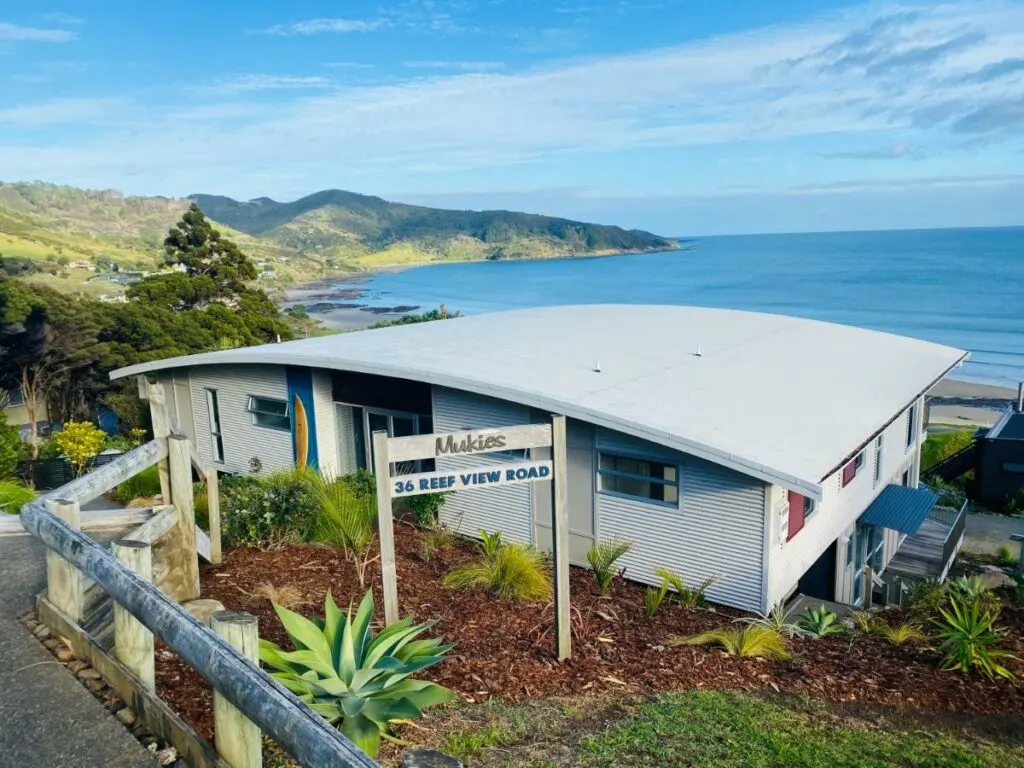 Watch all your doubts fade away when you stay at the Doubtless Bay Villas! For travelers looking for a luxurious Far North experience, well, you found it. The premise is positioned just above Cable Bay and has endless views of the Pacific Ocean.
Choose from nine apartment-style villas with excellent modern designs and chic decorations. Each has an outdoor terrace and seating area to enjoy your coffee and meals with a stunning view. It's the perfect place to lay out a towel and soak up the sun. Waking up in the morning will be easy when you can slide open the glass doors and breathe the fresh ocean air. The kitchen facilities have everything you could ever need, but don't feel like you have to cook because Doubtless Bay Villas offers some delectable dishes.
You can preorder great meals that are brought directly to you. From English breakfasts to lasagna, you won't have a hard time finding something you like. There's even a picnic option that is perfect for enjoying outside in the sunny weather. When you're ready to work off your meal, head down to the tennis court to work up a sweat.
Doubtless Bay Villas is a choice accommodation option that provides top-quality facilities and services!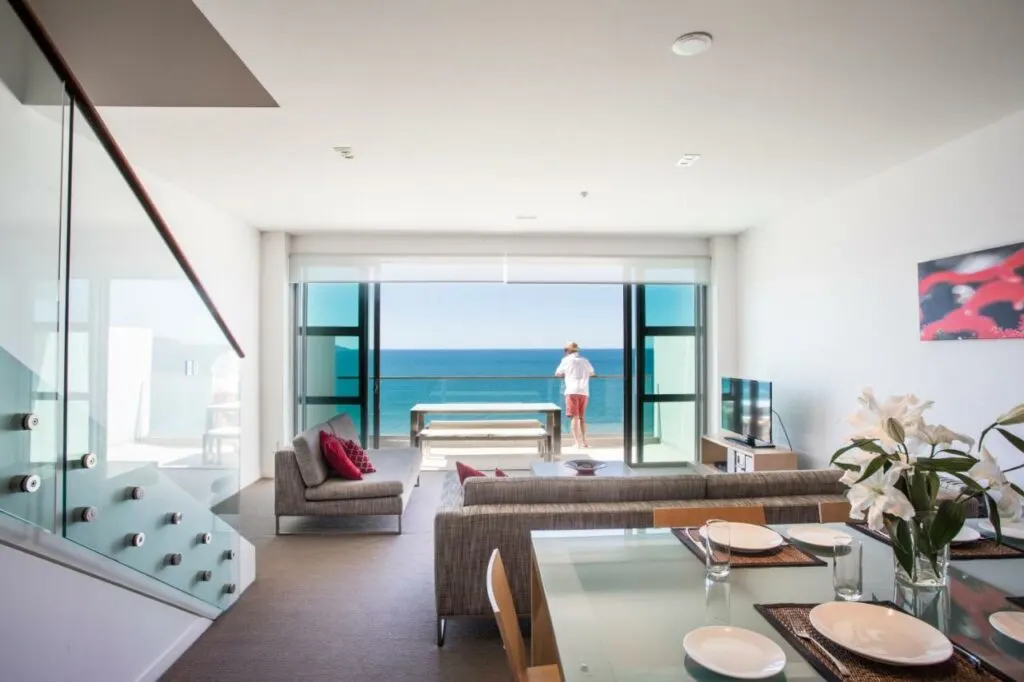 At the Scenic Hotel Bay of Islands, all your needs will be taken care of. The island-influenced facilities are tucked away on 4 acres of vibrant sub-tropical gardens. Staying on the property feels like having your own personal green oasis; however, you're just next door to Paihia's town center and beaches. Chances are you won't want to leave the hotel, but if you do, great stores, restaurants, and walks are nearby.
The property sounds nice, but what about the accommodations? When you open up the door to your room, you'll be welcomed by a spacious layout with plush mattresses and pillows. Each room has a sliding glass door that leads to a private patio where you can enjoy the views of the garden. Dog-friendly rooms are available, and your pup will even have its very own doggy bed. Just make sure to inform the staff before booking. Once you put your things down and plop onto the bed, you'll know you made the right choice!
The Scenic Hotel has an excellent on-property restaurant and lounge bar. In the mornings, you can make your way down for a delicious breakfast that will get started for the day. At night, when you finish exploring the region, you can come on back for a top-notch dinner made with local seasonal ingredients. Don't feel like you need to rush out of there because snacks, burgers, pizzas, and alcohol can be ordered from the bar until closing time–a nightcap, anyone?
Staying at this property and being so close to the action yet hidden away from the noise will be an experience you remember long after the trip is over.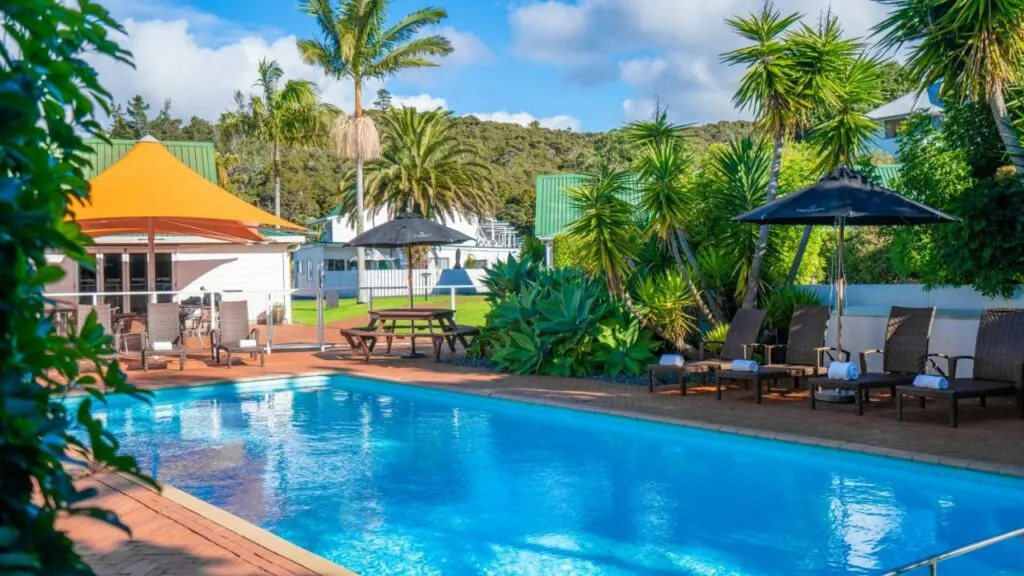 By The Bay Beachfront Apartments is located in the middle of the Far North in the sleepy holiday town of Coopers Beach. Making the trip up to this secluded region is worth the journey because there are perfect beaches, day trips, and other activities waiting for you to experience! When you stay at these lovely apartments, you'll be in full vacation mode.
The complex consists of four wonderful apartment units. Depending on your choice, you can fit two to six people or rent multiple units to fit a large group. Each room opens up to mesmerizing vistas of the Karikari peninsula. The balconies are great for starting with a coffee and ending your day with a cocktail.
As a guest, you'll have access to the property's kayaks. Don't worry about lugging them long distances because the ocean water is just a few meters away from the lawn. After you've spent the day paddling, swimming, and lying out in the sun, hop in the hot tub to take your relaxation experience to the next level.
Despite being so far north, By the Bay Beachfront Apartments is still within driving distance to the Waitangi Treaty grounds, historical sites, forests, and more! By the end of your trip, you'll wish you could stay on this slab of paradise forever.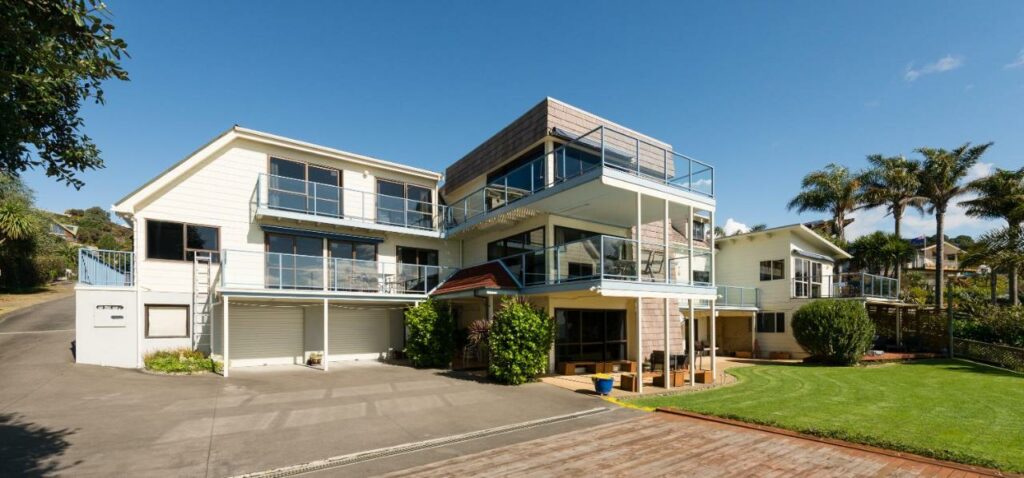 History buffs will love The Duke of Marlborough Hotel, that's been around since 1827. An ex-convict, Johnny Johnston, was the original founder of the building in Kororareka (now Russell), which was one of the world's largest whaling ports. Today the hotel and town are chock full of great sightseeing and dining experiences.
In 2010, all the rooms were renovated, but they still have their original charm. There is a range of options, from a waterfront room with a balcony to a standard small room that's perfect for people who travel light and want to spend as much time as possible exploring the region. Whichever you choose, the ambiance and decorations will be a worthy experience.
Russell has some wonderful dining selections to choose from, but you won't want to miss out on dining at The Duke of Marlborough Restaurant. The décor of the facility will take you back in time with its extravagant design. You can choose from a menu of drool-worthy oysters, fish and chips, market fish, and choice cuts of lamb. Wash it all down with a drink off the extensive wine and beer menu. It's one of the best culinary experiences in the Far North!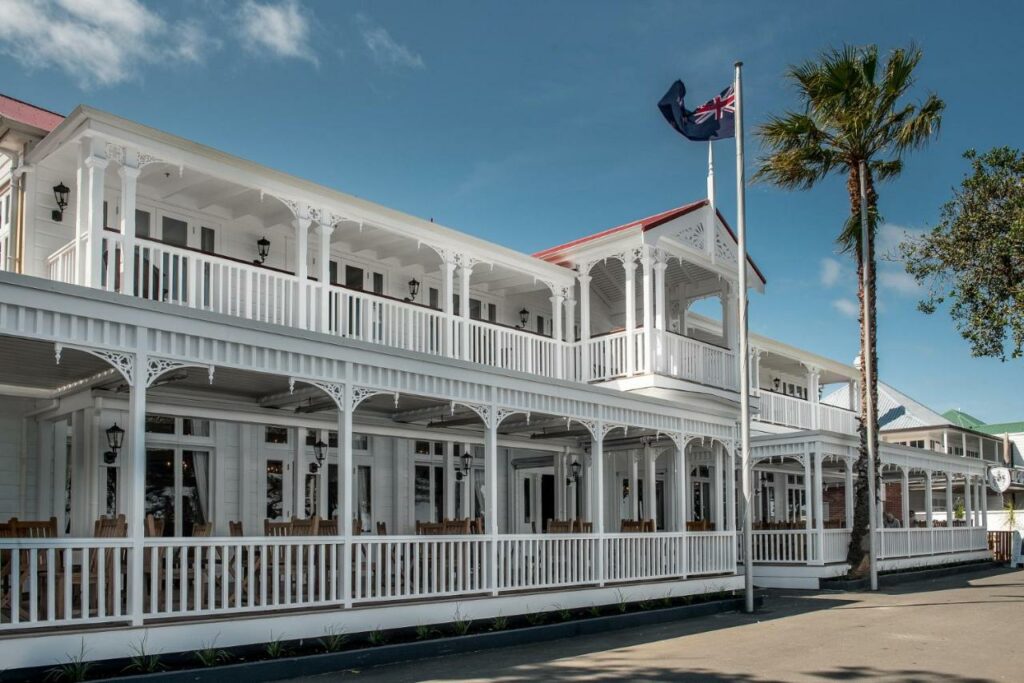 On the sand of Doubtless Bay, you'll find Taipa Beach Resort and its astonishing scenery. The resort offers guests the ultimate Far North experience, where you can get a feel for everything in the region.
Within the resort, you'll have access to a pool and hot tub, tennis court, and BBQ area. For anyone who wants to take it easy, chill out under the sun in one of the many great outdoor hangout spots. As the resort is just a hop, skip, and jump from the ocean, try your luck with fishing to see what you can catch. If you have a successful outing, there's a fish filleting station on the property.
You won't have to travel far for a delicious breakfast, lunch, and dinner because the Taipa Beach Resort hosts the outstanding Baywatch Bar and Restaurant. Start your day by ordering a piping hot cup of joe before heading out for a day of activities. When you return, you'll know there's a scrumptious meal waiting for you to scarf down.
The rooms at the resort all include views of the ocean or tropical pool area. When you open the sliding door, you'll have a patio all to yourself. Some room options come with fully equipped kitchens and an extra hangout area. While you'll probably be busy exploring the area, you'll cherish the moments you spend in the comfortable rooms.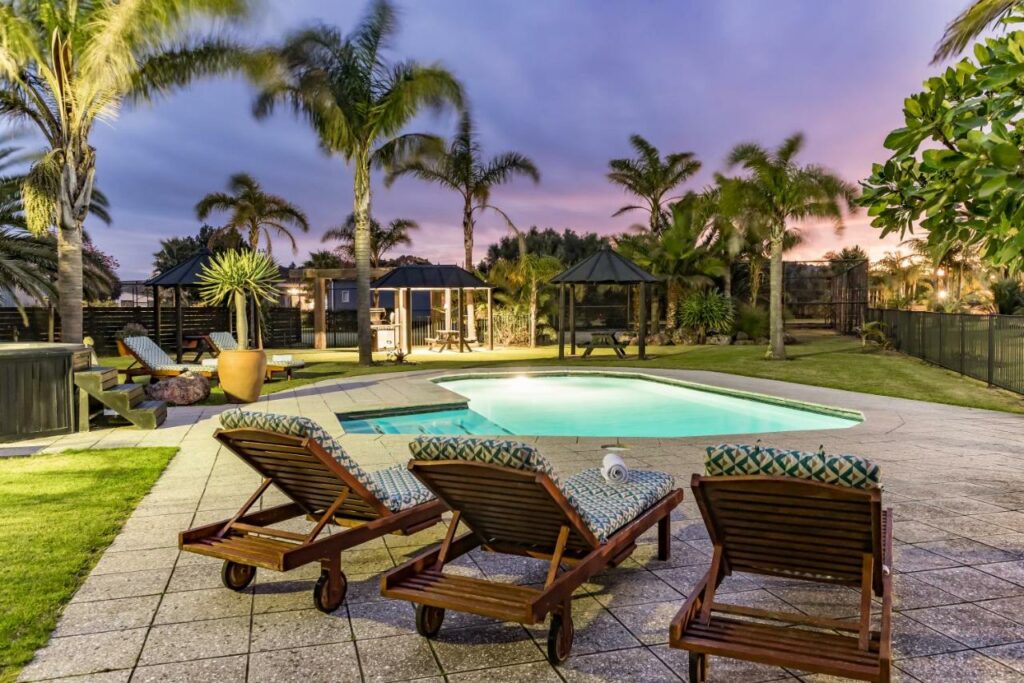 When you stay at the Avalon Resort in Kerikeri it's impossible not to fall in love with the gorgeous scenery around you. The property is positioned in a small valley and has lush water gardens fed by clear natural springs. The springs supply all the resort's water needs, so you'll be able to see exactly where your water's coming from.
On the short walk to your accommodation, you'll pass duck ponds, a paddock with chickens, and a citrus fruit orchard. The resort's beautiful setting is reason enough to book your stay there, but it keeps getting better!
You'll have two accommodation options: a self-contained cottage or a studio apartment. The boutique cottages can fit up to four people on the King bed and pull-out sofas. It's a great option for couples traveling with children or anyone who wants a little more space to stretch out. The kitchen comes equipped with an oven, stove, fridge, dishwasher, and microwave. Each cottage has its very own balcony where you can have your morning coffee and home-cooked meals!
For those who don't need so much space, the stylish studio apartments will be a great place to call home base! They come with kitchenettes where you can cook meals, cozy queen mattresses, and private decks. Two studio apartments are attached to each other, so groups or families traveling together can book them out as one unit!
The Avalon Resort is chock full of wonderful amenities for guests. Make sure to pack your swimsuit because there's a natural freshwater pool waiting for you on the property. If you're looking for something more adventurous, pick up a couple of kayaks from the main office and go explore the river. At the end of the day, you can unwind in the on-site hot tub and sauna.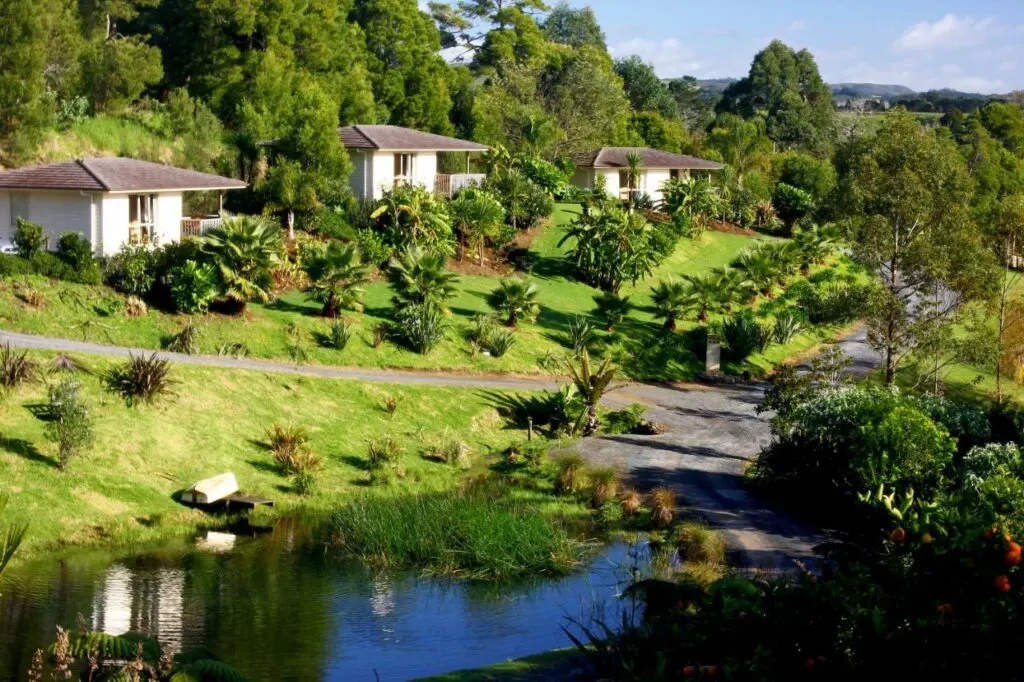 If you want a luxurious experience in the Bay of Islands, then you need to book a villa at Eagles Nest. The award-winning retreat is just outside of Russell on a 75-acre estate that has its own private ridgeline. Take one step onto the property, and you'll instantly fall in love with drop-dead gorgeous views of the Bay of Islands. To give you an idea of what type of stay you can expect, guests receive a bottle of champagne at arrival–don't mind if I do!
Five stunning villas are available on the property, and each has a unique vibe. The modern, luxury units will take your breath away. No matter which villa you choose, you'll have your own private infinity pool and jacuzzi, multiple bedrooms with open floorplans, a fully equipped kitchen, a minibar, and more. If you choose the premier villa, the Rahimoana, the rates include a Porsche Cayenne–yes, you read that correctly. During the Green Season, Eagles Nest offers three nights for the price of two! So, you might want to plan your trip accordingly.
When you're ready to explore the islands, you can reserve a private helicopter excursion. There's no need to drive to the pickup location because the helicopter will scoop you up right from the property. In fact, Eagles Nest will be the hub of several adventure activities such as sky diving, boat rides, and parasailing. It's safe to say you'll get the full-on Bay of Islands experience at this property.
All that exploring will make you hungry but don't think you'll be left to fend for yourself. Eagles Nest has on-site personal chefs that will take you on a culinary journey you'll never forget! Of course, each villa has a kitchen, and you're more than welcome to hit the local markets and cook up your meals.
I can't recommend this property enough to honeymooners. However, it's also a phenomenal option for anyone looking for a luxurious stay!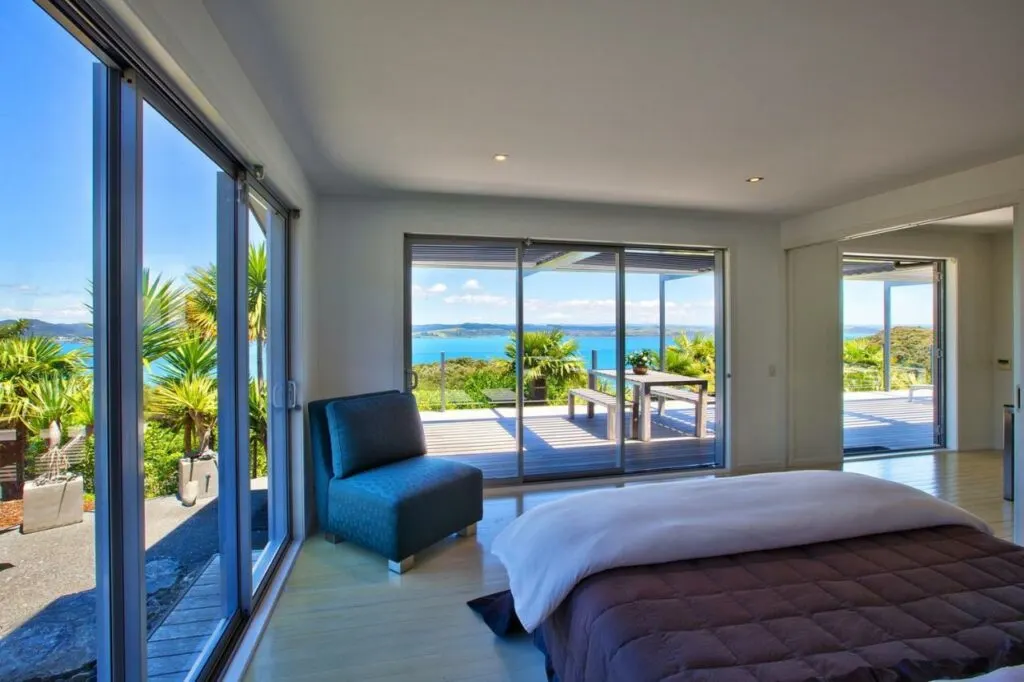 Carrington Estate is easily one of the best accommodations in the Far North – and one of the most iconic. The estate is made up of 3,000 acres on the Karikari Peninsula. Staying on the premise will take you far away from your troubles and put you in a dream world where green hills blend into blue ocean water. The resort is on a golf course, and you'll want to be on the lookout for special deals for golfers.
Carrington Estate has lodge rooms, villas, and luxury houses available for booking. The accommodations have open floorplans, relaxing indoor and outdoor areas, and views of the ocean and the property's vineyard. It's easy to spoil yourself at this estate–but this is vacation, isn't it?
Make sure to take advantage of the exciting activities at Carrington Estate, such as horseback riding, scuba diving, and, of course, golfing! There's a magnificent pool to float in and two tennis courts to get a little physical activity in. Not to mention a celebrated restaurant that should be booked at sunset for a memory you will never forget…
If you want accommodation of luxury and adventure, then book your trip at the Carrington Estate!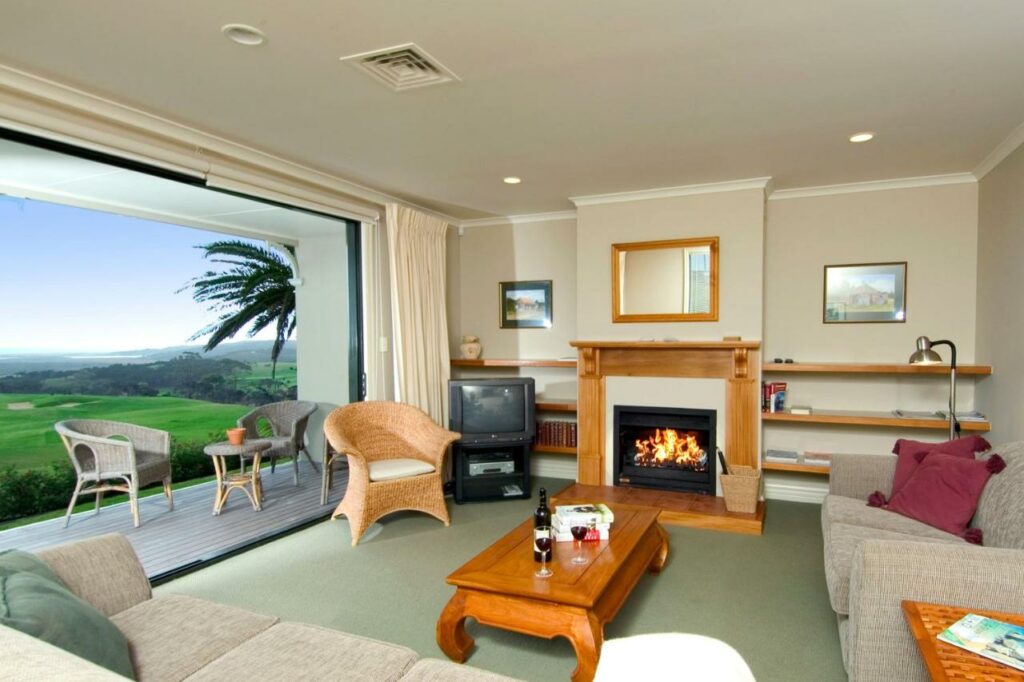 Final Thoughts On The Best Accommodation In The Far North
The Far North is one of New Zealand's most remarkable destinations. There are just so many things to do in Northland. The story of each region, exciting activities, and top-notch cuisine makes for an unforgettable travel experience and the perfect road trip.
Make the effort to head north of Auckland on your NZ travels, and we promise if you book your stay at one of these locations, you'll be talking about your trip for years to come!
Staying Connected While Travelling
In today's increasingly connected world, staying online while traveling has become essential for a seamless experience. That's where eSIMs come into play, revolutionizing the way we access mobile networks during our global adventures. Say goodbye to hunting down local SIM cards at the airport; eSIMs provide instant activation the moment you land, sparing you the fortune usually spent on international roaming and allowing you to genuinely travel like a local (without getting hopelessly lost!).
With eSIMs, tasks like restaurant recommendations and reservations, up-to-the-minute public transport instructions, checking opening hours, and accessing further information become a breeze. And, of course, sharing your journey on social media is easier than ever. To stay connected wherever you roam, consider using either Airalo or Holafly. Airalo boasts the most extensive range of destinations worldwide, offering smaller data bundles tailored to your needs, while Holafly provides unlimited data packages and fantastic EU data deals.
So why wait? Embrace the future of travel connectivity with eSIMs and make your next journey effortlessly smooth.
Further Things To Consider Before Any Adventure
Now you're all set and prepared to explore our big wide world, why not sort out everything else out all in one go? If necessary for your travel plans make sure you have brought proper travel insurance, protected your privacy by getting a secure VPN, compared all the top hotel booking sites to find just what you're after, reserved an unbeatable rental car price and - of course - booked the best flight deals!
Or maybe just forget it all and go for a last-minute cruise or effortless tour instead?
Many budget travelers (including me) indulge in worldwide airport lounge access, so we can experience luxury while still slumming it in economy. Naturally, we would never leave home without a more general travel guide since we couldn't possibly cover everything here!
Just add an adventurous attitude and plenty of smiles - they go a long way - and that about covers it all! Now go out, find your own path and don't forget to share your best inspiration stories with me on Facebook, Twitter, and Instagram...I'd love to hear from you!