While in Santiago recently on a LAN stopover I decided I hadn't had enough of the Andes and that a visit to the mountains was indeed in order.
Being winter, and not wanting to ski, I found it very difficult to pin something down but then a quick look on TripAdvisor and a few emails later I was sold on a incredible Cajón del Maipo Tour (or the Maipo valley) with Ecochile.
I was excited not only to see the snow, explore the mountain but also to see a landmark of Chile and learn as much about Chile as possible on more short stop over. And wow, they did not disappoint!!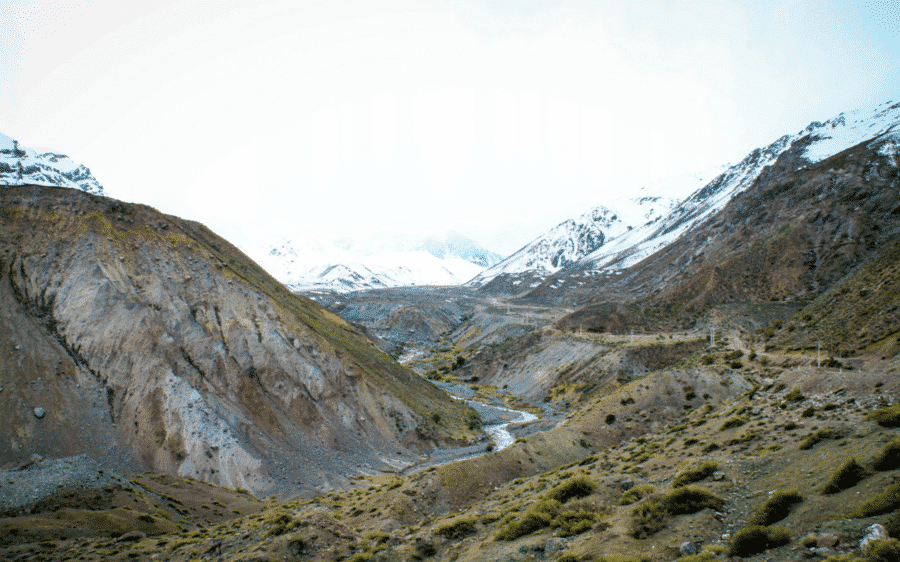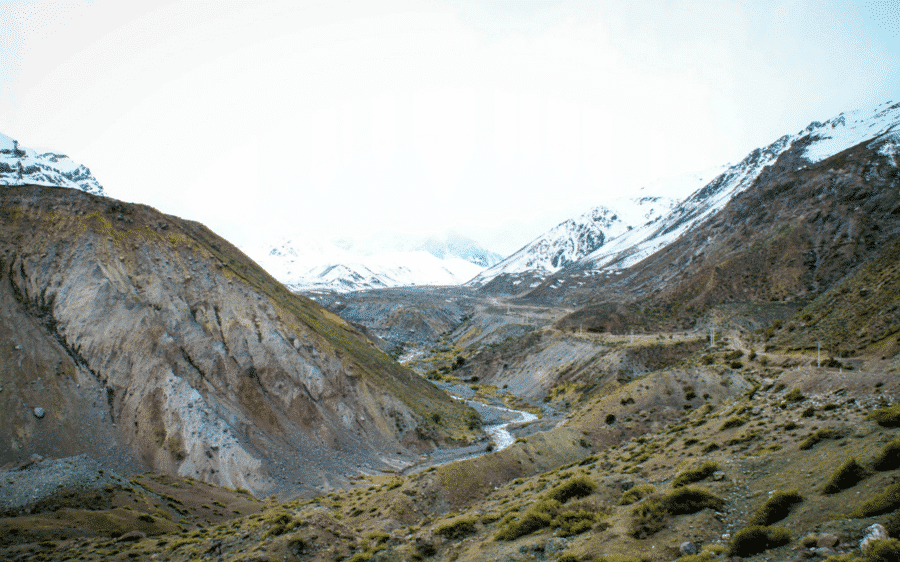 How To Easily Get From Cajon del Maipo from Santiago, Chile!
Cajón del Maipo is a picturesque river valley carved out of the Andes by the Río Maipo. Stunning greenery (and wild horses) cling to the seep,rocky wall of the gorge, and located only 25km (as the crow flies) from Santiago its popular for so many activities – camp, hike, climb, cycle, raft and ski, it's all here!
As we entered the valley we stopped in at Las Vizcachas, a quaint little town for coffee – its was seriously good and the owner was 92 years old and still going strong …Can you believe it!
Must be something in that mountain air…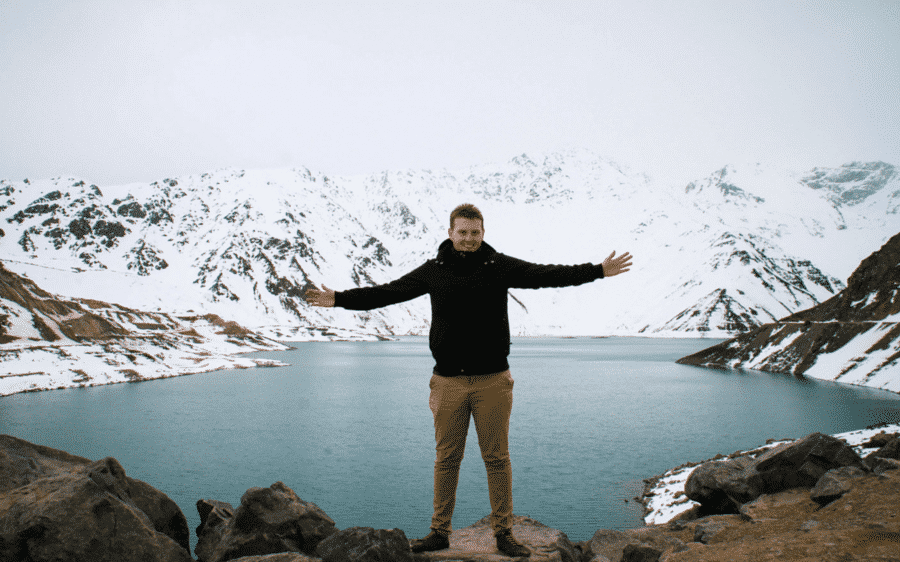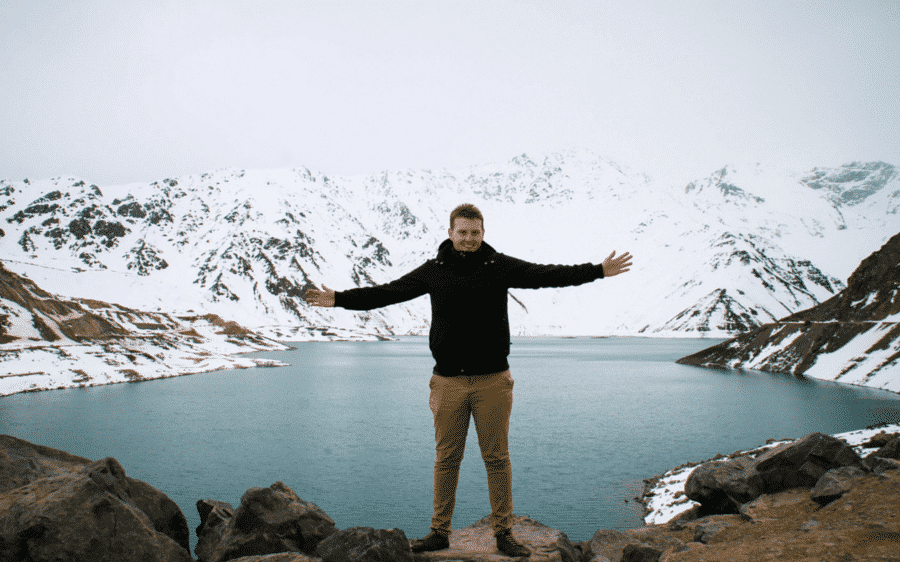 After a few hours we made our way as far as the car on our Cajon del Maipo tour would take us, past glaciers and wide open paddocks, and continued on foot up to the days highlight – El Yeso Dam, a reservoir @ 2500m which provides water for the thirsty Santiago,
It was absolutely gorgeous and fun to explore, through the snow and ice did make it a bit challenging. We had a group of 5 and we had a few laughs and was good to appreciate the stunning Maipo valley landscape with new friends!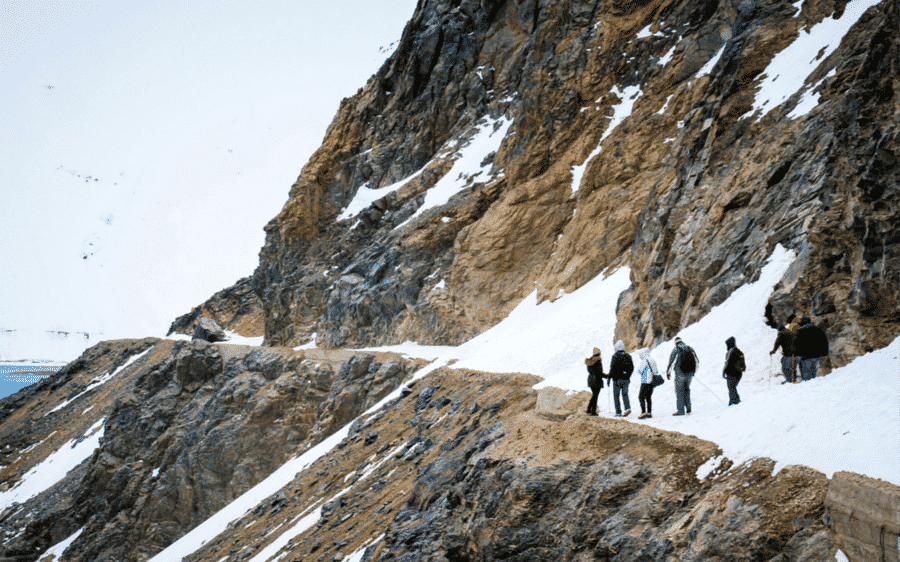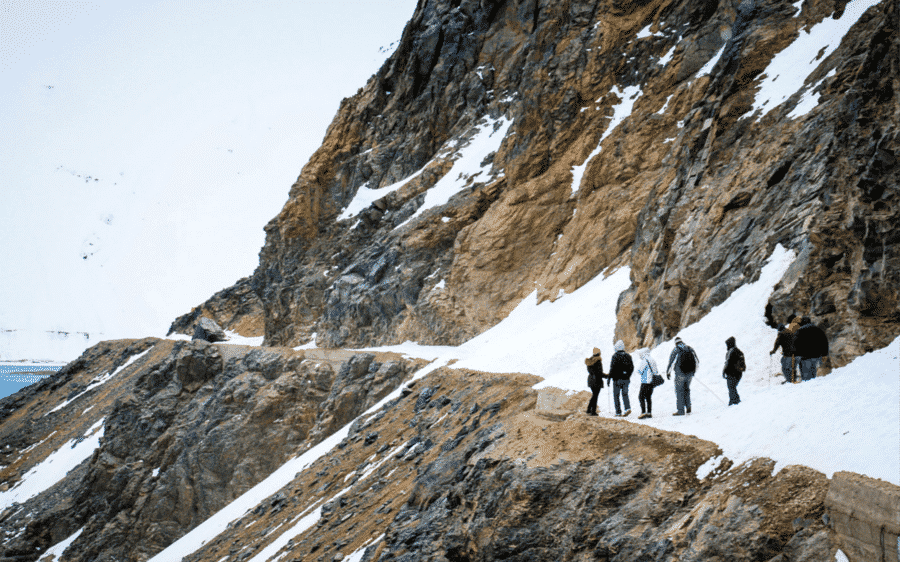 A Brazilian tour group decided they had to go further and continued on though was clearly not safe. The road continues on for many more kilometers round the lake but we were quite happy not risking life and limb as one slip on that snow and was only the icy cold lake below to break your fall!
Our guide advised them was not smart but they continued on.I hope they are OK but glad we did not, especially given the 8.2 earthquake that hit us in Santiago later that night…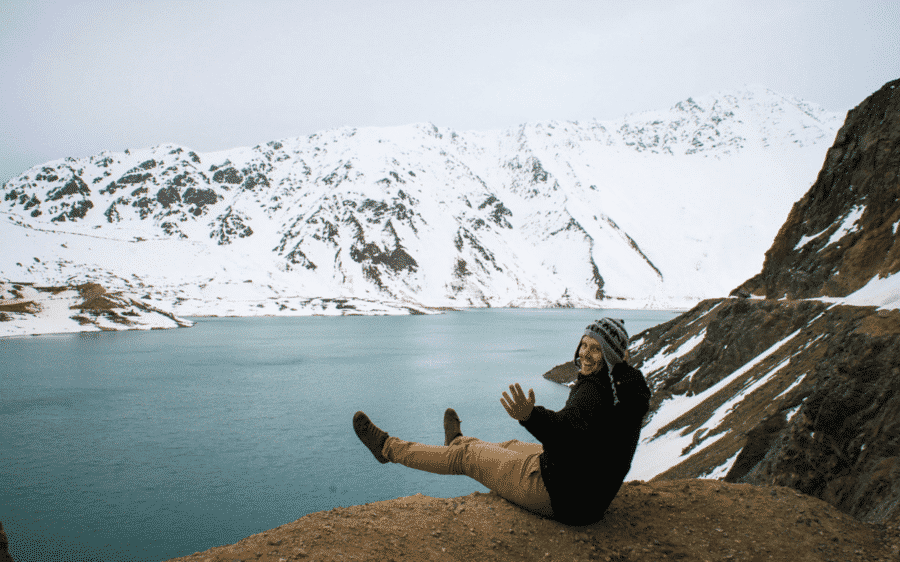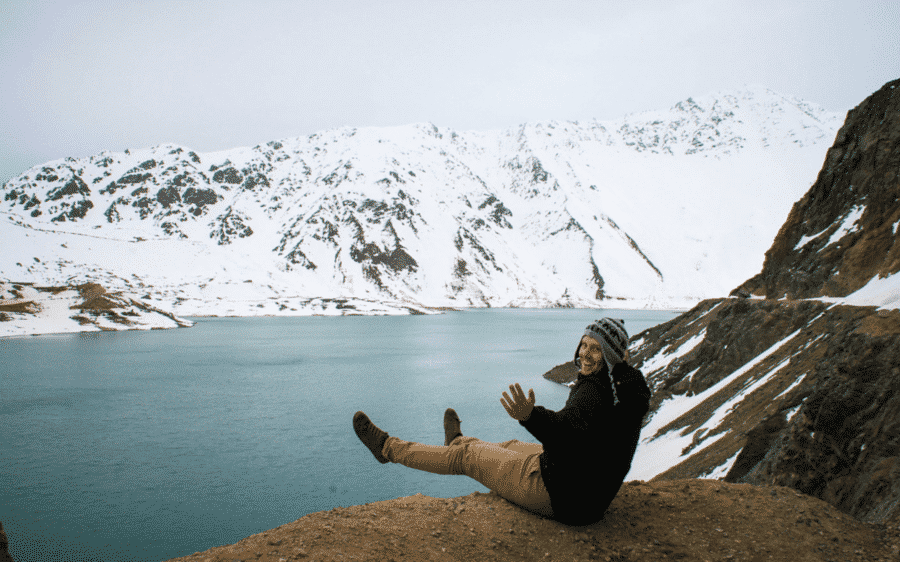 This was the closest I came to something risky – and even then I'm not so good with balance!
Afterwards we headed back downhill to the car, which was a bit harder given the ice and snow, and was greeted by a welcome picnic surrounded by the Andes peaks..Cheese, olives, wine, fresh bread.. I was very very happy!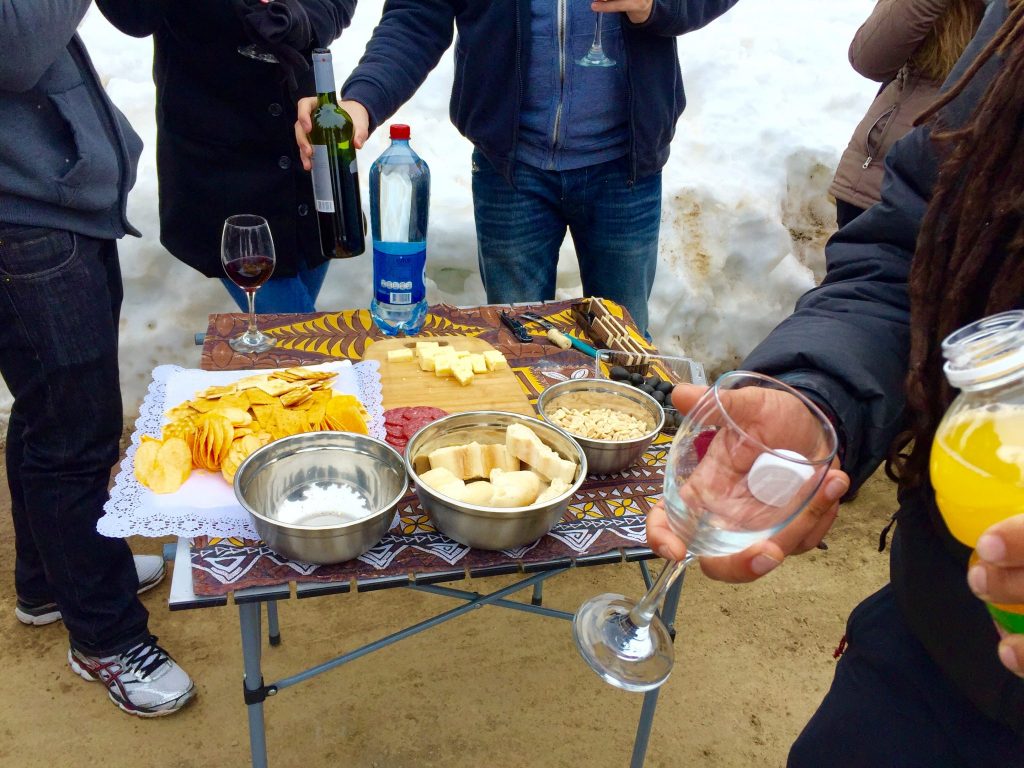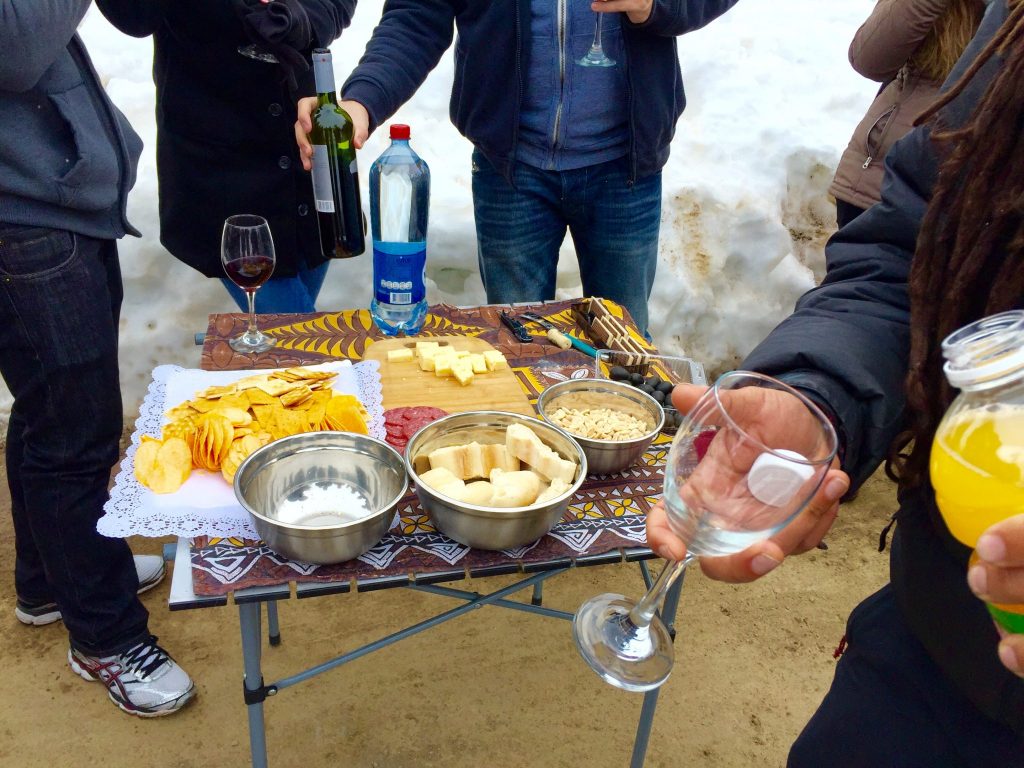 I also think food is made by better by the landscape and the company and was a win on both accounts here: On my Maipo valley tour group we had two Americans (one who might also have a gambling addiction XD) and a Australian-Chilean ..
Always good to meet people on the road and hopefully will meet them again one day!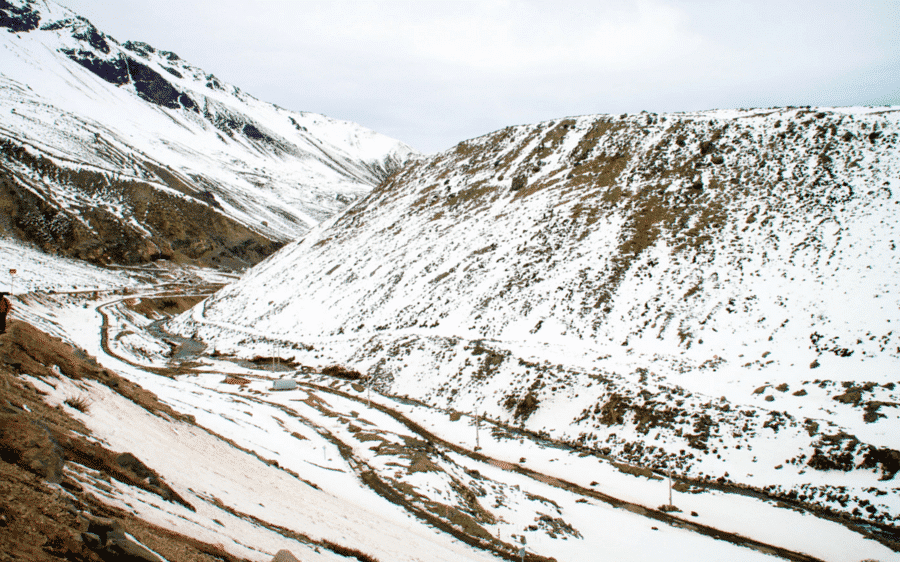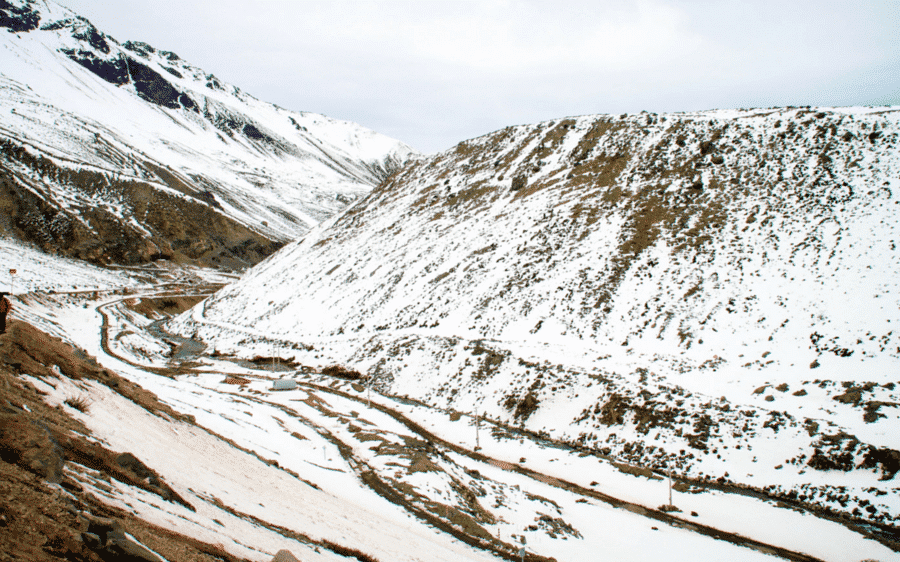 After tucking in and eating our fill we were all a little cold so decided to head back but the days treats for us where not over. We heard from the guide all about the geography and history of Chile and were free to ask questions to our hearts content which I always enjoy ..
When you are in a new country you see so many things and have so many questions, google may suffice in a pinch but there is nothing like having a local answer your questions!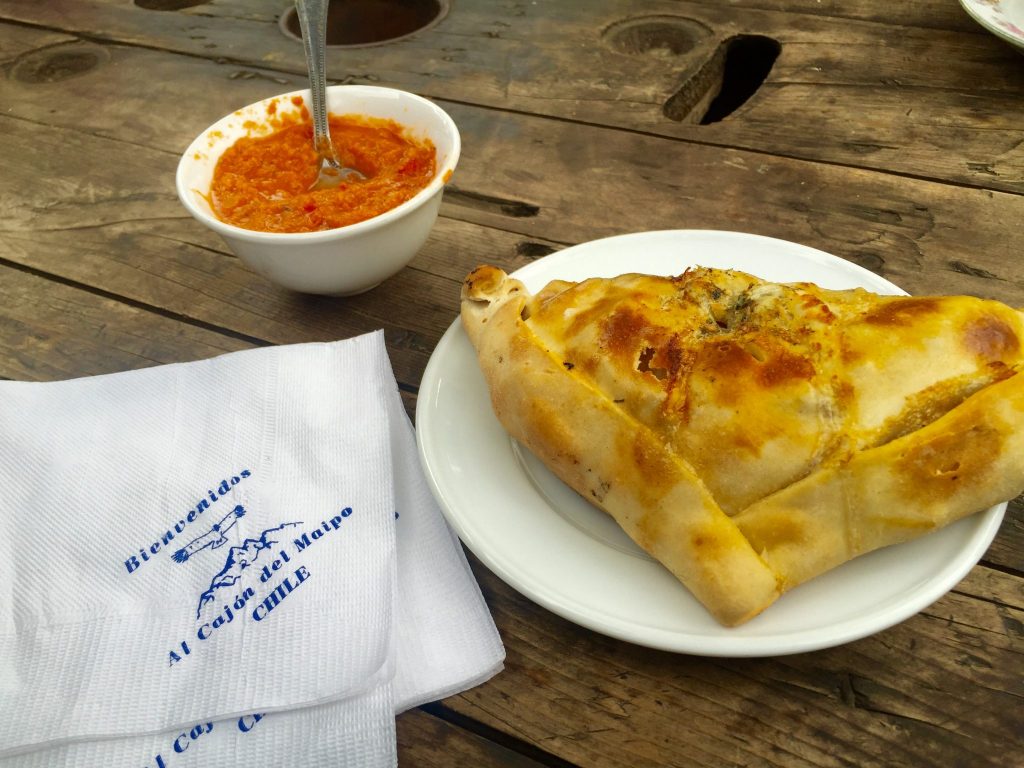 On the way back down from our Cajon del Maipo tour we made two stops: one for amazing empanadas which was the best I had in the whole of the continent (must use the spicy sauce!) and then an a local brewery, Cervecera del Maipo, to gather insight to the beer making process and of course taste test.
I can't say I was a massive fan however but did enjoy, jut nothing on Cusqueña!
And with that we where done, back to our hotels for a nap – Though the aforementioned earthquakes put a dint in that plan – All and all an excellent day out and would highly recommend a visit during a stop over in Santiago to get out and smell the fresh air!
---
Special thanks to Ecochile to being so accommodating to me at the last minute on their tour to Cajon del Maipo from Santiago – I would highly recommend them in future and anyone wanting to look at this tour or any other can find them here.
Also of note is there are plans for a hydroelectric station in Cajón del Maipo which could have serious consequences on the areas vibe and appeal so best not to delay!
Further Things To Consider Before Any Adventure
Now you're all set and prepared to explore our big wide world, why not sort out everything else out all in one go? If necessary for your travel plans make sure you have brought proper travel insurance, protected your privacy by getting a secure VPN, compared all the top hotel booking sites to find just what you're after, reserved an unbeatable rental car price and - of course - booked the best flight deals!
Or maybe just forget it all and go for a last-minute cruise or effortless tour instead?
Many budget travelers (including me) indulge in worldwide airport lounge access, so we can experience luxury while still slumming it in economy. Naturally, we would never leave home without a more general travel guide since we couldn't possibly cover everything here!
Just add an adventurous attitude and plenty of smiles - they go a long way - and that about covers it all! Now go out, find your own path and don't forget to share your best inspiration stories with me on Facebook, Twitter, and Instagram...I'd love to hear from you!